All the news for Wednesday 10 June 2015

Netherlands and Argentina top their pools in Buenos Aires




The four quarter-final matches are known following the last day of round-robin action at the Argentina Hockey World League in Buenos Aires. Pool A winners Netherlands will face Spain in Thursday's quarter-final with pool B winners Argentina taking on Japan. New Zealand finished 2nd in pool A and will now play Canada, 3rd in pool B. Germany, 2nd in pool B, will meet Korea, the 3rd of pool A.

Day 5 in Buenos saw the Netherlands winning 3-1 against Japan in pool A. The match between Korea and New Zealand finished tied at 3-3. Germany celebrating a convincing 9-0 victory over Canada in pool B with Argentina narrowly defeating Spain 1-0.

Match 17: Germany v Canada 9-0 (5-0)

The Olympic champions grabbed their third win at the Argentina Hockey World League Semi-Final in Buenos Aires following a convincing 9-0 over Canada. Germany started the match with real intent. Thanks to a Florian Fuchs's double-strike the Olympic Champions were 2-0 up after only four minutes. Fuchs finished a beautiful solo-run, slotting home from close range one minute later.

The world's number 3 remained the dominant side throughout the first quarter with Christopher Rühr (6') and Niklas Wellen (7') increasing the lead to 4-0 after seven minutes. The Germans took control of the game and dominated possession also throughout the second quarter with Mats Grambusch (29') adding another goal to secure a convincing 5-0 advantage at halftime. The second half saw Moritz Fürste (36'), Tobias Hauke (38'), Rühr (45') and Christopher Zeller (49') adding more goals to seal a convincing 9-0 victory.

Match 18: Netherlands v Japan 3-1 (1-1)

The Netherlands finished the pool stage unbeaten following a 3-1 win over Japan. A Billy Bakker double-strike and a Mink van der Weerden penalty corner goal were enough to grab their third win in pool A.

The Olympic and World Cup Silver medallists only needed 51 seconds to get on the scoreboard as Bakker scored on the first shot of the game. Japan, however, recovered quickly, equalising five minutes later when Toshiro Tachibana hit the back of the goal from a penalty corner variation.

The Samurais kept the match open for a long time but conceded a goal when Bakker netted the rebound from the keeper after he had saved Robbert Kemperman's attempt. The third goal arrived on 49 minutes with Mink van der Weerden's penalty corner flick hitting the net with 122 km/h.    
 
Match 19: Korea v New Zealand 3-3 (2-1)

Nam Hyunwoo's late strike secured Korea a 3-3 draw against the Blacksticks. Earlier, Korea had produced a 2-0 lead. Oh Daekeun opened the scoring on 4 minutes when his strike hit the back of the net after the ball had been deflected by a Blacksticks defender. Kim Youngjin (12') doubled the lead still in the first quarter with a brilliant goal after a huge aerial pass from Lee Jung Jun.

The Black Sticks fought back into the match through goals from Hugo Inglis and Phil Burrows. Inglis scored on his 150th cap before Burrows tapped the ball through the goalkeeper's legs to level the score to 2-2. Burrows also marked his 150th goal for the Black Sticks.

The third quarter saw New Zealand turning the score around thanks to Simon Child (45'). However, Korea were able to strike back when Nam Hyunwoo converted a penalty corner on 58 minutes making him joint top scorer together with team-mate Lee Namyong and Germany's Christopher Rühr. 

Match 20: Spain v Argentina 0-1 (0-0)

The "Leones" maintained their perfect record at the Argentina Hockey Champions Trophy in Buenos Aires with a narrow 1-0 win over Spain. The game winning goal was scored by Facundo Callioni with three minutes remaining.

The first half saw strong play from both sides but not many scoring opportunities. Spain knew that they have to win this encounter to avoid finishing fourth in pool B. The Red Sticks fought hard to get on the scoreboard but they were unable to break through the Argentine defence.

FIH rising star Gonzalo Peillat was close to scoring in the third quarter but his attempt was saved on the line. The winner was scored by Callioni on 57 minutes when he went on a solo-run beating all in his path to give Argentina the lead much to the delight of the crowd in the sold out stadium at CeNARD.

@FIH_Hockey
#HWL2015 #RoadToRio

FIH site


---

Netherlands win pool A, New Zealand finish second

The Netherlands and New Zealand will enter Thursday's quarter-finals as unbeaten sides.




Day 5 in Buenos Aires saw the Netherlands finishing on top of pool A following their 3-1 win over Japan who became fourth. New Zealand maintained their second place with a 3-3 draw against Korea who finished third. The Netherlands and New Zealand will enter Thursday's quarter-finals as unbeaten sides.

Match 18: Netherlands v Japan 3-1 (1-1)

The Netherlands finished the pool stage unbeaten following a 3-1 win over Japan. A Billy Bakker double-strike and a Mink van der Weerden penalty corner goal were enough to grab their third win in pool A.

The Olympic and World Cup Silver medallists only needed 51 seconds to get on the scoreboard as Bakker scored on the first shot of the game. Japan, however, recovered quickly, equalising five minutes later when Toshiro Tachibana hit the back of the goal from a penalty corner variation.

The Samurais kept the match open for a long time but conceded a goal when Bakker netted the rebound from the keeper after he had saved Robbert Kemperman's attempt. The third goal arrived on 49 minutes with Mink van der Weerden's penalty corner flick hitting the net with 122 km/h.    

Thoughts on the match

Billy Bakker (NED)
"I'm satisfied with today's result. After the draw against New Zealand we discussed a few things and the progress was visible today. Structure was the key to win this match today."

Tomonori Ono (JPN)
"We can be satisfied with the way we played. I think it was a good performance from us although we lost in the end."

Match 19: Korea v New Zealand 3-3 (2-1)

Nam Hyunwoo's late strike secured Korea a 3-3 draw against the Blacksticks. New Zealand remained unbeaten in the pool stage and finished second in pool A with Korea finishing third.

Korea produced a 2-0 lead in the first quarter. Oh Daekeun opened the scoring on 4 minutes when his strike hit the back of the net after the ball had been deflected by a Blacksticks defender. Kim Youngjin (12') doubled the lead with a brilliant goal after a huge aerial pass from Lee Jung Jun.

The Black Sticks fought back into the match through goals from Hugo Inglis and Phil Burrows. Inglis scored on his 150th cap before Burrows tapped the ball through the goalkeeper's legs to level the score to 2-2. Burrows also marked his 150th goal for the Black Sticks.

The third quarter saw New Zealand turning the score around thanks to Simon Child (45'). However, Korea were able to strike back when Nam Hyunwoo converted a penalty corner on 58 minutes making him joint top scorer together with team-mate Lee Namyong and Germany's Christopher Rühr. 

Thoughts on the match

Lee Seungil (KOR)
"The draw was ok."

Hugo Inglis (NZL)
"It was great to score in my 150th match. It was good to get back into the game after being 2-0 down. We are pretty happy with the draw. We knew it was good enough to become second in the group."

FIH site


---

Argentina maintain perfect record at home in Pool B




Host nation Argentina finished the round-robin at the top of the standings in pool B at the Argentina Hockey World League Semi-Final in Buenos Aires. The "Leones" celebrated a narrow 1-0 win over Spain thanks to a late Facundo Callioni strike. Earlier, Germany had beaten Canada 9-0 to secure the second place in the pool. Canada finished third, Spain fourth. The quarter-final on Thursday will see Argentina playing Japan, Germany taking on Korea, Canada facing New Zealand and Spain meeting the Netherlands.

Match 17: Germany v Canada 9-0 (5-0)

The Olympic champions grabbed their third win at the Argentina Hockey World League Semi-Final in Buenos Aires following a convincing 9-0 over Canada.

Germany started the match with real intent. Thanks to a Florian Fuchs's double-strike the Olympic Champions were 2-0 up after only four minutes. Fuchs finished a beautiful solo-run, slotting home from close range one minute later. The world's number 3 remained the dominant side throughout the first quarter with Christopher Rühr (6') and Niklas Wellen (7') increasing the lead to 4-0 after seven minutes.

The Germans took control of the game and dominated possession also throughout the second quarter with Mats Grambusch (29') adding another goal to secure a convincing 5-0 halftime lead. The second half saw Moritz Fürste (36'), Tobias Hauke (38'), Rühr (45') and Christopher Zeller (49') adding more goals to seal a convincing 9-0 victory.

Thoughts on the match

Tobias Hauke (GER)
"This was a good day and also a good reaction after the loss against Argentina. It was our aim today to work on our strengths, to play a good match and to defend at least the second place in the pool. I think we can be satisfied."

Brenden Bisset (CAN)
"This is not what we had expected. Next time we need to come out a lot better."

Match 20: Spain v Argentina 0-1 (0-0)

The "Leones" maintained their perfect record at the Argentina Hockey Champions Trophy in Buenos Aires with a narrow 1-0 win over Spain. The game winning goal was scored by Facundo Callioni with three minutes remaining.

The first half saw strong play from both sides but not many scoring opportunities. Spain knew that they have to win this encounter to avoid finishing fourth in pool B. The Red Sticks fought hard to get on the scoreboard but they were unable to break through the Argentine defence.

FIH rising star Gonzalo Peillat was close to scoring in the third quarter but his attempt was saved on the line. The winner was scored by Callioni on 58 minutes when he went on a solo-run beating all in his path to give Argentina the lead much to the delight of the crowd in the sold out stadium at CeNARD.

Thoughts on the match

Bosco Perez-Pla (ESP)
"We played and defended very well but it is what it is. We did everything to win this game. We went into one-on-one in the last five minutes and tried to force something. It was unlucky that Argentina scored but in the end a draw wouldn't have been enough for us either."

Facundo Callioni (ARG)
"This was a very difficult match because Spain had to win it to avoid playing Holland in the quarter-final. We had to wait to take the initiative and our plan worked out."

FIH site


---

Canada shutout at the hands of Germany in final round robin match

Canada plays in tournament quarterfinal on Thursday

Kishan Mistry

In the fourth and final match of the Word League Semifinals round robin, Canada was put up to a difficult task facing off against Germany. Coming off a 2-1 loss to the host country Argentina, Canada was outmatched, suffering a 9-0 loss Tuesday afternoon in Argentina.

Finishing off the World League Semifinals round robin with the loss and a 2-2 record, Canada will have to patiently wait out the result of the Spain/Argentina game later today to determine their final ranking in Pool B and quarterfinal opponent on Thursday.

There are two possible outcomes for the Canadians depending on the result of the Spain/Argentina. If Spain pulls off a victory against Argentina, then Canada will place 4th in Pool B and will play the 1st place team from Pool A. In the event of Argentina beating Spain, Canada will finish 3rd in Pool B and will end up playing the 2nd place team from Pool A in the Quarterfinals.

A flurry of German goals in the first few minutes of the 1st quarter set the tone for a match that seemed to last forever for the Canadian side. Within the first seven minutes of the game Canada found themselves down by a score 4-0 favouring the German side with goals coming from Florian Fuchs (2), Christopher Ruhr, and Niklas Wellen.

Regrouping after the 1st quarter, Canada had some positives to take from the majority of the 2nd quarter. Mark Pearson and Gabriel Ho-Garcia brought some brightness to the Canadian side with some nice stick work in effort to generate scoring chances. As the 1st half came to a close some strong defence from Captain Scott Tupper kept the score 4-0 until the 29th minute of the match. Mats Grambusch sealed a solid 1st half for his team as he was credited with Germany's 5th goal.

The 2nd half of the match didn't turn out any much better for Canada.

After German captain Moritz Furste netted his team's 6th goal, Canada decided to make a change in goal sending in Antoni Kindler to replace David Carter. Despite letting in six goals against Germany, David Carter was by far Canada's best player making some spectacular saves as he has done all tournament long.

Kindler, seeing his first action of the tournament, wasn't placed in the most desirable of situations letting a Tobias Hauke goal in 38th minute after a giveaway from the Canadian defence. The 3rd quarter was finished off by another goal for Germany as Christopher Ruhr scoring his second goal of the match in the 4th minute.

With the final 15 minutes to go in the match, Canada did its best to find a silver lining trying to end it off on a positive note. Germany added its 9th a final goal of the match in the 49th minute with a goal from Christopher Zeller.

With the victory, Germany currently sits on top of the standings in Pool B finishing off their round robin matches. However, this might change depending on if Argentina wins or ties their match later today.

Canada still remains in third place in awaiting their final placement in Pool B depending on the result of the Spain/Argentina match. Regardless of the result of the deciding game today, Canada will play in the Quarterfinals on Thursday.

Field Hockey Canada media release


---

Black Sticks wrap pool play undefeated



Photo courtesy Hernán Pablo Barrios

The Black Sticks Men are undefeated at the end of pool play after drawing 3-3 against Korea today at the FIH World League Semi-Final in Buenos Aires.

The result means the Kiwis will face Canada in the must-win quarter-final at 8.30am this Friday (NZ time), with the game to be shown live on Sky Sport.

After trailing 2-0 at the end of the first quarter, it was Hugo Inglis, Phil Burrows and Simon Child who got the Black Sticks on the scoreboard but it was Inglis, who was playing his 150th international test, that had a big influence on today's game.

"Yeah, it went down to the wire, we gave them a two goal lead and then we did enough to hold on in the end," said Southern's Inglis, aged 24.

"It was good having a win against Japan and Egypt early on and getting the six points, and it was a nice game against the Dutch, but today we were a bit up and down. I don't think we have reached our peak yet, it is nice to be building to our quarter-final," said Inglis.

Eighth ranked Korea got on the front foot when Kim Seongkyu found space in the circle and scored from a reverse stick shot, giving goalkeeper Devon Manchester little chance. They stretched their lead to 2-0 in the 12th minute when Kim Youngjin, on the angle and with immense power struck the ball to the bottom corner of the net.

In the second quarter, New Zealand settled and started to take control of the game. In the 17th minute, Inglis received the ball from Andy Hayward and magnificently dribbled it through a maze of Korean defenders and knocked it over the line to give Kiwis some momentum.

In the second half, the Black Sticks found the equaliser in the 34th minute when Inglis passed to veteran Phil Burrows who hit it between the goalkeepers legs after he was caught kneeling on the ground.

Inglis continued to have a big impact in his milestone match when a nice one-two with Simon Child ended with Child adding his name to the scoreboard in the 45th minute and putting the Kiwis in the lead.

Korea applied pressure later in the fourth quarter and the lead was snatched from the Black Sticks when Nam Hyunwoo scored from penalty corner drag flick.

With all games in Pool A now played, the Dutch finish top of the pool, followed by the Black Sticks, Korea, Japan and Egypt.

The top three finishers from the tournament automatically qualify for the 2016 Rio Olympics, with the top four progressing to the World League Final in India (28 Nov – 6 Dec, 2015).

RESULTS
Fulltime: 3-3
Halftime: 1-2 (Korea lead)
Black Sticks goal scorers: Hugo Inglis, Phil Burrows, Simon Child
Korean goal scorers: Kim Seongkyu, Kim Youngjin, Nam Hyunwoo

Hockey New Zealand Media release


---

Black Sticks men fight back for draw with Korea at Hockey World League semifinals

Clay Wilson



Hugo Inglis scored a superb goal for the Black Sticks men as they completed pool-play at the World League semifinals in Argentina with a draw against Korea. GETTY IMAGES

Qualification for the Rio Olympics is one step closer for the Black Sticks men after a hard-fought 3-3 draw with Korea at the Hockey World League semifinals in Argentina.

Following solid yet unconvincing wins over Egypt and Japan, and a gutsy draw with the highly-regarded Dutch, New Zealand fought back from 2-0 down against a fast-starting Korean outfit before taking the lead at the end of the third quarter in Buenos Aires on Tuesday (NZT Wednesday).

However, Korea applied plenty of pressure in the final stanza and were eventually able to get back on level terms with just three minutes remaining when drag-flicker Hyunwoo Nam converted from a penalty corner after a series of near misses.

Although unable to close out victory against a team just one spot below them in the world standings, the seventh-ranked Kiwis still finished pool A undefeated in second ahead of the eighth-ranked Koreans and behind the Netherlands.

The Black Sticks face the third-placed team from pool B in the quarterfinals on Thursday (NZT Friday), which will be world No 15 Canada as long as Spain are not able to spring a huge upset and thump tournament host Argentina in the final group game on Wednesday.

New Zealand have to win that match and one of their last two to secure a top three finish and a berth in Rio next year.

In the Korea match, the Kiwis had the first opportunity in calm early evening conditions when they were awarded a penalty corner in the fourth minute.

Andy Hayward's drag-flick was blocked though and a swift counter-attack from the Koreans finished with Daekeun Oh expertly deflecting the ball home.

Korea produced their second goal in the closing stages of the first quarter as Youngjin Kim received a superb cross-field overhead flick and powered his shot past Black Sticks keeper Devon Manchester.

New Zealand pulled one back in style almost immediately at the start of the second period with Hugo Inglis producing lovely stick-work and a composed finish from close range following a deft reverse pass from Hayward on the edge of the circle.

Both sides' best chances for the remainder of the quarter came from penalty corners, but neither was able to capitalise and Korea went into halftime with a one goal buffer, threatening to leapfrog the Kiwis for second in pool A.

But it took just four minutes into the second half for New Zealand to get on level terms, veteran Phil Burrows tucking the ball between the Korean goalkeeper's legs after a Blair Hilton pass was unable to be cleaned up by two defenders.

Lifting in confidence, the Black Sticks created several other half chances before going ahead for the first time in the match in the dying stages of the third quarter. A slick interchange of passes between Inglis and Simon Child cut out a handful of Korean defenders and set up a simple finish for Kiwi skipper Child right in front of goal.

Korea dominated the fourth and final quarter as they predictably threw more numbers forward in search of an equaliser. The Kiwi defence scrambled well a number of times, but the pressure eventually told and Nam fired high into the net in the 58th minute to at least earn his side a point from the contest.

New Zealand 3 (Hugo Inglis, Phil Burrows, Simon Child) Korea 3 (Daekeun Oh, Youngjin Kim, Hyunwoo Nam). Quarter scores: 0-2, 1-2, 3-2.

Stuff


---

South Korea strike late to earn draw with Black Sticks

By David Leggat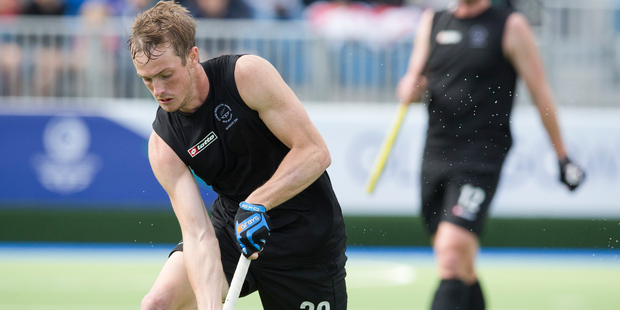 New Zealand's Hugo Inglis. Photo / Greg Bowker.

A late penalty corner goal for South Korea deprived New Zealand of victory in their final pool A game at the men's hockey World League semifinal in Buenos Aires today.

The 3-3 draw leaves the Black Sticks second in the group behind the Netherlands but well placed to press on into the knockout stage after wins over Egypt and Japan and draws against the world No 2 Dutch and the Koreans.

Korea were out of the blocks fast and led 2-0 at the end of the first quarter, through an own goal off defender Nick Haig and a second by Youngjin Kim.

The Black Sticks closed the gap with a fine solo goal from attacker Hugo Inglis and a second early in the third quarter from an opportunist deflection by veteran Phil Burrows.

New Zealand went ahead on the stroke of the end of that quarter with a well worked goal by captain Simon Child, after slick interpassing with the impressive Inglis.

However a sharp penalty corner with two minutes left from Hyunwoo Nam, his fourth of the tournament, earned the Koreans a point.

''We started a bit slowly in our first two games and today was a bit up and down," Inglis said.

''I don't think we've reached our peak yet so it's nice to build towards the quarter-final."
Who the Dutch and New Zealand meet in that stage will be determined later today.

Pool A standings: Netherlands 10 pts 1, New Zealand 8 2, Korea 7 3, Japan 3 4, Egypt 0 5.

The New Zealand Herald


---

Stats Speak: QF at Buenos Aires

By B.G.Joshi

HWL-Buenos Aires Quarter finals lines up are:

1-Netherlands vs. Spain
2- Germany vs. South Korea
3-New Zealand vs. Canada
4-Argentina vs. Japan

Standings
Pool A
| | | | | | | | | |
| --- | --- | --- | --- | --- | --- | --- | --- | --- |
| Rank | Team | MP | W | D | L | GF | GA | Pts. |
| 1 | Netherlands | 4 | 3 | 1 | 0 | 14 | 4 | 10 |
| 2 | New Zealand | 4 | 2 | 2 | 0 | 10 | 6 | 8 |
| 3 | South Korea | 4 | 2 | 1 | 1 | 16 | 14 | 7 |
| 4 | Japan | 4 | 1 | 0 | 3 | 6 | 9 | 3 |
| 5 | Egypt | 4 | 0 | 0 | 4 | 4 | 17 | 0 |
 Pool B
| | | | | | | | | |
| --- | --- | --- | --- | --- | --- | --- | --- | --- |
| Rank | Team | MP | W | D | L | GF | GA | Pts. |
| 1 | Argentina | 4 | 4 | 0 | 0 | 10 | 4 | 12 |
| 2 | Germany | 4 | 3 | 0 | 1 | 21 | 5 | 9 |
| 3 | Canada | 4 | 2 | 0 | 2 | 7 | 13 | 6 |
| 4 | Spain | 4 | 1 | 0 | 3 | 7 | 9 | 3 |
| 5 | Austria | 4 | 0 | 0 | 4 | 1 | 15 | 0 |
 Fieldhockey.com


---

Hockey World League Valencia: Pool B preview

A mix of new faces and years of experience




With just 24 hours to go before the Women's Hockey World League Semi-Final bursts into action in Valencia, it is time to meet the teams in Pool B.

With the top three teams from Valencia guaranteed a place at the showcase end of year Hockey World League Final and the 2016 Rio Olympics; plus the chance for fourth-placed teams to also qualifiy for these two events, depending upon other results, this is crunch-time competition.

Pool B is packed full of exciting teams, all craving a chance to get onto the biggest stage of all. Highest ranked team in Pool B is the fifth-ranked USA. This is a team that is on a definite upward trajectory. A fourth place finish at the 2014 World Cup, followed hot on the heels of a triumphant Champions Challenge in Glasgow.

There was a dip in form at the recent Hawkes Bay tournament in New Zealand, where they finished fifth of eight teams but, significantly, the team recorded a victory over fellow Pan-American side Argentina and will take confidence from a 3-0 test series against Pool B rivals Ireland.

Captain Lauren Crandall continues to impress both as a player who can steady the ship with her defensive strength and as a leader who inspires a phenomenal team work ethic.

Ranked one point lower are the reigning European Champions, Germany. The current squad is young and under going a building process, with their coach Jamilon Mulders insisting they are preparing for the long-term, and will be happy with third or fourth place in Valencia.

But, as every other team is aware, when it comes to important competitions, Germany usually delivers. However, Die Danas will be without influential captain Julia Muller, Katharina Otte, Lisa Schutze and Pia-Sophie Oldhafer – all of who have been forced to withdraw through injury. And a recent 3-0 loss to Spain will also have rocked the team's confidence.

The leadership team that includes Julia Muller-Weiland, Francisca Hauke and Hannah Kruger will need to be at their motivational best to ensure Germany plays to its potential.

South Africa, who come to Valencia ranked 11th, are the unbeaten African Continental Champions, but the team will want to qualify via this tournament, particularly as a place at the Hockey World League Final will give them extra top level international competition in the build-up to Rio 2016.

The team has a huge amount of experience among its ranks. In Nicolene Terblanche, Illse Davids, Shelley Russell and Dirkie Chamberlain, South Africa has players with World Cup and Olympic experience, as well as a huge amount of exciting talent.

The team will however be without its most capped player, Marsha Cox, who misses out on this event as she is currently unavailable for selection.

Ireland come to Valencia with high confidence levels after winning the HWL Round Two tournament in Dublin. While coach Darren Smith has announced his intention to step down as coach to the Green Army after Valencia, the team has a successor in place – assistant coach Graham Shaw – and will be hoping to give Smith a fitting send-off by achieving an Olympic qualification spot.

The team ranked 14 has a number of talented players in its ranks, and captain Megan Frazer will be leading by her usual energetic example. At 29, Uruguay is the lowest ranked team in Valencia but should not be under-estimated. The team defeated four teams ranked higher in the HWL Round Two event in Montevideo earlier this year, and in Florencia Norbis, Sofia Mora and Constanza Barrandeguy, it has three excellent goal-scorers.

Despite having no Olympic or World Cup tradition, Uruguay are the epitome of a nation that is taking full advantage of the opportunity offered by the new qualification process.

Pool B action begins with the first match of the competition here in Valencia. South Africa take on Ireland, with Germany facing Uruguay. On the second day of action, Uruguay face Pan-American rivals USA.

FIH site


---

Hockey World League offers Great Britain women a route to Rio 2016 Olympics

Danny Kerry's 18-strong squad set to compete in tough and convoluted Olympic qualifying tournament in Valencia, Spain

By Rod Gilmour



Back in the picture: Danny Kerry is in his second spell in charge of GB women Photo: PAUL GROVER

Great Britain women will head into their Olympic qualifying campaign in Valencia over the next fortnight having been "beasted" into shape by head coach Danny Kerry.

This is a hockey term for being put through the mill in training and Kerry believes that his squad are now ready to put up a strong showing in the women's World League, with GB starting their campaign against hosts Spain today.

The competition will see the top three sides automatically qualify for the Rio 2016 Olympics, while the finalists are set to play an energy-sapping seven games in 12 days.

Since their silver medal at last summer's Commonwealth Games, a majority of the squad have admitted that they are now the fittest they have ever been. The painful lesson accrued at the World Cup in The Hague prior to Glasgow saw to that.

"Sometimes you have to have to go through a tough time for athletes to know what it's [playing top-level sport] all about," said Kerry. "For some playing their first Olympic cycle, the penny dropped as to how much they had to train and the focus they have to bring.

"Perverse as it may sound, that tough tournament [England finished the World Cup in 11th] allowed them to understand what is required.



Georgie Twgg and Emily Maguire, right, will be in action in Valencia (RAVI GHOWRY)

"People talk in research literature about the rocky road to success and talent needs trauma, well they had that last summer and it has galvanised them.

"Quite quickly going into the tournament, we got a good team spirit going. We were undercooked at the Commonwealth Games, but now we understand how to win tight games."

Great Britain's squad is essentially an all-English collective; Emily Maguire, one shy of 150 combined international caps, being the only one of four Scots on the centralised programme to have made the cut.

In all, there are four changes to the squad which finished fifth at the Champions Trophy in Argentina before Christmas, including the return of Helen and Kate Richardson-Walsh.

With Helen's wealth of experience at the back, wife and captain Kate's wise head in midfield - time will tell if her semi-sabbatical over Christmas will cope with the demands of tournament hockey - and Alex Danson leading the lines up front, GB have a formidable trio to balance a youthful-looking squad.

The convoluted World League - there are four similar tournaments in three different venues taking place for men and women over the next month - sees eight of 10 teams qualify for the quarter-finals in Valencia.

It means that for GB to advance, they will have to avoid finishing bottom in a group also containing Argentina, Canada and China.

In elite hockey these days, there are no easy sides. Most have latched on to the centralised template first undertaken by England Hockey in 2009, while Spain's well-funded programme has given the women's side hope of a return to their formidable years, one which gleaned Olympic gold at Barcelona 1992.

"They are centralised and a lot better than they have traditionally been," Kerry said of today's opponents. "I think they might catch a few teams out as I don't think they will be expecting that level of performance from them. I'm glad we won't play them in the quarter-final."

World League, Valencia

Pool A: Argentina, Canada, China, Great Britain, Spain.
Pool B Germany, Ireland, South Africa, United States, Uruguay.

Wednesday: GB v Spain (live Sky Sports 1, 6pm)
Saturday v Argentina
Sunday v Canada
Tuesday v China

The Telegraph


---

Man on a mission

Craig Parnham, Coach, USA Women

Sarah Juggins

Craig Parnham is a bit of a hero in the USA. When his team refer to him they talk about "Coach Parnham" with a mix of awe and affection in their voices. And rightly so. When Parnham took over as coach to Team USA following the 2012 Olympics, the team was in a mild state of disarray. They had gone to the London Olympics with high hopes of a podium place, and returned with nothing but three points from the pool stages and the ignominy of a last place finish.

Since then, the USA has rebuilt, refocused and re-discovered winning ways. The team played in the Champions Challenge in Glasgow in May 2014, where the straight-forward approach of hard work and then even harder work, won the team fans and admirers. The coach, Craig Parnham, talks about his players' "mission". This is the "commonality and clarity of purpose" within the team which drives them on.

The USA took its 'mission' to the World Cup in The Hague where, although they were ranked 11th in the world, they tore apart Germany, China and England – all ranked several places higher than the USA. The team finished fourth, narrowly missing out on a bronze medal after a close match with fellow Pan Am team, Argentina.

The team is now ranked fifth in the world and has the potential to move higher. So can this change in fortunes all be down to one man? Certainly, many observers of USA field hockey think so.

Craig Parnham was assistant coach to the Great Britain and England side, and was part of the coaching team that led the Great Britain side to a bronze medal in the London 2012 Olympic Games. He is no stranger to Olympic pressure – as a player he represented Great Britain at two Olympic Games in 2000 and 2004 – and his belief in hard work and practice has transcended both his playing and coaching career.

In an interview for Team USA back in 2013, Parnham said: "One of the things that I think is fundamental in being successful, in anything you choose to do, is mastery of the basic skills. And until you have mastery of the basic skills it is difficult to progress. I think habit forming in younger life and trying to do the right thing more often than not in an environment of play is important. We know that people resort to their habits when the pressure is on at the highest level and if the habits are robust and strong then you're generally going to be in a good position."

We caught up with the approachable Brit as he was preparing to leave for Valencia, Spain, for the first of two Olympic qualifiers this year. A top three finish in Spain would guarantee USA's presence in Rio in 2016. Lower down the table than that, and the team will need to win the Pan Am Games or hope that other results in other qualifying events go their way.

PAHF:  In terms of getting the team where you want them, how far are you from your target?

CP: The team is progressing well and we are looking forward to the upcoming tournaments this summer (Hockey World League Semi-Finals and Pan Am Games). We've had a good block of training during the past months and we believe we are on the right track. We are a constant "work in progress" and always looking to refine, modify and improve our game.

PAHF: Who will be your main rivals in Valencia?

CP: Every team at the World League Semi-Finals – either in Spain or Belgium – has earned the right to be there through consistent performance over the years or via qualification from World League Two. With that in mind, we respect all of our opponents and prepare thoroughly for each game.

PAHF: To outsiders your philosophy seems simple - work harder than your opponents - but clearly it is much more complex than that. Can you outline your philosophy for a successful team?

CP: My belief is that a successful team is developed from having a clear vision and mission. The expectations are set and understood by the whole team. This commonality and clarity within the culture allows for a purposeful approach to our daily training. Taking it further than that, my philosophy is to create independent learners. It is my job to open the minds of players and allow them to be creative and certainly be independent. Once the whistle goes, a coach's ability to influence decision making is more limited. So, my main drive is to develop the players to be less coach dependent. This comes back to our culture. The players are involved in driving the program and as a coach, I am there to help guide, teach and facilitate.

PAHF: Have you had to change your approach to coaching to get the best from your players or have the players responded to you without the need for any cultural shift on your part?

CP: Part of coaching is having the ability to be flexible and having an open mind to changing the way you think. The group of players we have are not only talented, but also very creative and are fully invested in our vision. Ultimately, it is the players who decide what they want to get out of this. I see my role, along with the staff, is to create the environment which allows the players to thrive.

PAHF: Following on that point - do you think the American 'can-do' attitude makes the USA players easier to coach or get the best from?

CP: The positive attitude of the players is certainly evident. There is great unity across the group and they all work exceptionally hard for each other. Any player that is willing to commit to hard work and self-improvement is great to coach.

PAHF: What are the biggest strengths of this squad?

CP: The dedication day-in and day-out to training and work is highly impressive. That ethic galvanizes the team. There is a great feel around the team and we have a lot of fun, which I feel is important.

PAHF: What do you expect from the Pan Am Games?

CP: We are looking forward to a great tournament in a great city. Personally, it's my first Pan Am Games experience and so I am excited to see what it brings. Being part of Team USA in a multi-sport tournament will also be new. As for the hockey, and with any continental championships that has an Olympic place riding on it, we expect it to be a hard-fought set of games.

PAHF: Within your coaching staff, what does each member of staff bring to the squad?

CP: We have a dedicated staff with an array of experience and differing backgrounds. This diversity offers alternative perspectives, creativity and ways of thinking. High performance sport often requires a degree of problem solving and creative thinking, which each of our staff members brings to the squad.

PAHF: How many hours a week are you coaching your team and how many hours a week are the squad doing other hockey-related training?

CP: Our program is a full-time commitment, where we train together six days of the week. There are a number of different components to the program, including on- and off-field sessions. The load of the program varies from week to week depending on FIH schedules, and players have their own areas of development. We are coaching the players every day.

PAHF: How do you switch off from hockey and how do you persuade your players to relax?

CP: It can be difficult to switch off from the job – you find yourself constantly thinking about 'what's next'. As for the players, they are encouraged to use their personal time appropriately. The program is designed to allow for players to rest and rejuvenate away from hockey.

Pan American Hockey Federation media release


---

Hockey World League: it's 'have a go' hockey as Craig Parnham rolls out Olympic path for USA women

Englishman has lifted Team USA's field hockey women into world's top five as he attempts to reach Rio Olympics
           
By Rod Gilmour



On the rise: USA celebrate after beating England 2-1 in the group stage of the 2014 World Cup Photo: EPA

He was once an assistant GB women's coach, but from a former carpet distribution warehouse, Englishman Craig Parnham is now rolling out USA women's roadmap for success.

Starting from the West Coast, Parnham first shifted the squad from San Diego to the country's home of hockey in Pennsylvania, on the East. He then oversaw USA's best return at a World Cup since 1994, when Parnham's unfancied side – assembled on a shoestring budget thanks to a 12th-place finish at the Olympics – finished a highly credible fourth in The Hague last summer.

Their ranking jettisoned from 10th to fifth in the process and, Parnham says, they are ready "to take on anyone" at the women's World League in Valencia, which starts on Wednesday.

"People kept asking me at the World Cup whether I was surprised," says Parnham, who joined as head coach in 2013. "But it wasn't a case of that. It was more that we were unsure of where we stacked up against other teams."



Craig Parnham was installed as USA women's coach in 2013 (ADY KERRY)

That carpet warehouse is now USA Hockey's new headquarters. An impressive set-up called Spooky Nook, which features a 40-acre building, outdoor pitches, an indoor dome arena, a 135-room hotel and all the strength and conditioning facilities a top side could wish for.

As Parnham settled in, so the inevitable centralised system came to fruition, the Briton, who worked under Danny Kerry as GB women's assistant coach for six years, having seen first-hand the same model at England Hockey's headquarters in Bisham Abbey.

"The programme in San Diego was felt to be too remote from the hockey population on the East Coast," he admitted. "There were camp-based programmes in place, but it wasn't full-time. Now, it is a six-day system."

The players, he says, are the driving factor behind the team culture. "One of the first things we did was that we sat and spoke to the team and asked them where they wanted to take their hockey. They set the standards and after that talk, things were clear in terms of expectations.

"If we were really serious about moving up in the world then we had to be more full-time. It was easy for as a coach, it was making sure that the people I was working with saw the bigger picture and commit to it."

His staff include the highly-talented coach Janneke Schopman, the former Dutch women's captain, and David Hamilton, the former strength and conditioning coach at GB Hockey, who soon crossed the pond to join Parnham as director of sport science.

"He looks at all aspects of off-field preparation and I think that was an important appointment for me," Parnham admits.

The Englishman, who made 115 appearances before retiring at the 2004 Olympics, has learnt his craft from the club houses – in Shropshire and Cannock - where everything was laid out on the table.

"We would shut the door on a Tuesday night before training and they would be hard-hitting, heated discussions. They were great, hard-working clubs with tough environments and these are the sort of things that stay with you as a coach."

At the helm of the US women's team, his philosophy is one of the team "working with intent", but it's how each individual member flourishes that gives him equal satisfaction.



Parnham was assistant GB coach as women won bronze at London 2012

"We are at the sharp end of the business and it's all based on results. It can sometimes bring an unnecessary pressure to the work environment and the playing group. We go about our business in a diligent and professional way and if we know we're doing everything we can then that's the goal.

"I'm as interested in developing people as I am a winning hockey team. The benefits of team sport and collaboration are terrific, not only for the team but for longer life.

There has to be fun, too. "It's hard work here and if the players don't want to come back tomorrow then they will struggle with it. We don't live in this idealistic world where everything is laughing and joking but where possible we like to see the lighter side. Our message is to play with a smile on their face, be creative and have a go."

There are similar narratives here with Brendon McCullum's New Zealand cricket team, an outfit who have gone about their business in a similar vein, with results to match. "This group thrives on it and it works for us," adds Parnham of his USA charges.

The former defender fought for the cause during his international career too. However, there is one freak incident – "something I wouldn't have wished for," he says - that is mentioned from time to time.

In August 2001, Parnham's life was at risk when a stick crashed into his windpipe during a Test against Pakistan, shattering his larynx and leaving him unable to breathe. The injury saw him airlifted back to Britain and his larynx rebuilt, using skin from his thigh, during emergency surgery. He was back playing that November.

"Most people don't mention it but some are interested in it," reflects Parnham. "Some players go through long-term injuries and if you know the frustrations and disappointments, to have the empathy is remarkably hopeful."

USA begin their campaign at the World League – there are three berths for Rio 2016 at stake – against Uruguay on Thursday, pitted in the opposite group to Great Britain.

Parnham was all too aware of England's travails at last summer's World Cup, sharing the same floor with his former colleagues at the team hotel in The Hague. It was the last time Parnham saw Kerry. And while he admits that sharing tapas is likely to be off the agenda with time at a premium, a catch-up over a beer is in the offing.

"Olympic qualification essentially crystallises down to one game really," Parnham says. And with that New Zealand cricket and USA hockey embodiment, he adds: "But we will have a go at anybody."

What they say about Parnham

"He has created an environment that fosters growth and learning by encouraging all his players to be both leaders and listeners. I believe his greatest success has been his ability to command the respect of each and every one of his players, convincing them to fully commit to a program that demands constant sacrifice and hard work."
Team USA's Katie Reinprecht.

"Craig has been a breath of fresh air. He was an Olympian, as are many of his charges, and his demand of accountability from his staff, athletes and, in particular, himself, is tremendous."
Steve Locke, USA Field Hockey's executive director.

The Telegraph


---

Stage set for Canadian women at World League Semifinals in Spain

Canada opens Wednesday at 8am PT/11am ET vs China

Shaheed Devji

On the eve of the World League Semifinals in Valencia, Spain, the goal for the Canadian Women's Field Hockey Team is clear: it's all about Olympic qualification.

But for Canada, despite the high stakes of qualifying for the Olympics, a feat the Canadian women haven't accomplished since 1992, the process remains the same, down to what the team spends its time talking about.

"While we don't overtly spend a lot of time talking about it, the girls know the outcome; they know what is required," says Women's National Team head coach Ian Rutledge. "That takes five percent of the conversation we have with the players. The other 95 percent is about being the best that we can be."

Trusting in preparation and process is a cliché in sport, but it's one in which the Canadians have complete belief..

As one of the youngest – and often lower ranked – teams competing in any given tournament, Canada has been able to manage respectable results. A recent second place finish World League Round 2 in Ireland was in an indicator of progress.

But more importantly, having played many of the world's top teams over the last twenty-four months, including the United States, England, New Zealand, India and South Africa, the Canadian women now know what is required of them to have success when they take the field.

"We talk about being Canada focused and opposition aware," adds Rutledge, who has been at the helm of Women's Program for just over two years.

"I think we're a very good place going to into World League but in saying that we know the opposition we face in World League 3 won't be the opposition we face in World League 2."

In Pool A, Canada faces perennial field hockey powerhouse and Pan American rival Argentina, which is ranked third in the world. They also will be asked to go through 2008 Olympic silver medalist China, now ranked seventh, and Great Britain, ranked eighth. The host team, fifteenth ranked Spain rounds on Canada's Pool A competitors.

The level of competition across the board at the World League Semifinals makes this Canada's toughest test yet. But it is what they have been preparing for and in the end, it is all still a part of the process for a young team looking to improve with each match played.

And for Canada, it's less about whom they are playing and where they are ranked. It's more about another old sports adage.

"At the end of the day we just need to make sure we can control our game," says Rutledge. "That's the real focus for us. Making sure we enter each game playing the best way we can and being the best Canada we can be."

And eventually, the results will take care of themselves.

Field Hockey Canada media release


---

Pakistan set for 2016 Rio Olympic journey



The Greenshirts are likely to fly off to the venue on June 15, where they are scheduled to play the two practice matches on June 16 and June 18. PHOTO: REUTERS

KARACHI: The Pakistan hockey team is all set to begin its journey for the 2016 Rio Olympics with two practice matches against Ireland in Antwerp, Belgium before taking part in the qualifiers which get under way on June 20.

The Greenshirts are likely to fly off to the venue on June 15, where they are scheduled to play the two practice matches on June 16 and June 18.

"The team was supposed to play five matches — three against the USA and two with Ireland — but as the team will be flying off late, we will have to miss three of those games," head coach Shahnaz Sheikh told The Express Tribune.

"The delay occurred because of financial constraints faced by the Pakistan Hockey Federation [PHF] and the issuance of visas. The team is expected to receive visas on June 14 and will fly off the following day," he added.

Meanwhile, the PHF will be holding two-day trials for the selection of the final 18-member squad for the Hockey World League semi-finals — which will serve as Olympic qualifiers.

The Express Tribune


---

PSB comes to hockey team's rescue for Olympic qualifiers

Mohammad Yaqoob

LAHORE: The Pakistan Sports Board (PSB) on Tuesday ensured its full sponsorship for the national hockey team to participate in the all-important Olympics Games qualifying round, to be held in Belgium later this month which prompted the Pakistan Hockey Federation (PHF) to announce the trials in Islamabad on June 11 and 12 to select the final team for the qualifiers.

Although the PHF had been appealing for the last two years to get funds from the government as well as from some of the private sponsors, the campaign had met with a poor response which had jeopardised the national team's participation in the qualifiers.

However, on Tuesday the PSB finally responded to the federation's request and decided to extend a helping hand in sending the team to Belgium. The qualifying round is to be held from June 20 to July 5 and a national training camp is already in progress at Islamabad with the help of the PSB.

In his reaction, secretary PHF Rana Mujahid welcomed the decision but added that had the decision been taken earlier it would have allowed the Pakistan team to prepare well for the event in Belgium.

"Anyhow, the PHF welcomes the decision of the PSB for supporting us and now there is no hurdle in the participation of the national team in the qualifying round," Rana Mujahid told Dawn. "The PHF will even welcome the PSB if it wants to sponsor the PHF on event-to-event basis, but we will be grateful if a decision in this regard is taken at a right time."

"The PHF is ever ready if the government wants the financial monitoring of the federation, but the game should not suffer at any cost," he said.

Meanwhile, the PHF issued a press statement on Tuesday which states: "The Pakistan hockey team will participate in the Hockey World League semifinals, to be played in Antwerp, Belgium from June 20 to July 5, 2015.

"The trials to select the final line-up will be held at Naseer Bunda Hockey Stadium, Jinnah Sports Complex, Islamabad June 11 and 12 at 1700 hours each day. The trials will be watched by the national selection committee chairman Islahuddin Siddiqui and members Arshad Ali Chawdhry, Ayaz Mahmood, Khalid Bashir and Musaddiq Hussain," the press release said.

Earlier, a press communication issued by the PSB stated: "The PHF has informed the PSB about the acute financial constraints being faced by them. Pakistan hockey team has to play Olympics Qualification Round in Belgium from June 14 to July 6, 2015.

"Ministry of Inter-Provincial Coordination and Pakistan Sports Board (PSB) have decided to sponsor the visit of Pakistan hockey team to participate in the Qualifying Round in Belgium. The expenditure in this regard will be met out from its regular budget. PSB will bear all expenses of the team's return airfare, hotel charges and daily allowances.

"Pakistan hockey team will consist of 18 players and four officials for participation in the Fintro Hockey World League Semi Finals at Antwerp, Belgium from June 14 to July 5. Prior to the qualifiers, Pakistan hockey team will also play practice matches with the Ireland team on June 16-18, 2015.

"This extra-ordinary measure is to ensure the participation of Pakistan hockey team in the next Olympics in Brazil and to meet the expectations of the Pakistan hockey fans. The Ministry and the PSB wish good luck to the Pakistan hockey team," it concluded.

It may be mentioned here that since the last one year the federal government has been expressing its reservations over the misuse of funds by the PHF but it has not yet appointed any auditor to audit the PHF accounts to reach any conclusion.

In the last meeting of the PSB Executive Board, many representatives of the national sports federations and President Pakistan Olympic Association Lt. Gen. (retd.) Arif Hasan had supported the demand of the PHF, even at the cost of cutting the grants of the national sports federations because hockey is the national game and has earned many laurels for the country in the past.

It is also a fact that only hockey has the potential to qualify for the Olympics Games since the standard of sports in Pakistan in general has been deteriorating over the past two decades.

Dawn


---

Green Machine World League 3 Squad Announced

The men's squad for World League3 in Antwerp has been announced today by Coach Craig Fulton. The team selection comes off the back of 3 intense warm up series against Germany, France and Belgium. Speaking about the most recent matches against Belgium, Craig Fulton said "The two Tests we played in Belgium last weekend where positive, it showed that the team and players are on track. But we will need to add more detail to our performances in critical phases to get results, which we believe we can do".

Ireland will meet Belgium, China, Malaysia and Great Britain in the group stages of Pool B. The tournament runs from June 20th to July 5th and the Green Machine will first take to the pitch on June 23rd against Great Britain.

"Since World League 2 in San Diego the Irish squad have worked really hard together with aiming for successful World League 3 and Euros in mind. Final selection is never an easy situation for any coach or player and this was definitely the case for this group of players. We are all proud of the individual work done by the players to get as conditioned as they are right now and we look forward to World League 3 in Antwerp" said Craig Fulton.

World League 3 Squad:

1.Jonny Bell- Lisnagarvey
2.Drew Carlisle- Banbridge
3.Peter Caruth- Monkstown
4.Chris Cargo- Racing
5.Mitch Darling -Three Rock
6.Stephen Dowds- Banbridge
7.David Fitzgerald- Monkstown
8.Paul Gleghorne- Lisnagarevy
9.Kyle Good- Dragons
10.Ronan Gormley- Krefeld
11.Conor Harte- Racing
12.David Harte- Kampong
13.John Jackson -Reading
14.Eugene Magee- Banbridge
15.Shane O'Donoghue -Dragons
16.Kirk Shimmins- UCD
17.Alan Sothern- Racing
18.Micheal Watt -Surbiton

Non Travelling for WL3

1.Lee Cole- Monkstown
2.Neal Glassy -Lisnagarvey
3.Mark Ingram- Pembroke
4. Stuart Loughrey- Cannock
5.Jonny Bruton -Three Rock
6.Micheal Robson -Annadale

Match Schedule (All times listed are Belgian local time)

June 23rd 12:00 Ireland vs Great Britain
June 25th 14:00 Ireland vs Malaysia
June 26th 14:00 Ireland vs China
June 28th 18:00 Ireland vs Belgium

Don't forget all of Ireland's matches will be streamed live by Star Sports!

Irish Hockey Association media release


---

One match to go for women's hockey team in Singapore

By Aftar Singh

SINGAPORE: Malaysia are just one match away of retaining the women's hockey team gold medal.

Malaysia qualify for the final by chalking up their third consecutive victory, beating Indonesia 5-1 at the Sengkang Hockey Stadium on Tuesday.

Malaysia top the standings and will take on runners-up Thailand in the final on Friday.

In match against Indonesia, Noor Hasliza Mohd Ali scored a brace in the 11th and 53rd minute.

Fatin Mohd Sukri (26th), Sylvester Fazilla Silin (35th) and Siti Rahmah Othman (42nd) contributed the other goals.

Tiffani Makharti replied for Indonesia in 40th minute. It was the first goal Malaysia conceded in three matches.

National coach Mohd Nasihin Nubli said: "Although we beat Thailand 4-0 in the preliminary rounds, we are not going to take them lightly.

"We will train the next two days for the final match."

Thailand qualify for the final by edging Singapore 1-0.

The Star of Malaysia


---

Young lifts Parkites past Malvern into second

Nigel Simon



Kristin Abreu, centre, of Harvard Checkers attempts to bring the ball under control while under pressure from Ventures' Amanda George, as her team-mate and mother Cristina Abreu looks on during their T&T Hockey Board Women's Championship Division match at the National Hockey Centre, Tacarigua on Sunday. Checkers won 1-0. Photo: Anthony Harris

Dominic Young netted a double as Queen's Park Cricket Club continued its surge up the T&T Hockey Board Men's Championship Division men's table with a 3-0 trouncing of Courts Malvern at the National Hockey Centre, Tacarigua on National Hockey Centre, Tacarigua on Sunday.

Former national player and senior men's coach, Raphael Govia put the Parkites ahead on the stroke of the end of the first 15-minute quarter, but his team failed to add to its tally before the half-time interval.

Eight minutes into the third period, Young made it 2-0 with his first item and four minutes later he completed his brace with the Parkites third on the night to improve to 14 points from nine matches, the same as defending champions Notre Dame, which has a match in hand. 

However, Queen's Park has a superior goal-difference of plus-nine while the Dames have a goal-difference of plus-five.

Both teams still trail leader Petrotrin which has maximum 18 points from six matches while Paragon is fourth with 13, one ahead of Defence Force after both teams missed a chance to second by  battling to a 1-1 draw, also on Sunday.

National forward Shane Legerton put the Army/Coast-Guard combination in front in the 11th minute.

But Paragon, playing its first match without T&T Hockey Board "Player of the Year", Akim Toussaint who left for his new club in Australia earlier in the week, managed to get on level terms in the 59th minute through, another T&T international  Cogie Butler.

...Luces keeps Harvard Checkers women in hunt

Harvard Checkers stayed in the hunt for the Women's Championship Division crown when it edged bottom club, Ventures 1-0.

The heroine for the St James-based women came courtesy of former Ventures and national standout Yesenia Luces in the seventh minute firing past T&T international goalkeeper Sarayah-U Plaza.

The second quarter brought nothing new to the score line and at half-time, the score was still 1-0.

When the game resumed, although valiant efforts were made by both teams to change the score, the game ended as it did at half time, after being dominated by Checkers.

The Trinidad Guardian


---

Dar Academy boys fought out bravely to earn a draw against Hurley

By Ijaz Chaudhry

Dar hockey academy's second tour game was against the Hurley Men's 2nd team.  Based in Amsterdam's suburbs, Hurley HC plays in Holland's top division.  In a beautiful location surrounded completely by trees from three sides, the match started at a fast pace.

After their resounding 4-0 win in the opening match of the tour, Pakistan's finest hockey academy began well and earned a penalty corner in the fourth minute but the indirect drill couldn't get the final touch.  The experienced Men's 2nd side of the Hurley soaked up the initial pressure and gained ascension.  After misfiring a couple of open play chances the hosts earned no less than four penalty corners in a spell of seven minutes from 13th to 20th minute.  A couple of them were misfired and the other two were well saved by the Dar HA defence. 

For a while, It seemed the under 16 boys have been overawed by the men. But the Dar HA boys broke the shackles and raided the opposing goal through some good moves. One of those saw Zulqarnain, after a good run on the left flank, delaying, what could have been a good attempt at the goal.   A counter attack resulted in Hurley's fifth penalty corner; custodian Awais calmly stopped the flat push.

After the half time, Dar HA came out of the blocks in a more determined fashion. Twice the forwards fumbled after long balls found them in good position in the circle. Soon they had two back to back penalty corners in the 46th minute. The second was fired home by Usman senior through a powerful high flick on the goal keeper's right.

Going behind after dominating the first half, the Hurley HC responded aggressively. Their fifth PC of the match arrived in the 52nd minute and the hosts were finally able to find the net via a well-executed in direct manouvre; it was Emile Stol who made it 1-1.

With all to play, both the sides went for offensive, and back and forth game was witnessed. The Dutch anxiously looked for a winner and applied immense pressure towards the end. Helped by some unforced errors by the inexperienced deep defenders such as faulty clearances, the Hurley HC got three penalty corners in quick succession in the last seven minutes. Twice they were thwarted by the rusher and on the other occasion, the net minder Awais, who had an excellent match, denied them with two excellent saves.

It was a hard game and the Dar HA came out with a lot of credit against a widely experienced and matured side.

Dar HA: 1 (Usman Senior) THC Hurley: 1 (Emile Stol)

Ijaz Chaudhry writes on hockey and other sports. For more about him and his work, visit www.sportscorrespondent.info

Fieldhockey.com


---

First international indoor league in Qatar




It is a first for hockey in the Arab world as two international hockey tournaments are all set to burst into action in just under two weeks' time.

Qatar Hockey Federation is organising the two events – the International Hockey Festival Tournament and the Arab Nations Indoor Hockey Cup – which will run simultaneously from 10-13 June.

The events, which are being run in conjunction with Aspire Academy, will take place at the Aspire Dome and are set to raise interest levels in hockey to new heights in the area.

The International Hockey Festival has piqued the interest of some noteworthy names and former international legends, particularly from India and Pakistan. Former India captain Dhanaraj Pillay is coaching the Air India Maharajah team, with Arjuna Award winner and double Olympian Jagbir Singh acting as a mentor for the players. Muhammad Irfan, who won Champions Trophy silver with Pakistan in 2014, will be coaching two-time Doha Festival Hockey Champions, PIA Sultans, with former Pakistan goal-scoring legend and triple Olympian Shahbaz Ahmed as the team mentor.

The local favourites at the competition will be the Knights of Arabia. QHF Secretary General, Mohamed Abdul Nazer, says this team is the one to watch out for: "They are the dark horses of this tournament." The Knights are coached by former Sri Lanka national coach Mohamed Mulafer and mentored by the Qatar national coach, Maggid.

The QHF has big plans for the International Hockey Festival. This edition is a test event to gauge interest, but there are plans to invite teams from Europe, America and Oceania to future events.

The Arab Nations Cup will feature indoor hockey teams from Qatar, the Sultanate of Oman, the United Arab Emirates and Sudan. Qatar finished fourth in the Asia Indoor Championships, behind Iran, Kazakhstan and Uzbekistan, a performance that leaves them favourites to win this competition.

"This is the first time an Indoor League is being held in the Arab world," says Nazer. "It is certainly being viewed with interest globally."

FIH CEO Kelly Fairweather said: "On a recent visit to the Middle East, I was really impressed with the enthusiasm of the National Associations to promote and develop hockey in the region. These two competitions in Qatar will both raise the profile of hockey and also give hockey fans, including those new to the sport, a terrific showcase event."

FIH site


---

International Hockey Federation (FIH) 45th Congress is going to Dubai
The 45th FIH Congress will be held in Dubai from 8-13 November 2016
More than 300 delegates from over 80 affiliated nations will be in attendance
Progress on FIH's 10 year Hockey Revolution strategy to be discussed
The International Hockey Federation (FIH) has announced today that the 45th FIH Congress will be taking place in the international hub and global city of Dubai in collaboration with the Dubai Sports Council (DSC), supported by the United Arab Emirates Hockey Federation and facilitated by Falcon and Associates.

The six-day event, which runs from 8-13 November 2016, will comprise meetings, social events, networking opportunities and presentations. The main Congress meeting will take place on Saturday 12 November, during which time new National Associations will be welcomed and elections for Executive Board membership will take place.

With more than 300 delegates, representing over 80 affiliated countries, this is the ideal platform for the hockey world to come together to discuss the sport and its future. During Congress, delegates will have the opportunity to hear more and ask questions about the Hockey Revolution, FIH's 10-year strategy to drive hockey's status as a global sport. One year into the Hockey Revolution and already we are seeing hockey extend its global reach and attract a wider fan-base. At Congress, delegates will learn about the next steps to be taken along this ambitious programme.

His Excellency Saeed Hareb, Secretary General of Dubai Sports Council said: "Dubai is a global city and it recognises the value and importance of a flourishing sport sector not only in economic terms but for the benefit of society as a whole. Hosting the FIH Congress represents another positive step forward in Dubai's ongoing strategy to not only attract new and influential sports to the region but to promote the world-class sporting facilities that exist here. With its strategic location between East and West, Dubai is easily accessible to delegates from all corners of the world and, while they are here, they can take the opportunity to enjoy everything Dubai has to offer."

Ismail Ali Abdulla Al Banna, President of the UAE Hockey Federation added: "There is huge potential to grow the sport of hockey in the United Arab Emirates and across the Middle East region. As a global sports family, we all have a responsibility to secure the future of the sport and the FIH Congress provides an ideal platform to do just that. It is particularly great to welcome the FIH back to Dubai after they were among the winners of the 2014 His Highness Sheikh Mohammed bin Rashid Al Maktoum Creative Sports Awards."

FIH President Leandro Negre said: "I am delighted that FIH Congress will take place in Dubai in 2016. FIH is working to grow hockey with the DSC in Dubai and with the UAE Hockey Federation in the country.  This is a clear and sure sign that we are making huge progress to that end. Dubai is an exciting, progressive city with a truly multi-national outlook – the perfect setting for FIH Congress."

FIH Media release