All the news for Thursday 11 June 2015

Ireland upset the form book, but Uruguay feel the heat in Valencia




Pool A

China v Canada 3-0; Great Britain v Spain 2-0

Pool B

South Africa v Ireland 1-4; Germany v Uruguay 8-0

Ireland, Germany, China and Great Britain will all be pleased to have recorded wins in the opening day of the Women's Hockey World League Semi-Finals in Valencia.

It was a day that Ireland's Nikki Evans and Germany's Charlotte Stapenhorst will remember as they both scored hat tricks for their respective teams; while Emily McGuire celebrated 150 caps during Great Britain's victory over the host nation Spain.

In the first match of the day, the Green Army took just five minutes to make their mark on the competition, beating their higher-ranked rivals, South Africa, in convincing fashion. Evans opened her account with a lovely clip home from the left-side of the pitch and although South Africa's Kelly Madsen levelled soon after with a deflection at the top of the circle, Ireland were quickly back in front via another Evans touch, this time from a deflection at penalty corner time.

Ireland continued to take their chances with Evans diving onto the end of Chloe Watkins' powerful cross in the 50th minute for 3-1 and then Nicci Daly then completed the result with a spectacular solo goal, lifting the ball into the circle and cracking home on the volley.

In the second Pool B match, Germany cruised to a comfortable 8-0 win over Uruguay to get their World League semi-final campaign off to a great start, scoring five goals in the first half to the set the tone. Indeed, three of them came in the first quarter, Eileen Hoffmann volleying home after just a couple of minutes to start the goal rush. Nike Lorenz netted the first of a series of penalty corner goals before Charlotte Stapenhorst clattered home a close range finish.

Lydia Haase and Stapenhorst's second made it 5-0 at the big break before back to back-to-back corners stretched the lead to seven – Stapenhorst's third and one from Hannah Kruger doing the damage. Lisa Altenburg completed the win in the closing minutes.

In Pool A, China's turn of speed proved too hot for Canada and, after a score-less first quarter, they found their shooting sights through superb goals from Ma Wei and Yang Peng. The north American side held plenty of possession but found China a tough nut to crack and succumbed to two razor-sharp incisions that broke the game.

After a scoreless first quarter – Canada earning two penalty corners to China's one – the game burst to life when Ma Wei was picked out at the left edge of the circle. She unleashed a fine shot to catch out Kaitlyn Williams and make it 1-0. And it was a lead that was doubled just nine minutes into the second half thanks to a breathtaking counter-attack, that was completed by the agile Peng Yang. Jiaojiao De made it 3-0 with nine minutes to go, touching in a perfectly executed corner move for a comfortable win.

Alex Danson's goal and assist in the 49th minute gave Great Britain the impetus to begin their World League campaign with a 2-0 victory over hosts Spain to close day one in Valencia. After three quarters of intense, but ultimately scoreless, hockey, Danson was fouled at the head of the circle off the back of Lily Owsley's surging run. She dusted herself off to convert the ensuing penalty stroke for 1-0.

Within a minute, Danson was found on the left baseline from where she pinged a low cross into the path of Joie Leigh who applied a delicate touch into the right corner. These were the defining moments in a big tussle between two well matched teams who took turns to carry the momentum. Great Britain started brighter before Spain turned the screw toward the end of the first quarter. Plenty of corners were awarded to both teams with Kate Richardson-Walsh hitting the post from another set piece while Berta Bonastre's sweep clipped off Maddie Hinch and onto the post before Danson's late salvo won the day.

FIH site


---

Pool A: China outgun Canada, while Danson sinks Spain




Pool A saw China and Great Britain emerge as winners in their opening games of the Hockey World League Semi-Finals Pool A in Valencia.

China's turn of speed proved too hot for Canada, while Alex Danson was scorer turned provider in Great Britain's victory over Spain.

China found their shooting sights as superb left-wing goals from Ma Wei and Yang Peng put them on course for a 3-0 victory in the first game of Pool A in Valencia. The north American side held plenty of possession but found China a tough nut to crack.

After a scoreless first quarter – Canada earning two penalty corners to China's one – the game burst to life when Ma Wei was picked out at the left edge of the circle. She unleashed a fine shot to catch out Kaitlyn Williams and make it 1-0. And it was a lead that was doubled just nine minutes into the second half thanks to a breathtaking counter-attack.

Hugging the left sideline, the ball was funnelled into the path of Peng. Initially, she looked to be well marshalled but a sudden turn of speed cut her loose and despite a heavy tackle, she kept her balance to slip home the goal. Jiaojiao De made their position even stronger with nine minutes to go, touching in a perfectly executed corner move for a comfortable win.

Canada captain, Kate Gillis, said: "We are happy with our first half but we had a dip in the second. We're never satisfied with that. They are a great team and we're coming up the ranks but we can definitely move forward from this and have a great game against Argentina. China is a high ranked team, going to multiple Olympics, and that is where we are looking to get.

Quixia Cui, the captain of China said: "Honestly, I think our speed and skill is a bit higher than the Canadian team and it made it possible for us to get out of a couple of close areas when they were pressing high in our half."

Alex Danson's goal and assist in the 49th minute got Great Britain's World League campaign off to a great start with a 2-0 victory over hosts Spain to close day one in Valencia.

After three quarters of intense, but ultimately scoreless, hockey, Danson was fouled at the head of the circle. She dusted herself off to convert the ensuing penalty stroke for 1-0. Within a minute, Danson was found on the left baseline from where she pinged a low cross into the path of Joie Leigh who applied a delicate touch into the right corner.

Speaking after the game, Alex Danson said: "We are absolutely delighted. One of our real strengths is we have time together and we do our research. The Spanish team are fantastic so we're delighted with how it went.

"For both teams, penalty corner defence was world class. It went down to the little moments so we're delighted to come away with the points.

Talking about the stroke, she said: "It's certainly the longest I have had to wait to take a stroke with the referral. I had to keep thinking 'stick to processes'. The second goal was off the training park; we've been doing a lot of work in the attacking circle and it was a composed finish from Joie [Leigh]."

Georgina Oliva (ESP)said: "The first half, they were better than us and more competitive. We were a little bit nervous. Finally, we started to play in the second half so we lost out on 30 minutes [to make an impact]. But I think it was a good match and we are pushing ourselves. "Unfortunately, I think we needed 10 more minutes to turn things around. But they are really good and scored twice which was really difficult."

FIH site


---

Ireland and Germany enjoy first day goal fest in Valencia




South Africa v Ireland 1-4
Germany v Uruguay 8-0

A hat trick for Ireland's Nikki Evans and Germany's Charlotte Stapenhorst, were the highlights of an exciting day of Pool B action in Valencia on the opening day of the Women's Hockey World League Semi-Finals.

In the first match of the day, the Green Army took just five minutes to break the deadlock, Evans ghosting to the right of the circle to clip home the opening effort. South Africa's Kelly Madsen levelled soon after with a deflection at the top of the circle but Ireland were back in front on 18 minutes via another Evans touch, this time from a deflection at a penalty corner.

South Africa had their chances to level in the third quarter but could not convert a pair of corners, won by the ingenuity of Dirkie Chamberlain. Ireland, meanwhile, took their chances with Evans diving onto the end of Chloe Watkins' powerful cross in the 50th minute for 3-1.

Nicci Daly then completed the result with a spectacular solo goal, lifting the ball into the circle and cracking home on the volley.

After the match, Shelley Russell (RSA) said: "I think we will only get more control from here. The last game we played against Ireland was a loss so we need to get our mental game right against them. But it's just the first game, it's a long tournament ahead of us and we're lucky with the format that we still have the quarter-final to aim for."

Megan Frazer (IRL) said: "It was fantastic; what we aimed to do in our team talk, we executed exactly on the pitch and it showed in the second half. We had good control and were able to put it on the score sheet. Talking about Evans' hat trick, Frazer said: " It sums her up; Nikki is an absolute workhorse. If there's a chance of a goal, she will just throw herself at it. Whatever she has to do to get it in!"

In the second Pool B match, Germany cruised to a comfortable 8-0 win over Uruguay to get their World League semi-final campaign off to a great start in Pool B, scoring five goals in the first half to the set the tone.

Indeed, three of them came in the first quarter, Eileen Hoffmann volleying home after just a couple of minutes to start the goal rush. Nike Lorenz netted the first of a series of penalty corner goals before Charlotte Stapenhorst clattered home a close range finish which was awarded after a lengthy video referral.

Lydia Haase and Stapenhorst's second made it 5-0 at the big break before back to back-to-back corners stretched the lead to seven – Stapenhorst's third and one from Hannah Kruger doing the damage. Lisa Altenburg completed the win in the closing minutes.

After the match, Nina Hasselmann (GER) said: "We have never played Uruguay before but we were excited about it and I think we played a very good game, strong in the forwards and made many goals, so it was perfect for us."

The captain of Uruguay, Sofia Mora, added: "It is a new experience for us to play at this level. We know it will be difficult because it is our first time in this kind of tournament. We are going to do the best we can against teams like Germany and the USA. "We are growing slowly. We don't have a water-based field so it is hard for us but it is really worth us playing this kind of even so we can grow more."

FIH site


---

SA hockey team let themselves down

JONATHAN COOK

To sum it up, 4-1 winners Ireland took their chances while South Africa didn't in the opening match of the World League Semi Final tournament at Campo Del Hockey in Valencia, Spain Wednesday afternoon.

World number 14 Ireland, who led 2-1 at half-time, scored through a Nicola Evans hat-trick in the fifth, 20th and 49th minutes while Nicola Daly nailed down a stunner in the 54th. World number 11 SA's excellent, yet lone, goal came from Kelly Madsen in the seventh minute.

SA went into contact situations too often, not exploiting their pace and ball movement to advantage in catching the Irish defenders out.

SA must finish at least fourth in the five-team Pool B in order to make the quarter-finals on June 18 and keep their hopes alive. The top three teams qualify for the Rio 2016 Olympics with the sides ending fourth and fifth having an outside chance should other tournament results go their way.

Ireland opened the scoring against the run of play when Chloe Watkins took a quick free-hit and Evans found space to her right before steering the ball past goalkeeper Sanani Mangisa for 1-0 after five minutes.

In the seventh, SA central defender Lisa Deetlefs slapped a pinpoint bullet pass into the strike zone for Madsen to deflect home the equaliser (1-1).

 The second quarter belonged to SA but the initial success was the Irish winning the first penalty corner (PC) of the match and Evans took advantage of the accurate variation to the right for the 2-1 scoreline after 20 minutes.

SA had an opportunity soon after when Line Malan won a turnover in Ireland's defensive third but her shot went wide of the far post. A minute later, SA forward Candice Manuel fired off a shot on the turn but Ireland keeper Emma Gray made the save.

SA continued pressing hard and while Ireland did reasonably well to absorb the assault, the girls in green and gold need to look at why they didn't turn this pressure into something tangible on the scoreboard. A case in point came four minutes from half-time when SA should have got more out of an excellent opportunity but failed to make the shot.

Three minutes after half-time Dirkie Chamberlain's determination earned SA's first PC but the injection pass from the baseline went wide of the waiting trapper and while an attempt was made to scramble something out of the chance, it was not to be.

Midfielder Illse Davids won a superb turnover near the halfway line and fed Chamberlain out right, whose effort won another PC. This time SA shot too high on the first strike.

In the 38th Anna Flanagan made ground before snapping off a shot that Mangisa did well to save. While this third quarter was a somewhat cagey affair, SA again did not make their incursions count.

Two minutes into the fourth and final quarter, Ireland found the backboard from a PC but the "goal" was disallowed for being too high on the first strike. SA survived another close scrape before Watkins made the play in the 49th when she fired a cross from the right for Evans to get the decisive touch in a crowded goalbox (3-1).

Ireland made certain of victory in the 54th, six minutes from full-time, when Daly showed remarkable 3D skills in flipping up and over before first-timing her shot to fly just inside the near post for the 4-1 final scoreline.

Next up, SA meet world number five USA on Saturday at 3pm (live on SuperSport 8).

TEAMS
South Africa: Sanani Mangisa (GK), Celia Evans, Nicole Walraven, Tanya Britz, Illse Davids, Shelley Russell, Dirkie Chamberlain, Lisa Deetlefs, Kelly Madsen, Line Malan, Erin Hunter, Candice Manuel, Anelle van Deventer (GK), Lilian du Plessis, Nicolene Terblanche (capt), Bernie Coston, Jade Mayne, Quanita Bobbs.
Ireland: Emma Gray (GK), Yvonne O'Byrne, Cliodhna Sargent, Emma Smyth, Nicole Evans, Katie Mullan, Shirley McCay, Megan Frazer (capt), Gillian Pinder, Aine Connery, Ayeisha McFerran (GK), Chloe Watkins, Lizzie Colvin, Nicola Daly, Hannah Matthews, Anna O'Flanagan, Kate Dillon, Alison Meeke.

SA's remaining Pool B matches: vs USA (Saturday, 3pm on SuperSport 8); vs Uruguay (Sunday, 1pm on SS8); vs Germany (next Tuesday, 5pm on SS7).

POOLS (world ranking in brackets) – Pool A: Argentina (3), China (7), Great Britain (8), Spain (15), Canada (20). Pool B: Germany (6), USA (5), South Africa (11), Ireland (14), Uruguay (29).

SA Hockey Association media release


---

Ireland Beat South Africa 4-1 in Hockey World League




Nikki Evans' hat trick inspired Ireland to an opening game 4-1 win over South Africa, starting their Hockey World League semi-final in style in Valencia.

She took just five minutes to break the deadlock, ghosting to the right of the circle to clip home the opening effort. Kelly Madsen levelled soon after with a deflection at the top of the circle but Ireland were back in front on 18 minutes via another Evans touch, this time from a deflection at penalty corner time.

South Africa had their chances to level in the third quarter but could not convert a pair of corners, won by the ingenuity of Dirkie Chamberlain.

Ireland, meanwhile, took their chances with Evans diving onto the end of Chloe Watkins' powerful cross in the 50th minute for 3-1. Nicci Daly then completed the result with a spectacular solo goal, lifting the ball into the circle and cracking home on the volley.

It secured a fine win over a side ranked three places higher in the world rankings – Ireland are 14th – and a regular contender at World Cups and Olympic Games.

Speaking afterwards, captain Megan Frazer said it was a perfectly executed game-plan that inspired the result

"It was fantastic; what we aimed to do in our team talk, we executed exactly on the pitch and it showed in the second half. We had good control and were able to put it on the score sheet."

As for the Evans' hat trick, Frazer added: "It sums her up; Nikki is an absolute workhorse. If there's a chance of a goal, she will just throw herself at it. Whatever she has to do to get it in!"

The result puts Ireland in great shape to advance to one of the four quarter-final places from their initial five team group. They are back in action on Thursday at 2pm Irish time against reigning European champions Germany in their second game, which will be shown live on Sky Sports 1.

The tournament acts as the main event for Olympic qualification.

Ireland 4 (Nikki Evans 3, Nicci Daly)
South Africa 1

Irish Hockey Association media release


---

Great Britain sweep to Spain win



Joie Leigh in action for GB

Two goals in a minute steered Great Britain to a win in their opening World League Semi-Final match against hosts Spain. A penalty stroke from Alex Danson and a first goal in international hockey for Clifton's Joie Leigh were enough despite a strong display from the hosts.

Great Britain made a bright start and forced Spanish goalkeeper Maria Lopez into an early bout of action as she smothered from close range. Danny Kerry's side won the first penalty corner of the match but Laura Unsworth's slap was repelled by Lopez. From another early penalty corner, Captain Kate Richardson-Walsh stepped up but her shot flew wide just wide. Hannah Macleod played in Joie Leigh for the best chance of the first quarter but her shot from an angle was saved by the goalkeeper.

Spain had the better of the second quarter but it was Helen Richardson-Walsh who almost opened the scoring, Lily Owsley's pass fell agonizingly out of her reach at the far post. Spain forced a series of penalty corners, but Lola Riera's radar was slightly off and she couldn't find the opener.

Great Britain started the second half well just as they did the first. They forced an early penalty corner but Giselle Ansley's effort fizzed wide. Danny Kerry's side kept pressing and a diving Susannah Townsend couldn't quite apply the finish to a Danson cross. They went even closer when another penalty corner from Kate Richardson-Walsh thumped the post and rolled away to safety.
Spain hit back and forced two penalty corners at the other end, but Macleod's brave defending saw the danger off and it was still goalless going into the final quarter.

The turning point came with four minutes gone in the final quarter gone as GB were awarded a penalty stroke for a foul on Alex Danson. Spain asked for a video referral but to no avail. The No15 took the chance herself and beat Lopez to make it 1-0. It was 2-0 moments later as Danson crossed from the left for Joie Leigh to guide home her first international goal with a deft finish.

Spain worked a slick routine off a late penalty corner but Maddie Hinch was equal to the task and made the save. GB finished the game with ten players after Susannah Townsend was sin-binned but Danny Kerry's team saw the game out to take the three points.  
 
Great Britain's next game is against Argentina on Saturday June 13 at 16:00. 

Quotes

Great Britain Captain Kate Richardson-Walsh
"We're happy with the result and it's good to score a couple of goals. There was a point in the first half when I thought it wasn't going to come, but we stayed patient and stayed with it.

I think Spain are playing fantastically well, they're the home side who play with a lot of energy, they're as fit as they've ever been so to get the win is great.

Alex Danson is a fantastic striker who is great under pressure so there was no doubt she'd put the penalty away. We have some terrific young talent coming through, players like Joie Leigh and Lily Owsley, I'm really pleased to see her get on the score sheet."

Head Coach Danny Kerry
"It was a terrific opening quarter where we opened Spain up but the ball wouldn't go in. Our defence was solid against a quality Spain side & we continued to create chances.

Alex Danson showed world class composure after a long wait for the stroke and then brilliant skill to centre the ball for Joie Leigh's first international goal. On a personal note I am delighted for Emily Maguire who made her 150th international cap - that is some achievement."

Great Britain 2 (0)
Alex Danson 49 (PS)
Joie Leigh 50 (FG)

Spain 0 (0)

Great Britain Hockey media release


---

Great Britain women open campaign with 2-0 win over gutsy hosts Spain

Danny Kerry's side run out winners in opening pool game at World League through Alex Danson and Joie Leigh
           
By Rod Gilmour, Valencia



Heating up: GB celebrate Alex Danson's goal in Valencia Photo: STANISLAS BROCHIER

Having had the luxury of avoiding Olympic qualification for London 2012, Great Britain women found out on Wednesday evening just how tough this World League will be in their pursuit of outright Olympic qualification.

Great Britain's campaign did get off to a winning start against Spain following a hard-fought 2-0 victory in Valencia. But the hosts, coached by former Beeston player Adrian Lock since 2013, defied their world No 15 ranking for large swathes in the evening heat until the final quarter when goals from Alex Danson and Joie Leigh, with her debut goal, put the game to bed.

"We stayed patient and Spain are playing fantastically well at the moment and are as fit as they have ever been, so it's pleasing," said Kate Richardson-Walsh, the captain.

On a speedy pitch, it was a frenetic, physical start from both sides in a half ultimately dominated by Spain's possession.

Two early penalty corners came to nothing, a slip flick from Kate Richardson-Walsh going just wide.

Midway through the second quarter, Emily Maguire, the only Scot in the centralised GB squad, entered the fray for her 150th combined cap.

Leigh then shot at the goalkeeper when free in space, while Helen Richardson-Walsh couldn't latch on to a pacey cross with a last-ditch dive.

Great Britain maintained pressure in the third quarter, Kate Richardson-Walsh striking the post from a penalty corner, the closest Danny Kerry' side had come to an opening goal.

In the final quarter, a push on talismanic forward Danson saw Great Britain awarded a penalty stroke, though her flick to Maria Lopez's right was nearly saved.

A minute later, Danson was offered acres of space on the left in the circle. Her reverse stick cross found Leigh, the Clifton forward, whose deflection off an angled stick was directed superbly into the net.

Great Britain will next play Argentina, the Champions Trophy winners, on Saturday.

"I love playing Argentina, it will be a great game and I'm looking forward to playing with lots of tempo," added Richardson-Walsh.

World League, Valencia

Pool A: Argentina, Canada, China, Great Britain, Spain.
Pool B Germany, Ireland, South Africa, United States, Uruguay.

Saturday v Argentina (live Sky Sports)
Sunday v Canada
Tuesday v China

The Telegraph


---

Counterattack leads China past Canadian women at World League Semifinals

Canada back in action Thursday at 8am PT vs Argentina

Shaheed Devji

In its first match of the World League Semifinals, the Canadian Women's Field Hockey Team fell prey to the counterattack dropping a 3-0 decision to China Wednesday in Valencia, Spain.

The match was fairly evenly played on the surface, but it was the speed and execution in transition that ended up being the difference for the World No. 7 Chinese.

"We're obviously disappointed, but I think we played a strong game," says Canadian captain Kate Gillis. "Were definitely the underdog, and we were very happy with our first half, but definitely not satisfied with the whole game."

Canada, ranked twentieth in the world, played an impressive first quarter, not only keeping the game scoreless, but also applying pressure throughout the first fifteen.

In the second quarter, however, the Chinese counterattack capitalized on an early opportunity.

A fairly harmless ball bounced its way into open space, finding Wei Ma who picked it up and quickly fired a heavy backhand shot passed Canadian keeper Kaitlyn Williams for the 1-0 lead in the seventeenth minute.

China had a couple of opportunities after the goal, but seemed content to sit back and protect the lead, hoping for a Canadian turnover to take advantage.

The turnover didn't come for rest of the first half. In fact, it was Canada which had the best opportunity before half time, when Abigail Raye's long hit into the circle just missed an open Thea Culley at the back post.

China carried the 1-0 lead into halftime, but Canada was happy with their performance, having had seventy percent of possession and equaling China with six circle penetrations.

The first few minutes of the second half mimicked the first thirty minutes, but in the thirty-eighth minute, China's quick transition game was able to break through again.

A nice string of passes resulted in Yang Peng having a step on the Canadian defense. She was tackled in the circle but while going to ground was able to sneak the ball by Williams for the 2-0 lead.

China added another in the fifty-first minute on a penalty corner deflection by Jiaojiao De.

Despite being down three goals, the Canadians did not relent in their pressure and continued to try and break through the Chinese wall.

Their effort and intensity was clear, but it went unrewarded. Canada was unable to produce any quality chances to get back in the game.

"We're a strong defending team so we take pride in that, but making sure on the other side of that we're going on the attack and making the most of our opportunities" adds Gillis on where the Canadians can improve.

Canada will look to earn its first goal and first win of the tournament on Thursday at 8am PT/11am ET when they face their Pan American rival Argentina, who are ranked sixth in the world.

The Canadians then have back-to-back games on the weekend against Spain and Great Britain.

All matches can be watched live on StarSports.com.

Field Hockey Canada media release


---

Hockey World League Semifinals Bring Top Competitors to Spain

U.S. Women's National Team Compete at their First Olympic Qualifying Opportunity

VALENCIA, Spain – Three tickets to the 2016 Olympic Games in Rio de Janeiro as well as qualification for the showpiece Hockey World League Final in Argentina are at stake during the Women's World League Semifinal in Valencia, Spain.

From June 10 – 21, the U.S. Women's National Team will compete with nine other top ranked countries at the Valencia Hockey Stadium. Residing in Pool B along with Team USA are Germany, South Africa, Ireland and Uruguay all battling it out ahead of the quarterfinal stage. Following a sensational fourth place finish at last year's Rabobank Hockey World Cup, USA is now up to 5th in the FIH World Rankings and has their sights set on landing one of the Olympic qualification places in Valencia. Germany (World Rank 6th) and South Africa (World Ranked 11th) provide a big challenge, as will the rapidly improving forces of Ireland (World Ranked 14th) and Uruguay (World Ranked 29th), who both battled their way through tough Round 2 events to keep alive their dreams of competing at the Rio 2016 Olympic Games.

Equally as competitive, Pool A is made up of FIH 3rd World Ranked Argentina, 2008 Olympic Silver medalists China, 2012 Olympic Bronze medal winners Great Britain, host-nation Spain and Pan American threat Canada.

Hockey World League is composed of four rounds and played during the course of two years. The event's schedule alternately coincides with the build-up to the Hockey World Cup and the Olympic Games, providing half of the qualifiers for both top-tier tournaments. This is the second time that the Estadio de Hockey de Valencia has hosted a Women's Hockey World League event, having also been the stage for an entertaining Round 2 tournament in the 2012-13 Edition.

Team USA is pre-qualified for the Hockey World League Semifinals due to their placement in the top 11 of the FIH World Rankings at time of seeking entries. Their first match is against Uruguay Thursday, June 11 at 7 a.m. EST.

USFHA media release


---

Buenos Aires is ready for the quarter-finals



FIH / Frank Uijlenbroek

The quarter-finals at the Argentina Hockey World League Semi-Final in Buenos Aires are confirmed. Let's take a closer look at Thursday's encounters!

QF 2: Germany v Korea (12.30 local time)
Germany finished second in pool B following wins against Spain (4-1), Austria (5-0) and Canada (9-0) and a 4-3 loss against Argentina. Christopher Rühr is top scorer in the squad having scored on four occasions. Germany are the current holders of the Olympic, European and Champions Trophy titles. They are the team having scored the most goals in the pool stage with a total number of 21, followed by Korea with a total of 16. Coach Markus Weise says "We need to do our jobs in defence. If we do this properly, we have very good chances to win."

Korea finished third in pool A collecting two wins (4-2 v Japan, 7-3 v Egypt), a draw (3-3 v New Zealand) and a loss (6-2 v Netherlands). Korea's Nam Hyunwoo and Lee Namyong join Rühr on top of the tournament top scorer with four goals each. "This will be a tough match," says team-captain Lee Seungil. Korea missed out on automatic Olympic qualification at the 2014 Asian Games on home soil in Incheon, where India took home both, the Gold medal and the ticket to Rio, ahead of Silver medallists Pakistan.

QF 1: Netherlands v Spain (15.00 local time)
The Netherlands are still unbeaten after the round-robin phase. They top pool A following wins against Egypt (4-0), Korea (6-2) and Japan (3-1) as well as a 3-3 draw with New Zealand. The team's top scorer list is led by Billy Bakker, Bob de Voogd and Mink van der Weerden on three goals each. The Dutch scored 14 goals in total in the pool stage but conceded only four. Argentina also conceded just four - the lowest amount among all teams. The Netherlands are the current Olympic and World Cup Silver medallists. Robert van der Horst, the Dutch captain, says "We need to make sure that our defence structure is good for 60 minutes. In the pool stage we had given too many chances away and we also conceded through penalty corner rebounds, so we need to be more sharp on that. We need to put trust in our own game plan and if we do this we are confident to win."

Spain were unlucky to finish fourth in pool B despite a strong performance against Argentina which they lost 1-0 after the Leones scored with just three minutes left on the clock. The Red Sticks celebrated just one win in the group, beating Austria 4-1. The matches against Germany (4-1) and Canada (3-2) were lost. "Everybody can win a match at this level," said Spain's Bosco Perez-Pla. "I know all of the Dutch players because I played in Holland. I think they are the most skilful players in the world. This will be a great game, we need to avoid the Dutch winning penalty corners, so that Mink van der Weerden cannot score."

QF 3: New Zealand v Canada (17.30 local time)
New Zealand are another team finishing the round-robin without a defeat. The Blacksticks won their pool A matches against Egypt (4-1) and Japan (2-1). The encounters with the Netherlands and Korea finished tied at 1-1 and 3-3 respectively giving New Zealand the second place in the pool. Top scorer in the squad is captain Simon Child who scored three of the 10 goals in the preliminary round. "We need to improve our consistency from period to period. We are a little bit up and down at the moment, so it would be great if we had a consistent performance through all quarters," says Hugo Inglis who played his 150th cap for the Blacksticks in their match against Korea.

Canada started their Hockey World League Semi Final campaign with a convincing 3-2 win over Spain and a 3-0 victory over Austria before losing 2-1 to Argentina and 9-0 to Germany. Having six points after four matches left the Maple Leafs third in pool B. "We want to win the quarter-final but we need to come out harder than in our match against Germany," says Brenden Bisset. Top scorer is Devohn Noronha-Teixiera with two goals.

QF 4: Argentina v Japan (20.00 local time)
The last quarter-final sees host nation Argentina taking on Japan. The "Leones" are the only team in this tournament who have finished the pool stage with a perfect record gaining four wins in four matches. The host nation grabbed three points each against Austria (3-0), Canada (2-1), Germany (4-3) and Spain (1-0) to win pool B. "Playing Japan is extremely difficult," knows Argentine coach Carlos Retegui. "We need to find spaces in their play. I know the stadium will be packed here and the spectators will support us as best as they can." Top scorer after the pool stage is FIH rising star Gonzalo Peillat who scored from three penalty corners.

Japan finished fourth in pool A. The Samurais defeated Egypt 2-1 but lost the other pool matches to Korea (4-2), New Zealand (2-1) and the Netherlands (3-1). "I'm really looking forward to the quarter-final against the host nation. Especially when the stadium is sold out it will be a tough game, but I want to enjoy this big game as much as I can," says Japan's Ippei Fujimoto. Top scorer in the Samurai squad is Kenji Kitazato with two goals.

@FIH_Hockey
#HWL2015 #RoadToRio

FIH site


---

Two wins from Rio ticket

By David Leggat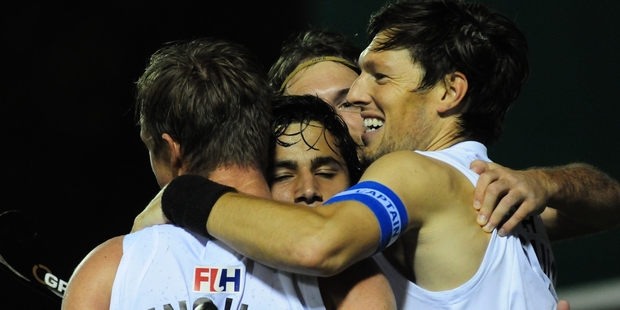 From left, Hugo Inglis, George Muir and Simon Child of New Zealand celebrate a goal during the 3-3 draw with Korea in Buenos Aires. Photo / Hernan Barrios

New Zealand are two wins away from securing a place at the Rio Olympics men's hockey programme.

The Black Sticks, ranked seventh in the world, will play Canada in their quarter-final at the World League semifinal in Buenos Aires tomorrow morning, after finishing second in their pool behind world No 2 the Netherlands.

A 3-3 draw with South Korea in their final pool game - the Koreans equalised with a rasping penalty corner goal from Hyunwoo Nam two minutes from time - left New Zealand with a two-win, two-draw record out of pool play.

"In patches we've probably played to our potential but it's getting that consistency through all four quarters of the game which we haven't had yet," attacker Hugo Inglis said yesterday.

Inglis scored New Zealand's first goal yesterday with a nifty solo run through the South Korean defence, as New Zealand sought to recover from a 2-0 deficit after the first quarter.

He then produced a slick piece of interpassing with captain Simon Child for the third goal, scored by Child, which had New Zealand in front until the death.

"We are a team that look to improve constantly so that was probably the most frustrating thing," Inglis said of the Korean late equaliser.

"When we were in front we weren't able to close it out, and when it comes to the quarter-finals that'll be a crucial factor."

Canada, ranked 15th, were dumped 9-0 by formidable Germany yesterday, which dropped them into New Zealand's path, once hosts Argentina beat Spain 1-0.

That suggests the Black Sticks should be relatively untroubled to advance to the last four. New Zealand beat them 4-0 in a series in New Zealand late last year and cleaned them up 5-0 at the Azlan Shah tournament in Malaysia in April.

Finish in the top three and New Zealand are guaranteed a trip to Rio; finish fourth and they still have work to do but are likely to get invited on the back of their world ranking and once the various confederation spots are taken up.

Inglis fancies taking route one to Rio.

"Exactly right. It'd be great to win the quarter and from there win the semifinal so it's all done and dusted and the last game is a bonus," he said.

He's happy with his own game, after a sluggish start to the tournament.

"It's nice to have a good game and get a bit of confidence going."

The New Zealand Herald


---

Hockey World League: Let's rally for India

NEW DELHI: For a country in which cricket has been the most popular, most covered and most profitable sport for decades, getting behind the national hockey team is something of a rarity. This, despite hockey being a fast-paced, wholly engaging sport that when played in India has attracted crowds - the 2010 Men's Hockey World Cup and more recently the Hero Hockey India League saw near capacity crowds at various centres.

Ahead of the Indian men's hockey team's Hockey World League semi-final campaign to be played in Antwerp from June 20 to July 15, the host broadcaster, Star Sports, has released a compelling TV advertisement aimed at garnering the public's support for the national team. The ad features leading players such as Sardar Singh, the captain, Sreejesh Raveendran and Birendra Lakra, as well as chief coach Paul Van Ass telling a gathered Indian media contingent that the hockey team is now performing better than even in recent times but does not get the support of either the public or the media.

Speaking to TOI Sports from Bengaluru, former Indian hockey captain and CEO, Olympic Gold Quest Viren Rasquinha said, "The support of the fans can be a massive lift to the hockey team. From my own experience, it gives you the strength to go on and fight in a crucial match when your lungs are bursting and when your legs are almost giving up on you."

A final four position at the tournament will help teams qualify for the Hockey World League Final to be played in India in November-December. Any team ending in the final three will be aided in qualifying for the 2016 Rio Olympics, for which India have already secured their berth by winning a gold at last year's Asian Games.

India have been placed in Pool A with Australia, France, Pakistan and Poland and will start their campaign against France on June 20.

So come on, get behind our hockey heroes!

The Times of India


---

'Attacking with 10, defending with 10 gives me extra confidence'

New Delhi: With the Men team already arrived in Belgium for the Fintro FIH Hockey World League Semi-Finals, PR Sreejesh before leaving for Belgium was excited and looking forward to how the new strategies will work in the team's favour.

Speaking on the upcoming tournament, PR Sreejesh said "The team in the last few many weeks has worked on various combinations and strategies keeping in mind the important tournaments that are lined up in the next fourteen months. The new way of attacking with 10 and defending with 10 gives me that extra confidence as now I feel my fort has been strengthened. This will give us that extra edge and I am hoping that this will help put the pressure and in the meantime also allow us to score through those half opportunities".

Speaking on clashes ahead, he further added "For me our clash against Pakistan will be the most awaited."

FIH Hockey World League Semi-Final is scheduled from 20th June - 05 July 2015. India will be seen clashing against France at 09:30 PM IST in their opening match of the tournament on 20 June 2015.

The matches will be telecasted LIVE on Star Sports.

Stick2Hockey.com


---

Sreejesh feels secured with team's new tactic

New Delhi: - Indian hockey team's goalkeeper PR Sreejesh feels the side's new strategy to attack with 10 players and defend with 10 players will give India an edge in the upcoming FIH World League Semifinals to be held in Antwerp, Belgium.

"The team in the last few weeks has worked on various combinations and strategies, keeping in mind the important tournaments that are lined up in the next 14 months," Sreejesh said.

"The new way of attacking with 10 and defending with 10 gives me extra confidence. Now I feel my fort has been strengthened. This will give us that extra edge and I am hoping that this will help put the pressure on the opponents and also allow us to score from half opportunities," he said.

Sreejesh, who is also the vice-captain of the side, said he was eagerly waiting for the much-anticipated clash against arch-rivals Pakistan in the tournament to be held from June 20 to July 5.

India will open their campaign against France on June 20.

The Tribune


---

My fort has been strengthened with new tactics, says PR Sreejesh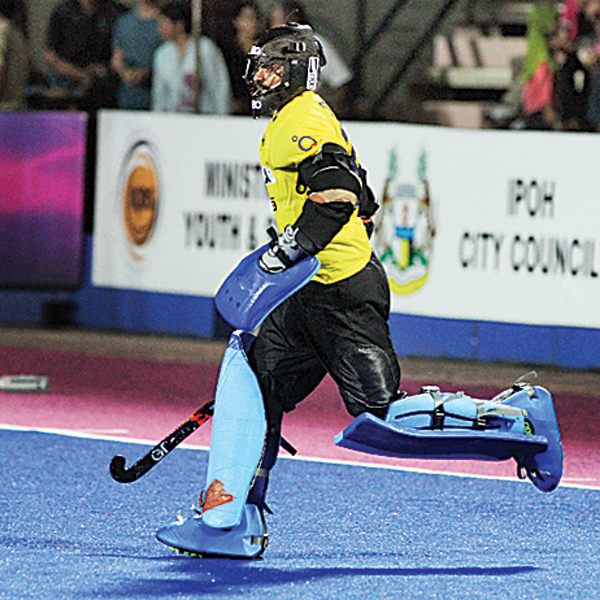 The new tactic by head coach Paul Van Ass seems to have the backing of the players, with skipper Sardar Singh and now vice-captain Sreejesh saying it will only make the team stronger.

India goalkeeper PR Sreejesh said the team's new strategy of 10 players defending and attacking has given him extra confidence going into the FIH World League Semifinals to be held in Belgium from June 20.

The new tactic by head coach Paul Van Ass seems to have the backing of the players, with skipper Sardar Singh and now vice-captain Sreejesh saying it will only make the team stronger.

"The team in the last few weeks has worked on various combinations and strategies keeping in mind the important tournaments that are lined up in the next 14 months," Sreejesh said.

"The new way of attacking with 10 and defending with 10 gives me extra confidence. Now I feel my fort has been strengthened. This will give us that extra edge and I am hoping that this will help put the pressure (on the opponents) and also allow us to score from half opportunities," he said.

India open their campaign against France on June 20, but Sreejesh said he is awaiting the clash against Pakistan the most.

DNA


---

Malaysia enter final but at a cost

By Aftar Singh

SINGAPORE: SEA Games hockey powerhouse Malaysia could only beat minnows Myanmar 2-0.

And for all the huffing and puffing, they paid the price in the men's match at the Sengkang Hockey Stadium on Wednesday.

Forward Sufi Ismat Rohulamin picked up a hamstring injury and is doubtful for the final against Singapore on Saturday.

Malaysia, represented by the national juniors, duly qualified for the final after they finished top of the single round robin competition, winning all three matches.

In the match against Myanmar, Malaysia scored through Nor Azrul Abdul Rahman (28th) and Mohd Aminuddin Mat Zain (50th).

National juniors team manager Mirnawan Nawawi called Sufi's injury unfortunate.

"He is getting treatment and we hope that he will be fit for the final," said Mirnawan.

The Star of Malaysia


---

Malaysia women's hockey team into final after 5-1 win

SINGAPORE: The Malaysian women's hockey team lived up to expectations as the SEA Games defending champion by marching into the final after beating Indonesia 5-1 for their third consecutive victory at the Sengkang Hockey Stadium on Wednesday.

The squad under coach Nasihin Nubli Ibrahim took a 3-0 first half lead with goals from Noor Hasliza Md Ali (11th min), Fatin Mahd Sukri (26th min) and Fazilla Sylvester Silin (35th min), before adding two more in the second half.

Indonesia came back from the break to reduce the deficit to 1-3 through Tiffani Makharti's 40th minute strike, but Siti Rahmah Othman restored the three goal advantage in the 42nd minute, before Noor Hasliza completed the rout in the 53rd minute.

"We only needed a win today, so I decided to rest skipper Siti Noor Amarina Ruhani and central defender Raja Norsharina. Since the weather was very hot, I also told them to play simple hockey and save their energy for the final," he said.

Malaysia will face either Singapore or Thailand in the final.

The Daily Times


---

Our Turf, Our Time: The countdown to Toronto is on

1 month to go before the 2015 Pan American Games




With only one month to go before the opening of the Pan American Games in Toronto, Field Hockey Canada has officially begun its countdown with the launch of the "Our Turf, Our Time" campaign.

About the campaign

The slogan "Our Turf, Our Time" highlights the rarity of hosting a major multisport summer Games in Canada combined with the opportunity that lies ahead for the Canadian National Field Hockey Teams.

Not since 1999 in Winnipeg (Pan American Games), 1994 in Victoria (Commonwealth Games), and 1976 in Montreal (Olympics) have Canada's field hockey teams had the chance to compete on home soil.

This year's Pan American Games mark an even larger opportunity with the field hockey competition serving as an Olympic qualifier for the 2016 Olympics in Rio de Janeiro, Brazil.

In the lead up to the games, Field Hockey Canada will honour and celebrate this great opportunity with the our "Our Turf, Our Time" campaign.

In addition to updating the branding of its social media channels (with imagery below), which includes the use of the hashtag #OurTurfOurTime, the campaign aims to highlight what it means to our athletes, coaches, fans, family and friends to host and play the games in Canada, while also looking back at some of Canada's key field hockey moments on home soil.

Look for special feature material on fieldhockey.ca and the FHC social media streams in the lead up to the games.



Our Turf, Our Time - Scott Tupper


Our Turf, Our Time - Kate Gillis

About the Pan Am Games

The Pan American Games are the world's third largest international multi-sport Games; they are only surpassed in size and scope by the Olympic Summer Games and the Asian Games.

Close to 7,000 athletes from across Latin America, South America, the Caribbean and North America will put their years of intense training, perseverance and sacrifice to the test in world-class competition in 36 Pan Am sports and 15 Parapan Am sports at the TORONTO 2015 Pan Am / Parapan Am Games.

The Pan Am Games take place from July 10th to 26th and will be the largest games ever held in Canada.

About the Competition

The field hockey competition at the Pan Am Games serves as an Olympic qualifier for both the men and the women. The winner of the tournament will earn a direct bert into the 2016 Summer Olympic Games in Rio de Janeiro, Brazil.

The matches will be played at the new Pan Am Fields, two fields at the University of Toronto, rebuilt specifically for the Pan American Games.

The Canadian men and women will play every night at 7pm beginning on July 13th.

Click here for the women's schedule.

Click here for the men's schedule.

About Team Canada

Canada's field hockey teams which will compete in Toronto will be named in conjuction with the Canadian Olympic Committee on June 25th. Sixteen men and women respectively will be nominated to represent Canada at home.

The 2015 Field Hockey Canada Hall of Fame Induction Ceremony will also be held alongside the competition, where five new members will be inducted. Click here for more information and visit fieldhockey.ca/2015hoftickets to get your tickets.

Field Hockey Canada media release


---

T&T hockeymen suffer Browne injury blow

Nigel Simon



England-based T&T senior men's hockey player Kwandwane Browne on crutches at his Canterbury home after sustaining a torn achilles tendon left leg injury on the weekend during a practice match with his Canterbury club.

This country's chances of qualification to a first ever Olympic Games, hit a snag yesterday with the news that England-based standout Kwandwane Browne will miss the upcoming Pan American Games in Canada next month after he sustained a torn achilles tendon in his left leg on the weekend.

A member of the national team for the past 18 years and with over 300-appearance to his name, Browne was expected to spear-head the 29th world ranked T&T' "Calypso Stickmen" campaign tough Pool A campaign against Argentina, Cuba and USA. Pool B comprises Brazil, Canada, Chile and Mexico.

However, the current England Under-21 assistant coach and coach for National League Premier Division's Canterbury, who in 2012/13 won the award for England Hockey High Performance Coach of the Season will now miss out on the last qualifying event for T&T for the Olympics after the injury was picked up during a practice match for his Canterbury club in England.

He is now due to have surgery on Monday and is expected to be sidelined for the next six to nine months.

Only last week, Browne who had hinted at the Pan American Games tournament being his last international for T&T, hosted a ten-day camp for the national team at the National Hockey Centre, Tacarigua along with two of his fellow coaches at English Hockey League Premier Division club, Diccon Stubbings and Stuart Goodman and senior coach Glend "Fido" Francis.

But the latest injury setback for the T&T player could spell a cruel end to an international career which has seen him play at four Commonwealth Games as well as four Pan American Games and three Pan American Cup. His last competitive outing for T&T was the FIH World League Round Two qualifiers in San Diego, California in March. At that tournament, the "Calypso stickmen" who were without some of their top players due to injury and work commitments were beaten in all six matches they contested.

First up T&T went under to Russia (6-1), USA (7-1) and Canada (3-0) in Pool B round-robin player before losing to Ireland (12-2) in the quarterfinal, 2-1 to Italy in the fifth to eighth semifinal, and 5-3 to USA in the seventh place playoff.

T&T hockey training squad: Ron Alexander, Terrence Baptiste, Lyndell Byer, Daniel Byer, Darren Cowie, Shaquille Daniel, Aidan De Gannes, Solomon Eccles, Kristien Emmanuel, Brian Garcia, Marcus James, Tariq Marcano, Teague Marcano, Che Modeste, Kiel Murray, Joshua Olton, Justin Pascal, Mickell Pierre, Jordan Reynos, Andrey Rocke, Christopher Scipio, Kelon Skeritt, Karlos Stephen, Akim Toussaint, Jordan Vieira, Dominic Young, Ishmael Campbell.

The Trinidad Guardian


---

Dar Hockey Academy outclassed Den Bosch

By Ijaz Chaudhry



Action from Dar HA's match against Den Bosch

Den Bosch is one of the biggest hockey clubs in Holland with over 2,500 members. Many mega stars of Dutch hockey including Mark Lammers, Jerome Delmee, Mathias Browyer, Peit Hein Geeris, among others, have appeared in the Den Bosch colours.

Their women team has been the most dominating in the national league. It has won an amazing 13 of the last 15 national titles.

Perhaps not surprising when one considers the fact that the club has as many as seven artificial turfs plus a smaller pitch.

The Dar Hockey Academy under 16 side's third match of the tour was against the under 18 team of the Don Bosch hockey club. The hosts boasted a player from the national under 18 side.

The confidence gained from the first two matches showed as the Dar HA appeared a well –knit unit right from the start. They had struggled in the early phases of the previous games. The Pakistani youngsters made a number of forays in the first 10 minutes and ball remained in the opponents' half.  Two back to back penalty corners were earned. The low push was good but the diving goal keeper saved it.

After a brief phase of Den Bosch's mid field ascendancy, the Dar academy boys were back in their elements with fast paced combined moves.  There were frequent penetrations of the hosts' circle. Chances came and went. Usman junior was culprit on two occasions. First, Asif sent a powerful cross from the right side but Usman fumbled with the golden opportunity. Then he was put into clear by Asad who had sensationally robbed a defender but Usman couldn't send it past the goal keeper.

In the 29th minute, an unnecessary stick check by Gul Sher gifted a penalty corner to Den Bosch.  They employed an in direct drill which culminated in a shot over the bar.

Last five minutes of the first half again witnessed effective build ups by the Lahore based academy but poor play in the circle.  They did everything but scoring.

In the initial minutes of the second half, Dar HA's captain Umair twice had acres of space in turn overs which saw two attackers on one defender. But the handsome forward failed to avail the ideal situations. Goal which had been coming ever since the match started eventually arrived. Off the second penalty corner, Usman senior's missile of a flick put the visitors ahead in the 39th minute.

A few minutes later, a Den Bosch hit found Mobasher's foot inside the circle. But the low push on the resulting penalty corner went wide. Soon after, Zulqarnain's darting run from the left initiated a fine move but Umair couldn't send the final pass correctly.  Again it was a penalty corner, in the 50th minute, and again it was a superb execution by Usman senior that enabled the Dar HA to double the lead. The little mid fielder has emerged as a deadly flicker off the set pieces and this was his fifth conversion in the tour.

Den Bosch was trying hard to get inroads but the Pakistani academy's defence, well supported by the forwards who repeatedly fell backwards, held firm. A penalty corner did arrive for the hosts in the 61st minute but the flat push again missed the target. A couple of minute later Usman junior after brilliantly intercepting a pass in the Den Bosch half had an unchallenged run of about 30 metres. He rounded the goal keeper beautifully before calmly putting the ball in the cage to join his namesake on the scorer's list. End to end stuff ensued in the last few minutes. Failure to stop the ball properly at the top of the circle meant Den Bosch's fourth penalty corner was also wasted. 

In the 69th minute, Saqib received an excellent defence splitting pass by Asif. He only had the goal keeper to beat but misfired. The hosts eventually got a consolation goal in the very last minute when some casual defending let Rutger Platt find the target.

It was an excellent display by the Dar HA and the score line didn't do justice to their overall domination.

Dar Hockey Academy (under 16): 3 (Usman senior 2, Usman junior 1) Den Bosch (under 18): 1 (Rutger Platt)

Ijaz Chaudhry writes on hockey and other sports. For more about him and his work, visit www.sportscorrespondent.info
Fieldhockey.com