All the news for Tuesday 29 July 2014

Home crowd and great atmosphere inspires wins for host nation

By Dil Bahra in Glasgow

Monday's matches at  Glasgow National Hockey Centre saw Scotland, Commonwealth Games host nation, defeat Wales in both men's and women's matches.

It was, however, the Men who stole the show with a brilliant comeback to beat Wales by 4 goals to 3 in the morning match. Two goals down in the first three minutes and trailing 1 – 3 at the interval, Scotland bounced back strongly in the second half. Gordon McIntyre and Daniel Coultas scored  two quick goals five minutes after the interval to level the scores at 3 – 3.   Spurred on by the passionate home crowd, Scotland pressed hard for the win and Nicholas Parkes scored the winning goal nine minutes from the end to win 4 - 3.

Richard Gay scored all the three goals for Wales from penalty corners. Scotland captain Chris Grassick scored Scotland's goal in the first half.

In the afternoon's match the Women's team defeated Wales 2 – 0. Alison Bell gave Scotland the lead in the 9th minute and captain Linda Clement sealed the win in the 27th minute.

India Women team beat Trinidad a Tobago 14 – 0, scoring 9 goals before the interval with a hat trick from Rani Rampal. Deepika Thakur and Jaspreet Kaur also scored hat tricks in the second half. India's next match, against South Africa on Wednesday will decide who joins New Zealand as the runners up in Group A. It's a must win game for India to go through but a draw will be enough for South Africa to go through on goal difference.

In the evening match New Zealand Women beat South Africa Women 2 – 1. Anita Punt gave New Zealand the lead in the 12th minute from a penalty corner goal. South Africa pressed hard and two minutes from the interval, Tarryn Bright scored from a well worked penalty corner goal to tie the game 1 – 1 at the interval.

The match was evenly balanced in the second half and in the 51st minute Krystal Forgesson gave New Zealand the lead again after excellent run by New Zealand's captain Kayla Whielock on the right flank. Sulette Damons made a good solo run into the New Zealand circle but ran wide after beating the advancing goalkeeper.

Fieldhockey.com


---

50 goals for Govers

Australian forward reaches goals milestone in 6-0 win over South Africa




Australian men's hockey co-coach Paul Gaudoin has challenged his side to improve on their conversion rate despite beating South Africa 6-0 in their second match at the Commonwealth Games, two days after a 7-1 win over Wales.

Doubles from Trent Mitton and Kieran Govers, including the latter's 50th goal for Australia, and strikes by Chris Ciriello and Simon Orchard took the Aussie men to victory and to the top of Pool A, ahead of India on goal difference with two preliminary matches remaining.

Gaudoin, who is sharing coaching responsibilities with Graham Reid following Ric Charlesworth's decision to finish up ahead of the Games, said after Australia's win, "We're just trying to play good hockey at the moment. It's always going to be a grind early on in the tournament. We're doing things we're trying to do, we're working on them but we're not quite there yet.

"Having said that, I think we completely dominated the game today. They had one or two chances at the most and we had umpteen so we've got to be better in our attacking third. We've got to get some quality in there versus pure quantity. I think that'll be the focus."

Western Australian Trent Mitton, whose father and grandfather both played for Australia, opened the scoring in the eighth minute after Kieran Govers and Matt Gohdes had gone close in the early stages. Mitton's upright reverse stick strike went through a host of bodies to cross the line and quarter of an hour later he made it 2-0. With sublime trickery, the 23 year-old burst into the circle and moved the ball through his legs on the run before firing home to double his and Australia's tally.

With ten minutes of the half remaining there was a lengthy delay when Chris Ciriello's penalty corner flick hit South African Tim Drummond on the head on the goal line. Drummond went off although would return for the second period and Ciriello stepped up to slot home the resultant penalty stroke for 3-0.

In similar circumstances Kieran Govers then hit Andrew Cronje in the side of the head from a penalty corner five minutes after half time with the South African leaving the field for treatment before returning later.

In the 42nd minute Australia were reduced to ten men when Mitton was shown a yellow card - the first of his international career - but it didn't seem to hamper the men in gold who scored twice while he was off the pitch. First, Simon Orchard showed exquisite skill to take down a high ball after good work by Matt Gohdes along the baseline before firing inside the near post and four minutes later Govers netted his 50th goal for Australia, firing a penalty corner low into the bottom right for 5-0.

Soon after, South African Lloyd Norris-Jones rattled Andrew Charter's crossbar with a ferocious slap shot but the Australian goal remained intact. At the other end, Erasmus Pieterse pulled off a string of saves to deny Kiel Brown and then, in quick succession, Tristan White and Jake Whetton.

With just over five minutes remaining the goalkeeper also got a glove to Kieran Govers' low shot on the reverse but he couldn't keep it out as the ball went in off the far post for 6-0. 

Speaking about his 50th goal for Australia, Kieran Govers said, "Unbelievable! It's always a thing in the back of your mind that you want to reach but I should have had a couple more. I didn't flick too well today but two goals is still a good achievement in the Commonwealth Games and hopefully I can get some more in the games to come."

Answering questions about the shot that hit Cronje on the head, he added, "It's just part of the game. Chris' one was on the line and mine was missing by about a metre so I was pretty disappointed. Even though it was missing, to hit another player is a bit frustrating and obviously you don't mean to hurt anyone. But it happens. I spoke to him just then [after the match] and he's fine so it's all good."

Australia's men face India, the 2010 silver medallists, in their third Pool A clash at 2pm BST (11pm AEST / 9pm AWST) on Tuesday.

Australia (m) v South Africa
Pool A
Commonwealth Games, Glasgow

AUSTRALIA: 6 (3)
Trent Mitton 8, 24 (FG, FG)
Chris Ciriello 27 (PS)
Simon Orchard 46 (FG)
Kieran Govers 48, 64 (PC. FG)

SOUTH AFRICA: 0 (0)
-

Australia v South Africa
Name (Hometown) Caps/Goals
Starting XI
Daniel Beale (Brisbane, QLD) 30/7
Kiel Brown (Toowoomba, WA) 147/4
Andrew Charter (GK) (Canberra, ACT) 72/0
Kieran Govers (Wollongong, NSW) 95/51
Mark Knowles (Rockhampton, QLD) 241/20
Trent Mitton (Perth, WA) 58/19
Eddie Ockenden (Hobart, TAS) 217/54
Simon Orchard (Maitland, NSW) 152/47
Andrew Philpott (Melbourne, VIC) 17/1
Matthew Swann (Mackay, QLD) 109/5
Aran Zalewski (Margaret River, WA) 39/4

Used Substitutes
Chris Ciriello (Melbourne, VIC) 142/87
Matt Gohdes (Rockhampton, QLD) 96/28
Fergus Kavanagh (Geraldton, WA) 187/14
Jake Whetton (Brisbane, QLD) 64/28
Tristan White (Wollongong, NSW) 31/2

Hockey Australia media release


---

Scotland stun Wales with dramatic fightback



Dan Coultas celebrates the equalising goal for Scotland against Wales. Photo Credit: Getty Images

Scotland delighted a passionate and enthusiastic home crowd with a dramatic 4-3 win over Wales in Pool A of the Men's Hockey competition.

The Scots had trailed 3-1 at half-time following a hat-trick of penalty corner goals by Wales' defender Richard Gay, with captain Chris Grassick getting a first half Scottish goal with a cracking run and finish low into the corner.

However, early second half goals from Gordon McIntyre and Daniel Coultas restored parity in the contest, and a dominant second half display was eventually rewarded when midfielder Nicky Parkes claimed the winning goal nine minutes from time, sending the home support into raptures.

A relieved Scotland Head Coach Derek Forsyth said, "We played pretty well in the first half. However, the first five minutes included two poor mistakes and it cost us. Credit to the boys they never gave up and even at 3-1 down they said we are still in the game and we will go out and win this game and we did just that.

"Wales scored two quick goals in the first half and we scored two quick goals in the second half which put us straight back in the game, we kept our patience and we knew it would open up at some point and we took our chances."

Goalscorer and Scotland Captain Chris Grassick commented, "I thought about what it may feel like to score in front of a home crowd before the tournament and it was an absolutely awesome feeling.

"But it doesn't matter who scored today it's all about us winning the match. That was our baseline to win that game and we are delighted to have done that. We have aspects we all work to; that's believing in ourselves, working together, sticking to our game plan.

"Yes we let in sloppy goals early on but we kept playing in the exact same way and it proved that it works as we came out and won the game."

"Against Australia, we will go out and do our best. The only way to improve is playing against the best players in the world and that is exactly that what will help us. We'll give it a go play at that pace and believe in ourselves that we can and go out and enjoy it."

Scotland found themselves two goals down inside the first five minutes.

Wales use of the video referral paid off inside sixty seconds, the video umpire ruling that a Scottish foot had been used inside the scoring circle. Richard Gay made no mistake from the resulting penalty corner, flashing a furious drive into the top right hand corner of the net.

Two minutes later, a combination between Matt Ruxton and Nicholas Rees earned Wales another penalty corner. This time Gay elected to shoot low to the right of the goal, beating Chris Nelson's attempted block on the goal-line to make it 2-0.

A defensive lapse in the Welsh ranks gave Ian Moodie a clear sight of goal in the 12th minute, but the Edinburgh University midfielder couldn't capitalise on the opportunity, sending his shot into the outer sideboard of the goal.

Nevertheless, the Scots pulled themselves back into the match two minutes later, Chris Grassick collecting a pass from Chris Nelson on the left to crack a shot past Wales goalkeeper David Kettle.

A combination between Grassick, Alan Forsyth and Nelson brought a smart save from Kettle with his helmet as the Kelburne midfielder's reverse stick effort looked goal-bound.

The Welsh shot-stopper was called into action in the 20th minute to deny Gordon McIntyre's shot after good play between Nick Parkes and Kenny Bain.

However, Wales extended their lead back to two goals against the run of play in the 30th minute. Ross Stott was adjudged to have used a foot inside the circle and after a Wales video referral, Gay completed his hat-trick with an unstoppable drive into the top right corner.

It appeared that it might not be Scotland's day when Daniel Coultas' penalty corner effort rattled off the post along the goal-line to safety two minutes before the half-time break.

The national side returned to the fray with greater purpose following the interval, Alan Forsyth demonstrating his determination to beat two Wales defenders and scoop a cross to McIntyre to turn the ball home from close range.

Sixty seconds later, the Scots were level at 3-3. A penalty corner was awarded after Gareth Hall's shot had been illegally blocked, and this time Coultas made it count, striking the ball low to the left hand corner of the goal.

Derek Forsyth's side dominated for long periods after, chances falling to Bain and McIntyre.

Given the pattern in the match however, a nervousness emanated from the arena when Wales were awarded a penalty corner in the 54th minute. However, Nelson's stick-block on the goal-line ruined Gay's 100% conversion rate from the set-piece, deflecting the goal-bound shot wide.

Nine minutes from time, the winning goal finally arrived. An excellent pass from Niall Stott found Moodie in space on the right of the circle, who cut the ball back to the on-coming Nick Parkes to dive and turn the ball home to give Scotland a crucial 4-3 lead for the first time in the match.

Nelson came close to putting clear light between the two sides a minute later, but his sweetly struck shot narrowly missed the target.

With great scenes of celebrations on the park and in the stands following the full-time hooter, today's result all but guarantees Team Scotland a place in the 7th/8th classification match later this week.

Before that, they face the might of World Champions Australia in their final Pool A match on Thursday.

Team Scotland: Jamie Cachia, Gareth Hall, David Forsyth, Nick Parkes, Michael Bremner, Dan Coultas, Alan Forysth, Chris Grassick (c), Ian Moodie, Gordon McIntyre, Ross Stott, Chris Nelson, Kenny Bain, William Marshall, Iain Scholefield, Niall Stott.

Scottish Hockey Union media release


---

Malaysia given 8-1 thrashing by England
   
GLASGOW: Malaysia were given a harsh English lesson in the Commonwealth Games after losing 8-1 in a men's Group B hockey match on Sunday.

The thrashing at the Glasgow National Hockey Centre was the worst-ever defeat for coach K. Dharmaraj's boys against England in any competition.

Last month, Malaysia lost 2-0 to England in the World Cup at The Hague.

England, bronze medallists in the World Cup, went ahead in fifth minute off a penalty corner converted by Ashley Jackson.

Malaysia equalised in the 26th minute through forward Mohd Shahril Saabah off a penalty corner as well.

But the Malaysian defence, led by skipper Mohd Razie Abdul Rahim, simply collapsed after the breather as England scored seven goals in 25 minutes.

Jackson found the target three times - in the 44th, 56th and 61st minutes - while Adam Dixon ((50th), Mark Gleghorne (64th), Phil Roper (68th) and Alastair Brogdon (69th) completed the rout.

The Star of Malaysia


---

NZ Women through to semi-finals in Glasgow



New Zealand Women's hockey team celebrate win. photosport.co.nz

The New Zealand Women's hockey team have continued their winning streak at the Glasgow Commonwealth Games, edging South Africa 2-1 and confirming their place in the semi-finals.

The win means New Zealand will face either England or Scotland in the cross over, but coach Mark Hager says they will be taking it game by game, with Canada still to go in pool play.

In this morning's game, South Africa put up a strong contest and keepers at both ends were called on to make some critical saves.

Speedster Anita Punt converted a penalty corner in the 12th minute and then New Zealand conceded their first goal of the tournament when Tarryn Bright scored just before half time.

In the second half, Krystal Forgesson helped save the day scoring in the 51st minute, but the pressure remained on till the dying seconds of the game with both teams pushing hard for another goal and the crowd vocal in their support.

"I always thought it was going to be tough and it was, we haven't played them since the Olympics so it's hard to know where they are at and they've got some skilful, fast players, so I'm just glad we got over the line and won," said captain Kayla Whitelock.

So far at the Commonwealth Games, the NZ Women have won 14-0 against Trinidad and Tobago and 3-0 against India and it was a big step up in intensity for the team this morning.

"This game was good for us, probably good timing and we needed a hard challenge because we know the semi-finals and hopefully the final will be just as tough so it's a good one to grind out and get the win," said Whitelock.

With seven new players in the team since the London Olympics, Whitelock says they are holding their own and learning lots.

"It's a huge learning curve, they learnt from the FIH World Cup. We talked about consistency and I think they have done that and there are a few nerves out there, you can see that in the young ones but they are stepping up and rising to the challenge and all we can ask is for them to chase, chase, chase and that is what they are doing," said Whitelock.

After the game this morning, coach Mark Hager said Whitelock was 'absolutely sensational.'

"She led from the middle of the field, she chases, she tackles, she just has that determination and want-to-win attitude and to have a role model like that in our team shows others the work effort that you have to put in," said Hager, who also noted that Anita Punt had a strong game.

The NZ Women play their next game against Canada at 1am on Thursday 31 July (Sky Sport 7) while the men face England who are ranked top of their pool in a crunch game at 8pm tonight (Sky Sport 3). NZ times.

RESULT

Full time: 2-1 win to NZ
Half time: 1-1
NZ goal scorers: Anita Punt, Krystal Forgesson
South African goal scorer: Tarryn Bright

Hockey New Zealand Media release


---

Black Sticks claim gritty win over South Africa



GOAL TIME: Anita Punt celebrates her goal in the Black Sticks' 2-1 win over South Africa. Photosport

The Black Sticks women's hockey team produced a gritty performance to beat South Africa 2-1 and take control of their pool at the Commonwealth Games today.

It was a crucial top of the table match in Pool A and the performance of both teams reflected that in an end-to-end affair.

Both teams scored from penalty corners in the first half and New Zealand skipper Kayla Whitelock initiated the decider with a wonderful counterattack finished by Krystal Forgesson in the 17th minute of the second half.

With Australia beating England 3-nil earlier in the day to take control of Pool B, this was a vital win for New Zealand to try to avoid their trans-Tasman rivals in the looming semifinals.

New Zealand wrap up their pool play with a game against Canada on Thursday.

Today's score was a fair reflection of the game with New Zealand earning five penalty corners to South Africa's two. They also had 11 shots at goal compared to South Africa's nine.

It was their inability to convert their penalty corners that kept the game tight.

But Punt did produce a slick drag flick after 12 minutes to find the goal.

New Zealand goalkeeper Sally Rutherford was kept busy and produced a good save towards the end of the second half.

She also managed to deflect South Africa's shot from their first penalty corner, but Tarryn Bright was neatly placed to take that deflection and turn it into a goal to level the scores.

The South Africans threatened with their fast breaks, feeding the ball down to speedy forward Sulette Downs.

New Zealand's attacks were more structured though and it was a fast break from Whitelock that helped break the deadlock.

The veteran midfielder went on a long run down the left flank and pushed the ball to Olivia Merry in the corner who got in a sweet cross for a diving Forgesson to nudge home.

New Zealand, having backed up from yesterday's win over India had to dig deep for the energy levels to hold off the South Africans who had the benefit of a day off.

New Zealand now have three wins to South Africa's two. The Black Sticks have scored 19 goals and conceded just one and now have an edge in goal difference over the South Africans.

In today's other women's matches India trounced Trinidad and Tobago 14-0 and Scotland beat Wales 2-0.

Stuff


---

Black Sticks edge South Africa

The New Zealand women's hockey team remain perfect at the Commonwealth Games but were pushed in their latest encounter, a 2-1 win over South Africa.

Anita Punt opened the scoring, her third straight game with a goal, midway through the first half with a low blasting shot from a penalty corner which was too fast for South Africa goalie Anelle van Deventer.

South Africa hit back just before halftime after Tarryn Bright pounced on a rebound after Sally Rutherford made an initial save from a penalty corner.

New Zealand scored the winner 15 minutes before fulltime after Kayla Whitelock made a break through the midfield on the counter and found Olivia Merry near the lefthand byline of the circle. Merry then delivered an inch-perfect pass to Krystal Forgesson for the diving winner.

New Zealand's third win puts the Black Sticks top of Pool A with three victories from three games. They play fourth placed Canada in their final pool game on Thursday.

The New Zealand Herald


---

Roos reach semi-finals

3-0 win over England seals Australia's place in the semi-finals




Australia's women's hockey team is through to the semi-finals of the Commonwealth Games in Glasgow after dispatching rivals England 3-0 in their final preliminary match. Two more penalty corner goals from Jodie Kenny, the tournament's top scorer with nine, and a close range rebound from Emily Smith on her 22nd birthday sealed the win over the world number six side.

The result means Australia will finish top of Pool B irrespective of the results of the remaining matches with the preliminary phase concluding on Wednesday. They will face the yet-to-determined runner-up from the other pool in Friday's semi-final with South Africa and New Zealand currently leading the way in Pool A.

It was England who enjoyed the brighter start with Australian goalkeeper Rachael Lynch looking smart to get out and block Ellie Watton in the opening ten minutes. But two goals in as many minutes all but settled the contest as first Kenny, then Smith struck to put Australia two goals to the good.

Kenny's 12th minute flick from Australia's first penalty corner was as perfect as you might see, nestling high into the top right corner of the net. And just 60 seconds later Australia pounced again as Emily Smith swept in a rebound after Brooke Peris was initially denied by goalkeeper Maddie Hinch. Latching onto the loose ball Smith kept her cool to slot home, marking her birthday with a goal.

At the other end, Jane Claxton was forced into a crucial latch ditch tackle while Madonna Blyth then swept the danger clear as England's Alex Danson floated in from the right.

Kenny might have doubled her tally with an identical corner effort shortly before half time but England defender Laura Unsworth did well to clear the ball from above her head.

26 year-old Queenslander Kenny opted to go low with her next penalty corner 15 minutes into the second half, putting Australia into an unassailable three goal lead. The goal was her ninth in four matches and keeps her at the top of tournament goal scoring charts.

Australia might have had a fourth goal but Kellie White's effort was overruled on England's appeal to the video umpire, who correctly adjudged that the back of Georgie Parker's stick had made contact with the ball in the build-up.

A brace of late penalty corners gave England a glimmer of hope but the Australian defence held firm to see out the preliminary phase of the tournament with four consecutive clean sheets.

Speaking afterwards, Jodie Kenny said, "It was probably not our best game yet; there are a few things we need to tidy up – just ball handling and things like that but at the end of the day if you cannot play your best game and come out with a three-nil win then that's pretty positive.

Explaining the secret of her penalty corner prowess, she said, "I've certainly put a lot of hours' practice [in]…a lot of years, actually. It's certainly very specific and takes a while to learn. I've got the body for it. I'm quite tall, got long levers so a combination of that and the power. I'm just so happy I can put so many away in one tournament, I'm really stoked.

"Hopefully it's a threat when I stand up there - they're a bit worried."

Australian defender Karri McMahon made her 50th appearance in the green and gold in the match.

The preliminary phase of the tournament concludes on Wednesday.

Australia (w) v England
Pool B
Commonwealth Games, Glasgow 2014

AUSTRALIA 3 (2)
Jodie Kenny 12, 50 (PC, PC)
Emily Smith 13 (FG)

ENGLAND 0 (0)
-

Australian squad v England
Starting XI
Madonna Blyth (Brisbane, QLD) 290/65
Edwina Bone (Evatt, ACT) 51/2
Jane Claxton (Adelaide, SA) 52/5
Casey Eastham (South Coast, NSW) 214/44
Anna Flanagan (Canberra, ACT) 135/32
Jodie Kenny (Wamuran, QLD) 117/66
Rachael Lynch (Melbourne, VIC) 114/0
Georgie Parker (Berri, SA) 67/21
Emily Smith (Crookwell, NSW) 97/38
Jayde Taylor (Bunbury, WA) 105/39
Kellie White (Crookwell, NSW) 87/27

Used Substitute
Kate Jenner (Tamworth, NSW) 106/1
Karri McMahon (Berri, SA) 50/4
Georgia Nanscawen (Melbourne, VIC) 135/25
Ashleigh Nelson (Wagin, WA) 158/62
Brooke Peris (Darwin, NT) 33/9

Hockey Association Malta media release


---

England's winning streak put to a halt



England's Sam Quek gets away from Australia's Jayde Taylor at Glasgow 2014 Commonwealth Games - Photo by Ady Kerry

Team England's women's hockey team suffered their first loss of Glasgow 2014 as they were downed 3-0 by defending Commonwealth champions Australia.

Gold medallists at the last two Games, Australia lived up to their reputation as favourites in Glasgow as two Jodie Kenny strikes and one from Emily Smith decided the contest.

Defeat leaves England needing to beat host nation Scotland in their final Pool B game on Wednesday to ensure their passage through to the last four.

They began brightly as Susannah Townsend found Ellie Watton after a mazy run but the latter's effort was well blocked by Australian keeper Rachael Lynch.

Two quick scores, however, had England on the back foot as first Kenny converted from a penalty corner on 17 minutes, before Smith capitalised on a mistake from captain Kate Richardson-Walsh shortly afterwards.

Maddie Hinch in the England goal was forced into a couple of fine saves from Kenny before the break, while Lily Owsley fired a shot just wide after some superb skill.

A green card for Laura Unsworth proved costly 13 minutes into the second half as shortly after she left the field, Kenny slotted home from another short corner.

England kept pressing and earned two penalty corners of their own but on both occasions they couldn't find the target – Sam Quek seeing an effort deflected behind.

Georgie Twigg also made her return for England after missing their last game against Malaysia through the injury she sustained in the opening game.

Danny Kerry, England Hockey performance director, said after the game: "I was actually really quite pleased with the performance. Australia were better than us defensively and offensively in both circles but I actually felt for large periods of the game we were playing the more constructive hockey.

"The reality is that we need to be much tougher in both circles and their corner execution was superior to ours today. We've got to debrief this game and we need to play like we did today against Scotland and it will be a close game."

Midfielder Georgie Twigg added: "It's always a big game against Australia, they have been playing so well recently, but I think we put in a really good performance out there. It's disappointing to lose 3-0 but I think we're really gaining momentum, we put in a really good team performance and we can take that into the next game.

"It's small percentages that make such a big difference at the top level and hopefully if we meet them again we have those percentages in our favour. If we can go in against Scotland and produce a performance like that then that would just be brilliant."

England 0 (0)

Australia 3 (2)
Jodie Kenny 11 49 (PC PC)
Emily Smith 12 (FG)

England Hockey Board Media release


---

Australia beat England to reach hockey semi-final

James Riach at Glasgow Green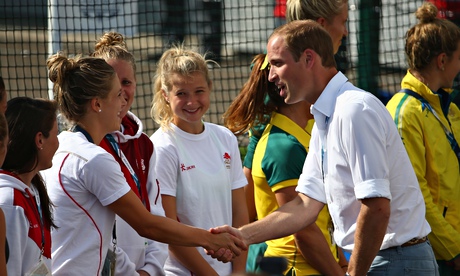 The Duke of Cambridge greets the England and Australia women's teams at Glasgow National Hockey Centre. Photograph: Robert Cianflone/Getty Images

Hockey seems to be a sport that attracts royal attention at these Games. From a photo-bombing queen to the arrival of the Duke and Duchess of Cambridge with Prince Harry at Glasgow Green, Australia's women have evidently been given the seal of approval and this comfortable victory over England assured them of a place in the Commonwealth semi-finals.

England could not be lifted by the regal couple and it said a lot that the team remained relatively optimistic after the defeat. In truth they could easily have lost this game against the tournament favourites by a greater margin despite producing an encouraging performance that sets up a winner-takes-all meeting with Scotland tomorrow morning.

Australia were favourites to top Pool B before the Games began and it was easy to see why during a dominant victory. England, their biggest threat in the group stage, enjoyed dangerous moments but too often conceded penalty corners under pressure and never looked like emerging triumphant, Australia's Jodie Kenny twice scoring from set-pieces and Emily Smith adding another.

It has been a difficult year for England and, given their recent travails, a medal finish here would be some achievement. The performance director, Danny Kerry, is in temporary charge after a disastrous performance at the World Cup, when an 11th-place finish proved to be the end for the previous coach, Jason Lee. A permanent successor will not be decided until after their campaign here.

The England captain, Kate Richardson-Walsh, admitted it had been a tough year for the team but, despite being aware that a partisan crowd would be against them during the Scotland match, she is confident of advancing from the pool in second place and going on to win a medal.

"I hope we play them [Australia] again and I think we can take them," said Richardson-Walsh. "Scotland will be a tough game. They will have the home crowd and home support and this is their turf, so they will want to have a fortress. We just need to keep building momentum and keep moving on.

"The World Cup was fantastically disappointing, it was one of the lowest points of my career, and it's been a long career. To come out of that and lose the coach and know that you've got a Commonwealth Games around the corner – it's a stressful time for players and I'm just really pleased that the squad stayed tight and professional. I'm really proud of the performance so far."

Australia had Kenny to thank for clinically executing her scoring opportunities from penalty corners. Her first effort flew into the roof of the goal and the second flummoxed the England defence to roll in low. But, had it not been for the goalkeeper Maddie Kinch, who made two fine saves, the damage could have been even greater.

Kenny's second goal was her ninth of the Games and her 66th in 117 international matches. Given that she is a defender, her haul is all the more impressive. Indeed there was always great expectation when the team's equivalent to the former Holland international footballer Ronald Koeman came up from the back.

"It was good to get the win. It's probably the best I've seen England play in a while. They certainly put it to us," Kenny said. "I've put a lot of hours, in fact a lot of years, into [set-piece] practice. It's very specific and takes a while to learn. I'm quite tall so I have long levers, a combination of that and a bit of power too. I'm really stoked to put so many away in one tournament."

The Guardian


---

As happy as Harry! Smiling prince meets blonde Australian women hockey players (and they seem pleased to meet him too!)

By Kieran Corcoran



Royal welcome: Members of the Australian hockey team - or the Hockeyroos - smile as Harry seems to crack a joke after their victory in Glasgow

A beaming Prince Harry gave his royal approval to the Australian women's hockey side today after they trounced England in a 3-0 victory at the Commonwealth games.

The royal seemed thrilled to be introduced to the triumphant athletes at the Glasgow National Hockey centre, and posed for photographs with the Aussie team, nicknamed the Hockeyroos.

Despite England's loss, Harry, 29, seemed in a jovial mood and smiled as he mingled with the players, who are favourites to win gold in the games, having taken the top spot in Delhi in 2010 and Melbourne in 2006.



Posed up: Members of the team, which beat England 3-0 today and are favourites to take home a gold medal for their performance

After shaking hands with the winning players, Harry went on to pose for photographs with his arms around them.

The Prince, presumably in a gracious mood, also commiserated with the England team.

Jodie Kenny and Emily Smith, who between them scored their teams' goals, looked particularly thrilled in the aftermath of their victory.

The team took the royal visit as further proof of their world domination, later tweeting: 'Prince Harry is on board the #roovolution as meets @Anna_Flanagan and the girls after today's win over England'



Giving some tips? The Australian team took home a gold medal at the games in Delhi in 2010 and Melbourne in 2006



Laughing along: Prince William, left, was also in the frame today meeting the players after their game against England



Happy days: The two princes smiled in the sunshine today as they shook hands and posed with players from both teams

The game means Australia is safely through to the last four, securing the top place finish in Pool B with four wins from four and a goal record of 25 scored and 0 conceded.

England began brightly as birthday girl Susannah Townsend found Ellie Watton and tried to attack the goal, but were blocked by Australian keeper Rachael Lynch.

Two quick scores, however, had England on the back foot as first Kenny converted from a penalty corner on 17 minutes, before Smith capitalised on a mistake from captain Kate Richardson-Walsh shortly afterwards.

Maddie Hinch in the England goal was forced to save two shots from Kenny before the break, while Lily Owsley fired a shot just wide of the mark.

A green card for Laura Unsworth proved costly 13 minutes into the second half as shortly after she left the field, Kenny slotted home from another short corner.

England kept pressing and earned two penalty corners of their own but on both occasions they couldn't find the target – Sam Quek seeing an effort deflected behind.

Georgie Twigg also made her return for England after missing their last game against Malaysia through the injury she sustained in the opening game.

After the match, England coach Danny Kerry said: 'Australia were better than us defensively and offensively in both circles but I actually felt for large periods of the game we were playing the more constructive hockey.

'The reality is that we need to be much tougher in both circles and their corner execution was superior to ours today.'



Group shot! Harry later posed with the England team, who were soundly defeated by their antipodean rivals



Undeterred: Harry looked pleased with his company today after the hockey game, which was part of a busy day in which he also watched boxing and gymnastics

The Daily Mail


---

Scotland seal Wales win to set up England clash



Scotland captain Linda Clement was on the scoresheet against Wales. Photo Credit: Ian Steele

Two first half field goals from Ali Bell and Linda Clement sealed a comfortable 2-0 win for Scotland over Wales in Pool B of the Women's Hockey competition at the Glasgow National Hockey Centre.

The Scots now join home nation rivals England on six points in Pool B, setting up a mouth-watering clash between the two sides on Wednesday morning, with the winners guaranteed a place in the semi-finals later this week. England lost 3-0 to Gold Medal favourites Australia earlier in the session.

Following today's match, Scotland Head Coach Gordon Shepherd said, "Three points and a win were the most important thing to make sure we were on level points with England in the final game.

"We know we will have to win the game as they have a better goal difference than us but from the start of this whole campaign, when we knew what the draw was going to be, we knew if we got our wins against Wales and Malaysia that 9am on 30th July was going to be D-day for us, an opportunity for us to do something that we had never done before and that's to step into the semi-finals of the Commonwealth Games.

"The players are a great bunch and they knew that had a job to do and come out today and they certainly did that job and did it brilliantly. Main thing was to secure the three points, may have not been the scoreline we wanted and we would have liked to score more goals.

"We are now in the position where the England game really matters so it does get me excited. All our friends and family will be there. It's the type of game you coach for, you want the big games and big prize at the end of it which is the semi-finals."

Scotland captain Linda Clement added, "Delighted with the three points and we came here today with one sole focus and that was to win the game so we are going away happy.

"We will recover from this match and come out ready to put in a good performance against England. I believe we can win that match.

"They are a team that are higher ranked than us but the last few times we have met we have lost by just a single goal so will take faith and confidence from that. We know if we turn up and put a good performance in we can win that match on Wednesday."

The Scots stormed into an early lead in the ninth minute when Ali Bell collected a ball from Nikki Kidd inside the scoring circle, and with her back to goal she subsequently left her marker for dead with a swift turn and shot that Wales goalkeeper Victoria Male was powerless to prevent finding the back of the net.



Ali Bell opened the scoring for Scotland against Wales. Photo Credit: Iain Steele

Two minutes later, Scotland were awarded a penalty corner for a Welsh foot inside the circle, but this time Male was on guard to parry away Kidd's drag-flick attempt.

Vikki Bunce demonstrated quick stick-work to fashion an opportunity on the left of the circle, but her shot sailed over the bar.

Excellent build-up play between Ailsa Wyllie and Cat Ralph provided Nicki Skrastin with a half-chance, but the Clydesdale Western midfielder's snap-shot was smothered by Male.

The home side were not to be denied for much longer though; Bell collected the ball on the right of the circle and fired a shot on target that Male could only parry and captain Linda Clement slid in from close range to flick the ball into the opposite corner to make it 2-0 in the 27th minute.

A third Scottish goal almost came to fruition with two penalty corners five minutes before half-time. McGilveray's first goal-bound attempt was blocked by a Welsh foot, with Kidd's subsequent penalty corner effort being cleared off the line by a Welsh stick intervention.

On the stroke of half-time, excellent work by Wyllie along the baseline to cut the ball back to Bunce gave the Dundee Wanderers' star an opportunity to shoot first-time on goal, but her election to cut back inside and shoot on the reverse stick ended in the ball going wide of the far post.

A frustrating second half ensued for Scotland, with chances restricted by a dogged and determined Welsh rearguard, and the analysis of the video umpire who denied the national side penalty corner opportunities with two rejections.

Kidd's penalty corner strike in the 59th minute came off a Scottish team-mate's foot, while her shot with her back to goal didn't have enough power to trouble the goal shortly after.

A notable clear chance fell to Bell ten minutes from the end, with the forward's resolute run from the left hand touchline ending in a shot being blocked by Male.

A goalless second half concluded with the job done and now England await.

Team Scotland: Amy Gibson, Vikki Bunce, Morag McLellan, Ali Bell, Becky Ward, Cat Ralph, Sarah Robertson, Linda Clement (c), Ailsa Wyllie, Leigh Fawcett, Nikki Kidd, Susan McGilveray, Nikki Llloyd, Nicki Skrastin, Emily Maguire, Aileen Davis.

Scottish Hockey Union media release


---

Indian women annihilate T&T 14-0 in CWG hockey

GLASGOW: A dominant Indian women's hockey team annihilated hapless Trinidad and Tobago by a whopping 14-0 margin in its third game of the 20th Commonwealth Games on Monday.

In a completely lop-sided match, India made mincemeat of the Africa nation as they smashed as many as nine goals in the first half itself, before pumping in five more after the breather.

The Trinidadians' leaky defense let them down as eight Indian players entered the score sheet at the Glasgow National Hockey Center.

Vandana Katariya (4th minute), Dipika Thakur (11th, 27th, 64th), Rani Rampaul (12th, 19th, 25th), Jaspreet Kaur (18th, 41st, 48th), Ritu Rani (22nd), Anuradha Thokchom (31st), Anupa Barla (53rd), Ritusha Arya (68th) scored for India.

India's dominating display right from the start left the T&T players clueless as they created opportunities at will and toyed with their rival defence.

Four minutes from the start, Vandana sounded the board after India earned its first penalty corner and seven minutes later, an on-rushing Dipika's reverse hit found the T&T defence napping.

A minute later, Dipika fed Rani Rampaul inside the semi-circle and she sent it to the right of the post comfortably.

From the 16th to 18th minute, India earned three successive penalty corners and Jaspreet converted the third. Soon Rampaul made it 5-0 with a hit from the left flank.

In the 22th minute, skipper Ritu deflected home a shot by Jaspreet from another set-piece while three minutes later, Rampaul brought up her hat-trick when her shot found a T&T stick and hovered over the goalkeeper to find the target.

In the 27th minute, Dipika sent one through the legs of the goalkeeper from the edge of the semicircle and then Anuradha got her name on the score sheet when she hit home after a missed chance by Jaspreet.

After the break, T&T played better hockey but Jaspreet still managed to bring up India's 10th goal from another penalty corner. She brought up her hat-trick when she whipped one from the left to make it 11-0.

In the 53rd minute, Anupa scored with a diving shot on a counterattack, beating the goalkeeper while seven minutes later, Dipika brought up her hat-trick when she crushed one from the edge of the D.

With two minutes to go, Ritusha too found an opportunity to fetch her name on the scoreboard when she pushed a pass from near the goalmouth.

The Indian women's team will next play South Africa on July 30.

The Times of India


---

Preview: AUS (m) v India

Rematch of 2010 final as Australia & India battle it out for Pool A




Tuesday's match between the Australian men and India (2pm BST / 11pm AEST / 9pm AWST) will go a long way to determining the winner of Pool A at the Commonwealth Games in Glasgow.

While there are various permutations still possible from the remaining fixtures, the winner will be well placed to put one foot into Saturday's semi-finals while the loser will likely be drawn into a battle with South Africa for the runners-up spot in Pool A.

Both sides have picked up a maximum six points from their opening two games with India enjoying victories over Wales (3-1) and Scotland (6-2) and Australia beating Wales (7-1) and South Africa (6-0).

India was the runner-up at the 2010 Commonwealth Games on home turf in Delhi and despite a 4-0 win for the Kookaburras at the World Cup, Australian co-coach Paul Gaudoin reckons India will prove a test for his side.

"We're expecting a really tough game," he said after Australia's 6-0 win over South Africa. "It was nil-all in the second half at the World Cup against them so we're under no illusions what sort of game that will be. They're a very good team, they're improving. It'll be a good test, a good challenge for us."

Coached by Australian Terry Walsh, India and Australia have met at the Commonwealth Games on three previous occasions, including the 2010 final in which the men in green and gold ran out 8-0 winners. Seven members of the Australian team that day will take to the field on Tuesday with Simon Orchard, Chris Ciriello, Mark Knowles, Matthew Swann, Eddie Ockenden, Trent Mitton and Fergus Kavanagh all in the 2014 team.

In their three previous Commonwealth Games meetings Australia has scored 18 times while India has breached the Aussie defence just three times. However, their performances this week have already shown their prowess from the penalty corner with Rupinder Singh and Ragunath Ramachandra both having netted three times each from the set piece.

Hockey Australia media release


---

Big Aussie test for Indians

V Krishnaswamy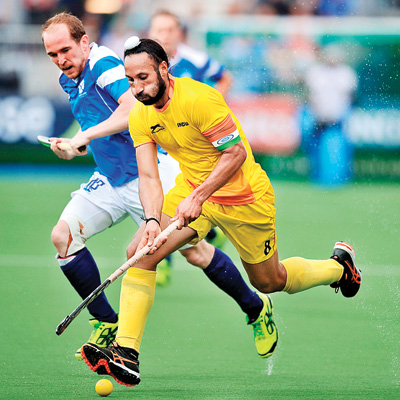 India will bank on the experience of captain Sardar Singh(centre) to cause an upset AFP

With their defence still a concern, Sardar Singh and Co take on formidable world champions today

With four major events ahead of him and his team at the start of the season, India's chief coach Terry Walsh had an unenviable task of choosing on which events to focus on.

The World Cup is after all the biggest event in the sport and comes only once in four years and the Asian Games is a qualifier for Rio Olympics in 2016 and finally the Champions Trophy at the fag end of the year was on home soil.

In between all this fell the Commonwealth Games hockey competition, where Australia have been a dominant force ever since the sport made its debut at the Games in Kuala Lumpur in 1998.

Walsh had in some sense indicated that the Commonwealth Games may be low on priority but only in comparison, though it is never easy to put away an event as such.

After two successive wins over hosts Scotland by 6-2 and Wales by 7-1, the Indians are up against the Australians in the third match in Group A at the Glasgow National Hockey Centre. India still has a game against South Africa at hand before qualification to the semi-finals.

The Australians have won each of the four Commonwealth Games gold medals since 1998 and India have just one silver from 2010 in Delhi to show for their pedigree in the sport, which fetched them eight Olympic gold medals in the past, but none since 1980.

India's 0-8 thumping by the Australians in 2010 in Delhi and their 0-4 defeat at the World Cup in June will certainly play on their minds, but they would also do well to keep in mind that the Australians also beat Netherlands 6-1 in the World Cup final.

Yet India did put up a decent show in the first half before caving in 0-4 in Utrecht.

India's big worries will be their defence, which still lackadaisical and they even let in two goals against Scotland and one against Wales. Vice captain PR Sreejesh has been in outstanding form, just as he was in Holland, but the defence will need to put up a better show. A defeat against Australia may be a given, but India will need a win against South Africa, who can be a difficult team to beat at time.

The win would be crucial for a semi-final berth and from the other the likely top are England and New Zealand, both higher ranked than India.

Dragflickers VR Raghunath and Rupinder Pal Singh are in fine fettle with their penalty corner conversions in the last game. That will also instill confidence in the rest of the team.

Walsh said, "The game against Australia gives us another opportunity to test ourselves in the areas we believe we have improved. The game will be fast, open and full of tests for individuals and our team. I am confident that our performance will show significant measures of improvement."

Captain Sardar Singh said, "The team is under no pressure when they will be facing the opponents tomorrow as the boys are high on self-belief. Post the World Cup our main area that we needed improvement was the penalty corner conversions. In the last two matches the boys have shown remarkable improvement and both Raghunath and Rupinder (Pal Singh) look in great form."

DNA


---

Australia test awaits Sardar Singh's India in the men's hockey event

With two easy victories under their belt, a confident India will face their first real test in the men's hockey event when they take on world champions and title holders Australia in the next group match at the 20th Commonwealth Games, in Glasgow on Monday.

Ninth-ranked India started their campaign in the ongoing Games on a positive note, beating world no. 31 Wales 3-1 before spanking 25th ranked Scotland 6-2 in their opening two Group A matches. But for the first time the Sardar Singh-led side would be tested in the competition as, in Australia a formidable and ruthless opponent awaits them on Tuesday.

Going by rankings and present form, the Kookaburras are way ahead of India at the world stage. In the last head to head meeting at this year's World Cup, the Indians were spanked 0-4 by Australia, who went on to win the title beating Netherlands 6-2 in the final.

Come tomorrow, the Indians would need a magical effort and some divine intervention if they want to upstage the Kookaburras, unarguably the best team in world at the moment. The match would also provide India a chance to avenge their 0-8 drubbing at the hands of Australia in the final of the last edition of Games in New Delhi.

But it is easier said than done as Australia completely belong to a different league as compared to the Indians, who boast of rich history in the sport, having won eight Olympic golds in the past.

The Indians could take heart from the performance of their penalty corner specialists -- VR Raghunath and Rupinder Pal Singh -- who returned among goals after drawing a blank sheet in the World Cup. Both Raghunath and Rupinder had so far scored three goals apiece from two outings, which includes a brace each against Scotland in their last game. And the Indians would be hoping similar performances from the duo, if not better in the remainder of the Games.

DNA


---

Suva to send best to schools hockey finals

Emoni Narawa

SUVA District will be hoping to send its best three teams to the Fiji Secondary Schools Hockey competition next month.

After the completion of week one of playoff, the officials said it would be a good tussle and only the best would qualify for the national finals.

"We have started our Suva district play-off last Saturday and we're happy with the outcome of some game," Immanuel Prasad, the Fiji Secondary Schools Hockey Association president said.

"All teams have shown what they are capable of last week but we have a few more weeks before the national finals, so hopefully the best three teams will be selected."

Saint Joseph's Secondary School qualified as the top seeded team in the U16 and U19 grades last year while Marist Brothers High School was the best boys team in both grades.

MBHS and Cathedral Secondary School U16 sides have qualified to the national finals, MBHS, Gospel High School, CSS and Nabua Secondary School will fight for the three spots in the boys' U19 grade.

Adi Cakobau School, SJSS, Suva Grammar School and CSS are in contention for the U19 girls' division. Prasad said the play-offs would continue this week.

Meanwhile, Levuka Public School are the reigning champions for the U16 and U19 girls while MBHS rules in the U16 and LPS will defend the U19 title.

The Fiji Times