All the news for Monday 28 July 2014

Jackson scores four in 8-1 win for England



Jackson ENG v MAS CWG

A blistering second half performance from England's men against Malaysia, including a masterclass in drag-flicking from Ashley Jackson, put England top of their pool on a rainy Sunday night in Glasgow.

In their second Pool B game England's men faced Malaysia, a team ranked seven places below them in the world rankings, but one that has caused them plenty of trouble in the past, including defeating England to take bronze in the 2006 Commonwealth Games in Melbourne.

The first half was a tight affair with a goal for each side.  Ashley Jackson opened the scoring in sensational style with a drag-flick from a penalty corner in the fifth minute; it was his 101st international goal. But Malaysia hit back with nine minutes left before the break to bring the score to 1-1.

As the rain came down on the Glasgow National Hockey Centre England turned on the style with seven more goals across the second 35 minutes. Jackson found the target three more times from penalty corners, toying with Malaysia's defence in a master class of drag-flicking. Adam Dixon, Mark Gleghorne, Phil Roper, and Alastair Brogdon all added a goal apiece to round off a strong England performance.

The result leaves England top of Pool B after two games, ahead of New Zealand on goal difference, who they face on Tuesday morning at 0900.

Barry Middleton, Hockey, captain commented: "It was good, especially the second half. It was good how we reacted to being 1-1 at half-time. There were probably a few people thinking we hadn't played to our best there but actually the way we stayed calm and just trusted how we can play and came out and showed it in the second half. We know we are not going to play brilliant hockey for the whole 70 minutes of all six games but we know we can play like that when we trust in ourselves."

Head Coach Bobby Crutchley talked about his side's second half performance:

"When you play with a good intensity and you can manage to dominate teams in possession, the goals often come towards the end when they have had to chase it for so long. Although it was tight in the first half I thought we did what we meant to do – shift the ball quickly, good hard leading, diligent in defence and keeping our shape – and that was really the message at half time. Don't get worried about the scoreline, just worry about doing the job properly and I thought second half we did that."

On facing New Zealand next, Crutchley added:

"They have got a wealth of experience and they possess guys who have got potential in attack so they score goals against the best teams in the world. What we have to do is obviously concentrate and make sure that we nullify them as much as we can but also continue to actually put them on the back foot a bit. We always have close games against them pretty much and I don't expect anything different."

MALAYSIA 1 (1)
Muhammad Shahril Saabah 26 (PC)

ENGLAND 8 (1)
Ashley Jackson 5, 44, 56, 61 (PC, PC, PC, PC)
Adam Dixon 50 (FG)
Mark Gleghorne 64 (FG)
Phil Roper 68 (FG)
Alastair Brogdon 69 (FG)

England Hockey Board Media release


---

Raining goals in Glasgow

Second consecutive hat-trick from Jodie Kenny helps Aussie women to 9-0 win over hosts




Jodie Kenny's second hat-trick in as many matches launched Australia's women's hockey team to a 9-0 win over the hosts Scotland at the Commonwealth Games in Glasgow on Sunday. The result puts the Aussies on the brink of the semi-finals with a draw in Monday's match against England enough to see them through to the final four irrespective of other results.

Ashleigh Nelson, Georgia Nanscawen, Brooke Peris and Jayde Taylor also found the target while Anna Flanagan netted a double and was unfortunate not to get her own hat-trick after seeing a late penalty stroke hit the post. Edwina Bone made her 50th appearance for Australia in the match.

It was a comprehensive display of Australia's penalty corner prowess with the first seven goals all coming from set-plays.

Kenny's third minute rocket inside the left post indicated what might come, however, the girls in green and gold had to wait for more than quarter of an hour for their second as Scotland reacted to the goal. Saves by Scottish goalkeeper Amy Gibson from Kenny and Jane Claxton almost paid off when, at the other end, Nikki Kidd dived to deflect a cross but it went high and wide of Rachael Lynch's goal.

When it came, Australia's second goal was all about improvisation. Kenny's initial shot was saved and rebounded to Brooke Peris, who could only scoop the ball up and across goal. But quick thinking by Western Australian Ashleigh Nelson saw her bat the ball above her head and into the goal for 2-0. Less than a minute later it was 3-0 as Kenny opted to go low, finding the bottom left corner.

Early in the second half Australia won a series of penalty corners, including the one that would give Kenny her hat-trick. Initially awarded as a penalty stroke, Scotland successfully appealed to the video umpire who overturned the decision but awarded a corner. It made little difference to Kenny, however, as she rifled a carbon copy low flick into the bottom left corner for 4-0.

Her fellow corner flicker Flanagan got off the mark midway through the half, firing into the bottom left corner through a crowd of bodies for 5-0.

Although by now the rain had stopped it was raining goals in Glasgow. Just two minutes later Victorian Georgia Nanscawen made it 6-0 as she deflected Flanagan's corner up and over the goalkeeper from close range.

Flanagan doubled her tally to put the Aussies in seventh heaven with a top corner flick before Brooke Peris made it 8-0, firing home after Jayde Taylor had dispossessed a defender at the top of the circle. Taylor herself got in on the act with Australia's ninth goal three minutes from time before only the width of the post denied Flanagan a hat-trick and the Aussies a double digit victory.

When asked afterwards what pleased him more, the defensive strength or the number goals his side is scoring, Head Coach Adam Commens said, "I think it's both pleasing. I would like to think that we could go through this tournament without conceding a goal. I think we have the capacity to do that. We were very good in the lead-up, not only in the World Cup but also in the practice games. We have continued to improve; we're trialling players in different positions and I was pleased with how they've done that. I think that we can continue to improve for the next matches."

Looking ahead to Monday's final preliminary match against England, Commens said of Australia's next opponents, "They're going to be tough regardless. I'm impressed with how they've been playing, particularly in the Investec Cup. They had a difficult first match against Wales but I think you'll find they're a team that will grow through the tournament. They were ranked number three in the world before the World Cup and I think they're one of the gold medal favourites for this tournament and we'll be treating them as an opponent that can really hurt us if we're off our game."

Speaking about the work she's done in practising penalty corners, Jodie Kenny said afterwards, "We do a lot of training, as much as we can. Getting two hat-tricks in two games is something quite amazing."

Australia and England meet at 2pm BST (11pm AEST / 9pm AWST) on Monday.

Australia (women) v Scotland
Pool B
Glasgow, Scotland

AUSTRALIA: 9 (3)
Jodie Kenny 3, 20, 47 (PC, PC, PC)
Ashleigh Nelson 19 (PC)
Anna Flanagan 53, 60 (PC, PC)
Georgia Nanscawen 55 (PC)
Brooke Peris 63 (FG)
Jayde Taylor 67 (FG)

SCOTLAND: 0 (0)
-

Australian squad v Scotland
Starting XI
Madonna Blyth (Brisbane, QLD) 289/65
Edwina Bone (Evatt, ACT) 50/2
Jane Claxton (Adelaide, SA) 51/5
Casey Eastham (South Coast, NSW) 213/44
Anna Flanagan (Canberra, ACT) 134/32
Jodie Kenny (Wamuran, QLD) 116/64
Rachael Lynch (Melbourne, VIC) 113/0
Georgie Parker (Berri, SA) 66/21
Emily Smith (Crookwell, NSW) 96/38
Jayde Taylor (Bunbury, WA) 104/3
Kellie White (Crookwell, NSW) 86/27

Used Substitute
Kate Jenner (Tamworth, NSW) 105/1
Karri McMahon (Berri, SA) 49/4
Georgia Nanscawen (Melbourne, VIC) 134/25
Ashleigh Nelson (Wagin, WA) 157/62
Brooke Peris (Darwin, NT) 32/9

Hockey Australia media release


---

Australia prove their class with penalty corner display



Scotland captain Linda Clement in action against Australia. Photo Credit: Andy Laing

Scotland Senior Women felt the full force of Australia's penalty corner expertise, conceding seven goals from set-plays during a 9-0 defeat in Pool B of the Women's Hockey competition at the Glasgow National Hockey Centre.

Jodie Kenny executed a hat-trick of penalty corner strikes, with Anna Flanagan also bagging a brace from short corner opportunities.

Ashleigh Nelson and Georgina Nanschwan were also credited with goals from penalty corners, while Brooke Peris and Jade Taylor completed the scoring with a field goal each in the final concluding minutes of the match.

A disconsolate Scotland Head Coach Gordon Shepherd summarised the outcome as, "Not one of our best performances, we didn't really started in the game against a team as good as Australia. We got punished because of it. At corners they were lethal but it's disappointing from us that we gave so many of them away.

"Everyone is hurting after a defeat like that. We've got to get our heads up and the big picture for us is to win the next game and get us a good position for our last game against England. With a winner takes all, it's still all to play for. We need to lift our heads up as soon as we can."

Scotland Captain Linda Clement was disappointed but upbeat with two more matches to come against Wales and England, adding, "Disappointed with today, I think we showed in spells that we can compete with a side like Australia but we didn't sustain it in enough periods of the match to have enough impact on the game. We were just beaten by a very good side.

"Seven of the goals were from short corners that were very well executed. I don't think there were any scrappy goals.

"We now need to draw line under the Australia result and focus on the Welsh game. We are still in this tournament and have suffered a heavy defeat but we will be looking to take things forward and be hoping to get a positive performance and a positive result."

The Scots are positioned third in Pool B after today's game, knowing that a win against Wales tomorrow will keep them in contention for a top-two finish and a semi-final place.

Australia have now qualified for the semi-finals after three wins, scoring 22 goals without reply in the process, and look very much the Gold Medal candidates at this stage.



Scotland know a win against Wales puts them back in contention for a semi-final place. Photo Credit: Andy Laing

The onslaught began as early as the third minute when Australia were awarded a penalty corner for a Scottish foot. Jodie Kenny registered the first of her three goals, rifling the ball high into the top left corner to make it 1-0.

Scotland goalkeeper Amy Gibson, who had a tremendous match despite the scoreline, was on hand to execute a brilliant outstretched save to deny Kenny's goal-bound drag-flick in the fifth minute.

Notwithstanding early Australia pressure, the home side came into the contest, dominating for a short spell in the first half with a number of long corners but the Australian defence marshalled by Kenny were up to the challenge.

Eventually, midfielder Emily Maguire was able to find a dangerous pass into the scoring circle, Nikki Kidd diving to divert the ball just wide of the target.

In the 18th minute, a reverse stick shot from Madonna Blyth was well saved by Gibson but the Scots were penalised for use of the foot inside the circle.

Kenny's subsequent attempt ballooned up off Gibson's pad into the air, reaching Brooke Peris at the back post and her scuffed attempt was turned in by the outstretched stick of Ashleigh Nelson to double the lead to 2-0.

Two minutes later, Kenny recorded her second goal, sending the ball low into the left corner of the goal to make it 3-0.



Jodie Kerry celebrates with her team-mates after her goal. Photo Credit: Andy Laing

Sarah Robertson was unlucky not to get on the end of a dangerous cross after good play between Vikki Bunce and Nicki Skrastin, leaving the national side cursing their missed opportunity.

Gibson was again called into action shortly before the half-time interval, making an important block from Nelson to keep the score at 3-0.

The Australians were offered two penalty corner chances in quick succession three minutes after the re-start; Anna Flanagan's first attempt cannoned off the bar, before her reverse pass to Kenny on the second penalty corner award was blocked by Leigh Fawcett on the line.

Kenny brought another smart save from Gibson two minutes later, the Scotland number one getting a good block in.

In the 47th minute, Georgina Parker was denied by Gibson after a strong reverse stick attempt, the resulting melee in front of goal leading to a penalty corner award for use of a Scottish foot. Kenny made no mistake this time, completing her hat-trick with another low drive into the left corner.

Scotland were penalised inside their circle again six minutes later, this time Flanagan finding the bottom left corner to make it 5-0, before the Australian number 9's drag-flick effort was neatly deflected into the net by Georgina Nanschwan for a 6-0 lead shortly after.

With only ten minutes remaining, Flanagan notched her second goal scooping the ball high into the left corner to make it 7-0.

There was still time for two further Australia goals, this time from open play; Jayde Taylor robbed Kidd in front of the Scottish circle to play in Brooke Peris who finished with a strike from the right of the goal to make it 8-0, with Jade Taylor wrapping up the scoring at 9-0.

Team Scotland: Amy Gibson, Vikki Bunce, Morag McLellan, Ali Bell, Becky Ward, Cat Ralph, Sarah Robertson, Linda Clement (c), Ailsa Wyllie, Leigh Fawcett, Nikki Kidd, Susan McGilveray, Nikki Llloyd, Nicki Skrastin, Emily Maguire, Aileen Davis.

Scottish Hockey Union media release


---

England put five past Malaysia



Alex Danson in action for England v Malaysia at Glasgow 2014 Commonwealth Games

England's women's hockey team maintained their unbeaten start at the Commonwealth Games in Glasgow.

England were always expected to brush aside Malaysia, who they've never lost to and hadn't played since a similar convincing win four years ago in Delhi.

And they duly delivered with a 5-0 win, although the real test comes on Monday against Australia, runners-up at the recent World Cup in Holland. They have scored 22 goals without response in their three games here.

After Malaysia's initial stubborn resistance, Ellie Watton broke their resolve, steering home a penalty corner in the 17th minute.

But for all England's domination of possession, they didn't double their advantage until Giselle Ansley swept home a penalty corner on the stroke of half-time.

Malaysian keeper Farah Ayuni Yahya did her best to keep the scoreline respectable until second half strikes from Sophie Bray, Alex Danson and Hollie Webb completed the win and England keeper Maddie Hinch didn't have to make a single save.

Georgie Twigg watched the game from the bench as she continues to recover from the groin injury she received against Wales.

England Captain Kate Richardson-Walsh said after the game: "Tournament hockey is about building momentum and on the back of the summer we've had so far, it's key we got a couple of good wins under our belts.

"I'm just looking forward to Australia now. They've had a fantastic couple of years and they look like the Hockeyroos from the early part of my career when they were on top of the world. "We go in as underdogs but we believe in ourselves and we can beat them."

Goal-scorer Ellie Watton added: "It was a great team performance and great to get some goals behind us, so we're very happy. They were hard to break down to begin with but we kept our focus and once we got a couple of goals, we relaxed and the match started going our way."

England 5 (2)
Ellie Watton 17 (PC)
Giselle Ansley 35 (PC)
Sophie Bray 42 (PC)
Alex Danson 50 (PS)
Hollie Webb 70 (PC)

Malaysia 0 (0)

England Hockey Board Media release


---

Comfortable Pool B victory for England women before Australia test

By Graham Wilson



Alex Danson celebrates her goal against Malaysia[PA]

ENGLAND got amongst the goals at last with five different scorers to secure six points in the Commonwealth Games Pool B table but more importantly they have started converting those all-important penalty corners.

The 5-0 win over Malaysia in Glasgow, following a ragged 2-0 win over Wales, sees them in a much better frame of mind come the big test against World Cup silver medallists Australia today.

But they know they will have to take their chances against the Hockeyroos, who have fired home 22 goals so far and have yet to concede.

Midfielder Georgie Twigg was missing from the line-up with a groin injury but England were full of attacking intent. Striker Alex Danson was causing havoc and finding the Malaysian goalkeeper in equally good form. They created plenty of chances and missed two sitters along the way.

Ellie Watton eventually broke the deadlock, injecting an 18th-minute corner and then steering home the shot. But it was not until the last corner play at the end of the first half, that England could relax with Giselle Ansley converting. Sophie Bray was next up from a corner in the 42nd minute, followed by a Danson run and dribble in which she was fouled in the tackle. Danson stepped up for the penalty stroke to beat the goalkeeper at last in the 50th minute.

Hollie Webb converted the final corner just before full-time. England goalkeeper Maddie Hinch had hardly been called into action. That will not be the case today.

England captain Kate Richardson-Walsh said: "Tournament hockey is about building momentum and on the back of the summer we've had so far, it's key that we have a couple of good wins under our belts. I'm just looking forward to Australia now.

"They've had a fantastic couple of years and they look like the Hockeyroos from the early part of my career when they were on top of the world. We go in as underdogs but we believe in ourselves and we can beat them."

Goalscorer Watton said: "It was a great team performance and great to get some goals behind us, so we're very happy. They were hard to break down to begin with but we kept our focus and once we got a couple of goals, we relaxed and the match started going our way."

England coach Danny Kerry said: "We were very solid. Malaysia kept a lot of players behind the ball and we had to work hard on creating the openings in play. Across the 70 minutes we managed to create a reasonable amount and it's good to get five goals, but we will have to be much slicker if we are going to score past Australia."

Daily Express


---

Women's hockey team suffer third straight loss



Malaysia's Norbaini Hashim in a filepic during the match against Australia. The Malaysian women suffered their third straight loss, to England on Sunday.
   
GLASGOW: The Malaysian women's hockey team suffered their third consecutive defeat when they were outplayed 5-0 by England in a Commonwealth Games Group B match at the Glasgow National Hockey Centre.

Malaysia, who lost 4-0 to Australia and 2-0 to Scotland, defended in numbers against 2010 Games bronze medallists England but to no avail.

The dominant England, who defeated Wales 2-0 in the first match, had to wait until the 17th minute to open the scoring through an Ellie Watton penalty corner attempt.

England then made it 2-0 through yet another penalty corner set piece, this time through Giselle Ansley in the 35th minute.

England stepped up a gear after the breather to knock in three more goals.

Sophie Bray sounded the board in the 42nd minute, Alex Danson eight minutes later and Hollie Webb rounded off a perfect day for England with the fifth in the 70th through yet another penalty corner set piece.

This has been a nightmarish outing for goalkeeper Farah Ayuni Yahya, who described yesterday's loss as the toughest game for her.

The Star of Malaysia


---

Hager happy with 3-0 win against India



Jordan Grant in action in today's match against India

The New Zealand women's hockey team have had their second win at the Commonwealth Games, beating India 3-0 at the Glasgow National Hockey Centre.

India along with South Africa were identified as the tough matches in the pool and coach Mark Hager is pleased to come away with another three points, placing them at the top of the table with South Africa.

"I think we were a bit better all-around the pitch today. We have a lot of respect for India, they can defend really well and their counter attack can be a real threat to us - in the first half I think we controlled them pretty well, and throughout the game we didn't concede in penalty corners which was pleasing," said Hager.

In each of the two games the kiwis have played so far, the opposition has only managed two shots on goal thanks to the Kiwis staunch defence and goalkeeper Sally Rutherford's great saves.

"I think defensively we are doing really well – it's a collective unit, the forwards are chasing hard which helps our defenders. We started to get combinations going today, we are building slowly and are getting better each game, but there's still lots to work on," said Hager.

Gemma Flynn got the scoring underway in the third minute when she popped it over goalkeeper Savita Punia who was on the ground after blocking Flynn's first attempt.

The rest of the goal-scoring action happened in the second half, firstly Anita Punt converted a penalty corner in the 32nd minute and Flynn would have got a double but her goal was disallowed after a lengthy video referral. Immediately after play resumed, New Zealand were awarded a penalty stroke and Punt knocked it home.

Eleventh ranked South Africa are next up tomorrow, and as both teams have six points, the Kiwis will be searching for another strong performance.

"It will be a crunch game, they have had two days rest so they will be fresh whereas we have a quick turnaround so we just need to make sure we carefully manage ourselves over the next day," said Hager.

The last time the two sides faced each other was at the 2012 London Olympics when New Zealand won 4-1, a game in which captain Kayla Whitelock scored twice.

The South Africans are without the world's highest goal scorer, Pietie Coetzee who announced her retirement from international hockey following the FIH World Cup.

A presentation was made by Hager before the game today for 22 year-old Sam Charlton who played her 100th international test cap today. Sam debuted in 2010 and has since played at the 2012 London Olympics, in the World League, Champions Trophy and at the World Cup.

Photos free for editorial use only. Please credit Ady Kerry. New Zealand's Sam Charlton and goalkeeper Sally Rutherford in action in today's match against India.

Vote for your favourite New Zealand hockey player from the 2014 Commonwealth Games. Click here to vote for the Gatorade People's Choice Award and go in the draw to WIN!

RESULT
Full time: 3-0
Half time: 1-0
NZ goal scorers: Gemma Flynn, Anita Punt x2

Hockey New Zealand Media release


---

Sam Charlton reaches 100th international cap




When Midlands defender Sam Charlton debuted at the start of 2010 she didn't think she would be playing her 100th international test cap only four years later at the age of 22.

"I think it took me two years to get to 20, so to think that I only played my 50th cap in April last year and to be playing my 100th about 15 months later is pretty incredible. They fly by so quickly because we play so many but it's always really special to be playing," said Charlton.

On reflection, Charlton thinks last month's FIH World Cup was her highlight but is hoping that this Commonwealth Games will trump that.

"Although we didn't make the top four, after we drew that game against Australia we did do the best we could which is really great. I think this is also a highlight, I have never been to a Commonwealth Games before so it is really exciting and hopefully we do well."

Charlton's Dad is over in Glasgow and her cousin also came to watch the game against India today.

"It's pretty cool knowing family is over here and although you don't really ever hear or see them when you're playing it's nice to know that there's lots of support in the stands. There are lots of parents here - I think there are 10 or so sets of parents here to watch us play. It's pretty cool that they have come half the way across the world to watch us play."

Coach Mark Hager knows how important Charlton is to the team and says she has grown so much as a player in the last two years.

"I think the courage and the determination that she has had is fantastic. I remember talking to her in 2012 and saying that her chances of going to the Olympics were pretty slim. And she went away and worked on her fitness and at the National Under-21 Tournament she got player of the tournament. So we took her away on a series, and she played really well at that. She turned her fitness levels around in six months which helped her to make better decisions on the pitch and she was able to stay on the field longer periods and really grew as a player. In the end, I think she was one of the better players at the London Olympics," said Hager.

"She is one of the key players in our group now and brings a real toughness to our defence, she can tackle but can also go forward with the ball and I think she is growing each time she steps out on the pitch and obviously to have her, Stacey [Michelsen], Emily [Naylor] and Kayla [Whitelock] as that four at the back allows us to bring on the new, less experienced players of the future to play alongside them."

Hockey New Zealand Media release


---

Black Sticks beat India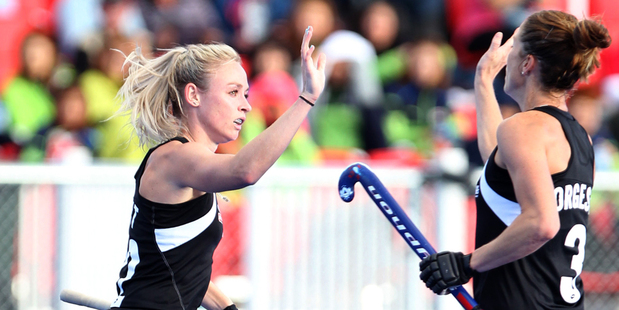 Anita Punt scored twice in New Zealand's win over India. Anita Punt scored twice in New Zealand's win over India.

The New Zealand women's hockey team recorded a second clean sheet at the Glasgow Commonwealth Games after a 3-0 pool play win over India this morning.

Gemma Flynn opened the scoring in the first half before Anita Punt scored from a penalty corner and a penalty stroke in the second half for New Zealand's second win of the tournament.

The Black Sticks dominated possession in the first half and had six shots on goal but could only convert one chance.

They upped the pressure in the second half and broke the Indian defense twice with Punt adding to her double in the opening 14-0 win over Trinidad and Tobago.

New Zealand next face group leaders South Africa tomorrow.

The New Zealand Herald


---

Black Sticks women stay unbeaten in Glasgow

MARK GEENTY IN GLASGOW



TOO STRONG: Anita Punt (left), who had two goals in the Black Sticks' 3-0 victory over India, high-fives Krystal Forgesson. Photosport

A double to Anita Punt saw New Zealand dispatch India 3-0 and remain on track to top pool A in the Commonwealth Games women's hockey competition.

The Black Sticks led 1-0 at halftime against one of their toughest pool opponents, and Punt's two second half goals made it safe at the Glasgow National Hockey Centre.

A deadly Punt drag flick from a penalty corner doubled New Zealand's lead, then she converted a penalty stroke for an India stick check with 15 minuters remaining.

The Black Sticks have scored 17 goals and conceded none in their first two matches, after an opening round stroll against Trinidad and Tobago.

Gemma Flynn got New Zealand off to a flyer, scoring their opening goal after two minutes when she deftly finished a rebound from a penalty corner.

Flynn was denied a second in the 52nd minute when she scored after slick interpassing, but the goal was disallowed after India challenged the decision. A free hit was deemed not to have travelled the permitted 5m before hitting into the circle.

New Zealand face South Africa next (8am tomorrow NZT), with victory there almost guaranteeing them top spot in the pool and a likely semifinal against England.

Stuff


---

Indian eves lose 0-3 to NZ in Glasgow Games hockey

GLASGOW: India eves failed to keep their winning momentum going as they were blanked 0-3 by higher-ranked New Zealand in their second Group match at the 20th Commonwealth Games, on Sunday.

India, ranked 13th in the world, showed glimpses of individual brilliance but the girls failed combine as team to be able to break the resolute defence of fourth-ranked 'Black Sticks'.

India were the second best team on the day as the Kiwi girls did not give any space to their opponents.

For New Zealand Anita Punt scored two goals and Gemma Flynn scored the other.

It took New Zealand just three minutes to open the scoring when Flynn utilised their first penalty corner and scored from a goal-mouth scramble.

New Zealand kept up the pressure on the Indian defence thereafter but failed to add another goal to their account in the first half.

The script was the same after the change of ends as New Zealand continued to dominate the proceedings and denied the Indians any inroads.

New Zealand doubled their lead in the 46th minute from another penalty corner which was perfectly converted by Punt.

New Zealand had a goal disallowed in the 48th minute when Flynn scored from inside the circle but India went for the referral for an infringement and won it.

But a minute later New Zealand were awarded a penalty stroke for stick obstruction by an Indian defender inside the circle. The Indians once again went for the referral but this time it was disallowed and Punt made no mistake in converting the opportunity.

India will next play a lowly Trinidad and Tobago tomorrow. The Indians had earlier defeated Canada 4-2 in their opening encounter.

New Zealand, on the other hand, will face South Africa tomorrow. The Kiwis had thrashed Trinidad and Tobago 14-0 in the first group match.

The Times of India


---

Women earn first Commonwealth Games win in convincing fashion

Yan Huckendubler

The Canadian Women's Field Hockey Team grabbed their first points of the Commonwealth Games competition with a win against Pan American rivals Trinidad & Tobago (4-1)

Despite a more traditional Scottish mist having replaced the sun of the last few days, the hockey venue was once again packed to capacity.

Canada started the game very cautiously, circulating the ball for long sequences in the backfield without pushing forward in the Trinidad defence.

Play settled in a somewhat sluggish pace, which was serving more the Caribbean defence than the Canadian offensive inclination.

The situation brightened for Canada in the 28th minute, when Holly Stewart deflected a penalty corner to open the Canadian tally. Brienne Stairs added a goal, her second of the tournament, just before the half-time break and things started to look more comfortable for Canada.

The same pattern of play prevailed in second half, with Canada dictating play but unable to capitalize on their possession.

Captain Kate Gillis finally added a goal in the 56th minute after a shot from Thea Culley unsettled the Trinidadian back defense. Trinidad managed to score a goal of their own, their first of the Commonwealth competition, after a confusing sequence of play in front of Lauren Logush, who started in goal for Canada this match.

Canada reinstated their 3-goal cushion in the final minute of play with another penalty-corner, this time from Karli Johansen.

The Canadians were happy to earn the three points of the win, and will be looking to carry the momentum into their match vs. New Zealand on Wednesday

Field Hockey Canada media release


---

Preview: AUS (m) v South Africa

Australian men face only side to ever beat AUS in Commonwealth Games



Trent Mitton just missed a hat trick in the game

The Australian men's second opponent at the Commonwealth Games, South Africa will have enjoyed a two day break by the time the sides meet on Monday morning (9am BST / 6pm AEST / 4pm AWST).

An opening win over hosts Scotland (2-0) courtesy of goals from Andrew Cronje and Ignatius Malgraff got the South Africans off to a winning start in Glasgow while Australia enjoyed a 9-1 win over Wales 24 hours later . Ranked third in the pool and 12th in the world they'll harbour hopes of reaching the semi-finals having lost out on a final four berth by one point to New Zealand at the 2010 Games in Delhi.  

The South Africans hold a unique record as the only team ever to beat the Australian men at a Commonwealth Games having won 3-2 back in 1998. Since then, Australia's men have won 22 consecutive Commonwealth Games fixtures.

Australia co-coach Paul Gaudoin was in the side that day while current South Africa women's coach Giles Bonnet was the SA coach that masterminded the result. Alongside fellow coach Graham Reid, Gaudoin will be determined to ensure lightning does not strike twice

Australia and South Africa last met back in March at the Sultan Azlan Shah Cup where the men in green and gold ran out 7-0 winners. Four of their seven goal scorers on that occasion – Trent Mitton, Daniel Beale, Chris Ciriello and Mark Knowles – are in the side in Glasgow.

With this game in hand, both Australia and South Africa are chasing early Pool A leaders India, the 2010 silver medallists, who have won their opening two games against Wales and Scotland.

Hockey Australia media release


---

Preview: AUS (w) v England

Australian women expect tough final preliminary game in Glasgow



Influential Georgie Parker

National women's coach Adam Commens has warned not to read too much into England's World Cup campaign ahead of Monday's Commonwealth Games clash with the world number six side showing renewed form of late.

Speaking after Australia's 9-0 win over Scotland on Sunday, Commens said, "I'm impressed with how they've been playing, particularly in the Investec Cup [which England won].

"They had a difficult first match against Wales but I think you'll find they're a team that will grow through the tournament. They were ranked number three in the world before the World Cup, they're one of the gold medal favourites for this tournament and we'll be treating them as an opponent that can really hurt us if we're off our game."

The two sides met as recently as May at a World Cup preparation tournament in Bremen, Germany, where the girls in green and gold came out 4-2 winners. On that occasion, as against Scotland, Australia's penalty corner flickers were in fine form with Anna Flanagan netting a brace and Jodie Kenny getting on the score sheet. Georgie Parker was also on target that day.

Since the World Cup, England has parted company with coach Jason Lee with former coach Danny Kerry temporarily returning to the dugout for the Commonwealth Games. Kerry's side has begun their Glasgow 2014 campaign with victories over Wales and Malaysia and sit three points behind Australia with a match in hand.

Commens though says that while his side has experienced a busy schedule they have plenty more to give after crushing victories over Wales and Scotland and an opening day win over Malaysia.

"Four games in five days is difficult," he admitted. "It's not like the football World Cup where they play five games in a month. It is a heavy schedule, particularly with the way we've played.

"We monitor the amount of work we're doing and we've played well within ourselves so I think we should have a lot of petrol in the tank for the game against England tomorrow who are a really dangerous opponent."

Commens highlighted English captain Kate Richardson-Walsh, playing in her last major international tournament, and forward Alex Danson as two of the best in the world at what they do but believes England has quality right across the pitch.

The English are the only nation to have beaten the Australian women in the Commonwealth Games back on home turf in Manchester in 2002. On that occasion victory over the Aussies in the semi-final sent England to the final where they finished runners-up as Australia won bronze.

Hockey Australia media release


---

Govers inking his name as hockey superstar

Ian McCullough

With tattoos heavily inked on both arms, two piercings in his left ear and a passion for St George Illawarra, Kieran Govers doesn't fit any stereotype of a hockey player.

While he's forced to stream NRL matches featuring his beloved Dragons on his Ipad due to being domiciled in AFL-dominated Perth, where Hockey Australia's high performance unit is based, Govers says it's a small price to pay for being part of newly-crowned world champions.

"I relocated to Perth to train full-time. I choose to be a professional athlete," Govers told AAP.

"I don't study or do anything else outside of hockey. I want to focus as much as I can because it's only a small window of time that you can play for."

The 26-year-old has been around the Kookaburras set-up since 2010 and is closing in on a century of appearances in the green and gold.

It was during last month's successful World Cup campaign that Govers' brilliance caught national attention following a magnificent overhead flicked goal in Australia's 4-0 win over England.

The goal was rated by many observers as the finest scored at a World Cup and, with Jamie Dwyer's time as Australia's star forward coming to an end, Govers is very much the future.

Should he score against South Africa in the Kookaburras' second Commonwealth Games clash on Monday it will take him to 50 international goals.

But Govers is more concerned about remaining in the side for many years, with a new coach to be announced in September.

"You know it's on the back of your mind but game to goals ratio doesn't really bother me," Govers said.

"It's more about how many good games I can play to stay in the side and if I get goals on the way it's a bonus. Then you have to worry if the new coach will like me."

A career in the police back in Wollongong is Govers' plan when he hangs up his stick but he's got at least one more tattoo to add to his collection before that career change happens.

"I have got seven tatts and they all mean something and I don't think I've finished yet," he said.

"I'll go home after this, chat to my brothers because they have them as well and we may get a family one done.

"I might get the sleeve on the other arm done as well ... but I am running out of space."

9 Wide World of Sport


---

Hockey is a Sandhu family affair

by Dil Bahra in Glasgow



Poonam Kaur Sandhu, right, celebrating Canada's second goal against Trinidad & Tobago Photo: Yan Huckendubler

Poonam Kaur Sandhu, who is representing Canada's Women hockey team at the Commonwealth Games in Glasgow, is a 23 years old Sikh girl, born and bred in Vancouver, British Colombia, Canada. She made her international debut at the Champions Challenge 11 in 2009 and is now a well established player in the Canadian team.

Hockey runs through Poonam's blood as she comes from a very big hockey family. Her parents, aunts, uncles, and siblings (brother, sister and cousins) are all affilated with field hockey, through coaching, managing or playing. All the family are associated with India Field Hockey Club in Vancouver.



Hargurnek Singh Sandhu at the press centre at Glasgow

Her father, Hargurnek Singh Sandhu, who is here in Glasgow supporting his daughter, was born in Jamsher Khas in Punjab and emigrated to Canada in 1977. He represented Canada at hockey at  Los Angeles 1984 and Seoul 1988 Olympic Games. He also played at the London 1986 and Lahore 1990 World Cup. Hargurnek is delighted to come to Scotland as this is where he earned his first senior international cap when he represented Canada against Scotland in Edinburgh in 1980 whilst still in the Junior squad. He was Canada's captain at the Junior World Cup in Kuala Lumpur in 1982.

Poonam's younger sister, Prava Kaur Sandhu, aged 13, a keen hockey player, is also here in Glasgow supporting her sister. She is soaking up the fantastic atmosphere created by the Games. She said that she was really proud of her sister and hopes to carry on with the familyhockey traditions. Poonam greatly appreciates all the family support she has continually received and said that this means a lot to an athlete.  

Her uncle, Hargurpreet Singh Sandhu, played for Canada at the 1982 Junior World Cup in Kuala Lumpur and captained the team at the 1985 Junior World Cup team in Vancouver. He played alongside his brother Hargurnek at the Lahore 1990 World Cup.

Poonam's cousin, Priya Kaur Randawa, is in the Canadian Junior squad and toured England earlier this year with the senior squad prior to the Commonwealth Games.

They are the real role models for the Sikh youths in Canada and an inspiration to others in sport.

www.sikhsinhockey.com


---

Double Dutch at Junior Euros




The Netherlands landed the EuroHockey Junior Championship double in Waterloo yesterday as their men and women saw off Germany in their respective finals.

For the men, their tournament could have been very different but for Thierry Brinkman's late goal against Austria in the group stages that ultimately edged them into the semi-finals on goal difference, coming just seven seconds from the end.

From there, they saw off England 2-1 in Friday's semi-final before beating their arch rivals 5-2 in the final. The Dutch went ahead 17 minutes in via Johannes Luijkx, the only goal of the opening period, and took control early in the second half via goals from Dennis Warmerdam and Brinkman.

Lukas Windefer pulled one back in the 52nd minute from a corner but Pepijn Luijkx restored the three-goal advantage and Tom Hiebendaal made things extra certain with his side's fifth goal with three minutes to go. Nils Grünewald got one back but it could not spoil the Dutch party.

On the women's side, goals from Lieke van Wijk and Macey de Ruiter in the opening quarter of their final against Germany saw them build a 2-0 lead that they never relinquished, making it their ninth European Junior championship victory since the tournament's debut in 1997.

Euro Hockey League media release


---

Millfield and Rondebosch strike gold on Super Sunday!!

JONATHAN COOK at Hartleyvale

Almost 150 matches later, played over a five-day period, two school first teams emerged as winners of the Cape Town U18 International Schools/Clubs Hockey Festival in dramatic fashion at Hartleyvale Hockey Stadium late Sunday afternoon.

The closely contested boys' event was won 1-0 by defending champions Rondebosch over South African College School (SACS) after a golden goal in the sixth minute of extra-time by the skilful Tayo Walburgh, while the girls' gold medal match went the way of English school Millfield over 2013 and now 2014 finalists Stellenberg following a dramatic penalty shootout won 2-0 after the scores were still level at 3-3 after extra time.

Stellenberg were beaten in the gold medal match last year by Somerset College, while Millfield won the girls' title on their last visit a few years back.

Sunday's semi-finals saw some hotly-contested affairs, although Stellenberg had more than the measure of a game Springfield Convent in wrapping up a 5-0 victory at Western Province Cricket Club's turf.

At Hartleyvale, the three other semis were much closer matches, SACS edging out Wynberg 3-2 after trailing 1-0 at half-time in the first boys semi-final, while defending champs Rondebosch shaded last year's finalists Paul Roos 1-0 with a penalty corner strike by Chad Muller three minutes from full-time.

The other girls' semi-final saw Millfield beat Port Elizabeth's Pearson High School 3-1 after leading 2-1 at the changeover.

Shaking off the disappointment of losing out in the semi-finals, Pearson beat Springfield Convent 1-0 in the bronze medal match with Cammy Riddle netting the golden goal in the fourth minute of extra time.

In the bronze medal match for third place in the boys' section Paul Roos beat Wynberg 1-0.

What a Super Sunday it was, chock-full of drama, elation and what might have been.

The English schools pushed the South African schools hard and the hockey spirit amongst all the teams was a pleasure to witness, the playoffs for final placings that involved all 44 school teams was just as competitive as the title matches.

FOLLOW ALL THE ACTION

You can follow the action and get the results at #CTIHF2014 as well as the www.teamsports.co.za website, and their Facebook page and at TEAM_Sports_TDM which is the sports travel company's twitter handle.

If you would like any other information or if you cannot find results/fixtures or just about anything else, TEAM Sports Travel marketing co-ordinator Kelly Lyttle (This email address is being protected from spambots. You need JavaScript enabled to view it.) is happy to assist.

Cape Town U18 International Schools/Clubs Hockey Festival media release


---

Sunday sweep earns Ontario double gold at Under-16 National Championships

Shaheed Devji




The Ontario boys and girls under-16 teams are both headed home with gold medals after a Sunday sweep at the 2014 Field Hockey Canada Under-16 National Championships in West Vancouver, B.C.

Both teams were undefeated in the tournament and completed the repeat double-victory after having done so at the 2013 Nationals in Brampton. It is a testament to the level of hockey being played and taught in Ontario and to the players who came together in a short time period.

"This team comprises players from various different clubs from all over Ontario," said assistant coach Sean Pereira, who stood in as head coach for Scott Sandison who had to leave the tournament early. "They really worked hard in the limited time we had together but we came out here and showed our team what Ontario is capable of."

The first title match on the schedule was the boys final in which Ontario faced BC-Yellow. The two teams met in the preliminary stage of the tournament on Thursday, with the eastern Canadian represtative coming out with a 3-0 victory.

The Ontario boys were extremely dominant both offensively and defensively en route to the final, with only three goals against and twenty-one goals for in four games played.

The final, however, began with the host team, British Columbia, scoring first. A tally from B.C.'s Kyle Bishop in the opening minute gave the local boys hope and got the visitors' attention.

After some pressure of their own, Ontario tied the game in the fifth minute on a field goal from Jeevan Jammu. The game was only five minutes old and had already seen two goals.

The goals kept coming in the first half, but it was all Ontario.

In the ninth minute, Arshjot Toor scored his first of back-to-back goals to give Ontario the 2-1 lead. Toor scored again in the fifteenth minute, before Jammu tallied his second of the half to make it 4-1 in the thiry-second minute. That's how the teams went into the half-time break.

B.C. was a much improved team in the second half, applying pressure for the majoriy of the final frame. They were able to beat Ontario keeper Ranbir Kalkat in the sixty-ninth minute to bring the score to 4-2, but in the end would fall short.

"I felt that we played a good game and proved a lot as a team," said Ontario captain Tarpreet Singh, who now moves into the under-18 age bracket. "We didn't take the ball as individuals and we showed good chemistry."

It was a similar story with the girls team, who faced BC-Blue for the Championship.

Ontario was also undefeated before the final and scored a whopping thiry-four goals in five games, with only two against heading into the title match. It was an impressive peformance which continued through the final.

"From the beginning of the tournament we were playing quite well and improved as we went along," said Ontario girls coach Nicolas Govia. "This is a team of nine different clubs representing Ontario and they just came together as one entire unit. It was fantastic."

The final match was their toughest of the tournament against a B.C. team which was well prepared with a near equally impressive preliminary round, falling only to Ontario (6-1 on Friday).

Like their male counterparts, B.C. had a fantastic start. In the first half, opportunities on numerous penalty corners in succession did not produce the goal the hosts would have liked but the match stayed square. That was until the thirty-third minute when Ontario's Jaslan Striling scored the first goal. Only five minutes later, Emily Hong made it 2-0.

The scoreline remained at 2-0 for most of the second half. B.C. pressed but could not convert and the game was sealed with a third Ontario goal from Emily Buttinger in the seventeith minute, assuring the Ontario victory and the title.

"All the hard work paid off," said team captain Cassandra Mascarenhas. "We were working well together as a team."

"When we work and put our mind together we can win."

Earlier in the day, the BC-White girls won a close bronze medal match against BC-Yellow in a penalty shootout, and the BC-White boys defeated Alberta 6-2 to capture the boys bronze.

Click here for full tournament schedule, results, standings, photos and more.

Field Hockey Canada media release