All the news for Wednesday 30 July 2014

Aussies & Black Sticks dominate at Commonwealths

Oceania representatives show their class but nothing is won yet



Black Sticks star Anita Punt has been amongst the goals at the Commonwealth Games in Glasgow, Scotland. (Photo: FIH / Grant Treeby)

Oceania Hockey has been flexing its muscles at the 20th Commonwealth Games' hockey competitions in Glasgow, Scotland, with all four of its representatives powering through to the semi-final stages of the tournament in stunning fashion.

At the end of Competition Day 6, Australia and New Zealand sat comfortably at the top of pools in both the men's and women's tournaments, with all four sides having 100 percent winning records.

Australia's Kookaburras have been in scintillating form in Pool A of the men's competition, with the reigning World Champions cruising to big wins against Wales (6-1) and South Africa (7-0) before a double strike from Chris Ciriello earned a 4-2 triumph against India to effectively win the pool with a game to spare. India and South Africa both have a chance to reach the semi-finals and will face each other in a winner-takes-all encounter on Thursday.

In Pool B, New Zealand and England both came into Tuesday's meeting with two wins under their respective belts, but it was the Black Sticks who emerged 2-1 winners thanks to a late winner from Simon Child, who volleyed home a penalty corner rebound two minutes from time. The defeat is bad news for England, who now face the very realistic possibility of a meeting with the mighty Kookaburras in the semi-finals. 

In the women's competition, three wins from three Pool A matches proved to be enough for New Zealand to reach the final four. The Black Sticks just need a draw in Wednesday's match with Canada to win the Pool and ensure that they avoid a semi-final meeting against World Cup Silver medalists and Pool B winners Australia. The Kiwis were victorious over Trinidad & Tobago (14-0) and India (3-0) before battling to a 2-1 win over the rapidly improving South Africa thanks to goals from Anita Punt (pictured) and Krystal Forgesson. As in the men's competition, South Africa will face India in their final Pool A match, with the winner joining New Zealand in the semis.

Pool B has been utterly dominated by Australia, who have netted 25 goals and conceded none on their way to four wins from four against Malaysia (4-0), Wales (9-0), Scotland (9-0) and England (3-0). Jodie Kenny has netted nine of those 25 strikes, ensuring that she sits at the top of the scoring charts and that the Hockeyroos remain massive favourites to win the Gold in Glasgow. England are currently second in the pool with six points, ahead of host nation Scotland on goal difference. The two sides go head-to-head on Wednesday with a place in the semi-finals up for grabs.

We will be posting a recap of the tournament early next week, but in the mean time you can keep up to speed on all of the action from the Commonwealth Games in Glasgow on the official event website - www.glasgow2014.com, with hockey specific info available on www.glasgow2014.com/games/sports/hockey.

Remember, many of your favourite players are posting regular updates and photos on social media channels such as Twitter and Instagram. Hockeyroos stars Jayde Taylor and Brooke Peris recently became internet sensations after their selfie was photo-bombed by Queen Elizabeth II, with their now famous photo being retweeted over 15,000 times. So what are you waiting for? Get searching and start following!

FIH site


---

Spirited performance by Indian Men's Team against World Champions Australia

By Dil Bahra in Glasgow



Indian skipper Sardar Singh in the match against Australia. Photo Ady Kerry

Indian Men's team put up a fighting performance against World Champions, Australia, in their Pool A match at Glasgow National Hockey Centre on Tuesday afternoon. The early exchanges were even and it was not until the 15th minute when Australia took the lead through a well struck penalty corner, to the keepers left, by Chris Ciriello. Australia increased the lead two minutes later through Simon Orchard following short, sharp passes in the circle. India missed the chance to reduce the lead when in the 24th minute Ramandeep Singh missed an open goal opportunity with the Australia keeper well beaten. Australia, however, do not miss such chances and lack of concentration by the Indian defence led to Australia's 3rd goal by Jacob Whetton in the 27th minute. India pressed hard and were awarded two penalty corners just before the interval. Rupinder Pal Singh converted the second penalty corner to reduce Australia's lead to 2 goals at the interval.

The Indian team started the second half attacking but lacked the finishing touches in the circle and in the 35th minute Rupinder Pal Singh successfully converted the penalty corner that the team earned. Going into the break Australia led 3-1.

Having missed a scoring opportunity a few minutes earlier, Ramandeep Singh made no mistake in the 49th minute when he scored a field goal to reduce the margin to one goal. However, two minutes later, Australia scored through a penalty stroke converted by Chris Ciriello. Although Australia won 4 – 2, it was a close game and India's spirited comeback is very encouraging and promising. They had more possession than Australia but lacked the finishing touches despite all the attacking circle penetrations.

"We are growing all the time like a seed" said Indian Team Coach, Australian  Terry Walsh. He said "it takes a long time to reach the levels of top teams like Australia. We are learning all the time. We are learning about management of a tournament, not just one match."

"It was a good team performance but we made some silly mistakes and missed our scoring opportunity" said Indian team skipper Sardar Singh.

India's goal scorer, Ramandeep Singh said "Australia are a very good side. We are improving all the time. We are looking forward to the next match"

India's Gurwinder Singh Chandi and Manpreet Singh won their 100th international cap during this match.

Gurwinder Singh Chandi made his international debut in 2008 and represented India at the Men's World Cup in 2010, London Olympic Games in 2012 and Champions Trophy.

Manpreet Singh made his international debut in 2011. He represented India at the London 2012 Olympic Games, Champions Trophy in 2012, Asia Cup in 2013 and FIH Men's World Cup in 2014.

www.sikhsinhockey.com


---

Aussie men reach semis

A 4-2 win over India seals Australia's place in Commonwealth Games semi-finals



Simon Orchard battles past Sardar Singh

Australia's men's hockey team booked their place in the semi-finals of the Commonwealth Games with a prelim match to spare after beating India 4-2 in a competitive contest on Tuesday.

A Chris Ciriello double and goals from Simon Orchard and Jake Whetton earned the Australians all three points in a match in which India provided the World Champions with their sternest test yet.

Ciriello struck the first of his brace of goals after quarter of an hour with a trademark low penalty corner flick that flew up into the net off the glove of the diving Indian goalkeeper Sreejesh Parattu Raveendran. Two minutes later Simon Orchard doubled the advantage, converting a cut-back pass from Trent Mitton for 2-0.

Mitton himself forced a save from the Indian goalkeeper soon after before India created their best chance of the match so far. Ramanadeep Singh found himself bearing down on Andrew Charter's goal after plucking an Australian clearance out of the air but he miscued his shot wide of the left post.

Moments later Jake Whetton showed how it's done as he robbed an Indian defender on the 23 metre line before bursting into the circle and firing home for 3-0.

India gained hope on the stroke of half time though when Rupinder Singh unleashed an unstoppable penalty corner drag flick into the top right corner.

Australia began the second half winning two penalty corners but having failed to convert them they were punished when Ramandeep Singh swept home a penetrating pass to pull India to within one goal at 3-2.

Less than 60 seconds later the two goal advantage was restored. From a penalty corner, Simon Orchard's goal-bound shot hit the body of an Indian defender on the line and the umpire immediately awarded Australia a penalty stroke. As he did against South Africa on Monday, Ciriello stepped up to the mark and scored with his flick to the left.

Such is India's renewed confidence under Australian coach Terry Walsh, they refused to wilt and Canberra-born Andrew Charter was the busier of the two goalkeepers in the latter stages of the match. With ten minutes remaining he did well to stretch out a leg to intercept a cross destined for Chandanda Nikkin in the centre before pulling off an excellent close range save with three minutes remaining, blocking before acrobatically diving backwards to sweep the ball clear.

Afterwards, co-coach Graham Reid said, "It was a very tough encounter today. I said to the players before the game that during the World Cup [where Australia won 4-0], in the second half it was a nil-all draw. We had a really good first half but in our second half India came out with fight and spirit, they pressed us, they put pressure on us. So, we knew it was going to be a very tough encounter and it was.

"We talk about starving teams of oxygen and if you give India any oxygen then they will hurt you and today they proved that a couple of times where we just laxed off, we didn't quite get our structure right at the back and they hurt us."

Explaining how he felt stepping up for the penalty stroke, Chris Ciriello said, "We play big games pretty regularly so you're used to trying to step up under pressure. The pressure's on the flicker, yes, but you've just got to push it from what you're thinking and score. I did that and luckily enough it went in."

Australia's final pool match is against hosts Scotland on Thursday (2pm BST / 11pm AEST / 9pm AWST].

The semi-final against one of the top two teams from Pool B will take place on Saturday afternoon. While England is the most likely opponent, they could still swap places with New Zealand, who currently top Pool B, if results go their way.

India and South Africa meet on Thursday with both sides looking to join Australia in the semi-finals.

Australia (m) v India
Pool A
Commonwealth Games, Glasgow

AUSTRALIA: 4 (3)
Chris Ciriello 15, 50 (PC, PS)
Simon Orchard 17 (FG)
Jake Whetton 27 (FG)

INDIA: 2 (1)
Rupinder Singh 35 (PC)
Ramandeep Singh 49 (FG)

Australia v India
Name (Hometown) Caps/Goals
Starting XI
Daniel Beale (Brisbane, QLD) 31/7
Kiel Brown (Toowoomba, WA) 148/4
Andrew Charter (GK) (Canberra, ACT) 73/0
Kieran Govers (Wollongong, NSW) 96/51
Mark Knowles (Rockhampton, QLD) 242/20
Trent Mitton (Perth, WA) 59/19
Eddie Ockenden (Hobart, TAS) 218/54
Andrew Philpott (Melbourne, VIC) 18/1
Matthew Swann (Mackay, QLD) 110/5
Tristan White (Wollongong, NSW) 32/2
Aran Zalewski (Margaret River, WA) 40/4

Used Substitutes
Chris Ciriello (Melbourne, VIC) 143/89
Fergus Kavanagh (Geraldton, WA) 188/14
Matt Gohdes (Rockhampton, QLD) 97/28
Simon Orchard (Maitland, NSW) 153/48
Jake Whetton (Brisbane, QLD) 65/29

Hockey Australia media release


---

India go down fighting 2-4 against Australia in CWG Hockey

GLASGOW: India put up a valiant fight before going down 2-4 against world champions and title holders Australia in their third group match of the men's Hockey competition at the 20th Commonwealth Games, on Tuesday.

Living upto their reputation, Australia build on a two-goal burst in the space of two minutes and were set to go into the breather with a 3-0 cushion before India pulled one back at the fag end of the first half.

India managed to re-group themselves and put up a stronger defence in the second half, where they conceded one and scored one at the National Hockey Centre here.

Chris Ciriello (14th minute, 49th), Simon Orchard (16th) and Jacob Whetton (26th) were the goal scorers for Australia, while Rupinder Singh (34th) and Ramandeep Singh (48th) sounded the board for India.

After two easy victories, it was supposed to be a real test for the Indian team and coach Terry Walsh's boys didn't fare too badly against the Kookaburras, who had thrashed them 0-8 at Delhi four years ago.

India started on a positive note as they invaded the rival semicircle but some clever defending from Australia kept them at bay.

Australia, however, didn't take long to assert their supremacy as the 2010 Champions scored twice within a space of two minutes to push India on the backfoot.

Ciriello drew the first blood when he converted their second penalty corner while a minute later Orchard scored a field goal when he capitalised on a defensive lapse to slot home from close range.

India struggled to gain possession of the ball after that as Australia kept their rival defenders busy.

In the 26th minute, Whetton made good use of a defensive lapse by Rupinder outside the semicircle as he sent the ball to the left of the post, beating P R Shreejesh on the way as Australia led 3-0.

Two minutes from the breather, India earned a penalty corner and Rupinder redeemed himself when he sent one hovering over the defenders to help India go into the break with a 1-3 deficit.

India showed a lot of purpose in second half as they created opportunities but failed to execute them in time.

In the 48th minute, an opportunist Ramandeep brushed off two defenders and dived in a shot to find the inside of the post as India reduced the difference to 2-3.

However, Australia didn't waste any time as one minute later, Ciriello scored with a penalty stroke, finding the left of the goalpost.

Shreejesh came up with some good saves as he kept the Australians away, staving off their challenge at least in four penalty corners.

India will next take on South Africa on July 31st.

The Times of India


---

India goes down fighting

A. Vinod

India, despite putting up a gallant show, was still comprehensively beaten 4-2 by World champion Australia in the final Pool A men's hockey match of the 20th Commonwealth Games at the Glasgow Hockey Centre here on Tuesday.

The Australians were ravaging as ever as they took a 3-0 lead into 27 minutes of play in the first-half before the Indians came into the picture with an improved display. Drawing the Indian defence out and keeping the long passes flowing, Australia tasted first blood in the 15th minute when Chris Ciriello conquered the Indian custodian, P.R. Sreejesh off a set-piece penalty corner.

Simon Orchard made it 2-0, two minutes later, and Jacob Whetton scored another field goal to put the Aussies in a happy position in the 27th minutes. There were a few chances for India in between but with its frontline making a mess of the chances kept the side struggling until Rupinder Singh drag-flicked into the Australian goal and past Andrew Charter in the last minute of the first half.

The Indians did show more purpose in the second session and were successful in pulling another goal back through Ramandeep Singh in the 49th minute.

However, the Australians put the issue beyond doubt just a minute later as Ciriello found the Indian goal, courtesy a penalty stroke.

Their temperament thus put into test, the Indians did not simply give up as they continued to raid the Australian goal area repeatedly through the final stages of the game, but in vain.

The Hindu


---

India impressive in defeat

V Krishnaswamy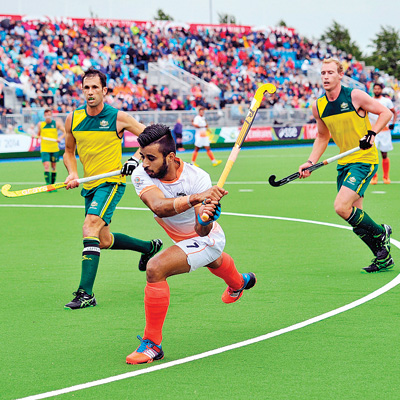 India's Manpreet Singh in action against Australia at the Glasgow National Hockey Centre on Tuesday AFP

Sardar Singh & Co concede 3 goals in first half hour but restrict Australia to respectable 4-2 margin

The Indians down by three goals within the first half hour, re-grouped themselves well to restrict the final score to a fairly respectable 2-4 against the much decorated Australian side in the preliminary Group A match in men's section.

It was India's first loss after wins over Scotland and Wales and they have one more match against South Africa, where a draw should suffice for the Indians to get to the last four stage.

At the Glasgow National Hockey Centre on Tuesday, Australia, who thrashed India 8-0 in the final four years ago, looked like getting off to a similar performance as they quickly scored twice in the 15th and 17th minutes to move to 2-0, from Chris Ciriello, who converted a penalty corner and Simon Orchard.

In the first half, soon after the first two goals, Ramandeep Singh had only the goalkeeper, Andrew Charter to beat, but he missed in the 23rd minute.

A mistake by Rupinder Pal in the defence gave Jacob Whetton a chance to score the third goal in the 27th minute, but fortunately the Indians did instead of wilting under the pressure managed a goal through penalty corner goal in the 35th minute by Rupinder Pal Singh.

Rupinder made up for the errors in the third goal, as he converted the second penalty corner which India got. That gave them a much needed breather as they went into half time at 1-3.

In the second half, the Indians lost Sardar Singh at the start through a green card suspension for two minutes. And late in the match, SV Sunil also was suspended for two minutes, but the Indians did well not to concede in those periods. Goalkeeper PR Sreejesh once again had good match, saving some really good efforts from the defending champions.

There were equal exchanges, with Ramandeep Singh making good forays and Nikkin Thimmaiah also made some attempts. In between in the 49th minute, Indian efforts bore fruit as Ramandeep seemed to make up for missing the first-half sitter and scored to make it 2-3.

However in the very next minute, Kothajit's save off a penalty corner gave Australia a penalty stroke, which Ciriello converted to make the score 4-2 and it stayed till the end.

Sreejesh again had a great day as has often happened this year. He managed to keep the Australians at bay in the second half except for the stroke.

DNA


---

NZ Men win and book spot in semi-finals




The New Zealand Men have won 2-1 against England at the Glasgow National Hockey Centre and have booked a spot in the semi-finals of the 2014 Commonwealth Games.

Andy Hayward and Simon Child were the goal scorers and did it in dramatic fashion – Hayward scoring from a penalty stroke and world-class striker Simon Child securing the win with two minutes of play remaining. The win means that assuming no major upsets, New Zealand is likely to face India in the semi-finals rather than rivals and world number one side Australia.

A very pleased coach Colin Batch believes tonight's game was the most significant win the team have had in the last eighteen months and says the team will be keeping focussed and preparing well for the games ahead.

"To play England - a crunch game and at this point in the tournament - and win like that, shows how much this group has grown and gives us a lot of confidence going forward. But we know it isn't over, we have just spoken to the group about that, we have a game against Malaysia which will be very important as well," said Batch.

The first half was scoreless, New Zealand having few opportunities and England pressing hard, making the Kiwi defenders and composed and skilful goalkeeper Devon Manchester work over time to prevent them from taking the lead. The edge-of-your-seat drama and action came in the second half, when Andy Hayward clinically scored a penalty stroke after it was ruled that Blair Hilton was pushed by an English player after a video referral was called by the Kiwis.

In what was always going to be a grudge match due to the teams' close games over recent years, England piled on the pressure and scored when Adam Dixon smacked it to the back of the net. Child, who had created scoring opportunities earlier in the game, cemented the win in the 70th minute when he reacted quickly to a penalty corner save and with pin-point accuracy hit it high into the corner of the net.

Manchester was pleased with his performance and said the preparation they did before the game and sticking to the game plan were critical in their success.

"We had a training a couple of days ago and did a lot of work with Hemant [team's video and performance analyst], and practiced making saves in areas where we thought we were likely to get flicked against playing England, that always helps when you get a good session like that in before a game," said Manchester.

England had multiple shots on goal in the last five minutes and Manchester batted them all away with the defensive unit working well to clear the ball.

"You know that something is going to come your way at the end and you have to be ready for it when it does, you can't be thinking about the end of the game until that final whistle goes, especially when they take their goalie off and add a field player," said Manchester.

The Men play their next game against Malaysia at 10pm (Sky Sport 7) on Thursday and with an almost equal track record over the last few games, they will be searching for another strong win in order to stay at the top of their pool.

"One of the critical elements of our performance is the way we prepare and scout our opposition, we did that against England we have to do that against Malaysia as well," said Batch.

"Malaysia have a different group of players to the FIH World Cup, they can be a dogged team and they defend really well, if we don't play right they will win the ball and counter-attack against us and they have some really good players, so we have to be ready for that," said Batch.

Tomorrow the NZ Women play Canada at 1am on Thursday 31 July (Sky Sport 7) in their final pool play game.

Photos free for editorial use only. Please credit photosport.co.nz. Simon Child in action in today's match against England at the Glasgow Commonwealth Games.

Vote for your favourite New Zealand hockey player from the 2014 Commonwealth Games. Click here to vote for the Gatorade People's Choice Award and go in the draw to WIN!

RESULT
Full time: 2-1 win to NZ
Half time: 0-0
NZ goal scorers: Andy Hayward, Simon Child
England goal scorer: Adam Dixon

Hockey New Zealand Media release


---

Black Sticks win crunch group game

By David Leggat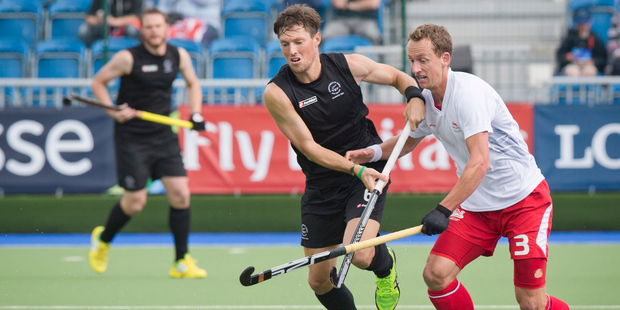 New Zealand's Simon Child does his best to break past England's Dan Fox. Photo / Greg Bowker

Only one thing could have improved Simon Child's match-winning goal for New Zealand against England today - if it came about a minute and a half later.

Key attacker Child got his chance three minutes from the end, when team mate Andy Hayward's penalty corner shot was blocked and rebounded his way.

Child skilfully volleyed it into the England goal for a 2-1 win loaded with importance for the sixth-ranked Black Sticks.

Providing they beat 13th ranked Malaysia in their final group game on Thursday night (NZT), they will have avoided facing the world's best team, Australia, in the semifinals on Saturday.

In the process they have given themselves the prospect of playing a transtasman test for the gold medal on Sunday.

"It would have been nice (to have scored) with 30 seconds to go," Child quipped.

"There were still a couple of hairy moments at the end.

"That was a huge game for us. We knew before the tournament it was a clutch game and we're really pleased to overcome that hurdle."

It was Child's second goal of the tournament, and kept up a rich vein of form, but the win was built on a solid defensive operation in the first half, during which fifth-ranked England put the heat on the Black Sticks.

Goalkeeper Devon Manchester was in assertive form and captain Dean Couzins marshalled a conscientious defensive effort, making an important block and clearance on the Black Sticks line as England pressed hard in the second half.

Andy Hayward's penalty stroke, awarded when Blair Hilton was pushed in the back, put New Zealand ahead midway through the second half; Adam Dixon had England level with 12 minutes to go before Child's late intervention.

"England are a very good team and we've had some pretty even battles with them in recent years so it was good to poke one in at the end and get one over them," Child said
.
New Zealand's tactic of pushing England's attack wide paid a dividend. Child pointed to the strength of their midfielders working down the centre of the pitch.

"It's much easier to defend there, so credit to the guys for sticking to the game plan for 70 minutes."

New Zealand had talked about the last time they played their third game in a major tournament, when they lost 3-1 to Argentina at the World Cup in The Hague in June.

It was a poor performance and one they were not keen on repeating at the same stage of the Games event.

"We talked about doing well in these crunch games," coach Colin Batch said.
"There's a lot of belief in this group and that'll give us confidence."

New Zealand will ensure their feet are firmly planted for the Malaysian game. They can't afford any slipups after having toiled hard to open a door to the final.

"This team is building and building," Child said.

"I think we'll get to the gold medal match, but we're not looking any further than the next game. We'll make sure we don't get stuck in the clouds."

The New Zealand Herald


---

NZ beat England to edge towards easier route

MARK GEENTY IN GLASGOW



FIRE IT UP: Shea McAleese gets a shot away for the Black Sticks against England. ROBERT KITCHIN/Fairfax NZ

A late goal from Simon Child snared New Zealand a crucial 2-1 win over England and means they likely avoid the powerful Australians in the Commonwealth Games men's hockey semifinals.

Child smashed home a reverse stick shot after a penalty corner with three minutes remaining at the Glasgow National Hockey centre to jubilant scenes. It left them unbeaten from three matches and meant England will likely finish second and face the gold medal favourites Australia in the semis.

New Zealand just need to beat Malaysia in their final group game on Thursday night to stay on top, and probably face India in the semis for the right to play for gold.

An Andy Hayward penalty stroke was cancelled out by a brilliant goal to England's Adam Dixon, and a draw looked likely which would have left the pool decided on goal difference.

It always promised to be tight struggle, with England seeded second and New Zealand third. After some scorching days, this had the familiar feel of Wellington's National Hockey Stadium, blustery, grey and chilly.

This was their first meeting since January and their semifinals thriller in the World League finals in India, when the Black Sticks edged England 7-6 in a shootout after the scores were locked 3-3.

A scoreless first half was a good result for New Zealand who scrambled well under pressure. England clearly had the better of the first 35 minutes and their goalkeeper George Pinner was largely redundant.

New Zealand managed no shots on goal while England had six, along with two penalty corners. Black Sticks keeper Devon Manchester was seeing it well with two key saves, one a lightning reaction from an England drag flick headed for the top corner. Shea McAleese also made a key intervention in the circle to deny England's best chance.

Child, New Zealand's most dangerous attacker, began to threaten after the break and momentum shifted. He created their first real chance, then New Zealand finally earned their first penalty corner. Hayward's drag flick was accurate, but somehow edged over the top by England skipper Barry Middleton.

Then came the turning point inside the final 20 minutes when Blair Hilton was shoved by Michael Hoare in the circle and immediately demanded a referral. Replays showed a push in the back, and Hayward did the rest as England protested wildly.

At the other end Manchester again produced a fine save one on one, but England finally struck via great leadup work from Phil Roper, smashed home by Dixon to lock it up heading into the final 10 minutes.

Stuff


---

Child goal comes at right time for New Zealand

MARK GEENTY IN GLASGOW



SWING LOW: Simon Child of the Black Sticks tries to get past England's Nick Catlin. ROBERT KITCHIN/Fairfax NZ

Black Sticks talisman Simon Child rated it the pick of his 111 international hockey goals. Given the quality of most of them, this was some statement.

With just two minutes showing on the clock, Child pounced on a penalty corner rebound and drilled home a reverse stick shot to clinch a 2-1 victory over England at the Commonwealth Games tonight (NZT).

As the shot thudded home the impact of it was clearly felt by the Black Sticks men, seeded third to England's second.

It made it three wins from three in pool A and, with victory over Malaysia tomorrow (10pm Thursday NZT), New Zealand will qualify top and probably face India in the semifinals. England's punishment is a likely semi against red-hot gold medal favourites Australia.

"It was great, that'd be up there as one of my best goals so far. This team's building and building and I think we're going to get to that gold medal match... but we've got to make sure our heads don't get stuck in the clouds," Child said.

Child inspired their revival early in the second half after a scoreless first 35 minutes but there were other significant contributions at a chilly, windswept Glasgow National Hockey Centre.

Goalkeeper Devon Manchester, the only specialist stopper in New Zealand's 16-man squad, produced a flurry of crucial saves as England dominated the first half. Shea McAleese also chimed in with a vital intervention on defence. The Black Sticks had zero shots on goal in the first half and only earned their first penalty corner six minutes into the second half.

Then came the crucial moment, when Blair Hilton tumbled in the circle and signaled immediately for a video referral. Replays showed there was indeed an elbow to the back from England's Michael Hoare, and New Zealand's adamant challenge was rewarded with a penalty stroke.

England's players protested wildly and were still grumbling after the game, but it was hard to argue with the evidence. Andy Hayward, New Zealand's key set piece man, did the rest.

"You never really know with the video referral but generally if there's contact in the circle it can go that way. Hilts did a good job of recognising that, he got a push in the back and went down and sometimes you get the call and sometimes you don't. We were pretty happy," Child said.

"We did a little more defending that we would have liked but Dev had a great game in goal and he gave us every chance to take the opportunities we did get, and probably won us the game."

England's goal eight minutes after New Zealand's was a cracker, to Adam Dixon after brilliant lead-up work from Phil Roper.

But New Zealand were fortified by the gravity of the game, and the memory of their recent stumble against Argentina on the big stage.

At the World Cup in June, game three, they fell 3-1 to Argentina when looking good and their campaign never recovered.

"It was a similar situation and we had to play really well. we looked back to that game against Argentina and we were too passive, we didn't attack enough and we were too conservative," Child said.

"We had to be positive, move the ball quickly and be aggressive and not think after the game 'gee we should have done more'. We left everything on the park."

Stuff


---

New Zealand inflict a cruel defeat on England



Adam Dixon celebrates scoring against New Zealand during their pool game at the XX Commonwealth Games Glasgow 29th July 2014 - credit Ady Kerry

New Zealand inflicted a cruel defeat on England in their penultimate Pool B match at Glasgow 2014 as Simon Child fired home in the 68th minute to seal victory for the world number six side.

Both teams headed into the top-of-the table clash with a one hundred per cent record; England having comprehensively beaten Trinidad and Tobago and Malaysia previously. However Tuesday morning's match was a much tighter affair as New Zealand defended in numbers during a first half which saw two Ashley Jackson penalty corners saved by keeper Devon Manchester.

England captain Barry Middleton superbly cleared Andy Hayward's penalty corner off the line after the break, but the Kiwis took the lead on 51 minutes. Michael Hoare was adjudged to have unfairly pushed Blair Hilton in the circle, and with New Zealand winning a successful team referral, Hayward dispatched the resulting penalty stroke. England equalised eight minutes later as Phil Roper showed great skill to get behind the New Zealand defence to cross for Adam Dixon who fired home on the volley past Manchester. But the Kiwis secured all three points with two minutes remaining as Simon Child reacted first to score following a penalty corner.

England play their final group game against Canada on Thursday at 9am as they look to secure a top-two finish to progress to the semi-finals.

Defender Michael Hoare said after the game: "That was disappointing, we completely had the momentum after we scored the equaliser and we had a few chances and then the goal was a real kick in the teeth. That happens sometimes, I'm sure we've done that to teams in the past, we just need to make sure we are ready for our next game against Canada."

England Men's Head Coach Bobby Crutchley, added: "It's quite frustrating I thought we played well for long periods, probably didn't penetrate enough and these things fall on very small things and I thought we probably didn't get the run of the green in the end. But if we can be better, then we know that doesn't affect us and that's what we will be working on next time.

"A lot of the performance was good, we will have to focus on the next game which is Canada and then we will see where that takes us. I think these guys are playing some good hockey, today was a bit frustrating for us but there are still a lot of positives to take from the game."

NEW ZEALAND 2 (0)
Andy Hayward 51 (PS)
Simon Child 68 (PC)

ENGLAND 1 (0)
Adam Dixon 59 (FG)

England Hockey Board Media release


---

First defeat for England men

By Mike Haymonds



England's men suffered their first defeat to New Zealand [GETTY]

ENGLAND men's hopes of an easier semi-final were dashed after a 2-1 defeat by New Zealand in the penultimate and decisive Pool B game.

The reverse means that the Kiwis are likely to win the group and so avoid the world top ranked Australia, who have finished top of Pool A.

The game was a tight affair with England having the better of the goalless first half in which England's Ashley Jackson was twice denied by New Zealand keeper Devon Manchester at England's only two penalty corners of the game.

New Zealand went ahead in the 51st minute when Michael Hoare was adjudged to have pushed Blair Hilton and, after England's video referral was rejected, Andy Hayward converted the resulting penalty stroke.

England equalised eight minutes later when Phil Roper got behind the Kiwis' defence  and set up Adam Dixon to volley home.

New Zealand's winner came with two minutes left when Simon Child fired in the rebound at their second penalty corner.

England brought on an 11th outfield player but to no effect.

Michael Hoare said: "That was disappointing. We completely had the momentum after we scored the equaliser. We had a few chances and then the goal was a real kick in the teeth.

"That happens sometimes. I'm sure we've done that to teams in the past. We just needed to make sure we are ready for our next game against Canada.

"Hopefully we will win against Canada and go into the semi-finals. People are sayimg that we will be playing Australia now but we would have had to play them at some stage.

"We're confident about playing anyone and on our day we can beat anyone. But first up we have to focus on Canada."

England coach Bobby Crutchley sad: "It's quite frustrating. I thought we played well for long periods but probably didn't penetrate enough. These things fall on very small things and I thought we probably didn't get the rub of the green in the end."

"But if we can do better, then we know that doesn't affect us and that's what we will be working on next time.

"A lot of the performance was good. I think these guys are playing some good hockey. Today it was a bit frustrating for us but there are still positives to take from the game."

Today England women meet Scotland, needing a win to earn a semi-final place.

Daily Express


---

Trinidad beat 'world-class' Malaysia in hockey

By Aftar Singh



Trinidad and Tobago score against Malaysia in a Group B hockey match at the Glasgow Commonwealth Games on Tuesday. - GLENN GUAN/ The Star

GLASGOW: Are the national hockey team going the way of the national football team?

On Tuesday, the men's hockey team went down to a shocking 4-2 loss to Trinidad and Tobago in a Group B match of the Commonwealth Games at the Glasgow National Hockey Centre.

It was the most embarrassing defeat for Malaysia in the history of the sport. Malaysia are ranked 13th in the world while Trinidad are ranked 29th.

The signs have been there, though.

The team went to the World Cup in The Hague, Holland, last month and came back with their tails between their legs – finishing last in the 12-team field and failing to win any of the six matches.

Here, at the Glasgow Common­wealth Games, they began promisingly – beating Canada 2-0 in their opening group match.

After that, it has been downhill all the way – getting hammered 8-1 by England and then the shocking disgraceful capitulation against the Trinidadians.

National coach K. Dharmaraj and the players must take the blame for bringing shame to the country.

Trinidad, who hardly compete in any tournaments, stunned Dharmaraj's team by going 3-0 up after just 16 minutes.

Mickell Pierre gave the Caribbean team the lead in the eighth minute before Kwadwane Browne scored two penalty corner goals in the 12th and 16th minutes.

Although Norhizzat Sumantri narrowed the deficit with a field goal in the 25nd minute, Browne was on target again for his hat-trick 10 minutes later through yet another penalty corner goal.

Malaysia reduced the deficit through Mohd Ramadan Rosli in the 70th minute.

Trinidad coach Francis Glenn said that it felt great to beat a strong team like Malaysia.

"Ours is a small country and we are happy to win our first-ever hockey match in four appearances in the Games. We are preparing the team for the Olympics and this win over Malaysia has boosted our confidence," said Glenn.

Trinidad skipper Cowie Darren acknowledged that "we hardly get to play against world-class teams".

"We came into the Glasgow Games to gain experience for next year's Pan American Games … so it's a huge boost for us to win our first-ever match in the Commonwealth Games," said Darren.

The humiliation may not be over yet for Malaysia. They still have to face New Zealand on Thursday.

The Star of Malaysia


---

Trinidad down Malaysia




MALAYSIAN hockey suffered a crippling low yesterday as the national team fell 4-2 to Trinidad & Tobago in a Commonwealth Games Group B match.

It was a shocking result even for a mixed team of seniors and juniors and the Malaysian Hockey Confederation (MHC) has much soul-searching to do.

The 8-1 defeat to England may have been easily classified as losing to a world class side but how is the MHC going to explain the Trinidad disaster?

As it is, a win yesterday would not have been enough for Malaysia to advance to the semi-finals, even if they beat New Zealand in their final group match tomorrow.

The Kiwis shocked England with a winner two minutes from time yesterday to claim a 2-1 victory and with Malaysia's poor goal difference, a win over New Zealand would, in all likelihood, not be enough to make the semi-finals.

But that doesn't matter now, not after the Trinidad humiliation.

New Straits Times


---

Humiliation for men's hockey team

By Vijesh Rai

GLASGOW: The Malaysian hockey team fell to a shock defeat to Trinidad & Tobago as Malaysia's high of two gold medals on Monday was replaced by gloom in the Commonwealth Games today.

Malaysia, who were thrashed 8-1 by England after beating Canada 2-0 in their earlier group B matches, were expected to cruise to victory against a team with no known hockey pedigree.

Instead, the team suffered what must rank as among the worst defeats in the history of Malaysian hockey.

Kwandwane Browne scored a hat-trick of penalty corner goals while Mickell Pierre hit the other with Malaysia replying through Norhizzat Sumantri and Muhamad Ramadan Rosli.

The match was lost after just 15 minutes as Trinidad raced into a 3-0 lead, and when the hooter was sounded for half-time, Malaysia were down 4-1.

There was not to be a comeback as Malaysia's second goal was scored by Ramadan in the dying seconds of the match and fans must be fearful of what is to come next as the national team's final group match is against New Zealand on Thursday.

The Kiwis showed their class by shocking England 2-1 in an earlier match and despite having sealed their semi-final spot, will be out to confirm their status as group winners to avoid Australia in the crossover semi-finals.

New Straits Times


---

Hockey defeat unacceptable, says Zolkples

By Vijesh Rai

GLASGOW: National Sports Council director-general Datuk Zolkples Embong has described Malaysia's defeat to Trinidad & Tobago in a Commonwealth Games group B match on Tuesday as shocking and unacceptable.

Zolkples said although the squad in Glasgow consists seniors and juniors, Malaysia should have easily beaten Trinidad.

"We didn't even know Trinidad played hockey and yet, they have beaten us. Even if Trinidad do have a hockey structure, the defeat is unacceptable considering our world ranking and the support hockey enjoys in Malaysia," said Zolkples.

The hockey team lost 4-2 to Trinidad in a match they had to win to keep their semi-final hopes alive. Kwandwane Browne scored a hat-trick of penalty corner goals while Mickell Pierre hit the other with Malaysia replying through Norhizzat Sumantri and Muhamad Ramadan Rosli.

The match was lost after just 15 minutes as Trinidad raced into a 3-0 lead, and when the hooter was sounded for half-time, Malaysia were down 4-1.

There was not to be a comeback as Malaysia's second goal was scored by Ramadan in the dying seconds of the match and fans must be fearful of what is to come next as the national team's final group match is against New Zealand on Thursday.

Assistant coach M. Gobinathan, in trying to explain the result, said everything went Trinidad's way in the first half.

"They had about six chances, four of them penalty corners, and scored four times. Three of the four penalty corners were converted by Trinidad.

"We were slow to start and before we knew it, it was half time and we were down 4-1. We were much better in the second half and dominated play but just couldn't find a way back," said Gobinathan.

The defeat, said Gobinathan, should be seen in perspective.

"We are here with a squad filled with players from last year's Junior World Cup and the Commonwealth Games is part of their development plan before they progress into the national team.

"I agree the defeat is unacceptable but not many know that several Trinidad players play in the England league. In fact, Kwandwane has been playing hockey in England for the past eight years and Trinidad are actually a team on the rise," added Gobinathan.

Still, Malaysia had no business losing to Trinidad and there is bound to be a backlash, especially as the Asian Games are fast approaching.

New Straits Times


---

South Africa v India showdown for both genders

by Dil Bahra in Glasgow



South African skipper Austin Smith being interviewed in the Mixed Zone after the match against Wales

Both South African Men's and Women's teams will play Indian Men's and Women's teams in their final Preliminary round matches to decide who goes to the semi – finals of the Commonwealth Games being played at Glasgow National Hockey Centre. Both know that a loss from here will mean they have to play for the 5th / 6th position.

In the Women's match to be played on Wednesday afternoon, it is a must win game for India but a draw will be good enough for South Africa who have a superior goal difference.

In the Men's match to be played on Thursday afternoon, it is a must win game for South Africa but a draw will be good enough for India who have a superior goal difference.

In the Men's matches on Tuesday, Australia defeated India 4 – 2 and qualify for the semi – finals. South Africa defeated Wales by 5 goals to 1.

Ignatuis Malgraff gave South Africa the lead in the 26th minute from a reverse shot from an acute angle. South African skipper, Austin Smith, increased the lead from a penalty corner on stroke of half time. Austin Smith made it 3 – 0 from a penalty corner awarded for a deliberate offence outside the circle in the 44th minute. Two minutes later, Julian Hykes made it 4 – 0 following a solo run on the left. Six minutes from the end, Jethro Eustice made it 5 – 0.

Richard Gay scored for Wales from a penalty corner three minutes from the end.

"We have given ourselves a chance. If we play well against India, we are in the semi – final. I thought we played well. We were comfortable on the bal" said South African skipper, Austin Smith. "What an opportunity to get a result against India" he added.     

Fieldhockey.com


---

Eves eyeing win against Proteas for semis berth

Glasgow - With two wins each, both India as well as South Africa know that this will be a must win game as a loss from here will mean they will have to play for the play-off for the fifth and sixth position.

While South Africa will be looking at their experienced Captain Marsha Cox to guide them through, Ritu Rani will be looking at her young brigade to fire from all directions. "Tomorrow's match is very important for us as the result will decide our fate. The team understands this but we are not allowing the pressure overwhelm us. The girls aspire for a win and enter the semi-final stage," Rani said.

The Tribune


---

Biting Back: Why does Northern Ireland not have hockey team in the Games?

By Ali Gordon

Who benefits from a 14-0 drubbing at any level in sport? That was my first thought watching Australia's women trounce Trinidad and Tobago 14-0 at the Commonwealth Games hockey over in Glasgow last Friday.

In sharp contrast, the match I watched immediately afterwards, a 2-0 win for South Africa over Canada, was possibly the finest exhibition of hockey I've ever witnessed. It was the standard we expected and had paid good money to see.

No disrespect, whatsoever, to the girls from the Caribbean but neither they nor the Games benefited from their demolition.

I came away thinking we could have put together a team from my club side, Ards, and given a better account of ourselves.

Which brings me to my second thought. Why do we not have Northern Ireland hockey teams, men and women, gracing the Games?

Players like Alex Speers, Megan Frazer, Eugene Magee and Peter Caruth would surely do them and us justice. Likewise the brilliant Rugby Sevens would surely be enhanced by the presence of Rory Best, Andrew Trimble, Chris Henry and co.

The old argument that rugby and hockey are All-Ireland governed sports, and therefore outside the Commonwealth umbrella, is negated by the similarly administered swimmers, boxers and others.

Status and protectionism might concern the rugby and hockey blazers but it does seem harsh not to relax the rules every four years. Last Friday, I saw 14 good reasons to allow the best of the best in all our sports the opportunity to parade their talent on the Games stage and further boost our medal hopes.

Belfast Telegraph


---

Hockey's got Royal support



Queen watching game

If you've been watching the hockey coverage on the BBC, you may have seen some Royal faces in the crowd enjoying the games.

The Queen and Prince Phillip both attended England Women's first game against Wales, while the Countess of Wessex - England Hockey's patron - joined Prince Edward at England's game against Malaysia.



Lily Owsley arranges a group photo with Prince Harry after their game against Australia at the Glasgow 2014 Commonwealth Games

Not to be outdone, the Duke and Duchess of Cambridge watched the England women's game against Australia, with Prince Harry posing for photos with both sides once the game was over.



The Duchess of Cambridge talks to some volunteers at Glasgow 2014 Commonwealth Games

While the Royal family are supporting every sport at the Games, we're glad hockey is getting so much of their attention, and of course we know that the Duchess of Cambridge has a keen interest on a personal level having played herself for many years.

England Hockey Board Media release


---

The Glasgow 2014 logo - did you know?



Commonwealth Games Glasgow 2014 - Be there

Have you noticed the logo for the Glasgow 2014 Commonwealth games? Now we're halfway through the 20th Commonwealth Games, we've taken a look at some of the things you might not know about the Games logo.

Competitive sport is based on measurement, timing and results, and these numeral elements were the starting point to Glasgow 2014's creative inspiration. Some of the top line figures include Glasgow 2014 being the 20th (otherwise seen as XX) Commonwealth Games, hosting 17 sports, taking place over the course of 11 days, and in one city: Glasgow. So, imagine a circle with 20 segments and that forms the logo's starting point.

20 - The Glasgow 2014 Commonwealth Games are the 20th Games. This represents the outer ring of their logo, which encompasses the others and is a strong, vibrant red.

Did you know?

    Seventy-one nations will be competing in this year's Games
    The first Commonwealth Games took place in Hamilton, Canada in 1930 (400 athletes from 11 countries, 6 sports and 59 events.)

17 - The next ring of Glasgow 2014's logo, is an orange gold – "Triumph Yellow" from the CGF palette – which echoes the glint of the winning medals, and represents the number of sports at the Games. It is just over three quarters of the full circle.

Did you know?

    There are 261 medal events that will be contested at the 2014 Commonwealth Games
    A record 22 para-sport events will be contested in five different sports, and Para track cycling will be held for the very first time

11 - 23 July – 3rd August 2014: 11 days of competition when Glasgow will be at the centre of the sporting world with all the buzz and excitement of results, reports and rumours, new faces, amazing teamwork and rising stars. These 11 days are represented in the third ring of the circle, clocking up just over half of the full circle in an optimistic summer blue.

Did you know?

    England's next hockey game takes place on Wednesday 30 July at 09:00 as our women take on Scotland
    England's women scored 7 goals in their first two games, whilst conceding none
    England's men scored 14 goals in their first two games, whilst conceding two
    Ashley Jackson is England's leading goal scorer thus far, putting away 5 goals in three matches.

1 - Glasgow, the one and only host city, represents the G in the middle of the brand logo, where all the action has been taking place over the past week!

Did you know?

    England have hosted the games three times (1911, 1934 & 2002)
    This is Scotland's third time hosting, but its first time in Glasgow
    Australia has hosted the games the most times, with five games taking place down under

England Hockey Board Media release


---

Hockey teams announced for Nanjing 2014 Youth Olympic Games

180 athletes from 20 teams across 16 nations will fight for Gold medals




The International Hockey Federation (FIH) has today announced the 20 teams that will be competing in the Hockey competition at the 2014 Youth Olympic Games in Nanjing next month. There will be ten teams in both the men's and women's competitions, with a total of 180 promising young hockey players representing 16 countries. Each competition has two representatives from Europe, Asia, Africa, Pan America and Oceania in a truly global tournament.

The Youth Olympic Games sees young athletes between the ages of 15 and 18 compete across a range of Olympic sports – providing athletes with valuable experience of multi-sports events and giving fans the chance to get a glimpse of the stars of the future. The 2014 Youth Olympic Games will see over 3,000 athletes competing in 222 events across 28 sports, with hockey playing a key role.

 The men's competition features Spain and Germany representing Europe, Bangladesh and Pakistan from Asia, Canada and Mexico from Pan America, Australia and New Zealand from Oceania, and South Africa and Zambia representing Africa. In the women's competition hosts China are joined by Japan, South Africa, Zambia, the Netherlands, Germany, Fiji, New Zealand, Argentina and Uruguay.

 Hockey at Nanjing 2014 will be showcasing teams from emerging hockey nations, with Mexico and Bangladesh in the mens' competition, Fiji in the womens' competition, and Zambia fielding teams in both. This is part of the FIH's strategy to keep growing the influence of hockey around the world. In keeping with this FIH are in the process of developing a small-sided complimentary game with their official innovation partner, Loughborough University. The new dynamic format is being designed to appeal to youth and generate new hockey playing nations. As a result FIH hopes to see even more emerging nations competing and succeeding in international tournaments in the future.

Kelly Fairweather, CEO of FIH, said, "We are delighted to announce the teams that will be competing in Nanjing, and I am sure that we are set for an exciting and entertaining competition. I have no doubt the tournament will uncover stars who will shine at the Rio 2016 Olympics and other major international hockey events for years to come."

Mens' competition
Pool A                   Pool B
South Africa          Zambia
Bangladesh           Pakistan
Spain                     Germany
Australia                New Zealand
Canada                  Mexico

Womens' competition
Pool A                   Pool B
South Africa          Zambia
Japan                     China
Netherlands           Germany
Fiji                          New Zealand
Argentina               Uruguay

Approved Match Schedule Men
Approved Match Schedule Women
Approved Match Schedule Combined

About Nanjing 2014
Nanjing 2014 is the second Summer Youth Olympic Games. It will take place between 16th and 28th August 2014 in Nanjing, China.

Hockey at Nanjing 2014
The Hockey completion of Nanjing 2014 will be held at the Youth Olympic Sports Park Hockey field between 17th – 27th August 2014. The women's gold medal match will take place on Tuesday 26th August, the men's gold medal match will take place on Wednesday 27th August.

FIH site


---

German EHL stars show skills on the beach




Some of the stars of the Euro Hockey League shone last week at the German Beach Hockey championships at Timmendorfer Strand with the Hamma Beach team - with no less than four Olympic champions in their team - winning the men's competition.

In the final, Hamma Beach's stars came out 2-1 winners over Westkurve aug Reisen who featured EHL winner Tobias Hauke. UHC Hamburg's Florian Fuchs, for Hamma,  was named the men's player of the tournament on the Baltic Sea beach while Harvestehuder keeper Tobias Walter - playing for Westkurve -was named among the top net minders.

On the women's side, Poldi won against the surprise package Renaten Granatan (The Grenades) from Neumünster 3-0, celebrating their third title  at the pier.

"Once again, we look back on a terrific event both on a sporting level, but also in terms of organisation, it was a step forward" stated the event's chief Jörg Hardt.

"We've had inquiries from more than 700 players who would have been here like this. We could accommodate 500 participants, however, and they have delivered a great tournament. We want to naturally build and try to develop the event further next year. "

Euro Hockey League media release