All the news for Wednesday 18 May 2022

2021-22 FIH Hockey Pro League - 18 May
Estadio Betero, Valencia

All times GMT +2       

Men

17 May 2022 11:30     ESP v FRA (RR)     4 - 2
18 May 2022 11:30     ESP v FRA (RR)    

Men's Pool standings

Women

17 May 2022 13:30     CHN v ARG (RR)     1 - 3
18 May 2022 13:30     CHN v ARG (RR)    

Women's Pool standings

Keep up to date with all the latest news on the FIH Hockey Pro League via the Watch.Hockey app, event website and through FIH social media channels - Facebook, Instagram and Twitter.

Live streaming and full game replay on the Watch Hockey App (May be Geo blocked if there is TV coverage)

FIH Match Centre


---

Spain men win thrilling encounter with France; Argentina maintain 100 per cent win rate with solid win over China




Spain and France men played out an exciting and end-to-end match with the win going to the home side after they drew ahead in the final quarter. In the women's match, China took to the field under the guidance of new Head Coach Alyson Annan and for the first time in the FIH Pro League since 1 February. Argentina continued their unstoppable winning streak as Victoria Granatto showed that class is a trait running through the Granatto family.


---

Spain and Argentina win latest matches in hockey's Pro League

By Neil Shefferd



Spain, in white, won their latest men's Pro League match defeating France in Valencia ©Getty Images

Spain and Argentina won the latest double bill of matches in the International Hockey Federation's Pro League competition.


---

Argentinian Women Keep Winning, Menini Scores for Spain




It was a great weekend for the Argentine national teams. In Valencia, the ladies won both matches against Spain, so that the team of national coach Fernando Ferrera kept its hundred percent score in the Pro League. The men took five of the six points to be won against the Spaniards.


---

Alyson Annan unveiled as China coach




Alyson Annan, who left as Netherlands' women's coach four months ago, was confirmed as a surprise new coach of China on Tuesday.


---

China Stun Hockey With New Coaching Set Up




In a move that will surprise the majority of the hockey world, China have pulled off a tremendous coup by appointing an Australian superstar and arguably one of the best coaches in the sport, Alyson Annan, as their new Head Coach. Furthermore, it is rumoured that Australian legend Rick Charlesworth will be teaming up with Annan as her number two.


---

For the 1st Time in 13 Years, 2 Tamil Nadu Youngsters – Karthi and Mareeswaran Will Play for Senior Men's Team in Asia Cup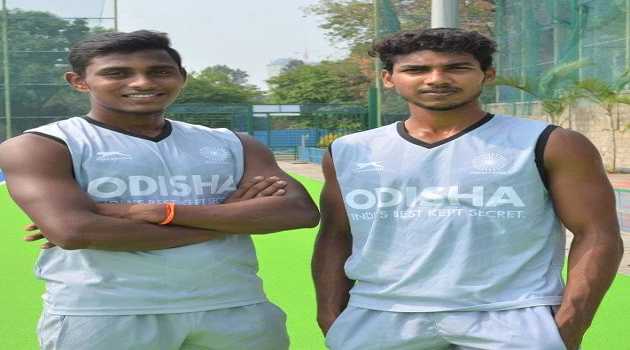 Tamil Nadu hockey appears to be walking down the revival path – only recently, Hockey Unit of Tamil Nadu reached the final of the Senior Men's Nationals in Bhopal after a hiatus of 22 years, where they gave Hockey Haryana a run for their money before going down in the shootout. The runners-up finish was undoubtedly a shot in the arm for hockey in the state. Tamil Nadu hockey received a further leg-up as two state boys are included in the Birendra Lakra-captained Indian senior men's team for the upcoming 11th Asia Cup to be played at Jakarta, Indonesia.


---

No issues expected in Asia Cup

By Jugjet Singh




Malaysia are not expected to face any issues qualifying for the semi-finals of the Asia Cup in Jakarta, Indonesia, later this month.


---

Umar Bhutta to lead Pakistan at Asia Cup

LAHORE: Umar Bhutta will lead a 20-member Pakistan squad at this month's Asia Cup, the Pakistan Hockey Federation's national selection committee announced after resolving its differences with the country's hockey governing body.


---

"Finally we're joining back to the world!"




Ahead of the 15th edition of the FIH Hockey Women's World Cup taking place in Spain and the Netherlands (1-17 July), we're conducting a series of exclusive interviews with the participating teams. Today: Jane Claxton (AUS).


---

"An incredible experience to play at home!"




Ahead of the 15th edition of the FIH Hockey Women's World Cup taking place in Spain and the Netherlands (1-17 July), we're conducting a series of exclusive interviews with the participating teams. Today: Maria López (ESP).


---

Rise USWNT Goes Undefeated in Four-Game Series against Canada's U-18



Images Taken by Mark Palczewski

CONSHOHOCKEN, Pa. - Last week, the U.S. Rise Women's National Team hosted Canada's U-18 squad in a four-game at The Proving Grounds in Conshohocken, Pa. Dominant in scoring, USA never trailed and went undefeated in all matches scoring an impressive 20 goals.


---

Pinoké and Bloemendaal get first leg wins in men's Dutch playoffs




Pinoké got their first Dutch men's playoff campaign off to a dream start with a shoot-out win over AH&BC Amsterdam putting them into the lead of their best of three series.


---

Den Bosch and SCHC take up Dutch women's Euro spots




Den Bosch and SCHC will be the Netherlands' female representatives in European competition next season after they won through to the championship final last weekend.


---

Odisha bests Karnataka for title

Jharkhand weathers Haryana fightback for third spot



Champion: The triumphant Odisha team. | Photo Credit: A.M. FARUQUI

Odisha claimed the honours at the 12th Hockey India Senior Women National Championship here on Tuesday with a 2-0 win against Karnataka in the final that saw both teams struggling in the hot conditions.


---

Odisha crowned champions of senior women's hockey nationals

Odisha notched a thrilling 2-0 victory over Karnataka



National champion Odisha women hockey team

 Odisha notched a thrilling 2-0 victory over Karnataky over Karnataka in a closely-fought final to be crowned champions of the 12th Hockey India Senior Women National Championship on Tuesday.


---

Pat Barwick awarded for outstanding contribution to hockey

Pat Barwick wins Pakistan Trophy for 2021




It is a difficult task to articulate in words how amazingly valuable Pat Barwick is, not only for her club and Canterbury Hockey but for hockey in its entirety, both nationally and internationally. She is a true champion that is extremely generous with her knowledge and experience while continuing to motivate and inspire so many generations of players, officials, and coaches.


---

Centenary of Australian Men's first international hockey match




This year marks 100 years since an Australian men's hockey team first took to the field in an international. Their opponents that day – New Zealand.


---

Tigers Re-Appoint Luke Doerner and Stephen McMullen for 2022




The Tassie Tigers have re-appointed Luke Doerner and Stephen McMullen as their Head Coaches for the 2022 Sultana Bran Hockey One league season.