All the news for Wednesday 15 December 2021

Hero Asian Champions Trophy Dhaka 2021 - 15 December
Dhaka (BAN)

All times GMT +6

14 Dec 2021     KOR v IND (RR)     2 - 2
14 Dec 2021     JPN v PAK (RR)     0 - 0

15 Dec 2021 15:30     IND v BAN (RR)    
15 Dec 2021 18:00     KOR v JPN (RR)    

16 Dec 2021 is a rest day

Live streaming and full game replay on the Watch Hockey App (May be Geo blocked if there is TV coverage)

Pool Standings
| Rank | Team | Played | Wins | Draws | Losses | Goals For | Goals Against | Goal Difference | Points |
| --- | --- | --- | --- | --- | --- | --- | --- | --- | --- |
| 1 | India | 1 | 0 | 1 | 0 | 2 | 2 | 0 | 1 |
| 1 | Korea | 1 | 0 | 1 | 0 | 2 | 2 | 0 | 1 |
| 3 | Japan | 1 | 0 | 1 | 0 | 0 | 0 | 0 | 1 |
| 3 | Pakistan | 1 | 0 | 1 | 0 | 0 | 0 | 0 | 1 |
| 5 | Bangladesh | 0 | 0 | 0 | 0 | 0 | 0 | 0 | 0 |
---

India draw 2-2 with Korea in opener

Lalit Upadhyay and Harmanpreet Singh scored for India but they conceded twice either side of the fourth quarter to end up with a draw.

By Rahul Venkat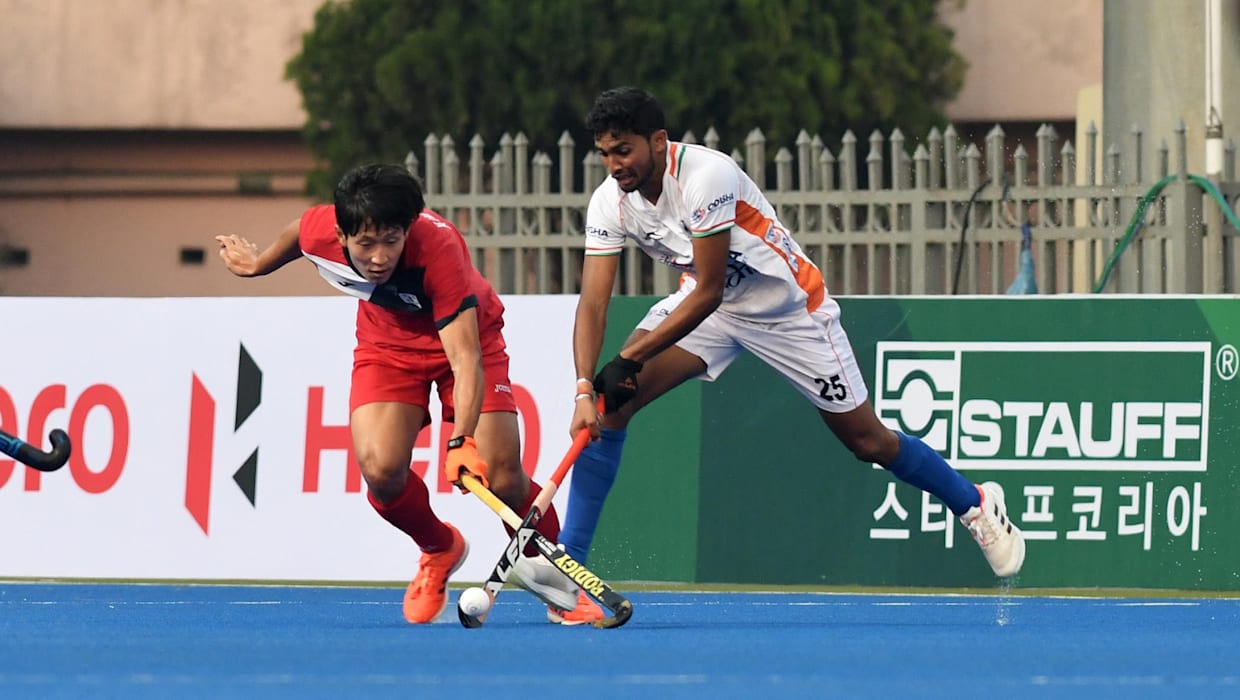 Picture by Hockey India

The Indian hockey team drew 2-2 with South Korea in their first match of the Men's Asian Champions Trophy 2021 in Dhaka, Bangladesh on Tuesday.


---

South Korea fight back to hold India




A "rusty" South Korea fought back from a 0-2 deficit to draw 2-2 with India in the 2021 Asian Champions Trophy opener at the Maulana Bhasani Stadium in Dhaka on Tuesday. There was a sense of Deja Vu with the outcome. The last time the two teams met was in the Asia Cup at the very venue in 2017 where the Koreans held the eventual champions 1-1.


---

Misfiring India held to 2-2 draw by fighting Korea

Playing their first tournament after the historic Tokyo Olympics campaign, India started brightly and scored in the fourth minute through Lalit Upadhyay before vice-captain Harmanpreet Singh converted a penalty corner in the 18th minute to double their lead.



Lalit Kumar Upadhyay's goal gave India an early 1-0 lead before three goals in the second half. (HockeyIndia)

Defending champions and Olympic bronze-medallists India were held to a 2-2 draw by a fighting Korea in their opening match of the Hero Asian Champions Trophy men's hockey tournament here on Tuesday.


---

Goalkeepers Amjad, Mazhar reach Dhaka one day before Pakistan's opening match



Pakistan hockey team's senior goalkeepers Amjad Ali (L) and Mazhar Abbas (R) before leaving for Dhaka on Monday. — YouTube screengrab

LAHORE: Just one day before their first match against Japan in the Asian Champions Trophy, Pakistan hockey team's senior goalkeepers Amjad Ali and Mazhar Abbas joined the national squad in Dhaka on Monday after getting their visas late on Sunday.


---

Indian men at Asian Champions Trophy (2011 to 2021)

Indian men have taken part in the all the six editions of Asian Champions Trophy. Except in 2013 when a Junior World Cup team that was to be held a few months after the Asian Champions Trophy, India always played its best team. Fittingly, it got the rewards to.


---

'They stabbed, murdered hockey': Will the glory years of Pakistan hockey ever come back?

Jaspreet Sahni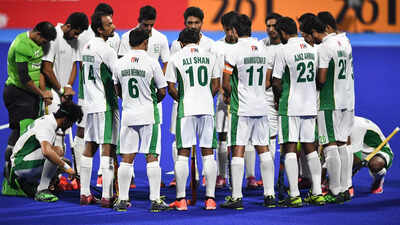 File Pic: Pakistan hockey players (Getty Images)

NEW DELHI: Good wasn't a good enough adjective for Pakistan hockey in those days. Outstanding, phenomenal, stellar, magnificent: these were the adjectives Pakistan often found before their name when the world talked about their hockey once upon a time. But since the 1994 World Cup win, the state of game in Pakistan has not just nosedived for the green shirts, it has crash-landed.


---

Quarter-finals minimum target for Indoor World Cup, says Czech star Hanus




As we build up to the sixth edition of the FIH Hockey Indoor World Cup, which is set to take place in Belgium early next year, we look at the teams that will compete for the title at the intense, action-packed competition that will be played at Country Hall de Liège from 2-6 February 2022.


---

US Men's FIH Indoor Hockey World Cup Selection Camp Athletes Announced




SPRING CITY, Pa. – The FIH Indoor Hockey World Cup (IHWC) is set to take place February 2 to 6 in Liège, Belgium, and with the 2021-22 roster being named last week, U.S. Men's National Indoor Team Head Coach Jason Mulder and coaching staff have identified the athletes invited to the selection camp.


---

Kenyan National hockey teams land tough Afcon pools

By  Agnes Makhandia

The national men and women's hockey sides have been placed in tough pools ahead of next year's Africa Cup of Nations to be played at the Theodosia Okoh Stadium in Accra, Ghana.


---

Hockey Maharashtra, Hockey Bihar & Uttar Pradesh Hockey inch closer to place in final 8

Also lining up for a place in the last 8 are Odisha and Hockey Bengal. Both played out an exciting draw, leaving them level on 4 points with a win-draw from the two matches they played.



The matches took place at Major Dhyan Chand Hockey Stadium, Nehrunagar-Pimpri . Express   

Hockey Maharashtra, Hockey Bihar and Uttar Pradesh Hockey kept themselves in line for a quarterfinal berth, logging their second wins in their respective pools in the 11th Hockey India Senior National Championship 2021 at the Major Dhyan Chand Hockey Stadium, Nehrunagar-Pimpri on Tuesday.


---

Muckross land big three points before Christmas

Irish Women's EY Hockey League




Cork Harlequins 0 Muckross 3 (J O'Brien, S McFarland, R McMullen)
Muckross landed a big win to boost their hopes of getting out of the women's EY Hockey League relegation places in the new year as they saw off Cork Harlequins 3-0 at Farmers' Cross on Saturday.


---

Eight added to Hockey Australia Hall of Fame




The Hockey Australia Hall of Fame will have eight new inductees in 2022 after the HA Board ratified some of the sport's most highly respected figures.


---

Julian Pearce becomes next Hockey Australia Legend




The esteemed Hockey Australia Legends club has a new member with Julian Pearce elevated to Legend status.


---

OPRO perfect fit for Kookaburras and Hockeyroos




The Kookaburras and Hockeyroos will rest assured knowing their teeth (and smiles) are in the safest possible hands after Hockey Australia secured a partnership with Addlon and OPRO mouthguards.


---

Government acts on recommendations on concussion in sport



Kettering hockey

The Digital, Culture, Media and Sport Committee has welcomed Government action on recommendations made in its report on concussion in sport which examined the links between sport and long-term brain injury.