All the news for Sunday 31 October 2021

Madhya Pradesh wins 11th Hockey India senior women National Championship

Madhya Pradesh defeated Haryana 1-0 to win the 11th Hockey India senior women National Championship 2021 in Jhansi on Saturday, while Punjab went past Maharashtra 2-1 to finish third.

Madhya Pradesh defeated Haryana 1-0 to win the 11th Hockey India senior women National Championship 2021 in Jhansi on Saturday, while Punjab went past Maharashtra 2-1 to finish third in the competition.

Madhya Pradesh's Kanchan Nidhi Kerketta (9') found the back of the net early in the final against Haryana, and thereafter the Madhya Pradesh side kept Haryana at bay throughout the game and walked off as winners of the tournament.

As per the Hockey India release, speaking about their victory, Madhya Pradesh Coach Vandana Uikey said, "It feels really good to win the tournament, especially because we have won the Hockey India Senior Women National Championship for the first time. It was a very close match. The players played very well. We had more ball possession than the other team."

Uikey further spoke about the aspects that impressed her the most about the Madhya Pradesh side in the final.

"The players played an outstanding game. The fitness level shown by the team in the Final was really good. That was an advantage for us. Our Goalkeeper Deepa Sharma played outstandingly as well. She saved a lot of goals during the match. This tournament was a good experience for the team as well."

Earlier today, Punjab earned a hard-fought 2-1 victory over Hockey Maharashtra to finish third in the 11th Hockey India Senior Women National Championship 2021. Captain Reena Rani (44') and Sarabdeep Kaur (50') scored a goal each for the winning side, meanwhile, Priya Dubey (18') scored the only goal for Maharashtra.

Sportstar


---

Hockey Haryana clinch 11th Hockey India Junior Women National Championship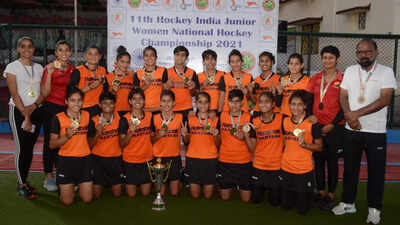 Haryana junior women's hockey team (@TheHockeyIndia Twitter)

SIMDEGA: Hockey Haryana clinch the 11th Hockey India Junior Women National Championship 2021 after beating hosts Hockey Jharkhand in a thrilling final by 3-2 here on Friday.


---

Punjab CM tries his hands at hockey, stops fast-paced balls as goalkeeper

Punjab Chief Minister Charanjit Singh Channi was spotted at a stadium in Mohali trying his hands at hockey



Charanjit Singh Channi By PTI

Punjab Chief Minister Charanjit Singh Channi on Saturday was spotted at a stadium in Mohali trying his hands at hockey as he put on the goalkeeper's kit and stopped fast-paced balls coming his way. "Channi sahab stopped the balls with ease," former Indian hockey goal-keeper Baljit Singh Dadhwal said and added that though the chief minister is 58 years old, his reflexes are still very good.


---

IPT 2021 | Joy for Southerns, the IPT Champions

Johannesburg is undoubtedly the capital city of South Africa from a business sense. Cape Town is the uncontested capital of South Africa from a tourism point of view. Today at Hartleyvale the two cities' provinces locked horns in a repeat of the 2018 final, which Southerns won by a penalty shootout.


---

Razak Cup action for those dropped from Junior World Cup

By Jugjet Singh



National Juniors team manager I. Vikneswaran

THE players for the Malaysian team to the Junior World Cup (JWC) will be named in a week's time, and those not selected will be allowed to turn out for for their states in the Razak Cup.


---

Rajan hopes to change medal colour this year

By Jugjet Singh



K. Rajan

TERENGGANU coach K. Rajan expects his Malaysia Games squad to lead the way in the 59th Razak Cup at the National Hockey Stadium in Bukit Jalil.


---

German hockey sees participation growth over other sports



HTC Uhlenhorst and Der Club an der Alste compete in the Bundesliga PIC; Worldsportpics

German hockey has bucked the trend over other sports and has grown membership despite the pandemic.


---

Hampstead & Westminster maintain perfect start in Vitality Women's Premier Division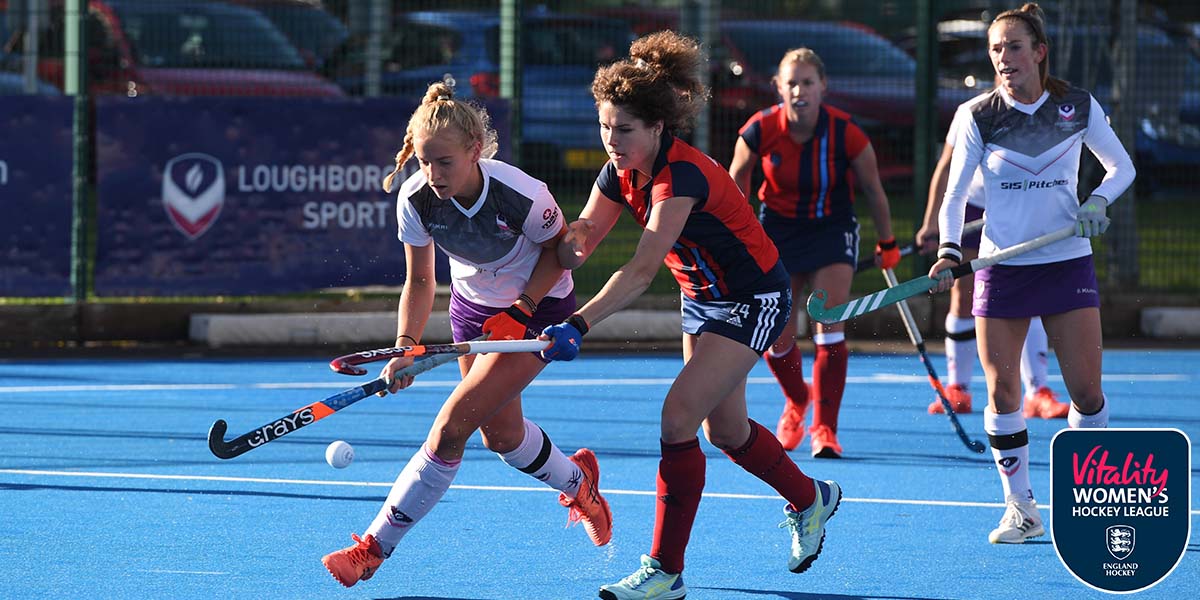 Hampstead & Westminster played out a thriller with Loughborough Students Photo credit: @asandysmith (Twitter)

League leaders Hampstead & Westminster withstood a second-half fightback from Loughborough Students to prevail 3-2 in the Vitality Women's Premier Division.


---

Dunfermline and Hillhead at the Top




It is certainly changed days that Dunfermline Carnegie (men) and Hillhead (women) are top of their respective Scottish Premiership league tables, but to be fair they have played more games than the chasing pack, but then again, they have the points in the bag so the succeeding weeks will determine if the traditional chasing pack can reassert their dominance.


---

Erin Matson returns from injury to lift UNC field hockey to 3-2 OT win over Virginia

By Deven Wackett



UNC senior forward Erin Matson (1) carries the ball down the field during field hockey's home opener against Miami on Sept. 19, 2021, at Karen Shelton Stadium. UNC won 7-2. Photo by Ira Wilder | The Daily Tar Heel

The No. 10 North Carolina field hockey team (10-6, 4-2 ACC) was in Charlottesville, Va. on Friday evening and picked up a 3-2 win over No. 16 Virginia (10-7, 3-3 ACC) in its final regular season game of the season.


---

Field Hockey Sends Seniors Out With A Win




MOUNT PLEASANT, Mich. – Kate Biglin's second-quarter goal was the difference as Central Michigan closes the 2021 field hockey season with a 2-1 nonconference victory over Appalachian State at Cristy Freese Field.


---

No. 3 Rutgers field hockey earns No. 2 seed in B1G Tournament with best finish ever

The Scarlet Knights set a program record with six Big Ten wins in a 3-0 victory over Michigan State on Friday.

By Aaron Breitman



Bridy Molyneaux scored a hat trick in the victory over Michigan State. Dakota Moyer/ @DakMoyer

No. 3 Rutgers field hockey set yet another program record on Friday as they won its sixth Big Ten regular season game, the most since joining the conference in 2014. The Scarlet Knights defeated Michigan State (7-8; 0-8) by the final score of 3-0 to finish at 6-2 in Big Ten play. In addition, with a 14-3 overall record, it's the most wins in a season under 10th year head coach Meredith Civico. The 14 wins also ties for the second most ever in a single season in program history. RU has ten victories over ranked foes this season, setting another program record.