All the news for Thursday 14 October 2021

2021-22 FIH Pro League (W) - 14 October
Wagener Hockey Stadium, Amstelveen

13 Oct 2021     NED v BEL (RR)   2 - 0
Keep up to date with all the latest news on the FIH Hockey Pro League via the Watch.Hockey app, event website and through FIH social media channels - Facebook, Instagram and Twitter.
Live streaming and full game replay on the Watch Hockey App (May be Geo blocked if there is TV coverage)
---

Netherlands triumphant against Belgium in Season curtain raiser




Reigning women's Olympic, World and European champions the Netherlands got their FIH Hockey Pro League title defence off to a solid start, defeating neighbouring Belgium 2-0 in the competition curtain raiser in front of 4000 fans at Amsterdam's magnificent Wagener Stadium.


---

The Netherlands start Hockey Pro League title defence with 2-0 win versus Belgium

By Ali Iveson



Lidewij Welten scored just 17 seconds into the new Hockey Pro League season ©Getty Images

Olympic, world, European and Hockey Pro League champions The Netherlands needed just 17 seconds to score the first goal of the season as the latter competition returned.


---

Malaysia rise to world No 10 in hockey

By Jugjet Singh



The Malaysian and Wales teams at Reading Hockey Club

KUALA LUMPUR: The Malaysian men's hockey team moved to 10th in the world rankings yesterday after beating Wales 3-1 in their second Test at the Reading Hockey Club.


---

Malaysia gunning for world ranking points at ACT

By Jugjet Singh



MHC president Datuk Seri Subahan Kamal

KUALA LUMPUR: The Malaysian Hockey Confederation (MHC) are optimistic the ongoing Britain tour is the perfect tonic for the national seniors preparing for the Asian Champions Trophy (ACT) in Dhaka, Bangladesh, on Dec 14-22.


---

World's best hockey juniors head to Potchefstroom to play ball

By Herman Gibbs



There is hope that the Women's Junior Hockey World Cup, which starts on December 5 at the North West University's Astro complex, will grow the sport in South Africa. Picture: MARTIN BUREAU/AFP

Cape Town - South Africa has another gilt-edged opportunity to enhance its standing as a host for major international sporting events.


---

'Racial discrimination': Hockey India chief hits back at Belgium for criticism of India sweeping FIH Awards

Gyanendro said that Belgium and its players questioning the voting system was disrespectful towards the Indian winners and demeaning their achievements.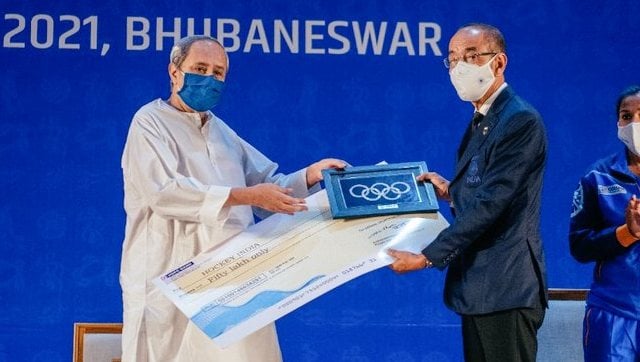 Hockey India president Gyanendro Ningombam with Odisha CM Naveen Patnaik. Image: Twitter/@sports_odisha

Hockey India has asserted that Belgium's public expression of displeasure over Indians sweeping the FIH annual awards is nothing short of "racial discrimination" and the world body should initiate a thorough investigation into the matter.


---

New Zealand National Hockey Championship cancelled due to Covid-19 challenges



New Zealand's top hockey players won't have any further top flight action this season after the cancellation of the National Hockey Championship. Julian Finney/Getty Images

This year's National Hockey Championship (NHC) has been cancelled due the ongoing challenges posed by the current Covid-19 outbreak.


---

Acknowledgment of officials for cancelled events




Hockey Australia expresses its appreciation for the ongoing support of officials who have committed their time in 2021 but missed out on the opportunity to take part in national hockey events.


---

Hockey Australia makes significant 'Gaines' in governance



(Photo courtesy of Business News).

The governance and future direction of Hockey Australia (HA) has been bolstered with the appointment of Alison Gaines FAICD as Nominations Committee Independent Chair


---

Wolverines Travel to No. 1 Iowa, Indiana for B1G Field Hockey Weekend

Leah Howard



(Michigan Photography)

The No. 2-ranked University of Michigan field hockey team (11-0, 3-0 Big Ten) travels to Iowa City, Iowa, to face No. 1 ranked Iowa (14-0, 5-0 Big Ten) at 2 p.m. CDT on Friday (Oct. 15) at Grant Field for the Wolverines' sixth straight game against a ranked opponent -- and third in a row against a top-10 opponent. Michigan will wrap up the weekend road trip with a noon slate against Indiana (7-7, 1-4 Big Ten) on Sunday (Oct. 17) at the IU Field Hockey Complex in Bloomington.