All the news for Saturday 2 October 2021

Pan American Challenge 2021- Day 6
Lima (PER)

All times GMT -5

Men

1 Oct 2021     ECU v PER (RR)     0 - 5

2 Oct 2021 13:00     MEX v PER (RR)

Pool Standings
| Rank | Team | Played | Wins | Draws | Losses | Goals For | Goals Against | Goal Difference | Points |
| --- | --- | --- | --- | --- | --- | --- | --- | --- | --- |
| 1 | Mexico | 3 | 3 | 0 | 0 | 38 | 0 | 38 | 9 |
| 2 | Peru | 3 | 2 | 0 | 1 | 10 | 7 | 3 | 6 |
| 3 | Ecuador | 4 | 0 | 0 | 4 | 0 | 41 | -41 | 0 |

Women

1 Oct 2021     PER v BRA (Semi-Final 1)     2 - 0
1 Oct 2021     PAR v TTO (Semi-Final 2)     1 - 1 (3 - 4 SO)

2 Oct 2021 11:00     BRA v PAR (3rd-4th Place)
2 Oct 2021 15:00     PER v TTO (Final)

FIH Match Centre


---

T&T stickwomen book Pan Am Cup spot

by Nigel Simon

T&T goalkeeper Arresia Sandy made the crucial save while Brianna Govia scored on her attempt as T&T senior women's hockey team battled past Paraguay 4-3 on a sudden-death penalty shoot-out after a 1-1 deadlock in their 2021 Pan American Challenge semifinal on Friday.


---

South African umpiring greats Joubert & Wright bid farewell to international hockey



Photo credit: Frank Uijlenbroek / World Sport Pics

As has been widely reported, numerous players decided to hang up their hockey sticks following the completion of the Olympic Games Tokyo 2020 in August. However, it is not only athletes who step away at the end of an Olympic cycle, with no fewer than five of the world's finest international umpires also finishing on a high at the world's greatest sporting spectacle.


---

PHF confronted with Indian visa glitch for Junior World Cup

Mohammad Yaqoob

LAHORE: The Pakistan Hockey Federation (PHF) is confronted with a lingering problem after both International Hockey Federation (FIH) and Hockey India (HI) made things difficult for them over the grant of visas for the Junior World Cup, which is scheduled to begin in the Indian city of Bhubaneswar from Nov 25.


---

Tyler Lovell - One on One




After announcing his retirement from international hockey, Kookaburra Tyler Lovell took some time out to reminisce on a career that spanned eight years, 147 games, numerous highs and its share of lows.


---

India hockey Olympian SV Sunil retires

SV Sunil has represented India at the London 2012 and Rio 2016 Olympics and donned the international jersey with distinction for 14 years.

By Utathya Nag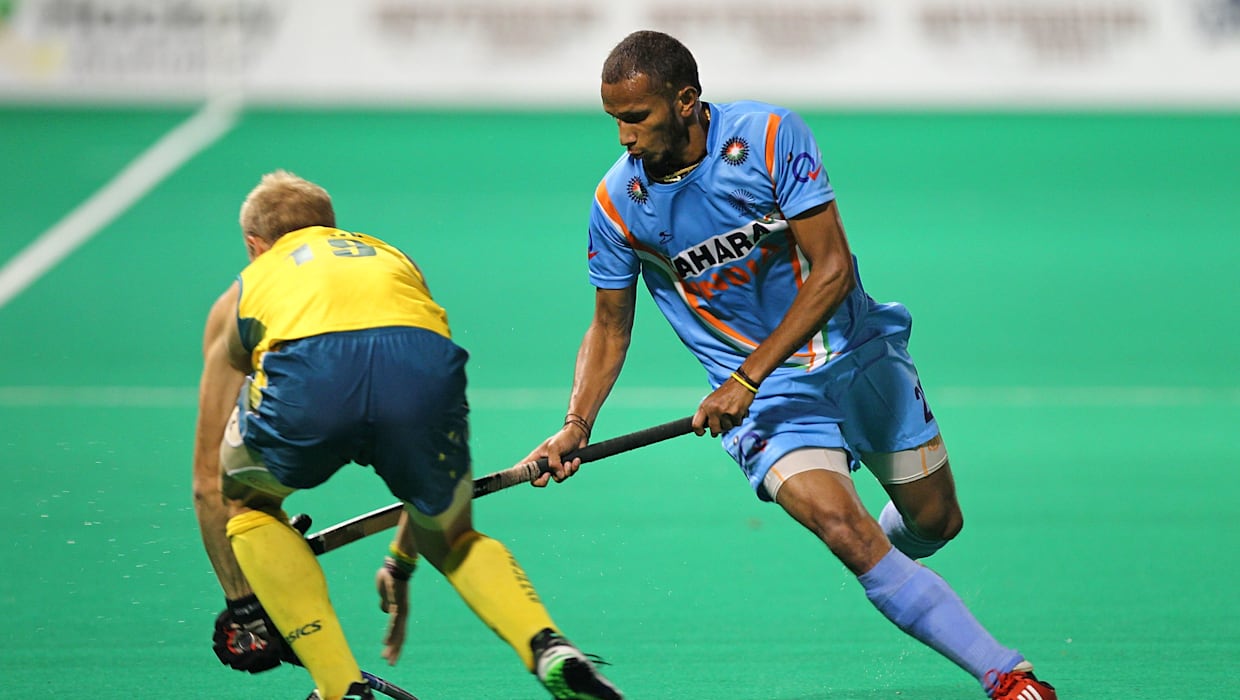 Sunil SV Picture by Getty Images

Indian hockey player SV Sunil, a two-time Olympian and 2014 Asian Games gold medallist, announced his retirement from international hockey on Friday. He, however, kept the door open to play in the shorter variant of the game.


---

Veteran striker SV Sunil announces retirement from international hockey

Sunil's decision to call time came a day after drag-flicker Rupinder Pal Singh and defender Birendra Lakra, who played starring roles in the Indian hockey team's historic bronze medal-winning Tokyo Olympics campaign, announced their international retirements on Friday.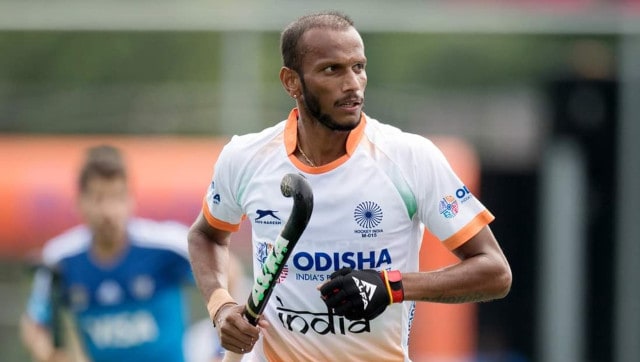 File image of SV Sunil. Image credit: Twitter/@TheHockeyIndia

New Delhi:  Veteran India men's hockey team striker SV Sunil on Friday announced his international retirement, bringing the curtains down on a 14-year-long career during which he was a part of the 2014 Asian Games gold-winning side.


---

Hockey India names 30 members for senior men's national camp

A 30-member group has been chosen for the senior men's national coaching coaching camp in Bengaluru from October 4.



India head coach, Graham Reid. - HOCKEY INDIA

Hockey India on Saturday named a 30-member core probable group for the senior men's national coaching camp, to begin in SAI, Bengaluru, from October 4.

After a successful campaign at the Tokyo Olympic Games, the Indian men's core group will begin the new Olympic cycle with an intent to improve upon this performance at Paris 2024.

The core grouped called up for the national coaching camp includes a mix of young and experienced players including P. R. Sreejesh, Krishan Bahadur Pathak, Suraj Karkera, Harmanpreet Singh, Dilpreet Singh, Surender Kumar, Gurinder Singh, Amit Rohidas, and Manpreet Singh.

Speaking about the upcoming national coaching camp, chief coach Graham Reid said, "The players are coming off a long and well-deserved break. I believe they will be excited to be back in the National Camp and refocus on our goals for next year.

"We will be going through our performance in the Olympics both from the perspective of individual performances and as a team."

ALSO READ - Time for me to take a break from hockey, says S. V. Sunil

He further emphasised that the players must leave behind the success of Tokyo and start fresh ahead of a hectic season in 2022.

"Experiencing success in the Olympics is great but now I want the players to be mentally and physically ready for a hectic season in 2022 with some very important tournaments starting from the FIH Hockey Pro League in February.

"This camp will be more about strength and conditioning and we will look at making a slow start."

List of players named for the national camp

    P. R. Sreejesh                                         
    Krishan Bahadur Pathak
    Suraj Karkera
    Harmanpreet Singh   
    Dilpreet Singh
    Surender Kumar
    Gurinder Singh
    Amit Rohidas
    Manpreet Singh
    Hardik Singh
    Nilakanta Sharma
    Vivek Sagar Prasad
    Simranjeet Singh
    Akashdeep Singh
    Mandeep Singh
    Lalit Kumar Upadhyay
    Gursahibjit Singh
    Shamsher Singh
    Varun Kumar
    Jarmanpreet Singh
    Dipsan Tirkey
    Nilam Sanjeep Xess
    Jaskaran Singh
    Rajkumar Pal
    Gurjant Singh
    Sumit
    Shilanand Lakra  
    Suman Beck
    Mandeep Mor
    Ashis Kumar Topno

Sportstar


---

Eye on future, hockey federation waves goodbye to the past

The comments under the messages composed by Rupinder Pal Singh and SV Sunil on Twitter is an indication of their popularity among Indian hockey fans.

By Swaroop Swaminathan

CHENNAI: The comments under the messages composed by Rupinder Pal Singh and SV Sunil on Twitter is an indication of their popularity among Indian hockey fans. Every third message had the red heart emoji. Biren Lakra, too, had a similar outpouring of affection under Hockey India's post.


---

Welsh Hockey players at the Olympics

By Phil Bailey




As the euphoria settles after a truly remarkable 2021 Olympic and Paralympic Games, this month's article looks back in time to Wales' hockey players who have participated in the Olympic Games.


---

Malaysian juniors face Autumn showers

By Jugjet Singh



National juniors hockey team manager I. Vikneswaran

KUALA LUMPUR: Apart from facing Repton HC on Sunday, the national hockey juniors will have to deal with the Autumn showers.


---

Kampong bounce back to claim fifth place

Men's ABN AMRO EHL Ranking Cup




SV Arminen 1 (R Bele) SV Kampong 5 (B Kellerman 2, C Dobbelaar, J de Geus, J Janssen)

For a second successive day, SV Kampong came from a goal down to earn the win, earning them fifth place ranking points with SV Arminen taking points for ninth overall.


---

Gantoise earn first EHL victory as St Ger end 17th

Men's ABN AMRO EHL Ranking Cup




M7: Saint Germain 2 (P Parrilla, W-I Jeammot) Gantoise 4 (P Scheen 2, A Bugallo, E Tynevez)

It was hard work but Gantoise picked up their first ever EHL win with a 4-2 success against Saint Germain, giving them a 13th place overall in the rankings while Saint Germain had to settle for 17th.


---

Surbiton aim high at Euro Hockey League Ranking Cup

By Lucas Ball



Surbiton will be looking for early Euro success PIC: Simon Parker

Surbiton will be looking to make their mark on the Euro Hockey League and not become "overawed" as they take on top Belgian side KHC Dragons in the EHL Ranking Cup on Saturday.


---

Women's ABN AMRO Ranking Cup lands in Hamburg




The women's ABN AMRO EHL Ranking Cup gets up and running at UHC Hamburg with three teams battling to determine who gets top points for their respective nation.


---

CM Punjab National Women Hockey Championship  from 15th

LAHORE- Sports Board Punjab (SBP) Director General (DG) Adnan Arshad Aulakh Friday said that First Chief Minister Punjab 5-A-Side National Women Hockey Championship has been rescheduled and will now be held from Oct 15 to 20 at National Hockey Stadium.


---

Qualified coaches to impart training to 50 hockey coaches: SBP DG

LAHORE - Sports Board Punjab Director General (DG) Adnan Arshad Aulakh has said that hockey is our national game and the SBP is ready to take every possible measure for its growth and revival.


---

Opportunity: SA Men's Indoor Assistant Coach




There in an opportunity available for the role of Interim-Head Coach of the SA Indoor Hockey Men through the World Cup.

The application form to be submitted with your cv can be found here

SA Hockey Association media release


---

Baby on way, announces hockey skipper Manpreet Singh

Deepkamal Kaur



Manpreet Singh with his wife Illi Najwa Saddique.

Posting a picture of his Malaysian wife Illi Najwa Saddique standing along with him and showing her baby bump, Indian hockey Olympian Manpreet Singh on Friday announced that the couple was expecting their baby next month.


---

No. 6 Field Hockey Edged by No. 1 Iowa, 2-1




PISCATAWAY, N.J. – No. 6 Rutgers field hockey (8-2, 1-1) was edged by No. 1 Iowa (11-0, 3-0) in a tightly contested 2-1 game on Friday afternoon.


---

Ezechiels Scores Twice, UVA Field Hockey Takes Down Duke 3-2 in 2OT

Amber Ezechiels scored her second goal of the game late in the second overtime period to lead the Cavaliers over the Blue Devils on Friday night.

Matt Newton

Friday night's field hockey match between the No. 14 Virginia Cavaliers and the No. 20 Duke Blue Devils was much more than a battle between ranked ACC rivals. It was also a matchup the Hoos badly wanted to win after losing to Duke twice last season. UVA had not beaten the Blue Devils since a 2-1 victory in the semifinals of the 2019 ACC Tournament.


---

Field Hockey Erupts for Record Win in 7-0 Rout of Central Michigan

Lancers' MAC-Leading Offense Dominates Conference Rival Whistle to Whistle




FARMVILLE, Va. – Longwood field hockey's MAC-leading offense needed just 36 seconds to score its first goal Friday afternoon against Central Michigan.


---

No. 19 Field Hockey Outlasts Villanova in Overtime, 3-2




CONSHOHOCKEN, Pa. – A Marlon de Bruijne overtime goal lifted the No. 19 Old Dominion field hockey team (7-2, 2-1 BIG EAST) over Villanova (4-7, 1-2 BIG EAST) by a 3-2 score on Friday afternoon at the Villanova Field Hockey Field. The Monarchs had a 2-0 lead, before Villanova pulled its keeper and scored two goals in the final 53 seconds of regulation to force overtime.