All the news for Wednesday 22 September 2021

Women's Indoor National team earns bid to 2022 Indoor World Cup

FIH launches Indoor World Cup schedule — Canada looks forward to a February date in Liège




After a fantastic silver medal performance at the Indoor Pan American Cup in June, Field Hockey Canada's Indoor Women's National Team has been invited to participate in the 2022 Indoor World Cup.


---

Canadian officials surge on international stage

After long gap in international play, Canadian officials make their return




Laurie Hogan is heading to the Pan American Challenge in Lima, Peru next week and she said she's excited to simply be back, feeling the rush of international competition again.


---

TT women's hockey team depart for Pan American Challenge

Joel Bailey



In this August 23 file photo, TT's Tahirah Wynne is seen in action against the USA during the Pan Am Junior Hockey Championships match, in Santiage, Chile. -

THE TRINIDAD and Tobago women's hockey team will leave for Peru on Wednesday for the Pan American Challenge in Lima, Peru from September 26 to October 2.


---

T&T's qualification tough, but doable - Marcano

by Nigel Simon



T&T Level III hockey coach Anthony Marcano

Anthony "Bumper" Marcano, coach of this country's senior women's hockey team says their chances of a top-two finish at the 2021 Pan American Challenge Cup is going to be tough, but at the same time doable.


---

De Wijn suspended after verbal excess at the Games

The lost quarterfinal at the Olympic Games in Tokyo has come to an end for Sander de Wijn. The international went verbally over the line afterwards and was therefore suspended for two matches. In addition, the Dutch team has to play with one less man in those duels.




Emotions got the upper hand after the much-discussed game against Australia. The Orange squad played its best game of the tournament and eventually lost on shoot-outs. 'During the match and series we felt strongly disadvantaged', says De Wijn. 'Take, for example, the shoot-out of Jonas de Geus. It was tucked under the keeper, but nothing happened. We were furious along the centerline.'


---

Celia Seerane announces retirement from International outdoor hockey




Celia Seerane, who has represented South Africa on 168 occasions in Outdoor Hockey, has today announced her retirement from the national outdoor game. Seerane who was part of the squad that took part in the Tokyo Olympic Games remains available for the indoor side, where she played 49 test matches.


---

England yet to confirm Junior Hockey World Cup participation



England juniors in action PIC: EHF/Worldsportpics

England are yet to be confirmed as entrants into the upcoming Junior World Cups in India and South Africa due to the pandemic.


---

The long road home – Coach profile: Patrick Tshutshani

Tshutshani leads Team Canada to a Pan American gold medal and books his ticket home




Patrick Tshutshani hasn't been home in over two years.

He said he misses his mother, Mirriam, most of all. He misses his sister, Porcia, his nephew, nieces and close friends and family.


---

No. 9 Maryland field hockey beats No. 17 Princeton in overtime, 4-3

Shane Connuck



Margot Lawn and Emma DeBerdine high-five during Maryland field hockey's 4-3 overtime win against Princeton on Sept. 21, 2021. (Julia Nikhinson/The Diamondback)

No. 9 Maryland field hockey drew a penalty corner late in overtime against No. 17 Princeton, and Emma DeBerdine inserted the ball to an open Riley Donnelly.


---

St. Joe's field hockey makes history with back-to-back top-10 wins

by Adam Fine



The St. Joe's field hockey team celebrates during their contest against Rutgers University on Sept. 12, 2021 PHOTO: JOE SCHNEYDER/SAY CHEEZE STUDIOS

St. Joe's field hockey proved this week that it won't be intimidated by any opponent.


---

Mountaineer field hockey sends home No. 24 James Madison, falls to Ohio State

Noah Cornelius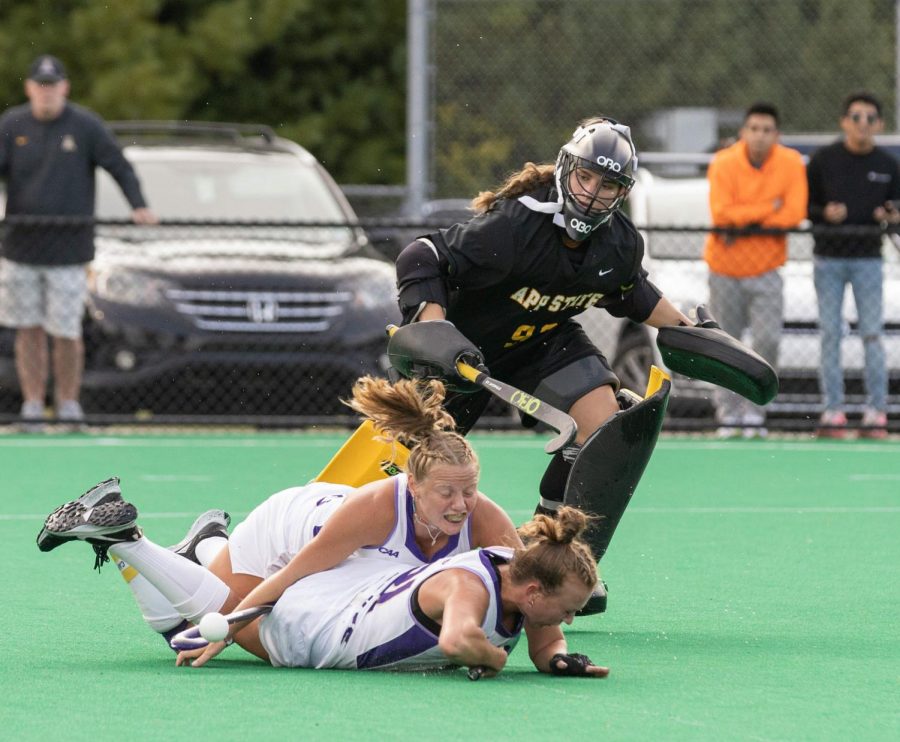 Junior goalkeeper Addie Clark watches as two JMU players collide and collapse to the ground. Clark made eight saves against JMU and 10 saves in the Sept. 12 matchup with OSU. Becca Bridges

App State field hockey came out of its previous weekend 2-3, winning 2-0 against the No. 24 James Madison Dukes Sept. 10 at home but losing 0-2 to the Ohio State Buckeyes Sept. 12 on the road in Charlotte.