All the news for Monday 30 August 2021

'Fearless' women's hockey marks new era for Team India



India's Dutch coach Sjoerd Marijne posted a celebratory picture from the team coach

India's Olympic women's team have become a "fearless" team, according to Gurjit Kaur.


---

Walmiki bros try to revive hockey in city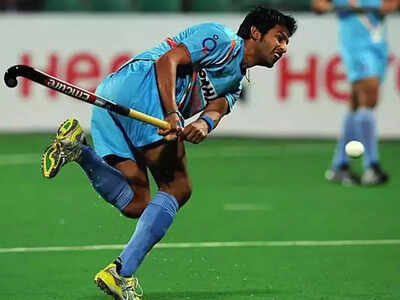 Yuvraj Walmiki (Photo by Indranil Mukherjee/AFP via Getty Images)

MUMBAI: Yuvraj Walmiki (31) and his younger brother Devinder (29) were among the millions of Indians who celebrated the country's return to the Olympic podium in Tokyo at the beginning of August.


---

UNC field hockey loses unprecedented second straight game, first 0-2 start since 1992

By Caroline Prendiville



UNC field hockey players celebrate at the game vs Iowa in Iowa City on Aug. 29. The Tar Heels lost 1-3. Photo courtesy of Iowa Athletics.

The No. 1 North Carolina field hockey team (0-2) lost its second game of the season to No. 3 Iowa (2-0), 1-3, at Grant Field in Iowa City.


---

Bibi Donraadt's heroics send Maryland field hockey past St. Joseph's in double overtime, 4-3

Shane Connuck



Emma DeBerdine protects the ball during Maryland field hockey's 4-3 win over St. Joseph's University on August 29, 2021. (Autumn Hengen/The Diamondback)

Less than two minutes remained in the first overtime when Saint Joseph's Anna Miller thought she may have ended a back-and-forth match with Maryland field hockey. She took a shot that was kicked by goalkeeper Noelle Frost and ricocheted toward the back of the net. The Hawks' players sprinted onto the pitch in cheers.


---

Field Hockey Tops Drexel to Go 2-0 in Opening Weekend




PHILADELPHIA - The Temple field hockey team had another strong performance to close out its opening weekend, defeating Drexel 3-2 Sunday afternoon. This is the second time in three seasons that the Owls have gone undefeated in their opening weekend.


---

No. 8 Virginia Field Hockey Defeats No. 17 Delaware 3-1 for First Win of the Season

Peyton Tollaksen, Noa Boterman, and Meghen Hengerer scored in UVA's victory over the Blue Hens on Sunday

Matt Newton

The Cavaliers did not have much time to mourn their overtime loss against No. 16 Penn State on Friday before they had to turn around and face another ranked opponent on Sunday against No. 17 Delaware.


---

Rutgers Field Hockey defeats Richmond 5-2

The Scarlet Knights are off to a 2-0 start after winning both games this weekend in Durham, North Carolina.

By Aaron Breitman



Tayla Parkes scored twice in the victory over Richmond. Rutgers Athletics

Less than 24 hours after the No. 15 Rutgers field hockey team defeated No.12 Duke 3-0, they responded with a 5-2 victory over Richmond. Both games took place in Durham, North Carolina on the Blue Devils home field. The Scarlet Knights have now started 2-0 for a fifth straight season


---

Field Hockey Falls To Davidson




MOUNT PLEASANT, Mich. — Davidson scored two second-half goals to overcome a 1-0 deficit on Sunday in handing Central Michigan a 2-1 field hockey loss at Cristy Freese Field.


---

UMass field hockey proves that it can show up at the right time

Minutewomen have scored crucial goals in each of their last two wins

By Lulu Kesin



Thom Kendall/ UMass Athletics

In two games so far this season, the Massachusetts field hockey team has proven that goals matter most when they come at the right time. Time management, execution and head coach Barb Weinberg's' orchestration put UMass (2-0) over Maine (0-2) in overtime, 3-2 on Sunday.


---

IU field hockey wins back-to-back games in first weekend

By Tyler Vaundry



Then-freshman forward Hailey Couch keeps the ball away from Michigan State back Baily Higgins on Oct. 5, 2018, at the IU Field Hockey Complex. IU defeated Central Michigan University and Davidson University to start the season 2-0. IDS file photo and Anna Tiplick

The IU field hockey team started its 2021 campaign with a 3-2 win Friday afternoon on the road against Central Michigan University.