All the news for Thursday 5 August 2021

2020 Olympic Games - Day 14
Tokyo (JPN)

All times GMT +9

Men's Medal games

5 Aug 2021 Bronze Medal  IND v GER   5 - 4 
5 Aua 2021  Gold Medal      BEL v AUS   1 - 0  Q3

Pool Standings

Pool A
| Rank | Team | Played | Wins | Draws | Losses | Goals For | Goals Against | Goal Difference | Points |
| --- | --- | --- | --- | --- | --- | --- | --- | --- | --- |
| 1 | Australia | 5 | 4 | 1 | 0 | 22 | 9 | 13 | 13 |
| 2 | India | 5 | 4 | 0 | 1 | 15 | 13 | 2 | 12 |
| 3 | Argentina | 5 | 2 | 1 | 2 | 10 | 11 | -1 | 7 |
| 4 | Spain | 5 | 1 | 2 | 2 | 9 | 10 | -1 | 5 |
| 5 | New Zealand | 5 | 1 | 1 | 3 | 11 | 16 | -5 | 4 |
| 6 | Japan | 5 | 0 | 1 | 4 | 10 | 18 | -8 | 1 |
Pool B

Women's Semi Finals

4 Aug 2021   NED v GBR  5 - 1
4 Aug 2021   ARG v IND   2 -1

Medal games

6 Aug 2021 10:30  Bronze Medal  GBR v IND
5 Aua 2021 19:00  Gold Medal      NED v ARG

Pool Standings

Pool A
Pool B
| Rank | Team | Played | Wins | Draws | Losses | Goals For | Goals Against | Goal Difference | Points |
| --- | --- | --- | --- | --- | --- | --- | --- | --- | --- |
| 1 | Australia | 5 | 5 | 0 | 0 | 13 | 1 | 12 | 15 |
| 2 | Argentina | 5 | 3 | 0 | 2 | 8 | 8 | 0 | 9 |
| 3 | Spain | 5 | 3 | 0 | 2 | 9 | 8 | -1 | 9 |
| 4 | New Zealand | 5 | 2 | 0 | 3 | 8 | 7 | 1 | 6 |
| 5 | China | 5 | 2 | 0 | 3 | 9 | 16 | -7 | 6 |
| 6 | Japan | 5 | 0 | 0 | 5 | 6 | 13 | -7 | 0 |
---

'Arrogant' Great Britain won Olympic gold by 'pure luck', claim top Dutch stars

Dutch hockey players have taken umbrage over comments made pre-match by Great Britain women as they booked a place in gold medal match at Tokyo Olympics




Dutch players who took silver behind Great Britain women at the Rio Games have poured scorn on their rivals, suggesting that Team GB are "arrogant" while their Olympic hockey gold was "pure luck" five years ago.


---

Argentina recovers to deny Indian women a new dawn




It was a big day for the Indian sports. Indian women hockey, for the first time in their chequered history, played a semifinal. The girls probably aware that they are on the threshold of making history, went into business mode ab initio. Within 90 seconds from the start, Gurjit Kaur, dragged the ball into the net, surprising the knowldegeable crowd, an plunging India into a momentous joy.


---

Sjoerd Marijne: "Please look back and see what you have done wrong "




Sjoerd Marijne, India women's hockey head coach, the greatest takeaway from the lost semi-final to Argentina on Wednesday was the reality of playing an Olympic semi-final.


---

India comes up second best to Argentina after a bruising contest

Inability to close out opportunities costs the team dear; will face Great Britain for a bronze medal tomorrow.

Shyam Vasudevan



Rocio Sanchez Moccia of Team Argentina and Udita of Team India battle for the ball during the Women's Semifinal match between Argentina and India on day twelve of the Tokyo 2020 Olympic Games at Oi Hockey Stadium on August 04, 2021 in Tokyo, Japan.   | Photo Credit: Getty Images

The Indian women's hockey team's inspiring run at the Olympics hit a roadblock as it slipped to a 2-1 loss to former world champion Argentina in the semifinals. The team remains in the hunt for a bronze medal and will face Great Britain on Friday.

At the end of a bruising contest — as the hooter went — the Argentines revelled while the dejected Indian girls walked away after a quick team talk.
Brilliant start

The Sjoerd Marijne-coached team made a brilliant start to the proceedings as Gurjit Kaur scored from a penalty corner — her second in as many games — in the 90th second.

Argentina women's team, which has won medals at four consecutive Olympics (2000 to 2012), slowly started making inroads, winning a penalty corner in the eighth minute but nothing came off it. The world's second-ranked team mounted pressure on India, effectively combining aerial passes and scorching runs on the flanks but the Indian defence stood resolute. Argentina came out in the second quarter like Gaucho cowgirls running wild in the Pampas and found the equaliser in the 18th minute. Their 37-year-old captain Maria Noel Barrionuevo rifled a bullet drag-flick to restore parity.

India's inability to close out opportunities cost it dear as two penalty-corner chances went begging in the 26th minute. Neha Goyal had a great chance four minutes later when she stormed into the penalty circle, but she shied away from taking a shot, looked for a pass instead, and was robbed of the ball.

Argentina's Agustina Albertarrio was a menace on the left and made a marauding run in the 33rd minute that served as a warning. Barrionuevo scored her second goal of the evening in the 36th minute from another penalty corner. The goal, which took a heavy deflection off an Indian defender, was her 197th international goal in 344 appearances.

Beginning of the end

It was the beginning of the end for India as Argentina dug deep and fortified its defence. India had a few stray chances, but the goal remained elusive. The side had a sliver of hope in the last minute, but Argentina goalkeeper Belen Succi showed great reflexes to keep out Navneet Kaur's deflection from close range.

India will now go back to the drawing board and look to iron out the flaws in its game ahead of Friday's match against Great Britain.

Argentina will take on the Netherlands, which defeated Great Britain 5-1, in the final.

The Hindu


---

Argentina set up Netherlands clash for women's gold



Argentina celebrate after semi-final success over India PIC: REUTERS/Bernadett Szabo

Netherlands women will blare out Queen's Don't Stop Me Now on the team bus on the way to the Olympic women's final on Friday, while the traditional latin beats will accompany Las Leonas' all-singing squad when the teams line up for a repeat of the Olympic final nine years ago in London.


---

Argentina beat India, to face Netherlands in hockey final

TOKYO: Argentina's players hugged each other and cried after reaching the women's hockey final at the Tokyo Olympics with a 2-1 win over India on Wednesday.

Argentina will face the Netherlands in Friday's final, while India will battle Britain for bronze.

Argentina suffered an early setback, conceding a second-minute goal when India's Gurjit Kaur flicked the ball into the goal off a penalty corner.

Las Leonas equalised halfway through the first half when captain Maria Noel Barrionuevo also scored off a penalty corner. The 37-year-old, Argentina's oldest player, settled the match six minutes into the second half.

In the other semi-final, the Netherlands notched up a convincing 5-1 victory over 2016 Rio Olympic champions Britain to reach the Olympic finals for a fifth straight time.

The Netherlands took the lead in the first half when Laurien Leurink outsmarted her opponent and her pass reached 21-year-old forward Felice Albers who shot the ball through the legs of British goalie Madeleine Hinch.

The Netherlands, who won silver in Rio after taking home the top prize at the 2008 and 2012 Olympics, doubled the score less than a minute later through a powerful shot by Marloes Keetels.

After the halftime break, the Netherlands extended their lead to 4-0 with goals by Maria Verschoor and Albers.

Britain had beaten the Dutch in a penalty shootout in the Rio final but, here, the gap between the two sides was too large for the British to overcome, though they got a goal back when Giselle Ansley flicked in a penalty corner before Frederique Matla made it 5-1 for the Netherlands.

Friday's match will give Argentina a chance to take revenge against the Dutch for their defeat in the final of the 2012 Olympics, when the Netherlands won 2-0.

Dawn


---

Indian hockey team will bounce back against Britain - Coach Sjoerd Marijne

The Indian women's hockey team has learnt to bounce back from losses, said chief coach Sjoerd Marijne



Indian Women Hockey Team (Source: Hockey India)

The Indian women's hockey team has learnt to bounce back from losses, said chief coach Sjoerd Marijne, adding that the defeat to Argentina in the Olympic semifinal is history as the side focusses on claiming a historic bronze. A brave Indian women's hockey team put up a gritty performance but it was not enough to secure a maiden Olympic final berth as it lost 1-2 to world no.2 Argentina in a hard-fought semifinal on Wednesday. India still have a chance to win the bronze medal as they will take on Great Britain in the third-fourth place play-off match on Friday.


---

India women's hockey team's historic run forged with self-belief and determination

Even the best break down under the pressure at Olympics but the India women's hockey team has reveled in it.

Ujwal Singh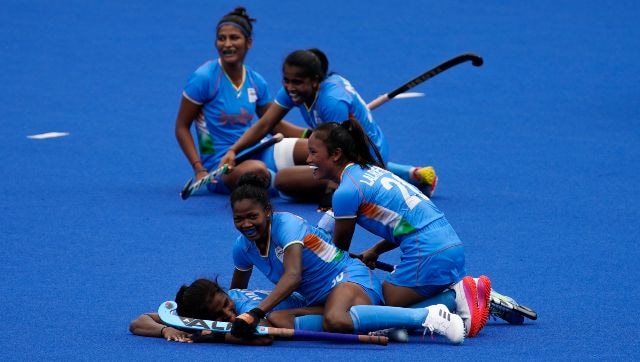 Members of India women's hockey team celebrate after creating history against Australia. AP

Just as the hooter sounded, the Indian players sank to their knees, their eyes moist, and their faces wore the look of a dream being shattered.

The narrow 2-1 defeat to Argentina in the semi-final ended the Indian women's hockey team's hopes of winning the gold at the Tokyo 2020 Olympics.

For a team that finished last (12th) at the Rio Games in 2016, a final, a gold medal was always too big a task, one would say. But try telling that to Rani Rampal and Co who not only created history in Tokyo by becoming the first Indian women's team to reach the semi-finals but also made people of the cricket-crazy country forget Virat Kohli and his men who were playing at Nottingham, as they waited with bated breath for the outcome of the India-Argentina hockey match.

Try telling it to the magnificent 16 of Rani, Savita Punia, Sushila Chanu, Vandana Katariya, Nikki Pradhan, Deep Grace Ekka, Neha Goyal, Salima Tete, Navneet Kaur, Udita Duhan, Nisha Warsi, Lalremsiami, Monika Malik, Sharmila Devi, Gurjit Kaur, Navjot Kaur, because not even for one bit did they feel they couldn't do it.



A disappointed Vandana Katariya as Argentina players celebrate the semi-finals win. AP

And it's this indomitable self-belief that has got the team to break records and create history on a stage which has no parallel in the echelons of the sporting world.

The men's team, at the same time, has also been making us all proud at the Games. They defeated Great Britain to reach the first semi-final in 49 years and while they lost to Belgium in the last four, they still have the bronze medal match against Germany.

But men's hockey has been India's mainstream sport for generations. That they haven't been good at it for a long time is a different story altogether. The men's team has eight gold medals to its name in the Olympics. What they are doing in the 2020 Games is remarkable, but not unprecedented. What their female counterparts are doing is certainly extraordinary.

"It's been a great run for the women's and men's teams. From finishing last to now have the opportunity to be the third or fourth best team in the Olympics is in itself a great achievement. It's a proud moment for India and this will only help hockey progress in India. It shows how hard the team and coach have worked. Their fitness, mental toughness is very good. The exposure, matches with best teams has helped," says Pritam Rani Siwach, former India captain and member of the Commonwealth Games 2002 gold-winning team that inspired the movie Chak De! India.

When the team entered the Games, it was ranked No 10 in the world, with only two other participating teams beneath them in the table. After the first three games in Pool A, there wasn't much to separate between them and lowest-ranked South Africa who finished 12th this time.

A 5-1 mauling against giants Netherlands. A 2-0 loss to Germany. A 3-1 defeat to Great Britain had India on the brink of elimination. But belief is a thing that can make us move mountains.

It wasn't that the team didn't play well. They created opportunities against Germany and Great Britain but their finishing let them down. Heavily reliant on individual brilliance, they were failing to click as a team. The horror of 2016 seems to be repeating itself. But not this time. Not with this unit coached by Sjoerd Marijne, and perfected by analytical coach Janneke Schopman, scientific advisor Wayne Lombard and team psychologist Priyanka.

"Our pool was really tough. It's not easy bouncing back when you've lost your first three games by those sort of margins. But we took a lot of confidence with the first half we had against the Netherlands in our opener. We told ourselves that if we can stand up to the Dutch for an entire half, we can definitely stand up to other teams. Now we're in the semis," Rani would say, after the Australia game, about the team's revival.

Rani has been the cornerstone of the team for years, and also the most reliable source for goals. But Olympics hockey is not one person's job. Her teammates needed to pitch in and it began with the Ireland game.

In the dying minutes, Navneet deflected Rani's shot into the goal to get India their first win in Tokyo. against South Africa, Vandana Katariya registered her name in history books by scoring the first hat-trick for the women's team at Olympics, as India won 4-3. Britain played its part by beating Ireland, as India made it to the quarter-finals for the first time.



India forward Vandana Katariya, left, runs to embrace forward Rani after their team scored against Ireland. AP

Then came the Aussies — three-time champions and world No 2. They entered the pitch with a swagger but left it rankled after a 1-0 loss. The scoreline actually doesn't reflect all that transpired in the game. A plucky Indian team put the pressure from the start, a rattled Australian side was slow to react. By the time they got their act together, India had the all-important goal and the victory after 60 minutes.

The historic run was halted by Argentina in the semi-finals, but India still have the bronze medal match against Britain on 6 August. Britain won the group stage game but they are well aware they can't afford to take anything lightly. This Indian team is supremely fit, matching their western contemporaries toe-to-toe in physical battles. They have developed massively in the skill department with them displaying some amazing longballs and run-ups with the ball. But above all, their grit and bravery are second to none. It's this mental fortitude that has helped them chronicle history. The self-belief to keep going even after three straight losses. The self-belief to dare to dream even with history stacked against them.

Mentally strong they have to be. For these girls have fought bigger battles off the pitch to be on the pitch playing for India. Some didn't have money to buy hockey sticks, some couldn't afford two meals, most were bound with chains of patriarchy. If all that misfortune couldn't stop them, the pressure of the Olympics was not going to touch them.

"Not a few but the majority of Indian players have fought a huge battle to make it to the team, A battle at their home, their village, their town. They have made it to the team despite very little support and facilities. And it's not just in hockey. We as a country have made progress at the grassroots level but a lot more focus must be given," adds Pritam.

The Argentia defeat may have dashed the gold medal hopes but history has been made. Even the best break down under the pressure at Olympics but the India women's hockey team has reveled in it.

Firstpost


---

'They played with grit', PM Narendra Modi, fans send words of motivation for women's hockey team

Here's how Twitterati reacted after India's heart-breaking loss to Argentina in the semi-finals of women's hockey at Olympics.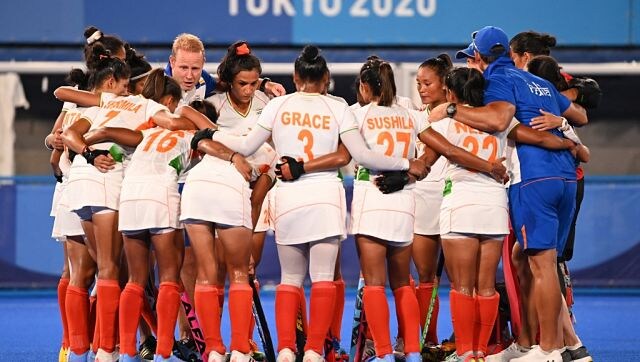 Players of India gather after losing 2-1 to Argentina. AFP

India lost a close encounter against Argentina in the second semi-final of the women's hockey. Argentina held their nerves better in the final moments of the game as India failed to convert the chances they got.

The clear difference was the defence of the two teams. Argentina ran hard from one end to the other and protected their circle better than Indians who allowed 13 circle penetrations.

All is not lost for the Indian team as they play Great Britain on 6 August at Oi Hockey stadium for the bronze medal. That match is expected to be a close encounter as both teams will be looking to finish the campaign with a medal at least.

Team India did lose the game but hockey fans back home were not very upset with how team fought in the middle. The match was lost but there was no lack of commitment from the Indians on the field.

Here's how Twitterati reacted after India's loss:

The PM sends words of appreciation

    One of the things we will remember #Tokyo2020 for is the stupendous performance by our Hockey teams.

    Today and through the Games, our Women's Hockey team played with grit and showcased great skill. Proud of the team. Best of luck for the game ahead and for future endeavours.

    — Narendra Modi (@narendramodi) August 4, 2021

Tough game for India for bronze medal as well

    so GB for india in the bronze play off. Rio 2016 gold medalists, and beat india in the group stages. but that was before this stunning run! #Olympics #Tokyo2020 #Hockey

    — Gaurav Kalra (@gauravkalra75) August 4, 2021

Some perspective

    If you'd have told me before the tournament that india would be just one deflection, one goal away from an Olympic final, I'd have gladly taken it.
    What a match, what a team! They still have a medal to play for! #Tokyo2020 #hockey

    — Mihir Vasavda (@mihirsv) August 4, 2021

They have come so far in this Games

    Girls, cheer up and don't lose your heart. You all have made India proud by reaching the semi-finals at the #Tokyo2020 Olympics in Women's Hockey! You can still come back with medal🏅
    I recall how our girls were geared up for Tokyo Olympics from the very beginning. #Cheer4India pic.twitter.com/C1k1xfykOj

    — Kiren Rijiju (@KirenRijiju) August 4, 2021

Congratulations to Argentina for a great game

    Try being Carlos Retegui - #ARG coach (both men & women in Tokyo)

    Coached women's team to silver at London 2012
    Coached men's team to gold in Rio 2016
    Coached women's team into the final of Tokyo 2020/21

    A hat-trick of Olympic medals. Talis-man! #Hockey

    — Jaspreet Singh Sahni (@JaspreetSSahni) August 4, 2021

Firstpost


---

India wins Bronze



Photo: Yan Huckedubler


---

India end medal drought after 41 years with Tokyo Olympics hockey bronze

The Indian hockey men's team beat Germany 5-4 in a high-scoring thriller in the bronze medal match. India last won an Olympic hockey medal at Moscow 1980.

By Abhishek Purohit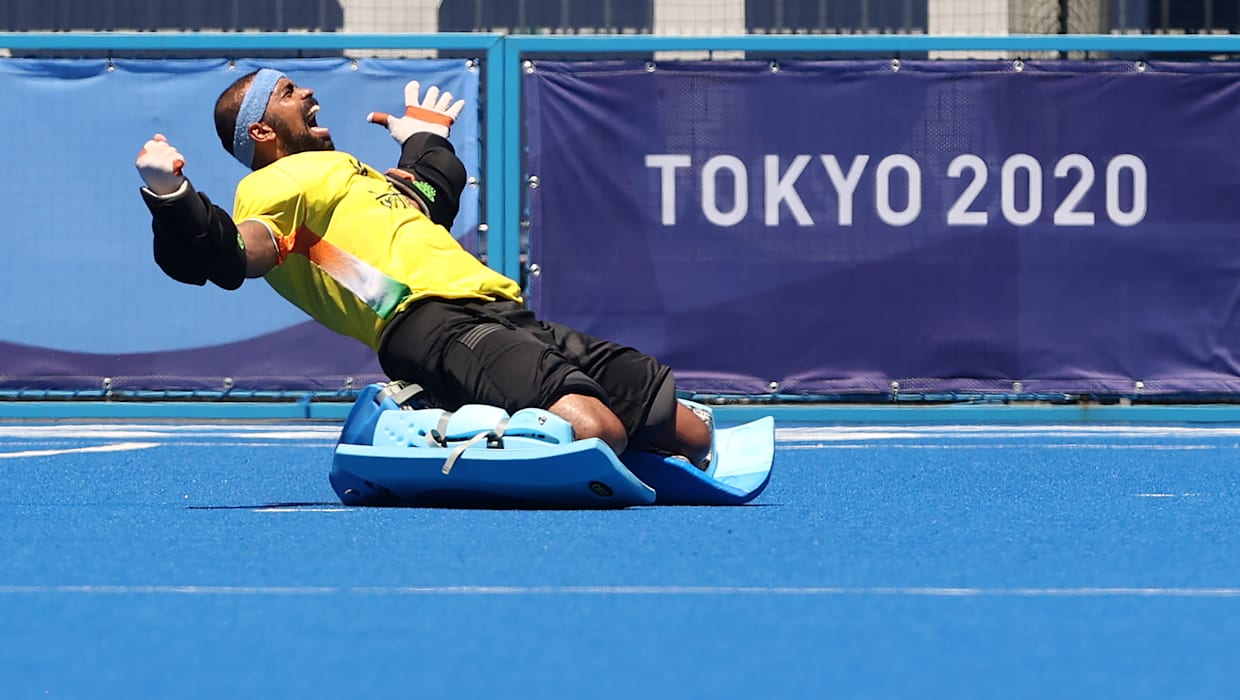 Picture by Getty Images

India won their first Olympic hockey medal since Moscow 1980 with a display for the ages, recovering from 1-3 down to hold off Germany 5-4 in a thriller and take the bronze in the Tokyo 2020 men's event.

The Indian men's hockey team has now won 12 hockey medals at the Olympics - eight golds, one silver and three bronze. It was India's second medal in Tokyo after their gold at the 1964 Games.

On Thursday, Simranjeet Singh (17th and 34th minutes) and Harmanpreet Singh (27th and 29th) scored braces each while Rupinder Pal Singh (31st) slotted in a penalty stroke for India.

Timor Oruz (2nd), Niklas Wellen (24th), Benedikt Fürk (25th) and Lukas Windfeder (48th) scored for Germany.

Their stirringly swift comeback through Harmanpreet's clutch drag-flicking was the final marker of just how far this Indian team, coached by Graham Reid, has progressed in recent years.

Germany had taken the Indian hockey team by surprise with their early pace, forcing action to be concentrated in the Indian circle. Timor Oruz made the most of a goalmouth melee following a reverse hit to tickle in the first goal in the second minute.

India were struggling to get out of their half before managing a deep run courtesy Mandeep Singh. However, Rupinder Pal Singh's drag-flick off India's first penalty corner was deflected over the goal by the German defence.

Germany's speed was constantly threatening to cause more damage and India had few answers. Goalkeeper PR Sreejesh was already having to rush out to make his spectacular saves.

At the stroke of the first quarter, Germany were given four successive penalty corners but the Indian men's hockey team came through that late pressure without additional harm done.

India came out with more attacking intent in the second, and the equaliser arrived two minutes in. Nilakanta Sharma found Simranjeet Singh in the circle with a long ball from the centre; Simranjeet whirled around, dodged a defender and slammed in a powerful reverse hit.

PR Sreejesh was in action yet again on the German counter as India kept deploying more resources on the attack. Vivek Prasad nipped another lightning counter with a timely tackle.

The danger persisted, though, and took its toll in the 24th minute. Nilakanta gave away the ball deep in the German half; that was enough for the Germans to zoom in to a thinly-manned Indian circle. Niklas Wellen's reverse hit beat PR Sreejesh this time to put Germany ahead again at 2-1.

The Indian defence was being seriously tested now. Surender Kumar was hesitant to clear the ball in the circle and two Germans bore down on him for Benedikt Fürk to tap in a short cross for 3-1 in the 25th minute.

The stung Indians stuck to their forward-pressing ways and hit back with two quick penalty corners. And under the strain of a two-goal deficit, Harmanpreet Singh fired home both his drag-flicks to level the match 3-3 going into the break.

India were handed a precious opening in the first minute of the third quarter when Mandeep was brought down right in front of the German goal. And Rupinder's penalty stroke beat goalie Alexander Stadler as India went ahead for the first time at 4-3.

India had made little headway on either flank for much of the match. They made up for that now with a terrific incursion on the right edge. Gurjant Singh steamed all the way and his cross found a sprawling Simranjeet for India's fourth consecutive goal to go 5-3 up in the 34th.

The shoe was on the other foot now. The Indians were tearing into the opposing circle, and the Germans were leaking penalty corners and cards. Rupinder wasn't able to convert this brace, though. Germany now tried variations on three successive penalty corners but missed.

The Indian hockey team paid for tentatively giving away the ball early in the final quarter. Lukas Windfeder cut the lead to 5-4 with a clean drag-flick off Germany's eighth penalty corner.

Germany were down to ten men for five minutes with Tobias Hauke getting a yellow. However, India couldn't score.

Germany took out their goalie in the dying minutes. There were shades of their last-minute goal at Rio 2016 with their 13th penalty corner in the final seconds. Fittingly, PR Sreejesh saved for one last time at the Oi Hockey Stadium to ensure the bronze for India.

Olympic Channel


---

India wins first medal in men's Olympic hockey for 41 years

India beat Germany 5-4 in a pulsating match to win bronze, their first Olympic medal since 1980.

India celebrated wildly after coming from 3-1 down to win 5-4 against Germany to claim Olympic bronze in the men's hockey tournament their first medal at the Games for 41 years. A heartbroken Germany finish off the podium in fourth, the first time the men's side have not won a medal at an Olympics since 2000.

Germany started quickly at the Oi Hockey Stadium, taking the lead in the second minute with a deflected goal from Timur Oruz. Their midfielders dominated the quarter but goalkeeper Parattu Raveendran Sreejesh kept out the shots.

In the second quarter, India's Simranjeet Singh scored the equaliser before Germany restored the lead through Niklas Wellen. Benedikt Furk then shot into an unguarded net after India conceded possession, to go 3-1 ahead. Two penalty corners for India saw Hardik Singh score on the rebound from the first, while Harmanpreet Singh nailed the second. Going into half time it was 3-3.

India started brightly in the third quarter earning a penalty stroke in the first minute from which Rupinder Pal Singh scored to extend India's lead to 4-2. Three minutes later, Simranjeet scored his second goal of the game to extend India's lead to 5-3.

Germany scored another goal in the fourth quarter courtesy of Lukas Windfeder but it was not enough as India won the match 5-4 to take the bronze.

Drag-flicker Rupinder Pal Singh, who was among the five scorers against Germany, shed tears as he predicted the start of a renaissance for the sport in India.

"People were forgetting hockey in India. They loved hockey, but they stopped hoping that we can win," the Press Trust of India quoted him as saying. "But we won today. They can expect more from us in the future. Keep believing in us."

Australia take on Belgium in the gold-medal match later in the day.

India's women's team has a chance to win a medal, too.

After finishing fourth in 1980 and 12th in 2016 in their only previous trips to the Olympics, India's women's team will play for bronze against Britain on Friday.

International Olympic Committee media release


---

India ends their medal drought by winning bronze

It is a moment of glory for Indian hockey and the whole country who celebrates with them after over 4 decades Indian Hockey Team Bronze it is!(source-getty)

By C.C. Chengappa




It was a match made in heaven with a total of 9 goals being scored in the match. However you really had to witness the whole thing to revel in it.

India ends their medal drought by winning bronze

More quality stories of both the Men's Bronze medal game and the Women's game against Argentina Can be found  on The Bridge site


---

India end four-decade wait for medal after brilliant bronze



Sreejesh Parattu Raveendran is all smiles after India's bronze PIC: REUTERS/Bernadett Szabo

The 11-a-side game was handed a huge boost for its survival as an Olympic sport after its biggest audience – India – won a first medal after a 41-year hiatus following a thrilling 5-4 win over Germany at the Tokyo Oympics.


---

A real 'Chak De' moment for Indian hockey: Men's team wins Olympic medal after 41 years

Simranjeet Singh (17th, 34th minutes) scored a brace, while Hardik Singh (27th), Harmanpreet Singh (29th) and Rupinder Pal Singh (31st) were the other goal getters for India

A resolute Indian men's hockey team rewrote history as it claimed an Olympic medal after 41 years, defeating a plucky Germany 5-4 to win the bronze in an edge-of-the-seat play-off match of the ongoing Games here on Thursday.

The eight-time former gold-winners, who battled a heartbreaking slump in the last four decades, made the resurgence of the last couple of years count in the best way possible with an Olympic medal.

Simranjeet Singh (17th, 34th minutes) scored a brace, while Hardik Singh (27th), Harmanpreet Singh (29th) and Rupinder Pal Singh (31st) were the other goal getters for world no.3 India.

Germany's goals were scored by Timur Oruz (2nd), Niklas Wellen (24th), Benedikt Furk (25th) and Lukas Windfeder (48th).

Determined to clinch a medal, the Indians made one of the most memorable comebacks in the history of the game, fighting back from a two-goal deficit to turn the match in their favour.

There were tears and hugs on the field as the Indians led by Manpreet Singh and coached by Australian Graham Reid savoured the historic moment.

It is India's third hockey bronze medal in the history of the Olympics. The other two came in 1968 Mexico City and the 1972 Munich Games.

For world no.5 Germany it was heart-break as they couldn't repeat their bronze medal winning feat of the 2016 Rio Games.

The Indians were slow to get off the blocks as Germany were the dominant side on display in the first quarter.

The Germans pressed hard on the Indian defence from the word go and took the lead in the second minute through Oruz.

India then secured a penalty corner in the fifth which was wasted.

Five minutes later, experienced goalkeeper PR Sreejesh came out of his line and closed down the angle to deny Mats Grambusch.

The Germans put relentless pressure on the Indian defence and seconds from first quarter, earned as many as four penalty corners which the Indians defended stoutly this time.

Manpret's men came out with more purpose in the second quarter and upped their pace a bit and the ploy worked wonders as Simranjeet scored a brilliant goal with a reverse hit from top of the German circle after being fed by Nilakanta Sharma's pass from the midfield.

The Germans continued their attacking game and two minutes later Florian Fuchs brought Sreejesh again into the game, saving his reverse hit from a tight angle.

The Indian defence once again gave away the advantage to Germany, committing soft errors which resulted in two German goals in a span of two minutes.

Christopher Ruhr was the creator for Germany turning over from just outside the Indian circle and then slipped the ball onto Wellen who scored with a reverse hit past Sreejesh.

A minute later, another defensive lapse cost India dearly.

It was Surender Kumar this time who was dispossessed just outside the Indian circle by the ever-pressing German forwards and Constantine Staib passed it on to Benedikt Furk, who made no mistake in finding the net.

Although stunned, India didn't lose hope and made a brilliant comeback soon by levelling the scores in a span of three minutes.

There was grit and determination writ large on the Indian faces and they succeeded in turning them into results.

In the 27th minute, India secured their second penalty corner and Hardik scored from a rebound after Harmanpreet Singh's flick was saved by German custodian Alexander Stadler.

Two minutes later, India secured their third penalty corner and this time, Harmanpreet was bang on target with a powerful flick past young Stadler to make a dramatic turnaround in the match.

Their confidence on an all-time high after the remarkable rally, the Indians came out all guns blazing after the change of ends and took the lead for the first time in the match when they were awarded a penalty stroke for a push on Mandeep Singh inside the circle.

Rupinder stepped up to gleefully grab the chance with both hands.

Three minutes later, India doubled their lead when Simranjeet scored his second goal of the day, tapping in Gurjant Singh's pass from the right to take a 5-3 lead.

India didn't stop there and secured three back-to-back penalty corners in the 41st minute but wasted all.

It was Germany's turn next as they got three penalty corners two minutes later but failed to breach the brave Indian defence, as the players put their bodies in line to deny Germany any opening.

    Congratulations to Indian Men's Hockey Team! This is a big moment- the whole country is proud of your achievement.

    Well-deserved victory! #Olympics
    — Rahul Gandhi (@RahulGandhi) August 5, 2021

Trailing by two goals, the Germans were expected to come hard on the Indian defence and they did exactly that, securing another penalty corner three minutes into the final quarter and this time Windfeder put the ball into the net through the legs of Sreejesh to bring a goal back.

In the 51st minute, Mandeep Singh had a golden chance to restore their two goal lead from a one-on-one situation but he squandered the opportunity.

In search of the equaliser, the Germans put the Indian defence under immense pressure in the remaining minutes of the game, securing three more penalty corners but couldn't get past the determined back-line led by gigantic Sreejesh in front of the goal.

There was more drama in store as India conceded a penalty corner six seconds from the final hooter, but Sreejesh and the defence once against came to the side's rescue.

    Historic! A day that will be etched in the memory of every Indian.

    Congratulations to our Men's Hockey Team for bringing home the Bronze. With this feat, they have captured the imagination of the entire nation, especially our youth. India is proud of our Hockey team. 🏑
    — Narendra Modi (@narendramodi) August 5, 2021

The Tribune


---

We fought and never gave up; dedicate this medal to Covid warriors: Manpreet



We would like to dedicate this medal to doctors and frontline health workers who  have saved so many lives in India," says Manpreet Singh.

Overwhelmed by emotion after leading India to its first Olympic hockey medal in 41 years, skipper Manpreet Singh on Thursday dedicated the historic triumph to the country's doctors and health-care workers, who have worked tirelessly to save lives during the Covid pandemic.

The 29-year-old from Jalandhar was "speechless" following the epoch-making 5-4 victory over Germany that gave India their 12th hockey medal in the Olympics but one that came after over four decades.

The last time India stood on the podium was at the 1980 Moscow Games where they won gold. The country has eight gold medals in all the Games.

"I don't know what to say right now, it was fantastic. The effort, the game, we were 3-1 down. I think we deserve this medal. We have worked so hard, the last 15 months were difficult for us also, we were in Bangalore and some of us got Covid also," Manpreet recalled.

"We would like to dedicate this medal to doctors and frontline health workers who  have saved so many lives in India," he said.

A relentless Germany tested every bit of the resolve that the Indian hockey team had and Manpreet acknowledged the grit of the opposition.

"It was difficult, they got a penalty corner in the last six seconds. We thought we have got to save it with our lives. It is really hard. I am speechless right now," said the skipper, who seemed overcome by emotion.

"We had a long gap when we didn't get a medal. Now we will get more confidence, yes we can do it. If we can finish on podium in Olympics, we can finish on podium anywhere," he added.

India had endured a 2-5 loss to Belgium in the semifinals, which put paid to their hopes of a gold at the Games. Manpreet said coach Graham Reid shook the players out of the disappointment by telling them to stay focussed on the play-off game.

"...we didn't give up. We kept fighting back. It's a great feeling, best feeling. We came here for the gold, we won bronze, it is still a great thing. It's a great moment for all hockey fans," he said.

"It's just a start here, it hasn't finished (with this bronze)," he added.

Drag-flicker Rupinder Pal Singh, who was one among the five scorers on the day, could not hold back tears while talking to the media and said it is just the start of great things in Indian hockey.

"People were forgetting hockey in India. They loved hockey, but they stopped hoping that we can win. But we won today. They can expect more from us in the future. Keep believing in us," he said.

The Tribune


---

Coach Graham Reid 'privileged to have played a part' in ending India's medal wait

Reid has obsessively talked about pursuing a process and investing in youth to get the results at a big stage like the Olympics.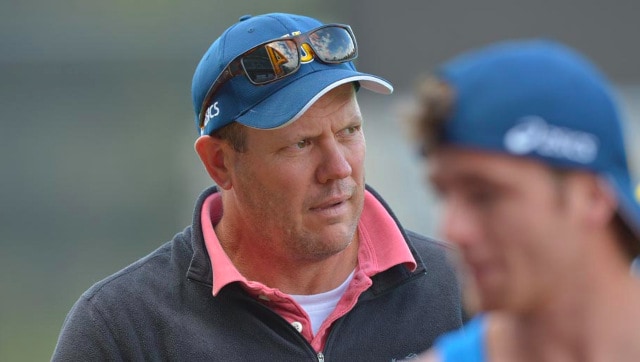 File image of Graham Reid. AFP

Tokyo: The Indian men's hockey team's Australian coach Graham Reid on Thursday said he feels "privileged" to be a part of the game's revival in India after the side clinched its first Olympic medal in 41 years by beating Germany in the bronze play-off.

The 57-year-old, who was a part of Australia's silver-winning team in the 1992 Barcelona Games, took over as India coach in 2019 and has obsessively talked about pursuing a process and investing in youth to get the results at a big stage like the Olympics.

"It is a fantastic feeling, it has come after a lot of sacrifices that the whole group has made," Reid said referring to the time the players spent away from their families and in some cases, battling COVID-19 as well.

"It takes a long time to get where these athletes have gotten. All the sacrifices that go unseen," he added with skipper Manpreet Singh sitting by his side after the 5-4 triumph over Germany.

"...I know that apart from the country, this group has been waiting for a medal for a fairly long time and I know how much hockey means to India and I am privileged to help play a part in that."

India were 1-3 down in the match and Reid said one of the things that has been worked on during his stint was to never lose hope of a comeback.

"Before the game I asked the guys to make sure they bring the next level if something happens, for example, if you are down, you need to bring the next level of play and they did that very well," Reid explained.

    Pretty proud of these legends! pic.twitter.com/Kms2gcuvJp

    — Graham Reid (@reidgj) August 5, 2021

"(It is) never over until it is over. It's always easy to say you should be doing this or that but there are lots of things that go on," he added when asked about the penalty corner that India conceded just six seconds from the final hooter.

"It has been one of the signatures of this team, which we have tried to develop and make sure that we can always come back and I think we did that."

Reid was effusive in his praise for veteran custodian PR Sreejesh, who stood like a wall in the face of unrelenting German attacks.

"Having someone like Sreejesh in the goal is nice, glad that we didn't have to go into a shootout. He is a stalwart of Indian hockey. He has done a lot of work in the background to get to where he is," he said.

The seasoned coach also lauded the efforts made by the sports ministry and the Sports of Authority of India.

"The funding is there, it is just a matter of keeping these things going. It used to be the national game. All involved with hockey want to see it back," he said.

"We worked on our mentality, I told them we can change the future and we did that today," he added.

Firstpost


---

Meet Graham Reid: The Olympic medallist leading India's men's hockey revolution

Graham Reid was made coach of the Indian men's team in 2019 and has since transformed the side into one of the best in the world.

By Rahul Venkat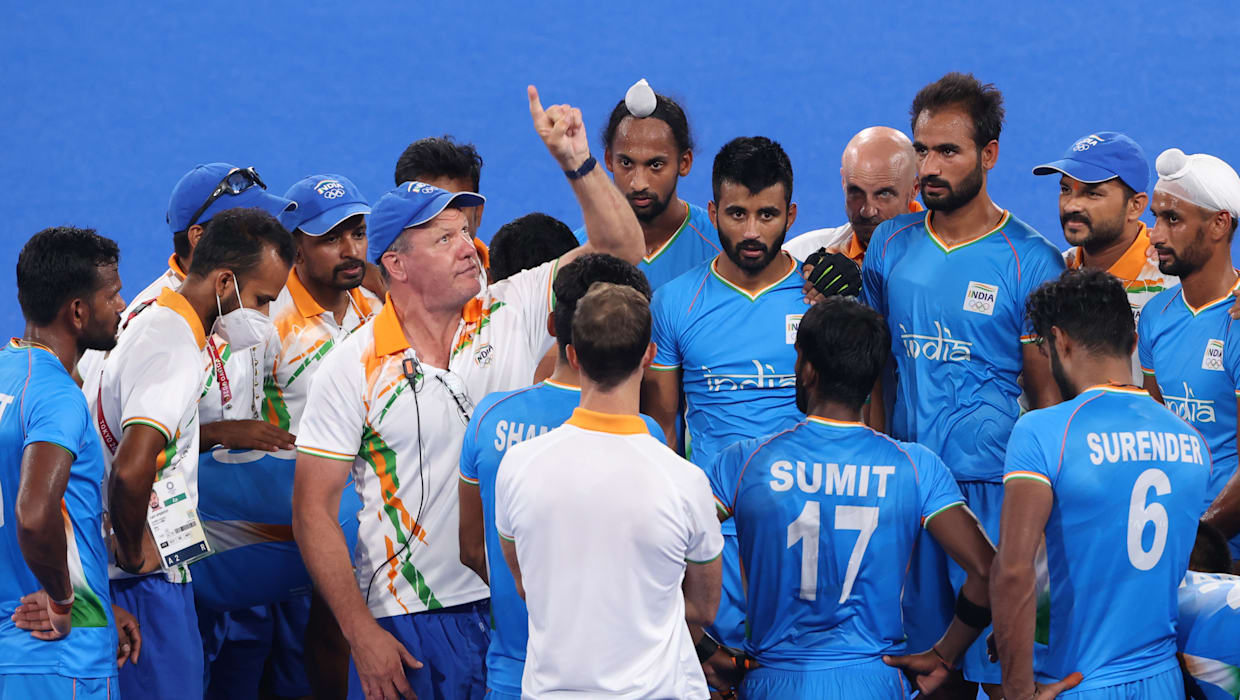 The Tokyo Olympics has been the best campaign for the Indian men's hockey team - they broke a 41-year medal drought with a bronze medal win against Germany.

The Indian men's hockey team - winners of eight Olympic golds, one silver and two bronze medals - had never even managed to make the semi-finals of any Summer Olympics since 1980.

All that changed at Tokyo 2020. India ended second in their group and beat Great Britain to enter the last four. Though they lost to reigning world champions Belgium, they recovered to win the bronze medal playoff against Germany.

It reflects significant progress for the Indian men's hockey team and at the heart of it is their head coach Graham Reid.

Who is Graham Reid?

A native of Queensland, Australia, Graham Reid was a former hockey player for the Australian national team, where he played as a defender and midfielder at times.

He won the silver medal with the Australian hockey team at the 1992 Barcelona Olympics and was a part of four Champions Trophy-winning teams. Graham Reid also has a bronze from the 1990 Hockey World Cup.

Intriguingly, the Australian has worked in industries as diverse as mining and credit insurance after his playing career.

However, Graham Reid is best known for his coaching exploits.

Reid's first coaching assignment was with the Australian men's team in 2009, when he was appointed assistant coach to the legendary Ric Charlesworth - who had briefly served as technical advisor to the Indian hockey teams.

Graham Reid served as the assistant for five years.

When Charlesworth stepped down after the 2014 Commonwealth Games - where Australia beat India in the final to claim their fifth gold - Graham Reid was promoted to the top job.

Reid took Australia to the 2016 Rio Olympics - where they finished sixth after being eliminated by the Netherlands in the quarter-finals.

Graham Reid quit the Australian team post Rio 2016 and moved to the Dutch national men's team to work as assistant to head coach Max Caldas and also worked as head coach of the Amsterdam Club in the Netherlands, for whom he had played earlier.

When the Indian men's hockey team was looking for its next head coach in early 2019, Graham Reid was persuaded by his former mentor Ric Charlesworth to take up the position.

The Australian was confirmed as head coach of the Indian men's team in April 2019 and has imbibed an attacking philosophy and fast-paced style of play since he came in.

Under his tutelage, the Indian men's hockey team has risen to its best-ever ranking of world No. 4.

Graham Reid has buoyed several youngsters like Dilpreet Singh, Hardik Singh, Vivek Sagar Prasad, Mandeep Singh and Varun Kumar into the team - all of whom have been impressive at the Tokyo Olympics.

A first Olympic medal since 1980 is the perfect reward for the hard work the team has put over the past two years with Graham Reid and hopefully, will act as a platform for more success in the coming years.

Olympic Channel


---

Jalandhar village that sent 3 hockey players erupts in celebrations; couldn't have asked for more, says captain's mother

After scoring goal against Germany in hockey bronze match, Hardik wants this logo imprinted on his car

Aakanksha N Bhardwaj



"I have got a gold ring made for my son in the shape of Olympic rings," says Hardik's mother. Reuters

Mithapur village in Jalandhar, which has three players in the Indian hockey men's team, erupted in celebrations after the India won bronze at the Tokyo Olympics on Thursday.

Two days ago, Manpreet's mother Manjit Kaur, while talking to The Tribune, had said that the team shouldn't take Germany lightly, but her joy knew no bounds after India's sensational victory.

"I will hold 'Akhand Sahib path' now. We will celebrate to the fullest. I have no words to express my happiness," she said, tears of joy flowing onto her cheeks.

She said when her son in childhood would devote most of his time to hockey, she kept wondering what Manpreet would do once he grew up.

"But those training him then would always tell me that from the village playground, my son will move to international venues and I will watch him play hockey on TV some day. The day is here and I watched him win an Olympic medal. What else could I have asked for!"

Hardik Singh, another star player who scored a goal against Germany, phoned his brother after the match, asking him to imprint Olympic logo on his car.

"When he got selected for the Olympics, his younger brother asked him if he could get Olympics ring imprinted on the car. Hardik replied he will tell him at an appropriate time. The time has come," said an elated mother of Hardik, who belongs to Jalandhar.

"I have got a gold ring made for my son in the shape of Olympic rings," she said, adding their prayers had come true.

Also, huge rush of camerapersons was present at Varun's house. He too belongs to Mithapur village. As video bytes of Varun's father were being recorded and interviews were being taken, old struggle days came as a quick flashback in his mind.

"I am celebrating with mediapersons. There is a dhol, and we are dancing.  I had never expected such a day in my life. I have seen Varun doing hardwork day and night. Today the hardwork has paid off. On this big day, I suddenly got a flashback of every struggle and pain I have gone through in life," Brahma Nand, Varun's father said.

Brahma Nand was a truck driver and because of financial constraints, he had to see a lot of problems in his life.

"I am the luckiest one today. My son has made India happy, is there are other feeling that can beat this one?," The father asked.

Having a calm demeanour, Brahma Nand said that he thanked the almighty and asked him to keep his blessings on the boys forever.

He said that now he wishes the players to win a gold in Commonwealth games in 2022.

The Tribune


---

Win is important for revival of Indian hockey, says V. Baskaran

It's the right time to promote the game domestically at the grassroot level, says the former India captain

K. Keerthivasan



Former captain of Indian hockey team V. Baskaran. File photo   | Photo Credit: M. Vedhan

Former Indian hockey team captain V. Baskaran Baskaran, who had led India to its last Olympic gold medal in hockey in the 1980 Moscow edition, was all praise for the collective spirit of Team India at the Tokyo Olympics.

"This is a great, great victory. Our midfielders did a wonderful job, and the entire team was outstanding. There can't be one player that can take credit dor the historic win," Baskaran said.

Goalkeeper Sreejesh did really well in the last few seconds during penalty corners. Actually, my mind went back to 2016 Rio Olympics when India conceded a goal in the last few seconds when Sreejesh was the 'keeper. I was worried. This time, Sreejesh did a great job. It was a total effort by the Indian team. India won in a manner that was very pleasing.

According to Baskaran, Indians fitness levels in the Olympic event were very high. "So was ball trapping and ball control. Germans generally play physical hockey and India was upto it". The fact that India scored three goals in counter attack against a team that was strong in defence showed our standards, he said.

"India's penalty corner specialist Harmanpreet Singh scored six goals, best goalkeeping best attack, we had the best attack". Baskaran also gave full credit to team coach Graham Reid. "India couldn't have asked for mor," he said.

"The victory is important for the revival of Indian hockey. Now India should promote the victory and all the players, which will inspire the younger generation.

"In this virtual world, we should make a promotional video of about 10-20 minutes of the best goals scored, the best saves made and the best moments", he said.

Baskaran said India hockey needs a kind of promotion that was done when India won the 1975 World Cup. "Under the then Presidentship of Indian Hockey Fededration (IHF), M.A.M. Ramaswamy, the team travelled throughout india and played quite a matches too", he said.

Baskaran feels it is the right time to promote the game domestically at the grassroot level. "We should have regular coaching camps for Under-14 players. We need to have structural activities at the State and national levels. We need to do regular talent scouting. Most important, we should promote all the current Indian players in the team", Mr. Baskaran said.

The Hindu


---

'India men's hockey team's Tokyo 2020 triumph augurs well for the future'

The former India skipper was full of praise on coach Graham Reid and the support staff.

By Deepti Patwardhan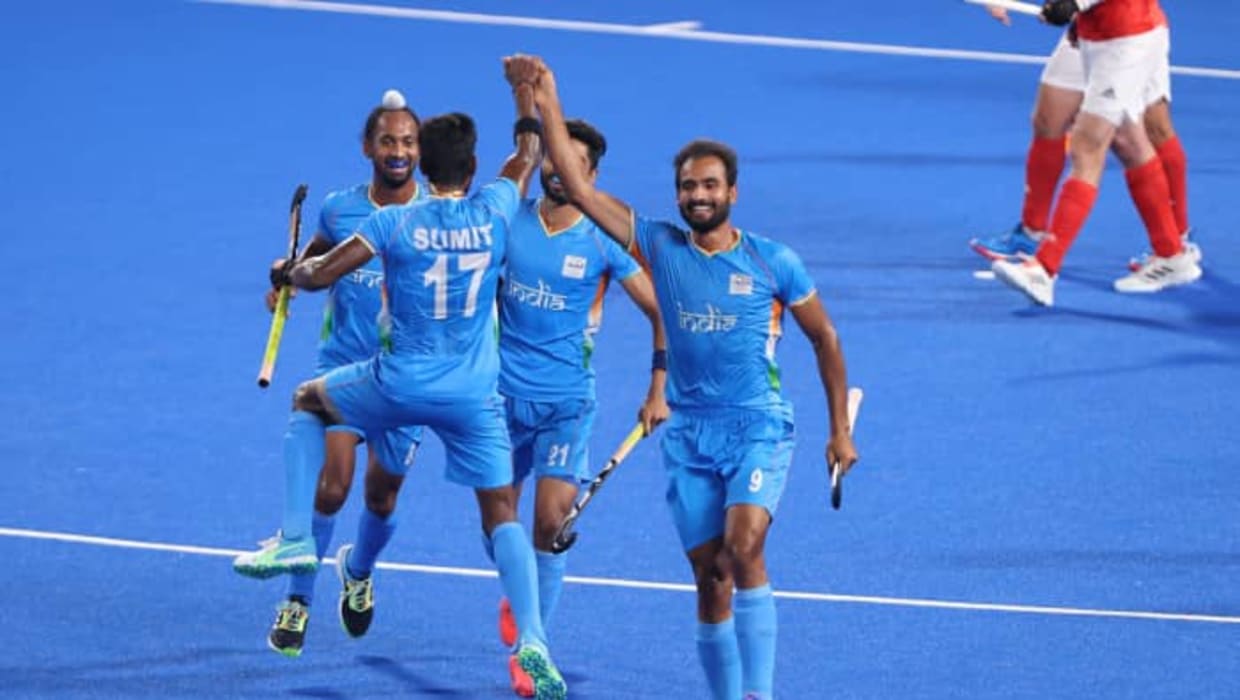 India men's hockey team won their first medal in 41 years as they edged past Germany 5-4 in a tense bronze medal play-off game at Tokyo 2020 Olympic Games.

The Germans took the lead through Timur Oruz before Simranjeet Singh equalized for India. However, Benedikt Furk and Niklas Wellen put Germany in a strong position by scoring the second and third goals respectively.

Hardik Singh and Harmanpreet Singh restored parity for the Men in Blue before Rupinder Pal converted a penalty stroke. Simranjeet scored his second of the game to make it 5-3 before Lukas Windfeder pulled one back. The last few minutes were tense with Germany throwing everything at their opponents but the Indians managed to hold their nerve to win the bronze medal.

M.M.Somaya, who was part of the men's hockey team which won gold at Moscow 1980, hailed the performance of Graham Reid's side and pointed out that their superior fitness levels made the difference. He also highlighted that the technical team made some crucial tactical changes which helped the team bounce back after being 3-0 down.

"It was wonderful to see the team win. Especially since there were a few times, in the past, when the team had missed out on making the semi-finals narrowly. They played very well throughout the tournament. Also, there were many youngsters in the team, it augurs well for the future," Somaya told Olympics.com.

"I think the key for India today was fitness and the will to win. And they had the conviction. Even before the Olympics started, they had that conviction that they have to win a medal this time. Also, there were some very good tactical moves from the coaching staff. When they were 1-3 down, they took the fight to the opposition rather than sitting back and waiting for things to happen," he shared his thoughts on the thrilling 5-4 win over Germany.

PR Sreejesh led by example as he made some crucial saves, especially in the dying embers of the match to keep India's slender lead intact. Somaya reiterated that the veteran custodian upped his game at Tokyo 2020 Olympics which helped the Indian team considerably.

"This team has a strong mindset, that's what mattered when they were down, and they had to hold on to the advantage in the final quarter. Sreejesh also rose to the occasion. Even in the closing minutes when they had all 11 outfield players and were attacking India managed to keep a clean slate," said Somaya.

Olympic Channel


---

The Olympic Final - AUS v BEL




ANALYSIS | Hockey Australia High Performance Pathways Manager Ian Rutledge provides his insight into tonight's Gold Medal Match.

The Olympic Final! #AUSvBEL

It is rare that the best two teams in the world play off in the Olympic Final. Australia (#1) and Belgium (#2) have been fighting it out for top position over the past five years but have only met once in a Final (2019 Pro League). Both teams finished top of their respective pools undefeated (4 wins, 1 draw each).

Both teams are led by journeymen coaches with immense Olympic coaching experience:
Colin Batch – 5 Olympics (2 as an Assistant Coach, 3 as a Head Coach).
Shane McLeod – 4 Olympics (4 as a Head Coach).

Heading into the Gold Medal Match, both teams are the top 2 in attack and defence. Goals For (BEL 34, AUS 27), Goals Against (BEL 12, AUS 12).

BEL slightly lead Penalty Corner Conversion (31%, AUS 28%) with AUS in front on Field Goal Conversion (29%, BEL 27%) and Overall Accuracy (65%, BEL 59%).

Both teams possess the two leading scorers and world class drag flickers– Alex Hendrickx (BEL) 14 goals and Blake Govers (AUS) 7 goals. Also expect Tom Boon (BEL) and Jeremy Hayward (AUS) to feature in penalty corners.

Both teams are great defensive units, equal on Goals Against per Game (1.7). Both teams limiting opportunities against (AUS 8.7 per game, BEL 8.0 per game). Both teams near equal limiting opposition goal conversion AUS (20%), BEL (21%). Save % pf goalkeepers for both teams (Andrew Charter (AUS) 70%, Vincent Vanasch (BEL) 64%).

This will be a cracking game that will be played in the right spirit. Two great teams, very well coached, with aggressive and potent attacks who also possess exceptional defensive units and goalkeepers.

Today it will be about precision under pressure, with the winner the undisputed #1.

Hockey Australia media release


---

Ockenden and Kookaburras ready for their golden date with destiny

Catriona Dixon




Co-captain Eddie Ockenden is hoping it will be fourth time lucky when the Kookaburras meet Belgium in a highly anticipated Olympic Men's Hockey Final tomorrow night.

The veteran Tasmanian, who holds the Kookaburras games record with 379 appearances and counting, has had his sights set on Olympic glory since claiming bronze medals in 2008 and 2012.

Ockenden, who captains the Kookaburras with West Australian midfielder Aran Zalewski, has achieved almost all there is in world hockey, the only thing missing being an Olympic gold medal.

The 34 year old has been a man on a mission in Tokyo, determined to secure Australia's first Olympic gold medal since 2004, and only second in the history of men's hockey at the Games.




The gold medal match against Belgium will be the fifth time the Kookaburras have featured on the Olympic stage's big dance.

It is an occasion they have only tasted success in once despite reaching the Final in Mexico City, Montreal, Barcelona and Athens.

"I have high hopes and expectations," Ockenden said.

"Like all of us, it has been super exciting to be named in the team and get the opportunity to go on and compete at the Olympics.

"This has been a very different experience coming into these Games, so I feel like we are experiencing it for the first time together. Ever since last year when the Olympics were postponed we've been fuelled by the hope that they were only postponed, not cancelled.

"We put high expectations on ourselves that we want to play our best."

The Kookaburras are regarded as the most consistently successful Australian sports team over the past two decades and for more than 30 years have been ranked among the top four nations in the world.




They have won every one of the six Commonwealth Games hockey tournaments to date and are one of only three nations to win consecutive World Cups.

Colin Batch's team remain undefeated throughout the Tokyo tournament. They were tested as they drew with Spain in their final Pool match before beating the Netherlands in a shootout.

Now, after conquering Germany in the Semi-Finals, the Kookaburras will need to overcome a third European powerhouse who have been the other in form team in the tournament, to secure the ultimate prize.

Belgium boast a similar record from their progression in Pool B, having won four matches before drawing their final Preliminary game against Great Britain.

Australia and Belgium have met 42 times previously with the Kookaburras notching 30 wins, seven draws and five losses. Of the five matches Belgium have won, four of them have been in the teams' last eight meetings, highlighting their progression to being one of the dominant forces in world hockey.

Batch, who was an assistant coach with Australia's gold medal winning team in Athens in 2004 and bronze in 2008, and ironically coached Belgium at the 2012 London Games, believes a depth of talent is the secret to his side's success.

He has been adamant since arriving in Japan that the Kookaburras would "build into the tournament" to be at their best when it counts.

Pleasingly, the Kookaburras have had a plethora of contributors during this tournament. Ten players have scored goals, with Blake Govers (7), Tim Brand (5) and Tom Wickham (5) enjoying stand out tournaments.

Batch says the even contribution has been a key to the Kookaburras' success to this point and would need to continue against Belgium.

"We are very pleased to share the goals around," said Batch.

"It's important you aren't relying on just one person all the time."

"We pride ourselves on being in the right spot. Finishing is important or getting an outcome inside the circle…a penalty corner. We have some good takers of penalty corners and that can be where the game is won and lost.

This could not be truer when it comes to how Belgium have advanced. Drag flick specialist Alex Hendrickx has scored a mammoth 14 goals for the tournament, 12 of which have come from penalty corners.

The Kookaburras will need to be at their best at both ends of the pitch if they are to prevail. They go into the Olympic Final with every reason to believe they can.

Tokyo 2020 Olympics - Men's Hockey Gold Medal Match

    Kookaburras v Belgium
    Thursday 5 August 2021
    Oi Stadium, Tokyo
    Start time: 8:00pm AEST
    Broadcast: LIVE on 7Plus

Kookaburras v Belgium – Overall Record

    Played 42; Kookaburras 30, Draws 7, Belgium 5

Last time they met

    26-Jan-20 FIH Pro League (Sydney)
    Kookaburras 2 (Sharp 42', Hayward 60')
    Belgium 4 (Hendrickx 13'/25', Plennevaux 56', Stockbroekx 58')

Kookaburras squad: 1.Lachlan Sharp, 2.Tom Craig, 5.Tom Wickham, 6.Matthew Dawson, 10.Josh Beltz, 11.Eddie Ockenden, 12.Jake Whetton, 13.Blake Govers, 14.Dylan Martin, 15.Josh Simmonds, 16.Tim Howard, 17.Aran Zalewski, 22.Flynn Ogilvie, 23.Daniel Beale, 25.Trent Mitton, 29.Tim Brand, 30.Andrew Charter (gk), 32.Jeremy Hayward

Hockey Australia media release


---

Pakistan hockey's absence from Tokyo Olympics is very hurtful

Muhammad Ali

LAHORE: At the ongoing Tokyo Olympic Games 2020 in Japan, the Pakistan Olympic Association has sent only ten athletes. A nation of 220 million is being represented by just ten sportspersons. The 10 comprised seven men and three women, competing in athletics, badminton, judo, shooting, swimming, and weightlifting. Before that, at the Rio Olympic Games 2016, Pakistan had its smallest-ever contingent: just seven athletes. Since 1948, hockey had been Pakistan's main hope for an Olympic medal. The hockey squad always formed a major part of Pakistan's Olympic contingent. It is lamentable that Pakistan hockey, which remained up in the clouds for more than three decades, is not the same force that it used to be, and failed to qualify for two consecutive Olympic Games: Rio 2016 and Tokyo 2020. Pakistan hockey, which inspired millions around the globe, has failed to win a single Olympic medal of any colour since 1992 Barcelona.

A look at Pakistan hockey's performances at the world's biggest sports extravaganza: Pakistan participated in Olympics 16 times. The only absence was in 1980 at Moscow, when many nations boycotted the Olympics in protest against the former Soviet Union's invasion of Afghanistan. All the other sports have yielded a total of two bronze medals, won by wrestler Mohammad Bashir (1960) and boxer Hussain Shah (1988). From 1956 to 1972, Pakistan appeared in five consecutive Olympics finals, earning two gold and three silver medals.From 1956 to 1984, Pakistan earned a medal in every Olympics through hockey (barring 1980 when they had boycotted): three gold, three silver medals and one bronze.The year 1988 was the first time when the green-shirts failed to reach the semifinals. Since 1992, when they won the bronze medal, Pakistan have failed to win any medal.Pakistan hockey has always been on the podium for 36-years — from 1956 to 1992.Unfortunately, the standard of hockey has really deteriorated for quite some time in the country which is evident from the fact that the national hockey team has not won an Olympic medal for the last 29 years, what to speak of other games.

The Tokyo Olympics are the second consecutive time that Pakistan hockey has missed the multi-sport event. It also failed to qualify for the 2014 World Cup for the first time in history and finished a dismal 12th in the 2018 edition. For a country whose national sport is field hockey, missing out on back-to-back Olympic Games is nothing less than a catastrophe for the followers. The agonising reality is that Pakistan hockey has acquired a 'loser' image in world hockey and become a synonym for defeat, mediocrity and failure. It is now the 'Sick Man' of global hockey and it is incorrigible and confirmed Pauper. It has reached its nadir. For anyone growing up watching hockey, few teams personified big-match temperament and swagger like Pakistan. Today, though, that swagger has faded, and the entire edifice on which Pakistan hockey rests, lies teetering on the edge. The sport, for which the country was world-renowned, is now a picture of apathy. Spectator-less stadiums, no international tours, inept PHF, declining numbers of players and a virtual media blackout are enough proof that the nation has lost interest in hockey. It is so unfortunate that this shocking and continuous decline has put Pakistan team, who were consistently among the top four, at 18th position in the latest world rankings.It is heart breaking that nations like France, Malaysia, Wales, Japan, South Africa and Ireland are ahead of Pakistan in top 20 world rankings. In Asia, India are at top while Pakistan are at fifth position.

Failure to adapt with modernism: Some experts have concluded that Pakistan hockey is 'dead' while others, showing minor optimism at best, consider it to be 'on a ventilator'. Pakistan hockey's decline started in the 1980s. Many experts believe the introduction of artificial turf in the 1970s started to affect the performance of Pakistan and Indian players. Both were labelled the 'kings of grass'. The game evolved over the years, demanding better fitness but Pakistan were left behind in the race. Cricket, the most popular sport in the country, has overshadowed hockey with nurseries of hockey — schools and educational institutes — replaced hockey outfits with cricket. Over the years, the incompetent Pakistan Hockey Federation (PHF) officials have faced allegations of embezzlement and misuse of government funds besides being widely criticised for poor planning. For the mandarins who run the hockey show, though, the priorities lay elsewhere. The harsh truth is that the national sport has been reduced to a game of musical chairs, where the officials and former Olympians of yesteryear have taken turns to deprive hockey of both prestige and funds.

The hockey legends who took Pakistan to glory in the past have also been accused of selfish behaviour. Former players have continuously opposed appointments of foreign coaches but when they got opportunities to coach the national team, they failed repeatedly. The PHF also didn't manage hockey properly. They did not give opportunities to players on merit. Lack of funds has hampered players' international exposure which requires travelling. Pakistan hockey's failure to adapt with modern hockey has also affected it a lot. Pakistan hockey structure lacks in terms of skills and competitiveness. The very base of the game has shrunk beyond belief. Pakistan hockey's slump is not quite as dramatic or sudden as it now seems to be. It's been a slow and painful decline. There is no doubt that country's national sport, having so much pride and passion, has gone to the dogs. Building a strong team is not an overnight process and it takes years to put together a balanced side keeping in view the modern approach to competitive international hockey, and the exacting scientific preparations that the international teams now favour. The standard of the game is changing so rapidly that the gap between the best and the second in line has narrowed considerably. In fact, the difference between the four top teams has become so small that whenever any two of them meet it is very difficult to predict the outcome of the game.

To rise above again, Pakistan hockey requires strong financial backup, commitment and self-belief. Only hard and incessant efforts lead to success. Only then the elusive triumphs will replace the current tragedies that demean the team once basking in Olympic golds and world crowns. In the absence of these, we should not dream of reaching for the skies!

Honours and recognition: Since its breakthrough in the 1948 Summer Olympics, Pakistan has won more than 20 official titles, which are detailed below:

World Cup:

Gold medal: 1971, 1978, 1982, 1994

Silver medal: 1975, 1990

FIH Champions Trophy:

Gold medal: 1978, 1980, 1994

Silver medal: 1983, 1984, 1988, 1991, 1996, 1998, 2014

Bronze medal: 1986, 1992, 1995, 2002, 2003, 2004, 2012,

Summer Olympics:

Gold medal: 1960 Rome, 1968 Mexico City, 1984 Los Angeles

Silver medal: 1956 Melbourne, 1964 Tokyo, 1972 Munich

Bronze medal: 1976 Montreal, 1992 Barcelona

Sultan Azlan Shah Cup:

Gold medal: 1998, 2000, 2003

Silver medal: 1983, 1987, 1991, 1994, 2004, 2011

Bronze medal: 1985, 2005

Asian Champions Trophy:

Gold medal: 2012, 2013, 2018

Silver medal: 2011, 2016

Asia Cup:

Gold medal: 1982, 1985, 1989

Silver medal: 1999, 2003, 2009

Bronze medal: 1993, 2013, 2017

Asian Games:

Gold medal: 1958, 1962, 1970, 1974, 1978, 1982, 1990, 2010

Silver medal: 1966, 1986, 2014

Bronze medal: 1994, 1998, 2006

Commonwealth Games:

Silver medal: 2006

Bronze medal: 2002

South Asian Games:

Gold medal: 2006, 2010, 2016

Silver medal: 1995

Afro-Asian Games:

Silver medal: 2003

Hockey Champions Challenge:

Silver medal: 2009.

The Daily Times


---

Olympic memories: Fast cars and crowd pleasing as Atlanta Games flickered out



Calum Giles experiences the highs and lows of an Olympic Games PIC: Action Images / David Slater

Calum Giles continues the unique and unrivalled experiences of playing for Great Britain hockey at an Olympic Games in the final part of a brilliant three-part travelogue.


---

EuroHockey Championship III Men 2021 - Day 4
Lousada, Portugal

4 Aug 2021      BLR v MLT (Pool A)         9 - 0
4 Aug 2021      CZE v LTU (Pool B)         6 - 0
4 Aug 2021      SVK v POR (Pool B)        2 - 2

5 Aug 2021 is a rest day

Pool Standings

Pool A
| Rank | Team | Played | Wins | Draws | Losses | Goals For | Goals Against | Goal Difference | Points |
| --- | --- | --- | --- | --- | --- | --- | --- | --- | --- |
| 1 | Belarus | 2 | 1 | 1 | 0 | 11 | 2 | 9 | 4 |
| 2 | Turkey | 2 | 1 | 1 | 0 | 5 | 2 | 3 | 4 |
| 3 | Malta | 2 | 0 | 0 | 2 | 0 | 12 | -12 | 0 |
Pool B
| Rank | Team | Played | Wins | Draws | Losses | Goals For | Goals Against | Goal Difference | Points |
| --- | --- | --- | --- | --- | --- | --- | --- | --- | --- |
| 1 | Czech Republic | 3 | 3 | 0 | 0 | 15 | 1 | 14 | 9 |
| 2 | Portugal | 3 | 1 | 1 | 1 | 6 | 4 | 2 | 4 |
| 3 | Lithuania | 3 | 1 | 0 | 2 | 2 | 10 | -8 | 3 |
| 4 | Slovakia | 3 | 0 | 1 | 2 | 3 | 11 | -8 | 1 |
---

EuroHockey Championship III Women 2021 - Day 4
Lipovci, Slovenia

4 Aug 2021     TUR v POR (Pool B)     6 - 0
4 Aug 2021     SVK v SUI (Pool B)       0 - 7
4 Aug 2021     SLO v CRO (Pool A)     0 - 6

5 Aug 2021 is a rest day

Pool Standings

Pool A
| Rank | Team | Played | Wins | Draws | Losses | Goals For | Goals Against | Goal Difference | Points |
| --- | --- | --- | --- | --- | --- | --- | --- | --- | --- |
| 1 | Ukraine | 2 | 2 | 0 | 0 | 24 | 0 | 24 | 6 |
| 2 | Croatia | 2 | 1 | 0 | 1 | 6 | 10 | -4 | 3 |
| 3 | Slovenia | 2 | 0 | 0 | 2 | 0 | 20 | -20 | 0 |
Pool B
| Rank | Team | Played | Wins | Draws | Losses | Goals For | Goals Against | Goal Difference | Points |
| --- | --- | --- | --- | --- | --- | --- | --- | --- | --- |
| 1 | Switzerland | 3 | 3 | 0 | 0 | 11 | 2 | 9 | 9 |
| 2 | Turkey | 3 | 2 | 0 | 1 | 17 | 3 | 14 | 6 |
| 3 | Portugal | 3 | 1 | 0 | 2 | 6 | 8 | -2 | 3 |
| 4 | Slovakia | 3 | 0 | 0 | 3 | 1 | 22 | -21 | 0 |
---

Day 4 RoundUp EuroHockey Championship III, m, Lousada

Day 4, 4 August 2021

The final Day of Pool A and B matches in Lousada (POR) started with Pool A match Belarus vs Malta. Malta needed a win to secure a place in the semi-finals where a draw would be sufficient for Belarus.

Belarus v Malta 9-0

It was clear that Belarus was the stronger side of the 2 teams in the first quarter. They kept pressing and didn't give the Maltese side time to keep possession of the ball. In the 3rd minute, a field goal by Uladzislau BELAVUSAU was followed by one from Vadzim BANDARCHUK 4 minutes later. Belarus received several penalty corners in the 1st period, but time after time the defense of Malta saved the attempts or Belarus failed to inject or stop correctly. Finally, in the 15th minute, a PC was stopped on the line with the body of a defender. The penalty stroke was converted by Aliaksandr HANCHAROU; 3-0.

The 2nd quarter was similar to the 1st with several chances for Belarus. The 4-0 was a beautiful goal. Dzianis TSALUIKA came into the circle on the right side, went to his backhand and his shot went, via the post, high in the top far corner. 2 minutes later the same Dzianis TSALUIKA converted a PC and Mikhail PAULOVICH made the 6th in the 27th minute which meant the halftime score was 6-0.

In the 2nd half, Malta was better structured in the back and was able to get some small opportunities in the Belarussian circle. It lasted until the 41st minute that the 7th goal was scored by Dzianis KHATYLIOU. Dzianis TSALUIKA converted a nice drag flick (8-0) some seconds before the end of the 3rd quarter, scoring his 3rd of the game.

Nothing much happened in the last quarter. Malta got a huge opportunity to score their first goal, but their attempt went just wide. Yauheni HAURYLAU was the only person to score making the final result 9-0. The 2 sides met 4 years ago for the last time on the same level when the event was played in Sveti Ivan Zelina (CRO) where Belarus also beat Malta 9-0.

It meant Belarus became 1st in Pool A as they have a better goal difference than Turkey: +9 vs +3.

Czech Republic v Lithuania 6-0

The Czech Republic and Lithuania were up next. A draw would be sufficient for Czech Republic to become 1st in pool B where Lithuania needed a good result. Depending on the result of SVK-POR a draw could be sufficient for the Baltic nation, but they would have to wait until the end of the day before this would be clear.

The 1st 14 minutes of the game were more or less played at the midfield. No real chances for both teams, except 1 PC for the Czechs. In the last minute of the period, an attacker of Czech was able to dribble through the circle where he found Jan ŽELEZNÝ to score in the open net.

The 2-0 was again scored by Jan ŽELEZNÝ in the 21st minute after some sloppy defending. The ball was loose in front of the goalkeeper and Jan ŽELEZNÝ was quicker than the defender to double the score. Štěpán KLABAN made it 3-0 to the Czech Republic via a field goal just before the end of the 2nd period.

Via his 3rd penalty stroke of the tournament, one in every game, Tomas PROCHÁZKA scored the 4-0 when an attacker was brought down in the circle. Adam UHLÍŘ in the 53rd minute and again Tomas PROCHÁZKA in the 55th minute from the top of the circle, made the final score 6-0 to the Czech Republic. They became 1st in Pool B.

Slovakia v Portugal 2-2

Last up were Slovakia and Portugal. Two years ago in Gibraltar, the result between these teams was 8-5 to Portugal. What would it be now?

Matej HRUSKA put the Slovaks ahead in the 6th minute via a PC, but a minute later the equalizer was scored via Rodrigo CASTRO. José SANTOS scored a nice goal in the 39th minute, putting the home nation ahead for the first time this match.

Slovak goalkeeper Jakub BOGÁR made some excellent saves in the match, making sure his team stayed in the game. Captain of Slovakia Matej JELAČIČ got a huge opportunity 3 minutes before the end to secure the 2-2 via a penalty stroke, which he did. Final result 2-2.

This meant Portugal is 2nd in Pool B, with Slovakia being last.

EuroHockey


---

Day 4 roundup – EuroHockey Championship III, Women, Lipovci

Turkey v Portugal 6 – 0

Today's first match of Pool B between Turkey and Portugal. Team's stand for the battle which one will go to the semi-final on Friday. Both teams had 3 points (Switzerland 6 points, Slovakia 0 points). In the 1st quarter, debutants showed they are fighters and will not give up so easily. Turkish ladies broke Portugal's defense at the end of the first quarter and did not want to stop. In the 2nd and 3rd quarters, Turkey scored 4 more goals. Gültekin Fatma Songül was on fire and today and scored 4 goals, Bahçivan Emine and Güzelal Kübra added 2 more goals for the team and ended with a final result of 6 – 0.

Slovakia v Switzerland 0 – 7

The second match of the day, to finalize Pool B standing was between Slovakia and Switzerland. In the first, two-quarters the Slovakian ladies had a strong defense and didn't let opponents score the goals. Unfortunately, after halftime, the Switzerland squad changed their tactics and scored 6 goals during the last two quarters. 2 goals scored Zimmermann Carina and 1 goal scored Trösch Tamara, Pöhler Nele, Thoma Janice, Weber Stephanie, and Stomps Sofie.
Final Ranking Pool B
| Rank | Team | Played | Wins | Draws | Losses | Goals For | Goals Against | Goal Difference | Points |
| --- | --- | --- | --- | --- | --- | --- | --- | --- | --- |
| 1 | Switzerland | 3 | 3 | 0 | 0 | 11 | 2 | 9 | 9 |
| 2 | Turkey | 3 | 2 | 0 | 1 | 17 | 3 | 14 | 6 |
| 3 | Portugal | 3 | 1 | 0 | 2 | 6 | 8 | -2 | 3 |
| 4 | Slovakia | 3 | 0 | 0 | 3 | 1 | 22 | -21 | 0 |
Slovenia v Croatia 0 – 6

The last match of the day, between two equal teams, Slovenia and Croatia, brings a lot of spectators to the venue. Local people from the village come to celebrate hockey together with home team ladies. This was the last Pool A match and both teams wanted to go to the semi-final. First half time both teams had a chance to score the goal, but unluckily the ball didn't cross the goal line. After half time, Croatian ladies took initiative in the hands and ended the match 0 – 6. The goals scored: 3 goals (Hrupec Petra), 1 goal (Litvic Una, Lagančić Dora, Nizek Lucija).

Final Ranking Pool A
| Rank | Team | Played | Wins | Draws | Losses | Goals For | Goals Against | Goal Difference | Points |
| --- | --- | --- | --- | --- | --- | --- | --- | --- | --- |
| 1 | Ukraine | 2 | 2 | 0 | 0 | 24 | 0 | 24 | 6 |
| 2 | Croatia | 2 | 1 | 0 | 1 | 6 | 10 | -4 | 3 |
| 3 | Slovenia | 2 | 0 | 0 | 2 | 0 | 20 | -20 | 0 |

Upcoming games on 6th August (tomorrow is a rest day!)

6 Aug
                   
11:30    SLO – POR    Pool C           
13:45    UKR – TUR    SF1           
16:00    SUI – CRO    SF2

Follow the live scores here: https://tms.fih.ch/competitions/1266

EuroHockey


---

2021 Test Matches POL v FRA (W) - 1st Test
Wałcz (POL)

Times GMT +2

3 Aug 2021     POL v FRA     1 - 3

5 Aug 2021 12:00     POL v FRA

FIH Match Centre


---

Performance Network announces National U18 invitations




Hockey New Zealand is pleased to announce the below players have been identified through Association National Under-18 campaigns to attend National camp later this year.

The Performance Network is a national decentralised programme that is focused on the development of individuals. Under 18's is the first identification opportunity and therefore connection to the Performance Network. Identification and talent confirmation takes place over time, players can be added based on current performance and future potential.

MEN

Hayden Ganley (Northland), Manraj Gill, Luka Clark, Mathew Vaughan, Devon Hari (Auckland), Jordon Thomas, Scott Cosslett, Steven Lydiard, Milan Patel, Karl Wallace, Finn Burridge, Reegan Yurjevic (North Harbour), Thomas Marchant, Sam Lints, Flynn Hutchinson (Waikato), Vance Harvey, Bradley Rothwell (Bay of Plenty), Jonty Elmes (Hawkes Bay), Jordan Whittleston (Taranaki), Zach Carline, Hael Pritchard, Blake Rhodes-Robinson (Manawatu), Timothy Crawford, Daniel Stevens, Xander Redgrave (Wellington) Charlie Swan, Charlie Morrison, Hugh Nixon, Kyle Houston, Matthew Wilson, Cam Slee (Canterbury), Benji Culhane, Patrick Ward, Toby Dean, Daniel Torr, Thomas Meder (Otago) Max Milne (Southland)

WOMEN

Brodie Cochrane, Amy Hunt, Kyra Manahi (Northland), Kaea Elliott, Emma Irwin, Arabella Loveridge, Rose Parkinson, Lucy Russ (Auckland) Paige Blake, Bella Browne, Chloe Browne, Georgie Shotter (North Harbour) Kuinivia Blakelock, Monet Elisak, Kelsey Teneti (Counties Manukau) Jaimee Eades, Aleksia Junge, Halle Scurrah (Waikato), Hannah Cotter, Hannah Findlay, Emma Findlay, Georgia Mayo, Ruby Roberts (Hawkes Bay) Ella Bayley (Manawatu) Amy Bunny, Kianna Dawson (Wairarapa) Ruby Baker, Kate Kominik-Fraser, Sorita Pho, Riana Pho, Baylee Whenuaroa (Wellington) Hayley McKellow, Tessa Reid, Annabelle Schneideman, Issy Story, Mezzy Surridge (Canterbury) Brianna Curtis (Central Otago)

All players will be contacted with next steps in the coming week.

Hockey New Zealand Media releas