All the news for Wednesday 4 August 2021

2020 Olympic Games - Day 13
Tokyo (JPN)

All times GMT +9

Men's Semi FInals

3 Aug 2021   BEL v IND   5 - 2
3 Aug 2021   GER v AUS   1 - 3
Medal games

5 Aug 2021 10:30  Bronze Medal  IND v GER
5 Aua 2021 19:00  Gold Medal      BEL v AUS

Pool Standings

Pool A
| Rank | Team | Played | Wins | Draws | Losses | Goals For | Goals Against | Goal Difference | Points |
| --- | --- | --- | --- | --- | --- | --- | --- | --- | --- |
| 1 | Australia | 5 | 4 | 1 | 0 | 22 | 9 | 13 | 13 |
| 2 | India | 5 | 4 | 0 | 1 | 15 | 13 | 2 | 12 |
| 3 | Argentina | 5 | 2 | 1 | 2 | 10 | 11 | -1 | 7 |
| 4 | Spain | 5 | 1 | 2 | 2 | 9 | 10 | -1 | 5 |
| 5 | New Zealand | 5 | 1 | 1 | 3 | 11 | 16 | -5 | 4 |
| 6 | Japan | 5 | 0 | 1 | 4 | 10 | 18 | -8 | 1 |
Pool B

Women's Semi Finals

4 Aug 2021   NED v GBR  5 - 1
4 Aug 2021   ARG v IND   0 -1  Q1

Pool Standings

Pool A
Pool B
| Rank | Team | Played | Wins | Draws | Losses | Goals For | Goals Against | Goal Difference | Points |
| --- | --- | --- | --- | --- | --- | --- | --- | --- | --- |
| 1 | Australia | 5 | 5 | 0 | 0 | 13 | 1 | 12 | 15 |
| 2 | Argentina | 5 | 3 | 0 | 2 | 8 | 8 | 0 | 9 |
| 3 | Spain | 5 | 3 | 0 | 2 | 9 | 8 | -1 | 9 |
| 4 | New Zealand | 5 | 2 | 0 | 3 | 8 | 7 | 1 | 6 |
| 5 | China | 5 | 2 | 0 | 3 | 9 | 16 | -7 | 6 |
| 6 | Japan | 5 | 0 | 0 | 5 | 6 | 13 | -7 | 0 |
---

Hendrickx powers Belgium into Olympic final date with Australia




A hat-trick from Alexander Hendrickx helped Belgium's Red Lions claim a 5-2 triumph over India, with the reigning world and FIH Hockey Pro League champions downing the eight-times Olympic gold medallists in a thrilling semi-final contest.

It sets up a gold medal date with Australia on Thursday after the Kookaburras held off Germany 3-1 in their semi-final.

Despite the searing temperatures, Belgium made a fine start thanks to a perfectly executed penalty corner drag-flick from Loick Luypaert just 70 seconds into the contest.

However, India hit back with two quickfire goals to take a 2-1 lead into the quarter time break, with Harmanpreet Singh rattling the backboard with a penalty corner before Mandeep produced a stunning backhand strike from open play.

Belgium restored parity when Hendrickx – who finished the game with a remarkable tally of 14 goals in seven matches – fired home an unstoppable penalty corner drag-flick.

After a scoreless third quarter, Hendrickx won the tie with a corner and a stroke to make it 4-2 with seven minutes to go. And John-John Dohmen capped the win in the closing seconds with a finish into an open goal.

"It's unbelievable", said Belgium's John-John Dohmen. "An Olympic medal is always the best memories we can have and now we will enjoy for 15 minutes maybe and then recover really well for the final because the gold is the objective. So it's not finished!"

Commenting on hat-trick hero Hendrickx, Dohmen said: "I love this guy, he's amazing. Always nice with the teammates and always ready to work really hard for the team. And this tournament is his tournament, of course, and I'm really happy for him. It's amazing."

In the second semi, goals from Tim Brand, Blake Govers and a late tap-in from Lachlan Sharp put the mighty Kookaburras into their first Olympic final since Athens 2004, Uhlenhorst Mülheim's Lukas Windfeder having earlier equalised at 1-1.

Reflecting on his team's defeat, Germany's Mats Grambusch said: "We have to recognize that we are not dangerous enough in the opponent's circle compared to Belgium and Australia.

"Australia has this quality of scoring goals with few chances. We are simply not making enough of the many opportunities and corners. In the end, what counts is what is on the scoreboard – it is of no use to you if you were superior. But we will also get out of this situation and get bronze on Thursday!"

Euro Hockey League media release


---

Kookaburras fly into Gold Medal Match

Catriona Dixon



Australia celebrate after defeating Germany 3-1 in their men's semi-final match of the Tokyo 2020 Olympic Games field hockey competition, at the Oi Hockey Stadium in Tokyo

THE KOOKABURRAS will play for the gold medal after an outstanding 3-1 victory over European powerhouse Germany.

The win puts the Kookaburras in contention to claim their first Olympic Gold Medal since 2004, and just second overall.

The Kookaburras will take on Rio Olympic silver medallists Belgium on Thursday (8pm AEST) at Oi Stadium in a much-awaited match-up between the world's top two ranked hockey nations.

Belgium secured their place in the Olympic Final defeating India 5-2 in an encounter which showcased their exceptional finesse and skill in the goal circle.

But the Kookaburras will hold no fear of the in from Belgians. Head Coach Colin Batch said the Kookaburras were ready to face their greatest test after outclassing Germany with commitment, composure and confidence.

"Germany are a very hard and experienced team, they are very good in these situations so for us perform like that tonight will hold us in good stead for the Final," Batch said.

"At the review after our quarter final the guys said they were a bit nervous, the threat of losing that match and being out of the tournament was there, but tonight they felt freer to play."




"We are learning all the time, for many of the players they haven't gone through this pressure situation.

"We keep improving and to experience that tonight against a good German side that has improved enormously in the last 12 months, is a great credit."

In addition to reaching the gold medal match, the win against Germany also capped a glorious night for Kookaburras co-captain Aran Zalewski who celebrated his 200th international.

"I will probably look back later in my career and look fondly on this night. At the time I didn't think too much about it, there are bigger things at play with the semi-final of the Olympic Games," Zalewski said.

"It was a full collective effort today, we finished our chances and denied them as best we could – we're really happy with that result.

"Just to know that we can do it, play scrappy when we have to. Not every game is going to go your way, when you are leading it seems to be the pressure is on you and the other team has nothing to lose so they come at you.

"The boys held really strong – it was great to get the result we wanted tonight."




Australia dominated early and had a dream start when Flynn Ogilvie hammered an aerial ball from Blake Govers towards goal and Tim Brand was perfectly positioned at the back post to touch the ball in. The goal was Brand's fifth of the tournament.

An infringement five metres from the circle then saw the Germans awarded a penalty corner, which was expertly converted by drag flick specialist Lukas Windfeder to make it 1-1 after 10 minutes.

Four shots on goal in four minutes by Govers, Ogilvie and Jake Whetton signalled the Kookaburras' onslaught, but 21-year-old German goalkeeper Alex Stadler showed poise and maturity to keep them out.

At the other end Kookaburras goalkeeper Andrew Charter was tenacious under pressure to defend three penalty corners before Govers helped his side take the lead, converting a drag flick in the 27th minute.

The goal was Govers' seventh from seven matches to have him as the second highest scorer of the tournament.

Co-captain Eddie Ockenden, Matt Dawson and Dylan Martin showed outstanding commitment in defence, while Jeremy Hayward foiled a German penalty corner halfway through the third quarter.




Germany dominated the Kookaburras' circle in the final quarter, but unable to convert, they withdrew goalkeeper Stadler in the final three minutes leaving an open goal for Sharp who teamed up with Wickham to score into an open net with a minute remaining.

The Kookaburras now turn their focus to Thursday's Gold Medal Match knowing they have all of Australia behind them.

Match Details

Kookaburras 3 (Brand 7', Govers 27', Sharp 59')
Germany 1 (Windfeder 10')
@ Oi Hockey Stadium, Tokyo

Kookaburras: 1.Lachlan Sharp, 5.Tom Wickham, 6.Matthew Dawson, 10.Josh Beltz, 11.Eddie Ockenden, 12.Jake Whetton, 13.Blake Govers, 14.Dylan Martin, 15.Josh Simmonds, 16.Tim Howard, 17.Aran Zalewski (c), 22.Flynn Ogilvie, 23.Daniel Beale, 29.Tim Brand, 30.Andrew Charter (gk), 32.Jeremy Hayward

Hockey Australia media release


---

Kiwi officials selected for semifinals action




While both of our Black Sticks teams have bowed out of the Olympics, our umpires and officials are flying the Kiwi flag high in Tokyo.

New Zealand umpire Amber Church has been appointed to one of today's semifinals at the Tokyo Olympics after controlling a number of pool matches.

The Gisborne teacher will be behind the whistle for the Argentina v India semifinal at 10pm (NZ time) today.

Fellow Kiwi umpire Kelly Hudson has been appointed as the video umpire for the other semifinal between the Netherlands and Great Britain at 1.30pm (NZ time) today.

Hudson, from Tauranga, achieved the milestone of umpiring her 150th international on Saturday in the pool match between the Netherlands and Germany.

In the men's competition, Simon Taylor was in control of the India v Great Britain quarterfinal on Sunday while Judge Jackie Tomlinson was appointed to the India v Belgium men's semifinal yesterday.

Tomlinson's husband David was also part of the Kiwi officiating team in Tokyo, umpiring a number of pool matches at what was his first Olympics.

Hockey New Zealand Media release


---

Netherlands women deliver hockey masterclass in 5-1 semi-final win against Great Britain

The reigning world champions bounce back from Rio final disappointment to exact revenge with dominant win over Olympic title holders.

The Netherlands have beaten Rio 2016 Olympic champions Great Britain in the semi-final of the Tokyo 2020 women's hockey tournament.

After the initial stages of the game saw the teams level, the Netherlands - wold no. 1 and reigning world champions - began to dismantle a Great Britain side hoping to repeat the heroics that saw them win the Olympic final five years ago against the same opponents.

However, history would not repeat itself at Oi Hockey Stadium, as the Netherlands scored five to Great Britain's one to take their place in the Olympic final.

Since their Rio loss, Netherlands have gone on to win every championship they have played in, including the coveted 2018 World Cup. In the early minutes of the second quarter, they broke Britain's resistance, Felice Albers scoring through the legs of Maddie Hinch - the hero of Rio - on 19 minutes, before Marloes Keetels doubled their advantage with a slick move from inside the circle.

From there, it was plain sailing for the Dutch, who scored three more goals to end the dreams of the British team, with Albers doubling her goal tally on 38 minutes and Maria Verschoor and Frederique Matla rounding off the scoring.

The Dutch now go into Friday's final, where they will meet either Argentina or India, who play each other in the second semi-final at 19:00 local time. Great Britain will face the loser in the bronze medal match.

Olympic Channel


---

Netherlands reaches women's finals with 5-1 win over Britain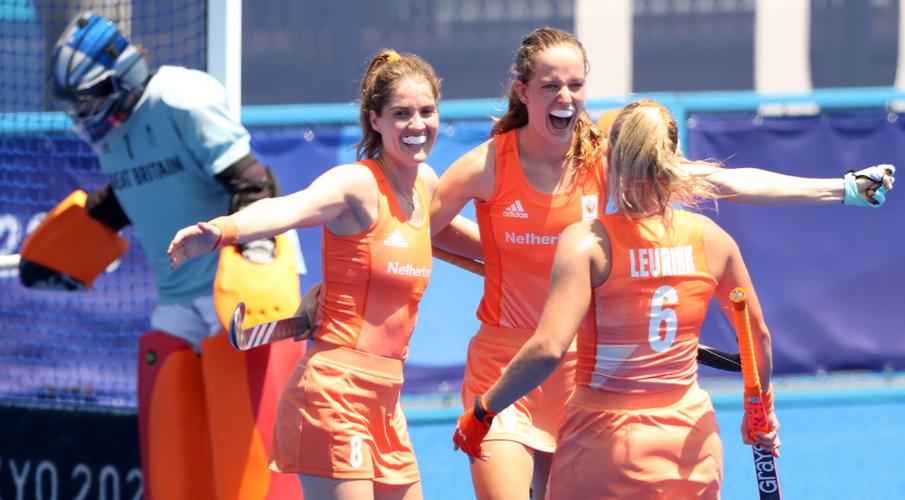 Felice Albers, Marloes Johanna Maria Keetels & Laurien Leurink © Getty Images

The Netherlands will play in the women's Olympic hockey finals for a fifth straight time at the Tokyo Games after notching up an inspiring 5-1 triumph over 2016 Rio Olympic champions Britain on Wednesday.

The Netherlands took the lead in the first half when Laurien Leurink outsmarted her opponent and her pass reached 21-year-old forward Felice Albers who scored by shooting the ball through the legs of British goalie Madeleine Hinch.

The Netherlands, who won silver at the 2016 Rio Games after taking home the top prize twice in a row at the 2008 and 2012 Olympics, doubled the score less than a minute later through a powerful shot by Marloes Keetels.

"We're executing everything that was agreed on with the team," Keetels said. Besides scoring herself, she played a key role in the first goal by getting the ball to Leurink with a long pass.

"We trained for five years on being able to score many goals ... I think that's paying off now."

The Netherlands had already scored 21 goals before starting the semi-finals while conceding only two goals in their previous matches in the tournament.

After the halftime break, the Netherlands extended their lead to 4-0 thanks to goals by Maria Verschoor and Albers.

Britain had beaten the Dutch side through a penalty shootout in the final of the 2016 Rio Games that got them the gold medal.

In Tokyo, the gap between the two sides was too large for Britain to overcome, though they got a goal back when Giselle Ansley flicked in a penalty corner.

"Absolutely gutted," Ansley said, adding the first quarter was really tight between the two sides.

"I think we had a couple of lapses in the second quarter early on which gave them two pretty easy goals, which was a bit disappointing.

"But we never stopped believing the whole way through."

Frederique Matla scored the last goal from a penalty corner to settle the final score for the Netherlands, who will play either Argentina or India in the finals on Friday.

Supersport


---

Netherlands power to 5-1 win over Great Britain

World No 1 Holland showed team power as Team GB women set to play for hockey bronze on Friday



The Oranje were in no mood for a Rio repeat PIC: REUTERS/Amr Abdallah Dalsh

The Oranje Twitter feed had pictured the Dutch team in jubilant mood, rollicking along on a London bus ahead of the Tokyo Olympic semi-final.


---

GB's Women To Contest Bronze Medal After Semi-Final Defeat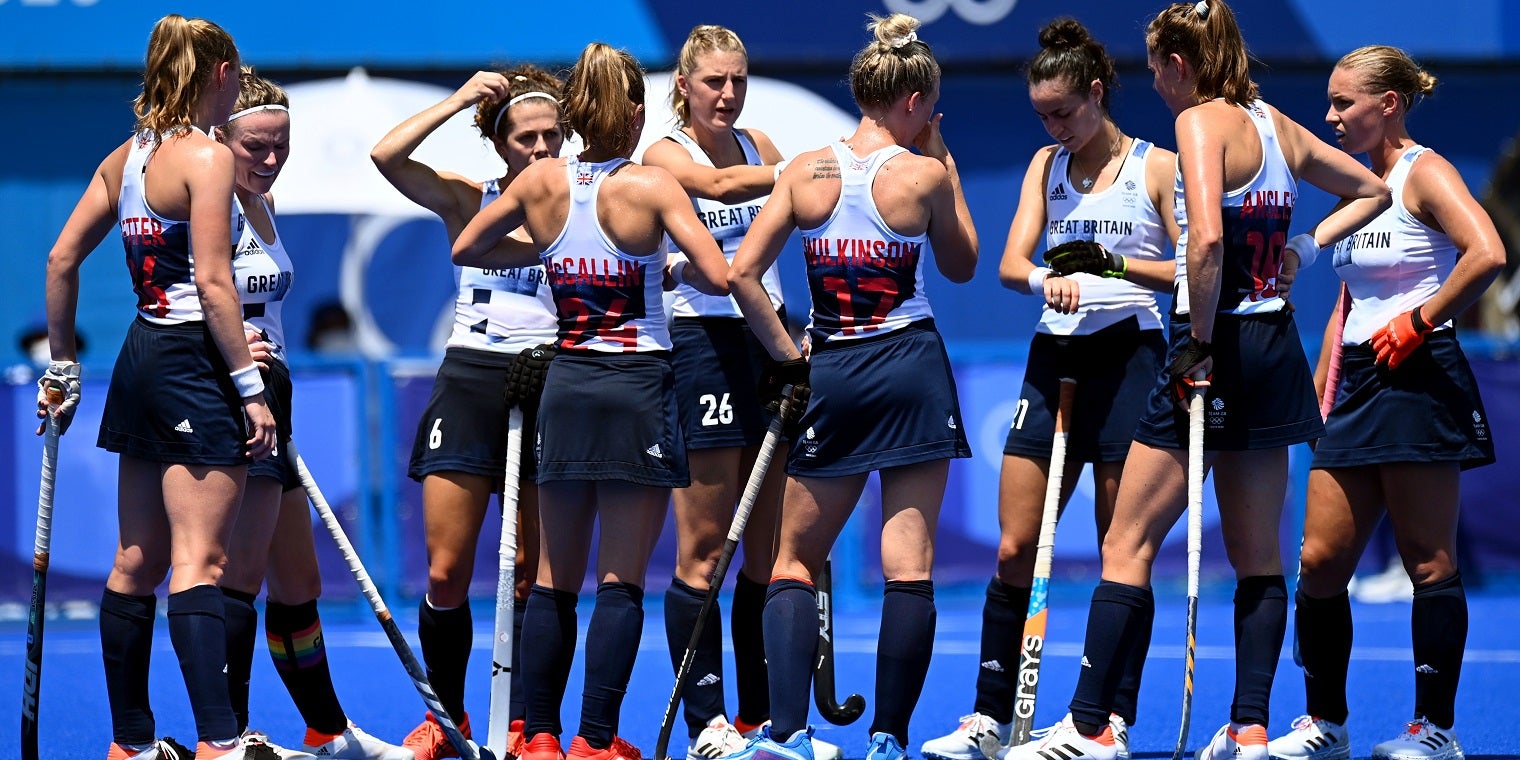 Great Britain's women will fight for a bronze medal at the Tokyo Olympics after suffering a semi-final defeat to The Netherlands.

The reigning world champions were at their brilliant best with two goals inside a minute giving them a 2-0 lead going into half-time.

It was a ruthless showing from the Dutch who had two more just eight minutes after the restart to put them firmly in the driver's seat.

Though Giselle Ansley did bring one back for Great Britain, the damage had already been done with the team falling to a 5-1 defeat as Frederique Matla ended any hopes of a late comeback.

The result means that GB will contest the bronze medal match on Friday 6 August and will face the loser of today's second semi-final between Argentina and India.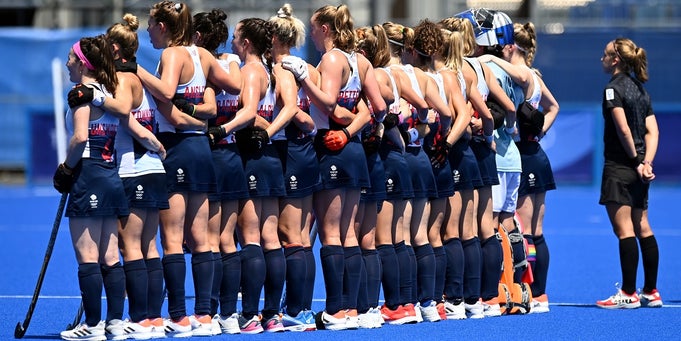 Great Britain's women will fight for bronze after defeat to The Netherlands in the semi-finals. Credit: World Sport Pics

Chances were few and far between in a hotly contested opening quarter. The Netherlands coming closest from a penalty corner at the very end of the opening fifteen minutes in which alert goalkeeping from Maddie Hinch would keep the scores level.

As time wore on, The Netherlands showed their ruthless side with a quickfire double early in the second quarter. A weaving run and lay off from Laurien Leurink found Felice Albers to fire beyond Hinch from close range to open the scoring.

Less than a minute later and the team were in again. This time Marloes Keetels finding time and space to rifle the ball into the bottom corner of the goal with a brilliant finish to double their lead and stun GB.

Mark Hager's side showed signs of life and continued to fight to try and get back into the game. The team enjoying spells of possession deep in the Dutch half but struggling to break down the resilient defensive line.

The Netherlands were clinical come the second half and doubled their advantage just eight minutes after the interval. Marloes Verschoor got a wicked deflection from a penalty corner to score two minutes after the restart before Felice Albers made it 4-0 with her second goal of the game.

Minutes later, Sarah Jones surged forward on a powerful run to earn a penalty corner, from which GB responded to the deficit through Ansley's magnificent drag flick to bring one back.

The team continued to press to get back into the game and looked to have won another penalty corner only to see it overruled following a video umpire review.

Though Maddie Hinch had impressed throughout with several impressive saves, she was unable to deny Matla from finding the fifth as the forward fired in from a penalty corner.

Despite being four down, GB persisted to push forward to look for a way back into the game. Ansley flashed another drag flick narrowly wide before a second penalty corner routine was unsuccessful as the team showed glimpses but couldn't quite find the end product needed.

But it would be the reigning world champions who would take victory with an impressive performance to see them through. The result means that GB will face either Argentina or India on Friday 6 August in the bronze medal match.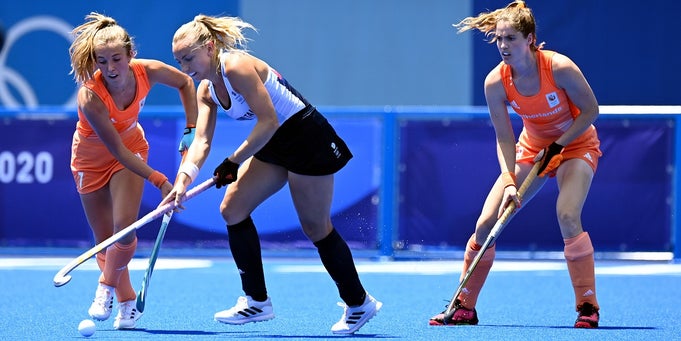 Hannah Martin dribbles with the ball during GB's defeat to The Netherlands. Credit: World Sport Pics

After the match, Hannah Martin commented: "We're disappointed. We wanted to keep it tight for as long as we could but unfortunately those two goals came in quick succession. We knew we could bring it back, but it wasn't to be today.

"I think there wasn't enough sustained pressure, we knew if we could keep getting at them then they would go in, but we just didn't quite do that today. I'm bitterly disappointed but we'll come out fighting for that bronze medal.

"I think we always believe we can get back into a game. We said to take it one goal at a time, we were really pleased with Giselle's brilliant flick and thought we could get a couple more. But as I said, it was disappointing and it's gutting to be in this position, but we've got to pick ourselves up and fight for that bronze.

"No excuses today. They're a very strong team, we know that, but we're disappointed to not get a result."

Maddie Hinch also commented: "We need to look at what we got wrong today but also believe that we're still a good side and that there's a reason we're fighting for a medal here – we haven't done that by luck. We just need to believe that we'll come home with it and not overthink this too much, they're an unbelievable side who will punish you if you get things wrong. It's a learning and it wasn't our day today.

"Their goals today were world class, and you sometimes have to just say "you know what, they were better than us today and that's that".

"We just weren't quite there today. It just wasn't from any lack of effort; it just wasn't our day.

"We've got to be proud of why we're here, why we're fighting for a medal in the first place and believe we can do it. That's one thing we learned from Rio. It's the power of belief, the togetherness, and the ability for everyone to play their part to get there because whoever we play next, it's going to be tough.

"Given the whole cycle, Covid-19, a change of coaches, there's so much this group has been through so the bronze would be massive for us."

Netherlands 5 (2)

Albers (19', FG; 38', FG); Keetels (19', FG); Verschoor (32', FG); Matla (49', PC)

Great Britain 1 (0)

Ansley (41', FG)

Starting XI: Hinch (GK), Unsworth, Toman, Jones, Townsend, Robertson, Rayer, Ansley, Pearne-Webb (C), McCallin, Owsley

Subs: Martin, Petter, Wilkinson, Crackles, Balsdon

Great Britain Hockey media release


---

Britain's reign as Olympic hockey champions ends in brutal loss to Netherlands

Stephen McMillan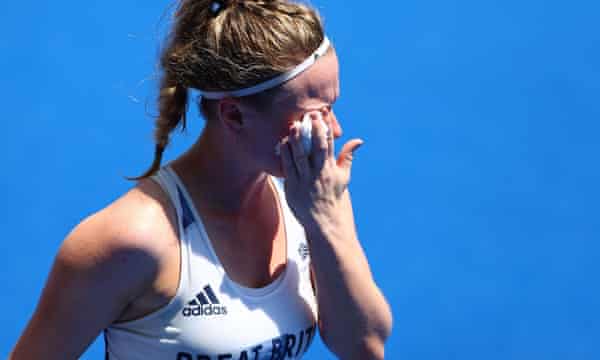 Hockey at these Games is played at the Oi Stadium, and if that sounds impertinent it has nothing on the impudent, insolent and downright rude manner in which the Netherlands dispatched Great Britain in the Olympic semi-finals and ended the reign of the women's champions.

Team GB were swatted aside 5-1 by the imperious Dutch, who took their revenge for what they saw as an upstart British victory in 2016's final that interrupted their dominance of the women's game. Here, the world order was restored.

Two goals within a minute at the start of the second quarter by Felice Albers and Marloes Keetels did the damage and from there it was only a question of how many more they would score. Three was the answer, with strikes by Maria Verschoor, a second for Albers and Frédérique Matla adding the gloss. At 4-0 down Britain scored a consolation through Giselle Ansley's penalty corner but there was no way back.

Britain's goalkeeper, Maddie Hinch, so often the saviour, tried her best to be positive. "We haven't become a bad team after one game and we are still going to fight for this bronze medal, which we would be incredibly proud of if we come away with it," Hinch said.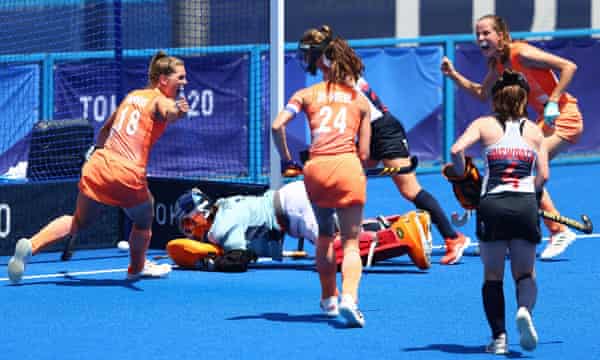 The Netherlands celebrates their fifth goal, scored by Frédérique Matla. Photograph: Amr Abdallah Dalsh/Reuters

Asked if bronze would mean as much as gold, given the vastly changed nature of the Tokyo squad since Rio, Hinch added: "Yes. Given the whole cycle – covid, change of coaches – then it would be massive for us."

Five years ago Hinch was the hero in the Rio final, repelling wave after wave of Dutch attacks, saving a penalty stroke during normal time and keeping the reigning champions at bay during the climactic shootout. The world's No 1 side have neither forgiven nor forgotten Britain's victory and it has been a catalyst for Dutch domination, the Oranje having won every tournament they have entered since that shock defeat: the World Cup, three European titles and the first two editions of the Hockey Pro League.

But there were early signs of nerves from the Dutch when they made a dog's dinner of their first penalty corner, the ball missing the stop completely and heading out of play on the touchline. Britain's first penalty corner was almost as poor and followed a frustratingly familiar theme at this tournament: over-elaborate and, ultimately, wasteful.

There were no more nerves from the Dutch after that. Two penalty corners at the end of the first quarter, one forcing a fine Hinch double save from the shot and rebound, showed ominous intent. So it proved when early in the second quarter they delivered a bodyblow to the Olympic champions. First, Albers fired through Hinch's legs. Britain's guardian at the gates had been breached.

It felt almost a shock to hear the ball thwack against the backboard. Perhaps it stunned Team GB too, because a minute later, Keetels was given too much time in the circle to get away a clinical strike that gave GB a Mount Fuji to climb in 32C heat against a team that had conceded just two goals in their previous six games.

In the third quarter Verschoor deflected a penalty corner strike high into Hinch's net before Albers flicked home from close range for a fourth. Ansley's penalty corner saved some face, but the game was gone and Matla added a fifth in a goalmouth scramble.

Britain face a bronze final on Friday morning against either Argentina or India, while the Dutch will bid to regain their perch with a gold medal later in the day.

The Guardian


---

India must stop strong Argentina in semifinals today

A bunch of 18 fearless and determined Indian women did the unthinkable when they stunned three-time champions Australia 1-0



Tokyo: Indian women hockey players celebrate after scoring a goal against South Africa during a womens field hockey match at the 2020 Summer Olympics, Saturday, July 31, 2021, in Tokyo. PTI Photo

The Indian women's hockey team would aim for more glory when it takes on the mighty but beatable Argentina in the semifinals of the Olympic Games here on Wednesday.

A bunch of 18 fearless and determined Indian women did the unthinkable when they stunned three-time champions Australia 1-0 on Monday to enter the Olympic semifinals for the first time.

Drag-flicker Gurjit Kaur rose to the occasion when it mattered and converted India's lone penalty corner in the 22nd minute to surprise the world No. 2 side. The odds were totally against India but the side led by talismanic Rani Rampal and coached by master tactician Sjoerd Marijne exceeded expectations.

India's best performance in the Olympics came way back in the 1980 Moscow Games where they finished fourth out of six teams. In 1980, women's hockey made its debut in the Olympics and the sport was played in a round-robin format with the top two teams qualifying for the final.

Today the Indian women would look to surpass the achievements of their more-admired male counterparts here by reaching their first-ever Olympics final.

The men's team fell short against world No.1 Belgium, losing 2-5 in the semifinals on Tuesday.

By virtue of their performances here, the Indian women's team also got a major boost when it jumped to seventh in the world rankings, their best-ever ranking.

But in the world No. 2 Argentina, the Indian women will up against tough opponents who are hungry for Olympics success after missing out in Rio five years back.

The Indian defence, led by goalkeeper Savita, had a brilliant outing against the Australians, stoutly defending their 22nd-minute goal to register the narrow win.

The likes of Gurjit, Deep Grace Ekka, Monika Malik and Udita will have to come up with a similar effort to stop the Las Leonas, who will be eyeing their maiden Olympics gold here.

The Argentina women have won two silver medals in the Olympics — at 2000 Sydney and 2012 London — but gold has eluded them.

And they are on course for the yellow metal after reaching the semifinals for the first time since 2012, stunning 2016 Olympics bronze medallists Germany 3-0.

But having registered three wins on the trot after as many losses, the momentum is in India's favour.

The recent head-to-head record, however, gives Argentina the edge. Earlier this year, the Indian women's team toured Argentina as part of the preparation for the Games. India played seven matches there — the first two against the Argentine youth team which the visitors drew 2-2 and 1-1. India then played two matches against Argentina's B team and lost both, 1-2 and 2-3. Against the senior Argentina team, India played three games, managing a 1-1 draw and losing 0-2 and 2-3.

India captain Rani's eyes are already set on the big final as she said on Tuesday that the win over Australia is a thing of the past and their focus is on the remaining two games in the competition.

"We made history by just reaching the semifinals and now we are looking forward to the semifinals because we don't want to just finish here," Rani had said. "In this tournament, there's two more games left for winning medals."

The Tribune


---

India-Argentina at field hockey in the last 10 years

K. ARUMUGAM




India and Argentina women hockey teams do not often face each other in major tournaments. However, they play each other in almost alternate year at least a match. It doesn't mean they don't play often. In fact, Indian women hockey teams, Seniors and Juniors, go to Argentina (Buenos Aires, Parana, Rossario) and play practice matches, which statistically don' t count. Because, the FIH has introduced a system of classifying matches into 'Official' since 2013. That's why recent visit of India to Argentina (Jan-Feb 2021 in which India played thrice against Argentina (2-3, 0-2, 1-1), twice  against Juniors (2-2, 1-1) and twice against Argentina B (1-2, 2-3) doesn't fall under the purview of 'Official' matches. However, the takeaway here is that India played Argentina very recently.


---

Play smart hockey, score early, unsettle the Argentineans," advises Jude Menezes

K. ARUMUGAM in Tokyo




Goalkeeper for Team India at the 2000 Sydney Olympics, Jude Menezes has since migrated to New Zealand. He took with him his hockeyware and in good time merged with his adopted country's efforts in the sport. Now, coach of New Zealand's women's team for the second Olympic running, he took time off to reflect on the team fielded by his country of origin that is making waves in the 2020 Tokyo Olympics.


---

A lot on the line in Bronze medal match: Germany Hockey star, Florian Fuchs




Florian Fuchs, Germany's livewire forward wasn't quite in the mood to look ahead to the bronze medal match against India at the 2020 Tokyo Olympics. After all, Germany had lost 1-3 to Australia at the Oi Stadium on Tuesday and Fuchs could be excused for feeling downcast.


---

India needs to go in there and win bronze: Men's hockey coach Graham Reid

India coach Graham Reid, like skipper Manpreet Singh, wants his team to focus on the game ahead.

Shyam Vasudevan




India men's hockey team head coach Graham Reid speaks with his players following the quarterfinal match against Great Britain at Tokyo 2020.

The Indian men's hockey team's dream of winning a first gold medal in 41 years at the Olympics was shattered by a 5-2 loss to Belgium on Tuesday, but the squad has quickly shifted focus to the bronze medal match against Germany.

"We huddled up after the game and I said we cannot change the result but our fortunes in the next game are in our hands. We still have the chance to win a bronze medal and all the senior players will boost the morale of the youngsters to ensure they remain positive ahead of our next game," skipper Manpreet Singh said.

Coach Graham Reid, too, wants his team to focus on the game ahead. "To come third, you need to be the third-best team and beat either Australia or Germany [India will face Germany] to win the bronze medal. I am already pushing the fact that it is a team-first mentality. To be a team member we need you to keep your head up and go there and win this bronze medal," he said.

India went toe-to-toe with the Belgians until the third quarter but fell short in the fourth. "Hockey is about gaining momentum and keeping that momentum. Maybe it was the green card (to Manpreet) and they scored after that. It's a momentum thing and we lost it. It's very hard to get that momentum back against a team like Belgium," the coach said.

"We had enough opportunities to win the game. We did not get that scoreboard pressure that we needed. They were always going to come back, they're the best team in the world along with Australia. We paid that price for not getting that scoreboard pressure on," he added.

Sportstar


---

Ockenden and Kookaburras ready for their golden date with destiny

Catriona Dixon




Co-captain Eddie Ockenden is hoping it will be fourth time lucky when the Kookaburras meet Belgium in a highly anticipated Olympic Men's Hockey Final tomorrow night.

The veteran Tasmanian, who holds the Kookaburras games record with 379 appearances and counting, has had his sights set on Olympic glory since claiming bronze medals in 2008 and 2012.

Ockenden, who captains the Kookaburras with West Australian midfielder Aran Zalewski, has achieved almost all there is in world hockey, the only thing missing being an Olympic gold medal.

The 34 year old has been a man on a mission in Tokyo, determined to secure Australia's first Olympic gold medal since 2004, and only second in the history of men's hockey at the Games.




The gold medal match against Belgium will be the fifth time the Kookaburras have featured on the Olympic stage's big dance.

It is an occasion they have only tasted success in once despite reaching the Final in Mexico City, Montreal, Barcelona and Athens.

"I have high hopes and expectations," Ockenden said.

"Like all of us, it has been super exciting to be named in the team and get the opportunity to go on and compete at the Olympics.

"This has been a very different experience coming into these Games, so I feel like we are experiencing it for the first time together. Ever since last year when the Olympics were postponed we've been fuelled by the hope that they were only postponed, not cancelled.

"We put high expectations on ourselves that we want to play our best."

The Kookaburras are regarded as the most consistently successful Australian sports team over the past two decades and for more than 30 years have been ranked among the top four nations in the world.




They have won every one of the six Commonwealth Games hockey tournaments to date and are one of only three nations to win consecutive World Cups.

Colin Batch's team remain undefeated throughout the Tokyo tournament. They were tested as they drew with Spain in their final Pool match before beating the Netherlands in a shootout.

Now, after conquering Germany in the Semi-Finals, the Kookaburras will need to overcome a third European powerhouse who have been the other in form team in the tournament, to secure the ultimate prize.

Belgium boast a similar record from their progression in Pool B, having won four matches before drawing their final Preliminary game against Great Britain.

Australia and Belgium have met 42 times previously with the Kookaburras notching 30 wins, seven draws and five losses. Of the five matches Belgium have won, four of them have been in the teams' last eight meetings, highlighting their progression to being one of the dominant forces in world hockey.

Batch, who helped Australia to two Olympic bronze medals as assistant coach and ironically coached Belgium at the 2012 London Games, believes a depth of talent is the secret to his side's success.

He has been adamant since arriving in Japan that the Kookaburras would "build into the tournament" to be at their best when it counts.

Pleasingly, the Kookaburras have had a plethora of contributors during this tournament. Ten players have scored goals, with Blake Govers (7), Tim Brand (5) and Tom Wickham (5) enjoying stand out tournaments.

Batch says the even contribution has been a key to the Kookaburras' success to this point and would need to continue against Belgium.

"We are very pleased to share the goals around," said Batch.

"It's important you aren't relying on just one person all the time."

"We pride ourselves on being in the right spot. Finishing is important or getting an outcome inside the circle…a penalty corner. We have some good takers of penalty corners and that can be where the game is won and lost.

This could not be truer when it comes to how Belgium have advanced. Drag flick specialist Alex Hendrickx has scored a mammoth 14 goals for the tournament, 12 of which have come from penalty corners.

The Kookaburras will need to be at their best at both ends of the pitch if they are to prevail. They go into the Olympic Final with every reason to believe they can.

Tokyo 2020 Olympics - Men's Hockey Gold Medal Match

    Kookaburras v Belgium
    Thursday 5 August 2021
    Oi Stadium, Tokyo
    Start time: 8:00pm AEST
    Broadcast: LIVE on 7Plus

Kookaburras v Belgium – Overall Record

    Played 42; Kookaburras 30, Draws 7, Belgium 5

Last time they met

    26-Jan-20 FIH Pro League (Sydney)
    Kookaburras 2 (Sharp 42', Hayward 60')
    Belgium 4 (Hendrickx 13'/25', Plennevaux 56', Stockbroekx 58')

Kookaburras squad: 1.Lachlan Sharp, 2.Tom Craig, 5.Tom Wickham, 6.Matthew Dawson, 10.Josh Beltz, 11.Eddie Ockenden, 12.Jake Whetton, 13.Blake Govers, 14.Dylan Martin, 15.Josh Simmonds, 16.Tim Howard, 17.Aran Zalewski, 22.Flynn Ogilvie, 23.Daniel Beale, 25.Trent Mitton, 29.Tim Brand, 30.Andrew Charter (gk), 32.Jeremy Hayward

Hockey Australia media release


---

Meet Graham Reid: The Olympic medallist leading India's men's hockey revolution

Graham Reid was made coach of the Indian men's team in 2019 and has since transformed the side into one of the best in the world.

By Rahul Venkat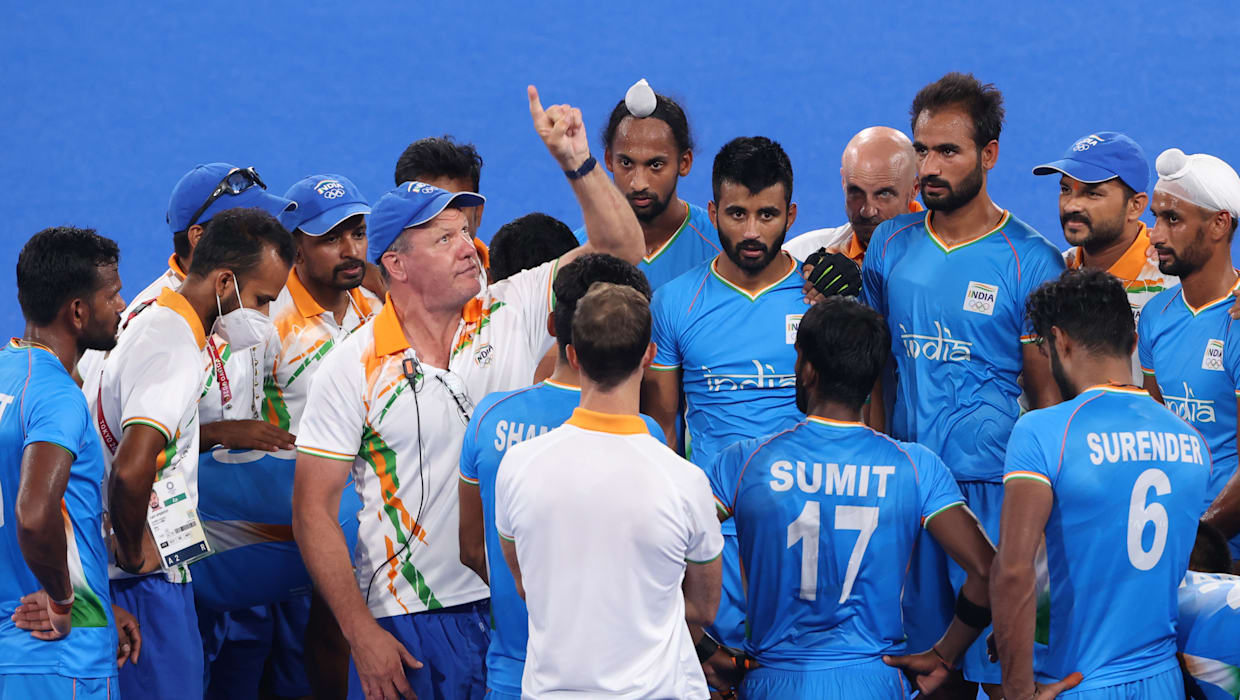 Picture by Getty Images

The Tokyo Olympics has been the best campaign for the Indian men's hockey team since it last won an Olympic medal at the 1980 Moscow Games.

The Indian men's hockey team - winners of eight Olympic golds, one silver and two bronze medals - had never even managed to make the semi-finals of any Summer Olympics since 1980.

All that changed at Tokyo 2020. India ended second in their group and beat Great Britain to enter the last four. Though they lost to reigning world champions Belgium, they still have a chance at the bronze medal against Germany.

It reflects significant progress for the Indian men's hockey team and at the heart of it is their head coach Graham Reid.
Who is Graham Reid?

A native of Queensland, Australia, Graham Reid was a former hockey player for the Australian national team, where he played as a defender and midfielder at times.

He won the silver medal with the Australian hockey team at the 1992 Barcelona Olympics and was a part of four Champions Trophy-winning teams. Graham Reid also has a bronze from the 1990 Hockey World Cup.

Intriguingly, the Australian has worked in industries as diverse as mining and credit insurance after his playing career.

However, Graham Reid is best known for his coaching exploits.

Reid's first coaching assignment was with the Australian men's team in 2009, when he was appointed assistant coach to the legendary Ric Charlesworth - who had briefly served as technical advisor to the Indian hockey teams.

Graham Reid served as the assistant for five years.

When Charlesworth stepped down after the 2014 Commonwealth Games - where Australia beat India in the final to claim their fifth gold - Graham Reid was promoted to the top job.

Reid took Australia to the 2016 Rio Olympics - where they finished sixth after being eliminated by the Netherlands in the quarter-finals.

Graham Reid quit the Australian team post Rio 2016 and moved to the Dutch national men's team to work as assistant to head coach Max Caldas and also worked as head coach of the Amsterdam Club in the Netherlands, for whom he had played earlier.

When the Indian men's hockey team was looking for its next head coach in early 2019, Graham Reid was persuaded by his former mentor Ric Charlesworth to take up the position.

The Australian was confirmed as head coach of the Indian men's team in April 2019 and has imbibed an attacking philosophy and fast-paced style of play since he came in.

Under his tutelage, the Indian men's hockey team has risen to its best-ever ranking of world No. 4.

Graham Reid has buoyed several youngsters like Dilpreet Singh, Hardik Singh, Vivek Sagar Prasad, Mandeep Singh and Varun Kumar into the team - all of whom have been impressive at the Tokyo Olympics.

A first Olympic medal since 1980 will be the perfect reward for the hard work the team has put over the past two years with Graham Reid and hopefully, will act as a platform for more success in the coming years.

Olympic Channel


---

Time for hockey to rise like a Phoenix and come back to India's forefront

It's finally time to revive the great sport and bring it back to the forefront in the fan's heart and mind. Indian Men Hockey Team Tokyo 2020

By Ananth Narasimman



Indian Men Hockey Team (Source: Hockey India)

Despite the Indian men's hockey team losing out to Belgium in the Semi-Finals today, hockey in the country seems to be on the rise, with a near throwback to the 1950s, where we dominated the sport led by legendary players like Dhyan Chand. The current men's and women's teams might not be that dominant, but their effort level, dedication and persistence have made fans stand up and take notice. Their stunning run at the Olympics not only spurred the revival of the sport, which seemed to be taking a backseat to other sports such as Cricket and Football.


---

Indian women's hockey team achieves best-ever world ranking of 7

The Indian women's hockey team bagged the 7th position in the latest FIH rankings after their phenomenal show in the quarter-finals in Tokyo Olympics.

By Kalptaru Agarwal



Indian women's hockey team after their win over Australia (Source: AP)

Indian women's hockey team registered a historic win against dominant Australia on Monday exceeding all expectations by a scoreline of 1-0 in Tokyo Olympics. After being subjected to three defeats in their initial matches, the Indian team was predicted to lose against the strong Australian side who won all their group matches topping the table. In a thriller, the Indian girls outperformed all analyses to beat the side from the land of Kangaroos.


---

Tomahawks, Rusher, Drag flicker — Hockey terms get popular as Indian teams show promise

After the Indian hockey team made it to the semis, terms like tomahawks, rusher, drag flicks became the talk of the town

By Kalptaru Agarwalm



Indian Men and Women Hockey Teams at Tokyo Olympics (Source: Hockey India)  

The Indian women's hockey team played an extraordinary match against Australia to register a historic win by 1-0 in the quarters at the Tokyo Olympics. Also, the men's hockey team played well in the semis against Belgium but finally lost to them 5-2.


---

Indian Women's Hockey Team coach gets verified, gains over 30k followers on social media in a day

Just over a day after India's win against Australia, Sjoerd Marijne has gathered more than 30,000 followers on his personal Twitter handle



Sjoerd Marijne (Source: India Today)

Since the Indian women's hockey team registered a historic win yesterday over heavyweights Australia to qualify for the Semi final of the Tokyo Olympics, the Indian fans have been going crazy over the team's coach, Sjoerd Marijne.


---

EuroHockey Championship III Men 2021 - Day 3
Lousada, Portugal

All Times GMT

3 Aug 2021     SVK v LTU (Pool B)         1 - 2
3 Aug 2021     POR v CZE (Pool B)     1 - 2

4 Aug 2021 14:30     BLR v MLT (Pool A)
4 Aug 2021 16:45     CZE v LTU (Pool B)
4 Aug 2021 19:00     SVK v POR (Pool B)

Pool Standings

Pool A
| Rank | Team | Played | Wins | Draws | Losses | Goals For | Goals Against | Goal Difference | Points |
| --- | --- | --- | --- | --- | --- | --- | --- | --- | --- |
| 1 | Turkey | 2 | 1 | 1 | 0 | 5 | 2 | 3 | 4 |
| 2 | Belarus | 1 | 0 | 1 | 0 | 2 | 2 | 0 | 1 |
| 3 | Malta | 1 | 0 | 0 | 1 | 0 | 3 | -3 | 0 |
Pool B
| Rank | Team | Played | Wins | Draws | Losses | Goals For | Goals Against | Goal Difference | Points |
| --- | --- | --- | --- | --- | --- | --- | --- | --- | --- |
| 1 | Czech Republic | 2 | 2 | 0 | 0 | 9 | 1 | 8 | 6 |
| 2 | Portugal | 2 | 1 | 0 | 1 | 4 | 2 | 2 | 3 |
| 3 | Lithuania | 2 | 1 | 0 | 1 | 2 | 4 | -2 | 3 |
| 4 | Slovakia | 2 | 0 | 0 | 2 | 1 | 9 | -8 | 0 |
---

EuroHockey Championship III Women 2021 - Day 3
Lipovci, Slovenia

All Times GMT +1

3 Aug 2021    SUI v POR (Pool B)         1 - 0
3 Aug 2021    CRO v UKR (Pool A)     0 - 10

4 Aug 2021 12:30     TUR v POR (Pool B)
4 Aug 2021 14:45     SVK v SUI (Pool B)
4 Aug 2021 17:00     SLO v CRO (Pool A)

Pool Standings

Pool A
| Rank | Team | Played | Wins | Draws | Losses | Goals For | Goals Against | Goal Difference | Points |
| --- | --- | --- | --- | --- | --- | --- | --- | --- | --- |
| 1 | Ukraine | 2 | 2 | 0 | 0 | 24 | 0 | 24 | 6 |
| 2 | Croatia | 1 | 0 | 0 | 1 | 0 | 10 | -10 | 0 |
| 3 | Slovenia | 1 | 0 | 0 | 1 | 0 | 14 | -14 | 0 |
Pool B
| Rank | Team | Played | Wins | Draws | Losses | Goals For | Goals Against | Goal Difference | Points |
| --- | --- | --- | --- | --- | --- | --- | --- | --- | --- |
| 1 | Switzerland | 2 | 2 | 0 | 0 | 4 | 2 | 2 | 6 |
| 2 | Turkey | 2 | 1 | 0 | 1 | 11 | 3 | 8 | 3 |
| 3 | Portugal | 2 | 1 | 0 | 1 | 6 | 2 | 4 | 3 |
| 4 | Slovakia | 2 | 0 | 0 | 2 | 1 | 15 | -14 | 0 |
---

Day 2 RoundUp EuroHockey Championships III, Men, Lousada

Day 2, 2 August 2021

Only 1 match today here in Lousada (POR) during the EuroHockey Championship III; Pool A match Turkey vs Malta. For the Maltese side, it means their 1st match of the event. Malta was due to play in (and host) the EuroHockey Championship IV in Kordin (MLT), but due to several participants withdrawing and the strict Covid19 rules in Malta, that event was canceled. As Malta was the highest team in the nation's ranking after the 2019 events and because there was a vacancy in the event in Lousada, they were asked to participate at a level higher. Malta kindly accepted this opportunity. In 2019 the Mediterranean island got relegated during the EuroHockey Championship III which took place in Gibraltar so they have another chance to shine on this level.

Turkey v Malta 3-0

Malta started today with 3 players (Karl CHIRCOP, Charlo SAMMUT, Clayton GATT) playing their first international game for their country. Moreover, Malta plays with 12 out of their 18 players who were also there 2 years ago.

The Turkish team has 1 youngster in their team, İsa BAKAR, who also played in Vienna (AUT) last week in the EuroHockey U18 Championship II. They have 10 players in the squad who were also present in the tournament 2 years back.

The 1st quarter went from left to right with both teams getting a few chances. Slowly the Turkish side got the better hand and in the 7th minute, they took the lead via a penalty corner drag-flick of Mehmet DEMIREL. Shortly after the start of the 2nd quarter, a nice attack was finished by Vakif KILINC meaning 2-0.

The 2nd half started with a brilliant backhand cross by Christ AGIUS from Malta, but the tip-in was just on the wrong side of the post. On the other side, an open chance for Yaşar YILMAZ but also this ball went wide. In the 36th minute again Vakif KILINC with a hard strike making it 3-0. A few more chances for both sides, but no more goals were scored.

In 2019 in Gibraltar this game ended in 1-1, this time 3-0 to Turkey.

You can follow all the games live or watch them back on www.eurohockeytv.org

Eurohockey


---

Day 3 RoundUp EuroHockey Championship III, Men, Lousada

Day 3, 3 August 2021

Slovakia v Lithuania 1-2

The 3rd day of the EuroHockey Championship III in Lousada (POR) meant the 2nd day of pool B matches starting with Slovakia vs Lithuania.

A 7th minute PC goal by Julius BANDZIULIS put the Baltic nation in front, but 5 minutes later the Slovak striker Tomáš ROMANEC equalized, also via a penalty corner. The 2nd quarter was equal, but no goals were made. The 3rd quarter clearly was to the Lithuanians getting multiple chances and penalty corners. Eventually, Zygimantas BALSIUKAS converted a penalty stroke given due to a foot on the goal line; 1-2 to Lithuania. In the dying seconds of the 3rd quarter, Slovakia got the chance to equal the score, but their PC failed.

The last quarter went quickly from left to right with some chances for both teams. The Slovak defense was tested every time by 2 youngsters from Lithuania, Renaldas KAZRAGIS and Rafal STANKEVIČ (who also presented Lithuania last week in the EuroHockey U18 Championship III in Zagreb (CRO)), but no more goals were scored. Where the same match 2 years ago in Gibraltar (EHC III) ended in a 2-1 win to Slovakia, now the score was the other way around: 1-2 to Lithuania.

Portugal v Czech Republic 1-2

Portugal vs the Czech Republic was the last match of Day 3. Both teams had won their 1st game so a win would give them a good option to reach the semi-finals.

Jan ŽELEZNÝ put the Czechs in front in the 4th minute after a nice attack via the right side. Afonso CARAMALHO was able to equalize some minutes later when he was left unmarked just in front of Czech Goalkeeper Petr VĚTROVSKY to deflect the ball, scoring the 1-1.

In the 36th minute, Tomas PROCHÁZKA scored via a penalty stroke when a PC was stopped on the goal line by a defender. The rest of the 3rd quarter showed some chances for both teams, but goalkeepers Andre ROMARIZ and Vojtěch PAŽITKA (who defended the Czech goal in the 2nd half) were not outwitted.

In the last quarter, it became a tense game as both teams went for it: the Czech Republic to extend their lead and Portugal to equalize. No more goals were scored meaning the Czech Republic won the game 1-2. They are in the lead in Pool B now with 6 points, but nothing has been decided yet.

Watch all the games live (or VOD) on www.eurohockeytv.org

Eurohockey


---

Day 3 roundup – EuroHockey Championship III, Women, Lipovci

The third day, which was again sunny, started with continue of the suspended match between Switzerland and Portugal.

Switzerland v Portugal 1 – 0

Both teams had won one pool game on day 2, so the match started interesting and pretty intense. In the 2nd quarter Switzerland ladies got the opportunity to make their first penalty corner and again, Elena Trösch, ended with a goal and lead the team to victory.

The Portuguese didn't give up, defenders worked hard the entire match and tried to make long passes to attackers to score a quick goal. Unfortunately, attackers didn't score, and the Portugal team had to realize, that today Switzerland ladies were stronger. Final result 1 – 0.

Croatia v Ukraine 0 – 10

The first match for Croatia and the second match for Ukraine starts the same as Ukraine – Slovenia, tactical preparation, 'one touch' game, and quick goal in the first minute, which scored one of the best-skilled players of the tournament, Yuliia Shevchenko. Croatia team squad are very young, but ladies trying their best to improve for Ukraine – this will be not an easy game. 1st quarter wasn't so easy, but then Ukrainian ladies took full speed, and the final result 10 – 0. Goals scored: 3 goals (Shevchenko Yuliia), 2 goals (VOIEVODA Anastasiia), 1 goal (Moroz Yevheniia, Leonova Karyna, Shokalenko Kateryna, Kurovska Anna, Rudychenko Valeriia).

Erhard Hiessmayr, Technical delegate of EuroHockey Championship III, Women said he is happy to be here: "The hosts, as always, did a great job that teams, officials, volunteers, fans can join hockey again. A huge thank you to the Slovenian Hockey Federation which is hosting the EHF event, following all Covid-19 regulations in order to keep the tournament safe."

Follow the games here:

Eurohockey


---

Six debutants in Irish men's team for Euros in Poland



Michael Robson (left) and Sean Murray (right) for Ireland against Scotland in an uncapped match, June 2021, Jordanstown

A new era for the Irish men's team formally gets underway in two weeks as Mark Tumilty's side take on the EuroHockey Championship II in Gniezno, Poland from August 15 to 21.

The eight-team competition will be their first capped matches since they missed out on the Tokyo Olympic Games in November 2019 in Vancouver.

Since then, Tumilty has used the past year to regenerate the panel and he brings with him six uncapped players in his central panel of 18 along with two more in the travelling reserves.

The competition is an important one with a top-five finish out of eight offering a ticket to October's World Cup qualifiers in Wales. A run to the title, meanwhile, would bring vital ranking points as the Road to Paris 2024 comes into view as the Irish men look to make it back to the Olympic stage following their run to Rio in 2016.

"There were many difficult decisions to make when selecting the squad as the enlarged squad had worked extremely hard over the last 12 months," coach Tumilty explained of the line-up.

"I feel the squad selected has a good balance of experience and youth. The squad, over recent camps against Scotland and GB, is starting to implement our playing style and it has been very pleasing that we have scored a significant number of goals. We will look to build on this as we go through the tournament.

"I look forward to the EuroHockey Championship II. We understand the importance of this tournament in securing a World Cup qualifying place. This tournament is the first step on the pathway to getting the Senior Men back competing in the major competitions on a consistent basis.  We need to start the tournament well and our focus is on the opening game against Poland."

Four of the new faces hail from Lisnagarvey with Mark McNellis, Jonny Lynch and Ben Nelson included along with goalkeeper James Milliken who was an unused substitute at the 2019 Olympic qualifiers.

Ian Stewart will become the first current Corinthian player to line out for Ireland since Brian Doherty a decade ago and the seventh in total from the Whitechurch club.

Ex-Banbridge man and Irish Under-21 captain Kyle Marshall, meanwhile, is back in green following a spell in the Great Britain development panel, linking up again with his former club coach at Bann. He will play his club hockey with emerging London side Old Georgians in the upcoming season.

At the opposite end of the spectrum, record goalscorer Shane O'Donoghue made a welcome return to the line-up for July's camp in Glasgow, scoring five times in two games.

Sean Murray, 24, will captain the side and he is among a number of players who lined out in the Belgian league last season, reaching the top eight playoffs with KHC Leuven – the others are goalkeeper Jamie Carr and Luke Madeley.

Lee Cole, Michael Robson, Daragh Walsh, Jeremy Duncan, Ben Walker, Johnny McKee and Tim Cross bring the relative experience to the table while Peter McKibbin will add to the single cap he picked up in 2019.

For the tournament, Tumilty is able to bring two travelling reserves – Cork C of I's Kevin O'Dea and YMCA's Sam Hyland.

It follows a productive summer with Ireland winning two separate uncapped series against Scotland and also a trip to Bisham Abbey, putting it up to the Great Britain Olympic team ahead of their departure to Tokyo.



Ian Stewart in action for Ireland against Scotland in an uncapped match, June 2021, Jordanstown

In Poland, Ireland will start off with a date against the hosts – ranked 26th in the world – on Sunday, August 15. They can potentially field former Railway Union and Leinster underage player Mateusz Nowakowski amid a similarly fresh-faced side.

Game two is a date against Italy (ranked 23rd) before concluding the group stages against Croatia, a first meeting between the two countries.

A top two finish will earn a World Cup qualifier ticket and a place in the semi-finals; miss out on those spots and the side will still have a chance to contest for the fifth ticket on offer in the classification matches.

Austria (20th), Switzerland (34th), Ukraine (29th) and Scotland (19th) wait in the wings on the other side of the draw.

Ireland will conclude their preparations with four matches this week against a GB elite development panel. These games take on place on Wednesday, August 4 (7pm) and Thursday, August 5 (7pm) featuring members of the wider panel while the Euro panel will play the same opponents on Saturday, August 7 (3pm) and Sunday, August 8 (11am). This series will be played at Lisnagarvey's Comber Road venue.

Men's EuroHockey Championship II (August 15-21, 2021)

Ireland squad (club/caps)
Jamie Carr (GK, KHC Leuven, 36)
James Milliken (GK, Lisnagarvey, 0)
Lee Cole (Monkstown, 89)
Kyle Marshall (Old Georgians, 0)
Tim Cross (Annadale, 8)
Mark McNellis (Lisnagarvey, 0)
Peter McKibbin (Lisnagarvey, 1)
Luke Madeley (KHC Leuven, 21)
Sean Murray (captain, KHC Leuven, 78)
Shane O'Donoghue (Glenanne, 190)
Michael Robson (Annadale, 113)
Jonny Lynch (Lisnagarvey, 0)
Daragh Walsh (Three Rock Rovers, 51)
Jeremy Duncan (Monkstown, 56)
Ben Walker (Three Rock Rovers, 35)
Ben Nelson (Lisnagarvey, 0)
Ian Stewart (Corinthian, 0)
Johnny McKee (Banbridge, 43)

Travelling reserves: Kevin O'Dea (Cork C of I, 0), Sam Hyland (YMCA, 0)

Coach: Mark Tumilty
Assistant coach: Jason Klinkradt
Manager: Neil Irwin
Physiotherapist: Natalie Turner
Physical Trainer: Eoin Cunniffe
Video technician: Ross Willis

Pool A fixture schedule (all in Gniezno, Poland – times Irish)
Sunday, August 15: Ireland v Poland, 7pm
Tuesday, August 17: Ireland v Italy, 4.45pm
Wednesday, August 18: Ireland v Croatia, 4.45pm
Friday, August 20/Saturday, August 21 – classification matches

Irish Hockey Association media release


---

Exciting Scotland Squad Announced For 2021 EuroHockey Championships II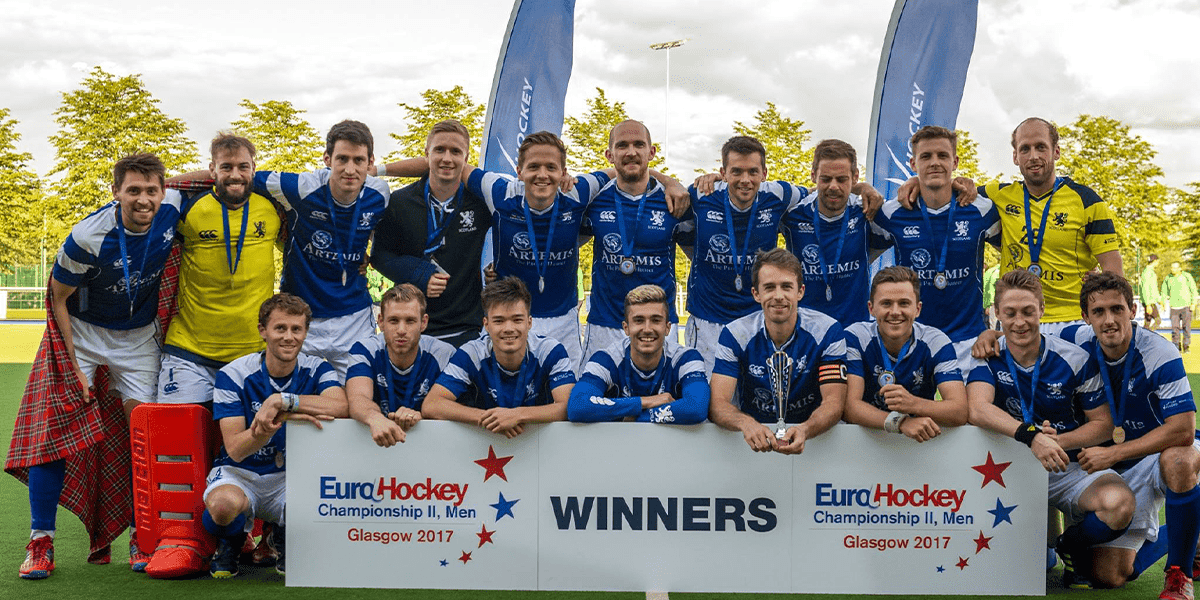 Scotland's men have announced their squad for the EuroHockey Championships II taking place in Poland from 11-22 August.

The team will be aiming to achieve promotion back to the top tier for the 2023 Europeans, having unfortunately suffered relegation two years ago.

Alan Forsyth – a travelling reserve for Great Britain at the Tokyo Games – will participate in an exciting squad featuring several experienced campaigners and some who will be making their major tournament debut.

Current GB Men's Elite Development Programme (EDP) members Callum Mackenzie and Andy McConnell are including alongside Cameron Golden, who won gold with Great Britain's U21s at the 2018 Sultan of Johor Cup and a silver the year before. Lee Morton – who made four appearances for Great Britain between 2018-2019 – is also named in a squad boasting lots of exciting attacking talent.

The second highest ranked team in the competition, a place in the final will secure their place in the top tier EuroHockey Championships in two years' time. But they will want to replicate the amazing gold medal they won in this tournament back in Scotland in 2017.

Scotland begin their campaign against Ukraine on 15 August before facing Austria the following day. They close out their group against Switzerland on 18 August, with the semi-finals being played on 20 August and the medal matches the following day.

        Tommy Alexander (Uhlenhorst)
        Michael Bremner (Uhlenhorst)
        Andy Bull (Old Georgians)
        Gavin Byers (Grobflottbeker)
        Murray Collins (Teddington)
        Dan Coultas (Watsonians)
        Robbie Croll (Edinburgh University)
        Rob Field (Holcombe)
        David Forrester (Grange)
        Alan Forsyth (HGC)
        Cammy Golden (Uhlenhorst)
        Ed Greaves (Teddington)
        Rob Harwood (Western Wildcats)
        Hamish Imrie (Royal Antwerp)
        Lee Morton (Old Georgians)
        Callum Mackenzie (Wimbledon)
        Andy McConnell (Western Wildcats)
        Robbie Shepherdson (Grange)

    Travelling reserves

        Hamish Galt (Western Wildcats)
        Struan Walker (Club an der Alster)

Great Britain Hockey media release


---

Meet Maryland field hockey's revamped coaching staff

Shane Connuck



Maryland field hockey coach Missy Meharg during her team's 5-1 win over Michigan State on Oct. 25, 2019 at the Field Hockey & Lacrosse Complex. (Gabby Baniqued/The Diamondback)

When Maryland field hockey opens its preseason camp, coach Missy Meharg wants to facilitate a competitive scavenger hunt around campus.

The athletes and staff will be divided into teams as they traverse the grounds of the University of Maryland to locate some of its most unique spots.

But it's not just a casual activity.

Stopwatches and timers will be all over. Scores will be kept. There will be winners, and there will be losers. It's an idea Meharg got from Maryland baseball coach Rob Vaughn.

"We have so many new players and staff," Meharg said. "Let's figure out where we are and how great this campus is."

Among these new members are her three assistant coaches. Two of them will likely do well with the activity. One might have some trouble.

Kasey Tapman Asper, a member of the Terps' 2011 national champion team, and Sarah Holliday, a former Maryland goalkeeper, took on new staff positions during the offseason.

"They know the campus better than I do," Meharg said.

This scavenger hunt should also be a great way for assistant coach Scott Tupper to get acquainted with the school. He's also bringing quite the field hockey resume to Maryland.

The latest chapter in a storied hockey career

People in the field hockey world know who Scott Tupper is. The superstar defender is a three-time Olympian who's currently competing in the 2020 Tokyo Games — and is the captain of the Canadian men's national squad.

He hails from Vancouver, British Columbia, a field hockey hotspot in Canada. And he didn't develop an interest in the sport from his family.

At 6 years old, he was introduced to field hockey after his friend's father played for Canada in the Olympics. However, ice hockey remained the youngster's primary sport for about the next 10 years, like a "typical Canadian," he said. But something about field hockey made him continue.

"I did enjoy it a lot. It's quite a skilled game," Tupper said. "There was some transferability in the skills between ice hockey and field hockey, and it gets you moving around a lot."

As Tupper got older, he realized his talents on the field hockey pitch. He took a trip to the Netherlands— one of the best countries in the world for field hockey and home to several Maryland players, including rising senior Bibi Donraadt. Tupper gained confidence when he was able to hang with some of the country's best players.

Tupper, now 34, has competed in three Olympics Games and several Pan American Games. Before serving as an assistant coach at Lafayette College last year, he closely followed American collegiate sports and has known all about Maryland field hockey's storied program.

And the program knew about him.

"I follow global hockey. I've known of Scott Tupper for forever," coach Meharg said.

Tupper's wife knows Meharg's program even better. Meharg recruited Meredith Way, a Pennsylvania native, to play for the Terps after high school. However, Way chose to play for the University of Michigan instead.

"She always says the toughest thing she did in recruiting was have to tell Missy that she was going to go to Ann Arbor," Tupper said.

Meharg hasn't forgotten about it.

"Well, she's now coming to Maryland," Meharg said, laughing.

While Tupper has been in the midst of the biggest field hockey matches of his life lately, he's still had some Zoom meetings and phone calls with the rest of his coaching staff — and they're ecstatic to work with him.

"He's a very, very excellent coach," Kasey Tapman Asper said. "I can't wait to also learn from him."

Tupper has always had a motto: "Good enough is not good enough."

It's been applicable to the field hockey veteran at every stage of his playing career, and it's just as important as a coach.

"Really finding that consistent best effort, rather than just settling for the 'good enough' is something I think as a coach, you're constantly trying to navigate and figure out how to manage," Tupper said.

From Talbot Hall to the sideline

Ten years ago, Kasey Tapman was a freshman on the Maryland field hockey team, sitting in her Talbot Hall dorm room. Little did the Pocomoke City native know that in just a few months, while redshirting, she'd become a national champion.

Now Kasey Tapman Asper, after marrying former Terps wrestler Josh Asper, found her way to Maryland in the footsteps of her older cousin, Kirstie Dennig, who also attended Pocomoke High School and played field hockey.

Pocomoke's coach, Susan Pusey, was well-regarded in the state. She won 16 state championships in her 22 seasons at the helm — including all four years Tapman Asper was there, along with four more in the previous four-year stretch of Dennig's high school career.

Pusey, who died suddenly in 2015, had a profound impact on her field hockey career.

"She's definitely the reason why I am where I am now," Tapman Asper said. "Field hockey was my love, because of the culture that she created for that team."

People around the Maryland field hockey program have said that same thing about the Terrapins' program — a love for the sport because of the culture Meharg has fostered. It's a big reason why Dennig initially came to this university in 2009 and Tapman Asper followed in 2011.

"That's why I've never left," Tapman Asper said. "It's just been home for me."

People don't have to know Tapman Asper that well to understand her passion for the field hockey program, the state and the university. Scott Tupper noticed it after a few video chats.

"She seems to me like someone who's gonna know Maryland and sort of eat, sleep and breathe Maryland through and through, which is really cool," Tupper said. "I know I'm gonna learn a lot from Missy, but I think I'll probably learn a lot from Kasey as well."

During the COVID-19 pandemic, Tapman Asper started a company called UnTapped Talent. Its primary mission is to develop the growth of every field hockey player, whether young or old, male or female, beginner or experienced.

"To me, Kasey is invaluable because of just that love for the game," Meharg said.

Not just a netminder

Both of Sarah Holliday's parents are executive coaches, and she's been training with them to become one, too. She is always working with people on personal and business development — which gives her perspective on how to work with people.

"Sarah's background is in psychology, and in particular, team building," Meharg said. "She's an outstanding goalkeeping coach."

This season, the volunteer coach will combine this skill with her passion and experience on the field hockey pitch as she works with Maryland's goalkeepers.

"I like to focus my work on people," Holliday said. "I'm super excited about the opportunity to get out and be on the field with the girls and connect with them again."

While Holliday's final season in black and gold came back in the fall of 2018, she didn't graduate from the university until the winter of 2019, as she took the spring 2017 semester off to travel and play in Argentina. During the 2019 fall season, Meharg kept her around the team as a student coach.

And it wasn't Holliday's first time coaching field hockey. Right after graduating from Bullis School in Potomac, the Clarksville native began coaching her old club team, which she said started as a way to make money and stay active. But she quickly realized her affinity for working with people.

While she'll be primarily working with the Terps' goalkeeping unit, that's far from her only field hockey experience. She moved between the pipes back in fourth grade — three years into her playing career — but still runs private lessons with a number of field players. And when she's running practices, she always jumps into their scrimmages at the end.

"People are like, 'Do you still play?' And I'm like, 'I'm retired from playing amateur or whatever, but I am not retired from dunking on little kids," Holliday said, laughing. "And I will play with these kids and live my dream as an attacker and have a great time."

Getting to campus

There's going to be plenty of activity at the Field Hockey and Lacrosse Complex this month. On top of preseason practices, Meharg will be hosting high school athletes for official visits — something she hasn't been able to do for a while due to the pandemic.

On those visits, she and the coaching staff will show them the university's campus. And since she has a pair of assistant coaches who she said know the campus better than she does, she is excited for how they'll connect with the recruits.

"They're far more authentic in speaking about [the university] because they're a little bit closer to the age of the athletes that are looking at Maryland," Meharg said.

The Terps' roster for this fall has a wide range of experience. There are five newcomers — four freshmen and one transfer — while one player will be spending her sixth fall in College Park.

Goalkeeper Noelle Frost began her Maryland career in the fall of 2016, when she redshirted. In her first two seasons, she saw action behind Holliday — her new coach — before taking the reins in 2019. With an extra year of eligibility from her redshirting on top of her extra COVID-19 year, she's back for her sixth fall with the Terrapins.

Safe to say, a team with Frost and Holliday wouldn't have much of a problem with that scavenger hunt.

The Diamondback