All the news for Tuesday 22 June 2021

The Indoor Pan American Cup: It's anyone's game




It is qualification time for eight indoor hockey teams from the Pan American Hockey Federation as they vie for the right to contest the FIH Indoor Hockey World Cup in Belgium next year.

Three men's teams and five women's teams will head to Spring City, Pennsylvania in the USA for the event, which takes place from 25-27 June.

In the men's competition, Canada (WR:15), Argentina (WR:20) and USA (WR:42) will be facing each other in a double round-robin, followed by a final. The participating women's nations are USA (WR:12), Argentina (WR:15), Canada (WR:17), Uruguay (WR:21) and Guyana (WR:31) and their competition is a single round-robin, followed by classifications matches.

The action begins for the men as top-ranked team Canada face Argentina. Then it will be the turn of USA to take on their South American rivals before the day's action is completed by a Canada v USA encounter.

John de Souza is lead coach for the Canada men's team. He explained the challenges that have faced his team: 'The Canadian team has not had very much training time. The team will have been together for a total of 52 hours, which is not enough time to play international matches let alone a World Cup Qualifier. The team will have no match practice so has little room for error in its planning to avoid injury.'

While acknowledging the difficulties that all the teams have faced, Pat Harris of the USA is eagerly anticipating the event.

Harris had racked up a multitude of caps for USA both indoor and outdoor.  He also knows what it is like to play at an Indoor World Cup, having competed at both the 2003 Indoor World Cup in Leipzig and the 2011 event in Poznan, Poland.

'The preparations for the tournament have been very limited. Most of us have not played indoors since last winter, while a small group of US-based players has been training domestically for the last month. The entire team will meet a few weeks prior to the tournament. Not Ideal, but I'm sure other teams are dealing the similar preparation challenges.'

In the women's competition, the opening encounter is likely to be a feisty one as Canada (WR:17) take on Uruguay (WR:21). The rankings indicate that this will be a close match and it is one that Uruguay's Constanza Barrandeguy is relishing.

"All the players love representing Uruguay and we consider this a very special tournament because we are finally returning to international competition after all the suspended games," says the longstanding member of both the indoor and outdoor national team.

"We are a team that puts a lot of emphasis on human values, we are very strong in that respect. Also, we are convinced that we want to qualify for the Indoor World Cup, so those two values – respecting each other and the opposition, combined with a determination to win – those are the things I see as real strengths to the Uruguay side."

Alison Lee has represented both the Canada women's indoor and outdoor national teams since 2013 and, like Harris, has experienced an Indoor World Cup (Leipzig 2015). She echoes many of de Souza's points: 'Our preparation leading into this event has not been ideal. Heading into the original tournament date in March of 2020 we had just come off a training tour in Belarus and were able to play some of the European teams as they prepared for the European Championships. We felt extremely prepared heading into last March, this year it is quite a different story.

'In spite of all that, we will be ready and raring to get back on the court! it's never an easy battle, there are a bunch of solid teams coming out of Pan Am, but we are looking forward to getting back to international competition and we will be fighting for that spot at the World Cup.'

The team to beat in the women's competition will be the title holders USA, who are ranked 12th in the world. The current men's champions are Trinidad and Tobago, whose appearance this year has been curtailed by the pandemic, so a new champion will be crowned.

Listen to Pat Harris of the USA national men's indoor team and Constanza Barrandeguy of Uruguay as they discuss the Pan Am Indoor Hockey Cup on the FIH podcast Hockey Pod.

#IndoorHockey

FIH site


---

Vantage Black Sticks fine tuning for Tokyo




The Vantage Black Sticks have headed to Perth for their final hit-outs before the Tokyo Olympics.

The Black Sticks Men and Women will face the Kookaburras and the Hockeyroos in two FIH Pro League matches on Saturday and Sunday.

The two doubleheaders are the postponed FIH Pro League matches between the two nations that were originally scheduled to be played around Anzac Day this year.

The Black Sticks have selected squads of 20 for the Perth matches, with four players added to the Tokyo Olympic squads of 16 named recently.

Vantage Black Sticks Men's Head Coach Darren Smith said the team would be without Waikato defender Nic Woods and Wellington striker Jacob Smith in Perth as they both have minor injuries. They have been replaced by Aidan Sarikaya and Sam Hiha.

Smith said there were a couple of areas they were looking to improve on after losing all four matches to Australia in the recent Sentinel Homes Trans-Tasman series.

"I want us to react better when under pressure and also to control possession for longer periods. Australia were much better at holding on to the ball."

Vantage Black Sticks Women's Head Coach Graham Shaw said the weekend's games were all about getting the small details right.

"We've just got to make sure we're accurate with everything we do. We performed well at times but we've got to minimise those poorer moments."

Nelson's Kelsey Smith will play her 100th match for her country on Saturday.

"It is a fantastic milestone for Kelsey especially after the difficult time she's had coming back from an ACL injury," said Shaw.

"In the last few months we've started to see the attacking threat she can be."

The Black Sticks teams warm up for the Pro League matches with games against the Perth Thundersticks.  All four Pro League matches will be broadcast live on Spark Sport.

FIH Pro League – Australia v New Zealand
Perth Hockey Stadium at Curtin University

Saturday 26 June
Kookaburras v Vantage Black Sticks Men 12.30pm local time (4.30pm NZT)
Hockeyroos v Vantage Black Sticks Women 3pm local time (7pm NZT)

Sunday 27 June
Kookaburras v Vantage Black Sticks Men 12.30pm local time (4.30pm NZT)
Hockeyroos v Vantage Black Sticks Women 3pm local time (7pm NZT)

Vantage Black Sticks Women's squad
| | | | | |
| --- | --- | --- | --- | --- |
| Shirt no. | Name | Association | Caps (goals) | Position |
| 1 | Tarryn Davey | Thames Valley | 66 (1) | Defender |
| 2 | Olivia Shannon | Manawatu | 29 (4) | Striker |
| 4 | Olivia Merry | Canterbury | 236 (113) | Striker |
| 5 | Frances Davies | Tauranga | 81 | Defender |
| 12 | Ella Gunson | Northland | 224 (11) | Defender |
| 13 | Samantha Charlton (vice-captain) | Tauranga | 255 (8) | Midfielder |
| 14 | Tyler Lench | Auckland | 1 | Striker |
| 15 | Grace O'Hanlon | Auckland | 63 | Goalkeeper |
| 16 | Elizabeth Thompson | Auckland | 191 (12) | Defender |
| 17 | Stephanie Dickins | North Harbour | 27 (2) | Defender |
| 19 | Tessa Jopp | Otago | 24 (1) | Midfielder |
| 20 | Megan Hull | Wairarapa | 35 (1) | Defender |
| 22 | Katie Doar | Auckland | 19 | Midfielder |
| 24 | Rose Keddell | Tauranga | 211 (16) | Midfielder |
| 25 | Kelsey Smith | Nelson | 99 (14) | Midfielder |
| 27 | Holly Pearson | Taranaki | 22 | Striker |
| 31 | Stacey Michelsen (captain) | Northland | 291 (34) | Midfielder |
| 33 | Julia King | Auckland | 126 (9) | Midfielder |
| 34 | Hope Ralph | Taranaki | 11 (2) | Striker |
| 42 | Georgia Barnett | Manawatu | 37 | Goalkeeper |
Vantage Black Sticks Men's squad
| | | | | |
| --- | --- | --- | --- | --- |
| Shirt no. | Name | Association | Caps (goals) | Position |
| 2 | Oliver MacIntyre | Wellington | 3 (1) | Defender |
| 3 | David Brydon | Canterbury | 56 | Defender |
| 4 | Dane Lett | Wellington | 81 (2) | Defender |
| 7 | Nick Ross | Otago | 131 (4) | Midfielder |
| 9 | Sam Hiha | Hawke's Bay | 3  | Striker |
| 12 | Sam Lane | Canterbury | 68 (20) | Striker |
| 14 | Jared Panchia | Auckland | 137 (26) | Midfielder |
| 15 | George Enersen | Canterbury | 64 | Goalkeeper |
| 16 | Aidan Sarikaya | Waikato | 47 (3) | Midfielder |
| 21 | Kane Russell | Otago | 165 (71) | Defender |
| 22 | Blair Tarrant (captain) | Otago | 215 (4) | Defender |
| 23 | Dylan Thomas | Hawke's Bay | 30 (2) | Midfielder |
| 24 | Sean Findlay | Hawke's Bay | 4 (1) | Midfielder |
| 25 | Shea McAleese | Hawke's Bay | 314 (34) | Defender |
| 27 | Stephen Jenness | Wellington | 252 (91) | Striker |
| 29 | Hugo Inglis (vice-captain) | Otago | 235 (66) | Midfielder |
| 30 | George Muir | North Harbour | 144 (18) | Striker |
| 31 | Steve Edwards | North Harbour | 224 (23) | Midfielder |
| 32 | Nick Wilson | Manawatu | 174 (76) | Striker |
| 34 | Leon Hayward | Auckland | 10 | Goalkeeper |
---

Noel Barrionuevo set for fourth Olympics with Argentina women



Noel Barrionuevo (l)

Noel Barrionuevo will make her fourth Olympic hockey appearance next month in Tokyo, joining Argentina women's great Luciana Aymar.

Barrionuevo, 37, will be aiming for a first gold after bronze in Beijing 2008 and silver at London 2012.

She will be the most experienced player in Carlos Retegui's squad, with Belén Succi, Rocío Sánchez Moccia and Delfina Merino making their third Olympics.

There will be 10 Olympic debutants of the 16-strong squad.

Sofía Maccari, María Emilia Forcherio and Clara Barberi will also travel as reserves.

Las Leonas will start their campaign on July 25 against New Zealand.

Argentina women's hockey squad:

    Belén Succi
    Noel Barrionuevo
    Agustina Gorzelany
    Valentina Raposo
    Valentina Costa Biondi
    Victoria Sauze
    Agostina Alonso
    Eugenia Trinchinetti
    Micaela Retegui
    Rocío Sánchez Moccia
    Sofía Toccalino
    Delfina Merino
    Agustina Albertarrio
    María José Granatto
    Julieta Jankunas
    Victoria Granatto
    María Emilia Forcherio (Olympic Reserve, Player)
    Sofía Maccari (Olympic Reserve, Player)
    Clara Barberi (Olympic Reserve, GK)
    Bárbara Dichiara (Reserve)
    Constanza Cerundolo (Reserve)
    Cristina Cosentino (Reserve)
SIGN UP for The Hockey Paper's returning newsletter: Promotions, exclusives and our best coverage

The Hockey Paper

---

Team Ireland confirm squad for Tokyo Olympic Games




The Olympic Federation of Ireland formally announced the Irish women's panel to travel to the Tokyo for the Olympic Games with 16 players and three travelling reserves confirmed.

The side will fly out to Japan on July 9 ahead of their debut on this stage on July 24 against South Africa at the Oi Stadium.

Over 20 months since qualification was confirmed, captain Katie Mullan says this day brings about a realisation of many years hard work, not just of those who have their Olympic dream move closer, but also from the wider panel who helped push the standards.

"With competition in our squad at its best and only 16 spots available, we always knew this was going to be the toughest selection," Mullan said.

"31 players have played a massive role in our preparations over the past 10 months and we are honoured to represent the Green Army at the Olympic games.

"There has been a tremendous amount of work put in by the girls and each of them deserve this opportunity. It's an exciting time for us and our families."

Speaking about the selection, Irish head coach Sean Dancer agreed it was the selection panel's hardest decision yet but he is excited about the possibilities his line-up brings to the table.

"It has been a tough time to get it right," Dancer said "I really feel we have picked a great balance of senior players and experience and then adding in the excitement and opportunity of youth. Once we get to the Olympics, it will be just about playing hockey and making the most of the opportunities that come from it."

There was an extra layer to selection with only 16 spots available for the Olympics compared to the usual 18 that would be available for a world ranking tournament.

"Going from 18 to 16 adds an extra complexity to it and the team hasn't been in that position before. We have to consider those extra little things people contribute to the team and weighing that up was certainly tough.

"Versatility is really important when you get down to 16, even to the point of getting someone to fill the goalkeeper role in case there is an injury [to Ayeisha McFerran].

"If there is an injury during the game or just before it, you can't bring in a replacement so we would have to bring in one of the field players. Even things like that need to be considered. We do have a couple who are able and willing which is the first thing we need."

The panel features 11 of the panel that played in the 2018 World Cup run to silver: Ayeisha McFerran, Chloe Watkins, Hannah Matthews, Nicci Daly, Róisín Upton, Deirdre Duke, Katie Mullan, Shirley McCay, Lena Tice, Lizzie Holden and Anna O'Flanagan.

All also featured in June's EuroHockey Championships as did Hannah McLoughlin, Naomi Carroll, Sarah Hawkshaw and Sarah McAuley.

For defender McAuley, it continues her rapid rise to prominence since linking up with the panel in the spring and making her formal international debut in the last game of the Euros against Italy.

Sarah Torrans, meanwhile, gets her chance to make a senior international tournament debut. The speedster was initially named in the Euros panel but missed out through injury but is in line now to link up with the side.

Ireland can bring a number of travelling reserves to the event with Michelle Carey and Zara Malseed waiting in the wings for the outfield spots while Lizzie Murphy is the goalkeeping cover. They can potentially step in if there are injuries within the main panel.

What it means is, from the European squad, Nikki Evans and Megan Frazer are the ones to narrowly miss out on selection.

"We have gone for the option of Sarah Torrans coming back into the group," Dancer said of the line-up. "She was performing well before the Europeans. No fault of her own, she wasn't able to go through injury so when we cut back the numbers, Nikki Evans – with all her experience and incredible contributions to the team – was the unfortunate one to miss out.

"Sarah McAuley has impressed since coming into our environment as early as February and the first GB series. She got the opportunity to play that last Italian game [at the Euros] and she showed mobility, comfort on the ball and certainly showed she is willing to mix it with the senior girls.

"She has a very exciting career ahead of her and it is an exciting time for her. She does have minimal experience but sometimes that is the best way to approach it; she doesn't have that eight of expectation and can just go out there and play and that's what we hope she does."

As for the historical context, Dancer is fully aware of the significance of this final run-in to a maiden Olympic appearance for an Irish women's team, something he says the team will not take for granted.

"Ireland's senior women have had a long history and everybody that has gone before, in this group and previously, has made a huge contribution to where we are now. That really needs to be acknowledged; we will be at the Olympics, doing it for all of them and the long history that has gone before."

Ireland women's squad for Olympic Games – July 24-August 4, 2021, Oi Stadium, Tokyo, Japan (club/caps):
Ayeisha McFerran (SV Kampong, 105) – goalkeeper
Naomi Carroll (Catholic Institute, 115)
Lizzie Colvin (Belfast Harlequins, 201)
Nicci Daly (Loreto, 194)
Sarah Hawkshaw (Railway Union, 38)
Hannah Matthews (Loreto, 152)
Shirley McCay (Pegasus, 311)
Hannah McLoughlin (UCD, 19)
Katie Mullan (Ballymoney, 198) – captain
Anna O'Flanagan (Muckross, 212) – vice-captain
Lena Tice (Old Alex, 1114)
Sarah Torrans (Loreto, 26)
Róisín Upton (Catholic Institute, 81)
Chloe Watkins (Monkstown, 229)
Deirdre Duke (Old Alex, 146)
Sarah McAuley (Muckross, 1)

Travelling reserves:
Lizzie Murphy (Loreto, 13) – goalkeeper
Michelle Carey (UCD, 5)
Zara Malseed (Ards, 2)

** All of the profiles of the athletes can be viewed HERE.

Irish Hockey Association media release


---

Sarah McAuley in Irish hockey squad of 16 for Tokyo Olympics

World Cup veterans Nicola Evans and Megan Frazer both miss out on Olympic ticket

Johnny Watterson



Sarah McAuley is one of the younger players selected in Ireland's Tokyo Olympics squad. File photograph: Bryan Keane/Inpho

Teenager Sarah McAuley has earned a place in the squad of 16 players who will travel to the Olympic Games in Tokyo this summer. The squad was announced on the back of the European Hockey Championships, which took place in Amsterdam last week.

Also announced were the two travelling reserves, Zara Malseed and Michelle Carey and goalkeeper Liz Murphy. The squad will compete in Oi Hockey Stadium from the July 24th until the August 6th.

Missing out on selection are two World Cup veterans, Nicola Evans and Megan Frazer with younger players Sarah Torrans, Sarah Hawkshaw and Hannah McLoughlin winning an Olympic ticket.

In November 2019 the team became the first Irish women's hockey team to qualify for the Olympic Games, when they beat Canada over two legs and a shootout on a pop up pitch at Leinster's rugby ground in Donnybrook.

The Tokyo 2020 selection features the majority of the 2018 World Cup Silver Medal winning squad.

The team will compete in Pool A, alongside South Africa, the Netherlands, Germany, India and Olympic champions, Britain. Their first match takes place on Saturday July 24th against South Africa.

"With competition in our squad at its best and only 16 spots available, we always knew this was going to be the toughest selection," said captain and 2018 World Cup Silver Medallist, Katie Mullan.

"Thirty-one players have played a massive role in our preparations over the past 10 months. There has been a tremendous amount of work put in by the girls and each of them deserve this opportunity. It's an exciting time for us and our families."
Irish squad

1 Ayeisha McFerran (GK)
2 Chloe Watkins
3 Hannah Matthews
4 Sarah Torrans
5 Nicci Daly
6 Roisin Upton
7 Hannah McLoughlin
8 Deirdre Duke
9 Katie Mullan
10 Shirley McCay
11 Sarah Hawkshaw
12 Lena Tice
13 Naomi Carroll
14 Lizzie Holden
15 Sarah McAuley
16 Anna O'Flanagan

Reserve - Michelle Carey
Reserve - Zara Malseed
Reserve goalkeeper - Liz Murphy GK

The Irish Times


---

Five Ulster hockey players make plane for Tokoyo Olympics but Frazer misses out

John Flack



Megan Frazer

Five Ulster players will be on the plane for the Tokyo Olympics next month - four in Ireland's squad of 16 and one as a travelling reserve - but there is heartache for Megan Frazer who misses out due to injury.

As expected, Shirley McCay, Ayeisha McFerran, Lizzie Holden and team captain Katie Mullan, who have more than 800 caps between them, have made the cut while Ards striker Zara Malseed is one of three travelling reserves.

But Frazer will be heartbroken after losing her fitness battle which has seen her play only a relative handful of matches for Ireland since sustaining an horrific knee injury in October 2016.

The 30-year-old Belfast Harlequins utility player underwent three operations on an anterior cruciate ligament injury she suffered in a training accident while playing her club hockey in Germany and has never really fully recovered.

Although she made her return for the unforgettable 2018 World Cup campaign in which Ireland picked up a set of silver medals, Frazer had to sit out the final due to a hamstring injury.

She also missed the Olympic qualifying double header against Canada in November 2019 in which Ireland booked their tickets to Tokyo.

However, all seemed to be looking up when she lined out in several of Ireland's build-up matches and was then named in the squad for the recent European Championship in Amsterdam.



Zara Malseed

But she was unable to play in Ireland's last game against Italy due to a recurrence of the injury having been used sparingly in previous matches.

With five games in the space of just seven days in the group stages in Tokyo, it was obviously felt that Frazer could not be risked in the light of such a gruelling schedule with teenage Muckross defender Sarah McAuley, who has just one cap, called up as a replacement.

There is joy though for the other Ulster players who have made the squad which contains a couple of surprises.

The vastly experienced Nikki Evans has been dropped after making her 200th international appearance at the Euros earlier this month.

Loreto's Sarah Torrans comes in as a direct replacement for Evans despite not having played in a major tournament to date and missing the Euros due to a leg injury.

Malseed can count herself a little unfortunate not to have made the 16, having impressed in her two appearances off the reserve-list in Amsterdam and scoring one of the goals in the 3-0 win over Italy.

Ireland captain Mullan, who will win her 200th cap in Tokyo said: "With competition in our squad at its best, and only 16 spots available, we always knew this was going to be the toughest selection."

"Thirty-one players have played a massive role in our preparations over the past 10 months and we are honoured to be representing the Green Army at the Olympic Games."

In Tokyo, Ireland will be up against South Africa, Netherlands, Germany, India and Great Britain in the group stages, needing a top-four finish in the group to advance to the quarter-finals.

Ireland squad: Ayeisha McFerran, Chloe Watkins, Hannah Matthews, Sarah Torrans, Nicci Daly, Roisin Upton, Hannah McLoughlin, Deirdre Duke, Katie Mullan, Shirley McCay, Sarah Hawkshaw, Lena Tice, Naomi Carroll, Lizzie Holden, Sarah McAuley, Anna O'Flanagan.

Travelling reserves: Liz Murphy (GK), Michelle Carey, Zara Malseed

Belfast Telegraph


---

Megan Frazer and Nikki Evans left out of Ireland women's Olympic squad

Katie Mullan will lead Ireland women at their first Olympics next month with a 16-strong hockey squad missing two big names in Megan Frazer and Nikki Evans.

Evans accrued her 200th cap at the recent EuroHockey Championships while Belfast Harlequins' Frazer had recently returned from injury.

Meanwhile, Sarah Torrans is named in the Green Army squad despite missing the EuroHockey with an ankle injury, while Zara Malseed, who had an impressive campaign in Amsterdam, travels as a reserve.

Ireland women will compete in Pool A at the Oi Hockey Stadium alongside South Africa, Holland, Germany, India and Great Britain. Their opening push back comes against South Africa on July 24.

Coach Sean Dancer said: "The Olympics is the pinnacle of our sport. We are excited and privileged to be the group representing Ireland's women's team at their first Olympics. It is important to acknowledge all the hard work and sacrifice of everyone that has been involved now and in previously with the team to get to this point."

Ireland finished the recent EuroHockey with two wins, a draw and two losses as they missed out on a maiden semi-final berth as well as a World Cup ticket.

"We are going to take the key lessons from the recent Europeans to make the gains we need for the Olympics," added Dancer.

Roisin Upton, who made her international debut in 2016, told reporters recently: "It was a huge setback last year to have the Olympics postponed but, to be perfectly honest, I think we are far better prepared this year than we would have been going to the Olympics last year.

"Leading into the Olympics last year we had only been with our head coach for less than a year so that extra year with him has been fantastic. And we've got a much stronger squad now with a lot of younger girls being called up from the Under-21s and Under-23s."

Ireland women's Olympic hockey squad:

Ayeisha McFerran (GK), Chloe Watkins, Hannah Matthews, Sarah Torrans, Nicci Daly, Roisin Upton, Hannah McLoughlin, Deirdre Duke, Katie Mullan, Shirley McCay, Sarah Hawkshaw, Lena Tice, Naomi Carroll, Lizzie Holden, Sarah McAuley, Anna O'Flanagan.

SIGN UP for The Hockey Paper's returning newsletter: Promotions, exclusives and our best coverage

The Hockey Paper


---

Green Machine to take on Olympic-bound GB men




Ireland's men will look to build on their encouraging series win over Scotland last weekend as they test themselves against Olympics-bound Great Britain at Bisham Abbey next week.

Those were their first games since November 2019 and coach Mark Tumilty handed 14 players a first taste of senior international hockey, running up two wins out of three games.

And Tumilty will again take the opportunity to have a look at some new faces. Banbridge's Luke Roleston will be the fourth goalkeeper to get his chance to shine this summer, joining Jamie Carr on the roster.

Outfield, Cork C of I youngster Kevin O'Dea will line out in midfield alongside Nick Page who has joined the Irish setup. Page, 24, is a former England Under-21 international who qualifies for Ireland with an Irish grandparent.

Matthew Nelson is also available and he joins his younger brother Ben in the line-up.

Of the uncapped players deployed against Scotland, Ben Nelson, Mark McNellis, Kyle Marshall, Fergus Gibson, Johnny Lynch, Ian Stewart, Sam Hyland, Ben Nelson and Conor Empey are back for a second series.

"With some senior players unavailable due to work commitments, this is an excellent opportunity to give some of our younger players exposure to games against a top ranked nation," Tumilty said of the selection.

"The players will have benefited greatly from the Scotland games and we look forward to the challenge these GB games will offer.

"I am pleased to have Nick [Page] available for these games. Ideally it would have been better to have integrated him into the squad in a training environment but unfortunately COVID has not made that possible.

"Nick brings extra competition for places and this is something I feel is vital for the long term goals of the senior men's squad."

The games will be GB's first since their Olympic panel was announced and offers a high-quality test for the Green Machine as they continue their preparations for August's EuroHockey Championships II in Poland.

Ireland men's panel for Great Britain series – June 27 to July 1 (Bisham Abbey): Jamie Carr (KHC Leuven), Luke Roleston (Banbridge), Mark McNellis (Lisnagarvey), Tim Cross (Annadale), Peter McKibbin (Lisnagarvey), Sam O'Connor (Glenanne), Kyle Marshall (Beeston), Fergus Gibson (Loughborough Students), Daragh Walsh (Three Rock Rovers), Sean Murray (KHC Leuven), Jonny Lynch (Lisnagarvey), Kevin O'Dea (Cork C of I), Michael Robson (Annadale), Nick Page (Old Georgians), Sam Hyland (YMCA), Neal Glassey (Crefelder HTC), Ian Stewart (Corinthian), Ben Walker (Three Rock Rovers), Johnny McKee (Crefelder HTC), Matthew Nelson (Crefelder HTC), Ben Nelson (Lisnagarvey), Conor Empey (UCD)

Fixture details

June 28: Ireland v Great Britain development panel
June 29: Ireland v Great Britain
July 1: Ireland v Great Britain

Irish Hockey Association media release


---

Manpreet to lead men's team; Birendra, Harmanpreet named vice-captains

Under Manpreet's captaincy, the Indian team has achieved important milestones, including winning the Asia Cup in 2017, the Asian Champions Trophy in 2018 and the FIH Series Final in 2019 over the past four years.



Manpreet Singh will be featuring in his third Olympic Games. Under his leadership, the team has improved its world ranking to the No.4 right now.

India on Tuesday named incumbent Manpreet Singh as the skipper of the men's hockey team for the upcoming Tokyo Olympics where he will have two deputies in defenders Birendra Lakra and Harmanpreet Singh.

India had announced a 16-member team for the showpiece event last week but refrained from naming the team's leadership group.

"...I am humbled to have this opportunity of representing India at the Olympics for the third time, this time as team Captain. It is a very proud moment for me to be given this charge," Manpreet said in a statement issued by Hockey India.

"Over these past few years, we have developed a strong leadership group and have successfully overcome the challenges posed by the pandemic to not drop our form and keep our minds and fitness focused towards doing well at the Olympics."

Under the mid-fielder's captaincy, the Indian team has achieved important milestones, including winning the Asia Cup in 2017, claiming the Asian Champions Trophy in 2018 as well as winning the FIH Series Final in 2019 over the past four years.

India also reached the quarterfinals of the 2018 World Cup in Bhubaneswar and performed exceedingly well in the FIH Hockey Pro League under Manpreet before the COVID-19 pandemic disrupted the schedule.

This will be Manpreet's third Olympic Games and under his leadership, the team has also improved its world ranking to the No.4 right now.

Chief Coach Graham Reid said, "All three players have been an integral part of the team's leadership over these past couple of years and have shown a lot of maturity in guiding the youngsters during these challenging times.

"Naming two vice-captains we believe will also strengthen our leadership in what is going to be a demanding tournament. We are confident that together they will guide the team to success."

Birendra is a veteran defender who was also part of the London Olympic Games but missed out of Rio Games owing to a major knee surgery in 2016. But since his return to the squad, Birendra has only grown in his performance and has been resolute in his role in the team.

Harmanpreet too has grown in his role as a dragflicker and defender since his Senior India debut in 2015. In the absence of skipper Manpreet in 2019, Harmanpreet led the Indian team to a win at the FIH Olympic Test event in Tokyo.

India will begin its Olympic campaign on July 24 when it takes on New Zealand in its first Pool stage match.

Sportstar


---

Rani Rampal to lead Indian women's hockey team in Tokyo Olympics

Rani is the obvious choice not just for her on-field exploits but also for her innate ability to guide the youngsters in the team.



Rani Rampal is the obvious choice not just for her on-field exploits but also for her innate ability to guide the youngsters in the team.   -  FIH

Hockey India named veteran striker Rani Rampal as the captain of the 16-member Olympic-bound Indian women's hockey team on Monday.

Rani is the obvious choice not just for her on-field exploits but also for her innate ability to guide the youngsters in the team.

Under Rani's captaincy over the past few years, India has achieved significant results including winning the Asia Cup in 2017, winning silver at the Asian Games 2018, silver at Asian Champions Trophy 2018 as well as winning the FIH Series final in 2019.

The team led by Rani also made it to the quarterfinals of the FIH Women's World Cup 2018 in London for the first time. She was the cynosure of India's performance during the FIH Olympic Qualifiers in Bhubaneswar where her goal put the team ahead by 6-5 against USA to secure the qualification.

Dependable defender Deep Grace Ekka and experienced goalkeeper Savita have been named the two vice-captains of the side. Both the players have been in the Indian core group for nearly a decade. They also played a key role in India's feats which saw them attain career best ranking of World No. 9 in 2018 following a strong performance at the FIH Women's World Cup.

Women's team chief coach Sjoerd Marijne said, "All these three players have been part of the leadership group for a long time and have proven their abilities with this added responsibility and have guided many youngsters in the core group. Having two vice-captains will also strengthen the core leadership group for the future. Their experience and role will be of importance as we aim to achieve good results in Tokyo."

Expressing her gratitude on being named captain, Rani said, "It is a huge honour to lead the Indian team at the Olympic Games Tokyo 2020. In these past years my role as a captain was made easy with team-mates who have shared the responsibilities as senior players. I look forward to this added responsibility."

Vice-captain Ekka too stated that this new responsibility will motivate her to ensure the team does well in Tokyo. "To lead India as vice-captain at the Olympics is a huge honour and it will surely motivate me further to do well for the team."

Savita also expressed her joy and excitement ahead of the big event. "I thank the team's support staff and Hockey India for giving me this responsibility. We are all eagerly awaiting to do well at the Olympics in Tokyo, and it will be great to lead India to good wins."

Sportstar


---

Olympic dream becomes reality for NC hockey star

Lee Simmons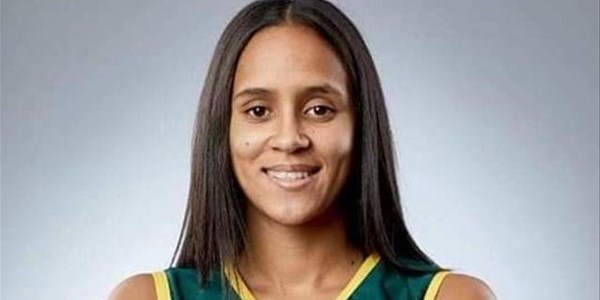 PHOTO: Maritz Verwey

The community of Kimberley in the Northern Cape is filled with pride as Charne Maddocks sets her sights on her Olympic dream.

The NWU Education graduate is one of 16 squad members chosen to represent the South African Women's hockey team at the 2021 Tokyo Olympic Games. Maddocks tells OFM News that she is still in disbelief as she was not expecting it at all. She says that their preparations ahead of departure to the Olympic Games include three centralised camps of which one is a holding camp that will take place early in July. Maddocks adds that she is proud to be representing her country and making her debut at the world's most renowned sporting event.

Maddocks says, "I didn't set myself a personal goal in saying that I'd like to play the Olympic Games, it was more for me about receiving my first international cap. So from there on, I was quite driven. My motivation came from my family, especially my brother. He kept me quite motivated, especially during lockdown, to keep working hard towards my goals. So my family plays a huge role in why I chose hockey and also why I would love to go and represent South Africa at the Olympic Games."

"I am quite excited for the journey ahead but also quite nervous not knowing what to expect. The emotions are all over the place, however, I am quite keen for the new adventures that lie ahead," assures Maddocks.

Maddocks started playing the sport as a tender seven-year-old and her passion and love for hockey continued to grow throughout her school career. She went on to pursue her undergraduate degree in Education, at the North-West University in Potchefstroom, where she represented the university's first ladies hockey team from 2017.  Two years of diligence and hard work were then rewarded with her announcement as the captain of the NWU hockey team.

She adds that a huge part of her motivation to play the game and her growing love for hockey comes from her parents who were both provincial hockey players. She says that her brother, Melrick Maddocks, remains a big contributor to her perseverance and that he kept her motivated when she needed a pick-me-up. Maddocks says her family has been her biggest support system thus far and that she has them to thank for the wonderful opportunity to represent her country at the upcoming Olympic Games.

"I'd really love to go to Tokyo. But other than that I think I'm just quite excited for another experience overseas and being able to meet different people once again," concludes Maddocks.

OFM News.


---

Young 'Bou Spotlight: Brendan Guraliuk

Youth Olympian and youngest Caribou eyes senior international competition, Tokyo and beyond




Growing up in Tsawwassen, BC, a small town about 40 minutes away from Vancouver, Brendan Guraliuk joined the Men's National Team as the youngest player in the summer of 2018.

At the age of five, Guraliuk began his field hockey journey with the Delta Falcons Field Hockey Club. Following in his mother's footsteps — a path which saw her play for the Vancouver Hawks — he quickly realized his love for the sport and the potential early on. More than 15 years later, he's already been recognized by the Delta Sports Hall of Fame and was key on the Canadian U18 team that qualified for the 2018 Youth Olympic Games.

With just under ten international matches to his name, he describes his journey as a 'little bit surprising' while reflecting on his success in the junior program, as well as the challenges that followed.

"When I first started with the [senior] team, they were quite competent and I quickly realized that I don't have as much time on the ball," Guraliuk described. "Everyone can tap and it's a big step from the junior side that you're used to. Having to adjust myself to the speed of the game and working on my decision-making — knowing what I wanted to do with the ball before passing it off — were really important."

As a current UBC student and Thunderbirds midfielder, the past few years have been Guraliuk's 'learning years.' Since his debut, there's an eagerness to learn from veteran players on the team, knowing that his best moments are still ahead.

"After I got my first cap in 2018 in a mini-series against China, I played well enough to get my second one and thought 'crap, I've got a chance,'" he explained. "I was up there with everybody else and there was a chance to make the Tokyo squad. That's something to look forward to."

"I've got nothing to lose so I play free and play hard."

Despite being away from the senior program on a few occasions, Guraliuk has established himself as a recurring player since December 2019, and was named to both Europe Tour rosters this year. Playing against top teams like Belgium and Germany has been crucial in familiarizing himself with the next level.

He said, "Playing against those top teams, they're especially strong with their presses, so the biggest thing in midfield is that, when I do receive a pass, I make sure I won't lose it. Make sure I receive it, get out and get away. Especially since you're not going to have too much time against those teams."


As a young 'Bou, it can be a nerve-wracking experience training alongside veteran players, but Guraliuk likes to think of it as the opposite. In fact, he describes it as 'freeing' with fewer expectations and more room to explore.

"I'd say I have that freedom," Guraliuk said. "I've got a little bit more leeway considering I haven't been there yet. I've got nothing to lose so I play free and play hard that way, and there might not be as much pressure mentally on me as guys with hundreds of caps."

Still, Guraliuk has expectations for himself in possibly inspiring the next generation of young field hockey players in the community. Growing up, he looked up to Graeme Carswell, who played on the U21 national team and was also a Tsawwassen native. Though Carswell's career was tragically cut short, the experience he had at a young age is what drives Guraliuk to do more.

With a Youth Olympics under his belt at the age of 21, there's much to anticipate, including the possibility of playing abroad and making a name for himself. Guraliuk was also recently named to the 18-person roster heading to Chile for the Junior Pan American Championship this August.

"I've realized that nothing comes easy at that international level, so to make that men's national team squad in the future, I've got to keep pushing and be mentally ready for everything.

"I have a chance to represent Canada not only at the youth level, but at the senior Olympic Games as well. I'm happy and humbled by it as well, since it's a little kid's dream to wake up and realize that one day, I might be able to make it to the Olympics."




On the Road to Tokyo, we will be spotlighting young blood on the Men's National Team and their journeys from the junior to senior level. As baby Red Caribou, their stories are a signal of what hard work and perseverance can lead to, and can be a source of inspiration to us all on our own pathways.

Field Hockey Canada media release


---

Tokyo Olympic hockey could have 5,000 Japanese fans



There is public anger at the staging of the Olympics

The opening match of the Olympic hockey competition could see up to 5,000 local fans attend when Japan men take on Australia at the Oi Hockey Stadium, writes Cassie Worth.

Tokyo 2020 organisers agreed on Monday to allow up to 10,000 domestic ticket holders at each Games venue, on the premise that it doesn't exceed 50 per cent of a venue's capacity.

The main pitch at the Oi has an expected capacity of around 10,000, while the second pitch has approximate seating for 5,000 spectators.

While Japan men start against the Kookaburras on Saturday July 24, Japan women start their campaign on July 25 against China.

An IOC statement said: "The Japanese parties have formulated guidelines for spectators aimed at ensuring safe and secure environments.

"These stipulate that masks should be worn in venues at all times; speaking in a loud voice or shouting will be prohibited; congestion should be avoided by means of appropriate announcements; and visitors should leave venues in a staggered manner.

"Spectators will be requested to travel directly to venues and return home directly, and to take all necessary precautions when moving between prefectures."

Tokyo has now moved to a quasi-state of emergency, which comes a day after a third state of emergency since April ended.

Organisers also revealed on Monday that venues could still be free of spectators should the Covid infection rates increase come Games time.

Foreign spectators have already been barred from the Olympics.

A Kyodo News survey over the weekend revealed that around 86 per cent Japanese are concerned about a resurgence in cases if the Olympics take place.

SIGN UP for The Hockey Paper's returning newsletter: Promotions, exclusives and our best coverage

The Hockey Paper


---

SV Arminen win Austrian title for fifth successive season




SV Arminen won their fifth successive Austrian men's title to ensure they will be their country's top seed once again in the 2021/22 European club season.

It means two European events on the horizon with a place already assured in the men's EHL Cup 2021 in a few months time at KHC Dragons.

They got the best of SV Post in the Austrian final in "sauna-like" conditions. Early on, Fabian Unterkircher – in his last game before joining Den Bosch –  went close twice in the first quarter but his side fell behind just before the first break.

Sebastian Eitenberger played a long ball into the circle and found Daniel Fröhlich in an ideal position, firing home 1-0 to the black and white.

It remained that way until half-time but Post stormed back into the contest with Benny Stanzl's move into midfield a key switch. They went level via Maximilian Scholz's shot to make it 1-1.

In the final quarter, the game swayed back and forth with Post putting pressure on and Arminen soaking it up before nicking their winner.

Michael Minar set the move in motion with a show of strength in midfield, switching to counter-attack mode quickly. Bele brothers Alexander and Robert took on the play with the latter executing the key goal with just 90 seconds left and Arminen had their big winner.

Navax AHTC, meanwhile, won the women's title when they also got the best of Post SV in their final. Normal time ended 2-2 with AHTC winning out in a shoot-out.

Euro Hockey League media release


---

Gougnard signs up with Dragons for next term




KHC Dragons have confirmed another marquee signing for the 2021/22 season with Simon Gougnard making the move to the club after a couple of years with KHC Leuven.

It means he could play in the Euro Hockey League for a fifth different club having previously won the competition with Waterloo Ducks in 2019 and won a bronze with Bloemendaal in 2015. He also lined out with Oranje-Zwart and Royal Racing Club de Bruxelles.

He will hope to help Dragons shine when they host the men's EHL Cup 2021 in October. He will join Conor Harte and Loic van Doren in Brasschaat under new coach Denis Dijkshoorn.

Elsewhere, Royal Léopold bolstered their hand with Alfonso Moreno making the move to Uccle after a couple of seasons at Tilburg. He previously played in the EHL during an eight year spell in Leuven in 2009, 2010 and 2016.

Euro Hockey League media release


---

Europe Beckons For Surbiton And Hampstead & Westminster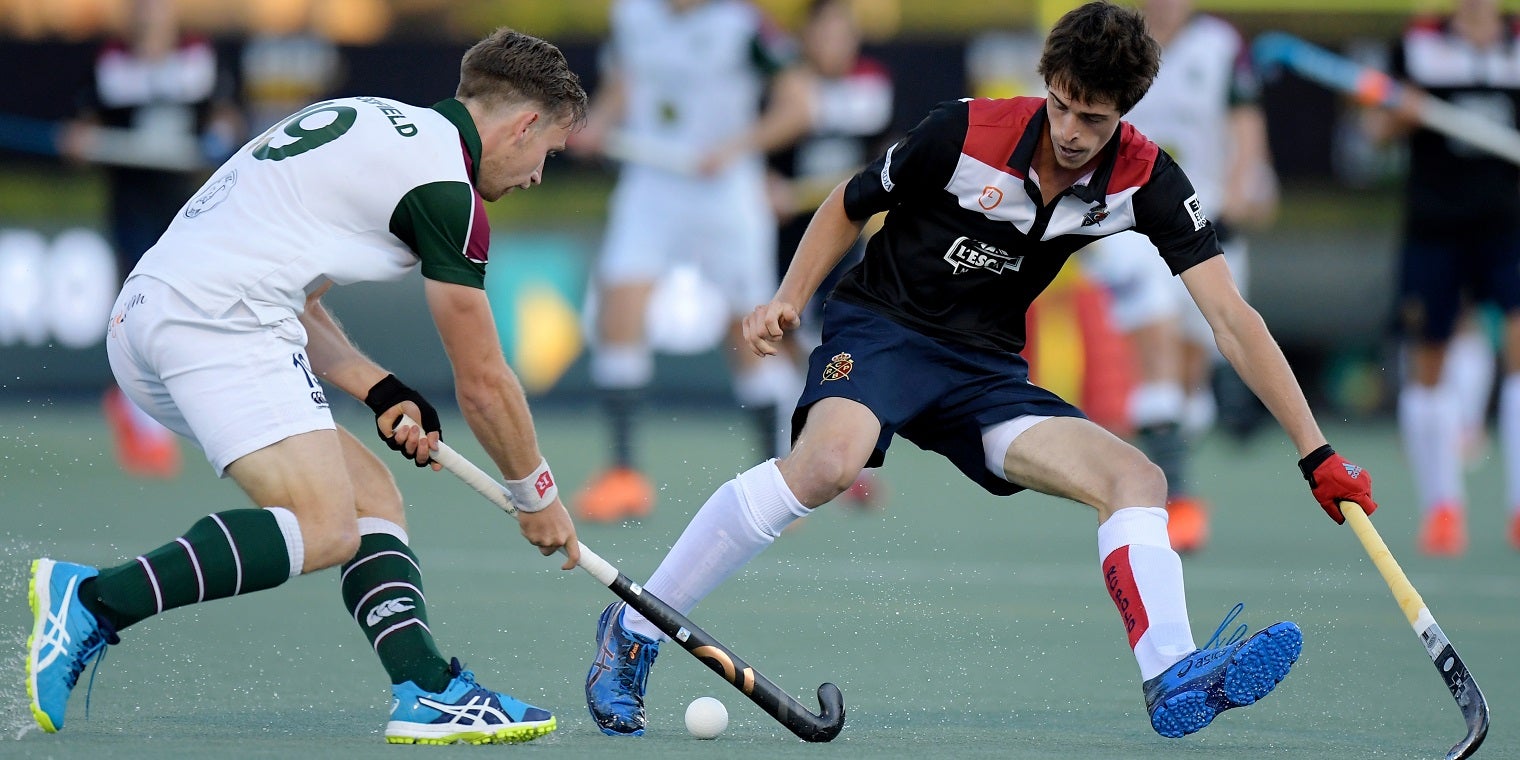 It is exciting times for the teams who originally qualified for the 2020/2021 season's EHL Cup as a replacement competition is all set to take place in late September and early October of this year.

Covid-19 restrictions had meant the original competition had been reduced to a Final4 format, held at Easter time, meaning a lot of the qualified teams missed out.

The draw has been made which will see Surbiton's women take on Irish side Pegasus in the Final4 on Saturday 2 October with the final set to be played the following day.

Meanwhile, Hampstead & Westminster face German outfit Mannheimer HC whilst Surbiton tackle KHC Dragons of Belgium in the men's KO16, both on Saturday 2 October.

For Surbiton's men and women, and Hampstead & Westminster men, this presents a great opportunity to pit their talents against some of the other leading European clubs in this prestigious competition.

Surbiton's Women's Head Coach Brett Garrard is enthusiastic about the challenge.

"It is a great motivator for our players. We really wanted to go to the main competition [at Easter] and we couldn't [because of Covid restrictions] but playing in any European competition gives us a great challenge, playing against different teams and styles.

"I am using it as preparation for the main event next Easter. Doing it in October is a great start to the league season and hopefully whets peoples' appetites for what will come at Easter."

Garrard is also delighted that the competition will give him a chance to see new members of the squad perform in a European competition early in the season.

"Normally, we play a season of domestic league and then we would have three days of intense EHL competition, without the new players having any prior experience. So, from that respect, this is a great preparation for me and them."

Surbiton have managed to play some competitive matches during the windows of opportunity offered by lockdown relaxations. In recent months they have played 12 matches against local teams such as East Grinstead and Wimbledon, as well as the England Hockey Development squad and the club's junior men's side.

"These matches offered me a chance to breathe and a chance to actually coach and introduce some new ideas. These matches, plus the EHL Cup, are all opportunities for me to develop the players ready for next season.

"There is a real excitement about what next year can bring. Having this tournament in Hamburg, which is one of the best hockey hubs you can ever experience. UHC has a great history and is a fantastic club so what a great place to go and play."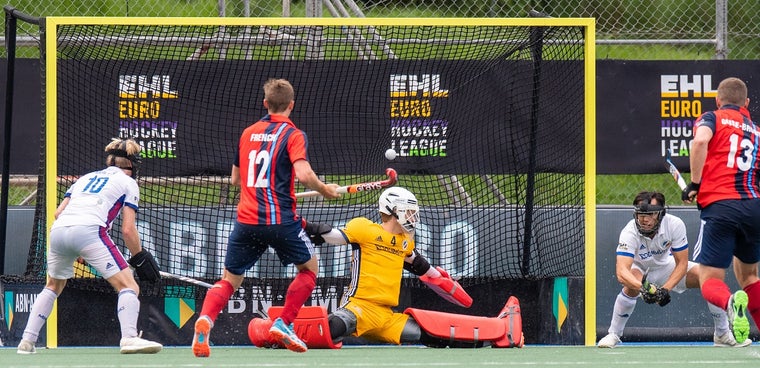 Photo credit: World Sport Pics/Frank Uijlenbroek

Matt Guise-Brown is a long-serving athlete with Hampstead and Westminster. Recently he was crowned top scorer at the inaugural Y1 Men's Hockey Championships as Hampstead and Westminster took the title. That experience has whetted the penalty corner specialist's appetite for more hockey.

"It will be fantastic to actually compete again, the Y1 Cup we recently took part in was so, so enjoyable after not playing any hockey for so long. Playing hockey again in October will be just great.

"For the club's progress, events such as this are very important. To pitch yourself against some of the best clubs in Europe is a huge challenge but a very enjoyable one. The EHL that we played in Barcelona a couple of years ago was exactly that.

"The quality of the league in England is obviously good, but then it is a big step up when you start playing clubs from other countries and it is really nice to test yourself against some really good players and really good teams.

"It is obviously a challenge after a busy summer. Some of the guys are off to the Euros and various other things. With club hockey, even if you get to the finals of the England League, you only play 20 league games, so to add another four games is an exciting prospect. Yes, it is a challenge but the excitement of playing far outweighs the challenge. And to play with the team again is something we are all looking forward to."

The men's competition is being hosted by Belgium's national champions Dragons, while the women's competition will be held at UHC Clubanlage in Germany.

EHL Women's Cup entrants (October 2-3, 2021): UHC Hamburg (Germany), Surbiton (England), Pegasus (Ireland), HC Minsk (Belarus)

EHL Men's Cup entrants (September 30 – October 3, 2021): Mannheimer HC (Germany), Rot-Weiss Köln (Germany), SV Kampong (Netherlands), HC 's-Hertogenbosch (Netherlands), La Gantoise HC (Belgium), KHC Dragons (Belgium), Club de Campo de Madrid (Spain), Surbiton (England), Hampstead & Westminster (England), Dinamo-Ak Bars (Russia), Dinamo Elektrostal (Russia), Saint Germain (France), Three Rock Rovers (Ireland), HC Minsk (Belarus), SV Arminen (Austria), Grange (Scotland).

England Hockey Board Media release


---

Director General Sports Punjab Adnan Arshad Aulakh takes revolutionary measure for the revival of hockey

SBP to organise U-16, U-18 and U-21 Hockey Championships with the collaboration of PHF: Director General Sports Punjab Adnan Arshad Aulakh
 
LAHORE: Taking a revolutionary measure for the revival of hockey, Director General Sports Punjab Adnan Arshad Aulakh has announced plans to organize Under-16, Under-18 and Under-21 Hockey Championships with the collaboration of Pakistan Hockey Federation (PHF) to trace potential young hockey players.

In this regard, an important meeting was held under the chairmanship of Director General Sports Punjab Adnan Arshad Aulakh at National Hockey Stadium on Monday. The revival of hockey and relevant planning was thoroughly discussed during the meeting.

The meeting was attended by PHF Secretary Asif Bajwa, Director Admin Javed Chohan, Director Sports Hafeez Bhatti, Divisional Sports Officer Lahore Nadeem Qaiser, Deputy Director Planning Rauf Bajwa, Olympian Anjum Saeed and other officials.

Addressing the high-profile meeting, Director General Sports Punjab Adnan Arshad Aulakh said that Sports Board Punjab and Pakistan Hockey Federation will make joint and concrete efforts for the revival of hockey in the country and in this regard both the sides will cooperate with each other fully. "We will utilise all available resources and will go to every extent for the resurgence of our national game," he expressed his determination.

Revealing the details of unique Hockey Championships, Director General Sports Punjab Adnan Arshad Aulakh informed that Under-16 Inter-Division Boys Hockey Championship will be staged in August in Lahore, Under-18 Inter-Division Hockey Championship will start from December 25, 2021 while the Under-21 Hockey Championship will be organized from March 23 next year. "These Hockey Championships will be made part of Sports Board Punjab's annual sports calendar for the growth of hockey culture in the province," he added.

Director General Sports Punjab Adnan Arshad Aulakh further said that the competitions of all leading hockey clubs will be organised in every district to make up district hockey teams till July 20. "Only PHF-recommended hockey clubs will be able to participate in the above-mentioned competitions. After the club competitions, the hockey teams will be finalized at district level for subsequent Inter-Division Hockey Championships", he elaborated.

"The selected teams of every division will participate in a one-week camp in their respective divisions where PHF coaches will train the camp probables ahead of competitive hockey events. We are quite upbeat to find numerous young talented hockey players from these hockey championships and out of these young players several will be trained and groomed for the national hockey team," Director General Sports Punjab Adnan Arshad Aulakh said.

Appreciating the measures of Director General Sports Punjab Adnan Arshad Aulakh, PHF Secretary Asif Bajwa said Sports Board Punjab has always taken effective steps for the promotion of hockey under the leadership of Director General Sports Punjab Adnan Arshad Aulakh. "I'm quite confident that the game of hockey will once again get the same old popularity among the younger generation through these useful efforts," he added.

Sports Board Punjab media release


---

32 PHF officials participating in AHF courses

LAHORE   -   A total of 32 Pakistan Hockey Federation (PHF) officials are participating in various courses in online education workshops organized by the Asian Hockey Federation (AHF) this month to improve the capacity and performance of the coaching staff, umpires and technical officials.

The 32 officials include 16 coaches, 7 umpires and 9 technical officials, said a PHF spokesman here on Monday.

PHF nominated the officials in these courses to improve the skills and performance of the players as well as coaches, umpires and technical officials.

The PHF also nominated 4 female coaches, 1 female umpire and 3 female technical officials in AHF courses.

Seven Olympians were also participating in the coaching workshops this month, including Danish Kaleem, Sameer Hussain, Zeeshan Ashraf, Kashif Jawad, M Saqlain, M Waqas and Rehan Butt.

The Nation


---

2021 Disney Field Hockey Showcase Concludes, Medalists Awarded




KISSIMMEE, Fla. - The third and final day of the 2021 Disney Field Hockey Showcase, a USA Field Hockey Sanctioned Event, was filled with great field hockey moments. The teams competed for medals in all age division Flights at the ESPN Wide World of Sports Complex in Kissimmee, Fla. The atmosphere was magical throughout the entire showcase with fans and family supporting the teams. Check out some of the best moment captured by fans, families and teammates. Fans are still able to submit pictures to This email address is being protected from spambots. You need JavaScript enabled to view it. a chance to be added to the gallery.

Congratulations to this year's medalists:

U-14 Girls Elsa Flight (Top Team Division)

    Windy City Spark
    NJ Grit Diamond
    PowerHouse

U-14 Girls Moana Flight

    IFHCK Fire
    Washington Wolves

U-14 Girls Pocahontas Flight

    Windy City Blaze
    Weston

U-16 Girls Mulan Flight (Top Team Division)

    WC Eagles
    Windy City Flame
    Pinnacle

U-16 Girls Tinkerbell Flight

    Texas Pride
    Jersey Intensity

U-16 Girls Jasmine Flight

    Alpha Hockey
    Aim

U-16 Girls Cinderella Flight

    Next Level
    Charlotte Ambush

U-19 Girls Belle Flight (Top Team Division)

    WC Eagles
    Gateway Red
    New Heights Red

U-19 Girls Rapunzel Flight

    Alley Cats
    Philly Hockey Club

U-19 Girls Tiana Flight

    Electric Surge Black
    CFHC Kilimanjaro

U-19 Girls Merida Flight

    Stryker
    Rampage FHC

See photos from the event here.  Images Taken by Christopher Ward, Mary Pat Werley, Shawn Gore, Eryn Ziegler & Teresa Florence

USFHA media release