All the news for Thursday 22 April 2021

Malaysia have a glassjaw to worry about

By Judjet Singh



- Pic courtesy of Facebook MHC

What's the prize for beating Malaysia twice in an international friendly triangular?

I suggest that the Malaysian Hockey Confederation (MHC) buy Japan coach Siegfried Aikman a set of "I love Malaysia" souvenir glasses.

Aikman must surely be pleased with his men for beating Malaysia 3-0 and 1-0 (April 17 and April 20 at the National Hockey Stadium) but he is peeved about a broken glass incident at a hotel in Kuala Lumpur.

The Dutch coach took to social media with his grouse: "Service in the high quality hotel in Kuala Lumpur. Today (April 20) I dropped a glass on the floor in my hotel room. Unfortunately the glass broke. The hotel decided that they will replace the glass and that I have to pay 20 ringgit for the broken glass Shame on you!!!"

As he is here for a friendly tournament, let's send Aikman home with a friendly gesture so that he remembers Malaysia on a pleasant note.

Even though the MHC have nothing to do with the hotel's policies, a souvenir to take home will still be nice for Aikman.

In the same breath, let's buy Great Britain a similar set as well for being gracious enough to come to Kuala Lumpur and play amid the Covid-19 pandemic.

Japan are ranked World No 15, four rungs below Malaysia. But after the Tokyo Olympics, the Samurais are set to have a better ranking.

Aikman was modest enough to give Malaysia some credit on social media after Japan's 1-0 win in the second friendly.

"Samurai Japan won the 2nd match in the friendly series. Malaysia was unlucky. Our goalkeeper was outstanding today (April 20). He was the man of the match. Our players were not sharp. Hopefully we can get back on track (April 24) when we play Great Britain again."

Meanwhile, Malaysia have a glass jaw to worry about. The team were a shadow of themselves in the triangular, losing all three matches and letting in seven goals.

The only goal that coach Arul Selvaraj's team got was by Razie Rahim off a penalty corner against Britain.

Some may argue that Malaysia are not going to the Tokyo Olympics, while Japan and Great Britain are gearing up for the Greatest Show on Earth.

But that's still no excuse for Malaysia to lose all their matches so far.

The hosts can redeem themselves in their final match of the triangular against Britain today.

In an earlier match, the national team seemed to be on top of their game against the Britons, but again their fitness let them down. The visitors scored two quick goals inside one minute for a worthy 3-1 win.

Malaysia, despite their home ground advantage, have been disappointing. Covid-19 may have made field training difficult, but it's the same situation for Japan and Britain. So, no excuses here too.

Today is Malaysia's last chance to avoid a "100 per cent losses" in the triangular. Arul's men really need to be great against Britain.

New Straits Times


---

Irish Women travel to Bisham Abbey to take on Great Britain in Uncapped Series.




The Irish Women's squad will travel to Bisham Abbey, London, tomorrow as part of their preparation for Tokyo Olympic Games this summer. A twenty strong squad will travel on the 22nd of April, with four matches against Great Britain scheduled to take place between the 22nd of April and 2nd of May.

All of the games are being played behind closed doors and will not be streamed, both Hockey Ireland and Great Britain Hockey will share the results on social media at the end of each day. The matches will all be uncapped.

The squad travelling is as follows:
Carey     Michelle     Leinster                 Midfielder             Uncapped
Carroll     Naomi     Munster               Striker                     111
Colvin     Lizzie     Ulster                    Midfielder              196
Curran     Ellen     Leinster                Midfielder               24
Daly     Nicola     Leinster                Midfielder               189
Duke     Deirdre     Leinster                Midfielder               141
Evans     Nicola     Leinster                Striker                      198
Hawkshaw     Sarah     Leinster                Midfielder                33
Malseed     Zara     Ulster                    Striker                      Uncapped
Matthews     Hannah     Leinster                Defender                 147
McAuley     Sarah     Leinster                Defender                 Uncapped
McCay     Shirley     Ulster                    Defender                306
McLoughlin     Hannah     Leinster                Defender                 14
Mullan     Katie     Ulster                    Midfielder               193
Murphy     Elizabeth     Leinster                Goalkeeper             13
O'Flanagan     Anna     Leinster                Striker                      207
O'Flanagan     Grace     Leinster                Goalkeeper             36
Perdue     Caoimhe     Munster               Defender                 Uncapped
Torrans     Sarah     Leinster                Striker                      26
Upton     Roisin     Munster               Defender                 76
Watkins     Chloe     Leinster                Midfielder               226

Notable absences from the squad include Ayeisha McFerran who remains on duty with Dutch Hoofdklasse club SV Kampong. Both Megan Frazer and Elena Tice remain at home managing injuries, while Ellen Curran and Caoimhe Purdue are called up to the squad.

Speaking on the trip announcement, Performance Director Adam Grainger said, "We're very happy to have been able to travel for these matches. Great Britain are obviously a very strong side so this will give the squad more opportunities to test themselves against challenging opposition ahead of an intense summer of international hockey.

It's been a challenging process with so many moving parts; the changing restrictions and ensuring we are minimising the risk of COVID to our athletes and their families while also providing them with the best opportunity to perform at the Olympics this summer. The team have been excellent in dealing with the challenges the current situation has presented to their programme."

Match dates and times:

    Tuesday 27 April: Great Britain v Ireland, 10:00 BST
    Wednesday 28 April: Great Britain v Ireland, 18:00 BST
    Friday 30 April: Great Britain v Ireland, 14:00 BST
    Sunday 2 May: Great Britain v Ireland, 13:00 BST

Irish Hockey Association media release


---

Perdue and Curran get their chance against GB as Mullan looks ahead to Bisham trip



Caoimhe Perdue in action for Cork Harlequins in 2019. Pic: Adrian Boehm

Caoimhe Perdue and Ellen Curran have a chance to push their claims for a place in the Irish women's summer plans next week as the Green Army head to Bisham Abbey for a four-game series against Great Britain.

For UCC's Perdue, she is likely to have her first taste of senior international hockey when Ireland meet Great Britain at Bisham Abbey in four uncapped matches, starting on April 28th.

Curran, meanwhile, is back in the mix. She scored Ireland's last goal in a capped game back in January 2020 against Germany before the pandemic took hold and while she captained her club to the Irish Senior Cup in September, she missed out on the recent series against Spain and GB.

They come into the reckoning in place of Lena Tice and Megan Frazer who are both looking after injury concerns while Beth Barr is out of the Olympics with an ACL injury.

Ayeisha McFerran will stay with her club side SV Kampong in the Netherlands for the last two weeks of their season, leaving Sean Dancer with a 21-player panel at his disposal.

The series itself is a quickly arranged one in the wake of a planned trip to Malaysia getting the axe at the last minute.

As such, skipper Katie Mullan is thrilled the side will still get some good game time, albeit against a well-known opponent who they met three times in March.

"We're super excited after the disappointment of not getting to Malaysia to get the trip to Bisham Abbey over the line," she said.

"We are very realistic over how often things are changing. Getting to Malaysia was going to be a bonus. It's not as is any other nation is getting loads of games in the heat.

"In a perfect world, playing the same team is not how you would want it but we are grateful to get the games and it is very good preparation to focus on ourselves."

The Coleraine woman adds cancellations are becoming a big theme for the 12 Olympic qualified sides with the likes of China, New Zealand and Australia contemplating having no warm-up games before the summer.

"Every nation has their struggles in terms of best preparing getting out of Covid. You can see how much quicker Australia and New Zealand got out of lockdown and were able to train.

"In one sense, they got a couple of steps ahead. Now, they are not getting games which we are. Everyone has their own personal journey and it's going to be whoever manages those ups and downs best, I believe, who will be the successful teams this summer, especially so for the European teams who have to go and peak twice with this being a qualifier for the World Cup."

For those countries, the Pro League should have offered some respite but the beleaguered competition has come increasingly under the spotlight with plenty of comparisons being made to the already abandoned European Super League.



Ireland captain Katie Mullan. Pic: Adrian Boehm

At this stage, the International Hockey Federation is still trying to complete the 2020 season but it looks like more close to a third of the games will not be played by the deadline of June 2021.

"We did joke on Monday whether they took [the ESL] model from hockey! In previous seasons, you would only love to have those competitive games throughout the year [that the Pro League offers].

"But we haven't missed out on a huge amount with the way things have been and it has been difficult for the teams involved."

GB were due to play Argentina and China in the coming few weeks but those postponements helped open up this window after Malaysia was off the agenda.

For now, Mullan is keen to keep the momentum going after the buzz created by March's Softco Series ahead of a huge summer in which Ireland will have to peak twice in quick succession.

June's European Championships doubles as a World Cup qualifier and is followed just six weeks later by the Olympics.

That is a complication Sean Dancer's side will have to manage carefully. It is something they struggled with in 2017 when the Hockey World League semi-finals – the key World Cup qualifier – was followed just a month later by the European Championships.

Ireland excelled at the former to earn their ticket to London 2018 but were close to burn-out for the second tournament and it almost cost them their place in Europe's top tier.

"It's been something we've spoken about a lot, the double-peak and what we learned from 2017," Mullan continued. "The biggest thing is then we weren't used to being together as a group throughout the year like we are now.

"We came into those tournaments for a very short, intense period of time but were not used to being in each other's company as consistently.

"The fact we are together now in a semi-professional environment every week for a couple of days, it puts us in a better position and better prepared for the intensity of two international tournaments in one summer.

"It's going to be a challenge and one we are very aware of. There's lots we can do to prepare for it and have lots of expertise in the group to manage it."

The games against GB will not be streamed on this occasion.

Ireland squad for Bisham Abbey (April 22-May 2):  Michelle Carey (UCD), Naomi Carroll (Catholic Institute), Lizzie Colvin (Belfast Harlequins), Nicci Daly (Loreto), Deirdre Duke (Old Alex), Nikki Evans (Old Alex), Sarah Hawkshaw (Railway Union), Zara Malseed (Ards), Hannah Matthews (Loreto), Sarah McAuley (Muckross), Shirley McCay (Pegasus), Hannah McLoughlin (UCD), Katie Mullan (Ballymoney), Lizzie Murphy (Loreto), Anna O'Flanagan (Muckross), Grace O'Flanagan (Railway Union), Sarah Torrans (Loreto), Roisin Upton (Catholic Institute), Chloe Watkins (Monkstown), Ellen Curran (UCD), Caoimhe Perdue (UCC)

Match dates and times:

Tuesday 27 April: Great Britain v Ireland, 10am
Wednesday 28 April: Great Britain v Ireland, 6pm
Friday 30 April: Great Britain v Ireland, 2pm
Sunday 2 May: Great Britain v Ireland, 1pm

The Hook


---

India's Hockey Pro League visit to Britain postponed due to COVID-19 concerns

By Liam Morgan



India will not travel to Britain for Hockey Pro League games next month ©Getty Images

India's Hockey Pro League matches away to Britain next month have been postponed after the host nation's Government banned entry to those from the country in response to a surge in COVID-19 cases and the discovery of new variants.

India had been due to face Britain in men's matches in London on May 8 and 9, but they will now have to be rearranged following the UK's Government's decision to add the nation to its "red list" from Friday (April 23).

Travel to Britain is banned from any country on the Government's red list.

India has experienced a dramatic surge in coronavirus infections, while there are thought to be hundreds of new variants spreading around the country.

The Asian nation reported a record of more than 2,000 deaths from COVID-19 yesterday, with hospitals and health facilities across India struggling to cope with the increased demand.



India is experiencing a deadly surge of COVID-19 cases, prompting Britain to put the country on its red list ©Getty Images

India is reporting the world's highest number of new daily cases and is approaching the 297,000 peak experienced by the United States earlier this year.

Despite heightened concerns over COVID-19 in India, the country's hockey team is still scheduled to travel to Spain for two matches on May 15 and 16, and Germany for two games on May 22 and 23.

Britain's men and women are set to host Germany in May, while Spain's men and the United States women are also scheduled to play in London before the end of the month.

The International Hockey Federation said Australia and New Zealand were in talks regarding rearranging their postponed matches after a "travel bubble" was opened between the two countries.

Australia, China and New Zealand have not played a Hockey Pro League game since the pandemic hit.

Inside the Games


---

Argentina tour was important in build up to Tokyo Olympics, says midfielder Nilakanta Sharma

'The Argentina tour was an important experience for all of us. We were yearning for proper match practice while building up towards the Olympics,' Nilakanta said in a Hockey India release.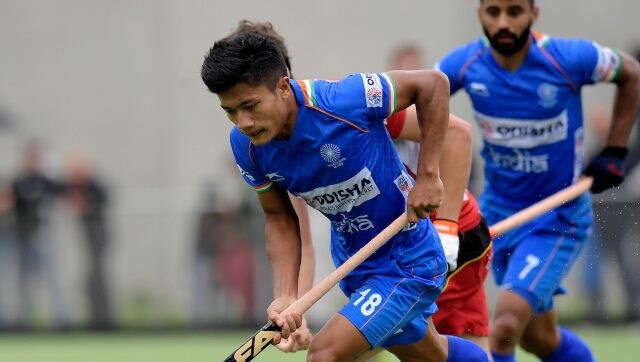 File image of India men's hockey team midfielder Nilakanta Sharma. Image: Hockey India

Bengaluru: The successful tour of Argentina has given the Indian men's hockey team momentum going into the Tokyo Olympics, says attacking mid-fielder Nilakanta Sharma.

India won two of their practice games and won both their FIH Pro League encounters against the reigning Olympic Champions Argentina earlier this month.

"The Argentina tour was an important experience for all of us. We were yearning for proper match practice while building up towards the Olympics," Nilakanta said in a Hockey India release.

"Our preparations for the Olympics started last year in the FIH Pro League, where we fared well against World Champions Belgium, Netherlands, and Australia.

"We also had a solid tour of Europe earlier this year. That gave us the confidence that we could face the best teams and come out on top," he added.

The Indian men's team had remained unbeaten in the tour of Europe last month. Making an impressive return to international hockey, India had outclassed Germany 6-1 before playing out a 1-1 draw against them.

In the two games against Great Britain, India were held to a 1-1 draw before they ended the tour with a 3-2 victory.

"What we saw in Argentina was a result of a lot of hard during training sessions. The more we played with each other, our game improved. Conversations with Chief Coach Graham Reid have been open. He has been approachable from day one and has given me a very clear idea about my role in the team."

Nilakanta scored India's first goal of the Argentina tour, and followed the effort with an assist in the second practice match.

"I have learned to stay calm and composed in pressure situations. I feel we combine well...captain Manpreet, Dilpreet, and Hardik. We have a very good understanding of each other's game.

The 25-year-old has come a long way from being a junior world champion on home soil in 2016. That team also included current stars Harmanpreet Singh, Varun Kumar, and Krishan Pathak among others.

Nilakanta now dreams of adding an important medal to his trophy cabinet.

"I have been playing with these guys for such a long time. We are close friends and always try to help each other out.

"We are taking small steps at the moment and not getting ahead of ourselves. Hopefully, we will carry our current form into the Olympics as well," Nilakanta said.

Firstpost


---

India men's hockey probables join national Camp in Bengaluru

The squad assembled with the 11 members in the core probable group which remained at the camp.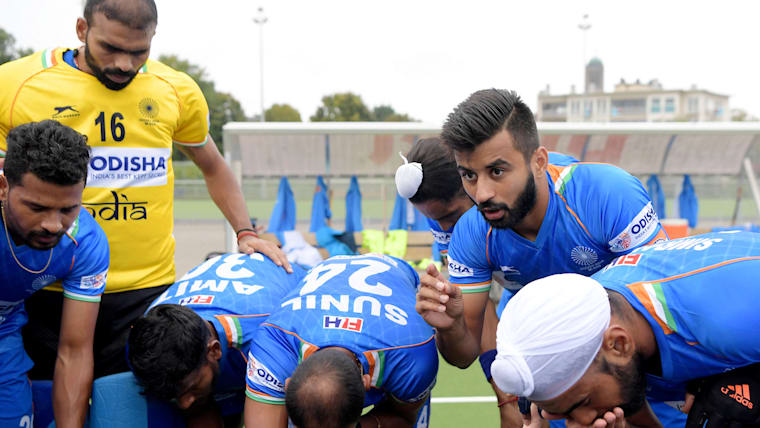 The India men's hockey team core group joined the national camp in SAI, Bengaluru on Tuesday following their successful run against Olympic champions Argentina in the FIH Hockey Pro League. The 22 members from the touring squad assembled with the 11 members that had stayed back in the camp after the required quarantine period.

The Manpreet Singh-led side displayed resilience on the field to beat Argentina 3-2 in shoot-out in the opening match and then blanked them with a 3-0 result. It was a just the kind of result the men in blue were hoping for in their build up to the Tokyo Olympics.

The squad also participated in three practice matches as a part of their Tokyo 2020 preparation during the tour, in which they registered two wins, one draw and a loss.

India men's team chief coach Graham Reid believes the tour to Argentina was a crucial part of the groundwork ahead of the Games.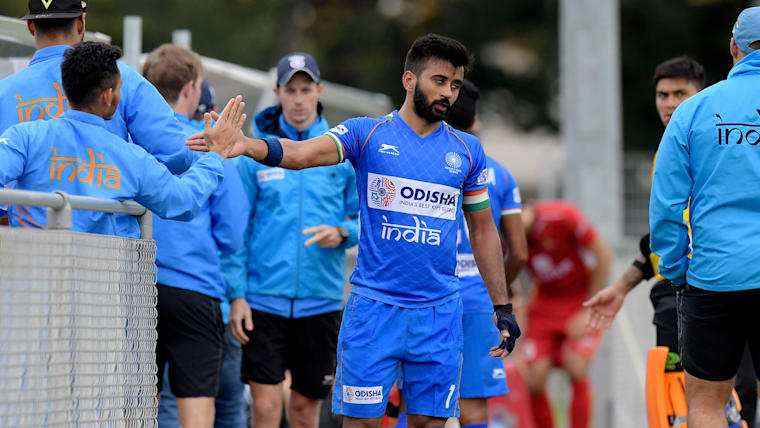 Current Indian captain Manpreet Singh

"These matches in Argentina were extremely important for us to access the level we are at with lesser than 100 days to go for the Tokyo Olympic Games. We also managed to get a few practice sessions in Buenos Aires and we are really grateful to the CAH (Confederación Argentina de Hockey) for their hospitality," Chief Coach Graham Reid said in a media release.

"We will continue with our training with specific focus on the areas we feel can improve basis our performance in Argentina," Reid said.

The 33-member core probable group includes: P.R. Sreejesh, Krishan B. Pathak, Suraj Karkera, Birendra Lakra, Rupinder Pal Singh, Surender Kumar, Amit Rohidas, Harmanpreet Singh, Varun Kumar, Gurinder Singh.

Manpreet Singh, Nilakanta Sharma, Sumit, Jaskaran Singh, Rajkumar Pal, Hardik Singh, Vivek Sagar Prasad, Mandeep Singh, Lalit Upadhyay, Shamsher Singh, Dilpreet Singh, Shilanand Lakra joined Kothajit Singh, Jarmanpreet Singh, Dipsan Tirkey, Nilam Sanjeep Xess, Chinglensana Singh Kangujam, SV Sunil, Akashdeep Singh, Ramandeep Singh, Simranjeet Singh, Gursahibjit Singh and Gurjant Singh who remained in SAI, Bengaluru

Olympic Channel


---

Hockey great Ric Charlesworth appointed as short-term Hockeyroos selector



Ric Charlesworth (c) Ady Kerry

Australian hockey great Ric Charlesworth will form part of a selection panel to determine the Olympic fates of Rachael Lynch and Georgie Morgan.

Charlesworth, who led Hockeyroos and Kookaburras teams to multiple titles, was confirmed on the women's four-strong national selection panel by Hockey Australia.

Charlesworth, who guided the Hockeyroos to Olympic gold in 1996 and 2000, will sit alongside new head coach Katrina Powell and assistant coaches Katie Allen and Jeremy Davy.

Charlesworth's position will run until August 17 post Tokyo while he will also work with the coaching staff as a mentor, offer support and advice, assisting with scouting and preparation for the Olympic Games.

Charlesworth said: "The Hockeyroos have always been close to my heart and I believe we owe the athletes their best chance in Tokyo.

"After some turbulent months it will be a challenge to quickly understand the group. This will necessarily entail closely observing their games, training and interactions.

"I believe I can do this while also being available as a sounding board for the coaches. My position should allow me to also play a mentoring role.

"Of course my primary focus will be on ensuring we have the best team working together to achieve in Tokyo."

Powell, who played under Charlesworth in the successful 1996 and 2000 Olympic campaigns, said she was excited about having him involved.

"Being in just my third week in charge of the Hockeyroos and with the Olympics so close, having Ric come in as a selector and a support for us as a coaching group is going to be hugely beneficial," said Powell.

"As a collective I am confident we will select and work with the team that has the best chance of being successful in Tokyo."

The quarter will be tasked with whittling down the Australia squad for Tokyo, as well as deciding if Morgan and Lynch can return to the Hockeyroos Olympic squad.

SIGN UP for The Hockey Paper's returning newsletter: Promotions, exclusives and our best coverage

The Hockey Paper


---

Team GB hockey teams predicted no Tokyo Olympic medals



Team GB women celebrate Rio hockey gold PIC: Worldsportpics

Team GB's hockey teams are predicted to come away from Tokyo 2020 without any bounty from the rearranged Olympics.

That's according to Gracenote, the data company that analyses performances of Olympic athletes and competing teams.

Team GB finished second in the medal table at Rio 2016 but Gracenote's virtual medal table sees them slide to seventh, claiming 11 golds, 12 silvers and 13 bronzes.

Gracenote assessed every competition since Rio and predicted the outcome for each medal event in Tokyo. England and GB hockey hasn't won a competition since the Rio Games.

Gracenote analysis sees Team GB finish fourth or fifth in close to 45 events.

But hopefully the pandemic and the extra year to prepare teams will have helped Team GB, with both men's and women's hockey sides having changed coaches mid-Olympic cycle.

Gracenote said: "The reduction in medals for Britain is partially due to lower expectations in cycling, gymnastics and rowing amongst other competitions.

"In 2016, those three sports accounted for nearly one third of British medals (22). In 2021 however, these sports could produce as few as five podium places."

SIGN UP for The Hockey Paper's returning newsletter: Promotions, exclusives and our best coverage

The Hockey Paper


---

Farry Announces Additions to USWNT High Performance Staff

COLORADO SPRINGS, Colo. – USA Field Hockey welcomes two new High Performance Staff members to the U.S. Women's National Team roster. USWNT Head Coach Anthony Farry has added Kyle McMinn as the strength and conditioning coach and Krista Page as the team manager.

"We are delighted to have Kyle and Krista transition into roles with the U.S. Women's National Team," said Simon Hoskins, USA Field Hockey's Executive Director. "Both have worked with the program extensively over the last few months and their expertise in their areas puts us in a strong position to continue to build the team ahead of prominent international competitions."

After being contracted to work with the USWNT in 2020, McMinn was officially onboarded to help serve the program as the strength and conditioning coach. He arrives at his post after spending the better part of 20 years honing his craft in the elite performance environment, having trained a multitude of successful internationally competitive athletes. He previously served in various roles including Staff Strength and Conditioning Coach at Penn State University, Head Strength and Conditioning Coach at Fairleigh Dickinson University-Metropolitan Campus and Director of Sports Performance at Spooky Nook Sports and also maintains a private Sports Science Consultation business serving area high-school and collegiate athletes.

McMinn's expertise in Sports Science data collection, interpretation and athlete-driven physiological programming will serve the USWNT well in their preparation for international competition, especially during this current hot-button period of "load management" in athletics.

"Load management is a loaded term and is not a new concept in the field of exercise physiology," added McMinn. "In fact, the principles of load management trace back to the 1915 workings of Italian physiologist Angelo Mosso as he defined fatigue as 'one of the human body's most marvelous perfections. My resolve is centralized in accounting for athlete-specific levels of fatigue while optimizing their training stimulus to achieve the most-desirable performance outcome on the pitch. Sometimes that means we manage the load, sometimes we manage the athlete, while in other cases we manage both or neither. Excellence will be in the details."

McMinn earned his bachelor's degree in Kinesiology-Athletic Training from Penn State University, his master's degree in Advanced Athletic Training from Long Island University-Brooklyn. The comprehensive education in athletic injury treatment, rehabilitation and return-to-sport is the focal point of his overall strength and conditioning philosophy which is centered around the prioritization of elite athlete readiness and task-specific performance metrics.

McMinn is Strength and Conditioning Coach Certified (SCCC) through the Collegiate Strength and Conditioning Coaches Association, Certified Strength and Conditioning Specialist (CSCS) through the National Strength and Conditioning Association and Certified Athletic Trainer (ATC) through the National Athletic Training Association Board of Certification.

"Kyle brings a wealth of knowledge and a passion for creating a successful culture," added Farry. "His attention to detail is tremendous and is the perfect fit to our growing performance staff. We are all excited to see where Kyle leads the programs physiological development."

"I want to express my gratitude to everyone at USA Field Hockey for this invaluable, once in a lifetime opportunity," said McMinn. "Elite athletes are the focal population of many of the textbooks and peer-review articles on which I have based my philosophy and it is an honor to have the ability to be part of their daily process. Methodology, strategy and tactics are of primal importance to me as a sports-science based strength and conditioning coach, so I am schema-driven as a means to the achievement of an ultimate goal. As such, I'm excited to get working with the U.S. Women's National Team in the undertaking of what I am sure will be a challenging and fruitful journey."

Page started with USA Field Hockey in October 2015 as the Region 5 Futures Managers. In 2017, she transitioned to the Nexus (Futures) Development Manager, who oversaw all Regional Futures Managers across the county. In that role, she was also responsible for the execution of the National Futures Championship, other USA Field Hockey Regional, National and International Events, and has been instrumental in the development of Nexus.

In January 2020, Page absorbed the role of the USWNT Manager and on April 19 will officially transition full-time to this managerial position.

Field hockey has been a part of Page's life for a long time, having coached in Pennsylvania for over 20 years. She spent years coaching high school and club athletes in hopes of passing on her passion for the sport as well as provide valuable life lessons along the way.

Page lives in Mount Joy, Pa. and has three children. Her daughter, Jordan (28), played collegiate at Syracuse University and is now the assistant coach at Shippensburg University. Her other daughter Kate (12) currently plays in middle school and for WC Eagles and her son Kameron (27) is a physicians' assistant.

"We feel very lucky and privileged to have Krista join our staff on a full-time basis," said Farry. "Having someone of Krista's caliber, experience and infectious attitude, is a huge positive, not only for our group, but also the organization as a whole and we look forward to supporting and seeing Krista excel in her role."

"I feel fortunate to have been selected for the role of the USWNT Manager by the coaching staff," commented Page. "I am looking forward to this next journey working with the all the staff and athletes and contributing to our organizational goal of succeeding internationally."

USA Field Hockey would like to also like to thank Yuko Kimura for her role of medical manager for the USWNT since December 2016. The program and organization wish her all the best in her future endeavors.

USFHA media release


---

"The word inclusion would have to cease to exist"

Las Lionas, the Argentine hockey team with intellectual disabilities

Pibas con Pelotas




Sport was not and never will be simple physical training. Like any exercise, it activates brain functions that are essential for general cognitive development, but also generates experiences and transmits important skills for life itself. Experts agree that –among other things– disciplines that are practiced as a team promote integration and generate a sense of belonging. Therein lies the importance of an undertaking project like that of Silvina Forrester and Peter Gorrissen, Clara's mother and father, who was born with down syndrome and has played hockey since she was 4 years old. "My husband, my other three children and I are sports fans and it was so good for Clari to play and belong to a team, that with Peter we said 'let's do this' and in September 2017 we started with Las Lionas", Silvina reviews. There were 12 at the beginning, now there are 70 and men are also joining.

The turning point for Las Lionas was in 2018, when the Pan American Federation invited them to play an exhibition match at the Parque Roca Olympic Stadium after the two hockey semifinals of the Youth Olympic Games in 2018. Since then, that family project became a phenomenon that seems to have no limits. "We made tours to Mendoza, San Juan, they invited us from abroad and now they invited us to the special Olympics in Berlin 2023," says Silvina, who gives talks in the country and abroad and is consulted from different provinces where,  from the experience of Las Lionas, inclusive hockey spaces are being opened

How was the origin of this inclusive hockey project?

– It arises from a passion, I have a passion for life, for sports and for what I do. Clari, my daughter, all her life she played in Belgrano and this began as a space of belonging and it continues to be that for girls, boys and families; a proposal where, however you play, you have your place. Hockey is a tool, but the most important thing is the independence that knowing each other gives them.

And the name of Las Lionas?

– That is because we feel identified with Las Leonas, which is the Argentine team, because we are as good and excellent as Lionel Messi and also because we are noisy ( 'lio', laughs), we love to train with music, dance and enjoy ourselves.

In your experience, what is the main challenge of inclusive sport?

– The first thing is to be brave because you are changing a paradigm, a mental model. I never said that someone with down syndrome wouldn't be capable of reaching goals. You also have to have limits, personally perhaps I demanded more of Clara at some point, but it is important to be open minded, to want to understand that life is for everyone, you do not have to stigmatize and decide that they cannot achieve goals. What I particularly do is spread the euphoria and passion that I have. You have to believe in the human being as a human being. Wisdom is not just being good at maths or history, it comes from somewhere else. Sometimes they ask me how I get them to achieve what I want. And what do I want? I want each of them to advance at their own pace and level, to practice the values ​​that they bring from home, such as tolerance and patience. And it is incredible how they change and the environment is also changing

How are the training sessions?

– The Sports Department of the City of Buenos Aires gave us a space in Villa Devoto. We have a level of up to 10 years that is more interactive and coordination games, so that they can adapt. The other group, which is 10 to 15 years old, already plays matches and the older ones sometimes train all together and sometimes we divide them by levels. There is also a group of girls which ar more independent, they have more passion and more committed, who will be able to go out to compete around the world. Until the pandemic began, conventional clubs invited us, we would go and do an hour of training with the club's players as facilitators. In Las Lionas there is room for any girl or boy with Down syndrome or delayed maturation.

From what age can they be added?

- As from four years old. The other day they asked me about a 40 year old male, it is very difficult because we have just started with males, but he could come and try, perhaps he could come and be a helper, the space is there.

You mentioned that sometimes you were very demanding with Clara. What learnings did you have in that sense?

- Huge, it's a huge learning. My husband and I always wanted to teach our children to move forward, not to be a perfectionist but to know that you can achieve whatever you want. Clara went to conventional school all her life, she was integrated, but maybe, sometimes she was over demanded. She always had a social life, but when she started with Las Lionas, she started to relax a bit. When she talks in Television programs or radio, she stares at me as if seeking my approval, little by little I'm trying to blurt this out. It is not that I was looking for perfection in her but sometimes, trying to make her achieve as much as possible so that the society in which she lives does not judge her so much, I demanded it. It's hard.

- It is a reality of many fathers and mothers, but it also describes the importance of these spaces that allow the family to relax and see that their sons or daughters are capable and can be part of a team.

– In truth, the word inclusion should cease to exist, we should live in inclusion.

Are we very far from that?

"I don't think we're very far away." Girls can play a Paralympic game, what needs to be changed is the mental system, other paradigms. Ours, the girls 'and the parents', that's it.

Pan American Hockey Federation media release


---

Hockey's connection to Anzac Day




As Australians and New Zealanders prepare to commemorate Anzac Day, it is a fitting time to acknowledge some of those who served who had an association to hockey.

On April 25 each year, Anzac Day commemorates the sacrifices Australian servicemen and women have made and pays respect to those who have served and continue to serve.

In 2019 New Zealand hosted Australia in a FIH Pro League double header on Anzac Day. The countries were scheduled to continue the tradition in 2020 and this year but the matches have been unable to go ahead because of COVID.

Of the wars and conflicts Australians has been involved in, there are multiple examples of hockey being evident, whether it be people serving who were prominent hockey players, or regiments using hockey as a release and recreation away from the battlefield.

Thanks to historian John Sanders, here are some examples.




The above image, which was taken in Cairo, Egypt in 1941, is from a hockey match between Australian Imperial Force HQ and the Women's Australian Army Service Corps.




Lieutenant William Noall (pictured above) served in the Australian Armey Service Corps and represented Victoria in hockey. The Noall Shield that was presented to the champion hockey state was named in his honour from 1924-1952.

Peter Kennedy served in the Australian Imperial Forces with his three brothers before going on to represent Australia in hockey in 1948.




Colin Wallace Campbell (pitcured above) initially joined the 25th Light Horse Machine Gun Regiment before being promoted to Sergeant. He was discharged on 18 December 1945. He played for Western Australia and Old Modernians Hockey Club for many years.




Sergeant Audrey Jones joined the army in 1942 and served in the Australian Women's Army Service. After her discharge, Audrey became the 117th women's hockey player capped for Australia.




Roy Menzies served in the 2nd Royal Australian Army Service Corps. He was a Prisoner of War after the fall of Singapore and spent time in Changi Prison. He played 1st grade hockey for Old Modernians before World War II.




Victorian Robert Harold Nimmo landed on Gallipoli as a troop commander on 20 May 1915. He returned to Egypt in May 1916 and served throughout the Palestine campaign, becoming a major in 1917. He played hockey for Australia in 1927 and then served in the Second World War.

There are undoubtedly others not mentioned here, but to all of the servicemen and women who served and continue to serve to keep Australia safe, thank you.

Lest we forget.

Hockey Australia media release


---

Behind the lens: Volunteer photography captures the essence of Canadian hockey

Photo-exposure helps grow the game – Learn about two of the best Canadian hockey photographers




When Yan Huckendubler moved from France to Canada, the first thing he did was get involved with the local hockey club. Over 30 years later, Huckendubler has worn many volunteer hats and is unanimously dubbed Canada's 'king' of field hockey photography.

Upon arriving in Canada, Huckendubler volunteered at domestic competitions. It wasn't long before he shifted into the area of media and communications. As an I.T. professional, Huckendubler loaned his skill set to the hockey community. He contributed to the Field Hockey Canada website and started to provide coverage — and photos — from international events.

"At that point, everyone was really happy to see the scores of the matches and any pictures we could provide. But then people wanted to see more," he said. "There was never any budget to pay for photos. And I didn't really know how to take a decent action-shot. So, I just thought, 'we should take our own photos.' I bought a half-decent camera and did my best."

YAN HUCKENDUBLER – PHOTO HIGHLIGHTS

After getting a few tournaments under his belt, including the 1998 World Cup in the Netherlands, Huckendubler started to focus on the photography itself. It wasn't long before he became one of the most trusted hockey-photographers in Canada — and the world. Reflecting on his career as a volunteer photographer, Huckendubler said the community involvement is somewhat addictive. He loves the magic of an international competition and he's still blown away by the events he's been able to attend.

"When I started going to the first few tournaments, I thought it was fun. But now 20 years later, I've been to all of these events around the world. I could not have imagined being where I am now," he said, noting that the more important the event, the more energized he feels as a photographer. "You are on the ground; everybody is cheering and clapping. It's exciting. Being there, you are a part of the action. You feel pushed to take a good picture. You feel some pressure."

Huckendubler notes the 2019 women's and men's Olympic Qualifiers as major highlights along with the 2016 Olympics, the 2018 World Cup in India and the 2014 and 2018 Commonwealth Games. His photo-capture of women's national team player, Hannah Haughn at the 2011 Pan American Games in Guadalajara is one of his all-time favourite photos.

"The feelings expressed by players, whether joy or despair, are as much a part of the coverage of the sporting event as the action shots," he said, referring to the Haughn photo. "It looks like she is about to take off with joy."



Karli Johansen



2011 Pan American Games, Guadalajara, Mexico - Field Hockey

Yan Huckendubler has been taking photos at major international tournaments since the 1998 World Championships

Huckendubler said that he also takes pride in capturing community volunteers, umpires and coaches in his shots. For him the game is all-encompassing and it's not always about just what's happening on the field. Next on the agenda for Huckendubler is the Tokyo Olympic Games, taking place July 24 – August 8, 2021. He has secured a photographer's accreditation and will be pitch-side during the hockey competition. He expects this iteration of the Olympic Games to be different than any prior event, but he remains enthusiastic to witness the world's best in action.

"It's usually a big festival. There's always celebration and partying," he said, reflecting on his experience in Rio, London and Sydney. "Obviously this will be very different. But I'm expecting the hockey to be at the top level. The games will be amazing and I'm excited to capture the sport on this stage."

Community involvement is a family affair

Like many parents, Blair Shier was introduced to the hockey community by watching his daughters' games. Like many parents, he brought a camera along to capture some of the moments. Unlike many side-line parents, Shier's photos were very good…and getting better.

Shier's daughter, Kri, is a University of Toronto hockey alum and former indoor national team player who grew up playing in the Vancouver area. She is a community volunteer as well, sitting on the Field Hockey Canada board of directors as a player rep. Her father would attend games and take photos, slowly accruing the skill and equipment to become a full-on volunteer photographer in the hockey community. Reflecting on his journey, Blair said it was a gradual shift as he followed his daughter's career.

"It all happened naturally. The venues started to get better, the competition got better, so I figured the photography needed to get better to keep up with it," he said.

BLAIR SHIER – PHOTO HIGHLIGHTS

Shier has both indoor and outdoor hockey photo experience, often splitting duty as a parent-fan and volunteer photographer. It was the 2014 Pan American Indoor Championship leading to the 2015 Indoor World Cup where he took that next step and registered as a tournament photographer.

Sports photography has long been a passion for Shier. He remembers as a kid, leafing through Sports Illustrated magazines and feeling inspired by the emotion that a photo can illicit. As far as actual professional training, Shier is self-taught.

"I've always loved sports photography. I even tried it with film back in the day, which was a lot more challenging," he said. "I just try to keep improving, upping my game and staying up with the most recent technology," he said.

Shier volunteers his photography skills for Field Hockey BC and Field Hockey Canada among other local clubs in his area. He knows the struggle of small organizations and their ability, or lack thereof, to pay photographers. He said he's happy to help promote the sport in Canada.

"I'm able to work with people who love what they do, they aren't in it for the money and these photos are helping good people do good things in sport," he said. "If my photos and my skills can help grow the game and support the game, I'm happy to do that. Of course, it's always great to get my photos published as well," he notes.

Blair Shier got his start as a side-of-the-field parent photographer. He now shoots provincial, national and international hockey.



Blair Shier got his start as a side-of-the-field parent photographer. He now shoots provincial, national and international hockey.

Being local to Rutledge Field, Shier notes the 2019 Men's National Team qualifier against Ireland as one of his favourite photo accomplishments.

"It's special to get to shoot that calibre of hockey. These are players at the top of the game," he said. "Anytime you get into the championship environment, it's amazing."

Because Shier lives in Vancouver, he has regular access to the Women's and Men's National Teams. Shier makes special note of how — in contrast to a major event — interesting it is to shoot teams in their training environment.

"I also love going out to shoot the teams at eight in the morning in the solitary environment. You get to see the work that goes into it before they put it all on show at the tournaments," he said.

Thank you to Blair, Yan and other photographers for contributing to the growth and promotion of field hockey in Canada. We look forward to seeing your amazing photos as hockey safely returns over the coming year.

Field Hockey Canada media release


---

'Juniors need to play with a scoreboard more' – An Englishman abroad's hockey takeaways

Coaching Lab founder Jack Rolfe speaks to The Hockey Paper on his experiences coaching in Australia




The influence of growing up on grass does impact players, there is a high priority focus on how players trap the ball and share the ball over long distance.

The challenge then becomes the transition phase to turf. You see teams trying to play the same type of game on turf as they do on grass which just isn't possible. Similarly where there are some high order skills as a byproduct of grass there are also some essential skills missing which take time to develop.

What I absolutely love about what I see more often than not is, clubs, coaches, state academy programmes wanting the best for each individual. There is a strong competitive desire to drive performance of each player with playing opportunities and development.

Something that we don't get in European countries as much is the diversity of players, with many players coming from the 'country', they possess an exciting and playful skill-set that some metropolitans may not have acquired yet.

These players would often be playing more hockey and certainly more senior hockey a lot earlier than most, playing against people a lot bigger and more skilful. Powerful, full of speed and variety of elimination skills!

In what is the most isolated city at the best of times but even more so during Covid, players of Perth are in a fortunate enough position to be learning the game from some of the world's best, you have Ric Charlesworth coaching a school side, to Jamie Dywer, World Cup winner David Bell, specialist coach Trid Woodhouse and recent Kookaburra Aaron Kleinschmidt working with the junior and senior players. It is a hockey gold mine, literally!

My three takeways from hockey in Australia

There is a clear understanding of the game demands and what players need to be successful; naturally this influences the delivery of training and the clarity of messaging shared with players. The game is king!

Play with a scoreboard more! I don't think there is a turf in Perth without a clock and scoreboard meaning from a young age players are use to playing against the clock to beat the game, driving those competitive behaviours we see so evidently at the senior international level.

Know what world class looks and feels like! I have watched more hockey in the past six months than ever before and I don't go to take a game without my pocket notebook. You take something from every game, how a Blake Govers receives the ball in the circle or how Steph Kershaw moves through deep defence to find an opening, it all adds up to influence your thinking.

Jack Rolfe is the founder of The Coaching Lab

SIGN UP for The Hockey Paper's returning newsletter: Promotions, exclusives and our best coverage

The Hockey Paper


---

Erin Matson's hat trick and assist leads UNC field hockey to 4-3 overtime win over Syracuse

By J Banzet V



UNC junior forward Erin Matson handles the ball against Syracuse, November 6, 2020. On April 18, Carolina's top-ranked field hockey team again faced the Orange, fighting to a 4-3 overtime victory, led by Matson's three goals. Photo by Cynthia Liu | The Daily Tar Heel

The No. 1 North Carolina field hockey team (15-1, 9-1 ACC) won its third consecutive overtime game on Sunday afternoon, defeating No. 11 Syracuse (8-8, 4-6 ACC), 4-3.

What happened?

Both teams went scoreless until the last minute of the first quarter, when UNC junior forward Hannah Griggs found the back of the net. The Faversham, England, native scored her fourth goal of the season off the assist from first-year midfielder Katie Dixon.
 
Then, less than five minutes into the second quarter, UNC scored again when Matson capitalized on a penalty corner. Senior midfielder Eva Smolenaars inserted the ball to sophomore back Romea Riccardo, who stick stopped for Matson, and the Tar Heels found themselves with a 2-0 lead that they took into halftime.  
 
The Tar Heels came out of the locker room flat, and the Orange took advantage by scoring twice in the third quarter. The first goal came just over two minutes in on a redirect, and the second came on a penalty corner.

That meant the game was tied going into the fourth.
 
The Orange then took the lead on another penalty corner deflection, which caused Shelton to pull senior goalkeeper Amanda Hendry to gain an additional Tar Heel in the field.

It only took three minutes for the decision to pay off. UNC drew a corner and Matson scored her second goal of the game, assisted by Riccardo, to force a 3-3 tie.

With the game tied at three apiece, Shelton put Hendry back in the game and the teams played the rest of regulation scoreless, forcing overtime for the Tar Heels' third game in a row.

When was it decided?

Four minutes later, Matson and redshirt junior forward Meredith Shoulder forced an Orange turnover in the middle of the field. Matson controlled the ball and passed it to Smolenaars, who found sophomore midfielder Paityn Wirth open at the 23m line.

Wirth dribbled into the circle and allowed Matson to set up between her defender and the goalkeeper. Wirth then passed to Matson in front of two Orange defenders, and Matson won the game with her third goal of the afternoon.
 
"I'm pleased with Paityn's assist on the game winning goal," Shelton said. "She's shown great growth. That was a team goal. Erin got herself in the right place at the right time, but she's got to have her teammates' help too. Paityn had pressure on her and was able to control the ball and find Erin."  

Who stood out?

Junior forward Erin Matson scored three of North Carolina's four goals, marking her second hat trick in as many games. Including the Tar Heels' last contest, Matson has scored six of UNC's last seven goals, and 11 of the 15 total during the five games this spring. She now has 24 goals this season, the most in the country.

Shelton had some high praise for her junior forward's clutch play after the game.

"Erin is one of the greatest competitors we've had the privilege to coach," Shelton said. "When the game is on the line, she wants the ball."

Why does it matter?

With the win, UNC's record improved to 15-1, including an unblemished 5-0 mark this spring.

"I'm incredibly proud of our team," head coach Karen Shelton said. "Syracuse is always a tough place to win. We found a way to win and we'll take away important lessons from this game. It was a great game to win, but we still have a lot of work to do."

1993 was the last time UNC played three consecutive overtimes games, and that year, the occasion came during the NCAA Tournament. The Tar Heels lost the third game that season, but this year, North Carolina won all three to finish its spring regular season unbeaten.

When do they play next?

The Tar Heels will take on Wake Forest on Friday afternoon for the ACC Championship at Karen Shelton Stadium.

The Daily Tar Heel


---

No. 3 Northwestern defeats No. 6 Rutgers to advance to Big Ten Tournament semifinals

Skye Swann



Sophomore midfielder Alia Marshall gets in position to defend Northwestern's cage. Marshall was a key player in shutting down all seven of Rutgers' corner attempts in the Big Ten Quarterfinals. Daily file photo by Kelsey Carroll

No. 3 Northwestern defeated No. 6 Rutgers 2-1 Wednesday to advance to the semifinals of the Big Ten Tournament.

"We just needed to come out today, start strong, and we did," coach Tracey Fuchs said. "(Rutgers) is a great team and they tied it up, but we just kept playing."

Following two upsets from the Scarlet Knights (9-6, 5-4 Big Ten) in the regular season, coach Tracey Fuchs said the team "played great hockey" on Wednesday to end the losing streak.

NU's offense came out with high intensity. The Cats penetrated the defensive zone to earn  three corners, and the last one was the lucky charm. Redshirt senior forward/midfielder Lakin Barry tipped the ball into the cage to give NU a 1-0 lead.

The Cats slowed down in the next fifteen minutes, taking only one shot in comparison to the four from the previous quarter. The Scarlet Knights capitalized and freshman forward Bridy Molyneaux soon tied the game at one.

NU opened up the second half with a goal from redshirt sophomore Bente Baekers, giving the Cats the 2-1 lead they'd keep for the rest of the game. The Big Ten Offensive Player of the Week scored her reverse shot — and fifth goal in four games — off Rutgers senior goalie Gianna Glatz.

The Cats' defense was put to the test when freshman midfielder Katie Jones sat out with a green card, giving the Scarlet Knights a man-up opportunity. But freshman goalie Annabel Skubisz rose to the occasion, blocking the Scarlet's Knights three corner attempts.

"Our corner defense was amazing today," Fuchs said. "That was the difference in the game."

Skubisz stepped up by totalling three saves and blocking all seven penalty corner attempts. Fuchs said the Houston native has gained "a lot of experience" this season filling in for injured senior goalie Florien Marcussen.

Sophomore midfielder Alia Marshall was another critical player to the Cats' strong defensive performance. She held the tight box formation in each of the Scarlet Knights' seven corners to clear the ball outside of the arc around the cage.

Marshall said the backline felt the pressure in the second half, but stuck to their game.

"We knew that if we had the ball then (Rutgers) couldn't score," Marshall said. "On defense we wanted to keep marking tightly and keep good pressure on the ball."

NU will face seventh seed Ohio State Thursday night in the semifinals of the tournament. To increase their chances of victory, Fuchs said the Cats need to capitalize on the scoring zone, especially since Rutgers outshot them 10-6 on Wednesday.

Despite sweeping the Buckeyes 2-0 in the regular season, Fuchs said the team has "its work cut out for them" with Ohio State Big Ten Offensive Player of the Year Mackenzie Allessie, adding that she thinks Thursday's game will be a good matchup.

"We just have to go out and play our game," Fuchs said of the semifinal matchup. "We didn't have a great second half so we just want to improve every game."

The Daily Northwestern


---

Maryland field hockey out of Big Ten tournament after getting blitzed by Iowa, 3-0

Shane Connuck



Defender Riley Donnelly challenges for a ball during Maryland field hockey's 3-0 win over Iowa on Oct. 11, 2019. (Julia Nikhinson/The Diamondback)

As she's done all season long, Riley Donnelly drag-flicked a shot toward the cage after Maryland field hockey drew a penalty corner. And as had been the case all match long for the Terps, her shot — with 20 seconds left in regulation — missed the mark.

When the clock read zero, coach Missy Meharg greeted Iowa coach Lisa Cellucci on the sideline. Cellucci's Hawkeyes pulled off a dominant 3-0 thrashing of Maryland to knock the Terps out of the Big Ten tournament.

"I told her I hope she wins it," Meharg said. "She is a phenomenal person."

It was a struggle on offense for No. 9 Maryland (8-7). For the first time since Oct. 20, 2007, the Terps didn't register a single shot on goal.

The damage started early. Less than five minutes into the match, No. 4 Iowa (11-4) drew the match's first penalty corner and found the back of the net.

The Hawkeyes' Nikki Freeman stopped Leah Zellner's defensive intervention with her stick, allowing Ellie Holley to fire a shot past a diving Noelle Frost. And Iowa celebrated on its home pitch, but not for the last time.

A minute later, the Terps responded with a penalty corner of their own. After an initial shot was deflected, a Kyler Greenwalt follow-up shot was also cut off by the Hawkeyes.

"Maybe we didn't do all we could," Greenwalt said. "I think their defense was the same the last three times we've played them now."

And the fast start for Iowa continued. After breaking up a Maryland push downfield, Esme Gibson found Alex Wesneski, who pushed another shot past Frost — the second Hawkeyes goal in two minutes, giving them a 2-0 lead.

The Terps had only allowed two first-quarter goals all season. And it matched that only seven minutes into its opening Big Ten tournament match.

"Iowa is a very powerful team and dominated from the get-go in the first 15 minutes," Meharg said. "That really set the tempo for the match."

Maryland's attack did look strong early, drawing another penalty corner on the other end of the pitch. Still, nothing was getting by Iowa's defensive corps.

In the final minutes of the opening period, a green card was called against the Hawkeyes. But Iowa wouldn't let the Terps benefit from their power play, controlling the ball deep on their side of the pitch and keeping it away from an anxious Maryland attack.

"We had been playing several games in a row with sustained passing," Meharg said. "And today, our passing was behind everybody. We were passing into people's back feet."

Iowa wasn't done scoring. Before Maryland even took a shot, the Hawkeyes scored once again.

Gibson sent a long, sharp shot in the direction of the cage. And in the blink of an eye, the ball was behind Frost.

The Terps' Nathalie Fiechter tried to swat the ball away with her stick. But Wesneski was there to deflect Gibson's flick into the goal — giving Iowa a commanding 3-0 advantage.

Nothing seemed to be going Maryland's way in the first half. Eventually, Taylor Mason knocked down the ball and set herself up with a relatively open shot. However, it was off the mark, sailing wide left of the cage.

As the Terps headed to the intermission, they faced their largest halftime deficit of the entire season. Maryland had only let up three goals in an entire match twice this season. And it had already done so by the end of the second quarter of its Big Ten tournament quarterfinal.

"It's not like we don't know the defenders and know their styles," Greenwalt said. "We just kind of have to learn from this experience and move forward."

Just over six minutes into the second half, the Terps drew their third penalty corner of the match. But again, Maryland missed, as the shot from Maura Verleg was wide.

A late Brooke DeBerdine near set-up was one of the only chances Maryland had created to try and break down the Iowa lead, but they were few and far between and the Terps came crashing out of the tournament.

"I couldn't be more proud of the memories with this team over so many years of just what you know to be a regular season," Meharg said. "There's nothing regular about what we've done."

Although Maryland sits at No. 9 in the National Field Hockey Coaches' Association poll, only 12 spots are open in the NCAA tournament.

With a handful of teams earning auto bids from conference tourneys, the Terps will have to hope their resume can stack up with the competition if their season continues.

"I honestly wouldn't want to go through this journey with anyone else," Greenwalt said. "Everyone's just had everybody's backs, and it's very sad that we lost."

The Diamondback


---

Penn State field hockey drops Big Ten Tournament quarterfinal, takes Ohio State to overtime

Kailee Warner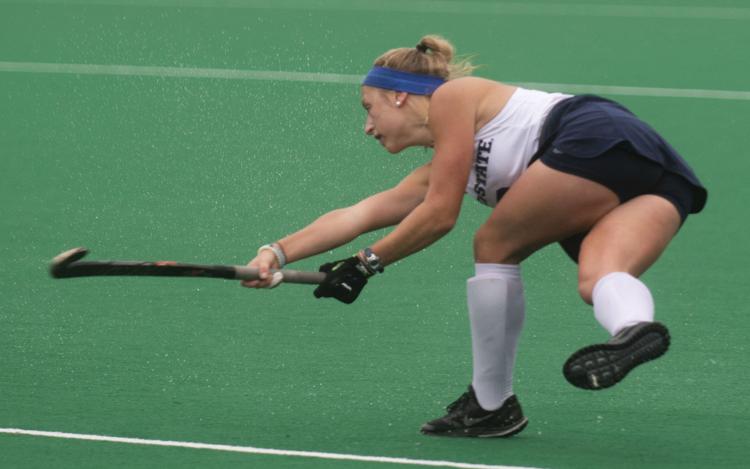 Forward Bree Bednarski (6) hits the ball during the game against Michigan at the Penn State Field Hockey Complex on Thursday, Nov. 7, 2019. Penn State defeated Michigan 2-1. Samantha Wilson

Penn State put up a fight against Ohio State in the season-ending quarterfinals of the Big Ten Tournament, ultimately taking the Buckeyes to overtime.

However, it wasn't enough as the Nittany Lions lost 4-3 Wednesday evening.

Ohio State earned the first corner of the game about five minutes into the first quarter. Penn State's defense, led by sophomore goalie Brie Barraco, was able to keep the ball out and regain possession with the contest remaining scoreles.

With two minutes left in the opening frame, the Buckeyes got another corner, but this time they were able to break through the Nittany Lions' defense and scored the first goal of the game.

The ball remained on Ohio State's side for the rest of the quarter, meaning its lead hung tight at 1-0.

Five minutes into the second quarter, senior forward Emma Spisak got the first corner of the game for Penn State.

Senior forward Bree Bednarski was the inserter and, after patiently waiting to get the deflection off the goalkeeper's pads, flicked in a shot for a Nittany Lion goal.

With one more scoreless corner for each side, the first half ended in a 1-1 tie.

After the break, the third quarter went back and forth until the last two minutes.

Penn State got its third corner of the game, with Bednarski playing the inserter role once again. The shot came from junior defender Anna Simon, and during the ball's path toward the cage, Bednarski recorded another tip that caught Ohio State's goalie off balance and put the Nittany Lions on top 2-1.

This lead didn't last for long, however, as Ohio State scored in the first minute of the final quarter.

Just three minutes later, the Buckeyes got another corner and took the lead for the first time since the opening frame.

With under 10 minutes left, freshman forward Sophia Gladieux scored her first goal of the game, which tied the score at 3-3.

Penn State Athletics reported four additional positive coronavirus test results after its la…

In overtime, Penn State earned a corner at the eight minute mark, but was unable to get the ball in.

Ohio State answered just a minute later and got a shot past Baracco to win the game, ending the Nittany Lions' season.

Tight defense helps Penn State

Utilizing a man-to-man coverage style, the Nittany Lions gave Ohio State less room to make plays.

The blue and white applied pressure as soon as the ball would reach a Buckeye player's stick. This gave Penn State more opportunities to gain possession while also leaving Ohio State flustered.

The blue and white was also pressing on the backpasses that came from the Buckeyes, which prevented Ohio State from holding onto the ball as long as it usually does.

Never giving up

Penn State played the fourth quarter with a sense of urgency not seen all season long. It kept the intensity at a high level throughout the game and challenged the Buckeyes by not letting them get ahead by more than one goal.

Ohio State scored the first goal, but the blue and white scored as well before letting its opposition score another. This continued until the final quarter when the Buckeyes scored two goals in just a couple minutes of play.

Even though Ohio State did get ahead, the Nittany Lions made sure it wouldn't last and scored another goal to tie up the score once again.

Corners turn into goals

Something the Nittany Lions have struggled with all season has been using corners to their advantage.

Penn State did much better with this during Wednesday's affair as two of its four corners turned into goals.

Bednarski was able to insert the ball on corners and then get in a good position to score a goal as well.

The Collegian


---

SPAR Hockey Challenge returns for take two

The month of May is choc-a-block full of action with eight of the regionals taking place.  



Back on track for the Take Two of the tenth year of the SPAR KZN Schoolgirls' Hockey Challenge that kicks off on the first weekend of May. Celebrating the announcement are Tournament Director Les Galloway from Schoolgirls Sports, Nozi Mkhize, advertising and sponsorship manager and Claire Hogg, sponsorships controller from SPAR KZN. PHOTO: Val Adamson

THE hugely popular SPAR KZN Schoolgirls' Hockey Challenge is back on track this year, with a take two of their milestone 10th year.

Having only progressed halfway through the fixtures last year, before Covid-19 paused play in the tournament's celebratory year, it will be extremely exciting for the girls to get back onto the turf.

It is full steam ahead for the annual girls' hockey tournament with the 10 regional tournaments rolling out in a quick-fire six weekends.

The month of May is choc-a-block full of action with eight of the regionals taking place.

The only difference in this year's fixtures is the absence of the much-loved and highly anticipated grand finals. It will be back in all its grandeur next year.

Tournament director, Les Galloway from Schoolgirl Sport said, "We have really missed the action. It has been just over a year since the curtain came down on us, and I cannot wait to see the girls back on the pitch enjoying these wonderful SPAR tournaments."

All Covid-19 protocols will be in place to ensure the safety of all participating. And due to current Covid-19 regulations and protocols, no spectators will be allowed.

Northglen News


---

Hockey mourns the loss of statistics guru B.G. Joshi



Photo credit: Hockey India

On Tuesday, it was reported that renowned hockey statistician and historian Baboolal Govedhan (B.G.) Joshi had passed away, succumbing to COVID-19 complications at the age of 67.

A leading authority on hockey statistics not just in India but also globally, B.G. Joshi was a hugely influential figure in hockey media circles, with journalists the world over quick to recognise the huge importance of his life's work, amongst them being Mihir Vasavda of The Indian Express.

"At a time when professional sports had dedicated teams to maintain statistics, Joshi was a one-man army in a sport that was bereft of any such data, especially on Indian players", wrote Mihir Vasavda about the man who maintained hockey statistics since the early 1970s, something which essentially began as a passion project.

Vasavda continued: "He went to extreme lengths to make sure not a single goal scored by an Indian went unrecorded. This, despite the sport not being widely telecast, matches being played at irregular intervals and barely any information available on the web, making stats-keeping that much harder. Yet, for close to five decades, he has been a go-to man for federations, players and journalists for all the numbers related to hockey, more so the Indian game."

"No stat was seemingly beyond him", wrote Rod Gilmour, the editor of The Hockey Paper. "When Ireland women reached the 2018 World Cup Final, according to The Hook, 'he whipped out the line that Zoe Wilson was only the third bespectacled player to reach that stage'."

It is not only hockey journalists who have been paying tribute. Writing on Twitter, legendary India attacker Dhanraj Pillay was one of many players who expressed sadness regarding Mr Joshi's death, describing him as the man 'who remembered our achievements better than us. Ever-smiling and always ready to help, he's chronicled Indian Hockey for five decades. With the passing of Joshi ji, I've lost a dear friend and the hockey fraternity has lost one of its biggest assets."

Hockey India president Gyanendro Ningombam said: "Despite his full-time job as an engineer with the Madhya Pradesh Water Resource Department, he would remain committed to his passion of keeping up with the numbers. There is perhaps no player in the history of modern hockey that B.G. Joshi didn't have statistics about. He kept records of players debuts, goals, goal assists and so on and also maintained records of global hockey. We have lost a true fan of hockey today. We express our deepest condolences to his family members. We share their grief in these sorrowful times."

FIH Media Officer and journalist Richard Stainthorpe described Mr Joshi's passing as "desperately sad, a massive loss for a sport that he was fanatical about. He was a humble man who was perhaps unaware just how revered he was by his peers. Media centres at hockey events in India simply won't be the same without him."

The International Hockey Federation (FIH) offers our sincere condolences to B.G. Joshi's family and friends at this difficult time. His immense contribution to our sport will live forever in the hockey statistics that he dedicated his life to collating.

FIH site


---

Zafari Lived and Breathed Hockey

By Ijaz Chaudhry



1971 World Cup Pakistan's victory parade Garlanded Zafari centre along with Khalid Mahmood (captain), Asad Malik (vice captain)

Hockey stalwart Lt Col(rtd) Zafar Ali Zafari, who passed away early this month, figured in the Pakistan team which won country`s first ever Olympic medal in any discipline, a silver in 1956. Four years later, Pakistan hockey grabbed what the whole country had been waiting for since its creation, the Olympic gold. And Zafari was a proud member of the squad. Later, he had the distinction of being the manager of Pakistan`s victorious team at the inaugural World Cup in 1971.

He remained associated with the game in a number of other roles as well. This included the all-important office of secretary PHF.

Born in 1930, in the Northern Punjab`s city of Chakwal, Zafari`s precocious talent led to his selection in the first ever national hockey camp of the newly created Pakistan, for the 1948 Olympics. He was named among the stand byes.

Zafari mostly played at the inside left position, occasionally centre forward, and was known for his dribbling skills as well as scoring prowess.

Zafari joined Pakistan Military Academy in 1950. Here too, he impressed everyone and gained selection for the army team while still at the academy. Army was the most powerful outfit on the domestic scene.

In 1952, Zafari was again called for the Olympics camp, and was widely tipped for the final selection. But going to Helsinki meant losing six months of seniority in army, and he returned to academy.

Army remained the strongest side on the national circuit throughout the 1950s and the first half of the 1960s. During this period, the soldiers lifted the national title four times, more than any other side. In 1962, the final was played between Army Reds and Army Whites – such was the depth of talent.

Zafari`s contribution was immense in these successes.  He shone among the galaxy of stars in those army teams including such illustrious names as Brig Hameedi, Brig Atif, goal keeper Zakir Hussain, Major Khurshid Zaman, among others.

In those days of limited international hockey activity, Pakistan`s first post 1952 Olympics assignment was the 1954 home series against the erstwhile West Germany. And finally, Zafari debuted for Pakistan. Next, he toured with the national team to Malaysia, Singapore and Sri Lanka.

At the 1956 Olympics, Pakistan managed to reach the final, having perished in the semifinal at the two previous appearances. They had to settle for the silver, losing to India 0-1 in the final.

For the 1958 Asian Games, again, the professional commitments made him unavailable. Zafari was attending the staff course in the USA.

However, he was very much a part of the Pakistan team which created history by winning country`s first ever Olympic gold in 1960.

Zafari possessed excellent close control enabling him to find his way through the most packed of defences and was a goal scorer to boot.  He could have been a first choice inside left in any other national team of his time. But during his international career with the Pakistan team, Zafari mostly sat on the bench. Pakistan`s first choice left in was none other than legendary Naseer Bunda, the mighty mouse. Regarded as the finest forward of that era, Bunda also scored that epic goal in Pakistan`s 1-0 win vs India in the 1960 Olympics final.

Only a few years after his playing days, Zafari was appointed the secretary of Pakistan Hockey Federation, in 1964. He held this important office till 1967.

Then he was entrusted with another big responsibility, manager of Pakistan team for the inaugural World Cup in 1971. Pakistan, the reigning Olympic as well as the Asian Champions barely managed to make it to the semifinal. They did well in the knock out phase to win the title and thus complete the grand slam.

Zafari retired from army in 1980. Another challenging job awaited him. In 1983, he was appointed the General Manager Sports in the Pakistan Steel Mill. He remained overall in charge of sports of Pakistan`s largest industrial mega-corporation till 2000 and raised PSM`s teams in a number of disciplines including hockey, cricket and soccer. A hockey synthetic turf was also laid; one of the very few such facilities in the country those days. Many players of the Pakistan Steel Mill`s hockey teams graduated to play for Pakistan`s national and age group teams. His son Aamer Zafar represented Pakistan from 1987-89 which included appearance at the 1988 Olympics.

Zafari, who was part of the national selection committee a number of times; chief selector a couple of times, again had managerial stints with the national teams.  The longest was with the Pakistan Juniors from 1983-1984, ending with the 3rd Junior World Cup where Pakistan finished third. Was also called to manage the Pakistan team at the 1986 Champions Trophy; again 3rd position.

Last assignment as the manager was in 2002: Commonwealth Games (3rd Position), Champions Trophy (3rd) and Asian Games (4th).

Last hockey assignment was member of the PHF Executive Board in 2010.

Those who played with him or under him, all recall "Lt Col Zafar Ali Zafari was a very soft spoken person who was polite to a fault, and hockey was his real love. "

This love saw him affiliated with the game for more than 60 years as player, manager/coach, selector and administrator – achieved in every role.  

Ijaz Chaudhry writes on hockey & other sports. For more about him and his work, visit: www.sportscorrespondent.info

Fieldhockey.com