All the news for Wednesday 21 April 2021

Malaysia are no match for Britain



Malaysian hockey players in action against Great Britain during the friendly match at the National Hockey Stadium. (Inset) Arul Selvaraj.

Coach Arul Selvaraj added fresh legs to Malaysia's international friendly triangular against Great Britain on Monday but it was still not enough.

The British visitors easily beat Malaysia 3-1 at the National Hockey Stadium.

After seeing his men lose 3-0 to Japan on Saturday, Arul called up national juniors Akhimullah Anuar Esook, Pavandip Singh and Shello Silverius for the battle against Great Britain.

Until halftime, Malaysia and Great Britain were on level terms, 0-0.

But in the third quarter, the Brits scored two quick goals in just one minute through Rupert Shipperley (35th) and Phil Roper (36th).

The national team lost their shape and tenacity after that, leaving Adam Dixon to make it 3-0 in the 44th before Razie Rahim pulled one back with a penalty corner effort in the 55th minute.

Before the match started, Arul had said: "The focus point for my players in this match against Britain is the 'speed of thought' as British players are fast with the ball as well as footwork.

"My players need to have a 'fast mindset' to make an impact."

New Straits Times


---

Malaysia lose again to Japan

By Jugjet Singh



Razie Rahim scored Malaysia's only goal in the triangular

KUALA LUMPUR: Malaysia's dry run in the international friendly triangular continued when they went down 1-0 to Japan at the National Stadium in Bukit Jalil tonight.

Coach Arul Selvaraj and his men lost the first match against Japan, 3-0, followed by a 3-1 defeat to Great Britain.

In the second encounter, Kazuma Murata's 29th minute field goal was enough for Japan to sink the hosts.

The Japanese and British teams, preparing for the Tokyo Olympics, are using the triangular in Malaysia to acclimatise.

Malaysia have scored only one goal in three matches, off Razie Rahim, while letting in seven goals.

Malaysia's final friendly match will be against Great Britain on Thursday,

New Straits Times


---

Arul names squad for matches against Japan, Britain

By K. Rajan



Coach Arul Selvaraj opted for a tried and tested formula in the national call-up of players for the international friendly series at the National Hockey Stadium on April 17-24. - NSTP file pic

COACH Arul Selvaraj opted for a tried and tested formula in the national call-up of players for the international friendly series at the National Hockey Stadium on April 17-24.

Yesterday, he shortlisted 22 players for a centralised training camp for the series against Japan and Britain with only former international Muhammad Azri Hassan being the new face.

Arul said he needed a strong and experienced squad for the training camp which starts tomorrow as the friendly tournament would not be a cakewalk.

"The matches against Britain and Japan are not going to be easy because they are in the phase where they are preparing mentally and physically for the Tokyo Olympics, while we are in the phase of preparing for the next international tournament," he said.

Commenting on Azri's inclusion, Arul said the defender's experience will be a boost to the team.

Azri, 29, a former national junior player, had earned 101 international caps, and featured in the 2018 Asian Games final.

The 22-player list comprises 10 from Tenaga Nasional Berhad, seven from UniKL, three from Maybank and two from Terengganu Hockey Team.

THE TRAINING SQUAD:

Goalkeepers: Muhammad Hafizuddin Othman, Adrian Andy Albert, Muhammad Zaimi Mat Deris, Mohammad Hairi Abdul Rahman.

Defenders: Muhammad Razie Abdul Rahim, Muhammad Marhan Mohd Jalil, Zulpidaus Mizun, Muhammad Azri Hassan, Syed Mohamad Syafiq Syed Cholan, Muhammad Najib Abu Hassan, Muhammad Aminuddin Mohd Zain, Muhammad Najmi Farizal Jazlan.

Midfielders: Nik Muhammad Aiman Nik Rozemi, Faiz Helmi Jali, Muhamad Ramadan Rosli, Mohamad Ashran Hamsani, Meor Muhammad Azuan Hassan.

Strikers: Norsyafiq Sumantri, Muhammad Firhan Ashaari, Muhammad Shahril Saabah, Faizal Saari, Tengku Ahmad Tajuddin Tengku Abdul Jalil.

New Straits Times


---

FIH Hockey Pro League: GB-IND postponed, AUS-NZL in talks




The FIH Hockey Pro League matches between Great Britain and India, scheduled on 8-9 May, have been postponed. This follows the recent decision by the UK Government to add India to the red list of countries due to the current status of the COVID-19 pandemic. FIH, Hockey India and Great Britain Hockey are monitoring the evolution of the situation in the hope of rearranging these matches at a later date.

India will still travel to Europe in May to play FIH Hockey Pro League matches against Spain (15-16 May) and Germany (22-23 May) while Great Britain will host Germany (12-13 May), USA (Women, 22-23 May) and Spain (Men, 22-23 May).

On a positive note, Australia and New Zealand are continuing their efforts to find a date for the matches between them following the announcement of a trans-Tasman travel bubble this week.

The FIH Hockey Pro League revised match schedule is available here.

Keep up to date with all the latest news on the FIH Hockey Pro League via the Watch.Hockey app, event website and through FIH social media channels - Facebook, Instagram and Twitter.

#FIHProLeague
#HockeyInvites
#PlayHockeyStayHealthy

Official FIH Pro League Site


---

Indian men's hockey team FIH Pro League matches against Great Britain postponed

The Indian hockey team can't travel since the UK government has included India in its 'red' list of countries banned to enter Britain due to a spike in COVID cases.

By Rahul Venkat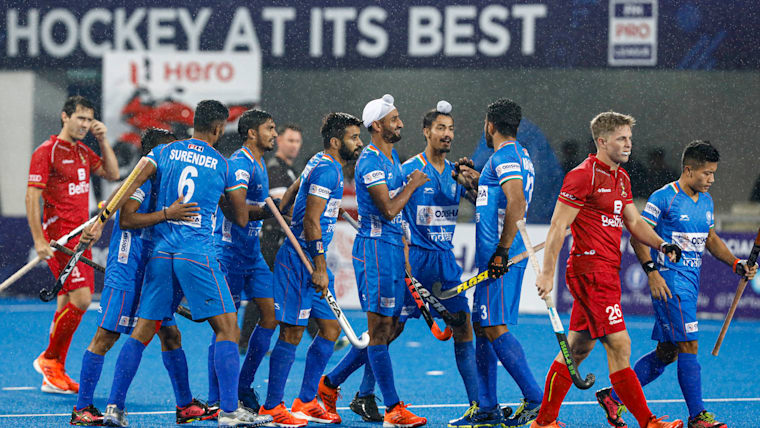 Photo: Hockey India

The Indian men's hockey team's matches against Great Britain in the FIH Pro League next month have been postponed, the FIH has announced on Wednesday.

The Indian hockey team was scheduled to play two FIH Pro League matches against Great Britain on May 8 and May 9 at the Lee Valley Hockey and Tennis Centre in London, United Kingdom.

However, the UK government has put India in its 'red list' – nations from where travel is not allowed into the UK – due to the second wave of COVID-19 in India, restricting the Indian hockey team's travel to the country.

The Indian hockey team will still be travelling to Europe in May though, as they take on Spain on May 16 in Valencia and Germany on May 22 in Hamburg.

This latest postponement will further hamper the preparations for the Indian hockey team, which had just returned to FIH Pro League action earlier this month after a year's break due to the COVID-19 pandemic.

India beat hosts and reigning Olympic champions Argentina in a penalty shoot-out in one match and dominated them in another to win the two FIH Pro League matches in Buenos Aires.

India currently sit fourth in the FIH Pro League standings with 15 points in eight matches, ahead of three-time world champions Australia.

India have won three matches, drawn three (won all penalty shoot-outs to earn three bonus points) and lost just two matches so far in their maiden FIH Pro League campaign.

Their good form and performance against higher-ranked opponents bodes well for a good showing at the upcoming Tokyo Olympics in July this year.

India, who have eight golds, two silvers, and three bronze at the Olympics, will aim to return to the podium for the first time since the 1980 Moscow Games.

Olympic Channel


---

Southern men and Northern women victors in North v South series



South's Oliver MacIntyre (right) celebrates tonight's match winner

A late winner from South's Oliver MacIntyre and a double from North's Deanna Ritchie gave their sides victory in the final matches of the Sentinel Homes North v South series in Hamilton tonight.

On a wet evening at St Paul's Collegiate, the men's match was all tied up at 2-2 until the 58th minute when MacIntyre rocketed in the winner from a penalty corner to give the South a 3-2 victory and with it the series.

The women's match came alive in the second half with two goals to Ritchie and two more in the last five minutes to give the North a flattering 4-0 win and the North v South title.

It looked like the low-scoring women's series would continue in tonight's decider with the teams going into the half-time break scoreless despite the rain clearing for the second match of the evening.

North striker Ritchie broke the deadlock seven minutes after the break. With a near-perfect reverse cross, Ella Hyatt-Brown found Ritchie unmarked in front of the keeper to deflect in an easy goal.

Lulu Tuilotolava nearly made it two for the North just before the three quarter mark with a cracking reverse shot from the top of the circle that went wide.

But it wasn't long into the final quarter before the North did extend their lead to two with Ritchie collecting her second with a well-worked penalty corner. Katie Doar found Ritchie on the right post, with Ritchie again simply deflecting the ball in to put the North ahead 2-0.

Rose Tynan put the result beyond doubt with the goal of the series, taking the ball into the circle and on to her reverse side before firing it into the top of the goal – albeit a goal without a keeper as the South upped their attack.

And right on the final whistle Alia Jaques cleaned up a scramble in the circle following a penalty corner strike to give the North their 4-0 victory.

Victorious North captain Stacey Michelsen praised the efforts of her young strikers in tonight's win.

"Our younger girls up front really pulled us through. No one has played a lot of hockey this year but the way they stepped up tonight was hugely impressive."

Women: North 4 (Deanna Ritchie 37 min and 46 min, Rose Tynan 55 min, Alia Jaques 60 min) South 0.

Game 1: South 2 North 0. Game 2: North 1 South 0. Series winner: North.

In the earlier men's game which was also a series decider, Dylan Thomas opened the scoring for the North with a lovely reverse shot following a poor clearance from the South defenders.

The South replied shortly after the quarter break while the North were reduced to 10 players in the weirdest of circumstances. North skipper Nic Woods was benched for five minutes for his side having 12 players on the field.

During Wood's absence, his opposite Blair Tarrant played a beautiful ball into the circle which Jacob Smith got the lightest of touches on to make it 1-1. This remained the score at the break thanks to some fine goalkeeping from the North's Dom Dixon who saved two strikes from a penalty corner.

Woods continued his drag flicking success early in the third quarter with another penalty corner goal to put the North back in front 2-1.

The South drew level at 2-2 in the final quarter with probably the best goal of the match. Matt Symonds surged from midfield to knock in a rebound goal after some great work from Dominic Newman in the circle.

Minutes later the Southerners secured the winner using a different option at penalty corner time that baffled the North defence, with MacIntyre firing the ball into the bottom right corner.

Men: South 3 (Jacob Smith 18 min, Matt Symonds 52 min, Oliver MacIntryre 58 min) North 2 (Dylan Thomas 10 min, Nic Woods 35 min).

Game 1: North 5 South 4. Game 2: South 3 North 0. Series winner: South.

Hockey New Zealand Media release


---

Hockey heroes return home

by Helge Schütz



Namibia captain Maggy Mengo and her team mates celebrate with the Africa Cup trophy. Photo: Enoke Kaumba

NAMIBIA's women's indoor hockey team returned home as heroes on Monday after beating South Africa 2-0 in the Africa Cup final in Durban on Sunday to qualify for next year's Indoor World Cup in Belgium.

A small but buzzing crowd welcomed them back at the Hosea Kutako International Airport and burst into spontaneous applause when captain Maggy Mengo and her team mates walked into the arrival hall, proudly displaying the Africa Cup trophy.

Tim Ekandjo of their main sponsor MTC was also on hand to share a bottle of champagne with the team, while the local media was out in full force to get interviews, photos and videos of Namibia's latest heroes.

Namibian captain Maggy Mengo said it was a very emotional experience.

"It was more than just a hockey game, we were doing this for our nation and also for Africa. It was a journey that we went through as a team and as the whole hockey union in Namibia, so there were a lot of emotions going on. There were also reflections of the previous qualifier in Swakopmund in 2017, and it was really playing in my mind that we can't lose the title now that we worked so hard," she said.

Mengo said she hoped to start preparations soon for the 2022 World Cup which will be held in Lieven, Belgium on 2-6 February 2022.

"I think we will start preparing for the World Cup as soon as possible, because we there are only nine months left. With Covid around there are also a lot of uncertainties, so we need to just be prepared for any date that we are given," she said.

The Namibian men's team failed to qualify for the World Cup, after losing 4-1 to South Africa, but their captain DJ Strauss said they had hope for the future.

"It was tough playing South Africa, but the upside is that we have a very young side and in a few years' time we can make it. It was just on the day, they took their chances and we didn't, but that's sport. Winning is easy, but losing is the hard part," he said.

The president of the Namibia Hockey Union, Marc Nel, said he was very proud of the women.

"I must say was quite surprised, because I didn't think we could beat South Africa so convincingly. At the last qualifier in Swakopmund we beat them on penalties, but now we beat them 2-0, and the fact that they didn't score was a fantastic effort and I'm very proud of our girls," he said.

"The fact that we did it without players like Kiana Cormack and others who didn't make themselves available for selection, has put a message out to former players and those on the verge of the team that no player is irreplaceable. Besides the captain Maggy Mengo, this is a very young team and to beat an experienced team like South Africa makes me very proud," he added.

Namibia now joins' ten other nations that have already qualified for the World Cup, namely Australia, Austria, Belarus, Belgium, the Czech Republic, Germany, Kazakhstan, the Netherlands, New Zealand and Ukraine, while one more team from the Pan America qualifiers still has to be determined.

Nel said they would do their utmost to be well prepared for the World Cup.

"We will prepare as much as possible, and try to do better than we did last time when we came ninth. We can easily finish in the top eight, I think we can end anywhere between the fifth and eighth positions," he said.

"We will discuss our plans over the next two weeks, bit I'd like to host a Four Nations tournament in Namibia with real competitive teams. Australia had previously said that they would love to come here, but only if we have other competitive sides, so we will see if we can host a competitive international tournament with other top teams like Belarus or Ukraine," he said.

Nel, however, said he was disappointed with the men's performance.

"I'm a bit disappointed with the men. They also had a young team, but I thought we could have done better than we did in 2017 when we lost 2-1 to South Africa. We should at least draw or beat South Africa, but to lose 6-3, 9-3 and 4-1 is disappointing and I think we are better than that. We have the players, there are even others who didn't make the team who could beat South Africa, so we need to analyse what went wrong," he said.

The Namibian


---

Argentina tour gave us chance to assess our level ahead of Olympics, says Indian men's hockey team coach Graham Reid

India beat Argentina in both their FIH Pro League fixtures and also registered victories in two out of the four practice matches against the reigning Olympic champions.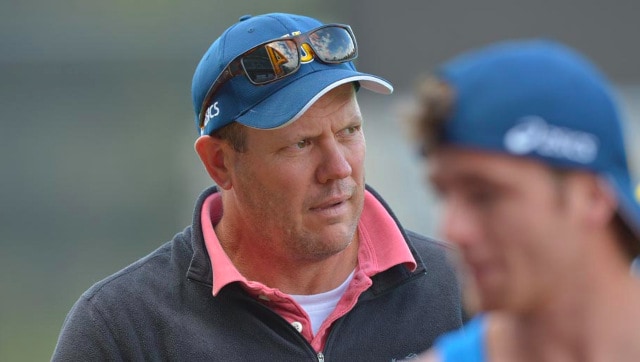 File image of Graham Reid. AFP

Bengaluru: The Indian men's hockey team chief coach Graham Reid on Tuesday said the recent tour to Argentina has been extremely beneficial as it provided him an opportunity to assess the level of his side with three months remaining for the Tokyo Olympics.

India beat Argentina in both their FIH Pro League fixtures and also registered victories in two out of the four practice matches against the reigning Olympic champions.

"These matches in Argentina were extremely important for us to assess the level we are at with lesser than 100 days to go for the Tokyo Olympic Games.

"We also managed to get a few practice sessions in Buenos Aires and we are really grateful to the CAH (Confederacin Argentina de Hockey) for their hospitality," said Reid after the hockey core group returned to the national camp in Bengaluru on Tuesday.

The postponed Tokyo Olympics is scheduled to begin on 23 July.

After completing their mandatory quarantine, the 22-member squad will join the remaining 11 members of the core probable group who remained in SAI, Bengaluru while the Indian team toured Argentina.

"After all the necessary protocols after our arrival, we will continue with our training with specific focus on the areas we feel can improve basis our performance in Argentina," Reid added.

The 33-member core probable group: PR Sreejesh, Krishan B Pathak, Suraj Karkera, Birendra Lakra, Rupinder Pal Singh, Surender Kumar, Amit Rohidas, Harmanpreet Singh, Varun Kumar, Gurinder Singh, Manpreet Singh, Nilakanta Sharma, Sumit, Jaskaran Singh, Rajkumar Pal, Hardik Singh, Vivek Sagar Prasad, Mandeep Singh, Lalit Upadhyay, Shamsher Singh, Dilpreet Singh, Shilanand Lakra, Kothajit Singh, Jarmanpreet Singh, Dipsan Tirkey, Nilam Sanjeep Xess, Chinglensana Singh Kangujam, SV Sunil, Akashdeep Singh, Ramandeep Singh, Simranjeet Singh, Gursahibjit Singh and Gurjant Singh.

Firstpost


---

Argentina results indication of our Olympics preparedness, says coach Graham Reid

Graham Reid, the Indian men's hockey team coach, says the encouraging results on the recent tour of Argentina gave them an indication of where the team stands with less than 100 days to go for the Tokyo Olympic Games. India played six matches with Olympics champions Argentina — two of them part of the FIH Pro League — and won three of them, drew two and lost one match. In the two-match Pro League rubber, India first held Argentina 2-2 in regulation before winning the tie-breaker 3-2, and then won the second match 3-0.

"These matches in Argentina were extremely important for us to access the level we are at with lesser than 100 days to go for the Tokyo Olympic Games," Reid said today.

Reid was commenting after the hockey core group returned to the national camp here on Tuesday.

The Tribune


---

'We can beat top teams like Argentina and Germany,' says India women's hockey captain Rani Rampal

India women's hockey team returned to international competition after a year's break with an exposure trip to Argentina in January




India women's hockey team returned to international competition in January after a year's break due to the pandemic. Though the team failed to register a win during their tours to Argentina or Germany, India captain Rani Rampal believes the experience will help them iron out the flaws.

"If we continuously work on fine details, we can beat them; they are not unbeatable," Rani Rampal told The Times of India.

"We got to play (after the pandemic forced break). It was special, especially Argentina and Germany who are World No.2 and 3

"Overall, these (Argentina and Germany) were good tours. I know everyone talks about results (but) we were playing after one year. During lockdown we could just work on fitness...So we first had to analyse (in a match situation) where we are fitness-wise, how much more we need to work on it, both practically and technically," Rampal added.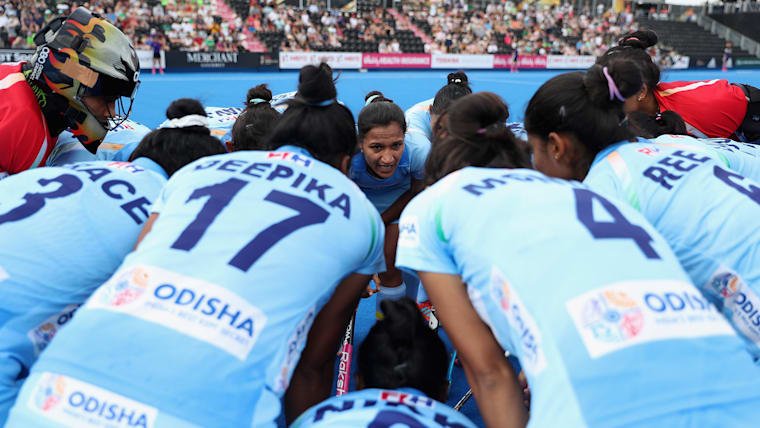 Rani Rampal expects India to perform well at Tokyo 2020

India had scored a dramatic win over USA in 2019 to qualify for the Tokyo Olympics. Having won the first leg 5-1, India just about managed to stave off a strong challenge from the American to score a 6-5 aggregate win. But the women, who made the Olympic cut for two editions in a row for the first time, couldn't carry that momentum into 2020 due to the Coronavirus outbreak.

"We are out of that zone now, as it was something we could do nothing about," Rampal said of the Tokyo Games being delayed by a year.

"I know a year back we were peaking well, we were hoping for a medal. That belief is still there because we built our mindset accordingly. Its difficult for an athlete to push himself or herself for another year at the same level. But definitely we have the belief that we don't want to just participate in the Olympics, rather we have to do something (big)."

But as the Indian women's team gears up for the Olympic Games this summer, and hopes to leave the nightmare of Rio 2016 behind, they want to play higher-ranked opponents.

"Its not easy playing the world No.2 and 3 teams, who we hadn't played against in the last few years. So we didn't have much idea about what style of play they will bring to the pitch," the 26-year-old said.

"These are the teams - Argentina, Germany, Holland and so on - who when we play against, we come to know whether we are working on the right track or not and how much more we need to work. We have to step ahead of the top teams. Both these teams (Argentina and Germany) mostly play the semis of Olympics and World Cups. We don't have the experience. So they know how to handle those moments (pressure)."

Rampal, however, believes that the gulf between the top European nations and the Indian women's team has reduced in the recent past.

"When we look at our team, then there is not a very big difference between us and those (top) teams. Earlier the gap between us and the European nations seemed bigger; but now when we play them, the difference seems smaller," she said.

Olympic Channel


---

Adam Dixon: I made myself a contract to play Olympic hockey after watching 90s vintage

By Paul Eddison




GB captain Adam Dixon has had a packed schedule in 2021, accommodating a new-born while trying to prepare for his second Olympics.

And while he admits that Rafe, born in mid-January, probably will not see his old man live in action – with Dixon likely to retire after Tokyo, the hope is that others will be inspired by Team GB's hockey team in Japan.

After all, it was watching the Olympics in the 1990s, hockey and other sports, that convinced Dixon to follow his own sporting dreams.

Dixon said: "My first memories would have been the early 90s. So, Linford Christie, Sally Gunnell and Colin Jackson. It was one of the first times that hockey really stood out to me as an Olympic sport.  

"My dad played hockey which is why I ended up playing but I'd never seen it on television. The beauty of the Olympics is that sports that are not in the headlines daily, it gives them a chance to shine. I remember watching GB play against the Australians, the Dutch, the Indians, I just thought this is what I am destined to do. I sort of made a contract with myself.

"It wasn't until 2016 that I realised that dream but those early memories of Barcelona, Atlanta and Sydney in 2000, they stay with me very clearly. In fact, I think I have still got VHS recordings of games at two o'clock in the morning which I have kept watching back until the tapes were breaking.



Adam Dixon is currently GB's longest-serving player

"If I can replicate that situation for somebody else who maybe is starting to play hockey or has never seen hockey before and it inspires them to start playing. That would be a huge part of my job. Yes, it is about medals, but there is a huge inspiration piece and we saw that with the London Games. If I could inspire the next Adam Dixon to pick up a hockey stick, that would be a dream come true."

As well as the new-born and his Olympic preparations, Dixon had to cope with a suspected case of Covid in 2020, although he is quick to point out that he was not overly affected.

He added: "Both me and my wife thought we had Covid. It was quite scary. We did not have severe symptoms; my wife lost her sense of taste and I felt groggy for a few days. But it was at a time when there was not widespread testing available so we just had to isolate and then got better and then we could start leaving the house after the isolation period had expired.  

"Luckily, it was just a few days for me feeling unwell. I know quite a lot of athletes have spoken about long Covid and the effects but touch wood I've been lucky and it's not impacted me that severely."

SIGN UP for The Hockey Paper's returning newsletter: Promotions, exclusives and our best coverage

The Hockey Paper


---

'If there is any hockey team that knows how to deal with adversity, it's Ireland women'



Photo: World Sport Pics

Sitting on Anna O'Flanagan's desk are a set of pens that have remained in the packet for almost six years now.

In just under a hundred days, she may finally get around to chucking them out, maybe even burn them. Bought in something of an emotional daze in Valencia, in 2015, the day after Rio qualification was denied by the width of a post, they sit there as a vivid reminder of shattered dreams.

"They will definitely go in the bin once I set foot on the pitch in Tokyo!" the Green Army's all-time top goal-scorer says of that pen set.

"There's a long way to go and I need to hopefully stay fit and well and play to the best of my ability over the next while to get on that pitch. Maybe I can burn them then!"

For many of her team-mates, the stationary is an odd keepsake but is something O'Flanagan uses to find something of an emotional catharsis in good times and bad.

"I have lots of notebooks and do get slagged over it!" she laughs. "I find it interesting to write about how I am feeling. You can have so many thoughts going around your head, worries or concerns, thinking about what might happen.

"When you write it down, your rational brain kicks in and the act of writing means you can rationalise it a bit better and wonder 'why was I thinking about it like that?' When you put pen to paper, it can look a bit ridiculous. It helps get a sense of reality!"

It is something which helped her through the tough lockdown times when she struggled for a sense of purpose. O'Flanagan has put her career on hold to, first, pursue and succeed in the run-up to 2018 World Cup silver, and then again for this Olympic push after a stint with Deloitte in the Netherlands.

But when Tokyo was put on hiatus, it had her questioning what next as the limbo of whether or not the Games would go ahead was played out.

"There was so much uncertainty for everyone in the world. For us, as athletes, we thrive off certainty and being planned. What gets me through training and those tough days is really visualising being at that next major tournament, being at the Olympics, competing and winning games.

"I went through a period when I just couldn't see it, I couldn't feel it. The world seemed so upside down that the thought of being able to travel to an Olympics seemed so far away.

"That was when I struggled the most. The last couple of months, there's been such positive communication coming from Tokyo and also seeing other sports teams and events happen.

"Now, I can see it unfold. It will be weird and different for sure but being able to visualise it makes it seem more real, more tangible. We have to stay focused and assume it is happening, but I am not as anxious now that it will be binned at any second.

"That was so hard when we were training and trying to do your best, doing it with that in the back of your mind. I don't have that worry anymore."

The nature of the current world, though, means the road remains a bumpy one with plenty of twists and turns. The most recent example, last week's proposed trip to Malaysia being called off at the last minute.

"Malaysia was a disappointment, but we are still able to train and play and this just gives us a perspective on how sport is cruel and your whole sporting career can change overnight. You have to treasure each day."

A feature of the Green Army story, though, is how they roll with the punches and while other countries may be new to such slings and arrows of fortune, O'Flanagan says there will be few better outfits capable of coping.

"We know if there is any team that knows how to deal with adversity, it is us. If there is any team that has come together before and succeeded, it is us.

"We always say we are used to playing in front of no supporters. An empty stadium in Japan is no different to training in Abbotstown every week. Those little things add up.

"We saw from the GB win that what we are doing here has been going well and the year probably has stood to us as a group. If anything, we enjoy doing it when our backs are against the wall."

Anna O'Flanagan is an ambassador of the Olympic Federation of Ireland's new Olympic Schools Challenge, 'Road to Tokyo'. The interactive challenge will engage with school children, encouraging them to get more active and teaching them about Tokyo and the Olympic Games.

SIGN UP for The Hockey Paper's returning newsletter: Promotions, exclusives and our best coverage

The Hockey Paper


---

Ric Charlesworth headlines new Hockeyroos selection panel




Hockey Australia has confirmed the selection panel for the National Women's Squad, with highly successful Olympic gold medal winning coach Ric Charlesworth the Board Appointed Selector.

Charlesworth, who guided the Hockeyroos to Olympic gold in 1996 and 2000, forms part of a four-person selection panel alongside Head Coach Katrina Powell and Assistant Coaches Katie Allen and Jeremy Davy.

The selection panel will be responsible for making decisions on future selections to the Hockeyroos squad.

Charlesworth's position, which will run until 17 August 2021 post Tokyo, will see him contribute to Hockeyroos squad and Olympic team selection.

He will also work with the coaching staff as a mentor, offer support and advice, while also assisting with scouting and preparation for the Olympic Games.  

"To have someone of Ric's calibre, experience and knowledge in this position is a huge fillip for the Women's National High Performance Program and the HA Board," said HA President Mel Woosnam.

"Ric is Australian hockey's most decorated coach. He is a highly astute assessor of player talent and his experience and expertise in a high performance environment will be invaluable.

"We are grateful that he has accepted this role."

On his appointment, Charlesworth said: "The Hockeyroos have always been close to my heart and I believe we owe the athletes their best chance in Tokyo.

"After some turbulent months it will be a challenge to quickly understand the group. This will necessarily entail closely observing their games, training and interactions.

"I believe I can do this while also being available as a sounding board for the coaches. My position should allow me to also play a mentoring role.

"Of course my primary focus will be on ensuring we have the best team working together to achieve in Tokyo."

Powell, who played under Charlesworth in the successful 1996 and 2000 Olympic campaigns, said she was excited about having him involved.

"Being in just my third week in charge of the Hockeyroos and with the Olympics so close, having Ric come in as a selector and a support for us as a coaching group is going to be hugely beneficial," said Powell.

"As a collective I am confident we will select and work with the team that has the best chance of being successful in Tokyo."

Charlesworth replaces Sharon Buchanan OAM, who intended to finish as the Board Appointed Selector last year after the Tokyo 2020 Olympics before they were postponed.

"As a former Hockeyroos captain, gold medallist and true legend of the game, we were extremely fortunate to have someone of Sharon's experience, knowledge and integrity as the HA Board Appointed Selector," said Woosnam.

Hockey Australia media release


---

Denim and astronauts: Team USA and Canada unveil Olympic uniforms




Team USA and Team Canada hockey players will know what they will be wearing for the closing ceremonies at the rejigged Tokyo Olympics.

Team Canada have gone for a denim feel, the national team saying that the uniforms were a take on the 'Canadian tuxedo' – essentially an all-denim look, with tight white jeans with graffiti jackets.

In reaction, one observer on social media wrote: "Cancel the Olympics".

Olympic fashion continued when Team USA also released their ceremony outfits, released by fashion house Polo Ralph Lauren.

Ralph Lauren has been the official outfitter of choice for Team USA's opening and closing ceremonies since the 2008 Olympics.

The mostly white strip, with blue and red trim, saw some fashion observers suggest that the athletes modelling the new uniform looked liked a crew of astronauts.

SIGN UP for The Hockey Paper's returning newsletter: Promotions, exclusives and our best coverage

The Hockey Paper


---

Upcoming FIH Congress to be held virtually




Lausanne, Switzerland: After a thorough analysis, the FIH Executive Board (EB) recently decided to give the possibility to each National Association delegate to decide whether they would attend the 47th FIH Statutory Congress either onsite - in Delhi, India - or virtually via an online platform.

However, considering the latest information available about the current status of the COVID-19 pandemic, which is worrying both in India and in many other countries of the world, as well as the impact of this situation on international travel, the EB has now decided, upon proposal from FIH President Dr Narinder Dhruv Batra, to review its previous decision and instead opt for a virtual Congress only, on the same date (22 May 2021).

Even though the FIH Congress usually is a wonderful opportunity for the global hockey community members to meet in person, it has always been very clear for FIH that the first of the priorities should be the safety and health of all Congress delegates and their families.

The Congress agenda will be published on 22 April. It includes, amongst others, elections for the position of FIH President and for four positions of EB Ordinary Member.

For more information about FIH and hockey in general, please download the Watch.Hockey app or follow the FIH social media channels - Facebook, Instagram and Twitter – and website.

FIH site


---

COVID-19 concerns force FIH into u-turn on Presidential election and Congress plans

By Liam Morgan



Next month's FIH Congress will be held virtually ©Getty Images

The International Hockey Federation (FIH) Presidential election will now be held virtually after the organisation abandoned plans to hold its Congress next month as a hybrid event because of the COVID-19 situation in India.

The FIH earlier this month had offered its members the chance to attend the Congress in person in New Delhi or remotely amid the restrictions placed on travel due to the coronavirus pandemic.

In a statement, the FIH Executive Board said it had decided to stage the event on May 22 online following a proposal from President Narinder Batra.

The decision was made "considering the latest information available about the current status of the COVID-19 pandemic, which is worrying both in India and in many other countries of the world, as well as the impact of this situation on international travel", the FIH said.

Royal Belgian Hockey Association (KBHB) President Marc Coudron, who is challenging Batra in the Presidential election, told insidethegames the plans to have officials attend in person was "dangerous" and described the hybrid proposal as "nonsense".

India is among the countries to have reported cases of new variants of COVID-19.

The nation has recorded more than 200,000 cases daily since April 15, with a record spike in infections overwhelming the healthcare system in New Delhi, where the FIH Congress had been due to take place.



FIH President Narinder Batra will be challenged for his position by Belgium's Marc Coudron in the election ©Getty Images

The elective Congress had been scheduled for last year before it was postponed to 2021 because of the coronavirus pandemic.

The decision to push back the meeting extended Batra's term as President.

Hockey's worldwide governing body had hoped to hold the entire Congress, where four places on the Executive Board are up for grabs, in person before changing its plans due to the COVID-19 crisis.

insidethegames exclusively revealed in February that Batra would stand for a second term as President.

Batra, who is head of the Indian Olympic Association and a member of the International Olympic Committee, has led the FIH since 2016.

Coudron remains Belgium's most-capped international hockey player, having made 358 appearances for his country.

The 51-year-old has also played a key role in helping to put Belgium on the Olympic stage and challenge for medals after becoming the head of the KBHB in 2005.

The winner of the election will serve as President until 2024 after the FIH shortened the second term from four years to three following the postponement of the 2020 Congress.

Inside the Games


---

Maryland field hockey is grateful for the chance to compete in the Big Ten tournament

Shane Connuck



Riley Donnelly shoots at the goal during Maryland field hockey's 2-1 win over Rutgers on April 17, 2021. (Joe Ryan/The Diamondback)

Maryland field hockey coach Missy Meharg remembers her team's state of play early last fall — or lack thereof.

Even before the Terps began practicing among themselves, associate athletic director Sue Sherburne was on one or two Zoom calls every day as fall sports teams looked for ways to host championships in the spring.

Afterward, Meharg would receive a "Big Ten Update" email every Friday, which brought news on the conference and its member schools trying to figure out how to make it happen.

And on Wednesday, the 2021 Big Ten Field Hockey Tournament Quarterfinals begins in Iowa City, Iowa.

"She'd give us updates and updates and updates," Meharg said about Sherburne. "And I thought to myself — there's no way that all of these people in every school and the Big Ten conference office … would be doing this amount of work if we weren't going to get it done."

As she sits in her hotel room in Iowa preparing to take on the No. 4 Hawkeyes, Maryland defender Riley Donnelly thinks about how grateful she is to be playing this spring field hockey season.

"I think it's just that much more appreciated after having to wait that long amount of time," Donnelly said. "Every day, when things seem to get too big or too nerve-racking, we just remind ourselves we're just lucky to be out here playing the sport that we love."

Donnelly has enjoyed a successful spring season playing a key role in the Terps' strong defensive unit that's limited its opponents to 10.3 shots per match. She uses her unique drag-flick shot to lead Maryland's penalty corner and stroke attacks and has found the goal six times — making her the team's leading goal scorer.

Looking stellar on both ends of the pitch this season, Donnelly has racked up both Big Ten Offensive and Defensive Player of the Week honors. And with the regular season in the books, the Terps' two-way star was named to the All-Big Ten First Team.

"It gives me extra confidence going into the tournament," Donnelly said. "Definitely very grateful for the opportunity."

Throughout this season, Meharg has seen Donnelly grow tremendously every week, and she thinks Donnelly's in a great spot ahead of No. 9 Maryland's Big Ten Quarterfinals date with Iowa.

"She's taken a very thinking, cognitive approach to learning the game," Meharg said. "And now in a competitive setting, she's just instinctual."

While the No. 4-seed Terps' matchup against No. 5-seed Iowa is at 2:30 p.m., that's not the only field hockey they'll be watching on Wednesday — another thing for which Meharg is grateful.

"I'm grateful that there's so much tactical and scouting and stuff happening right now," Meharg said. "The women and I spoke yesterday in a team meeting, and I said, 'you guys win, lose, draw — watch these teams live, we're going to be playing them in four months.'"

Gratitude has been a theme among athletes around the country who have been afforded the opportunity to compete in the midst of the pandemic. Still, it can be easy for negative attitudes or mindsets to develop.

But Meharg said she rarely sees that from her team — and if those mindsets have emerged, the leadership of players such as captain Brooke DeBerdine, Donnelly and goalkeeper Noelle Frost have quickly turned frowns upside down.

This season, Meharg said she's seen mostly positive and sometimes neutral mindsets around the team.

"We are so fortunate to be able to have advanced hockey class every day," Meharg said.

The Diamondback


---

Iowa field hockey begins push for second-straight Big Ten Championship

This week at Grant Field in Iowa City, the Hawkeyes will attempt to defend their 2019 Big Ten Tournament title.

Ben Palya



Iowa players celebrate forward Maddy Murphy's score during the fourth quarter of a field hockey game against Maryland on Sunday, April 4, 2021 at Grant Field. The Hawkeyes defeated the Terrapins, 3-0. (Hannah Kinson/The Daily Iowan)

Last season, Iowa field hockey won its first Big Ten Tournament title since 2008. This week, the Hawkeyes are gunning for their second-straight conference crown and an automatic berth in the NCAA Division I Women's Field Hockey Championships. The last team to win back-to-back Big Ten championships was Penn State in 2011 and 2012.

Most of the players that helped Iowa win last season's Big Ten title are returning for the Hawkeyes' 2020-21 postseason run.

"They definitely have the confidence that we can [win the Big Ten Tournament], and I think having that experience bodes well for us," Hawkeye head coach Lisa Cellucci said.

After opening-round matches are completed Tuesday, Iowa will hit the pitch on Wednesday for its first tournament contest against a familiar Maryland squad.

The Hawkeyes and Terrapins have already met on two occasions this season, splitting the regular season series at one each. Now, the two teams will get a postseason rubber match to decide which squad is superior.

This season, Big Ten teams have played weekend doubleheaders against all their foes. Game one of the doubleheaders counted toward league standings, and game two was accounted for in the national rankings, but not the conference standings.

The Hawkeyes lost their first game of the season against the Terrapins, 1-0, after conceding a late-match goal off a penalty corner. In its second game with Maryland, Iowa bounced back in commanding fashion, earning a 3-0 victory.

Senior forward Maddy Murphy played a pivotal role in Iowa's 3-0 win over Maryland, scoring twice in the contest.

"Maryland is an extremely talented team, but we work really well when we work as a team," Murphy said. "If we can play a great team game, I think we're unstoppable, especially against teams like Maryland."

The Hawkeyes enter the Big Ten Tournament fresh off two-straight losses to Northwestern. Iowa was ranked No. 2 in the country prior to its matchup with then-No. 3 Northwestern. Since then, the Hawkeyes have dropped to No. 4 in the National Field Hockey Coaches Association poll, followed by Northwestern at No. 5.

While the Hawkeyes certainly enter the Big Ten Tournament with bitter tastes in their mouths, they understand that they have enough talent to win their second-straight league championship.

"This team has the talent to be clinical, but we have to be able to consistently take care of those opportunities," Cellucci said.

In games where Iowa scores at least one goal, the Hawkeyes are 9-1.

Oftentimes, the Hawkeyes only need one goal to outscore their opponents, as junior Anthe Nijziel anchors the Iowa defense. Nijziel was named both Big Ten Player of the Year and Big Ten Defensive Player of the Year on Monday. Excluding Nijziel, no Hawkeye has ever earned both Big Ten Player and Defensive Player of the Year honors in the same season.

The last Hawkeye to win Big Ten Player of the Year was Kristy Gleason in 1993.

The Hawkeyes are hosting this year's Big Ten Tournament at Grant Field in Iowa City.In compliance with current University of Iowa Athletics policy, fans will be allowed to attend this year's Big Ten Tournament at 50-percent capacity. Wednesday's Iowa-Maryland Big Ten quarterfinal match will begin at noon and air live on the Big Ten Network.

The Daily Iowan


---

Field Hockey Falls In Home Finale



Photo: Emma Hug

MOUNT PLEASANT, Mich. – The Central Michigan field hockey team dropped a Mid-American Conference game to Longwood, 2-1, on Tuesday at Cristy Freese Field.
 
It was the home finale for the Chippewas, who are 5-5, 3-4 MAC, and close the season with a two-game series at Kent State this weekend. Longwood is 6-5, 4-5.
 
Longwood scored just over two minutes into the second quarter and then added an important insurance goal with just over five minutes remaining in the game.
 
Twenty-two seconds after Longwood scored to make it 2-0, Alice O'Hagan scored with an assist from Taryn Damm to pull CMU to 2-1. It was O'Hagan's third goal of the season and it gave her a team-leading 10 points on the season.
 
Longwood finished with a 19-6 advantage in shots including a 13-3 edge in shots on goal. The Lancers also finished with a 15-4 upper hand in penalty corners.
 
Despite the wide discrepancy in numbers, the Chippewas remained in the game throughout.
 
"I thought that was some of our best hockey in the second half that we've played all season," CMU coach Catherine Ostoich said. "I thought we really did a good job in the second half. We dominated for a good chunk of the second half.
 
"I felt like we were really pushing and we had momentum. When they got that second goal, normally our heads would go down and it would be like, 'It's over.' But we got up the field, we ran a corner, and we scored. So we were right back in it.
 
"It was just a bummer that we didn't get a chance to (remove) our goalkeeper and that's what I would have liked. It was a learning experience. We've got to realize game-clock management. Other than that I'm really proud of how we played, how we came back. We came out and fought in the second half."
 
Chippewa freshman goalkeeper Katie Maxim made 11 saves.
 
It marked the Chippewas' third game in four days – they split a weekend series at Cristy Freese Field with Ball State – and they are scheduled to play at Kent State on Friday, April 23, and on Saturday, April 24. Both games are slated to begin at 5 p.m.
 
"Three games in four days after 14 days off and they put up a good fight today," Ostoich said. "It wasn't our best hockey in that first half and we could have played a little bit better. I said at halftime, 'We're down only one goal so all we need is one opportunity; let's start over and make it count. We've got 30 minutes left, last home game, and they did that.
 
"I'm proud of them. It's a bummer we didn't get the result we wanted, but I'm proud of what we did today. it just shows the progress we've made this season and how we're really developing as a program."

CMU Chippewas


---

'Meredith, sit down!' How Rutgers Field Hockey Coach Handled a Midseason Childbirth

By Jerry Carino



Rutgers field hockey head coach Meredith Civico, her husband/assistant coach Joey Civico, and their children Noah (lower right) Ellie (left, on Joey's lap) and newborn John David (on Meredith's lap).

Meredith Civico devised plenty of game plans over nine seasons as head coach of Rutgers' field hockey team, but this was new territory. Her most pressing priority April 2 had nothing to do with ninth-ranked opponent Penn State or even her own players.

It was sitting down and staying seated.

At 37 weeks pregnant, dealing with high blood pressure caused by a dangerous condition known as preeclampsia, Civico had an induction scheduled right after the game at Saint Peter's University Hospital in New Brunswick. She positively, absolutely had to coach from a chair on the Scarlet Knights' bench.

"I might have stood up a few times and shouted and everyone was like, 'Meredith, sit down!'" Civico said. "I struggle sitting down. It's not what I'm used to doing — coaching or being a mom."

Rutgers romped to a 3-0 victory, the program's first over the Nittany Lions since 1985. Civico and her husband, assistant coach Joey Civico, stopped home in Highland Park, packed up and then headed to the hospital. Early the next morning she gave birth to their third child, a 6-pound, 8-ounce son named John David.

It was a wild weekend in a crazy season for the 38-year-old Civico, who was just named Big Ten Co-Coach of the Year. The Ocean City native has built the sixth-ranked Scarlet Knights (9-5 overall, 5-4 Big Ten) into a national contender while balancing the demands of motherhood and, during this landmark season, the twin challenges of a pandemic and a pregnancy.

"She's always created a family atmosphere" said senior Gianna Glatz, Rutgers' first-team All-Big Ten goalkeeper. "Mer has always been that mother figure, so it's not really surprising that she's balancing having her own family and us all at once — and doing an awesome job."

Giving birth midseason was not the plan. Civico's two older children, 4-year-old Noah and 2-year-old Ellie, were offseason arrivals. But COVID turned the college sports calendar upside-down and the 2020 field hockey season got postponed from the fall to this spring.

Civico learned she was pregnant last summer. Rutgers didn't get a field hockey schedule until January. Amid all the uncertainty came the diagnosis of preeclampsia, which can cause fatal spikes in blood pressure. Civico said her case was mild and doctors green-lighted her to coach while monitoring her condition closely. Running a Division I program is a high-octane endeavor in a normal year; doing so during a pandemic has been an exceptional challenge.

"Top of mind for me was the need to keep 25 young people safe and COVID free," Civico said. "That was a lot of pressure."

She leaned on her coaching staff — Joey, who is a volunteer, and assistants Maddy Sposito and Ajai Dhadwal.

"I have incredible assistants and the leadership on this team is just fantastic," Meredith said. "We have an amazing group of seniors." Rutgers head coach Meredith Civico and family




Like Glatz, a Big Ten Distinguished Scholar whom Civico calls "the epitome of a Rutgers student-athlete." The Shawnee High School grad said the Scarlet Knights were well-prepared for their skipper's absence (Civico said she hopes to return to the sidelines for either the Big Ten Tournament, which starts this week, or the ensuing NCAA Tournament).

"We've had so much experience at this point, we know what we need to do based on the years we've spent with our coaching staff," Glatz said. "We know how to make adjustments on the field. That's why we've been so successful."

Glatz described the mood as "nonchalant" on induction day.

"We all knew she was going to the hospital with Joey right after the game and we were like, 'Alright, let's win this game first and then Mer can go have her baby,'" Glatz said. "During our postgame meeting Joey was like, 'We've got to wrap this up because Mer has somewhere to be.'"

The delivery went well, and the next day, Meredith sent Joey back across the Raritan River for Rutgers' rematch with Penn State. The Scarlet Knights prevailed 1-0.

"I had a live stream in my hospital bed," Meredith said. "Nurses were coming in asking, 'Are we winning?'"

Glatz, who made six saves, explained the key to victory in a postgame text to her coach.

"I think it was our newest fan who pushed us over the edge," she wrote.

Jerry Carino has covered the New Jersey sports scene since 1996. Contact him at This email address is being protected from spambots. You need JavaScript enabled to view it..

USFHA media release


---

Hockey can never have another Joshi

K. ARUMUGAM




The deadly COVID-19 pandemic had taken away a gem of a hockey buff, BG Joshi. He was 67. He is survived by his wife and two Engineer sons.

Joshi, who was an engineer with the Madhya Pradesh government and lived in Sehore passed away on Tuesday. Joshi was well known in the entire hockey world for his numbers. He was a veritable field hockey encyclopedia. He could provide a profile of any hockey player or present vital numbers for any hockey tournament right from 1920 to date.

His statistics are sought after by the media world, and widely quoted. He regularly contributed in English for two valued publications – www.bharatiyahockey.org and www.fieldhockey.com. Incidentally, both publications are being run by hockey fans for the heck of it; without any financial returns. His identity with these two publications was so fitting as he too was never a commercial man despite being an authority on statistics..

He has many times quietly corrected the statistics published by the FIH!   He was never given credit for all his silent work.

He has painstakingly compiled numbers since his boyhood, say, in the early 1970s. There is no hockey literature published in India without his stats.

He has contributed regularly to Sportstar; Mr S Thyagarajan's elaborate pieces are invariably followed with BG Joshi's numbers. This combination endured about three decades.

Besides, he has also contributed regularly to various vernacular newspapers and magazines.

His journey into hockey numbers took more depth when he started touring to cover tournaments. From 2014, he had been to Europe even for tournaments in which India did not participate. His love was simply hockey!

His work came to public knowledge with the onset of social media. He was followed by serious hockey fans and writers alike.

Earlier, he used to compile day today statistics and take copies, provide to media men during the tournaments. Not did many give him his due for the dedicated and diligent work, but never does he bother.

His knowledge of each player is envy of everyone; he could thus make out youngest captain, earliest goals, global caps milestones etc. He was for long the lone referral.

He had not missed any tournaments in India. His father expired when he was in Chennai covering the Champions Trophy. Mr Jothikumaran, the then IHF Secretary and also the organizing Secretary of the event offered him air ticket to Bhopal to rush him. However, he went on his own expense which portrayed his character and personality.

Nature has snatched away a hockey gem too early. Mr Joshi leaves a void difficult to fill up.

Hockey can never have another Joshi.

ANOTHER COVID-19 STATISTIC BUT FOR HOCKEY A DEVASTATING LOSS

Stick2Hockey.com


---

One-man-army hockey statistician BG Joshi succumbs to Covid-19

Joshi, who travelled to different parts of the world for hockey, had just one wish left from his bucket list: to watch India play at the Olympics. The Tokyo Games were on his wish list.

Written by Mihir Vasavda |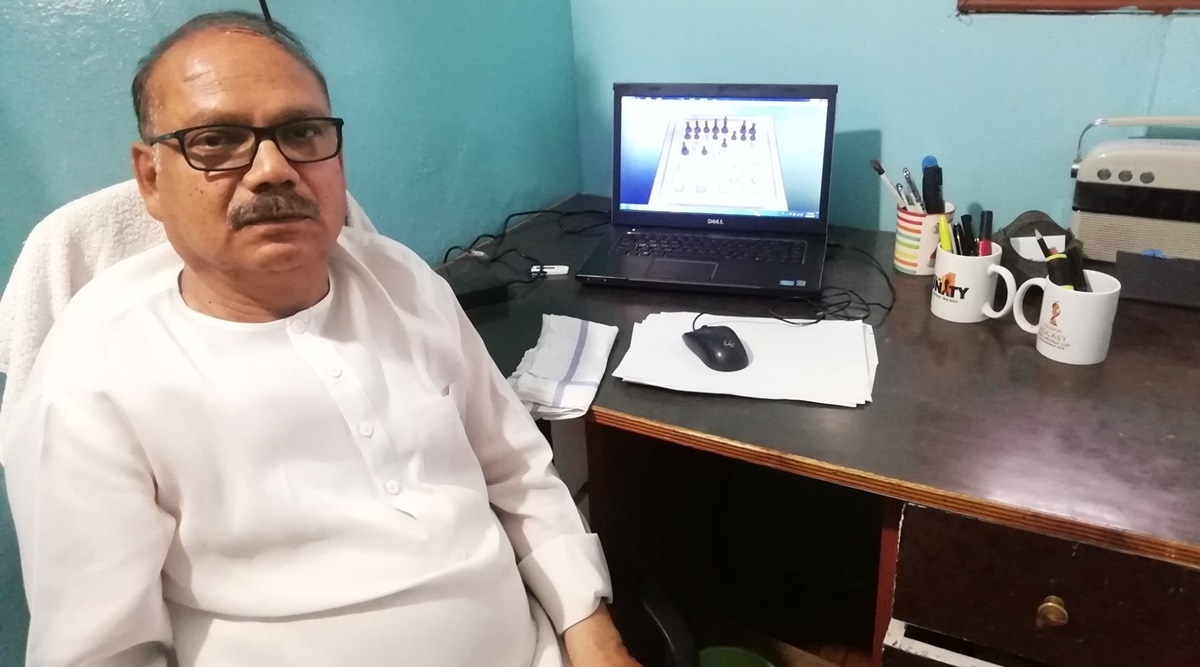 Baboolal Goverdhan Joshi had Tokyo Games on his wish list(Express Photo)   

A Kenyan hockey team touring India is not an event that would enthuse many, not even the die-hards. However, when the African minnows travelled to New Delhi in the 90s, one man from Sehore on the outskirts of Bhopal bunked office and made the trip to the Capital.

It wasn't just to watch Kenya play. He, instead, wanted to meet the team captain with a rather unusual request. A few years earlier, India had played a series in Kenya and he was desperate to find out the names of the two goalscorers missing in his list.

It was this dedication to his craft that made Baboolal Goverdhan Joshi, who passed away on Tuesday due to Covid-19, one of the most prominent hockey statisticians with an unparalleled body of work. He was 67.

At a time when professional sports had dedicated teams to maintain statistics, Joshi was a one-man army in a sport that was bereft of any such data, especially on Indian players. He went to extreme lengths to make sure not a single goal scored by an Indian went unrecorded. This, despite the sport not being widely telecast, matches being played at irregular intervals and barely any information available on the web, making stats-keeping that much harder. Yet, for close to five decades, he has been a go-to man for federations, players and journalists for all the numbers related to hockey, more so the Indian game.

    B.G Joshi ji was that man who remembered our achievements better than us.Ever-smiling & always ready to help, he's chronicled Indian hockey for 5 decades.With the passing of Joshi ji, I've lost a dear friend and hockey fraternity has lost one of its biggest asset.#RIPJoshiji pic.twitter.com/Ny2YnuiObO

    — Dhanraj Pillay (@dhanrajpillay1) April 20, 2021

A retired engineer with the Madhya Pradesh Water Resource Department, Joshi's tryst with numbers began with the 1970 Asian Games in Bangkok, when he started keeping notes for himself listening to radio commentary of India's matches. As India won three back-to-back World Cup medals, starting with the bronze in 1971 and culminating with a gold medal in 1975, Joshi's interest in the sport grew further.

It was during this period that he started keeping stats seriously – first by making a £10 subscription to the World Hockey Magazine, which the International Hockey Federation (FIH) published monthly with all match data ("The subscription cost was more than my monthly salary, but still I somehow managed," Joshi often recalled).

He even paid advance money to a newspaper vendor in Bhopal for copies of The Hindu, which he referred to for hockey match reports. Once a month, Joshi travelled to the state capital to collect his bundle as the daily wasn't delivered to Sehore. After a decent database was established, a regional newspaper started publishing his stats during the 1978 World in exchange for a token amount.

That encouraged him to travel for hockey by taking leave from work. He started by visiting national training camps, where he collected data of every Indian player first hand. When he visited Lahore for the 1990 World Cup, he collected data of players from the leading nations from the team brochures.

It's a practice he continued till the very end through more or less the same means: meet players and officials in person and gather data as many hockey matches are not shown on TV even today and sketchy details available online.

The stockily-built man with hearty laughter was an unmissable presence at every major hockey tournament, especially the ones held in India.

"He did painstaking work to keep his records updated," Joshi's son Shravan said. "He used to dictate each stat and I fed it on the computer. And like a teacher, he used to rebuke me for any spelling mistake or wrong entry I made," Shravan said.

His son wasn't the only one to get an occasional firing. Joshi would even chide the FIH for their improper upkeep of stats and often urged Hockey India, the sport's domestic governing body, to maintain the historical data related to the Indian players. Joshi would instantly correct the errors made in the official accounts by referring to the volumes of work he carried along.

Even in routine conversations, he would randomly throw stats and trivia, at times even reminding the visiting teams of the significance of their goals. "We have to figure out a way to not just preserve his legacy but also carry it forward. He invested his entire life for this, we can't let it go waste," Shravan said.

Joshi, who travelled to different parts of the world for hockey, had just one wish left from his bucket list: to watch India play at the Olympics. The Tokyo Games were on his wish list. As fate would have it, his last post on Facebook was about India at the Olympics. "Indian hockey team's performances (against Olympic champions Argentina) in preparation for the Olympics, which are three months away," he wrote, "bring a smile to my face."

Joshi's post number 1226 (of course, he numbered them!) summed up the man: a die-hard with unwavering faith in the team and always smiling.

Indian Express


---

BG Joshi, hockey statistician and historian, passes away




Gathering around a transistor radio in 1968, a 14-year-old listened avidly to India partaking in that year's Olympic Games. BG Joshi had taken his first steps towards a life devoted to hockey statistics.

On Tuesday, Baboolal Goverdhan Joshi, the global authority on hockey statistics, passed away due to Covid complications. He was 67.

Joshi had maintained hockey records since the early 1970s and was the go-to man for statistics about the sport.

During the early 70s, the affable Joshi had started to collect copies of The Hindu, which covered every international game, and then cross-checked his data when he received copies of the FIH's monthly magazine, World Hockey.

He was soon contributing to The Hindu and, despite being a civil engineer by profession, began travelling to major tournaments where he became a permanent fixture. His last major event was the 2018 men's World Cup.

Although Indian statistics were his modus operandi, Joshi's database had grown throughout the years as his sons and daughter transferred his hand-written notes to a central online database.

No stat was seemingly beyond him. When Ireland women reached the 2018 World Cup Final, according to The Hook, "he whipped out the line that Zoe Wilson was only the third bespectacled player to reach that stage."

    BG Joshi, hockey chronicler is no more. Hockey loses its sole statistician in India. He was the reference point for hockey writers. There won't be another as helpful as him. This vacuum will never be filled. May Joshi saab's soul Rest in Peace. pic.twitter.com/qFL6RQQLvA
    — Vijay Lokapally (@vijaylokapally) April 20, 2021

Hockey India president Gyanendro Ningombam said: "Despite his fulltime job as an engineer with the Madhya Pradesh Water Resource Department, he would remain committed to his passion of keeping up with the numbers.

"There is perhaps no player in the history of modern hockey that BG Joshi didn't have statistics about. He kept records of players debuts, goals, goal assists and so on and also maintained records of global hockey.

"We have lost a true fan of hockey today. We express our deepest condolences to his family members. We share their grief in these sorrowful times."

SIGN UP for The Hockey Paper's returning newsletter: Promotions, exclusives and our best coverage

The Hockey Paper


---

Renowned hockey statistician BG Joshi passes away aged 67 after contracting coronavirus

A passionate lover of the game, Joshi has been maintaining records of the sport since the early 1970s and also contributed hockey statistics to several national dailies.

New Delhi: Renowned hockey statistician and historian Baboolal Goverdhan Joshi died on Tuesday owing to COVID-19 related complications and his demise was mourned by the game's governing body.

    Hockey India is saddened by the demise of respected journalist and the great Hockey Statistician, Mr. B. G. Joshi.

    May he #RestInPeace. 🕯#IndiaKaGame pic.twitter.com/MkQafbruoa

    — Hockey India (@TheHockeyIndia) April 20, 2021

Joshi was 67.

Joshi, who died in Bhopal, is survived by his wife Krishna and two sons, Shravan and Neeraj.

The hockey historian worked as an engineer at the Madhya Pradesh Water Resource Department.

A passionate lover of the game, Joshi has been maintaining records of the sport since the early 1970s and also contributed hockey statistics to several national dailies.

Mourning his demise, Hockey India president Gyanendro Ningombam said, "Despite his fulltime job as an engineer with the Madhya Pradesh Water Resource Department, he would remain committed to his passion of keeping up with the numbers.

"There is perhaps no player in the history of modern hockey that BG Joshi didn't have statistics about. He kept records of players debuts, goals, goal assists and so on and also maintained records of global hockey.

"We have lost a true fan of hockey today. We express our deepest condolences to his family members. We share their grief in these sorrowful times."

Firstpost