All the news for Wednesday 31 March 2021

Las Leonas ready for a physical challenge from Germany




Victoria Sauze has been a member of the Argentina senior squad since 2014, but really started to seal her place in the Argentina squad from 2016 onwards. Over her career so far, she has won more than 80 international caps and a reputation as a tenacious midfield player.

Taking a little longer to blossom as a full international has meant that Victoria has had the time to develop both her career as an accountant and also to experience life away from the intensity of life as an elite athlete. In an interview with Ole magazine, Sauze says: "I am grateful to have experienced anotehr way of life. I feel that has made me more mature and able to value things more than I would as a young girl. That has empowered me."

As her team prepare to take on Germany on the 3 and 4 April in the FIH Hockey Pro League, Sauze took time out of training to talk about the forthcoming fixtures.

How have you prepared for your matches against Germany?

Victoria Sauze: We are training and preparing very hard and we are very focused on these matches. We are really focusing on ourselves and our game.

What are the main threats you see Germany posing to your team?

Victoria Sauze: Germany is a very tough team, both mentally and especially physically. They keep order and structure throughout the game. It will be a great way to get back to FIH Hockey Pro league action.

How does the squad feel after such a long break from Pro League action? How important was it to have the practice matches against India?

Victoria Suaze: Last month we were fortunate enough to play some test matches against India and that was a great return to competition. It was really positive and we feel very good as a team. Last year, 2020, was very difficult period for everyone. For us, it was crazy to stop playing. But I think we grew a lot and we are mentally a lot stronger now. I invite you all to watch the match on 3 and 4 April.

#FIHProLeague

Official FIH Pro League Site


---

Indian men to tour Argentina with Manpreet and Rupinder back in the team




New Delhi: Manpreet Singh and Rupinder Pal Singh, who were among the many who did not make it to the recent Europe tour, are back in the reckoning. The duo will be among the 22-member team that will take up the Pro-League matches in Buenos Aires  Manpreet Singh will lead India for a fortnightly visit of distant Argentina with Harmanpreet Singh as his deputy.

Indian men's team broke the COVID-19 inflicted hiatus last month with a Europe tour in which the PR Sreejesh led India took on Germany and England with admirable results.

Hockey India on Tuesday announced the 22-member Indian Men's Hockey Team for the tour. India will take on the reigning Olympic Champions Argentina in the FIH Hockey Pro League matches on 11th and 12 April 2021 in Buenos Aires, Argentina. The Indian Team will also play two practice matches against the home team on 6th and 7th April 2021 ahead of their FIH Hockey Pro League clash followed by two more practice matches on 13th and 14 April 2021 as part of their preparations for the Tokyo Olympic Games this July.

The  tour of Argentina will see the return of experienced midfielder and Skipper Manpreet Singh who had opted out of the recent Europe tour due to personal reasons while his compatriot and experienced dragflick specialist Rupinder Pal Singh as well as Varun Kumar who had missed out the previous tour owing to rehab will also be back in the mix for India.

The 22-member squad led by Manpreet Singh and Vice-Captain Harmanpreet Singh includes goalkeepers PR Sreejesh and Krishan Bahadur Pathak. Amit Rohidas, Gurinder Singh, Surender Kumar, Birendra Lakra, Hardik Singh, Vivek Sagar Prasad, Raj Kumar Pal, Nilakanta Sharma, Shamsher Singh, Gurjant Singh, Dilpreet Singh, Mandeep Singh and Lalit Kumar Upadhyay remain unchanged from the previous tour. The team also includes Jaskaran Singh, Sumit and Shilanand Lakra who will be playing their first international match in over a year.

Meanwhile experienced players Akashdeep Singh, Ramandeep Singh and Simranjeet Singh who were part of the Europe Tour have been rested.

"Once again, we are excited about being able to travel overseas for international competition. We are taking a 22-man squad attempting to provide a good balance between giving experience to those players who need it and opportunities for players to perform on the international stage in the lead-up to the Tokyo Olympics," stated Chief Coach Graham Reid about the team selection.

"We will be playing four practice games against Argentina and two all-important FIH Hockey Pro League matches. To play the Olympic Champions is always an honour and a privilege in our sport and especially challenging to play them in their own country. Argentina play a different style of game to the teams we played in Europe, and we will be using this tour as a great opportunity to continue our growth and development before Tokyo. These games will provide opportunities to hone our skills and tactics in a period where all teams have been starved of international competition. Given how challenging it is to move around the world like we once did, we appreciate the efforts of SAI, Hockey India, Argentine Hockey Confederation (CAH) and FIH for making these matches possible."

The Indian Team will leave for Buenos Aires on 31 March for the 16-day tour from Bengaluru following the mandatory RTPCR tests within 72 hours prior to their departure.

Indian Team
1. P R Sreejesh
2. Krishan Bahadur Pathak
3. Amit Rohidas
4. Gurinder Singh
5. Harmanpreet Singh (Vice Captain)
6. Surender Kumar
7. Rupinderpal Singh
8. Varun Kumar
9. Birendra Lakra
10. Jaskaran Singh
11. Hardik Singh
12. Manpreet Singh (Captain)
13. Vivek Sagar Prasad
14. Raj Kumar Pal
15. Sumit
16. Nilakanta Sharma
17. Shamsher Singh
18. Gurjant Singh
19. Dilpreet Singh
20. Mandeep Singh
21. Lalit Kumar Upadhyay
22. Shilanand Lakra

Stick2Hockey.com


---

Manpreet Singh returns as India name strong team for FIH Pro League matches against Argentina

India will play four practice games apart from two FIH Pro League matches against the Olympic champions. A 22-member squad has been named for the Argentina tour.

By Naveen Peter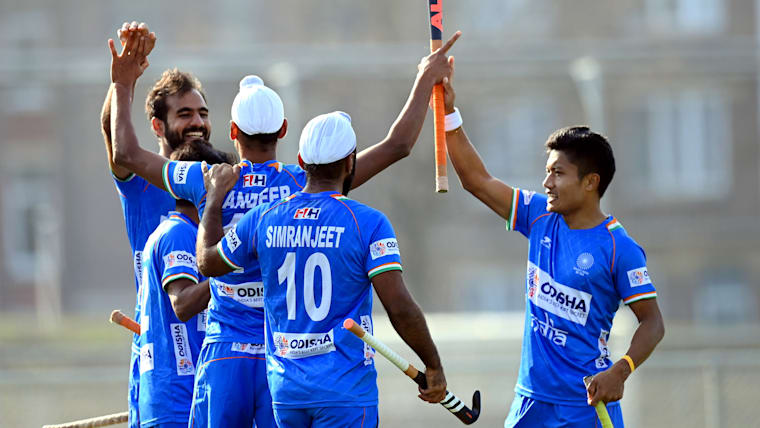 The Indian men's hockey team will get down to some serious business when they resume its FIH Pro League campaign against Olympic champions Argentina next month.

While India's FIH Pro League matches are scheduled for April 11 and 12, the team — led by Manpreet Singh — will also play four practice games. All fixtures will be played at the CeNARD sports complex in Buenos Aires.

Two practice matches are lined up ahead of the FIH Pro League ties on April 6 and 7 while the other two will be played on April 13 and 14. India have named a 22-member squad for the 16-day tour.

Manpreet Singh had skipped India's tour of Europe that concluded earlier this month for personal reasons. The team played two matches, each against Germany and Great Britain.

"Argentina plays a different style of game to the teams we played in Europe, and we will be using this tour as a great opportunity to continue our growth and development before Tokyo 2020," the Indian chief coach Graham Reid told Hockey India.

"To play the Olympic champions in their own country is especially challenging. These games will provide opportunities to hone our skills and tactics in a period where all teams have been starved of international competition."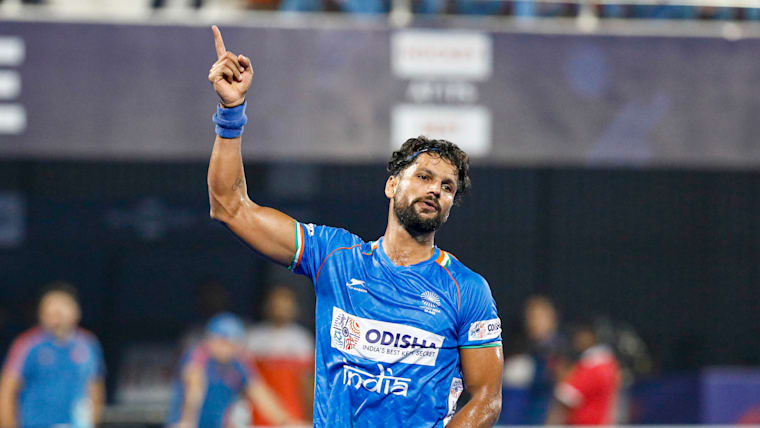 Rupinderpal Singh will return to the Indian team after missing out on the tour of Europe. Photo: Hockey India

The Australian tactician has named a strong team for the Argentina tour including drag-flick expert Rupinderpal Singh, Birendra Lakra and Mandeep Singh.

Meanwhile, the experienced Akashdeep Singh, Ramandeep Singh and Simranjeet Singh have been rested.

"We are taking a 22-man squad attempting to provide a good balance between giving experience to those players who need it and opportunities for players to perform on the international stage in the lead-up to the Tokyo Olympics," the 56-year-old Reid stated.

The Indian team will leave for Argentina on Wednesday.

Indian hockey squad for Argentina tour

Goalkeepers: PR Sreejesh, Krishan Pathak

Defender: Amit Rohidas, Gurinder Singh, Harmanpreet Singh (vice-captain), Surender Kumar, Rupinderpal Singh, Varun Kumar, Birendra Lakra

Midfielder: Jaskaran Singh, Hardik Singh, Manpreet Singh (captain), Vivek Sagar Prasad, Raj Kumar Pal, Sumit, Nilakanta Sharma, Shamsher Singh, Gurjant Singh, Dilpreet Singh

Forwards: Mandeep Singh, Lalit Kumar Upadhyay, Shilanand Lakra

Indian hockey team schedule, fixtures and match times for Argentina tour

All times are in Indian Standard Time (IST)

6 April, Tuesday: India vs Argentina - practice match - 8:30 PM IST
7 April, Wednesday: India vs Argentina - practice match - 8:30 PM IST
11 April, Saturday: India vs Argentina - FIH Pro League match - 1:30 AM IST
12 April, Sunday: India vs Argentina - FIH Pro League match - 1:30 AM IST
13 April, Tuesday: India vs Argentina - practice match- 7:30 PM IST
14 April, Wednesday: India vs Argentina - practice match- 7:30 PM IST

Olympic Channel


---

Manpreet Singh back to lead India to Argentina



Manpreet Singh is back in the Indian hockey squad as captain, with India set to tour Argentina for the FIH Pro League against Olympics champions Argentina. - File photo

Manpreet Singh is back in the Indian hockey squad as captain, with India set to tour Argentina for the FIH Pro League against Olympics champions Argentina.

Manpreet, who got married in December, had opted out of the recent tour of Europe citing personal reasons.

Experienced drag-flicker Rupinder Pal Singh as well as Varun Kumar are also back in the mix as Hockey India named a 22-member squad today. India will take on Argentina on April 11 and 12 in Buenos Aires.

India will also play two practice matches against the home team on April 6 and 7, followed by two more on April 13 and 14. The squad features Jaskaran Singh, Sumit and Shilanand Lakra, who will be playing their first international match in over a year.

"We are taking a 22-man squad to provide a good balance between giving experience to those players who need it and opportunities for players to perform on the international stage in the lead-up to the Olympics," coach Graham Reid said. — TNS

Squad: PR Sreejesh, Krishan Bahadur Pathak, Amit Rohidas, Gurinder Singh, Surender Kumar, Birendra Lakra, Hardik Singh, Vivek Sagar Prasad, Raj Kumar Pal, Nilakanta Sharma, Shamsher Singh, Gurjant Singh, Dilpreet Singh, Mandeep Singh and Lalit Kumar Upadhyay

The Tribune


---

Indian men's hockey team leaves for Argentina to play FIH Pro League matches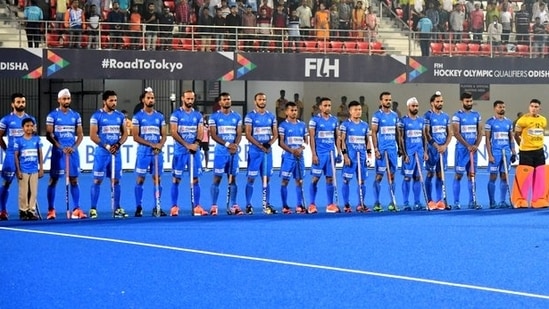 The Indian men's hockey team on Wednesday departed for Buenos Aires to take on Olympic champions Argentina in the upcoming FIH Pro League matches on April 11 and 12.

Taking to Twitter, Hockey India posted pictures of the players and support staff with a caption: "Next stop, Argentina! Send in all your wishes for, #TeamIndia in the comments section!"

The Indian team will also play two warm-up matches against the home team on April 6 and 7 ahead of their Pro League clash followed by two more practice matches on April 13 and 14 as part of their preparations for the Tokyo Olympics.

Manpreet Singh -- who had opted out of the recent Europe tour due to personal reasons while his compatriot and experienced drag-flick specialist Rupinder Pal Singh as well as Varun Kumar, who had missed the previous tour owing to rehab -- will also be back in the mix for India.The 22-member squad led by Manpreet and vice-captain Harmanpreet Singh includes goalkeepers PR Sreejesh and Krishan Bahadur Pathak. Amit Rohidas, Gurinder Singh, Harmanpreet Singh, Surender Kumar, Birendra Lakra, Hardik Singh, Vivek Sagar Prasad, Raj Kumar Pal, Nilakanta Sharma, Shamsher Singh, Gurjant Singh, Dilpreet Singh, Mandeep Singh and Lalit Kumar Upadhyay remain unchanged from the previous tour.

Hindustan Times


---

Hockey Australia appoints first female head coach of women's team

By Liam Morgan



Katrina Powell has been appointed as the first female head coach of the women's Australian hockey team ©Hockey Australia

Double Olympic gold medallist Katrina Powell has been appointed as the first female head coach of the women's Australian hockey team as the sport's governing body attempts to repair the "toxic" culture within the elite programme.

Powell replaces Paul Gaudoin, who resigned earlier this month following a scathing review into allegations of a toxic culture and bullying in the women's setup.

The 48-year-old will be tasked with preparing the team for the postponed Tokyo 2020 Olympic Games, set to open in less than four months' time on July 23.

"It is a really quick turnaround to the Olympics and I am well aware of that but I am so excited by the opportunity that is in front of me," said Powell, who won gold as part of the victorious Australian women's hockey teams at Atlanta 1996 and Sydney 2000.

"There is still a lot of work to do between now and the Olympics and I am eager to get straight into it and help these girls reach their potential because it is a highly talented squad that can finish on the dais in Tokyo."

Powell scored 141 goals in 252 appearances for Australia and moved into coaching in 2005.

She was a member of the Hockeyroos' coaching staff at the 2010 and 2018 Commonwealth Games, as well as the Beijing 2008 and London 2012 Olympics.



Katrina Powell is set to lead the Australian team at this year's postponed Tokyo 2020 Olympic Games ©Getty Images

Powell steps into a role vacated by Gaudoin, who quit with Hockey Australia in crisis after a damning independent review found the women's national programme was "dysfunctional" and "not conducive to athlete well-being or sustained on-field success".

Gaudoin became the latest to depart the organisation after former high-performance director Toni Cumpston, Hockeyroos assistant coach Steph Andrew and several other staff and directors also left.

An independent inquiry into allegations of a toxic culture within women's hockey in Australia was launched by the governing body in December last year.

There were also individual complaints of bullying, body-shaming, the development of serious eating disorders and unfair team selections in the women's programme.

"The past months have been a challenging period for everyone associated with the Hockeyroos but we feel Katrina is the right person to get the best out of this group and continue in its Olympic preparations," said Hockey Australia President Mel Woosnam.

"Katrina brings her own strengths, experience and knowledge to the role as well as knowing what it takes to achieve at the highest level.

"We are confident of the positive impact she will have on the development and improvement of the squad in this short time ahead of and during the Games."

Inside the Games


---

Sinking ship to be steadied by double Olympian Powell



PERTH- NOVEMBER 29: Katrina Powell #31 for Australia goes to ground during Women's World Cup Hockey match between Australia and England held at the Perth Hockey Stadium in Perth, Australia on November 29, 2002. (Photo by Hamish Blair/Getty Images)

Powell, a two-time Gold Medalist, has been tasked with bringing the Hockeyroos back to prominence.

Powell's selection means she will lead Australia's national women's team from now until the end of the Tokyo Olympics.

New Head Coach Trini Powell has a distinguished playing career that included 252 games, 141 goals and two Olympic Gold Medals for the Hockeyroos

Powell takes over from Gaudoin, who resigned from Hockey Australia in a state of turmoil after an independent analysis found the women's national program was "dysfunctional" and "not conducive to athlete well-being or sustained on-field performance."


---

Atlètic top scorer Pau Cunill snatches chance to make his mark at EHL Final 4




As recently as last November, Atlètic Terrassa's Pau Cunill had a greater chance of being part of his club's famous Corner Groc at the EHL than playing a key role for in the FINAL4.

But an unfortunate injury to his younger brother Pepe offered the 21-year-old an opportunity he has grasped with both hands since making his bow and, all of a sudden, is currently the team's top scorer.

"I started this season with the second team but my brother got injured," he told the EHL website.

"We are both flickers and they needed one when he got injured. I guess I must have done ok since then. It was a pretty fast step-up because I was with the seconds for about a month this season!"

In so doing, he became the latest family member to line out at the top level for the club where he spent all his childhood.

"All my family has always been with Atlètic since my grandfather. My dad too so since I was born, I joined Atlètic. We are four brothers and so hopefully the other two join us soon!"

On the field, he scored half an hour into that debut against Jolaseta and has gone on to net 11 times in 11 league games, crucially firing home two goals against nearest rivals Club de Campo to propel the club to a four-point lead at the top of the Spanish table.

For good measure, he whipped in a last minute equaliser in the Copa del Rey sem-final and a winner in the quarter-final against Real Club de Polo.

But his chances to continue that tend may be slowed a little. Pepe was back in the line-up for the first time since his injury last weekend and duly took back over the reins, scoring a pair of goals in a 5-1 success against Giner de los Rios.

Nonetheless, Pau is happy with how the team is evolving at this stage.

"We are in a really strong position at the moment; in the middle of the season it wasn't quite like this but we are now back in first position which is important. We are playing well but even when we don't play well, we are getting victories which is a real quality because you don't always play good. We are really motivated to stay at the top and in a really good place."

And he feels it puts them in good shape to ruffle a few feathers at the EHL Men's FINAL4, starting with a Saturday date against Uhlenhorst Mülheim with Pau hoping their far greater preparation time will provide the cohesion required.

"We know there's an important difference between how hockey is played between Holland, Germany and Spain. Our ultimate goal is to win; we know we are outsiders but we are thinking big and going to get the win.

"Last time, they got to the KO8 and they have some big names; Lukas Windfeder is one of the best drag-flickers; guys like Julius Meyer and lots more international players. We haven't seen exactly what shape they are in just yet.

"That's something we have thought about. We have played consistently every week and we haven't missed anything because of Covid, we haven't had to reschedule anything and able to follow our plan."

One strength the club cannot count on this time, unfortunately, is their iconic supporter's group. The 2016 EHL KO16 in Amsterdam showcased their incredible passion in a famous wins over KHC Leuven and KHC Dragons to reach the FINAL4.

Pau joined the masses for that FINAL4 in Barcelona in what is known as Corner Groc.

 "I remember the last FINAL4 Atlètic played in Barcelona. It was amazing; I was right there throughout the whole weekend with all my friends. We did everything to cheer on the team. At that stage, it was absolutely a dream to play in the EHL. I wanted it but never expected it would be this year.

"Last year, we played King's Cup and it was insane. Everyone cheering on the team. It would be amazing if we could have Corner Groc there. There was so much speculation about whether we could come or not. People were already making plans. If we are able celebrate something, it will be a big pity they won't be there!"

** To get your pass to watch the EHL FINAL4 live this weekend, click here

Euro Hockey League media release


---

Wales Hockey Masters add over-75s to growing armoury



Wales over 70s celebrate 2016 Hockey World Cup bronze

Wales Hockey Masters will launch its first over-75s international squad this year ahead of major competitions in 2022, writes Richard Bright.

The squad will be launched in September, giving the over-75s coaches plenty of time to assess squad form for Celtic Cup, Four Nations and a World Cup set for next year.

Jeff Robinson, Wales Hockey Masters chairman, said: "This is a major step forward for Wales Masters and follows the launching of our O70 side at the World Cup in Australia in 2016.

"Many of that squad will be raring to go again in September in their new age group. They set the bar very high for themselves when they returned from Australia with the bronze medal."



Wales 70s World Cup Bronze 'Caps in the air'

Wales Hockey Masters says it now has close to 50 over-70s players on its books, with around 20 at over-75 level ahead of 2022.

With masters hockey curtailed in 2020, captain Glyn Thomas and manager Eric Evans are intent on finding fixtures before September.

An over-75s Four Nations is proposed for the autumn, which could feature Wales, Scotland, England and Holland and Cardiff as a potential venue.

"Such an event would provide a fantastic launch pad for our elder statesmen," added Robinson.

SIGN UP for The Hockey Paper's returning newsletter: Promotions, exclusives and our best coverage

The Hockey Paper


---

It's Worth the Wait

By Teryn Brill Galloway, USA Field Hockey's Senior Communications Manager |



Caylie McMahon smiling at the camera during one of the games of the Junior U.S. Women's National Team series against Canada in February 2020

Months before graduating from Nashoba Regional High School, Caylie McMahon was excited and eager to continue her education and athletic careers.

Little did she know that March 2020 would be an important month on her journey. The coronavirus (COVID-19) pandemic hit, which derailed Caylie's plans. Like so many others, she was sad that her high school senior year ended that way but was determined and self-motivated to turn her attention to training and getting fit for the college season. She was committed to play field hockey at the collegiate level, plans that have been in the making for three years, and with graduation coming in May, she was excited to see what the future held.



Caylie McMahon in goal during one of the games of the Junior U.S. Women's National Team series against Canada in February 2020

The Stow, Mass. native originally signed a national letter of intent in November 2019 to attend Stanford University, which she verbally committed to as a sophomore in high school. But an email that her and rest of the team received on July 8 would be significant. The note mentioned that in 35 minutes, there was a scheduled Zoom meeting. Nothing else explained but they should attend.

"On the call, the Stanford athletic director said that 11 sports would no longer be supported as a varsity sports after the 2020-21 school year," said Caylie. "Only half the team was on the call, as they didn't see the message in time. We were all at a loss for words."

"[Stanford] never gave us an actual reason on why these sports were being discontinued, just lightly mentioned lack of team culture and success in the programs."

Following the shocking news, she was left with a big decision. She didn't know if she was going to stay committed to Stanford for the opportunity to play just one year or look elsewhere. Messages circulated throughout the Stanford field hockey team of options, and with receiving the news literally one month before she was set to report on the West Coast for preseason, she knew finding another college at that time was nearly impossible.

"I reached out to another incoming freshman at Stanford and asked what she was going to do. She told me she was going to take a gap year and I jokingly told her that I was going to come to England and just live with her."

What started as merely a joke, followed with their parents getting in touch and working out a serious plan. With so much unknown, Caylie elected to take a gap year. She knew she wanted to continue to play, some way, somehow, through all the adversity. So, with one week to go before she left to head overseas, she deferred her enrollment to Stanford and booked her flight to England. She trained with the Surbiton Hockey Club, one of the oldest field hockey clubs in the world, and was fortunate to train alongside Olympians and former gold medalists, receive individual instruction from a renowned goalkeeper coach and elevate her level of play.

But she still had a decision to make. One where there is no perfect answer. Was she going to head to Stanford and attempt to play the final season for the Cardinal in the spring 2021 or was her academic and athletic careers moving elsewhere?



Caylie McMahon in front of London's Tower Bridge signing her National Letter of Intent to play collegiately at the University of Michigan

Once she official deferred her enrolment to Stanford, Caylie started to fully dive into the recruiting process again, reaching out to coaches who might be interested and taking a step back to redo what she had already done three years prior. In November 2020, her plans changed again, she resigned and accepted a scholarship to attend the University of Michigan, where she will join the Wolverines in the fall of 2021.

It all seemed like her journey to higher education and the chance to play collegiately was coming to fruition.

After traveling home from England for the holidays, Caylie was excited for how her journey was going to pan out. The pandemic was slowly lifting mandates, the collegiate season was being played out in the spring and it seemed everything was moving along in the right direction.

"After the holidays, I was excited to return to England and spend a whole spring there training and getting the opportunity to travel," she said. "The level of play was going to be a great prep for the fall season, but unfortunately, the country went into a lockdown in early January. I ended up staying home until I could return."

Staying in touch with her Surbiton team, she got news that the England lockdown would be ending at the end of the month and they were told they would be able to resume practices on March 29. She immediately started looking ahead and wanted to book her return flight. But another hardship struck.

For 6 years, she had a nagging pain in her lower back and left leg, and for the past three months she was going to physical therapy for it. After one appointment her physical therapist asked if she ever got an MRI to see if they could figure out the cause of the pain. Caylie decided that before she returned to England, she should probably get it checked out.

"I thought it was just from playing or overuse. That is what I had always attributed the pain to over the years. It was something I just kind of managed and dealt with."

What she thought would be a standard MRI on March 2, turned into something larger. The doctor called her immediately following and told her, "Don't freak out, but you have a tumor embedded in your spine."

Caylie was diagnosed with a tumor on her L4 about 7 centimeters in size wrapped around her spine and spinal cord and that it had been there for years. The doctor told her that if she got it out now, she risked being paralyzed in her left leg, or if she waited a year, she could be paralyzed from the waist down.

Literally having no time to process all the information thrown her way, she knew it needed to come out. Once again, she was flooded with more emotions and thoughts of the unknown. On March 12 at the Boston Children's Hospital, she underwent surgery to remove the tumor, and although the surgeons were successful in removing the mass, she was told she would indeed be partially paralyzed in her left leg.

"I woke up from the surgery and couldn't feel my left leg at all. They said when they removed the tumor, they had to cut nerves, muscles and shave bone to get it out. But that I was also lucky!"

Similar cases of this kind of tumor showed a history of them shifting with the slightest of movements. Not knowing that it existed, any dive, lunge, stop or leap in her goalkeeping kit could have left her with a more severe outcome.

Caylie remained at Boston Children's Hospital for 7 days following. During that time, she did manage to stand up on her own, but fainted from the rush and unrecognizable connection her brain and body were having due to the paralysis. Progress for sure, she kept abiding to the doctor's orders as she was determined to improve.

"At [Boston] Children's they would continually poke me in the left leg with different objects to see if I would regain feeling. One day a woman came in and swiped a credit card on the bottom of my left foot, and I could feel it!"



Caylie McMahon and her family following one of the games of the Junior U.S. Women's National Team series against Canada in February 2020

With that left foot sensation, Caylie was transferred to the Spaulding Rehabilitation Hospital Boston on March 18 and underwent intense physical and occupational therapy, and other treatments. Those times were long as she spent four hours each day going through different exercises in what she called 'Nerve Bootcamp'. But she knew what she had to do. She had to retrain and rewire her brain to get the muscle memory back even though she couldn't feel the motions.

She made progress and on March 25 was able to return home with just a cane. Her doctors at Spaulding said that once she showed that she could navigate a 'home-setting' she was able to leave.

"They told me that my house was my new obstacle. Getting used to the stairs, practicing getting in bed, washing my hands, showering. I'm trying to strengthen my core around my back as much as possible. The hard thing is, if I drop something, I have to squat, or get on the ground to pick it up, without bending over."

To allow her back to properly heal she has to refrain from the BLT - Bend, Lift, Twist - functions. She is still working toward retraining her brain and sees a spinal cord specialist three to five times a week at out-patient physical therapy.

She's optimistic that in about three months, once her back heals, she will have more movement and get back some agility function, even though she might not be able to feel her lower half of her left leg. There's no doubt Caylie's recovery will be a long one but playing field hockey again is still high on her priority list.

"It is literally a waiting game for when my back heals, and I can retrain my brain to function with my immobile knee and shin. This is just another setback, but I WILL be back on the field!"

"I remember my first day at Spaulding, they asked me my goal. Never did it cross my mind that this would end my career – and I still don't. I'm determined to make small progress every day, even if it is standing at the sink and washing my hands on my own."

Caylie has plans to suit up for Michigan this fall, but for the time being will stay involved with the game locally by coaching at NorthEast Elite Field Hockey Club, even if it is on a scooter.

She's determined, motivated and hopeful with each little victory, and knows through all the time and rehab, it will be worth the wait.

Consider supporting Caylie on her road to recovery and back to the field hockey pitch by donating to a GoFundMe setup in her honor.

USFHA media release