All the news for Tuesday 30 March 2021

Las Leonas and Los Leones face Germany in Buenos Aires



Image copyright: FIH / Getty Images.

The FIH Hockey Pro League continues this coming weekend when the national men's and women's teams of Argentina play their first League matches for 13 months, taking on Germany at Cenard in Buenos Aires on 3-4 April 2021.

The giants of South American hockey last played in the FIH Hockey Pro League way back in March 2020, which were away matches against the men and women of Australia. The clashes in Perth were the last League matches played before the competition was halted by the COVID-19 global health pandemic, with the action having resumed intermittently since September 2020. After such a lengthy but unavoidable lay-off, the Argentine teams will certainly be keen to produce strong displays as they take on their European rivals in these 'behind-closed-doors' encounters.

As the reigning Olympic champions, Argentina men have a critical few months ahead of them as they plot the defence of their Rio 2016 gold medal at the upcoming Olympic Games Tokyo 2020. Los Leones recorded a 5-2 victory over Germany in the semi-finals at Rio 2016, and know that strong performances against Die Honamas this weekend will be a significant boost to the team's preparations.

However, Argentina know that they face a team that has a habit of finding form in Olympic years. Their recent double FIH Hockey Pro League victory over the Netherlands in Amsterdam suggests that 2021 could be no different, as gold medallists from Beijing 2008 and London 2012 and bronze medallists from Athens 2004 and Rio 2016 target a place on the podium for a fifth successive Olympiad. Germany are currently ahead of Argentina in both the FIH World Rankings (GER 4 | ARG 6) and the FIH Hockey Pro League standings (GER 4 | ARG 6).

Despite not playing for over a year, Argentina women re-start their League campaign sitting second in the FIH Hockey Pro League standings. Las Leonas have 17 points from their eight matches played, 12 points behind leaders the Netherlands but with two games in hand. Rio 2016 bronze medallists Germany are in seventh position, having claimed six points from the four matches they have played to date. They come into the fixtures against Argentina on the back of two losses against reigning World, European and FIH Hockey Pro League champions the Netherlands. With Argentina and Germany sitting 2nd and 3rd in the FIH World Rankings respectively, these clashes could certainly be close.

Although the fans will not be allowed into the stadium itself, the matches will be available to watch via television or digital streaming thanks to our broadcast partnerships, as well as on the Watch.Hockey app in every country where a rights holding broadcaster is not showing the matches live.

More information about the matches can be found below.

Argentina v Germany (Men)
Where: Cenard, Buenos Aires (ARG)
Dates: Saturday 3 & Sunday 4 April 2021
Times (ART – UTC -3): Saturday: 14:30 | Sunday 14:30
Match pages: Match 1 | Match 2

The essentials…
Current FIH World Ranking: Argentina: 6 | Germany: 4
Current FIH Hockey Pro League position: Argentina: 6 | Germany: 4
Final standings - FIH Hockey Pro League 2019: Argentina: 5 | Germany: 6

Head-to-heads in all competitions (since 2013 – 16 matches)
Wins: Argentina: 6 | Germany: 5 | Draws: 5
Goals scored: Argentina: 39 | Germany: 36

Team pages (squads & statistics): Argentina | Germany

Argentina v Germany (Women)
Where: Cenard, Buenos Aires (ARG)
Dates: Saturday 3 & Sunday 4 April 2021
Times (ART – UTC -3): Saturday: 17:00 | Sunday 17:00
Match pages: Match 1 | Match 2

The essentials…
Current FIH World Ranking: Argentina: 2 | Germany: 3
Current FIH Hockey Pro League position: Argentina: 2 | Germany: 7
Final standings - FIH Hockey Pro League 2019: Argentina: 4 | Germany: 3

Head-to-heads in all competitions (since 2013 – 19 matches)
Wins: Argentina: 11 | Germany: 5 | Draws: 3
Goals scored: Argentina: 35 | Germany: 20

Team pages (squads & statistics): Argentina | Germany

You can also keep up to date with all the latest news on the FIH Hockey Pro League via the event website and through FIH social media channels - Facebook, Instagram and Twitter.

#FIHProLeague
#HockeyInvites
#PlayHockeyStayHealthy

Official FIH Pro League Site


---

2021 EuroHockey Championships Fixtures Announced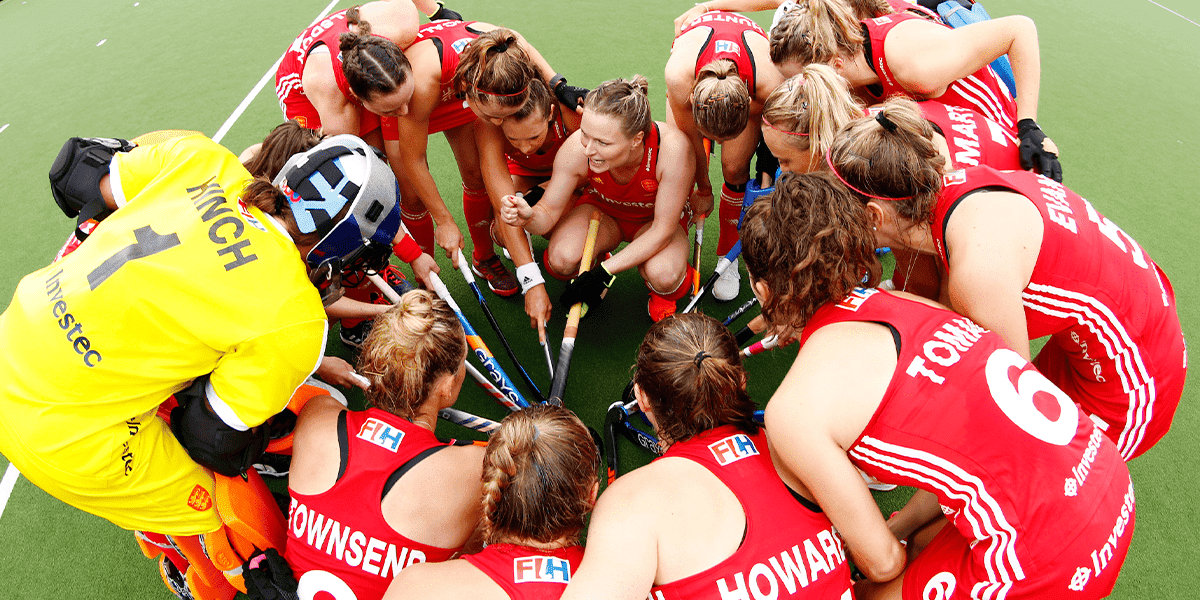 The schedule for this year's EuroHockey Championships has been revealed as England's men and women prepare to mount a charge to return the medal podium.

With several qualification spots on offer for the upcoming World Cups too, the tournament taking place between 4-13 June in The Netherlands looks set to be an exhilarating spectacle.

Danny Kerry's team begin their campaign on Saturday 5 June when they take on Russia and will be hoping to recreate some of the incredible hockey they showed when they beat the same opponent 10-1 at the 2015 tournament.

They then go on to play reigning world champions Belgium in their next game before closing out Pool A with what promises to be an exciting clash against Spain.

The women have to wait until the third day of the tournament to take to the pitch for the first time when they play Italy before they return to action the next day against Germany, who they drew with in the group stages during the 2019 tournament.

Belgium are their opponents in the final group game as Mark Hager's side look to build on their fourth-placed finish from the last edition.

The top two teams from each group stage will qualify for the semi-finals while the bottom two teams will enter a third pool to determine who will retain their place in the top tier for the 2023 event.

Five teams from the men's competition can qualify for the 2023 World Cup in India, while there three women's spots up for grabs at the 2022 World Cup in The Netherlands and Spain.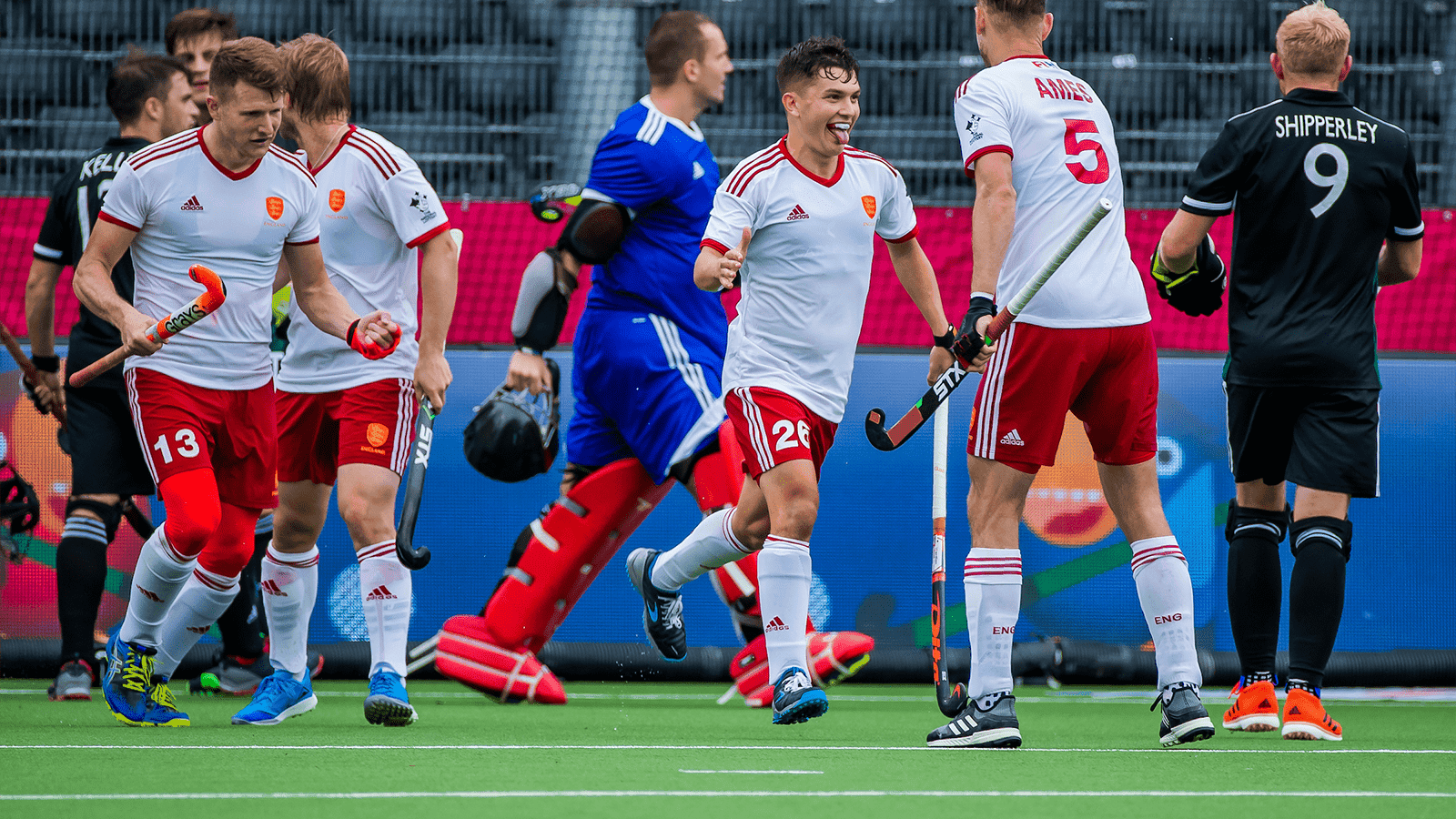 Key dates (all times BST)

    Saturday 5 June: England v Russia (Men) – 11:30
    Sunday 6 June: England v Italy (Women) – 10:00
    Sunday 6 June: England v Belgium (Men) – 16:45
    Monday 7 June: England v Germany (Women) – 16:00
    Tuesday 8 June: Spain v England (Men) – 16:00
    Wednesday 9 June: Belgium v England (Women) – 16:00
    Thursday 10 June: Men's semi-finals – 16:00/19:00
    Friday 11 June: Women's semi-finals – 17:00/19:30
    Saturday 12 June: Men's bronze medal match – 09:30
    Saturday 12 June: Men's gold medal match – 12:00
    Sunday 13 June: Women's bronze medal match – 09:30
    Sunday 13 June: Women's gold medal match – 12:00

England Hockey Board Media release


---

Katrina Powell takes Hockeyroos reins for Tokyo Olympics




Dual Olympic gold medallist Katrina Powell is the next Head Coach of the Hockeyroos.

Powell's appointment will see her take charge of Australia's national women's team from now to the end of the Tokyo Olympics.

Powell, who is currently the Head Coach of the New South Wales Institute of Sport's (NSWIS) Women's Hockey Program, becomes the first female Hockeyroos Head Coach since Colleen Quinn in 1978.

Following a decorated playing career which included 252 games and 141 goals for the Hockeyroos, Powell has been in various coaching roles since 2005.

"We are delighted to have appointed Katrina to take the Hockeyroos through what is a crucial and exciting period," said Hockey Australia President Mel Woosnam.

"The past months have been a challenging period for everyone associated with the Hockeyroos but we feel Katrina is the right person to get the best out of this group and continue in its Olympic preparations.

"Katrina brings her own strengths, experience and knowledge to the role as well as knowing what it takes to achieve at the highest level.

"We are confident of the positive impact she will have on the development and improvement of the squad in this short time ahead of and during the Games."

Powell's previous coaching tenures at international level include National Women's Assistant Coach from 2005-2012, a member of the Hockeyroos' coaching staff at the 2010 and 2018 Commonwealth Games, coaching support staff during the Hockeyroos' 2008 and 2012 Olympic campaigns, and most recently Hockeyroos Assistant Coach at the 2019 Oceania Cup.

"It is a really quick turnaround to the Olympics and I am well aware of that but I am so excited by the opportunity that is in front of me," said Powell.

"My objective is not to overhaul the hard work that has already been done. I am keen to bring in a fresh set of eyes, ideas and approach that will help this team be successful."

"My coaching style is one of athlete wellbeing but high expectation and discipline. We are going to work really hard with the athletes about building a purpose and having a strong way of play."

"There is still a lot of work to do between now and the Olympics and I am eager to get straight into it and help these girls reach their potential because it is a highly talented squad that can finish on the dais in Tokyo."

Hockey Australia is appreciative of NSWIS allowing Powell to fulfil the role.

"Katrina has proven herself to be a world-class coach and we are thrilled to see her leading the Hockeyroos on the world's biggest stage," said NSWIS CEO Kevin Thompson.

"It's fantastic to see a female coach leading the team for the first time in 40 years and we wish Katrina, the Hockeyroos and Hockey Australia every success in Tokyo and beyond."

Powell is scheduled to arrive in Perth on 6 April.

Hockey Australia intends to announce a new assistant coach to fill the position vacated by Steph Andrews soon.

Katrina Powell Fact File
Born: Canberra, ACT

Coaching History
NSW Institute of Sport; Head Coach, Women's Hockey
NSW Pride Head Coach (Sultana Bran Hockey One League) 2019
NSW Arrows Head Coach (Australian Hockey League) 2015-2018
Commonwealth Games coaching staff 2010, 2018
Olympic team coaching support staff 2008, 2012
World Cup coaching staff 2010
Australia Women's Head Coach at 2009 Junior World Cup
Seven years working with Hockey Australia as a National Assistant / National Junior and Australian Institute of Sport coach

International Playing Career
Hockeyroos 1994-2004 (252 appearances, 141 goals)
Hockeyroos captain for four years
Olympic Gold Medallist (1996, 2000)
Commonwealth Games Gold Medallist 1998
World Cup Winner 1998
Champions Trophy Winner 1997, 1999, 2003

Other Information
2013-current Member of International Hockey Federation (FIH) Rules Committee
2014 One of 10 female coaches world-wide at the time to achieve FIH Coach - High Performance accreditation
1997 Awarded an Order of Australia Medal (OAM)
Sister Lisa Powell also represented the Hockeyroos

Hockey Australia media release


---

Deep Grace Ekka: India Eves have the potential to finish on the podium in Tokyo

The veteran defender thinks playing against higher-ranked opponents has helped India improve

By Soham Mukherjee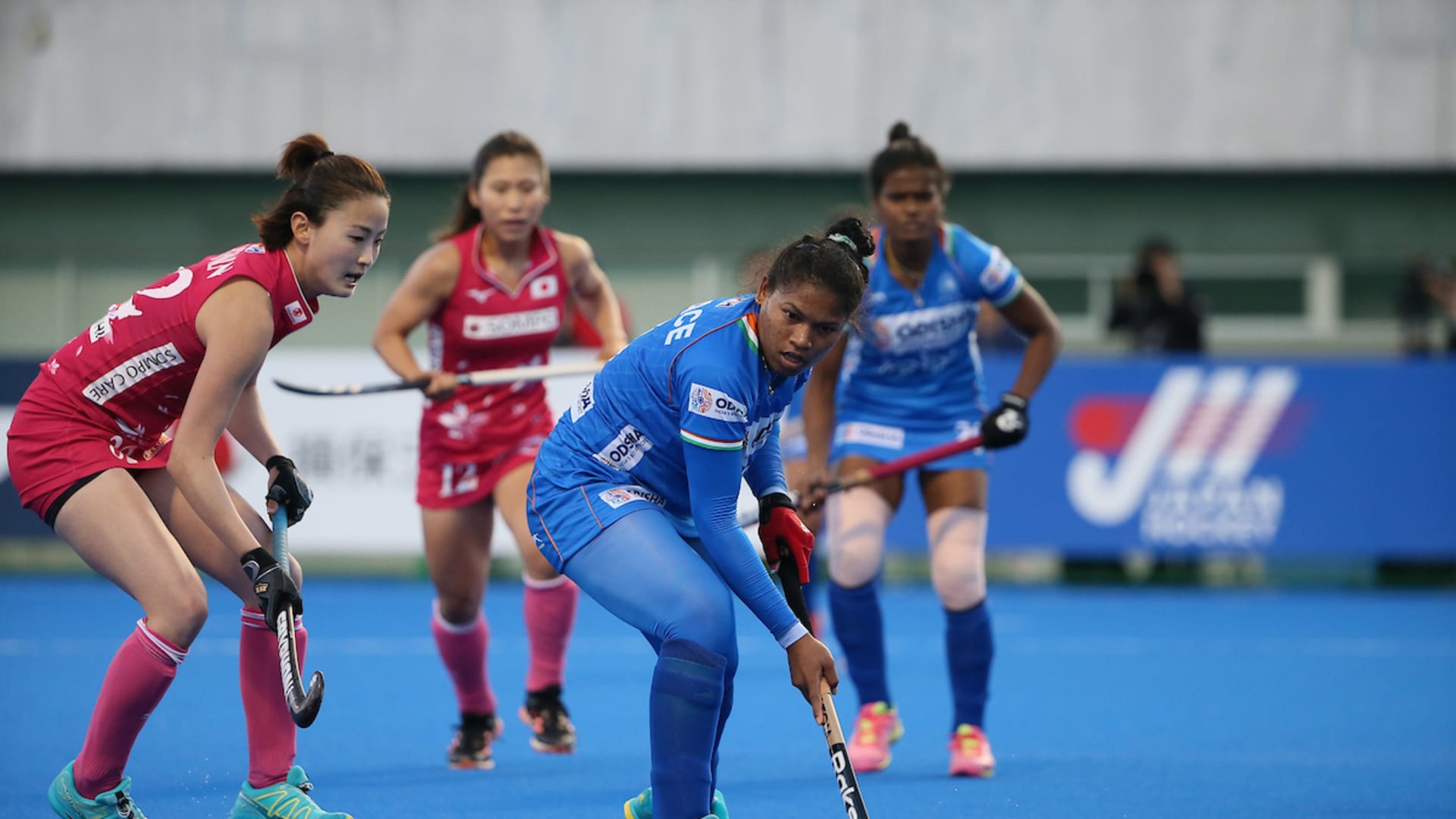 The Sundargarh district in Odisha can arguably be called the cradle of Indian hockey. The sport has a rich history in this district as it is believed that the first hockey match here was played back in the 1860s when European missionaries introduced the sport as a school curriculum.

Hence it is no surprise that the region has produced five national captains - Prabodh Tirkey, Ignace Tirkey, Dileep Tirkey, and Jyoti Sunita Kulu, alongside several other Olympians.

India's mainstay in defence Deep Grace Ekka hails from the Lulkidhi village from the same district. Hockey runs through her veins -- her father, uncle and elder brother were notable local players.

"I have grown up in a hockey surrounding. I wanted to be a goalkeeper from the beginning," Ekka narrated to Olympic Channel. "Even though I got hit by the ball many times, I would ignore the pain and still be a goalkeeper. But since my brother and maternal uncle used to be a goalkeeper and they did not allow me to do goalkeeping and instead pushed me to be a defender,"

She was into sports right from her childhood. Not necessarily only hockey but other games as well like football and kabaddi. But when she had to make a choice, she did not think twice and picked up a hockey stick. The barren dust bowls became her stomping ground.

However, the villagers would often criticize her family for allowing a girl to play hockey instead of doing household chores.

" I did not work, so that gave them another reason to talk about me. When I used to play they would say, she doesn't even work and still ladko wala game khelti hai (plays men's sport). But I did not pay any heed to them and continued to play. My father also used to play hockey so he supported me a lot during this phase."

But she was destined for the stars and soon left behind her critics in Lulkidhi to join the SAI (Sports Authority of India) centre, Bhopal to train in a professional setup. But the transition was not easy.

"On grass, you can play with a straight back, but on turf, you can not do that. You have to bend a little and then play. It was difficult to get used to the new surface."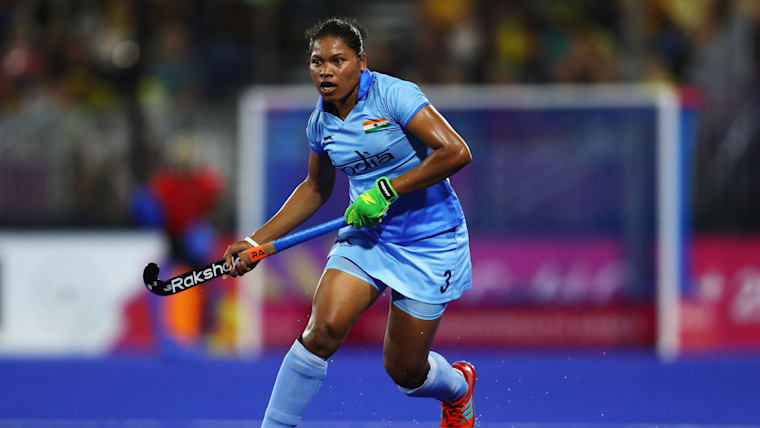 Deep Grace Ekka in action

But Ekka being a quick learner, got hold of the trade in a short time and at just 16 she played her first senior nationals in Sonepat. In 2011, she was called up for the India Junior team and two years later she won bronze in the Junior World Cup. However, it was 2014 Asian Games that played a decisive role in her career.

"That competition changed many things for me. The bronze medal was a motivation for me to play even better in the future."

Though India qualified for the 2016 Olympics after a hiatus of 36 years, they did not have a memorable outing in Rio.

Ekka feels that a lack of experience at the highest platform hurt their chances in Rio. But the Indian team have been locking horns against quality opponents in the recent past and that has helped them improve. In January they visited Argentina followed by another trip to Germany in February as part of their preparations for Tokyo 2020.

"It was great to play against the top two teams. I learnt a lot from them. They were good in one-vs-one plays. At first, it was difficult to gauge but gradually I understood their style and then it was alright. Whereas, Germany's team game was amazing. They would build-up and their striker was so intelligent. She would attract defenders and always make space for other players to utilise."

The Indian team is likely to go for a few more exposure trips in the run-up to the tournament, which makes Ekka hopeful of a strong finish in Tokyo.

"In Rio, we did not have the requisite experience. Therefore, we fared badly. At such a big tournament like the Olympics, you need a lot of experience. But now we have been sweating hard on the training ground. We are playing difficult teams and higher-ranked opponents. So this is huge for us. If we continue like this then I am hopeful that we can get a medal in the Olympics," stated a confident Ekka.

Olympic Channel


---

Where to watch the EHL Final 4

– EuroHockeyTV platform to broadcast all eight games for €9.99
– NOS, Eleven Sports, TV3 and BeIn all to show games




The Euro Hockey League – presented by ABN AMRO – will be broadcast via a wide variety of outlets as the FINAL4 makes its long awaited return on April 3-5, 2021.
 
For viewers around the world, all eight #EquallyAmazing games will be shown live on www.eurohockeytv.org, the European Hockey Federation's online broadcast home.

An event pass to watch every EHL FINAL4 game live costs €9.99 and can be purchased via the EuroHockeyTV website.
 
It will give you access to watch the historic first EHL Women's competition which starts off on Saturday (11.30am CET) with Spanish and German champions collide with the meeting of Club de Campo and Der Club an der Alster.
 
Dutch giants AH&BC Amsterdam and Den Bosch – who between them won 30 women's European Club Cup titles – follow them at 2pm (CET).
 
EHL Men starts off with three-time champions HC Bloemendaal taking on Belgium's Royal Leopold at 4.15pm (CET) before day one concludes with Germany's Uhlenhorst Mülheim coming up against Spain's Atlètic Terrassa at 6.45pm (CET)
 
Sunday sees the BRONZE MEDAL matches in both the men's and women's competitions while Easter Monday is the big day as the GRAND FINALS hit the Wagener Stadium turf.
 
In addition to EuroHockeyTV, the Euro Hockey League FINAL4 will be broadcast via a number of different outlets around the world.
 
In the Netherlands, NOS will broadcast two full games live on both Saturday, April 3 and Monday, April 5 on their main channel.
 
In Belgium, Eleven Sports will broadcast the entire tournament on Eleven Sports 3. Please note, as a result, the EuroHockeyTV website will be geo-blocked for viewers in Belgium.

In Spain, TV3 will broadcast Atlètic Terrassa's FINAL4 match against Uhlenhorst Mülheim and will potentially carry the GRAND FINAL.

In Australia, beIN Sports will once again broadcast the tournament's best matches on a delayed basis.

EHL 2020-2021 Match schedule EHL Men and Women FINAL4

April 3-5, 2021 (Wagener Stadium, AH&BC Amsterdam, Netherlands)  
Saturday 3 April 2021  

M1 11.30h WOMEN'S FINAL4: Club de Campo de Madrid – Der Club an der Alster

M2 14.00h WOMEN'S FINAL4: AH&BC Amsterdam – HC 's-Hertogenbosch

M3 16.15h MEN'S FINAL4: HC Bloemendaal – Royal Leopold Club  

M4 18.45h MEN'S FINAL4: HTC Uhlenhorst Mülheim – Atletic Terrassa HC  

Sunday 4 April 2021  

M5 13.30h WOMEN'S BRONZE MATCH: Loser M2 – Loser M1  

M6 16.00h MEN'S BRONZE MATCH: Loser M4 – Loser M3  

Monday 5 April 2021  

M7 13.30h MEN'S GRAND FINAL Winner M4 – Winner M3

*prizegiving ceremony directly following the Men's Final  

M8 16.00h WOMEN'S GRAND FINAL: Winner M2 – Winner M1  

*prizegiving ceremony directly following the Women's Final

Social media
Twitter: @ehlhockeytv
Facebook: Euro Hockey League
Instagram: ehlhockeytv
Hashtags: #EHL #equallyamazing

Euro Hockey League media release


---

There's still danger for everyone

By Jugjet Singh



Defending champions Universiti Kuala Lumpur (UniKL) were lucky to beat Tenaga Nasional 1-0, while Terengganu Hockey Team (THT) edged Maybank 2-0 in the first leg at National Hockey Stadium on Sunday. - Pic courtesy of MHL Facebook

NO team are safe yet as the return legs of the TNB Cup semi-finals tomorrow could produce surprises.

Defending champions Universiti Kuala Lumpur (UniKL) were lucky to beat Tenaga Nasional 1-0, while Terengganu Hockey Team (THT) edged Maybank 2-0 in the first leg at National Hockey Stadium on Sunday.

THT coach K. Rajan agreed that the return leg against Maybank could swing either way.

"Maybank made it difficult for us until Shello Silverius scored and opened up the match a little.

"After scoring the second goal, we had three golden opportunities, but we failed to make them count.

"We cannot afford to repeat this in the return leg. This match is still an open affair," said Rajan.

In the women's Vivian May Soars Cup, UniKL have virtually qualified for the final after hammering Sabah 8-0 in their semi-final, first-leg match on Sunday.

However, it is still an open affair between Universiti Tenaga Nasional-KPT and Police Blue Warriors tomorrow following a 3-3 draw in the first leg.

So far, the Covid-19 sports bubble has managed to keep out the virus from the tournament with only players, officials, medical staff and media personnel allowed into the venues in Bukit Jalil.

The only untoward incident was when Maybank's Joel van Huizen collapsed during their first match against TNB Thunderbolts.



THT coach K. Rajan

He stopped breathing for 28 seconds but was revived by the medical team.

This was the third time Joel had collapsed during a tournament, and Maybank coach Azrul Effendy Bistamam has not used him since.

"The medical team have advised him not to play any more matches in this tournament, so we will not take the risk of fielding Joel," said Azrul.

And it is learnt that Joel might retire for good.

"I am not sure if Joel is going to quit hockey for good, but I know that for competitive tournaments, there is a big chance that he will stay out. But that is a decision that Joel must make for himself," said Azrul.

Joel had also collapsed when he was playing for KL Hockey Club in 2016 and again when he played for the national team in the 2017 World League Round Two matches in Dhaka, Bangladesh, but the latest was the scariest as he had to be given CPR.

The medical team deserve a standing ovation for their swift response.

FIXTURES

SEMI-FINALS, RETURN LEGS

TOMORROW

TNB Cup: Maybank (0) v (2) THT (6pm, Pitch 1), Tenaga (0) v (1) UniKL (8pm, Pitch 1).

Vivian May Soars Cup: Sabah (0) v (8) UniKL Ladies (6pm, Pitch II), UniTen-KPT (3) v (3) Blue Warriors (8pm, Pitch II).

* First-leg scores in parentheses.

* Matches at National Stadium, Bukit Jalil.

New Straits Times


---

Regional leagues decide promotions as England Hockey curtails season



England Hockey will have restructured leagues from 2021/22 PIC: UK Hockey Photos

Regional leagues have been left with the difficult task of finalising promotion with minimal games played this season – despite England Hockey stopping its national league as null and void.

England Hockey ended the 2020/21 national league season on Friday with no promotions or relegations.

However with a nationwide league restructure set for the 2021/22 season and the need to add a fourth EHL conference division – with 10 teams made up of two qualifiers from each of the five regional leagues – those leagues have been forced to decide the outcomes of their Premier Divisions.

The West's Verde Recreo Hockey League issued their decision over the weekend, with Exeter University 'A' (relegated from national league at the end of the 2019/20 season) and Clifton Robinsons (runners-up in the VRHL Premiership at the end of the 2019/20 season) promoted to the national league.

"Our decision is in accordance with EH guidance for concluding the season without being able to have a play off," VRHL hon secretary Jon Watts said in a statement.

"I know the other six teams who had hoped to play for these two places will be very disappointed but we feel this is the best decision for player safety and to allow clubs to prepare for next season."

It follows a similar outcome made by the West Clubs Women's Hockey League, with some clubs not even starting their season.

England Hockey's own decision came before the government allowed a return to play on Monday.

However with restrictions still in place, such as car sharing, while some national league clubs had only completed three matches this season before the last suspension in October, hockey chiefs opted to cancel the season "after a year of considerable disruption, delay and frustration".

In early January, the majority of clubs favoured a shorter season with teams playing each other just once.

But England Hockey said that clubs' consultation suggested this was no longer the case, and fewer than 40 per cent of teams were in favour of continuing the season.

SIGN UP for The Hockey Paper's returning newsletter: Promotions, exclusives and our best coverage

The Hockey Paper


---

Michigan and Northwestern Earn Weekly Field Hockey Honors




Wolverines' Peterson and Spieker, and Wildcats Wadas claim weekly awards

Offensive Player
Kathryn Peterson, Michigan
M – Jr. – San Diego, Calif. – Serra
• Tallied two critical goals last weekend as Michigan swept Rutgers
• Netted the game-winning goal in the fourth round of a shootout to claim the 1-0 win on March 27
• Posted the lone goal on Sunday off a penalty corner in the second quarter to secure another 1-0 win
• Earns her first career Big Ten Offensive Player of the Week honor
• Last Michigan Offensive Player of the Week: Guadalupe Fernandez Lacort (Oct. 21, 2019)
 
Defensive Player of the Week
Anna Spieker, Michigan
GK – Jr. – Brandenburg, Germany – Sportschule im Olympiapark
• Posted a pair of shutouts against Rutgers to finish 2-0 for the weekend
• Made three consecutive saves during a 1-0 shootout victory on March 27
• Had six saves in Sunday's 1-0 victory against the Scarlet Knights
• Claims her first career Big Ten Defensive Player of the Week award
• Last Michigan Defensive Player of the Week: Emma Tamer (Oct. 21, 2019)
 
Freshman of the Week
Lauren Wadas, Northwestern
M – Annville, Pa. – Palmyra Area
• Had a stellar performance on Sunday to help Northwestern finish a weekend sweep of Ohio State
• Recorded her first career multi-goal game in NU's 3-2 double-overtime victory over OSU
• Scored the game-winner for the Wildcats off a penalty corner attempt just 28 seconds into the second overtime period
• Garners her first career Big Ten Freshman of the Week award
• Last Northwestern Freshman of the Week: Maddie Zimmer (March 1, 2021)

2020-21 Big Ten Field Hockey Players of the Week

March 1
O: Peyton Halsey, So., NU
D: Gianna Glatz, Sr., RU
F: Maddie Zimmer, NU         

March 8
O: Riley Donnelly, Jr., MD
D: Anthe Nijziel, Jr., IOWA
F: Bridy Molyneaux, RU
 
March 16
O: Bree Bednarski, Sr., PSU
D: Kayla Blas, Jr., NU
F: Liz-Elaine Stange, RU
 
March 22
O/F: Sophia Gladieux, PSU
D: Riley Donnelly, Jr., MD
 
March 29
O: Kathryn Peterson, Jr., MICH
D: Anna Spieker, D, MICH
F: Lauren Wadas, NU

B1G Ten conference media release


---

Jane Nockolds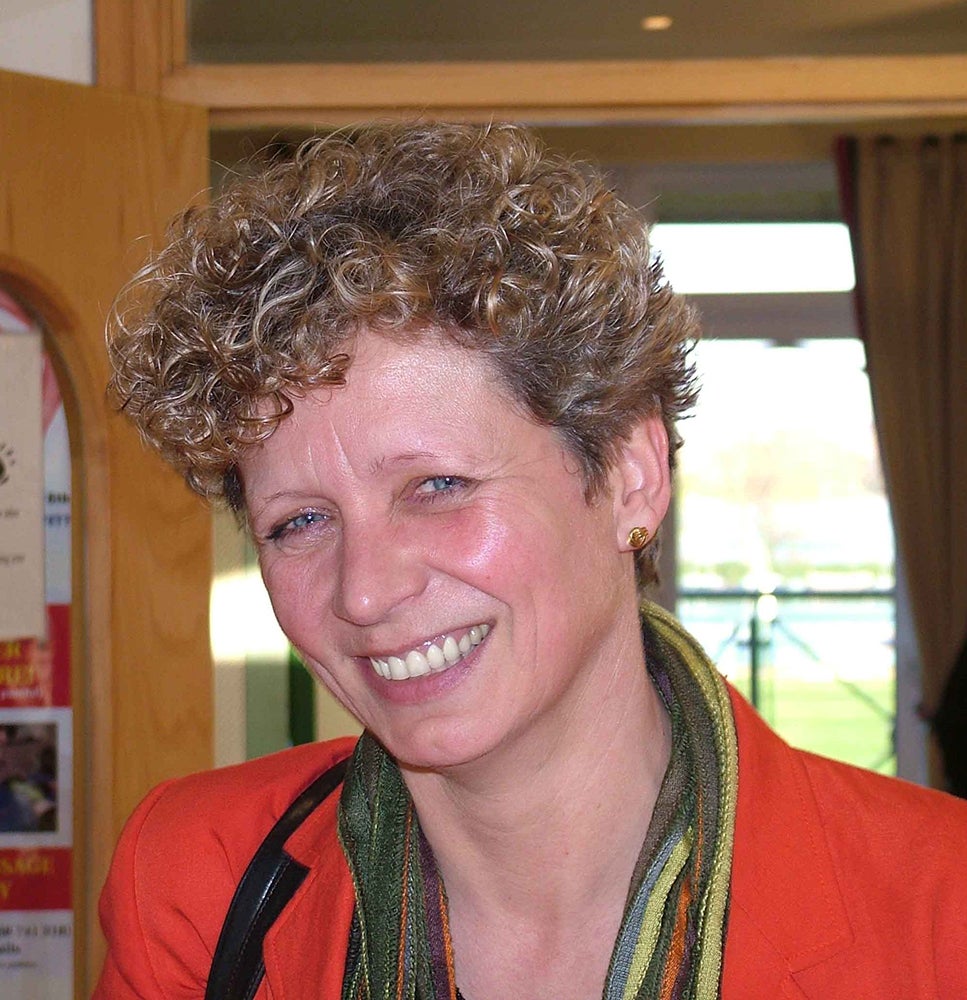 It is with immense sadness that England Hockey learns about the passing of ex-International Umpire Manager and Umpire Jane Nockolds, after a brave battle against a long term illness.

Jane operated at the very top level of the game domestically and internationally for a number of years, representing GB and England at multiple international events. She was a world-class umpire, officiating at the World Cup in Utrecht and Champions Trophies in Amsterdam, Macau and Sydney. Jane then went on to umpire managing, with her "highlight" appointments being one of the Umpire Manager team at the 2008 Beijing Olympics & World Cup in Rosario.

Jane was a long term member of the Development team at England Hockey, where her role of National Development Manager – Umpiring, led to national standards for umpiring, an umpire pathway that is still used today and bringing the use of technology (including the use of radios) into the sport. Perhaps her greatest legacy is the National Young Umpire programme, which is still in operation today and has gone on to identify and nurture so many top umpires who are currently servicing the game.

Our thoughts are with her partner Sarah, their families and to the hockey family who knew and worked with Jane throughout her lengthy career in hockey.

England Hockey Board Media release