All the news for Thursday 25 February 2021

EuroHockey 2021 could see fans enter with Covid app



Belgium will defend title at EuroHockey 2021 PIC: World Sport Pics

Organisers are looking into an ID Wallet app to allow fans to watch this summer's EuroHockey Championships in Amsterdam.

Title sponsor Rabobank is currently working on a 'Back 2 Live' app which would see spectators provide a Covid test result and identity information for a safe Championships.

EuroHockey organisers are currently drawing up several scenarios: the app possibly being used if spectators are allowed, an event with limited fans and a Championship taking place behind closed doors.

Erik Gerritsen, Dutch hockey's general director, said: "It goes without saying that we have to take into account the current corona measures. But no one knows at the moment what will be possible in June.

"The health of the participants and officials is our top priority, directly followed by our ambition to involve hockey fans in the tournament as much as possible. One way or the other. We're going to make it a hockey party."

Holland women and Belgium men will be defending their respective titles when the eight-team event hopefully gets under way between June 4-13 at Wagener Stadium in Amsterdam.

Four automatic qualifying berths for the World Cup will be on offer at the Euros.

Organisers have yet to put tickets on sale but fans can register ahead of any ticket sales.
SIGN UP for The Hockey Paper's returning newsletter: Promotions, exclusives and our best coverage
---

England & GB Hockey Announce New Partnership With Vitality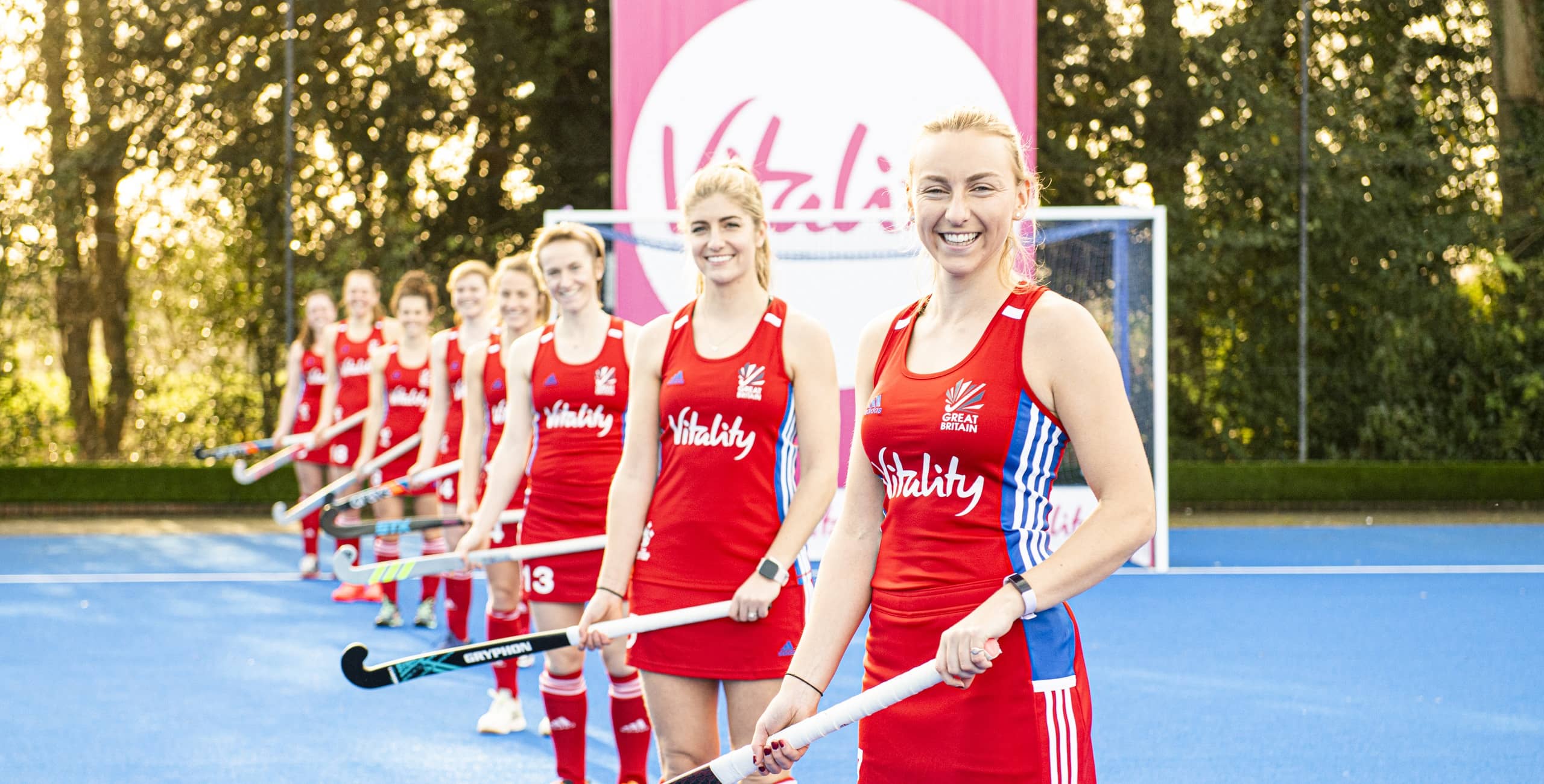 Vitality and England & Great Britain Women's Hockey have announced one of the most significant partnerships in the sport's history, as part of a landmark three-year deal.

The new partnership sees the health, life and investment company, become Principal Partner of England & GB Women's Hockey teams (with Vitality's logo on their shirt), Presenting Partner of FIH Hockey Pro League in Great Britain – which includes both men's and women's matches - and Title Partner of the English Women's Hockey League, now named the Vitality Women's Hockey League.

England Hockey's grassroots participation programme will also be renamed Vitality Back to Hockey, with Vitality working closely with England & GB Hockey to drive visibility of the game and encourage many more people to try out or return to the sport.

The partnership will provide support to the game and further raise its profile as part of Vitality's ongoing commitment to women's sport and addressing the significant difference that exists in physical activity levels between men and women. Through the multiple aspects of the partnership, Vitality, together with England & GB Hockey, will further bring its core purpose to life – to make people healthier and to enhance and protect their lives.

This announcement comes at the start of an exciting year for the sport, with the Tokyo Olympics, FIH Hockey Pro League and EuroHockey Championships.

The announcement also comes at the same time as the insurer announces former Olympic gold medal winning hockey player Alex Danson-Bennett MBE will be joining the Vitality team as a Performance Champion, where she will use her passion and extensive experiences in sport and health to help businesses to motivate and inspire their colleagues to look after and prioritise their health and wellbeing.

Nick Read, Managing Director for Vitality, said: "As we head into 2021, a year full of unmissable sporting events, we are delighted to announce our new partnership with England & GB Women's Hockey.

"As one of the only sports played equally by men and women, hockey holds a unique position meaning it is well placed to drive engagement in physical activity with women in particular, supporting them to try out or return to the game. There has never been a more important time to be involved in women's sport at all levels, inspiring many more people to become more active and live healthier lifestyles – which is all in-line with our core purpose, to make people healthier and to enhance and protect their lives."

Nick Pink, Chief Executive of England Hockey and Chief Operating Officer of Great Britain Hockey, said: "We are delighted and very excited to welcome Vitality as a Principal Partner of England & GB Hockey. Vitality's commitment to women's sport, their company values, stature as an organisation and recognition to our wider diversity and inclusion work are exciting and complimenting priorities. The profile of hockey has grown significantly in the last ten years, and to be able to announce this new partnership at such a challenging time speaks volumes for the progress hockey in this country has made both domestically and internationally. We look forward to working with Vitality over the next three years, and developing many opportunities for the sport."

Speaking about Vitality's partnership with England & GB Women's Hockey, Alex Danson-Bennett said: "This announcement is fantastic news for the game of hockey and for women's sport. I am delighted to be joining an organisation that seeks to raise the profile of women's sport, and I'm sure this partnership will see many more people get involved in the game, become more active and live healthier lifestyles."

England Hockey Board Media release


---

Legendary moments: Pietie Coetzee signs off in style




Pietie Coetzee is well known in the USA for her coaching work with the University of Massachusetts. The team, which is currently a top 10 college team in the highly competitive national collegiate system is aiming high and Coetzee hopes the team will attain a top four spot within the next season.

That ambition and drive to succeed, along with a desire to always perform better, has been a hallmark characteristic throughout the South African hockey player's career. The world's most prolific female scorer, a talisman for the South African team for more than 16 years, Coetzee was the ultimate professional. Nowhere was this more evident than when she stepped into the national squad as an injury replacement at the Rabobank Women's World Cup in the Hague, Netherlands in 2014.

Despite not expecting to play in the Hague, and despite her entire career to that point being focused on scoring goals, Coetzee answered her nation's call and turned up in the Netherlands to take up responsibilities as the right defender.

"In many ways it was like playing my first major competition," she says with a smile. "It was completely unfamiliar territory for me, but I think there was a specific reason why the coach wanted me to fulfil that position, not necessarily as a defender but to start attacking moves from that right back position. I thoroughly loved being there. It was an honour and privilege to be at a major tournament and that is how I saw it."

The moment that sealed Coetzee's place in our selection of hockey's legendary moments took place in South Africa's final match. Playing Japan, the South African team won a penalty corner in the 59th minute of the game. It was the moment that both Coetzee and the team had been waiting for.

"At that stage I was really just trying to do my best in that right back position so I knew I wouldn't get many chances at goal. But, of course, when it is a penalty corner, I always have a chance. I waited a long time in that tournament – it seemed whenever we won a penalty corner, I was off the pitch.

"But that goal, it was a drag flick and I got hold of it very nicely. It was epic because it was my final goal in my final game for South Africa. I always feel a real tension when I am taking a penalty corner and then there is a huge release.

"I always felt huge exhilaration when I scored a goal and that was no different in that respect. But I also knew it was my last game, so that made it extra special and I feel that is what the team felt too in the celebrations that followed. It was a fitting farewell. My first World Cup in 1998 was also in the Netherlands [Utrecht], so it felt like I was completing the circle."

That goal was the 282nd of Coetzee's international career and it broke her own world record for the most international goals by a female hockey player. You can now relive that special moment as we replay Pietie Coetzee's final international goal for South Africa.

Watch the full interview with Pietie Coetzee by clicking here and relive the goal by clicking here.

#LegendaryMoments

FIH site


---

PHF gives hockey shoes to Punjab U16 team

LAHORE: The Pakistan Hockey Federation presented hockey playing shoes to the Punjab team for winning the Under-16 National Championship held recently at Peshawar.

On the direction of President PHF Brigadier R Khalid Sajjad Khokhar, Secretary General Olympian Muhammad Asif Bajwa gave shoes to the team.

Also present on the occasion were Manzoor Junior, Insaf Sports Cultural Wing President Iftikhar Elahi, Secretary Punjab Hockey Association Col Asif Naz Khokhar, and Punjab coach Mujahid Afzal.

The News International


---

The complete 2021 Northwestern field hockey preview

The 'Cats focus on making national noise after a successful 2019 season.

By Michael Barthelemy



Key player Bente Baekers in action. Northwestern Athletics

Northwestern field hockey opens its long-awaited season against Michigan State on Saturday in Virginia Beach. The Big Ten has employed a neutral site in Virginia for the first two weeks where all nine conference teams will be present as a way to kick off the season.

Led by long-time head coach Tracey Fuchs, the Wildcats are hoping to build off of an incredibly successful season and further their feats.

2019 summary

Northwestern defied the odds last season. Despite posting a 9-10 record in 2018 and losing their star player in Puck Pentenga, the Wildcats were able to finish 14-8 and 5-3 in the conference, making the NCAA tournament as an at-large bid. Unfortunately, the Wildcats were knocked out in the opening round at the hands of Boston College.

The success of 2019 is largely thanks to Bente Baekers. As a first-year, she stepped into a lead role at forward and thrived. She led the conference in goals with 28, received six Big Ten weekly honors, earned First Team All-Big Ten and was named Big Ten Freshman of the Year. Senior Kirsten Mansfield led the nation with 17 assists and sophomore Maren Seidel tacked on six goals herself.

Key losses

Coming into 2021, Northwestern's largest holes are on the backside. Two starting defensive players Lily Gandhi and Mansfield left the program in a position group that was already the weak spot for the team. Northwestern ranked 26th in the nation in goals allowed per game with 1.45 compared to a scoring attack that ranked 11th nationally.

Offensively, the Wildcats lost their second-leading scorer Saar de Breij. De Breij tallied nine goals on the season and was a Second Team All-Big Ten finisher.

Additionally, the 'Cats lost midfielders Lily Katzman and Erica Hootenstein, as well as goalie Caroline Hughes. Katzman started four games and appeared in all 22 in 2019.

Key returners

Bente Baekers

This team lived and died by Baekers' production a season ago, and this year may be a similar case. The reigning Big Ten Freshman of the Year led the conference in both goals and total points in what was a historic season.

For a team that will have to rely on a scoring onslaught, the most consistent source of offensive production will be Baekers. As the 'Cats find a consistent second scoring option, their fearless leader, who earned Big Ten preseason honors, will be at the head of any offensive attack.

Kayla Blas

Blas enters 2021 as the leader of a defensive unit that lost two of its main contributors. The 2019 Second Team All-Big Ten finisher started all 22 games for the 'Cats and recorded nine assists. She earned conference preseason honors ahead of their first game. Blas will most likely enter a more playmaking-centered role, as Mansfield did a season ago.

Lakin Barry

The most experienced member and frontrunner to be the second scoring option for Northwestern is Barry. In 2019, she scored five goals and collected 13 total points. Now as a redshirt-senior, Barry is the leader of this team and should be able to mentor Northwestern's young group of attackers outside of Baekers.

Maren Seidel

Seidel is the other returning player who recorded a fair amount of offensive production in 2019. The Germany-native scored six goals and appeared in all 22 games from the midfield for the Wildcats. The junior has started 34 games in her career and will bring experience for younger players.

Alia Marshall

The strongest candidate for a breakout campaign would be Marshall. The sophomore started 20 games as a freshman in 2019 and now stands as one of the most experienced on the defense. Marshall has the tools and the opportunity to stand out as a star player for the 'Cats if she can help shore up a defense that has struggled at times.

2021 Season Outlook

The 'Cats will likely be in contention for a conference title all season long, but it is not necessarily the expectation with powerhouse programs such as Maryland and Iowa. Regardless, Northwestern has one of the best shots to make some noise in the conference with one of the best players nationally in Baekers.

If Northwestern is able to establish reliable scoring outside of the Big Ten Freshman of the Year and continue to improve upon their defensive consistency, the sky is the limit. For a squad that exceeded expectations a season ago, there is reason to believe they can make yet another leap into dominancy.

The Wildcats also welcome 10 first years to the team, including Maddie Zimmer and Annabel Skubisz, both top-10 players in the class of 2020 according to Max Field Hockey. Zimmer also earned preseason honors from the Big Ten.

The goals for the season will likely be a conference title and making it out of the first round of the NCAA tournament, both of which are not far off from reason.

Inside NU