All the news for Saturday 20 February 2021

PR Sreejesh-led Indian men's hockey team to resume Tokyo Olympics preparation with tour of Europe

The men's team last participated in an international competition in February last year when they played the FIH Hockey Pro League matches against Australia in Bhubaneswar.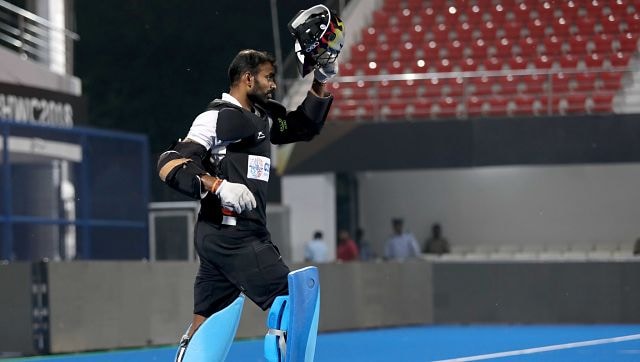 File image of India men's hockey team goalkeeper PR Sreejesh during the Men's Hockey World Cup 2018 held at Bhubaneswar. Image courtesy: Hockey India

New Delhi: The Indian men's hockey team will ramp up its Olympic preparations with tour of Europe this month, its first international sojourn since the COVID-19 pandemic halted sporting activities across the world last March.

A core group of 22 players and six support staff will leave from Bengaluru for Krefeld, Germany on Sunday, where they will play the home team on 28 February and 2 March.

The Indians will then travel to Antwerp, Belgium, where they are scheduled to play against Great Britain on March 6 and 8.

The Indian team will be captained by goalkeeper PR Sreejesh, while drag-flicker Harmanpreet Singh has been named as his deputy for the 17-day tour.

The men's team last participated in an international competition in February last year when they played the FIH Hockey Pro League matches against Australia in Bhubaneswar.

By virtue of its good good performances against Australia, the Indian team had climbed to fourth in the FIH world rankings, the country's highest till date.

The team has been camping at Sports Authority of India's (SAI) campus in Bengaluru since the players joined back training in January.

The Indian women's team resumed international hockey when it toured Argentina last month.

The junior women's team had also travelled to Chile as part of exposure tours ahead of key events such as the Olympic Games and Junior World Cup later this year.

"We are very grateful for the opportunity to go to Europe, and we are looking forward to having our first competitive matches in just over 12 months," Indian men's team chief coach Graham Reid said.

"Playing against powerhouse teams like Germany and Great Britain will provide us with great competition and help immensely in our FIH Hockey Pro League and Olympic Games preparation. Playing any top 10 ranked team is always a great experience for the team."

Reid thanked Hockey India and SAI for their efforts in ensuring the team gets the right exposure ahead of major tournaments this year.

"This tour will help us set the yardstick to prepare for the forthcoming events and give us an understanding of where we stand with respect to the rigorous training we have been undergoing for the last few months in Bengaluru."

Harmanpreet is excited about the opportunity and said the matches will help in understanding where the team stands currently.

"We are absolutely excited to be travelling for the first time in over a year. Playing against Germany and Great Britain will help us set the parameters for preparing best ahead of FIH Hockey Pro League which is our immediate competition ahead of the Olympic Games.

"We understand the weather in Europe will be quite cold this time of the year, but we have almost a week to acclimatise. We are looking forward to this exciting challenge, we can't wait to get into competition mode," he said.

Hockey India and the host national associations have planned to create a bio bubble in countries the team will be travelling for training and competition.

The Indian men's team will be staying in a hotel where provisions have been made for separate rooms/halls for players, meals, team meetings, sessions etc.

The accommodation will be on twin sharing basis and room partners will remain same throughout the tour. Besides, they will also follow the same seating arrangement in the team coach/bus.

The team members will not be moving out of the bubble and meeting any third-party source is not allowed. The local resources along with the team like bus/coach, drivers, support staff will all remain the same throughout the tour to avoid any lapses.

According to a Hockey India statement, the entire contingent will undergo a COVID-19 RT-PCR Test 48 hours prior to their departure.

The statement further stated that though there is no requirement of quarantine upon arrival in Germany, the team will still be following all safety and health measures as advised by the governments of India, Germany and Belgium.

The 22-member squad doesn't feature regular skipper Manpreet Singh, Rupinderpal Singh, Varun Kumar and SV Sunil.

It has been learnt that Manpreet has opted out of the tour due to personal reasons, while Rupinder and Varun are injured.

Indian Team:

Goalkeepers: PR Sreejesh (Captain), Krishan Bahadur Pathak.

Defenders: Amit Rohidas, Dipsan Tirkey, Gurinder Singh, Harmanpreet Singh (Vice-Captain), Surender Kumar, Jarmanpreet Singh, Birendra Lakra.

Midfielders: Chinglensana Singh, Nilakanta Sharma, Hardik Singh, Vivek Sagar Prasad, Rajkumar Pal, Simranjeet Singh, Shamsher Singh, Akashdeep Singh.

Forwards: Gurjant Singh, Ramandeep Singh, Dilpreet Singh, Mandeep Singh, Lalit Kumar Upadhyay.

Firstpost


---

Malaysian hockey players tangled in 'red tape mess'

MHC have set March 11-April 3 for the men's and women's MHL, but the student still need approval from MoE to play because of the Covid-19 pandemic

By Jugjet Singh

To restart their sport in the country, the Malaysian Hockey Confederation (MHC) will help clubs cut the "red tape mess".

The situation is that even though the Sports Ministry have opened the doors of the national stadium for the Malaysia Hockey League (MHL), the Ministry of Education (MoE) have become a firewall.

MHC have set March 11-April 3 for the men's and women's MHL, but the student still need approval from MoE to play because of the Covid-19 pandemic.

"We are always ready to help our clubs and we will write to the MoE, seeking their cooperation to allow students to play in the MHL.

"We know some teams have a majority of school and college-going students, and they can't play without approval from their umbrella bodies," said MHC competitions committee chairman Datuk Seri Anil Jeet Singh.

Anil, who is also Sabah HA president, said his state will be fielding men's and women's teams in the MHL as well.

"Sabah is also in the same situation as we have a majority of students in both our teams.

"However, other than the MoE approval, teams can also get approval from parents to play in the league.

"Both the avenues will be looked into," said Anil Jeet.

TNB Thunderbolts have players from four schools, and chief coach Nor Saiful Zaini has said that if MoE does not give their players a release letter, they might have to withdraw from the MHL.

The four affected teams are Bandar Penawar Sports School, Bukit Jalil Sports School, SM Temerloh of Pahang and Anderson School of Ipoh.

Other than Sabah and Thunderbolts, MHC women's development team, Young Tigress, are also a student-based side.

"During a meeting with team managers recently, we said that students must be encouraged to play in the MHL as they are the future of Malaysian hockey.

"But we did say teams must not sign up Form Five students as they have an examination to prepare for.

"Other than that, we are ready to help teams seek MoE approval," said Anil Jeet.

A check with the MoE website yesterday showed that the SPM is expected to start on Feb 22, with the detailed information to be announced soon.

"We have extended the closing date for MHL team lists to this Sunday, so clubs can still add and drop players from their previous list." said Anil Jeet.

The men's MHL will feature treble holders Universiti Kuala Lumpur, Terengganu Hockey Team, Tenaga Nasional, TNB Thunderbolts, Maybank, Universiti Teknologi Mara, Nurinsafi Hockey Team, and Sabah.

The women's league will have PKS UniTen, Police Blue Warriors, Mutiara Impian, Sabah, Young Tigress and UniKL Ladies.

New Straits Times


---

Cox the Amsterdam coach for 2021-22 season




Alexander Cox will be the new men's AH&BC Amsterdam first team coach for the 2021-22 season, succeeding Santi Freixa after the end of this campaign.

Klaas Veering, Amsterdam top hockey board member, said: "We are very happy with Alexander coming to Amsterdam. His drive and ability to further build a team and allow it to excel, fit perfectly with the ambitions that we have."

Cox arrives at the club following a superb spell with Kampong, twice winning the Hoofdklasse and also landing the EHL in 2016. He has also been the assistant coach with Dutch international side and coached the Irish men's team.

"It is an honour to return to hockey as coach of Amsterdam," Cox said. "The ambitions of the club really appeal to me and the potential within the entire club is there to be able to realise these together. I look forward to coming. season and would like to wish Santi and his staff every success this current season."

Euro Hockey League media release


---

Huge sigh of relief: Hockey people happy game is back

By  Agnes Makhandia



Butali Sugar Warriors players celebrate a goal during their Kenya Hockey Union men's league match against USIU-A at City Park Stadium on May 11, 2019.
File | Nation Media Group

"It was long overdue."

Those were the words of Strathmore University coach Meshack Senge as the Kenya Hockey Union announced on Friday the start of the new Premier League season on April 3.

The union cancelled the league last season owing to the Covid-19 pandemic.

Senge said they have been in the cold for long and he was glad players will be back to doing what they love most.

"Other sports had rolled out there activities and it was about time that hockey followed suit. That said, it will be upon the teams, institutions and players at large to observe health protocols put out by the government for the well being of the sport," said Senge.

"We have not started training but now that the letter is here with us, we will assemble the team. Thankfully, some players have been away training with the national teams and therefore it won't take long for the playing system to fall in place ," the former Kenya men's coach said.

Kenya men's and women's teams had been training for the North-East Africa Qualifiers that was scheduled for March 1-7 in Nairobi but ended up being cancelled.

The national junior sides are training for the Junior Africa Cup on March 22 to 28 in Accra, Ghana.

Following the cancellation of the qualifiers, Kenya and Uganda were awarded the two slots to feature in the Cup of Nations scheduled for later this year. The two were the  only countries that had confirmed participation with Africa Hockey Federation early this month.

Women's Premier League champions Blazers, formerly Telkom, coach Jos Openda welcomed the development and was quick to note that they will be out to pick up from where they left.

Openda decried the lack of sponsorship after their title sponsors Telkom pulled out in 2019.

"I think the lack of sponsors have made most of my players to be strong mentally. We are keen to defend the title not as Telkom but as the new outfit, Blazers. We are reaching out to sponsors out there to invest in this squad that is still eager to put our country on the world map," said Openda.

Men's champion Butali Sugar Warriors team manager Kamal Sembi, while welcoming the resumption of the sport, said they will have to get the green light from their sponsor Butali on the way forward.

"With Covid-19, things have been hard with companies and really, I can't comment on the league if we will be participating or not. We will have to get the communication from the management. Again, a lot will have to be involved prior to the league kick off - as far as health protocols are concerned and the team managers meeting to be held soon will put things in perspective," said the official.

Daily Nation


---

Franchise hockey offers hope



A Bangladesh Army player (R) jostles for possession against a player from AHM Kamruzzaman XI during a match of the Shaheed Smriti Hockey Competition at the Maulana Bhasani Hockey Stadium yesterday. Bangladesh Army won the match 2-1. Photo: Firoz Ahmed

With Bangladesh's Premier Division Hockey League in the shelf for the last three years, the proposed franchise hockey league is giving hope to hockey players as a source of earning while raising hope of a revival of the game, once considered most promising after football.

Despite repeated appeals from the hockey players for holding the premier league, Bangladesh Hockey Federation (BFF) has apparently been helpless due to the lack of unwillingness of some clubs to take part over financial constraints.

"Every club official wants the league to get underway but surprisingly they can't take a decision when they sit for a meeting. And so we are starving year after year," national team's midfielder Mohammad Nayeem Uddin told The Daily Star.

"Introducing the franchise league is like a bumper harvest for the players, who always want regular harvest. We want hockey to be back on the pitch and want every player to earn a living.  Majority of the players don't have jobs except for some who have jobs in services teams," Nayeem added.

The introduction of the franchise league will definitely give the players an opportunity to earn money while the budding players will have encouragement to continue playing the game.

However, introduction of the league will depend on how the BHF responds to the proposal placed by T Sports, who are already involved with cricket and football in a big way.

"It is a big challenge to convince corporate houses because we have to make a sustainable model for the league. We believe we can manage four to five houses for the first year but they may not remain with us if we don't ensure a sustainable league," Ishtiaque Sadeque, CEO and managing director of T Sports, told The Daily Star.

Another T Sports official informed that they are planning to use the same model used in BPL T20 to rope in six corporate houses for six divisions, who will play in double-legged league matches before top four teams will take part in play-offs for the final clash in May.

Each team will have an icon player, who will get maximum payment, followed by players of A, B, C category alongside a player under foreign players' quota.

"T Sports will invest more in marketing to create a hype in hockey. The players may not get big payments like BPL cricketers do, but they will get good payment from the second edition. We want to make hockey a brand," said the official, adding that they will also provide a certain amount of revenue to the BHF.

BHF's acting general secretary Mohammad Yousuf said they are taking the T Sports proposal positively as an additional event in their calendar and that they have already formed a committee to meet with the company and finalise everything within a short period of time.

"I don't know how much franchise hockey league will contribute to hockey, but I can say people will feel interested again about hockey if we can introduce the league the way we want to," said Ishtiaque.

The Daily Star


---

Olympic Reflections: Athens 2004 – a dream comes true for Australia legend Dwyer




For Jamie Dwyer, 2004 was the year that changed everything. At the start of the year, Dwyer was still in the process of recovering from a career threatening injury that had left his selection for the Athens 2004 Olympic Games very much hanging in the balance.  

By the end of it, Dwyer's had permanently written his name into hockey's history books by scoring the winning goal in the Olympic final, giving Australia's Kookaburras their first Olympic title after nearly half a century of trying. Dwyer was later presented with the first of five FIH Men's Player of the Year awards, with his sensational displays in Athens signalling the arrival of a genuine hockey superstar.

As part of our build-up to the Olympic Games in Tokyo later this year, Jamie Dwyer looks back on his time in Athens when the Kookaburras finally laid their hands on the biggest prize in world sport.

Jamie Dwyer, thank you so much for talking to us about the Athens 2004 Olympic Games. You went into that competition with the Kookaburras having never won an Olympic gold medal, but this was the year it would all change. What were your thoughts going into that competition in Athens?

Jamie Dwyer: "It was a bit unique, because I'd just come back from a serious injury, so I was actually just feeling lucky to be there. My [international] career had started in 2001 and was going pretty good, and then in 2003 I had a bad injury and was out for eight months, so I was lucky to make the Olympic team. For me personally, I was just happy to be there. I was quietly confident because of the personnel we had in that team, and the culture we had as a group at that stage. We had a very good coach, Barry Dancer, who was all about the team and he was guiding us perfectly. The team itself was quite young but very, very fit. I knew we were the fittest team in the world, and we had some great leaders who led from the front, and some younger guys who just followed. The culture around the group was exceptional. It was my first Olympic Games, and I just didn't know what was going to happen. In the press conferences with the Australian reporters, they were all saying things like we had been the bridesmaids so many times, and that we had never won. My answer was 'yeah, that's true, but I've never been to an Olympics, so this is my first one and I'm going to give it my best shot'. In the end, that whole Olympics was a dream come true."

You certainly started well, scoring three times against New Zealand. How was the pool stage of the competition, for the team and you personally?

Jamie Dwyer: "When you score a hat-trick in the first game, your confidence is up! I guess my attitude back then playing hockey was to just go for it. I was young, I was fit, so I just thought go for it. No-one knew me too well back then, and I knew them pretty well from watching them, so I felt that I had a bit of an advantage. I thought I'm in pretty good form, so I'm just going to keep going and see what happens. During that tournament, we had some ups and downs. The first game we beat New Zealand, then we drew with Argentina in the second game. We just beat India in the last ten seconds of that game, and then the last pool round we lost 2-1 to Holland. I remember after that game [against the Netherlands], it personally gave me a bit of confidence because we played really well. We hit the post three or four times. They had a couple of corners and scored a couple of goals, but we had the much better of the play. When we had the team meeting Barry Dancer said exactly what I was thinking, saying that we actually played pretty good and he showed us the points and compared our goal-shots to their goal-shots. After looking at it, I was like yeah, if we play them again, we've got a really good chance. It just gave me a little bit of confidence that if we do come up against the Dutch, who had won the last two Olympics and had arguably the best player in the world in Teun de Nooijer on their team, and a great penalty corner threat like Taeke Taekema, I still believed that we could beat them.  It was just their confidence. They are so confident that they can just come out and turn it on. But we changed that in the final, thankfully."

You defeated Spain in the semi-finals and then it was the Netherlands once again in the gold medal match. You found yourself trailing 1-0 at half time thanks to a brilliant individual goal from Ronald Brouwer. What was the mood like at the break?

Jamie Dwyer: "I remember walking down the tunnel to the changing room thinking, this is unbelievable. We've played so well; we've had ten goal-shots and I think they had one corner and one goal-shot, and we are 1-0 down at half time. I was thinking that if they get another corner and put it in, it's game over. But once we sat down in the changing room, Barry Dancer said look, we are playing really well, and we have not lost a second half performance for the last 30-something games we've played. I was like, 'wow'! I didn't know it if was true or not, but I believed it at the time! Anyway, it gave me confidence that we were going to run over them. I knew they were struggling; I knew they weren't as fit as us. I just hoped that we had a few chances and have a bit of luck go our way. We had no luck in that first half. I've watched the game back a couple of times since then, once quite recently actually, and jeez we dominated that game from the start to the finish. If we didn't win that game, we were never going to win one."  

You snatched an equaliser early in the second half, where you set up Travis Brooks to fire home on the backhand. Talk us through that moment and what followed!  

Jamie Dwyer: "Brent Livermore made an unbelievable pass to me, and I hang out my stick and made a back-stick trap before passing it to Travis Brooks, who scored from pretty close to the baseline. It was a pretty good shot. It was just those little instances which you practise every single day, it worked out right there [in that moment]. I could have easily missed that trap, and Travis could have easily missed that shot, and I wouldn't have a gold medal sitting in my cupboard at home here. Those little things that you train every single day, if you really pay attention to them and practise them, they pay off in the big moments.

"Then extra time comes, and we get a [penalty] corner right at the end of the first period. The call from the coach was that the ball was coming to me. I was thinking about changing it in the huddle, saying that maybe we should just flick the ball – I'd had a couple of opportunities in normal time. I said maybe we should just flick it and get the ball in the goal. The penalty corner guy thought it was a great idea! But I think it was Brent Livermore who said no, let's just stick to the call and trust the coach. Once he said that, we spread out into our usual positions. The ball came to me from Brent, after he had trapped it. The [running defender] was on me a little bit quicker than I expected, and in that split second, I decided to hit the ball. I had been thinking 'flick it, flick it, flick it', but then he was too close, so then I'm thinking 'I'm going to have to hit this'. I connected pretty well, just missing his foot by a centimetre or so, then in between the keeper's pads, up into the goal and that was it, celebration time!"

And what a celebration it was! A huge moment for you and your country. Can you tell us what it felt like to score the winning goal in an Olympic final?

Jamie Dwyer: "It's quite hard to explain. One of the words that comes is relief. You feel relieved that you've put in all this work, from aged 13 sitting at home watching tape after tape of the Australian team, or the Germans, or the Dutch, Then I'd go out in the back yard and practise. After all that, you feel sort of relieved that you have got your dream, your end goal. The biggest goal you could ever achieve is to win an Olympic Games gold medal. To do it, that feeling is relieved and happy, not just for you but for your team-mates and for all the Australian players that have played previously and didn't get to achieve what we achieved. It was for them, it was for my family, it was for my friends. All the commitments that I'd made, and all of my mate's commitments. It's just a really hard thing to explain. But in the end, it was what I had dreamed of when I was a little kid practising, and it came true, so it was an amazing feeling."

#HockeyInvites
#Tokyo2020

FIH site


---

Batra to stand for re-election as International Hockey Federation President

By Liam Morgan



Narinder Batra is to seek re-election as FIH President ©Getty Images

Narinder Batra has confirmed he will stand for a second term as President of the International Hockey Federation (FIH) when the governing body holds its elections in May.

Batra, who became FIH President in 2016 and who also leads the Indian Olympic Association, announced his re-election bid in a letter to the organisation's membership.

"The experience of the last five years, coupled with your numerous encouragements and my strong dedication, have convinced me that I should make myself available to pursue my mission at the helm of the FIH," the International Olympic Committee (IOC) member wrote in the letter, seen by insidethegames.

"Therefore, I herewith have the honour and the pleasure to announce my candidacy to continue to be your President beyond the upcoming Congress, should you wish me to do so."

The FIH is due to hold its Congress in New Delhi in May, but the meeting could be held remotely owing to travel restrictions and other measures imposed across the world in response to the coronavirus pandemic.

It had been scheduled for last year before it was postponed due to COVID-19, which extended Batra's first term.

Hockey's worldwide body opened the nominations period for President on February 12 and it is scheduled to end on March 12.

It appears likely at this stage that Batra, who has sparked controversy during his reign as FIH President, will face at least one challenger for his position.

The winner of the election will serve as President until 2024 after the FIH shortened the second term from four years to three following the postponement of the Congress.



The Hockey Pro League was launched during Narinder Batra's tenure as FIH President ©Getty Images

Since his elevation to the top job at the FIH, Batra has been accused of not dedicating enough time to the position as his critics believe he has prioritised his IOA role - which is linked to his IOC membership.

IOA vice-president Sudhanshu Mittal last year began a campaign to remove Batra from his IOA and FIH roles after claiming his election to both positions was illegitimate.

Mittal asked the IOC Ethics Commission and the FIH Integrity Unit to investigate, but both bodies cleared Batra of any wrongdoing.

The FIH has also faced financial difficulties during Batra's tenure, largely caused by a combination of launching a new global tournament - the Hockey Pro League - and the coronavirus pandemic.

insidethegames revealed last month that the FIH had lost more than CHF633,000 (£505,000/$707,000/€583,000) in 2019, more than doubling its 2018 deficit.

The accounts, which predate the COVID-19 crisis, said TV production costs for the Hockey Pro League "were underestimated while, at the same time, revenues from broadcasting deals were overestimated."

Batra has insisted the FIH's financial forecast is bright as he aims to persuade members to give him another three years.

"Thanks to our learnings from the first season and the responsible management of our resources, our budget forecast for the second edition already shows a breakeven," Batra wrote in the letter to FIH members.

"In terms of the overall finances of the FIH, we have a clear and sound budget plan for the upcoming years."

Inside the Games


---

Sunday's Field Hockey Game Against UNH Canceled




STORRS, Conn. – The UConn field hockey team's contest against UNH, scheduled for Sunday, February 21, has been canceled due to COVID-related issues within the Wildcats' program.

The game would have been the season opener for UNH while the Huskies are 1-0 after a 5-0 win over Hofstra in last week's season debut.

UConn will return to action on Friday, February 26 when the team travels to Boston to take on Northeastern.  Game time is set for 3 p.m.

UConn Huskies


---

Islahuddin recovering from Covid-19 bout



In this file photo, Pakistan's former field hockey player Islahuddin Siddiqui speaks during a news conference in Karachi. — AFP

KARACHI: Former Olympian and Pakistan's most successful hockey captain Islahuddin Siddiqui said on Friday that he is gradually recovering from coronavirus at his home after getting discharged from hospital after almost a week.

Islahuddin, sounding quite weak as he spoke to Dawn, thanked the Almighty Allah for surviving the virus attack and offered gratitude to thousands of his friends, fans and well wishers for support during his illness.

"This has been a really trying period for me and my family but I am so thankful to God for His mercy and to all my friends and fans who prayed for my health and send hundreds of bouquets and get well messages during this period," said the brilliant ex-right winger who earned the country many laurels including the rarest of Grand Slam by winning the World Cup, Champions Trophy and Asian Games titles in 1978.

Dawn