All the news for Sunday 30 August 2020

Equal opportunities helped women's hockey team excel over the years: Rani

Rani is the first women's hockey player to receive Rajiv Gandhi Khel Ratna



Indian women's hockey team captain Rani Rampal. File Photo

Khel Ratna awardee Rani Rampal feels that equal opportunities like men's team has contributed tremendously towards the improved performance of the women's hockey team in the past decade.

The Indian women's team captain alongside cricketer Rohit Sharma, wrestler Vinesh Phogat, table tennis player Manika Batra and Paralympian Thangavelu Mariyappan were conferred with the Khel Ratna award virtually by President Ram Nath Kovind on Saturday.

"From when I started to now, many things have changed for the good in women's hockey. Back when I began playing, women's team played very few tournaments. We mostly played major events like Commonwealth Games and the Asian Games but now the scenario has changed so much," Rani said in a media release.

"Hockey India and the management ensured that we played tournaments round the year which has contributed tremendously towards our performance improving over the years and has also helped popularise women's hockey," she added.

Rani is the first woman from the sport to receive the prestigious Khel Ratna award and only the third hockey player after Dhanraj Pillay and Sardar Singh to get the country's highest sporting honour.

"Over the past one week, since my name was officially announced for the Khel Ratna award, I have been reflecting back on my journey so far and it makes me feel overwhelmed that women's hockey gets equal importance as the men's team," she said.

"...and a women's player being recognized with the highest award definitely goes to show the sport is moving in the right direction."

"I thank the Ministry of Youth Affairs and Sports, SAI and Hockey India for giving us all the opportunities to showcase our potential and at the same time recognizing our efforts," she added.

Men's forward Akashdeep Singh, who received the Arjuna award this year, also expressed his happiness.

"I thank everyone who has been part of my journey so far. I have been very fortunate to play for my country along with some of the greatest players in the sport," said the striker.

"I also thank Hockey India and SAI for their support and ensuring we are provided with the best facilities to train," he said.

Both Rani and Akashdeep are currently part of the on-going national coaching camp at Sports Authority of India, Bengaluru campus.

Hockey India's officiating president Gyanendro Ningombam congratulated all the award winners.

"On behalf of Hockey India, I congratulate Romesh Pathania for winning the Dronacharya award, Rani for winning the Khel Ratna Award, Akashdeep and Deepika Thakur for winning the Arjuna award," said Ningombam.     

"I also congratulate Jude Felix for winning the Dronacharya award and Ajit Singh for winning the Dhyan Chand life-time achievement award. Their contribution towards the growth of the sport in India has been tremendous."

"I wish both Rani and Akashdeep will use this award as a big motivation to continue to do well in the sport and achieve the team's goals at Tokyo Olympic Games," he added.

The Tribune


---

'There were days when we didn't know where the next meal will come from,' Khel Ratna Rani Rampal on her journey

'I won't rest till I win an Olympic medal. Even after all these years, what keeps me going is the honour of wearing the India jersey. That joy is incomparable,' Rani said on being conferred with the Khel Ratna award.

Shantanu Srivastava




New Delhi: It is hard to dissociate India's women's hockey captain from the tired trope of Haryana's gender ratio. Sure, there are more prisms and perspectives to look at Rani Rampal from than the oft-quoted skewed sex ratio of the state she comes from, but somehow, Haryana's abysmal record has found a way to foretell her remarkable rise. Call it destiny, if you must.

A year after Rampal's India debut in 2009, wrestler Geeta Phogat, also hailing from Haryana, ushered a revolution of sorts by winning a gold medal at the Commonwealth Games. A decade later, Vinesh Phogat, Geeta's cousin, is being accorded the Khel Ratna, country's highest sporting honour. It is only fitting that Rani is getting the same honour alongside Vinesh, as is table-tennis star Manika Batra who hails from the national capital that, incidentally, recorded the fourth-worst sex ratio in the country in 2011. Again, call it destiny, if you must.

Rani, like most self-aware athletes, understands the magnitude of her off-the-turf achievements. The fact that three of this year's five Khel Ratnas happen to be women is not lost on her either. Yet, she picks her words carefully, trading obvious euphoria for deep sincerity. That is when it hits home: 879/1000 could be, at best, a disturbing statistic for us, but for those who are this stat, these numbers are, quite literally, a matter of life and death.

"Yes, three women getting India's top sports honour is a remarkable achievement for the women of this country. I am privileged and honoured to get this award with two fine women athletes. Even at Rio Olympics, all the medals were won by women athletes, so it is nice to see the acknowledgement coming," she told Firstpost from Bengaluru.

"My parents have suffered and endured a lot," she continued. "They supported me when people said a lot of things about a girl choosing to play an outdoor sport. I can't thank them enough, ever."

There's a tinge of reverie and emotion when Rani talks of her parents, particularly her father. One could sense her mind racing back to the days when Rampal, her father, carried bricks at construction sites on his pony, aptly named 'Hero'. Money was hard to come by, and Rani's interest in sports meant that brickbats flew thick and fast, but Rampal Sr. took everything in his stride and ploughed on tirelessly and silently.



Rani Rampal's goals ensured India's qualification for the Rio Games as well as the now-postponed Tokyo Olympics.

"There were days when we didn't know when our next meal will come from. We had absolutely no money. But my parents never asked me to quit sports," she remembered.

Hockey gave her a purpose and an escape. She would break free from the depressing drudgeries of her young life and eventually form a real identity on the artificial turf. Hailing from Shahbad helped, as it meant she could train at the famed Shahbad Hockey Academy under the watchful eyes of Baldev Singh, a Dronacharya Awardee and an old-fashioned disciplinarian. Rani was seven when she read about the Indian women's hockey team's historic gold at the 2002 Commonwealth Games. At 14, she was playing for India.

"Playing for India was a dream come true, but it is not my journey alone. My parents have sacrificed a lot for me, and it is as much their journey as mine," she said.

A lot of water has flown since those dour days of penury and hunger. The family that never lost hope in sport was finally loved back by the sport. As Rani soared, the finances took care of themselves.

The dung-infested alley leading to their erstwhile household, the dank, unplastered walls of the living room that struggled to accommodate Rani's trophies, the patch-worked flooring, the haystack-grazing 'Hero', the bedsheet doubling up as curtains - all of which that this correspondent had an unforgettable experience of observing first-hand some years back - are not part of Rani's present anymore, but go a long way in adding credence and cadence to her fairytale. She has built a new house, given a new life to her parents, excelled at the sport, and made sure that her father does not have to work anymore. Rani looks back at those days with wistful satisfaction.

"Of course, I can never forget that time. One should never forget where one comes from. Even today, I think of that time, and I guess what kept me going was a single-minded belief that I have to get my family out of this rut. When I came to know that I have won this year's Khel Ratna, I think all those memories started coming back a bit. I couldn't control my emotions and broke down on the call with my father who thought I was weeping because I had missed the cut.

"It has taken a lot of hard work from my parents to help me reach where I am. As I grew up, I wanted to make sure that my family eats well, dresses well, and has a comfortable life. I am glad I have been able to do that. You can say that I am quite satisfied on that front."

On sporting front, though, Rani is far from done. Still only 25, her best years may well be ahead of her, and among her immediate goals is a podium finish at now-deferred Tokyo Olympics.

The coronavirus pandemic has scuppered the planning to an extent, but Rani is confident of getting back in the groove sooner than later.

"I won't rest till I win an Olympic medal. Even after all these years, what keeps me going is the honour of wearing the India jersey. That joy is incomparable."

For the last time, the conversation veered towards her decade-long ride in India colours. Did she ever foresee such a career with 100-plus goals, including sending India to two successive Olympics off her own stick? "Never," she says, before allowing a moment of reflection.

"I didn't think I would achieve all this...all these awards, the Arjuna, Padma Shri and now Khel Ratna, they still feel unreal. But, I am a firm believer in training. If you train well, plan well, and recover well, you can overcome any challenge in sports," she said. Call it anything, but providence.

Firstpost


---

Make or break for players in Malaysia's Razak Cup

By Jugjet Singh

THIS year's Razak Cup is so important that one can either become a star or a flop in the hockey world.

Players will get their big break when they represent their teams in the annual tournament at the National Hockey Stadium in Bukit Jalil next month.

"I will release my 32 national trainees to their respective teams for the Razak Cup.

"During the tournament, I will just sit back and enjoy the matches while scouting for new blood, as well as checking on my trainees.

"If a player shows all the necessary qualities, I might add him to the training squad.

"But if any of the trainees do not play to form, I will remove them," said national coach Arul Selvaraj.

Arul is willing to give a second chance to players, who were dropped by former coach Oltmans.

Among them are Faizal Saari, Fitri Saari, Nabil Fiqri Noor and Joel van Huizen and Shukri Mutalib.

"Everyone will be given a fair chance, even those who were recently dropped from the national team," he added.

New Straits Times


---

Commonwealth Games 2022 on look out for West Midlands club venues




Birmingham 2022 has launched a search for the best hockey facilities in the West Midlands to apply to become an official training venue for the Commonwealth Games.

Organisers say that hosting international athletes is a chance for West Midlands clubs "to raise their profile, spread the economic benefits of the Games across the region, and inspire communities through their involvement with Birmingham 2022."

Hockey is one of the 10 sports organisers are looking for training venues for while clubs must be located within a 30-minute drive time of one of the three Campus Villages where athletes will be staying during the Games: University of Birmingham, University of Warwick and the NEC.

Venues will be required for at least three weeks, from July 18 – Aug 10.

Ian Reid, CEO of Birmingham 2022, said: "The West Midlands is home to many excellent sporting facilities, from major competition venues to state-of-the-art training centres. We are looking for the best venues from across the region to work with us to help thousands of international athletes prepare for the biggest sporting event the West Midlands has ever staged.

"This gives us another opportunity to showcase even more of the region's assets to the world in 2022, as well as inspire, engage and connect communities all over the West Midlands to feel part of the Games".

Sports facilities, venues and clubs across the West Midlands can apply at www.birmingham2022.com/trainingvenues. The deadline is Sep 30.



The Hockey Paper


---

Dhyan Chand 115th birth anniversary: Prime Minister Narendra Modi, cricketer Virender Sehwag and others pay tribute to hockey legend

The hockey legend Dhyan Chand was born on 29 August 1905 and in his honour India commemorates the National Sports Day. Wishes poured in on the 115th birth anniversary of 'The Wizard'.




Every year on 29 August, India celebrates National Sports day across the country. The year 2020 marks the 115th birth anniversary of 'The Wizard' Dhyan Chand. The hockey legend was born on 29 August 1905 and in his honour India commemorates the auspicious day.

Dhyan Chand is regarded as the nation's greatest hockey player of all time. Popularly known as 'The Wizard' for his magical touch, superb control, creativity and extraordinary goal-scoring feats. Dhyan Chand was instrumental in taking Indian hockey to greater heights under his leadership.

He has led India to three Olympic medals in 1928, 1932 and 1936 and scored more than 400 goals in his sporting career of 22 years spanning from 1926 to 1948.

In 1956, Dhyan Chand was awarded with India's third-highest civilian honour, Padma Bhushan. He also served in the Indian Army and brought laurels to the country.

Major Dhyan Chand had joined the Indian Army at the age of 16. He retired in 1956.

In the 1936 Olympics final against Germany, the legend removed his spiked shoes and stockings in the second half and played barefoot and managed to score three goals.

Adolf Hitler was impressed with the playing style of Dhyan Chand and he offered him German citizenship and the rank of Colonel in his Army.

In 2002, the National Stadium in Delhi was renamed Dhyan Chand National Stadium to honour the sportsperson.

Wishes poured in on social media on Dhyan Chand's birth anniversary.

Vice President Venkaiah Naidu paid tributes to the hockey maestro and Olympian.

Prime Minister Narendra Modi wrote, "Today, on #NationalSportsDay, we pay tributes to Major Dhyan Chand, whose magic with the hockey stick can never be forgotten".

Union Home Minister Amit Shah called Dhyan Chand a phenomenal legend and said that his talent, achievements and devotion towards the country continues to inspire the generations to come.

Sports Minister Kiren Rijiju paid tribute to the hockey player on his birth anniversary at the Major Dhyan Chand National Stadium.

The sports minister also shared a video on Major Dhyan Chand that had pictures and clips of the hockey legend.

Former cricketer and BJP MP Gautam Gambhir shared a picture of Dhyan Chand and wrote, "A man who deserves the Bharat Ratna! Tributes to India's greatest sportsperson #MajorDhyanChand on his birth anniversary!"

Indian batsman Shikhar Dhawan also remembered the hockey legend on his birth anniversary.

Cricketer Virender Sehwag offered his tribute and echoed former opening partner Gambhir's voice as he too expressed his views on Dhyan Chand being conferred with Bharat Ratna.

Congress leader Rajeev Shukla wrote, "Heartiest tributes to Major Dhyan Chand on his birth anniversary. To commemorate his achievements we celebrate this day as National Sports Day. His Gold Medals way back in 1928, 1932 and 1936 were no less than Independence."

Firstpost


---

From selling autographs to meeting Don Bradman, the Dhyan Chand we didn't know

His exploits on the field are well known but what was Dhyan Chand like off it? Here's a look at a few things you probably didn't know about the hockey legend.

By Naveen Peter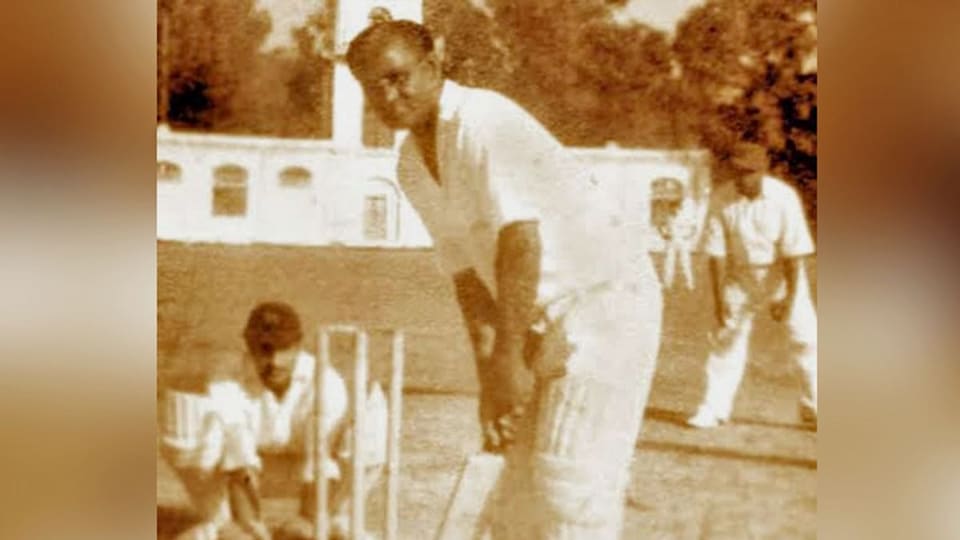 Dhyan Chand dabbled with cricket as well, once famously making the bowlers sweat during a friendly match at Mount Abu in 1961. Photo: Ashok Kumar

Regarded as the wizard on the field, Dhyan Chand's contribution to the world of hockey is well known.

Be it his first taste of the game at the Army barracks as a teenager or his mesmerising performances at the three Olympic Games - 1928, 1932 and 1936 - Dhyan Chand has been at the forefront of hockey's renaissance in India.

As the nation commemorates Saturday the hockey great's birth anniversary with the National Sports Day, here's a look at some of the lesser-known facts about the hockey great.
Fundraiser for earthquake victims

Quetta (now in Pakistan) was the epicentre of a devastating earthquake that reportedly killed over 50,000 people in 1935.

With India - then an English colony - stretched for help, Dhyan Chand took it upon himself to raise some much-needed funds in his own way.

On the tour of Australia and New Zealand ahead of the 1936 Olympics, the then Indian hockey captain, Dhyan Chand, resorted to selling his autographs to fans as a part of his fundraiser for the earthquake victims. Vice-captain MN Masud joined him in this noble cause.

Meeting the Don

The Indian hockey team's tour Down Under was special for Dhyan Chand in more than one way.

While it proved to be a perfect tune-up ahead of the Berlin 1936 Olympics, the team also ended up meeting the legendary Australian batsman Sir Donald Bradman in Adelaide.

Seeing the hockey wizard in action, the cricket great couldn't stop praising Dhyan Chand. "You score goals like runs in cricket," Don Bradman had famously said.

"I am particularly glad to welcome the Indian players as they are better exponents of the game of hockey than we are," the prolific batsman added. "We will have the opportunity of learning something from them. I hope that this visit will be the forerunner of a visit from an Indian cricket team."

While India started playing Test cricket in 1932, their first visit to Australia was their tour in 1947-48. Don Bradman scored 715 runs in that series, at an average of 178.75.

A special place for Beighton Cup

While Dhyan Chand delighted the world with his skills, closer home the Beighton Cup in Calcutta reserved a special place in his heart.

During its golden period, the Beighton Cup and the Aga Khan Tournament (in Bombay) were the lifelines of Indian hockey.

Every player aspiring to make it big in hockey eyed these competitions as a perfect platform to impress men who mattered. And it was no different for Dhyan Chand.

"I had always regarded this competition (Beighton Cup) as the blue riband of Indian hockey. In my opinion, it is perhaps the best-organised hockey event in the country," Dhyan Chand wrote about the competition in his autobiography, Goal.

London tube dons Dhyan Chand's name

While a commemorative postal stamp and a statue outside the national hockey stadium in New Delhi are well-known dedications to the hockey wizard, not many know that ahead of the London 2012 Olympics, Dhyan Chand's name made its way to the London tube as well.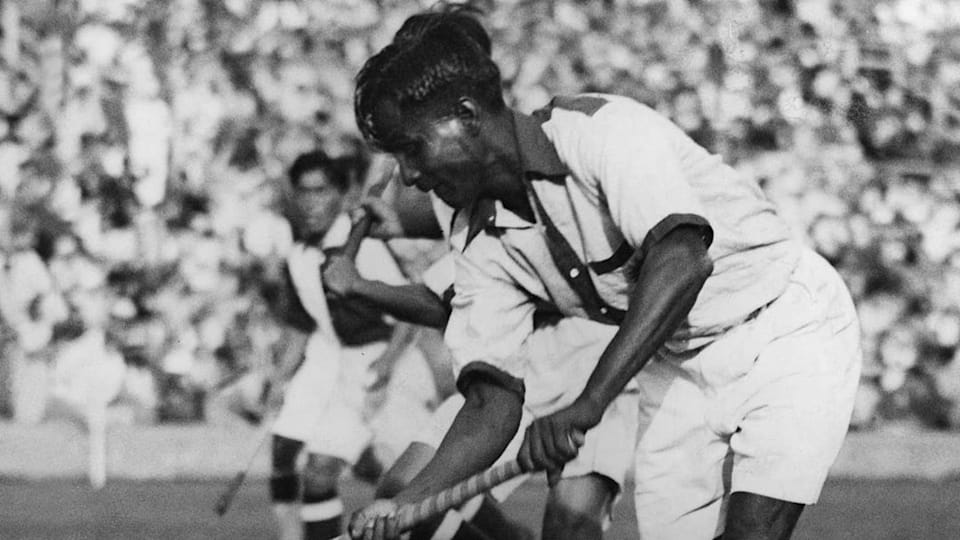 Watford Junction was renamed after Dhyan Chand ahead of the 2012 London Olympics. Photo: Instagram/ IOA

As a part of their build-up to the London Games, the organisers decided to rename the 361 train stations on the London tube network after famous Olympic personalities. This included superstars like Michael Phelps, Muhammed Ali and Jesse Owens, among others.

From India, the organisers shortlisted three names. Dhyan Chand, his brother Roop Singh and Leslie Claudius. While Watford Junction was renamed after Dhyan Chand, Watford High Street took Roop Singh's name and Bushey Heath had Claudius'.

Olympic Channel


---

The late Balkishan Singh, a revered coach but not a Dronacharya awardee

There is a strong case for Balkishan Singh to be given Dronacharya award, even if posthumously.

Nandakumar Marar



Balkishan Singh, the then Indian hockey team coach, snapped during training in New Delhi on June 26, 1992. - THE HINDU ARCHIVES

Celebrated as the National Sports Day, the birth anniversary of Dhyan Chand, the genius wielding a hockey stick, is a good time to reflect on hockey in India from the national recognition point of view.

This year, the grandeur of receiving the awards at the Rashtrapati Bhavan was missed by the awardees as India honoured its sporting achievers - players, coaches, and mentors - in a virtual ceremony. For each hockey player, coach or mentor proud to be among the honours list on August 29, there are names from the past which have been overlooked for a specific award.

For example, Olympian and noted hockey coach, the late Balkishan Singh's name is missing from the list of Dronacharya awardees for outstanding coaches so far.

Thirteen coaches have been honoured so far. Gurdial Singh Bhangu was the first recipient in 2000, Jude Felix and Romesh Pathania were honoured in 2020.

Interestingly, Balkishan, mentor to numerous Indian Olympians or World Cuppers, was named in the 2000 list for the Arjuna award, usually given to outstanding players. He passed away in 2004, having won two Olympic golds medals (1964 Melbourne as player, 1980 Moscow as India coach). The fact is that Balkishan was better known as a coach than a player, both home and abroad. In the event, there is a strong case for him to be given Dronacharya award, even if posthumously.

'Only Indian who can be called a coach'

The great defender Surjit Singh was named posthumously for the Arjuna award in 1998, so there is a precedent as far as National Sports awards are concerned. Former India men's hockey captain and ace playmaker, Jude Felix, a Dronacharya awardee in 2020, states in a chat with the Sportstar: "I don't know the technical rules about honouring people posthumously, but from my more than 25 years of coaching experience, plus the Dronacharya award this year, I have the right to safely say that Balkishan Singh was not just one of our national coaches, he was the only Indian who can be called a coach."

Felix added: "I played under him at the 1992 Olympic Games in Barcelona. He had the uncanny eye for spotting quality and knew which player could fit into a specific position as per the plan in his mind. He built great teams, the 1980 Moscow squad won the gold, the 1984 Los Angeles group was a fantastic group which deserved a podium finish but did not happen. In 1992, working with an entirely different generation, Sir formed a powerful side, brought the team to a peak in the run-up to Barcelona, where we suffered due to differences within."

Explaining the difference between Balkishan and other Indian national team coaches, the midfielder states: "He was different in his thinking. I remember the smart way he convinced me to play the attacking centre-half, the way he did with Hardeep Singh (Los Angeles Olympics). For me, he was fantastic."

Unique achiever

Incidentally, Balkishan coached India at four Olympics (1968, 1980, 1984, 1992) after a successful playing career, culminating in the gold medal as a member of the 1964 Melbourne Olympics side under Balbir Singh Sr. as captain.



Balkishan had an uncanny eye for spotting quality, says Jude Felix (in picture). - R. RAVINDRAN

Balkishan earned a reputation in South Korea and Australia. South Korea's successful national coach, Kim Sang Ryul (later coach of Chinese national team), refers to him as hockey guru after spending time at NIS Patiala doing a coaching course under him. Balkishan travelled to Australia, on invitation, to train their women players.

Felix concludes: "He improvised by making players train on gravel to prepare the side for Moscow Olympics. We had no turfs in Bengaluru then. The team came back with the gold. Four years later, he employed four forwards and two centre-halves at LA 1984, different from the way Indian teams play."

Revered in Korea, respected in Australia and admired in Dhyan Chand's nation by players and coaches spanning generations, master coach Balkishan Singh remains an unique sporting achiever, known for radical changes in the way national teams played and able to bring players to his point of view.

Dronacharya awards list (source: www.hockeyindia.org):

    G. S. Bhangu (for year 2000),
    M K Kaushik (2002),
    Rajinder Singh Sr (2003),
    Baldev Singh (2009),
    A. K. Bansal (2010),
    Rajinder Singh Jr (2011),
    Harendra Singh (2012),
    Narinder Saini (2013),
    P. A. Raphael (2017),
    Clarence Lobo (2018),
    Merzban Patel (2019),
    Jude Felix and Romesh Pathania (both 2020).

Sportstar


---

Olympian Keshav Dutt to receive Hockey Bengal lifetime achievement award

Y.B. Sarangi



From left: Nandi Singh, Keshav Dutt and Raghbir Lal Sharma at the 50th anniversary of the Helsinki Olympics.   -  FILE PHOTO/ RAJEEV BHATT

Two-time Olympic gold medallist Keshav Dutt will get Hockey Bengal's Major Dhyan Chand lifetime achievement award for 2020, the association announced on Saturday.

The JIS Group won the Leslie Claudius award for contribution to development of sports in Bengal, former coach international Divnain Singh (Joginder Singh award) and former umpire Sudhin Chatterjee (Jaswant Singh Rajput award) were the other winners named by HB on the occasion of the National Sports Day celebrations, presided over by Sports Minister Aroop Biswas.

HB decided to deliver the awards at respective awardees' homes due to the pandemic.

The HB website, www.hockeybengal.org, was launched on the occasion.

Sportstar


---

Hockey Olympian Inam-Ur-Rehman to get lifetime achievement award

Rehman was a part of the bronze medal winning Indian team at the 1968 Mexico Olympics

Former hockey player Inam-Ur-Rehman, who won a bronze medal at the 1968 Mexico Olympics, will be honoured with the lifetime achievement award by the Madhya Pradesh Government.

The Madhya Pradesh Government on Friday announced the state-level annual sports awards, instituted in 2002, under various categories.

As many as 28 outstanding performers will be awarded. Fourteen players have been nominated for Eklavya Award, 10 for Vikram Award, three for Vishwamitra Award and one for Life Time Achievement Award.

Director, Sports and Youth Welfare Department, Pawan Jain said that Bhopal-based Inam-Ur-Rehman will be bestowed with the lifetime achievement award for the year 2019 for his contribution to the sport.

Ajatshatru Sharma (canoeing-kayaking), Aditya Dubey (soft tennis), Aishwarya Pratap Singh Tomar (shooting), Gargi Singh Parihar (karate), Anshita Pandey (wushu), Param Padam Birathare (swimming), Shankar Pandey (fencing), Akshat Joshi (horse riding), Anusha Kutumble (table-tennis), Priyanshu Rajawat (badminton) and Govind Bairagi (sailing) will be given Eklavya award.

Shivangani Verma (softball), Ishika Choudhary (hockey) and Nityata Jain (chess) have been shortlisted under traditional games category for the Eklavya award.

Sportspersons selected for Vikram award - 2019 in the individual category include Rajeshwari Kushram (canoeing-kayaking), Faraj Khan (horse riding), Advait Paage (swimming), Muskan Kirar (archery), Jay Meena (soft tennis) and Chinki Yadav (shooting).

In the team sports, those selected for Vikram Award include Puja Parkhe (softball) and Karishma Yadav (hockey).

In 'Divyang' category, judoka Janki Bai was selected for Vikram Award.

Those selected for Vishwamitra Award for individual games include Abhilash MT (swimming), Girdharilal Yadav (sailing). Sharad Jape (kho-hho) made the cut in the team games category.

The Tribune


---

Great new source of inspiration for field hockey trainers




During field hockey games you notice situations you would like to train on. Unfortunately, everyone sometimes lacks the inspiration to put together a good session. Does this look familiar to you? Dutch Field Hockey Drills is a newcomer to the market that provides you with over 8000 field hockey drills in basic techniques, game related situations and much more. There are also ready-made training sessions available so you don't have to put together anything yourself and all the practice material is covered throughout the season.

The database contains separate exercises for each age group, so that techniques can be learned at the right age. All exercises contain a clear description with simple steps. This way, trainers of all levels can use the exercises. The Skills Library provides further explanations and videos if needed. People will master the techniques sooner if there is enough variation in the exercises. Thanks to the extensive database of over 8000 exercises, you can go many years ahead without using the same exercise twice.

Often exercises that are found on the internet are difficult to print or share or consult on the field. Dutch Field Hockey Drills contains an integrated WhatsApp module, so that training sessions can easily be shared. The progressive web app also allows you to view it on all devices. It is also possible to prepare your training in advance by highlighting your favourite exercises. This way you will always have your training on the field at hand and you can quickly make changes if necessary. With the Drill Configurator you can develop and download your own ideas quickly and easily.

To introduce new trainers to this new form of training, try the full database for only $1 for one month. Check out Dutch Field Hockey Drills for further information.

Dutch Field Hockey Drills media release