All the news for Thursday 30 July 2020

'Staying fit and studying opponents': India hockey captain Manpreet Singh on challenges and opportunities during coronavirus-forced break

Indian men's hockey team captain Manpreet Singh speaks on challenges during long break from hockey and postponement of Olympics

Shubham Pandey




Indian men's hockey team captain Manpreet Singh is regularly cycling 40 kilometres in the morning besides running and giving more time in the gym in the evening at his home village Mithapur in Jalandhar.

Ever since the players returned home from their camp at SAI, Bengaluru, after spending almost three and a half months at the complex due to the coronavirus-forced lockdown, the focus has been on maintaining fitness levels. Manpreet told Firstpost that dropping of fitness levels is the biggest concern for the team. Trainer and coaches have been in constant contact with every member to make sure, even at home, they are working hard.

"If you are not playing for a long time, the fitness levels will drop. That is why all of us players are trying to stay fit. We have been given a fitness programme and told to follow it religiously so that when we come back, our fitness levels have not dropped drastically as hockey is largely dependent on fitness," Manpreet said.



Manpreet Singh is currently training at his home in Jalandhar. (Image source: Special arrangement)

Besides fitness, coach Graham Reid has asked the players to be engrossed in analysing and reading opponents by watching videos of earlier matches.

"We have also been asked to keep watching matches of opposition teams to read and analyse their play. This is done to make sure we are engrossed in hockey," Manpreet said.

With FIH Pro League and Tokyo Olympics rescheduled, the Indian men's team is not busy till November when the Asian Champions Trophy is scheduled to take place in Bangladesh. However, it is expected to be postponed with Bangladesh among the countries which are most affected by COVID-19. The Asian Hockey Federation (AHF) had said that the decision will be taken in August.

Manpreet did express his disappointment over postponment of Olympics as the team was in good form but also said that it is important to not overthink.

"The postponement has affected other teams and us equally. As an athlete, I would have liked the Olympics to happen this year. There is a disappointment that we could have done better this year but I want to look at positives from the postponement. As a team, we have one year's time now to work on weaknesses. I am seeing it like that. We cannot change that (postponement). It is not in our hands," said the 27-year-old, who has joined hands with Adidas' 'One More' Olympics campaign.

Manpreet also hailed Reid's contribution in helping the team play attacking hockey and focus till the last second of the game. Reid, who joined the team after the Sultan Azlan Shah Cup in 2019, where India faltered against South Korea in the final, has worked hard on the defence, while making sure more scoring opportunities are created. Success in FIH Series Finals, Olympic qualifiers, test events and impressive show in the FIH Pro League earlier this year has made former India greats like Dhanraj Pillay believe that the team has a great chance for podium finish at Tokyo next year.

Speaking on what has changed since Reid's arrival, Manpreet said, "We have worked hard on creating chances in opponent's circle. We were not able to do it earlier. Graham keeps on telling us that once you enter the circle, create results, bring something. Also, he tells us if we can attack well, we will win matches; if our defence is tight, we can win tournaments. We have this motto that as we enter the D, we need a result. We are slowly doing that as well. We scored goals against Netherlands (during Pro League) in first thirty seconds. The mindset has changed a lot."

Manpreet also mentioned the fitness levels have helped the team play better as a unit.

"Against Australia, we were down 1-3 and in the last quarter, we hit two goals and then won in the shootout. Fitness levels have been raised. Some of our players run 20 plus in Yo-Yo Test. We know if we dont have the fitness levels, we cannot play at our best till the last second."

Firstpost


---

Carla and Delfina: memories and dreams




In the latest of our stories marking the original event dates of Tokyo 2020 we meet two Las Leonas legends. With more than 600 caps and five Olympic Games between them, the strike team of Delfina Merino (294 senior international appearances and two Olympic Games) and Carla Rebecchi (317 caps and three Olympic Games) are formidable opponents for any defence. And, as we hear during this conversation, the target for Tokyo 2020 is definitely gold.

Merino and Rebecchi took time out after a training session with the Argentina national team to talk about previous Olympic Games and their hopes for the future.

What is your best Olympic memory?

Carla Rebecchi: "My best Olympic memory is in my first Olympic Games in Beijing 2008, in the opening ceremony. It was very emotional moment. I remember at that moment I was thinking of everything I had done to get there. It was my dream since I was really young to get there. It was amazing and I cried a little, I remember.

What did you feel like when you were standing on the pitch listening to the national anthem at your first Olympics?

Carla Rebecchi: "My first match was against the USA, I was 23. It was very emotional, I was nervous and anxious in that moment, but also very excited. It was a great memory."

How is Argentina preparing for the Olympic Games next year?

Delfina Merino: "The team is preparing in a good way. We are training a lot. (We just finished a training session actually). Of course this has been a special situation because we were not training because of the Corona Virus. Now we are starting to really train in earnest and we are looking forward to Tokyo next year.

What will it take for Las Leonas to finally win that elusive gold medal?

Defina Merino: "I think there are any things that have to happen for us to win. I think the most important is to make the team work together and to enjoy the process. To enjoy the way [journey] to the Olympics. So if we do our best as a team, do our best in training and all do it together, then we will have a good opportunity [to win the gold medal], I really hope."

----------------------------------------

Olympic hockey through the ages

A look back at over 100 years of hockey at the Olympic Games
Montreal 1976: After Germany broke the Asian stranglehold in 1972, it was perhaps surprising that neither European nor Asian teams would compete in the 1976 gold medal match, which was contested between Oceania rivals New Zealand and Australia. New Zealand's Tony Ineson gave his side a 1-0 victory from the penalty spot in the first ever Olympic competition played on a synthetic surface.
Moscow 1980: It may have been hit by boycotts, but hockey took a huge step forward by introducing the women's competition in Moscow. Despite being invited just five weeks before the event, Zimbabwe won a fairy-tale gold medal, with Czechoslovakia and the Soviet Union taking silver and bronze respectively. In the men's event, India won their eighth gold medal by defeating Spain 4-3, which was played exactly 40 years ago today. 
Tomorrow: Los Angeles 1984

----------------------------------------

On this day – 29 July 1984: Aside from India winning gold at the 1980 Olympic Games in Moscow (as mentioned above), it was also the first day of the men's hockey competition at the Los Angeles 1984 Games. West Germany's journey towards the men's final started with a 3-1 Group A win against Spain, with Carsten Fischer, Reinhard Krull and Michael Peter scoring the goals. Germany would eventually finish with silver, losing 2-1 to Pakistan thanks to Kaleemullah Kahn's goal in extra time.

FIH site


---

44 Years ago on this day: Montreal and a tale of two teams




Montreal, Canada, July 30, 1976.  A day on which an Olympic hockey final, unimaginable to most, was played.

Defending champions West Germany were nowhere in sight. Nor were India and Pakistan, the traditional powers who shared nine Olympic titles between themselves. Former World Champions and twice Olympic silver medallists The Netherlands would also not feature in the gold medal match.

Instead, Australia and New Zealand lined up at the Molson Stadium in a battle for gold. The teams from the antipodes, you could say, turned the hockey world upside down. Or was it the artificial surface, used for the first time in a major tournament, the villain of the piece?

Whatever the reason, the trans-Tasman clash was a befitting end to a tournament marked by upsets.

New Zealand stunned The Netherlands 2-1 in the semifinals. Australia disposed of hot favourites and twice gold medallists Pakistan by the same score in the other semifinal. So when the final arrived, the unexpected, one thought, was only to be expected. That turned out to be so. New Zealand made history by shocking their illustrious neighbours to win the final 1-0 and grab their first ever Olympic hockey gold.



Symbolic welcome for gold winning New Zealand team at Montreal Olympics. Pic: Hockey Circle, Australia

The New Zealanders were accorded a grand welcome home. A marshal on the runway at the airport even used a couple of hockey sticks to guide the plane carrying the Kiwi contingent.

Those joyous scenes contrasted the glum silence that descended over India's sports community days earlier.

Not only did the then seven-time champions finish without a medal for the first time since they debuted at the 1928 Amsterdam Olympics, they crashed to lowly seventh after missing the semifinals.

Worse, India were the then defending World Cup champions, having won their first title at Kuala Lumpur 1975. It was greeted with euphoria that more than matched any of their Olympic triumphs.

Hopes of adding the Olympic gold medal to the showcase soared as Ajitpal Singh's squad left for Montreal.

Instead, after starting their campaign with a flyer – a 4-0 win over Argentina who inflicted a 2-1 defeat over India in the World Cup – the men in blue's aspirations for gold were cruelly and dramatically dismantled in the days that followed.

The Netherlands beat India 3-1 in the next match. After that, bleary- eyed Indian fans who woke up early to catch the latest news from the Games incredulously learned of their team being at the receiving end in the match against Australia. And that by 6-1, the sort of defeat their team used to hand hapless opponents in bygone days.

Argentina provided India a whiff of oxygen by beating Australia 3-2. The result drew India into a playoff with Australia. India ran Australia close this time around but still lost — on penalty strokes after extra-time ended 1-1.

India then went down 2-3 to West Germany in the fifth-eighth classification round and ended their disastrous campaign beating Malaysia 2-0 to finish seventh.

Crestfallen the Indian sporting public may have been, but one person exuded quiet joy over the transpirations in Montreal even as he was pained as any of his compatriots.

Firebrand veteran journalist and TV personality AFS Talyarkhan, in his programme on Doordarshan,  the country's state run national broadcaster, questioned the shock attached to India's humiliating defeats in Montreal.

He asked: "Have you and I seen the Australian and Dutch teams play?"

AFST, reminded viewers that teams abroad had improved by leaps and bounds while Indian teams, smug over their laurels, lived in the past.

He made it a point to credit Indian coaches who spread hockey's gospel all over the world while lauding players of Indian origin who donned the colours of their adopted countries with aplomb.

And that's when his eyes bore a glint, his face breaking into a wry smile.

He cited forward Ramesh Patel, the Kiwi icon and the first Indian to represent New Zealand, on the top podium on that day of glory in Montreal. Actually there were two – namesake Mohan, a midfielder, as well.

AFST said his cup of joy was full with the contribution of Indians to the New Zealand winning effort.

"But my cup of joy would have overflowed had (Ramesh) Patel scored in the final," he said.

Indeed, the future CEO on New Zealand Hockey had a golden opportunity to do so but sent a penalty stroke high!

That was a blemish by a world class forward but happily, from New Zealand's point of view, didn't prove to be traumatic.

Captain Tony Ineson's penalty corner goal in the 42nd minute atoned for that lapse and the Kiwis held firm against all that Australia, the legendary Ric Charlesworth and Terry Walsh in their ranks, had to throw at them as the minutes ticked away.

The Kiwi epic included a tale of incredible bravery scripted by goalkeeper Trevor Manning whose shattered kneecap and a flight home on a wheelchair bore testimony.

There was grit and gumption displayed by the Kiwis in almost every match in Montreal. They won the playoff against Spain after three periods of extra time. Ditto the semifinals against the Netherlands.

There was also resilience and a touch of fortune. Call it champions' luck.

A 2-5 defeat to Pakistan, despite sharing honours on the run of play, all but shunted the Kiwis out of the medal race. However, Belgium shocked Spain to usher New Zealand back in — an opportunity they did not squander while entering their first ever Olympic semifinals.



1976 Montreal Olympic Hockey gold medallist team New Zealand

A narrow win over Belgium 2-1 and 1-1 draws with Spain and West Germany were the other New Zealand results.

Tightly-fought encounters calling for mental and physical endurance of the highest order was the keynote of Kiwi glory in Montreal.

It made for team spirit that galvanized the team, holding them in good stead for the epic clash against Australia in the final.

And what of India, the then seven-time Olympic gold medallist?

Theories abounded about the team's inability to adjust to AstroTurf, the new surface that began to revolutionize the game.

Rumblings of discontent and rifts in the squad also did the rounds but captain Ajitpal Singh's description of the dysfunctional World Cup champions, even decades later, resounds. "We were a bunch of swollen heads," he said disdainfully.

It would be unfair to label New Zealand's triumph in Montreal a miracle. Remarkable or sensational, perhaps. But the Kiwis' day of glory 44 years ago certainly didn't belong to the realm of fiction.

As a matter of fact, the nucleus of the team that took the top podium in 1976 took shape eight years earlier at the 1968 Mexico City Olympics.

It was there that New Zealand handed India only their second defeat in the Games' history, winning the opener 2-1 and becoming the first team after Pakistan (0-1, Rome 1960 final) to achieve one such.

Curiously, it was at that Olympic Games that India failed to reach the final for the first time ever after losing to Australia 1-2 in the semifinals. The team eventually settled for third place beating Germany 2-1 but the fiasco ushered in a "dark age" that in part led to the debacle in Montreal, ramifications of which are felt till this day.

New Zealand's triumph and India's fall from grace in a topsy-turvy tournament also ushered in a new era in which no team inordinately feared any other, at least at the top level.

Also, the dynamics generated by the artificial pitch brought in new tactics, equipment, patterns and formations of play.

The rules, inevitably, began changing even more rapidly and plastic pitches shifted the emphasis from subtle skills to power.

QUIRK OF FATE

There was a touch of paradox to New Zealand's epic hockey triumph at Montreal 1976. The team may not have been at the Games in the first place. The country's national rugby union team, the All Blacks, had toured South Africa earlier in the year in defiance of the United Nations (UN) call on a sporting embargo on the African nation, practising apartheid at the time. The International Olympic Committee, however, refused to heed the UN's call to ban New Zealand from the 1976 Games. As a result, 29 nations mainly African, boycotted the 1976 Olympics. Hockey was affected only to the extent of one nation pulling out. Kenya, a force till the 1971 World Cup, withdrew thereby reducing Pool B to five nations.

MEDAL WINNERS AT MONTREAL 1976

Gold: New Zealand:  Paul Ackerley, Jeff Archibald, Arthur Borren, Alan Chesney, John Christensen, Greg Dayman, Tony Ineson, Barry Maister, Selwyn Maister, Trevor Manning, Alan McIntyre, Arthur Parkin, Mohan Patel, Ramesh Patel.

Silver: Australia: David Bell, Greg Browning, Ric Charlesworth, Ian Cooke, Barry Dancer, Douglas Golder, Robert Haigh, Wayne Hammond, Jim Irvine, Malcolm Poole, Robert Proctor, Graeme Reid, Ronald Riley, Trevor Smith, Terry Walsh.

Bronze: Pakistan: Rashid Abdul, Akhtar Rasool, Mahmood Arshad, Arshad Chaudhry, Khan Haneef, Islahuddin Siddique, Samiullah Khan, Manzoor Hussain, Munawwaruz Zaman, Zia Qamar, Nazim Salim, Shahnaz Sheikh, Saleem Sherwani, Iftikar Syed, Mudassar Syed, Manzoor-ul Hassan.

Also ran:

India (7th place): Ajit Pal Singh (Captain), Ashok Dewan, Ajit Singh, Bir Bahadur Chhetri, Aslam Sher Khan, Surjit Singh, Baldev Singh, Virender Singh, Mehboob Khan, Mohinder Singh, Victor John Phillips, Ashok Kumar, BP Govinda, Harcharan Singh, Vasudevan Baskaran, Chand Singh.

Stick2Hockey.com


---

Sandeep Singh on how he didn't let a bullet injury paralyse his hockey career

The former Indian hockey captain was told he would never again pick up the stick but made a fairytale comeback.

By Rahul Venkat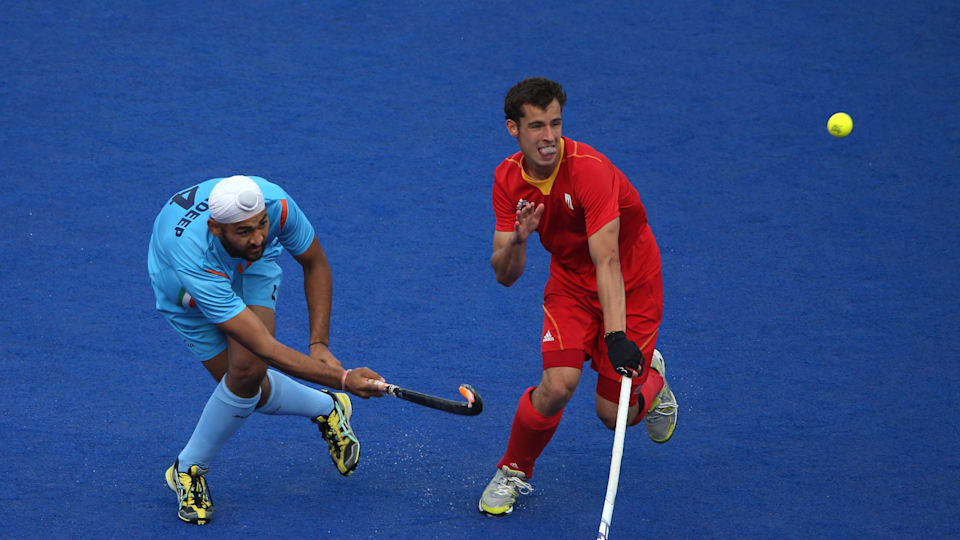 Sandeep Singh was one of the best drag-flickers to play for the Indian hockey team

One of the greatest captains the Indian hockey team has ever produced, Sandeep Singh almost could not fulfill the early potential he showed in his junior career.

Having become the youngest Indian hockey player at 17 to play at the Olympics in Athens 2004 and becoming the highest-scorer at the Junior World Cup a year later, Sandeep Singh was on his way to stardom.

In 2006, the Punjab youngster had been called up for his maiden World Cup in Germany, but his life turned upside down just days ahead of the event.

On August 22, while travelling by the Kalka Shatabdi Express to join his teammates in Delhi, Sandeep Singh was hit by an accident bullet from the pistol of a Railway Protection Force jawan. The bullet hit the lower abdomen. Sandeep Singh's world came crashing down.

"The local hospital in Ambala did not have the facilities to treat and so, I was rushed to a bigger hospital in Chandigarh, which took time because there was a lot of traffic for the ambulance to negotiate," Sandeep Singh stated on an Instagram Live with former wrestler Sangram Singh.

"The doctors had to make a large cut from my chest to my abdomen area to get the bullet out. There were a lot of complications during the procedure and I regained my senses after close to 30 days."

The doctors informed Singh that he would be paralyzed below the torso and he would be confined to a wheelchair for life, and deemed that he would never be able to pick up the hockey stick again. It was a shock for the then 20-year-old.

"Doctors told me to reduce painkillers if I ever wanted to recover quickly. So there were times that I had to live with unbearable pain," Singh revealed.

"Many a time, I would sleep for just an hour a day because the self-doubt would just consume me."
Back on his feet

Hockey was the only thing he had loved, so Sandeep Singh brought out his hockey stick and would keep it around him to motivate himself.

And another thing he believes that helped him recover were his mother's constant prayers.

"She was a big inspiration and helped me a lot with overcoming the negativity inside me," he said.

The former Indian hockey captain started walking a year on from the incident and regained his place in the team in 2008 and after the team could not make it to the Beijing Olympics that year, he knew what his next target would be.

"My goal was to help India qualify for the Olympics and during our qualifying rounds for the London 2012 Olympics held in New Delhi, I scored five goals in a game, clocked a 145 kph stroke and also beat Dhanraj Pillay`'s record of highest goals scored by an Indian in a tournament," Sandeep Singh rattled off from his memory.

After the bullet incident, Sandeep Singh reached a career milestone when he was the Man of the Tournament in the 2009 Sultan Azlan Shah tournament.

Having retired in 2016, the former Indian hockey captain now serves as the sports minister in the state of Haryana, as he aims to help the next-gen develop.

Sandeep Singh also has a biopic, Soorma, based on his rollercoaster life as a hockey player.

Olympic Channel


---

Ishika sees Junior Asia Cup as a game changer



Photo: K. Arumugam

28.07.2020: Ishika Chaudhary is just 20-year old. Full of energy and enthusiasm, the Gwalior lass looks forward to next step in her career. Will winning the forthcoming Junior Women's Asia Cup be a game changer?

She thinks so. The medio who picked up the hockey stick early in her life and famed product of Madhya Pradesh Hockey Academy, says,

"My immediate goal is to win the 8th Junior Women's Asia Cup and secure our berth at the 2021 Junior Women's World Cup. I think securing that win would be a great reflection of how much we have developed as a team."

Ishika, daughter of a school teacher, started playing hockey in 2011. Within two years, she could make it to the  Madhya Pradesh Hockey Academy's Junior team for the Ranchi Junior Nationals (2013) which bagged the silver. Her stakes shoot up seriously from there. The next few years saw her become an integral part of the Junior and Sub-Junior teams, and win the gold at the 4th Hockey India Sub-Junior National Championship 2014 in Pune, bronze Medal at the 6th Hockey India Sub-Junior National Championship 2016 in Rohtak.

"I feel it was a really nice break for me to have started off at such a great academy where we have a very good environment for hockey. It made sure that I could participate in top national tournaments and also excel at the same time."

Ishika idolizes both India's Reena Khokhar and the FIH Women's Player of the Year 2019  Eva de Goede.

She  graduated to the senior ranks at the academy in 2016, the team bagged the bronze at the 2016 Bengaluru Nationals. From there she was picked up for the Junior India camp, and the youngster from Gwalior hasn't looked back ever since. "When I look back, I think that selection for the Senior Nationals was one of the turning points in my career. It paved the way for my Junior India call-up and I am so happy that I have been able to perform well for my country since making my junior debut in 2017 at the Australian Hockey League (Women)," said Ishika, silver medalist of the 3rd Youth Olympic Games 2018.

Ishika's CV now boasts of her gold at the Cantor Fitzgerald U21 4-Nations Cup, 2019 held in Ireland, the 3-Nation Cu  2019 held in Australia, silver at the 6-Nations Invitational Tournament 2018 held in Belgium.

"Like any other youngster, my eventual dream is to play for India and win a lot of trophies including medals at the Olympic Games. But at the same time." The immediate task of course is Jr Asia Cup."

Stick2Hockey.com


---

HC Minsk's women retain Belarus title with third win over Ritm Grodno




HC Minsk's women won their first to three final series over Ritm Grodno to land the Belarussian national gold medal on Tuesday.

Leading 2-1 in the series going into game four Nikolay Sankovets' team ran up a 4-2 success.

Earlier in the series, Minsk won game one 3-2 before falling 3-0 on home turf on Friday. Switching to Grodno' home ground, Minsk bounced back with a shoot-out win in game three to edge in front overall.

And they got over the line at the first attempt at winning the title when they took the initiative from the start in game four.

Olga Kurovskaya, Natalya Shtin, Anastasia Sys and Yulia Yubko were all on the mark for the capital's squad with Yulia Kurganskaya and Olga Khomko getting the replies for Ritm.  This success will give HC Minsk the number one seeding for the 2020/21 European club season.

The club action next moves on to the Belarus Cup which will take place from August 3-5 in Baranovichi at the Dubovo-sport stadium. 

Euro Hockey League media release