All the news for Wednesday 29 July 2020

When the Indian hockey team regained its lost glory at 1980 Moscow Olympics

A relatively inexperienced team, led by Vasudevan Baskaran, was moulded into champions by motivational talks from ex-players and an Army chief.

By Rahul Venkat

An Olympics gold for the Indian hockey team was almost a given in the years after independence.

The Indian men's hockey team had won a hat-trick of titles in 1948, 1952 and 1956 before Pakistan broke that golden streak in the 1960 Olympics final. India, though, regained the crown beating their neighbours in 1964.

However, India had finished with bronze in both 1968 and 1972 and slumped to their then-lowest finish (seventh) in the 1976 edition. Thus, going into the 1980 Olympic Games, expectations were restrained.

However, on July 29, 1980, the glory of yore was wrested back in Moscow. The Indian hockey team beat Spain 4-3 in an end-to-end final to ensure its eighth and last Olympic gold medal.

An inexperienced side

The Indian hockey team picked for the 1980 Summer Olympics collectively did not have too much international exposure under its belt, with only Zafar Iqbal, Merwyn Fernandes, MM Somaya, Bir Bahadur Chhetri and skipper Vasudevan Baskaran having played against foreign opposition.

With so many youngsters, skipper Baskaran felt that his team needed an extra dose of motivation to build its confidence before flying out of India.

And so, the first inspirational talk happened at a pre-Olympic national camp in Bengaluru.

"This bunch was lucky to have been spoken to by field marshal Sam Manekshaw," captain Vasudevan Baskaran had said on the Sony Sports show Medal of Glory.

"He visited us twice and talked about the target at the Olympics. That's how it began."

Having seen the effect it had, the Indian hockey team captain also requested former Olympic hockey gold medallists and selectors, Leslie Claudius and Muniswamy Rajagopal to talk about their triumphs.

The talks genuinely made an impact.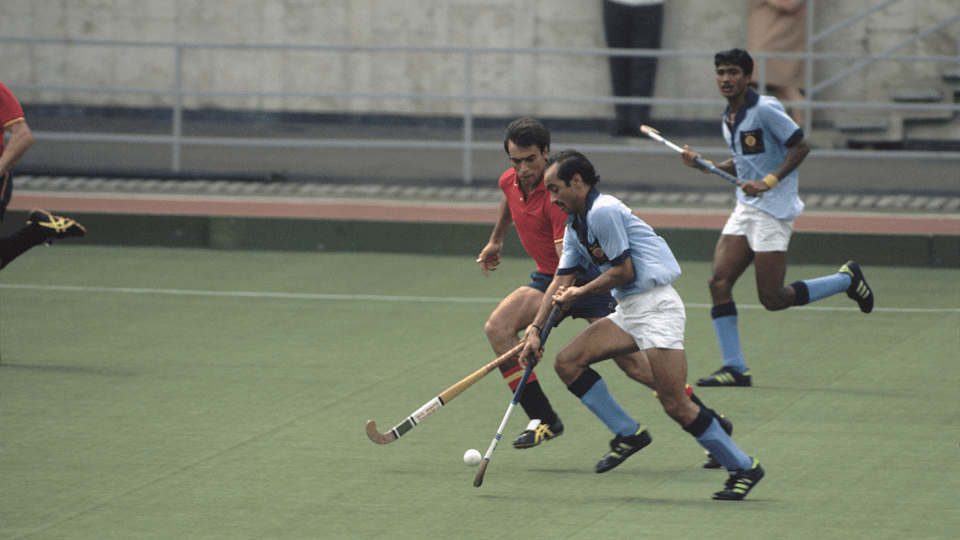 The Indian hockey team's last Olympic gold medal came at Moscow 1980

The turning point

In 1980, hockey at the Olympics was reduced to a six-team tournament as the original plan for a 12-team event, divided into two groups, was shelved after nine countries pulled out.

The field hockey entrants were India, Spain, Poland, Cuba, Tanzania, and the hosts Soviet Union.

In its first game, India comprehensively beat Tanzania 18-0 and recorded identical 2-2 draws against Poland and Spain in the next two.

The Poland game was a setback of sorts because a profligate Indian hockey team missed a plethora of chances in the dying moments and Baskaran himself missed a penalty stroke.

However, the draw with European champions Spain made the team believe in itself again, Baskaran said.

"I think it was the turning point of our campaign. Spain was a fantastic team with one of the best coaches in the world and a great forwardline and holding them actually made me feel this team had it in them to win." - Vasudevan Baskaran

India then blanked unfancied Cuba 13-0 to go through to the semi-finals.

To prepare for the clash against hosts Soviet Union in the last four, the Indian hockey team decided to change their tactics.

"For that game, we decided to go for indirect penalty corners. We studied a lot of video footage in the lead-up to the semi-final to figure out a way to execute it," revealed Baskaran.

"It was a full stadium with a raucous home crowd and some teams may have been intimidated. But our players were so confident that they were constantly asking for the ball." - Vasudevan Baskaran

"Zafar Iqbal actually yelled at me a couple of times because I was looking for alternate options on the opposite flank," Baskaran, who has been coach of the Indian hockey team, said.

The approach worked as India got past the hosts 4-2 to storm into the final brimming with confidence.

A thrilling final

The final against Spain started very well for the Indian hockey team as Surinder Singh Sodhi, playing as an advanced midfielder, scored twice before half-time to give them a comfortable 2-0 cushion.

MK Kaushik scored early into the second half, but this was when the match turned on its head. Spain captain Juan Amat scored twice in two minutes to get the Spaniards right back into the game at 2-3.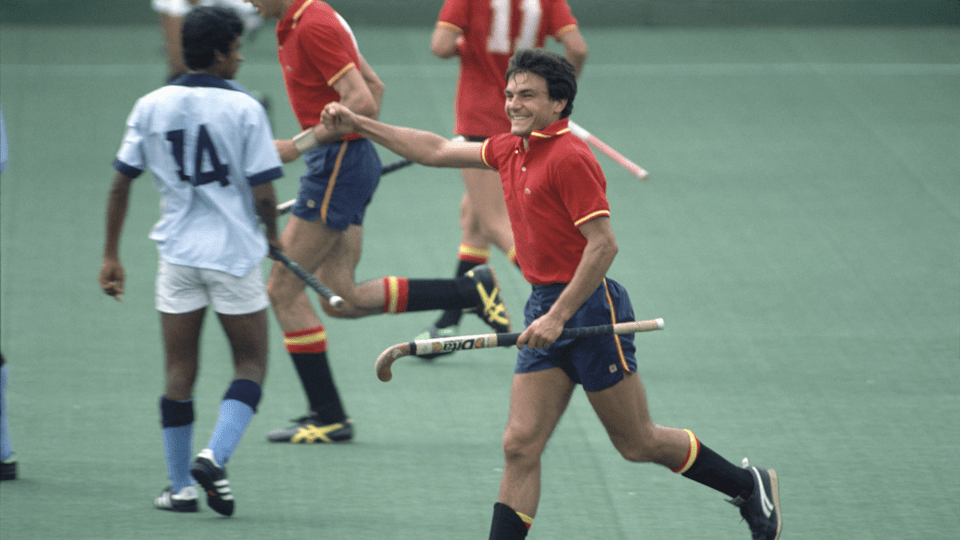 Juan Amat kept Spain in the game against India in the Moscow 1980 final

This was where another innovative tactic, admittedly a gamble, of playing the late Mohammad Shahid as a centre-forward paid off.

"He had not scored many goals till then because his skills meant that we stuck him on the inside flanks, from where he would set-up a lot of goals," recalled Baskaran.

"But we knew we needed someone like him up-front in the final and so, told him to not track back too much."

Mohammad Shahid did score India's fourth goal and it turned out to be the most important one of the campaign.

Juan Amat completed his hat-trick and Spain forced two penalty corners in the dying seconds of the game but India managed to hold on to the slender lead.

"For the first penalty corner, I positioned myself on the right because I felt Amat would hit it there. I managed to block it and quickly moved to the left for the next one, and just as the ball touched my stick, the whistle blew," recounted Baskaran.

Once more India established its hockey supremacy at the 1980 Moscow Olympics. Even if Moscow gold remains the last Olympic gold medal won by the Indian hockey team, the country still remains a global superpower.

Expectation will be high again when the next Summer Olympics come up in Tokyo. The Indian hockey team has to heal a 40-year itch!

The Olympic Channel


---

In Pictures: Indian hockey's 1980 Olympic gold journey



On July 07, 1980 the Indian men's hockey team, led by V. Baskaran (fifth from left), boarded the flight to Moscow in Soviet Union for the Olympic games in search of a gold medal that had eluded the former champion since 1964. Due to the boycott by USA and its allies, field hockey comprised six teams who would face each other for a place in the final. (THE HINDU ARCHIVES)


---

Suffolk brothers make umpiring history




In early 2020, brothers Jake and Isaac Charles became the first siblings to be appointed to the same match in the English Hockey Leagues and have now achieved the highest umpiring rank in the game.

The pair have been awarded FIH Umpiring Status after undergoing an arduous process, which can take anywhere from 3-7 years, with less than 0.1% of people who take up umpiring making it to this level.

Earlier this year, we caught up with the brothers to get an insight into their journey to the top level of umpiring…



Jake & Isaac Charles

Isaac:

"I started umpiring when I was 9 years old after watching my brother trying it out and seeing how he enjoyed it. So aged 12 (exactly, thanks dad for running a course on my birthday) I sat and passed my level 1 to begin umpiring adults!

"Our key inspirations came from a variety of experienced umpires and coaches. As well as Barry Anderson, a lot of thanks and credit must go to John Seabrook, who sadly didn't make it to see his promise of myself and Jake officiating at a European tournament.

"From there, Jake and I started a competition of seeing how far we could go within umpiring.  Once I got into National League things started to change. Jake and I became more mature and realised that the competitive nature wasn't going to help our progression, so we instead worked to support each other to succeed.

"To be given the chance to umpire with Jake was a pretty great experience. We hadn't managed to umpire outdoor competitively since I was a level 1, so to be able to do it in a National League Division 1 game was a special occasion, the feeling of John watching down on us ready to offer some feedback was definitely there! To then do it again in Cambridge showed the trust and belief the NPUA showed to us that we have moved on from our rivalry and more towards a team."

Jake Charles:

"We're both competitive in everything we do and the opportunity to become better with the support of a sibling is massive for me. We go all over the place, but it feels like home when the other one messages you, knowing they're watching and will be the first to help talk over a decision, incident or even give feedback.

"We have grown as umpires and as brothers. Now instead of competitiveness or jealousy it's compromise, support and brotherly desire for each other to get the appointments and games that we want.

"Going into games, tournaments or weekends of indoor action, we both think about those who have been a major part of our journey. Our father was the one who introduced us both to umpiring and our mother took us all over the country for appointments or silly times in the morning to get early flights."

Great Britain Hockey media release

Please note that John and Peter Wright of South Africa have also held this distinction of being FIH umpires at the same time and have the further distinction of both umpiring the the Final of a World Level event, the  Hockey World League Semi-Final in Johannesburg on 23 July 2017. This was John's final game as a World Panel Umpire before retiring after more than 200 international matches. Peter was elevated to the World Panel shortly after this game.


---

'Hockey Through The Ages': Hockey Museum | FIH webinar to take place on Thursday




At a time when we are celebrating the long history of hockey at the Olympic Games, we are thrilled to reveal details of a special live webinar brought to you by The Hockey Museum, in partnership with the FIH World Hockey membership scheme.

On Thursday 30 July, the Hockey Through The Ages webinar will be hosted by former Great Britain goalkeeper and triple Olympian Simon Mason, who will be in conversation with Mike Smith, Curator and Founding Trustee of The Hockey Museum.

The Hockey Museum, based in Woking, England, is the first and only museum of hockey in the world. It aims to preserve, share and celebrate the rich history and heritage of the sport of hockey from all round the world. The museum is home to a growing collection of hockey archives, artefacts and memorabilia, which it makes accessible to the hockey family and the wider public through its website, newsletters, displays and other exhibitions.

Simon and Mike will take you on a journey through hockey`s history and discover some of the moments, people and events that have defined the personality of hockey. Hear about the growth of The Hockey Museum, the 'wow' moments, world class recognition, and future ambitions.

Hockey's wonderful role in the Olympic movement will be one of many topics covered in what is sure to be a fascinating discussion, which will be centre around The Hockey Museum's superb efforts in preserving hockey's heritage for future generations.

The webinar – which is part of our Hockey Invites series of live online broadcasts – will start at 13:00 EDT | 18:00 BST | 19:00 CET | 22:30 IST, and will last around 90 minutes.

Whatever your role in the hockey family, you will not fail to be inspired by the incredible stories that make up the rich history of the game we love, a history that is protected and nurtured by an amazing team of staff, trustees, volunteers and supporters at The Hockey Museum.

Registration and donation

If you would like to register for the event, you can do so on a dedicated page on the FIH Hockey Academy website using the link below. Those who register for the webinar are encouraged to make a small financial contribution to The Hockey Museum, which is a registered charity in the UK, to help with their ongoing work to preserve and archive the sport's rich history.

To register for the webinar, please click here.

To learn more about the tireless work of The Hockey Museum, please visit https://www.hockeymuseum.net.

-------------------------------------

Olympic hockey through the ages

A look back at over 100 years of hockey at the Olympic Games
Tokyo 1964: Pakistan and India contested their third successive final, but a solitary penalty corner from India's Mohinder Lal secured their seventh gold medal.
Mexico City 1968: Australia defeated India in the semi-final but were forced to settle for silver, as Pakistan's Mohammad Asad Malik scored the winner in 2-1 victory.
Munich 1972: Thanks to India and Pakistan, Asia had dominated since 1928, but Europe finally hit back. Germany defeated Pakistan 1-0 in the final, with Michael Krause scoring the winner with ten minutes remaining. With 18 goals in nine matches, Dutchman Ties Kruize scored the most goals in a single Olympic hockey tournament – a record that still stands today.
Tomorrow: Montreal 1976 and Moscow 1980

-------------------------------------

On this day – 28 July 1996: Australia women cruised to a 4-0 win over USA on-route to winning Olympic gold at Atlanta 1996, with Jen Morris, Katrina Powell, Lisa Powell and Kate Starre scoring the goals. In the men's competition, eventual silver medallists Spain suffered their only defeat in Group A, going down 3-1 to India. Spain went into the game knowing that they had already finished top of the standings to seal their place in the semi-finals, with Germany finishing second in the Group – two points clear of third-placed India – to also reach the final four.

#Tokyo2020
#HockeyInvites
#StrongerTogether

FIH site


---

Pakistan's Mexico 1968 Olympic gold medallist Asad Malik passes away




During a period in which we are celebrating hockey's long association with the Olympic Games, it is with great sadness that we have learned of the passing of Pakistan's Muhammad Asad Malik, a triple Olympian who won gold at the Mexico City 1968 Olympic Games.

Asad Malik, 78, lost his life in a road accident on Monday (27 July) in the town of Sharaqpur Sharif, in the Punjab province of Pakistan. According to reports, Asad's daughter was injured in the same incident and remains in hospital, with her condition being described as critical.

Asad Malik achieved sporting immortality at the Mexico City Games when he scored the winning goal of the gold medal match against Australia, with Pakistan claiming a 2-1 victory to seal their second Olympic title. The strike made him a household name in Pakistan, with his image featuring on a special commemorative postage stamp to mark the occasion.




As well as winning gold in Mexico, Asad Malik also claimed silver at both the Tokyo 1964 and Munich 1972 Olympic Games, where Pakistan were beaten in the final by India and West Germany respectively.

He was also the proud owner of a trio of medals from the Asian Games, winning gold at Jakarta 1962 and Bangkok 1970 as well as a silver at the Bangkok 1966 event.

Asad Malik's younger brother Saeed Anwar, as well as nephews Anjum Saeed and Naeem Amjad, also represented Pakistan's hockey teams in the Olympic arena.

Additional information about this story can be found on the website of the Asian Hockey Federation by clicking here.

The International Hockey Federation offers its sincere condolences to the family and friends of Asad Malik and everyone at the Pakistan Hockey Federation. Our thoughts are with you all at this incredibly difficult time.

FIH site


---

Asad Malik's demise termed a big loss for Pak hockey

ISLAMABAD/LAHORE: Former hockey greats Rashid Junior and Shahnaz Sheikh here Tuesday termed the demise of 1972 Olympic Games captain Asad Malik a big loss to Pakistan hockey, saying that he was one of the players who took the country's hockey to unparalleled heights.

Malik died in a road accident in Lahore on Monday evening.

Talking to 'The News', Rashid said he had great memories of Malik and there was no better incident than the 1971 World Cup semi-final. "I was playing at the centre-forward position and Malik — a makeshift captain — was a bit concerned when we conceded a goal against India. At that time only radio commentary was available and we heard a Pakistan commentator expressing concern over the goal-hello Karachi-hello Karachi we are down by a goal. On the other hand, Indian commentator was expressing his delight. I just smiled when we were approaching for a bully and Malik asked me why you are smiling. I told him that you would see tables turning on India soon. Minutes later I scored the equaliser and Pakistan defeated India 2-1. Later Malik lauded my confidence," he said.

Rashid added: "He was a great man and big supporter of good performers. I always found him a supporter of youngsters and newcomers."

Shahnaz said Malik was one of the pioneers of Pakistan hockey. "Till early eighties we kept on dominating the world game and players like Malik ensured that dominance. Malik had his share in winning all the inaugural majors in hockey after the country's independence. His services for Pakistan hockey are unforgettable.

"Malik had thorough understanding of the game. I really enjoyed playing alongside him. Definitely we have lost a great hockey player."

Malik, who was laid to rest in Sheikhupura on Tuesday, belonged to a family which had the unique distinction of producing four Olympians to serve Pakistan hockey.

His younger brother Saeed Anwar and his two sons Anjum Saeed and Naeem Amjad also represented the country in Olympics.

Asad will long be remembered in the country's history for scoring the gold medal-winning goal against Australia in the 1968 Mexico Olympics final.

He had the honour of his action photograph of that goal immortalised on a Pakistan postage stamp.

His funeral prayers were offered at Jinnah Park, Bohar Wali Masjid, Sheikhupura, after Zohr prayers.

The funeral was attended by family members, relatives, friends, a large number of former and current hockey players, and officials of the Pakistan Hockey Federation (PHF).

PHF president Brig (Retd) Khalid Sajjad Khokhar and secretary Asif Bajwa expressed their deepest sorrow on the sad demise of Asad.

"We pray that Allah Almighty rest the departed soul in His infinite mercy and also pray for the members of his family to bear the irreparable loss," they said.

Asad's notable medal winning achievements are Tokyo Olympics 1964 (Silver), Mexico Olympics 1968 (Gold), Munich Olympics 1972 (Silver), Asian Games Jakarta 1962 (Gold), Asian Games Bangkok 1966 (Silver), and Asian Games Bangkok 1970 (Gold).

He had also to his credit two Asian Games gold medals in 1962 and 1970 and a gold medal in the World Cup 1971.

Meanwhile, Director General Sports Punjab Adnan Arshad Aulakh condoled the death of the former Olympian.

The News International


---

Brilliant dribbler Asad will continue to live in memories of hockey lovers

Jaffer Bilgrami




Memories of brilliant dribbler Asad Malik — with his perfect ball control and a peculiar body dodge — may be still fresh in the minds of hockey lovers who watched the epic encounters of Pakistan Customs and PIA back in the sixties.

Olympian Asad, 79, a former Pakistan hockey captain and a fine inside left, died in a road accident in Lahore on Monday evening.

Hailing from Sheikupura, he emerged on the scene of country's hockey as a filler of Nasir Bunda who scored the decisive goal at Rome Olympics to end the 32-year long supremacy of India in international hockey.

Those were the days when promising players of national stature were usually lured in by Railways, Police and Customs. But then, another employer emerged on the scene in shape of PIA and raised its line up by hiring players from hockey nurseries of Central Punjab. The idea to raise a star studded hockey team was the brainchild of Air Marshal Nur Khan who headed the national airlines at the time. Asad Malik was the first choice for that hockey line up.

With a rich experience of playing on natural grass, Asad easily transformed himself as a speedy forward on the newly laid astro turf pitch of Hockey Club of Pakistan in Karachi. Along with spearhead Tariq Niazi, he did not wait long to make an impact and secured a permanent berth in the national side which later participated in the 1964 Tokyo Olympics, 1978 Bangkok Asian Games, 1968 Mexico Olympics and finally the discipline marred Munich Olympics of 1972. Asad was leading the side in Munich.

After grabbing golds and silver medals for his team and his country, Asad became an household name and also figured on a 15 paisa stamp issued by Pakistan Govt, an honour rarely bestowed on Pakistani sportsmen.

A non controversial player who was always full of interesting anecdotes drawn from the hockey world, Asad joined PIA Sport Department after retiring from active hockey and raised a strong departmental team which enabled them to secure top slot at the national level.

Asad Malik's death is being widely mourned by hockey lovers as well as by media and sports organisers since his life has come to a tragic end. May Allah bless his soul.

Dawn


---

Former hockey Olympian Asad Malik laid to rest

LAHORE- Former hockey Olympian Asad Malik, who was also a member of Pakistan gold medal victorious team of 1968 Mexico Olympics, was laid to rest in Sheikhupura graveyard on Tuesday.

Asad Malik, a big name in hockey fraternity, lost his life in a fatal road accident on Monday while his daughter was seriously injured.

He belonged to a respectable hockey family, which had the unique distinction being a family which produced four hockey Olympians to serve Pakistan hockey.

His younger brother Saeed Anwar and his two sons Anjum Saeed and Naeem Amjad had the honour of representing the country in Olympics, establishing their status as the only family whose four members represented Pakistan in Olympics.

Malik was a hockey legend who will long be remembered in country's history hockey books for scoring the gold medal-winning goal against Australia in the 1968 Mexico Olympics final.

He had the honour of his action photograph of that goal immortalised on a Pakistan postage stamp.

Meanwhile, the death of Asad Malik was widely condoled. Punjab Minister for Sports, Youth Affairs and Tourism Rai Taimoor Khan Bhatti, Director General Sports Punjab Adnan Arshad Aulakh, Pakistan Hockey Federation (PHF) President Brig (r) Khalid Sajjad Khokhar, Secretary M Asif Bajwa, and the entire hockey and sports fraternity also condoled the death of Asad Malik. They expressed their deep condolences to the members of the bereaved family and showered praise on Malik over his contribution to hockey, saying that his services would be remembered for a long time.

The Nation