All the news for Saturday 11 July 2020

FIH announces Pro League restart details




The Hockeyroos and the Kookaburras are scheduled to resume their FIH Pro League 2020 campaigns in April 2021 after the revised fixture for the postponed global competition was announced.

The FIH confirmed the remaining schedule for the men's and women's competitions of the 2020 FIH Hockey Pro League which was halted back in March due to the COVID-19 pandemic.

The Hockeyroos, who currently sit fourth on the ladder, are set to take on USA away in their first matches back on 3/4 April 2021.

This will be followed by the Hockeyroos and Kookaburras (who sit second in the standings) featuring in double headers against trans-Tasman rivals New Zealand on the Anzac Day weekend of 24/25 April in Perth.

These matches will be the Hockeyroos and Kookaburras' first internationals since Hockey Australia announced it had suspended all international travel on the night of Australia's last FIH Pro League matches against Argentina on 7 March.

In such a challenging period and with a hectic hockey calendar in 2021 due to the rescheduled Tokyo Olympic Games, the fixture schedule was established in cooperation and agreement between the 11 participating National Associations (NAs) and the FIH.

"I'm delighted that we have been able to get this schedule in place and it is really important in terms of our preparation for the Olympics next year," said Hockey Australia Head of High Performance, Toni Cumpston.

"We're really looking forward to the competition starting, obviously pending the situation around COVID come April next year. It has been a hard year for everyone in hockey, and the opportunity to play in the FIH Pro League is a light at the end of that."

"We are really hopeful that the world can get this pandemic under control and can play the game we love on the international stage."

Following the games against New Zealand, the Hockeyroos and Kookaburras will then head overseas for the remainder of the competition, finishing with double headers against Germany in Mönchengladbach on 29/30 May 2021.

"There is no hiding that it has been a really challenging time with the impact of COVID but the release of this draw gives the group something to work towards and look forward to as we continue to train for the rest of this year," said Kookaburras Coach Colin Batch.

"We are fortunate that we can be back training and are determined to get back to the levels we were targeting leading up to the Olympics."




Hockeyroos Coach Paul Gaudoin said the Hockeyroos are eagerly anticipating what lies ahead.

"This break has given everyone an opportunity to freshen up their minds and bodies and rediscover that real hunger and passion to play hockey," said Gaudoin.

"Now that the revised fixtures have been released, we can start to plan and structure our preparations accordingly."

Commenting on the announcement, FIH President Dr Narinder Dhruv Batra said: "All hockey fans have been eagerly waiting for the day where the world's best teams would play again. Whilst the pandemic is not over and staying healthy while playing hockey is an absolute priority, it's a sign of hope that the resumption of the 2020 FIH Hockey Pro League is looming."

FIH will continue to closely monitor the global evolution of the COVID-19 situation, with the safety of athletes, fans and everyone involved being top priority.

The FIH Hockey Pro League is the annual global home and away league involving the world's best men's and women's international teams.

The first match of the FIH Pro League 2020 resumption will be on 22 September with Germany hosting Belgium.

FIH Pro League 2020 - remaining Hockeyroos and Kookaburras matches
3 April 2021 USA v Hockeyroos (venue and time TBC)
4 April 2021 USA v Hockeyroos (venue and time TBC)
24 April 2021 Kookaburras v New Zealand (Perth, 4pm local)
24 April 2021 Hockeyroos v New Zealand (Perth, 6.30pm local)
25 April 2021 Kookaburras v New Zealand (Perth, 3pm local)
25 April 2021 Hockeyroos v New Zealand (Perth, 5.30pm local)
15 May 2021 China v Hockeyroos (Changzhou, 4pm local)
15 May 2021 Spain v Kookaburras (Valencia, 8.30pm local)
16 May 2021 China v Hockeyroos (Changzhou, 4pm local)
16 May 2021 Spain v Kookaburras (Valencia, 6.30pm local)
23 May 2021 Netherlands v Hockeyroos (venue and time TBC)
23 May 2021 Netherlands v Kookaburras (venue and time TBC)
24 May 2021 Netherlands v Hockeyroos (venue and time TBC)
24 May 2021 Netherlands v Kookaburras (venue and time TBC)
29 May 2021 Germany v Hockeyroos (Mönchengladbach, 2.30pm local)
29 May 2021 Germany v Kookaburras (Mönchengladbach, 5.30pm local)
30 May 2021 Germany v Hockeyroos (Mönchengladbach, 12.30pm local)
30 May 2021 Germany v Kookaburras (Mönchengladbach, 3.30pm local)

*dates and times are subject to change

Hockey Australia media release


---

Double happiness for MHC

By Jugjet Singh



Puma will provide playing and training jerseys, as well as windbreakers and socks, for three years in an RM1.5 million deal. --BERNAMA pic

KUALA LUMPUR: There was double joy for the Malaysian Hockey Confederation (MHC) today when all their national players tested negative for Covid-19 and Puma came in as their attire sponsors.

All trainees, both seniors and juniors, took the test.

"Puma will replace Adidas as our attire sponsor with a comprehensive deal which involves all four teams.

"They will provide playing and training jerseys, as well as windbreakers and socks, for three years in an RM1.5 million deal," said MHC president Datuk Seri Subahan Kamal.

"We will announce the colour and design soon, but it does not make a difference to me because performance matters more than colour," said Subahan.

The senior team will be in their new attire during the Asian Champions Trophy in November in Bangladesh.

The MHC may reveal the identity of the new national women's coach after their coaching committee meeting tomorrow.

"The candidates will screen the candidates, who we interviewed, for the post during the meeting.

"We will name the women's coach soon," Subahan added.

New Straits Times


---

MHC not in a hurry

By Jugjet Singh



Datuk Seri Subahan Kamal

THE Malaysian Hockey Confederation (MHC) are set to organise local tournaments following the government's green light for the resumption of contact sports' competitions from August 15.

However, the confederation will not rush into organising international friendly matches for the national team, who gathered recently for centralised training.

Among the local tournaments set to be organised after Aug 15 are the annual Razak Cup and the Junior Hockey League (JHL).

"We have been preparing for months for this announcement and are ready to organise the Razak Cup and the Junior Hockey League.

"The standard operating procedures (SOPs) for tournaments were drawn up a few months ago, so we are ready to take the next step by organising local competitions.

"This year's Razak Cup will be exciting as national coach Roelant Oltmans has agreed to release his trainees to their respective teams for the tournament," said MHC president Datuk Seri Subahan Kamal yesterday.

However, the MHC are not keen on having their national team play international matches for now.

"It is not advisable to travel abroad for international matches though it is allowed now.

"Furthermore, things will be too complicated as most countries have strict travel restrictions due to the Covid-19 pandemic," he added.

New Straits Times


---

Hollie Pearne-Webb: "You can't ask people in your squad to do it if you're not prepared to do it yourself"



Pearne-Webb Leads Team Out

With just over one year to go until the postponed Tokyo Olympics, Hollie Pearne-Webb is hoping to use what she's learned in lockdown to lead her team to glory once again next summer.

The Rio 2016 gold medallist has been captain of the GB women's squad since October 2018, moving into the role after Alex Danson-Bennett's concussion meant she was unable to train or play.

Having played under the captaincy of two of the hockey's best in Danson-Bennett and Kate Richardson-Walsh before her, Pearne-Webb knows she has big shoes to fill.

Speaking with fellow GB athlete Emily Defroand on #CuppaNNatter, the defender said: "I've been very, very lucky that since I've been in the GB programme to have played under two exceptional captains. Exceptional in their own different ways but both who are legends of the game.

"I think the definition of captain should just be Kate. Then I had Al for the first two years of this cycle, who led in a completely different way to Kate but was such a talismanic figure for us on the pitch, off the pitch. Everything about her embodied what we were about."

While she didn't focus at the time on what made those two such fantastic leaders, since taking on the armband Pearne-Webb has begun to understand the factors that made the previous incumbents so successful.

"I just thought that they were the captains, they were great at it and they fulfilled the role," the 29-year-old said.

"One of [the key factors] is leading by example; I think that's huge. As a captain you have to be willing to do it yourself, you can't ask people in your squad to do it if you're not prepared to do it yourself.

"Another thing is that sometimes you've got to be ok with not being popular all the time. There's a lot of things that can happen and you've got to make decisions you believe are in the best interests of the team. That has got to be the first thought.

"And then also you've got to really believe in and live by our values. We've got a strong system and vision of what our values and behaviours are and you've got to really embody and believe in the process with every single one of those."

Having been unable to train for four months due to the Covid-19 pandemic, Pearne-Webb was left without any hockey for the first time in a number of years.

However, as well continuing her work as an accountant and volunteering to take food to people in her local community, she also used the time to review on her own captaincy.

"In the past few months I've done a lot of reflecting in terms of the qualities and I nowhere near tick all of those boxes at all but I think it's been good for me to try and figure out what sort of leader I want to be," she told her former Surbiton team-mate Defroand.

"I can't be the same as Kate and I can't be the same as Al because they're completely different people. I've just been trying to figure out where my strengths are, where my gaps are and where I can move myself up and do some reflecting and learning."

The team have been back training for two weeks now and a few days ago it was announced that the FIH Hockey Pro League is set to return in October.

Having put in some impressive performances during their games against Australia and New Zealand earlier this year, Pearne-Webb is excited to see what the team can achieve when it is safe to play again.

And, despite the time spent away from each other, she thinks that lockdown has made the squad even stronger as they look towards Tokyo.

"One thing that has really impressed me is that every single member of our squad is still so committed to what we want to achieve together in 12 months' time. The goal posts have moved but everyone's desire is still there" she stated.

"Speaking to a lot of the girls at various points over the past 12 weeks they seem even more determined. It's been good to see people over webcam and good to hear how people are doing but I think everyone is just excited about getting back to training, even though it won't be the same.

"It's been tough and challenging but an experience that I've learned a lot from."

Great Britain Hockey media release


---

Jane gets Smart: Hockeyroo Claxton chats to Tokyo '64 medallist Don




Having played over 180 times for Australia since making her senior international debut in 2013 and competed at two World Cups, two Commonwealth Games, the FIH Hockey Pro League and the Rio 2016 Olympic Games since then, 27-year-old Hockeyroos midfielder Jane Claxton is certainly not lacking in experience.

However, one thing that she cannot currently claim (until July 2021, at least) is to have represented her country at an Olympic Games staged in Tokyo, Japan. That accolade is currently reserved for those rare few who took to the field at Tokyo 1964, one of whom Claxton managed to catch up with in Perth, Western Australia just a few days before this year's Olympic Day celebrations on 23 June.

At 78 of age, triple Olympian Don Smart is a man who still absolutely loves his hockey, turning out on the grass pitches at the Perth's Perry Lakes recreation ground for the Saturday Masters Competition. A pacey and skilful left-sided striker in his day, Smart represented Australia with distinction at the Tokyo 1964, Mexico 1968 and Munich 1972, winning bronze in Tokyo and silver in Mexico – Australian hockey's first Olympic medals of either colour.

Between 1961 and 1972 he played close to 100 games for his country and, according to his Hall of Champions biography on the Western Australian Institute of Sport Website, scored what must be one of the fastest goals by an international debutant in history, finding the target just 20 seconds in to an Oceania derby match against New Zealand at the tender age of 19.

With Jane Claxton based in Perth - the location of the training base for Australia's national teams – and Don Smart being a long-time friend of the Claxton family, the two Australian Olympians from very different generations came face-to-face for a brief conversation, rather fittingly, just moments before the septuagenarian striker took to the Perry Lakes grass for a veterans match.  

Jane Claxton: "Hi everyone, I'm Jane from the Hockeyroos. I'm here with Don Smart, who is a three time Olympian, and today I'm going to be interviewing him about his career to date and what has changed over the years. So, Don, which Olympics did you go to?"
Don Smart: "Tokyo 1964, Mexico 1968 and Munich 1972."

Jane Claxton: "Great! And which Olympics out of those three do you think left the biggest impression on you?"
Don Smart: "The first one! When we got announced [named in the squad], it was a huge honour. And then we won a medal, which we weren't supposed to do."

Jane Claxton: "It's ironic that Tokyo [2020] was meant to happen this year. It's definitely a mix up from what the norm is, going into a five-year cycle for the Olympics. I guess in terms of your career to date, what made you stop playing hockey?"
Don Smart: "I haven't stopped, I'm still playing masters! I enjoy catching up with all the fellas I used to play with."

Jane Claxton: "Back in the day, when you were playing 'professional' hockey, was it on turf or grass?"
Don Smart: "Oh, we weren't playing professional hockey! I had to give up a couple of jobs to go to the Olympics. I got picked to go to the Olympics and I asked for leave, and they [the boss] said 'I'm sorry', and I said, 'so am I, see you later!'"

Jane Claxton: "So there is a pretty big generational difference between [you and] us international athletes now. Back in the day, you used to have to juggle a full-time job as well as training to go to the Olympic Games. And you still won a medal [in Tokyo], which is impressive."
Don Smart: "We were lucky we won the medal, I think. We had a very good team and we played really well. We were overjoyed when we won it, I couldn't believe it – I didn't take it off for a week!"

Jane Claxton: "I wouldn't either! So, what was the highlight of your entire career?"
Don Smart: "I think getting picked for the first time, for WA [Western Australia]. I played golf with a bloke and I took his place [in the team] because he broke his collar bone. I was on the bench before then. I still play golf with him now, but he has never forgiven me for not giving his position back!"

Jane Claxton: "We are down here for the Saturday Masters Competition at Perry Lakes. Can you give us a bit of an outline about what is going to happen? How do you guys divide into teams and how do the fixtures work?"
Don Smart: "Well, we are veterans, so we go from 65s and upwards. It's just organised for everyone to get together and have fun, and we do. We pick the teams based on who is coming, we don't play with the same teams, we have different guys every week. We cannot have bragging rights!"

Jane Claxton: "And what position do you play these days?"
Don Smart: "Oh, I just play high as I can!"

Jane Claxton: "Oh, hanging in the circle?"
Don Smart: Yes, so I don't have to run back!"

Jane Claxton: "That is a perfect position to play! So, what would be your advice to someone like myself, heading into an Olympic Games?  
Don Smart: "I think you just need to enjoy yourself. Give it everything you've got. You never know, you might get lucky!"

#OlympicGames

FIH site


---

FIH outlines face mask recommendations for recreational hockey return

By Rod Gilmour



Bedford HC players wear their new masks as part of our #watchyour1s competition prize in 2019 PIC: KATRINA HARRIS

World hockey says that grass-roots sides should have enough individual face masks at penalty corners to avoid sharing when the game returns following the coronavirus pandemic.

Some hockey nations are beginning to make inroads for the club game to return following months of fields being deserted of action.

And the International Hockey Federation (FIH) has outlined several pieces of advice to The Hockey Paper – primarily not to share any kit or equipment.

Dr Bibhu Kalyan Nayak, the FIH's medical officer, told THP: "We do appreciate that masks are not a cheap piece of equipment and therefore not everyone will be able to purchase an individual mask. We recommend that only one player uses each mask during a match.

"In this situation, we advise that face masks are thoroughly cleaned prior to a match or training session, then labelled so that only one player uses each mask during the match or training session.

"The masks should then be cleaned after the match or training session in preparation for their next usage.

"Practically, this means a team needing enough masks for a match, with each one individually labelled, to ensure that there are enough individual masks for whoever is on the field of play when a penalty corner is awarded."

The Hockey Paper has published several safety pieces in recent months, including dragflick hotshot Matt Guise-Brown believing that face masks should be made mandatory at PCs.

In the club game, there are many players who share masks – or who don't even wear them at all at PCs.

In Holland, COVID-19 guidelines suggest that substitutes should clean each mask. But is this satisfactory?

Dr Nayak added: "It is an individual choice for players to wear a face mask when defending a penalty corner, but from a COVID-19 Health & Safety point of view, if players choose to use masks then FIH guidance is for each mask to only be worn by a single player during a match or training session."



The Hockey Paper


---

Mushtaque Ahmad steps down as Hockey India president, Gyanendro Ningombam named officiating chief

Mushtaque Ahmad's election as Hockey India president had been a contentious point having already served two consecutive terms.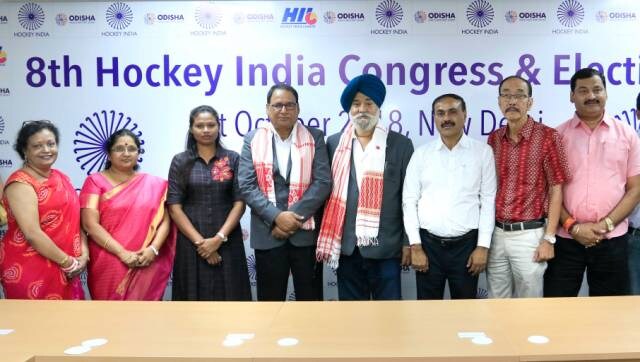 Hockey India named Gyanendro Ningombam as the officiating president at the Emergent Executive Board meeting on Friday after Mushtaque Ahmad tendered his resignation. Ahmad had been in his role as president of the national sports body since 2018. He was earlier the secretary general.

In the Hockey India Emergent Executive Board meeting, Ahmad's resignation was accepted. The Executive Board under the rules and regulations of constitution subsequently nominated and approved senior vice president Ningombam as the new officiating president.

Earlier this week, Sports Ministry had asked Ahmad to step down having declared that his 2018 election was violation of the National Sports Code's tenure guidelines.

In a 6 July letter sent to Hockey India secretary general Rajinder Singh, the Ministry asked the federation "to conduct fresh election for the post of president" by 30 September for the remaining term.

"...the matter has been examined...and it has been observed that Mushtaque Ahmed had earlier served as Treasurer in Hockey India from 2010-2014 and secretary general from 2014-2018. The instant term 2018-2022 of Mushtaque as president is his third consecutive term as office-bearer in HI," the letter said, reported PTI.

"Thus his election as president of HI is not in consonance with the government guidelines limiting age and tenure of office-bearers of National Sports Federations," it added.

Under the Sports Code, office-bearers of a National Sports Federation (NSF) can have only two consecutive terms of four years each. But following amendments, a president can hold office for three terms.

The contentious issue saw multiple back and forths between the Sports Ministry and HI. Hockey India argued the 2018 elections were its second after recognition in 2014 and Ahmad was currently serving his second term as an office-bearer.

Sports Ministry, however, ruled that the guidelines "are applied at the time of granting recognition and accordingly the tenure of office-bearer at the time of recognition is considered while examining the eligibility".

The Sports Ministry said, in an RTI reply, at the time of accepting HI's elections in 2014 (when Ahmad was elected as secretary general), his tenure was considered as his second and this was intimated to Hockey India with approval of sports minister.

Firstpost


---

Sharmila Devi missing the adrenaline rush of playing hockey

The 18-year-old India striker looks back on her past one year with the senior national team.



Sharmila Devi made her India debut in August, 2019, at the Tokyo Olympics Test event. - HOCKEY INDIA

India striker Sharmila Devi has said the experience of not playing hockey for a long time was new for her, and that she had been maintaining her fitness during the break.

"It has been a really different experience to not have felt that adrenaline rush of playing the sport, but I'm just making sure I'm maintaining my fitness and am ready to play as soon as we are allowed," the 18-year-old, who is currently in Hisar with her family, told Hockey India.

Sharmila said she was fortunate to be guided by head coach Sjoerd Marijne, and the experienced players in Rani Rampal and Vandana Katariya in the Indian team. "I am hoping that we will be able to play hockey again soon, and I am really looking forward to making a difference for my team once that happens and we start playing the top teams," she said.

'Experience of a lifetime'

Sharmila made her international debut at the Olympic Test event in Tokyo and it's been an eventful period for her since. "Life has really been going on at a very fast pace for me in the past one year, but I couldn't have asked for more. Having made my debut at the Olympic Test event in Tokyo back in August 2019, it was an experience of a lifetime for me because we won the tournament there," she said.

The FIH Hockey Olympic Qualifiers 2019 against USA was her favourite moment with the Indian team so far. "It was definitely a huge moment for me, to have represented the country at such a huge tournament. We were looking to secure our berth in the Tokyo Olympics and were playing against such a strong opposition, so it felt really good to have done well, and helped the team in achieving our goal. I'm looking forward to more such victories and enjoyable moments with the team," she said.

Sharmila has so far made nine appearances for the senior team.

Sportstar


---

2020 USA Field Hockey National Coach Award Winner: Kelly Doton




COLORADO SPRINGS, Colo. - Following the announcement of all winners, USA Field Hockey is individually highlighting each recipient of USA Field Hockey's 2020 Annual Awards, presented by Longstreth. This week, USA Field Hockey is honored to feature the 2020 National Coach Award winner Kelly Doton.

"I'd like to thank whoever nominated 'us', and yes I say 'us', because this is not a singular award," said Doton, "Behind every head coach is a coaching group, support staff, team and supporters so there are many layers to it."

Doton has been the head coach at Boston College since 2015. In 2019, Doton's Eagles saw one of the most storied seasons in program history as they tied their record for most wins in a season with 15 and won a program-best four Atlantic Coast Conference (ACC) games. Boston College went on to earn the No. 2 seed in the ACC Tournament and defeated both Wake Forest and Virginia to advance to their first ACC title game in history. Doton then led the Eagles on a run through the NCAA Division I Tournament where they defeated Northwestern and Louisville to advance to make their first-ever Final Four appearance. Boston College finished the season ranked No. 7 in the National Field Hockey Coaches Association Coaches' Poll, the highest since 2013. After their historical season, Doton was the first coach in program history to win the ACC Coach of the Year Award.

"Our 2019 season is a lesson to any coaching staff out there who hit adversity in their season, especially early on," continued Doton. "Frustration and doubt can linger when results aren't what you expect but patience and perseverance is something that has to overtake that defeated feeling. Remind yourself that you're a good coach, everything won't go as planned and go back to the drawing board."

"At one point, we were 4-5 and halfway through our season," noted Doton. "I had a lot of sleepless nights. So, change something; even if it's drastic. I always tell myself to go with your gut, and if it's wrong, well at least you made the choice with conviction. I can live with those. We made a difficult goalkeeper change, our defense played outstanding, and we finished the season on a 11-3 run. It was a really fun ride for the team with not the ending we wanted, but something we can build off of for the future."

Before Doton took over the helm at Boston College, she served as Ainslee Lamb's associate head coach for three season. Prior to that Doton came from Indiana University where she was a part of the coaching staff since 2008. She was an assistant coach for four seasons before being named the Hoosiers' associate head coach in 2011.

A 2004 graduate of Wake Forest, Doton was an asset to the Demon Deacons on both sides of the ball during her collegiate career, helping to lead her squad to back-to-back NCAA championships in 2002 and 2003. Providing her team with her disciplined defensive skills, and quickly establishing herself as one of the best attack corner hitters in the country, she was honored as the 2003 Honda Award winner, the National Field Hockey Player of the Year.

In addition to her collegiate playing experience, Doton was a member of the U.S. Women's National Team from 2005 to 2010. In 2008, she was part of Team USA that competed at the Beijing 2008 Olympic Games.

"Thank you to USA Field Hockey and to everyone who voted for our coaching staff for this award as I believe Mark [Foster] and Jill [Gambino] are two of the best in the business and I am very fortunate I get to work with them every day."

Congratulations once again to Kelly Doton for winning the 2020 USA Field Hockey National Coach Award.

USFHA media release


---

Athlete Spotlight: Jatin Sharma




Each athlete that wears the red, white and blue has a unique story to how their careers came to fruition. From the junior level to the senior squad, USA Field Hockey is putting national team athletes under the spotlight to share their journeys.

The love of a game can extend generations and across decades as family members can often be the spark of passion. Jatin Sharma's field hockey career followed a similar path from a sentiment that stretched half a world away to the Junior U.S. Men's National Team.




Growing up and playing in India, Sharma's father continued to stay active after moving to the San Francisco Bay Area in the United States. He later helped found the Stanford Lightning Youth Field Hockey club. All the while, a young 6-year-old Sharma would ultimately pick up on his father's interest and played in his first California Cup in 2007. He has proudly played in each edition of the highly coveted tournament since then, and each year spawns a new memory on Memorial Day weekend, and with his father around club life.

"It's definitely the best tournament in the U.S.," said Sharma. "My dad was my coach until I was about 16. I then began playing with the Hayward Hawks Field Hockey Club when I was 13. My dad founded this club with a friend to focus on boys development in the Bay Area. My dad and I now coach the U-10's at Lightning together."

Field hockey was not the only sport Sharma focused on growing up. He participated in basketball through middle school, as well as competitive and varsity soccer until graduating high school in 2019. He credits playing multiple sports as a contributing factor to his fitness as he now focuses on field hockey. This fall he will begin his second year at the University of California Santa Cruz as he pursues a degree in computer science. When not training in the U.S. Men's Olympic Development Pipeline, Sharma keeps his skills sharp around the Bay Area

"My school is about an hour away from Stanford so I can still go to Norcal Sharks regional practices every week and I can come home on weekends to play in the Bay Area Field Hockey Association (BAFHA) league or pick-up hockey," continued Sharma. "I also play local tournaments with the Hayward Hawks and high level tournaments around North America with the San Jose Khalsa field hockey club. The San Jose team consists of many high level players, some of whom are past national team players."




While wearing many jerseys around the year, Sharma's first match dawning the red, white and blue was in November 2017 during a test series against Canada in Moorpark, Calif. Despite not getting a lot of playing time, he used it as extra motivation to train harder and to be more determined to reach the next level. This became a staple memory for his journey through the pipeline, and in 2019 experienced his favorite tour to date when USA went Chile.

"That was the first away series a junior team had won since 2011 and I thought that was pretty special," said Sharma. "I also got close with a lot of the guys on the team on that trip. Going on tours is always full of good times because of the players you're around."

His latest career milestone came earlier this year as the USMNT traveled to South Africa.

"Playing in a senior men's international game is a massive step up from junior games," said Sharma. "The flow and quality of the game is much faster on the senior level. You also have to be a lot fitter to play in these games. Playing in South Africa was really an amazing experience because it showed me what it takes to play on the senior international level. It is definitely not a walk in the park."

Wherever his career takes him next, Sharma, along with the rest of the Junior USMNT athletes hope to return to play as soon as it is deemed safe. They remain optimistic of training camps resuming later this fall.

USFHA media release