All the news for Saturday 27 June 2020

Fourteen months to become even better, says Belgian superstar Arthur Van Doren




Since making his major competition debut at the 2012 Champions Trophy in Melbourne, Australia, just two months after his 18th birthday, Belgium's masterful defender Arthur Van Doren has developed into quite possibly the most celebrated player of his generation.

A driving force in the Red Lions' relentless rise from eighth position to the top of the FIH World Rankings in just six years, Van Doren's sensational individual performances – marked by his remarkable ability to turn defence into attack in the blink of an eye – has seen him singled out for special praise in a team packed full of world class talent.

Van Doren's dazzling displays at the Olympic Games Rio 2016, where Belgium took the silver medal, lead to him being named 2016 FIH Male Rising Star of the Year. That brilliant achievement was topped in 2017, when he was named both the FIH Player and FIH Rising Star of the Year, becoming the first athlete in hockey history to win both prizes – a staggering feat for then 23-year-old.

Whilst being rightly proud of the ever-increasing number of individual accolades coming his way, a silver medal behind hosts the Netherlands at the 2017 EuroHockey Championships – where Van Doren was named Player of the Tournament – left Belgium still searching for their first major title, and some commentators questioning whether this phenomenally talented team had the mental strength to finally get their hands on some deserved silverware.

In 2018, Belgium's epic wait for a major title finally came to an end at the Odisha Hockey Men's World Cup in Bhubaneswar, India, where the Red Lions silenced the doubters by beating the Netherlands in a thrilling shoot-out final to become world champions for the first time in their history. As expected, Van Doren was at the epicentre of the triumph, being named Player of the Tournament and, a few months later, voted FIH Player of the Year for the second successive year.  

2019 was another hugely memorable year for Van Doren, the highlight being a starring role as Belgium claimed their first ever EuroHockey Championship, winning the title on home soil in Antwerp. He also helped the Red Lions to take the silver medal in the inaugural FIH Hockey Pro League, won the Dutch club championship with HC Bloemendaal and was shortlisted for the FIH Player of the Year Award alongside team-mate Victor Wegnez. Now 25 and with over 180 international appearances to his name, Van Doren – who's younger brother Loic, 23, is a goalkeeper for the Belgium national team – is approaching the peak of his powers and looks certain to be at the heart of Belgium's ongoing quest for glory for many years to come.

Speaking to FIH.CH about his career to date and more, Arthur Van Doren explains that his Belgian team will be doing everything in their power to win that coveted gold medal when the delayed Olympic Games Tokyo 2020 gets under way in 14 months' time.                          

Hi Arthur, thank you for talking to us! Who or what first influenced you to pick up a stick and play hockey?

Arthur Van Doren: "Good question! It was my uncle, actually. My uncle gave me my first stick when I was five years old, so he was actually the one that introduced me to the sport. He was playing it at the time, and looking back at it I am pretty happy, of course! It has given me a lot of friends and made a lot of very good memories playing it."

Who has been the biggest influence on your career and why?

Arthur Van Doren: "A lot of people have had a really important influence on me. Looking at my career, I've had the luxury of playing in some very good teams, both in the club and the national team. Also, [I've had] the right people at the right time in my development as a hockey player. So, to single out one is maybe too difficult, and unjust to some people, so I really couldn't say one name."

How would you best describe your playing style or attitude on the pitch?

Arthur Van Doren: "It is a question that perhaps you need to ask other people or my colleagues! I guess what I try to do is make the people around me play better as well, try to keep calm and collected in decision making, and try to provide the right rhythm of the game for the team, and do my job to the best of my abilities. That makes a good theme, and it is still a team sport so that is definitely the most important thing."

What moment on the pitch are you most proud of and why?

Arthur Van Doren: "I think one of the most iconic moments, and one I am most proud of, is probably the [2018] World Cup. We were already, over my years, very ambitious; we also weren't afraid to say that we were ambitious and that we wanted to win a big tournament. We lost a few finals, which made a lot of people doubt, but that [doubt] wasn't in our team. We were still confident that we could win a big tournament, and that World Cup [victory] was such a special moment. It was the first time the Belgian national hockey team won a big trophy, and it was a big trophy for the whole of Belgium. To be part of that team was pretty special at that time. I still love playing the style of hockey we play. It's just nice, attractive and positive hockey. I think that was a very special moment, for sure."

What would be the best advice you could give to aspiring young hockey players?

Arthur Van Doren: "What I always say to the young kids that ask me that, or just young kids looking up to us, is that having fun is the most important thing, especially at a young age. You've got to have fun, enjoy going out there with friends and enjoy that team spirit, that vibe, that is created. The more fun you have, the more you will practise it, the more you will play hockey. The more you play hockey, the better you will get at it. The better you'll get at it, the more fun you will have. I think that makes the circle round, so what I always say is try to enjoy it, even the moments that are less fun. It all contributes to you being a better hockey player and a better person. It all starts with that. That is always the most important thing for me also, I just try to enjoy everything that comes my way."

The ongoing COVID-19 global health crisis has had a profound effect on every aspect of life, sport included. Have you been able to resume any level of on-field training activities with the Red Lions?

Arthur Van Doren: "The protocols have been pretty strict, with a lot of rules and rightly so, of course. We were not allowed to have 'full combat' training, we were training under the social distancing rules of 1.5 metres, which is different. It was fun to go out there again, see a lot of the guys again. It had been a long time, because of the lockdown, so it was nice to go out there. I think everyone is starting to get eager to have those one-on-ones, the more combative stuff. Everybody is ready for that, but we'll have to wait until everything is cleared and we are allowed again. Of course, COVID-19 has had a big influence on athletes and on the planning, as well as on everybody. We will try to stay positive, see what we can do and how we can evolve ourselves and be better every day. It is what it is, so we'll try to move forward. We have 14 months [until the start of the delayed Olympic Games Tokyo 2020] to be a better team and be better hockey players, so we'll try to make sure that that is the way to go."

Profile*: Arthur Van Doren – Belgium
Position:  Defender
Shirt number: 4
Age: 25
International appearances: 184
Current club: Bloemendaal (NED)
Place of birth: Antwerp (BEL)

You can follow Arthur Van Doren on Twitter, Facebook and Instagram.

* Information correct as of 26 June 2020.

FIH site


---

Thompson set for new adventure in America after AH&BC double




Kimberly Thompson is set to move to America in September, a switch which sees her move on following a spectacular five-year spell with AH&BC Amsterdam, culminating in their national title and EHCC crown last season.

It brings the curtain down on a 13-year stint in the Hoofdklasse, playing for three years with Laren and then five seasons with Hurley before moving across the forest to the Wagener Stadium.

Half-American, Thompson hopes to move to the US with her boyfriend Steven in September and explained the reasons for the switch.

"Steven has his own digital marketing company with only American customers and it has always been a dream to work and live there," she said. "I'm ready for a cool new adventure, that's why we're going to do this."

She had hoped to finish on a high with Amsterdam but her final season ended on a frustrating note as, first, a hamstring injury and then the pandemic meant she did not have the chance to contest the Hoofdklasse run-in nor the EHL Women's debut on home turf.

"I worked very hard for six months to come back," she said. "But I am proud of how I did my entire rehabilitation. So last year was really my closing and this year was just one more lesson" laughed the always positive defender.

Speaking about her personal highlights, last season was the clear winner.

"When I came from Hurley five years ago, I was immediately welcomed with open arms. I had a really good time. Such a nice team, with internationals young and old, to play with.

"Last yeat, the first half of the season did not go so well but, in the second half, all heads were turned and everything worked out."

Another highlight was the team trip with Hockey Dreams Foundation to Zambia. "It was a special and wonderful experience.

"We received guided tours of the village, trained the children, trained with the local Ladies team and went on safari. It was very nice to see how nice the people are there and how much they liked that we were there. Hockey Dreams Foundation does a great job there. A team trip you will never forget!"

At this stage, the conclusion of the 2019/20 EHL FINAL8 is currently being planned to take place from October 14 to 18, 2020 at Amsterdam's Wagener Stadium. The event will only take place subject to advice from the Dutch government guidelines.

Euro Hockey League media release


---

The Toman Empire: Armagh record-breaker Frank and his Great Britain hockey star daughter Anna

Andy Watters



Frank and Anna Toman pictured at their home in England

THE name kept cropping up…

Frank Toman.

The only man ever to win Hogan Cup titles with two schools…

The man who played minor and senior football for Armagh on the same day…

A great kicker of a dead ball…

The best left-foot I ever saw…

But what became of the free-spirited former Clann Eireann forward who left Ireland after Bloody Sunday, returned to play in Armagh's run to the 1977 All-Ireland final but left these shores again?

The trail had gone cold until a chance remark unearthed a vital clue.

"I think his daughter plays hockey for England now," said a team-mate who'd been extolling Toman's virtuoso left peg.

An internet search soon proved he was right, she does. Anna Toman, born and bred outside Derby, plays for England and Great Britain too and she'd be looking forward to the Olympic Games in Tokyo right now were it not for the Covid-19 pandemic.

A message to Anna on social media opened the door to a chat with father and daughter while they spent the lockdown at home in Derby.

Anna, a 27-year-old defender/midfielder, plays her club hockey for Wimbledon and has won 36 caps for England, 14 for Great Britain and won medals at the European Championships and the Commonwealth Games

Growing up, she heard tall tales of Frank's sporting achievements. But what does GAA, Croke Park or the Dubs mean to a girl from Derby?

"When I was younger he used to tell us stories about where he played and who he played against but I never appreciated how good he was until I was a bit older," she says.

"We went over to Lurgan for one of my grandparent's funeral and all his friends were speaking about dad and telling me how good he was. So then I thought: 'Ok, he's not just blowing his own trumpet here'."

He wasn't.

Frank's sporting story began during his time as a boarder at St Colman's College, Newry.

His precocious talent marked him out as a star at Violet Hill where achievements on the field are often ranked at least on equal terms with achievements in the classroom.

He captained the St Colman's teams at every level and was a MacRory and Hogan Cup winner in 1967, aged just 15. It undoubtedly came as a hammerblow to the school a couple of years later when their goldenboy decided he'd switch to St Mary's CBS because he wanted to take an A-Level in Economics and Political Science and go on to study economics at the University of Ulster.

"St Colman's didn't offer that at A-Level so I went down to St Mary's for a year," Frank explains.

"It turned out to be the best college team I played in, a tremendous side."

With Toman on board and the likes of Gerry McHugh (future Antrim captain) and Sean Sands (future Down captain) leading the way, St Mary's went on a run in 1971 that saw them become the only school from Belfast ever to capture college football's greatest prize.

Along the way they played St Colman's and the reception for Frank was… frosty.

"We played them in Newry," he recalls.

"Fr Treanor was the manager and I think he took it to heart that I had left. When he was walking out I went over to shake hands with him – to wish him good luck – and he just turned away from me. I went to shake hands with Gerry O'Neill (assistant-manager) and he shook his head and whispered: 'I don't think I'm allowed to talk to you'."

He laughs now but he wasn't laughing then.

"I got a bit mad," he says.

"I said to the other boys: 'Just give me the ball'. I scored a lot of goals in the first 15 minutes and we scored 6-13 that day. I was really mad that I had been shunned after having been captain of all the teams at St Colman's through the years."

He'd been playing senior football for his club Clann Eireann since the age of 15, won an Ulster minor title with Armagh in 1967 and was thrown into the Orchard county senior team as an 18-year-old.

However, the political situation in the North spiralled out of control and his football career and his education (he'd passed his A-Levels and qualified for the New University of Ulster) were both put on hold.

"Bloody Sunday happened," he says.

"Fr Edward Daly (the priest who famously waved a blood-stained handkerchief while helping to ferry wounded Civil Rights protesters to safety during Bloody Sunday) came in to the campus and spoke about what had happened that day and all the dinner ladies who worked in the canteen came out and started heckling him.

"I thought there was going to be a civil war and I would have to take a side. A lot of the lads I ran about with were Protestants so there's no way I was going to be told who I had to identify with or what side I was on.

"In those days people only had to ask you your name or what school you went to and they could find out whether you were a Protestant or a Catholic and put a label on you and I disliked that intensely.

"I thought: 'What am I doing here?' So I cleared off to the Channel Islands and then went to London for a few years."

His football boots were left in Lurgan while he went off to see a bit of the world. But he returned in 1976 and by then Gerry O'Neill – his former teacher and mentor at St Colman's – was the Armagh manager.

It had been lower league toil and short Championship runs for the Orchard County for several years before O'Neill took over but the arrival of Jimmy Smyth (a former team-mate of Toman's at St Colman's) and Joe Kernan began to change all that.

Armagh began that 1977 Championship campaign in style. Cavan and Monaghan were both swept aside and Toman scored three points in each of those wins. However an ankle ligament injury – an unwanted relic from his minor days – hampered his progress and despite those scoring hauls, he was dropped to the bench for the Ulster final win over Derry.

"I was a sub from then on," he says and, over 40 years on, there's a slight change in his relaxed tone that makes you feel it still rankles with him slightly.

"The county chairman didn't particularly like me for whatever reason. We still have a tea towel from 1977 that lists the team and the subs. My name is on the subs and my son used to ask me: 'Dad, what colour was the bench you were sitting on at Croke Park?' I nearly battered him!"

Armagh progressed but in the All-Ireland final their forwards were struggling to put a dent in the Dublin defence and O'Neill turned to Toman: "He said: 'Right Frank, come on' but I was told to sit down again and I ended up going on in the last 15 minutes. By that stage the match was over."

He continued to play for Clann Eireann but rugby had caught his eye and, aged 30, he joined Lurgan Rugby Club. Despite having no background in the sport he was soon playing regularly as out-half.

He moved back to Belfast and returned to the University of Ulster, switching rugby club's to Civil Service where his wife Janice played centre-forward for the hockey team. In 1988, they moved to Derby and they've been there since.

Frank played rugby until he was 50 in his adopted home and he also won his only club championship medal with Derby after helping to set up a Gaelic Football club in the English town.

"We won the Midlands Championship and got to the All-England semi-final," he recalls.

"We played a team from London and we went down there. I noticed all these boys getting off a bus with official-looking Kerry county bags. I had played county football so I knew what I was looking at and I thought: 'Hang on, this isn't the team we're supposed to play, is it?' But it was! This club we were supposed to play had got the Kerry U21 side over to play for them. They beat us – but only by a point – and then thrashed somebody else in the final.

"After the game, I went into the clubhouse and I noticed these lads sitting at one end and the Kerry boys sitting at the other. I took a walk over and said: 'Boys are you enjoying your weekend?' They said: 'Ah it's great, we were flown over, nice hotel, free food, free drink…'

"I said: 'You are the Kerry U21 team?' They said: 'Yeah, yeah'. So I went to their coach and I said: 'You are a total cheat – the local lads who live and work in London got you to the semi-final and you dropped all of them!' I think all those local lads left the club after it, which was very sad."

And so the chance of an All-England title went the same way as his All-Ireland dream. He still follows the game but nowadays spends a lot of his time travelling around Europe in his mobile home following Anna's fortunes with the GB and England teams. Anna has progressed from U16 through U18 and U21s to the senior side and just missed out on a place in the GB squad that won gold at the Rio Olympic Games.



Anna Toman will be crucial to Great Britain's gold medal bid at next year's Tokyo Olympic Games

"I get a lot more nervous watching Anna than I ever did when I was playing," says Frank but it seems that Anna has inherited her father's inner-calm and leadership skills on the field. She has captained England at each age level on the way up to the senior ranks.

"Mum says I get it from my dad," she says.

"I've got quite a calm nature on the pitch, which some of the girls don't, so sometimes when they're getting a bit firey and hot-headed they look to me to calm them down. Mum says that's something I got from dad from his sporting days. Mum was a bit more feisty!"

Like her brother, who had trials for Leicester City and was a keen rugby player, Anna gravitated towards sport from childhood. There was athletics and soccer and it was "sport every evening growing up" but hockey was her number one from early on.

"My mum also played so we bonded over hockey," she explains.

"As I got older it started taking up more of my time and I had to give up the other sports but thankfully it has paid off."

She trialled for the Great Britain Rio Olympic Games squad towards the end of 2015 but didn't make it. Instead she went on her travels and was playing hockey in Perth when the GB girls beat Holland 2-0 in a penalty shoot-out after a thrilling 3-3 draw in the final.

She admits she "didn't feel quite ready for that squad" but made sure she was ready for the next one.

"When they won the gold, I knew it was going to be great for the sport and I got an email inviting me to come back to England for trials," Anna explains.

"I came back from Australia in October and the next day I went to the trials. They lasted for five-six weeks and then I got offered a full-time contract to start in January 2017. So since then I've been a full-time athlete in the programme.

"I came in at quite a good time because the girls had won in Rio and we got more funding but also there were quite a few retirements from the Rio squad so quite a few of us were able to get into the squad. It was a great opportunity for me and I got picked to play straightaway and thankfully I've been picked for everything since.

"It has been quite a rollercoaster of a few years, I've gone from one of the youngest without much experience behind me to now I'm one of the more experienced players which is a bit weird! People look to me now sometimes, so it has changed a lot in three years."

The Tokyo Olympics were due to begin on July 24 and, as defending champions, Great Britain would have been in the crosshairs of all the competing nations.

"The women's hockey final was one of the most-watched events of that Olympic Games," says Anna.

"It was huge and we saw great success from it and that is something that has to keep going, we have to keep pushing it.

"We had quite a good few months leading up to it in training and we were starting to ramp it up in terms of fitness and practice matches, we'd be getting warm-weather training because Tokyo was going to be the hottest Olympics ever," Anna explains.

"So then, to be told that is has been postponed until next year was a big blow but it was obviously the right decision. It's a tough one but hopefully it will go ahead next year – it's still the dream and it's just been delayed a year hopefully."

Beaten finalists in Rio, Holland are number one in the world and the other traditional powerhouses of the ladies' game – Argentina, Germany, Australia and New Zealand – will be in contention in Japan and up-and-coming nations including India and Spain will have a say.

"That's what you want in the Olympic Games," says Anna.

"You don't want it to be obvious who's going to win but Holland are always the favourites. We'll see what happens."

Had she grown up in Lurgan, Anna might have swung a hurley instead of a hockey stick but life took her in another direction. Now she's the sporting star of the Toman family?

"Yeah I am," she answers with a laugh, "but don't tell Dad I said that…"

Irish News


---

Athlete Spotlight: Alberto Montilla




Each athlete that wears the red, white and blue has a unique story to how their careers came to fruition. From the junior level to the senior squad, USA Field Hockey is putting national team athletes under the spotlight to share their journeys.

Being an elite athlete is one thing; pursuing your dreams and making them reality is another. Whether they spawn within the United States or across an ocean, the goal of being the best you can be does not have borders. Such is the case of U.S. Men's National Team athlete Alberto Montilla, who fell in love with field hockey long before moving state side and representing Team USA.

Currently, one of the youngest members of the USMNT, Montilla grew up in Madrid, Spain and found field hockey through his physical education teacher in the first grade, who played in the top Spanish division and started a club team at the school. Montilla recalled being one of the few kids that tried out and credits his teacher for being one of the first steppingstones of his career.

"His name is Carlos García, and I really do not know where I would be now if he did not push me to stick to field hockey," said Montilla. "I kept going to practice every week and have been playing since then."




After a few seasons playing for his school, Montilla then transitioned to a local club team, Club Hockey Pozuelo, where he got his first experience in the Spanish league.

"Playing in the Spanish league at a youth level was amazing, I made many life-long friends, got to play some very competitive games and qualified for the national club tournament several times," continued Montilla. "I was also part of Madrid's regional selection team, where I got to play in other tournaments where the level was even higher. Growing up playing in Europe was a great experience and is what made me want to keep playing after I moved to the United States."

After moving to Allen, Texas in 2012, Montilla's passion to play continued to grow during his high school years. Each month, he packed his bag and traveled to Los Angeles to play with the Ventura County Red Devils (VCRD) and Bulldogs Field Hockey clubs. His passion to play was supported greatly by his family, as well as the teams and families in the Los Angeles area. Montilla credits his circle of support as a key part of his path to his career. Around the same time, the U.S. Men's National Team's centralized program was based in San Diego, Calif., and with his sights still focused on turning heads within the program, he chose to seek a college education on the West Coast.

He ultimately attended the University of California, San Diego, both to pursue his bachelor's degree in computer engineering and to train daily at the Chula Vista Elite Athlete Training Center. It was the perfect scenario for Montilla through his first year at UC San Diego, only to watch the centralized training program migrate up the coast toward Los Angeles. It did not deter Montilla's ambitions, who spent the next three years traveling back and forth from San Diego to Los Angeles, about 120 miles apart, to train at national team camps and participating in the Moorpark League in Moorpark, Calif.




"This was definitely not what I planned at first but if I could go back in time, I would still choose UC San Diego," said Montilla. "During my time there I grew a lot as an athlete and overall had a very memorable college experience, enjoyed a great city and a great computer engineering program."

Over the next several years, Montilla made a name for himself within the U.S. Men's Olympic Development Pipeline. He was named to the U-19 and U-21 USMNT from 2016 to 2018, touring with the red, white and blue on multiple tours to Chile, Belgium and The Netherlands. In 2019, he formally joined the USMNT and earned his first international cap in the team's test series against Ireland. That same year, he played a key role in USA's performances in the FIH Series Finals and Pan American Games. Now with 17 caps under his belt, Montilla hopes to continue to be a big part of Team USA for years to come.




"Being part of the national team is a huge responsibility," commented Montilla. "From the very beginning you know that you are fighting for a spot and that lowering your standards is not an option. As one of the younger guys on the squad I felt like I needed to work even harder to show that I was on the team for a reason. This meant that I had to train every day with the same intensity we bring to the field when we are on tour."

Montilla went on to say being a part of Team USA gives him purpose to train hard every single day. Their next big mission is qualifying for the Olympic Games, one they came close to making come true in 2019. Regardless of the road ahead, Montilla boasts confidence that goal is attainable and gives the Wolfpack motivation to improve an already well-improved squad.

USFHA media release


---

Oltmans can finally 'return'

By Jugjet Singh



Roelant Oltmans

AFTER a few false alarms, national hockey coach Roelant Oltmans will finally be flying back to Malaysia tomorrow.

Oltmans had a ticket ready a few weeks ago but special administrative visa issues thwarted his return from the Netherlands.

He is expected to arrive at the Kuala Lumpur International Airport (KLIA) in Sepang on Monday.

"Oltmans has finally received the green light to return to Malaysia. Apart from renewing his work permit, we had to secure letters from the National Sports Council and the Immigration Department of Malaysia for his return," said Malaysian Hockey Confederation (MHC) president Datuk Seri Subahan Kamal.

Oltmans joined his family in the Netherlands in late March following the outbreak of the Covid-19 pandemic.

The Dutchman, however, is unlikely to take charge of the national team when they report for training on Wednesday.

"Although he has taken a Covid-19 test (which declared him virus free) in the Netherlands, he will be subject to another test in Malaysia.

"He may have to self-quarantine before he can meet the players in training.

"The immigration personnel at KLIA will advise him accordingly," added Subahan.

New Straits Times


---

Harendra Singh bids adieu to Air India after long sojourn

The former India chief coach has joined a not-for-profit organisation that aims to develop football and hockey at the grassroots in Punjab.

Uthra Ganesan



Harendra Singh has quit Air India after nearly 30 years of service.   -  Biswaranjan Rout

For 30 years he was synonymous with Indian Airlines (later Air India) both on and off the field. At long last, though, Harendra Singh has finally decided to move on to other roles.

The former chief coach of Indian hockey has joined RoundGlass Sports as Technical Head for its hockey programme and would operate out of Chandigarh for the same. RoundGlass Sports is a not-for-profit organisation set up by USA-based Gurpreet Singh that aims to develop football and hockey at the grassroots in Punjab. Interestingly, it already owns Punjab FC, having completed the takeover earlier this year after picking up 50 percent stake in the erstwhile Minerva FC last year.

"For the moment I would shift base to Chandigarh as part of my new duties. Since my son is in [Class 10], the family would join me only after his board exams next year. But this is something I am really looking forward to. All my discussions with the owners so far have been extremely positive and I am impressed by both their vision for sports and their commitment to grassroots development," Harendra told Sportstar.

Till two months back, even as the first batch of Indians returned from abroad during the ongoing COVID-19 pandemic, Harendra was at the frontline at Delhi's Indira Gandhi International Airport, guiding people on necessary precautions and protocols for disembarking and entering the city. As DGM (commercial) with the airlines, he had been spending more hours at the office than at home.

Welcome break

Having quit after almost 30 years of service, however, he is enjoying life at the moment with his family at home. It is the first time in years, he admits, that they have been able to spend so much time together and the forced lockdown has been more than welcome. "Honestly, I think I am actually relaxing properly for the first time in my life. These few months with my wife and kids, I can't remember when we last sat together for lunch and dinner every day for so many days. This has been the best time of my life ever," he admitted.

While Harendra has always been passionate about contributing to Indian hockey in multiple ways, his employment with Air India has often, although unintentionally, come in the way. It meant he had to seek permission every time he had a stint with the national team and, as a government employee, it affected his remunerations. And while he is grateful to Air India for giving him a job and always allowing him freedom to devote time to hockey away from his other duties, it also meant he is yet to own a house of his own.

He hopes to do that now. Harendra had been in talks with a few other academies across India but said the level of comfort and compatibility in terms of both the target and the way towards it with the RoundGlass owners convinced him.

"I have always had a vision of creating an ecosystem for sports at par with the best in the world, something which is not restricted to an academy producing a couple of players for the national team. There has to be infrastructure, kits, selection, training, exposure, tie-ups with foreign clubs, education, everything. It is already visible in their commitment to football and I am looking forward to doing the same for hockey," Harendra signed off.

Sportstar


---

First BBC woman sport commentator receives blue plaque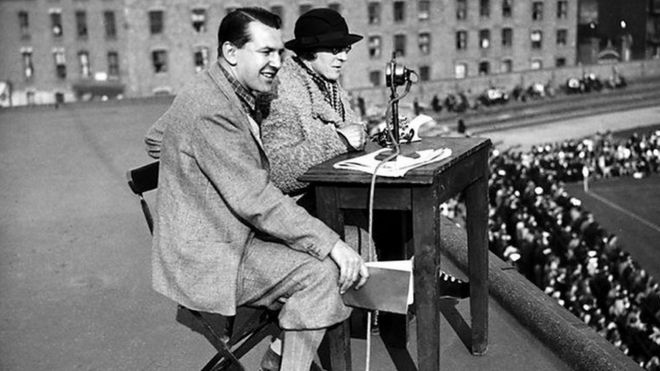 Marjorie Pollard (right), broadcasting at a women's hockey match in 1938, was also a regular women's cricket commentator

The first woman to commentate on sport for the BBC has been remembered in her home town with a blue plaque.

Marjorie Pollard, who was born and educated in Peterborough, played hockey for England 37 times in the 1920s and 1930s, and co-founded the Women's Cricket Association.

Her first BBC commentary was on a men's cricket match in 1935.

Sports lecturer Rafaelle Nicholson said she also wrote for national newspapers on a variety of women's sports.

Pollard, who went to the Peterborough County Grammar School, went on to cover the first women's cricket international match against Australia in 1937.

The BBC did not employ a female football commentator on Match of the Day until 2007.

Dr Nicholson, from Bournemouth University, said: "She really got media coverage at a time when not many people knew about women's sport.

"And she was one of the pioneering women who helped found the Women's Cricket Association in 1926 to enable more girls to play."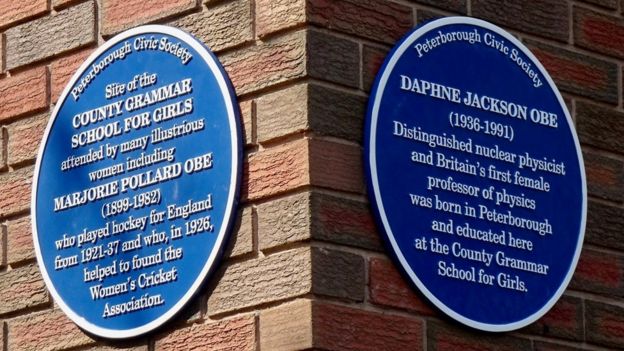 Marjorie Pollard and another pioneering woman, nuclear physicist Daphne Jackson, both went Peterborough's County Grammar School. Image copyright Peterborough Civic Society

The association ran women's cricket in England until 1998, when the England and Wales Cricket Board took over.

Pollard's plaque is among 15 which have now been unveiled by Peterborough Civic Society.

'Real find'

Through a public appeal, it discovered another pioneering woman from the city.

Daphne Jackson - the UK's first woman physics professor - was "a real find", according to society vice-president Toby Wood.

He said her brother Ron, who is in his 90s, told him Prof Jackson, who started working at the University of Surrey from 1971, deserved to have a plaque.

"Her memory lives on in the Daphne Jackson Trust, which helps women scientists return to work after a career break," Mr Wood said.

Plaques honouring both women have been installed on the site of their former school.

A family of 11 who died in the Titanic disaster have also been remembered.

BBC Sport


---

Martin Campbell

Scottish Hockey is deeply saddened to hear of the sudden death of Martin Campbell on 25th June 2020.

Martin was a central figure in officiating in Scotland having officiated in a number of roles at the top level of Scottish Hockey, and putting in a lot of time and effort as a volunteer supporting officiating the sport.

Martin was TD at the Indoor World Cup and was heavily involved in indoor hockey at both national, and international levels.

For many, Martin was one of the first TD's they ever worked with and he had a positive impact on those he worked with, sharing knowledge and his time. He was involved in many indoor tournaments in Glasgow and officials committees.

Martin was Secretary of the EHF Indoor Committee in the years pre-internet where he managed the EHF's Indoor events, spending many volunteer hours agreeing match schedules and planning with our hosts.

Martin was also an international umpire, EHF TD and Umpires Manager.

Martin was awarded the EHF Diploma of Merit in 2005 in recognition of his fantastic work for the EHF.

Scottish Hockey Officials Convenor Barbara Morgan said, "Personally Martin was one of the first TD's I worked with and he was always generous with his time and gave great advice to those of us starting out.

"All those of us in IAP have fond memories of Martin and his wife Beryl; a smashing couple who always had time for people. One of life's true gentlemen he will be sadly missed and I send all our condolences to his wife and family."

Scottish Hockey Union media release