All the news for Friday 26 June 2020

Happy birthday, Manpreet Singh: From teenage prodigy to maverick leader

His consistency in the engine room, reliability and pride in shouldering responsibility have been the career constants of Manpreet who turned 28 on Friday.

Samarnath Soory



Manpreet Singh in action during the 2018 Men's Hockey World Cup match against Netherlands at the Kalinga stadium in Bhubaneswar.   -  Biswaranjan Rout

It was a day before India's final group stage match of the 2018 Hockey World Cup in Bhubaneswar. A direct place in the quarterfinals was at stake following a draw against Belgium and skipper Manpreet Singh was running a high fever.

Head coach Harendra Singh had a worried look on his face as he searched for his captain in the Kalinga Stadium complex. He finally found him in the players' dining area and inquired concerning his health. Manpreet smiled at his coach and replied "Kal toh zaroor khelunga. Ye toh kuch nahi hai." (I will definitely play tomorrow. This is nothing.)

The coach's trepidation vanished when Manpreet sent a pass fizzing across the goalline in the opening minutes of the match. He pulled the strings in the centre, broke opponent attacks as India routed Canada 5-1 to reach the quarters.

This undoubted reliability and pride in shouldering responsibility have been the career constants of Manpreet who turned 28 on Friday.

The qualities of a top player were evident very early in his career. Harendra recalled watching the Jalandhar lad at the junior national team trials in 2011.

"He was supremely talented when I first saw him at the 2011 national camp trials. Jugraj Singh (former defender) spoke very highly of him. He was not selected initially, but he got into the senior team later that year," he said.

While playing his first major tournament in the 2011 Champions Trophy, the 19-year-old Manpreet was still trying to fit in the team.

"When he first joined the team in 2011, he was given the space to make mistakes. But he picked up things very quickly. He would learn a lot by looking at the seniors such as Sardar Singh, me and Sreejesh. At that time, there were 7-8 players in the team who had to deliver top performances to inspire the rest to give their best. Very soon, Manpreet was among those top performers," former defender V.R. Raghunath said.

His consistency in the engine room eased the pressure off his teammates. Even when he was tasked to marshal the midfield all by himself, he delivered without fail.

"I still remember the 2014 Commonwealth Games semifinal against New Zealand. We were under pressure as Sardar Singh was suspended for the game. Manpreet took the responsibility of playing halfback and made sure we were solid in the midfield. We won the match 3-2 and reached the final," Raghunath said.

- Jack of all trades -

Manpreet's confidence stems from being the jack of all trades. According to Harendra, there is no position on the pitch which he cannot ace.

"He could easily fit into five or six positions across the pitch. He could make the ball look like its glued to his stick, dribble with it while looking forward and finding his teammate. He is the perfect example of a modern-day hockey player," the former Indian team coach said.

The Indian skipper's defending ability is a thing to behold. During the recent FIH Pro League second match against Australia, the Indian circle went haywire with five attackers having a go at the goal.



Manpreet Singh receiving the Sportsman of the Year Award (Team Sports) during the Sportstar Aces Awards function in Mumbai.   -  R. RAGU
 
Manpreet managed to get hold of the ball and slipped. In a flash, he was back on his feet while guarding the ball with the bow of his stick and cleared the ball away from the circle.

"If you look at attack-minded players, they jump too soon into a tackle. The art of tackling is to resist a jab at your opponent's stick. Manpreet waits for the moment where the opponent is off balance and then makes his move. He has the finesse of an elite defender," Harendra said.

Inquisitiveness is another key element of Manpreet's learning as he is always ready with a question for the coaches.

"He is among those players who can throw a challenge to the coach. During the team meetings, he would create a match-time scenario and ask 'what should we do then?' It is a quality every player needs to have in order to develop his game," Harendra said.

- Donning the captain's hat -

But it was not all bed of roses for Manpreet. Since being handed over the captaincy in June 2017, he suffered multiple heartbreaks, including the quarterfinal defeat in the 2018 World Cup and a semifinal defeat at the Asian Games in the same year.

The defeats had defined his leadership style. There would be no preferential treatment of senior players, dressing room would be a place full of laughs and pranks with a playlist of Bollywood and Punjabi music playing in the background.

"The (World Cup) quarterfinal defeat was a bitter pill to swallow. Each one of us was down and so was Manpreet. As we sat in the team bus, he made sure he spent time talking to each of us individually.

"I think things that went wrong at Asian Games and World Cup served as a lesson for the team. I can see the improvement from the way they have played in the Pro League," Harendra said.

Sportstar


---

Hockey Teams Focussing on Strength Training During Stay at Home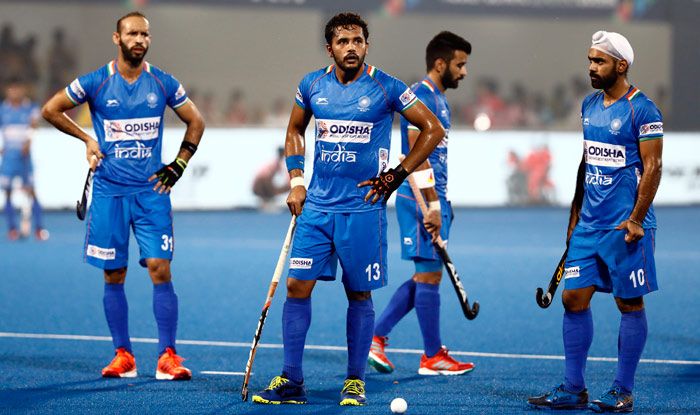 Midfielder Vivek Sagar Prasad said that Arkell has suggested a training plan which focuses on the lower back and hamstring.

The Indian men's and women's hockey teams have been spending quality time with their families after being given a month-long break last week. Also Read - COVID-19: ECB Cancels Dynamos Cricket, Other National Competitions

Men's team forward Ramandeep Singh expressed that he will be taking rest for a few days before resuming his fitness training at home. Also Read - COVID-19: With Biggest Single-Day Spike of 17,296 Cases, India's Tally Nears 5-Lakh Mark; Death Toll Reaches 15,301

"It's been great to be back at home after a long camp. I have spent quality time with my family while taking rest at home. Our Scientific Advisor Robin Arkell has given us a few directions about how we should carry out our fitness training here. I will start doing some basic exercises which require minimal equipment such as push-ups and crunches from next week onwards," said the 27-year-old. Also Read - BS Yediyurappa Warns of Another Lockdown in Bengaluru; Final Decision After All-party Meet Today

Midfielder Vivek Sagar Prasad said that Arkell has suggested a training plan which focuses on the lower back and hamstring.

"It"s important to continue focussing on our fitness at home as well. Robin has suggested a training plan which focuses on our lower back, hamstring and all the parts in our body which are important for hockey. The exercises in the fitness schedule will help keep our important body parts strong and healthy," said the 20-year-old.

The women"s team was at the Sports Authority of India campus in Bengaluru since February for the national coaching camp, while the men"s team arrived in Bengaluru in the first week of March. The athletes will be recalled on July 19 to resume sports activities as part of their preparations for the Tokyo Olympic Games.

Meanwhile, women's team forward Navjot Kaur said that the entire side will be focusing on strength training and hockey-specific muscle groups during their break at home.

"During our stay at home, we will be focusing on strength training and hockey-specific muscle groups. We worked very hard on our fitness during the lockdown and we will definitely continue to work on it at home as well. We can certainly use this time to improve our strength and endurance," said the 25-year-old.

Defender Gurjit Kaur added that the team will be also doing some exercises which they carried out during the lockdown at the SAI campus.

"We got used to carrying out our fitness schedule in our rooms in the past few months. We will certainly carry on with push-ups and crunches at home as well. Since I have come back home after a long time, I am taking rest for a few days. I will start my fitness training in a week's time. We have been directed to focus on our strength training during this period," said the 24-year-old.

India.com


---

National hockey team to report on July 1

By Jugjet Singh




THE Malaysian men's national team will restart training at the National Hockey Stadium in Bukit Jalil on July 1.

Upon arrival, the trainees will be tested for Covid-19.

The national junior team, meanwhile, will report five days later.

"We have prepared a comprehensive standard operating procedure (SOP) for the senior players.

"All trainees and coaches will be tested for the virus to make sure they have a safe start to field training," said Malaysian Hockey Confederation (MHC) deputy president Datuk S. Shamala.

The MHC held a meeting with coaches on Wednesday to get feedback about the SOP and the condition of players.

"The senior players will start first as they have to prepare for the Asian Champions Trophy in November," she added.

The juniors will be preparing for the postponed Junior Asia Cup, a qualifier for next year's Junior World Cup.

The new dates for the Junior Asia Cup have not been confirmed yet.

New Straits Times


---

Zaimi eyes national training – to prepare for Razak Cup

By AFTAR SINGH

KUALA LUMPUR: There are no competitions for the Malaysian national hockey team this year but goalkeeper Mohd Zaimi Mat Deris is still counting the days to July 1 when he can resume training.

The Terengganu star wants to be back at the National Hockey Stadium in Bukit Jalil to start preparing for the Razak Cup which will be held from Sept 18-26.

It will be a welcome return to the Razak Cup for the 22-year-old. Last year, the national players were barred from playing in the tournament as they were preparing for the two Olympics qualifier playoff matches against Britain in London.

"This year, there are no tournaments for the national team and we will be allowed to play for our respective states.

"I am very excited to return to training with the national team. I feel bored training at home for more than three months," said Zaimi.

The other goalkeepers called up for national training are Mohd Hairi Abdul Rahman, Adrian Andy Albert and Mohd Hazrul Faiz Ahmad Sobri.

Maybank employee Zaimi, who is the least experienced with just two international caps, said the keeper's pads would weigh heavy on him now after three months.

"But I should get used to it in a few weeks before the Razak Cup starts.

"I last played for Terengganu in the tournament in Ipoh in 2018 and I hope to help my state win the title this year," said Zaimi, who helped Terengganu win the Razak Cup Division Two title in Kuantan in 2016.

There is a change in the Razak Cup format this year as there will be no two divisions but will be divided into two or three groups, with seeded teams heading each group.

MHC competitions committee chairman Datuk Seri Anil Jeet Singh said they have sent letters to all states on Tuesday asking for bids to host the tournament this year.

"We are expecting all states to feature in the annual tournament," said Anil.

The Star of Malaysia


---

Gormley's shock call to take on top Bundesliga coaching job



Ronan Gormley during his Irish playing days. Pic: Adrian Boehm

Ronan Gormley has landed a huge first head coaching job as the former Irish captain has been co-opted to take on the top job at Crefelder HTC in the German Bundesliga.

It was a job offer that came completely out of the blue for the former Pembroke and Club de Campo man who played with Crefeld between 2012 and 2018.

"I was a little bit surprised Crefeld reached out to me," he told The Hook. "I heard they parted ways with the last coach but didn't really think anything of it. The club was the reason I came to Germany and so [when they asked if I was interested] I thought it would be good to chat to the president Dirk Wellen."

He was duly successful after an interview with five members of the club board. The move toward coaching was always in his mind; he had previously worked with the Campo youth school while his last two seasons with rising second tier outfit DSD Düsseldorf had seen him lead weekly sessions in addition to playing.

A club packed with young talent, Gormley – and fellow Irishmen Maurice Elliott – were deployed as experienced hands to guide the club's development.

The Olympian admits the head job at Crefeld – who were in top four contention when this season was put on hiatus – will be a whole new realm but one which he feels he has a lot to offer. 

He was a famously pivotal figure in changing the Irish senior men's mindset and culture, not content to chug along in the usual way but ambitious to pursue a spot at the top table. 




Such an attitude was steeled during his schooldays at Sandford Park, the tiny Ranelagh school. With just 14 hockey players in the top three years and only an astro tennis court on campus to work with, they defied the odds to win the Leinster Senior League in 2000. 

An old school coach marvelled at Gormley's organisation of his team mates to take active charge of organising the balls, bibs and cones. The "no excuses" mantra that underpinned the national team's rise was already apparent, a leader in the making.

His career culminated in Euro bronze, qualifying for Rio and breaking into the world's top ten as well as Euro Hockey League silver with Club de Campo; with Pembroke he won everything including a quadruple of Irish Senior Cup, Leinster league, EuroHockey Trophy and All-Ireland Club Championships in 2008/09.

"At the end of the last year, I reached out to the German federation about what my pathway is toward badges but I didn't realise [an opportunity] would come about so quickly. Those badges will be done but it will be a steep learning curve. 

"That was part of my consideration and whether I would be out of my depth. I have always been a player who is coach-minded and it's a role that suits me. 

"It is a big challenge but I look at the team and staff in Crefeld and it is very strong. I have a very good assistant coach who has built himself up from the youth and is highly specialised in the video analysis.

"If it was any other club, I wouldn't have done it but there is a very high level of trust in me. They explained why they reached out and how I would fit in there."

Mentors are not hard to come by. Gormley has already been in touch with Paul Revington and Craig Fulton – fellow architects of Ireland's golden era – and hopes they will continue to have an open dialogue.

"There are loads of things I learned along the way about trying to lead a group of people to a common goal and all the different elements of how we improved as an Irish team was amazing to be part of. 

"If I can mirror that in my own way, that would be an exciting prospect and I am lucky to have that kind of person to touch base with."

As is typical of the man, he is taking no half measures. The club initially outlined the role as an add-on to his day job, working with Bord Bia to help Irish food companies attempt to set up in the German market.

Gormley, though, was keen to carve out more time in his schedule for the coaching role, aligning his client list accordingly amid his work-life balance with two young kids also on the agenda.

All the while, he will also have an influence on a number of Irish talents with Jonny McKee confirming he will make the switch from Banbridge next season. He sees McKee as an important face at the club with key striker Niklas Wellen – son of the club president – moving to Pinoké in the Netherlands this term.

Fellow Green Machinists Michael and Callum Robson, Matthew Nelson and Neal Glassey all played in the first half of the 2019/20 season before the pandemic took hold, adding to a sizeable Irish diaspora.

"The initial connection was established by Timmy Lewis who made a very good impression; me and Eugene [Magee] followed and Jason Lynch. 

"Even on a non-hockey level, the Irish-German connection is strong; there's an appreciation one for the other and every Irish player that has come over has made a good impression. 

"On a hockey proficiency-level and, also, a personal level, it is a family-oriented club so they appreciate people who are going to fit in. The club has a target of producing more homegrown players but there is a need to supplement it with international players and so it works well."



Gormley shaking hands with fellow Crefeld man Michael Robson at the former's testimonial in 2018. Pic: Sinead Hingston

Gormley is hopeful that some or all of them will be around again should personal circumstances allow when the dust settles and a clearer picture of how the season's schedule is laid out. The Bundesliga is provisionally set to restart in the first week of September; he starts up the job at the end of July.

Given his playing pedigree, success and drive, would he be eyeing up a longer-term view of the top Irish job?

"I have enough on my plate right now getting up to speed with Crefeld; we can look at that at a much later date!"

The Hook


---

"They instilled in me that it didn't matter I was a girl, I could do anything I wanted"



Hollie Pearne-Webb Rio 2016

From attending a school with just 11 children in her year to becoming an Olympic champion and captain of her country, Hollie Pearne-Webb's journey to the top has been remarkable.

Despite growing up in the small countryside town of Belper in Derbyshire, she was always destined to achieve greatness.

Why? Because, from a very early age, she was allowed to believe she could by two very important people.

"By far the biggest influence has been my parents," the 2015 European champion said whilst speaking to GB and England team-mate Emily Defroand in the latest episode of #CuppaNNatter.

"They're not hockey players; they're not sporty at all. I've never seen my mum run, she can't swim.

"But they always instilled in me from when I was little that it didn't matter I was a girl, I could do anything I wanted to do. They got me into football and cricket and everything. They always said that if I was willing to work hard enough, I could do anything I wanted to do.

"I definitely didn't really believe them and I wasn't and am still not the most confident person but it definitely gave me a work ethic and a mindset that I'm not going to give up, I'm going to enjoy it and I'm going to give it my all to achieve what I want to achieve. In terms of attitude and the mental side – which is the biggest thing in elite sport – I'd say my parents [were the biggest influence]."

For a town with a population of just under 22,000 people, the number of international stars produced by Belper HC has been remarkable. This includes the likes of Pearne-Webb, Anna Toman and former England and GB forward Ellie Watton.

Alongside her parents, Belper were also crucial in allowing a young Pearne-Webb to believe that anything was possible.

At a time where women in sport was still somewhat of a taboo subject, where female athletes were often kept far away from the public imagination by the media, they also showed her that hockey was a place for anyone regardless of their gender.
 
"I was really lucky that I grew up in Belper. [My parents] took me down to the local hockey club on a Sunday morning and I just picked up a stick, started playing and loved it," the 2017 EuroHockey Championship Player of the Tournament recalled.

"I think I loved it so much because it was both boys and girls, you weren't separated. It was competitive, aggressive, fun and I just loved it from day one.

"The amount of volunteers at the Mini Hock on a Sunday morning, whether they were parents or hockey players, to help us as youngsters gave me the buzz and the love of hockey.

"I also had a really good junior hockey coach at Belper called Tim Barlow who coached a number of the girls in our squad and girls who have retired. He had a huge influence in terms of naming the basics.

"I'm not one of the most skilful or talented players and never will be but learning the basics gave me a huge love of the game and then I started to develop what sort of player I was going to be and what my strengths were."

During her interview with Defroand, the former Surbiton defender spoke about how she often uses her spare time to sit back and reflect on her moments in career.

Listening to her speak, it's clear just how grateful Pearne-Webb is to her mum and dad for the sacrifices they made to ensure she could do what she wanted. She knows that if it wasn't for them, she may not be where she is right now.

"I'm really, really lucky that my parents gave me and my sisters the opportunity to do everything," the 29-year-old said.

"Because my mum had all girls she wanted us to be ballerinas so we went to ballet and I definitely didn't enjoy it, it was probably one of the only things I haven't enjoyed so I gave that up pretty soon.

"The love of sport came quite early on and that's purely down to them giving me the opportunity by taking me to swimming or athletics or whatever. They were never in, one of them was always taking us to a sporting event. On a Saturday I would go from a football game to a hockey game and I would play in the boys' cricket team at school.

"They probably don't realise the impact they've had by just giving me the opportunity. We didn't have a hockey pitch at school so we were never going to get those opportunities there.

"It was the opportunities parents gave us by throwing us out there to sports clubs. I'm very, very thankful they did that and they gave up their lives driving us around the country to play sport."

Great Britain Hockey media release


---

NextGEN athletes connect with national team players in newly formed mentorship program

Men's National Team supporting the growth and development of the nation's next generation.




Jagpreet Singh first played for Team Ontario U14 when he was 10-years old and despite his team losing every game that year at nationals, he was hooked. Now, the 20-year-old from Mississauga, Ontario is a part of the Canada's NextGEN program and is eligible to be selected for the upcoming Junior National Team for the Junior Pan American Championships.

Singh, who has been a part of Canada's NextGEN program for several years, said there's been ups and downs in the structure and training environment in Ontario where he grew up. With the national team program being centralized in BC, there has long-been a west coast centric feeling. He said the new mentorship program, initiated last month, is a positive step forward in connecting the national programs across the country.

"The whole atmosphere is great. Guys giving you feedback and supporting you, it's really motivating," Singh said. "And I'm grouped with other [NextGEN] guys from BC and Quebec. I've even been on tour with some of those guys so I'm comfortable with them. We're online for 30-40 minutes, it's not too long and it's motivating for me."

The NextGEN coaching staff has matched 41 junior-aged athletes with leaders from the men's national team. The groups engage in weekly video calls, in which the young players can ask questions and hear stories from the older, more experienced athletes. The NextGEN mentorship program is the brainchild of Vancouver-based Indy Sehmbi, Canadian junior national team coach.

"I was reflecting on my experience as a men's field hockey player growing up in Canada, and I realized that I had a close connection with players on the senior men's national team," Sehmbi said. "And as I asked around, I learned almost every current men's national team player has been impacted by former national team players as well."

The program really found its legs as a substitute for on-field training over the past month. As the country continues to deal with differing levels of "Return to Play," no one really knows when sports will return to normal. According to Singh, the at-home time had him reflecting on his ambitions in the sport.

"Honestly, during quarantine, I was questioning about whether or not to stay in the program. But after talking to [my mentor] Scott Tupper and hearing his stories about the Olympics, World Cups, Commonwealth Games…motivated me to stay and keep working."

Using Field Hockey Canada's tight-knit community as an advantage

Considering that Field Hockey is not as ever-present in the Canadian media like some mainstream sports, the only way to see the top players in the country is either at your club or the occasional live-streamed international match. With the introduction of the mentorship program, Sehmbi aims to connect the young athletes to community role models from the senior national team.

"Because our sport is small in Canada and we don't have wide-spread media coverage, most interactions are face-to-face." He said. "And we do our best to use this accessibility as a strength."

During his research and reflection, Sehmbi understood that not every club and region has regular access to that connection with the sport's elite.

"Take Quebec for example or Brampton," Sehmbi said. "Brampton probably hasn't seen a men's national team player in over ten years. We have all these role models in the community, we want them to connect with the next generation of national team players."

Zack Coombs is a 19-year goalkeeper in the Canadian NextGEN system. He lives in Chelsea, Quebec, where there is a small but dedicated field hockey community that features eight NextGEN athletes. Since the quarantine began back in March, Coombs has been trying to get creative with his training and development and has stayed engaged with the NextGEN programming. He said that the newly introduced mentorship program is a refreshing and motivating addition to the environment.

"It's been a really rewarding experience for us. We're starting out our careers and it's been really nice to hear the advice and knowledge that the [senior athletes] have," Coombs said. "We've talked about strategy and how to apply them in a game. We've watched some video together. All these small things can eventually add up to a bigger overall picture."

A mutually beneficial relationship

Men's National Team player, Matt Sarmento, is one of the mentors involved in the program. He said that his role is to be there for the NextGEN players, to help answer questions and to facilitate workshops and sessions.

"I have five kids I've been working with during the last few weeks. I think for me, if I can even provide 10 per cent more clarity on something or say something that really encourages one of them, that's worth it for me. Who knows; I could be teammates with a few of them in the future."

Sarmento's path to the national team did not feature years of junior level field hockey, in fact, he played primarily ice-hockey until he made the shift when he was 20. He then made a meteoric rise to the men's national team. According to Sarmento, his unique story shows that there are different paths to making it to the top.

"I didn't have that upbringing around the sport that many others did," he said. "But once I did make the team in 2013, I was surrounded by role models and veterans that had been to World Cups and Olympics. So, I do think it's good for the young guys to be able to bounce ideas off someone who has been through it all before and has that experience." Sarmento noted that the mentorship program also allows a unique opportunity for self-reflection for the mentors as well.

A lasting impact

The sporting community worldwide has been barricaded from using fields and other facilities for months. Birthed out of this social and sporting isolation, the program started over a month ago, and according to Sehmbi, so far, the reception from all participants has been terrific.

"The kids are like sponges. They want to learn, and they are particularly interested in the older athletes' stories." Sehmbi said. "The idea behind this program is that it's ongoing. Even when we do return to the field, these guys will now have this connection to the older athletes that they can lean on forever."

Despite the uncertainty surrounding the global pandemic and what it means for hockey competitions, the NextGEN program has set a clear target and drive towards the Junior Pan American Championships, slated to be held in April in Chile. If successful, the team will advance to the Junior World Cup projected for the end of 2021 in India.

Field Hockey Canada media release


---

FIH partners with Kayford Branding to maximise its Official licensed products offer worldwide




Lausanne, Switzerland: The International Hockey Federation (FIH) is delighted to announce that it has signed a 4-year partnership (April 2020 – December 2023) with official licensed products leader Kayford Branding.

Kayford Branding come with great experience building up the licensing business for some of the biggest brands in football, rugby, basketball, tennis and the world of entertainment, to name a few.

They will be offering official licensed products across multiple categories for hockey fans across the world. The deal includes all FIH Events during this term.

Thanks to this agreement, hockey fans around the world can now not only look forward to buying their favourite official licensed products on a regular basis at FIH events but also enjoy the e-store services that will be brought to life on the FIH digital platforms in the future.

Kayford Branding CEO Leon Li said: "Kayford Branding is since 7 years active in the world of Sports Licensing & Merchandise. We are long term partners of i.e. FIFA, UEFA, Chinese Super League and various football clubs and Federations in Europe and Asia. Therefore, we are very pleased and proud to partner up with FIH to build further together on the implementation of official licensed products for the Hockey Lovers on a Global Level."

FIH CEO Thierry Weil stated: "Official licensed products are an integral part of the fan experience and it is important to increase our presence in this field. We're really glad to engage with such a reputed and established expert company as Kayford Branding. Together, we will strive to ensure that hockey fans have an easy access to exciting official licensed products they love and need!"

FIH site