All the news for Thursday 28 May 2020

Goal-scoring machine par excellence, Balbir Singh Senior's legacy is secure in pantheon of India's hockey greats

Sundeep Misra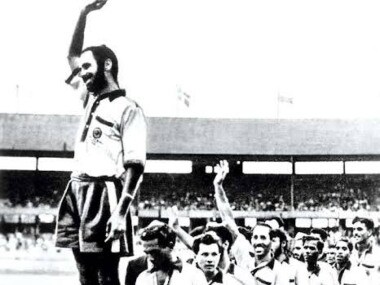 Balbir Singh Sr led India to their third consecutive Olympic gold medal post-independence in the 1956 Games. Image credit: Twitter/@sachin_rt

In the period between 1928 and 1956, all of 28 years, the rest of the hockey world chased shadows on grass. India played exquisite hockey - inhabiting a rarefied atmosphere of finesse, skill, deftness, and guile. It was a world where wrists rolled, the shoulder dipped in one direction, the body the other way; the ball a gurgling sphere of leather, in love with the curve of the Indian stick as it caressed, nipped, pushed and flicked it past the opponents, the fans looking on in delight and amazement. Against the rough, hard, hit-and-run of the Europeans, the Indians were magical, a team of wizards who could conjure tricks where none existed.

Balbir Singh Dosanjh (senior) was ruthless, slotting in goals like swatting flies. He was the 'master of the D', the 'killer in the striking circle', a glittering star in the pantheon of stars that Indian hockey threw up between '28 and '56 – that hot streak of six consecutive Olympic Gold medals.

His passing away ends an amazing period in Indian hockey that not just defined the sport but also provided a template of how modern strikers were perceived. Yet, the most challenging question remains – where does Balbir Singh Senior's stature place him in the pantheon of Indian hockey stars? It is an easy yet an extremely difficult answer. Not because as the cliché goes - 'every era is different, with styles of play defining each and every star'. But there is the need to separate history from hysteria.

Legendary Dhyan Chand is an obvious comparison but so are players such as Roop Singh, Feroze Khan (who later immigrated to Pakistan), Gurmit Singh Kular, Udham Singh, and Leslie Claudius. Slightly later into the 1960s came Prithipal Singh, Harbinder Singh, Ajit Pal Singh and then in the early and later 1980s, names like Mohammed Shahid and Dhanraj Pillay.

To narrow down the choices and understand Balbir's place in Indian hockey history, it would be better to list a top five dream team choice – Dhyan Chand, Roop Singh, Balbir Singh Sr, Udham Singh and Leslie Claudius. Effectively, we have three forwards, Dhyan Chand, Roop Singh and Balbir Singh. Udham Singh did play inside right and left but he (we will come to that later) could play in any position and did, except for the goalkeeper. Leslie Claudius played half back but was extremely effective even as right and left-back.

Dhyan Chand and his brother Roop Singh redefined the meaning of goal-scoring. Roop was an all-out striker, playing wings effectively also. Dhyan was more of a playmaker, the all-rounder in the side who had the control of a dictator. He was languid, with breezy runs, as he sauntered through the midfield, the stop and pass ensuring that players like Roop, Feroze and Gurmit Kular got the goals. Dhyan was himself a poacher, scoring 14 goals in 1928 Olympics. A newspaper wrote: "This is not a game of hockey, but magic. Dhyan Chand is in fact the magician of hockey."

As field hockey gained prominence at the Olympics, so did Dhyan Chand and by the time the 1936 Olympics ended, the legend had been created. His colossal, towering talent was almost mythical, created on pure skill. His run on a grass field and the sudden dip of either shoulder as he swayed back and forth threw most opponents off as they failed to understand which way the stick moved. The ball danced like a puppet on a string.

India's clamour for glory and dignity in pre-independence years came off Dhyan Chand's stick. His goals served as enormous cannon-ball shots in the already dying fabric of British imperialism. Imagine, if the Olympics had been held in 1940 and 1944. It is not too difficult to think of Dhyan Chand with at least four Olympic Golds. Or even five!

Balbir Singh's run began at the 1948 London Olympics. The expectations were high. India, newly independent, wanted to continue their golden run. The splitting of the sub-continent gave birth to two teams – Great Britain and Pakistan. It also served as the reincarnation of Balbir Singh from a full back to a centre-forward, to be more precise, a striker.

Once in Kolkata, I had the opportunity to have lunch with Leslie Claudius at his apartment and one of the questions, I asked was how good was Balbir? It is a testament to Leslie's greatness, a player who has won four Olympic medals, three gold and one silver, to speak about his former captain with so much respect and awe. He said, "The striking circle was his. All he needed was the ball. His skill was playing with the stick close to the body, every inch of space utilised, the strike towards the goal could come from any angle." And how would you describe yourself, I continued, as he laughed and said, "Oh, I was a utility player."

Technically, many players of his era and a few who came after him have said, Leslie was one of the best. Sharp, an excellent trapper, he could change the flow of the game and by the time he played his third Olympic, Balbir's third and last, Leslie was proficient in reading the opponent.

Balbir played in two matches in London, scoring eight goals with six in one game against Argentina, a double hat-trick. By the next Olympics, he was without doubt the most lethal striker in world hockey. In the semi-final against Great Britain, he scored thrice against what was the best defensive team at the Games. On that day, his speed and control over the ball inside a striking circle that had become rough and worn out, was outstanding. In the final, India thrashed The Netherlands 6-1, five of them scored by Balbir. Out of 13 goals at the Games, Balbir had scored nine.

Balbir was captain at the 1956 Melbourne Olympics. After scoring five goals in the match against Afghanistan, Balbir broke one of his fingers and only came back to play in the semi-final and final.

India won the semi-final against Germany 1-0, thanks to a Udham Singh goal and then beat Pakistan 1-0 in the final off a Randhir Singh Gentle penalty corner drive. The Indian Express wrote after the final: "There was no need for Balbir Singh to have played with a bandaged finger and with the aid of three pain-killing injections. Hardayal Singh in excellent form and fighting fit was languishing on the side-lines."

The late R Sriman, former sports editor of The Times of India, once on a flight to Berlin for the 1995 Champions Trophy explained Balbir's legacy to me. Sriman also covered the 1956 Melbourne Olympics. I could never know if he was the journalist who wrote the reports in The Indian Express as the byline was always 'By a Special Representative.' However, he did say that despite Balbir not playing to potential because of a broken finger, his striking ability was second to none.

I do remember bits and pieces of that conversation, apart from an insightful brief into why Indian hockey could not keep up with the Europeans. Sriman praised Balbir's positioning in the striking circle, calling it his strength, and also said that Balbir and Udham formed a potent partnership. The closest one came to see a modern-day Balbir Singh was Spain's Pol Amat - excellent skills with a sudden burst of speed and a cracker of a shot.

It remains unclear if Balbir Sr playing himself ahead of fitter colleagues created resentment in the Indian Hockey Federation that kept him out of the reckoning for the 1960 Olympic team. Like Dhyan Chand who missed two Olympic Games because of the War, Balbir might have picked up a fourth gold in 1960 at Rome or prevented India losing their first Olympic final against Pakistan. Leslie Claudius was the captain of the 1960 team.

It was Balbir's partnership with Udham Singh, probably the most underrated Indian hockey Olympian of all time, that set the tone and rhythm. Udham was the quintessential utility man – flanks, inside positions, at the halves and even in defence, he played in all spots. Balbir had, on a number of occasions, acknowledged the wonderful on-field chemistry he had with Udham.

It is quite remarkable that despite scoring the winner in two consecutive Olympic semi-finals ('56 and '60), Udham has never been considered a star. At the 1956 Olympics, Udham scored 14 goals. Yet, he is a footnote. I remember going with Olympian Col Balbir Singh to visit Udham's residence in Jalandhar, a few years after his death. The house was being freshly painted and many of his trophies and medals were piled in a corner. Among them were the 1952 and '56 Olympic gold medals! It is only when family members were told that these are Olympic gold medals that they were dusted and kept in a cupboard.

Balbir's legacy, apart from the three Olympic gold medals, becomes richer because of his successful stint as Indian coach and manager. Not many top players get into coaching, a high-pressure job that can take a huge toll, emotionally.

Balbir's moment of glory outside of the Olympics was in lifting the 1975 World Cup as team manager. Probably the worst moment must have been when Pakistan defeated India 7-1 in the 1982 Asian Games in Delhi, an Indian side he managed. After that humiliating defeat, where the Indian Prime Minister Indira Gandhi walked off at the break when Pakistan led 4-1, a lesser coach/manager would have given up, gone into his own rabbit-hole, trying to come to terms with what was 'a bloodbath at the National Stadium.' But Balbir brought the group back and within a few weeks travelled to Australia for the Esanda tournament where they beat Pakistan 2-1 and went into the final. Balbir dug deep and found reserves of strength that even the team never knew existed.

History will look at Balbir generously, as an Indian hockey star revered and venerated almost as much as Dhyan Chand. Both won three Olympic golds. Both set extremely high standards. In terms of play, since both had a decade separating them, comparing them would be futile and unnecessary.

In the last two decades of his life, Balbir's inner circle may have pushed the PR machinery a bit too much to solidify his legacy. Yet, his life is a study, a lesson, for any Indian athlete or hockey star on the role discipline and training play in making you the best in the world. Balbir chose a striker's role and excelled; scoring five goals in a 6-1 Olympic final is no fluke. Dhyan Chand or Balbir Singh Senior, both inspired the next generation of players through the decades. That is nothing short of greatness.

Firstpost


---

Vale Balbir Singh Sr.




Hockey Australia joins Hockey India and hockey fans around the globe in mourning the passing of Indian and world hockey legend Balbir Singh Sr.

The gold medallist at three consecutive Olympic Games died at the age of 95 on Monday, leaving a profound legacy on the sport of hockey.

Australian audiences were privileged to have seen Balbir Singh Sr. play LIVE as he captained India's team that went on to win gold at the 1956 Melbourne Olympics against arch rival Pakistan.

Four years earlier he scored five goals in the gold medal match against the Netherlands in 1952, his haul a record that still stands today for the highest number of goals scored by an individual in a men's Olympic hockey final.

Regarded as a legendary goal machine and hockey maestro among a host of other compliments, Balbir Singh Sr. was an integral part of India's golden and dominant hockey era.

Following his playing days, he went on to coach his country to World Cup glory in 1975.

Hockey Australia sends its condolences to the family of Balbir Singh Sr. and the Indian hockey community at this time.

Hockey Australia media release


---

Against all odds: Sandeep Singh's sensational hockey comeback from a tragedy which nearly killed him

After being accidentally shot in 2006, the drag-flicker returned to play in India in 2008 and helped them qualify for the Olympics after eight years.



India's Sandeep Singh celebrates after scoring a goal during their match against Pakistan at the men's Hockey World Cup. | Danish Ismail / Reuters

Will he be able to make a comeback? Will he able to regain the fitness he had before? Will he be able to ever walk again? There were a ton of questions surrounding the return of Sandeep Singh in 2006 after a tragedy that turned his world upside down and nearly ended his hockey career.

It happened on the morning of August 22, 2006 when he was on his way to join the Indian national team in Delhi ahead of their departure to Monchengladbach, Germany for the FIH Hockey World Cup in a matter of few days.

The then 20-year-old Sandeep was travelling on the Delhi-Kalka Shatabdi Express with another India teammate, Rajpal Singh when a bullet pierced through his lower back.

Not only were his dreams of making an appearance at the World Cup shattered but the incident also cast doubts on his future. It meant a long-term absence from the hockey field as he was paralysed and bed-ridden for months.

The Field

Doctors had even suggested Sandeep that he would never be able to walk again, let alone play hockey. As a youngster who was tipped to scale greater heights, Sandeep was heartbroken. All he would constantly think about was getting back on the field with a hockey stick in his hand but he was confined to his bed.

The struggle was not only from a physical point of view as Sandeep had to also battle periods of loneliness and negative thoughts that crept into his mind.
But his unrelenting passion for the game, determination and never-say-die attitude helped Sandeep make a stunning return to the hockey field where he would go on to achieve success again. Defying the odds, his comeback was a true testament of the triumph of the human spirit.

Sandeep's journey to the hockey field

Sandeep was not attracted to hockey at first, but the kits and shoes owned by his brother Bikramjeet Singh made him envious. He soon took up the sport after his parents assured him that they would offer to pay for his hockey gear.

"Sandeep was so fascinated by Bikram's sports gear that he too wanted to play hockey," his mother Daljit Kaur Singh said. "Once he told me, 'Ma, even I want them.' I said you get them only if you play the game."

After playing for domestic teams at the youth level, Singh made his first appearance for the Indian team in 2003 after he was selected for the Junior World Cup to be held in Karachi. The drag-flicker stole the limelight, scoring 12 goals, the highest in the tournament as he led India to the trophy for the first time in history.

The Shahadabad-born player's performances soon caught the eye of national team selectors as Sandeep made his senior debut at the 2004 Sultan Azlan Shah Cup, becoming the youngest Indian player to play for the senior side. Later that year, he was part of the Indian squad for the 2004 Athens Olympics, becoming the youngest field hockey player represent his country in the history of the quadrennial event.

A bullet that changed his life

Named 'Flicker Singh' for his clinical ability to score through drag-flicks, Sandeep established himself a crucial cog of the Indian team at the age of 20. The youngster was looking to make a name for himself at the 2006 Hockey World Cup before the tragic incident occurred at the Delhi-Kalka Shatabdi Express.

That Tuesday morning, Sandeep had boarded the train from Chandigarh at 8.30 am which was scheduled to reach Delhi at 10 am. Armed guards are usually present on the Delhi-Kalka Shatabdi Express as a number of VIPs, politicians, governors and many others frequently travel by train.

Sandeep was seated in the C-10 coach of the Express train, and a Railway Protection Force officer, sitting right behind him was cleaning his rifle before he accidentally pulled off the trigger and shot the hockey player. The RPF officer was later arrested and even suspended from his post but as Sandeep was accidentally shot, the train was forced to halt at Kurukshetra. Officials soon rushed him to a nearby civil hospital.

When Sandeep gained consciousness after being in a coma for days, he found himself at the Post-Graduate Institute of Medical Education and Research, Chandigarh where he was transferred to from the Kurukshetra civil hospital.

Such was the impact of the bullet that it had not only fractured the hockey player's spine but also caused damage to other organs including the kidney, liver and stomach – which had seen him lose 40% of his body weight.

Recalling the tragic incident, Sandeep said: "I suddenly heard a noise. It was like a bomb blast and it felt as if a hot iron rod was put inside my body and the next thing I remember is blood split everywhere around me and I was paralysed on the spot."

When doctors told him that he might have to use a wheelchair for the rest of his life, Sandeep refused to believe it. In his mind, all he wanted to do was play hockey again.

"I asked the doctor to leave my room as I didn't want to be negative and immediately called my elder brother to bring my hockey stick. I just wanted to sleep with my hockey stick and was keen on making a comeback," he said.

But what kept Sandeep going was the support from his brother Bikramjeet, who gave him a hockey stick while he was in the hospital and reminded him to stay determined and return back on the hockey field. The Indian Hockey Federation later sanctioned funds for his treatment so that he could travel to the Netherlands to complete his rehabilitation.

Sandeep underwent rigorous training for nine months before he could play hockey again. He even began training at night so that others might not watch him as he lived with the fear that he would fail again.

"I was in the wheelchair for six months and lost all hope of returning to the field. I thought my career was over but my brother kept on encouraging me. All that you need to do is to be resolute to return to the field, he said. These words turned out to be magical," Singh said.

"Gradually, I started playing hockey with my brother's help. I used to play the whole night and sleep the whole day because I didn't want anyone, except my family members, to know about my desperation to come back to the field. I was always afraid that if I couldn't make it, people would laugh at me."

The comeback

After being almost paralysed, Singh returned to play for India after two months. He made his comeback for the Indian team under coach AK Bansal during the 2008 Azlan Shah Cup. He emerged as the top scorer of the tournament with nine goals, helping India reach the finals after a 12-year hiatus.

Later that year, he was appointed captain of the side. A year after finishing as runners-up, Sandeep steered India to the title during the 2009 edition of the Sultan Azlan Shah Cup. The India captain ended us as the Player of the Tournament after scoring six out of the 12 goals for his side.

However, his main aim as captain was leading the Indian team to the Olympics again after they had failed to qualify for the 2008 edition in Beijing. Sandeep did manage to achieve that and led from the front, emerging as one of the top scorers for India during the World Cup qualifying campaign, accounting for 16 out of the 44 goals that the country scored. He even scored five goals, all from penalty corners against France in the final of the qualifiers to seal their place at the 2012 Olympics.

Though India endured a disappointing campaign later on at the Olympics, finishing bottom of their group, there's no denying the influence that Sandeep had in getting them there. Be it his battle against paralysis or regaining fitness to work his way into the team, Sandeep always believed.

The veteran drag-flicker is yet to formally announce his retirement as he been out of the reckoning for the national squad since 2014. But despite his long-term absence from the game, Sandeep's story of grit and indomitable spirit remains a fine example of how even the toughest of adversities can be overcome if one has the will to do it.

Scroll.in


---

Provisional plans announced for Euro Hockey League competitions



Surbiton Men 2018 League Finals

Following on from their league success this year, Surbiton will once again have double representation in the reformatted 2020/21 Euro Hockey League (EHL) competitions.

Both teams were set to feature in the 2019/20 EHL FINAL8 back in April, with Surbiton's men having defeated Real Club de Polo and Dinamo Kazan in the KO16 and KO8 rounds back in October.

However that tournament has now been provisionally pushed back to 14-18 October, subject to the Dutch government giving clearance for the event to go ahead. Surbiton's women will take on Der Club an der Alster at 4pm BST on Wednesday 14 October before their men will be in action at 6:15pm against HC Bloemendaal on the same day.

That means the EHL have also had to re-evaluate their plans for the 2020/21 competitions. Instead of hosting the Men's KO16 event in October, three separate competitions will now take place in Easter 2021 – the EHL Men's FINAL12, the EHL Cup and the EHL Women's FINAL8.

The Women's FINAL8 will take place between 1-5 April 2021, with Surbiton's women representing England having been declared this season's champions last month.

The Men's FINAL12 will take place between 31 March – 5 April 2021 and will also have representation from Surbiton.

After finishing second in the Men's Hockey League, Hampstead & Westminster will take part in the EHL Cup which will also take place during Easter 2021.

East Grinstead's women – who were runners-up in the Investec Women's Hockey League – will contest the EuroClub Trophy during Easter 2021.

However this season's EHL U14 event – which Surbiton's juniors were due to participate in – has been cancelled.

For more information on the changes to the EHL competitions, please click here.

England Hockey Board Media release


---

Hockey Ireland Coronavirus (COVID-19) UPDATE No. 5 regarding Return to Hockey Protocol




Hockey Ireland notes and welcomes the plans published by the Irish Government, Sport Ireland and Sport Northern Ireland concerning the roadmaps relating to the possible return of sporting activity, including Hockey.

Hockey Ireland is working closely with Sport Ireland and Sport Northern Ireland to develop guidance and protocols to enable a safe return to hockey activities, including training and competitions.

It is important to note that our return to hockey protocols have NOT been released and that the Irish Government has NOT listed hockey as one of the sports that can resume activity. Therefore, we are reminding the hockey community to continue to adhere to current restrictions and to refrain from organising on-field activity.

We will continue to monitor the dates and timelines for a return to play as appropriate, in line with the advice and guidance of the Government and Sporting Authorities. Our current restrictions and arrangements remain under constant review at this time. The Board of Hockey Ireland still firmly hopes to be able to return to Hockey competitions this year, subject of course to public health guidance.

Hockey Ireland would again like to thank everyone for their patience and understanding during this time and appreciates the efforts many of you are going to in order to continue training while at home.

Please keep safe. For further information on Covid-19: https://www2.hse.ie/conditions/coronavirus/coronavirus.html

https://www.nhs.uk/conditions/coronavirus-covid-19/

Irish Hockey Association media release


---

Otago Hockey gets creative as hockey is set to return




While several of our Associations are preparing to start competitions over the next few weeks, Otago Hockey is looking at a different approach to ensure a smooth return to community hockey happens in Dunedin.

During the lockdown, Otago Hockey got creative as they kept their community-engaged through a fitness challenge. The challenge also saw some of their hometown heroes Vantage Black Sticks Defenders Kane Russell and Blair Tarrant make a guest appearance.

Otago Hockey General Manager explained their different approach as well as some of the awesome things that have been happening in their Association.

Q – When will community hockey be returning in Otago?

A – We are planning a staggered start to our competitions. Our school competitions will commence throughout the week starting the 15th June while our lower grade club hockey starts on that Sunday the 21st.

Due to a range of factors such as the start of semester two at universities Our Premier and Division Two teams are playing some six aside preseason games on the 13th and 20th of June, an 11 per side preseason game on the 20th before full competitions start for them on 4 July.

Q – What went into your decision around when to return to the turf?

A – A couple of things, firstly giving clubs time to get themselves organised and members re-engaged before having an appropriate preseason on the turf. Otago is a student town and the changes to the way they are currently learning we needed to give clubs an opportunity to get their members who are students back into town for semester two.

Q – How has the return to training been going in your Association?

A – It has been great seeing people back out on the turf. Over the last week, we have had casual, club and school use. Its been exciting to see some association led sessions starting again for some of our performance players. After all of the uncertainty, it is magic to see activity around the facility.

Q – What are some of the challenges that you see for the upcoming season?

A – Obviously complying with everything that needs to be in place for health and safety is a significant extra layer of work. Outside of that, we know that lots of people and families within our communities are having challenging times. That combined with the chance that peoples habits and priorities may have changed means that we need to be really careful to make sure that our sport is still both accessible and what our membership wants.

Q – What are some of the opportunities that the situation has provided to your Association?

A – It has provided a really good opportunity to take stock of everything we do and how we operate. I think a number of changes that have been forced on us have led to some positive learnings. As one example we have taken the opportunity to change our year 7 & 8 hockey to 6 per side.

Community hockey can start from the 6th June, make sure you check with your local Association for when you are going to be back on the turf.

Hockey New Zealand Media release


---

Gilly Okumu keen on dribbling to increased stardom

By Rodgers Eshitem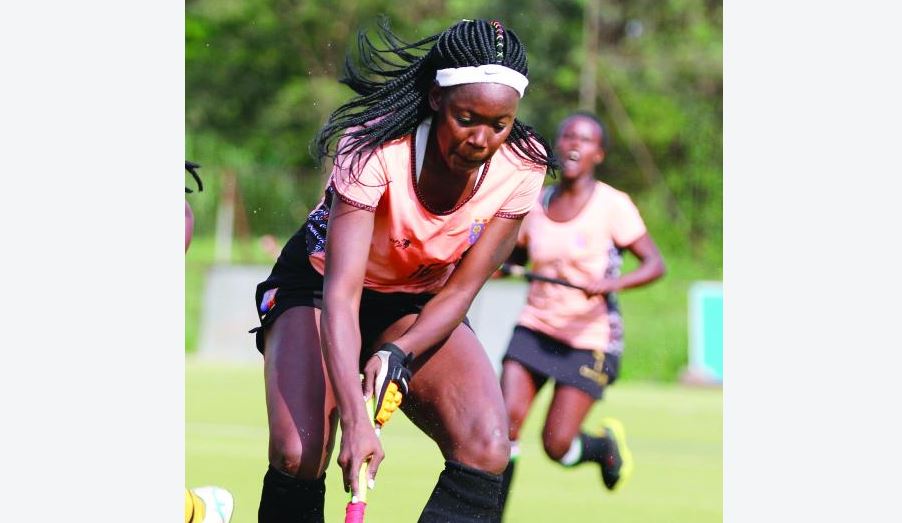 Strathmore University's Gilly Okumu playing against USIU during Kenya Hockey Premier League match at City Park Stadium on Sunday June 17, 2019. [Jonah Onyango, Standard]

Kenya hockey team captain and Strathmore University's Scorpions attacking midfielder Gilly Okumu says it has not been easy for her to maintain top form over a long period.

Although the 25-year-old Sinyolo Girls alumnus has had a roller-coaster playing career, she says her best years are yet to come.

Okumu is expected to renew her three-month attachment deal with German side Eintracht Frankfurt when normalcy returns after the COVID-19 pandemic is contained.

From Sinyolo, the secondary school games giants where she left an imprint after helping them to literally win every trophy on offer, to inspiring the Scorpions to greater heights in the Kenya Hockey Union Premier League, Okumu now wants to leave a lasting legacy in the game.

The Business Management graduate earned a scholarship at Strathmore after impressing at the 2013 East and Central Africa Secondary School Games where she was voted the best player and clinched the top scorers award.

She carried that form into the league and went on to bag the 2014 golden boot accolade after scoring 17 goals as the former Africa Cup of Club championships silver medallists finished second in the domestic league.

Even though Okumu, who assumed the national team captain role last year, is yet to taste glory with both the national team and her club, she says to succeed at the highest level, supreme confidence and discipline is a necessity.

"It's not been a walk in the park. I have worked hard to be where I am right now. But you can't achieve that without being disciplined, focused and confident," Okumu told Standard Sports.

"I might have achieved a lot at a personal level, but I still believe the best is yet to come. That's why I'm still working hard and learning more every day to remain competitive at the top level."

"I want to be remembered more by winning titles with Scorpions and guiding the national team to qualify for major tournaments. At this point, my number one goal is to reach my full potential, continue gaining strength, speed, and agility."

But as Okumu recalls how she ditched football for hockey, she feels that had it not been Aloys Owino (Sinyolo Girls' coach) and Meshack Senge (Scorpions coach), she may never have fulfilled her potential as a professional player.

"I think turning pro was the dream come true in my hockey career. That will be super memorable. It all started in 2012 when our high school hockey coach watched me play football and was really impressed with me. It was not easy to transform from working with your legs to stick-work, yet the first tournament was in a weeks time," she said.

"I managed to play and scored some goals by just standing at the second post waiting to deflect the balls. I grew slowly from there and it was an interesting experience getting to know more about the game and new skills."

"It was difficult transitioning from school to club hockey but with the help of coach Senge, it was quite an amazing journey and I ended up being the top scorer  after just a year of playing club hockey."

"But I have a lot to say about the Scorpions because they are responsible for who I am today. It's been an amazing eight years of seeing great talent and coaching. The ladies have a great fighting spirit and I believe together, we can achieve my dream of winning the league soon."

Asked about her experience in the Germany League, Okumu, who's currently a practicing sports consultant, said: "It has been truly an amazing experience in German and I think I have really gained and developed as a player. Of course adaptation was hard at first but eventually, I managed because the club treated me as their family."

The Standard Digital


---

Hockey for Heroes and Lincoln Minster School officially verified as Guinness World Record holders!




As reported by FIH.CH in July 2019, a team from the Hockey for Heroes charity and pupils from Lincoln Minster School in England set out on a life-changing adventure to the mountains of Nepal with two very clear goals: set a new Guinness World Record for the highest game of hockey ever played, and create a lasting hockey legacy in local community and schools.

We are thrilled to report that the magnificent endeavour known as 'Operation Olympus' was given formal ratification on Wednesday 27 May 2020, with their 60-minute hockey match, which was played at 5,019 metres above sea level, being officially announced as a Guinness World Record.

The record was achieved against the stunning backdrop of the Annapurna Mountain Range, eventually arriving at their target location after an arduous, energy-draining 40 hour, 51 kilometre trek that saw the team battling arduous road networks, landslides from intense rainstorms and low oxygen levels due to high altitude as they ascended the Annapurna Pass to its highest point.

Despite extreme tiredness and the greatly reduced oxygen levels, the team somehow found the energy to play their match in the hope of setting a new world record, something which has now been made 100% official. It will take some beating!

To ensure the group left a hockey legacy, they stopped off at several locations throughout the trip to donate hockey equipment and deliver coaching sessions to local community members and Schools. Over 100 community locals from Mutkinath played games and learned tricks from the group, while a visit to the Shree Janahit Secondary School, in Jomsom, provided students with the opportunity to be coached by group members before taking part in an organised tournament.

The group's community efforts resulted in hundreds of children getting to play hockey for the first time, with many displaying an abundance of energy and excitement while using their hockey sticks and wearing playing shirts, including sticks, shirts and kit donated by Great Britain hockey squads.

The idea originated from a collaboration between Tom Eves of Lincoln Minster School and Gary Johnson from Hurricane Sports Foundation, a registered charity based in the city of Lincoln. Unfortunately, Gary was unable to complete the trip as he was experiencing symptoms of concussion after a fall.

Speaking about the achievement, Tom Eves described the challenge as "an emotional and physically exhausting adventure that changed the lives of Lincoln Minster School pupils, Hockey for Heroes members and 100s of Nepalese people. Friendships formed through adversity to create a group with its heart set on leaving a legacy of hockey in Nepal and setting a world record. This is a remarkable achievement that will be difficult to replicate."

The Hockey for Heroes team raised funds for the Help for Heroes charity, while Andy Halliday – the England and Great Britain men's Team Manager as well as being a Sports Ambassador for Hockey for Heroes and Lincoln Minster School – dribbled a hockey ball for the whole trek to raise money for young Lewis Whele, who suffers from Cerebral Palsy.

Halliday said: "Battling the altitude and fatigue was a struggle, but I'm very proud to have been part of the group, leaving a legacy for hockey in such a beautiful, vibrant country and reciprocating the fantastic hospitality provided by the Nepalese people."

Congratulations to everyone involved!

#HockeyForHeroes

FIH site


---

Highest game of hockey recognised by Guiness World Records

By Richard Bright




Guinness World Records have officially verified last year's attempt at playing the highest game of field hockey.

A group from Hockey for Heroes and pupils from Lincoln Minster School have now entered the book of records after a game which took place at 5,019m above sea level in Nepal.

The group trekked for over 40 hours and more than 32 miles in challenging conditions to ascend the Annapurna Pass to its highest point.



We covered the record attempt every step of the way in print

Battling landslides, heat and only half their oxygen levels the group pushed on to the highest point located at over 5000 metres above sea level to play a 60-minute game of hockey.

The idea had originated from a collaboration between Tom Eves, of Lincoln Minster School, and Gary Johnson from Hurricane Sports, the latter unable to complete the trip as he was experiencing symptoms of concussion after a fall.

The charity and school partnership also created a hockey legacy in local communities and schools.

They stopped off at several locations throughout the trip to donate hockey equipment and deliver coaching sessions to local community members and schools.

Over 100 community locals from Mutkinath played games and learned tricks from the group, while a visit to the Shree Janahit Secondary School, in Jomsom, provided students with the opportunity to be coached by group members before taking part in an organised tournament.




Himal Khadka, Nepal hockey's vice president, said: "It has taken a group from Great Britain to take hockey to the mountains to show us how our beautiful country may become a centre for success in extreme sports and challenges. It is now our turn to follow their example"

GB men's team manager, Andy Halliday, who was an ambassador on the record attempt, said: "Battling the altitude and fatigue was a struggle, but I'm very proud to have been part of the group, leaving a legacy for hockey in such a beautiful, vibrant country and reciprocating the fantastic hospitality provided by the Nepalese people."

Eves said: "An emotional and physically exhausting adventure that changed the lives of Lincoln Minster School pupils, Hockey for Heroes members and 100s of Nepalese people!

"Friendships formed through adversity to create a group with its heart set on leaving a legacy of hockey in Nepal and setting a world record. This is a remarkable achievement that will be difficult to replicate."

Please help keep independent journalism alive in these uncertain times.

With the media industry affected by advertising, we are continuing to offer our coverage free until we return in print.

Ahead of the new season, please subscribe in print or in digital format. Subscriptions for clubs, schools and individuals.



The Hockey Paper