All the news for Tuesday 26 May 2020

Triple Olympic gold medallist Balbir Singh Sr passes away




On Monday 25 May 2020, the hockey family lost one of its most iconic, beloved and celebrated individuals, Balbir Singh Sr, who passed away in Chandigarh, India after a prolonged illness at the age of 95.

A truly revered figure in his homeland but known to all as a humble and down-to-earth individual, Balbir Singh Sr was the most decorated athlete in the history of Indian sport and one of the finest goal-scorers to have ever played the game, being part of the India teams that won successive Olympic gold medals at the London 1948, Helsinki 1952 and Melbourne 1956 Games.

At London 1948, he scored two goals in the final to help his team claim a 4-0 victory against host nation Great Britain, just one year after his country had achieved independence from the British Empire.

Four years later at Helsinki 1952, India defeated the Netherlands 6-1 in the final, with Balbir Sr scoring five times – a feat that to this day remains unmatched in terms of Olympic gold medal matches.



Credit: Hockey India

He was the captain of the team at Melbourne 1956, playing an inspirational role as India defeated Pakistan to win their sixth Olympic gold medal in hockey. The team scored a staggering 38 goals without conceding on route to glory. A year later he was awarded the Padma Sri, India's fourth highest civilian honour, in recognition to his remarkable achievements and service to the sport.

However, his success was not just restricted to his brilliance on the field, but also away from it as an inspirational coach and mentor. He coached India's men to World Cup glory at the Kuala Lumpur 1975 event, beating Pakistan 2-1 in the final despite trailing 1-0 at half time. In what remains India's only World Cup title to date, the achievement served to further enhance Balbir Singh Sr's already astonishing reputation. 

Speaking upon hearing of the news, FIH President Dr Narinder Dhruv Batra said: "It is with an overwhelming sense of sadness that I condole the death of hockey legend Balbir Singh Dosanjh. It is with a deep sense of gratitude that I will remember the way he played the game, shared his knowledge when coaching teams and conducted himself off the pitch. I will cherish the simplicity, humility and pride that he brought to bear in his own charming way. His ready wit and willingness to share his vast knowledge were stand out features. Indeed, Balbir Singh ji leaves behind a rich legacy that cuts across all sport and physical boundaries."

The International Hockey Federation offers its sincere condolences to the family and friends of Balbir Singh Sr at this difficult time.

FIH site


---

Balbir Singh Sr: The silent jewel in Indian hockey's golden crown

The three-time Olympic gold medallist fought through a lot in life to reach the pinnacle and gave back to the sport in more ways than one.

By Rahul Venkat

Begin a discussion on Indian hockey and the first name that pops up is Dhyan Chand. They may next move on to the glory years of yore, where India seemed to be an indefatigable winner, triumphing in six consecutive Olympics.

"The Wizard" played a starring role in the initial three Olympic golds. The architect of the other, post-independent hat-trick was Balbir Singh Dosanjh.

Balbir Singh Sr. was the humble, down-to-earth individual and someone with a memory as sharp as his finishing skills in his heydays.

"It was destiny which helped me to achieve all I did during my career," is how Balbir Singh Sr. how had summed up his accolades in an interview with The Hindu.

Finding gold amidst the partition chaos

Having been fascinated by hockey as a wide-eyed 12-year-old watching India win its third Olympic gold at Berlin 1936, Balbir Singh decided then that it would be the sport he would want to make a mark in.

He moved to Amritsar six years later, where Harbail Singh, the Indian hockey team coach at the 1952 and 1956 Olympics, spotted him and thus began his journey to achieve legendary status.

Balbir Singh came from a family of freedom fighters, he rarely saw his father as he shifted in and out of prison, and the pride for his country came in-built with the genes.

As a 20-year-old, he was 'arrested' by the Punjab Police, not because he was involved in illegal activities but because they wanted Balbir Singh to play for them. "My father and uncle were revolutionaries, the police were loyal to the British. How could I have joined them?" he told The Times of India years later.

He witnessed first-hand the horrors post-independence as the state of Punjab was divided - the poverty and violence in villages. Most of his teammates became citizens of Pakistan overnight.

He faced multiple obstacles to get to the London Olympics in 1948. The striker was not included in the original 39-man squad list as the authorities 'forgot' about him and made it there only after the insistence of Dickie Carr, a member of the 1932 Olympic gold medal-winning team.

Once in the reckoning, he made it to the final 20-man Indian hockey squad for the Olympics, but inter-team dynamics saw him banished from the playing XI in the first match. Only an injury to Reonnie Rodrigues saw him take the field against Argentina and he responded with six goals in a 9-1 hammering.

He was again axed in the third game and had almost entered the field for the semi-final before he was informed that he would not be playing. A few medical students took offence to this and their protest to the Indian high commissioner in London is what got him into the team for the Olympics final.

Balbir Singh scored two more goals then at Wembley Stadium, against Great Britain no less, to help the Indian hockey team to a 4-0 victory and their fourth Olympic gold, the most special one to date. The win, and more importantly, the pride gave him an unprecedented high.

"For the first time in 1948, the tricolour was hosted at the top of the world. As the flag was going up, I felt as if I was going up too. Then I realized, no, I am on the ground. And I still remember how it felt, as if I was going up as well. I felt as if I was flying," he had told ESPN.

Stamping his authority

By the time the next Olympics rolled around in 1952, Balbir Singh had become an integral part of the Indian hockey team and was named vice-captain to KD Babu for the Helsinki Olympics. He was also the flag-bearer for the Indian contingent.

"Finland is the land of the midsummer nights. The first night was terrible for us; the glare in the open window would not give us sleep. We adjusted to the odd sight of the sun shining in the night by downing our shutters and darkening our rooms with heavy curtains," he wrote in his memoirs, The Golden Hat Trick.

A disturbed sleep cycle aside, the 1952 Olympics was where Balbir Singh was truly recognized as the heart of the Indian hockey team as he scored nine goals, including a hat-trick each in the semi-final and final.

In fact, his five goals in the 6-1 win in the final against the Netherlands broke a 44-year record for most goals in an Olympic final and it still stands almost seven decades later.

In Melbourne 1956, Balbir Singh was named captain and though he was not as prolific as before, with Udham Singh taking the honour with 15 goals, the brave forward soldiered through a fracture in his right hand to help the Indian hockey team win the final and secure a sixth Olympic gold, its second hat-trick and first as an independent nation.

Leadership had taken on a new meaning then.

    When we were kings! Melbourne-1956 pic.twitter.com/iyiTwBihJW
    — Balbir Singh Sr. (@BalbirSenior) July 21, 2016

The love affair with hockey

Balbir Singh became the first sportsperson to receive the Padma Shri, India's fourth-highest civilian honour in 1957 and went on to win silver at the 1958 Asian Games, only conceding the gold to Pakistan on the basis of goal difference.

Though he did not play another Olympics, Balbir Singh's love for hockey saw him take up coaching after retirement. He guided the Indian hockey team as the sport expanded beyond the Olympics.

He managed the Indian hockey team to bronze in the 1971 World Cup and then was at the helm for their only World Cup win to date in 1975. In between, he also came to be known as Balbir Singh Sr. after three other Balbir Singhs were part of the bronze-winning team at the 1968 Olympics.

Balbir Singh Sr. also had a doting family, he was survived by his daughter Sushbir and her son Kabir, who left a lucrative job in South Africa to stay with his loving grandfather.

    A good way to start an #OlympicYear Well done boys! #IndvsNed #fihproleague2020 #HockeyVichMeriJaanVassdi pic.twitter.com/OHH3EwiBcL
    — Balbir Singh Sr. (@BalbirSenior) January 18, 2020

The nonagenarian still attended hockey matches whenever his health permitted, and he had one specific request for the national team.

"My wish and prayer is that India will get back to the top of the pedestal once again at the 2024 Games in Paris. I will be 100 then!" he had exclaimed.

While he may not be around anymore, fulfilling that wish would be the best possible tribute to a bonafide great of Indian hockey.

The Olympic Channel


---

Balbir Singh Senior cremated with state honours



Balbir Singh with miniature India flags at his residence in Chandigarh.

Hockey icon Balbir Singh Senior, who died at 96 after battling multiple health issues, was on Monday cremated here with full state honours, with Punjab Sports Minister Rana Gurmeet Singh Sodhi declaring that the Mohali stadium will be named after the legendary player.

The mortal remains of the three-time Olympic gold medallist was consigned to flames at an electric crematorium here, with his maternal grandson Kabir performing the last rites in the presence of Sikh priests.

The legendary centre-forward is survived by his daughter Sushbir and three sons -- Kanwalbir, Karanbir, and Gurbir.

His sons are settled in Canada and he lived here with his daughter Sushbir and grandson Kabir. Sushbir, along with close relatives, was present at the funeral.

Sodhi, who was also present at the funeral, said that Singh's demise was a big blow not just for the sporting world, but also for the nation as a whole.

He said the Mohali hockey stadium will be named after Singh.

Former Indian hockey team captain Pargat Singh was also present.

Senior officials of Punjab government and Chandigarh administration laid wreaths on Singh's mortal remains.

A police contingent fired three volley shots as a mark of respect to the departed soul.

Singh's body was earlier brought from the Fortis hospital at Mohali to his residence at Sector 36 from where it was taken to the crematorium in a bedecked vehicle.

Sportstar


---

Indian hockey mourns Balbir Singh Sr's demise

India's legendary forward Balbir Singh Senior passed away in Mohali due to illness.



Balbir Singh Sr's contribution to Indian hockey will always be remembered.

Indian hockey community paid tribute to triple-Olympic champion Balbir Singh Senior who passed away on Monday after prolonged illness.

Players who were coached by the stalwart reminisced his warm personality and tactical acumen while current national team captains Manpreet Singh and Rani Rampal spoke about their admiration for Balbir Sr.

Manpreet Singh, Indian men's team captain

It is indeed a very sad day for hockey and our country. One of the most respectable, inspiring and ever-so-gracious souls has left us today, and I'm extremely saddened by the demise of this true legend. I remember always getting goosebumps whenever I would meet him and get the chance to listen to his extraordinary experiences, I always want to be like him. His contribution to Indian hockey will always be cherished and admired across generations. May his soul rest in peace. His biggest fan, always.

Rani Rampal, Indian women's team captain

It is with a heavy heart that I remember the legend, the greatest, Balbir sir. Being a triple Olympic gold medallist, his contribution to Indian hockey has remained immense throughout his glorious career, not just on the field, but off it as well. I was very fortunate to have heard some words of wisdom from him whenever I met him, and I can't express in words how much it always meant to me. He always greeted everyone with such humility and it's extremely unfortunate that the world has lost a gem today. May his soul rest in peace.

Joaquim Carvalho, Olympian and World Cupper

Balbir Senior's man-management skills were superb. He knew how to handle players and hockey officials, he took on people high up in the administration in support of his players. I feel his loss deeply. May his soul rest in peace.

P.R. Sreejesh, Indian men's team goalkeeper

I was shocked to hear the news of legendary Olympian Balbir Singh Sr demise. My heart felt condolences to his family. I pray that the almighty gives his family the strength to withstand this tragic moment. May his soul rest in peace.

Mervyn Fernandes, 1980 Olympic gold medallist

I played under his charge at the 1982 Asian Games and other tournaments. He was a calm, composed person and a thorough gentleman.

V. Baskaran, 1980 Olympic gold medallist

It has been a very sad morning for me after knowing Balbir Singh ji has left us. I still remember my days in Patiala during the combined university trials in 1978 where I was playing centre-half. He told me, 'Beta, you will have a chance to do better for India if you adapt to different positions.' He was a great man manager and knew how to use players' skillset. In the 1975 World Cup semifinal against Malaysia, he decided to play Shivaji Pawar, an aggressive player, as the centre-forward which helped India come back from a goal down to win the match. All my prayers with his family members. May his soul rest in peace.

V.R. Raghunath, Former defender

It is a very sad day for Indian hockey. Balbir sir was an example for all youngsters. He showed us how to live life on and off the hockey field.  Despite all the success, he always humble and down to earth. I have interacted with him three or four times during Hockey India award functions and our conversations were always about hockey. It was his dream to see Indian hockey team among the top three in the world. His optimism always inspired us to work harder.

Sardar Singh, former midfielder

Balbir Singh ji's passing away is a very sad day for all of us. It is always a dream for us athletes to play for our country in the Olympics. His achievement of three back-to-back gold medals will always inspire us. My prayers are with his family during in these difficult times

Dato Fumio Ogura, Asian Hockey Federation president

We are extremely saddened to learn about the demise of Padma Shiri Mr. Balbir Singh Dosanjh. He is a true hockey legend and a hockey supporter...He was an exemplary figure in the history of India and Sports. Undeniably, it is an irreparable loss, but no one can avert the decree of the fate. We at AHF offer our earnest sympathies and extend our heartfelt condolences.

Letter of Condolence from FIH:

It is with great sadness that we have learnt of the passing away of hockey legend and three-time Olympic Games gold winners Padma Shri Balbir Singh. Our thoughts are very much with his family at the very difficult time. Padma Shri Balbir Singh will be remembered not only as a highly talented and outstanding international player who represented India in three Olympic Games from 1948 to 1956, but also as a man greatly dedicated to our sport, sharing his experience and knowledge through his coaching with the Indian team.

Sportstar


---

Pakistan's hockey fraternity mourns demise of hockey legend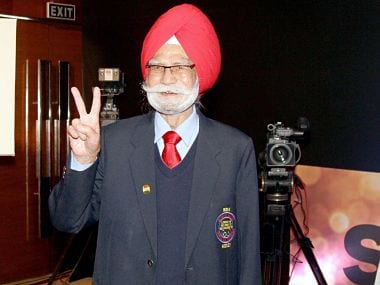 Indian hockey legend Balbir Singh Senior. Image courtesy: Hockey India

Karachi: Balbir Singh Senior's death evoked emotional tributes from Pakistan's hockey community, which described the legendary centre-forward's demise as a big loss to the sport in general and the sub-continent in particular.

The 96-year-old three-time Olympic gold-medallist, considered one of the best centre-forwards of all time, died on Monday in Mohali.

"He had amazing flexibility, speed, and litheness in his game. His sprints were a treat to watch," former Pakistan captain Samiullah said.

Samiullah was nicknamed the 'The Flying Horse' for his speed and won three Asian Games and one World Cup gold during his career.

"Hockey has lost a big name as Balbir Singh was someone who enabled India to win three consecutive gold medals in the 1948, 1952 and 1956 Olympics because of his outstanding game," Samiullah added.

The Secretary-General of the Pakistan Hockey Federation Asif Bajwa also condoled the death of Singh and said he was one of the greatest.

"Never saw him play but we heard so much about him from our seniors that it is clear he was a striker in a different class," Bajwa said.

Former Pakistan captain and coach, Hasan Sardar, an outstanding centre-forward himself, said he took a lot of inspiration by hearing stories and anecdotes about Singh.

Islahuddin Siddiqui, one of the big names of Pakistan hockey, recalled meeting Singh several times in the '70s and '80s in international events.

"He was a very polite and humble person and had great knowledge of the game. He was also willing to share his experience if you approached him," he said.

Singh was the manager of the Indian team which defeated Pakistan in the 1975 World Cup final.

Islahuddin said it was people like Singh who made it possible for the subcontinent to dominate world hockey.

Firstpost


---

Tributes flow in praise of Balbir Singh Sr

Team S2H




PRIME MINISTER NARENDER MODI: "Padma Shri Balbir Singh Sr. Ji will be remembered for his memorable sporting performances. He brought home lots of pride and laurels. Undoubtedly a brilliant hockey player, he also made a mark as a great mentor. Pained by his demise. Condolences to his family and well wishers".

FORMER INDIAN CAPTAIN: "Zafar Iqbal I don't know how to express my feelings about the demise Balbir Saheb. I met him just before lockdown period in a function organised by times of india. He was a wonderful person and so loving, caring. He was our chief coach for yrs & never ever shown that he was one the greatest player and scorer. I do remember his words during a match said to me so quietly that I also used to hit like you during my playing and it was so inspiring that I still remember. My condolences to Mr Kabir in particular and family members. Rest his soul in Peace. GOD bless".

FIH PRESIDENT DR. NARINDER BATRA:  A measure of a player's greatness is not just in the skill he exhibits on the hockey pitch but also in the fondness and affection with which he is remembered across nations many years after he last graced the game. Balbir Singh Dosanjh's life is ample testimony to his greatness. Named as one of the 16 Iconic Olympians by the International Olympic Committee in 2012. I will cherish the simplicity, humility and pride that he brought to bear in his own charming way. His ready wit and willingness to share his vast knowledge were stand out features. Indeed, Balbir Singh ji leaves behind a rich legacy that cuts across all sport and physical boundaries. My prayers are with his family and the entire sporting community that mourns his passing.



Mortal remains of departed soul

WORLD CUP GOLD MEDALLIST HJS CHIMNI: Very deeply hurt to hear the big loss of passing away of a great personality who made a great contribution to nation in sports. Had the privilege of speaking to him a few days back in kind courtesy Kabir (his grand son) and got carried away hearing his voice. May Waheguru bless the very noble soul to always rest in peace and give strength to the family to bear this unbearable loss. Also on behalf of Maharaja Ranjit Singh Hockey Tournament Society our prayers are for the legacy to go on.

M M SOMAYA, OLYMPIC CAPTAIN: The discipline that he maintained enabled him to retain a sharp memory and excellent health. He always alluded to his glass of cold milk that was the secret of his fitness and immense energy. During our last meeting in March this year, he had the same angelic smile and maintained the poise and serenity that he had when I first met him. At age 96 and mobbed by many admirers, he took the time to say, "No. 4 (my shirt number), how are you and how is your friend Joe (Joaquim Carvalho)." His passing is a personal loss since I was greatly influenced by his managerial style…Hockey has indeed lost its brightest star and signalled the end of an era. RIP Balbir Sir. Thank you for inspiring a generation of hockey players.

FOUR-TIME OLYMPIAN FROM KENYA: Avtar Singh Sohal Our heartfelt condolences to the family May Almighty rest his soul in eternal peace. Great hockey player and great personality. Legend, he has many Olympic records which very unique

Stick2Hockey.com


---

Quite simply Balbir

Team S2H




Balbir Singh Senior liked to keep it simple.

Especially as a centre-forward so dreaded by opponents. Scoring, was his mantra, and in as ruthlessly a simple way as possible.

The legend, who passed away on Monday after a long innings of 95, believed in simplicity when it came to match tactics and strategy as well, it would appear.

During the 2010 Men's World Cup in New Delhi, he was greeted by a battery of journalists whenever he turned up at the Dhyan Chand National Stadium.

Invariably, the questions concerned the modern game and India's ability or lack of it to adjust to the constantly

changing scenario involving rules, tactics, strategy and training methods.

An age-old question came up and Balbir, who reportedly left opposing defenders looking like lumbering cart-horses during days of yore, was asked what would be the formation best suited for India.

If not the obsolete 5-3-2, would it be the 4-2-4 or the 3-3-3-1?

"Use any formation you want," he said. "But when you attack, you should create space. When you defend, deny space."

It cut a long story short. Like the route he used to take to goal that yielded two in the epic 1948 Olympic final in London where India bearded the British Lion in its own den and five in the 1952 Helsinki Olympic final when the Dutch were beaten 6-1 to give Balbir the second of three Olympic gold medals. A record for individual goal-scoring in an Olympic final.

Balbir was to serve Indian hockey long after retirement.

He fittingly presided over what arguably was Indian hockey's best ever moment – the 1975 World Cup triumph in Kuala Lumpur, Malaysia.

As head coach, Balbir steered the team to its first – and sadly, only – World Cup title.

It's probably the most significant success in the country's hockey history – perhaps even more than any Olympic triumph.

It's probably the most significant success in the country's hockey history – perhaps even more than any Olympic triumph.

After all, more than 100 nations were affiliated to the FIH in 1975 – more than double that in 1956 when Balbir won his third Olympic gold as a player in Melbourne.

It took as much deft play and strategy to plot the World Cup win.

Balbir braved criticism from certain quarters concerning the benching of Aslam Sher Khan, the robust right-back who played second fiddle to the Surjit Singh-Michael Kindo duo.

But the minutes ticked away in the semifinal against hosts Malaysia with India trailing 1-2.

To make matters worse Surjit, the penalty corner expert off-colour on the day. It was time for Balbir to play his master card.

He brought in Aslam for hockey's most famous substitution.

Balbir kept Surjit on the pitch, however, explaining later that being substituted could have devastated the young defender.

Instead, he brought out the efficient Michael Kindo and the combative Aslam ran on to the pitch as anxiety grew on the bench.

The rest is oft-related history. Aslam slammed in the equaliser from a penalty corner before Harcharan SIngh scored the match-winner in extra-time.

Balbir persisted with Aslam in the final against a slick Pakistan, hot favourites for the title.

Surjit, who struggled in the semifinal, and Aslam played their roles to perfection.

Surjit scored the equalizer from a penalty corner in the second half and Aslam relentlessly kept a tight leash on the Pakistan forwards in a 2-1 victory.

As captain Ajit Pal Singh held the magnificent trophy aloft, Balbir and his charges had scripted Indian hockey's most glorious chapter.

Stick2Hockey.com


---

Further tributes to Balbir Singh Sr.

As would be expected for a hockey legend such as Balbir Singh Sr. there are many tributes being paid to him. Below are links to those tributes.

Hoped to see Balbir Singh live till 100: Harcharan Singh



Three-time Olympic gold medallist hockey veteran Balbir Singh Sr. PTI

​​Indervir Grewal

India lost one of its greatest sports legends on Monday. One of the last surviving players from the golden era of hockey, Balbir Singh Senior passed away at the age of 95.​

https://www.tribuneindia.com/news/sports/hoped-to-see-balbir-singh-live-till-100-harcharan-singh-89837

Tributes pour in as legendary Balbir Singh Sr undertakes his final journey

From Kohli to Bindra: India's sporting community remembers the 'rare role model'

India's sporting community mourned the loss of an "inspiration" after hockey legend Balbir Singh Sr died on Monday, calling him a "rare role model" whose achievements will motivate the next generation of athletes.

https://www.tribuneindia.com/news/sports/tributes-pour-in-as-legendary-balbir-singh-sr-undertakes-his-final-journey-89797

Balbir Singh Senior was India's best ever scorer, says Gurbux



Olympics hockey gold medallist Gurbux Singh. File Photo

Olympic hockey gold medallist Gurbux Singh on Monday rated legendary Balbir Singh Senior as India's best ever scorer and someone who inspired him in his early days.

https://www.tribuneindia.com/news/sports/balbir-singh-senior-was-indias-best-ever-scorer-says-gurbux-89799

If there was a hockey legend after Dhyan Chand, it was Balbir: Milkha Singh

Balbir and Milkha competed together at the highest level for the country in their respective games and even worked together for Punjab Sports department in the 1960s.



Hockey legend Balbir Singh was a three-time Olympic gold medallist   -  PTI

If anyone qualifies to be called a legend in Indian hockey after Dhyan Chand, it's Balbir Singh Senior, said iconic Milkha Singh, condoling the death of his 'great friend'

https://sportstar.thehindu.com/hockey/balbir-singh-sr-passes-away-dead-milkha-singh-dhyan-chand-indian-hockey-news/article31671921.ece

A day with the hockey legend Balbir Singh

"At the 1948 victory ceremony, as the Tricolour was going up, I felt as if I was going up, too. I felt as if I was flying," Balbir Singh said in an interview at his Chandigarh residence in February.

Ayan Acharya



Triple Olympic gold-medallist Balbir Singh with his daughter, Sushbir, at his residence in Chandigarh.   -  SPECIAL ARRANGEMENT

The highway from Delhi to Chandigarh is a trip through history and geography. The fables of Kurukshetra and the bloody past of Panipat are complemented by broad roads, flanked by picturesque greenery.

https://sportstar.thehindu.com/hockey/balbir-singh-sr-passes-away-indina-hockey-olympic-gold-medallist-chandigarh-tokyo/article31671214.ece

Remembering Balbir Singh and his hockey fairy

On the wall at the Punjab University ground, where the team trained, Balbir Singh had got it written in big bold letters: "Gaining World Supremacy is Our Goal."

Uthra Ganesan



Besides the wizardry with the stick, people felt connected to Balbir Singh for the warmth of his persona.   -  FILE PHOTO/ PTI

February 3, 2009, the city of Chandigarh, much quieter than it is now. Not too many things are as welcome as a lovely, warm north Indian winter morning. House number 1067, Sector 36 C, though, can claim to out-welcome and out-warm it.

https://sportstar.thehindu.com/hockey/balbir-singh-sr-tribute-hockey-punjab-olympic-medals-sai/article31670242.ece

Balbir Singh Sr: Always a star among stars

Balbir Singh Senior was part of three gold medal-winning Olympic teams before taking over as the manager of the national team. He played and managed at a time when hockey players were treated as celebrities by the movie world.

Nandakumar Marar



After winning two more Olympic golds (1952 Helsinki and 1956 Melbourne), Balbir helmed India's World Cup Hockey title-win in Kuala Lumpur in 1975.   -  SPECIAL ARRANGEMENT

Balbir Singh Senior was part of three gold medal-winning Olympic teams before taking over as the manager of the national team. He played and managed at a time when hockey players were treated as celebrities by the movie world and were invited to post-win felicitations by Bollywood celebrities, playing exhibition games with these reel stars. Recently, his Olympic heroics were immortalised in the movie Goal.

https://sportstar.thehindu.com/hockey/balbir-singh-sr-always-a-start-among-stars/article31669662.ece

Sportstar Archives: Balbir Singh Sr – The coach who loved his team like family

Balbir Singh Sr was always brilliant a tactician and manager who took up the challenge of coaching the Indian hockey team during a tough period.

K.P. MOHAN



Balbir Singh Sr always knew how to motivate his wards as he led the Indian team to its maiden World Cup win in 1975.   -  N. Srinivasan

"Many people have asked me why I have taken up this job at this time and that too with a weak team." Balbir Singh's answer to this is a counter question: "Do you desert your own children just because they are weak?" The chief coach of the Indian hockey team needs no introduction. The very name inspires awe and respect not only among his trainees, but the assistant coaches as well. As Balbir himself put it during a chat with The Sportstar prior to the national team's departure for Dubai: "Even they (pointing towards assistant coach Balbir Singh (jr) and junior team's assistant coach Vinod Kumar) are like my children, not to speak of these boys (gesturing towards skipper Surinder Singh Sodhi and winger Charanjit Kumar)."

https://sportstar.thehindu.com/hockey/indian-hockey-legend-balbir-singh-senior-archives-interview-coach-1975-world-cup-olympics/article31669300.ece

M. M. Somaya pays tribute to late Balbir Singh Sr

Hockey has indeed lost its brightest star and signalled the end of an era. RIP Balbir Sir. Thank you for inspiring a generation of hockey players.

M. M. Somaya



M. M. Somaya: There seemed a halo of calmness around him. Call it charisma or mystical presence, there was something special in this man that touched your heart at the very first meeting.   -  AKHILESH KUMAR

Growing up in Bombay, I had read a lot about Balbir Singh's accomplishments. As though his three Olympic gold medals were not enough, he had gone on to be the manager of the successful team at the World Cup at Kuala Lumpur in 1975. He also held the coveted post of director (sports) in Punjab.

https://sportstar.thehindu.com/hockey/indian-hockey-balbir-singh-sr-tribute-memories-mm-somaya/article31669168.ece

Balbir Singh: India mourns loss of hockey legend and independence hero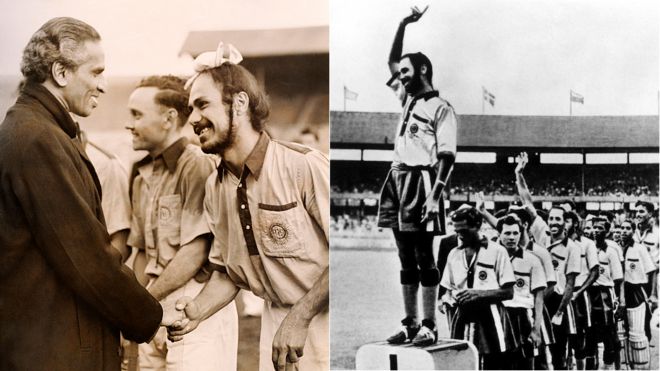 Balbir Singh pictured (l) in London in 1948 with Indian High Commissioner Krishna Menon and in Melbourne in 1956, leading the team to another gold

Indian sport is mourning the loss of one of its greatest heroes - hockey player Balbir Singh - who helped the newly independent country win its ever gold medal at the 1948 London Olympics.

https://www.bbc.com/news/world-asia-india-52787972

Many more tributes are found at https://timesofindia.indiatimes.com/sports/hockey


---

How India won its first Olympic hockey gold

May 26 will mark 92 years since India first won gold at the Olympic Games. In this excerpt from Dhyan Chand's autobiography Goal, we recount the country's glory days on the world's largest sporting stage.



The 1928 Indian Olympic team with IHF officials.   -  The Hindu Photo Library

In our hockey programme in England, you must have noticed that we won all our five matches played at Merton Abbey and out of the five fixtures in the Folkestone Festival, we won four and drew the other. These pre-Olympic fixtures in England served us very well and by the time we left for Holland in quest of Olympic honours, we could claim that we were fairly conversant with English ho-ckey. We had the added advantage that since our team consisted of the smallest number of men, it was often necessary for our teammates to play in strange positions in the various matches.

I am not very sure of the exact date we crossed the English Channel, but I remember that we arrived in Amsterdam on April 24. I have no diary and my friends who have been helping me with the particulars are unable to give more details. We played four matches in Holland, two in Germany and one in Belgium before we actually made our debut in the Olympic stadium, where we played our first match on May 17. We opened our continental itinerary on April 26 with a match against an Amsterdam XI, winning the match by fifteen goals to two. It was only a short run from Amsterdam to Arnheim where our next event was played and which we won by eight clear goals. The Dutch hockey authorities were anxiously watching our play and were frightfully keen to get the hang of our attacking technique. They fielded their second Olympic XI on May 2 in Amsterdam and this match also proved an easy victory for us. We won by eight clear goals again. Later, we journeyed to the Hague to meet the Dutch Olympic team in a practice match. This match also we won with consummate ease but not before our goal suffered a reverse once against the eight times we netted into theirs.

Sightseeing

We spent some time sightseeing in Holland before leaving for Germany and Belgium from where fixture invitations had come. At the Hague, we visited the famous Permanent Court of International Justice. I cannot recollect whether the court was then in session or not. We then saw the picturesque palace of Queen Wilhelmina with its well laid-out lawns and gardens and crystal-clear sparkling pools of water. Holland, as the very name Low Countries implies, you know will never suffer from scarcity of water, a good part of the interland being below sea level. A trip round these regions reminds one of Bengal or the southern state of Travancore. The country is rich in pastureland and is famous for its dairy products and fish. Our manager Mr. Rosser and we ourselves were very anxious to visit the Kaiser's Doorn home (Huis Doorn, or Doorn Manor, was the residence-in-exile of Kaiser Wilhelm II, the last German emperor, between 1919 and 1941), a few miles away from Amsterdam. The Kaiser was spending his last days in exile at Doorn and we wanted very much to have a glimpse of this old man who reputedly was responsible for World War I engaged in his favourite pastime of chopping wood. We were, however, advised to desist and it was a disappointment to us all. However, we were well nigh achieving our hope during our 1932 Olympic tour. Our manager, Mr. Pankaj Gupta, took us for a drive through a small narrow village where we saw Dutch women lining up the streets peddling fresh fish caught from the dykes. The Bengali that he is – Bengalis are the most famous fish-eaters in the whole of India, you all know – Pankaj Gupta remarked the sight reminded him very much of rural villages in Bengal. These Dutch women, in their colourful national costumes and wooden shoes, presented a typical Dutch rural scene. This village lay on our way to the Doorn residence of the Kaiser. When we neared the estate, we saw a burly sentry mounting guard at the gate. His stony glare and statue-like posture were not inviting enough for us to make further progress. We all had believed the Kaiser lived in obscurity and it would be easy for us to gatecrash into his presence. But with such precautions around him, we thought fit to retreat without completing our mission.



The Indian hockey team that played the 1928 Olympic final. Standing (left to right): Richard Allen, Maurice Gateley, Leslie Hammond, Dhyan Chand, Eric Pinniger, George Marthins and William Goodsir-Cullen. Squatting (left to right): Rex Norris, Michael Rocque, Shaukat Ali and Frederic Seaman.   -  The Hindu Photo Library

An invitation came from the German Hockey Association (Deutscher Hockey Bund) to play two matches in Germany which we gladly accepted, even though our players were crocked and were not hundred per cent fit. We had a keen desire to visit the Kaiser's Berlin — neither the Berliners nor Germans as a whole knew of any Adolf Hitler then. We played our first match in Germany in Hanover on May 7 beating a home team by ten clear goals. From Hanover, we travelled to Berlin where on May 8 we defeated a Berlin XI by five goals to one. It was an exciting game. Lots of burly tactics, physical force and "flogging" were features of German hockey as I saw it then.

From Berlin, we crossed over to Belgium for our fixtures there. The journey along the famous Rhine fascinated some members of our team who had a poetic frame of mind. Being a soldier, I was only interested in resting as much as possible, trying to keep fit for the next game and for the Olympics. When we reached Brussels, my teammates taunted me with being crude and unromantic. The capital of Belgium fascinated me. Brussels is a small but picturesque city. Some of its churches are old and famous. Belgium is also famous for its lacework and glassware. We met a Brussels team on May 13 beating them by ten goals to two. We had a mind to visit Antwerp, which is close to Brussels, but could not do so because the time at our disposal was too short. Antwerp is the place where the first post-War Olympics were staged in 1920. We returned to Amsterdam on May 14 and rested for three days before playing our first game in the Olympic arena on May 17.

The 1928 Olympiad was the ninth of its kind and it was at the request of the Indian Hockey Federation that hockey was reintroduced in the Games in 1928. All these years, our country was looking forward to an opportunity to demonstrate to the world her prowess in the world's finest amateur game. You, therefore, will understand how eagerly and with what thoughts we awaited the day to dawn on May 17. The pre-Olympic short trips in Holland, Germany and Belgium gave us very good opportunities to get ourselves acclimatised to the Continental conditions. The climate in the Low Countries is not so uncertain or wet as in England. The grounds were also better in a way, but I wondered why the turf both in England and in the Continent were not kept properly trimmed. The long grass proved a handicap to us as the progress of the ball was slowed and our game of flick and push against our opponents' hit and run suffered considerably. However, we did not bother ourselves much on this score as we were always at least half dozen goals superior to any other team we had so far encountered. This confidence stood us well. The three days prior to the opening Olympic fixture we spent quietly in our hotel in Amsterdam. Language was the chief obstacle and in spite of our best efforts, we could hardly be good mixers in social circles. Fashionable Dutch lasses, hockey enthusiasts all, flocked around us and wanted to fête us. But, as I have already narrated earlier, I kept myself strictly aloof.

The Dream Day

The day of our dreams dawned. On May 17, we confidently marched into the stadium to make our Olympic debut. We had travelled thousands of miles for this. People at home – quite a number of them hypercritical – had their doubts as to the wisdom or otherwise of India's participation in the Olympic Games. We too had our misgivings so far, but on this day we had no doubts whatsoever. We were highly strung and we were determined to show to the world that in this game our country was supreme. The weather was fine and we met an Austrian XI. The game was a tame one and we beat our opponents by six clear goals. The team was composed of:

Richard Allen; Michael Rocque and Leslie Hammond; Rex Norris, Eric Pinniger and William Goodsir-Cullen; Maurice Gateley, Shaukat Ali, Dhyan Chand, George Marthins and Frederic Seaman.

The first few minutes of the play we were not quite settled, but never was there a moment when Austria was on top of us. However much I desire to describe the 1928 Olympics, I regret I will have to disappoint your readers. My friends who have helped me so far in writing these memoirs have not been able to supply me with any detailed account of the games. How I wish our manager Rosser was alive today? He could have very well supplemented the statistical side of these memoirs. I do not know the whereabouts of one other friend who could have helped me. He is our teammate Hammond who used to maintain some sort of scrapbook. I hope Hammond will come across my narrative and supplement it with particulars. I cannot even recollect how many goals I scored against the Austrians.



An aerial view of the Olympic Stadium in Amsterdam.   -  The Hindu Photo Library

The next fixture was on May 18 when we met Belgium in the second round. We had a number of changes in our team. Jaipal Singh played his first match in the Olympic Games on this day and he partnered Rocque. S. M. Yusuf replaced Norris at right-half and Norris was transferred to left-half in place of Cullen, who was given a rest. Gateley was dropped and Shaukat Ali took his place at outside-right with the Punjab player Feroze Khan playing inside-right. The outcome of the play on this day was again in no doubt. While in Brussels, Belgium managed to score two goals against us, we beat them by nine clear goals and thus qualified to meet Denmark in the next fixture.

After a day's rest, we faced Denmark on May 20. The Danish defence gave a sterling display, particularly their goalie, the stout and hefty Dane who did give me a severe time, stopping many of my efforts when I thought I was the winner. In fact, we found that more importance was laid on an efficient goalkeeper than on the others during all our Continental tour. We beat Denmark by five goals to nil, thus achieving a hat-trick. In three successive fixtures in the Olympics, no goal was scored against us. We kept up this tradition in the other two matches to follow also. After Denmark, we had to meet Switzerland in the semifinals. Switzerland's prowess in hockey you all know is a household word in the Continent. Against Denmark, we had fielded the same team that opposed Belgium.

The semifinal against Switzerland was played on May 22. We beat our opponents by six goals to nil. We had a new team doing duty on this day:

Richard Allen; Michael Rocque and Jaipal Singh; Rex Norris, Eric Pinniger and William Goodsir-Cullen; Maurice Gateley, George Marthins, Dhyan Chand, Frederic Seaman and S. M. Yusuf.

Allen was our only goalkeeper and therefore there was no question of replacing him or giving him rest. I wondered at times what should have happened to us if Allen happened to injure himself. Possibly Shaukat Ali who played almost in every position would have been asked to take his place. I am not sure whether Jaipal Singh or Leslie Hammond played at full-back. Norris, Pinniger and Cullen played in the intermediate line and Gateley, Marthins, myself, Seamen and Yusuf formed the attacking quintet. I was surprised to see Yusuf play outside-left, but we could not help it. Feroze Khan was not fit and so also Shaukat Ali and that accounted for this strange forward line. With our victory over Switzerland, we qualified for the final, which took place on May 26. We faced Holland on that day. You will remember that in a practice match we beat the Dutch Olympic XI at the Hague on May 5 by eight goals to one. That helped us a great deal in sizing up the strength of our opponents on the day of the final. On this day, we beat Holland by three clear goals.

At this distant date, I still remember vividly the tragic circumstances in which India took the field on May 26 to win the highest laurels in world's hockey. It was a sadly depleted team that opposed Holland. Feroze Khan, Shaukat Ali and Kher Singh were on the sick list and Jaipal Singh was not available. I myself was ill, running a high temperature which stayed all through the game. For me, there was no option. That day our manager coined a slogan for us: "Do or die." I decided I would die playing. I was a soldier by profession and when the country's honour was at stake, there was no alternative but to march boldly into the battle field. Look at the team:

Richard Allen; Michael Rocque and Leslie Hammond; Rex Norris, Eric Pinniger and S. M. Yusuf; Maurice Gateley, George Marthins, Dhyan Chand, Frederic Seaman and William-Goodsir Cullen.

You will notice that poor Kher Singh could not participate in a single game in the Olympic fixtures. He had injured his knee earlier. With such odds against us, we entered the field, led by our captain Pinniger, on whom Jaipal Singh's mantle fell, amidst thunderous cheers from a large crowd. With their own national team playing, the Dutch turned out in large numbers and the stands were full. It was a great game and the fine traditions of Indian hockey were demonstrated to the world with a skeleton side. Holland put up a very good fight. I was amazed to see them play considerably better than they did during the previous practice match against us. They too had adopted, it appeared, "do or die" tactics. In a way we were their masters and although we scored only three goals, our superiority was much more in evidence in all departments. I could give no detailed account of the play on that red letter day. Allen, our goalkeeper, created a record, namely that not a single goal was scored against him in all the five Olympic events we participated. However, Allen could not maintain this record in the second and subsequent Olympics in which India participated. Thus, on May 26, 1928, India was acknowledged throughout the world as the hockey champions. On May 28, we lined up at the Olympic Stadium to receive our Olympic medals and believe me that day our happiness knew no bounds. Unlike the present series of Olympic Games, the 1928 hockey was played in May, although the actual Olympic ceremony and other events took place according to schedule towards the end of July. As a result, we had not the good fortune to enjoy the Olympic atmosphere, the solemn rituals of the opening ceremony, the subsequent thrills and excitement. So even here my readers will have to be content with what appeared in the press at that time.



Dhyan Chand in action during a match between the Indian Olympic team and an Anglo-Scottish XI in England in April 1928.   -  The Hindu Photo Library
 
According to our manager Rosser, who submitted a report at the end of the tour:

"The exhibition of hockey given by the Indian team impressed and fascinated the countries of Europe. Apart from their wonderful eye, nimbleness, unselfish play, quick movements and team work, their display of scientific hockey showed what was possible in the great amateur game in correct unison and sympathetic touch.

"The main features that impressed the English and the Continental players were:

Positional play;

The combination of the forwards with the half-backs and the latter with the full-backs;

The tackle back;

Quick movements and first-time passes;

Deft stickwork, both in attack and in defence;

Quickness, dash and anticipation;

Frequent use of the hand to stop the ball; and The 'feint' to baffle the defence.

"Hockey as played in India is the creme de la creme of what really first-class hockey should be."

Naturally, after our triumph we all felt that we had done something for our country. Something which perhaps even the politicians could not have achieved or done was gained for our country. We were fêted, entertained and lionised in Holland before we returned to England on our way back home. I could never forget the welcome on our tour of Europe. We spent a quiet holiday in London before embarking homewards.

On our way back to India, in Marseilles, we met the Australian contingent of athletes who were to participate in the Olympics in July. We fraternised and there was a ring of sincerity and comradeship on the part of the Australians which won our hearts. Needless to add that reciprocation was spontaneous.

As we neared the shores of our mother country, we were puzzled and bewildered. The three-man send-off accorded us on March 10 in Bombay did not engender much hope of a triumphant homecoming. But our apprehensions were soon belied. Bombay made amends for her lapse and she gave us a reception befitting us. At Mole station was a sea of heads cheering wildly. Dr G. V. Deshmukh, the famous surgeon and politician who was then mayor of Bombay, was present to accord us a civic reception. The governor of Bombay sent a representative with a congratulatory message. Among those present to receive us were Jamnadas Mehta, the colourful personality in Indian politics, and the late lamented Benjamin Guy Horniman. It was a brave and happy team that faced a battery of cameras on that day. We had a very pleasant time in Bombay before we dispersed. Prior to being demobilised, the Olympic champions played a friendly game with the Western India Hockey Association. We beat them by six goals to one.

Buy a copy of Dhyan Chand's autobiography Goal .

Sportstar


---

Guwahati may host Junior Men's Hockey World Cup

Guwahati may witness another mega sporting event and this time in hockey field. The city is considered




GUWAHATI: Guwahati may witness another mega sporting event and this time in hockey field. The city is considered as a suitable venue for the next FIH Junior Men's Hockey World Cup which India will host next year.

Recently the president of the Indian Olympic Association Narinder Batra, who is also the president of International Hockey Federation (FIH), in a discussion with the Assam Olympic Association via video conference, mentioned that Guwahati may be a good venue for the next FIH Junior Men's Hockey World Cup. If State Government agrees then the event can be allotted to Guwahati.

Admitting the news the treasurer of the Assam Olympic Association Tapan Kumar Das, who is also the secretary of the Assam Hockey, said The Sentinel, "Batra is interested to allot the event to Guwahati and he shared the matter with the secretary Lakhya Konwar and other officials of the Assam Olympic Association during the discussion. If it happens it will be really good news for the State hockey."

COVID-19 pandemic already made huge impact in the world's sports arena. Several international events were either cancelled or postponed for a long period. Even different Sports Associations of the State are facing trouble to prepare their new annual calendar as sports activities cannot be resumed till the clearance comes from the State Government.

However Das said, "The FIH Junior Men's Hockey World Cup will likely to be held in the third-quarter of 2021 and it is the ray of hope for us. There is enough time in our hand."

 He also added Batra will likely to visit Guwahati after the situation turns normal and will meet with the Chief Minister to discuss the matter.

It may be mentioned here that Guwahati is now a very popular destination for World sporting events. In 2017 Guwahati hosted FIFA Men's U-17 World Cup soccer. The city is again selected to host the forthcoming FIFA U-17 Women's World Cup which is scheduled to be held in February-March, 2021.

The Sentinel Assam


---

Juliani keeps going on and on at 35



Evergreen: Hockey defender Juliani (right) is 35 but still eager to play in her fifth Commonwealth Games.

KUALA LUMPUR: Malaysian National women's hockey defender Juliani Mohd Din will turn 35 in November with no plans of calling it a day anytime soon – she has some unfinished business.

The Sabahan, the most experienced player in the national team with 180 caps since 2006, wants to play in her fifth consecutive Commonwealth Games in Birmingham as well as the Asian Games in Hangzhou, China. Both will be held in 2022.

Juliani, who made her international debut at the Doha Asian Games in 2006, will only settle down after she retires from the national team in 2022.

Juliani, an Air Force sergeant at the Sungai Besi camp, is the pillar of the national team and wants to continue playing for the country for two more years.

"With the retirement of national captain Siti Noor Amarina (Ruhani) in March, I am now the most senior player in the team.

"And I believe my services are still needed to marshall the defence."Although I will turn 35 soon, I am still as fit and fast as ever, " said Juliani, who helped Malaysia to win their first ever bronze medal in the Asian Champions Trophy in Kakamigahara, Japan in 2013.

Juliani said she wants to be the first Sabahan woman player to feature in five Commonwealth and Asian Games in 2022.

My mission is to help Malaysia reach the semi-finals in Hangzhou after finishing fifth in the last four Asiads in Doha (2006), Guangzhou (2010), Incheon (2014) and Jakarta (2018).

She featured in four Commonwealth Games in Melbourne in 2006, New Delhi (2010), Glasgow (2014) and Gold Coast, Australia (2018).

Juliani said she has not married because of her commitments to the national team.

"My first love is hockey and my dream is to wear the armband before I retire.

"It will be really great if I can be the skipper of the national team as I will the first Sabahan player to do so.

"I will only settle down after I retire in 2022, " said Juliani, who helped Malaysia to win indoor gold in the Philippines SEA Games last December.

The Star of Malaysia


---

Bangor appealing against relegation from Ulster Hockey's Premier League

John Flack

Bangor men have lodged an appeal with Ulster Hockey after being relegated from the Premier League and not been offered the chance to stay up by virtue of a play-off.

All the provincial leagues across the country were deemed to have been finished due to the Covid-19 pandemic a few weeks ago and positions were decided by 'percentage equalisation', with Bangor finishing in penultimate place. Had the leagues been completed as normal, Bangor would have had a promotion/relegation play-off against the team that ended up second in the Intermediate League.

On May 1, Ulster Hockey stated: "Due to the ongoing Covid-19 situation, there can be no play-off matches to determine promotion and relegation between leagues and all applicable leagues, the top two teams, as determined by percentage equalisation, will replace the bottom two teams in the league above."

Bangor dispute this premise and claim that there is nothing in the rulebook to permit such a step.

Club chairman Scott Parker said: "Hockey Ireland asked the provinces to bring their leagues to a conclusion and come up with some sort of formula as to how to do that.

"The provinces were told to do this in line with their own rules and regulations and those state that it's one up and one down and then a play-off (in our case), so all we are asking in that Ulster Hockey abide by their own rules and regulations."

Belfast Telegraph


---

Focus turning to #ReturnToHockey




Following the launch of the Return to Sport Toolkit and imminent return of community sport, #HockeyatHome has become #ReturnToHockey, meaning attention has turned to the excitement and anticipation of getting back on the pitch.

Since late March when the COVID-19 restrictions took hold, Hockey Australia has been rolling out daily #HockeyatHome video content featuring a host of Kookaburras and Hockeyroos stars, as well as input from national coaches, High Performance staff and umpires and officials.

We sincerely thank everyone of them who filmed and provided quality content for the #HockeyatHome series. The videos have been really well received and we hope you enjoyed watching them at home and learning from some of the world's best.

A huge thanks also to the Member Associations, clubs, schools and everyone who liked and shared the #HockeyatHome content and those that got involved and posted their own hockey videos from home.

Now that restrictions are starting to ease across the country and guidelines have been released on the return to group training (albeit at different rates depending on the state or territory), Hockey Australia's focus has shifted to emphasise the best things about hockey and all of the reasons we can't wait to get back out there playing again.

To do that we will start to feature various people across all facets of the Australian hockey community, including a special interview series hosted by Hockey Australia Board Member and popular Network Ten news presenter Sandra Sully.

So keep an eye out on the Hockey Australia, Kookaburras and Hockeyroos social media channels for an array of #ReturnToHockey content.

And if you were loving the regular #HockeyatHome segments never fear, there will be a host of #HockeyatHome content and videos continuing to be thrown in, including Hockey LIVE and the Hockey Hits Spotify playlists to help keep you engaged and connected as we all go through this transition phase together.

Make sure you are following all of the relevant Hockey Australia social media channels and feel free to post a video on your own socials describing what you are most looking forward to about playing hockey again and simply tag #ReturnToHockey.
Finally, if you have missed any of the #HockeyatHome content so far, you can catch them all on the Hockey Australia YouTube channel.
Social Media Channels
Hockey Australia
Facebook
Twitter
Instagram
YouTube
LinkedIn
Kookaburras
Facebook
Twitter
Instagram
Hockeyroos
Facebook
Twitter
Instagram
Sultana Bran Hockey One League
Facebook
Twitter
Hockey Australia media release


---

Safety in hockey: Readers' respond

By The Hockey Paper



Reverse shot by Santi Freixa.FFU PRESS AGENCY ©: Frank Uijlenbroek

Our coverage this year on Sam Ward's injury – despite it being an accident – provoked an overwhelming response to safety within the game, both at elite and grass roots level. This is only a small selection from our post bag as we explore safety in our sport over the next five pages.

Change PCs to 5 v 4

WHAT is most exasperating are some of the rules. They say that the first hit at the penalty corner must strike the backboards – even if, after the ball is passed around, the attacker hits into an open goal. Yet, the rules permit a full-blooded rising hit or a powerful flick at goal in open play that could cause serious injury (or worse), like the one Sam sustained. The penalty corner remains a vexation. It's dangerous beyond doubt besides being a source of confusion and ambiguity to the general public. I have long pleaded for experimentation of a 5 v 4 power play in favour of the attackers that starts like the long corner (the 23m restart). The only difference here being all other players must be positioned in the other half of the pitch at the whistle to signal the restart. Worth a try? I think so. Light weight masks for outfield players would be worth developing and enhanced protection for the "first player out" in the penalty corner defence is warranted.
Errol D'Cruz

PC shots should be height restricted

I HAVE been suggesting a change in the short corner rules for years. As an umpire with 40 years experience of umpiring in the East Premier League I have seen many incidents of near misses and fortunately not so many nasty injuries, nearly all of them during short corners. In my own playing time, I had to adapt from firing in shots at head height at shorts when they brought in the 18″ backboard. After a while the drag flick was developed and the best proponents of this were sending the ball in at head height just as fast as I had done by a full-blooded hit. No change in the danger then. I have suggested to many people that ALL shots at short corners should be restricted in height and have to be hitting the backboard. I would also outlaw the reverse stick shot at shorts as I have witnessed the stick follow through from these shots almost decapitating defenders going in for the tackle. The wearing of protective headgear is currently not allowed. This should change and outfield players should be allowed the choice of wearing head protection.
William Taylor

BAN reverse stick shooting. Too many players have no idea where they are hitting the ball. Anti-skill! Just big, horrible swings. The circle has become a diving-for-cover-zone too often. Take that away and players need to develop skills to create opportunities rather than just swinging, regardless of who's in their way. Shots not being placed, just swing without regard for others. Might hit target, often not. You see it all the time.
Jonathan Taylor

I THINK it's essential that we increase the safety of the game for everyone. I'd personally like to see reverse stick shots stopped at a younger age until they are more aware of the dangers and also the use of head protection through the game.
Angela Bolton

Face mask for outfield players?

I'M A 63-year-old still playing Grand Masters and my club team. I got a major blow to the top of the head whilst wearing a mask at a PC. I ended up in A&E for four hours, four stitches and concussion. My wife said 'enough' but I still love playing. After reading about Sam, I think we should have the option of wearing an on-field mask, similar to in-goal masks but without the padding.
George Blackwood



THP has led the way on safety since 2017

A FULL survey of injuries at clubs would help get a better picture of the extent of the dangers in hockey. I had a ball in the right eye and have impaired vision now. I wear safety glasses now.

Our club has had several head injuries.
Nova Wallace

Head injuries go unnoticed

RECORDING hospitalised injuries will not necessarily include all head injuries, or indeed all significant injuries. I would think a lot of head injuries that occur won't be known to the neutral umpire if they went to hospital. How many times do injured players avoid hospital? I know I did.
George Deaves

THE high profile nature of Sam Ward's injury may actually save a life or two. I've seen 11 and 12-year-old kids standing on the post trying to deflect at head height, full blown strikes from top circle in development games. Sam's injury was inevitable. Empathy is hard earned.
Mike Mcdonald

DO YOU HAVE A CONCERN ON SAFETY AS A PLAYER OR CLUB? GET IN TOUCH WITH US AT This email address is being protected from spambots. You need JavaScript enabled to view it.

This originally featured in a previous Hockey Paper edition. Don't miss out. Subscribe in print or in digital format.



The Hockey Paper