All the news for Saturday 23 September 2020

FIH says resumption of hockey to depend on local conditions in member countries

The FIH said that any return to training and competitive hockey has to be "carefully implemented to prevent any resurgence in infection".

The resumption of competitive hockey in various countries amid the COVID-19 pandemic will depend entirely on local conditions, the International Hockey Federation (FIH) has said.

According to a top FIH official, a vaccine is needed to "return to normal competition", but restarting the sport at different levels is dependent on conditions in various member nations.

"We have never said that hockey can only start once the COVID-19 vaccine is developed...this document (the five-stage resumption plan) has been prepared only to give them a framework on how to start things under precaution," an FIH official told PTI.

"In the end resumption of hockey entirely depends on local conditions, which means it entirely depends on instructions and guidelines of government of respective countries based on their current situation."

The FIH on Tuesday came out with a five-point document, encapsulating the dos and don'ts for its member associations in their endeavour to resume hockey in their respective countries.

According to FIH, the document was drafted on the request of member countries to give them a blueprint on how to work towards resumption of the game.

"This starts, as has been seen in the Netherlands and Belgium, with a return to carefully managed training, still with social distancing measures in place," the FIH said in the statement.

"The next stage will be a resumption of regional competition, followed by local travel between neighbouring nations. The trans-Continental competition will follow and, finally, once a vaccine is in place, it is hoped there will be a return to normal competition."

The FIH further said that when competition does resume, organisers will need to be hugely conscious of safety measures in order to keep the hockey workforce and the fans safe.

"The guidelines, which are aligned to those issued by the World Health Organisation (WHO), cover the entire hockey workforce athletes, coaches, officials, staff, administrators and volunteers.

"Along with a risk assessment chart to which all hockey organisations are advised to adhere, there are also guidelines for organisers of international events once there is a return to international competition," the FIH said.

Sportstar


---

Indian hockey teams under lockdown in Bengaluru can return home: HI SOP

Hockey India stipulates the guidelines players and staff have to follow for travel home and return for training.



The staff and players can return to their homes after consulting the chief coaches about the duration of the leave.   -  K. MURALI KUMAR

Players and staff of the Indian men's and women's hockey teams, who have been living under lockdown in Bengaluru, will be allowed to return home while following strict safety measures, Hockey India stated in its Standard Operating Procedures (SOP).

A total of 72 players and staff members have been restricted to their own rooms at the Sports Authority of India's campus in Bengaluru during the nationwide coronavirus-imposed lockdown after arriving for the national training camp in the first and second weeks of March.

The SOP stated that the staff and players can return to their homes after consulting the chief coaches about the duration of the leave. They are required to wear a mask and carry hand sanitiser while travelling. While at home, they are expected to interact with only family members, train in isolation and step out of the house only for necessities.

Two-week quarantine

Upon returning, the team members will be put under a two-week quarantine and will be tested on the 10th day, if testing is available. If not, social distancing for a third week is a must for every member. Once the 14-day quarantine period ends, members will not be allowed to step out of the campus for two weeks, not even for essentials.

During the training, teams can train in groups of maximum six people and roughly one quarter of the pitch (40x20m). Players can tackle during the training but celebrations such as high fives, first bumps are banned. Players will have to carry their own training gear, hand sanitiser and towel. All the training equipment including players' training gear and practice balls will be sanitised after each session.

With the gyms at the SAI centre out of bounds, the teams can conduct fitness sessions in the badminton court in groups of maximum 16 members each.

Sportstar


---

Coach Reid focused on individual talents in the Indian hockey team

Having turned the side into an attacking unit that's quick to get off the blocks, the Aussie is working on improving individual abilities in the side.

By Naveen Peter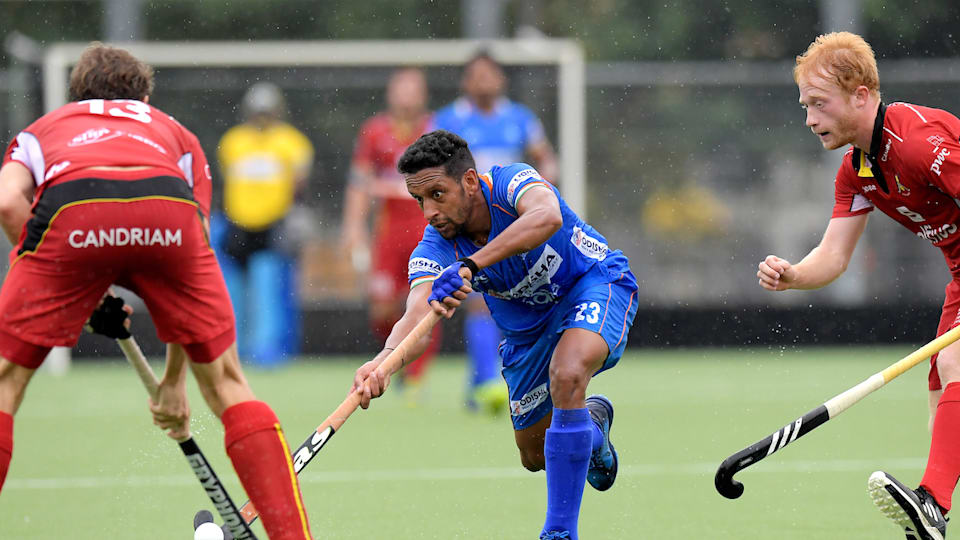 Staying fit is the priority during the lockdown period for Indian hockey defender Gurinder Singh. Photo: Hockey India

Indian hockey defender Gurinder Singh believes that the team's shift from being a defensive unit that often relied on scoring on the counter to being an aggressive and attacking side is largely down to chief coach Graham Reid.

Having taken charge as the chief of the Indian hockey men's team in April last year, the Aussie tactician has ensured that the team gets off the blocks soon and makes the most of the circle penetrations in the opening minutes of the matches.

"I am sure one can see the difference he has brought to the side since April last year," Gurinder Singh said speaking to Hockey India in a recent interview.

"We have become much more aggressive in our approach and therefore we are creating many more goal-scoring opportunities."

Quick goals, a new feature

This feature was largely evident in the opening encounters of the FIH Pro League early in the year as the Indian hockey team surprised many by finding the back of the net with their opening few moves.

Up against the Netherlands in their opening game, while Gurjant Singh gave India the lead with just 15 seconds on the clock, Rupinder Pal Singh would double the advantage from a penalty corner before the quarter hooter.

The Indian hockey team followed a similar pattern when world champions Belgium came visiting. This time, Mandeep Singh handed India the lead with a quality goal in the second minute of the game.

While the change in strategy and the effectiveness of it has been visible in the few matches that India has played this season, Gurinder Singh believed that the shift in mentality has been due to the coach's ability to work with the players on an individual level.

"It was amazing to see him shift focus from working on team tactics to the development of every player during the national camp in November last year," said the 25-year-old.

"Since there was a lot of time to prepare for the next tournament after the FIH Hockey Olympic Qualifiers, the coach spent time with all players and ensured that we improved on certain aspects during the camp."

Gurinder Singh keen on individual development

Hockey might have come to a grinding halt following the outbreak of the novel coronavirus, but for the players in the Indian hockey team, the learning never stops.

And Gurinder is ensuring that he makes the most of the time to better his game with the limited facilities available inside the athlete's hostel at the Sports Authority of India centre.

"Keeping myself fit is my number one priority during the lockdown period and I am carrying out some stickwork drills as well," said Gurinder Singh, who was part of the Indian team that won the 2016 FIH Junior World Cup.

"Playing for India at the Olympics has been a dream since childhood and hopefully, I will make it to the squad and contribute to India winning a medal at the Tokyo Games."

The Olympic Channel


---

With the stick in her hands, Betsy Ommala keeps winning awards

By Washington Onyango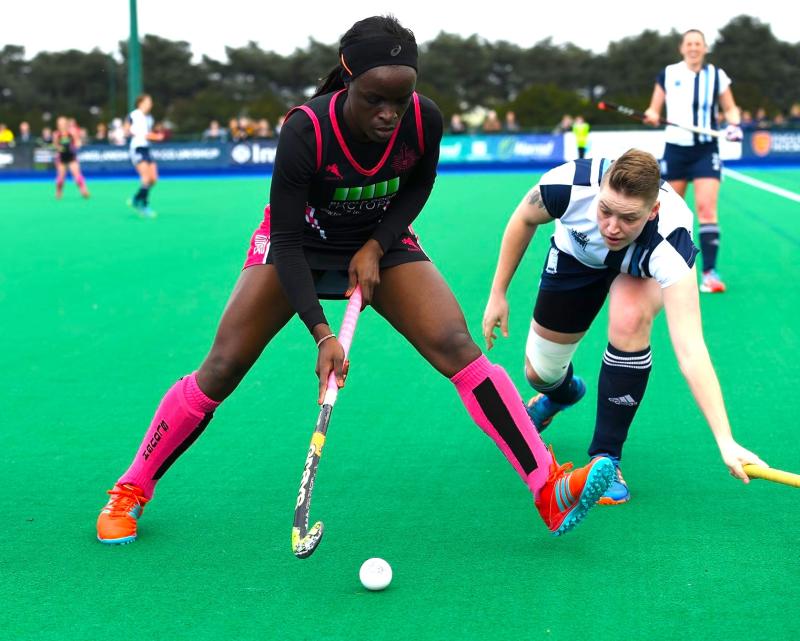 Former Kenya Hockey captain and Slough Hockey Club player Betsy Ommala (left) in action. [Courtesy]

Betsy Ommala's life is a treasure trove of hockey memories.

Leonardo Da Vinci once said: "Simplicity is the ultimate sophistication." Life is full of complexities, yet, success often derives from the simplest of acts.

For Ommala, that simple act is of scoring goals. Very few players get the chance to turn professional in their respective sports.

Fewer are the numbers that can match what Ommala has achieved during her 16 years of playing hockey.

In those years, the diminutive player has been to over 10 major finals, both locally and internationally.

She has also captained both club and national teams and signed a professional contract, a feat she hardly saw coming.

"Everything I have achieved is by the grace of God," Ommala told the Standard Sports from her base in England.

"Hockey is my life. It has taken me to places I never imagined I would reach and therefore, one should never despise this sport."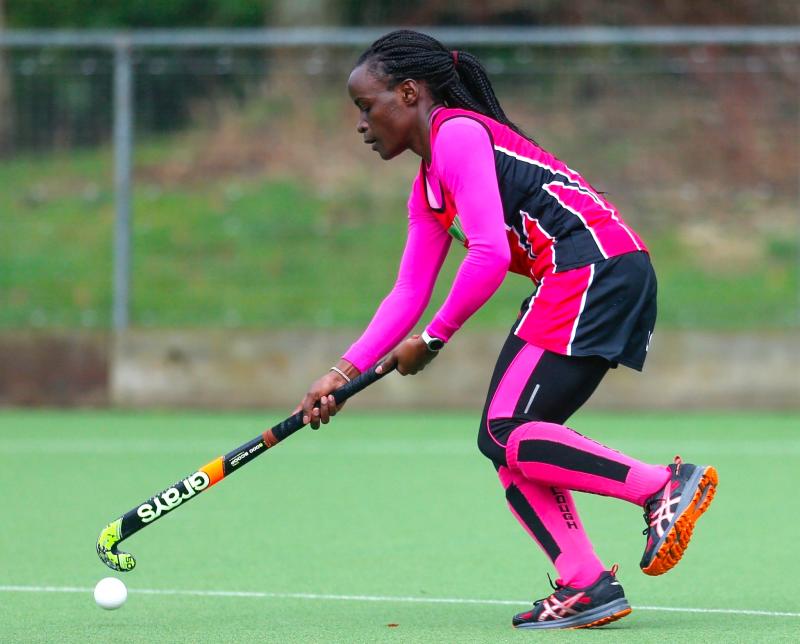 Betsy Ommala in past action. [Courtesy]

From playing in the Kenya Hockey Union (KHU) Premier League for record champions Blazers Hockey Club (formerly Telkom), Ommala has progressed to become one of Kenya's finest hockey players.

After a seven-year playing stint in the premier league, her determination and ambition saw her play and captain the Kenya national hockey women's team, which further opened a bigger door; an opportunity to play professional hockey in England for Slough Hockey Club in 2016.

As is with any epic tale, one must start from humble beginnings, which in this case for Ommala, was Mukumu, in Kakamega, where she was born in October 1989.

Born in a family of five (the younger of the firstborn twin), Ommala grew up with a passion for football and short distance running during her childhood years at Ndalu RC Primary School, in Bungoma County.

"In my primary school, the most common sports were netball, football and volleyball. I opted to play football and also took part in athletics," said the 30-year-old striker.

Her journey in hockey began when she joined Western region hockey giants Mukumu Girls High School in 2003. Mukumu moulded her to be the player she is.

"When I was in Form Two, I was introduced to hockey by a senior student who told me to try it. My interest in the sport grew into something I could never have imagined before," she said.

After completing high school in 2006, she was picked to join the Kenya national women's hockey Under 21 team, but her parents couldn't allow her to go to Nairobi to play, saying she was still young to move from the village to the city.

"I was very angry and mad after I was denied the opportunity to expose my skills to the world. As a loyal child, I respected their decision, but did not give up on my dream of playing hockey after school," she said.

"I went to Eldoret to do a Diploma course in Tourism Management for two years. Then an opportunity came for me to go to Nairobi after my graduation."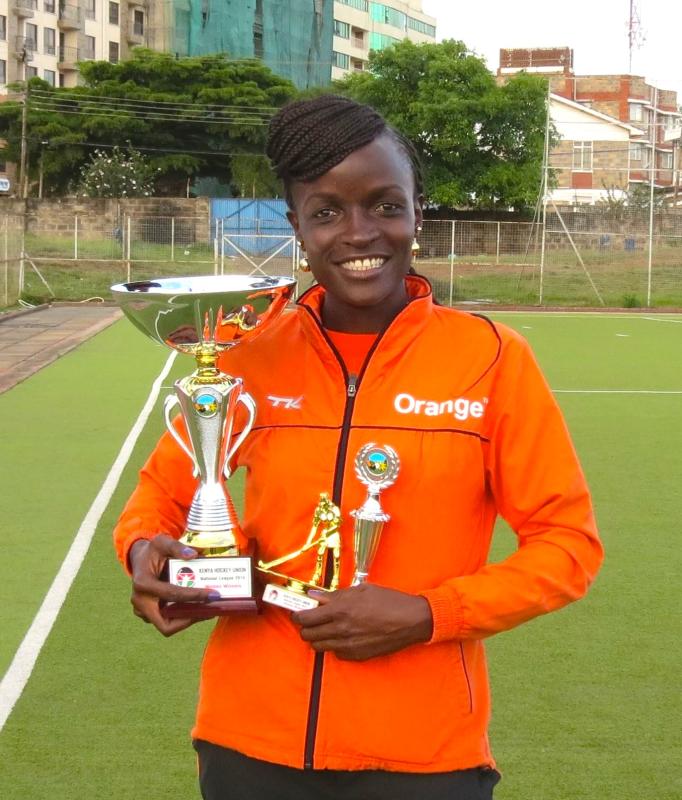 Ommala got an opportunity to play professional hockey in England for Slough Hockey Club in 2016. [Courtesy]

In Nairobi, her dreams were actualized after she joined Vikings Hockey Club where she played for one year before signing for record Kenyan champions Telkom Hockey Club in 2009.

Two years later, she was named the club's captain. She treasures this year the most because she guided Telkom to winning the Africa Hockey Club Championships in Zimbabwe.

"To lift the top trophy in Africa during my first season as captain was a privilege. It is one of the moments that I will always cherish."

She also earned a call-up to the national team where she represented the country in the Olympics Qualifying games (2011) in Bulawayo, Zimbabwe where Kenya finished second behind South Africa.

She helped Telkom win the Africa Club Championship five times between 2011 and 2016 and captained the national team over the same period.

She was also instrumental in her club's success in the Kenya Hockey Union (KHU) Women's Premier League, where they won six times.

In 2013, she was voted Women's Hockey Player of the Year at the Magharibi Michezo Awards before winning FIH World Hockey League 1 Best player award in 2014, in Nairobi.

Her breakthrough, however, came during her prime years in 2016, when she signed for England-based Slough Hockey Club in September.

Life in the United Kingdom was new to Ommala, with the English league being quite organised, skillful, fast and competitive.

She adapted fast and during her debut season, helped her club win the 2017 Super Six National Indoor League.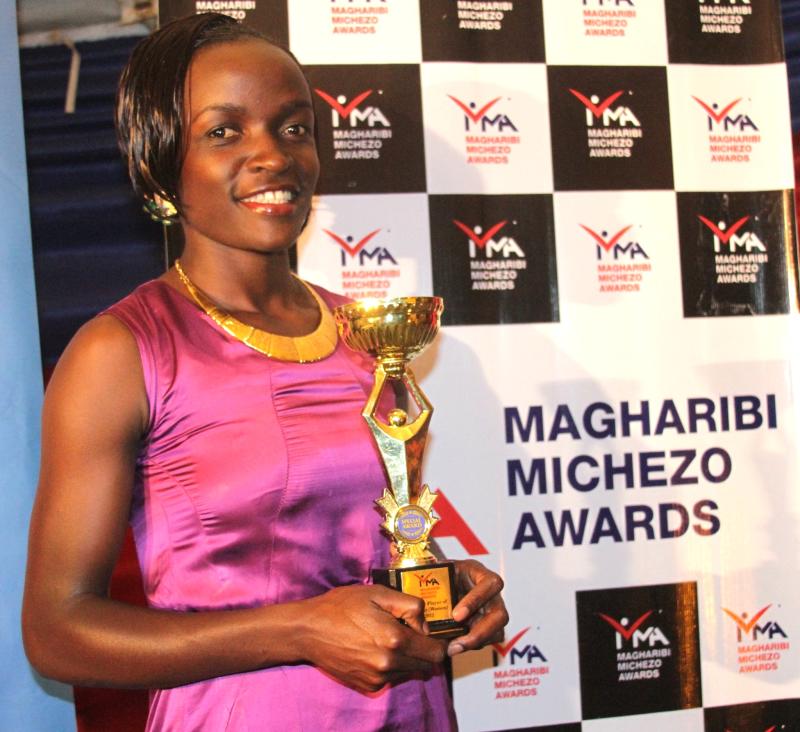 Betsy Ommala with the Magharibi Michezo Player of the Year Award. [Courtesy]

In 2018, Slough Hockey Club voted her as the 2017/2018 Player of the Season.

Ommala credits her success to Jane Nyamogo (Telkom Team Manager), Jos Openda (former Telkom coach), Rose Mbulo (former teammate) and Clyde Mbaha (Vikings coach).

To her, these people helped her to be a better player.

Ommala, who envies the late Betty Tioni and Mbulo, believes that if you want to play hockey at such a high level, one need to sharpen their basics skills.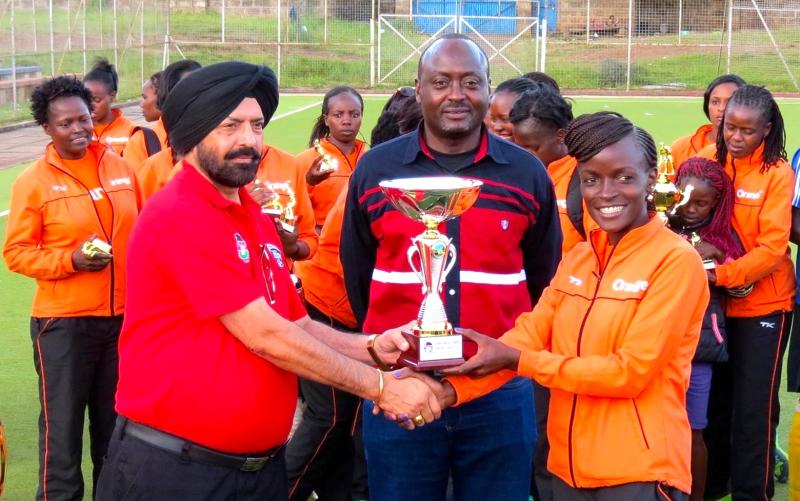 Former Kenya hockey captain Ommala (far right) receiving the KHU title. [Courtesy]

To young and upcoming players hungry to join the national team, Ommala had nothing but kind words for them.

"Patience and hard work is the key to success. Everyone has his or her time, and when that time comes, grab it with both hands and perform beyond your expectations," she said.

Her former coach Openda singled out Ommala as a determined player who is focused and is a good example to young players.

"Never give up in life because anything is possible. Young players should keep grinding hard and believing in themselves. Ommala is a good example to many other young players, who are hungry for success. Hard work and discipline is the key," he said.

Off the pitch, Ommala is a wife and a mother of one.

The Standard Digital


---

Hockey coaching: Know where the ground is

By Todd Willams




As most players know, the two circles are where most of all the important stuff happens in a game of hockey. Whether you're in defence stopping the opposition from scoring or in attack trying to get the ball into the goal, it's in the circle where all the important passes, traps, shots and saves are made.

That's also why the circle is often a pretty congested area, with sticks, bodies and feet all moving around making it even harder.

One great piece of advice that was given to me when I was a junior was to make sure than when the ball was coming into the circle, you had your stick on the ground or as close to it as possible.

Not only did that mean you would be ready to trap the ball if and when it came to you, but it also means that the stick would be in an ideal spot for you to move it if one of those sticks or feet deflected the ball and you needed to adjust.

As a result, the good habit that I developed was to tap the ground in front of me every time I needed to be ready for the ball that was about to come towards me.

Then, not only did I know my stick was on the ground ready to make a trap but by being in front of my body and not to the side, it was helping me be balanced, on the front of my feet and ready to move forwards towards the ball if need be.

Our resident coaching expert Todd Williams runs regular holiday camps. www.williamshockeycoaching.com

Does your club have interesting news or features? This email address is being protected from spambots. You need JavaScript enabled to view it.

This originally featured in a previous Hockey Paper edition. Don't miss out. Subscribe in print or in digital format.



The Hockey Paper