All the news for Friday 22 May 2020

England Hockey issues cautious guidelines on safe return to pitches

By Richard Bright




Outdoor pitches can open, hockey played in a small group and one-to-one coaching can now be undertaken following cautious guidance released by England Hockey.

The national governing body encouraged the hockey fraternity to consider "the health of themselves and others" in issuing a first stage in a return to play – but encouraged the plentiful hockey at home initiatives to continue.

Outdoor hockey pitches can now be opened as long as the government guidelines are followed, the full details of which can be found here.

Hockey can be played by two players under social distancing guidelines and in a household group, where social distancing measures are not required.

Guidelines also released mean that coaches undertaking one-to-one coaching must be be covered by suitable insurance. England Hockey stressed that guidance may change given that it still seeking government clarification on coaching youth and parents or guardians being in attendance.

Those who do book pitch time have been urged to avoid touching goals and equipment on surfaces, while maintaining a 2m social distance if playing with someone outside their own household.

Each venue will have direction rules for distancing, while members have been asked not to congregate after playing. Equipment and facilities, say England Hockey, should be disinfected between sessions.

England Hockey added in a statement: "As the longer-term plan for lifting restrictions become clearer, England Hockey is developing a structured approach to managing the steps, linked to future government guidance.

"Our aim is to allow all those in the game to understand how we intend to navigate through the next few months."

Please help keep independent journalism alive in these uncertain times. With the media industry affected by advertising, we are continuing to offer our coverage free until we return in print.

Ahead of the new season, please subscribe in print or in digital format. Subscriptions for clubs, schools and individuals.



The Hockey Paper


---

Helping players to make a safe return



File Photo: To help their affiliates and clubs to make a safe return to the playing pitches amid the Covid-19 pandemic, the International Hockey Federation (FIH) have released a set of guidelines. - NSTP/AZHAR RAMLI

TO help their affiliates and clubs to make a safe return to the playing pitches amid the Covid-19 pandemic, the International Hockey Federation (FIH) have released a set of guidelines.

The guidelines, in conformity with the World Health Organisation (WHO), cover the entire hockey workforce: from athletes, coaches, officials, staff, administrators to volunteers.

There are also a risk assessment chart and guidelines for organisers of international events when they recommence.

"With the progression of the virus at different stages across the globe, the guidelines should be used by continental federations, national associations and clubs, alongside local laws and policies, providing their own bespoke guidelines for hockey providers within their area.

"A speedy return to playing sports such as hockey is seen as a crucial measure to help in the promotion of mental and physical health. But with the virus still claiming hundreds of lives across the world every day, any return to training and playing has to be carefully implemented to prevent any resurgence in infection," said the FIH release.

Governments around the globe have implemented safety measures like social distancing, restrictions on travel and public gatherings.

"While sports and recreational activities are gradually being reintroduced, this is subject to strict controls and regular reviews, taking these three measures into consideration.

"Hockey, as a team sport with contact, is seen as a higher risk activity, and so is subject to higher levels of control and restriction," the statement read.

For starters, the venue is likely to require a deep clean, and watering systems may need to be flushed. Through accessible information and signage, social distancing restrictions must be made clear to anyone visiting or using the facility.

The Malaysian Hockey Confederation (MHC) have also come up with a detailed list of guidelines to enable hockey to make a safe return to the fields.

MHC are now awaiting the green light from the Sports Ministry for the national players to come out of their houses onto the blue artificial pitch for training purposes. Not yet for playing matches.

New Straits Times


---

USA Field Hockey's Return to Play Guidelines

I hope you and your family and friends are healthy and well. As uncertainty continues to prevail, we want you to know that USA Field Hockey is doing what we can to support the field hockey community and focus on safely returning to play.

As states begin to reopen from COVID-19 restrictions, youth sports are slowly starting to return in areas of the country. This is a positive step, but one that takes us into unchartered territory. How kids return to sport, and how we all return to field hockey, will be shaped by many factors, including world health experts, federal, state and local authorities, leading sports and health organization recommendations, liability questions and concerns, and what local sports leaders, parents and athletes deem acceptable.

USA Field Hockey has created Return to Play Guidelines that evaluate and consider how youth sports and specifically field hockey should be most appropriately delivered, with safety considerations at the forefront. USA Field Hockey has worked closely with the United States Olympic and Paralympic Committee (USOPC), Centers for Disease Control and Prevention (CDC), the International Hockey Federation (FIH) and many other health and sports leaders in developing these guidelines. The situation continues to be fluid, and we will provide regular updates as they are necessary and available.

We recognize that this has been a very challenging time for all. USA Field Hockey is thinking of you and wishes good health to you, your family and friends. Please do not hesitate to reach out with any questions, concerns, or feedback that you may have. We want to hear from you.

Simon Hoskins
USA Field Hockey
Executive Director

USFHA media release


---

SAI's training rulebook: Tackle-free hockey, no sparring

Jonathan Selvaraj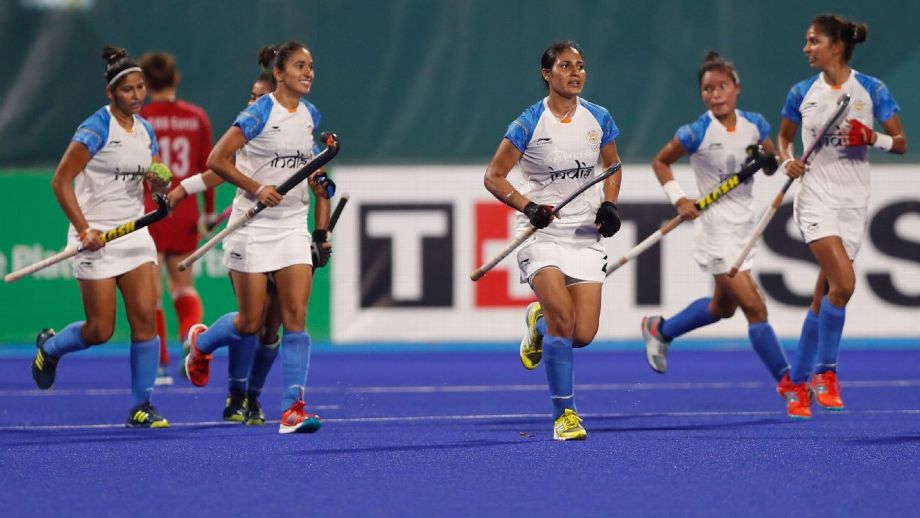 As per the SOPs, hockey players aren't permitted to tackle, share equipment or even kneel, sit or lie on the turf during training. Fred Lee/Getty Images

Social distancing and new standards of hygiene are likely to change the way India's top athletes practice as they start returning to formal training. The Standard Operating Procedures (SOPs) announced by the Sports Authority of India (SAI) on Thursday lists a number of new ways of training in their camps and institutions across the country.

For example, hockey players can't tackle in practice; relay athletes can't practise baton exchanges while jumpers can only train if they have a designated pit for personal use. Javelin throwers and other field athletes can't share equipment in training; weightlifters too must use their own set of weights; badminton players should practice outdoors where possible and, if indoors, only in singles play. Contact sports must make do without sparring partners; and in table tennis, both paddlers must handle or serve using their own set of balls.

The SAI's SOPs came after the Ministry of Home Affairs (MHA) allowed the opening of sports complexes and stadia in its guidelines for the fourth phase of the nationwide lockdown, which has been extended till May 31, to curb the spread of the novel coronavirus. But there has been no clarity on when the training will resume. "We have received the SOPs but those are the guidelines for when sports camps resume. Right now we are still waiting for an order on when the camp(s) will actually resume. We expect the order to come in a day or two," B Sacheti, general secretary of the Boxing Federation of India (BFI), said.

In an online press conference, SAI secretary Rohit Bhardwaj said that while the SOPs will be "applicable with immediate effect", resumption of sports activities across the country will depend entirely on local administrations. "The logistics might take time," Bharadwaj said.

The SOPs have categorised sport into four groups - non-contact, minimal or indirect contact, full contact and water sports. The document assigns a baseline set of precautions to each category depending on the nature of training and competition requirements.

The SOP also categorises athletes into three groups - those who have been staying in a contained environment in SAI facilites, those who have stayed outside and are now looking to rejoin camps, and finally athletes and staff at non-SAI training facilities. While athletes who have stayed inside sports facilities for the duration of a lockdown will be subject to a basic screening for any health ailments, all staff and athletes who have spent the lockdown away from a contained facility will be subject to mandatory Covid-19 tests. Athletes will also be asked to sign a consent form in which they acknowledge the risk associated with resumption of training under the pandemic situation. National Sports Federations are also to submit an undertaking that they understand the risks of resuming training in the current situation.

Other SOPs relate to specific hygiene protocols at all SAI and non-SAI training centres that have been covered by the directives.

The document makes the Aarogya Setu (bridge to health) app mandatory for all athletes and staff and calls for strict social distancing at training venues. Athletes are requested not to share personal equipment like bottles or towels. They are also expected to avoid socialising with other athletes or staff before or after training. The document also requires that athletes use a separate pair of shoes or slippers for use outside the room and any footwear used for walking outside the room should be kept outside the room. Shoes or slippers must get cleaned properly and dried under sunlight. Athletes are encouraged to avoid visiting places other than training facility and hostel within the campus. Should they visit a shop on campus, they are to wear face masks and make digital payments.

Among regular sanitation of facilites, the use of air conditioning is to be avoided with doors and windows kept open at all times during office hours to provide natural ventilation. If used, A/C shall be operated between 24-30 degree centigrade with humidity levels maintained between 40-70%

While these rules won't interfere with regular training sessions, others such as restricting the use of masseurs and physiotherapists certainly will. The document recommends that all physiotherapy and massages be avoided until absolutely necessary. Should it be unavoidable, athletes are expected to shower prior to physiotherapy, while therapists are expected to wear disposable gloves. Both are expected to wear masks. As an interim measure, the document recommends the use of a massage chair or lympha press system, both of which have been sanitised.

However, the document gathers that physiotherapy and massage is most likely needed after high-intensity training, which it recommends be avoided initially. "As most injuries occur early in the season, deconditioned athletes shall not be rushed back to full practice, or competition," the document says.

ESPN India


---

'We're not going to limit ourselves' - Ireland's Megan Frazer on Olympic ambitions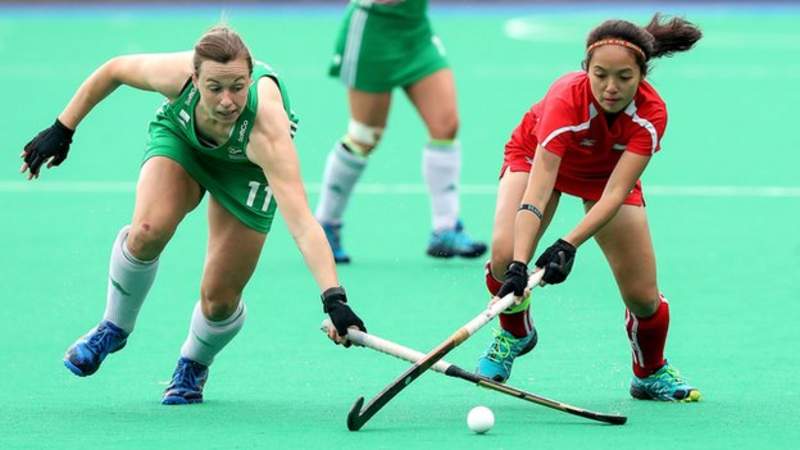 Megan Frazer helped Ireland reach the 2018 Hockey World Cup final

Megan Frazer says her Ireland hockey team-mates have to believe that anything is possible at the rearranged Olympic Games.

Ireland's women qualified for the Tokyo Games for the first time, one year on from their historic silver medal at the World Cup in England.

However the Covid-19 pandemic means their Olympic dreams are on hold until 2021.

"We're not trying to limit ourselves," said Frazer.

She added: "I think before we might have gone into a big competition with the aim of not coming last.

"Now we know what is possible and one thing we will really look to do is get to the crossover stage.

"From there, as we saw in the World Cup, it's anyone's game. It's about who can hold their nerve on the day."

'Postponement opens up selection'

The majority of Ireland's overseas players had decided to return home to focus on Olympic training and take out the element of travel from their preparations.

Frazer, who was playing for German Bundesliga outfit Mannheimer, intends to remain in Ireland ahead of the rescheduled Games next year.

"We all wanted to be together as much as possible so a lot of the European club stuff has been put on hold," added the 29-year-old.

"The fear is what you hear on the news, that the Games might not go ahead if there isn't a vaccine,

"But that's out of our hands. What we are trying to do is get a level of normality back to training.

"We've been sent a training programme and now we are trying to get back up and running."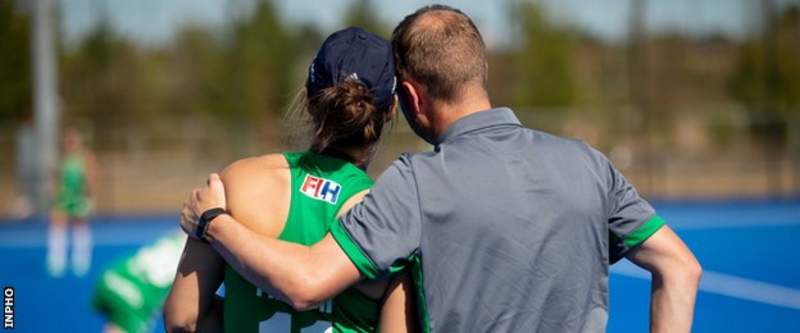 Former coach Graham Shaw comforts the injured Frazer before the World Cup final

Frazer has had an injury-plagued two seasons, including a hamstring injury which ruled her out of the World Cup final, and was working her way back to full fitness before Covid-19 halted the season.

"I had just been properly returning to play and I was feeling really good about it," she said.

"I'd been having no problems for the first time in a long time.

"There's not been too much of a let-up in my training and I've been trying to get myself up to speed with the rest of the team.

"Hopefully when the restrictions are lifted we can come back together and there won't be such a big deficit after a two-year hiatus from playing international hockey."

Missing out will be 'really hard for people'

After heartbreak four years earlier, Ireland qualified for the Tokyo Games after a dramatic shootout victory over Canada in November.

However the nature of the Olympics means that some of those involved in qualification will miss out due to the smaller squad limit of 16 players at the Games.

Frazer feels that the postponement of the Games "opens things up" in terms of selection.

"It gives Sean Dancer, our coach, more time to look at people and see where they would fit in the team," said said.

"People have an extra year to prepare and those who have just been brought into the squad will have been in a year-and-a-half come next summer.

"As the team gets stronger the players are going to get stronger, so there's going to be lots of competition for spaces.

"Missing out is going to be really hard for people."

BBC Sport


---

'We want to keep this thing going': UNC field hockey perseveres through uncertainty

By PJ Morales



UNC field hockey players stand as the starting lineup is announced during the NCAA Championship Game at Kentner Stadium on Sunday, Nov. 24, 2019. UNC won 6-1, marking their 8th national championship. Angelina Katsanis

At the end of last season, the North Carolina field hockey team was on top of the world. The Tar Heels earned their eighth national championship — successfully repeating 2018's title — and extended their winning streak to 46 games, cementing the team's status as one of the best in UNC history.

Then the COVID-19 pandemic struck, and everything ground to a halt. For UNC, it meant losing spring practice, modifying summer training and facing the possibility of a canceled season.

Despite this, head coach Karen Shelton said the circumstances are no excuse to be any less excellent.

"We want to keep this [winning] thing going," Shelton said. "We want to be successful. I think we have a lot of talent returning, so it's up to us to control the things that we can control, and that is physical fitness."

Most members of the team are still in Chapel Hill, meaning they can have their own small workout sessions along social distancing guidelines until training facilities reopen.

Goalkeeper and rising senior Amanda Hendry was in Chapel Hill for a while before going back to live with her parents in New Jersey. She summed up this summer's training in one word: "different."

"We're all trying to do as much as we can," Hendry said. "I think we've all been trying to keep each other motivated with working out, because it is a lot harder when you don't know what and when the end goal is."

To maintain motivation and a strong mentality, the team began having biweekly "sports psych" sessions — which Hendry said wouldn't normally happen during the summer. Hendry said they have been able to discuss their feelings on everything from COVID-19 and social distancing to mental preparedness and staying on top of workouts.

"They help us to stay in touch and talk about field hockey and keep our heads on straight about this," Hendry said. "It's just nice to talk about field hockey sometimes, even if we can't all be together doing it."

Hendry — along with forward Erin Matson, midfielder Eva Smolenaars and back Courtnie Williamson — makes up part of the team's "leadership group," Hendry said.

Smolenaars and Williamson are the two members of this group still in Chapel Hill. Smolenaars said being around teammates, even if it's just running with two others, gives them the drive they need to push forward.

"We know what it takes to win," Smolenaars said. "If we want to do what we've done the past couple of years, we know that it's going to take effort and hard work. In order for that to happen, we have to stay on top of our workouts. The good thing about it is that we all love doing it."

With team facilities closed and large group training prohibited due to social distancing guidelines, there is no set return date for field hockey. As the weeks drag on, Smolenaars said consistency in workouts becomes more and more difficult for the whole team.

The reason? They're being kept away from the sport they love.

"The big thing that we are missing, obviously, is playing field hockey which, at the end of the day, is what it's all about," Smolenaars said. "But it's not like we're the only team in this situation, every team has to deal with the same issue. I think the ones that are devoted to their sport and try to stay consistent will see it as a chance to work more on individual skills ... or as a challenge to work as hard as you can."

To Shelton, it's the ability to get through difficult times and come out stronger that defines her team's passion and greatness, regardless of what — if anything — happens on the field.

"Sometimes, it's good," Shelton said. "When you have something that you love and you're passionate about, and that gets taken away for a period of time; when you get back, you're going to appreciate it that much more."

The Daily Tar Heel