All the news for Thursday 27 February 2020

Hockey Australia to celebrate Indigenous contribution




To celebrate the role Indigenous Australian players have made to the sport, Hockey Australia will hold a special Indigenous weekend during its FIH Pro League double headers in Perth on 6/7 March 2020 against Argentina.

In a first for Australian hockey, the dedicated Indigenous themed weekend will encompass a host of cultural elements and events highlighted by the Hockeyroos and Kookaburras (Australia's women's and men's national hockey teams) wearing a specially designed Indigenous playing kit.

The artwork on the front of both playing kits was designed and painted by proud Aboriginal, dual Olympian, gold medallist and former Hockeyroo and Federal Senator Nova Peris OAM, and also includes artwork by Indigenous artist Nathan Patterson, who heralds from the Northern Territory.

"This is an opportunity for hockey in Australia to celebrate Indigenous players who have played for Australia over time," said Hockey Australia CEO Matt Favier.

"It is our chance to say thank you and to acknowledge them, and more broadly to recognise and celebrate the role that Indigenous people play in Australian culture and our community, particularly through sport.

"Surprisingly we haven't done something like this as a sport before despite our history which has seen talented Indigenous players such as Nova Peris, Des Abbott, Joel Carroll, Baeden Choppy and Lorelle Morrissey.

"We have some players of Indigenous heritage also playing now, so the timing is appropriate and we are thrilled that we are able to do it."

Favier said having Peris paint the imagery on the playing shirts added further impact.

"Firstly, it is extraordinary to have somebody like Nova, who is Australia's first Indigenous gold medallist and dual Olympian, excited about supporting this initiative," said Favier.

"We are thrilled that we have been able to engage a person of her calibre to put her designs on the uniforms that will be worn…it is terrific for our sport."

Peris said she was honoured when approached about painting the designs, which feature x-ray style paintings, a method her descendants, who are of the Iwatja peoples of Western Arnhemland, have painted for thousands of years.

"To be asked to design the Hockeyroos, Kookaburras and staff uniforms was a humbling gesture," said Peris.

"There have been many great Indigenous athletes that have represented Australia over the past few decades and to now have the opportunity to have our culture expressed and showcased to the world is absolutely wonderful and timely with the many other sports who have joined in the spirit of reconciliation.

"I enjoyed painting again and both the Hockeyroos and Kookaburras uniforms allowed me to express how I felt during my time as a Hockeyroo."

Current Hockeyroo Brooke Peris, who is a younger cousin of Nova, said it meant a great deal to her to be involved and to compete as an Indigenous Australian.

"This is really special and I'm extremely proud to be able to represent Indigenous people and have the opportunity to be part of this occasion," said Brooke.

"I cherish every time I get to play for Australia, and if I can help to inspire other Indigenous people, whether it is to pick up a hockey stick or following any other pursuit in life while being proud of their heritage, it makes it all the more worthwhile."

Furthermore, the polo shirts that will be worn by the Kookaburras and Hockeyroos coaches and staff on the two match days will feature a Peris design of 'the Seven Sisters and Emu in the Sky', which stretches across the Milky Way.

'The Seven Sisters and Emu in the Sky' have significance and connection for Indigenous people, while also aligning with Australia's men's and women's hockey teams as it is about bringing people together from different areas.

One of the major events of the weekend includes a group of young indigenous players from the Cairns Aspire to be Deadly Program taking part in a five-a-side game at half time of both Pro League matches.

"There will be very much an Indigenous theme across the two match days. We will have some cultural activities incorporated within the matches on the 7th of March which will add to the celebration," said Favier.

"But probably the piece that will be most exciting is the kids from the Cairns Aspire to Be Deadly Indigenous Hocky Program getting to play on the pitch and be part of the day.

"This will be about celebrating current and future talent by giving these young Indigenous kids an opportunity to experience something they would never have done before."

The major ceremonial events will take place on Saturday 7 March and will incorporate a host of elements including a traditional Welcome to Country and Indigenous dancers.

Hockey Australia media release


---

Hockey Ireland Announce Squad for South Africa Humidity Tour




Hockey Ireland announce the Ireland Women's squad who will travel to Durban in South Africa at the end of March. The 21 players selected will undertake eight matches while during the tour, against China, South Africa and Japan.

Speaking on the announcement Head Coach, Sean Dancer, said, "We have selected a very balanced squad for our South Africa tour. This will be an important period for us, not just for team performance but also exposure to humid conditions. We are looking forward to seeing Megan Frazer return to competition after a long rehab period, and the un-capped addition of Ellie McLoughlin in our environment."

The squad is as follows:
| | | | | | |
| --- | --- | --- | --- | --- | --- |
| Selection | PLAYER NAME | REGION | POSITION | AGE | CAPS |
| 1 | Ayeisha McFerran | Ulster | Goal Keeper | 23 | 96 |
| 2 | Roisin Upton | Munster | Defender / MF | 25 | 70 |
| 3 | Nikki Evans | Leinster | Striker | 29 | 191 |
| 4 | Kathryn Mullan (Captain) | Ulster | MF / Striker | 25 | 186 |
| 5 | Shirley McCay | Ulster | Defender | 31 | 299 |
| 6 | Megan Frazer | Ulster | Def / MF / Str | 28 | 136 |
| 7 | Elana Tice | Leinster | Defender | 21 | 102 |
| 8 | Gillian Pinder | Leinster | Midfielder | 27 | 164 |
| 9 | Beth Barr | Ulster | Defender | 24 | 20 |
| 10 | Lizzie Colvin | Ulster | Midfielder | 29 | 189 |
| 11 | Nicola Daly | Leinster | MF / Striker | 31 | 189 |
| 12 | Hannah Matthews | Leinster | Defender | 28 | 140 |
| 13 | Sarah Hawkshaw | Leinster | MF / Striker | 22 | 26 |
| 14 | Anna O'Flanagan (Vice Captain) | Leinster | MF / Striker | 29 | 201 |
| 15 | Zoe Wilson | Ulster | Defender / MF | 22 | 103 |
| 16 | Ellen Curran | Leinster | Midfielder | 20 | 19 |
| 17 | Alison Meeke | Leinster | Def / MF / Str | 28 | 145 |
| 18 | Ellie McLoughlin | Leinster | Goal Keeper | 19 | - |
| 19 | Hannah McLoughlin | Leinster | Def / MF / Str | 20 | 10 |
| 20 | Sarah Torrans | Leinster | Striker | 20 | 21 |
| 21 | Naomi Carroll | Munster | Striker | 26 | 111 |
Irish Hockey Association media release


---

Megan Frazer returns to Ireland women's squad for South Africa trip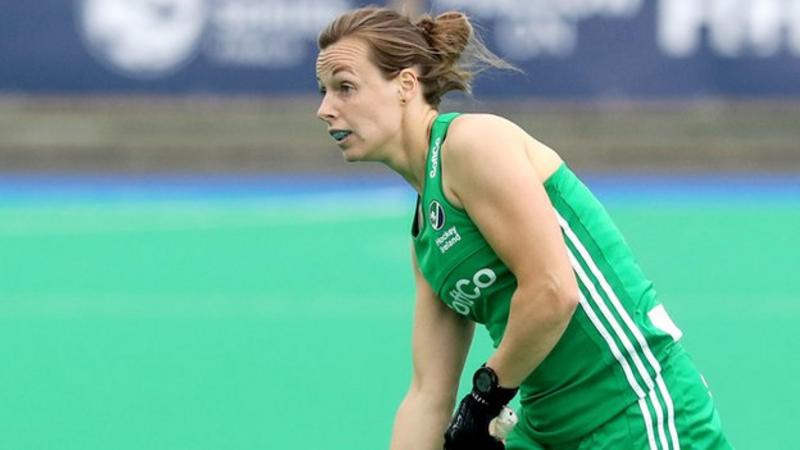 Megan Frazer in action during last year's Olympic qualifying tournament in Banbridge. Megan Frazer has been troubled by a knee injury over the past couple of seasons

Fit-again Megan Frazer returns to the Ireland women's squad for their trip to South Africa while uncapped Ellie McLoughlin has also been included.

Frazer has been bothered by a knee injury for a number of seasons and missed the Olympic play-off victory over Canada in November.

The injury ruled out Frazer of the World Cup final defeat by the Netherlands in 2018.

Naomi Carroll and Ali Meeke both return to the squad.

Like Frazer, Carroll has been troubled by injury in recent times while Meeke was not involved in the play-off against Canada.

Chloe Watkins is not included after undergoing minor surgery recently.

Sean Dancer's squad will travel to Durban in late March and will have games against the hosts, China and Japan in an eight-match tour.

The Irish squad were originally scheduled to travel to Malaysia but concerns over the coronavirus led to a change of plan.

"This will be an important period for us, not just for team performance but also exposure to humid conditions," said Dancer.

"We are looking forward to seeing Megan Frazer return to competition after a long rehab period, and the addition of uncapped Ellie McLoughlin in our environment."

Ireland women will be playing in the Olympics for the first time.

They beat Canada in a penalty shootout after both legs in November's play-off in Dublin ended 0-0.

In Japan, Ireland's first match is against South Africa on 25 July and their other group opponents will be Germany, Great Britain, India, South Africa and world and European champions, the Netherlands.

Ireland squad: A McFerran (Ulster), R Upton (Munster), N Evans (Leinster), K Mullan capt (Ulster), S McCay (Ulster), M Frazer (Ulster), E Tice (Leinster), G Pinder (Leinster), B Barr (Ulster), L Colvin (Ulster), N Daly (Ulster), H Matthew (Leinster), S Hawkshaw (Leinster), A O'Flanagan vice-capt (Leinster), Z Wilson (Ulster), E Curran (Leinster), A Meeke (Leinster), E McLoughlin (Leinster), H McLoughlin (Leinster), S Torrans (Leinster), N Carroll (Munster)

BBC Sport


---

Coach Nasihin now the new Malaysian keeper finder

By T. AVINESHWARAN



In the running: Tenaga Nasional goalkeeper Mohd Hairi Abd Rahman is one of the contenders for the national No. 1 jersey.

PETALING JAYA: Replacing a talismanic figure like S. Kumar is no easy task, but national assistant coach Nasihin Nubli, who also acts as the team's goalkeeper coach, believes that it is time for the other goalkeepers to show up.

On Tuesday, national coach Roelant Oltmans announced a 34-men squad for a centralised training camp to prepare for the Sultan Azlan Shah Cup and he selected four goalkeepers, who will be assessed over the next three weeks.

The selected goalkeepers are Tenaga Nasional's Mohd Hairi Abd Rahman, Universiti Kuala Lumpur's (UniKL) Adrian Andy Albert, Terengganu's Mohd Hazrul Faiz Ahmad Sobri and Maybank's Mohd Zaimi Mat Deris.

Of the four, Mohd Hazrul makes a return to the national team after five years, as he has been part of the national indoor hockey team for many years.

His last call-up was in 2015, and he was one of the two goalkeepers to play in the Junior World Cup in New Delhi, India.

Adrian, Hairi and Zaimi have been part of the team in the last few years, and last year they were part of the European and South Korean Tour to prepare for the Olympic qualifiers.

Zaimi, together with Kumar, took part in the qualifiers, where they were bundled out by Britain 3-9 aggregate in their two-legged match in London.

While Hairi and Adrian did not feature much for their clubs in the recently-concluded Malaysian Hockey League (MHL), Hazrul and Zaimi have impressed many with their shot-stopping skills.

However, the influence of Kumar cannot be disputed as he has been with the national team since 1999 and amassed 321 caps.

For Nasihin, it is time for the new ones to show that they have what it takes to play for the national side.

"Besides Hazrul, the others have taken part in numerous national assignments over the years. As understudies to Kumar, they are aware of what the national team want, " he said.

"To be honest, being a former national goalkeeper myself, I know it is a position in which it is hard to gain experience. There is only one spot for a goalkeeper in the first 11, so competition is very fierce.

"Hairi, Adrian and Zaimi had their chances with Roelant and certainly gained lots of exposure during our European tour.

"Now, they cannot think like understudies. Every single one should be ready to go for the number one spot. They understand the demands, and I feel that they are ready for the challenge."

Oltmans has opted for 11 fresh faces as he looks to rebuild the Speedy Tigers to a higher level, with eyes on the 2022 Asian Games, 2022 Commonwealth Games, 2023 World Cup and 2024 Olympics.

The Dutch coach has also omitted five seasoned players including skipper Sukri Mutalib, the Saari brothers Faizal and Fitri, Nabil Fikri Mohd Noor and Joel van Huizen from his 34-player squad for the Sultan Azlan Shah Cup in Ipoh from April 11-18.

The new-look team, which has an average of 23.9, will start their centralised training camp on March 2 and will be evaluated for three weeks before the squad is trimmed to 18 for the Azlan Shah Cup.

The Star of Malaysia


---

Hockey Wales announce NAGs squads to face Scotland

Four National Age Grade (NAGs) squads have been selected to face Scotland in April.

The NAGs Boy's and Girl's will be travelling to Scotland in April to compete in their first International series of 2020. This is an annual meeting between the two sides, with both the U16 and U18 squads in action.

Kevin Johnson, Head of Pathway, believes this exposure to International hockey for the young players is critical, particularly those who have been selected for the first time.

"For some of our younger players, this represents an exciting start to their International journey, and it will be good to see how they can make their contribution at this level."

Selection was made for the four sides following last week's NAG's camp which saw the two age groups come together for training, as well as health and well-being sessions over several days.

"Last week's boys and girls training camps were of a good intensity and highly competitive throughout, so it will be a perfect time to see all squads bring this experience to the matches with Scotland at Easter.

"This selection was a difficult one for the coaching teams, which is a good indication of the strength and depth of our junior programmes, and the competition for places that is apparent within the larger squads."

The Scotland trip will kick-start preparations for both the U18's Boys and Girls who will utilise the series as a foundation for the upcoming EuroHockey U18 Youth Championship II, which takes place on the 12-18 July.

Both teams will face some tough competition in their opening Pool games of the Championship with the U18 Boys travelling to Vienna to meet France, Turkey and the Czech Republic, and the U18 Girls drawn against France, Italy and Czech Republic in their Pool games in Zurich.

The Boy's NAG's Head Coach, Lee Ible, is pleased with the progress the squad made at the half term camp, and believes it is game time against quality competition that will provide an insight into the progress made and work required moving forward,

"As ever we expect a tough battle against Scotland, it's our first competitive outing of this International season and these matches will give us a good benchmark as to where we are at and what we need to focus on in the lead up to the heavy summer period, which culminates in the U18 European Championships.

"We are heading to Scotland with two very competent squads. The strength in depth of the NAG squad is as good as it ever has been, in my time as Head Coach. It was tough to come to the final 18's for each squad, the competition for places was fierce and the quality on display over the last few camps has been really high."

Gwyn Williams, NAG's Girls Head Coach, firmly believes that this encounter with Scotland will set his team up well for 2020,

"We have some new players that have come into the programme so I am very much looking forward to seeing how this squad will face the challenges ahead and ultimately perform on the pitch.

"Previous encounters with Scotland have proven to be exciting and tight affairs, but the squad has prepared well and is very much looking to apply themselves as we look to start our build up to the summer and our European Championships."

Hockey Wales would like to thank everyone for their time and contribution to NAG's and congratulate all those who have been selected for Scotland.

U18 Girls Squad

Alanah O'Brien
Ffion Horrell
Eve Bowen
Meg Langley
Beca Evans
Sophie Gorman
Hannah Harvey
Alex Ferguson
Maisie Riley
Anna Mackay
Gwenno Manley
Beth Munro-Morris
Mari Paulson
Lily Roberts
Betsan Thomas
Tegan Waters
Naomi Wilde
Oli Clegg

U16 Girls Squad

Grace Diamond
Suzi Harris
Harriet Cook
Elen Nicholls
Tilly Wood
Emily Edwards
Leni Beard
Rebecca Forey
Rebecca Jones
Emily Savastano
Sophia Smale
Moli Watts
Rosie Thomas
Eva Jessen
Jemima Robinson
Ella Davies
Lucy Greenwood
Lucy Harrison

U18 Boys Squad

Theo Bancroft
John Bennett
Billy Collins
Will Couston
Paddy Dunn
Euan Dyer
George Fynn
Alex Francis
Joshua Izzard
Dafydd Jones
Owen Lloyd
Joseff Moyse
Nic Morgan
Nat O'Dwyer
Emlyn Oxenham
Ben Searle
Ben Wall
Joe Webb

U16 Boys

Ewan Bagwell
Moritz Beckmann
Alastair Dyer
Jacob Furneaux
Sion Goldsmith
Callum Holland
Lewis Ingram
Thomas Izzard
Alex James
Matthew James
Josef Lederle
William Morgan
Gabriel Pryde
Thomas Rowan
Harvey Sullivan
Owen Sutton
Osian Webber
Oscar Wood

Hockey Wales media release


---

World hockey aim to tackle reverse hit dangers

By Sophie Penney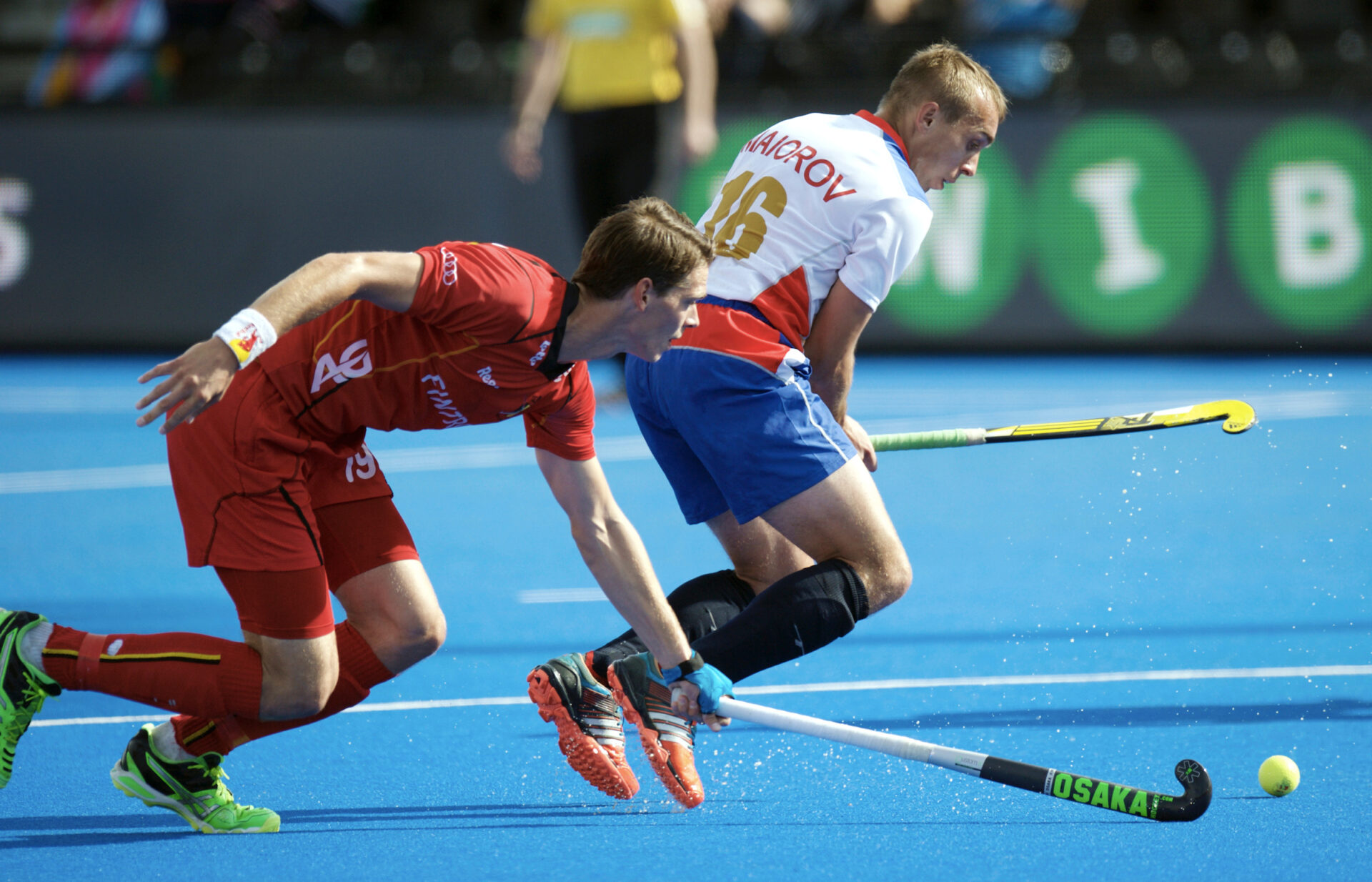 Unlike PCs, sensible discussions on reverse stick dangers have yet to be heard PIC: WORLD SPORT PICS

The International Hockey Federation (FIH) says that at grassroots hockey it is struggling to collect sufficient data used to assess what safety improvements are needed.

Responding to several safety improvement concerns and suggestions made to the Hockey Paper by Olympian John Shaw and other readers, the FIH added that it is looking into the dangers of reverse stick hitting at a junior level and at implementing a concussion protocol.

Injury data allows the FIH to determine whether certain developments in the game are leading to an increased risk and therefore to make the necessary changes or improvements to FIH's processes and rules.

"I think where it's patchy or less complete is at the lower levels or grassroots levels, "said Jon Wyatt, FIH's sport and development director and former GB Olympic captain. "We're confident in the data that we collect from FIH events because we've been collecting it for a long time now but that is a very small number of events. If we're honest that process could certainly be better."

FIH's health and safety committee are working to tackle this issue by encouraging its members in 137 countries to collect that data, but they say it isn't an easy task. "Getting someone who gets a whack during the game to fill in the form and send it to the right person is easier said than done. It's probably only the top 30 or so national associations around the world that actually have paid full-time staff and they have to run the game, organise events and club structures."

As part of these ongoing discussions the FIH were responsive to the safety debate that reverse stick hits are too dangerous at junior level.

"It's really interesting actually, that was the first time I've heard that particular idea voiced by someone as credible as John," said Wyatt, who shared a room with Shaw at the Atlanta Olympics. "It's certainly something that we will discuss and look at."

However, Wyatt said that there are some considerations that would have to be taken into account before a change was made. "We certainly haven't seen any evidence or had any anecdotal reports on incidents of injury increasing since reverse stick shooting was allowed."

"One of our aims is to make the rules as as simple as possible for anyone watching the game and if you add different rules for different age groups it might just make it a more complicated game."

Something that the health and safety committee are actively considering is implementing a more formalised concussion protocol like in rugby. However, the FIH was less responsive to suggestions that there should be a shot height limit on drag flicks. "We certainly haven't seen anecdotal or data-driven suggestions that the number of Injuries occurring due to drag flick height is increasing."

The same is true for protective equipment for outfield players. "Wearing a mask clearly restricts your vision to a certain degree and that may impact on reaction times, " he said.

The FIH are also still concerned about the "Gladiator effect" where players put themselves at greater risk because the protective clothing that they are wearing makes them feel invincible.

THP columnist Todd Williams suggested in a recent issue that while safety at PC's have been discussed over the years, the reverse hit has yet to have meaningful discussions at the top level as the game and stick technology progresses.

Meanwhile, one of the world's best drag flickers wants face masks to be made mandatory at PCs.

Hampstead & Westminster's Matt Guise-Brown says that it is important to put the right precautions in place to limit the danger, where currently face masks are only recommended.

"Making face masks in penalty corners obligatory makes sense," said Guise-Brown.

Safety in hockey has become an important and timely issue following notable injuries in recent years, including Nicola White, who suffered a debilitating concussion in 2018.

With concussion injuries on the rise, White is urging the FIH to look more closely into player safety as the game continues to evolve.

She said: "The FIH hold the rules and regulations. They are aware that this has been flagged up but whether it will be implemented soon, that's what I'm not so sure about."

This originally featured in a previous Hockey Paper edition. Don't miss out. Subscribe in print or in digital format.



The Hockey Paper