All the news for Tuesday 25 February 2020

Pakistan seeking matches against Australia, Canada before Malaysia event

KARACHI: Pakistan head coach Olympian Khwaja Junaid has said that Pakistan would request Australian and Canadian hockey authorities to play practice matches before the Sultan Azlan Shah tournament in Malaysia.

Talking to 'The News' on Sunday, the head coach said that Pakistan hockey team is passing through developing period and lack of high pressure matches and because of induction of junior players, there was need to give match practice to the team before the Malaysian event.

He said that it would be great for Green-shirts that before the tournament they got some hard practice and got used to the environment and weather. He said that the second phase of national hockey team's training camp would start form March 1 in Lahore and would continue for three weeks. The second phase is likely to have 35 players.

He added that the third phase of the training camp would be held in Karachi from where they would depart for Malaysia. Sultan Azlan Shah hockey tournament will be held in Malaysia from April 11-18.

The News International


---

Coronavirus: 'There's no point worrying about it' - Mullan on Olympic fears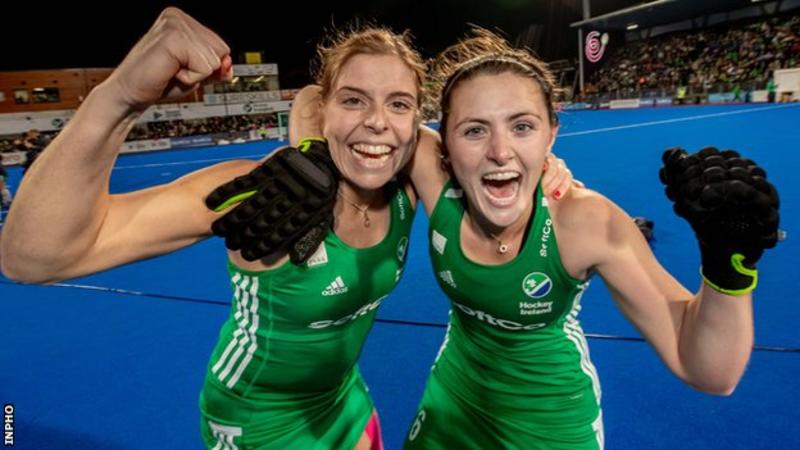 Ireland qualified for the Olympics by beating Canada in a play-off

Ireland hockey captain Katie Mullan says "there's no point wasting energy" worrying about coronavirus ahead of the 2020 Olympics in Tokyo.

Olympic organisers have said the Games will go ahead as scheduled in June.

However the outbreak in China has led to the cancellation of several sporting events across Asia and Europe.

"It hasn't really rattled us and there's no point sweating about it," said Mullan, whose side qualified for their first Games.

Ireland's preparations for Tokyo have already been hit after a training camp in was moved from Malaysia to South Africa due to the outbreak of the virus.

"It's disappointing from our preparation point of view, but we still feel that the Olympics are far enough away for the Coronavirus to be under control by then," added Mullan, speaking on Sportsound Extra Time.

"It's hard to know what to believe with the virus, you hear different things all the time.

"Obviously the outbreak in Italy is more concerning because it is a little bit closer to home, but we don't really get involved in talking about it.

"For us, we've worked so hard to qualify that we are just trying to control what we can control, which is all of our training and preparations."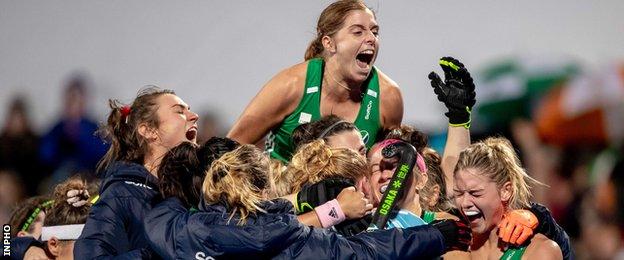 Mullan captained Ireland to a silver medal at the World Cup in 2018

While Mullan admits Ireland had planned to go to Malaysia to train in similar conditions to Tokyo, she says there are still benefits to making the switch to South Africa.

"There are still going to be hot temperatures and humidity, plus there are four other teams there at the same time as us," said the 25-year-old.

"We'll get to play matches against them, which is the most important thing.

"We're in that phase now where we are working incredibly hard and we are trying to get our fitness levels and our physicality up.

"This is the toughest phase because the games are still quite far away and the pressures of selection are going around in everyone's head.

"It's a tough phase, but that is what builds our character and that is where our culture really shines through."

BBC Sport


---

Guyana's hockey Vets deliver Republic Day gold for the nation.

By Royston Alkins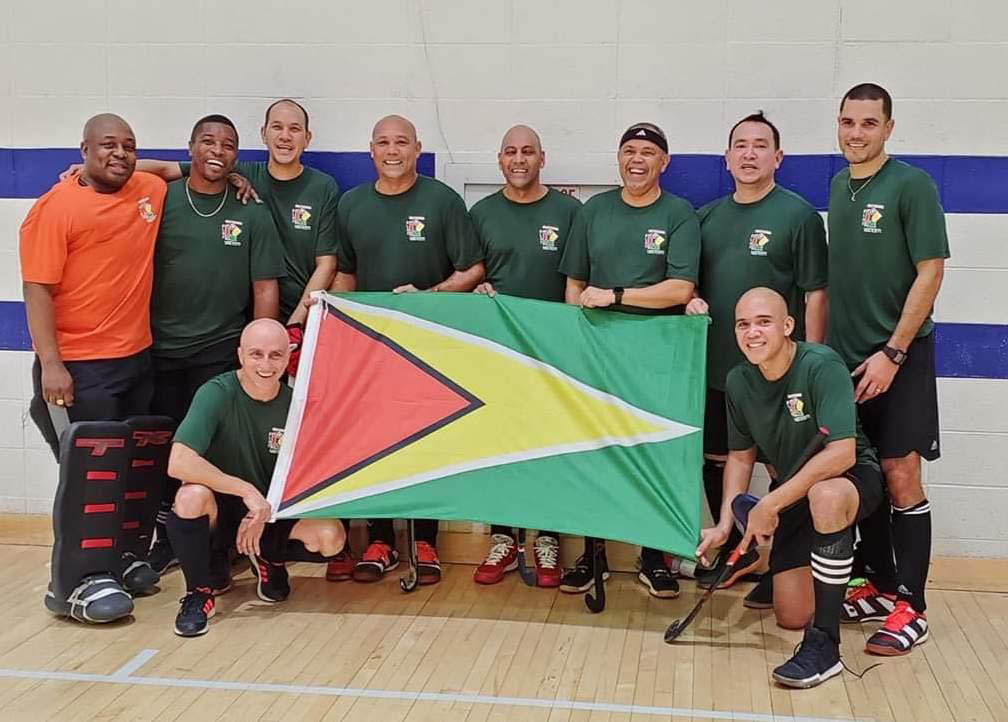 The Guyana Veteran hockey team which clinched a gold medal in the Canada hockey indoor tournament Sunday.   

The score-line read 4-3 at the sound of the final whistle in Guyana's favour on Sunday as a Veteran hockey team secured an empathic triumph over host Canada Red in the final of the Field Hockey Canada International Masters indoor tournament.

It was an ideal finish for the Guyanese on the day the nation celebrated its 50th Republic anniversary. Jonathan Roberts was at the forefront of the win after netting a brace.

He received support from Anthony Solomon and Alan Fernandes who netted the other goals for the Guyanese.

Stabroek News


---

U.S. Women's Masters Program Finalizes 2020 World Masters Hockey World Cup Rosters

COLORADO SPRINGS, Colo. – Following much evaluation, the U.S. Women's Masters Program has finalized the 2020 World Masters Hockey (WMH) World Cup rosters. The O-35 and O-40 women's teams will compete from August 8 to 17 in Nottingham, England while the O-45, O-50 and O-60 women's teams will compete September 19 to 28 in Cape Town, South Africa.

2020 U.S. O-35 Women's Masters World Cup Team

Nicole Baudini (Doral, Fla.), Jannelle Benner (Lititz, Pa.), Tiffany Cappellano (Oley, Pa.), Brenna Colosi (Lancaster, Pa.), Kelly Dearolf (Lancaster, Pa.), Haley Dervinis (Philadelphia, Pa.), Savannah Devarney (Redwood City, Calif.), Pattie Gillern (Hartford, Vt.), Katie Grant (Malvern, Pa.), Jennifer Judy (Newark, Del.), Nicole Ketterer (El Cerrito, Calif.), Lisa Lohre (San Francisco, Calif.), Heather Long (Pottstown, Pa.), Kim Miller (West Monre, La.), Susan Mitchell (Cynwad, Pa.), Jenna Neff (Washington, D.C.), Anna Rogers (Lock Haven, Pa.), Tiffany Saunders (Elizabeth City, N.C.)

2020 U.S. O-40 Women's Masters World Cup Team

Jen Anderson (Owings Mills, Md.), Whin Brown-Sylla (Bryn Athyn, Pa.), Ruth Busienei (Fountain Hills, Ariz.), Megan Callahan (Stevenson, Md.), Laura Divjak (Preston, Md.), Kelly Mackinnon (Brooklyn, N.Y.), Melissa Mertz (Elizabethtown, Pa.), Katie Niewinski (Phoenixville, Pa.), Uli Reinhardt (Ann Arbor, Mich.), Stacey Ross (Fort Lauderdale, Fla.), Jackie Scally (Oak Park, Calif.), Kyle Shellaway (Gilbertsville, Pa.), Jeanne Shin-Cooper (Glencoe, Ill.), Kimberly Susko (Dresher, Pa.), Marije Toth (Erie, Colo.), Mary van de Kerkhof (Newark, Del.), Melissa Weiss (Marriotsville, Md.), Kelly Williamson (Oley, Pa.)

The O-35 and O-40 alternates are Jenny Lounsbury (Houston, Texas), Sarah Perkins-Scally (Santa Monica, Calif.), Heather Schnepf (Kent, Ohio), Magdalena Simonini (Thousand Oaks, Calif.), Amber Smith (Spring Grove, Pa.) and Staci Smith (Liberty, Maine).

2020 U.S. O-45 Women's Masters World Cup Team

Jennifer Bandura (Boiling Springs, Pa.), Lauren Baugher (Waltham, Mass.), Ana Berra (Doral, Fla.), Sandra Binder (Los Angeles, Calif.), Suzanne Bourgault (Portland, Maine), Anne Dillman (Lancaster, Pa.), Susan Elliott (Fountainville, Pa.), Melissa Emery (Big Sky, Mont.), Colleen Faessinger (Stanhope, N.J.), Maria Keesling (Dowingtown, Pa.), Margaret Kelly (Needham, Mass.), Florencia Manero (Key Biscayne, Fla.), Lucia Molina Berro (Miami, Fla.), Rael Otieno (Boonton, N.J.), Lisa Samson (Newton, Mass.), Georgina Serenelli (Pinecrest, Fla.)

2020 U.S. O-50 Women's Masters World Cup Team

Gabriela Cappanera (Doral, Fla.), Christine Couteau (San Jose, Calif.), Karen Croteau (Harpswell, Maine), Beth Denmead (Netcong, N.J.), Sophie Etienne (Lincoln, Mass.), Kathy Frick (New Britain, Pa.), Carol Gulija (Flemington, N.J.), Kelly Lawler (Philadelphia, Pa.), Laura Mena (North Miami Beach, Fla.), Lori Miller (Newmanstown, Pa.), Diane Molinaro (Quakertown, Pa.), Kelly Myers (York, Pa.), Silvina Puccia (Woodland Hills, Calif.), Kelly Setser (Louisville, Ky.), Denise Sheehan (Glenmoore, Pa.), Alison Smith (Highland Park, Ill.), Nori Smith (Suwanee, Ga.), Barb Wachowiak (Hamburg, N.Y.)

2020 U.S. O-60 Women's Masters World Cup Team

Diane Angstadt (Middletown, Pa.), Deborah Atkins (Quarryville, Pa.), Jane Cygan (Quakertown, Pa.), Joy Dannenberg (West Chester, Pa.), Loretta DiPietro (New Haven, Conn.), Barbara Doran (New York, N.Y.), Dixie Erdman (Hummelstown, Pa.), Sandra Galea-Martinez (Lakeside, Calif.), Cathy Jackson (Wilmington, Del.), Anne Keating (New York, N.Y.), Linda Kreiser (Middletown, Pa.), Lorraine Lewis (Bethesda, Md.), Susan Mota (Flemington, N.J.), Jeri Myers (Parkesburg, Pa.), Janet Powers (Towson, Md.), Patricia Rudy (Mill Halls, Pa.), Pam Sherry (Collegeville, Pa.), Josephine Worthington (Owings Mills, Md.)

The O-45, O-50 and O-60 alternates are Elaine Andrysick (Folly Beach, S.C.), Toni Arner (Quakertown, Pa.), Karen Chambers (Hopatcong, N.J.), Christine Hutchinson (Parkland, Fla.), Pam Lester (Skillman, N.J.), Nonna Mamedova (Fairfield, N.J.), Kelly Meyer (Elkton, Md.), JoJo Petkus (Auburn, Maine), Caroline Pratt (Dover, Del.) and Stella Volpe (New Hope, Pa.).

*Movement between age groups may take place before the final team rosters are submitted.

These selected squads will jump right into preparation next month with a training camp from March 14 and 15 at the 76ers Fieldhouse, followed by competing in the Beach Bash event in Milford, Del. from April 25 and 26. Next the squads will attend the Shooting Star Masters tournament in Boston, Mass. from June 6 to 7. The teams will practice again in July to prepare for the 2020 WMH World Cup Events.

O-35 Women & O-40 Women        Nottingham, England        August 8-17, 2020

O-45, O-50 & O-60 Women        Cape Town, South Africa        September 19-28, 2020

USFHA media release


---

Jillaroos series against Japan Junior Women's Team




The Jillaroos are taking on Japan's Junior Women's Team in four international matches in Canberra from 22-26 February. Get the latest updates here.

Match 1 (22 February 2020)

The Jillaroos have opened their series against Japan's Junior Women's Team with a 3-1 penalty shootout win after scores were locked 2-2 at full time.

Despite both sides creating numerous chances in the opening half an hour, the game remained scoreless at the main interval.

The deadlock was eventually broken in the 34th minute courtesy of Jillaroos captain Aisling Utri, who struck truly from a penalty corner to give the home side the lead.

Utri's goal was all that separated the teams heading into what would be an action packed last quarter.Within the space of three minutes, Japan turned the game on its head when they struck twice to hit the front with seven minutes to go.

But there was still time for one more twist and it came when Alice Arnott pounced to draw the Jillaroos level.

Neither side could snatch a winner in the final three minutes as the full time hooter sounded, meaning a penalty shootout would decide the contest.

Utri, Courtney Schonell and Emma de Broughe all converted their penalties, while goalkeeper Hannah Astbury played her part as Japan missed two of theirs to give the Jillaroos victory.

Reflecting on the match, Jillaroos Head Coach Tim White said he was pleased with the first up performance.

"Being the first game of the series, we played some pretty good hockey and started to do some things that we were hoping to achieve in terms of our structure and our way of playing," said White.

"We had a number of penalty corners and chances but were only 1-0 up at three quarter time. Then Japan scored twice in quick succession from a couple of defensive lapses.

"But we were able to get an equaliser and then in the shootout the girls managed to score all three penalties, so overall there were some good signs but also lots of things to review and improve on."

Match Details
Jillaroos 2 (A.Utri 34', Arnott 57')
Japan Junior Women's Team 2 (Sano 51', Orui 53')
Jillaroos win 3-1 on penalties
Click here for the full match details.

Match 2 (23 February 2020)

The Jillaroos have defeated Japan's Junior Women's Team 5-1 in the second match of their four match series in Canberra.

The Australians led 2-1 at half time before rounding off a clinical display.

Just as she did in Match 1, Jillaroos captain Aisling Utri opened the scoring from a penalty corner, which came in the 9th minute.

No less than 60 seconds later Carly James made it 2-0 from another penalty corner to give the home side a dream start.

Shiho Kobayakawa pegged a goal back for Japan in the 21st minute, however it proved just a momentary blip for the Jillaroos as they struck three more times in the second half.

Renee Rockliff's 41st minute field goal made it 3-1 before Courtney Schonell and Morgan Blamey got in on the act in the last quarter to round off a result that Jillaross Head Coach Tim White was tighter than the final scoreline suggested.

"When I reflect on Match 2, there were things that we looked to improve on which we did," said White.

"We were rewarded with some good play by getting some goals on the board, but Japan still had their chances as well."

"From a stats point of view, we probably created as many if not more chances in the first game, but we were more efficient in our attacking areas in this match and managed to finish off.

White said the opening two matches, which came after a solid week long training camp with the full Junior Development Squad, have been a valuable learning experience for his team for a host of reasons.

"Just like the opportunity we had against New Zealand and India at the end of last year, these series are great for both nations," said White.

"Japan are a well skilled, well organised opponent and we expect another two difficult matches to come in the series."

"I think what the girls have done a really good job at is that every athlete from the National Junior Squad who was the camp got a lot out of it.

"Then once we changed focus and turned our attention to preparing to play against Japan, I have been really impressed with the team's ability to get on board with the way we want to go about things.

"I have been really impressed by the way the playing group, both the more senior members and also the junior players, have driven the culture side of things because with these opportunities, we're not only looking for performance outcomes but also development outcomes as a group and individually.

"I'm confident that we are ticking some boxes in those two categories.

With four matches in five days, White also sees the benefits in players knowing what it takes to manage a challenging schedule and workload.

"This is a demanding series and comes off the back of a national training camp, so part of the reasons for this is to see and understand their ability in this kind of environment," said White.

"They have had to prepare and recover well during the national camp, and then once the series has started, playing four matches in five days is demanding, both from a physical and mental perspective."

"It's a great experience and opportunity for them to understand the requirements of playing back to back matches."

Match Details
Jillaroos 5 (A.Utri 9', James 10', Rockliff 41', Schonell 55', Blamey 60')
Japan Junior Women's Team 1 (Kobayakawa 21')
Jillaroos win 3-1 on penalties
Click here for the full match details.

Match 3 (25 February 2020, 6pm AEDT)
Click here to get LIVE match updates as they happen.

Match 4 (26 February 2020, 10am AEDT)
Click here to get LIVE match updates as they happen.

Jillaroos Team (Australia's Junior Women's Hockey Team) for Japan internationals
Name     Date of Birth     State
Alice Arnott     25/02/1998     Darling Point, NSW
Hannah Astbury     15/09/1998     Cannon Hill, QLD
Morgan Blamey     2/07/1998     Warrawee, NSW
Isabella Colasurdo     15/06/2000     East Keilor, VIC
Claire Colwill     19/09/2003     Mackay, QLD
Emma de Broughe     6/09/2000     Park Holme, SA
Kendra Fitzpatrick     4/04/2001     Balmoral, QLD
Annie Gibbs     20/05/1998     Waterford, WA
Amy Hammond     1/07/1998     Kangaroo Flat, SA
Ruby Harris     24/06/2001     Korinda, QLD
Carly James     8/04/1998     Point Cook, VIC
Morgan Mathison     12/04/2000     Balmoral, QLD
Eva Reith Snare     6/10/2001     Orange, NSW
Renee Rockliff     31/03/1999     Victoria Park, WA
Courtney Schonell     17/09/2000     Narellan Vale, NSW
Hattie Shand     11/01/2000     North Adelaide, SA
Maddi Smith     17/03/2000     Parramatta, NSW
Aisling Utri     21/03/1998     Moonee Ponds, VIC
Ciara Utri     6/04/2001     Moonee Ponds, VIC
Grace Young     23/08/2002     Yowie Bay, NSW

Hockey Australia media release


---

U-16 and U-21 USWNT Win Series Over Canada



Images Taken by Dawn Bent, Myda Clark and Jen Szukics

CHULA VISTA, Calif. - Twelve days of competition across three age groups between the Junior U.S. Women's National Team and Canada's Junior squads came to a close on Sunday afternoon at the Chula Vista Elite Athlete Training Center in Chula Vista, Calif. Each playing in their third match, the U-16 USWNT tallied six goals in the second half to win 7-0 over Canada's U-16 team. The U-21 USWNT followed up their younger counterparts in a highly contested outing against Canada's U-21 team, where the red, white and blue found the goal twice in the second quarter that proved to be the difference maker.

U-16 USWNT 7 - 0 U-16 Canada

In their final game, the U-16 USWNT came out firing on all cylinders and jumped into an early lead, but it would take until the second half for them to add to their goal tally. Inside the first minute Alaina McVeigh (Lansdale, Pa.) finished off a USA attack from the left side of the field to give the team a 1-0 lead. The remainder of the first half would be an evenly-matched affair with chances at both ends and some excellent goalkeeping from USA and Canada.

Out of the halftime break USA started to up the ante and in the 37th minute Macy Szukics (Malvern, Pa.) deflected home a well-run penalty corner routine to double the advantage. Four minutes later it was Szukics again as she fired home from the edge of the circle after Canada's goalkeeper saved the initial effort by Ryleigh Heck (Berlin, N.J.). McVeigh tacked on USA's fourth score after some excellent off ball movement left her all alone in the circle and she deflecedt the final pass of a well worked, quick strike counter attack.

Olivia Bent-Cole (Philadelphia, Pa.) tallied USA's fifth goal from close range in the 47th minute to open the final quarter, then Ashley Sessa (Schwenksville, Pa.) added two of her own to make the final score, 7-0. Sessa's first came through a backhand finish high into the netting over the shoulder of Canada's goalkeeper after she beat two defenders to find the space to shoot. The second, also on the backhand, was from a tighter angle as she finished with pinpoint accuracy.

"We started off a little slow in the first half, but as the game went on, our intensity and quality of play improved so much," said McVeigh. "We started playing like a team and connecting with each other which was great to see."

"I thought yesterday's game was a great way to finish out this camp," added Kelsey Reviello (Colonial Beach, Va.). "At the start I thought we played very individual, but after our talk at half I felt like everyone refocused. In the second half I felt like we all were just having fun, talking, pressuring and moving together as a unit. I felt like this was a great game so that now we can learn to motivate ourselves on and off the field."

U-21 USWNT 2 - 0 U-21 Canada

The U-21 USWNT closed out their three-game series against Canada's U-21 team as the sun made a welcome return to Chula Vista.

In a close affair where goalkeepers on both sides were tested early, USA gained the lead when Megan Rodgers (San Diego, Calif.) opened the scoring for the second day in a row from a penalty corner. Rodgers carried the ball right off the trap before burying it in the far corner with a clean strike. It would be Rodgers again in the 22nd minute, this time from a field goal, as she collected the ball at the top of the circle from a long corner, rolled onto her backhand and fired it past the outstretched left foot of Canada's goalkeeper.

Despite taking a 2-0 lead into the second half, USA was unable to extend the scoreline and perhaps came closest on a penalty corner opportunity which was won as the horn sounded. As the deflection flew narrowly wide, the game drew to a close with USA winning 2-0.

"Today we were focused on sweeping the series and we did just that," said Gianna Glatz (Medford, N.J.). "Although Canada gave us some tough competition today, we remained focused, supported one another, and capitalized on the important moments that won us the game, and ultimately, the series."

Next for the Junior U.S. Women's National Teams will have a joint training camp in Chapel Hill and Durham, N.C. from March 27 to 29.

USFHA media release


---

English U18 NAGS begin 2020 with victorious test series




Ireland were the opposition as the England U18 Girls and Boys NAGS teams arrived at Lilleshall for their first test matches of the year, read below to see how the games played out:

U18 Boys
Game 1
England 4 – 2 Ireland (3-1 HT)
Prentice 6' FG
Nurse 10' FG
Prentice 13' FG
Holland 59' FG
Ireland 25' FG, 36' PS

England started the game with real commitment, purpose and a high intensity which was rewarded after six minutes with an opportunist goal from Will Prentice after a flowing move down the right which involved Alfie Weaver and Dylan Holland. England continued to press well and another move down the right, instigated by James Vallely, led to Nick Nurse finishing from close range.

A 3-0 lead was achieved just before the end of the first quarter when Will Prentice picked up his second goal with a fine shot from top left of the D.

As the game became more even as it went on, the Irish got their first goal just before half-time, then went on to convert a stroke to make it 3-2 with a good response to the early deficit. However, despite both sides creating good chances, Ollie Shelton was able to set up Holland to clinch the game 4-2 in what was a very competitive game where England had performed well at times but also highlighted areas for improvement.

Game 2
England 2-2 Ireland (1-1 HT)
Lee-Browne 9' PC
Mead 36' FG
Ireland 11' PS, 36' FG

Though England had already come close through Will Mead, it was Ireland who took the early advantage when they converted a penalty stroke, although a well converted corner from Adam Lee-Browne brought the sides level minutes later.

England went ahead as Barney Bithell got around the right baseline to lay it off for an easy finish in front of the goal for Mead. However, the Irish responded quickly as they tucked away a rebound to restore parity.

The fourth quarter saw chances from both sides go to waste as neither was able to make the most of penalty corners in the late stages of the match with the game finishing level.

Head Coach Ali Addison commented after the second match: "It was a great series for us with lots of learning to be taken from it. At times there were some really strong performances, particularly in the first half of game one, but we now need to focus on increasing those periods of time of good quality hockey."



NAGS U18G v IRL

U18 Girls
Game 1
England 2 – 1 Ireland (2-0 HT)
Hope 7' PC
Emslie 27' FG
Ireland 42' FG

England started on the front foot, immediately putting pressure on the Ireland goal, and were rewarded with three penalty corners in quick succession, the third of which Rosie Hope dispatched to score her first international goal.

Sian Emslie doubled the score just before half-time, with England looking in control of the game.

Ireland came back strongly in the third quarter and got a goal back. With the hosts leading 2-1 going into the fourth quarter, the match was fiercely contested, but good defensive work meant no further goals were scored.

Game 2
England 8 - 2 Ireland (5-0)
Long 8' FG
Swain 13' FG
Chapple 15' PC, 48' PC
Alexander 17' FG, 20' FG
Gillgrass 51' FG
Emslie 59' FG
Ireland 33' FG, 55' FG

The second match started in much the same way as the first, but this time England were looking ruthless and converted more of their early chances, leaving Ireland chasing the game.

England maintained their cutting edge in front of goal, scoring six goals from open play, all bar one of which were scored by players new to this year's squad.

These were interspersed with two neat penalty corner goals from Kitty Chapple to earn an emphatic victory.

Head coach, Sarah Kelleher reflected on the matches: "It's great to get started with playing international games and to see where the squad and individuals are in terms of their development and in preparation for the European's in Russia this July.

"It was pleasing to see how connected the squad is becoming on and off the pitch and to convert their connected play into goals in the second game is a real positive to build on at this stage of the programme. 

"The players embraced our theme for the camp: 'Finding Flow, Calm in the Chaos' - learning to self-organise and deal with the 'what if chaos scenarios' we put their way. It's been a very promising start in our first series of international games.

England Hockey Board Media release


---

Unbeaten start to 2020 for English U16 NAGS teams




Ireland were the opposition as the England U16 Girls and Boys NAGS teams arrived at Lilleshall for their first test matches of the year, read below to see how the games played out:

U16 Girls
Game 1
England 5 - 0 Ireland (3 - 0 HT)
Martin 2' FG
Plumb 11' FG
Olorenshaw 27' PC, 56' FG
Morris-Adams 53'PC

England got off to a flying start with Sofia Martin converting with only two minutes on the clock after the ball had been turned over from an Ireland 16 yard hit out.

Lottie Bingham then combined well with Chloe Plumb as the latter deflected the ball into the back of the net from a good pass into the D to double England's lead.

There was time for one more before the interval, Jess Olorenshaw's flick finding the bottom right of the goal for a 3-0 advantage.

With a healthy lead intact, England twice netted inside the final quarter as Ericka Morris-Adams slapped the ball through the keeper's legs from another successful penalty corner routine before Olorenshaw bagged her brace with a sweet strike from the top of the circle to secure a 5-0 victory.
     
Game 2
England 1 - 0 Ireland (1 - 0 HT)
Miller 34' PC
 
The second match of the Test Series was a quieter affair with a solitary goal enough for England to take the victory. In a match which was evenly battled out, the only difference between the two teams was a deflected goal from Florence Miller just after half-time to ensure England would make it consecutive wins.

Ericka Morris-Adams, England U16 Girls Captain, gave her thoughts after the series: "In our first game a strong team faced Ireland and were aggressive from the first whistle. We had a high level of unit play with positive outcomes in the D, as solid defence also resulted in a clean sheet and five goals netted.

"In the second game, Ireland came out for revenge and our basics weren't as tight as they needed to be. It was still a strong performance, we maintained our clean sheet record and managed to get the win."
 


NAGS U16G v IRL

U16 Boys
Game 1
England 3 - Ireland 0 (3-0 HT)
Cotton 4' FG
Cotton 13' FG
King 26' FG
 
England got off to the perfect start, Jacob Pengally's strong drive down the left touchline providing a superb assist to Joe Cotton's deflection inside the first five minutes of the match.

The team maintained the early pressure, Cotton getting his second of the match with a clean reverse hit taking England 2-0 up by the end of the first quarter.

Ollie King added to the tally as he finished a strongly worked team move up the right-hand side of the pitch with a strike which may have taken a slight deflection on its way in to give England an insurmountable lead.



NAGS U16B v IRL
 
Game 2
England 2 - Ireland 1 (1-1 HT)
Petter 22' FG
Wilson 56' FG
Ireland 12' PC
 
The teams changed around for the second game with some that missed out in the first match receiving their first international cap.

It was Ireland that drew first blood with a goal from a short corner strike earning them the early advantage. As England got more into the game and completed short sharp passes, the pressure started to build and Will Petter showed some nifty stick skills to create space at the top of the D and finish with a strong reverse strike, to level the scores.

England played with more control in the second half, Rob Wilson taking advantage of this as he deflected Harvey Edwards' ball into the back of the net with less than five minutes on the clock to secure a 2-1 win.
 
England U16 Boys Captain, Alex Chihota, commented after the second match: "It's been a really pleasing performance for us, especially in our first set of games together where we've seen what we need to work on before our next set of matches against The Netherlands in April. It's been a thoroughly beneficial camp and it's nice to see us becoming more unified."
 
Mark Bateman, England U16 Boys Coach, stated: "The boys have shown a high capacity to learn and responded well to a change of environment with the more intense and physical challenges presented by junior international hockey. It can be considered a simple game at the highest level and when the boys executed the basic skills and principles well, we played some effective hockey."

England Hockey Board Media release


---

Swansea take third place in the EuroHockey Indoor Club Challenge I.

This weekend saw Swansea Hockey Club travel to Portugal to compete in the EuroHockey Indoor Club Challenge I.

Drawn in Pool B, they were up against tough competition on their opening day with games against FHC Akademik of Bulgaria and KPH Raca of Slovakia, which saw the Swansea side achieve a 3-3 draw and 4-1 win respectively.

An early start on the second day saw Swansea take on the Scottish representation and Pool leaders the Dundee Wanderers. Livvy Hoskins opened the scoring with a penalty corner in the 3', adding to her seven-goal tally from the previous day.

The Wanderers came back with two quick goals, both from penalty corners in the tenth and eleventh minute, taking the score to 2-1 to the Scottish side. Hoskins then added to her collection with goals in the 16' and 18' taking the Welsh side back to a 3-2 lead. However, this was short lived, following two goals at the end of the second quarter and a third in the 26', taking the final score to 5-3 for the Dundee side.

The club's performance in the initial round, alongside the impressive goal tally from Livvy Hoskins, saw the Swansea side achieve second position in their Pool and move into the top half of the competition for the final matches.

Swansea faced the Irish side, Railway Union HC in the first of their final two games. Three goals from the Irish club in the first, second and third quarters put the Welsh club out of contention, but a consolation goal in the 25' from Georgina Pitts made the final; score 3-1 to Railway Union.

The final game of the competition saw Swansea take on Kutaisi of Georgia, who had topped their earlier pool. Livvy Hoskins took charge early on, scoring from a penalty corner in the 7', but this was matched by the Georgian club in the closing stages of the first quarter, taking the score to 1-1.

The score remained all square until Hoskins added 3 more to her already impressive goal tally, from two penalty corners and a field goal in the third quarter, taking the final score to 4-1.

The Swansea side achieved an impressive third place overall and Livvy Hoskins took top goal scorer of the competition with a total of 14 over the weekend.

Head Coach Gareth Terrett was delighted at his sides performance,

"We are excited to have performed so well and placed so highly. All the players worked hard and performed during the tournament. Livvy Hoskins top scoring exploits both from corners and open play was amazing. Well done to all."

Hockey Wales media release


---

Bali holiday reward for HockAdemy women

By Jugjet Singh



Following their success in winning the Malaysia Women's Hockey League ti tle and the silver in the Vivian May Soars Cup in their debut, HockAdemy club president Datuk Seri Megat D. Shahriman announced the Bali holiday reward yesterday. - NSTP/OWEE AH CHUN.

THE HockAdemy women's team will soon head to Bali for a well deserved vacation.

Following their success in winning the Malaysia Women's Hockey League ti tle and the silver in the Vivian May Soars Cup in their debut, HockAdemy club president Datuk Seri Megat D. Shahriman announced the Bali holiday reward yesterday.

"I had promised them a vacation to Bali if the women's team fulfill their mission of a top-two finish in the league and a medal in the Vivian May Soars Cup.

"They made our club proud with their achievements, and so, we will send them on a vacation to Bali after we get a consensus on a right date from all the players," said Megat.

The HockAdemy men finished sixth out of eight teams in their MHL debut.

The HockAdemy's women, who were feted to lunch at a Thai restaurant in Bangsar, had an unexpected guest to motivate them.

Former International Trade and Industry Minister Tan Sri Rafidah Aziz, who was also having her lunch, was introduced to the players, and she shared her sporting experience with them.

"I was the president of the Selangor women's football team in the 1970s, and I still keep active by playing squash five times a week.

"I am also a qualified diver and hit a hole-in-one (golf) recently. So at 77, I'm still active and my advice to you (the women's team) is to become an all-rounder (play as many sports as possible) if you want to become a true international for the country," she said.

Two HockAdemy men's players will head for Australia soon on a twinning programme, and their names will be announced after the deal is inked, said Megat.

"I have many plans for KL hockey players as we are also looking to run a league, over and above the one we have right now, so that everybody can play hockey and nobody is left behind," said Megat.

New Straits Times


---

Surbiton top English women's league with men's side on brink of doubling up




Surbiton guaranteed they will top the Investec Women's Hockey League in England with back-to-back wins over the weekend with three games to spare.

They picked up a 5-2 victory at fourth places Buckingham on Saturday with Erica Sanders (2), Susie Catlin, Holly Payne and Hannah Martin the scorers for the league leaders with Natasha James and Lottie Porter on target for Buckingham.

On Sunday Surbiton picked up another three points with a 2-1 win at home against Holcombe. Lorna Jane Cruickshank gave the away side the lead in the first minute before Jenna Woolven and Alice Sharp both netted for Surbiton to secure the victory.

It continues their epic run of form this season with 14 wins and one draw from their 15 outings so far.

Hampstead & Westminster and East Grinstead also confirmed their places in the top four over the weekend. The former beat Holcombe 4-1 on Saturday.

A day later, EG beat H&W 2-1 thanks to two goals from Sophie Bray outdoing one from Joie Leigh. It leaves the final playoff spot on the line with Buckingham having a six point lead over Loughborough with three rounds to go.

In the English men's competition, Surbiton are one win away from winning the regular season crown after they claimed four points out of six over the weekend.

On Saturday, they did drop points for just the second time this season when they drew 3-3 at home against the rising force of Old Georgians.

Ben Boon and Alan Forsyth gave Surbiton a 2-0 lead in the first 14 minutes before OGS fought back with Lee Morton and Matt Richards on the mark while James Royce's effort saw the game at 3-2 entering the last 17 minutes.

The returning Sam Ward after his horror head injury, however, got the equaliser in the closing minutes.

Surbiton did return to winning ways on Sunday, picking up a 5-0 victory at East Grinstead. Luke Taylor, Arjan Drayton Chana, Alan Forsyth, James Royce and Rob Farrington all found the net for the away side.

It means a win next weekend against second last-placed side Brooklands MU will assure Surbiton of a regular season double.

Wimbledon and Hampstead & Westminster are assured of playoff places with Old Georgians in pole position to take fourth. They are five points ahead of Holcombe with a game in hand.

Euro Hockey League media release


---

New Stadium Planned For Penn State Field Hockey

By Geoff Rushton



Matt Noah | Onward State

Penn State is planning to build new field hockey seating and stadium facilities on the site of the current field near Curtin Road and University Drive southeast of Wagner Building.

Joe Corvaia, of project designer Crawford Architects, presented the final land development plans to State College Planning Commission on Thursday. He said the existing playing field would remain but the bleachers along the south side of the field would be demolished and replaced with a new three-level structure for expanded seating and amenities.

The lower level, underneath the seating area, will have home and visiting team locker room suites, public restrooms and concessions, ticket windows and mechanical rooms.

The seating area with aluminum bleachers will have capacity of either 1,200 or 1,500, an increase over the current 750. Corvaia said final capacity is dependent on construction bid results. ADA seating will be located in the front rows.

The upper level will be a deck over the seating bowl and will have press, broadcast and gameday operations areas, as well as a viewing room that can be used for meetings and as a "VIP" area, Corvaia said. Flanking both sides will be exterior patios.

Brick and metal panels will comprise the exterior materials, with the look intended to complement the nearby Panzer Stadium and Pegula Ice Arena.



Artist's rendering of the planned new Penn State Field Hockey Stadium. Image by Crawford Architects.

Field level will remain the same, and Corvaia said the project does not involve any work on the field itself.

Some field lighting will be relocated, but otherwise will stay unchanged.

Outside the entrance to the stadium, sidewalks will be replaced and new plantings — consisting of native bushes and low-level landscaping — will be installed.

Planning commission unanimously recommended approval of the land development plans.

Penn State Athletics and Office of Physical Plant representatives have not responded to requests for comment on the timeline for construction or cost.

The project is currently out for general construction bids.

Upgrades to the field hockey complex were among more than 20 renovation and new construction projects identified in Penn State Athletics 20-year facilities master plan released in 2017.

Onward State