All the news for Monday 18 November 2019

Switzerland Series goes Superbly for South African Indoor Hockey



Picture – Enhanced Sports / SA Hockey

480 minutes of Indoor Hockey were played across three venues in two provinces with the South African teams tasting defeat exactly zero times. Two teams on opposite ends of their journey's but with remarkably similar results.

The SPAR South Africa side will look back on a series where they were able to expose a new player in Kayla de Waal while the return from injury of Eloise Walters was also a positive. Over the six matches they won four games, drawing two and in the process scored 18 goals conceding just 9. Cindy Hack was the top scorer netting five field goals, while Zimi Shange produced arguably her finest series for the SPAR South Africa Indoor Hockey side.

What it also means is that since the last African Cup, the South African ladies have played 42 indoor hockey test matches, losing just 3 and winning 34. They have also shown their domination of the Swiss who are ranked nine spots ahead of them on the FIH Indoor Hockey World Rankings. With an upcoming series against Ireland in December before heading to Poland in January, the team will have had the opportunity of playing more than 50 tests in between continental qualifiers. This is possible only thanks to the fantastic support of SPAR and the work of the management team behind the scenes.

SPAR South Africa 3-0 Switzerland
SPAR South Africa 4-1 Switzerland
SPAR South Africa 3-1 Switzerland
SPAR South Africa 4-3 Switzerland
SPAR South Africa 1-1 Switzerland
SPAR South Africa 3-3 Switzerland



Picture – Enhanced Sports / SA Hockey

For the BlitzStoks, who were powered by Tops at SPAR for this series, it was a different but equally pleasing series. Having not played since the FIH Indoor Hockey World Cup, the team featured a massive overhaul with new players and new coaching staff. Although the squad was split over the Cape Town and Durban legs, the players who earned their first opportunities for the country did exceptionally well.

The five wins and a draw in the six matches gave South Africa its first ever series victory over a European nation or a top eight nation. David Joshua was appointed as head coach prior to the series and has overseen the most successful series of the South African indoor hockey men's history. The Psi alumni coming in are showing what a pool of players we have in the country.

Mustapha Cassiem played his first international indoor games, playing only in the three games in Cape Town but ended as the series top scorer with 6 of the South African's 24 goals. In total South Africa had 10 different goal scorers with captain Jethro Eustice and Chad Futcher both getting three.

At present the next challenge for the BlitzStoks has not been set, but we know the hockey community will be excited to see the Lads back on the court.

South Africa 2-2 Switzerland
South Africa 4-3 Switzerland
South Africa 4-3 Switzerland
South Africa 6-5 Switzerland
South Africa 4-2 Switzerland
South Africa 4-1 Switzerland

SA Hockey Association media release


---

ROUND-UP: Men's Hockey League




Surbiton continued to assert their dominance at the top of the Men's Hockey League Premier Division after picking up two wins in two days against teams in the top four.

On Saturday they produced an excellent performance to win 8-4 at home against Hampstead and Westminster.

Alan Forsyth, Luke Taylor and Ben Boon netted two goals each for the home side while David Goodfield and James Royce scored the others.

Rupert Shipperley, Matt Guise Brown (2) and Chris Cargo were the goal scorers for Hampstead & Westminster.

And on Sunday Surbiton picked up another three points, this time via a 2-1 win at second-placed Wimbledon.

Zach Wallace and Alan Forsyth were on the scoresheet for the away side while Jack Waller netted for Wimbledon.

Wimbledon did however pick up three points on Saturday with a 4-3 victory at East Grinstead.

Ed Horler found the net three times and Ben Francis hit the winner for Wimbledon.

Chris Griffiths, David Condon and Tijn van Groesen were the scorers for East Grinstead.

Sunday saw East Grinstead suffer their second defeat in as many days, as they lost 3-0 at Hampstead & Westminster.

Matt Guise Brown, Chris Cargo and Rupert Shipperley were the scorers for the home side.

Elsewhere, Beeston produced an excellent performance to claim only their second victory of the campaign, winning 5-0 at the University of Exeter.

Elliot Hibell, Nick Park, Kyle Marshall, Elliot Barton and Chris Proctor were on the scoresheet for the away side.

Old Georgians moved up to third in the table after a 5-4 win at Holcombe.

Tom Carson (2), Andy Bull and James Tindall (2) scored the goals for Old Georgians while Robert Field, Nicholas Bandurak and Mark Gleghorne netted for the home side.

Brooklands MU ran out 4-1 winners at home against bottom of the table Reading.

David Flanagan bagged a hat-trick and Thomas Russell also found the net for Brooklands. Ciaran O'Connell scored a late consolation for the away side.

Division 1 North

The University of Durham remain top of the Men's Hockey League Division One North after a 6-0 win at City of Peterborough.

Max van Laak netted a hat-trick and Jack Turner, Jack Stubbings and James Sookias scored the other three for the away side.

Bowdon closed the gap on second-placed Cardiff & Met by beating their hosts 4-1 with Simon Egerton scoring all four goals, while Gareth Furlong scored the only goal of the game for Cardiff & Met.

Elsewhere Loughborough Students won 4-2 at Leeds, Olton & West Warwicks won 5-1 at home against Sheffield Hallam and the University of Nottingham won 2-0 at the University of Birmingham.

Division 1 South

Southgate maintained their narrow lead at the top of the Men's Hockey League Division One South table after they won 2-1 at home against Oxford Hawks on Sunday.

John Sterlini gave the home side the lead in the 22nd minute from a penalty corner before Max Garner doubled their advantage eight minutes later.

Jack Biggs scored the only goal for Oxford Hawks in the 57th minute from a penalty stroke.

Oxted ensured the gap at the top of the table stayed at one point as they won 4-3 at home against Sevenoaks.

Chris Webster and Matt Brown netted a brace each for the home side while Ali Taylor, George Torry and Edward Matts netted for Sevenoaks.

Elsewhere, Team Bath Buccaneers won 2-1 at Canterbury, Havant won 2-0 at Fareham and Brighton & Hove won 4-2 at Teddington.

Conference North

Belper remain top of the Men's Hockey League Conference North table after a 3-2 win at home against Barford Tigers.

Scott Marsh, Callum Stacey and Daniel Legg were the goal scorers for the home side.

Damian Jarzembowski and Sarbpreet Hundal were the scorers for Barford.

Elsewhere, Timperley closed the gap on Deeside Ramblers in second place by beating them 7-2 at home.

William Tobin, Andrew Wareham (2), Connor Miller (2), Rob Tinker and Jack Entwisle all netted for the home side.

Ali Ghazanfar and Chris Barber were the goal scorers for Deeside.

Conference East

Chichester closed the gap at the top of the Men's Hockey League Conference East table to three points as they won 3-0 at Harleston Magpies.

Alex Baxter gave the away side the lead in the 16th minute before Alex Pendle and Ollie Baxter scored two second half goals to secure all three points.

Elsewhere, Cambridge versus Wapping ended 2-2 at full time.

Euan Gilmour gave the home side the lead in the 14th minute before doubling their advantage six minutes later.

Oliver Bull and Warren D'Souza staged a second half comeback for Wapping as both teams had to settle for a share of the spoils.

Conference West

Richmond took a three-point advantage at the top of the Men's Hockey League Conference West table after securing two wins in two days.

On Saturday, they ran out 2-0 winners at Ashmoor with Jordan Hussell and Scott Wall scoring the goals there.

Sunday saw them produce an excellent performance, winning 5-0 at Isca.

Scott Wall netted a hat-trick and Jordan Smith and Jordan Hussell bagged one apiece to secure all three points.

Elsewhere, Old Cranleighans won 3-1 at Ashmoor on Sunday.

Matt Murphy, Will Phillips and Ben Wilson netted the goals for the away side while Max Romer-Lee scored for Ashmoor.

* Statistics, full scores and tables from the Men's Hockey League are available by clicking here.

England Hockey Board Media release


---

Monkstown make their presence felt

Ruthless dismissal of Three Rock Rovers marks them out as possible title contenders



Gareth Watkins: Monkstown's player-coach's side defeated Three Rock Rovers 6-0. Photograph: Laszlo Geczo/Inpho
 
A ruthlessly efficient Monkstown put Three Rock Rovers to the sword to mark themselves out as potential contenders this season in the men's EY Hockey League.

With Lisnagarvey and UCD providing plenty of fireworks, Gareth Watkins' side had gone about their business slightly under the radar but they made a major statement with Saturday's big 6-0 win.

Player-coach Watkins kick-started the afternoon with a fifth-minute penalty stroke and his side were well in the clear by half-time with Davy Carson and Geoff Cole also cashing in.

Watkins and Carson grabbed a second goal each after the break before Rory Nichols continued his scoring streak, bringing his tally to nine this season.

For Rovers, it was another bizarre scoreline at this early stage of the season, coming just seven days after they had hammered Annadale 9-1 as consistency with an overhauled side remains a way off.

They had their moments in the second and third quarters, missing out on some glorious chances while David Fitzgerald had a fine game, keeping out five penalty corner openings.

The result lifts Monkstown to second in the table, four points behind Lisnagarvey who continued their perfect start to the season. As they had done in the Irish Senior Cup, they fell behind against Banbridge at Havelock Park only to summon up a strong comeback with defenders Peter McKibbin and James Lorimer hoovering up corner goals for a 2-1 result.

UCD dropped to third in the division as they succumbed to a last-minute Alan Sothern goal to draw 2-2 with Pembroke. The students led twice through Guy Sarratt's powerful drag-flicks but – amid a spate of yellow cards – Sothern popped up with the equaliser.

Cards were also in abundance at St Andrew's with Glenanne finishing their tie against Corinthian with nine men with sideline coach Kieran Bolger sent outside the fence for dissent in a hot-tempered affair.

It ended 4-4 with Corinthian initially taking a 2-0 lead before falling 4-3 behind in the last 10 minutes. David Howard rescued the draw with time running out.

YMCA, meanwhile, recorded back-to-back wins with late strikes from Scott Ruttle – lining out against his brother Cameron – and Ben Chadwick earned them a 3-1 result at Annadale.

The Irish Times


---

Pegasus make it three wins from three

Victories over Catholic Institute and Cork Harlequins maintain champions' perfect start

Mary Hannigan

Three games in to the new Hockey League season and defending champions Pegasus are the only side left with a perfect record, victories over Catholic Institute and Cork Harlequins in the weekend's double-header, to add to their opening day defeat of Railway Union, making it nine points out of nine.

Both Munster sides, though, made Pegasus work hard for their wins, Institute putting up a gutsy fight on Saturday, in what was their first ever away game in the competition.

Rosie Pratt levelled from a stroke after Alex Speers had given the hosts the lead, and the Limerick side came back again after two Pamela Glass goals either side of half-time looked to have Pegasus easing to victory, Laura Foley pulling one back with eight minutes to go. It was only when Speers got her second of the game in the final minute that the contest was settled.

And come Sunday, Pegasus needed another late score in their game against Harlequins, Niamh McIvor, one of a number of underage internationals added to the champions' squad this season, scoring her first senior goal in the 61st minute to clinch the points.

But neither Munster side came away from Belfast empty-handed, Cork Harlequins having drawn with Belfast Harlequins 2-2 on Saturday before Institute beat the same opposition on Sunday thanks to Róisín Begley whose last-minute goal made it 3-2.

The weekend's six remaining games were all-Leinster affairs, but none of the clubs managed to take maximum points, Loreto faring the best of the bunch thanks to two goals from Ali Meeke.

The first of them decided her side's game against UCD on Saturday before she snatched a late equaliser against Muckross on Sunday after they had led through India Cotter.

Old Alexandra opened their weekend with a 2-1 win over Muckross but then fell 3-1 to Railway Union in a game that saw two Irish internationals on the scoresheet, Sarah Hawkshaw for Railway and Deirdre Duke for Alexandra. Duke and Nikki Evans, another of the squad that booked that place in Tokyo, have both joined Alexandra after returning home from playing in Germany.

Pembroke Wanders, meanwhile, had a mixed weekend of it, coming from behind to beat Railway 4-1 on Saturday, Orla Macken scoring twice, before losing to UCD, Niamh Carey getting the only goal of the game in the third quarter.

Hockey League – Saturday: Belfast Harlequins 2 (J Dennison, S Barr), Cork Harlequins 2 (R Barry, A O'Grady); Pegasus 4 (A Speers 2, P Glass 2), Catholic Institute 2 (R Pratt, L Foley); Railway Union 1 (L Lloyd), Pembroke Wanderers 4 (O Macken 2, A Naughton, J Ringwood); Loreto 1 (A Meeke), UCD 0; Muckross 1 (A O'Flanagan), Old Alexandra 2 (O Bools, A Roopnarinesingh).

Sunday: Belfast Harlequins 2 (L Geddes, K Welshman), Catholic Institute 3 (L Foley, N Carroll, R Begley); Loreto 1 (A Meeke), Muckross 1 (I Cotter); Old Alexandra 1 (D Duke), Railway Union 3 (H de Burgh Whyte, S Hawkshaw, N Sweeney); Pegasus 1 (N McIvor), Cork Harlequins 0; UCD 1 (N Carey), Pembroke Wanderers 0.

The Irish Times


---

The gap narrows at top of the Scottish Premiership




No change at the top of the Premiership, but the leaders have slipped – a frozen pitch at Old Anniesland postponed Grange`s match against Hillhead and they are now only two points ahead of Western Wildcats at the top of the men`s table, but in the women`s Clydesdale Western`s advantage is restricted to goal difference following their single goal defeat at the hands of Watsonians.

With Grange idle, Western Wildcats got their claws into second spot with a powerful 4-1 win over rivals Grove Menzieshill on Tayside.

Wildcats were two up at the interval, GB under-21 international Andrew McConnell opened at a penalty corner, followed by an Adam McKenzie strike at the third attempt.

Wildcats continued to dominate, Richard Pollock made it three with a deflection off a defender, then McConnell got his second with a classy finish into the bottom corner of the net.

Grove Menzieshill had their best spell in the final quarter and Jamie Golden got a consolation with a penalty corner rebound.

After the game, Western Wildcats` coach Vishal Marwaha said: "This was a good result for us, we`ve stepped up today. We still have several things to work on for the future, but it`s a great platform for the second half of the season."

Edinburgh University moved back into fourth place, but they were held to a 4-4 draw by Kelburne at Glasgow Green.

The share of the points was not always so obvious, Kelburne were 2-1 up at half-time, and 4-3 ahead with minutes to go, but a late strike by Kevin Wong rescued a share of the points for the students.

Earlier Guy Rowson (2) and Tommy Dawes scored for Edinburgh while Michael Nicol, Pol Albericio, Chris Caldwell and Jack McKenzie replied for the Paisley outfit.

Clydesdale failed to hold on to their top four place with a 5-1 reversal against Uddingston at Bothwell Castle Policies. Blake Hinton scored twice while the others came from Gavin McKenzie, Chris Boyle and Johnny McDonald.



Photo by Mark Pugh

Bottom side Dundee Wanderers recorded their first win of the season with a 2-0 win over Watsonians, Robbie Alexander and Robby Ralph were on target. The Edinburgh side had most of the play throughout, but succumbed to two goals in the final quarter.

Watsonians are undoubtedly the team of the moment in the women`s Premiership, they beat leaders Clydesdale Western 1-0 at Peffermill and now only trail the Titwood-based outfit on goal difference.

The only goal of the game emerged in the second quarter, it came from a fast break and a composed finish by Heather Tait. The Edinburgh side pushed for a second, in the final quarter the league leaders pressed for an equaliser, but the single goal separated the sides at the end.

Watsonians coach Keith Smith said: "It was a good performance from us today – particularly our defensive work rate – we never really let them get going too often. It keeps things interesting in the league."

Dundee Wanderers remain in third spot after a 2-1 win over Glasgow University, Imogen Bryce scored for the students. The Taysiders are also on the 21 point mark at the top, but behind Clydesdale and Watsonians on goal difference.

Western Wildcats put another dent in Grove Menzieshill`s season with a 6-2 win on Tayside. After 37 seconds Ava Smith put the visitors one up, after two minutes Kate Holmes had added a second from a penalty corner.

The score advanced to 4-1 by the interval, a goalmouth scramble allowed Catriona Booth to convert from the spot while Alex Stuart added another from open play. In the second half Smith and Holmes added their own seconds to the Wildcats` tally while Lucy Smith got both of Grove Menzieshill`s consolations.

Hillhead moved up to sixth in the table with a 2-0 win at Merlins Gordonians.

Champions Edinburgh University are still in fifth place after their clash with GHK was frozen out, but they now have two games in hand.

Scottish Hockey Union media release


---

Blazers on course for record 22nd title

By AGNES MAKHANDIA



Kenyatta University's Gloria Juma (left) vies for the ball with Blazers' Rachel Ousa during their Kenya Hockey Union Women Premier League match at City Park Stadium on November 17, 2019 Blazers won 2-1. PHOTO | CHRIS OMOLLO |  NATION MEDIA GROUP

Blazers, formerly Telkom are on the verge of being crowned this year's Kenya Hockey Union women's Premier League champions.

Jos Openda's charges inched closer to their record-extending 22nd title after a nervy 2-1 win over Kenyatta University at the City Park Stadium on Sunday.

Barbara Simiyu opened the scoring in the fourth minute before Gloria Juma levelled in the 47th. Caroline Guchu sounded the board a minute later to seal the win for the back-to-back champions.

Blazers need only a win in their remaining two matches against Sliders and United States International University of Africa (USIU-A).

The record champions are unbeaten with 32 points from 12 matches, while USIU-A are second with 26 points and also have two games in hand.

Openda said focus now shifts to the Africa Club Championships slated for December 1 to 8 in Ismailia, Egypt.

"We were not at our best today but I'm glad we won the match. On paper, we have retained the title and booked a spot in the next year's club championship. We will use the remaining ties as build up for Club Championships," said Openda who urged corporates to provide financial support as they prepare to defend their continental title. "We have managed to raise Sh1 million shillings but our budget is Sh3.5 million. We are appealing to individuals and companies to help us grace the event."

Telecommunications company Telkom withdrew their sponsorship in June.

KU coach Richard Wandera said: "We are encouraged by the fact that they scored seven goals in the first leg but today they struggled to win. That shows improvement. We want to build on this performance in remaining matches."

Meanwhile, Jomo Kenyatta University of Agriculture and Technology (JKUAT) recorded their first win of the season after edging Sliders 1-0 in another women's Premier League tie at the same venue.

Eileen Akinyi's first half goal in the 11th minute is all the students needed to bag three points.

JKUAT, who are bottom with five points from 13 matches, will play their last match against Amira Sailors next weekend.

Blazers, who were pre-match favourites, lived up to expectations scoring barely four minutes into play through Simiyu's field goal.

KU grew in confidence and matched their opponents but failed to score as Blazer led 1-0 at the breather. Wandera's pep talk during half-time worked as the students returned a different side and Juma capped their resurgence with a penalty corner in 47th. Their joy was short-lived as Guchu handed Blazers the win moments later.

RESULTS

Blazers 2-1 KU
JKUAT 1-0 Amira Sailors

Daily Nation


---

Jarkhar Academy win Dashmesh hockey title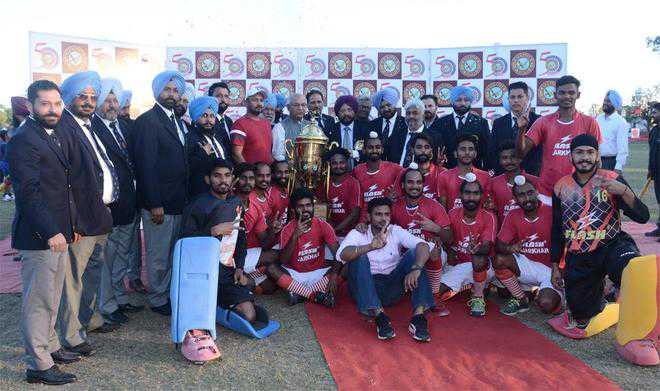 Jarkhar Academy strike a pose with the trophy. Tribune photo

Jarkhar Academy beat Signals Jalandhar 2-1 in the final of the 30th Dashmesh Hawks All India Hockey Festival here today. A cash prize of Rs 51,000 was awarded to the Jarkhar Academy.

Jarkhar Academy drew first blood through Lovejeet Singh's superb solo effort. Signals found the equaliser in the 8th minute.

Karanveer Singh scored in the 37th minute to corner glory for his team.

The Tribune


---

UNC field hockey soars past Hawkeyes, 2-1, to earn Final Four berth

By Jared McMasters



UNC sophomore forward Erin Matson (1) defends against Iowa senior defender Katie Birch (11). The Hawkeyes were tied with the Tar Heels 1-1 at halftime. Abe Loven

The No. 1 North Carolina field hockey team (21-0, 6-0 ACC) knocked off Iowa in the second round of the NCAA Tournament on Sunday, earning head coach Karen Shelton her 11th straight Final Four berth and preserving a second straight undefeated season for the Tar Heels.
What happened?

The first period opened as a defensive chess match between the Tar Heels and the Hawkeyes, as the first decent look at goal came with just about 90 seconds remaining in the quarter.

North Carolina's Erin Matson found the ball near the right sideline and played it down the line to junior Eva Smolenaars. The midfielder sent in a low driving ball across the face of Iowa's goal, but neither of the two UNC players waiting for the pass could connect for a shot.

However, it didn't take long for the action to get underway in the second period. Maddy Murphy earned a penalty corner for the Hawkeyes in the first three minutes of the quarter and played the ball into the top of the circle to sophomore Lokke Stribos. She was able to set up her younger sister, Sofie Stribos, who deflected the ball into UNC's goal for the first-year's third score of the season.

North Carolina responded with a score of its own with less than six minutes remaining in the first half. After limping earlier in the period, Matson received a pass around the midfield line and maneuvered to the center of the field, drawing three Iowa defenders and earning the Tar Heels' first penalty corner.

Sophomore Abby Pitcairn played the ball to the top of the circle where first-year Madison Orobono settled the ball for senior Yentl Leemans. The ACC Defensive Player of the Year smacked the ball to Matson, the conference's Offensive Player of the Year, who found the back of the net to level the score, 1-1.

It took the Tar Heels just 26 seconds to open the fourth quarter with a goal to give them the lead, 2-1. Senior Marissa Creatore darted into a gap of open space to the left of Iowa's goal where she quickly received a pass and dished it across the face of the goal to senior Feline Guenther. Guenther crushed her shot into the back of the net to put UNC ahead, 2-1, a lead that North Carolina would hold for the rest of the game.

Who stood out?

Matson was dynamic for the Tar Heels. The All-ACC forward was able to weave her way through the Hawkeye defense effortlessly, allowing her constantly put pressure on Iowa and create space for Creatore and Guenther to convert North Carolina's second goal of the game.

When was it decided?

The second round matchup went down to the wire, with the score still tied at one entering the fourth quarter. Outside of a seven-minute window in the second quarter, the two defenses defenses had been dominating the match.

Guenther's goal to open the final period was crucial for a Tar Heel offense that struggled to get shots off throughout the afternoon and finished with only two shots on goal.

Why does it matter?

UNC's victory over Iowa was the 44th consecutive win for North Carolina and moved the Tar Heels to their eleventh straight NCAA Final Four.

When do they play next?

The Tar Heels will travel to Kentner Stadium in Winston-Salem, N.C., to face either Boston College or Louisville in the semifinals of the 2019 NCAA Tournament on Friday.

The Daily Tar Heel


---

Maryland field hockey's season ends with 1-0 OT loss to Virginia in NCAA tournament

David Suggs



Goalkeeper Noelle Frost mans her net during Maryland field hockey's 5-1 win over Michigan State on Oct. 25, 2019. Gabby Baniqued/The Diamondback)

When the final horn buzzed on Maryland field hockey's season, all defender Bodil Keus could do was look up to the sky.

Moments earlier, the Big Ten Defensive Player of the Year had been standing outside her goalmouth in overtime, hoping to fight off another wave of pressure from Virginia's attack.

And as midfielder Annie McDonough fired an effort toward Keus, it seemed like another Cavaliers' threat had been averted, with Keus getting her stick down quickly to deflect the shot out of danger.

But Keus was unable to divert the ball away from goal, and once the ball trickled past goalkeeper Noelle Frost, the junior looked on in despondency as the Cavaliers rushed to McDonough to celebrate their 1-0 win and impending trip to the final four.

"We're disappointed," Keus said. "We put our whole heart on to the field — every single girl."

Defender Hannah Bond started on Sunday after taking a ball to the forehead during Friday's matchup with Saint Joseph's, giving the Terps a much-appreciated boost.

"I'm not surprised," coach Missy Meharg said. "Hannah's one of the toughest kids I've ever coached … no question, hands down, she has the heart of a champion."

Meanwhile, forward Madison Maguire — the Big Ten Offensive Player of the Year — returned to the lineup after also sitting out Friday's contest.

And while their leading goalscorer routinely occupied dangerous areas within the Cavaliers' shooting circle in the first half, the Terps looked far less ruthless than they did in the second half of Friday's game.

"The last two games really signified a dominance — a dominance from start to finish," Meharg said, "We just didn't finish."

There was forward Jen Bleakney's chance late in the first quarter — the graduate senior scampered into the circle after receiving a delicate feed from Maguire before skying her subsequent shot. And Keus sent a driven effort off a late penalty corner in the opening frame, forcing goalkeeper Lauren Hausheer into a diving save.

But in all, the Terps struggled to create much against a Cavaliers defense that entered Sunday's matchup with the seventh-best defensive record in the NCAA.

Maryland's defense, however, continued to impress after handing Saint Joseph's potent attack its first shutout of the season, conceding two shots on goal in the first half — both of which were sent away by Frost.

"Our back five players — Noelle Frost, Bodil [Keus], Nathalie [Fiechter], Bond, and Kelee Lepage — that was our strength and our core," Meharg said.

With neither offense looking particularly imposing in the game's opening 30 minutes, halftime provided both sides with an opportunity to refresh and figure out ways to create dangerous scoring chances.

"We were very calm and composed," Keus said. "We were in the game and our emotions were just [out]."

But in the third quarter, it looked as if Virginia had finally cracked the code on how to get past Maryland's staunch backline, taking up increasingly threatening positions in front of Frost's cage. The Cavaliers recorded five shots in the third, with Maryland's defenders making a series of crucial blocks to keep the game scoreless.

For all of Virginia's dominance, though, it was Maryland that came closest to finding a breakthrough. Keus, a constant threat on penalty corners, rifled a long-distance attempt at Hausheer. But as the ball dribbled to the Cavaliers netminder, it took a deflection, rising above her and toward the top-left corner of the cage.

At the last second, though, the ball struck the post, keeping the game deadlocked at zero as the game headed for the fourth frame.

"Today [we] played a great brand [of hockey]," Meharg said. "But not quite good enough — you got to score on the penalty corners that you have … we had two penalty corners that hit the post."

And as regulation wound down, the Cavaliers continued to apply pressure on Maryland's backline. Frost — among the top-five goalkeepers in goals-against average and save percentage in the country — continued to keep the Terps in the game, making six saves in the fourth.

"She's just exceptional. She's patient, and she's a Terp," Meharg said. "She will just defend that goal cage at wits' end, and I'm just so happy she'll be back for another season."

However, the Glenwood native was helpless a minute into the fourth period, when McDonough flicked an effort beyond Frost's grasp and into the back of the cage.

As McDonough celebrated with her teammates, though, the referees walked to the tent to inspect whether any Cavaliers attacker committed a foul in the build-up to the goal. And after deliberation, the referees returned to the pitch, signaling that the goal was disallowed and sending Maryland's bench into pandemonium.

The Terps had new life, forcing an overtime period. But Virginia continued its pressure, and after Frost turned away one shot on a penalty corner attempt five minutes into extra time, McDonough wouldn't be denied a second time, sending the ball over the goalline and triggering Cavaliers celebrations.

There would be no review this time, no life-line for Maryland to grab hold of. Instead, as their opponents spilled onto the pitch, the Terps ambled off it, their season done before the final four for the first time since 2016.

"[We] really showed up today, we were just unlucky," Keus said. "That happens, we'll get over it and we'll try [again] next year."

The Diamondback


---

No. 9 field hockey upsets No. 2 UConn, returns to NCAA Final Four

By Molly Milligan



Princeton field hockey advanced to the NCAA Final Four after beating UConn. Photo Credit: Paul Neff / goprincetontigers.com

No. 9 Field Hockey (15–4, 7–0 Ivy) upset the second-ranked UConn Huskies on Sunday afternoon in Storrs, Conn. to advance to the NCAA Final Four. The 2–0 victory was the sweetest form of revenge for the Tigers, who lost to the Huskies in overtime at home in September.

The first period was a defensive standoff, with senior goalie Grace Baylis making two huge saves to preserve the scoreless tie. Midway through the second quarter, two shots by the Tigers were denied before they were awarded a corner. Junior striker Clara Roth played a ball in to sophomore midfielder Hannah Davey, whose shot was deflected into the net by junior midfielder MaryKate Neff. At the half, Princeton led 1–0, though each team had recorded four shots.

Princeton would again rely on its defense in the third quarter. Late in the period, Baylis and Neff combined to save three shots off a UConn corner. Princeton pressed into the final 15 minutes in search of an insurance goal. With 13 minutes to play, Davey rebounded her own shot and slipped it by the UConn goalie to put Princeton up 2–0.

UConn pulled their goalie with seven minutes to play, but could not convert a score in the game's waning minutes. The Tigers outshot the Huskies, 10–8, and also came away with the advantage on corners. Princeton's 2–0 win sends the team to its third NCAA Final Four in four years.

Princeton's 5–1 victory over 13-ranked Syracuse in the NCAA Tournament's first round on Friday set the Tigers up for their Sunday rematch with the early-round hosts, UConn.

Princeton's attack got started with two consecutive corners in the fourth minute, but the Tigers didn't convert a goal until the end of the first quarter, when Davey hit in a corner from Neff. In the second period, Roth forced a turnover, then dribbled the length of the field before playing the ball past Syracuse's goalie to give Princeton a 2–0 lead at the half.

The second half opened with another score for the Tigers. This time, it was sophomore striker Ali McCarthy who got her stick on a high ball sent in by junior midfielder Julianna Tornetta. Davey then added her second goal of the day off a corner, putting the Tigers up 4–0.

Less than two minutes later, Roth became the second Princeton player to score her second goal of the day. She collected a bouncing ball after a misfired corner shot and whipped it into the net. Though Syracuse made it on the board late in the third, the Tigers overpowered them, easily claiming a spot in the national quarterfinals.

The Ivy League also announced its annual awards this week. First-year midfielder Sammy Popper and Head Coach Carla Tagliente were unanimous selections for Ivy League Rookie and Coach of the Year, respectively. Popper is the 17th Tiger to be named Rookie of the Year, following teammate Julianna Tornetta in 2017. This is Tagliente's second Coach of the Year honor.

Clara Roth, Hannah Davey, Julianna Tornetta, and Popper were all First Team All-Ivy selections. Ali McCarthy and MaryKate Neff were second-team All-Ivy, while Grace Baylis earned an honorable mention.

Princeton is now off to the NCAA Final Four. The Tigers will face No. 3 Virginia in the national semifinals on Friday at Wake Forest University's Kentner Stadium in Winston-Salem, North Carolina.

Daily Princetonian