All the news for Sunday 17 November 2019

BlitzStoks and SPAR South Africa near undefeated series




Two weeks ago, if you had told me that after ten matches of indoor hockey the two South African sides would not have tasted defeat against their higher ranked Swiss opposition, I would have challenged you to renew your prescription.

Of course, I'm not saying that we couldn't win, but just that it the nature of the game would prove that to be unlikely. Instead as we sit here both the men and women have won four of the five tests with a draw in the other. The BlitzStoks got their most comfortable win with a 4-2 win, while the women were unable to win for the first time in the series with a 1-1 draw.

The SA Indoor ladies, superbly sponsored by SPAR, have been immense throughout the series, but when they went 1-0 up through inspirational captain Cindy Hack you would have strongly suspected that they would be able to hold on for a fifth consecutive victory in the series. But the Swiss have played better hockey at Sunningdale and emerged with a leveller through Tamara Trosch in the 34th minute.

Although the South African squad will be happy with the way the series has gone, their consistent excellence over the past 3 years has meant that they will be looking for nothing less than victory in the final game of the series.

While the SA Women were largely considered to have a shout in the series, the BlitzStoks were not expected to. They were hopeful of sneaking a win or two in the series and they did that in Durban, but since coming to Cape Town they have picked up the gears and have produced not just one, but two outstanding performances on the very big Sunningdale court.

Mustapha Cassiem managed his fourth and fifth international goals in the last quarter to turn a 2-2 draw into a 4-2 win. In just two test matches the 17-year-old has already announced himself on the international indoor stage louder than Hugh Bladen after a night of beers.




Kyle Esau also made it two goals in his two appearances while new captain Jethro Eustice had earlier opened the scoring. With the series already resulting in the most successful series in BlitzStoks history, it will be considered a massive success regardless of the result. Of course, David Joshua will be looking for nothing short of a win!

SA Hockey Association media release


---

Thirty-three probables named for national coaching camp

The camp, to be held from November 18 in Bengaluru, will prepare India for its tour of New Zealand early next year.



The Indian team booked its berth in the Olympics in 2020 by defeating USA earlier this month. Biswaranjan Rout

Hockey India on Saturday named 33 probables for the senior women's national coaching camp to prepare for its tour of New Zealand. The camp begins on November 18 at the Sports Authority of India Centre in Bengaluru.

After having secured a berth for the Olympics in 2020, the Indian team will focus on maintaining its rhythm and consistency under the watchful head coach Sjoerd Marijne.

Read | Rani Rampal: Surreal to have scored the goal that secured Olympic qualification

The Rani Rampal-led side qualified for the Olympics by defeating World No. 13 USA 6-5 on aggregate across the two matches of FIH Hockey Olympic Qualifiers earlier this month. The team is scheduled to tour New Zealand in January-February, 2020.

'Opportunity to keep working on fitness'

"The national camp gives us the opportunity to keep working on the fitness as this would be an important period where we will have the time for it. The upcoming year will be a busy one for us, and that's why this period is important," said Marijne.

"Besides this, we will evaluate our performances at the FIH Hockey Olympic Qualifiers [in] Odisha and what can we learn from those two matches," he added.

List of Campers

    Goalkeepers: Savita, Rajani Etimarpu, Bichu Devi Kharibam
    Defenders: Deep Grace Ekka, Reena Khokhar, Suman Devi Thoudam, Sunita Lakra, Salima Tete, Manpreet Kaur, Gurjit Kaur, Rashmita Minz, Mahima Choudhary, Nisha.
    Midfielders: Nikki Pradhan, Monika, Neha Goyal, Lilima Minz, Sushila Chanu Pukhrambam, Chetna, Reet, Karishma Yadav, Sonika, Namita Toppo
    Forwards: Rani, Lalremsiami, Vandana Katariya, Navjot Kaur, Navneet Kaur, Rajwinder Kaur, Jyoti, Sharmila Devi, Priyanka Wankhede, Udita.

Sportstar


---

Pride round off incredible season




NSW Pride are the inaugural Sultana Bran Hockey One Men's Champions after defeating Brisbane Blaze 8-3.

The win caps off a remarkable season for the Pride, who went through the competition undefeated to claim New South Wales' first national men's hockey title since 2005.

Tim Brand scored a first half hat-trick to set the Pride on their way before they piled on five goals in the last quarter to stamp themselves into the history books as the first winners of the Sultana Bran Hockey One League.

The match started at a frenetic pace, NSW Pride winning a penalty corner inside the opening 90 seconds but Blaze goalkeeper Mitch Nicholson made a fine save low to his right as the Pride fired an early warning shot.

After successfully defending one, the Blaze then capitalised on their first penalty corner, Joel Rintala hammering his drag flick into the bottom left corner to opening the scoring.

But the lead lasted barely two minutes as Tim Brand found himself unmarked in the attacking circle and produced a quality finish giving Nicholson no chance. The striker then stepped up and successfully slotted home the bonus conversion opportunity and it was 2-1 to the Pride.

On the stroke of half time a well worked move from the Pride found Tom Craig on the left and his cross found the stick of Brand, the ball managing to find its way through a crowded goal area and finish in the net.

But this time Brand failed with his conversion opportunity to leave the Pride with a two goal advantage at the main interval.

A yellow card to Lachlan Sharp left NSW pride a player short and with seconds left in the third quarter Corey Weyer had a golden chance for the Blaze but Ash Thomas produced a sharp reflex save from close range to maintain the two goal margin.

Early in the last quarter the Pride made Weyer and the Blaze pay when the ball found its way to Jack Hayes who clinically beat Nicholson. The Pride midfielder converted the bonus one on one opportunity and the score was suddenly 5-1 leaving the Blaze with a mountain to climb.

The score then blew out to 7-1 when Flynn Ogilvie scored his own quick fire double with under six minutes to play.

Weyer cut the deficit to four goals when he struck from open play and made the conversion, but it would not spoil the NSW Pride party as Kurt Lovett iced the cake in the final minute to round off the celebrations.

Reflecting on what the NSW Pride had achieved across the season, Head Coach Brent Livermore was full of praise for his playing group.

"They are a bunch of talented guys. I think what it showed is what happens when they pull together as a team and know what it takes to work for each other rather than a bunch of individuals," said Livermore.

"We had a game plan that we worked with throughout the eight weeks and for the players to execute it and realise the importance of playing for their team mates was amazing."

"I think there were a lot of opportunities for both teams. Their (Brisbane Blaze's) radar was off a few times and our defence stood strong like it has for the whole campaign."

"The score did blow out and the result was probably a bit flattering but it was a tough battle and we just had to win our one on one contests and overcome them."

Olgilvie, who was named best afield, tried to fittingly sum up what the Pride had achieved.

"It feels incredible. I think we kept building throughout the season, we set our structures and were really solid on them, and I think that was a big part of what got us through at the end," said Ogilvie.

"In terms of achievements this is pretty big. I've played in the old Australian Hockey League for seven years and didn't get a chance to win one, so to win it now is amazing and great for New South Wales."

NSW Pride 8 (Brand 9'/9'/30', Hayes 48'/48', Ogilvie 55'/55', Lovett 60')
Brisbane Blaze 3 (Rintala 7', Weyer 57'/57')

Saturday 16 November 2019
State Netball and Hockey Centre, Melbourne

NSW Pride Men's team: 1.Lachlan Sharp, 2.Tom Craig, 5.Ash Thomas (GK), 6.Matthew Dawson, 8.Nathanael Stewart, 12.Kurt Lovett, 18.Tristan White (c), 19.Jack Hayes, 20.Ky Willott, 22.Flynn Ogilvie, 23.Ryan Proctor, 24.Dylan Martin, 28.Sam Gray, 29.Timothy Brand

Brisbane Blaze Men's team: 2.Shane Kenny, 3.Corey Weyer, 5.Scott Boyde, 7.Joel Rintala, 9.Jacob Anderson, 10.Robert Bell, 12.Jake Whetton (c), 15.Justin Douglas, 16.Tim Howard, 19.Blake Wotherspoon, 23.Daniel Beale, 26.Dylan Wotherspoon, 27.Jared Taylor, 32.Mitchell Nicholson (GK)

Sultana Bran Hockey One League Media release


---

Blaze and HC Melbourne play out grand final thriller




Brisbane Blaze are the toast of Australian women's hockey after winning a dramatic sudden death penalty shootout against Hockey Club Melbourne to be crowned the Sultana Bran Hockey One 2019 Women's Champions.

The season's showpiece event did not disappoint as it produced a titanic end to end contest that ended with the teams locked 1-1 after regulation time.

Goalkeeper Hannah Astbury was the hero for the Blaze, saving a penalty stroke from Madi Ratcliffe in the dying minutes and then being pivotal in the shootout.

In a first half dominated by staunch defence, both sides had a couple of decent chances but Astbury and HC Melbourne goalkeeper Rachael Lynch were both at the top of their games.

With the match evenly poised, Britt Wilkinson eventually broke the deadlock in the 37th minute and put the Blaze in front as she managed to beat Lynch with a shot from close range.

However Lynch saved Wilkinson's bonus conversion attempt to keep the lead at one and six minutes later it was all square again as Florine van Grimbergen directed her drag flick perfectly.

As both teams went in search of a winner, Lynch produced another clutch save to deny an Ash Fey drag flick, before Astbury kept out Hayley Padget at the other end.

With under four minutes remaining HC Melbourne were awarded a penalty stroke but Ratcliffe's attempt was sensationally saved by Astbury and the grand final would be decided by a penalty shootout.

The shootout was a heart stopper, and after being locked at 2-2 after five penalties each, it went to sudden death. Ratcliffe, who had taken the previous penalty and had it saved, missed again with HC Melbourne's first sudden death attempt to allow player of the match Rosie Malone to step up and score past Lynch to give the Blaze the title.

"I'm relieved, excited and so very proud of these girls," said triumphant Brisbane Blaze Head Coach Nikki Taylor.

"It's a hard way to win (in a shootout) and obviously nerve racking but I had faith in the team they could do it and they did."

"It could have gone either way. Astbury was magnificent…I had a feeling when she saved the penalty stroke that she was seeing the ball like a watermelon and in the shootout she was fantastic again."

"Then for our attackers to handle the pressure and score when it was needed was exceptional."

"I'm so happy that Brisbane Blaze are the inaugural women's champions. This competition is a great concept for what they are trying to do for hockey in Australia and I think it's only going to get bigger and better."

"For us to be the first ones to have our name on that trophy is an extremely proud moment and something we'll cherish."

HC Melbourne 1 (2) (van Grimbergen 43')
Brisbane Blaze 1 (3) (Wilkinson 37')
Brisbane Blaze wins 3-2 on penalties

Saturday 16 November 2019
State Netball and Hockey Centre, Melbourne

HC Melbourne Women's team: 1.Sophie Taylor, 2.Aisling Utri, 3.Nicola Hammond, 5.Kristina Bates, 7.Kary Chau, 12.Carly James, 14.Laura Barden, 20.Hayley Padget, 21.Florine van Grimbergen, 22.Madi Ratcliffe, 23.Samantha Snow (c), 25.Hannah Gravenall, 27.Rachael Lynch (GK), 33.Amy Lawton

Brisbane Blaze Women's team: 1.Savannah Fitzpatrick, 2.Madison Fitzpatrick, 3.Layla Eleison, 4.Ashlea Fey, 5.Rosie Malone, 6.Morgan Gallagher, 7.Jodie Kenny (c), 8.Jordyn Holzberger, 9.Jesse Reid, 12.Kendra Fitzpatrick, 14.Meg Pearce, 15.Hannah Astbury (GK), 19.Morgan Mathison, 22.Britt Wilkinson

Sultana Bran Hockey One League Media release

---

ROUND-UP: Investec English Women's Hockey League



Hannah Cozens in action for East Grinstead against Buckingham. Credit Andrew Smith

East Grinstead continued their great run of form, notching up their fourth straight victory with a 4-1 win at Buckingham in the Investec Women's Hockey League Premier Division.

The win moves them up to third in the table, with Sophie Bray scoring twice while their others came from Chloe Brown and Hannah Cozens. Zoe Shipperley scored Buckingham's only goal.

Leaders Surbiton made it nine wins in nine matches so far this season with a 3-1 victory over second-placed Hampstead & Westminster.

Erica Sanders scored twice for Surbiton, while Giselle Ansley added the other. Lily Owsley pulled one back for Hampstead & Westminster, but it wasn't enough.

Elsewhere, Clifton Robinsons leapfrogged visitors Loughborough Students in the table after beating them 3-2.

Phoebe Richards put the hosts ahead in the eighth minute from open play, before Lizzie Neal levelled for Loughborough.

Claire Thomas scored from open play on 45 minutes, and although Lucy Millington pulled Loughborough back level at 2-2 with a 55th minute penalty corner, Thomas added her second goal on 63 minutes to seal the win.

Bowdon Hightown secured their first league win since September with a 2-1 victory at Holcombe.

Charlene Mason and Aine Curran scored for the visitors, while Charlotte Daly's early goal for Holcombe proved to be a false dawn.

Two goals in three minutes from Lauren Burrell helped Beeston to a 3-1 victory over the University of Birmingham. Rebecca Malyon scored Beeston's other goal, while the visitors' consolation came from Rafaela Brandao-Lee.

Investec Division 1 North

Leicester City closed the gap at the top of Investec Division One North table to two points with a 3-1 victory at Leeds on Saturday.

Olive Hepi gave the away side the lead in the 31st minute before Leeds levelled through Amy Stoutt shortly after the half time break.

Rachel Mack restored Leicester's lead in the 52nd minute before Hepi sealed the points six minutes later.

Top of the Table Swansea's match at Belper was postponed due to a flooded pitch.

Elsewhere, Brooklands-Poynton secured three points after a 2-1 victory at home against the University of Durham.

Gloucester City versus Olton and West Warwicks ended 3-3, and Stourport and Ben Rhydding played out a 0-0 draw.

Investec Division 1 South

Wimbledon remain top of the table in the Investec Division One South as they won 2-0 at Cambridge City on Saturday.

Georgie Blackwood broke the deadlock in the 30th minute when she found the net from free play.

Fiona Burnet ensured the three points went back to Wimbledon when she netted midway through the second half.

Harleston Magpies produced an excellent performance to maintain third spot as they won 5-1 at St Albans.

Georgie Gardens, Elizabeth Clymer, Lucy Whiting, Emma Lee-Smith and Charlotte Harrison were the goal scorers for the away side. Samantha Archer-Overall netted a consolation for St Albans.

Elsewhere, Canterbury won 2-0 at home against Isca, Sevenoaks won 2-0 at hoem against Trojans and Reading won 1-0 at Slough.

Investec Conference North

Vicky Woolford netted four times as Sutton Coldfield maintained the pressure at the top of the Investec Conference North table when they won 7-0 at Cannock on Saturday.

Emma McCabe also scored twice for the away side as well as Jess Webb also getting her name on the scoresheet.

The University of Nottingham remain top of the table after they won 5-0 at home against Fylde.

Esme Burge (2), Malin Evert, Holly Dean and Jessica Hill were the goal scorers for the home side.

Investec Conference East

Barnes ensured the gap at the top of the Investec Conference East table was kept to one point as they won 4-0 at home against Southgate.

Aleesa Ferguson netted a brace and Catalina Montino and Lexie Clark scored the other two for the home side.

Wimbledon remain top of the table after a 2-1 win at Broxbourne.

Tamsyn Naylor found the net twice in two minutes midway through the first half to secure the points for the away side.

Kay Finch scored a late consolation for Broxbourne but it was in vain as Wimbledon held out to secure the win.

Investec Conference West

Surbiton's second team remain four points clear at the top of the Investec Conference West table as they ran out 8-2 victors at home against the University of Bristol.

Tasmin Cookman bagged herself a hat-trick and Alice Klugman, Hannah Denison, Issy Carey, Pippi Spawforth and Tamera Cookman all found themselves on the scoresheet for Surbiton.

Olivia Sherwen and Susanna McCollum were the goal scorers for the University of Bristol.

Second placed Oxford University remain four points behind Surbiton following a 1-0 win at Basingstoke.

Susannah Dunn scored the only goal of the game from open play in the 23rd minute.

England Hockey Board Media release


---

Alex land double coup with Evans and Duke on board



Nikki Evans celebrating a goal against China in September. Pic: Adrian Boehm

Old Alex announced a massive double coup on Thursday evening with Irish internationals Nikki Evans and Deirdre Duke confirming they will play for the Milltown club.

The duo were part of the side that qualified for the Olympic Games two weeks ago and coach Niall Denham confirmed they will go straight into the squad for a big double weekend, facing Muckross on Saturday before hosting Railway Union a day later.

They both played in Germany last term, Evans at UHC Hamburg, Duke at Dusseldorfer HC, helping their respective clubs to the national playoffs but they held off on formally announcing their next move until their schedule for 2020 was clear.

With the ticket for Tokyo secure, the panel – bar Ayeisha McFerran at SV Kampong in the Netherlands – are back in Ireland, helping them to avail of Sean Dancer's increasingly centralised training plan.

While neither Evans or Duke have played for Alex at the top-level before, their fit is a reasonably natural one. They played in the past with Hermes and then UCD; the former are now under the Monkstown banner and playing outside the EYHL while they have gone beyond the "year's grace" limit at Belfield.

Both are alumni of Alexandra College with Evans' sister Rebecca the current club captain while there are plenty of former UCD team mates in the line-up. It will add significant extra firepower to the frontline of a side who began their campaign with a 2-0 win over Belfast Harlequins.

Last weekend, four of the 18 Donnybrook heroes lined out locally but plenty more will be back in action having rested on day one of the league, taking in big games on Saturday and Sunday.

Nicci Daly will not be back for Loreto's games against UCD on Saturday and Muckross on Sunday. Lizzie Colvin is on honeymoon and so is out of Belfast Quins' ties with Catholic Institute and Cork Harlequins.

In the men's EYHL, YMCA will be hoping to build on their win over Pembroke when they go north to Annadale; should they come back from the M1 with the points, the result will leave the Ulster side in plenty of discomfort at this early stage of the campaign.

A key battle will be between the big corner guns of Ryan Burgess and Grant Glutz while brothers Scott and Cameron Ruttle come up against each other.

It is one of five tie which look reasonably well matched on paper. At St Andrew's, Joe Brennan's Corinthian comes up against his former club, Glenanne.

The Glens worked off a slimline panel last weekend with their second team away in the Irish Junior Cup – Gary Shaw will hope to have a couple more options to deploy from the bench this time out.

Lisnagarvey's biggest test this term to date was in the Irish Senior Cup when they had to come back from 2-0 down to beat Banbridge. They go back to the same Havelock Park venue for an evening match-up that always draws the crowds.

UCD will look to bounce back after their first setback of the campaign when they face a Pembroke side looking to find some sort of form after three defeats out of four.

Monkstown host Three Rock Rovers in a battle to try and strengthen their respective places in the top four.

In addition to the full EYHL schedule, round two of the Irish Hockey Trophy takes place across the island

Saturday 16th November 2019

Men

EYHL: Annadale v YMCA, Strathearn School, 4pm; Banbridge v Lisnagarvey, Havelock Park, 5pm; Glenanne v Corinthian, St Andrews, 2pm; Monkstown v Three Rock Rovers, ALD Merrion Fleet Arena, 2.15pm; UCD v Pembroke, Belfield, 2.50pm

Irish Hockey Trophy – Round 2: Bangor v Raphoe, Bangor Aurora, 2.30pm; Belfast Harlequins v Portadown, Deramore Park, 1pm; Kilkenny v South Antrim, Kilkenny College, 2pm; NICS v Weston,  Maynard Sinclair Pavilion, 2.30pm; Rathgar v Catholic Institute, The High School, 2.15pm; UCC v Ashton, Mardyke, 2pm; Waterford v Newry, Newtown, 2.30pm

Irish Hockey Challenge – Pool A: Limerick v Galway, Villiers, 3.15pm

Leinster Division 1: Avoca v Bray, Newpark, 1pm; Dublin North v Clontarf, National Sports Campus, 12pm

Munster Division 1: Bandon v Cork C of I, Bandon GS, 2.30pm

Women

EYHL: Belfast Harlequins v Cork Harlequins, Deramore Park, 2.30pm; Loreto v UCD, Beaufort, 2.45pm; Muckross v Old Alexandra, Muckross Park, 3.15pm; Pegasus v Catholic Institute, Belfast HS, 2.30pm; Railway Union v Pembroke, Park Avenue, 2.30pm

Irish Hockey Trophy – Round 2: Bandon v NUIG, Bandon Grammar, 12.30pm; Galway v Kilkenny, Dangan, 1pm; North Down v Raphoe, Comber LC, 1pm; Genesis v North Kildare, St Raphaelas, 1.45pm; Bray v Lisnagarvey, Loreto Bray, 2.15pm; Armaghv Rathgar, Ardmore, 2.30pm; Portadown v Mossley, Portadown, 2.30pm; Three Rock Rovers v Avoca, Grange Road, 3pm

Munster Division 1: Cork C of I v Belvedere, Garryduff, 12pm; UCC v Limerick, Mardyke, 12pm

Sunday 17th November 2019

Men

Leinster Division 1: Clontarf v Portrane, Mount Temple, 3.45pm; Kilkenny v Avoca, Kilkenny College, 3pm

Women

EYHL: Belfast Harlequins v Catholic Institute, Deramore Park, 1pm; Loreto v Muckross, Beaufort, 3pm; Old Alex v Railway Union, Alexandra College, 2.30pm; Pegasus v Cork Harlequins, Queens University, 1pm; UCD v Pembroke Wanderers, Belfield, 1.30pm

The Hook


---

Champs Butali retain hockey crown

By AYUMBA AYODI



Butali Sugar Warriors players celebrate a goal during their Kenya Hockey Union men's league match against USIU-A at City Park Stadium on May 11, 2019. Butali's Constant Wakhura was named men's national team skipper on August 6, 2019. PHOTO | SILA KIPLAGAT |  NATION MEDIA GROUP

Butali Sugar Warriors on Saturday retained their Kenya Hockey Union (KHU) men's Premier League title.

Butali, who are unbeaten this season, edged out second-placed Wazalendo 2-0 at City Park Stadium to keep the title with two matches to go against Parklands Sports Club and Greensharks.

In what has been described as their most solid performance this season, Butali needed the second quarter to break the Wazalendo defence when Constant Wakhura scored from a penalty corner in the 25th minute.

Then Francis Kariuki finished it off for Butali with five minutes to go with a scintillating field goal to hand Butali their fourth cup success. Butali won the title in 2014 and 2015, before recapturing the crown last year.

"For sure this has been our best performance in the league. It was a solid and good win that given us our fourth title," said Butali Sugar coach Dennis Owoka, adding that it's their dream now to win the league unbeaten.

If they achieve the feat, then they will be the first team to do that since Armed Forces in 2001.

"I strongly feel we shall achieve that with the kind of talent at our disposal," said Owoka, who hailed his charges for their superb display this season.

"It's has been a perfect season for us after we injected new blood. We are still under transition," said Owoka, who singled out Moses Ademba, Francis Kariuki, Vincent Odhiambo, Amos Barkibir, Vincent Odhiambo, Constant Wakhura and Derrick Kuloba as the youngsters, who made it happen for them this season.

Butali now are on 43 points, while Wazalendo, who have one match to go, stayed second with 33 points from 10 wins, four losses and three draws.

Greensharks, who are third with 27 points, have two matches to go.

Former champions Kenya Police, who are fourth with 28 points after beating Parklands 2-1 on Saturday , have three matches to go.

Victory in all their matches can only bring their tally to 37 points.

Daily Nation


---

Parklands on the brink after Police loss

By AGNES MAKHANDIA



Jacktone Simiyu of Parklands Sports Club (left) vies for the ball with Haggai Sikhila of Sikh Union during their Kenya Hockey Union men's Premier League match at City Park Stadium on May 4, 2019. PHOTO | SILA KIPLAGAT |  NATION MEDIA GROUP

Parklands' chances of avoiding relegation continue to dwindle after they lost to Kenya Police 2-1 in a Kenya Hockey Union men's Premier League match at the City Park Stadium on Saturday.

Edmon Makona and captain Oliver Echenje scored for the law enforcers in the 7th and 53rd minutes through fantastic field goals, while Allan Adongo pulled one back for Parklands in the 8th minute.

Parklands, who are placed bottom on the standings with seven points from 15 matches, must now win against Sailors on Sunday to revive their slim chances of evading the drop to the Super League.

Parklands captain Kelly Adolwa said they played their best, but unfortunately it was not good enough.

"The pressure is definitely on. We have no choice but win tomorrow's match against Sailors . Failure to do that will leave us at the mercies of Strathmore and Sikh Union who are also battling relegation," noted Adolwa.

Police captain Echenje said they expected to win, but with a wider margin.

"We have three points and that's what matters. Parklands played differently today and they got us off guard, but I'm glad we were able to hold it together," said Echenje.

It was an equally balanced match in the first quarter with both teams threatening to score and it was just a matter of who would score first.

Police went ahead in the 7th minute thorough Makona, but their lead was short lived after Adongo levelled the scores a minute later in an entertaining match.

Spurned chances were the order off the day in second quarter, but it was Parklands who were more guilty with Cyprian Ayiengo missing to connect with Ricky Balray swift passes in the 16 and 26 minutes respectively

Echenje should have extended the lead for Police in the dying minutes of first half, but Parkland goalie Vincent Imboga thwarted his efforts.

Both teams picked from where they left in the second half with good exhibitions, but it was Police who had the final laugh after Echenje recovered from his missed first half chance to score in the 53rd minute.

In an earlier match played at the same venue, Strathmore University Scorpions reigned supreme against Sliders 2-1, but still remained in third position with 21 points from 13 matches.

Lyne Ayuma and Denise Bila sounded the boards for the students in 15th and 27th minutes, while Charity Miller scored for Sliders in the 50th minute.

Sliders are placed sixth with 12 points from 12 matches

Daily Nation


---

Jarkhar Academy set up final date with Signals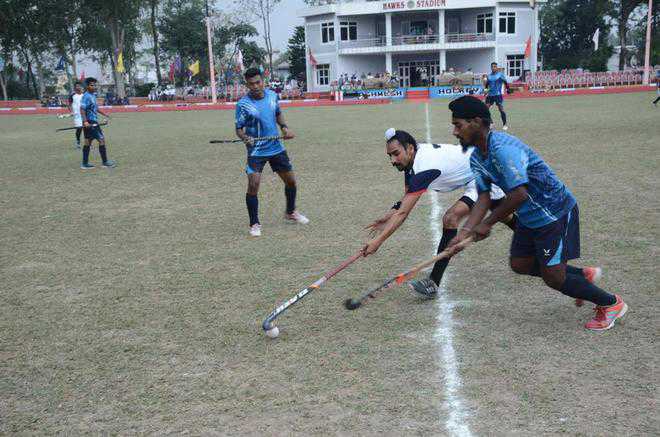 Signals (in blue) beat CRPF 4-1 to enter the final of the Dashmesh Hawks Hockey Festival at Ropar on Saturday. Tribune Photo

Jarkhar Academy defeated Corps of Electronics and Mechanical Engineers (EME Jalandhar) 5-4 to enter the final of the Dashmesh Hawks Hockey Festival here today. In the other semifinal, Signals Jalandhar beat Central Reserve Police Force (CRPF) 4-1 to book a final date with Jarkhar Academy.

In the first semifinal, Jarkhar Academy and EME fought hard to keep possession, matching each other in tactics. The first goal was scored in the 18th minute when Lovejeet Singh converted a penalty corner to put Jarkhar Academy 1-0 up.

EME Jalandhar made several attempts to equalise in the second half and were finally able to do it in the 57th minute when Avtar scored through a penalty corner. With the scores tied at 1-1 at full time, a penalty shootout ensued in which Jarkhar Academy won 5-4.

In the second semifinal, the forwards of Signals and CRPF created several chances but were not able to beat the goalkeeper and the first-half ended goalless. In the second half Rahul Singh put Signals 1-0 up in the 36th minute, and captain Dileep Pal made it 2-0 in the 45th minute. Six minutes later, Dileep Pal scored his second field goal to make it 3-0, and struck again in the 53rd minute to complete his hat-trick. CRPF scored a consolation goal through Javed Khan in the dying minutes of the match. The final will be played at 2.30pm tomorrow. The winning team will receive a cash prize of Rs 51,000 while the runners-up will receive Rs 31,000.

The Tribune


---

MHC's new magnificent seven

By Jugjet Singh



(2nd from left) Subahan, Shamala and newcomer Jadadish Chandra (right) (men's deputy president) won their respective seats unopposed. - NSTP/ASYRAF HAMZAH.

THE Malaysian Hockey Confederation (MHC) elections went smoothly yesterday, with seven new faces voted in to helm the sport for the next four years.

Incumbent president Datuk Seri Subahan Kamal, women's deputy president Datuk S. Shamala and women's vice president Mary Sadiah Zainuddin were the 'old hats' that remained.

Subahan, Shamala and newcomer Jadadish Chandra (men's deputy president) won their respective seats unopposed.

The battle for the men's vice-president positions saw Datuk Seri Anil Jeet Singh receiving 22 votes, followed by Ahmad Najmi Razak (22), Shurizan Mansor (12), Ranjit Singh (13) and Hasnizan Hassan (17); and for the women's seats, Mary received 22 votes while Rogayah Mohamed garnered 24.

Following a turbulent two weeks of campaigning, Subahan called for the delegates to work together for the betterment of the sport.

"As you can see 90 per cent of the delegates here had no problems during the run-up to the elections, and for those who opposed, I hope they will close ranks and work to make the sport better.

"I can't disclose any plans for the future without having our first meeting," said Subahan yesterday.

Sabah HA president Anil, however, has major plans for his state.

"We will be hosting the men and women's international indoor tournaments in April.

"After the artificial pitch in Likas is done up, we will also host an international event for women in the same line as the Azlan Shah Cup.

"Sabah has great potential, and we want our players to get more international exposure both in indoor and outdoor hockey," said Anil.

New Straits Times


---

Jadadish calls on new office bearers to work for the betterment of hockey

By AFTAR SINGH

KUALA LUMPUR: The focus of the newly elected Malaysian Hockey Confederation (MHC) office bearers from 2019 to 2023 term will be to improve the standard of the game at every level.

Jadadish Chandra, who was elected as the new MHC deputy president yesterday, stressed that they have a good team who would work hard to achieve the goal.

"We want to help improve the standard of the game at every level from junior to the senior levels. This is our main goal, " said Jadadish.

MHC received lots of brickbats after the men's hockey team failed to qualify for the 2020 Tokyo Olympics.

Malaysia were thrashed 9-3 on aggregate by Britain in two-legged matches in London early this month. Malaysia have not featured in the Olympics since Sydney in 2000.

The MHC elections went on smoothly at a leading hotel here yesterday.

Jadadish, who is a lawyer by profession, was among seven new faces elected for a four-year term.

The other new faces are Datuk Seri Anil Jeet Singh, Datuk Ahmad Najmi Abdul Razak, Shurizan Mansor, Hasnizam Hassan, Ranjit Singh and Rogayah Mohamad.

Datin Mary Sadiah Zainuddin was the incumbent vice-president.

Datuk Seri Subahan Kamal and Datuk Prof S. Shamala were retained unopposed as the president and women deputy president.

After a turbulent two weeks of campaigning, Subahan calls for all the delegates to close ranks and work for the betterment of the sport.

"You can see 90% of the delegates here had no problems in the run-up to the elections and for those who opposed, I hope they will work to make the sport better.

"At the moment, I can't disclose any plans for the future without having our first meeting.

"But we definitely need a good coaching chairman, who can come out with a good plan for the future, " said Subahan.

Subahan did not want to comment when asked about national coach Roelant Oltmans' future.

Anil Jeet Singh, who was delighted to became the first president from Sabah to be elected as the vice-president, said they will be hosting an international women's tournament in April next year.

"There is no women international tournament in Malaysia and we want to host a six-nation woman tournament next year, " said Anil Jeet.

The Star of Malaysia