All the news for Saturday 2 November 2019

FIH Hockey Olympic Qualifiers 2019 (Men)

1 Nov 2019 20:00     IND v RUS (GMT +5:30) 4 - 2 

2 Nov 2019 15:00     NZL v KOR (GMT +13) 3 - 2
2 Nov 2019 20:00     IND v RUS (GMT +5:30)
2 Nov 2019 16:30     GBR v MAS (GMT +1)
2 Nov 2019 18:30     GER v AUT (GMT +1)

3 Nov 2019 15:00     NZL v KOR (GMT +13)
3 Nov 2019 15:00     GBR v MAS (GMT +1)
3 Nov 2019 16:30     GER v AUT (GMT +1)

Live streaming on https://FIH.live (may be geoblocked) and other broadcast partners

FIH Match Centre

1 Nov 2019 18:00     IND v USA (GMT +5:30) 5 - 1

2 Nov 2019 18:00     IND v USA (GMT +5:30)
2 Nov 2019 14:00     GBR v CHI (GMT)
2 Nov 2019 16:00     GER v ITA  (GMT+1)
2 Nov 2019 19:00     IRL v CAN (GMT)

3 Nov 2019 12:00     GBR v CHI (GMT)
3 Nov 2019 14:00     GER v ITA (GMT +1)
3 Nov 2019 19:10     IRL v CAN (GMT)

Live streaming on https://FIH.live (may be geoblocked) and other broadcast partners

FIH Match Centre

---

Vantage Black Sticks Men take a step towards the Olympics with a game one win over Korea




The Vantage Black Sticks Men have used a fourth-quarter goal to in-form striker Simon Child to see off the Korean challenge in match one of the two test series between New Zealand and Korea. The Kiwis will head into the second game tomorrow knowing that a win or draw will see them book their place at the 2020 Tokyo Olympic Games.

Looking sharp early in the match the New Zealanders looked to control the possession and tempo. New Zealand were rewarded with the first goal of the match when a great ball along the sideline was then crossed towards a diving Stephen Jenness who slapped the ball into the back of the goal. The Korean side were then looking to slow the Kiwis down and work their way back into the contest. With only 20 seconds to go in the first quarter, Namyong Lee managed to evade several Black Sticks defenders and tie the match up at one goal apiece.

Heading into the second quarter the New Zealand team was looking to put the disappointment of a last-second goal behind them as they aimed to reassert their dominance over the match. And so it proved as Hugo Inglis, back after injury prevented him playing in the recent TSB Community Trust Series against Japan, produced an outstanding pass for Stephen Jenness who deflected the ball into the goal for his second goal of the day. The game continued to be played at a frenetic pace as the Korean side was scrambling well and denying the New Zealand side on several occasions.

New Zealand went into the half time sheds holding a narrow 2-1 lead over a dogged Korean side that was not giving up on the match and were starting to put the New Zealand Men under some significant pressure. Only three minutes into the 3rd period Korea produced a quick counter-attack that drew a penalty corner. The resulting drag-flick struck Simon Child on the line and the umpires called a penalty stroke. Jonghyun Jang stepped up to the spot and slotted a fantastic stroke to draw the Korean side back level.

At 2-2, heading into the final quarter, the match was on a knife-edge as the Koreans were looking confident and playing with increased focus. However, the Black Sticks were resolute weathering the early storm and as the Korean side began to tire the Kiwis started constructing several opportunities. Stephen Jenness then played the assister this time as he crashed in a great cross ball for a diving Simon Child on the far post to net what proved to be the winner. New Zealand behind in-form goalkeeper Leon Hayward held out the Koreans and kept their one-goal lead intact to take out the match 3-2.

The two sides will return for match two tomorrow at the TET Multi Sports Centre in Stratford at 3:00 pm. Tickets are still available from Dash tickets or you can check out the action live on Spark Sport.

Vantage Black Sticks Men 3 (Stephen Jenness 3, 17 min, Simon Child 52 min)
Korea 2 (Lee Namyong 15 min, Jonghyun Jang 33 min)

ockey New Zealand Media release


---

First leg victories for India's men and women in FIH Hockey Olympic qualifiers



Image copyright: Hockey India

The Indian city of Bhubaneswar was once again the stage for major international hockey as the Kalinga Stadium - which famously hosted last year's Odisha Hockey Men's World Cup event - provided a world class arena for the first legs of two crucially important Olympic qualification clashes.

In the first match of the day, India's women (FIH World Ranking: 9) claimed an impressive 5-1 triumph in against USA (WR:13), a result that gives the Eves a commanding four-goal advantage going into tomorrow's second leg.

India's men (WR:5), the eight times Olympic champions, were given a stern test by Russia (WR:22) in the day's second match before eventually securing a 4-2 victory. The Russians were excellent against the hosts, but will go into tomorrow's second leg with a two goal deficit.

More information about today's matches, as well as a summary of the upcoming fixtures in the FIH Hockey Olympic qualifiers, can be found below.

FIH Hockey Olympic qualifiers: Day 4 – Friday 1 November 2019

Bhubaneswar (IND) – Women: India 5, USA 1 (Match 1 of 2) 

The women of India and USA were the first teams to take to the field at the Kalinga Stadium, and it was the Americans who were largely dominant in the first two quarters of the match. However, it was India's Eves who found themselves ahead at the break when Lilima Minz scored from an improvised penalty corner. While the hosts were perhaps fortunate to have the half-time lead, the quality of their performance in the third and fourth quarters ensured that they were fully deserving winners of this contest. Sharmila Devi, Gurjit Kaur (2) and Navneet Kaur all found the target as the India dominated proceedings, before Erin Matson's late consolation goal gave USA a small glimmer of hope going into tomorrow's second leg.

More information on the match can be found on the Live Reporting link by clicking here.

Bhubaneswar (IND) – Men: India 4, Russia 2 (Match 1 of 2)
With home advantage and sitting fully 17 places above Russia in the FIH World Rankings, it came as little surprise that India's men started this contest as heavy favourites. However, it proved to be far from straight-forward for the hosts, who were made to dig deep to secure a 4-2 victory against an opponent that gave a terrific account of themselves. India took the lead in the first quarter thanks to a penalty stroke from Harmanpreet Singh after team captain Manpreet Singh had been fouled, but Russia hit back when an overhead pass was collected and emphatically dispatched by Andrey Kuraev. Russia had good chances to move ahead before Mandeep Singh put India into a 2-1 lead at half time. Fourth quarter goals from SV Sunil and a second for Mandeep gave the hosts a 4-1 advantage, but Semen Matkovskiy's late penalty corner keeps Russia's interest in this two-legged qualifier very much alive.

More information on the match can be found on the Live Reporting link by clicking here.

The FIH Hockey Olympic qualifiers continue tomorrow with the second legs of the matches in Bhubaneswar alongside first leg matches in Stratford, New Zealand (New Zealand men v Korea), London, England (Great Britain women v Chile /  GB men v Malaysia), Mönchengladbach, Germany (Germany women v Italy / Germany men v Austria) and Dublin, Ireland (Ireland women v Canada).

How Olympic qualification works: The winners will be determined as follows: teams will be ranked according to the number of points each has accumulated in both matches (for each match, 3 points are awarded to the winner, 1 point to each team in the event of a draw and 0 point to the loser). If there is equality among the two teams, then the teams will be ranked according to their respective goal difference. If the equality remains, a shoot-out competition will be played to establish the winner.

FIH Hockey Olympic qualifiers

Results
Friday 25 October 2019 - Day 1 Results
Perth (AUS) - Women: Australia 4, Russia 2 (Match 1 of 2)
Changzhou (CHN) - Women: China 0, Belgium 2 (Match 1 of 2)
Valencia (ESP) - Men: Spain 3, France 3 (Match 1 of 2)
Valencia (ESP) - Women: Spain 2, Korea 1 (Match 1 of 2)

Saturday 26 October 2019 - Day 2 Results
Changzhou (CHN) - Women: China 2, Belgium 0 (Match 2 of 2)
Perth (AUS) - Women: Australia 5, Russia 0 (Match 2 of 2)
Amsterdam (NED) – Men: Netherlands 4, Pakistan 4 (Match 1 of 2)
Valencia (ESP) - Men: Spain 3, France 2 (Match 2 of 2)
Valencia (ESP) - Women: Spain 2, Korea 0 (Match 2 of 2)
Vancouver (CAN) – Men: Canada 3, Ireland 5 (Match 1 of 2)

Sunday 27 October 2019 - Day 3 Results
Amsterdam (NED) – Men: Netherlands 6, Pakistan 1 (Match 2 of 2)
Vancouver (CAN) – Men: Canada 3 Ireland 1 [5-4 After Shoot-Out] (Match 2 of 2)

Friday 1 November 2019 - Day 4 Results
Bhubaneswar (IND) – Women: India 5, USA 1 (Match 1 of 2)
Bhubaneswar (IND) – Men: India 4, Russia 2 (Match 1 of 2)

Upcoming fixtures

Saturday 2 November 2019 - Day 5
Stratford (NZL) – Men: New Zealand v Korea (Match 1 of 2)
Bhubaneswar (IND) – Women: India v USA (Match 2 of 2)
London (ENG) - Women: Great Britain v Chile (Match 1 of 2)
Bhubaneswar (IND) – Men: India v Russia (Match 2 of 2)
Mönchengladbach (GER) – Women: Germany v Italy (Match 1 of 2)
London (ENG) - Men: Great Britain v Malaysia (Match 1 of 2)
Mönchengladbach (GER) – Men: Germany v Austria (Match 1 of 2)
Dublin (IRL) – Women: Ireland v Canada (Match 1 of 2)

Sunday 3 November 2019 - Day 6
Stratford (NZL) – Men: New Zealand v Korea (Match 2 of 2)
London (ENG) - Women: Great Britain v Chile (Match 2 of 2)
Mönchengladbach (GER) – Women: Germany v Italy (Match 2 of 2)
London (ENG) - Men: Great Britain v Malaysia (Match 2 of 2)
Mönchengladbach (GER) – Men: Germany v Austria (Match 2 of 2)
Dublin (IRL) – Women: Ireland v Canada (Match 2 of 2)

#Tokyo2020
#RoadToTokyo
#GiftOfHockey

FIH site


---

USWNT Falls to India in First Match of FIH Hockey Olympic Qualifier



Image Courtesy of Hockey India & FIH

BHUBANESWAR, India – November 1, 2019 – Preparation and nerves aside, the FIH Hockey Olympic Qualifier is the final stage to secure a ticket to the Tokyo 2020 Olympic Games. In the first of the two-game series between No. 13 U.S. Women's National Team and No. 9 India it was a tale of two halves. USA was the better team in the first half but saw several scoring opportunities go unanswered. The red, white and blue found themselves trailing after India tallied four goals in an 11-minute span on their way to a 5-1 win.

"I think in the first half we possessed the ball quite well," said Kathleen Sharkey (Moosic, Pa.), USWNT Captain. "We used a lot of middle field to build up the ball and we used the simple pass. Unfortunately, I think in the second half we started moving away from that."

The opening quarter saw USA with the upper hand in advantages but had many scoring opportunities go unfinished. The first close chance came in the 6th minute when Amanda Magadan (Randolph, N.J.) earned a free hit in the right corner. She took it quickly and found Sharkey at the top of the circle whose push toward the far post trickled wide. Next, Erin Matson (Chadds Ford, Pa.) picked it up in the middle the field and sent it outside on the right to Alyssa Parker (Woodbine, Md.) who drove hard but her shot went wide. Shortly following Matson sent a long ball into the circle that went through traffic that was touched by Linnea Gonzales (Bel Air, Md.) and went through the legs of India's goalkeeper Savita. USA continued to show moments of dominance using quick passing combinations to get it upfield as the first 15 minutes wound down.

At the start of the second frame, India came out strong to take it into their attacking end. A close chance came for the Eves after a run down the left side finished with the ball getting through USA's defense and Sharmila Devi's shot going over the end line. India followed up with another chance but good collective defense from Matson and Casey Umstead (Green Lane, Pa.) gave possession back to USA. In the 21st minute, Sharkey won control and Lauren Moyer (York, Pa.) used quick stick skill to get into the circle but her reverse shot was saved by Savita. Almost immediately following, India took it the other way through captain Rani and earned the first penalty corner of the game. The drag by Gurjit Kaur was kicked away by USA goalkeeper Kelsey Bing (Houston, Texas). The red, white and blue immediately countered and earned their first penalty corner. Unsuccessful on the attempt, USA continued to threaten and attack the circle. In the 27th minute, USA had another solid look when Sharkey worked it through Parker and Danielle Grega (Kingston, Pa.) but was unable to convert at close range. Sharkey persisted and was awarded a penalty corner, but the slip sweep to Ali Froede (Burke, Va.) went wide. With 2 minutes remaining in the half, India took a free hit quickly, got on the front foot and Vandana Katriya had two shots, the first saved by Bing and the second earned the Eves back-to-back penalty corners. India capitalized on the second penalty corner after a breakdown on the top led to Lilima Minz finishing wide open on the far post to give the hosts a 1-0 lead.

The third quarter was when control and opportunities shifted to the hands of India. Four penalty corners were earned by the Eves, and they were able to tally three more goals within the span of 6 minutes. The first came in the 40th minute after a penalty corner chance was saved off the glove of a diving Bing. India then regained possession after a USA free hit was taken away, drove the baseline and a cross was finished by Devi. Two minutes later off a penalty corner, the Eves extend the lead to 3-0 when G. Kaur's drag went just off the inside kicker of Bing.

With momentum on their side, India pushed into the final quarter with a chip on their shoulders and in the 42nd minute Navneet Kaur added her name to the score sheet off a blast from the top. It  took until 10 minutes remaining in the match for USA to find some offense through an earned penalty corner. That surge was quickly deflated when Rani found Monika on the right, who drove into the circle and was fouled hard by Margaux Paolino (Villanova, Pa.) giving India a penalty stroke, where G. Kaur successfully converted her second goal of the match. USA continued to push forward even though they trailed 5-0. In the 54th minute, Parker won possession on the attacking-25 and passed it ahead to Grega, who then weaved between two India defenders and earned USA a penalty stroke. Matson stepped up to cut the goal deficit, and the red, white and blue continued to apply offensive pressure. A final USA penalty corner in the 58th minute went unrewarded as India used a commanding four-goal advantage to take the first of the two-game series, 5-1.

Following the conclusion of the game, India's captain Rani was named Player of the Match.

"It is obviously a challenge being down four goals," commented Sharkey on how difficult it will be to reach that four-goal margin. "But in my eyes it is just halftime right now and we are anxious to play tomorrow. It only takes one second to score a goal so we will prepare tonight and be ready to bring it tomorrow."

"Five-one is obviously a big score," said Janneke Schopman, USWNT Head Coach. "I think the fact that we scored the one makes it more of a doable challenge. The key is to score the opportunities you get. I think we had enough opportunities and penalty corners today to score more than one goal. If we can produce the same opportunities, and hopefully create outcomes, we will see tomorrow if that is enough or not."

USFHA media release


---

For once India outplays USA

K. Arumugam



Credit: Shamim Qureshy

It came at last. Came on a right stage and on right occasion. Indian girls seemed to have reserved their best performance of the year for today. Excelling everything they did, especially in the penalty corner department, Indian girls stunned the United States of America with a mindboggling 5-1 score in the first of the double header tests here in Kalinga stadium, Bhubaneswar. Playing their first international on this glorious ground, home to World Cup and Champions Trophy, Rani Rampal's team heartened the goody crowd. India now needs a draw to make it to Tokyo. Hopes for the losing side too exists with bigger margin win can make things difficult for the hosts.

Lilima Minz started the scoring act off the second penalty corner. Sushila Chanu could not stop the her push but quickly retrieved to pass it on to lurking captain Rani Rampal, who outwitted three markers, took a guile turn before passing the ball to nearby Navjot Kaur, who in turn short-passed to Neha Goel waiting near right baseline. Credit to Neha who managed to send a gentle minus across the goalmouth which Lilima, the PC ball pusher, was eagerly waiting for. She did not do any mistake, just accurately deflected in to the cage to the left of already stranded goalie (1-0, 28th min).

Two quick penalty corners went abegging for the visiting sides, one in the 21st and the second 3 minutes later. While Amanda Magaden hit the ball out in the second, Deep Grace Ekka shot a high rebound from goalie Savita in the first. Potential dangers were averted.

"Thankfully we overcame those tough 28 minutes", said Sojerd Marinje after the match. He was hitting the nail.

The match turned in India's favour once the team went for the break with a psychological advantage of 1-0 lead. When they resumed their play, Indian girls looked unstoppable. India was quick to attack, having almost established hegemony of sort at upfront. Goals were expected to come, and they came in rhythmic fashion. It was Sharmila Devi who weaved cobweb around USA Defence to send many passes in to the circle many times. She made enough amends for failing to connect a perfect, defence splitting cross from Lalremsiami.

Entire midfield was combining with forwards to create innumerable chances to score. But the goals came ironically through the most visible of player of that time, Sharmila Devi (2-0, 40 m). In a good coordinated move India got another penalty corner only to see Gurjit's drag stopped in its track by Kesley, the rivsl goalie. However, Navneet Kaur, ever vigilant picked up a loose ball on the right side of the circle, sprinted into the circle and sent an acute angle minus. Even as the goalkeeper came charging, rookie Sharmila just put the stick to tip the ball into empty cage.



Credit: FIH Site

Reena Khokar, otherwise a week link in the defence sent a perfect long pass from deep down to Rani standing near rival circle. The veteran dodged two players before reaching the baseline on the right and effected a minus of which generated India's penalty corner number six.

Gurjit Kaur did not disappoint now (3-0, 42nd min). Her low drag got past hapless Kesley Bing. Two goals in the space of four minutes obviously upset the applecart of the visitors, who turned turned error prone. However, the Indians, obviously sensing which side the wind is blowing, lapped up another opportunity to go up.

It was Salima Tete, the youngest in the side, who did all the spade work, bringing the ball from deep to near 25-yard, and then very close to circle. She parted the ball exactly nick of time to and sent a guile pass to Navneet Kaur, who was lurking at the top of D. Without any marker around, she received it quickly and sent a stinching backhander to bemuse the entire defence to enlarge the lead to 4-0. The only field goal of the match came in such a thrilling fashion that set the full stand afire. " It was high point of the match. Young Salima showing such a pace and precision", praised Sojered later.



Credit: K. Arumugam

Served well by the midfield, where Nikki Pradhan, Lilima and Namita Toppo excelled, Navjot Kaur was in a position to shoot a goal but was tripped to tumble by a harried defender. Umpire Liu Xiaoying had no hesitation to show the dreaded seven yard. Captain Sharkey went for a referral which was negated by video umpire. Relieved Indians scored again, Gurjit placing the ball to the right of Kesley (5-0, 51st minute). 5-0 against a pro-league team is a dream come true for the hosts.

But there were nine minutes left in the clock. It was almost here the States team came on its own, perhaps knowing well every goal counts and there is a need to go for one or two, which in the ultimate calculation will help them.

Indian defence which held the fort unblemished was tested. On similar trip that got the hosts a strike, the States' team too got one which was converted by Erin Mansaon (5-0) in the 54th min.



Credit: K. Arumugam

Attacking Americans earned a penalty corner too, but Deep Grace Ekka was too fast in the first runner role, and cleared before the shot was taken.

Captain Rani was declared Best Player of the match, though one felt anyone Gurjt, Deep Grace Ekka, Sharmila and Salima Tete could have been a better choice.

Stick2Hockey.com


---

Sojerd Marinje: "It doesn't happen always"

K. Arumugam



s2h photographer Shamim Qureshy

He is extremely happy, but doesn't express so in words. But his facial expressions do not escape from your eyes. He wants to sound rationale rather than seemingly exhuberent. Ebullient Indian chief coach Sojerd Marinje is, for all the purpose, sounds practical. He knows the job is only half done despite his team is placed far ahead of their rival in the quest for Tokyo. Today was of course India's day but the repeat USA match could go either way. He knows. He knows it thoroughly. Therefore, his one sentence 'It doesn't happen always' which came at the fag end of the long press conference after India crushing USA 5-1, carry much weight.

"I think we were very effective today. You cannot expect that always to happan. We are happy today but not sure it would happen again tomorrow. 'It doesn't happen always'. Marinje said in the post match chit-chat with the large contingent of pressmen

"You dream about fantastic results, but we were really effective today".

Marinje also feels his team understands how significant is tomorrow's match.

"We were up 5-0 and wanted to keep that score. But we fell back a bit too much and need to improve on that tomorrow. Girls were happy with the result but not extremely excited. They know we have to play to our potential".

"we are not in the Olympics yet. No, absolutely not. You know how the process can go. You don't get (Olympic) ticket to tokyo today. You can get it tomorrow. You have nothing so far. I am not busy with the result. It may be strange. If that were the case, my mindset would be wrong".

"I think in the first 28 minutes, we struggled with nerves. We lost the ball too fast. We gave them too many oportunites. Luckily they didn't make it, otherwise match would have been different".

"Making use of opportunities is a quality, which we did pretty well today. You could see the nerves were gone and we played to our potential".

Was the start of the match was slow for India as it struggled almost entire first half barring the relief in the 28th minute?

He has the answer

Yes we started slow but the answer to this Yes and No. I also experienced them with the men - the third-fourth place 2017 HWL Finals. We played Belgium and had no energy. So it was was the same. But I am happy we changed it. That's the qualitiy of the girls".

"Thats'what you can say. I think we were very effective today. The speed of Sharmila and Salima, 17 and 18 year old seting up the pace".

Yes. I can sleep well today. As a coach you need to tick all the boxes to prepare a team for another day too.

Stick2Hockey.com


---

India thrashes USA 5-1

Gurjit Kaur's brace and goals from Lilima Minz, Sharmila Devi and Navneet Kaur helped India to a 5-1 victory over USA in the Women's Hockey Olympic Qualifiers.

Uthra Ganesan



Indian skipper Rani Rampal stepped up to lead the side from the front to a 5-1 win over USA in the first leg of its Women's Hockey Olympic Qualifier.   -  BISWARANJAN ROUT

If Sjoerd Marijne had been told before Friday's game that his girls would have a four-goal margin at the end of the first leg of hockey Olympic Qualifiers, it would be no surprise that it would have made him happy.

As it were, India's 5-1 victory against USA put the host in the driver's seat in its quest for an Olympic ticket.

The Indian team playing here has been a different side in the last 18 months. Its fitness and maturity has undergone a change and the increased confidence shows. It has also led to the team playing smart and being aware of game situations.

USA, which won 3-0 at the Rio Olympics three years ago, would be the first to admit that.

A mis-trapped penalty corner in the 28th minute saw Indian forwards exchanging possession before Neha Goyal, placed on the back line, managed to push the ball through a flurry of USA legs to an unmarked Lilima Minz at the far corner and the latter coolly tapped it in. It was a defensive lapse and it was enough to energise the Indians, both on and off the field.

Historical data and recent form was loaded against the host and the first 15 minutes was all nerves, with USA dominating in all areas.

Captain Kathleen Sharkey was all over the field - troubling the Indian defence, manning the midfield, directing her players around and passing impeccably.

Lilima's goal, coming much against the run of play, changed all that. A second by an unmarked Sharmila Devi in the 40th minute was similar.

India turned it up a little post-break, with the game becoming a story of two captains. While Sharkey gradually became quieter and USA strangely went on the backfoot, Rani Rampal stepped up as a leader.

Three of the seven penalty PCs India earned had her imprint. Two of the goals scored came off moves triggered by her. And as she grew, the rest settled into their roles and came together.

The culmination was the fourth goal, in the 46th minute – three passes all the way from the Indian defence to Navneet at the top of the circle, who took her time to control and shoot past Kelsey Bing. Smooth, close to perfection.

Post match, Marijne was satisfied but not too excited and said the girls felt similarly. He would sleep well but knows well that it was only half the work done.

"You know how the process can go. You don't get ticket to Tokyo today, you have nothing so far," he said when asked if the team had one foot in the Olympics.

A repeat of Friday for another 60 minutes on Saturday would ensure the ticket.

Sportstar


---

Rampaging Indian women thrash USA 5-1 in first leg



Indian captain Rani Rampal attempts to dribble past USA defenders in Bhubaneswar, Odisha. PTI

Indian women's hockey team took a giant leap towards Olympic qualification with a near-flawless performance to hammer USA 5-1 in the first-leg of the two-match FIH Qualifier here on Friday.

It was expected to be a tricky tie for the hosts but the women punched above their weight to simply demolish USA's challenge in front of a partisan crowd at the Kalinga Stadium.

Dragflicker Gurjit Kaur (42nd and 51st) struck a brace while Lilima Minz (28th), Sharmila Devi (40th) and Navneet Kaur (46th) were the other scorers.

USA's consolation goal came from a penalty stroke converted by Erin Matson in the 54th minute.

Ranked ninth in the world, India now need to defend their four-goal advantage in Saturday's second and final-leg to seal their Tokyo 2020 ticket.

The Indians exerted early pressure on the Americans but failed to create any clear cut opportunities.

USA got their act together with passage of time and had a clear sight of goal in the seventh minute but Alyssa Parker shot wide from top right of the striking circle with only Indian goalkeeper Savita to beat.

After a rather action-less opening quarter, the match livened up in the next 15 minutes.

India got their first scoring chance a minute into the second quarter but Sharmila Devi failed, in the far post, to get her stick on to a cross from Lalremsiami.

Chances came thick and fast in the second quarter as four minutes later, Indian goalkeeper Savita pulled off a fine save to deny Lauren Moyer's reverse shot from close range.

Soon India secured their first penalty corner but Gurjit Kaur failed to get past American goalkeeper Kelsey Bing.

USA counter-attacked and secured their opening penalty corner in the very next minute but skipper Kathleen Sharkey shot wide. Soon, USA got their second penalty corner but once again the visitors wasted the opportunity.

A minute later, Sushila Chanu's shot from top of the box was saved by the American goalie but from the rebound India secured their second penalty corner, which resulted in another.

Sushila failed to stop the push but from the ensuing move, an unmarked Lilima, stationed at the far post, tapped it in to break the deadlock.

The late goal in the second quarter seemed to have worked wonders for the Indian girls as they completely dominated the third quarter, pumping in two more goals to take a commanding 3-0 lead.

India earned two more penalty corners in a span of four minutes but on both occasion Gurjit Kaur was denied by USA goalie Bing.

India kept up the pressure on the American defence and soon doubled their lead in the 40th minute when Sharmila deflected in from close range after she was set up by a move from Navneet Kaur and Lilima.

Two minutes later, Gurjit finally managed to dodge USA goalkeeper Bing from India's sixth penalty corner to hand her side a 3-0 lead.

Within 30 second of the start of the fourth quarter, India extended their lead from a counter-attack when Navneet collected a pass from Salima Tete inside the 'D' before slamming the ball into the bottom right corner.

India rounded off the tally in the 51st minute when Gurjit scored from the spot after they were awarded a penalty stroke for Margaux Paolino's foul inside the circle.

USA pulled one back soon from a similar scenario, a penalty stroke converted by Matson.

Barring a few instances, India coach Sjoerd Marijne was pleased with the performance of his team.

"Making use of opportunities is a quality, which we did pretty well today. You could see we played to our potential. We were really effective," he said.

"The speed of Sharmila and Salima, who are just 17 and 18, was brilliant."    

Marijne begs to differ that the 5-1 scoreline has taken his side on the thresh-hold of an Olympic ticket.

"Absolutely not. We haven't got the ticket to Tokyo today, we can get it tomorrow. We have nothing so far," he said.

"We were up 5-0 and wanted to keep that scoreline. But we fell back a bit too much and need to improve on that tomorrow."

The Tribune


---

Yes. Men are also playing s2h team



 s2h photographer Shamim Qureshy

Indian men's team did not inspire despite posting a crucial first match win over the vastly improved Russians. With a brace of goals from Mandeep Singh, Manpreet Singh's men posted 4-2 win to move into the second match with two goal advantage but what would rankle judicious Indian chronicler is the fact that Graham Reid team again conceded a goal in the dying moments of the game. This aspect has been a bane for Indian men's hockey for over a long time, and its repeat here against a much lower ranked team causes concern. Unless Russia will defeat India tomorrow in the repeat match, which is an unlikely as things stand now, men will be making it to Tokyo with a draw or win.

Considering the fact that the Russians were raw when they visited in June for the FIH Series Finals and thus lost 10-0 to India, today marked their remarkable improvement.

Russian coach Vladimir was right when he said later this: "As we told you yesterday, we played a great match compared to previous (10-0). For tomorrow, we will analyse. Our coaching staff will fix things. Tomorrow you will see a change in tactics".

"The reason why we played so good is that our guys did exactly what our coaching staff told them to do. That's why we had some good result. Actually, we had a lot of opportunities for our forwards but we missed it".

Indian coach Graham Reid was frank and forthwith in his comments too. "I am not surprised with the Russian performance. They came out and played very well. Full credit to them. The world rankings systems, it looks like they are 22 in the world. But they are a really good team. That's what I have been telling all along. They had no pressure, went in as the underdog".

"I was disappointed with the way our boys played. I have spoken to them about that. Hopefully, there will be a reaction tomorrow. We can show everyone tomorrow how well we can play. I just asked them, who can play better tomorrow? Of course, they all put their hands up. They will have their opportunity to show us how well they can play".

Aware of criticism he faces for his team conceding last minute goal, he said: "I know that there is that talk about Indian hockey. That's what can happen in the game of hockey. It's fast, things move quickly. If you make a mistake, that's what can happen".

"A little disappointed with a few things that we talked about. We didn't get enough pressure on them. We were a little bit better in the second half".

Analysing what went wrong, he said: "We needed to get the ball into the midfield today. We did not get enough play through the midfield. It gets very difficult to get flow when those connections are missing". Graham Reid also felt that penalty corner is one area he would concentrate. "Penalty corners is always one of those things to improve. We love to score more from penalty corners. During our last tour, we had 0 from 7 in the first game and had 100% in the next four games. Part of the problem always is the sections to the corner. We mis-trapped two today. We need to make sure that doesn't happen again".

Let's hope that doesn't happen today, and also expect the boys to take a cue from girls who beat USA, a pro-league team comprehensively.

Stick2Hockey.com


---

India beats Russia 4-2 in first leg

Mandeep Singh's brace (24', 53) and goals from Harmanpreet Singh (5') and Sunil (48') steered India to a comfortable 4-2 victory over Russia in Bhubaneswar.

Uthra Ganesan



Mandeep Singh (extreme right) scored a brace as India won the first leg 4-2 against Russia.  -  Biswaranjan Rout

The Russian men had promised a "good battle" and they gave one against the Indian men's hockey team even though the result was on expected lines, the host winning 4-2 in the first leg of the Olympic Qualifiers here on Friday.

It was a more humbling scoreline than was expected with the first half mirroring the previous game between the two, during the Hockey Series Finals in June. While India changed gears in the second half back then, there was none of it on Friday. Russia even had more possession in the first half! It was as much because of a strangely slow and messy India as a Russia that had its plan clear and stuck to it.

Packing the defence with all 11 players and foraying out occasionally on counter-attacks, Russia did what most lower-ranked teams do against a superior opponent. India expectedly found it difficult to break through the defensive wall, the well-built Russians standing strong, but unexpectedly was unable to devise enough penalty corners as well. India got five PCs but could convert none.

The forwards were erratic and guilty of hurrying too much. The defence was often out of position. The urgency to score was missing. Russian goalkeeper Marat Gafarov brought off three good saves in the dying minutes and more through the game. The lack of pace might well have been part of coach Graham Reid's plan to conserve energy but the lack of sharpness in passes was glaring.

The opening goal was off a penalty stroke for India but Andrey Kuraev's reverse hit on the move to level scores was enough to stun both Krishan Pathak in the goal and the crowd. The game might have taken a lot more out of Russia than India and the second game may well turn out to be a contrasting one. But Russia clearly proved it wasn't a pushover.

The result: India 4 (Mandeep Singh 24', 53', Harmanpreet Singh 5', S.V. Sunil 48') bt Russia 2 (Andrey Kuraev 17', Semen Matkovskiy 60').

Sportstar


---

Mandeep saves the day against gritty Russia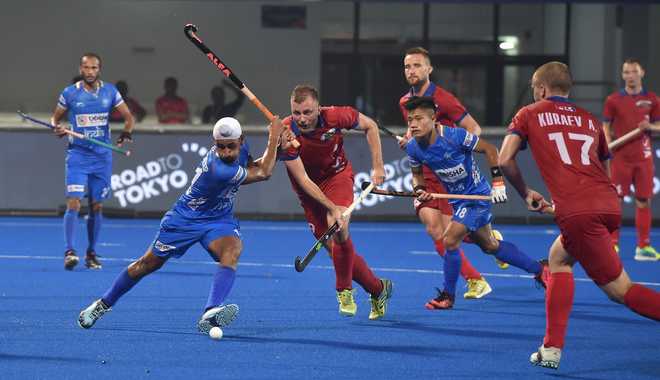 Mandeep Singh scores a goal to make it 2-1 in India's favour. PTI

Mandeep Singh struck twice as a below-par India struggled past minnows Russia 4-2 in the first leg of the two-match FIH Olympic Qualifier. Mandeep (24th, 53rd) scored two field goals while Harmanpreet Singh (5th) and SV Sunil (48th) also hit the target for the hosts. World No. 22 Russia dished out a fighting performance to surprise the hosts and kept the difference of goals to just two.

World No.5 India still can't breathe easy as Russia are capable of overturning hosts'

two-goal lead in the second and final match tomorrow. The aggregate winner at the end of the two-match qualifier will seal its place for the Tokyo Olympics.

Russia goalkeeper Marat Gafarov was called into action by India captain Manpreet Singh in the sixth minute, and Manpreet's first shot was saved but he was fouled as he attempted a follow-up. The hosts made good use of the video referral to get a penalty stroke and Harmanpreet made no mistake. Two minutes into the second quarter, Russia equalised through a field strike from Andrey Kuraev, who after receiving an overhead pass, cut across the top of the circle before guiding his shot into the bottom-left corner past India goalkeeper Krishan Bahadur Pathak. India restored their lead in the 24th minute through Mandeep, who thrashed home a backhand strike into the bottom-left corner past Russia goalkeeper Gafarov.  India extended their lead in the 48th minute through Sunil, who scored from close range following a goalmouth scramble.

The Tribune


---

India coach Reid 'not surprised' by Russia show



India coach Reid promised a much-improved performance in the second and final match on Saturday.   -  BISWARANJAN ROUT

Rankings hardly have any significance in professional field hockey and World No.22 Russia proved that by their performance against eight-time Olympic champions India despite ending on the losing side, believes chief hockey coach Graham Reid.

Despite a vast gap in world rankings, Russia dished out an impressive performance in its 2-4 loss to World No.5 India in the first leg of the two-match hockey Olympic Qualifier at the Kalinga Stadium here on Friday.

And India's chief coach Reid was not at all astonished by their opponents' show.

"I am not surprised with the Russian performance. They came out and played very well. Full credit to them. The world rankings systems hardly matters. It looks like they are 22 in the world but they are a really good team. That's what I have been telling all along. They had no pressure," Reid said after the match.

Reid, however, promised a much-improved performance from his boys in the second and final match on Saturday.

"I was disappointed with the way our boys played today. I have spoken to them about that. Hopefully, there will be a reaction tomorrow. We can show everyone tomorrow how well we can play," he said.

Russia coach Vladimir Konkin promised another tough outing for India on Saturday and said with just two-goal difference they are still very much in the contest.

"We are still in the game. We will chase the Indian team, we promise you," Konkin said.

"The reason why we played so good is that our guys did exactly what our coaching staff told them to do. That's why we had some good result. Actually we had a lot of opportunities but we missed them."

Sportstar


---

Oltmans' men ready to defy statistics

Jugjet Singh

MALAYSIA will be up against damning statistics when they face off against Britain in the Olympic Qualifier at the Lee Vallley Stadium in London today.

But coach Roelant Oltmans has said many times that he is not a fan of the History Channel, and statistics don't make a difference in his plans.

The winners of the two-match encounter will earn the distinction of being called an Olympian for life, while the losers will look back with regret.

Malaysia last played in the Sydney 2000 Olympics, and can't afford to miss the plane to Tokyo after so much of money and efforts have been spent on the team after the Asian Games final fiasco against Japan.

In the last seven encounters, World no 11 Malaysia have never beaten World No 7 Britain.

However, the consolation is that there were three 2-2 draws, and the other four matches were very close — losing two by a one-goal margin, and two with a 2-0 margin.

Then there is the home crowd, as well as venue and climate, ranging from 13 to 8 degrees Celsius to help Britain's cause.

Oltmans believes consistency will win the day in the 120-minute do-or-die mission.

But it was not found in their final two warm-up matches against Dutch clubs in Amsterdam a week ago. Malaysia lost 4-1 to HOC Gazellen-Combinatie and 4-2 to HC Bloemendaal.

The reason was attributed to "loss of focus in the second half" in both matches.

Malaysian Hockey Confederation (MHC) have been spurring their players with a slew of video messages on social media, which saw celebrities as well as hockey players, from all over the country sending in their motivational videos.

Yesterday, 90-year-old Tan Sri P. Alagendra, who was the MHF deputy president when Malaysia last qualified, had this to say in a crisp video on Twitter.

"My message to the team is that I am very confident you will qualify for the next Olympics. Best of luck and God bless," said Alagendra.

Confidence, from the players, is the key to Tokyo.

Meanwhile, Malaysia scored a total of 17 goals in two matches in the Tuanku Zara Invitational International Women's Indoor Hockey in Kuala Kangsar yesterday.

Malaysia routed the Philippines 12-0 and Taiwan 5-1.

FIXTURES — Nov 2: Malaysia v Britain (Nov 3, 12.30am); Nov 3: Malaysia v Britain (11pm). — Malaysian time.

New Straits Times


---
Great Britain hockey teams aim to weather Olympic qualifier storms

Rod Gilmour



GB are two matches away from Tokyo Olympic defence PIC: WORLDSPORTPICS

Great Britain Hockey will hope that a planned power cut at its Bisham Abbey headquarters on Friday will be replaced by a surge of optimism, crowd backing and momentum when its men's and women's teams face crucial Olympic qualifier double header matches this weekend.

Both teams will watch the Rugby World Cup final in the morning, in various degrees of preparation, before venturing out at a Lee Valley venue for two matches in which GB will be favourites to prevail. The weather is not set to be kind, which will further favour the hosts against Chile women and Malaysia men respectively.

Yet, judging by the new Olympic qualification format, these winner-takes-all matches won't be easy. Holland found it tough going against Pakistan in their opening 4-4 draw before advancing, the Hockeyroos had a slight wobble also in their opening game against lowly Russia. The winner between Spain and France was evenly split all the way until the final hooter. Unless you've bypassed social media this week, we all know what happened in the Canada and Ireland men's match. Meanwhile self-funded Canada women will be up for the challenge this weekend on Ireland's pop-up pitch.

So far all the home teams have come through to book their Tokyo tickets and yet the players sense some nerves, having watched events unfurl across the globe last weekend.

"I've been part of the training squad prior to Beijing where we had to qualify," goalkeeper George Pinner said this week. "I remember it being a four-team tournament and ultimately it came down to a one-game match against India. Four years ago for us it came down to one match against Pakistan. This is a bit different. There are no other games, it's two games that matter against Malaysia.

"The Pro League has prepared us for one-off matches but what's at stake, especially when you see how tight they are and momentum has swung from one to the other, there have been a few nerves."

The rugby World Cup final, then, will be a welcome distraction for both teams. "Seeing England lift the World Cup, what better motivation have you got before a big game?" added Pinner. "We have to make sure that it has a positive impact on us for later in the day. It won't be a pub atmosphere with everyone screaming and wasting energy but hopefully it will be a great day for English sport."

The GB men's side, missing Ashley Jackson this weekend through injury, have featured at every Olympic Games since 1984 and forward Sam Ward, who missed December's World Cup, realises the importance of this weekend.

"It's massive. One of the biggest things of all is the pressure that everyone seems to be under," he said.



Adam Dixon, centre, will lead GB against Malaysia. Great Britain hockey

GB trained midweek at a windswept Lee Valley before returning on Friday. "You can leave the environment and take your mind off and you're not in that intense atmosphere," added Ward on Wednesday. "Looking at the games from the weekend, you've got to be prepared for anything that may hit you.

"Malaysia will play fast, counter attacking hockey like all of his [coach Roelant Oltmans] sides have. On top of that, they will have some good penalty corner threats."

Chile women will also have several dangerous options from set plays against the Olympic champions. The two teams have never played each other in a Test environment, although did play at Bisham a few years ago.

As with the men, the women's side are wary of the world No 18 side given the status of these one-off games.

"We're not going in there thinking we will roll Chile over," said Anna Toman, who has played in every GB and England squad since her debut in 2017. "We are treating it as two games and anything can happen. We will have to keep our focus across the weekend."

GB women will be aiming to bounce back in their first major match since England's  8-0 hammering to the Dutch in late August. The team then disbanded as an England side, coach Mark Hager has picked three Scots and a Welsh player in his GB squad, while players have spoken about growing stronger from that Antwerp defeat.

That includes Tess Howard, who revealed to The Hockey Paper in our current issue that she played over half the Dutch match with a broken hand. "I couldn't leave my team-mates out there fighting in that game one man down," she said. "I neglected the fact that I was probably not okay so I kept going."

Cleared to return this month, she said of the Chile matches: "Our mental preparation has been stellar and it has to be. It's not us fighting for two games, it's much bigger. There's a lot riding on it but it is just two hockey games."

Defeat would severely curtail Great Britain's funding for the Paris 2024 cycle, having been awarded £17.1 million leading up to Tokyo, while it would also heighten the call for centralised players to have more contact time with their domestic clubs given the lack of success at European tournaments. Of this weekend's squad, three Olympians are unattached with clubs: Maddie Hinch, Susannah Townsend and Shona McCallin, while captain Hollie Pearne-Webb is not a regular starter for Surbiton due to her work with Defra and accountancy exams.

Crucially, however, the quartet make up seven Rio Olympians still in a squad searching for a much-needed run of form and consistency. (Since Rio, GB women have won only six of 32 matches, while England have won 50 per cent of their 42 games). Yet, these are also experienced, big game players who have tasted European and Olympic success. Coupled with the young, bright talent coach Hager has picked, along with an attack-minded philosophy, there is plenty to relish along the road to Tokyo, a path they last failed to negotiate 15 years ago.

Saturday: GB women v Chile, 2pm
GB men v Malaysia, 4:30pm

Sunday: GB women v Chile, 12pm
GB men v Malaysia, 3pm
Live: BT Sport

This article was brought to you by The Hockey Paper, on-sale regularly via subscription in print or digital



The Hockey Paper


---

McCallin ready to make home international return



Shona McCallin

Shona McCallin is eagerly anticipating stepping out onto the Lee Valley Hockey and Tennis Centre pitch this weekend as Great Britain contest their FIH Olympic Qualifiers.

It will be the first time in two-and-a-half years that the 27-year-old has done so, with her last appearance in London being the Investec International against The Netherlands in June 2017.

The road to this weekend has certainly been a tough one for the midfielder but, having overcome her injury problems, she is determined to beat Chile and qualify for the Tokyo 2020 Olympics.

"I'm excited, I'm ready, I'm confident and I'm looking forward to getting out in front of a home crowd again," she said.

"It's been a while and to get out on the pitch will not only be special for me but for my friends and family who are coming to watch as well.

"The mood is really good. We've had a really positive block of training and we all feel really prepared for these two games.

"Personally I feel really ready; I feel as fit as I've felt for a long time. The squad as a whole is looking sharp."

McCallin is aiming to reach her second Olympic Games, having been a member of the side that famously won gold back at Rio 2016.

Having also been part of the squad that qualified for the tournament during the 2015 Hockey World League semi-final, she knows what is required of the team this weekend and is using that experience to help her team-mates prepare as best as possible.

She is also teaching them that it is ok to be nervous and that those feelings can actually help them focus on delivering winning performances.

"I remember it was a quarter-final game at the 2015 Hockey World League Semi-Finals (GB beat South Africa 2-0] so a one-off game and I do remember feeling extremely nervous for that," she recalled.

"But that's fine, I'm ok with being nervous and four years on I'm still nervous going into this weekend but I'm ok with that and think it's a good thing.

"In that sense I can help the girls that maybe haven't experienced a situation like this understand that being nervous is actually fine and that at the end of the day it's just two games of hockey, something we've been doing for so long.

"It's all about being positive and being as prepared as we can for this weekend and we know if we can bring what we can bring as individuals and as a squad, come Sunday we should have qualified for the Olympics."

You can watch the GB women's team take on Chile at 2pm on Saturday 2 November and 12pm on Sunday 3 November live on BT Sport. You will also be able to watch GB's men face Malaysia at 4:30pm and 3pm on the same days respectively.

Great Britain Hockey media release


---

Charlotte Watson in a spin as she realises hockey dream in double-quick time

By Graeme Macpherson



Scotland's Charlotte Watson takes on Ghana's Cecilia Amoako at the 2018 Gold Coast Commonwealth Games

LIKE any good striker Charlotte Watson seems to have timed her run perfectly. A hectic few months has seen the Dundonian park her university degree for a year, move to London to join the Great Britain hockey set-up full-time, tour with the squad in Japan and score her first GB goal against India.

Next for the 21-year-old is this weekend's double-header against Chile where she could chalk up another brace of milestones: a competitive home debut and, more significantly, qualification for next year's Olympic Games.

It has all flashed by in a blur for the Dundee Wanderers player and sooner than she could have imagined.

"I moved down here last month," she said. "I had a few weeks' trial, went home for a week and then back down again to get started. So my head has been spinning with how busy it's been.

"The dream was always to play hockey full time and now I'm getting the chance to do that. There's been a lot going on with moving down to London and away from home for the first time, but I'm really enjoying it.

"Turning full time was always my aspiration although I thought it would happen after the Olympics. But I've worked hard and got here earlier than I had imagined. I never knew when that chance would come so it's really pleasing to get it now."

Even with more than 50 Scotland caps and a Commonwealth Games appearance behind her, Watson admits joining the British set-up has been a challenge.

"It's been quite a step up from Scotland," she said. "It's definitely more intense. And it's a lot harder work. So it's been a lot to take in over a short period of time. The Japan trip was a big help. I was meeting quite a few of the group for the first time and it was about getting used to the squad and how they play, as well as getting used to the conditions. That was a hard camp.

"It's been a help having a couple of other Scottish girls in the squad. I've known Amy Costello since I was 14 playing junior hockey for Scotland so it's really nice having her and Sarah Robertson around."

Should Britain achieve an aggregate victory over Chile as expected, Watson's next challenge will be to show she deserves to be on the plane to Japan next summer.

"If we get through this play-off then that would give me six months or so to try get in the Olympic squad. Everyone else will be doing the same but I just need to show what I can do and have faith in myself. I'm still quite new to the squad but the longer I'm with them the more confident I feel.

"Obviously we'd love to retain that Olympic title. But we need to build as a squad and see how we get on."

First, though, they must get past South American opposition this weekend at Lee Valley.

"Chile will definitely give us a couple of good games of hockey," Watson said. "They've got some decent players in the squad so it will be a challenge for us. But if we play our best I reckon we should be okay. We're hoping for a big crowd down to watch us and push us over the line.

"My parents are coming down from Scotland and my brother is coming along too. My club Dundee Wanderers are showing the game in the clubhouse before their own league match and it's really nice to know they'll all be watching it together."

The Herald 


---

'It's important to see the bigger picture'

Transitioning Great Britain women's hockey team poised for Olympic qualifier against Chile

Fiona Tomas



Great Britain cannot afford to underestimate Chile Credit: Getty Images

More than three years on from soaring to fame as hockey's golden couple, Helen and Kate Richardson-Walsh concede it is difficult to pinpoint one moment that encapsulates Great Britain's dazzling Olympic triumph at the Rio 2016 Games.

There was Maddie Hinch's miniature black book that the goalkeeper meticulously studied before performing penalty-saving heroics to deny world champions Holland. There was the composed execution from Hollie Pearne-Webb, who leapt into the air after scoring the decisive penalty just as those back home in the UK tuned into the delayed BBC 10 o'clock news. And for the Richardson-Walshes, there was the historic status of being the first same-sex couple to win an Olympic gold.

"I feel there's not one moment or memory that stands out, it's just the overall feel of the team and what we created," said Helen. "It still makes me really proud now, being a part of something that was so special."

The pair, who are expecting their first child next month, have both embarked on coaching careers – Kate with Hampstead and Westminster and Helen with Cambridge City – but that balmy night remains ever tangible.

"We go into schools and companies a lot and I guess that's the moment you realise," said Kate. "When you give the medal to somebody, you put it in their hands and see how they feel holding that medal and the face they pull. The things people say are exactly what we said: 'Wow, it's heavy. Look at the size of it.' You feel proud holding it. Every time I give it to someone, which is often, their face lights up, which is special."

https://www.telegraph.co.uk/content/dam/hockey/2019/11/01/TELEMMGLPICT000106330902_trans_NvBQzQNjv4BqoNNSexKcI53-HHJW8z5oHAGNY_A2dHyghdflyNWj5P8.jpeg?imwidth=1240
Great Britain celebrate winning Olympic gold in Rio Credit: Julian Simmonds

The Richardson-Walshes were two of several high profile names to hang up their international sticks after Rio and since then, the squad has struggled to live up to the expectations of their shiny Olympic tag. Hinch opted for an international hiatus a year after her penalty-saving heroics and the squad have sorely missed their talismanic captain Alex Danson who, along with fellow Olympian Nicola White, is still recovering from long-term concussion. The same traumatic brain injury also forced Shona McCallin out of the squad for a prolonged period.

"It's important to see the bigger picture," Pearne-Webb, Great Britain's captain, told Telegraph Sport. "The team has obviously massively changed since Rio.

"We had a lot of really experienced players retire but at the same time we've had a lot of talented youngsters come into the squad. It's only natural that those youngsters are going to take a lot of time to find their feet at international level and get used to it. I feel we're now getting into our flow a bit and it's taken a bit of time, especially with the change of coach and the number of significant injuries that we've had."

In this year's Pro League competition – their first major tournament under new head coach Mark Hager – Great Britain's hopes of sealing Olympic qualification were dented by their goal-barren form. Another opportunity beckoned at the European Championships in August, where England were edged out in their bronze-medal match by Spain, still reeling from an 8-0 hammering by a fortified Dutch side in the semi-finals.

It means Great Britain's hopes of defending their Olympic title Rio hinge on a two-legged qualifier this weekend against Chile, ranked 18th in the world. Due to England's world ranking of fifth, Hager's side are fortunate in that they are not faced with a long-haul flight to South America (Russia, for example, are having to fly to Australia for their qualifier), with both games being played at the Lee Valley Hockey Centre.

"None of us are complacent at all. We know it will be a tough game," added Pearne-Webb. "Chile have the opportunity to qualify for the Olympics just as much as we do. They've got nothing to lose and they'll throw everything at us and we're fully accepting that. However, we're confident in ourselves that if we do everything and play to the best of our ability we should be absolutely fine and get that Olympic spot."

Such are Great Britain's expectations to defend their gold in Tokyo that they even visited Japan for an acclimatisation camp in July, where they lost two capped fixtures in Hiroshima. While a 1-0 series win over India last month has instilled a glimmer of hope, Pearne-Webb insists form can be an inaccurate barometer in sport and highlights how England finished bottom of their World Cup pool two years out from Rio.

"I don't think anyone in the hockey world would have put money on us winning Olympic gold and probably would have written us off," she said. "It just shows how tight the top teams are and on any given day, anyone can beat anyone."

The Telegraph


---

Oltmans' wiser men out to turn the tables on Britain

By AFTAR SINGH

KUALA LUMPUR: It's D-day for our hockey team as they seek to end a 20-year wait to qualify for the Olympic Games.

Malaysia last competed at the Games in Sydney 2000 and have failed in their last four Olympic qualifiers.

The time has come for Roelant Oltmans' men to rise to the occasion against world No. 7 Britain at the Lee Valley Hockey Stadium in London.

The first match will be played at 4.30pm today (Malaysian time 12.30am, Sunday) while the second clash will be on Sunday at 3pm (11pm).

The Malaysian Hockey Confederation (MHC) have gone to great lengths to make sure the players get the best help possible.

In October last year, the MHC hired Oltmans to help Malaysia qualify for the Games. The national hockey body also brought in former Australian striker Michael McCann, Dutch penalty corner specialist Taeke Taekema and goalkeeper coach Martin Drijver.

Captain Mohd Sukri Abdul Mutalib said they are ready to turn the tables on Britain.

"All my teammates are in high spirits and we know what to expect against Britain and we will not disappoint," said the 33-year-old Sukri, who is the most senior player.

Midfielder Mohd Fitri Saari added that they are wiser after past failures.

"We have learnt our lesson from past qualifiers and we will not repeat the same mistakes. We have had ample preparation leading up to this clash and we are ready for the challenge.

"The pressure will be on them as they are ranked higher than us and are playing in their backyard," said Fitri.

The squad are made up of players with vast experience and failure is not an option.

Goalkeeper S. Kumar, who is regarded as one of the world's best, has played 321 matches for the country.

Defenders Mohd Razie Abdul Rahim and Mohd Sukri Abdul Mutalib have competed in two World Cups.

In midfield, Mohd Marhan Mohd Jalil and Nabil Fiqri Mohd Noor have played more than 10 years for the country.

Strikers Tengku Ahmad Tajuddin Tengku Abdul Jalil, Faizal Saari and Mohd Shahril Saabah are also seasoned campaigners.

For some players, this is their last chance to compete in the Olympics. And if Malaysia fail to book their ticket, heads are expected to roll.

The Star of Malaysia


---

Welsh hockey duo Jacob Draper and Leah Wilkinson's GB Olympic dreams

By Tom Brown

Jacob Draper was barely out of nappies when a Welshman last represented Great Britain's hockey team at an Olympic Games.

The now 21-year-old unsurprisingly does not remember David Hacker playing at Sydney 2000.

But Draper is now preparing to help Great Britain reach next year's Olympic Games at this weekend's playoff against Malaysia in London.

He only made his debut for them in early October.

"It hasn't really sunk in yet, I don't think," Draper told BBC Sport Wales.

"Probably after Sunday, hopefully when we get the win, I'll sit back and think 'wow, what a good couple of months'."

'The top of the mountain'

GB's men must overcome Malaysia, who are ranked 11th in the world, in a two-legged playoff.

The games will be played on Saturday and Sunday at the Lee Valley Hockey Centre, on the site of the London 2012 Olympics.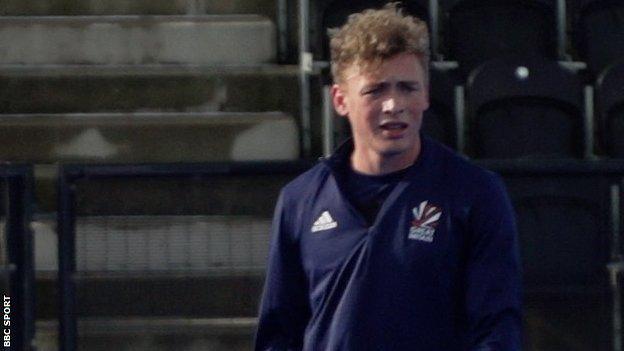 Cwmbran-born Jacob Draper plays club hockey for Hampstead & Westminster.

The winner will earn a spot at Tokyo 2020 next summer.

"If I was being realistic, Paris [Olympic Games in 2024] was probably my long term goal," admitted Draper, who only graduated from Swansea University in the summer.

"But I had just to take this opportunity with both hands.

"[The Olympic Games] are the top of the mountain in my opinion. It'd be an amazing experience."

'I never expected it to happen'

Great Britain's women will also have Welsh representation.

Wales captain Leah Wilkinson is thought to be the nation's most capped athlete in any sport.

The 32-year-old waited a long time for her GB debut which came against India just four weeks ago.

"It's been a whirlwind," said Wilkinson - who is a full time history teacher.

"The last couple of weeks have been easier as I've been on half term. So it's come at a fortunate time."

This year Great Britain's women have struggled to match the form that saw them win Olympic gold in 2016.



Leah Wilkinson (centre) is Wales' most capped sportsperson

But Wilkinson is optimistic about the prospect of overcoming 18th-ranked Chile to reach the Tokyo Olympics.

"I've played here [at Lee Valley Hockey Centre] a few times with my club but it's going to be a little bit different at the weekend," Wilkinson continued.

"What an opportunity to play at the home of hockey in this country surrounded by thousands of people watching.

"I feel incredibly lucky - it's something I never expected to happen."

You do not have to look as far back to find the last Welsh woman to play hockey at an Olympic Games.

Sarah Thomas helped Great Britain win gold at London 2012.

Victories over the weekend would not guarantee either Draper or Wilkinson their own seat on the plane to Tokyo next summer.

But it would certainly be a step towards joining a pretty exclusive club in Welsh hockey history.

BBC Sport


---

Kate Richardson-Walsh: 'British hockey has stagnated, there needs to be one purpose'

Great Britain's gold medal-winning captain from Rio says that the domestic game needs work, but that even more change could harm Team GB

By Ben Saunders



Kate Richardson-Walsh carried the Union Jack at the RIo closing ceremony after captaining GB women to their first Olympic gold (Photo: Getty)

When Kate Richardson-Walsh carried the Union Jack at the closing ceremony of the Rio Olympics in 2016 it marked a milestone for British hockey. It was a fitting denouement to Richardson-Walsh's role in captaining Great Britain's women to their first Olympic gold in history.

So, where are we three years on? Well, expectations of retaining their title couldn't be much lower. To say Britain are in a state of transition would be an understatement. There were a host of international retirements after Rio, including from Richardson-Walsh herself, and coach Danny Kerry went to take over the men's team. There have also been several brutal concussion injuries suffered by key players, including record goalscorer Alex Danson.

Those changes came to a head at the EuroNations Championship in Antwerp in the summer, when England suffered an 8-0 defeat by the Netherlands – who they had beaten in the Rio final – in the semi-finals.

It leaves them needing to beat Chile in a two-legged qualifier in east London's Olympic Park on 2 and 3 November to qualify for Tokyo, with the first game this afternoon and the second tomorrow lunchtime. The men, meanwhile, face Malaysia over two legs too.

'If you looked at England women, and a little bit of the men, at the Euros, the level of consistency wasn't there'

But Richardson-Walsh, now enjoying a very successful start to her coaching career with Investec Women's Super League high-flyers Hampstead & Westminster, warns against even more change with the national programme. But she admits the domestic game has "stagnated", which may go some way into explaining GB and England's current malaise.

"I wouldn't take that result in isolation," Richardson-Walsh says of the Dutch thrashing. "If you looked at England women's performance, and a little bit of the men's performance at that tournament, the level of consistency wasn't there.

"Part of that is that in international hockey there's more depth. More teams are improving and there's not such a big gap anymore. But at the same time, we should be - because of the resource, time, money that those players have and the teams have - performing at a more consistent, higher level.

"Both the men's and the women's squad have had so much change and turmoil. They've had lots of different coaches; the women's team with Alex [Danson], Nicola White, Shona McCallin all with concussions, Sophie [Bray] deciding to stop, [goalkeeper] Maddie [Hinch] taking some time away from the group, six massive experienced players retiring, that's a lot to take in.

'I don't think it's panic stations as long as there is now some stability.'

"Then you've got the change of coaching. That's intensely hard to cope with. I don't think it's like a 'panic stations' as long as there now is some stability. If it keeps changing, then I think it's going to be too hard to manage."

Richardson-Walsh has made a great start to her own coaching career. As co-coach alongside ex-Irish international Sarah Kelleher, Hampstead won promotion in her first season there, and sit second in the Women's Super League this season.

But she says the different factions with the domestic game need to get "on the same page", led by England and GB Hockey, for Britain to reach the same level of consistency as the Dutch, who are red-hot favourites for gold in Tokyo.

'What we've needed to do for a long time is invest time, money and resources into the domestic game'

"I think it's stagnated a little bit," Richardson-Walsh says of the domestic game.

"What we've needed to do for a long time is invest time, money and resources into the domestic game, because that is going to give you longevity and a larger pack to pick from for the international game.

"We've got a lovely set-up here [at Hampstead], but we've got one pitch. We've got more clubs [than the Dutch, but] we've got less facilities. So we need to do it in a different way [to them], but I do think we can find a way. And I think we can make it more community based and area based and actually get clubs working together more.

"I do think it needs to be led by England Hockey. I do think there is an onus on the national governing body providing that knowledge, time and money. We have a governing body, and I know they're stretched and they have a lot of things on their plate, but I do think that has to be at the top of their priority list."

'When we talk about having this one purpose, it's clubs, schools, national [teams] and the governing body'

And the relationship between the school and the club game is also important, Richardson-Walsh says.

"Helen [her wife and fellow Rio champion] is coaching Cambridge City and she's got six players who are still school age in her squad and they're being pulled in all directions," Richardson-Walsh says. "They feel like they want to play at club but they also feel like they need to play for their school.

"You want those players to be the big fish in a little pond. You want those players to step up and have the pressure of being the best player in a team and go and perform and at the same time you want them to play adult hockey, because they learn about the game.

"When we talk about having this one purpose, it's clubs, schools, national [teams] and the governing body because otherwise it's the players who lose out. It's the players that are caught in the middle and it's the players who feel like they're missing out on something somewhere."

iNews


---

Mc Clean to officiate Olympic Qualifiers



T&T's Ayanna Mc Clean is the Caribbean's highest ranked hockey umpire.

T&T's in­ter­na­tion­al hock­ey um­pire Ayan­na Mc Clean will be in charge of the FIH Hock­ey Olympic Qual­i­fi­er match­es in Lon­don on Sat­ur­day when the host Great Britain bat­tles Malaysia men and Chile women over the next two days.

Mc Lean will be part of a four-mem­ber of­fi­ci­at­ing team which al­so in­cludes Bel­gium's Lau­rine Del Forge, Pe­ter Wright of South Africa, and Ger­many's Chris­t­ian Blasch

Last week­end, six na­tions se­cured berths for next year's glob­al sport­ing show­piece, with Aus­tralia women, Chi­na women, Spain's women, and men, Nether­lands men and Cana­da men all win­ning their re­spec­tive two-game play-offs over three dra­mat­ic days of ac­tion.

With ten teams hav­ing al­ready achieved Olympic qual­i­fi­ca­tion by win­ning their re­spec­tive con­ti­nen­tal cham­pi­onships, there are now just eight - four men, four women - of the 24 Olympic tick­ets unas­signed, some­thing that will be re­solved over this week­end.

The duo of Mc Clean and Reyah Richard­son, both for­mer na­tion­al de­fend­ers have al­ready been ap­point­ed to fly this coun­try's flag high at next year's Olympic Games in Tokyo, Japan af­ter be­ing hand­ed Fed­er­a­tion In­ter­na­tion­al Hock­ey (FIH) ap­point­ments.

When the FIH re­vealed the list of of­fi­cials ap­point­ed for the Olympic Games Tokyo 2020, Richard­son was named as one of the 14 Tech­ni­cal Of­fi­cials, and on­ly one of three from the Pan Amer­i­can re­gion along with Ar­gen­tine Adri­an Del­la Mat­tia, and USA's Rene Zelkin.

Mc Clean, who of­fi­ci­at­ed at the 2018 Com­mon­wealth Games fi­nal in Gold Coast Aus­tralia and has of­fi­ci­at­ed in the FIH World League this sea­son was one of 14 um­pires se­lect­ed for the women's hock­ey com­pe­ti­tion, and one of four from the Pan Amer­i­can re­gion,and on­ly the sec­ond from this coun­try be­hind Roger St Rose who of­fi­ci­at­ed at the 1996 At­lanta Olympics.

The three oth­er um­pires from the Pan Amer­i­can zone se­lect­ed were Ar­gen­tines', Car­oli­na De La Fuente and Irene Pre­sen­qui, and USA's Mag­gie Gid­dens

In ac­cor­dance with the agreed guide­lines and process­es of FIH, all ap­point­ed of­fi­cials come from the FIH Pro League pan­els as these are the top-rat­ed of­fi­cials.

While per­for­mance was the pri­ma­ry se­lec­tion cri­te­ria, the Of­fi­cials Com­mit­tee al­so looked, as a sec­ondary con­sid­er­a­tion, at the ge­o­graph­ic spread of the of­fi­cials to en­sure that all con­ti­nents are rep­re­sent­ed.

As a fur­ther demon­stra­tion of FIH's "Equal­ly Amaz­ing" pol­i­cy, the Tech­ni­cal Of­fi­cials will work across both gen­ders' match­es. Fur­ther­more, while on field Um­pires will be the same gen­der as the match, Video Um­pires may be the oth­er gen­der as has been suc­cess­ful­ly im­ple­ment­ed dur­ing the FIH Pro League this year.

The 2020 Olympic hock­ey tour­na­ments will be staged in Japan's cap­i­tal city from 25 Ju­ly to 7 Au­gust next year.

The Trinidad Guardian


---

Women's Roster Announced

Head Coach Giles Bonnet announces the 18-player roster for the 2019 FIH Olympic Qualifier Series taking place in Dublin, Ireland this weekend



Photo: Yan Huckendubler

All eyes will be on the Canadian Women's National Team this weekend as they vie for their first Olympic appearance since 1992. The 18-woman roster is features chemistry, skill and creativity. Captain Kate Wright sets the new cap record every time she touches the turf, and she leads an experienced and balanced bunch into Dublin for a two-game aggregate series with an Olympic berth on the line.

Stalwart defenders, Sara McManus, Karli Johansen and Dani Hennig headline a world-class backfield. With 500 caps between the three of them, they are a steady, experienced force. Defenders, Alison Lee, Shanlee Johnston, Kat Leahy and Elise Wong offer hard-working and determined support to the 'big 3,' keeping the ball out of Canada's zone and pushing the pace into the mid and attacking areas.

Moving through the midfield, Canada has creativity in bunches with Natalie Sourisseau, Amanda and Nikki Woodcroft and Maddie Secco. Sourisseau is physical and poised and advances the ball to the attacking zone. She seemingly has the power to make something out of nothing with her skill and ball-handling.

The forward group is highlighted by record-holding goal-scorer Brie Stairs. Stairs has been filling the net since her debut with the national team in 2011 and she continues her tear in 2019. Captain Wright, Hannah Haughn, Steph Norlander and Rachel Donohoe provide goal-scoring depth and work tirelessly in the attacking zone.

The goaltending duo of Kaitlyn 'Rocky' Williams and Rowan Harris provides solid support in net. Williams is in the peak of her career and has been tremendous over the last two years between the pipes for Canada. She back-stops a stingy Canadian team that has only allowed an average of 1.2 goals per game since the 2018 Commonwealth Games.

Canada is coming in ranked as underdogs at 15th in the world against an Irish team at 8th coming off a silver medal at the 2018 World Cup. This Olympic Qualifier series has all the makings of a classic matchup and the action starts on Saturday.

ROSTER
| Jersey | Name | Position | International Caps |
| --- | --- | --- | --- |
| 1 | Kaitlyn Williams | GK | 147 |
| 3 | Kate Wright | FWD | 226 |
| 5 | Alison Lee | DEF | 59 |
| 8 | Elise Wong | DEF | 22 |
| 9 | Dani Hennig | DEF | 198 |
| 10 | Kat Leahy | DEF | 61 |
| 11 | Rachel Donohoe | FWD | 86 |
| 13 | Hannah Haughn | FWD | 189 |
| 14 | Karli Johansen | DEF | 143 |
| 16 | Natalie Sourisseau | MID | 147 |
| 17 | Sara McManus | DEF | 185 |
| 20 | Nikki Woodcroft | MID | 64 |
| 21 | Amanda Woodcroft | MID | 125 |
| 22 | Maddie Secco | MID | 137 |
| 23 | Brie Stairs | FWD | 173 |
| 25 | Shanlee Johnston | DEF | 125 |
| 26 | Steph Norlander | FWD | 124 |
| 31 | Rowan Harris | GK | 42 |

Field Hockey Canada media release


---

Ireland women's countdown to Tokyo matches

By The Hockey Paper



Irish women's hockey will be aiming for Tokyo now  PIC: England Hockey

Munster's Roisin Upton hopes the 2018 World Cup can be recreated with a sea of green when Ireland women run out for their Olympic play-offs this weekend.

The world silver medallists in London last summer, have host rights in their Tokyo qualifier against Canada, two matches being played at the 6,000 capacity at Donnybrook which will feature a pop-up pitch.

The match will take on extra significance with the women's side attempting to qualify as Ireland's sole hockey representative at Tokyo 2020.

It follows the controversy surrounding Ireland men's exit last weekend against Canada, and the fall out throughout the week, mainly on social media, as players have continued to seek answers in defeat.

The women's games, however, will offer some respite as the Green Machine attempt to claim another chapter in the team's rise and a further lift for Irish women's sport after the success last summer at Lee Valley.

Upton said: "Just before every game [at the World Cup] they would do a countdown. They would ask the crowd to cheer for the teams, and when they asked them to cheer for the Irish there would be this booming sound taking over the stadium, and that was from our first game.

"It always makes a difference. We can hear it and we can feel it on the warm- up. We can sense that atmosphere."

Upton will be one of a raft of Irish World Cup silver medallists searching for a first Olympic Games berth.

Captain Katie Mullan said: "We know Canada are a good team, we have a huge amount of respect for them.

"They are fighting for their first Olympics (since 1992), like us and we will be prepared to match them. They'll face a tenacious, hard-working group of girls that are close-knit and will fight for every ball together.

"It would mean absolutely everything to us to qualify for the Olympics."

Megan Frazer has been ruled out of the Canada Games after failing to recover from an injury sustained two months ago.

Ireland women's squad

Ayeisha McFerran (GK, Ulster), Roisin Upton (Munster), Nikki Evans (Leinster), Kathryn Mullan (C) (Ulster), Shirley McCay (Ulster), Elena Tice (Leinster), Gillian Pinder (Leinster), Beth Barr (Ulster), Serena Barr (Ulster), Chloe Watkins (Leinster), Lizzie Colvin (Ulster), Nicola Daly (Leinster), Hannah Matthews (Leinster), Sarah Hawkshaw (Leinster), Anna O'Flanagan (VC)(Leinster), Zoe Wilson (Ulster), Deirdre Duke (Leinster), Elizabeth Murphy (Leinster).

This article was brought to you by The Hockey Paper, on-sale regularly via subscription in print or digital



The Hockey Paper


---

'This is unacceptable'

Ireland hockey team vow to pursue Olympic grievances as FIH have no plans to release additional camera angles

By Gareth Hanna



Sinking in: John Jackson reacts to Ireland's defeat in Canada

The Irish men's hockey team has vowed to pursue their grievances after last weekend's controversial defeat to Canada in the Olympic qualifiers.

Mark Tumilty's side were denied a place at the 2020 Olympic Games by a contentious decision that awarded the hosts a last gasp penalty stroke in Vancouver.

Canadian James Wallace went over in the circle under an attempted tackle from Ireland's Lee Cole and when Diego Barbas awarded a stroke, Scott Tupper stepped up to send the match to a shoot-out, which Ireland lost.

The FIH's immediate reaction was to say that, in line with their Regulations for Top Tier Outdoor Competitions, "umpires' decisions are final" and that the organisation would not comment publicly on the penalty call.

On Thursday, a further statement was released to point out that "a minimum of six camera angles" had to have been available to Barbas 'in order to have a video umpire referral process in place'.

On further questioning by the Belfast Telegraph, the FIH confirmed that those specifications had indeed been met during Sunday's game, but they have as yet been unable to confirm the exact number of camera angles available.

The FIH also said that it is 'not planned' to release any additional camera angles to the public, who have only seen the one wide-angle shot and one close-up that were shown on the live broadcast.

It has also emerged that Mr Barbas was undertaking the video umpire role in an FIH game for only the second time.

The Ireland men's hockey team released a statement of their own on Friday, calling on the FIH to 'restore credibility in the Olympic qualification process' after what it viewed as a 'series of flaws' in the use of the video referral.

The statement said that the men's team would 'be pursuing' those grievances alongside Sport Ireland and Hockey Ireland.

"We would like to thank everyone for the outpouring of support and messages from around the world in relation to our Olympic qualifying match against Canada last Sunday," the statement read. "It is comforting to know so many people share our frustrations, sympathise with the position we find ourselves in and support our case for redress and reform.

"We believe the FIH have a duty to take action to restore credibility in the Olympic qualification process, to renew trust in the conduct of international hockey matches and to protect the integrity of both players and umpires.

"Given the importance of the video referral process, it was disappointing to witness a series of flaws in how the video referral was handles throughout the weekend. We feel particularly aggrieved at how the final moments of the game were managed and in particular the video referral system. We believe this is unacceptable in a fixture of this magnitude.

"In the meantime, we would like to wish our Irish ladies the best of luck in their Olympic qualifier this weekend. We know how hard you have worked for this and hope you get the reward you deserve. The nation is behind you."

Belfast Telegraph Digital


---

HRH Tuanku Zara - Invitational International Women's Indoor Hockey 2019 - Day 3
Ipoh (MAS)

1 Nov 2019 09:00     UZB v NEP (RR)     6 - 0 (4 - 0)
1 Nov 2019 10:30     MAS v PHI (RR)     12 - 0 (7 - 0)
1 Nov 2019 16:30     NEP v PHI (RR)     0 - 0
1 Nov 2019 18:00     TPE v MAS (RR)     1 - 5 (1 - 1)

2 Nov 2019 09:00     PHI v TPE (RR)     1 - 2 (0 - 2)
2 Nov 2019 10:30     UZB v MAS (RR)     0 - 2 (0 - 1)
2 Nov 2019 16:30     TPE v UZB (RR)
2 Nov 2019 18:00     MAS v NEP (RR)

Pool standings
---

Scottish Premiership weekend action awaits

The Wildcats are on the prowl this weekend looking to upset the order of things at the top of the Premierships. In the men`s they visit Grange hoping to rip apart the champion`s 100% record, while the women travel to Tayside to get their claws into Dundee Wanderers` title aspirations.

The quest for pole position in the men`s Premiership is far from a done deal – Grange may have a three point cushion but the chasing pack are hungry for blood and that includes Western Wildcats, Saturday`s visitors to Fettes.

Last weekend Grange preserved their 100% record with a 2-1 win over Edinburgh University but it was students` coach Graham Moodie who claimed his side had the better of the game and created more chances – yet in the end it`s goals that count.

Grange were perhaps not at their best and arguably fortunate to emerge with the three points, that level of performance may not be good enough against a Wildcats` side capable of scoring at will – 28 goals in six outings is testament to that.

However, the Wildcats were also a bit off colour last weekend, the goal machine mysteriously dried up against Watsonians and a single strike from Andrew McConnell early in the game was the eventual decider.

However, in this fixture current form, good or bad, is frequently not helpful in assessing the possible outcome,that is left to which side steps up to the plate on the day.

Second placed Grove Menzieshill have no easier a task against an Edinburgh University side that is growing in stature with every outing.

The Taysiders have made a solid start to this season`s campaign, although their defeat at Uddingston was perhaps not in the script, but Saturday`s fixture is their first against a top four side… to be followed by Grange and Wildcats in the succeeding weeks. Coach Neil Allan`s title aspirations could be put under scrutiny.

While Menzieshill have some game changers in their ranks, witness Luke Cranney, Ben Cosgrove, Albert Rowling and Jamie Golden, whether there is sufficient strength in depth to see off the better sides in the competition is yet to be examined.

Outside the top four, after their 6-5 win over Kelburne, Uddingston have emerged as the best of the rest… albeit by a slender margin. The Lanarkshire side could consolidate that accolade if they can see off Watsonians at Peffermill. The Edinburgh side won their first outing of the season, then promptly lost the next five and are second from bottom in the table. However, they can rise to the occasion, they travelled to both Menzieshill and Wildcats and only lost by a single goal on each occasion – that sort of form could pay dividends on Saturday.

Elsewhere, Hillhead would hope to continue their progress up the table at home against bottom side Dundee Wanderers.

The final fixture on the cards pits Clydesdale against Kelburne at Glasgow Green – both sides rest on seven points. Both have gone through lean spells this season, with a couple of wins thrown into the mix, so this might be a close affair.

The spectacular demise of former table toppers Dundee Wanderers last weekend was a shock to the Tayside system, and coach Iain Strachan was philosophical in his assessment.

"Bad day. lost 6-0. Got off to a bad start and never recovered. Played poorly and just not at the races. We need to pick ourselves up for next week."

Well it does not get any easier for the former pace setters as fifth-placed Wildcats come calling to Dundee on Saturday. All is not lost for the Taysiders, despite the Edinburgh University six goal reversal they still occupy second spot behind Clydesdale Western on goal difference. A return to winning ways would maintain that situation with the title still very much an open contest.

Wildcats have perhaps made a slightly unsteady start to the campaign, they trail the leaders by five points, so player/coach Kaz Cuthbert would presumably see a victory on Tayside kick-starting their challenge. Encouraging was last weekend`s 3-0 win over a steadily improving Watsonians side.

Watsonians` coach Keith Smith was disappointed with the reversal at Auchenhowie which he put down to "missing some great chances and a few defensive lapses which gifted them three goals."..

Smith has the chance to make immediate amends at home to Hillhead. However, the Glasgow outfit have taken seven points from their last three outings, so the Edinburgh side may have to work for their three points.

Clydesdale Western are back in pole position and their status should survive their trip to second bottom side Glasgow University.

Champions Edinburgh University have tucked away a couple of important victories against Wildcats and Wanderers over the past two weeks with former Scotland striker Amy Brodie getting a brace in each game.

The students travel to Tayside to face Grove, at one time this would have been a banana skin outing – and might still be.

The Dundonians have endured a bit of an up and down season so far, although their twelve goal experience at Titwood last weekend was perhaps an exception – they were short of both numbers and key players on the day. That said, Grove will do well to take something from the visit of the champions on Saturday.

Depending on other results, but GHK could advance to seventh in the table with three points from their home game against Merlins Gordonians who have still to pick up their first point in the top flight. After a bit of a lean start GHK`s young side have picked up a few points in recent outings and coach Susan McGilveray will hope that Saturday adds to the tally.

Scottish Hockey Union media release


---

Strathmore out to ease relegation woes

By AGNES MAKHANDIA



Lameck Kibet of Strathmore University (left) vies for the ball with Abraham Mumo of Greensharks during their Kenya Hockey Union Premier League match at City Park Stadium, Nairobi on June 16, 2019.PHOTO | LUCY WANJIRU |  NATION MEDIA GROUP

Strathmore University face Western Jaguars in a must-win Kenya Hockey Union Premier League match at City Park Stadium on Saturday.

The 2016 champions are third from bottom with 10 points, one ahead of relegation threatened Sikh Union. Parklands are last with seven points.

A win for Gladiators will see them establish some daylight between them and Sikh Union who play Sailors on Sunday.

Strathmore coach Meshack Senge said stakes are high and they can't afford a slip up against Jaguars who are sixth with 17 points.

"There are no two ways about it, it's a must win match. Failure to do that means we will be giving Sikh an advantage and we are not ready to put ourselves in that situation. We are not in a good position currently and we just want to take the remaining matches seriously with aim of winning as we really want to remain in top tier," said Senge who doubles up as the men's national team coach.

He added: "Jaguars beat us 1-0 during the first leg so they will be out to complete a double and break into the top five. It will be an interesting match to look out for but we remain hopeful."

Jaguars will take on United States International University-Africa (USIU-A) on Sunday. Coach Mike Malungu said the ties are tricky but remains positive.

"Our goal still remains to finish in top five. We want to get better in every match since we have a relatively young squad. I believe with time they will come of age," said Malungu.

FIXTURES

Saturday

Daystar v MKU(City Park, 12pm)
Nakuru v MSC (City Park, 2pm)
Nakuru v Oranje Leonas (Nakuru, 3pm)
UoE v Parkroad Tigers (Eldoret,3pm)
KCAU V Mvita (City Park,4pm)
Strathmore University v Western Jaguars(City Park, 6pm)

Sunday (All matches at City Park)

Mvita v Nakuru(9am)
USIU-A v Western Jaguars(11am)
KCA-U v MSC(1pm)
KU v Impala (3pm)
Sikh v Sailors (5pm)
GI Blues v Sikh Union Veteran (6pm)

Daily Nation


---

Stanford Field hockey hosts Aggies on Senior Night

By Niles Egan



Stanford will rely upon junior attacker Corinne Zanolli (above) more than usual for Friday's senior night game. Zanolli leads the nation in goals, but will be without senior goalkeeper Kelsey Bing, who is away for Olympic qualifying. (JOHN P. LOZANO/isiphotos.com)

No. 18 field hockey (11-6, 3-0 AEC) will play UC Davis (7-8, 2-1 AEC) at home in their regular season finale and senior night. The Cardinal have already clinched the America East West Division title and will be the No. 1 seed in the conference tournament next week.

Before the game, senior midfielder Phoebe Crosthwaite, senior attackers Emma Alderton and Jessica Welch and senior goalkeeper Kelsey Bing will be honored. This senior class has had a 52-26 record in the past four seasons, including a 17-4 record in conference play. They have captured two America East conference titles in 2016 and 2017. In those same two seasons they made appearances in the NCAA tournament.

Unfortunately, the star senior goalkeeper will miss Friday's game because she will be playing in an important match for Team USA as they try to qualify for the 2020 Olympic Games. No. 13 USA will be playing against No. 9 India in Bhubaneswar, India for an FIH (International Hockey Federation) Olympic qualifier. This match is the last chance for both countries to qualify for the Olympics. In her place, sophomore goalkeeper Hannah Santos will likely fill in between the posts.

Junior attacker Corinne Zanolli can be expected to continue her streak of stellar performances in games this season when the Cardinal take on UC Davis. As she has for much of the season, Zanolli leads the NCAA in goals with 25 scored so far this season. In Stanford's last game, a 3-2 victory against Cal in Berkeley, Zanolli notched all three of goals in her fourth hat-trick of the season. Last season, she broke the school record for single-season goals by scoring 26 times. Being only one score away from that mark, Zanolli seems to be on pace to break that mark again this season.

UC Davis will likely not pose too much of a challenge to Stanford on Friday. In their last match, an away game for the Cardinal, Stanford defeated the Aggies 3-1. However, UC Davis is just coming off of an exciting victory against Cal on Oct. 30 in which they beat the Golden Bears 2-1 in a shootout. Although a Cal loss in anything is always a happy occasion for Stanford, the Aggies may be carrying a little more momentum off of their win than the Cardinal would prefer. Their win on Wednesday was the first time the Aggies had beaten a conference opponent since they last beat Cal in 2016. Stanford, however, has dominated UC Davis in recent years. The last time the Aggies defeated the Cardinal was in 2013.

Stanford plays UC Davis at home on Friday at 6 p.m. P.T.

Stanford Daily