All the news for Friday 1 November 2019

FIH Hockey Olympic Qualifiers 2019 (Men)
1 Nov 2019 20:00     IND v RUS (GMT +5:30)

2 Nov 2019 15:00     NZL v KOR (GMT +13)
2 Nov 2019 20:00     IND v RUS (GMT +5:30)
2 Nov 2019 16:30     GBR v MAS (GMT +1)
2 Nov 2019 18:30     GER v AUT (GMT +1)

3 Nov 2019 15:00     NZL v KOR (GMT +13)
3 Nov 2019 15:00     GBR v MAS (GMT +1)
3 Nov 2019 16:30     GER v AUT (GMT +1)

Live streaming on https://FIH.live (may be geoblocked) and other broadcast partners

FIH Match Centre

---
1 Nov 2019 18:00     IND v USA (GMT +5:30)

2 Nov 2019 18:00     IND v USA (GMT +5:30)
2 Nov 2019 14:00     GBR v CHI (GMT)
2 Nov 2019 16:00     GER v ITA  (GMT+1)
2 Nov 2019 19:00     IRL v CAN (GMT)

3 Nov 2019 12:00     GBR v CHI (GMT)
3 Nov 2019 14:00     GER v ITA (GMT +1)
3 Nov 2019 19:10     IRL v CAN (GMT)

Live streaming on https://FIH.live (may be geoblocked) and other broadcast partners

FIH Match Centre

---

Dixon: "We are prepared and ready to go"




Great Britain captain Adam Dixon is confident his team are in a strong position as they prepare to take on Malaysia in the FIH Olympic Qualifiers this weekend.

Having discovered their opponents for this crucial weekend back in September, the team have had plenty of time to prepare for the double header that serves as their final chance to qualify for Tokyo 2020.

Following a two-Test series in Spain, Great Britain's men also played a series of uncapped matches in The Netherlands last week and Dixon now believes the team are in the best all-round shape to secure their place at next year's Olympics.

Speaking before training on Wednesday, he said: "It's great to be at Lee Valley Hockey and Tennis Centre having had five or six weeks of focus purely on this weekend. I feel like we're in a good spot.

"We've come together quite nicely over the last few weeks. We've come a long way comparing our performances then to now so I think we're the best prepared we can be going into these two games.

"We've been preparing for these moments for a long time and I think we're in  a good place. We're physically fit and strong, mentally resolute and I think we've got a good chance this weekend."

This occasion is a unique one for the sport, with many of the players not having experienced a winner-takes-all two-legged affair before.

Add the prospect of reaching one of hockey's biggest events into the mix and it could be suggested this is one of the most high pressured situations many will have played in.

But Dixon believes that any nerves his team may feel will only serve to act as a positive and bring the best out of the players.

"It's natural to feel nervous; it can be easy to try and hide the fact that you are but there's nothing wrong with embracing that you are nervous," the 32-year-old explained.

"It shows that you care and that something is at stake.

"These are the games we get excited to play in because they are a testament of your character and us as a team."

This weekend sees the second round of FIH Olympic Qualifiers take place, with last week's openers throwing up some surprise results and plenty of thrilling games.

With Malaysia ranked only four places below GB and boasting plenty of attacking option, it is set to be an exciting encounter.

Having watched many of those previous matches, Dixon is confident his team will approach their ties knowing exactly what is needed and is also hoping #ThePride will be out in full voice to push them over the line.

"The opening FIH Olympic Qualifiers saw some really exciting games and we saw world rankings go out of the window with the likes of Pakistan's men giving The Netherlands a really good go in their opening game," the 32-year-old said.

"We've just got to respect Malaysia and their threats because they do have a lot of them.

"We're excited and we're sure everyone who is going to come and watch us this weekend is excited.

"Noisy fans, friends and family and all the usual faces you see at the hockey events – they are a huge part of the reason why we play the sport. It galvanises everybody.

"Having men's and women's games back-to-back, it's set to be a fantastic weekend of hockey and we hope the performances match the excitement and expectation.

"We're prepared and ready to go."

Great Britain Hockey media release


---

Great Britain's women need to create own legacy by qualifying - Mark Hager

By Ross Bone



Great Britain head coach Mark Hager took over in January 2019

Great Britain's women must "create their own legacy" by taking their last chance to secure a place at the 2020 Olympics, says head coach Mark Hager.

The Olympic champions face world number 18 side Chile over two legs on consecutive days at Lee Valley in London this weekend.

Great Britain's men play Malaysia, with Olympic qualification also on the line.

"People look at this team as though it's the team that won in Rio and it's not," Hager told BBC Sport.

"There are only seven of those women still in the team.

"It's a new side and a new era and they've got to create their own legacy going forwards."

For both the women's and men's Olympic qualifying play-offs, the team with the highest aggregate score across the two ties will qualify for Tokyo, while the loser will miss out.

Great Britain's women have never previously faced Chile - nicknamed Las Diablas - in a competitive game.

Goalkeeper Maddie Hinch, one of the members of that gold medal-winning side, said she is relaxed about the challenge despite facing unknown opponents and the high stakes of the two-match series.

"When people use the language 'do or die' it sounds like the world is ending, so of course it makes it a nervy occasion," she said.

"It's like going into an exam knowing you've done all your homework - you have to feel ready and that'll get rid of the fear. That's how we'll approach this weekend.

"We might start a bit nervy because of what's on the line but once we're settled we should start connecting and showing the progress we've made."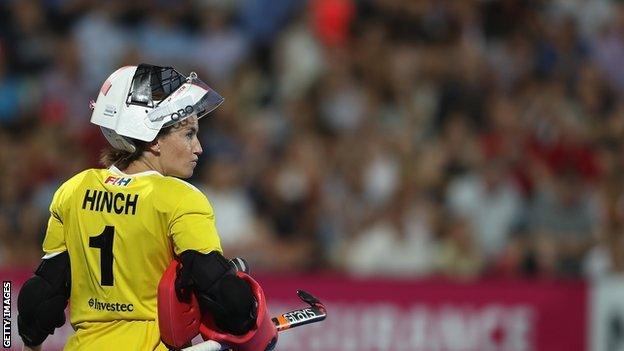 Goalkeeper Maddie Hinch is one of only seven Rio gold medalists still in the squad

Since winning the Olympic title in 2016, Great Britain have endured a difficult transitional period.

High-profile players such as Helen Richardson-Walsh, Kate Richardson-Walsh, Sophie Bray and Crista Cullen have retired, whilst Alex Danson, England and Great Britain's joint leading scorer of all time has been out with a long-term head injury.

The team finished second bottom in the inaugural FIH Pro League where they won only three of their 16 matches outright.

They were knocked out of the World Cup in the quarter finals by eventual winners the Netherlands and at the 2019 European Championships, the same opponents ended their gold medal hopes with an 8-0 thrashing in the semi-finals.

Hinch, who described that semi-final defeat as the worst moment of her career, says squad are only looking to the future.

"There aren't many gold medal winners left in the squad but we've tried to share what we experienced," she said.

"One of the main things was telling them it wasn't always a smooth journey. We had our ups and downs and that's what this group has had. The down moments are important for you to learn and reflect. Rio's in the past now. It's a whole new journey and whole new squad.

"Let's get the job done this weekend and see where that leaves us."

Pinner has 'unfinished business' with Olympics

Men's goalkeeper George Pinner, a veteran of almost 200 international matches, said he knows the pressure of this weekend is immense.

"These are two of the most important matches I've ever played in," he said.

"This is unique in terms of turning up on Saturday and Sunday knowing we either do the business or we don't go to the Olympics."

Great Britain's men went to Rio 2016 targeting a medal but in a disappointing campaign failed to make it out of the group stages.

They have since changed coach, with Danny Kerry moving over from the women's team to replace the departing Bobby Crutchley.

Kerry's side finished fourth in the FIH Pro League but had a disappointing tournament at the 2019 EuroHockey Championships, missing out on a medal for the first time in 12 years.

"The big driver for me continuing after Rio was to right a few wrongs," said Pinner.

"Having said that, this isn't the be all and end all. I want this more than anything. I want to qualify. I want to be part of that group for Tokyo. I want to win a medal.

"But you have to frame it in the grand scheme of things - the Olympics cannot become something you're so desperate for that you tighten up."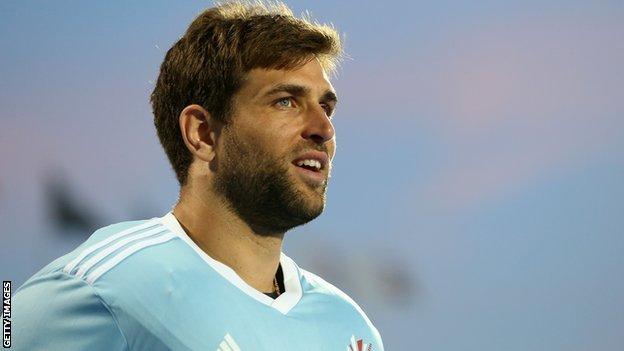 George Pinner has 189 international caps combined for England and Great Britain

At stake for both squads is not just a place at the Olympics. Failure to qualify for one or both teams could have serious repercussions in terms of the funding hockey receives from UK Sport.

For the Tokyo Olympic cycle, Great Britain hockey has received around £17m. This allows the athletes to train full time at Bisham Abbey as part of a centralised programme. If qualification is not secured, that money and the athletes' status as full-time professionals could be in serious jeopardy.

"We've been quite open and frank about it," captain Adam Dixon said.

"We've planned for the worst case scenario but we realise we've got to go out and rather than playing with fear, play with confidence and take it to Malaysia."

Come Sunday evening both sides will either be beginning preparations for Tokyo, or the inquest into what went wrong.

BBC Sport


---

A flight into the future

By Jugjet Singh

The flight to London last night was packed with hopeful Malaysian Hockey Confederation (MHC) officials praying for Malaysia to beat Britain as well as praying for votes.

MHC have sponsored a delegation of no fewer than 12 state officials, to watch Malaysia play Britain in the final Olympic Qualifier at the Lee Valley Stadium in London this weekend.

The two back-to-back matches promise the winner a ticket to the Tokyo Olympics, while the loser will have to wait another four years.

Since MHC will be holding their elections on Nov 16, and nominations close on Nov 2, all the states have handed in their "hope" list (candidates for the elections) to the MHC before flying off to London.

In a twist of events, MHC president Datuk Seri Subahan Kamal and women's deputy president Datuk S. Shamala issued a joint statement on Oct 29, saying that they will seek re-election for another term.

However, this decision came as a surprise to many as both had said many times that they will not seek re-election if Malaysia fail to beat Britain and qualify for the Olympics after a 20-year absence.

Shamala clarified their earlier stand on a FB posting amid much criticism on social media.

"Elections are always a very phenomenal experience to endure — slandering on social media, name calling, creation of Gurus of all natures declaring who is good and who is bad and the list goes on.

"Anyway, resilience is exactly what one needs to tolerate atrocities and never ever to go down to these unimaginably low levels.

"We must at all times maintain our dignity and respect for others. It wouldn't take two seconds to do the same but we aren't of that class.

"Thank God, we don't have to feel great by calling people names, associate humans to animals, self claim we are angels and some other things which I honestly find it degrading as a human to even mention.

"So, let's maintain our dignity and do the hardest but the best thing - embrace silence and focus on the work (at hand)," said Shamala in her FB posting.

There are two camps who hope their candidates will be voted in, but early indications are that Subahan, as well as Shamala, are a shoo-in for another term as they have the lion's share of the nominations.

Tengku Hassanal Ibrahim Alam Shah from Pahang is the choice for the men's deputy president's post.

However, Johor HA have nominated AirAsia Group Bhd executive chairman Datuk Kamarudin Meranun for the president's post while Kuala Lumpur HA have nominated Tengku Hassanal Ibrahim for the top job.

Nominations will close at 3pm, tomorrow, hours before the Malaysian team play their first match against Britain. And there could be some nominated candidates withdrawing their names, and some positions won without contest.

The flight to London, which is as well as campaigning while supporting the Malaysian team at Lee Valley, could chart the future of Malaysian hockey, on and off the artificial pitch.

For the record, MHC did sponsor state affiliates to watch the Dublin and Antwerp Olympic Qualifiers, as well as the Hague World Cup. So the paid trip to Lee Valley is not unusual.

New Straits Times


---

Chile Devils aim to put heat on Great Britain

By Rod Gilmour



Manuela Urroz, left, is Chile's top scorer PIC: Stanislas Brochier/World Sport Pics

"We started playing hockey because of Britain," smiles Manuela Urroz. "In Chile, hockey is played by the British schools. It's why and how I started the game."

Like many of her team-mates who will line up against Great Britain women at Lee Valley, Urroz was educated at a British school in Santiago and so where better to begin than by asking the 28-year-old to cast her mind back to where she was when GB won gold at the Rio Olympics.

Urroz was actually in Holland for the 2016 women's final, on pre season with her former club Royal Antwerp. "I really remember that day and seeing the surprise on the Dutch faces watching on a big screen," she recalls. "What the British girls did that day really inspired other athletes that you can really achieve important things even if you have a big opponent with a lot of quality and experience against you."

The passion in her voice says it all. Just like GB against the Dutch, Chile will be underdogs against the Olympic champions, but Urroz admits that they can prove a match for Mark Hager's side, even if the temperature and the crowd will be against them.

She says: "We know we're not the favourites. It's a big opponent and we have nothing to lose and we will give everything. Since we started our new era with a new coach in 2016 we wanted to do something different for our country.

"After we didn't make the last World Cup everyone has been focused on Tokyo and this [play-offs] gives us the opportunity to feel like we are close to the Olympics. It's just two games and anything can happen."

After four seasons with Antwerp, the law graduate moved to Dutch side Oranje-Rood this year for a fresh challenge and she is the only player currently with a club outside of Chile.

"We have a really long country and it's hard to connect, but it's almost centralised in the capital so all the girls train and play there," she says of her other team-mates.

Following the Pan Am Games, where Chile finished fourth, the squad flew to Belgium where Urroz met up two weeks ago for warm-up games against Canada before departing to the UK.

Although based in Europe for five years, Chilean sport runs through the Urroz family. Her grandfather played for Chile at the soccer World Cup in 1950, her aunt was one of the best Chilean tennis players playing at the Majors, while her brother is still one of the most important players in Chile's rugby 7s squad.

Chile's geography – over 2,650 miles long and just 150 miles at its widest point – and the imposing Andes mean that there is a sense of jealousy for Chileans. For Urroz, it only comes when talking sport.

"I admire the Argentinians, they are passionate about sports and all the little girls want to be a Leonas. And I really want to replicate that in our country and with the right results people can get more fanatic about our game.

"Chile is a place when you get older it's about university and what you are going to study and not really about sports."

A result at Lee Valley would surely put Las Diablas – The Devils – on the front pages and change the sport's perception.

And Urroz and Co will make sure they are also heard when they match the Argentinian custom of walking into the venue with music blaring from a squad member's speakers. "We do the same [as Argentina] but even better!" jokes Urroz. "We have a lot of rhythm and some with dancing moves and we aim to arrive to the field with a good vibe. That is something really special for our team."

GB's part in Chile growth

Hockey has been played in Chile since pre-colonial times. It was played by the Mapuche and is still played by the Indigenous population. It is called Palin or Chueca and has been a national sport since 2004. The British and German influence brought over hockey to Chile and arguably the most important clubs spawn from theses colonies in Santiago, at the Prince of Wales Country Club in La Reina and Club Manquehue in Vitacura.

The clubs have been playing and growing since the 1930s, as have the British Schools and competitions which have produced many of the players that presently represent Chile. There are records of The Hockey Club from the 1920s by Anibal Escobar and the formation of Prince of Wales Country Club in 1925 when the Prince visited Chile and agreed to allow his name to be used. Michael Gibney

This article was brought to you by The Hockey Paper, on-sale regularly via subscription in print or digital



The Hockey Paper


---

Indian men wary of complacency; Sjoerd Marijne looks to capitalise on women's team's newfound confidence

Sundeep Misra



Graham Reid pictured during a training session with the Indian men's hockey team. Twitter@TheHockeyIndia

The luxury for Graham Reid, if one can call it that, going into the two-match Olympic qualifiers in which winner takes all, namely a spot in Tokyo 2020, is that Reid can think beyond the Kalinga. With no disrespect to Russia as an opponent, knowing fully well that matches in the Olympic Qualifying in different parts of the world have run close, it will still be a tall order, probably the upset of the year or even the last decade if Russia put it across India. Strange things do happen in sport. But for India to lose to Russia would be akin to not turning up for the match.

"It's not about rankings," said Pakistan coach Khawaja Junaid, before their qualifying game against the Netherlands. The 4-4 draw, which Pakistan led 4-3 with a minute to go, might have given credence to the cliché mouthed by Junaid. Except for the fact that the next day, the Dutch thrashed Pakistan 6-1 and booked their ticket to Tokyo. Sitting in the sub-continent, Reid wouldn't take any chances. Small wonder that the team playing Russia is a team that the Indian coach might be taking to Tokyo, bar injuries.

Russia have only one way out of the two-match imbroglio.

Hold. Hold. Pray.

The last time both met, India put ten past them. Same stadium. Same time. Different tournament.

So, what has changed?

The Indian team has got better.

The Russians would hold with a better defensive structure.

The pointers for Russian coach Vladimir Konkin are in the first quarter of the match against India played in June. India's finishing wasn't sharp. Russia took the edge off and created movement in the mid-zone. The first two PCs for India were also off the mark.

Andrey Kuraev displayed good skills while Alexander Skiperskiy controlled the midfield. In that first quarter, while India tried to get the momentum, Sergey Lepeshkin saw his scoop miss the Indian goal by inches; Krishan Pathak had been left stranded in the middle of the striking circle. At the end of the first quarter, India had led 1-0, off a deflected goal from Akashdeep Singh.

Reid wouldn't want a repeat of that. It would be better to demolish Russia in the first match to defuse any pressure situation arising in the second. Complacency would be the last thing on Reid's mind, even though he must be hugely confident about the result.

"If you look at last week's games in the qualifiers, it's the first thing you would see. My message has been pretty much the same ever since I have joined the team. Always treat everyone with respect, like you are playing the best in the world. We have prepared as well as we could and are ready."

For Varun Kumar, missing out is not a blow except for the penalty corner department where he is a good second flicker. But now with Harmanpreet and Rupinder Pal Singh, the latter in the team more for his PC prowess than field play, the signal is quite clear – get early goals and close the match.

India have had it tough in the past during the qualifying tournaments. The two that immediately spring to mind is the 1991 Olympic Qualifying that happened in Auckland where India were almost out, till Malaysia beat Belgium 5-3 for India to sneak back in on a better goal difference than Belgium. A lesser score-line would have ensured India not reaching Barcelona. And then the 2008 Beijing Qualification tournament in Santiago, Chile, where India lost twice to Great Britain; 2-3 in the round-robin and then 0-2 in the final. With just the winner going through, India were left stranded. Not a single Indian coaching staff was in Kuala Lumpur for the year-ending 2007 Champions Trophy where Great Britain were playing before going in March 2008 to Chile. A lack of preparedness in terms of understanding Great Britain and how they would play brought about India's undoing.

That doesn't seem likely at the Kalinga.

"Ever since we have come here, we have always said never underestimate the opponent," said Indian captain Manpreet Singh. "SV Sunil gave the example of 2008. Our mindset should only be about winning. All seniors like Rupinder or Sreejesh take all the players along. They tell the youngsters don't take it easy. That's what we have been discussing for the last three weeks. Don't underestimate Russia or look at their rankings."

India are ranked fifth while Russia are 22nd.

The scenario is much closer when it comes to the Indian women's team; India are ninth with the USA 13th in the FIH rankings.

With the Indian women's hockey team assembled at the Kalinga Stadium in Bhubaneswar, ready for their two-match challenge against the USA with the winner getting a flight ticket to Tokyo 2020, a few quotes from previous Indian women coaches' just might give a perspective to this all-important encounter; a contest that in so many ways would decide the next four years of the women's game. But a win against the compact and very disciplined Americans could unleash the potential that the women have always shown – whether it was in finishing fourth at the 1980 Moscow Olympics; gold at the 1982 Asian Games; gold and silver at the 2002 and 2006 Commonwealth Games and just recently the quarter-final finish at the 2018 World Cup and the silver at the 2018 Asian Games.

Rewind 37 years, 1982, when the Indian women won the Asian Games under Balkishen Singh, who later said: "The potential in the women's team is huge. They come with skill and a natural talent that not many teams have. It's only a case of understanding the technical and physical aspects of the sport." It's not surprising that Eliza Nelson, who captained India to their only Asian Games gold in 82' said that if Balkishen was there in 1980, the women's team would have been on the Olympic podium.

GS Bhangu, under whom India won the 2002 Commonwealth Games gold, once said the difference between the top women nations and India was the question of adaptability in understanding 'modern methods.' MK Kaushik, who came later and coached the team to a silver in the 2006 Commonwealth Games felt "sustained exposure and playing with the top teams" would reduce the "fear factor."

Coming back after the QF finish at the 2018 World Cup, Rani Rampal had spoken on the lessons learnt and that India were ready to move big-time into the Olympic Games and perform.



File image of the Indian women's hockey team. Twitter@TheHockeyIndia

"So, at the moment, our goal is that we qualify for the next Olympics. In the World Cup, our team was very close. Our team had the confidence that they can defeat the other team. Now, the players are not afraid that they are playing with a team better than them. Nowadays, there is no difference in men and women's hockey. The team that plays well can beat any opposition. So, our goal is to finish in the top four in the next 2020 Olympics."

Qualifying is not alien to Rani. Way back in 2008, she made her debut at the age of 13 and 135 days in Kazan at the 2008 Olympic qualifier. In her first match, India beat Russia 3-1 with her scoring on debut. Incidentally, in that qualifier which had six teams with the winner going to Beijing, USA had beaten India 4-0. Eleven years, later, the Rani one sees on the field is a thinking player, a forward with the vision of a midfielder. Not surprising that sometimes, she does fall back, not with the intention of defence but of carrying the ball for pacier and faster players like Nikki Pradhan, Monika, Neha Goyal, Navjot Kaur, Vandana, and Lalremsiami.

Going into the past is self-defeating. And Sjoerd Marijne realises that. It takes more than just patience and perseverance to retain your sanity when a federation uses you like a pawn — women's coach, then men's and then women's again – and still focus on a job that is not only difficult and demanding but takes more out of the coach than anyone else. After winning the FIH Women's Series Final beating Japan 3-1, Marijne said, "Looking back has no meaning and I never like looking back but after the Hiroshima final, I did think for a few moments 'what if we had won (Asian Games) that final?' and we would have qualified for the Olympic Games."

The loss in the final at the Asian Games had badly hurt the Indian team. Marijne was downcast. It wasn't just about getting a direct entry with almost two years in hand for training and preparing for what is hockey's biggest stage. The issue at that time, that moment in Jakarta was about keeping the team together in mind, body, and spirit. A win would have been like rocket fuel. Looking at the downcast players, one understood the extent of work that Marijne needed to do to make them believe again.

It wasn't so difficult either. Rani Rampal is a huge supporter of Marijne's way of coaching. "When he (Marijne) came back to the team, he knew what was required," says Rani. "There was no confusion in the team either. We knew what structure to play in. The only focus was on the basics. He worked on the team. He brought in the youngsters and more than anyone of us, he feels that the graph of the team needs to keep going up."

It has gone up – skill-wise, physically it's one of the fittest, and even during play, though they tend to group up sometimes, the way they create a structure is massively encouraging. Against the USA, the team will have to discard the past. Eight times both have faced each other in the qualifying for either the Olympic Games or the World Cup and each time, the Americans have won. In their last match at the World Cup, India drew 1-1.

Rani, the Indian captain, said forgetting the Asian Games loss hasn't been easy. "After that, we have focussed on this. We are very excited to play in front of a big crowd. Yes, I think the fans here are very passionate. They are the 12th player and we will feed off that energy."

Sjoerd Marijne, practical as ever, spoke about looking at this match by match. "We want to go there (Tokyo). We believe, as a team, that we can do better than previous Olympics. But we have to go there first. It's not only about finishing but also technical things. They have grown as a person. They are smart."

"It's match by match. Saturday you will know if you have qualified or not. We do match by match. The girls are also ready. You can't look further than one match."

The American coach, Janneke Schopman, a former Olympic and World Champion with the Dutch team believes experience will play a part. "I think the Indian team has a lot of experience," she said. "India have a lot of advantage. We only have three players from the team that went to Rio. Experience does matter."

Firstpost


---

Manpreet: never will we underestimate our rival

s2h Team




Quoting various examples from the Olympic Qualifier Tests that are going on across continents, Indian captain Manpreet Singh said that his team will not underestimate any team, and accordingly has been putting all efforts to put up a good show against Russia in the Bhubaneswar double header which starts tomorrow.

"We saw how Ireland-Canada, Pakistan-Netherlands matches went (in the Olympic Qualifier Tests). The matches have been close, severity of which is unexpected due to difference in the world ranking of the teams. However, these ranks did not matter. This aspect was clear in Amsterdam and Vancouver. We have been focussing on our game rather than other team's rank. The Pakistan match, Ireland match further proved how correct our thinking is" said speaking to crowded media.

"Ever since we came here, we have decided never to underestimate our opponent".

Fifth ranked India will take on 22nd ranked Russia tomorrow at Kalinga stadium in the first of two matches winner of which will make it to Tokyo 2020.

"We are even preparing well for shoot outs" added Graham Reid, echoing his team's captains view point while replying to a pointed question.

"If you look at last week's games in qualifiers, it's the first thing you would see the complacency factor. My message has been pretty much the same ever since I joined the team. Always treat everyone with respect, like you are playing the best in the world. We have prepared as well as we could and are ready", added Reid.

Manpreet Singh and chief coach Reid were repeated grilled for the recent changes that have been effected in the team composition.

The question of including Birendra Lakra replacing Kothajit was the focal point.

"Its not that he his from local and was selected. No. He was part of the core 22 and then part of 20-member team that toured Europe. Its always difficult for coaches to pindown 18 from 22, as every player puts up good show in the run up, keeps best possible fitness levels", said Manpreet Singh who shoulders India's hopes being there in Tokyo.

"It's coaches' wisdom, considering which player fits in the team. Like Birender has been brought in place of Varun. Besides, it's his home ground, he will get great support as well".

"Birendra Lakra is fighter, tackler and has all things that is expected of him", added Reid justifying his inclusion in the team.

"The preparations are good because this is extremely important tournament. We are doing our best, working on fitness, learnt a lot from Belgium tour. Worked hard in the two weeks here before the tournament", added Manpreet Singh. Speaking on the inclusion of other senior players like Sunil, Lalit Upadhyay and Sreejesh, Mapreet has to say this: "Their experience is going to make a difference. Sunil takes the strikers along, similarly Rupinder in defence. Our youngsters like Vivek, Nilakanta and Hardik are also good, the team is a good mixture of senior and junior".

Stick2Hockey.com


---

Mission Tokyo — India to have easy outings against Russia

Vastly superior, but Indian men not taking Russia lightly

Uthra Ganesan



Warming up: The India men's team prepare for the Olympic qualifiers against Russia. Photo Credit: BiswaranjanRout

"In rankings we are 22nd but in our souls we are quite high. We came here to fight and it will be a good battle. That is a promise," Russia coach Vladimir Konkin declared, speaking through a translator.

It might appear bravado from a team expected to provide little resistance to the Indian men in the two-game hockey Olympic qualifiers here, but the host would do well to take it seriously.

Fifth-seeded India would do well to remember how Pakistan nearly pulled off an upset before succumbing to Dutch superiority last week.

Lesson learnt

That was one of the lessons learnt by the Indian management. "My message has been pretty much the same ever since I joined the team. Always treat everyone with respect, like you are playing the best in the world. We have prepared as well as we could and are ready," coach Graham Reid said on Thursday.

Captain Manpreet Singh was more candid about guarding against complacency, being one of those who felt its full impact in the Asian Games semifinals.

"Our mindset should only be about winning. The seniors like Rupinder Pal Singh or P.R. Sreejesh keep telling the youngsters to never think it would be easy. We cannot assume things on the basis of rankings," he said.

When the Russians last came here in June, they struggled to adjust to the searing heat and yet finished a respectable fifth, beat higher-ranked Poland and almost upset South Africa. The Indians were also guilty of lethargy in the first half back then.

Drag-flick specialist Semen Matkovskiy was the joint top-scorer of the tournament with Varun Kumar and Harmanpreet Singh, the former out this time with injury. The conditions are a lot better this time around for the visitors.

India is still expected to have an easy outing over the two games.

The difference in quality, experience and skill-set is too vast. And yet, the team has been going all out in its training sessions here with coach Reid prepared for all possible scenarios.
Always prepared

Asked if the team had shoot-outs at the back of its mind, Reid acquiesced.

"We have talked about it, we always practise shoot-outs. The players are always prepared," he agreed.

The team would be looking to finish the tie long before that.

The Hindu


---

Indian Roulette

India seek Tokyo ticket, mission impossible for No. 22 Russia

Indervir Grewal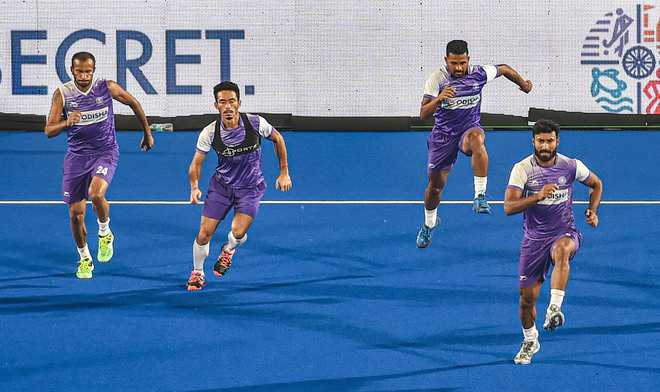 Indian hockey team players during a practice session in Bhubaneswar on Thursday. PTI

Last year, the Indian men's hockey team missed its big chance to book a ticket to the 2020 Olympics. The defending champions entered the Asian Games as the highest-ranked side by a big margin. The closest to world No. 5 India were Malaysia, seven rungs below at No. 12.

India entered the Asian Games on a high, on the back of winning silver at the Champions Trophy. All signs pointed towards a comfortable victory — a sure gold. Everything was going according to plan, with India beating their opponents black and blue on their way to the semifinals. But it all unravelled very quickly — 60 minutes of nervy and unsure performance followed by a shootout heartbreak in the semifinals meant that India had blown their big chance.
The aftermath was brutal. The hockey federation and fans were furious, the players being the obvious target. Sardar Singh lost his position in the team, and subsequently retired. The coach, Harendra Singh, just about managed to hold on to his position, though he got the boot a few months later, after the World Cup.

Within days, old and familiar fears returned to trouble the minds of everyone. With a lack of clarity about the qualifying process, the mind went to the worst probability. It was assumed that India's ranking would fall, meaning the future draws would become trickier. Suddenly, for India, the path to the Tokyo Olympics seemed much tougher. The memory of 2008 — when India failed to qualify for the Beijing Olympics — became fresh again.

As good as it gets

After almost 14 months of the Asian Games debacle, the moment of truth has arrived. India get their second and final chance to qualify. Apart from getting a new coach, not much has changed. It is largely the same set of players. After winning two tournaments and reaching the final in one in 2019, India's ranking is stable at No. 5.

With the ambiguity surrounding the qualifying process lifting, the pessimism turned to optimism. India had to reach the final of a tournament they were hosting to become eligible for the final stage of qualifying. India won the tournament, which included lower-ranked teams, hands down, and after a favourable draw, India stand two matches away from the Olympics.

Almost 14 months after that dark day in Jakarta, it seems all bright again. In terms of India's chances, this is as good as it gets.

Among the teams in the draw for the final qualifying matches, world No. 5 India were the second-highest side. They drew Russia, the lowest-ranked side at No. 22. With both the matches of the double-leg to be played at the higher-ranked team's home venue, India got to host Russia. The venue is Bhubaneswar, where India hammered Russia 10-0 in the FIH Series Finals in June.

Two-game cushion

That result was a fair reflection of the huge gap between the two sides. However, on a given day, anything can happen in hockey. World No. 17 Pakistan coming close to beating No. 3 Netherlands before conceding late for a 4-4 draw in their first match would be a cautionary tale for all the higher-ranked teams in the qualifiers.

Russia are known for being a defensive side and they like to slow the game down and play a counterattacking style. With all the pressure on India to win, Russia will hope to feed off the hosts' nervousness and mistakes. India tend to lose their composure if they fail to score early. However, this being a double-header, India will have the cushion of the second match.

Again, the Pakistan-Netherlands match is a perfect example. After a nervous first match, the higher-ranked Dutch steamrollered Pakistan in the second match, winning 6-1. And India have not lost to a lower-ranked team in regulation time for a long time, New Zealand being the only exception. But the former Olympics champions have always been a better side than their rankings suggest. It is very hard to imagine the tie against Russia not going India's way.

The Tribune


---

India men's coach Graham Reid tells his players to 'treat every team with respect' ahead of Russia clash



File image of Graham Reid. Image courtesy: Twitter @TheHockeyIndia

Bhubaneshwar: Complacency has no place in professional sport and Australian Graham Reid had clearly passed on this message to his wards the very day he took over the high-profile job of Indian men's hockey team's head coach.

As World No 5 India gears up to take on lowly Russia, ranked 22nd, in a two-match final Olympic qualifier on Friday and Saturday, Reid's message to his wards is straight forward: "Treat every team with respect".

Against Russia, India will start as clear favourites to win both the matches and seal their place in next year's Tokyo Olympics but Reid is very well aware that one bad day in office can ruin his team's Olympic dream.

"If you look at last week's games in Olympic qualifiers, it's the first thing you would see (how complacency can cost a team)," Reid said on the eve of the first game.

"My message has been pretty much the same ever since I joined the team. Always treat everyone with respect, like you are playing the best in the world. We have prepared as well as we could have and are ready."

India captain Manpreet Singh agreed with his coach and said senior pros like him are doing their best to make the juniors aware about the ill effects of complacency.

"Ever since we have come here, we have always said never underestimate the opponent. Our mindset should only be about winning. All seniors like Rupinder (Pal Singh) or (PR) Sreejesh take all the players along. They tell the youngsters that never think it's going to be easy," he said.

"That's what we have been discussing since the last three weeks. Like coach said, the qualifiers last weekend were very close. So we don't have to underestimate Russia or look at their rankings," the captain added.

The Olympic berth from here will be decided on the basis of aggregate scores at the end of the two-match qualifier. In the event of same aggregate score after two encounters, the winner will be decided by shoot-out on Saturday.

Asked about India's shoot-out preparation in the case of an eventuality, the coach said: "We have talked about it, we always practice shoot-outs. Five out of six training sessions finish with shootouts.

"It's an inevitable part of hockey. The players are always prepared and we have chosen players for that," he said.

India captain Manpreet feels the blend of experience and youth will stand the team in good stead in the next two days.

"SV Sunil, Lalit (Upadhyay), Rupinder, Sreejesh, (Birender) Lakra, their experience is going to make a difference," he said.

"Sunil takes the strikers along, similarly Rupinder in defence. Our youngsters like Vivek (Sagar Prasad), Nilakanta (Sharma) and Hardik (Singh) are also good, the team is a good mixture of seniors and juniors.

"Our preparation is good because this is an extremely important tournament. We are doing our best, working on fitness. We have learnt a lot from the Belgium tour."

Questioned about the team selection, especially the snub to a old workhorse like Kothajit Singh from the team, Manpreet said picking up a player is the prerogative of selectors and coaching staffs.

"The 18 selected are equal. The previous Japan tour or Belgium tour, everybody worked hard. It's difficult for the coach to select 18, because everybody is almost at the same level in the core group. Those in the team deserve to be there," he said.

"The coaches look at all 22 players equally. All are similar. It's very difficult to select a team, because all players are giving their 100 per cent. So coaches give a lot of thought before picking up a team," the skipper added.

Russia head coach Vladimir Konkin promised to give the eight-time Olympic champions a tough fight in the two-match contest irrespective of their position in world rankings.

"India is one of the strongest international teams in the world. They are eight-time Olympic champions, so right now we are far behind them. But we hope for better results," he said via an interpreter.

"In FIH (International Hockey Federation) rankings we are in 22nd place right now but in our heart we know we are quite higher. So for us it is a great opportunity to prove ourselves against a tough team like India.

"I promise you we came here to fight and it would be a good battle," Konkin added.

Firstpost


---

FIH Hockey Olympic Qualifier: Scouting Report – USWNT vs. India




BHUBANESWAR, India – On Friday, the No. 13 U.S. Women's National Team's Road to Tokyo starts. They are set to match-up against No. 9 India in the FIH Hockey Olympic Qualifier on Friday, November 1 and Saturday, November 2 at the Kalinga Stadium in Bhubaneswar, India.

Game Day: Friday, November 1, 2019 & Saturday, November 2, 2019

Time: 8:30 a.m. ET (both games)

Opponent: India

FIH World Ranking: 9

Head-to-Head: The USWNT has met India five times in the past three years, mostly in major international competitions. In 2016, the teams faced one another three times, with the first two coming during the Citi Rio Send-Off Series in Lancaster, Pa. The competitive two-game series saw USA defeat India 3-2 in the opener but saw many scoring opportunities go unanswered as they fell in the second match 1-2. This prepared the red, white and blue who met India two weeks later in their fourth pool game at the Rio 2016 Olympic Games. USA was coming off the helm of winning their first three games over higher ranked opponents and continued the momentum for a 3-0 victory.

After that they went head-to-head in their second pool game of the FIH Hockey World League Semifinals in Johannesburg, South Africa on July 10, 2017. USA opened the scoring in the second quarter and although India found the equalizer in the third, a strong collective second half scoring performance lifted USA over India, 4-1.

The most recent came on July 29, 2018 at the Vitality Hockey Women's World Cup London. After scoring first, USA was put under a lot of pressure until India found the equalizer one minute into the third quarter to bring the game to a 1-1 draw. This finish ultimately concluded USA's World Cup campaign.

How Olympic Qualification works: The winners will be determined as follows:
Teams will be ranked according to the number of points each has accumulated in both matches (for each match, 3 points are awarded to the winner, 1 point to each team in the event of a draw and 0 point to the loser).
If there is equality among the two teams, then the teams will be ranked according to their respective goal difference.
If the equality remains, a shoot-out competition will be played to establish the winner.
Where to Watch: Both of the U.S. Women's National Team's FIH Hockey Olympic Qualifier games against India will be live streamed on Bleacher Report (B/R) Live pay-per-view.

Fans can stream individual matches for $2.99 per game or subscribe to the B/R Live Monthly Pass to watch every FIH Hockey Olympic Qualifier for $9.99 per month. If the 2019 International Field Hockey Pass was purchased earlier in the year, access will be granted to stream all FIH Hockey Olympic Qualifiers.

USA's Roster:

#     Name                     Caps
1     Erin Matson                60
2    Lauren Moyer                 70
4     Danielle Grega                26
5    Casey Umstead            23
6    Virginia Bramley            2
8    Alyssa Parker                39
12    Amanda Magadan             75
13    Ashley Hoffman            66
14    Julia Young                52
16    Linnea Gonzales            26
17    Anna Dessoye                52
20     Ali Froede                89
24    Kathleen Sharkey (C)        174
26    Margaux Paolino            27
28    Caitlin Van Sickle            146
29    Alyssa Manley                122
30    Kealsie Robles (GK)            8
31    Kelsey Bing (GK)            20­

Head Coach: Janneke Schopman
Assistant Coaches: Larry Amar & David Williamson
Travel Manager: Maren Langford
Team Manager: Christa Miller

India's Roster:

#     Name                    Caps
1     Navjot Kaur                170
2    Gurjit Kaur                85
3     Deep Ekka                200
4    Monika                    148
6    Reena Khokhar            43
7    Sharmila Devi                7
8    Nikki Pradhan                102
11    Savita (GK)                200
13    Rajani Etimarpu (GK)        90
16    Vandana Katariya            238     
19    Namita Toppo                163
20    Lalremsiami                62
25    Navneet Kaur                77
27    Sushila Pukhrambam        179     
28    Rani (C)                    239
30    Salima Tete                27
31    Lilima Minz                153
32    Neha Goyal                73

Head Coach: Sjoerd Marijne
Team Manager: Wayne Lombard

USFHA media release


---

Can India upset USA?

K. Arumugam

Our women were a bit hard on luck unlike men's hockey team insofar as Olympic Qualifier draw is concerned. Indian women could have got either South Korea, Belgium or Canada but got the toughest rival in the Pot, the American ladies while the draw was held in the second week of September. Whereas Men's outfit got the lowest ranked team possible in the entire list of 8-14, the Russians. Rankwise, the States may be a rung or two below India right now but the recent history and form shows something different. USA poses tough challenge to India who lost the Asian Games final narrowly and thus had to undergo the current process. So be it. Past is past.

The question now in everybody who follows women's hockey, that is fraction of men's hockey followers in India, is whether Rani Rampal's team can overcome their formidable rivals.

Strengths of India is its two in-form goalkeepers. Savita Punia and If one doesnt go well, the coach Sojerd Marinje can easily replace with the other.

Secondly, being underdogs help India. For the team that has acquired the services of Psychologist not only to improve their communication and other skills but also to control emotions, this contest should not lead to anxiety or to be overambitious.

Thirdly, there are some excellent players in the team whose tenacity and fighting spirit are extrordinary. Lalremsiami, Neha Goyal, Deep Grace Ekka, Savita, Lilima Minz and captain-cool Rani Rampal fall in the category. Even if they can play upot 70 to 80 percent of their potential, the States will have tough time.

The fourth strength lies in India's ability to score through penalty corners. Gurjit Kaur is robust, her drags and the force with which it angled should come in handy for India. But will it undo the States' prowess in the same art is to be seen today and tomorrow. India has a bit extra in the department of penalty corner conversion. It goes to the credit of forward Rani Rampal. Her half-hit technique often proved to be a surprise element. If she gets her angle correct, she can create more danger to the rivals than what she used to do through direct manouveres.

On other side, the team has to overcome some factors which may turn out to be its Achilles' heels.

Foremost from this perspective is how will they going to respond to vociferous crowd. Will the crowd support will add to their game or divert their focus, and add to pressure to do extreme things. If so, India will be facing a disaster.

Seven years ago in Delhi Olympic Qualifier, a six-team tournament when only the league topper made it to London number, crowd could not get them a creditable win over South Africa. On better goal aggregate, South Africa walked away with London ticket.

Hockey India is to be blamed for their not-so-enthusiastic approach towards women's hockey. The girls did not play much on home soils, not to speak of hosting big events that would have given the morale booster.

This is not the case with respect to women

That they are playing for the first time in Bhubaneswar in itself state the obvious.

On the contrary, the States' girls have gone through the grind of Pro-League, and recently Pan AM Games.

If Rani Rampal's team can overcome these niceties, they will be in a for big company in Tokyo.

Stick2Hockey.com


---

Sunita Lakra is missed in this hour of need

K. Arumugam




Two days from now we will have only one thing to say about women's hockey. Its either 'We did despite missing Sunita Lakra' if India wins the OQ Test or 'We desparatetly needed Sunita and felt her asbsence' if the results go in favour of the visitors.

That is the significance of Sunita Lakra, women's team's mainstay defender. She has been guarding the Indian citadel for over a decade with ablomp. She is as cool as cucumber in pressure situation, and the way she nonchalantly ward off threats have been lessons in itself.

Star Sunita misses the Bhubaneswar test our women are undergoing as a panacea for their malfeance at Jakarta. At Jakarta Asian Games last year Indian girls narrowly missed the crown and thus forced to undergo the circuitous route to seek their place in Tokyo Olympics.

Women's team chief coach Sojerd Marinje is aware of Sunita's absence and what it amounts to the team's fortune.

"We remember her. She is injured. She underwent a knee operation. She is under rehabilitation. Its not easy for her to miss out this tournament, but she is strong a player" said Sojerd Marinje today when asked specifically about Sunita.

More than words, he seemed to have adopted a shrewd management strategy. Sojered brought in youngster Salima Tete while bringing back Namita Toppo, who was undergoing last phase of rehabilitation, to fortify the defence.

Salima, the junior India captain, is bold belying her age, and as is the wont of tribal girls which she is, is composure personified. But lacks experience though she has been a fixture in the whole year.

Namita is injury prone, perhaps her fragile frame doesn't help her carry the workload involved. Her return is welcome development, and adds strength to the defence. Gujit Kaur is still a defender in the making but positions her place with those deadly drags. Her defensive skills will be put to test against the States in the current challenge.

Sunita, who anchored many a victories, will be missed by the entire team.

Deep Grace Ekka is solid, possessed with untiring legs. Ekka is adequately experienced, but always functioned along side Sunita and now will be taking her mantle, of guiding the youngster.

Salima, like Sunita, was seen today practicing pushing ball from baseline for Rani to take her patented direct hits in penalty corner situation.

Namita appeared energetic and back to form if her play in the recent practice sessions are any indication.

Gurjit and Ekka have a job on hand today and tomorrow to lift India from the morass to which it has sunk

Stick2Hockey.com


---

Mission Tokyo — it's time for the reckoning

Women lock horns with USA

Uthra Ganesan



All the best! Rani Rampal and Kathleen Sharkey will hope to make the preparations over the last 12 months count. Photo Credit: BiswaranjanRout

Over the next two days, compatriots Sjoerd Marijne and Janneke Schopman (of the Netherlands) will be in opposing camps, trying to go one-up on each other at the Olympic Qualifiers here. The two are in charge of teams that have had contrasting Olympic histories.

And, on the field, Rani Rampal and Kathleen Sharkey will hope to make preparations over the last 12 months count. Sharkey at 29 is five years older, but in every other aspect the India skipper is far ahead.

Lynchpin

Rani has been part of India's ascent over the last decade, the lynchpin of its success, a leader since her junior days and the talisman that drives the side.

She also has 60 matches more under her belt. Most importantly, she leads a side that has been together for a long time. Unlike Sharkey, who is one of only three USA women here with over 100 caps.

Numbers favour USA (22-4). India last won an encounter between the two in July 2016, but has improved in every department including fitness. The last face-off was a draw.

"I have read about coaches who see the two as a single match but I don't. We will take it one by one. You can see from the result on Friday what you have to adjust and that works best for us," Marijne said on the eve of the first of the two games that would decide who gets a ticket to Tokyo 2020.

Schopman belongs to the other category. "It's like the first half is played on Friday and the second on Saturday. You just have to see how it goes," she shrugged.

It's the final step for both sides. "These two games are what we focused on and trained and waited for a whole year," Rani said.

Sharkey was unperturbed about the host crowd's reputation. "We played away in eight countries in the Pro League so I think we are prepared for that," she said.

The last time USA toured India, 18 years ago, it left without playing a game, citing security concerns. In 48 hours, India would be hoping to prove them wrong, both on and off the field.

The Hindu


---

Women face tough American challenge

Indervir Grewal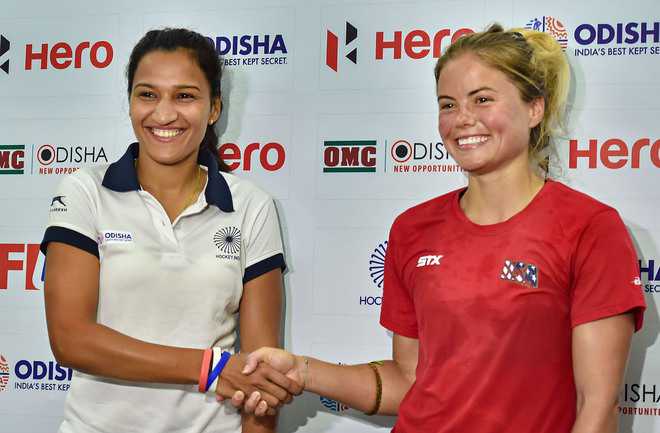 Indian captain Rani Rampal and USA captain Kathleen Sharkey shake hands on the eve of their match in Bhubaneswar. PTI

Unlike the men, the Indian women's hockey team doesn't have a rich history in the Olympics. The 2016 Rio Games was only their second appearance at the Olympics. They have not enjoyed the same support as the men, and the expectations from them have been low. That is why all through the qualifying process for the Olympics, the women's team has flown under the radar.

However, in almost every tournament they have played in the last two years, they have managed to surpass the expectations and raise the bar. They finished fourth at the Commonwealth Games and eighth at the World Cup; and despite all the attention on the men's team, they almost sealed an Olympics berth at the Asian Games, losing 1-2 in the final to Japan. India travelled to Japan in June with the objective of reaching the final of the FIH Series Finals. They ended up winning the tournament by beating Japan in the final. They beat Japan again in the final of the Olympics Test event in Tokyo.

A little luck

The women's progress in recent years reflects their hard work. But sometimes a developing team like India needs some luck as well to break new ground. When the draw for the qualifying matches was to be announced, it was the women who needed more luck than the men. Yet, while the men got Russia, the women were pitted against USA, former Olympics and World Cup bronze-medallists.
For the Indian fans, it could have turned out better, with teams such as Italy (world No. 17), Chile (No. 18) and Russia (No. 19) also in the mix. But for a neutral hockey fan, the match-up promises a great clash.

As close as it gets

USA has always been an underrated team in women's hockey. They are inconspicuous but never irrelevant. Though USA have had their ups and downs, they have been perpetual fighters. They have missed the World Cup only twice, and their best finishes have been third in 1994 and fourth in 2014. Their best at the Olympics was third in 1984 Los Angeles and fifth in 1996 and 2016. Twice (2011, 2015) they beat two-time World Cup winners Argentina to win the Pan American Games title.

Currently, though, not much separates India and USA. India have been on the rise, climbing to world No. 9. USA are going through a bit of a slump — from fifth rank in 2016, they have fallen to 13th. But rankings don't tell the complete story. The last time the two teams played each other — in the pool stage of last year's World Cup — the match ended at 1-1. Both teams finished with two points, and India went through to the knockouts based on a better goal difference. Just one goal separated the two teams. India finished eighth, while USA finished 14th.

One goal is all that could separate the two teams in the qualifiers. Both teams are defensively tight — India have made huge improvements in this area. USA's players have a stronger physical presence, but fitness-wise, India have caught up. All signs suggest a tight, physically exhausting battle in the offing, with goals hard to come; and there is a high probability of a shootout. The first game will be crucial — no team would want to find itself two goals down going into the second match.

With so little to choose between the two sides, it is not absurd to imagine that luck could play a big role in deciding the tie. India already have the upper hand, as hosts. For the women, this is a rare opportunity — having the crowd support. To be fair, though, it did take two years' hard work to rise through the rankings, helping India into the list of hosting nations. Now, for 120 minutes more, the Indian women need a mix of hard work and luck to get them through to the Tokyo 2020.

The Tribune


---

Black Sticks take on Korea as they look to book their place at Tokyo




The Vantage Black Sticks Men return to the Stratford turf this weekend, with a do-or-die/must-win FIH Olympic Qualification double-header against world #16 Korea. New Zealand finds itself in the qualification series after a tough Oceania Cup series loss to the world #1 Australian Kookaburras while Korea finished runners up in the Asia Cup to Japan – the team the Black Sticks just won a warmup series against 3-1 in October.

It will be the first time New Zealand have met Korea since before the 2016 Rio Olympic Games, where the teams played out a 2-0 series win in favour of the Kiwi side.

Darren Smith, the Vantage Black Sticks Coach, has named a vastly experienced side for the winner takes all series, with no less than seven players having pulled on the black jersey over 200 times. Recent international returnees Steve Edwards and Simon Child have been named in the side and will be looking to bring their previous Olympic Games experience to the side who will be desperate to punch the sides ticket through to the Tokyo Games.

The FIH Olympic Qualification series has already thrown up plenty of thrilling matches over the first weekend which saw the Netherlands, Spain and Canada book their place at the 2020 Games.

Darren Smith commented on the Korean side ahead of the series "They Koreans have been preparing for these games for over a year. They have several players returning who are proven internationals and over 2019 they have had success at the Azlan Shah tournament in Malaysia, the FIH World Series and in the test series that they have played. This is a dangerous team who will be highly motivated to get the Olympic ticket but so are we".

This will be the 12th time these two sides have met since 2012. During that period Korea has won three, New Zealand have won four and there have been four draws in what is shaping up to be an incredibly close series.

The Korean side have a lethal penalty corner bracket spearheaded by Yang Jihun who is no stranger to scoring against the New Zealand team. In the four matches that Yang has played the Kiwi side, he has found the net four times. Look for the New Zealand penalty corner runners to shut down his flicking lanes and attempting to nullify his opportunities.

Game 1: Vantage Black Sticks Men vs Korea at 3:00 pm this Saturday from the TET Multi Sports Centre in Stratford.

Game 2: Vantage Black Sticks Men vs Korea at 3:00 pm this Sunday from the TET Multi Sports Centre in Stratford.

Tickets are only $25 for adults and $5 for children and available at www.dashtickets.co.nz or at the gate.

Live Coverage of both games is on Spark Sport.
| | | | |
| --- | --- | --- | --- |
| Number | Name | Age | Caps |
| 2 | Cory Bennett | 28 | 100 |
| 4 | Dane Lett | 29 | 67 |
| 6 | Simon Child | 31 | 278 |
| 7 | Nick Ross | 29 | 120 |
| 11 | Jacob Smith | 28 | 77 |
| 12 | Sam Lane | 22 | 55 |
| 14 | Jared Panchia | 26 | 125 |
| 15 | George Enersen (GK) | 28 | 60 |
| 17 | Nic Woods | 24 | 120 |
| 21 | Kane Russell | 27 | 153 |
| 22 | Blair Tarrant © | 29 | 204 |
| 23 | Dylan Thomas | 23 | 19 |
| 24 | Arun Panchia | 30 | 283 |
| 25 | Shea McAleese | 35 | 302 |
| 27 | Stephen Jenness | 29 | 242 |
| 29 | Hugo Inglis | 28 | 230 |
| 33 | Steve Edwards | 33 | 207 |
| 34 | Leon Hayward (GK) | 29 | 2 |
Hockey New Zealand Media release


---

Meet the Irish women's hockey squad for the Olympic qualifiers

Johnny Watterson profiles Sean Dancer's 18-strong squad for the games against Canada



 
Ayeisha McFerran (Ulster)

The former Larne Grammar School pupil and current 23-year-old student was voted best goalkeeper in World Cup 2018. Plays for Dutch side Kampong.

Elizabeth Murphy (Leinster)

A new face in the squad and the first St Killian's past pupil to play for Ireland. Now with Dublin's Loreto, the 21-year-old goalkeeper has 10 caps.

Róisín Upton (Munster)

The Catholic Institute 25-year-old is a silver medallist from the 2018 World Cup.  A teacher, she is a graduate from the American collegiate system.

Nikki Evans (Leinster)

The 29-year-old former Alexandra College player works as a solicitor in Germany and plays hockey with UHC Hamburg. A silver medallist from the 2018 World Cup.

Katie Mullan (Ulster, capt)

The 25-year-old former camogie player from Ballymoney is another pushing towards 200 caps. A leader she captained the side to the World Cup final.

Shirley McCay (Ulster)

The full-time coach is sitting on 299 caps and is about to become the most capped female in Irish sport. The 31-year-old record maker plays club hockey with Pegasus.



Elena Tice has also played international cricket for Ireland. Photograph: Bryan Keane/Inpho

Elena Tice (Leinster)

A hockey and cricket international who holds more than 100 hockey caps. Plays in defence with UCD and incredibly a World Cup veteran at just 21.

Gillian Pinder (Leinster)

Former St Andrew's pupil and a student in Business and Law, the 27-year-old midfielder plays with Pembroke and is another World Cup silver medal winner.

Beth Barr (Ulster)

One of the new faces in the squad who spent some time at UCD. Now with Belfast Harlequins, the 24-year-old made her debut earlier this year. A twin sister to Serena.

Serena Barr (Ulster)

The other 24-year-old Barr twin, who also made her debut earlier this year against Chile. Formerly with UK side Beeston and now at Harlequins with her sister.

Chloe Watkins (Leinster)

The 27-year-old trainee accountant plays with Monkstown and has over 200 caps. Earned hardcore stripes scoring in the World Cup shootouts last year.

Lizzie Colvin (Ulster)

A Trinity law graduate, the 29-year-old Belfast Harlequins midfield player works in Belfast in employment law. Now in her 11th year as an Irish international.

Nicola Daly (Leinster)

The former High School pupil is a mechanical engineer and former senior Dublin footballer. Now 3, the Loreto player's other interests include F1.

Hannah Matthews (Leinster)

A national school teacher in Dublin, the 28-year-old plays her club hockey with Loreto. From a sporting family, her dad Phillip played rugby for Ireland.

Sarah Hawkshaw (Leinster)

The 23-year-old forward has a brother in Leinster rugby and a mum who played badminton for Ireland. She played underage Gaelic football for Dublin.



Anna O'Flanagan plays her club hockey in the Netherlands with Pinoke. Photograph: Bryan Keane/Inpho

Anna O'Flanagan (Leinster, vice-captain)

The 29-year-old solicitor is one of Ireland's pacy forwards with plenty of attitude and a cool head. Plays club hockey with the Dutch side Pinoke.

Zoe Wilson (Ulster)

Another World Cup veteran at just 22, the defender is one of the 100-plus cap players in the squad. She plays for club side Belfast Harlequins.

Deirdre Duke (Leinster)

The 27-year-old forward played football for Dublin and soccer for Ireland at age grade. A World Cup silver medallist, law is on hold until this Olympic thing is sorted.

Coach: Sean Dancer

Appointed in April when Graham Shaw left to coach New Zealand women, the former Australian Under 21 player was former assistant to New Zealand.

The Irish Times


---

Ireland captain Mullan hoping to 'create history'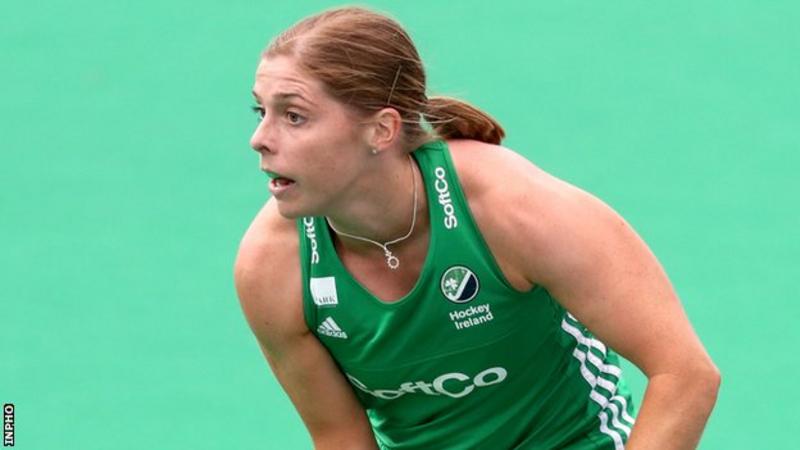 Katie Mullan captained Ireland to the World Cup final in the summer of 2018

Ireland women's hockey captain Katie Mullan says creating history by qualifying for the Tokyo 2020 Olympic Games would be "extremely special".

Ireland play Canada in a two-legged qualifier at Donnybrook this weekend.

"To be the first Irish female team to qualify for the Olympics in any sport, you want to create history like that.

"We've seen the influence our success at the World Cup last year has had on the sport and beyond that on female sport in Ireland," said Mullan.

Ireland fell agonisingly short of making the 2016 Rio Games but put together an incredible run to reach the World Cup final in July 2018.

Crowd can give Ireland 'extra boost'

The Ballymoney native believes the backing of a sizeable crowd in the region of 6,000 people at the Dublin venue on Saturday and Sunday evenings will help give the Ireland side the momentum they need to make history.

"We want to back up what we did last summer and one thing that we all felt came out of the World Cup was we felt we had an extra player on the pitch because of the crowd and the sea of green around the stadium.

"We know we're going to have that this weekend with the number of people who have bought tickets to come and watch us.

"We don't see that as an extra added pressure - we see that as a calming thing, something that gives us an extra boost."

Mullan admits that there has been a "nervous energy" in the Ireland camp in the week leading up to the matches but again thinks that can be used to the squad's advantage.

"It's about managing that and leaning on each other to manage that. It brings us that wee bit closer together - that's the special thing about this group of players," explained the 25-year-old forward.

"We must stick to our plan that Sean [Dancer, Ireland coach] has put in place and execute the tactics he wants to play.

"We will also be leaning on all our past experiences - relying on what we have done in the past and how that can stand to us, picking up on the lessons we have learned along the way.

"We have a very experienced team, the average number of caps in our team is quite high."

'We have to forget what we're playing for a little bit'

Shirley McCay will reach a special milestone on Saturday when she wins her 300th cap for Ireland but Mullan says the younger players in the squad also have a big part to play if the squad is to progress to Tokyo.

"It will be a special day for Shirley but she is more than aware that's not the big reason we are playing this weekend. She has said that herself.

"The younger players who have earned their places in the team will bring a new level of excitement and something different to the squad.

"It's 120 minutes of hockey and we have to forget what we're playing for a little bit and go out and trust in our training and the processes we have put in place - just play hockey, play with freedom and enjoy it."

BBC Sport


---

Do-or-die weekend for Ireland hockey

Women's team bid to seal their Olympic dream when they take on Canada

Joanne O'Riordan



Shirley McCay: set to make a landmark 300th appearance for Ireland when they take on Canada in a bid to qualify for the Olympics. Photograph: Joe Toth/Inpho

Hockey remains high-profile next weekend as crucial Olympic qualifiers beckon for Ireland.

The men's team were unsuccessful in pretty egregious circumstances last weekend – with no thanks given to the video referees.

Careers were finished, tears were shed, but Hockey Ireland's disappointment must soon dissipate, as the women's team are looking to right their own wrong from four years ago.

While the Canadian men and video referees broke Irish hearts over the weekend in a sport we are only coming to terms with now, Donnybrook is the place to be for the weekend, as Ireland women's team take on Canada over a two-legged series on Saturday and Sunday.

After a stellar year from an Irish perspective, which saw the team pick up a World silver medal in London in 2018, Ireland and Canada have both got their own trials and tribulations. From heartache in Valencia to Canadian financial struggles, this contest isn't just a battle for the Olympics.

It's a competition that'll erase the heartbreak and turbulence of 2015, earn respect for women's teams in both nations and add one name to hockey history books.

In 2015, despite beating the highly-ranked USA and South Africa in their pool, Ireland seemed destined for some success and set to write their name in the history books as this country's first ever hockey team to appear at an Olympics. In Valencia, however, they were not as fortuitous as their hard work might have suggested.

We all remember it. Ireland failed to score from 12 penalty corners, and on their 13th they were unable to take the lead after the referee overruled the original goal from Megan Frazier after it hit a foot along the way.

Despite Ireland getting another penalty corner with just over a minute remaining, they could not make it count, and penalties soon followed as well as sudden death. Unfortunately, it was Anna O' Flanagan who failed to convert hers and Ireland were left ruing the day. The famine would continue as no Irish sports team had made an Olympics since 1948.

But in 2019, that could all change. Although the women will not look towards the men for inspiration, their coach Sean Dancer is using the game to cover as many what-ifs as possible. Fail to prepare and all that.

Top table

But Irish hockey, especially women's, is entering uncharted waters. A pitch has been put in specifically for these qualifiers in Donnybrook to capitalise on the fans' momentum surrounding the team, and both stands are currently sold out, with just terrace tickets remaining. Irish hockey is usually entering games under the radar, both at home and abroad, and always ranked further down the radar than their rival sports.

But, after a successful and unprecedented year that saw them go from outsiders to being right up there with the best, the women's team knows what they are capable of and what is necessary to sit at the top table again.

So, this weekend they face Canada in Energia Park in Donnybrook.

Canadian field hockey is no stranger to crazy set-ups and disruptions either.

After losing their funding through the Own the Podium fund and given how badly stricken the national organisation are for cash, Canada had $82,000 online crowdfunded campaign to allow the women's team to travel for the World Leagues in Spain, where Canada placed second, thus setting up this mouth-watering clash in Dublin.

After record-setting years where they finished fifth at the Commonwealth Games in Australia in 2018 and beating nine teams who were ranked higher than them, Field Hockey Canada had to restructure their contract with South African coach Giles Bonnet as financial constraints meant the women's team were hit the hardest.

Canada failed to beat Argentina in the Pan-Am finals, and the coach is technically out of contract but has decided to stay on until the Dublin qualifiers are over. If Canada do qualify, they may have to pay their own coach to go to Tokyo if things in Field Hockey Canada do not change.

Despite Field Hockey Canada and West Vancouver Hockey Club coming to an agreement on the men's home now being in Vancouver, the women's team are still left out in the cold in Victoria. Through private donors and campaigns, Canada have made it this far.

So, this weekend is do-or-die in some cases. Ireland are still struggling for better standards and are riding a wave of media and fan frenzy at the moment, while Canada desperately need a victory to prove their worth to an organisation that does not appear to respect them.

As Ireland's most-capped sportswoman, Shirley McCay is set to make a landmark 300th appearance for her country in front of the home crowd on Saturday night. The stakes could not be higher.

The Irish Times


---

Canada aim to make Tokyo on no funding

By The Hockey Paper



Canada have gelled having played and trained together PIC: Field Hockey Canada

Nine months after they were dealt a blow of Olympic-size proportions, Canada women are two matches away from realising their Tokyo dream.

Back in February, Team Canada, then ranked world No 21, were told that they would have to self-fund after being stripped of their Own the Podium funding heading into Olympic qualification due to a shortfall in finances.

"That to us was quite shocking, as you can imagine," captain Katie Wright said earlier this year.

"We've been trying to work with Field Hockey Canada to get on the same page, but unfortunately we're struggling with that. As a team we've become self-sufficient."

So, what did they do? They rallied, crowdfunded and upped sticks to Europe as a team.

They are now ranked world No.15 and Ireland, seeking to reach their first Olympics, will see this match at their temporary pop-up facility as no walkover.

Canada, who last reached the women's Olympics in 1992, finished fifth at the Commonwealth Games and were runners-up behind Argentina at the recent Pan Am Games in Peru.

Their South African coach Giles Bonnet had his contract terminated soon after the funding news, but will see through these qualification matches.

Now, he admitted in Peru, Canada are receiving calls for teams to play them.

Their decision to move to Belgium, where most of the players are now with clubs, means that they are training together and playing against some of the world's best at the weekends.

Canada had received £1.3 million during the Rio Olympic cycle when they were based back home.

This year they have amassed over £120,000 in funding as well as a private donor paying for tournament preparations earlier this summer.

"It's a fantastic group," said Bonnet, who is based in Amsterdam.

"I think the potential of this team is quite remarkable. We want to be the best. I think this team could ultimately, over four years, it could go all the way. It could be a top four (team) in the world."

This article was brought to you by The Hockey Paper, on-sale regularly via subscription in print or digital



The Hockey Paper


---

HRH Tuanku Zara - Invitational International Women's Indoor Hockey 2019
Ipoh (MAS)

Results

31 Oct 2019 16:30     UZB v PHI (RR)     5 - 0 (1 - 0)
31 Oct 2019 18:00     TPE v NEP (RR)     6 - 1 (2 - 1)

1 Nov 2019 09:00     UZB v NEP (RR)     6 - 0 (4 - 0)
1 Nov 2019 10:30     MAS v PHI (RR)     12 - 0 (7 - 0)
1 Nov 2019 16:30     NEP v PHI (RR)
1 Nov 2019 18:00     TPE v MAS (RR)

Pool standing
---

Sikh seek late magic in relegation battle



Jacktone Simiyu of Parklands Sports Club (right) vies for the ball with Haggai Sikhila of Sikh Union during their Kenya Hockey Union men's Premier League match at City Park Stadium on May 4, 2019. PHOTO | SILA KIPLAGAT |  NATION MEDIA GROUP

Sikh Union face an uncertain future in the Kenya Hockey Union men's Premier League after throwing a two-goal lead to draw 3-3 with Kenya Police in a mid-week clash at the City Park Stadium.

Sikh led 1-0, 2-1, 3-1 before a late surge from the law enforcers left them pegged second from bottom with nine points from 14 matches.

Peter Njoroge (21), Francis Esikuru (37) and Shabaz Ali (48) scored for Sikh, while Moses Cheplaiti (24) and Samson Kibirir scored a brace in the 53rd and 54th minutes for Police.

The cloud of relegation is weighing heavily on the shoulders of Parklands, who are placed bottom with seven points from 13 matches and Strathmore University who are third from bottom with 10 points from 13 matches.

Sikh captain Haggai Sikhila admitted the pressure to remain in the top tier was on their shoulders.

"We are doing everything possible to evade the cut when the season comes to an end. Going forward, with four matches to play we need to be clinical in front of goal," Sikhila said.

"In the match against Police, we had many chances but we never punished them and that's something that we need to work on knowing very well the situation we are in currently," added Sikhila.

GAP

Sikh will play Sailors, Strathmore, Western Jaguars and Greensharks in their last four matches.

Police failed to close gap on the top three teams.

With Wednesday result, Police remain fourth with 22 points from 13 matches, one shy of Greensharks although they have one match in hand.

Butali and Wazalendo occupy the first and second positions respectively with 36 and 29 points from 14 matches.

Police captain Oliver Echenje said although they had wanted a win, a point was not bad considering they came from behind to force a draw.

Daily Nation


---

From club team to Maryland field hockey, Madison Maguire and Kelee Lepage keep clicking

David Suggs



Forward Madison Maguire looks on during Maryland field hockey's 5-1 win over Michigan State on Oct. 25, 2019. (Gabby Baniqued/The Diamondback)

With Maryland field hockey and American knotted at zero in the fourth quarter, forward Madison Maguire nestled just outside the goalmouth in search of a breakthrough. She hoped to flick speculative efforts toward goalkeeper Fiona Minter, who had been largely untested up to that point in the defensive clash.

Midfielder Kelee Lepage took matters into her own hands, though, corralling a quick feed from midfielder Emma DeBerdine before rocketing a strike into the bottom-left corner.

As the ball rattled the cage's backboard, Lepage sprawled out on the ground, having taken an awkward fall after shooting. Maguire rushed to her teammate's side, lifting Lepage up while closely inspecting her gait as they walked back to their positions in the eventual 1-0 win.

Maguire and Lepage have developed a tight bond — one forged on a practice field in Pottstown, Pennsylvania for their club team — that has remained throughout their four seasons in College Park. And their chemistry has been central to much of the Terps' success this season, especially in the attacking third.

"[We've played together] since the sophomore year of high school," Maguire said. "On the field, we just know where each other is going to go."

The two have served as stalwarts in Maryland's lineup, combining for 45 goals and 47 assists over the course of their four seasons.

But their histories extend beyond the walls of the Field Hockey and Lacrosse Complex, with Maguire and Lepage first linking up in high school through X-Calibur, a prestigious club team known for producing Division I talent.

And the relationship remained as Maguire and Lepage swapped the violet and white of X-Calibur's jerseys for the Terps' red, black and gold, Maguire says — even after Lepage traveled to Germany last spring to learn about the European game.

Lepage has impressed since her return to Maryland, matching her goal tally from last season in six fewer games.

"She's outstanding," coach Missy Meharg said earlier in the season, "being able to go abroad and spend that time, and just learn the game in a different setting, in a different culture … she's very exciting."

Maguire's role in the Terps' offense has expanded, too, and she's counted on to be one of the primary goal scorers in the squad.

She's met the challenge head-on, notching 12 goals so far — nearly double her tally from last year.

The two seniors credit much of their success to each other, believing their close-knit relationship on and off the pitch has helped foster an innate understanding of each other's positioning.

"We've played with each other for so long that we know what's going to happen," Maguire said. "Where Kelee's going to bring the ball, where I'm going to bring the ball — [we go] off that."

Three of Lepage's six assists this season have been to Maguire — an indication of just how effective their partnership has proven to be this season.

On Friday against Michigan State, Maguire — hunting for a final goal to secure a Senior Day hat trick — drove in front of the net, desperately waiting for a chance to fall to her.

And as soon as Maguire flashed across the shooting circle, Lepage slipped the ball through the Spartans' backline to find her. She made no mistake with the finish, whipping the ball into the bottom-right corner to secure her first three-goal game since 2017.

The Terps have struggled at times as the season has come to a close — particularly in their Oct. 18 defeat to then-No. 9 Michigan and against the Eagles on Tuesday, where they mustered two shots in the first three quarters.

But with Maguire and Lepage's partnership flourishing, the rest of Meharg's squad will fill with confidence as it prepares for the Big Ten tournament.

"We're able to connect so well just because we've had that on- and off-field connection for so long," Lepage said. "[It] just motivat[es] the rest of the team around us."

The Diamondback


---

No. 11 Northwestern prepares to honor its seniors in final regular season contest vs. Indiana

Gabriela Carroll



Lily Gandhi stares at her opponents on the field. The senior defender will play in her final home game on Friday. Photo by Alison Albelda

Northwestern needs to gain as much momentum as possible heading into the Big Ten Tournament.

The No. 11 Wildcats will have that opportunity when they face off against Indiana on Friday in their last regular season game. The Hoosiers (5-11, 1-6 Big Ten) are coming off a win at Central Michigan, though they're having a difficult season. They lost eight straight games prior and won just one Big Ten game this season against Michigan State, the last-place team.

Indiana's struggles are a result of the overall strength of the Big Ten. There are currently six teams in the Big Ten ranked in the top 25, and only seven teams qualify for the Big Ten Tournament. If the Hoosiers lose this weekend, they won't make the postseason, as they are currently in eighth place. NU can expect a motivated team playing to keep their season alive.

NU (12-6, 4-3) needs to win this game to stay in the top half of the Big Ten standings, and the Hoosiers provide the Cats with a perfect opportunity to make that happen. Indiana only averages 1.63 goals per game and on average allows 3.56. The Cats average three goals per game and allow 1.61, almost the exact inverse of the Hoosiers.

Unfortunately, the Cats' fate doesn't just depend on a win Friday. NU also needs to keep an eye on Michigan vs. Iowa and Rutgers vs. Penn State.

If Iowa beats Michigan, the Cats will jump to third place with a win Friday. Then they would avoid being in the same half of the bracket as No. 2 Maryland and get an opportunity for a revenge game against No. 9 Iowa. If Penn State beats Rutgers, NU will fall to fifth with a loss Friday.

But on their senior day, the Cats have so much more to play for than just Big Ten Tournament seeding.

"This game is huge, and I'm so motivated," senior defender Lily Gandhi said. "I'm always motivated throughout the game, but this being our last game at home is especially motivating."

Gandhi said she most treasured her off-field memories with her teammates, like getting ice cream at Penn State. Luckily, she'll have an extra opportunity to do so with the Big Ten Tournament there next week.

"I'm so grateful for all of the friends and the good times that my year has had at Northwestern," Gandhi said. "It's sad that everything's coming to an end, but it's nice to see how everyone has grown into themselves."

Coach Tracey Fuchs said NU has seven graduating seniors this year and one redshirt junior, Lakin Barry, who will be staying for her final season next year. Fuchs believes having so much senior leadership will be extremely beneficial for the team as they enter the postseason.

The seniors provide a steady presence that keeps the team focused on their goals, she said. Coming into the postseason, where every game is a must-win, the Cats need that focus to be successful.

"They're all over the map, from their majors to their skills on the field," Fuchs said. "They bring a lot of different types of leadership — we call it pop-up leadership. They all bring something different to the table."

Daily Northwestern