All the news for Friday 27 September 2019

India men's hockey team beats Belgium 2-0 in first Test



File Photo: Mandeep Singh (extreme right) opened the scoring for India against Belgium in the 49th minute - Getty Images

Mandeep Singh and Akashdeep Singh scored in the second half to help Indian men's hockey team to a 2-0 win over an experimental Belgium side in the opening game of the three-match Test series at Antwerp on Thursday.

In a gritty first quarter, India took the initiative early, forcing the Red Lions' goalkeeper Loic van Doren into a save from the first penalty corner of the game.

Soon it was India's turn to defend and Krishan Pathak, who started the game in the goal was up to the task, pulling off a smart save off a Belgium penalty corner to ensure the teams went into the break locked in a stalemate.

India rushed off the blocks in the second quarter and won a succession of corners within the first minute of the second quarter, but was unable to convert.

Belgium, fielding four debutants in its lineup, made the experienced Indian forwards work hard for the opener. Despite controlling a large amount of possession, India found it difficult to find a breakthrough as the teams went goalless into half-time.

India kept the tempo up in the third period and forced van Doren into multiple saves. All the circle entries and creative play finally found it's reward in the 39th minute as Mandeep scored to give it the lead. It was this narrow lead it carried into the final quarter.

Belgium was forced in the attack in the final quarter and almost immediately tested Sreejesh in goal. However, the veteran keeper was up to the task pulling off a succession of saves to keep his team in the lead.

India capitalised on Belgium's attacking necessity and won two PCs but Van Doren pulled off excellent saves to keep the second goal out. In the 54th minute, Akashdeep Singh finished off a slick move to double India's lead and seal a win as the visitor took a 1-0 lead in the three-match series.

India will next take on Spain on Saturday at Antwerp, which will being at 7.30 pm (IST).

Sportstar


---

2019 Test match IRL v CHN
Dublin (IRL)

22 Sep 2019     IRL v CHN     4 - 2
26 Sep 2019     IRL v CHN     1 - 0   

FIH Match Centre


---

2019 Test matches USA v CAN - 2nd Test
Lancaster (USA)

26 Sep 2019     USA v CAN     3 - 1

FIH Match Centre


---

Consistency is what separates the wheat from the chaff, says skipper Sukri

By T. AVINESHWARAN




PETALING JAYA: National hockey captain Mohd Sukri Mutalib (pic) wants his team to be consistent as they prepare for the two-leg Olympic playoffs against Britain from Nov 2-3.

"What sets the higher and lower ranked teams apart is their consistency, " said Sukri.

"Teams like Belgium, Holland and Australia believe in their system and they are consistent in the international stages.

"If we get two or three wins on the trot, the boys must tell themselves to maintain it. We cannot win two and then lose three. It's pointless.

"We only have a month left before the qualifiers. It's now or never for us. The boys will have to find the consistency. We've to adapt to our coach Roelant Oltmans' tactics to avoid defeats."

The Malaysian hockey team are in Jincheon for a four-match Test series against South Korea, and they've notched a 2-1 win in the first match, held 2-2 in the second and yesterday, they lost 2-0.

Sukri is unhappy with the team's performance.

"We've been instructed to go for field goals, but our conversion rate has been poor, " said the 33-year-old midfielder.

"We had so many chances but we continue to miss the target. We've to analyse our game. We can't be relying on penalty corners all the time.

"Our forwards (Tengku Ahmad Tajuddin Tengku Abd Jalil, Faizal Saari, Norsyafiq Sumantri, Mohd Shahril Saabah and Mohd Noor Firdaus Rosdi) are experienced, so they should know what needs to be done to rectify the situation."

Malaysia will wrap up the Test series today and play two matches against Dutch clubs in Holland next month.

The Star of Malaysia


---

Field Hockey Canada is hosting a two-game Olympic qualifier in West Vancouver on October 26 & 27, 2019




There is no precedent for this type of qualifier in international field hockey history. Two games over a weekend, aggregate winner moves on to the 2020 Olympic Games. As if that wasn't exciting enough, these matches will be taking place on home soil in West Vancouver, BC.

The Men's National Team earned their spot in the Olympic Qualifier series by winning the Hockey Series Finals in Kuala Lumpur in April. They defeated host-nation Malaysia in a thrilling championship game securing their spot in the final stage. Their opponent, Ireland booked their spot in the qualifiers by coming second at their respective Hockey Series Final tournament in France in June.

Canada is a veteran side coming off 2016 Olympic and 2018 FIH World Cup appearances. Their recent success at the FIH Hockey Series and the 2019 Pan American Games has put them on track to peak at home at the end of October.

According to Head Coach Paul Bundy, the team will spend the next month addressing gaps and weaknesses they've identified to make them as prepared as possible.

"We're going to focus on us," he said. "We're very excited to play these games at home and feel we can use the energy and the crowd to our advantage."

Scott Tupper, captain of Team Canada, and most recently, the national flag bearer at the 2019 Pan American Games, said this type of opportunity doesn't come around often and that Team Canada is going to be ready to seize it.

"We're going to have our work cut for us with Ireland. I imagine these will be very tight and intense games," Tupper said. "With this unique format, every goal and every moment is so important."

The venue, Rutledge Field in West Vancouver, is a world class turf in a truly remarkable setting. Shadowed by the Coast Mountains and looking out over Howe Sound, Rutledge Field is a breathtaking location for the upcoming drama.

According to Tupper, the venue's intimate atmosphere will add a sense of excitement and fitting for the situation.

"It will probably be a little more like a club atmosphere, where you have fans right tight to the pitch," he said. "They're almost right beside you when you are taking a sideline free-hit. It will be a really good atmosphere and enjoyable to play in."

Both Ireland and Canada took part in the Rio Games in 2016. Now, only one of them is going back to the big stage. The Olympic hockey competition is the one of the most significant tournaments in the global field hockey community and an opportunity to represent Canada at the Olympics is something that both Tupper and Bundy strive for when leading this Canadian team.

"This is why we play," Bundy continued. "We have an Olympic legacy and we can't wait to take this opportunity to continue it."

Canada hasn't qualified for back-to-back Olympic Games since 1984 and 1988. For Tupper, a chance to get back to the sport's biggest stage would mean a lot to him and his teammates.

"The Olympics has the special cache to it. To be able to get back right away would be very special for us," he said. "It would mean the world to our team and we're super hopeful we can do it."



Rutledge By Drone




"The venue, Rutledge Field in West Vancouver, is a world class turf in a truly remarkable setting. Shadowed by the Coast Mountains and looking out over Howe Sound, Rutledge Field is a breathtaking location for the upcoming drama."

Field Hockey Canada media release


---

Hockey Ireland Announce Men's Squad for Ireland V France Series ahead of FIH Olympic Qualifier




The Irish Men's Hockey squad will travel to France this weekend to take on France in a two match test series ahead of their FIH Olympic Qualifier against Canada in October. The squad was unveiled this morning and will play France on Tuesday the 1st at 18:00 local time and Wednesday the 2nd at 17:30 local time.

The two-match series against the world ranked number 12 side will provide a good opportunity for the Irish squad to mimic the back to back nature of the Olympic Qualifier at the end of October.

The squad selected is as follows:

D Harte
D Fitzgerald
L Cole
J Bell
C Harte
L Madeley
T Cross
S Loughrey
J Jackson
S Murray
S O'Donoghue
C Cargo
M Robson
D Walsh
E Magee
B Walker
P Caruth
J Duncan
M Nelson
J McKee

Speaking on the squad selection Head Coach, Mark Tumilty, said, "This is a very important phase in our preparation for the Canada games. I was very pleased with the Dublin camp this week and will look to build on this during our time together in France".

The Men will also play Belgium later in October in their final preparations for the FIH Olympic Qualifier in Vancouver.

Irish Hockey Association media release


---

Tumilty makes several changes as Caruth and McKee return



Peter Caruth will make his international return after 16 months break. Pic: Adrian Boehm

Mark Tumilty has made several changes to the Irish men's squad for their two-match series with France next week, his first games in charge since taking on the coaching reins for the Olympic qualifying campaign.

Crucially, the squad looks to have a more attacking outlook with Peter Caruth and Jonny McKee getting their first inclusions since July 2018 while Matthew Nelson is brought back into the fold for games against France next Tuesday and Wednesday.

Chris Cargo returns having missed the summer schedule due to work commitments; Luke Madeley is back from a foot injury that ruled him out of August's Europeans.

The other two incoming players are goalkeepers David Harte and Dave Fitzgerald, the former another who was injured for the Euros, replacing Jamie Carr and Mark Ingram.

The players left out this time, meanwhile, all feature further back in the field. Defender Paul Gleghorne and midfielders Kirk Shimmins and Stephen Cole are all left out this time while Matthew Bell is unavailable.

Tumilty's switches look set to potentially allow the likes of Michael Robson and Sean Murray move back into midfield roles having been deployed as utility forwards under former coach Alexander Cox.

The series against France is part of preparations for the Tokyo qualifiers which take place on October 26th and 27th in West Vancouver against Canada.

The matches against France are timed to mimic the back-to-back nature of the qualifiers. They will be played on Tuesday at 6pm (local time) and on Wednesday at 5.30pm.

Speaking about the selection, Tumilty said: "This is a very important phase in our preparation for the Canada games. I was very pleased with the Dublin camp this week and will look to build on this during our time together in France."

Irish men's squad for series with France (October 1st and 2nd): D Harte (SV Kampong), D Fitzgerald (Monkstown), L Cole (Royal Oree), J Bell (Lisnagarvey), C Harte (Racing Club de Bruxelles), L Madeley (KHC Leuven), T Cross (Tilburg), S Loughrey (Reading), J Jackson (Bath Buccaneers), S Murray (HC Rotterdam), S O'Donoghue (KHC Dragons), C Cargo (Hampstead & Westminster), M Robson (Crefelder HTC), D Walsh (KHC Leuven), E Magee (Banbridge), B Walker (Three Rock Rovers), P Caruth (Corinthian), J Duncan (Royal Oree), M Nelson (Crefelder HTC), J McKee (Banbridge)

The Hook


---

Nine Ulster players named in Mark Tumilty's first squad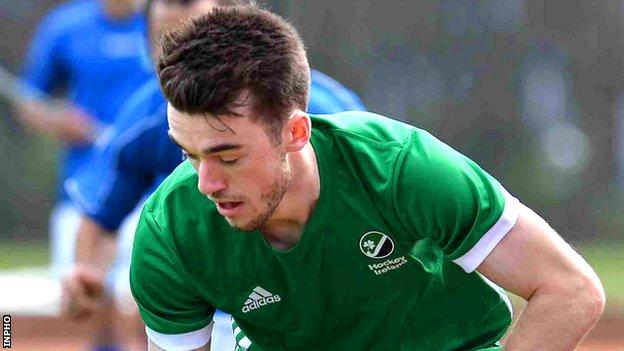 Johnny McKee is one of nine Ulster players named in Mark Tumilty's Ireland squad

Mark Tumilty has named nine Ulster players in his first squad since being appointed Ireland men's team manager.

Ireland will face France in a two-match series on October 1 and 2 before taking on Canada in their Olympic qualifier on 25 October and 3 November.

Johnny McKee has earned a recall, while Chris Cargo is in line for his first appearance since last year's World Cup.

"This is a very important phase in our preparation for Canada," said Tumilty, who was appointed on 14 September.

"I was very pleased with the Dublin camp this week and will look to build on this during our time together in France."

Cargo, McKee, Jonny Bell, John Jackson, Sean Murray, Michael Robson, Eugene Magee, Peter Caruth and Matthew Nelson make up the nine-strong Ulster contingent.

Caruth is set to feature for the first time since July 2018.

Paul Gleghorne, Kirk Shimmins, Stephen Cole, and goalkeepers Jamie Carr and Mark Ingram are among those to miss out on selection.

BBC Sport


---

Janssen developing into crucial cog in Kampong's young contenders




Jip Janssen is looking forward to an ever-increasing level of responsibility in the SV Kampong as they return to Barcelona for the first time since the Utrecht club's famous 2016 EHL GRAND FINAL victory.

Back then, Janssen – now 21 – was still a teenager and was an unused sub in the final and appeared for the last 15 minutes of the semi-final 5-1 win against Atletic Terrassa.

Now, he is a powerful part of the team's back line and has played 23 times for the Dutch national selection in 2019 in addition to his club commitments.

Looking back on his development since 2016, the powerful defender admits it has been a rapid rise as he looks forward to their EHL KO16 date with HC Minsk at the Pau Negre Stadium.

"Since I was very new in the team, I did not play a lot of minutes," Janssen told the EHL website. "I was still in the Under-19s so sometimes Aal [coach Alexander Cox] let me play a few minutes.



The Kampong 2019/20 season. Pic: Koen Suyk

"I remember I was sitting on the bench in the semi-finals almost the whole match. In the third quarter, Aal told me that I could play. The Kampong fans began to shout my name. It was an amazing feeling.

"Four minutes later, the ref sent me off with a yellow card for pushing. Being a bit too eager! That is a funny story that I will never forget so I am very excited to be back for the EHL in Barcelona this October!

"I most certainly have a bigger role now than I had back then. I think I can help the team with my drag-flick and my defending discipline, but we still have guys like David Harte, Sander de Wijn, Robert Kemperman and Bjorn Kellerman who make the important tactical decisions. I do think that it is a role that I can grow into in the coming years."

Janssen is among a large group of big Dutch talents at the club like Silas Lageman, Boet Phijffer, Koen Visser, Bram van Battum and Derk de Vilder. Most recently, Terrance Pieters (22) and Jonas de Geus (21) have switched to the club from Almere and Janssen feels the club is a great place to develop young talent.

He joined from Naarden where he played up until the age of 15. There, he was playing for the club's Under-16s but also their Under-18s as well as the adult first team.

"This meant sometimes I had to play three games in one weekend. I did all this because I wanted to become a better player, but three games in one weekend was a bit too much.

"That is why I decided to join Kampong. Kampong was the best club around.  This club is known for its talent development, that is what I liked about it."

He says Pieters and de Geus – "two big Dutch talents" – have settled in perfectly with the club, helping them to two wins and a lively 2-2 draw against HC Bloemendaal.



Jip Janssen tackles Herakles' Nico de Kerpel in the 2018 EHL FINAL4. Pic:©: Frank Uijlenbroek / World Sport Pics

It is why Janssen is happy to be back in the club environment after such a busy year for club and country.

"Indeed, it has been a long, busy and turbulent year for me. On the other hand, when the holidays were over, I could not wait to get back on the field with all my kampong friends.

"The start of the season has been good and I think we can accomplish great things with this team. It is a close team with only dutch guys and a good mix of experienced players and young talent. The only 'foreigner' is David Harte, but he speaks dutch perfectly!"

Euro Hockey League media release


---

Revolutionary league set to take Australian hockey by storm




Hockey One is Australia Hockey's new competition aiming to showcase the sport and its top players.

Seven new teams have been formed, with a men's and women's team competing under each team name. The competition replaces the former Australian Hockey League.

The format of Hockey One is revolutionary as it features a 49-day season, from 29 September to 16 November, with 21 double-header home and away events, plus finals. With Australia being such a huge geographical area, organisers of the event have been careful to ensure that people across the country can see live hockey, with matches being held in Perth, Melbourne, Adelaide, Canberra, Hobart, Brisbane and Sydney.

The games are also being screened live on Kayo Sports, with the finals being shown on Fox Sports.

Hockey Australia has secured a sponsor in the form of Sultana Bran, with the company name appearing on all shirts and the event being known as Sultana Bran Hockey One League.

For Anna Flanagan, FIH Young Player of the Year in 2013, who quit international hockey in 2018, the new league is a chance for her to reignite her passion for the game. The defender is one of the stars of the Canberra Chill team. In conversation with the Canberra Times, she said: "I think our Canberra line-up is awesome. I'm not ready to be a social player yet because I feel so competitive. It excites me that I can play for Canberra. This is where I really want to be at this moment: at that competitive levels with no pressure and being able to have a lot of fun."

Brent Livermore is Head Coach to NSW Pride. He told the Champion Post: "The team we've selected is very strong, we've been working hard since early in the year to make sure we are ready for the season. I'm looking forward to everything getting underway and putting our preparation into action."

Chief executive of Hockey Australia, Matt Favier, says: "The main ambition of the new league is to take the game to Australian fans and to raise awareness across the broader sporting audience.

"This project has been over two years in the making and we anticipate that the league will provide our high performance players, including developing and emerging players, with a high quality domestic competition to play in annually. The league will serve as the domestic showpiece for hockey in Australia and will also serve as the main selection event for players to the national squad.

"We are seeking to connect all of our younger players up with teams from their area and to grow the fan base through the league.

"While it is still early days, the response has been extremely positive."

The teams participating in Hockey One are: Adelaide Fire, Brisbane Blaze, Canberra Chill, Hockey Club Melbourne, NSW Pride, Perth Thundersticks and Tassie Tigers.

#HockeyOne

FIH site


---

Shahrun wants to find cure for heartbreak this year




PETALING JAYA: Terengganu captain Mohd Shahrun Nabil Abdullah (pic) has had enough of heartbreaks in the Razak Cup.

After losing in two finals in 2017 and 2018, the experienced Shahrun wants to get it right by winning the title this year.

"I still remember those defeats well. We were so close to winning, but luck deserted us, " said the 34-year-old.

In those two finals, the team led by coach Wan Mohd Roslan Wan Abdul Rahman lost to Perak 2-3 in 2017 and lost via penalty shoot-out 3-1 after being held 2-2 in regulation time in 2018. They last won the Cup in 2016.

Terengganu need to beat Johor in the semi-finals today at the National Hockey Stadium in Bukit Jalil, and Shahrun knows the task ahead is not easy.

"Our team need to work as a unit to realise our goal to be the champions, " said Shahrun.

Terengganu's path is easier following the defeat of defending champions Perak in the group stage.

"People think we have a better chance after Perak were booted out, but we cannot underestimate the other semi-finalists. They look hungry too, " he said.

"We've only gathered for a week before the tournament. During the group stages, we won two matches and lost one.

"The absence of seven national players have affected us, but the youngsters have shown that they can play at this level too. It's good exposure for them."

Shahrun is looking forward to facing his former national coach Sarjit Singh, who is determined to lead Johor into the final.

"I worked with him in the national team, and he is good coach. Johor may not boast any national players in their team, but the presence of Sarjit is a plus for them, " he said.

"The encounter between Terengganu and Johor will be good, but I want my team to be in the final."

The Star of Malaysia


---

Weekend College Games




USA Field Hockey's weekly feature of highlighting some of the top college games in Division I, II and III is back for the 2019 season.

THURSDAY, SEPTEMBER 26

DI: Penn State vs. California | 6:30 p.m. ET

Meeting at a neutral site, Penn State will battle California on Thursday at 6:30 p.m. ET at Spooky Nook Sports in Lancaster, Pa. Penn State is looking for their first win of the season after playing all top-25 opponents so far in their first six games. In the last meeting between these two teams in 2017, the Nittany Lions topped California 2-1. The Bears have also packed their schedule with tough match-ups, with their sole win coming against Quinnipiac in their home opener. They will work to start their east-coast road trip with a positive result and defeat Penn State.  

FRIDAY, SEPTEMBER 27




DI: No. 22 Old Dominion at No. 3 Connecticut | 3:00 p.m. ET

Big East rivals No. 22 Old Dominion and No. 3 Connecticut will play in their second conference game of the 2019 season on Friday at 3:00 p.m. ET in Storrs, Conn. Both teams have a conference win under their belt, so this match will put one team at 1-1 in Big East play. Last season, the game was close at 4-2 in favor of the Huskies, but Old Dominion still holds the most wins in the series history between the two teams. Connecticut has claimed the last seven wins as they aim to extend that streak to eight.

DI: No.1 North Carolina at No. 5 Virginia | 6:00 p.m. ET

Undefeated and top-ranked North Carolina will continue Atlantic Coast Conference (ACC) play at No. 5 Virginia on Friday at 6:00 p.m. ET. Last weekend, the Tar Heels defeated both No. 6 Louisville and Appalachian State 4-1 as they head into their second ACC game of the year. Virginia's only loss this season comes after falling to No. 4 Maryland in a shootout. The Cavaliers have produced three straight shutouts in their games since, with the second goal of their most recent win over James Madison featured as an ESPN SportsCenter Top 10 play. The 2018 match-up saw North Carolina come out on top with a score of 3-0. Both teams are 1-0 against conference opponents and both want to avoid making their ACC record 1-1.




DII: No. 5 Kutztown at Slippery Rock | 5:00 p.m. ET

No. 5 Kutztown and Slippery Rock will meet again in Slippery Rock, Pa. on Friday at 5:00 p.m. ET. The two teams have already met in 2019 with Kutztown claiming a 3-0 win, so they are familiar with what each other can bring to Friday's match-up. The Golden Bears stand at a 4-2 record with wins over No. 6 Shippensburg and No. 9 Adelphi earlier this season. Slippery Rock is 2-4 but have managed to keep the goal margins close in every game. They will look to avenge their loss and start official conference play with a positive result.

DII: No. 1 Millersville at Mercyhurt | 6:00 p.m. ET

Pennsylvania State Athletic Conference (PSAC) foes will face off as No. 1 Millersville travels to Mercyhurst in Erie, Pa. for a 6:00 p.m. ET start on Friday. Millersville is undefeated this year after eight games and will look to add to their winning streak and tally a conference win too. Mercyhurst is 1-5 and has already competed against many PSAC teams, including Millersville who bested them 5-0 just four days ago. The score was identical when the teams met in 2018, so Mercyhurst will look to avenge their loss on Friday. The two teams have met a total of fifteen times in their history with the Marauders claiming all of those victories. Will tides turn and Mercyhurst upset the top-ranked team?

DIII: Lebanon Valley at Albright | 3:30 p.m. ET

Middle Atlantic Conference rivals Lebanon Valley and Albright will begin conference play against each other on Friday at 3:30 p.m. ET in Reading, Pa. Lebanon Valley scooted by with the 4-3 win last season with a comeback effort in the second half. Having added a few more ranked opponents into their schedule, the Dutchmen hold a record of 3-5, while the Lions are 3-6. Albright pulled out a victory in 2017, and they will look to recreate that win as the teams meet Friday.

DIII: Cortland at Brockport | 4:00 p.m. ET

State University of New York Athletic Conference play will continue as Cortland visits Brockport on Friday at 4 p.m. ET. With similar records of 5-2 and 6-2 respectively, the two teams will battle it out to avoid adding a third loss to their margin. Last year, Cortland dominated Brockport 6-0, but the story may end in a different result this season. So far in 2019, Brockport earned hefty wins against strong opponents, while Cortland's have been closer matches.

SATURDAY, SEPTEMBER 28

DI: No. 16 Harvard at Yale | 12:00 p.m. ET

Ivy League Conference match-ups kick off on Saturday as No. 16 Harvard visits Yale at 12:00 p.m. ET in New Haven, Conn. In 2018, Harvard bested Yale 6-0 as they cruised through conference play. The Crimson currently hold a record of 3-2 as they fell to top-25 opponents Connecticut and Stanford. Yale is 2-3 and are coming off a six-goal win over Wagner. Both teams will look to start conference play strong with a victory.

DI: No. 4 Maryland at No. 18 Rutgers | 1:00 p.m. ET

More Big Ten conference action will take place on Saturday in Piscataway, N.J. as No. 4 Maryland takes on No. 18 Rutgers at 1:00 p.m. ET. Rutgers has yet to face a conference opponent, while Maryland beat Penn State 3-1 earlier in September. The Terps came out victorious over the Scarlet Knights in 2018 with a score of 3-1. Rutgers has shown their tenacity as they topped No. 10 Princeton 2-1 last week, and they will look to do the same against another higher ranked opponent Saturday.




DII: No. 8 Southern New Hampshire at No. 9 Adelphi | 1:00 p.m. ET

Sitting only one rank away from each other, No. 8 Southern New Hampshire and No. 9 Adelphi will battle to keep or improve their rank as they meet on Saturday at 1:00 p.m. ET. Southern New Hampshire took the win in 2018, but Adelphi holds the most wins in the series between the two. Both are part of the Northeast Ten conference and this match will be another game toward establishing standings for the tournament in November. Adelphi senior striker Elissa Frien will be one to watch as she was named the Northeast-10 Conference Field Hockey Player of the Week as well as Play Safe Turf and Track/NFHCA Division II Offensive Player of the Week after tallying nine points on three goals and three assists last week in two conference wins.

DII: Bloomsburg at No. 6 Shippensburg | 5:00 p.m. ET

Another PSAC battle will take place on Saturday at 5:00 p.m. ET between Bloomsburg and No. 6 Shippensburg. The reigning national champions Shippensburg suffered a few losses before getting back on track with a win over Mercyhurst last weekend, making their record 3-3. Bloomsburg, who was previously ranked, is 2-4 with most of their losses coming to other PSAC opponents. The Huskies come off a win over Frostburg and will look to disrupt Shippensburg's comeback with their first official conference win.

DIII: York at Lynchburg | 11:30 a.m. ET

In Virginia, York will face Lynchburg in a non-conference match. As they met in 2018, York walked away with the 3-2 win, however 2017 saw Lynchburg grind out a victory in overtime. Lynchburg is 5-2 so far this season, and York is 3-4 with the majority of their losses to ranked opponents. The two teams are from different conferences, so a win will mean an improved record and either the beginning or continuation of a losing streak.




DIII: Elizabethtown at Susquehanna | 1:00 p.m. ET

Elizabethtown will meet Landmark Conference opponent Susquehanna in Selinsgrove, Pa. on Thursday at 1:00 p.m. ET. Both teams will look to improve their records and notch their first win on the road to qualifying for their conference tournament in November. Last year, Elizabethtown narrowly won in overtime in regular season action, but Susquehanna came out on top in the conference tournament, ending the Blue Jays' season. It is a toss up as to who will claim the win this time.
 
DIII: Stevens at King's | 5:00 p.m. ET

Another set of Middle Atlantic Conference (MAC) teams will meet on Saturday at 5:00 p.m. ET in Wilkes-Barre, Pa. as Stevens visits King's. Stevens is 5-3 with losses only coming to top-20 teams. King's is 4-4, and their wins have boasted large goal-differentials. This is Stevens' first year as part of the MAC Freedom, and they want to prove their strength as they begin conference play and meet the other conference opponents this season.

SUNDAY, SEPTEMBER 29




DI: No. 11 Saint Joseph's at No. 17 Boston College | 12:00 p.m. ET

No. 11 Saint Joseph's will visit No. 17 Boston College for out-of-conference play this weekend. The two teams have not met in the last few years, leaving this match-up to set a precedent should they meet in the future. Saint Joseph's sits at 6-1 overall, suffering only one loss to No. 19 Syracuse in overtime. Boston College is 4-3 and most recently beat Atlantic Coast Conference opponent No. 21 Wake Forest to keep their ranking in the top-20. The Hawks might have a hard time getting past ACC Defensive Player of the Week and Play Safe Turf and Track/NFHCA Division I Defensive Player of the Week Boston College sophomore goalkeeper Jonna Kennedy after she recorded a 2-0 shutout against Wake Forest and led the defensive effort with six saves as the Demon Deacons out shot the Eagles 11-10.

DI: No. 9 Michigan at No. 7 Northwestern | 1:00 p.m. ET

Closely-ranked No. 9 Michigan and No. 7 Northwestern will meet in Evanston, Ill. on Sunday at 1:00 p.m. ET to see who will earn their first Big Ten win of the season. A close game last year, Michigan claimed the 3-2 win in regular season as well as the 3-1 win in the conference tournament in November. Northwestern currently holds a better record than their rival, earning close victories over top-25 teams. A player to watch in this game is Big Ten Conference Offensive Player of the Week and Freshman of the Week and Play Safe Turf and Track/NFHCA Division I Offensive Player of the Week Northwestern redshirt-freshman striker Bente Baekers. Baekers produced a 12-point weekend by scoring a hat trick in each of last week's games to help the Wildcats extend their six-game winning streak. The Big Ten is always competitive, and this game will be no exception.

DII: Lindenwood at Frostburg | 11:00 a.m. ET

Lindenwood will visit Frostburg on Sunday at 11:00 a.m. ET in Frostburg, Md. in a non-conference game. The two teams have not competed against each other in the past few years, ensuring this match will be interesting to see who wins. Lindenwood sits at 3-1 on the year, with their only loss coming against No. 9 Adelphi. Frostburg put together a tough 2019 schedule and has not found a positive result yet. They will look to put a tally in the win column following Sunday's game. 

DII: No. 10 Assumption at St. Thomas Aquinas | 1:00 p.m. ET

No. 10 Assumption will travel to Sparkhill, N.Y. to play East Coast Conference rival St. Thomas Aquinas. The two met earlier this week where Assumption handled the Spartans and extended their conference record to 3-1. It was a similar story in 2018 as Assumption won 3-0 on the road. St. Thomas Aquinas will look to avenge their loss and notch their first conference win as the two battle this weekend.




DIII: No. 1 Middlebury at Amherst | 12:00 p.m. ET

No. 1 Middlebury will meet New England Small College Athletic Conference (ESCAC) opponent Amherst in Amherst, Mass. on Sunday at 12:00 p.m. ET. Each team has already competed in three conference games, with Middlebury going undefeated and Amherst falling to No. 7 Bowdoin and Hamilton as their only losses of the season. The Panthers have proven their strength as they have a 7-0 record but they have not ventured outside of New England. Amherst received votes in the last round of Penn Monto/NFHCA rankings and they are eying a break into the top-20 which could begin with a win over Middlebury.

DIII: St. Joseph's College of Maine at No. 20 Kean | 12:00 p.m. ET

No. 20 Kean will host St. Joseph's College of Maine on Sunday at 12:00 p.m. ET in Union, N.J. Kean broke the top-20 this week after earning their eighth-straight win on the season. They now sit at 9-1 with their lone loss to No. 4 Salisbury in their opening match. St. Joseph's is also on a winning streak of their own with four games, making their record 7-1. One team's winning streak will come to an end while the other's will extend after the game on Sunday.

USFHA media release


---

An emphasis on fitness has Maryland field hockey prepared for gruelling matches

David Suggs



Midfielder Linda Cobano takes a shot during Maryland field hockey's 3-1 win over Penn State on Sept. 26, 2019 at the Field Hockey & Lacrosse Complex. (Gabby Baniqued/The Diamondback)

When Maryland field hockey faces off against No. 18 Rutgers on Saturday, the team will be buoyed by critical information collected through player monitoring systems.

The tracking devices — typically worn on players' chests — break down performance by highlighting trends in player fatigue at certain points in a game. It should help Maryland's coaching staff adjust its rotations while also giving the team vital information to prevent overuse and injuries.

The system's effectiveness was on full display Tuesday against Princeton, as coach Missy Meharg was able to keep players fresh — even when the game went into overtime.

While the team has used similar devices before, Maryland's use of the software reflects a renewed dedication to fitness. Consequently, the Terps' stamina has been a critical aspect to their success this season.

"Things are happening really fast, transition is really high, [and] the physio for the players is [good]," Meharg said.

Maryland claimed a dramatic 4-3 overtime victory on the No. 10 Tigers. Given the back-and-forth nature of the game, Meharg opted for a shorter bench, as only three substitutes saw over 20 minutes of game time. Nathalie Fiechter, Brooke DeBerdine and Bodil Keus played the whole game, while Hannah Bond and Linda Cobano saw the field for 67 of the 70 minutes.

"It's a lot of adrenaline on the field while you're doing sprints," Cobano said.

And with players feeling fresh and healthy, the Terps were able to put their full focus on the task at hand as the game developed into a tight overtime affair.

"I felt quite calm and controlled," Bond said. "It's a pretty normal situation for us, [being] put under time pressure. We still know the drill."

Despite the low dispersal of minutes, the Terps remained active throughout the game, especially in extra time. DeBerdine was a constant threat, driving down the right flank with regularity to cause problems for Princeton's backline. Meharg credited the player tracking device with helping the midfielder get through the game.

"We have player monitoring systems on her, we know exactly where she is, and she can recover," Meharg said. "She's that fit."

Meanwhile, Maryland has taken advantage of the NCAA's switch this season from halves to quarters. The two-minute intermissions between the first and second quarters and the third and fourth quarters provide the perfect opportunity for Maryland players to rest and recover, something that is especially important given the demanding nature of Meharg's preferred playstyle.

"In our trainings, we're doing a lot of two-minute breaks," Meharg said. "We'll play for five minutes competitively, really get high physio, come over — two minutes — and go back out."

As the schedule has continued to pick up in difficulty, games have taken on a faster pace. It's something the Terps feel comfortable with, though, given their penchant for quick passing and incisive runs. And these breaks ensure that they start the next frame crisp and well-prepared.

Meharg's squad has proved to be an incredibly fit unit, claiming victories over two top-10 teams despite going into extra time in both matches. With the quality of opposition set to ramp up even more in Big Ten play, Maryland will hope increased fitness levels continue to give it an extra edge.

"We're getting good at it, which is nice," Meharg said. "We're finding a way to win."

The Diamondback