All the news for Friday 30 August 2019

South African 2019 Senior IPT - Men - Day 5

Results, and Fixtures  rom the South African IPT Men's A and B sections. Live streaming via https://www.facebook.com/ShoOTTSA

2019 Senior IPT - Men's A-Section
Bloemfontein

29 Aug 2019      NG v SGW         4 - 2
29 Aug 2019      EP v WP             1 - 8
29 Aug 2019     KZNC v SAU21     0 - 0 (2 - 3 SO)
29 Aug 2019     SG v WPP         6 - 1

Fixtures (GMT +2)

30 Aug 2019 09:00     SGW v EP (Play-Off 5-8)
30 Aug 2019 10:15     KZNC v WPP (Play-Off 5-8)
30 Aug 2019 13:45     NG v WP (Semi Final)
30 Aug 2019 17:15     SAU21 v SG (Semi Final)

2019 Senior IPT - Men's B-Section
Bloemfontein

29 Aug 2019     SACD v KZNI (Position 1 - 8)     5 - 0
29 Aug 2019     KZNM v NC (Position 1 - 8)     8 - 2
29 Aug 2019     NW v SGN (Position 1 - 8)     2 - 2 (2 - 3 SO)
29 Aug 2019     FS v MPU (Position 1 - 8)     1 - 1 (3 - 1 SO)

Fixtures (GMT +2)

30 Aug 2019 08:30     KZNI v NC (Position 5 - 8)
30 Aug 2019 12:00     NW v MPU (Position 5 - 8
30 Aug 2019 12:30     SACD v KZNM (Position 1 - 4)
30 Aug 2019 16:00     SGN v FS (Position 1 - 4)

SA Hockey Match Centre


---

South African 2019 Senior IPT - Women - Day 5

Results, Fixtures and Pool standings from the South African IPT Women's A and B sections. Live streaming via https://www.facebook.com/ShoOTTSA

2019 Senior IPT - Women's A Section
Bloemfontein

Results

29 Aug 2019     SG v KZNC     4 - 1
29 Aug 2019     WP v SAU21     2 - 1
29 Aug 2019     FSA v EP         4 - 2
29 Aug 2019     NG v NW         2 - 2 (4 - 2 SO)

Fixtures (GMT +2)

30 Aug 2019 08:30     KZNC v SAU21
30 Aug 2019 12:00     EP v NW
30 Aug 2019 15:30     SG v WP
30 Aug 2019 19:00     FSA v NG   

2019 Senior IPT - Women's B-Section
Bloemfontein

Results

29 Aug 2019     SACD v SGN (Pool B)         4 - 0
29 Aug 2019     SGW v MPUM (Pool A)         2 - 0
29 Aug 2019    KZN MYN v NWB (Pool B)     1 - 2
29 Aug 2019     NGD v FSB (Pool A)         2 - 2
29 Aug 2019     WPP v SACD (Pool B)         1 - 0

Fixtures (GMT +2)

30 Aug 2019 10:15     BORDER v SGN
30 Aug 2019 10:45     NGD v NWB
30 Aug 2019 13:45     FSB v SACD
30 Aug 2019 14:15     MPUM v WPP
30 Aug 2019 17:45     SGW v KZN MYN

Final Pool standing

Pool A
Pool B
---

Free State women into IPT semis

MORGAN PIEK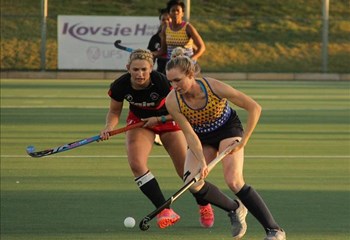 Cornelle Holtzhausen of Free State - Morgan Piek

The Free State women's hockey advanced to the semi-finals of the 2019 IPT being played in Bloemfontein. The home side came back from 2-0 down after conceding two early goals to beat the side from Port Elizabeth 4-2.

Free State look to continue their impressive form in the competition on Friday evening when they go up against Northerns in the semi-finals on Friday evening.

Northerns in their turn were made to work for their spot in the next round after being forced into a shootout by North West. After regulation time the game was deadlocked at 2-2. Northerns edged the team from Potchefstroom by winning the shootout 4-2.

Western Province also had to come back from a goal behind when they conceded early in their quarter-final against the South African U21 women. Two goals in as many minutes by Tarryn Glasby and Quanita Bobbs from penalty corners were enough for the side from the Western Cape to win and advance to the quarter-finals. They will face Southern Gauteng in the last four match on Friday.

Southern Gauteng in their turn made light work of KwaZulu-Natal Raiders in their quarter-final with a comfortable 4-1 win.

In the men's A Section, Northerns set up a date with Western Province in the semi-finals by beating the Southern Gauteng Witsies. The team from the capital city were able to win the game 4-2, while Province in their turn made light work of Eastern Province who hardly posed any challenge.

The team in blue-and-white squares thrashed the team from the Friendly City 8-1 to move into the next round.

South Africa U21 impressed by seeing off the KwaZulu-Natal Raiders with 3-2 in a shootout. The game had to be settled when it ended in a 0-0 deadlock after regulation time. Next up for the young national players will be Southern Gauteng.

Southern Gauteng breezed into the last four with a comprehensive 6-1 drubbing of Western Province Peninsula.

In the men's B Section, hosts Free State, booked a semi-final berth when they beat Mpumalanga 3-1 in a shootout after their match finished tied at 1-1. Free State will face the Southern Gauteng Nuggets in the semi-finals on Friday. The other semi-final will be contested between South Africa Country Districts and the KwaZulu-Natal Mynahs. Free State will face Southern Gauteng Nuggets at 16:00 on Friday afternoon.

A Section semi-finals:

13:45 Northern Blues men vs. Western Province men
15:30 Southern Gauteng women vs. Western Province women
17:15 South Africa U21 men vs. Southern Gauteng men
19:00 Free State women vs. Northern Blues women

OFM


---

SA Mens Hockey IPT – Reviewing the Group stages

After three days of action the tournament has completed its first stage in Bloemfontein, the group stages. With the format being used all teams are still in it with the Quarter Final stage taking place on Thursday. Here is what went down in the men's A Section group stage.

GROUP A

Northern Blues offered the most value for money for viewers across their three matches. After opening with a thrilling come from behind 3-2 victory against Western Province, they then defeated the defending champions KZN Raiders 2-1 to put their hand up for top spot. They ended up then being stunned 4-3 by Western Province Pens having led 2-1. The defeat proved to not be costly for the Pretoria boys as a draw between WP and Raiders meant that Northern's sealed top spot in the pool.

With the door having opened for a march on top spot the Raiders and Province played out an exciting 2-2 draw. Taine Paton and Jonty Robinson each scored to level for the defending champions after goals from Keenan Horne and Connor Beauchamp. That result meant the Raiders finished second by virtue of a one goal superior difference over Western Province.

GROUP B

Southern Gauteng underlined why they are favourites for the tournament with a perfect three from three in the group stages. They beat EP 7-4 having led 6-0 at a stage, while they followed that up with a 4-2 win against their "B" side Wits. They completed a perfect group stage in a tough 1-0 win over the SA U21 side thanks to the solitary goal by Chad Futcher.

Second place in the group went to Eastern Province who bounced back from that defeat with two thrilling 3-2 wins. Against SA U21 they trailed 1-0 and 2-1 before Dayne Samboer netted a winner to the delight of the EP community. Having drawn the group game 1-1 with Wits, SA U21 secured third spot in the group and the "easier" quarter final.

QUARTER FINAL LINE UP

Southern Gauteng vs. WP Peninsula
Eastern Province vs. Western Province
SA U21 vs. KZN Raiders
SG Witsies vs. Northern Blues

SA Hockey Association media release


---

SA Womens Hockey IPT – Reviewing the Group stages

After three days of action the tournament has completed its first stage in Bloemfontein, the group stages. With the format being used all teams are still in it with the Quarter Final stage taking place on Thursday. Here is what went down in the women's A Section group stage.

GROUP A

Like their men's side, the Southern Gauteng Lions dominated their group stage and launched their way to the top of the Group A. Sylvia van Jaarsveldt and Lilian du Plessis are in goal scoring form and were the stars in their perfect group stage. A 10-1 win against EP was followed by a 2-0 win against the Northern Blues and a 4-1 win against the SA U21 side.

The Northern Blues, who are winning the social media game, took ownership of second spot in the table with a thrilling 3-1 win against SA U21 inspired by skipper Celia Evans. They secured their spot with a comfortable victory against EP. SA U21 took third spot when they defeated they EP.

GROUP B

The hosts, Free State, surprised a few in stealing top spot in Group B. They earned their spot on the back of two wins against Western Province 3-2 before seeing off the KZN Raiders superbly on day 2. They were then beaten by North West but had done enough to secure a goal difference top spot.

Second spot in the group was Western Province who bounced back from their opening defeat to secure back to back victories against KZN Raiders and North West. While the Potchefstroom team secured third on goal difference even though they lost to the Raiders. Setting up some tasty Quarter Finals

QUARTER FINAL LINE UP

Southern Gauteng vs. KZN Raiders
Northern Blues vs. North West
SA U21 vs. Western Province
Free State vs. Eastern Province

All games are streamed live on Shoott SA Facebook page.

SA Hockey Association media release


---

Indian Navy pips HUTN

Bengaluru HA outlasts PNB in Group-A

K. Keerthivasan



On target: Kuldeep, who scored the second goal for Indian Navy. 

Indian Navy edged past Hockey Unit of Tamil Nadu (HUTN) 3-2 in the MCC-Murugappa Gold Cup All-India hockey tournament which began here on Thursday.

First, in a Group-B contest Indian Navy edged past Hockey Unit of Tamil Nadu (HUTN) 3-2. Then in Group-A, Bengaluru HA overcame Punjab National Bank (PNB) 4-2.

The TN-Navy tie was evenly contested. Slow to start, both teams picked up steam towards the third quarter. K. Selvaraj opened the account for TN with a push off a rebound from the goalkeeper in the first quarter before Aakib A. Rahim equalised.

TN slackened a bit in the second quarter and that turned out to be crucial in the end analysis. It was in this period Kuldeep converted off a penalty corner while TN scored none.

Despite playing well in the third (it scored one through Joshua) and fourth quarters, TN couldn't catch up.

As the team management conceded, TN has to put in more effort on the fitness front.

The results: Group-A: BHA 4 (Harish Mutagar 28, G.N. Prithvi Raj 45+ & 49, B. Abharam Sudev 58) bt PNB 2 (Sumit Toppo 18, Sanjay 41).

Group-B: Indian Navy 3 (Aakib A Rahim 15, Kuldeep 17, T.E. Palangappa 43) bt HUTN 2 (K. Selvaraj 13, Joshua 39).

The Hindu


---

FIH Hockey Olympic qualifiers: draw live on 9 September




Lausanne, Switzerland: The draw to determine the matches of the upcoming FIH Hockey Olympic qualifiers will be held on 9 September at 1pm CET at the headquarters of the International Hockey Federation (FIH) in Lausanne, Switzerland. It will be conducted by FIH CEO Thierry Weil and streamed live on the FIH Facebook page.

14 Men's and 14 Women's teams will be involved in this draw. The FIH Hockey Olympic qualifiers will each feature two nations playing two back-to-back matches, with nations drawn to play each other based on their rankings at the end of the last 2018 / 2019 Continental Championship, namely the Oceania Cup (8 September). The matches will be hosted by the higher ranked of the two competing nations.

The list of qualified teams* for the FIH Hockey Olympic qualifiers, in their current ranking order**, is as follows:

Men

Host teams:
(1) Australia
(2) Netherlands
(3) India
(4) Germany
(5) Great Britain
(6) Spain
(7) New Zealand
(8) Canada

Away teams:
(9) Malaysia
(10) France
(11) Ireland
(12) Korea
(13) Pakistan
(14) Austria
(15) Egypt 

Women

Host teams:
(1) Australia
(2) Germany
(3) Great Britain
(4) Spain
(5) New Zealand
(6) Ireland
(7) India
(8) China

Away teams:
(9) Korea
(10) Belgium
(11) USA
(12) Canada
(13) Italy
(14) Chile
(15) Russia

*since either Australia or New Zealand will qualify directly to the Olympic Games Tokyo 2020 as winners of the Oceania Cup, the group of "host teams" will be reduced to seven teams on 8 September
** the ranking order indicated above might change on 8 September depending on the results of the Oceania Cup

FIH will confirm all the teams involved in the draw, as well as their final ranking order, on 8 September after the publication of the FIH World Rankings, following the completion of the Oceania Cup.

The draw will be done as follows:
The teams ranked 1st, 2nd and 3rd will be drawn at random to play at home against one of the teams ranked 12th, 13th or 14th. For example, the team ranked 1st will play at home one of the teams ranked 12th, 13th or 14th , as determined by the draw
The teams ranked 4th, 5th, 6th and 7th will be drawn at random to play at home against one of the teams ranked 8th, 9th, 10th or 11th
The FIH Hockey Olympic qualifiers are scheduled for 25-27 October and 1-3 November 2019. The exact match schedule and venues will be confirmed after the draw on 9 September.

The following teams have already qualified for the Olympic Games Tokyo 2020 as winners of their respective Continental Championship: Argentina (Men and Women), South Africa (Men and Women), Belgium (Men) and Netherlands (Women). They will be joined by the winners of the Oceania Cup – Men and Women - which will take place in Rockhampton, Australia (5-8 September). Japan (Men and Women) won their Continental Championship in 2018 and were already qualified as hosts.

It is worth noting that the final participation in the Olympic Games for any team must be approved and confirmed beforehand by their respective National Olympic Committee.

The 2020 Olympic hockey tournaments will be staged in Japan's capital city from 25 July to 7 August next year and involve 12 Men's and 12 Women's teams.

#Tokyo2020    
#RoadToTokyo
#GiftOfHockey

FIH site


---

Irish sides to learn Olympic qualifier opponents on September 9th



The Irish women will be in pot two for the Olympic qualifier draw. Pic: Koen Suyk / World Sport Pics

Ireland's women and men will find out their Olympic qualifier opponent on September 9th, the International Hockey Federation (FIH) has confirmed.

For the women, last week's fifth place finish at the European Championships means they will remain eighth in the world. It means they will definitely be in pot two for the draw, guaranteeing them a home tie against a side in pot three for the world rankings.

They will come up against one of the sides in pot three – Korea, Belgium, USA or Canada – in their head-to-head qualifier for Tokyo 2020 in what will be a two-legged tie at the same venue.

Where the qualifier will be has yet to be confirmed, though, as Hockey Ireland's wait for a suitable home ground trundles on.

The National Sports Campus was pitched as the new training base but is not yet operational with the Irish squads continuing to rent different grounds.

UCD has been significantly upgraded with a new turf in place this summer, making it the preferred option though there remain a few infrastructure issues to be ironed out.

For the Olympic qualifiers, one caveat remains. South Africa won the women's African Cup of Nations but, in not reaching the FIH Series final this summer, do not meet SASCOC – their national Olympic federation – criteria and the body has indicated they will not send the side to Tokyo.

At this stage, it is not clear whether this means another qualifier match will be required or if the next best placed side on the world rankings who has not qualified for Tokyo will get their ticket.

The South African team, meanwhile, have written to the FIH to ask if they can be included in the qualifier matches to try and earn their ticket via that method.

On the men's side, Ireland's world ranking is set to drop two places to 13th following their European relegation but they remain in pot three and set to face a team from pot two.

That means they will play away against a top ten side in their qualifier as a result – Germany, Great Britain, Spain, New Zealand or Canada are the potential opposition.



The Irish men face an away date for their Olympic qualifier. Pic: Frank Uijlenbroek / World Sport Pics

The new world rankings will be formally released on September 8th with the qualifiers draw set to take place a day later. From there, the FIH will open negotiations with broadcasters to show the games live.

RTE announced their intention to try and secure the rights to the women's home games.

Currently, the dates proposed for the qualifiers are set for either the last weekend in October or the first weekend in November.

Women's new rankings (* subject to Oceania Cup which concludes on September 8)

1. The Netherlands 2578 – European champions
2. Australia 2070
3. Argentina 1938 – Pan American champions
4. Germany 1893
5. England 1811
6. Spain 1713
7. New Zealand 1683
8. Ireland 1480
9. India 1443
10. China 1379
11. Belgium 1345
12. Korea 1338
13. Japan 1313 – Asian champions and Olympic hosts
14. USA 1193
15. Canada 1163
16. South Africa 983 – African champions
17. Italy 904
18. Chile 775
19. Russia 746
20. Malaysia 708
21. Belarus 675
22. Scotland 638
23. Czech Rep 628
24 Poland 555
25. Uruguay 483
26. Wales 475
27. Ukraine 393
28. France 345

Olympic qualifiers pools for September 9 draw (Pot 1 home vs Pot 4; Pot 2 home vs Pot 3)

Pot 1: Germany, England, Spain
Pot 2: New Zealand, Ireland, India, China
Pot 3: Belgium, Korea, USA, Canada
Pot 4: Italy, Chile, Russia

Men's new rankings (* subject to Oceania Cup which concludes on September 8)

1. Australia 2350
2. Belgium 2348 – European champions
3. The Netherlands 2155
4. Argentina 1988 – Pan American champions
5. India 1823
6. Germany 1770
7. England 1679
8. Spain 1510
9.New Zealand 1459
10. Canada 1325
11. Malaysia 1218
12. France 1118
13. Ireland 1093
14. South Africa 1043 – African champions
15. Japan 905 – Asian champions and tournament hosts
16. Korea 865
17. Pakistan 810
18. Wales 755
19. Scotland 705
20. Austria 703
21. Egypt 698
22. Russia 598
23. USA 559
24. Italy 553
25. China 540
26. Poland 531
27. Chile 418
28. Ukraine 410
29. Czech Rep 270 and Belarus 270

Olympic qualifiers pools for September 9 draw (Pot 1 home vs Pot 4; Pot 2 home vs Pot 3)

Pot 1: Netherlands, India, Germany
Pot 2: England, Spain, New Zealand, Canada
Pot 3: Malaysia, France, Ireland, Korea
Pot 4: Pakistan, Austria, Egypt

The Hook


---

Bell expresses regret as Cox steps away with Olympic qualifier looming large

By John Flack.



Jonathan Bell in action against Scotland. Pic: Frank Uijlenbroek/World Sport Pics

Ireland men's hockey captain Jonny Bell has expressed his regret at head coach Alexander Cox's decision to quit the job after only a year in charge and with just eight weeks to go before the crucial Olympic qualifiers.

However, the Lisnagarvey defender also questioned the wisdom of initially appointing a coach who was based abroad and had, therefore, limited contact-time with the players as he combined the Ireland job with being in charge of SV Kampong in his home country in the Netherlands.



Alexander Cox stepped down as Irish coach in the wake of the European Championships. Pic: Koen Suyk/World Sport Pics

Cox's departure came as little surprise after he gave a strong hint that he would step down when he addressed the media after what was a dismal European Championship campaign in Antwerp in a remarkably frank assessment of his time in charge, describing it as a 'failure'.

Ireland finished bottom of the eight-team tournament and behind two-lower ranked nations in Scotland and Wales after failing to secure a win.

Cox said: "After taking some time to reflect on the past year, and the goals we have both achieved and failed to achieve, I have come to the decision that it is best for me to step back from this role with the Irish men's squad.

"It was a hard decision to make, and I'm grateful to Hockey Ireland for the opportunity it has afforded me.

"I would like to thank the players for their commitment over the past year and I hope they go on to do well in the future.

"It has been a tough few weeks, but credit to the players and staff as they have given it their all at every stage.

"We just didn't manage to pull together the result we felt we are capable of. At this time, I feel it is best for me to step back as coach so the team can have a fresh start towards the important Olympic qualifier".

Bell believes Cox's 'double jobbing' wasn't ideal, through no fault of his own, and feels that a change of head coach should have possibly been considered following the World Cup in India last November.

He said: " I'm obviously sorry that it's come to this but thankful for the contribution that Alex made."

"It wasn't easy for him being based abroad. He's a world-class coach but unfortunately, we probably didn't get enough contact hours with him to make a real difference.

"We were three months out from a World Cup when [Cox's predecessor] Craig Fulton stepped away so, as an interim option, I think it was a good solution to appoint Alex in the short-term to take us to that World Cup.

"But It remains to be seen whether the decision to continue after the World Cup was the right one.

"I think off the back of Antwerp, it was clear that the role of an Ireland senior men's hockey coach requires a lot of coaching hours in the country and a lot of exposure for the coach developing players.

"Unfortunately, with the arrangement that we had, it wasn't Alex's fault he could only give the commitment that he could give and that was probably deemed by Hockey Ireland to be sufficient but it was just clear that we needed more time with him."

With such a short time before the qualifiers for a place at the Tokyo Olympics, it seems likely Hockey Ireland will make an interim appointment.

Bell added: "There is going to have to be some banging of heads together to identify the options and take us forward to the end of October."

"It's very short notice and there isn't really time for a full-on recruitment process. It really needs to be a stop-gap, someone who can come in and motivate and drive the team for a period of eight or nine weeks.

"And then, at that point, try to identify a longer-term option so there will have to be some quick thinking done and brainstorming potential options and it's a question of availability as well for the various training requirements for the new coach."

Bell says the players must also bear some of the responsibility for the nightmare that was Antwerp which ultimately contributed to Cox's untimely exit.

"Coaching is only one small part of it and ultimately the players are responsible for the performance on the pitch which wasn't good enough," said the 31-year-old.

"We've got to look at the reasons for that and try to correct it as quick as possible and our basics weren't quite up to scratch and that let us down."

The Hook


---

OQ DRAW: Indian OQ rivals will be known Sept 9th

s2h Team

The D-day is coming. In about 10 days, Indian men's and women's hockey will come to know their rivals for the two-match Olympic Qualifier decider. Indian men are placed third behind Australia and Netherlands in the ranking chart for the decider, which means they will meet any of the last placed three teams (Pakistan, Austria, Egypt) among the 14-team line up. The FIH will conduct draw on 9th September in its HQ, Lausanne.

The Oceania Cup is yet to be held. Either Australia (now in No.1 position) or New Zealand (No.7) will walk away with the direct qualifier will be known in the first week of September.

Indian men will have to wait another ten days to know their rival, whether Austria, Egypt or Pakistan.

Indian women are placed 7th in the 14-team line up. After draw, their rival will be known among the last four teams: Canada, Italy, Chile and Russia.

Indian women have been doing well against all these four nations, which is a good news. Men also comfortably placed to win their OQ Series. However, it is another matter if its rival will be Pakistan.

The good news is that both Indian Men's and Women's last round competition will be held in India.

The following teams have already qualified for the Olympic Games Tokyo 2020 as winners of their respective Continental Championship: Argentina (Men and Women), South Africa (Men and Women), Belgium (Men) and Netherlands (Women). They will be joined by the winners of the Oceania Cup – Men and Women - which will take place in Rockhampton, Australia (5-8 September). Japan (Men and Women) won their Continental Championship in 2018 and were already qualified as hosts.

Stick2Hockey.com


---

Dhanraj Pillay 'confident' of India's Tokyo 2020 ticket

Former hockey captain Pillay feels the men's hockey team, at the moment, is at par with the top sides in the world.



Pillay — who played in four World Cups and the Asian Games — feels the men's national team would make it to the Tokyo Games on the back of recent performances.   -  FILE PHOTO/PTI

Insisting that India is currently at par with other leading hockey playing nations, four-time Olympian Dhanraj Pillay is confident of the national team's qualification for next year's Tokyo Games.

The draw to determine the matches of the upcoming FIH Hockey Olympic qualifiers will be held on September 9 at the International Hockey Federation (FIH) headquarters in Lausanne, Switzerland.

It will be conducted by FIH CEO Thierry Weil and will be streamed live on the FIH Facebook page.

Fourteen men's and women's teams, including India, will be involved in the draw.

"Right now, we (India) are at par with Australia, Germany, Holland, Argentina, Belgium and so they (the team) should not be scared to face any team and move ahead with full confidence," Pillay told reporters here on Thursday night.

Pillay — who played in four World Cups and the Asian Games — feels the men's national team would make it to the Tokyo Games on the back of recent performances.

"It is very important that first we qualify for the Olympics. It is not only my dream but that of the entire hockey fraternity that Olympics medal should come to India because the last was in 1980 Games. After that we have struggled to get a medal in the Olympics," he noted.

India won the last medal in hockey at the Olympics — a gold — in the 1980 summer Games at Moscow, but after that the country hasn't tasted any success at the quadrennial event. They had even failed to qualify for the 2008 Beijing Olympics.

The former skipper feels the real work for coach Graham Reid and his men will begin after qualifying for the Olympics.

"The way the team is performing and playing right now, I am confident that they will qualify for the Olympics and after that their (real) works starts because Olympics is a different ball game and you can't take even one match lightly. Points are important in every match and you will be playing 5-6 (teams) in alternate days," Pillay said.

"As of now, he (Reid) is doing a good job. His job is to coach and he is doing the job earnestly," he said.

Sportstar


---

India can qualify: Chhetri

Bir Bahadur Chhetri, a member of the 1980 Moscow Olympics gold medal-winning national hockey team, feels the current Indian squad is capable of qualifying for the 2020 Tokyo Olympics.

Chhetri said the Indian side ticked almost all the boxes to be able to make it to the mega event. "I feel they will do well and qualify. Now the fitness level is very high. "The best players are being selected and we hope they will perform well," said Chhetri, who was conferred the Lifetime Achievement Award by Hockey Bengal on the occasion of National Sports Day here on Thursday.

"They start (tournaments) on a good note but lose in crucial matches. The coaches have to look into it. They should do well under (Australian coach) Graham Reid."

On being conferred the award, Chhetri said, "It is a great feeling as I played here."

The Hindu


---

Welsh hockey over 55s finish fourth at European Championships

Rhys Williams



Bev Rogers was part of the Wales team that finished fourth at the competition in Germany. Bev Rogers

Wales over 55s women's hockey team finished fourth at the European Championships, which were held in Germany.

The competition was held in the city of Krefeld from August 8 to August 17.

Wales were knocked out at the semi-final stage, losing 1-0 to eventual-winners England, meaning their hopes of securing a medal rested on a third place play-off tie with the Netherlands.

Spurred on by the prospect of securing bronze medals, the team held the Dutch until the final quarter, before falling to a narrow 3-2 defeat.

Bev Rogers, 58, from Caerphilly was part of the team.

Rogers said: "As a squad we have come from eighth position in 2017 to fourth, which is quite an achievement.

"I was very pleased with my personal performance and as a squad during the tournament, and to get on the score sheet as a forward player is a bonus.

"I am very grateful to Caerphilly County Borough Council for their Elite system, which helps with my training and a grant towards my expenses.

"We as players have to pay for all our kit and travelling expenses and are always looking for sponsorship to help out.

Rogers added: "Hockey has not only kept me fit but allowed me to travel and make new friends all over the world. I was lucky to go to Australia to compete in the Hockey World Cup.

I'm keeping my fingers crossed to be selected to compete at the World Cup in South Africa next year."



From left: Kerin Bowen, Bev Rogers, Gaynor Gierak and Judith Powell representing Wales. Judith Powell

In June, Wales won a silver medal at the over 60s women's European Championships, which were held in Antwerp, Belgium.

Caerphilly Observer


---

NZ U21 Men's side named to contest Sultan of Johor




Following the Vantage National U21 Tournament held in May and the two recently completed selection camps at North Harbour and Dunedin, Hockey New Zealand are pleased to announce the 18 players who will travel to the Sultan of Johor Cup on the 12th October.

The strong side features two players who have made their debut for the Vantage Black Sticks Men in Malachi Buschl and Xavier Guy. U21 Head Coach Bryce Collins will be looking to Guy and Buschl to provide experience and leadership as they aim to better 2018's sixth place finish. New Zealand have a previous best finish at the cup of fourth place and will be looking to be a good shot to improve on that 2014 result. 

National U21 Coach Bryce Collins commented on the side" The team was selected on the back of information collated through 2018, the U21 tournament and the recent selection camps. We are lucky to have 10 players backing up from last year to form a strong core of experience. There is a nice blend of exciting young talent that has emerged in our final selection, there is quality all over the field".         

Collins further commented on what to expect at the Sultan of Johor "We expect a to be tested in Malaysia though travel, heat, different culture and of course high quality opposition, each of which will test us in different ways. The Sultan of Johor Cup is a great event on the U21 calendar, we are fortunate to be invited and the guys look forward to the challenge at hand and shifting our performance on the world stage. 

The Sultan of Johor Cup will run from the 12-19th October in Malaysia.

NZ U21 Sultan of Johor side
Name            Age    Position    Region
Louis eckert        20    Goal Keeper    Canterbury
Malachi Buschl    19    Midfielder    Southern
Jordan Cohen        19    Striker        Capital
Taylor Craigie        21    Goal Keeper    North Harbour
Benji     Edwards        21    Defender        North Harbour
Sean Findlay        17    Striker        Central
Zander Fraser        21    Midfielder    Auckland
Connor Greentree    20    Midfielder    North Harbour
Xavier Guy        20                Defender    North Harbour
Moss Jackson        20    Striker        Canterbury
Tim Neild            20    Midfielder    Midlands
Lochie Paton        20    Defender        Capital
Dylan Thomas        20    Striker        Southern
Charl Ulrich        19    Defender        North Harbour
Gus Wakelin        20    Midfielder    Canterbury
Finn Ward        18    Midfielder    Southern
Jordan Ward        21    Defender        Southern
Maks Wyndham-Smith    20    Striker    Midlands
               
Non-Traveling Reserves               
Netesh Sukha    20    Defender    North Harbour
Sajan Patel    19    Striker    Capital

Hockey New Zealand Media release


---

Perak eye double delight in Malaysia's Razak Cup

By Jugjet Singh

Perak are aiming for a double delight in the Razak Cup after winning their third straight national Under-16 boys' title in Kuantan recently.

Coach Nizam Hashim believes his team are ready to win their third consecutive Razak Cup, which incepted in 1963, in Kuala Lumpur on Sept 6-14.

"Our under-16 boys showed the way by winning their third straight title and now, it is the seniors' turn to stretch their winning streak to three in a row as well," said Nizam.

It, however, could be an open affair this year as Perak and the other teams will not have the services of national players.

"I believe it will be a level-playing field this year. The national trainees have been barred from the Razak Cup to prepare for the Olympic qualifier in October.

"We have identified players and have started light training. The team will play as many friendly matches as possible ahead of the tournament.

"I have a good mix of players. Several players from our Malaysia Games squad have been included to strengthen the team.

In last year's final, Perak edged Terengganu 3-1 on shootout after a 2-2 draw in regulation time in Bukit Jalil.

New Straits Times


---

Coach who gave up all to shape Mumbai hockey gets his due

By Andrew Amsan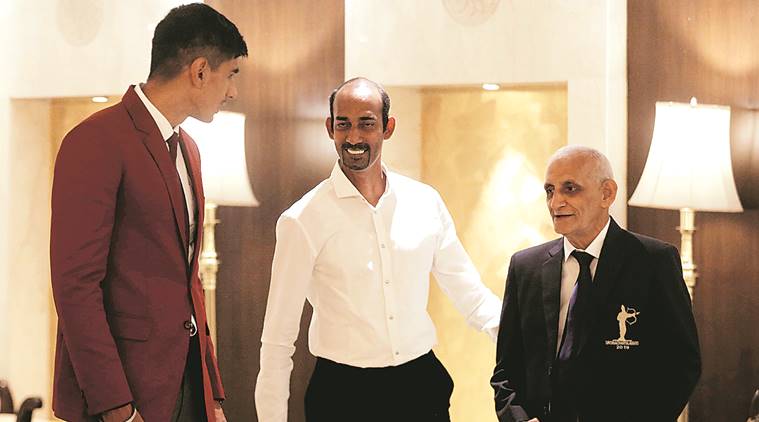 Hockey coach Merzban Patel with his aide Conroy Remedios and India football goalkeeper Gurpreet Sandhu (red blazer), in New Delhi on Thursday. (Express photo by Amit Mehra)

Hours before the bus outside Hotel Ashoka was to leave for Rashtrapati Bhavan Thursday, the occupants of Room No. 729 were dealing with a crisis of sorts. Mumbai-based hockey coach Merzban Patel, this year's Dronacharya Award winner, was refusing to sport a tie. And his minders, mostly his one-time trainees, were trying their best to convince him that the function warrants formal wear.

"In the 69 years of my life, I haven't worn a tie. Is it compulsory?" he asks.

Patel is popularly known as "Bawa", the selfless Parsi coach known to spend most of his waking hours on the hockey field and who has groomed over two dozen international players, including former India captain Viren Rasquinha. "My students got me these leather shoes. They are not comfortable. I've worn sports shoes all my life," says Patel, who has also refused to accept a smartphone from his students.

Having run Bombay Republicans, the club that is Mumbai hockey's assembly line, for close to four decades, Patel is a self-taught coach with no formal training. "I watched and learnt," he says.

Patel is almost a permanent fixture at the Mumbai Hockey Association (MHA) stadium near Churchgate terminus, earning about Rs 12,000 every month for the training he imparts to children. His wards once floated the idea of pooling in money to fund a car but like the smartphone, Patel would have none of it.

"He would always ensure we got something to eat at training. He would often stay on an empty stomach but ensure we were fed. There's a joke in Mumbai circles about him. He always carries a handkerchief and during nervous moments in a match, he would chew on it. We used to hear: 'Bawa khana khaye ya nahin, kerchief jaroor khayega (Whether he eats his food or not, he'll definitely chew on his kerchief)," Rasquinha says, struggling to keep his laughter under control.

Patel's methods were rustic but effective. He believed in grinding it out in the field, and would not mince any words if he found that a player lacked motivation. "Nowadays, I have toned down. But in my youth, I used to get really angry. It always worked. It's a booster," he says, clenching his fist.

But, he says, no trainee has ever complained. "They know Bawa's anger lasts only for a moment. On the ground, be serious and later be friendly. I think I have become more popular for my style than my coaching," he says, with a wide grin.

Patel's trainees say he has had to make "huge personal sacrifices" for his passion. At one point, he reluctantly accepted his parents' demand to consider marriage proposals, but the poor salary he drew was always a hurdle. "Everybody thinks about money, but I never ran after it. I think it was a blessing in disguise. If I had married, I would have not been able to give so much time to the sport," he says.

For Patel, the Dronacharya award is an assurance that those sacrifices didn't go futile. "But this changes nothing. You'll see me at the ground tomorrow. I'm 69 and have no family or possessions. Nothing but hockey. There's no life beyond it for me," he says.

As for the club, which has been backed by Godrej over the last nine years, Patel has handed over the reins to former student and aide Conroy Remedio. "I am handling the club but his presence is always there. There is only one Bawa and no one can replace him," Conroy says.

Indian Express


---

SA Hockey Represented on the African Hockey Board





At the recent African Hockey Road to Tokyo Event in Stellenbosch, the African Hockey Congress took place where the new board was elected. It gives SA Hockey great pride to announce that Sheila Brown has been elected as the Vice President of African Hockey.

South African Hockey is immensely dedicated to the development of African Hockey and are pleased at this opportunity to continue building our relationship with the African Hockey Federation.

Further to this the African Hockey Federation took the opportunity to hold their first ever elections to form the African Hockey Athletes Committee. Former South African Captain Marsha Cox led the initiative and was on hand to announce the athletes committee after the final games in Stellenbosch.

The Athletes Committee is formed in order to represent the athlete's viewpoints in decision making and support athletes to succeed in their sporting and non-sporting careers.

The African Hockey Federation Athletes Committee will consist of six members, three male and three females. Four of the six were elected at the Road to Tokyo event with South Africa's very own recently retired Ilse Davids being elected.

We are proud of Ilse and Sheila and wish them both well in their respective new roles.

SA Hockey Association media release


---

Weekend College Games: Division I & III Season Opener Edition

USA Field Hockey's weekly feature of highlighting some of the top college games in Division I, II and III is back for the 2019 season. Division II games have not officially started yet, so this week we are only highlighting Division I and III.

FRIDAY, AUGUST 30

DI: No. 8 Iowa vs. No. 10 Wake Forest | 2:30 p.m. ET
As part of the Big Ten/ACC Challenge, No. 8 Iowa will battle No. 10 Wake Forest in Ann Arbor, Michigan at 2:30 p.m. ET on Friday. Wake Forest is coming off a strong 2018 season where they made it to the semifinals of the NCAA tournament, finishing with a 13-10 record overall. Iowa will look to avenge their Sweet 16 loss to the Demon Deacons in the 2018 NCAA tournament. They finished the season with an impressive 14-7 record and their schedule for 2019 holds many of the same opponents.

DI: No. 3 Duke vs. No. 9 Penn State | 6:00 p.m. ET | ACC Network
No. 3 Duke will host No. 9 Penn State for their season opener on Friday at 6 p.m. ET in Durham, N.C. The Blue Devils finished 5-1 in the Atlantic Coast Conference (ACC) and 16-6 overall. They will have an equally challenging schedule in 2019 as they will face many of the teams ranked in the top 25 over the course of their season. Penn State will look to upset the higher-ranked home team and jumpstart their 2019 campaign. After closing the previous season with 6-2 Big Ten and 12-6 overall records, the Nittany Lions have packed their schedule with strong opponents again as they prepare to improve upon their 2018 record.




DIII: No. 3 Rowan vs. No. 19 Ursinus | 4:30 p.m. ET | GameCentral
No. 19 Ursinus will host No. 3 Rowan in Collegeville, Pa. on Friday at 7:30 p.m. ET. The meeting between the two teams for the season opener has become customary as Rowan came away with the win in 2018. Having made it to the Final Four for the first time since 2002, the Profs' 2018 season saw growth for the program. They will look to carry that into their 2019 season and make a repeat appearance in the NCAA Tournament. Ursinus went 12-6 in 2018 but did not make it far into the postseason, as they were eliminated from the Centennial Conference Championship in the first round. The Bears will look to improve upon their 2018 performance and defeat Rowan in the season opener.

DIII: No. 4 Messiah vs. No. 16 Christopher Newport | 7:30 p.m. ET | GoMessiah.TV
No. 16 Christopher Newport will travel to Grantham, Pa. to meet No. 4 Messiah on the first night of the 2019 opening weekend at 7:30 p.m. ET. The two teams played for the first-time in many years in 2018, where the Falcons came out on top 2-0 after 70 minutes. CNU finished the 2018 season with a 13-6 overall record and made it to the Capital Athletic Conference Championship before being ousted by Salisbury. Messiah went undefeated until they lost in the Elite 8 of the NCAA Tournament, ending their 2018 campaign. They will aim to continue the program's success and start with a win against CNU.

SATURDAY, AUGUST 31

DI: No. 19 Rutgers vs. Ball State | 1:00 p.m. ET | BTN Plus
Ball State will travel to Piscataway, N.J. to play No. 19 Rutgers on Saturday at 1:00 p.m. ET. Ball State tallied a 2-16 record in 2018 and will look to improve upon it as they take on higher ranked opponents this year. Rutgers finished the prior season 13-6 overall and 4-4 in the Big Ten. Last season, the Scarlet Knights made its first NCAA Tournament since 1986. Rutgers brings back a dynamic group of players from last season and among those is the returner between the pipes goalkeeper Gianna Glatz.




DI: No. 4 Connecticut vs. No. 15 Northwestern | 2:00 p.m. PT
No. 4 Connecticut and No. 15 Northwestern will meet in Palo Alto, Calif. to compete in the opening weekend of the 2019 season. UConn continued to find success in their 2018 campaign, earning a record of 19-4 overall and going undefeated in the Big East. Northwestern finished at 9-10 overall and were ousted in their conference championships early on. They will come in to this matchup after playing No. 21 Stanford the day prior, giving them experience but also putting a toll on their legs. Of the five meetings between these two teams, the Huskies have won all games.

DIII: No. 6 TCNJ vs. Catholic | 1:00 p.m. ET | GameCentral
No. 6 The College of New Jersey (TCNJ) will journey to Washington, D.C. to battle Catholic University on Saturday at 1:00 p.m. ET. The two teams traditionally play each other to open the season, and the last three meetings have gone in favor of TCNJ. The Lions went 16-5 last season, earning themselves a spot in the NCAA Tournament where they made it to the second round before falling to eventual National Champions, Middlebury. They will look to make it further this year and start off the effort with a win on Saturday. Catholic went 8-9 in 2018 and appeared in the Landmark Conference Tournament. The Cardinals will look to improve on their previous season record and make a statement by upsetting TCNJ.

DIII: Keene State vs. New England | 1:00 p.m. ET | UNE Athletics
Keene State and New England also tend to play one another for the first game of their seasons. In the past, Keene State came away with the win including in the 2018 opener and they have consistent in their performance. In 2018, the Owls earned an 18-7 overall record, won Little East Conference and earned a berth to the NCAA Tournament. Ultimately, Keene State was knocked out by Middlebury in the first round. New England went 12-10 in 2018, facing many top-20 contenders throughout the season. With their difficulty of schedule, the Nor'Easters will continue to be put to the test and seek a place in the postseason.

SUNDAY, SEPTEMBER 1

DI: No. 2 Maryland vs. New Hampshire  | 11:00 a.m. ET | BTN Plus
No. 2 Maryland will take on New Hampshire at home in their second game of the 2019 opening weekend on Sunday at 11:00 a.m. ET. Maryland held a 22-3 overall record in 2018, winning the Big Ten Conference Championship and falling in the National Championship to No. 1 North Carolina. They will look to start off with two wins under their belt by the conclusion of the weekend. New Hampshire will also be playing in their second game after they battle American on Friday. They earned a 6-12 record in 2018 and will hope to improve in 2019.

DI: No. 20 Liberty vs. James Madison  | 1:00 p.m. ET | ESPN+
No. 20 Liberty will host James Madison on Sunday at 1:00 p.m. ET in Lynchburg, Va. This will be the Flames' opening match of the 2019 season. After a strong showing in 2018 with a 13-6 overall record, Liberty will look to make a statement in their first game against the home-state rival. James Madison comes off a 2-4 Colonial Athletic Association record and a 6-12 overall record in 2018. They first play Bucknell on Friday before they travel to Liberty for their second game of the season.




DIII: No. 13 Montclair vs. MIT | 11:00 a.m. ET | Montclair Athletics
No. 13 Montclair will host MIT in Montclair, N.J. on Sunday at 11:00 a.m. ET. in a first-ever meeting between the two teams. Montclair finished 2018 with a record of 15-4, and their season ended as they fell to Smith in the first round of NCAA Tournament. The Red Hawks always pack their schedule with strong opponents, and 2019 is no different, requiring Montclair to prove themselves beginning with the matchup against MIT. The Beavers of MIT went 11-8 last season, and they were also eliminated by Smith but in their conference championship. MIT will be challenged by the teams in their schedule, starting with Montclair on Sunday.

DIII: No. 5 Johns Hopkins vs. Mary Washington | 11:00 a.m. ET | Hopkins Athletics
No. 5 Johns Hopkins will host their second game of 2019 against Mary Washington in Baltimore, Md. on Sunday at 11:00 a.m. ET. Each hold five wins and five losses in the ongoing series between the teams, but  Hopkins won in 2018 by a two-goal margin. The Blue Jays had a stellar season with a record of 19-3, leading to a playoff run that upset many top-ranked teams. They made it to the Final Four for the first-time in program history, and Hopkins will look to replicate the 2018 season as much as possible. Mary Washington earned an 11-6 overall record and made it to their conference finals where they were topped by Salisbury. This being their first game of the 2019 season, Mary Washington will bring their best against the familiar opponent of Johns Hopkins

USFHA media release


---

Maryland field hockey's attention to detail has it confident heading into season opener

David Suggs



Defender Bodil Keus follows through after hitting the ball during Maryland's 6-0 Big Ten quarterfinal win over Michigan State at the Field Hockey & Lacrosse Complex on Oct. 28, 2018. (Corey Hart/The Diamondback)

As the spring semester concluded, Madison Maguire was restless.

With the Maryland field hockey coaching staff unable to instruct players over the summer due to NCAA regulations, the senior midfielder grew increasingly uncomfortable with the idea of her teammates going elsewhere to figure out their own training routines.

So, Maguire took it upon herself to not only ensure she made it through summer in peak physical shape, but to help craft a system so her teammates could do the same. She kept in constant contact with them, emphasizing the importance of summer training to a winning team's development.

Three months later, with the season days away, Maguire's diligence has paid off, with coach Missy Meharg lauding the team's heightened fitness levels.

Maryland's commitment to fitness reflects the main tenet of its offseason — attention to detail. And with matchups against Richmond and New Hampshire looming this weekend, the Terps have a chance to showcase their improved focus.

"A big thing for us this year was attention to detail," junior Bodil Keus said. "Just focus on everything, even the small things … [and] just build off of that."

And given the increased levels of fitness throughout the team, the Terps have put their focus on tactics and getting newcomers integrated into the counter-attacking system.

"If you end up having to get people fit over part of your competitive season, it's a problem," Meharg said. "And we're not in that place, we're in a good place."

Maryland's counter-attacking style encourages its defenders to get forward and try to score goals, while its forwards are expected to pester opposing defenders in the hope of forcing turnovers.

The two-way capabilities of forwards and defenders will be tested throughout the season. However, at the season's onset, the Terps want to keep it simple.

"I'm trying to start off with a clean sheet," Keus said. "Our goal [in] the back is to keep the ball outside of our circle … that's our main goal."

At times last season, Maryland struggled to maintain its focus, particularly in the second half of its campaign. However, with eight starters returning from last year's team, there is a strong sense of continuity — continuity that has helped foster a sense of professionalism — around the team.

Understanding its mistakes from last year, Meharg's squad hopes its dedication to the basics will help the team on its journey back to the pinnacle of field hockey.

"We know how much it takes to get [back to the championship]" senior Jen Bleakney said. "The commitment, how we have to treat our bodies and treat our trainings to get there."

The Terps have the talent on paper as the No. 2-ranked team in the NFHCA preseason poll. For now, though, the focus is on proving that they belong there with a methodical approach to the game — one that started with the team's dedication to fitness in the summer.

"Being good," Meharg said, "is an outcome of being disciplined, having a game plan that everyone buys into and having fun. These women have the ability to do that."

The Diamondback


---

Cal field hockey hopes to begin 2019 campaign on successful path

By Jack Whaley



Michael Wan/File

New players, new opponents and a new year for field hockey bring a sense of excitement to UC Berkeley as the Bears open the field hockey season with the goal of improving upon last year's performance. After a disappointing 2018, Cal field hockey will be hosting Quinnipiac on Friday with hopes to come away with a victory and a confident start to the 2019 season.

Cal has nine freshmen on its 27-player roster, meaning a third of the Bears will be fresh faces to the fans. The Cal faithful should be excited to see what these new players can contribute to Cal and to get an early glimpse of the field hockey team's future.

The Bears ended the 2018 season with a first-round playoff exit in the America East Championships. Cal finished 5-12, a surprising downfall after having a winning 9-8 record just one year before.

Cal will have home field advantage in its season opener, as the opposing Quinnipiac will be traveling a long way from its home in Connecticut. The Bears will have a comfortable start to the 2019 season, as they don't have to leave the Bay Area for any of their first three matches.

The game at Underhill Field will be the first of the season for both teams, and given that the Bobcats went 7-10 last season, it should be a relatively even matchup. Both sides will be eager to turn their misfortunes from last year around, and this season opener carries weight for both Quinnipiac and Cal.

Last season, forward Megan Rodgers led the way for Cal with a team high of 13 goals, eight more than alumna Melina Moore. Fans should expect Rodgers, now entering her junior year, to be even more dominant as she will likely be aiming to improve upon what was already a stellar performance in 2018.

The good news keeps on rolling for the Bears, as senior backfielder Femke Delissen is also returning for Cal, meaning that both the top scorer and top shot creator from last season will be back in action together. Delissen led the Bears in assists in 2018, finding open teammates to set up five goals throughout her 14 appearances.

Senior midfielder Gabi Jimenez is also going to be a player to watch when the 2019 campaign kicks off at Underhill; she is the only returner who started all 17 games for the Bears last season. Jimenez, Rodgers and Delissen's chemistry together should come in handy considering a third of the Bears roster is new. If those veterans can avoid injury, their experience together may pay dividends.

Cal was outscored by opponents 43-29 last season, a wide margin that the team will be looking to cut down on. Quinnipiac's goal differential was, however, even worse, as they were outscored 57-32 last season. The Bears should be optimistic about netting goals against the weaker defensive side that the Bobcats showed themselves to be last season.

Forward Brooke Whipkey led Quinnipiac in goals last season with six scores and should be one of Cal's main focuses on the defensive end. If they can shut her down and continue to put on pressure offensively, the Bears should have a good shot at starting the season 1-0.

If the Bears come out victorious, it will be the second year in a row that they start the season with a win, although Cal will certainly hope that the rest of 2019 does not mirror their last campaign. A win on Friday will be a real morale boost for a Bears field hockey team looking to turn things around in a new season.

Daily Californian