All the news for Wednesday 28 August 2019

South African IPT (Men) - Day 3

Results, Fixtures and Pool standings From the South African IPT Men's A and B sections. Live streaming via https://www.facebook.com/ShoOTTSA

2019 Senior IPT - Men's A-Section - Day 3
Bloemfontein

27 Aug 2019     SG v SGW (Pool B)         4 - 2
27 Aug 2019    WP v WPP (Pool A)         5 - 0
27 Aug 2019     KZNC v NG (Pool A)     1 - 2
27 Aug 2019     SAU21 v EP (Pool B)     2 - 3

Fixtures (GMT +2)

28 Aug 2019 08:30     NG v WPP (Pool A)
28 Aug 2019 13:45     KZNC v WP (Pool A)
28 Aug 2019 17:15     SG v SAU21 (Pool B)
28 Aug 2019 17:45     SGW v EP (Pool B)

Pool Standings

Pool A
Pool B

2019 Senior IPT - Men's B-Section - Day 3
Bloemfontein

Results

27 Aug 2019     NW v NC (Pool A)         6 - 2
27 Aug 2019     SACD v MPU (Pool A)     4 - 2
27 Aug 2019      SGN v KZNI (Pool B)     2 - 1
27 Aug 2019     FS v KZNM (Pool B)     2 - 2

Fixtures (GMT +2)

28 Aug 2019 09:00     NW v SACD (Pool A)
28 Aug 2019 10:45     NC v MPU (Pool A)
28 Aug 2019 12:30     KZNM v KZNI (Pool B)
28 Aug 2019 14:15     FS v SGN (Pool B)

Pool Standings

Pool A
Pool B
---

South African IPT (Womenen) - Day 3

Results, Fixtures and Pool standings From the South African IPT Women's A and B sections. Live streaming via https://www.facebook.com/ShoOTTSA

2019 Senior IPT - Women's A Section - Day 3
Bloemfontein

Results

27 Aug 2019     SG v NG (Pool A)         2 - 0
27 Aug 2019     SAU21 v EP (Pool A)     6 - 0
27 Aug 2019     KZNC v FSA (Pool B)     0 - 3
27 Aug 2019     WP v NW (Pool B)         3 - 1

Fixtures (GMT +2)

28 Aug 2019 10:15     NG v EP (Pool A)
28 Aug 2019 12:00     WP v KZNC (Pool B)
28 Aug 2019 15:30     SG v SAU21 (Pool A)
28 Aug 2019 19:00     NW v FSA (Pool B)

Pool Standings

Pool A
Pool B

2019 Senior IPT - Women's B-Section - Day 3
Bloemfontein

Results

27 Aug 2019     NGD v SGW (Pool A)         0 - 3
27 Aug 2019      WPP v SGN (Pool B)         2 - 1
27 Aug 2019     SACD v NWB (Pool B)         4 - 0
27 Aug 2019     MPUM v FSB (Pool A)         1 - 0
27 Aug 2019     SGW v BORDER (Pool A)     3 - 0

Fixtures (GMT +2)

28 Aug 2019 08:30     KZN MYN v SACD (Pool B)
28 Aug 2019 10:15     SGN v NWB (Pool B)
28 Aug 2019 12:00     NGD v MPUM (Pool A)
28 Aug 2019 13:45     WPP v KZN MYN (Pool B)
28 Aug 2019 16:00     BORDER v FSB (Pool A)

Pool Standings

Pool A
Pool B
---

India likely to clash with Pakistan in Olympic qualifiers

Uthra Ganesan




A payment of $15000 in the nick of time has allowed Pakistan to be part of the Olympic qualifiers later this year and with it, the possibility of an India-Pakistan clash for a spot at the Tokyo Games has become all too real along with hosting concerns.

Pakistan Hockey Federation had been fined approx $50,000 for pulling out of the Pro League but was allowed to pay the amount in three instalments, the first of which was to be paid by August 20 for the team to be eligible for the qualifiers. The International Hockey Federation has confirmed to Sportstar that it had received the said amount.

"We can confirm that Pakistan has paid the first instalment in accordance with the deadline given. Therefore, in case Pakistan qualifies for the FIH Hockey Olympic qualifiers, then yes, they will be included in the draw," the FIH stated.

This makes the draw interesting with both teams at the two ends of the ranking spectrum and a likelihood of drawing each other for the two-match tie. The draw process for the qualifiers is simple: the top-three ranked sides would be drawn against the bottom three from among the top-14 teams. Teams ranked 4-7 would be drawn randomly against teams ranked 8-11. While India is ranked 5th currently, Pakistan has slipped to 17th in the world.

Removing the continental champions – Belgium, Japan, South Africa, Argentina – and including Australia as the Oceania Cup champion (a best-of-three series against New Zealand), will push India up to second in the list of teams for the qualifiers while Pakistan would be up to 12th. A New Zealand victory would still keep India third and in line for a Pakistan face-off. Austria and China are the other two possibilities.

While the FIH refused to comment on the political situation in the sub-continent, it would be a concern given that the higher ranked team would be hosting the tie. Hockey India has insisted there would be no bilateral ties but participation in FIH events would not be affected. Pakistan had also travelled last December for the World Cup. But it would be interesting to see how it handles the situation given that in this case, it would be technically an FIH event but practically a bilateral.

The qualifiers are likely to be held in the last week of October.

A neutral venue would be logical and favourable for Pakistan but India would be loathe to do that.

Sportstar


---

Winning Olympic Test Event gives lot of confidence for England Tour and FIH Olympic Qualifiers, says skipper Rani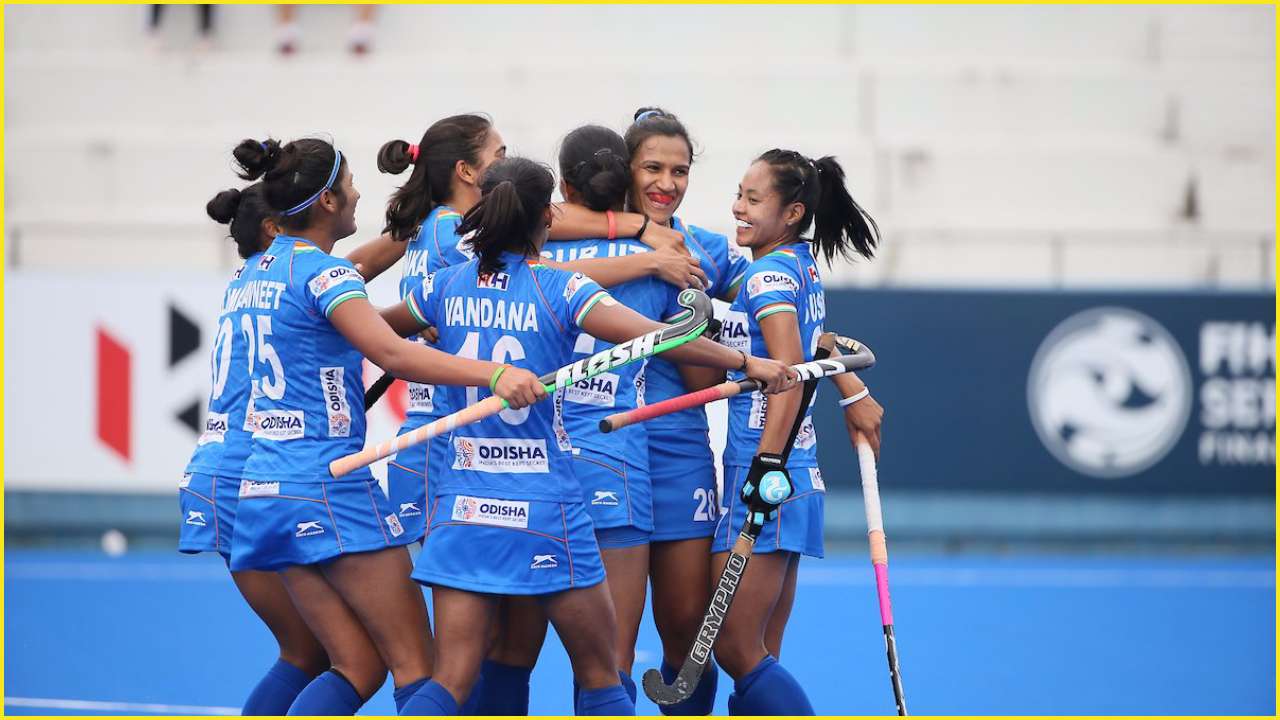 Hockey India

The Indian women's hockey team put up a brilliant performance at the Olympic Test Event in Tokyo as they defeated hosts Japan 2-1 in the final to win the competition.

Captain Rani said this feat will give the team boost for the upcoming tour of England and the FIH Olympic Qualifiers.

"It was incredible to remain unbeaten throughout the Olympic Test Event. The hard work put in by all the players in the various training camps ahead of the tournament paid dividends. A victory in this tournament gives us a lot of confidence ahead of the Tour of England and the FIH Olympic Qualifiers," said Rani.

The Indian team started the tournament with a superb 2-1 victory over hosts Japan, before playing out a 2-2 draw with Australia in their second match. India then drew 0-0 with China in their last round-robin match. Rani was all praise for drag-flicker Gurjit Kaur, who was the top-scorer of the competition with three goals.

"Gurjit has improved immensely in the last couple of years. She was the top-scorer at the FIH Women's Series Finals Hiroshima 2019 and the Olympic Test Event. Gurjit is a vital player for us as a drag-flicker and I am delighted to see her in form ahead of important tournaments for us," said Rani.

Captain expressed that a side is a well-settled unit and all players are extremely clear about their roles. The team is peaking at the right time and they couldn't have been in better form going into the FIH Olympic Qualifiers in November.

"After wonderful performances at the FIH Women's Series Finals Hiroshima 2019 and the Olympic Test Event, our team consists of players who are very clear about their roles and perform them industriously on the field. We have gained momentum at the right time and have to keep improving our skills as the team approaches the FIH Olympic Qualifiers," said Rani.

Striker Rani, who was named the Best Player at the FIH Women's Series Finals Hiroshima 2019, has been leading the Indian side for more than two years.

India could not seal a direct place in the 2020 Tokyo Olympics after a heart-breaking loss to Japan in the Asian Games Final in 2018. However, the Indian side, who beat Japan in the Final of the FIH Women's Series Finals Hiroshima 2019 and Olympic Test Event, is confident of achieving their goal in the FIH Olympic Qualifiers.

"We still have to improve in certain areas, but the team is confident of booking a place in the Tokyo Olympics. Our preparations have been excellent so far and we have to just keep building on our game. The Olympic Test Event was very helpful to understand the level of our game as we played against some strong teams including world number two Australia. Our only aim is to qualify for the Olympics and I feel we are on the right track," Rani said.

Daily News & Analysis


---

Women's team hoping for European stint ahead of Games qualifiers

PETALING JAYA: National women's team coach K. Dharmaraj will be meeting Malaysian Hockey Confederation (MHC) president Datuk Seri Subahan Kamal to discuss plans for a training stint in Europe.

The Malaysian women's hockey team could earn a place in the final round of the Olympic qualifiers in October after the South African team failed to meet the South African Sports Confederation and Olympic Committee's (SASCOC) strict qualification criteria for the 2020 Tokyo Olympics.

Dharmaraj said he has to plan ahead to prepare the team for the qualifiers (if they get a berth) and he believes a stint in Europe will help.

"I will propose to our president to give us a playing tour in Europe before the qualifiers to get the players ready. Six of our players are playing in Germany and six more will be leaving to play in Italy and England on Sept 20," said Dharmaraj.

"The Olympic qualifiers will be held from Oct 26-Nov 3 so since our players are already in Europe, we could head there to prepare the team and also play test matches against Spain, England and Germany."

The national women's team finished third in the Hockey Series Finals in Ireland in June but due to their World No. 20 ranking, Dharmaraj's charges will have to wait for the outcomes of all the continental championships before knowing their fate.

They could still make the qualification tournament if SASCOC adhere to their strict regulations where they will only send their teams if they finished in the top-two in the Hockey Series Finals. South Africa's men's finished second while their women were fourth.

"I was informed that South African Hockey Association (SAHA) have not appealed for their women's team to play in the Olympics. This paves the path for us to play in the Olympic Qualifiers," said Dharmaraj.

The Star of Malaysia


---

Murugappa Gold Cup hockey tournament to begin on August 29

Samarnath Soory



IOC team after winning the Murugappa Gold Cup hockey tournament.   -  M. VEDHAN

The 93rd edition of the MCC-Murugappa Gold Cup hockey tournament will be played between August 29 and September 8 at Mayor Radhakrishnan Hockey Stadium in Egmore, Chennai. Ten teams, divided into two pools with five teams each, will be in the fray for the title, with defending champion Indian Oil Corporation Ltd beginning its campaign against Indian Army on Saturday.

The top two teams from each pool will qualify for the semifinals, which will be played on September 7 with the final iset to be played on September 8. Three new teams – Punjab National Bank, Hockey United of Tamil Nadu (HUT) and Indian Air Force will replace Oil and Natural Gas Corporation Ltd (ONGC), Mumbai Hockey Association and Chennai Hockey Association.

This year, the matches will be played in four quarters of 15 minutes each, unlike the previous format which had two halves of 35 minutes each. This decision was taken after International Hockey Federation's (FIH's) new rule standardised the four quarters format across all the national hockey tournaments for its member nations last year.

After an increase in the prize money by ₹1 lakh this year, the winner and runner-up is set to receive ₹6 lakhs and ₹3.5 lakhs, respectively. There will also be individual awards for best forward, best midfielder, best goalkeeper, the most promising player of the tournament and man of the match of the finals.

The tournament, which originally started as the Madras Challenge Cup in 1901, has been a platform for the country's Olympians and World Cuppers to showcase their talent.

"This tournament has become a regular and noted fixture in the hockey calendar of the country. For Murugappa, our focus has been to keep the level of competition high and to constantly improve the player experience at the tournament. We are happy to see the top teams and top players from across the country participating in this event," Arun Murugappan, Managing Director of Parry Enterprises India Ltd, said.

Teams

Pool A:

Indian Oil Corporation Ltd (IOC), Indian Army, Bengaluru Hockey Association (BHA), Indian Air Force (IAF), and Punjab National Bank (PNB)

Pool B:

Railways Sports Promotion Board (RSPB), Punjab & Sind Bank (PSB), Central Secretariat, Indian Navy, and Hockey Unit of Tamil Nadu (HUT)

Sportstar


---

Murugappa Gold Cup Hockey: IOC coach Deepak Thakur to play for defending champion

Indian Oil Corporation hockey team coach Deepak Thakur will pick up the stick after a long gap as his team gets ready to defend the MCC-Murugappa Gold Cup All-India hockey tournament in Chennai.

K. Keerthivasan



IOCL coach Deepak Thakur gives instructions to his players during the Bengaluru Hockey Super Division Championship.   -  SAMPATH KUMAR G. P.

Wherever it goes, the Indian Oil Corporation hockey team is the most sought-after team for it always had the star players to back it.

Ahead of the MCC-Murugappa Gold Cup All-India hockey tournament which begins in Chennai on Thursday, defending champion IOC will also have the services of its head coach Deepak Thakur on the pitch.

The 38-year-old, a two-time Olympian, said he will have to play in the Murugappa tournament for such is the composition of the team. "I haven't played for nearly a year. But I am fit. I have no other option than to take the stick [and play]. I feel good as I scored today [Tuesday] against TN team," Thakur told Sportstar, after a friendly match with the Tamil Nadu senior team here on Tuesday.

The team consists of senior players such as V. R. Raghunath, Vickramkanth, and solid players such as S. K. Uthappa, Talwinder Singh, Affan Yousuf, Armaan Quereshi and Sumit Kumar, among others.

But Deepak Thakur, head coach of IOC, said despite his side having the momentum having clinched the Bangalore Cup and the Bangalore Super division this month; it won't be easy in Chennai.

"Five to seven players are in the Indian camp. The hot and humid weather conditions here will be difficult. Moreover, we have been in Bengaluru for a while where the weather is better. It will be a bit difficult [here], but the momenum is on our side," said Deepak

Sportstar


---

Chinglensana: Arjuna Award will motivate me to do better



Chinglensana: "This award motivates me to keep giving my all in the upcoming tournaments."   -  S. Subramanium

Chinglensana Singh Kangujam, the Indian men's hockey team midfielder, has said the Arjuna award nomination is a "huge honour" and will spur him to perform better in the upcoming tournaments.

The 27-year-old is among the 19 athletes nominated for the award. He said, "It is a huge honour. I have taken pride in representing India, and having completed more than 200 international caps for India, this award motivates me to keep giving my all in the upcoming tournaments. I am grateful to everyone who has played a part in my journey so far."

"I am grateful to everyone who has played a part in my journey so far," he added.

A stalwart

Known for his composure and authority on the pitch, the midfielder is one of the few players in the current senior team to have played more than 200 matches for India.

Chinglensana made his international debut at the Champions Challenge in 2011.

He won his first medal with the senior team at the 2013 Asia Cup where the team won the silver medal. He was also a member of the Indian team that won silver at the 2014 Commonwealth Games. He won his first gold medal at the 2014 Asian Games — India defeated Pakistan 4-2 in the final.

"Indian hockey has evolved in the eight years I have been with the national team, and I feel that our domestic structure has also helped in making sure that we have a huge pool of players who can step up and play at the international level," Chinglensana observed.

The National Sports Awards will be held on Thursday.

Sportstar


---

Field hockey revved for 2019 campaign

Jared Fel

Coming off an up-and-down 10–7 season with a 4–3 Ivy League record, the Yale field hockey team is ready to build off its previous seasons for a successful 2019 campaign.

The Bulldogs have improved their record over the last three years, and having retained their potent offense, the Elis are well placed to excel further this year. While the team did lose some solid midfielders who graduated in May, the top three-point scorers from last year are all back, and a great set of first years fill out the roster.

"The team is pumped for this year," midfielder Théodora Dillman '22 said. "We are excited about our strong, hardworking class of first years and thankful for our seasoned, dedicated leadership."

Yale does need to replace the leadership of captain and defender Jackie Kisa '19 in addition to the contributions of the three other graduating seniors: Marissa Medici '19, Brooke Reese '19 and Chaney Kalinich '19. Medici, a four-time member of the NFHCA National Academic Squad, also leaves a vacuum in the team, as she was arguably the Bulldogs' best stick-stopper on penalty corners and never missed a single game in her entire NCAA career.

Regardless, Dillman is confident that the team's returning players, as well as the incoming first years, will be more than enough to build on last season's success. Dillman, in just her rookie season, tied a team-high six goals — the most of any Ivy rookie — earning Second Team All-Ivy recognition and receiving the team's player of the year award.

"We are hoping to continue to build on the progress we made throughout the spring and summer," Dillman said. "We are all so happy to be back together as a team and are eager to see our hard work over the summer translate into success on the field."

Forward Imogen Davies '21, who tied for first on the team with six goals last year, also returns to the field this fall. She was second on the team with 15 points and three assists and was the primary inserter on almost every penalty corner. First Team All-Ivy member and newly elected team captain Bridget Condie '20 is also poised to contribute this fall. In her junior year, she tied for team high with six goals, also leading the Elis' in points and assists, with 17 and five, respectively.

On the defensive end, Second Team All-Ivy back Holly Jackson '20 is coming off a successful season in which she played a pivotal role in limiting Yale's opponents to two or fewer goals in 12 of 17 games. Second Team All-Ivy goalie Sydney Terroso '21 also returns to the net. She comes into this season with a spectacular .766 career save percentage and an equally impressive 2.01 career goals-against average.

"The team is in a very good spot for our upcoming season," Terroso said. "After a full summer of preparation we are glad to be back together training."

The Bulldogs welcome five members of the class of 2023 to the team. Forward Josie Jahng '23 set her school's record for goals in a season, and MAX Field Hockey ranked her as a top 100 recruit. Meanwhile, twin sisters Ashley and April Kim '23 led their high school to its first field hockey state championship.

Last season, the Bulldogs began and ended the campaign strong, with three-game winning streaks bookending the fall. However, after beginning the season 3–0, Yale dropped the next three it played and ultimately only finished with one more win than in 2017.

In spite of the Elis' shaky 3-3 start to last season, the team went on to win seven of the last 11 games of the season, taking four of the six remaining conference games in the process. When the dust settled, the Bulldogs wound up finishing fourth in the Ancient Eight with a 4–3 record.

Yale will be tested early on in the season when it travels to Virginia to take on Liberty University, before Ivy League play begins against Harvard on Sept. 28.

"I'm really excited for our team this year because we've meshed well so far this preseason especially with the newcomers," Anissa Abboud '21 said. "We're just hoping to build on our strengths and win the games we were so close to winning last year and improve our Ivy record more."

Yale opens its season when it welcomes UMass to Johnson Field on Friday, Sept. 6 at 6 p.m.

Yale Daily News


---

Tasmanian hockey club reaches 100

Nic Kerber




The OHA Hockey Club in Tasmania is celebrating its 100th birthday this year.

President David McCambridge said a centenary committee was established four years ago to develop events to appropriately celebrate and recognise the club's history.

Mr McCambridge said the OHA Hockey Club was the largest hockey club in Tasmania with 17 Senior and 13 Junior teams.

"We field teams from under eights to masters, covering age brackets from five-years-old to 70 plus, covering boys, girls, men and women," he said.

The OHA Hockey Club was formed in 1919 to accommodate ex-Hobart High School students wanting to stay together after their schooling years had finished.

In 1919 there was one team with limited facilities and few teams to play against.

Today, OHA is a thriving and successful club, both on and off the field.

Mr McCambridge said the club had more than 400 members, including players, supporters and parents involved in volunteer positions like coaching, administrative or committee roles.

The club's Centenary "Green Day" was held in July with more than 300 members attending the Tasmanian Hockey Centre for a specially rostered day full of OHA teams playing. Spelling out 100 & OHA on the turf for a truly memorable aerial photograph and a fundraising event.

The grand finale for the year will be the clubs Centenary Gala Dinner held on 12 October in Hobart.

"I am so proud of the achievements of our club in its 100 years and look forward to all we can achieve in the hockey community in the next 100," said Mr McCambridge.

For more information visit www.ohahockeyclub.com

Hockey Australia media release


---

Aye, aye skipper Sri Shan

By JOASH EE DE SILVA



The three-time Olympian posing for a shot at the National Hockey Stadium in Bukit Jalil in April.

KUALA LUMPUR: One of the traits of being a good leader is to lead by example.

This adage is best epitomised by former national hockey great Datuk Seri N. Sri Shanmuganathan – a player who was deservedly bestowed the honour of skippering the Malaysian team during his heyday in the 1970s.

Shanmuganathan first became Malaysia's skipper at the age of 23 when he was given the mandate to lead the team in the 1970 Asian Games in Bangkok. Malaysia finished a creditable fourth place.

That, as they say, marked the beginning of an illustrious career in Malaysian hockey annals.

He continued to wear the captain's armband at the Olympic Games in 1972 (Munich) and 1976 (Montreal). Malaysia finished eighth on both occasions and the results stand as Malaysia's best finish in the Olympic Games to this very day.

He also skippered the team to two SEA Games gold medals in 1971 (Kuala Lumpur) and 1975 (Bangkok).

Looking back at his halcyon days, Shanmuganathan vividly remembers one important factor – and that is being a leader is a selfless role.

"If someone were to ask me if I wanted to be a captain, I would reply that I'd rather be a player," said Shanmuganathan with a smile.

"It's not about honour and fame, to me, it's about a huge responsibility. My utmost concerns were always about my players, their well-being and their performance.

"Being a player is much easier because I only need to worry about myself, my fitness and health.

"As captain, however, my mind was always on how to motivate my players to ensure they gave their best whenever we stepped onto the field.

"There were times when my players were medically unfit and I had to make sure that they were taken care of. This gave me sleepless nights."

After a poor outing at the 1973 World Cup in Amsterdam where Malaysia finished 11th, Shanmuganathan did the honourable thing – gave up the captaincy.



One for the album: Picture of the Malaysian hockey team who finished fourth, the best ever result, in the 1975 World Cup in Kuala Lumpur.

But that did not last very long because the then Malaysian Hockey Federation (MHF) deputy president Sultan Azlan Shah gave the directive to Shanmuganathan to resume his duty as the captain for the Kuala Lumpur World Cup in 1975.

"It was at this point that a suggestion was made for Ho Koh Chye to be appointed as a coach, while players like Franco De Cruz, A. Francis , S. Balasingam, Phang Poh Meng and Harnehal Singh were recalled."

The last three – Balasingam, Poh Meng and Harnehal had retired after the 1972 Olympics.

"Only Harnehal turned down the invitation and just like that we had a formidable team," he said.

"I still remember when I was asked by a reporter to predict what position we would finish, and without hesitation I said fourth and the rest is history.

Malaysia finished fourth after losing 0-4 to West Germany and surprisingly, no other Malaysian team have surpassed that top-four finish to date. For the record Malaysia lost to India 2-3 after extra time in the semis. India went on to beat Pakistan 2-1 to emerge world champions.

Were there challenges as a captain?

"Of course. Leading a team is never easy because every player has his whims and fancies," he said.

"When we travelled overseas the focus of the players shifts due to a new environment. Thus, players had to be reminded that their main purpose was to train and prepare for the upcoming matches."

Sri Shan, as he is fondly known, always encouraged his players to think big too.

"SEA Games was never a yardstick for the team's success. I've always aimed higher and the goals were qualifying for the World Cup and Olympic Games. This is where the best level of hockey is played and that is where I wanted my team to reach."



Malaysia's Datuk Seri N. Sri Shanmuganathan (left) stops a Pakistan player during the 1975 World Cup.

Shanmuganathan retired from international hockey after three World Cups and three Olympics to join United Asian Bank as a security manager and even started a hockey team during his time there.

He then dabbled with coaching for a year when he helmed the national team from 1987-1988.

Over all these years, he has always believed in one key principle.

"The players and officials will come and go but Malaysia and hockey will remain," he said.

"During my time, we thought more for the country and the sport rather than one's individual needs. We must think of the country and the team first before ourselves.

"We must respect the flag and country. The loyalty to the country is when one rises to meet the need when the nation requires one's services. And our duty is to give our best because the pride of the country is at stake.

"There were times when I played through pain and injury because the country needed me and I wanted to make my fellow Malaysians proud.

"And we must never, never, do anything that may bring disrepute to the country."

Shanmuganathan showed self-discipline, hard work and passion in what he did. He is truly and undeniably a luminary to everyone.



The Star of Malaysia