All the news for Wednesday 31 July 2019

Pan Am Games 2019 (Men) - Day 3
Lima (PER)

Results

30 Jul 2019     ARG v CHI (Pool A)         5 - 1
30 Jul 2019     TTO v CUB (Pool A)     2 - 3
30 Jul 2019     CAN v MEX (Pool B)     5 - 1
30 Jul 2019     USA v PER (Pool B)     16 - 0

Pool Standings

Pool A
| Rank | Team | Played | Wins | Draws | Losses | Goals For | Goals Against | Goal Difference | Points |
| --- | --- | --- | --- | --- | --- | --- | --- | --- | --- |
| 1 | Argentina | 1 | 1 | 0 | 0 | 5 | 1 | 4 | 3 |
| 2 | Cuba | 1 | 1 | 0 | 0 | 3 | 2 | 1 | 3 |
| 3 | Trinidad & Tobago | 1 | 0 | 0 | 1 | 2 | 3 | -1 | 0 |
| 4 | Chile | 1 | 0 | 0 | 1 | 1 | 5 | -4 | 0 |
Pool B
| Rank | Team | Played | Wins | Draws | Losses | Goals For | Goals Against | Goal Difference | Points |
| --- | --- | --- | --- | --- | --- | --- | --- | --- | --- |
| 1 | United States | 1 | 1 | 0 | 0 | 16 | 0 | 16 | 3 |
| 2 | Canada | 1 | 1 | 0 | 0 | 5 | 1 | 4 | 3 |
| 3 | Mexico | 1 | 0 | 0 | 1 | 1 | 5 | -4 | 0 |
| 4 | Peru | 1 | 0 | 0 | 1 | 0 | 16 | -16 | 0 |
---

Cuba joins Argentina, Canada, USA with wins on Day 2

Ali Baggott



Canada v Mexico. Photo: Yan Huckendubler

Day 2 in Lima is the opening of the men's tournament at the 2019 Pan American Games. Argentina and Cuba have emerged as Pool A leaders after the opening day of men's competition, while Canada put away Mexico and the winner of USA and Peru still awaits.
MEN Pool A: Argentina vs. Chile (5-1)
The reigning Olympic champions wasted no time in the opening game of the men's tournament at the 2019 Pan American Games. No. 4-ranked Argentina fire three goals past Chile in the opening eight minutes of the game en route to a 5-1 victory.
MEN Pool A: Trinidad & Tobago vs. Cuba (2-3)
Cuba pulled off a 3-2 come-from-behind victory over Trinidad and Tobago to wrap up Pool A play. Carlos Consuegra scored two goals, while Roger Aguilera's blast was the game-winner for No. 69 Cuba to upset No. 37 Trinidad and Tobago.
MEN Pool B: Canada vs. Mexico (5-1)
The Canadian men earned a convincing 5-1 victory over Mexico to open Pool B play at the 2019 Pan American Games in Lima, Peru. Oliver Scholfield and Mark Pearson each tallied twice, while Keegan Pereira also got on the board. 
MEN Pool B: USA vs. Peru (16-0)
The USA stunned hosts Peru with a 16-0 win to wrap up Day 2 at the Pan American Games. Deegan Huisman scored five goals, while four others notched two. USA now join Canada on top of Pool B and the two will face off in their second pool-play game.
Men's pool-play matches continue on August 1 with Mexico vs. Peru (10:00), USA vs. Canada (12:00), Chile vs. Cuba (14:00), and Trinidad & Tobago vs. Argentina (16:00). Game times are local to Lima, Peru (-5GTM). Follow the Pan American Hockey Federation on Instagram, Twitter and Facebook at @panamhockey and online at panamhockey.org for the latest information.
Pan American Hockey Federation media release


---

USMNT Coasts Past Hosts in First Match of Pan American Games



Image Taken by Mark Palczewski

LIMA, Peru – In their opening game of the 2019 Pan American Games in Lima, Peru, the No. 24 U.S. Men's National Team took on hosts No. 55 Peru. The packed Villa María del Triunfo complex stadium was filled with fans decked out in red and white, but it was the USA who put on a show scoring seven goals in the first quarter alone and tallying another nine on their way to a 16-0 victory.

The first quarter opened in a scoring frenzy as USA notched three in the first three minutes. The first came from Aki Kaeppler (Stuttgart, Germany) off a penalty corner drag flick. Seconds later, USA capitalized again when a turnover by Peru found its way to Pat Harris (Moorpark, Calf.) who sent a backhand into the right corner of the goal. USA continued the momentum and caught Peru off guard when Kei Kaeppeler (Stuttgart, Germany) carried to the left side of the circle and sent a backhand shot that was touched in out of the air by Deegan Huisman (Almere, The Netherlands). This gave USA an early 3-0 lead but the red, white and blue didn't let up. Huisman went on to score two more goals in the first quarter, and Alberto Montilla (Allen, Texas) also contributed one of his own on a backhand past Peru's goalkeeper Felix Mafferetti. Sean Cicchi (Thousand Oaks, Calif.) also added his name to the scoresheet by successfully converting on a penalty corner drag. The first quarter saw USA produce seven goals that went unanswered by Peru.

USA remained in much of the control in the second quarter, even though they converted on just one goal in the frame. The constant action in Peru's defensive circle forced Mafferetti to turn many shots away, denying USA a chance to add to the goal margin. In the 26th minute, Cicchi and Paul Singh (Simi Valley, Calif.) used a give-and-go combination to get past Peru's defense and Cicchi followed with a quick backhand to make it 8-0. Peru threatened at the end of the quarter with a breakaway inside USA's defensive circle, but USA goalkeeper Jonathan Klages (Berlin, Germany) stepped out to clear the ball from danger. After 30 minutes of play, USA led Peru 8-0.

In the third quarter, USA scored three additional goals. The first came in the 31st minute off a passing sequence by Singh and Montilla that snuck past Mafferetti. Montilla added his second of the match at the 39th minute mark when he buried a low backhand, and Singh tallied another in similar fashion just six minutes later. Peru threatened to counter on a few occasions but USA's defense was able to break up the momentum before the hosts got into their attacking 25. Following another dominant quarter for USA, their lead increased to 11-0.

The final quarter of action brought more goals for USA. Johnny Orozco (Ventura, Calif.), Tom Barratt (Greensboro, N.C.) and Huisman each converted early to add three goals to USA's lead. A. Kaeppler notched another as he took the drag flick on a penalty corner in the 51st minute. With five minutes remaining, Christian DeAngelis (Doylestown, Pa.) dumped the ball back to Huisman who lifted it into the net and over substituted goalkeeper Guillermo Power for his fifth and USA's final goal. With two minutes left, Fabrizio Corno earned Peru's first penalty corner of the night. USA goalkeeper Klages ended the opportunity as he cleared the drag attempt over the end line with his glove. Peru was unable to answer and the game ended with the score standing at USA 16, Peru 0.

For their next match of the 2019 Pan American Games, the U.S. Men's National Team will face No. 10 Canada on Thursday, August 1 at 1:00 p.m. ET. Tomorrow, the U.S. Women's National Team will take on Chile at 1:00 p.m. ET.

USFHA media release


---

Men's National Team opens with 5-1 victory over Mexico

Scholfield, Pearson double up as Canadian men drop Mexico

By Ali Baggott



Photo: Yan Huckendubler

Lima, PERU – The Canadian men earned a convincing 5-1 victory over Mexico to open Pool B play at the 2019 Pan American Games in Lima, Peru. Oliver Scholfield and Mark Pearson each tallied twice, while Keegan Pereira also got on the board.

Canada established control early in the game when Scholfield opened the scoring in the seventh minute. The Vancouver native dribbled along the baseline and on a pass to the front of the net the ball inadvertently beat Mexican keeper Jose Hernandez and trickled over the line for a 1-0 Canada lead. The tempo started to settle with Canada holding most of the possession while Mexico did well to stay physical in midfield and deny any dangerous circle attack. In the 14th minute Canada earned a penalty corner but Gordie Johnston's flick went wide left of the goal.

The second quarter was more of the same, Canada in control but Mexico patiently waiting for their moments. Two-time Olympian Mark Pearson doubled Canada's lead in the 28th minute as he fired a back-hand shot from a tight angle. The ball rippled the top of the net to give Canada the 2-0 go-ahead. Not two minutes later and Pearson made good on a brilliant pass from Scholfield. Pearson's size and speed cut off two defenders, while a lifted pull beat a sliding Hernandez and the unguarded net allowed Pearson to make it 3-0 heading in to half time.

Mexico earned a penalty corner in the 34th minute and only needed the one chance to get on the board. Francisco Aguilar's flick beat Dave Carter glove side to bring Mexico within two, down 3-1. Canada responded in the 39th minute on a penalty corner of their own. Scott Tupper's drag flick was saved by the out-stretched left boot of Hernandez but the rebound fell to an unmarked Scholfield. From the top of the circle Scholfield pulled the trigger on a back hand and the ball blasted in to the bottom right corner to bring Canada's lead to 4-1.

Canada went up 5-1 when Keegan Pereira turned and fired with next-to-no space to beat Hernandez glove side in the fourth quarters. Mexico had a glorious opportunity in the other end as Aguilar send a pass to a wide open Miguel Leon but Leon couldn't handle the pass. Canada had a penalty corner in the final moments of play but Tupper's shot ricocheted through traffic and Sukhi Panesar's rebound attempt went wide. Despite the lack of penalty corner scoring, Canada got the result they needed and a 5-1 wins sends them to the top of Pool B.

According to Mark Pearson, every game is important and getting the results early in the event can add to the Canadian team's confidence moving forward. "This is such a big tournament for every team here. Every game is super important and it was a good team performance," he said.

In Pool A play, World No. 4-ranked Argentina beat Chile 5-1, while Cuba came from behind to steal a 3-2 win over Trinidad and Tobago. Men's play continues on August 1 where Canada will play USA at 12:00 p.m. local time (-5 GMT).



Photo: Yan Huckendubler

Field Hockey Canada media release


---

Pan Am Games 2019 (Women) - Day 3
Lima (PER)

Fixtures (GMT -5)

31 Jul 2019 10:00     MEX v PER (Pool B)
31 Jul 2019 12:00     CHI v USA (Pool B)
31 Jul 2019 14:00     URU v CUB (Pool A
31 Jul 2019 16:00     CAN v ARG (Pool A)

NB. No live streaming until the Semi-Final stages

Pool Standings

Pool A
| Rank | Team | Played | Wins | Draws | Losses | Goals For | Goals Against | Goal Difference | Points |
| --- | --- | --- | --- | --- | --- | --- | --- | --- | --- |
| 1 | Canada | 1 | 1 | 0 | 0 | 10 | 0 | 10 | 3 |
| 2 | Argentina | 1 | 1 | 0 | 0 | 2 | 0 | 2 | 3 |
| 3 | Uruguay | 1 | 0 | 0 | 1 | 0 | 2 | -2 | 0 |
| 4 | Cuba | 1 | 0 | 0 | 1 | 0 | 10 | -10 | 0 |
Pool B
| Rank | Team | Played | Wins | Draws | Losses | Goals For | Goals Against | Goal Difference | Points |
| --- | --- | --- | --- | --- | --- | --- | --- | --- | --- |
| 1 | Chile | 1 | 1 | 0 | 0 | 13 | 0 | 13 | 3 |
| 2 | United States | 1 | 1 | 0 | 0 | 5 | 0 | 5 | 3 |
| 3 | Mexico | 1 | 0 | 0 | 1 | 0 | 5 | -5 | 0 |
| 4 | Peru | 1 | 0 | 0 | 1 | 0 | 13 | -13 | 0 |
---

Live From Lima: Scouting Report - USWNT vs. Chile




As a lead up to today's Pan American Games (PAG) match-up, here are a few details you'll want to know before the starting whistle.

Game Day: Wednesday, July 31, 2019

Time: 1:00 p.m. ET

Opponent: Chile

FIH World Ranking: 15

2015 Pan American Games Finish: 2

Current Pan American Games Record: 1-0-0

Last Time USA Played Opponent: The USWNT last met Chile in a series of test matches in January prior to the start of the 2019 FIH Pro League. Even though USA dominated possession for both games, the result was 0-1-1 following the two-game series played in Santiago, Chile.

What You Need to Know: Chile and the USWNT have a rich history as opponents on the pitch. With many test series and tournament match-ups, the teams have battled it out on numerous occasions. USA will look to avenge their last-minute loss to Chile in the 2017 Pan American Cup on home turf that took them out of contention for the gold medal. Chile's Carolina Garcia is coming off an amazing goal-scoring performance in the FIH Series Finals in Hiroshima, Japan that led her team to the podium. Chile rebounded for the bronze medal after a thrilling shootout victory versus Russia after giving up a 3-1 lead in the second half.

Chile Roster:
#            Name     Caps
1            Claudia Schuler (GK)       214
2            Sofia Walbaum       204
3            Fernanda Villagran       57
4            Catalina Barahona       32
5            Denise Krimerman       149
6          Fernanda Flores       156
8          Carolina Garcia       246
9            Kim Jacob       61
10            Manuela Urroz       188
13          Camila Caram (C)       226
15            Mariana Lagos       77
16            Constanza Palma       160
19            Agustina Solano       46
20            Francisca Parra       21
21            Josefa Villalabeitia        172
25            Maria Maldonado       50
28            Natalia Salvador (GK)       52
30           Consuelo de las Heras       35
                   
            Head Coach: Serigo Vigil
            Assistant Coach: Diego Amoroso
            Manager: Alfredo Castro      

USFHA media release


---

EuroHockey Championship II (Men) 2019 - Day 3
Cambrai, France

Results

30 Jul 2019     CZE v BLR (Pool B)     1 - 1
30 Jul 2019     POL v FRA (Pool B)     1 - 2

Fixtures (GMT +2)

31 Jul 2019 12:15     AUT v ITA (Pool A)
31 Jul 2019 14:30     UKR v RUS (Pool A)
31 Jul 2019 16:45     CZE v POL (Pool B)
31 Jul 2019 19:00     FRA v BLR (Pool B)

Live streaming through http:/www.eurohockey.org

Pool Standings

Pool A
| Rank | Team | Played | Wins | Draws | Losses | Goals For | Goals Against | Goal Difference | Points |
| --- | --- | --- | --- | --- | --- | --- | --- | --- | --- |
| 1 | Russia | 2 | 1 | 1 | 0 | 5 | 3 | 2 | 4 |
| 2 | Austria | 2 | 1 | 1 | 0 | 4 | 2 | 2 | 4 |
| 3 | Italy | 2 | 1 | 0 | 1 | 6 | 6 | 0 | 3 |
| 4 | Ukraine | 2 | 0 | 0 | 2 | 3 | 7 | -4 | 0 |
Pool B
| Rank | Team | Played | Wins | Draws | Losses | Goals For | Goals Against | Goal Difference | Points |
| --- | --- | --- | --- | --- | --- | --- | --- | --- | --- |
| 1 | France | 2 | 2 | 0 | 0 | 9 | 1 | 8 | 6 |
| 2 | Poland | 2 | 1 | 0 | 1 | 5 | 2 | 3 | 3 |
| 3 | Belarus | 2 | 0 | 1 | 1 | 1 | 5 | -4 | 1 |
| 4 | Czech Republic | 2 | 0 | 1 | 1 | 1 | 8 | -7 | 1 |
---

EuroHockey Championship III (Men) 2019 - Day 3
Gibraltar, Gibraltar

Results

30 Jul 2019     TUR v SUI (Pool A)     0 - 2
30 Jul 2019    LTU v GIB (Pool A)     1 - 1

Fixtures (GMT +2)

31 Jul 2019     POR v SVK (Pool B)     8 - 5
31 Jul 2019 11:15     MLT v CRO (Pool B
31 Jul 2019 15:45     LTU v TUR (Pool A)
31 Jul 2019 18:00     SUI v GIB (Pool A)

Pool Standings

Pool A
| Rank | Team | Played | Wins | Draws | Losses | Goals For | Goals Against | Goal Difference | Points |
| --- | --- | --- | --- | --- | --- | --- | --- | --- | --- |
| 1 | Switzerland | 2 | 2 | 0 | 0 | 13 | 1 | 12 | 6 |
| 2 | Gibraltar | 2 | 1 | 1 | 0 | 6 | 2 | 4 | 4 |
| 3 | Lithuania | 2 | 0 | 1 | 1 | 2 | 12 | -10 | 1 |
| 4 | Turkey | 2 | 0 | 0 | 2 | 1 | 7 | -6 | 0 |
Pool B
| Rank | Team | Played | Wins | Draws | Losses | Goals For | Goals Against | Goal Difference | Points |
| --- | --- | --- | --- | --- | --- | --- | --- | --- | --- |
| 1 | Croatia | 2 | 2 | 0 | 0 | 12 | 0 | 12 | 6 |
| 2 | Portugal | 3 | 2 | 0 | 1 | 14 | 10 | 4 | 6 |
| 3 | Slovakia | 3 | 1 | 0 | 2 | 8 | 16 | -8 | 3 |
| 4 | Malta | 2 | 0 | 0 | 2 | 1 | 9 | -8 | 0 |
---

EuroHockey Championship III (Women) 2019 - Day 3
Lipovci, Slovenia

Result

30 Jul 2019     CRO v FRA (Pool A)     1 - 2

Fixtures (GMT +2)

31 Jul 2019 13:30     LTU v HUN (Pool B
31 Jul 2019 15:45     SVK v SUI (Pool B
31 Jul 2019 18:00     SLO v CRO (Pool A)

Pool Standings

Pool A
| Rank | Team | Played | Wins | Draws | Losses | Goals For | Goals Against | Goal Difference | Points |
| --- | --- | --- | --- | --- | --- | --- | --- | --- | --- |
| 1 | France | 2 | 2 | 0 | 0 | 18 | 1 | 17 | 6 |
| 2 | Croatia | 1 | 0 | 0 | 1 | 1 | 2 | -1 | 0 |
| 3 | Slovenia | 1 | 0 | 0 | 1 | 0 | 16 | -16 | 0 |
Pool B
| Rank | Team | Played | Wins | Draws | Losses | Goals For | Goals Against | Goal Difference | Points |
| --- | --- | --- | --- | --- | --- | --- | --- | --- | --- |
| 1 | Lithuania | 2 | 2 | 0 | 0 | 5 | 1 | 4 | 6 |
| 2 | Switzerland | 2 | 1 | 0 | 1 | 14 | 3 | 11 | 3 |
| 3 | Slovakia | 2 | 1 | 0 | 1 | 3 | 2 | 1 | 3 |
| 4 | Hungary | 2 | 0 | 0 | 2 | 0 | 16 | -16 | 0 |
---

2019 Test match ESP v MAS
Barcelona (ESP)

30 Jul 2019     ESP v MAS     1 - 0

FIH Match Centre


---

Evans on the double as Ireland win big again




Ireland's women ran up another strong win over Italy at Stormont with Nikki Evans scoring twice in an impressive all-round performance.

Yvonne O'Byrne, Chloe Watkins and Emma Buckley all came back into the side but Megan Frazer and Nicci Daly remained on the sidelines.

Buckley was called into action early on with the visitors fronting up better than Sunday's encounter.

Evans, though, put Ireland in front when Roisin Upton took a series of visiting defenders and then sent the perfect crash across the circle for the deflection.

Italy equaliser in the second quarter following an interception deep in Irish territory with Giulianna Ruggieri getting on the end of their first goal of the series.

It remained 1-1 into half-time but Evans restored the advantage early in the third quarter when she was sniping at close quarters after Deirdre Duke let fly with a shot.

Buckley was called on to make some acrobatic saves as the game opened up with Ireland winning a number of corners. From one early in the fourth quarter, Upton shot goalwards and Sarah Hawkshaw got the deflection.

Hannah Matthews had another ruled out for shooting too high at corner time – won by Evans – before Duke did get the fourth goal confirmed in the 58th minute.

Ireland's next port of call before the Europeans will take place on August 7 and 9 at Wilrijkse Plein – the tournament venue – against Belgium before final selection is confirmed on August 11.

Women's senior international test match

Ireland 4 (N Evans 2, S Hawkshaw, D Duke) Italy 1 (C Ruggieri)

Ireland: E Buckley, R Upton, N Evans, K Mullan, S McCay, L Tice, G Pinder, B Barr, A O'Flanagan, Z Wilson, D Duke
Subs: Y O'Byrne, C Watkins, H Matthews, S Hawkshaw, E Curran, S Barr

The Hook


---

Men's Squad Announced for Euro Hockey Championships 2019

Hockey Ireland Announce Men's Senior International Team for upcoming Euro Hockey Championships in August.

The Senior Irish Men's Hockey squad was unveiled this morning for both their upcoming Euro Hockey Championships campaign in Antwerp this August, as well as their Four Nations tournament in Spain at the end of this month.

Vital World Ranking points are at stake for all teams in this tournament as the Olympic Qualification process heats up. The Green Machine will take on the Netherlands, Germany and Scotland in Pool B, with their opening match against the Netherlands taking place on Saturday 17th of August at 15:45 local time.

The squad selected is as follows:

1 James Carr.
2 Mark Ingram.
3 Jonathan Bell.
4 Lee Cole.
5 John Jackson.
6 Stuart Loughrey.
7 Paul Gleghorne.
8 Conor Harte.
9 Tim Cross.
10 Daragh Walsh.
11 Shane O'Donoghue.
12 Stephen Cole.
13 Kirk Shimmins.
14 Michael Robson.
15 Ben Walker.
16 Jeremy Duncan.
17 Eugene Magee.
18 Sean Murray.

Reserves

Matthew Nelson.
Matthew Bell.

Speaking on the squad selection Head Coach, Alexander Cox, said, "I'm happy to announce the team that will contest the Euro Hockey Championships for Ireland. There are some different names in the squad in comparison to our FIH Series Finals earlier this summer. I'm content that this squad is, at this moment, our best squad and I expect we will do well in the coming weeks; however, there are still some decisions to be made around our goalkeepers for Europeans. The upcoming Four Nations tournament will be a good opportunity to prepare ourselves in the best possible way for European Championships."

The Men will head to Spain ahead of the Euro-Hockey Championships campaign for a Four Nation tournament, taking on Spain, England and Malaysia.

For more information on the Belfius Euro-Hockey Championships, see: //www.belfiuseurohockey.com/en/

Irish Hockey Association media release


---

David Harte a big doubt for Euro championships



David Harte. Pic: Frank Uijlenbroek / World Sport Pics

David Harte could miss next month's European Championships as the two-time world goalkeeper of the year faces a race against time to overcome a muscle inflammation.

The Kinsale man was not named in the squad released by Hockey Ireland for the continental competition with Jamie Carr and Mark Ingram named in the goalkeeping spots.

But there is still a chance he could make it into the line-up for the event should the injury respond well to rest in the coming weeks ahead of the tournament which begins in Antwerp on August 16th.

One big boost is the availability of Eugene Magee. The Banbridge man had originally been ruled out of contention due to work commitments but has since been freed up to take part, giving Cox access to Ireland's most capped male player at the head of his forward line.

It is, otherwise, a much-changed panel from the one that lined out at the FIH Series Finals in June. Luke Madeley is definitely out with a broken bone in his foot while Matthew Nelson and Matthew Bell are named on the reserve list.

Olympian Kirk Shimmins comes into the panel, brining an extra level of speed and dynamism to the midfield exchanges while Stu Loughrey and Jeremy Duncan have earned recalls.

Former Australia international Tim Cross, meanwhile, did enough in his first two caps for Ireland last weekend against Scotland to get the nod.

Speaking about squad selection, head coach Alexander Cox, said: "There are some different names in the squad in comparison to our FIH Series Finals earlier this summer.

"I'm content that this squad is, at this moment, our best squad and I expect we will do well in the coming weeks; however, there are still some decisions to be made around our goalkeepers for Europeans.

"The upcoming Four Nations tournament will be a good opportunity to prepare ourselves in the best possible way for European Championships."

The backline looks a settled one with Olympians Conor Harte, Jonny Bell, John Jackson and Paul Gleghorne retained with the experienced Lee Cole and Loughrey flanking them.

Further up field, it looks like a side with more attacking options with Stephen Cole sitting in the holding role. Shane O'Donoghue was used to good effect further up the field in the series win over Scotland, working in a "quarterback" role to set free the likes of Cross, Duncan, Magee, Sean Murray, Michael Robson and Ben Walker.

The Green Machine travel to Terrassa this week for their latest preparation phase at a Four Nations tournament. They meet England on Thursday before facing Malaysia on Friday and hosts Spain on Sunday.

Ireland squad for European Championships (August 16 to 25, Antwerp): Jamie Carr (KHC Leuven), Mark Ingram (Crefelder HTC), Conor Harte (Racing Club de Bruxelles), Jonathan Bell (Lisnagarvey), John Jackson (Bath Buccaneers), Lee Cole (Royal Oree), Paul Gleghorne (Crefelder HTC), Stuart Loughrey (Hampstead & Westminster), Tim Cross (Tilburg), Shane O'Donoghue (KHC Dragons), Stephen Cole (Royal Oree), Daragh Walsh (KHC Leuven), Kirk Shimmins (Pembroke), Sean Murray (HC Rotterdam), Michael Robson (Crefelder HTC), Ben Walker (Three Rock Rovers), Jeremy Duncan (Herakles), Eugene Magee (Banbridge)

Four Nations tournament (Club Egara, Spain; August 1-4)

Thursday, August 1: Ireland v England, 5pm
Friday, August 2: Ireland v Malaysia, 5pm
Sunday, August 4: Ireland v Spain, 11am

The Hook


---

David Harte: Ireland keeper in fitness race for European Championships

David Harte could still be added to Ireland's European Championship squad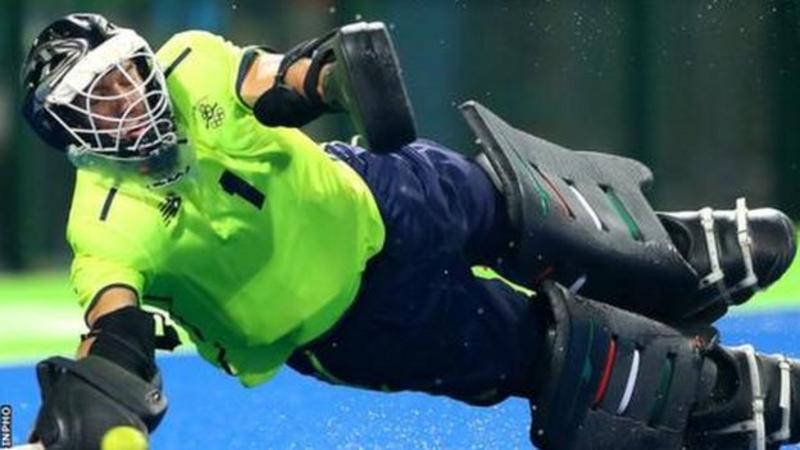 David Harte is a former world goalkeeper of the year

Star goalkeeper David Harte is facing a fitness race to be available for Ireland's European Championship campaign in Belgium next month.

The former world goalkeeper of the year was not named in Alexander Cox's 18-man squad on Tuesday as Jamie Carr and Mark Ingram were included.

However, BBC Sport NI understands that Harte will be given every chance to prove his fitness for the tournament.

Ireland's opening game pits them against the Netherlands on 17 August.

In a press release accompanying the announcement of the squad for this week's Four Nations tournament in Barcelona and the European Championships, coach Cox admitted that "there are still some decisions to be made around our goalkeepers".

The squad's six Ulster players are Jonathan Bell, John Jackson, Paul Gleghorne, Michael Robson, Eugene Magee and Sean Murray while Matthew Bell and Matthew Nelson have been named as reserves.

An interesting inclusion is former Australian international Tim Cross who made his Ireland debut against Scotland last weekend.

Dutch-based Cross, 28, made eight appearances for Australia but is an Irish passport holder.

The winners of the European Championships will book automatic Olympic Games qualification with the competition also counting towards world ranking points.

Ireland will take on hosts Spain, England and Malaysia in this week's Four Nations tournament.

Ireland squad: Jamie Carr, Mark Ingram, Jonathan Bell, Lee Cole, John Jackson, Stuart Loughrey, Paul Gleghorne, Conor Harte, Tim Cross, Daragh Walsh, Shane O'Donoghue, Stephen Cole, Kirk Shimmins, Michael Robson, Ben Walker, Jeremy Duncan, Eugene Magee, Sean Murray

Reserves: Matthew Nelson, Matthew Bell

BBC Sport


---

'Need to prove my worth again'

Nine months after a bad knee injury, forward S.V. Sunil is back in the mix

Shreedutta Chidananda



Raring to go: S.V. Sunil is looking forward to making his mark in India colours again. 

S.V. Sunil is a relieved man. There was a time, not that long ago, when he wondered if his career as an Indian hockey international was over. But, nine months after suffering a severe knee injury in Bhubaneswar, Sunil is back in the scheme of things.

Last week, he was named in the Indian team for the Tokyo Olympics Test Event; it came as a reward for months of hard work and painful rehabilitation on the sidelines. When Sunil was left out of the Indian side for the FIH Men's Series Finals in June, there were doubts about his future in the set up. But now, the 30-year-old from Somwarpet is keen to make every chance count.

"I'm feeling happy," he says at the SAI here. "My first target was to get back into the team after injury. Hockey India and the team management have now given me a chance. I need to prove my worth again."

It was in October last year that Sunil injured his left knee (a grade three LCL tear), during a training camp in the lead-up to the World Cup in Bhubaneswar. He then watched, hobbling around on crutches, as Odisha put on a grand spectacle before the world. "It was my dream to play in a home World Cup," he says. "I was very hurt. I had worked so hard. But there was nothing I could do."
Strenuous rehabilitation

Robin Arkell, Scientific Advisor to the men's team, put Sunil on a strict strength and conditioning routine. Life was difficult at the beginning. He was on crutches for two months, and the lack of exercise told on his body. He put on seven kilos, with his body fat percentage rising from 7.5 to 12. When Sunil, a forward renowned for his speed, did finally start running again, it felt "as if someone was sitting on my back."

Sunil could run only in straight lines at first; to turn and twist at pace would be to risk damaging the knee ligaments again. "I felt I had fallen far behind the rest of my teammates," he says. "I was feeling really low. It hurt to sit at home when tournaments were going on. But I used that as motivation."
To quit or not...

The thought of bidding hockey goodbye did cross his mind, he admits. "This is my second major injury. I had injured my right knee earlier. So at one point I wondered if I had had enough. But I spoke to my coaches, and to close friends like Sreejesh and Birendra Lakra who came to visit me every day. They told me that there was still a lot of hockey left in me. Even my family urged me not to give up. Self-belief was important," he says.

A one-on-one meeting with chief coach Graham Reid proved to be reassuring. "He was positive about my future," says Sunil. "He assured me that everyone would get a chance, but that proving myself was in my hands. That was enough for me."

The Hindu


---

Mannheimer HC add Jamilon Mülders to support staff



©: Frank Uijlenbroek / World Sport Pics

Mannheimer HC have secured the services of ex Germany and China national coach Jamilon Mülders with the 43-year-old joining the club as a "sports advisor" with the role starting in September.

Mülders is regarded as a very meticulous coach who works in an innovative, straightforward and successful way. As a coach, he won the bronze medal at the Olympic Games in Rio de Janeiro with the German women's team in 2016, the European title in 2013 in Antwerp and, with China, bronze at the 2018 Asian Games.

He also helped out Rot-Weiss Koln's Andre Henning at the 2017 EHL FINAL4 in Antwerp when they won their maiden Euro Hockey League title.

As a player, he was part of the German 2002 World Cup winning side and, in 1999, won a German and Euro club double with Club An Der Alster.

"With Jamilon Mülders, we have been able to attract a nationally and internationally outstanding expert who will give the MHC a lot of input in a long-term co-operation," said MHC sports director Peter Lemmen.

"With this, we have been able to create options early if Michael McCann is no longer available as head coach of the men after the 2019/20 season. We will continue to involve Mike in the training work but an agreement like we had before [with him] was no longer possible."

Mülders will first act in an advisory capacity and get to know the club in detail, explains Lemmen, before taking on a new role in 2020/21 but that is unlikely to be as a coach.

For Mülders, he said the offer has come at the right time: "They made a very convincing case for me and it fulfills all my targets. There is a high degree of consistency in the most important decision-making positions with a high potential for growth in all sporting areas, clear lines of decision-making and strong trust in me."

Euro Hockey League media release


---

Barr twins join Belfast Harlequins for EYHL campaign

By John Flack



Bethany Barr celebrates a goal in Ireland's recent win over Malaysia. Pic: Adrian Boehm

Belfast Harlequins have pulled off a major coup as they welcome the Barr twins, Bethany and Serena, for the new EY Hockey League season.

The versatile Ireland duo, who can play in a number of positions, have returned home from Dublin and Nottingham respectively where they were studying.

It's a huge boost for new Quins' head coach Phil Mills' side, who had earlier lost World Cup silver medallist Zoe Wilson, who has returned to her former club Randalstown as player-coach.

In her place, Harlequins have now gained two more internationals to add to Lizzie Colvin, who was also a World Cup runner up last year, and Gemma Frazer, overlooked for the current panel, despite some hugely influential displays last season

Bethany and Serena's hockey careers are now therefore back on parallel lines much to their delight after spending two years apart playing for UCD and Beeston respectively.

Previously, they were team mates at Lurgan and Liberty Flames, the latter during a four-year spell when they were on a hockey scholarship in the United States.

In the interim, they both made their senior international debuts on the trip to Chile last January and they now have a combined caps tally of 21.

Bethany enthused: "Both Serena and I are very excited about the move to Harlequins and we are really looking forward to getting to play together again at club level next season.

"We both knew we wanted to be playing with an IHL side and Harlequins seemed like a family club that we would love to be a part of.

"Last year, they welcomed me to train with them during the latter part of the season when I had to move away from Dublin up to Belfast for work.

"They made me feel at home despite the fact that, at that point, I was still playing for UCD. 

"Harlequins, therefore, seemed like the right choice for Serena and I as we want to be part of building something and be able to contribute to the team.

"We look forward to getting to train with all the girls and we look forward to seeing how the new season pans out."

Quins coach Mills said: "We are delighted that Bethany and Serena have decided to join the club."

"They are both strong players with broad experience so they will bring a lot to the squad and I think they will fit in very well."

The Hook


---

Wapda rout Army Whites in Noor Khan National Hockey

ISLAMABAD - Wapda routed Army Whites 6-0 in the 65th Muhammad Noor Khan National Hockey Championship 2019 match at Abdul Sattar Edhi National Hockey Stadium, Karachi on Tuesday.

While Wapda Whites also registered thumping 5-1 victory against Railways and in the last match of the day. SSGC edged past PIA 3-2. In the first match of the morning, played between Wapda and Army Whites, Wapda proved strong enough to outclass Army Whites 6-0. Army whites had displayed wonderful skills throughout the championship, but they were no match to mighty Wapda.

Despite dominating the entire first quarter, Wapda could only score one goal. The second quarter also witnessed the same pace as Wapda added two more goals to make it 3-0. In the third quarter, Wapda scored one more while in the fourth and last quarter, Wapda scored two more goals to register easy 6-0 victory. Rizwan Ali and Haleem Usman scored two goals each for the winners, while Tasawar Abbas and Aleem Bilal scored a goal each.

In the second match, Wapda Whites hammered Railways 5-1. Zahid Ullah and Suleman scored two goals each and Shajee Ahmed hit the fifth one for the winners. For the losing side, Abdul Basit scored the consolation goal.

In the last match of the day, SSGC had to dig deep to overcome spirited PIA 3-2. SSGC were enjoying 2-0 lead at the end of the first quarter, but PIA never gave up and continued to fight till the end. Mubashir Ali, Rana Sohail and Hamza Waheed slammed in a goal apiece for SSGC, while Shafqat Rasool and Roman Khan converted one each for PIA.

Talking to The Nation, PHF Staff Officer Tariq Mir said: "Heavy rain continued to lash the city and despite facing lot of hardships including load-shedding and heavy rain water, the ground staff did a remarkable job and ensured matches were played well in time. Now quarterfinal lineup has been drawn, which will be played from August 1. SSGC topped the group stage with 12 points, followed by PIA with 9 points."

The Nation