All the news for Saturday 27 July 2019

2019 Test Matches GER v NED (M) - 1st Test
Krefeld

26 Jul 2019     GER v NED     3 - 2

FIH Match Centre


---

Malaysia score a first over Germany since 2000

By Jugjet Singh



Malaysian players celebrate after scoring against Germany on Thursday. Malaysia won 4-2.

MALAYSIA stunned World No 7 Germany on Thursday by humiliating the four-time Olympic champions 4-2 in a Test match in their own backyard in Krefeld.

Yes, you read it right.

There was disbelief on social media when news about this historic win reached Malaysian shores.

Sceptics asked: "Was it the German national team? Did we play against German B? I think the score is wrong (4-2 to Germany)."

The reaction is understandable as this was Malaysia's first win over the two-time world champions since the 2-1 success in the Azlan Shah Cup in 2000.

But the surprise win is only a small step in the team's quest to qualify for next year's Tokyo Olympics.

The national team are currently on tour in Europe to prepare for the final Olympic qualifier in November. They will meet either Germany, Spain, New Zealand or Canada.

Razie Rahim's penalty-stroke attempt in the sixth minute started the rout, while Faizal Shaari (13th), Shahril Saabah (53rd) and Meor Azuan Hassan (55th) netted the other goals.

The shell-shocked Germans replied through Tom Grambusch (23rd) and Timm Herzbruch (60th).

And yes, it was not Germany B because 15 out of the 18 players who played in last year's World Cup were fielded against Malaysia in the Test.

Roelant Oltman's side will play Spain on Wednesday in their second Test match.

The World No 12 will then be involved in a Four-Nation tournament comprising England, Ireland and Spain on Aug 2-4, followed by friendlies against the Netherlands (two matches) in Breda and Belgium (two matches) in Antwerp on Aug 10-12.

New Straits Times


---

Convincing win for Gibraltar hockey in friendly against Malta

By Stephen Ignacio




A very composed first half by Gibraltar hockey put them ahead 2-0 against a Maltese side that will also be playing in the Eurohockey Championship III this week.
Although not having played much prior to this weekend's tournament the hockey senior national side played well as a unit.

There was some strong defending in the first half with some confident keeping.

Youngsters such as Clinton also showed why they were in the set up producing some confident display.

At 2-0 Gibraltar was able to walk into the final stage of the warmup match looking to enjoy themselves and test themselves.

It didn't take them long to go further ahead as they smashed a short corner in within minutes of the restart.

The umpires were put to the test also by a Maltese who reacted quite angrily at some calls. At one time tensions got hot and required cooler heads on the field to split players apart. The match highlighted the high tension among teams as they approach the start of the tournament.

As tensions rose the umpire made a rare call to stop the match to speak to coaches as a friendly started getting overly heated. Things settled down with both teams focusing on the game.

This allowed Gibraltar to settle back into the match to score their fourth with three minutes of match left. It should have been five just a minute later but good intervention by Maltese defender and later their keeper saw prevented them from adding to the score until the last second.

Gibraltar finishing 5-0 in the end.

The Gibraltar Chronicle


---

Lima provides starting point for Road to Tokyo




This year sees the 18th edition of the Pan American Games, the vibrant, colourful and exciting multi-sport event that takes place every four years across the PAHF region. For the participating hockey teams there are two prizes at stake: to be crowned Pan Am Champions; and to qualify for the Olympic Games Tokyo 2020.

Peru's capital city Lima is playing host and President of the Peru Hockey Federation, Gianni Delucchi, is delighted that the men's and women's hockey competitions will be showcased on two new hockey pitches, which are part of the Andrés Avelino Cáceres sports complex.

"I don't know whether to say it is a dream come true or a task accomplished, but now we are looking forward to making much more progress," says Delucchi. "We are going to rekindle and develop the passion for hockey that we have always had in South America and look to shorten the gaps between us [Peru] and the other, higher-ranked countries in the Pan American zone." 

And there is certainly the prospect of some fierce competition in the hockey events. Eight men's and eight women's teams will be competing, with several teams fancying their chances of making the medal matches.

In the men's event the teams taking part are reigning champions Argentina (World Ranking:4), Canada (WR:10), USA (WR:24), Chile (WR:28), Mexico (WR:32), Trinidad and Tobago (WR:37), Peru (WR:55) and Cuba (WR:69).

The women's event sees defending champions USA (WR:13) face Argentina (WR:3), Chile (WR:15), Canada (WR:18), Uruguay (WR:25), Mexico (WR:30), Peru (WR:38) and Cuba (WR:63).

Argentina men and USA women are the defending champions, with the men's team claiming the honour of being the only men's team to have won a medal in every edition of the hockey competition – nine gold medals and four silver. Canada are the only other men's side to have won gold.

In the women's competition, Argentina and USA have been medal winners in every edition, and they share the gold medals between them, six and two respectively.




The main threat to continued dominance by Argentina in the men's event is from their most northerly neighbours, Canada.

The Canadians have had a good year, with an impressive win at the FIH Series Finals in Malaysia, beating the host nation in the final. They currently sit in 10th place in the FIH World Rankings, six places below Argentina but brimming with confidence. Among the players to watch are the silkily skilled Sukhi Panesar and ever-improving youngster Jamie Wallace.

A more distant, but plausible threat, comes from the USA. They also enjoyed a good FIH Series Finals campaign, beating higher-ranked opposition before finishing in fourth place after losing the bronze medal match to Japan. Sean Cicchi will always be a threat for the USA and, in goalkeeper Jonathan Klages, the team has a talented shot-stopper.

While the strength and competitive experience of the higher ranked teams will play a major part in this tournament, particularly as it reaches the latter stages, don't be surprised if the unpredictable but highly talented Trinidad and Tobago side pull off some upsets. If part of the team, the wily veteran Kwan Browne is capable of inspiring his side to perform well above their ranking.

In the women's competition it is usually all about Argentina versus USA. Two top ranked teams who, with the exception of 1991, have always been in the top two. This is where you would expect the medals to go, except this year USA have slipped from the rankings to 13, and both Chile and Canada have shown a tenacity and ability that could see them punch high in this event.

Argentina's quality can be seen all over the pitch; USA have talented players but they are still finding their feet; Chile will use all the experience they have gained in recent years at both the FIH Series Finals and the previous Hockey World League; Canada have a new level of resilience developed after the team spent a year playing their hockey and training in Belgium.

It is difficult to look beyond these four teams as potential medal winners but the competition and rivalry for those top placings will be fierce.

The beauty of the Pan American Games is two-fold: on the one hand, spectators get the chance to see legends of the game such as Carla Rebecchi, Silvia d'Eli, Scott Tupper and Kat Sharkey in action. On the other hand, there is the excitement and sense of newness that surrounds the emerging nations. Uruguay, Mexico, Peru and Cuba – these are places where hockey is growing exponentially and the Pan Am Games is the perfect platform for them to spread their wings.

Delucchi sums it up perfectly: "The main legacy we want to create is to have a new home for field hockey not only for Peru, but for the Pan Am region.

"We will take up the challenge to grow the sport locally and to host events, taking advantage of the quality of these new facilities and its location. We have plans to develop hockey for new players, but also to prepare the next generations of national team players."

The Pan American Games take place from 29 July to 10 August 2019 in Lima, Peru.

#RoadToTokyo

FIH site


---

All Eyes on Lima: Previewing the Pan American Games



Photo: Mark Palczewski

The ancient city of Tokyo is the ultimate destination for 16 teams who will be competing in the 2019 Pan American Games in Lima, Peru this July and August. The site will no doubt see the rise of heroes of field hockey as two teams look to book their passage to Japan for the 2020 Summer Olympic Games. The scene has been evolving rapidly in Peru with two water-based pitches arriving in the city earlier this year. This is a testament to the incredible preparations for the premier competition in hockey in the western hemisphere.

"Hosting the Pan American Games Lima 2019 in Peru is a great opportunity and window for our sport because of the legacy we will receive," said Gianni Delucchi, Peruvian Hockey Federation President. "We will receive the first two water-based Global Elite pitches in Peru that will help in the development of field hockey in Peru and the Pan American zone."

The exposure of the sport to a new generation of players will no doubt add to the already heightened excitement at the event. Twenty-four games will be packed with passion as Chiclayo welcomes the eight other nations to compete. On the men's side, four of the top-30 teams in the world will square off in two pools, with 2016 Olympic gold medalist No. 4 Argentina and No. 10 Canada in opposite sides of the draw. The No. 24 U.S. Men's National Team is in Pool B alongside their neighbors to the north and south, Canada and No. 32 Mexico, as well as host No. 55 Peru. USMNT Head Coach Rutger Wiese's squad is looking to keep momentum going after winning gold in the Hockey Series Open in Salamanca, Mexico last June following a pair of bronze medals at the 2017 FIH Hockey World League Round 2 in Trinidad and Tobago and men's Pan American Cup (PAC) in Lancaster, Pa. The win in Mexico qualified the men for the FIH Series Finals in Bhubaneswar, India in June, giving them a solid opportunity to train together prior to Peru. Twelve members of the USMNT that competed in Lancaster, Pa. played in India, which gave the red, white and blue further time not only to strengthen the core of the squad but also give ample opportunity to six newcomers to integrate into the program.

Veterans Tom Barratt (Greensboro, N.C.), Ajai Dhadwal (Agoura Hills, Calif.) and Pat Harris (Moorpark, Calif.), lead what is now an experienced squad with the majority of the roster having more than 50 caps each. Goalkeeper Jonathan Klages (Berlin, Germany) returns to the cage for USA after pitching three shutouts at the Hockey Series Open and being named the FIH Series Finals Best Goalkeeper of the Tournament, and along with Aki Kaeppeler (Stuttgart, Germany), who is a drag flick scoring threat, USA is well positioned to make another run to the podium. This is a side that has been together for a couple years now, and that consistency will bode well for USA who opens the Pan American Games with the host Peru. Two days later, they will take on Canada before closing out pool play with familiar opponent Mexico.




Peru is looking to improve from their fifth-place finish in the 2018 South American Games in Cochabamba, Bolivia. Buoyed by a new home in Chiclayo, Peru is backed by Sebastian Dennison to help lead once more in tournament play. In an interesting twist to the Olympic Qualification standpoint, No. 10 Canada has already ensured themselves a spot in at least an Olympic Qualifying tournament after claiming first place in the FIH Series Finals in Kuala Lumpur, Malaysia. Canada, who competed in Rio under current captain Scott Tupper, finished second to Argentina in the 2015 edition of the Pan American Games. Canada also finished second in the 2011 Pan American Games, and with goalkeeper David Carter, the prospects are bright. At the other end of the pitch, a number of men have stepped forward to put the ball away, giving Canada a plethora of options offensively.

USA tied Mexico in the Hockey Series Open, giving Mexico a chance to avenge that lost opportunity to win on their own turf, especially after holding two-goal leads four times in the contest. With Francisco Aguilar, who was the leading scorer in the 2018 Central American and Caribbean (CAC) Games in Baranquilla, Columbia, as well as captain Roberto Garcia back for Mexico, this squad will put up a big fight in all their matches.

In the other pool, No. 4 Argentina used the inaugural FIH Pro League as preparation for the tournament. The top scorer from PAC, Matais Paredes, garnered similar marks in the FIH Pro League as he helped propel the team to a fifth place finish. Maico Casella and Luca Vilas are also multiple-goal scorers for Los Leones, who are looking to repeat as Pan American Games champions after also taking the South American Games in Bolivia, and 2017 PAC. Argentina sits ranked in the top-four in the world for a reason, and they will be eyeing a third consecutive trip to the Olympic stage, this time to defend the gold.

To get there, they will have to contend with their rival to the west, No. 28 Chile, who have recently hit a rough patch and will look to get back into form. After a disappointing sixth-place finish at PAC, Chile stormed back to claim silver at the South American Games last year behind stalwarts Juan Amoroso and Martin Rodriguez. Chile has taken bronze in each of the last three Pan American Games as they eye reaching the championship match for the first time.




The inaugural 1967 Pan American Games silver medalists, Trinidad and Tobago, are also in Pool A and currently rank No. 37. Led by the ageless Kwan Browne, the team has a way of creating havoc in any pool. After earning a fourth-place finish at PAC after losing to USA for the second time in a major competition in 2017, Trinidad and Tobago finished third at the CAC Games. Closing out the pool are the surprise CAC Games victor, No. 69 Cuba, who claimed first place after finishing in second position in their pool to advance to the championship game. There they reversed their result against Mexico from pool play to take home the trophy. A dark horse on the international scene, Cuba is looking to ride the momentum to another high finish on the men's side.




On the women's side, No. 13 USWNT hopes to win their third consecutive Pan American Games title. Current defender Alyssa Manley (Lititz, Pa.) is the only woman on the squad in 2019 who was on the gold medal team in 2015, and her experience will be key in Peru. She is one of many athletes that saw action in all games in the FIH Pro League, where USA was one of two Pan American region teams on this world stage. The league provided an excellent opportunity for the young squad to face top-level competition on a regular basis, and USA has shown they are able to compete with internationally-ranked squads with consistency. Goalkeeper Kelsey Bing (Houston, Texas) has shown great promise with a mix of veterans and rising stars in front of her. Together, they provide stability while captain Kathleen Sharkey (Moosic, Pa.) leads a group of goal-hungry players like Lauren Moyer (York, Pa.) and newcomers Mackenzie Allessie (Mount Joy, Pa.) and Danielle Grega (Kingston, Pa.). Sharkey was the top goal-scorer at the 2017 PAC and is ready to keep that streak going as well. Make no mistake, this USA squad has been gaining experience since the last Pan American Games to go alongside a chip on their shoulder in the form of a third-place finish on their home turf in PAC.

Their bitter rivals, No. 3 Argentina, should bring an experienced squad to Peru and are ready to avenge defeats of their own - the last two championship contests in the Pan American Games. Five of the women that competed in the FIH Pro League played in the 2015 Games in Canada. In addition, Julieta Jankunas is showing a lot of success as a striker, ranking as one of the top goal scorers in the FIH Pro League at the halfway point.




No. 15 Chile picked up their first silver medal in PAC history in Lancaster, Pa., and they are looking to transfer that success to the tournament in Peru. Chile also took third at the South American Games last year in Bolivia, again losing out to their neighbors to the east in the semifinal, but the result showed a closing of the gap as Argentina needed two late goals to pull away. Veterans like Camila Caram, Carolina Garcia, Sofia Walbum and Josefa Villalabeitia highlight what is now a very experienced team and one that will be in the hunt for a spot on the medal stand. In the Hockey Series Open on their own soil, Chile tallied 51 goals while allowing none en route to a berth in the FIH Series Finals in Hiroshima, Japan this June, a competition which was a valuable launching pad for them into Lima.

Canada has been one of the movers in the world over the last couple of years. Now ranked No. 18, they have gained massive experience after a strong showing against USA last year and sending a number of their athletes to club teams overseas. Canada is the only other country, other than the USA and Argentina, to earn a silver medal in Pan American Games history, doing so in 1991, and they earned third in the last edition of the tournament on home soil. A number of current players made an impact in NCAA field hockey, including Stephanie Norlander (Iowa), Karli Johansen (Iowa), Holly Stewart (Maine), Madeline Secco (Stanford) and Elise Wong (Princeton). That experience, coupled with the training as a squad in Belgium, will provide Canada with a solid foundation as they head into the summer. The team traveled to Mexico for the Hockey Series Open, where they placed first and earned passage to the FIH Series Finals in Valencia, Spain, also placing first.

The team from No. 25 Uruguay has also made great strides in the last couple of years. In 2018, they were the surprise finalists in the South American Games, just edging out Chile on goal differential to take the top spot in the pool after a draw in round robin play. This too is a squad that is gaining experience. Veterans like Anastasia Olave provide a nice scoring punch for Uruguay, and the consistency they have had with personnel is paying off. In the most recent competition against their South American rival Chile, Uruguay lost by a 1-0 margin. The team also traveled to Japan for the FIH Series Finals, along with Chile and fellow Pan American preparations for Peru.

No. 30 Mexico, like Uruguay, is looking to parlay a consistent squad into success in Lima. The silver medalists in Barranquilla for the CAC games, Mexico will bring a core group of athletes who have already participated in Pan American Games and Cup, including the captain Michel Navarro, who was the top scorer in the Salamanca qualifier for the FIH Series Finals. The squad continued to gel at the competition there, earning a berth in Hiroshima. Mexico has veteran leadership up and down the lines, and this group that has grown together over the last four years will be poised to threaten a top-half finish.

Cuba were the gold medalists in the CAC games, edging out Mexico 1-0 in the final on a goal by Sunylis Nikle. Earlier in the tournament this No. 63 ranked team fell to Mexico by a final of 0-3. Yuraima Vera and Yunia Milanes are also back for Cuba, who are looking to climb out of the eighth-place spot they took at the Pan American Games in Toronto. Peru gained valuable experience at the South American Games in Cochabamba. With leadership by captain Claudia Ardiles and buoyed by a home crowd, Peru will look to give the spectators much to cheer for.

There is no question that heroes will emerge for their respective nations. Two teams will book automatic passage to Tokyo, and in doing so, they will inspire a new generation of athletes.

"The venue is situated in a district where there are around 100,000 kids between 6 and 17 years," added Deluccoi, "We are hoping that maybe around 5,000 will be interested in learning field hockey after these Games. Afterward, we will open field hockey sport academies at the venue for anyone that is interested in playing it."

Among those, perhaps, will be a future Olympic star, much like some playing in this tournament will be.

USFHA media release


---

Former Twin Valley Star Ashley Hoffman Set for Challenge of Pan American Games

Brian Rippey, Reading Eagle Sports Reporter




Whether she's wearing green, Carolina Blue or the Stars and Stripes, Ashley Hoffman (Mohnton, Pa.) knows just one way to play field hockey.

The former Twin Valley standout will take her passion for the game to South America for the 2019 Pan American Games in the biggest international competition of her young career.

But when the U.S. Women's National Team faces Mexico Monday to begin its first bid to qualify for the 2020 Olympics in Tokyo, Hoffman said she won't approach the game any differently.

"Every game I play I am nervous, it is no stranger to me," said Hoffman, a 2015 Twin Valley graduate, "What helps me combat that is knowing first and foremost that if I compete to the best of my ability, win or lose, I will be glorifying God. Second, I have to trust in my and our team's preparation."

Playing on the big stage is nothing new for Hoffman. She helped North Carolina win the NCAA championship last fall when she was named Most Outstanding Player at the NCAA Tournament. A two-time first-team All-American, Hoffman was voted the 2018 Honda Sport Award Winner as the nation's top field hockey player and the Atlantic Coast Conference Female Athlete of the Year.

She made her Team USA debut on March 25, 2017, and has already played in 58 international games.

"The principle is the same whether it's NCAA or Pan Ams," Hoffman said. "It doesn't matter what you have done the entire season, or three years before in this case, it will all come down to a handful of games. The pressure feels very similar; it was great learning for me to be able to experience Final Fours before joining the national team."

Hoffman, a midfielder and defender for the Tar Heels, finished her career with 43 goals and 24 assists while starting all 96 games during her four-year career.

She holds the Berks all-time record with 75 assists, to go with 104 goals. She helped Twin Valley win back-to-back Berks titles in 2012 and 2013 while her mother, Brenda, was head coach.

Brenda Hoffman was the National Player of the Year in 1982 at Penn State and earned an Olympic bronze medal at Los Angeles in 1984.

"My mom had a huge impact on my field hockey career," Hoffman said. "She was my first-ever coach and would encourage me to practice or stay active wherever and whenever I could. She and my dad (Scott) showed me the possibilities that would open to me if I was coachable, humble, worked hard and had discipline."

Still more than three months shy of her 23rd birthday, Hoffman has played field hockey on three continents and earned a gold medal in Johannesburg, South Africa, in the 2017 FIH World League Semifinals.

Hoffman and her teammates are in Lima, Peru, preparing for the 18th Pan American Games, a quadrennial Olympic-style competition for countries in North and South America.

"It's always an honor to represent my country, but especially this time since we will be surrounded by other athletes from many different sports across North and South America," Hoffman said. "We have the unique opportunity to represent both Team USA and field hockey."

Team USA, with Conrad Weiser and North Carolina graduate Jackie Briggs in goal, won two straight Pan American gold medals. This year's team is much younger than the 2015 team that won the gold medal in Toronto and qualified for the 2016 Olympics in Rio de Janeiro.

Also on the American roster are 2019 Donegal grad Mackenzie Allessie, the national scholastic all-time scoring leader, and other players with limited international experience. In addition, Janneke Schopman replaced Craig Parnham as Team USA head coach in 2017.

"The turnover this Olympic cycle has made us all extremely accountable for maintaining but also building a culture that we can thrive in," Hoffman said. "We have to continually challenge one another, push past what we perceive to be our limits, define our DNA, and put a huge emphasis on growth.

"We expect to play to our potential and give our all as individuals and as a team every game. If we do that, whether we win or lose, we can go home without regrets."

USFHA media release


---

Meet Milco, Mascot of the Pan American Games




My name's Milco! I'm the mascot of the Lima 2019 Pan American and Parapan American Games. I was born in the most sporting Cuchimilcos' workshop around the world. I carry the heritage of a culture dated back to 1200, but I came to the world in 2017, in the Peruvian National Holidays. I'm the number one fan of the Pan American and Parapan American Games! I know that's not talent but hey! I can adapt to the most demanding conditions (like any Peruvian) and transform my tattoos and clothing according to the sport I practice: indoors, outdoors or aquatic sports. Awesome, right? I love competitiveness, but I love sports more than winning. So, I always defend fair play and JUSTICE above all! They say that I was born in a stone oven, but each field and court is my home. I'm in every little place that houses your favorite sports and in the enthusiastic hearts of each sports fan.

I want to highlight the work of Andrea Medrano, my creator. Who with only 24 years could give me life thanks to his creativity, presenting me in a contest where more than 1,000 interested parties applied. However, thanks to the 19,000 votes I obtained, I now have the honor of being the host of the Pan American and Parapan American Games.

Download Wallpapers, Coloring Pages and Armables by clicking here.

Content Courtesy of Lima 2019, Milco

USFHA media release


---

SuperGroup South Africa Squad named for African Hockey Road to Tokyo Event

The SuperGroup South African squad has been announced for the 2019 African Hockey Road to Tokyo Event in Stellenbosch from the 12-18 August 2019. The six-times defending African Champions will be looking to make it sweet 7 against six other African nations and claim the title as the best hockey nation in the continent.

The South African squad selected includes the five debutants that earned their first caps against Namibia in the test series before the FIH Hockey Series Final and has a very similar feel to the team that went to Spain.

A squad of 20 is being announced, which will be trimmed down to 18 for the final event. Sylvia van Jaarsveldt earns a recall having last represented South Africa in Egypt in 2017, while Onthathile Zulu will be in line to earn her first cap.

"WE have kept a similar squad as we are looking on building on the processes we put in place for Spain. There is a continued good mix of youth and experience which will allow the younger players to develop. We are determined to go out there and defend our crown on home soil!" shared Robin van Ginkel, the Head Coach of the SuperGroup SA team

The SuperGroup South African side are in Group A alongside Kenya and Nigeria. The top two teams in the group will progress to the semi-finals and line up against either Namibia, Ghana, Zimbabwe or Uganda.

South African Women's Hockey Squad
| | | | |
| --- | --- | --- | --- |
| No | Player | Province | Caps |
| 1 | Erin Hunter (captain) | Southern Gauteng | 49 |
| 2 | Phumi Mbande (Vice-captain) (GK) | Northern Blues | 43 |
| 3 | Quanita Bobbs | Western Province | 122 |
| 4 | Kara Botes | Southern Gauteng | 49 |
| 5 | Dirkie Chamberlain | North West | 233 |
| 6 | Lisa Deetlefs | Southern Gauteng | 258 |
| 7 | Lilian du Plessis | Southern Gauteng | 126 |
| 8 | Celia Evans | Northern Blues | 153 |
| 9 | Tegan Fourie | KZN Raiders | 1 |
| 10 | Tarryn Glasby | Western Province | 38 |
| 11 | Robyn Johnson | Southern Gauteng | 8 |
| 12 | Marizen Marais | Northern Blues | 22 |
| 13 | Mmathshepo Modipane (GK) | Southern Gauteng | 9 |
| 14 | Kristen Paton | Southern Gauteng | 23 |
| 15 | Hannah Pearce | SA U21 | 8 |
| 16 | Sylvia van Jaarsveldt | Southern Gauteng | 5 |
| 17 | Izelle Verster | Northern Blues | 7 |
| 18 | Nomnikelo Veto | SA U21 | 8 |
| 19 | Bianca Wood | SA U21 | 8 |
| 20 | Onthatile Zulu | Northern Blues | 0 |
*Caps are per the FIH TMS system, correct as at 26 July 2019, Province is most recent province represented

Fixtures – African Hockey Road to Tokyo Event

12 August – SuperGroup SA vs. Nigeria
13 August – SuperGroup SA vs. Kenya
17 August – Semi-Finals
18 August - Finals

SA Hockey Association media release


---

New-look squads to prepare for Games qualifiers

By AYUMBA AYODI



Pauline Naise of Amira Sailors drives the ball during their Kenya Hockey Union women's Premier League match at City Park Hockey Stadium on July 23. PHOTO | FILE |  NATION MEDIA GROUP

Kenya Hockey Union (KHU) officials have made drastic changes to national teams, opting for new faces when they named provisional men and women's squads to compete in African qualifiers for 2020 Olympic Games.

KHU Fixtures Secretary Moses Majiwa disclosed on Friday that the squads of 25 players each that will train daily and will be trimmed to 18 players each in the next two weeks.

Meshack Senge will be in charge of the men's team, assisted by Moses Kagochi and Nixon Nyagang'a, while the team manager is Godfrey Bila.

Michael Malungu is the women's team head coach, and he will be deputised by Tom Olal, Jacky Mwangi and Rose Mbulo. Jane Nyamogo is the team manager. The Tokyo 2020 Olympics Africa qualifying tournament will be held from August 12 to 18 in Johannesburg.

"The men's team will train in the morning, while women's team will practise in the evening as we prepare to take the teams to residential training depending on the availability of funds from the National Olympic Committee of Kenya," said Majiwa.

Ken Nyongesa, Maxwell Fuchaka, Frank Wanangwe, George Mutira and Calvin "Kanu" Otieno are some of the major casualties from national champions Butali Sugar Warriors.

Also failing to make the tentative men's team are Kenya Police skipper Oliver Echenje and his teammates Richard Birir and Sammy Oungo. The key players missing out of team places from Nairobi Simba are Allan Iningu and Davis Wanangwe, who is recuperating from a knew surgery.

Some of the seasoned players missing in the women's team are Audrey Omaido, Anne Ofula, Terry Juma and Rachel Ousa from Telkom in a team that has 12 players hoping to earn their first international capping.

Nairobi Simba's Simon Odhiambo, Prince Omollo from Parkroad and Under-21 international Samuel Silong of United States International University of Africa (USIU-A), have been picked as goalkeepers and hope to get the final node.

Experienced international Linus Sang from Butali Sugar Warriors, is in Senge's side that will be hoping to qualify for the Olympics for the first time since 1988.

The newcomers in defence are John Rioba (Wazalendo) and Sam Ratia (USIU-A) while the midfield has John Kaloti (Parkroad Badgers) and Kenya Under-21 team player Ivan Ludiali (Western Jaguars).

Douglas Nyerere (Sailors), Arnold Marango (KCA) and Under-21 internationals Richard Njuki (Wazalendo) and Robinson Omutekete (Western Jaguars) are the new strikers.

Kenya finished third in the African qualifiers for 2016 Olympics, beating Ghana 4-3 in the play-offs.

On that occasion, South Africa again got to represent Africa in 2016 Olympics after beating Egypt 4-2 in the final.

Kenyan women's team also settled for third place after beating Ghana 4-3 in the championships. South Africa claimed victory, hitting Egypt 4-2 in the final.

Pauline Naise, Lilian Aura, Caroline Guchu and Flavia Mutiva are among seasoned players named in the women's team.

Men

Goalkeepers: Simon Odhiambo (Nairobi Sinba), Linus Sang (Butali Warriors), Prince Omollo (Parkroad Badgers), Samuel Silong (USIU)

Defenders: Robert Masibo (Police) Ken Munialo (Wazalendo), Constant Wakhura (Butali Warriors), Paul Omariba (Strathmore), John Rioba (Wazalendo), Obare Otora (Greensharks), Sam Ratia (USIU).

Midfielders: Franklin Wahongo (Strathmore), Ivan Ludiali (Western Jaguars), Moses Ademba (Butali Warriors), Francis Kariuki (Butali Warriors), John Kaloti (Parkroad Badgers), Clayson Luvanda (Greensharks), Willis Okeyo (Kenya Police).

Forwards: Festus Onyango (Strathmore), Douglas Nyerere (Sailors), Danston Baraza (Wazalendo), Arnold Marango (KCA), Amos Barkibir (Butali Warriors), Richard Njuki (Wazalendo), Robinson Omutekete (Western Jaguars)

Women

Goalkeepers: Quinter Achieng Okore (University of Nairobi), Nouvelle Becca Ochia Awino (USIU), Cynthia Akinyi (Telkom).

Defenders: Beatrice Mbugua (USIU) Ane Wanjiru (Strathmore), Diana Awino (Strathmore), Flavia Mutiva (Telkom) Lucy Wangeci (Telkom) Marion Akinyi (Strathmore), Linda Akinyi (Lakers)

Midfielders: Grace Makokha Akumu (USIU), Harriette Omindi (USIU), Ruth Adhiambo (Strathmore), Caroline Guchu (Telkom), Tracy Karanja (Telkom), Leah Omwadho (Amira), Lillian Aura (Telkom) Shalyn Nabifo (Oranje Leonas).

Forwards: Racheal Nduta (Oranje Leonas), Sheila Chenany (Oranje Leonas), Rhoda Kuira (USIU), Gilly Okumu (Strathmore), Maureen Okumu (Telkom), Pauline Naise (Amira), Alice Aoko Owiti (Lakers).

Daily Nation


---

Scotland squad announced for Women's EuroHockey Championship II




The Scotland squad has been announced for Women's EuroHockey Championship II in Glasgow on 4-10 August 2019.

Scotland women will compete in the action-packed tournament, which will be held at the Glasgow National Hockey Centre, as they battle for promotion in front of a vibrant home crowd to regain their status at the top table of European hockey.

Also taking to the pitch in Glasgow will be Italy; Wales; Czech Republic; Austria; Ukraine; Poland and Turkey. The top two teams will be promoted to the top division of European hockey, while the bottom two will be relegated.

The Tartan Hearts go into the tournament off the back of a win over World Cup silver medallists Ireland in a test match in Stormont, and will look to bring their good form into this tournament on home soil. Sarah Jamieson, who scored the winner in that match, has been named in the Euros squad.

Head Coach Jen Wilson has named a strong squad for the tournament. After competing in the FIH Pro League for Great Britain, Sarah Robertson; Amy Costello; and Nicola Cochrane return to Glasgow to play for Scotland. Charlotte Watson, who recently made her GB debut in Japan, is also in the squad for Scotland.

Scotland Women's Head Coach Jen Wilson said, "After some very tough selection decisions we are delighted to announce our team to compete in EuroHockey Championship II. The squad this year has made superb progress and our 'selection headaches' are testament to all of the hard work this incredible group of players have put in.

"We are all looking forward to playing in front of our home crowd and can't wait to have that full support behind us."

Scotland squad for Women's EuroHockey Championship II

Fiona Burnet (Wimbledon)
Louise Campbell (Edinburgh University)
Nicola Cochrane (Beeston)
Robyn Collins (Surbiton)
Bex Condie (Gloucester City)
Amy Costello (University of Birmingham)
Kaz Cuthbert (Western Wildcats)
Emily Dark (Dundee Wanderers)
Jen Eadie (Clydesdale Western)
Amy Gibson (Der Club An Der Alster)
Kate Holmes (Western Wildcats)
Sarah Jamieson (Munchner Sports Club)
Lucy Lanigan (Watsonians)
Sarah Robertson (Hampstead & Westminster)
Fiona Semple (Wimbledon)
Millie Steiger (Clydesdale Western)
Becky Ward (Western Wildcats)
Charlotte Watson (Dundee Wanderers)

Scottish Hockey Union media release


---

Reid between the lines: Coach Graham urges players to toughen up

India's latest hockey coach urges his players to toughen up and shed their 'gentleness' to compete at a higher level.

By Mihir Vasavda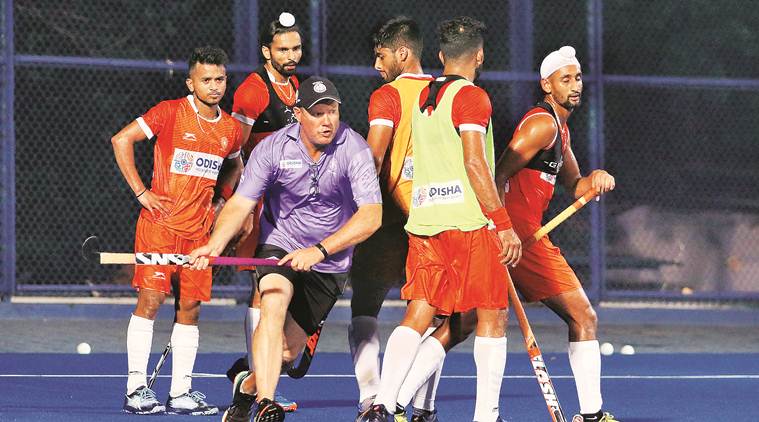 Graham Reid, India's new head coach, believes that to succeed a player has to be partially selfish, though he should understand the team's needs. Hockey India

Australian Olympian Graham Reid has been handed the unenviable task of lifting the sagging spirits of the Indian men's hockey team and turn them into contenders for the Tokyo Olympics. Before that, though, there is the tricky business of the qualifiers later this year. Reid, who coached Australia at the Rio Olympics and was the assistant coach of the Netherlands at the World Cup last year, took charge of the team in March. The team hasn't played many matches this year. They finished runners-up at the Azlan Shah Cup in his first assignment and won the Hockey Series Finals, thus securing a place in the final round of Olympic qualifiers.

In an interview with The Indian Express, the 55-year-old talks about restoring belief among the players, creating leaders within the core group and the 'gentleness', which he says is a 'disadvantage' on the field.



Olympian Graham Reid has previously helmed Australia's men's team. He is India's 25th coach in the last 26 years. (PTI)

How have your first few months been with the team?

I've been here since April so getting used to Bangalore (where the team is based). The tour to Australia (in May) gave us a good insight into the sort of level we need to play at to be the best team in the world. After we came back from there, we've focused on that, talked about being stronger in both circles – attacking and defensive. We had to improve that to compete at a higher level. Right now, the focus is a lot on fitness. It's a good time to develop a good physical base so that we can keep the level up at training after we come from Japan (from the Olympic test event next month) and also going into next year. The other focus has been about the culture and getting the team to do some work behind the scenes to understand what their values are and how do we want to be seen as a team.

How do the players want to be seen as a team?

Things like hard work, discipline and success came out from everybody. They realised we need to respect each other and the opposition. Belief is something that I really want to try and build in this team. Results help to build belief but you also need to take ownership of things. Trust, of course, is essential in any group. Everyone can train hard and be fit but this culture is important.

You mentioned belief, ownership, trust. Indian players often seem to be lacking in these traits. Is that an issue?

Any group of players will have these issues. That's why it is so important to have connections among players so you can build trust and belief. It has to become a part of your DNA. Look, there is no silver bullet (that can solve this issue). Every coach will have their things that they like to work on but no one ever knows what the answer is.

Every Olympic cycle for India ends in disappointment. Do the players and those associated with hockey have the right mindset to reach a respectable international level?

Regarding the mindset of players, that is our job. We have to mould them into that. That's why we started with culture stuff and getting them to understand what's required from a mental point of view. We need to be mentally stronger. I think because Indian people are so nice, there is a gentleness to Indians that I love. But on a hockey field, that's a disadvantage. It's a matter of getting them to understand that you can do both – on the field, you can be sovereign and stronger, physically and mentally. Structure and everything else behind it, things are starting to move in a positive direction.

You mention players being nice and gentle. A few previous coaches have said there are groups within groups, that players play for themselves… As Australia and Netherlands coach, did you notice that in Indian teams? And do you worry about it now?

I've seen in all three teams that the sort of players that become good, elite athletes, there has to be a part of them that is selfish. My wife told me before the Seoul Olympics, when I was playing, 'oh Graham, you're so selfish.' The most important thing is to get them to understand each other. Of course, I see differences between castes and areas. That's in other teams too – in the Dutch team, Amsterdam boys will be different to boys from some other region – and they may not talk to each other. It's not that they are not talking, it's just that the connections are so good with people they've grown up with.

For example, some of the Punjab boys have very good connections and it is visible in the way they play. We have to build those connections with some other players. I always like to look at the positive side of people. I always treat them the way they treat me. While we understand it, we also need to work together. That's why we put the team first.

You've worked in Australian and Dutch set-ups and now you're in India. Can you compare the mentality of players from these three countries?

When you look at the Australians, it's in our DNA that we are fighters. Our grandfathers and fathers fought in the First World War and Second World War. So there was a bit of a culture of standing up for yourself and your country. So we didn't have to spend too much time on those things with the players as they come out naturally.

In the Netherlands, their culture is much more – I don't want to say socialist – but they have real caring for everybody. So to get them to—India also shows that actually. Sometimes I watch training sessions and there's this thing that, 'oh, I don't want to take a shot as my friend will be hit!'. These things are different to me and we just have to work through that.

What is your take on the ability of Indian players to read match situations?

You've got players that are good at it. There are others who sort of need to be told this is what you have to do. So I don't think there's one thing that I can say if Indians are better or worse. One of the things I have plans for is growing the leadership group. It's one thing that will help. When the chips are down, when it becomes difficult, you'll have more people who have leadership experience. I'm trying to understand if it's an Indian culture thing that we don't have more leaders in our group.

We want players who can take control… step up. I see times where players will do that and other times they'll sit back and hide. What we try and do in training is point that out immediately and give an example. It has to become ingrained behaviour. It's the transfer between training and game that you want to see.

India has not played any top nation in a competitive match this year. Is not having enough matches a problem?

It is what it is. I can't do anything about that because things are set in concrete. They've budgets and everything else. We're going to Europe later, before November (when the qualifiers will be held). That's where we'll get as much competition as possible. In Australia, we were always worried we aren't getting enough competition so it came down to how you do in inter-squad games. Before the 2014 World Cup, in the inter-squad games, our (Australia's) output was 40 per cent higher in terms of speed and GPS numbers than what the actual World Cup games were. Have all the competitions you like, but you can also recreate it in the training environment. That's what we're trying to do.

But in Australia, you had players who featured regularly at top European clubs. Do you think it is better for Indians to get high-level match experience instead of just being at national camps?

When I was coaching Australia, we preferred the Indian hockey league because it was only six weeks long. I think them playing in Holland was as much for their well-being and bank balance because they don't get paid that well in Australia. So it was for that rather than just the competition, I guess. As I said, when you have a talented group of individuals – and I think we do have that here – you can build that competition where you need to.

Indian Express


---

Rani to lead



Rani Rampal.

Hockey India on Friday named an 18-member Indian women's team for the Tokyo Olympics test event to be held from August 17-21.

Youngsters Sharmila Devi and Reena Khokhar were named in the team in place of Sunita Lakra and Jyoti.Striker Rani Rampal remained the captain while goalkeeper Savita will be her deputy.

The squad: Savita (Vice-capt.), Rajani Etimarpu, Deep Grace Ekka, Reena Khokhar, Gurjit Kaur, Salima Tete, Nisha, Sushila Chanu Pukhrambam, Nikki Pradhan, Monika, Lilima Minz, Neha Goyal, Rani (Capt.), Navneet Kaur, Vandana Katariya, Lalremsiami, Navjot Kaur, Sharmila Devi.

The Hindu


---

Police hit SAI to lift Sikh tourney trophy

By VICTOR OTIENO           



Kenya Police's players celebrate their goal during their Sikh Union Club Astroturf Inauguration Tournament final match against SAI of India at Simba Club in Nairobi on July 26, 2019. PHOTO | SILA KIPLAGAT |  NATION MEDIA GROUP

Kenya Hockey men's Premier League team Kenya Police and Sports Authority of India (SAI) women are the winners of tournament held at Sikh Union Club in Nairobi.

Govan Mbeki on Friday struck on the 50th minute to give the Police a 1-0 victory in men's final, dampening SAI's hopes of bagging both men and women's titles in the event dubbed 'Sikh Union Astroturf Inauguration Tournament.'

"Our strategy to stay at the back and capitalise on their mistakes worked well for us. Giving them the chance to roam around in our area would have been dangerous to us," Police coach Patrick Mugambi said.

Police goalkeeper Martin Agesa was forced to an early save from a short-corner as SAI begun the contest strong in search of an early lead.

Mugambi's side responded with two successive attacks, which SAI defenders cleared to safety, as the match pitting the two sides that had not lost any game since the tournament begun on Monday picked momentum.

It never took long before SAI men took control of the clash, forcing Police to fall back and defend. The teams went into half-time with the scores level at 0-0.

Upon resumption, SAI's Vash Udev missed a glorious opportunity to score, and Mbeki punished SAI with a goal from close range 10 minutes from time.

Greensharks beat host Sikh Union 3-2 on post-match penalties to finish third. The two sides had tied 1-1 at the end of normal time.

In the women's category, Bhavani Madugula's goal at the stroke of halftime was all the SAI needed to beat record Kenyan champion Orange 1-0.

Daily Nation


---

Strathmore, USIU face-off at City Park

By AYUMBA AYODI



Kennedy Munialo (left) of Wazalendo leaves Butali Sugar Warriors' Moses Ademba for dead during their Kenya Hockey Union men's premier league match at City Park on June 15, 2019. PHOTO | SILA KIPLAGAT |  NATION MEDIA GROUP

Former champions Strathmore Gladiators take on United States International University in what is expected to be an explosive encounter in one of the men's hockey Premier League matches this weekend.

Gladiators, who are placed at the bottom of the 10-team standings, will be targeting their second win of the season against USIU, who are placed sixth in the log on Saturday at the City Park Stadium.

Gladiators have had a bad run this season, having lost in five outings. They only have a win and a draw while USIU have one win, four draws and two losses.

Last year, USIU won the first leg 3-2 before Gladiators turned on the heat to win the second leg 2-1.

"This is a varsity derby and it's always going to be a thriller considering the bragging rights at stake," said Gladiators coach Meshack Senge adding that it will be important for his young side to win. "A second win of the season after beating Greensharks 3-1 will further inspire my boys."

An equally captivating duel beckons at Eregi Teachers College ground where Western Jaguars meet defending champions Butali Sugar Warriors on Saturday.

Butali are the only side yet to taste defeat this season, having won in four of their outings and drawn thrice for their tally of 14 points while Jaguars are placed fourth in the log with 13 points.

Butali beat Jaguars 6-0 and 3-0 in both legs last season but the hosts have been on the rise and Butali Sugar coach Dennis Owoka is a worried man.

"Jaguars are lethal at home and we must tread carefully," said Owoka who is not happy with his team's performance, having drawn three matches from seven outings. They drew 0-0 against Greenhsraks last weekend and previously against Wazalendo and USIU. "I hope the players realise what is at stake and get three points against Jaguars."

Wazalendo, who are placed third with 13 points from four wins, a draw and a loss, meet Parklands in the only other men's Premier League outing on Sunday.

FIXTURES

Men's Premier League: - Western jaguars v Butali (Kakamega) 3pm; Strathmore v USIU (City Park) 6pm

Men's Super League: - 189 Nakuru v TUK (Nakuru) 1pm; MMU v MSC (City Park) 2pm; KU v Kisumu (City Park) 2pm

Men's National League: - Daystar v UoE (City Park( 12pm

Sunday

Parklands v Wazalendo (City Park) 5pm

MSC v Kisumu Youngstars (City Park) 9am; Vikings v Nakuru (City Park) 1pm; Wazalendo Masters v Parkroad Badgers (City Park) 3pm

Daily Nation


---

Ihsanullah, Hammad help PIA thump Sindh in Noor Khan Hockey

ISLAMABAD - Hat-trick heroes Ihsanullah and Hammad Anjum helped PIA thump Sindh 7-2 in the 65th Muhammad Noor Khan National Hockey Championship-2019 at Abdul Sattar Edhi National Hockey Stadium, Karachi on Friday.

In other matches of the day, Railways edged out determined spirited 6-4, Police hammered Gilgit 20-2, Wapda outclassed Fata 19-0 while Mari Gas Petroleum Limited and Punjab played out 2-2 draw in the fifth and last match of the day.

In the first match of the day, PIA had to face resistance from spirited Sindh before winning the match 7-2. Ihsan Ullah and Hammad Anjum played exceptionally and contributed with hat-trick each for the winners while Waqas Akbar scored one goal. For Sindh, Noman and Zohaib struck one goal apiece. In the second match of the day, Railways faced stiff resistance at the hands of Balochistan. Awais-ur-Rehman was hero of the day for the winners with three goals while Zaheer Hussian slammed in two goals and Rizwan Ali one. For Balochistan, Abdul Raheem, Imran Khan, M Zahid and Munawar contributed with one goal each.

In the third match, Police thrashed Gilgit 20-2. Ali Muhammad scored six goals, Noman and Anees four goals each, Rao Amir three goals, Bilawal two goals and Ahmed Farhan one goal for the winners. For Gilgit, Rashid Hussian scored a brace. In the fourth match, Wapda enjoyed goal fiesta against Fata. Sami Ullah scored five goals, M Irfan three, Aleem Bila, Ali Aziz and Ijaz Ali two goals each and Touseeq Arshad, Tasawar Ababsi, Ghazanfar Ali, M Imran and Waleed Usman hit one goal apiece.

In the last match of the day, MPCL was given real run for their money by the youngsters of Punjab, who fought their hearts out and managed to hold MPCL 2-2. MPCL twice took the lead, but Punjab never lost hope and managed to level on both occasions. Tehzeem Hassan provided lead to MPCL in 11th minute but Asher Tariq equalized it in the 30th minute. Usman Ali then made it 2-1 for MPCL in 43rd minute but Waqas Butt smashed in an equalizer in the 59th minute. Once again, it was the youngster Khubaib Ahmed, who caught the eyes of the selectors and spectators, with his superb display of modern day hockey and kept Punjab in the match.

The Nation