All the news for Friday 12 July 2019

Ready Steady Tokyo 2020 hockey test event scheduled on 17-21 August




Lausanne, Switzerland: The usual "test event" for the 2020 Olympic hockey tournaments will take place in Tokyo on 17-21 August, therefore a little less than a year before the Olympic Games Tokyo 2020 and in similar climatic conditions.

The purpose of this event is to test arrangements that will be in place for next year's Olympic Games, in particularthe field of play, enhance operational readiness as well as support the training and development of Games-time workforce and volunteers.

Eight teams have been invited to participate in this event. The Men's as well as the Women's tournaments will involve four teams each:

-       Men's: Japan, India, Malaysia, New Zealand
-       Women's: Japan, Australia, China, India

The tournament will be preceded by an opening ceremony organised by the Tokyo Metropolitan Government to officially launch the event but also inaugurate the brand-new Oi Hockey Stadium, consisting of two pitches, which will remain as a remarkable legacy for Japanese hockey after the Games.

The pitches, with their capacities of 10,000 and 5,000 seats respectively at the Olympics Games, are located in a leafy park in the waterfront area of Tokyo Bay. The cherry blossoms (Sakura) in the park are beautiful in spring, and the stadium itself is less than 30 minutes away from Haneda International Airport.  

Designed to meet the aspirations of the world's best players, the turf - Poligras Tokyo GT 11-43 EL 10 - is the most environmentally friendly and sustainable hockey turf yet produced by FIH Official Supplier, Polytan. 

The FIH delegation in Tokyo will include FIH President and IOC Member Dr. Narinder Dhruv Batra, FIH CEO Thierry Weil, FIH Executive Board (EB) Member and AHF (Asian Hockey Federation) President Fumio Ogura as well as FIH EB Member, IOC Commission Member and AHF CEO Tayyab Ikram.

The match schedules as well as the list of officials, including the umpires, appointed by FIH for this event are available here (Men's) and here (Women's).

To find more information about TOCOG's "Ready Steady" campaign for the Test Event, please click here.

#ReadySteadyTokyo   
#Tokyo2020    

FIH site


---

Ireland's women take on Scotland in three-game hockey series

Sean Dancer takes formal charge of Ireland this weekend as they begin preparations for November's Olympic qualifiers

Stephen Findlater



Sean Dancer: the Australian takes over the Ireland reins full time this weekend. Photograph: Morgan Treacy/Inpho
 
Sean Dancer's long-range preparations for November's Olympic qualifiers kick into gear this weekend when Ireland's women take on Scotland in a three-game series in Stormont.

It will be his first games in formal charge of Ireland having worked primarily in a support role at last month's run to FIH Series Finals silver in Banbridge, working with interim coach Gareth Grundie.

Now the Australian has taken over the reins full time, and has a 22-player panel selected for the series which starts with a behind closed doors tie on Saturday at 7pm, before an open to the public game on Sunday at 4pm. The final tie is scheduled for Tuesday.

Nikki Evans, Yvonne O'Byrne and Emily Beatty all missed out on selection last month, but they come back in alongside Serena Barr, who joins her twin sister Bethany in the line-up. Chloe Brown is not involved this time.

It begins a hectic spell with further games against Italy and Belgium on the agenda, before August's European Championships in Antwerp.

After that fixtures are on the cards for both September and October, leading into the qualifiers which are set for November 2nd and 3rd provisionally.

Who Ireland play there remains to be seen, but barring some bizarre results in the continental championships they will be at home.

Where that will be will also be confirmed in due course, but members of the panel did train at the relaid pitch in UCD this week. With accompanying upgrades for television purposes also taking place at Belfield, it would likely be the preferred site.

At the moment the potential opponent for the qualifier looks likely to come from a group of China, Korea, USA and Chile.

Five-team group

Elsewhere, the Under-21 European Championships get under way this weekend, with the women in the top tier in Valencia in an expanded five-team group featuring Russia – who they play on Saturday evening (4.45pm, Irish time) – the Netherlands, Spain and France.

Ireland stayed up two years ago by virtue of a cancelled game against the Spaniards whose panel were struck by an infectious virus. It meant no side was relegated, leading to the bigger format, with Dave Passmore's side needing to finish in the top two of a five-team group to reach the semi-finals.

His side features seven players from the 2017 vintage, while six have senior international caps already.

Yet Passmore knows his side have a huge task ahead of them, especially with three teams relegated. A strong finish could earn a Junior World Cup spot.

"There will be no easy matches in this pool," he said. "Obviously Netherlands will be the clear favourites, although I have been very impressed with the quality of the Spanish team in recent matches.

"France have 15 of the team who were so competitive in the Banbridge FIH Series, and eight of the Russian team played for their seniors in Japan last month. That said, if we can fine-tune our finishing we can match any team on our day."

The Irish Under-21 men are in the Czech Republic where they face Belarus on Sunday in the first of their games in the second tier of Europe.

The Irish Times


---

Women's hockey team in attacking mode

Indervir Grewal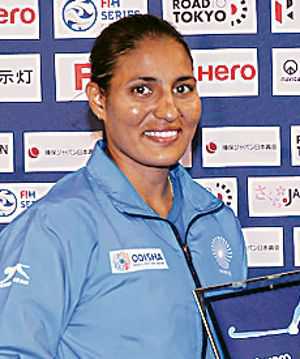 In the Series Finals, India struggled with their field-goal conversion rate. Drag-flicker Gurjit Kaur's form played a crucial role in their success. File

It turned out to be an exceptionally great month for the Indian hockey fans. Rarely do they get to rejoice — victories don't come often, and titles are rarer. But June was a month of celebration, with the women's team completing a Series Finals double in Hiroshima eight days after the men won in Bhubaneswar.  Rare as it may be, this was surprisingly the second time in two years that both the senior national teams were victorious at the same time — in October-November 2017, India completed the Asia Cup double.

Tight defence

The Asia Cup title, their first major victory in a long time, gave the women the confidence that they could win again. But they were also desperate to prove that it was not a fluke. It took more than a year-and-a-half for that win to come. However, all the tournaments during that period were windows into the team's progress.

At the 2018 Commonwealth Games, where they finished fourth, India showed they could also compete at the world level. They stunned England in the pool stage and showed fight in their 1-0 loss to Australia in the semifinals. But the 3-2 loss to lower-ranked Wales highlighted their inconsistency.

Three months later, however, a different — more consistent — India showed up at the World Cup. India finished eighth after their shootout loss in the quarterfinals to eventual runners-up Ireland. In five matches, they conceded just three goals. India had 1-1 draws against higher-ranked USA and England and lost only to Ireland — first in the pool stage (1-0) and then in the quarterfinals.

In the Asian Games, they conceded only three goals. They had an all-win record before the loss in the final.

For a developing team, the first step towards achieving consistency is to improve its defence. In the modern game, defending is a collective responsibility — every player, from a defender to a forward, has a crucial role. For that to work, fitness, experience and understanding are major factors.

It was the same for India. By qualifying for the 2016 Olympics, first time since 1980, the women's team seized everyone's attention. Though the spotlight didn't last, the feat got them the respect they needed. They got a better support group, which included the addition of a tactical coach, a greater number of foreign tours and Sjoerd Marijne, who had formerly coached a world No. 1 side — the Netherlands. Better training meant the players' skill level improved; more matches meant exposure; having played together for a long period, their understanding improved; and the rise in fitness level meant that the team's intensity didn't drop towards the end of a match.

Dominant

Improving their defence made India more competitive. Yet they weren't winning enough. Even in their draws or the odd wins against higher-ranked teams, they weren't the dominant side in the contest. In their 0-0 stalemate in regulation time against Ireland in the World Cup quarterfinal, or their 2-1 loss to Japan in the Asian Games final, India seemed more like a team that was surviving. But India's performance at the Series Finals showed a glimpse of where the team is heading. In every match, India, for most part, looked the dominant team.

It must be pointed out that the field wasn't very strong — only Japan (world No. 14) and Chile (16) were ranked in the top-20 apart from world No. 9 India. And even Japan came with an experimental side — they had 11 players who were not in the Asian Games team, and six of the 18 players had less than 20 appearances each before the tournament. However, it would be unfair to devalue India's performance. The competition level was low, but the pressure was high, with Olympics qualification on the line.

India showed the intent and, importantly, the ability to control the proceedings. To dominate a contest, a team must improve its possession and attacking skills. For India, the unity that made them better in defence helped them push the opponents in the midfield and high up the field, and take control. The forwards and midfielders put the opponents under pressure and forced mistakes. That led to counterattacks, something that Marijne likes, along with a quick-passing style.

Work in progress

India attacked more, created more opportunities for field goals, along with winning penalty corners. However, they struggled with their conversion rate. In Hiroshima, drag-flicker Gurjit Kaur's form — scoring 11 goals — played a crucial role in India's success. But as the players' confidence grows, India will improve in the goalscoring department. That will be the next step in their evolution; though, as seen with the men's team, the toughest step till now.

India also need to improve their possession percentage. Only in the matches against Uruguay and Fiji was India's possession more than 50 percent. India also got caught up in trying to play out quickly and lost the ball too often. Even against the lower-ranked teams, India's passing accuracy was in the low 50s in percentage. Sometimes, they struggled to hold the ball when put under pressure. In the first half of their semifinal, India seemed out of sorts, giving Chile the upper hand. They even fell behind. But they regrouped during the breaks and went on to win 4-2. "The level went too low; we can't allow that because we need to have a basic level at which everybody plays," Marijne said

Marijne's next assignment will be the final Olympics qualifying event. But to get into the Tokyo Games, India will have to improve their game further. Top teams like England or Netherlands will hurt India anytime they lose their focus.

Quiet progress

While the men's team has had to perform under the constant gaze of the fans, media and federation bosses, the women, yet again, have flown under the radar to win their second title in two years. The men's team went through a rollercoaster ride over the last year-and-a-half — Graham Reid is their third chief coach in that time; there was continuous rotation of players; and the team had more lows than highs. So, the Series Finals win came as a reassurance. For the women, though, the win was a validation of their steady progress. The women's team has been all about consistency — it has had the same coach, Sjoerd Marijne, since May last year, and largely the same bunch of players. The team has been inconspicuously moving along, growing as a unit. Being the women's coach has also worked out for Marijne. He was continuously under the scanner during his stint as the men's coach before being unceremoniously replaced after the CWG. He had expressed his disappointment that no one had shown faith in his process but had only cared about the results. With the women's team, he has had the luxury of time; and with less pressure on him, the Dutchman has been quietly and slowly taking the team forward.

The Tribune


---

Oltmans: Show me you can after McCann stint



Roelant Oltmans

KUALA LUMPUR: Show us what you've got.

The Malaysian national hockey strikers had a one-week training session with former Australian ace striker Michael McCann and coach Roelant Oltmans wants them to translate what they have learned in the playing tour of Europe.

"I want to see them sharper and more clinical in their finishing. This is what I hope for in the nine matches there.

"The tour is important as we want to prove to the Europeans that we are a competitive team and not to be taken lightly.

"The stint is also our preparation for the playoff matches (October and November) to qualify for the Olympic Games," said the Dutchman.

He added that it would be good for the players to compete against world champions Belgium, Germany, Holland and England.

"It will give us the chance to further improve on our game structure in preparation for the playoffs.

"We need to keep improving as our goal is to qualify for the Olympics," added Oltmans.

Malaysia will also play in a four-nation event against hosts Spain, Ireland and England.

Twenty players have been named for the three-week tour with goalkeeper Adrian Andy Albert and forward Muhd Noor Firdaus Rosdi making their international debut.

Oltmans said that all 30 players in the training squad would be given a chance to play as they want to pick the best for the playoffs.

"Those who are not in the playing tour of Europe will play in a four-nation tournament in Tokyo (August) and also the five-match playing tour of South Korea (September)."

The Star of Malaysia


---

Amy Brodie officially retires from international hockey




Scotland international Amy Brodie has officially retired from international Hockey. After taking some time out following the Gold Coast Commonwealth Games the forward has been reflecting on her successful Scotland career.

Brodie explained, "I've been working out whether I did want to officially retire, but I definitely think it's the right decision. I felt at the time I was probably going to retire whether I was selected for Gold Coast or not. Having an end point in sight was sensible and I thought it would be a good time to do it, although I took a year to think about it just to make sure!

"It was the best hockey I'd ever played and I wanted to finish at my best. Also I'd been in the team for ten years and it's a long time to balance life, work and Hockey. I wanted to get married, see my family, and I just felt like I'd achieved everything I wanted to achieve. It's time for the young ones to come through and make it back up to A Division."

Aged 19, Brodie made her Scotland debut ten years ago in the Celtic Cup against France in Nice. It was an experience that has long-lasting memories for the forward. She said, "I was delighted to get some pitch time, and it was a big deal for me to be amongst some big names – I was in awe of the big names. Linda Clement was an amazing captain and role model, and had a real calming influence. Emily Maguire was someone who I always wanted to play like, she was always skilful and composed.

"It was a great learning experience, especially on how to balance work and Hockey. I'm a teacher and it was great that there were other teachers in that squad with really good advice.

"It was a really supportive team, but it was demanding – I learned some tough lessons and had to work hard."

Brodie had played lots of indoor hockey for Scotland before representing her country in the outdoor game. But found the drive to be a regular Scotland player challenging in the early days. She explained, "I struggled to get in the starting team, it took me about five years to get to my first major tournament. It was tough. Being selected for A Division in 2015 was the biggest thing for me.

"I'd never been badly injured before and right before the tournament I picked up a shoulder injury. I couldn't believe it. I managed to continue and played through the pain.

"After that I was a regular in the starting eleven and was playing well."



Commonwealth Games 2018, Gold Coast.

Perhaps unsurprisingly Brodie's favourite goal came in the Gold Coast Commonwealth Games in 2018. It was a reverse deflection against Malaysia. The tournament was a successful one for Brodie; she ended up top goal scorer for Scotland and third top for open play goals in the tournament. An excellent achievement.

Looking back, Brodie said, "I want to say a huge thanks to the support network over the years – the Institute of Sport has been amazing for me. Phil Moreland and Sean Tough in particular were brilliant, but the whole support network is just such a huge thing for players. Thanks to all the Physio's who also kept me fit enough to be on the pitch.

"For eight years I played under Gordon Shepherd and I felt he always believed in my abilities. He was demanding and had high expectations. He wanted the team to not only play at the highest level, but to compete at that level.

"I also want to say thanks to Dave Stott as well, he made playing for Scotland U21s so fun and some of my favourite times in Hockey were back then."

"Nothing I have achieved would have been possible without having eight years of support from Cala hockey club, where I learned a lot. I look forward to continuing to play for my club Edinburgh University, under Sam Judge."

Scottish Hockey Union media release


---

Maidenhead born and bred Ellie Rayer inspires the future generations at three Maidenhead Primary Schools




Inspiring the next generation to love our sport as much as we do is important.

There is a reason we get out of bed in the morning to play, talk about and enjoy all things Hockey. England and GB Hockey player Ellie Rayer born and bred in Maidenhead headed out to three different primary schools, in her home town, with Emma Fitzgerald from Ascot & Maidenhead School Sport Partnership to inspire the future generations.

The first stop of the day was St Marys Catholic Primary School. Ellie gave a presentation to the whole school during their morning assembly. She talked about hockey and her career. She explained how she played ALL sports from a young age and how her passion for athletics helped her get to where she is today. During the presentation Ellie showed a short clip of the GB Women's team, she asked the children how it made them feel. They loved it! It was exciting, fast and amazing…. All the things we feel from hockey every time we play and watch.



St Marys Catholic Primary School Berkshire Games, Athletics and Hockey Team with Ellie Rayer.

After the presentation it was time for a Q & A session. The children had some fantastic questions including 'How hard is Hockey?' Ellie responded with 'Hockey is as hard as you want to make it.' 'Hockey is a sport for everyone of all ages and abilities.'

'Looking back, it makes me smile. The first time I picked up a hockey stick I was absolutely hopeless.' Said Ellie. The children loved their time with Ellie and they found her story incredible. They couldn't believe she had played so many other sports including Judo and Rugby and is now an international GB Hockey Athlete.




The 2nd stop of the day was to All Saints C of E School. Ellie presented to the whole school before heading out to their new 'Daily Mile' track opening. The daily mile is an incentive to get children (and staff) to take 10 minutes out of the day to walk or run around the track. Keep your eye out for the article in the Maidenhead Advertiser.



All Saints C of E School 'Daily Mile' Grand Opening

After the opening the children asked Ellie a few questions. Harry Stock-Hoy asked Ellie (after finding out about her athletics history) if she was the fastest on the team. Ellie said she believes she is but was currently recovering from injury, so it is a tough call.

The children invited Ellie to go for a jog around the track before Harry Stock-Hoy asked Ellie for a race…



All Saints C of E School Daily Mile



Harry Stock-Hoy celebratory finish

After the race and a few signatures Ellie headed to her third and final stop of the day, Courthouse Junior School.

When Ellie arrived at Courthouse the children were ready for a quick Q & A followed by a coaching session.

The children loved the session, they got to see Ellie's EuroHockey and Commonwealth Games Medals and ask her all about her hockey career before picking up the sticks.




Each player had a stick and a ball and were shown a few basic skills to help them in the big game of bull dog. Skills included passing, roll outs and 3D skills.



Ellie Rayer coaching at Courthouse Junior School.




Overall it was a fantastic day, everyone loved meeting Ellie and hearing about her journey. With nearly 600 children leaving the sessions with a smile on their face and keen to play hockey in the future.

Great Britain Hockey media release


---

Hockey players to battle at the Belgotex Elite Club Challenge

Competing teams will all be devising their plans to dethrone the current kings, Wanderers.



Players in action in a match between Riverside HC and Kearsney HC at Riverside Hockey Club in a previous Belgotex Sport Elite Club Challenge. PHOTO: Steve Haag

THE seventh Belgotex Elite Club Challenge, the most prestigious club hockey tournament in South Africa, will get underway at the Riverside Hockey Club on Thursday, 11 July.

Competing teams will all be devising their plans to dethrone the current kings, Wanderers, who won both the men's and women's titles in 2018, mirroring the achievements of the hosts Riverside Hockey Club a year earlier.

Starting with the men, the Belgotex Elite Club Challenge, powered by Musco Lighting and hosted by Riverside Sports, will feature five sides competing for a spot in Saturday night's final. The defending champions Wanderers will be there and feature a host of national hockey players in their squad. Having won the qualifier tournament earlier in the year, they will probably carry the expectation as favourites to the Durban North venue.

They will be joined by the hosts Riverside Hockey Club, Western Province Cricket Club, Old Eds and Beaulieu. Each club has a distinct brand of hockey and with so much contrast it will offer a fantastic challenge to the players and the coaches as well as a spectacle of hockey talent to the men.

The women's tournament will feature one side less as the defending champions Wanderers will take on the Western Province Cricket Club as well as Riverside Hockey Club and Crusaders from Johannesburg for the ultimate title.

The hosts, Riverside Hockey Club will look to improve on their fourth placed finish in 2018 and try and mimic the 2017 squad that won the tournament in front of a delighted home crowd. While the Crusaders Johannesburg team will look to their army of national players to lead them in a fight for the title.

This year will also see young, up-and-coming players as well as Masters teams involved in an exciting 5s Challenge that will provide them with the chance to show off their skills in between the main matches of the tournament. Girls and boys aged from U11 to U14 and now Masters of 30 years and older can register and play as part of this hugely popular sporting spectacle on Durban's doorstep.

Thursday's action starts at 6.15pm with five matches on the opening evening. On Friday and Saturday, the morning session starts at 9am and the final game begins at 8pm on Saturday.

The Berea Mail


---

Hockey One League Board Appointed

Mitch Wynd




Hockey Australia has formally passed over control of the new Hockey One League to the new Company's inaugural Board in another milestone for the new competition.

Five Directors, nominated by HA and the Member Associations under the agreed constitution, met for the first time last night to conduct the necessary formalities.

The newly appointed Board will have strategic oversight of the new league, which will see seven new men's and women's teams compete across the country for championship honours, as well as selection for the Kookaburras and Hockeyroos national teams in the lead-up to next year's Tokyo Olympics.

The new Directors are Carolyn Campbell (NSW), Alexandra El-Shamy (NSW), Martin Kelly (VIC), Colin Richardson (NSW) and Stephen McMullen (TAS).

Colin Richardson was elected by the Board as its inaugural Chair. Mr Richardson is the Managing Director of investment bank Moelis Australia and has previously held Managing Director roles with Rothschild, Citigroup and Deutsche Bank. He has a strong hockey background, having played since his university days and served on the Hockey NSW Board for 3 years before joining the HA Board in late 2018 where he remains as a Director.

"I am delighted to chair the newly elected Board of Hockey One League. H1 presents a unique opportunity to entertain new and existing hockey fans across our country, showcasing outstanding hockey and re-imagining what our game is about.

"We have great experience in the new Board across finance, marketing, governance and sports management, including competition establishment, and I look forward to working with my fellow Directors and the H1 management team to bring the new league to life," said Mr Richardson.

Carolyn Campbell is currently the CEO of Netball NSW, where she has led the business on a journey to the Suncorp Super Netball competition, providing the opportunity to increase Netball NSW's presence at national level with the formation of GIANTS Netball alongside the NSW Swifts. Ms Campbell is also the current Chair of the NSW Sports Federation and previous General Manager of the Women's Hockey World Cup.

Alexandra El-Shamy has worked in sports business and administration for nearly twenty years. Her current role as General Manager of Commercial and Marketing at Paralympics Australia encompasses many aspects relevant to H1 from sponsorship, fundraising, licensing and broadcast to marketing.

Stephen McMullen is currently General Manager Venue Operations at Cricket Tasmania (Blundstone Arena) in Hobart, having previously held executive roles at Hockey Tasmania including as CEO, and non-executive roles including over 5 years as a Director. He is a passionate and life long player, and presently is a member of the Tasmanian Men's Masters team. Mr McMullen brings valuable experience in sports business, including fundamental involvement in the establishment of the Hobart Hurricances BBL teams and ongoing dealings with both BBL and AFL in his current role.  

Martin Kelly has worked in senior marketing roles for businesses here and in the UK, bringing more than 25 years' experience to the board from industries as diverse as IT, insurance, education, banking and sport. He is the father of two hockey players and has had significant involvement in hockey through his role as Group Marketing Manager for Sportscover, a sports insurance underwriter who sponsored the Champions Trophy.

The daily operations of H1 are currently led by General Manager, Tony Dodemaide, former CEO of Cricket Victoria.

Hockey Australia media release


---

PAHF unveils new logo and refreshed web site for 60th anniversary




On the year of its 60th anniversary, the Pan American Hockey Federation (PAHF) unveiled today its new logo, simpler, crisper and aligned with the logos of the International and European Hockey Federations, displaying a unity of purpose in the international hockey community.

The previous PAHF logo was designed more than 20 years ago. The modern graphism and fresher colors of the new logo will appeal more to the younger generations of hockey players and followers, whose engagement is critical to the development of our sport across the Americas.

In conjunction, PAHF is launching a refreshed look of its web site, featuring of course the new logo but also streamlined graphics and fresher colors. This will also be reflected in our social media channels and other communications.

These changes are aimed at changing the way the field hockey community in the Americas currently perceives PAHF, and to clearly display the will of PAHF to work in proactive ways to make field hockey thrive in our regions, by helping National Associations to develop the sport and supporting our top representative teams at international level.

For more information on the PAHF competitions and programs, please visit the Pan American Hockey Federation web site at www.panamhockey.org

The Pan American Field Hockey Federation was created in October 1959. Now called Pan American Hockey Federation (PAHF), it is recognized by the FIH as the governing continental federation for all field hockey in the Pan American region. There are 30 member Nations of the PAHF.  For more information please contact This email address is being protected from spambots. You need JavaScript enabled to view it.

Pan American Hockey Federation media release