All the news for Saturday 29 June 2019

2019 FIH Pro League (Men) - Semi Final results
Wagener Stadium, Amsterdam

AUS v GBR (Semi Final 1)     6 - 1
BEL v NED (Semi Final 2)     3 - 1

30 Jun 2019 14:30 (GMT +2)    GBR v NED (3rd/4th Place)
30 Jun 2019 17:00 (GMT +2)     AUS v BEL (Final)

Live streaming and full game replay on https://fih.live (May be Geo blocked if there is TV coverage)

FIH Match Centre


---

On-fire Australia and world champions Belgium to fight for men's FIH Pro League title




The two highest ranked men's teams in world hockey will contest the title match in the inaugural FIH Pro League, with world champions Belgium set to take on in form Australia in Sunday's event final following two thrilling semi-final matches at Amsterdam's Wagener Stadium on Friday (28 June).

Second ranked Australia produced a powerhouse performance to dismantle Great Britain 6-1 with Jacob Anderson scoring a six minute hat-trick as the Kookaburras matched the Hockeyroos as FIH Pro League finalists, while a moment of dazzling brilliance from Tom Boon helped top ranked Belgium overcome lowland rivals and FIH Pro League Grand Final hosts the Netherlands with a 3-1 score-line. The Netherlands and Great Britain will play in Sunday's 3-4 play-off match at 1430 Central European Summer Time (CEST - UTC/GMT+2), with the title match between Australia and Belgium getting underway at 1700.

The first semi-final saw FIH Pro League table-toppers Australia (FIH World Ranking: 2) taking on fourth placed finishers Great Britain (WR:7) in a match that was packed full of action and goals. The chances of an upset increased significantly in the fifth minute when Australia's Jeremy Hayward received a green card two minute suspension and a re-award of a penalty corner. Great Britain took full advantage of the situation, with Ashley Jackson slamming a low effort against the back-board for his first goal since his return to international hockey after a near three-year absence.

Australia's response was both ruthless and emphatic, with striker Jacob Anderson scoring three times in just six minutes to establish a 3-1 lead for the Kookaburras. Anderson's first and third goals were finishes of real composure, although it was his second goal that was arguably the pick of his quick-fire treble, showing brilliant control before unleashing a ferocious strike that left GB goalkeeper George Pinner stranded.

Great Britain had some good moments towards the end of the half, but it was the Australians who extended their advantage with two goals in quick succession shortly after half time when Jeremy Hayward and Blake Govers - the latter scoring his 11th goal of the FIH Pro League - drag-flicked the team into a 5-1 lead before Tim Brand added a sixth in the final quarter.

"We stuck to our game plan really well", said hat-trick hero Jacob Anderson after the match. "We wanted to attack the right side of the field and we got a lot of circle penetrations down that side which obviously I score my goals from, so we are pretty happy with how we played as a team and the goals I scored reflected that."

Great Britain captain Adam Dixon said: "It was an incredibly tough game. The way you start the game against Australia often sets the tone for the game, and I think we really went out there to step our authority on it for the first five or ten minutes. Then, a couple of mistakes against Australia, they are always going to put those opportunities away and then we were always fighting our way back into it. We want to go out on a high … we'll be looking to put on our best showing on Sunday [in the bronze medal match]."

The opening stages of the Belgium (WR:1) versus Netherlands (WR:3) semi-final was intense and dramatic, with both teams clearly taking to the field with a determination to assert their authority over the other. Injuries to Belgium's Thomas Briels and Jorrit Croon of the Netherlands hampered both teams, while tempers flared when Dutch ace Jeroen Hertzberger and Red Lions defender Alexander Hendrickx clashed, resulting both players being given ten minute yellow card suspensions.

With both teams reduced to ten players, it was the Belgians - beaten twice by the Dutch in the regular FIH Pro League season - who made the extra man count when Arthur Van Doren split the defence with a trademark slap-pass from the left that was touched home from close range by Tanguy Cosyns in the 18th minute. However, the Dutch pulled themselves level eight minutes later thanks to Jelle Galema, who tapped home after a superb interchange down the right from Thierry Brinkman and Jip Janssen, the latter supplying the perfect cross for Galema to score.

The Netherlands had missed some good opportunities to take the lead in the third quarter, something that proved costly when Belgium's Tom Boon produced a moment of outrageous, individual brilliance. The Red Lions striker showed an incredible first touch to receive a wonderful Felix Denayer pass deep in Netherlands territory before juggling past Joep de Mol and lifting over the onrushing goalkeeper Sam van der Ven to score from a tight angle. It was a remarkable finish that swung the match fully in Belgium's favour, with Alexander Hendrickx slamming home a four quarter penalty corner to seal the victory and send the reigning world champions into the final. 

"It was a really important game for us as it's been a long time since we got a win against Holland", said Belgium captain Thomas Briels after the match. "We won at the world cup but the match finished a draw, so we really wanted win in front of their home crowd which is more difficult. I think today the victory was deserved."

Discussing Tom Boon's stunning goal, Briels said: "It was incredible. Sometimes you get a little flash as a striker, and I think he is going to remember this one for a long time. I'm really happy for him." 

Netherlands star Seve van Ass said: "Both teams had momentum, but in the third quarter we has some good opportunities and did not score from those. Then we felt the game turning a little bit, and they got the better part of us in the fourth quarter. If we'd have scored a couple of goals it would have been different, but that's always the same, of course."

On Saturday 29 June, the winner of the inaugural women's FIH Pro League competition will be decided. World champions the Netherlands, who battled back from a goal down to defeat Germany 2-1 in their semi-final on Thursday (28 June), take on Australia's Hockeyroos, who reached the final thanks to a shoot-out win over Argentina.

The high-flying Dutch will be strong favourites, but Australia are in form and remain the only team to beat the Netherlands in this season's FIH Pro League. With the Dutch being coached by former Australian international and double Olympic gold medallists Alyson Annan, it is a contest packed with numerous side stories and it will be be fascinating to see who prevails.

The final takes place at 1700 Central European Summer Time (CEST - UTC/GMT+2), shortly after the completion of the battled for third place that will see Germany and Argentina going head to head.

FIH Pro League Grand Final - 28 June 2019

Wagener Stadium, Amsterdam (NED) 


Result: Men's Match 57 - Semi-Final (1st vs 4th)

Australia 6, Great Britain 1
Player of the Match: Jacob Anderson (AUS)
Umpires: Coen van Bunge (NED), Peter Wright (RSA) and Laurine Delforge (BEL - video)

Result: Men's Match 58 - Semi-Final (2nd vs 3rd)

Belgium 3, Netherlands 1

Player of the Match: Tom Boon (BEL)
Umpires: Christian Blasch (GER), Simon Taylor (NZL) and Michelle Joubert (RSA - video)


Upcoming fixtures and timings (all times CEST - UTC/GMT +2)


Saturday 29 June 2019 - women's competition

1430: 3-4 play-off - Germany vs Argentina
1700: Final - Netherlands vs Australia

Sunday 30 June 2019 - men's competition
1430: 3-4 play-off - Netherlands vs Great Britain
1700: Final - Australia vs Belgium

#FIHProLeague

Official FIH Pro League Site


---

Kookaburras Crush GB To Advance Into Pro League Final

Mitch Wynd




The Kookaburras put on a ruthless display against Great Britain in the FIH Pro League semi-final, putting six goals in the net and advancing into the Grand Final.

Jacob Anderson's lightning hat-trick overcame Great Britain's early lead, followed by second-half goals to Jeremy Hayward, Blake Govers, and Tim Brand.

The final on Sunday evening local time will be played against Belgium, after their 3-1 victory over the Netherlands.

Great Britain made use of their referral early in the first quarter by successfully having a penalty corner awarded their way, before a second referral awarded them another in strange circumstances.

There had been a strong body check against the British attacker inside the circle, and Jeremy Hayward was green carded as a result - however replays suggested that the culprit was actually Flynn Ogilvie.

The resulting penalty corner was converted by Ashley Jackson, drawing first blood for the British.

The game continued at breakneck speed, before Jacob Anderson took the match by the scruff of its neck with three goals in five minutes.

Set up by some sublime forward passing, all three of Anderson's goals were scored in open play, the scoring frenzy flipping the match on its head.

The passing and attacking runs from the Kookaburras were simply breathtaking at times, almost the entire half was played at full speed with hardly a moment to reset.

Shortly into the third quarter, Australia earned their first penalty corner of the match and immediately made it count, with Jeremy Hayward's flick far too good for Great Britain.

Four minutes later, exactly the same happened again - this time Blake Govers was the one to score his first of the match, adding to his formidable goalscoring tally for the tournament.

Great Britain tried to control possession and slow the game down in the final quarter, but still the Kookaburras were able to stream forward and score again, Tim Brand making a great initial run and finishing from point-blank range.

Kookaburras coach Colin Batch was delighted with his team's performance post-match.

"Extremely happy with the performance tonight - to win a semi final in any competition is a great achievement," he said.

"We rebounded well after an early goal against, shows the fighting quality of our team. We need to recover well now and prepare for our next match."

After a shaky start to the European leg with losses to Great Britain and Spain earlier this month, the Kookaburras look to be hitting peak form at the perfect moment.

Australia 6 (Anderson 11', Anderson 12', Anderson 16', Hayward 32', Govers 36', Brand 52')
Great Britain 1 (Jackson 5')

Hockey Australia media release


---

Britain's men beaten by Australia in semis at Grand Final



Chris Griffiths for Great Britain's men in the FIH Pro League

Great Britain were beaten by a ruthless Australian side in the semi finals of the FIH Pro League Grand Final.

Despite taking the lead with Ashley Jackson's first international goal in almost three years, Danny Kerry's side found themselves on the end of a heavy defeat, Jacob Anderson scoring a five-minute hat-trick among the six goals that his nation scored in a superb Kookaburras display.

Penalty corners from Jeremy Hayward and Blake Govers made it 5-1 at the end of the third quarter, and Tim Brand put a further gloss on the scoreline inside the final ten minutes.

Britain now face a bronze medal match in Amsterdam on Sunday at 1:30pm UK time, and they will look to end their FIH Pro League campaign on a positive note. They outperformed their world ranking to finish in the top four, and there have been plenty of positives along the way for Kerry's men.

Full report

Britain opened the scoring with a trademark Ashley Jackson penalty corner, his first goal for the nation since returning to international hockey. His last goal was also against Australia in August 2016 at the Rio Olympics, and this was a great strike into the corner. The corner was awarded after a cynical-looking block on Harry Martin, a green card arguably the least the defender deserved.

Unfortunately Britain then allowed the table-toppers back into the game, thinking a pass was running out of play, only for an Australian attacker to nip in and pull it back for Jacob Anderson to slam home. A minute later, Australia again got it down their right and it was pulled back for Anderson to score his second in a minute.

As the first quarter came to an end, Chris Griffiths stung the palms of the Australian 'keeper but his rasping strike was palmed away.

Moments into the second quarter and Anderson had a rapid-fire hat-trick, Australia pinching possession on the edge of the D before finding the ruthless Anderson again. The lively Griffiths went close once more for GB before Australia almost got in down the left, but it remained 3-1 at the break with the Kookaburras well on top.

Early in the third quarter and Australia put the game to bed with Jeremy Hayward's ripping penalty corner making it 4-1. Blake Govers then made it five with another penalty corner, no chance for Harry Gibson in the Britain goal.

Ashley Jackson then put a half chance wide, before Anderson was denied a fourth by Gibson. In the final quarter Tim Brand added a sixth despite a review as Australia continued to turn the screw.

It was a ruthless, top class display from an Australian side who finished top of the eight-team table, and now Britain look ahead to the bronze medal game on Sunday afternoon.

Great Britain 1
Jackson (5', PC)

Australia 6
Anderson (11', FG), (12', FG), (16', FG), Hayward (32', PC), Govers (36, PC), Brand (52', FG)

Great Britain: Pinner (GK), Gibson (GK), Hoare, Dixon (c), Creed, Waller, Gall, Ames, Sloan, Sorsby, Martin, Roper, Jackson, Condon, Forsyth, Wallace, Griffiths, Ward

Great Britain Hockey media release


---

Great Britain left bruised by rampant Australia

By The Hockey Paper



Great Britain were outdone by Australia in Amsterdam PIC: WORLDSPORTPICS

Great Britain were left bruised by a rampant Australia, who were lucky to end the match with 11 players, as their FIH Hockey Pro League Grand Final hopes ended in a 6-1 defeat on Friday.

A superb six-minute hat-trick by Jacob Anderson, coupled with clinical finishing, saw the Kookaburras join the Hockeyroos in a bid to clinch a Pro League final double on Sunday in the inaugural global tournament.

But GB were left to rue a first-quarter umpiring decision which cost them dear. They will now play Holland for bronze after world champions Belgium beat them 3-1 at the Wagener Stadium.

An early penalty corner clearly saw Harry Martin block tackled in the circle, a decision which many would have argued to be a penalty stroke.

As it was, Ashley Jackson unleashed a low strike in the retaken corner for his first international goal in nearly three years.

But the video umpiring decision also saw Kookaburra Jeremy Hayward receive a green card after Martin was taken out and left with a bloody forehead, when a yellow or red would have been more just.



Harry Martin was left with bloody forehead after corner incident PIC: WorldSportPics

Five minutes later, Australia levelled as Anderson got in the act. Three times GB's right side was exploited as the Kookaburras raced into a 3-1 lead at the break.

Hayward and Blake Govers then slotted home from PCs in the second-half before Tim Brand scored eight minutes from time.

GB captain Adam Dixon said: "They played better hockey for longer than we did. We came out really quickly to get the first goal – against a side like Australia you have to start well and set the tempo really early and we were the team that went and dictated.

"They turned the ball over really cheaply which for an Australian side is quite rare. So I think we started well but then we just fell away."

Australia coach Colin Batch said: "We rebounded well after an early goal against, shows the fighting quality of our team."

Australia and Holland will battle for the women's title on Saturday after both sides squeezed past Argentina and Germany respectively on Thursday.

Don't miss our Stoop review! Subscribe by June 30 to receive your copy!



The Hockey Paper


---

Jacob Anderson hat-trick as Australia thrash GB in semi-final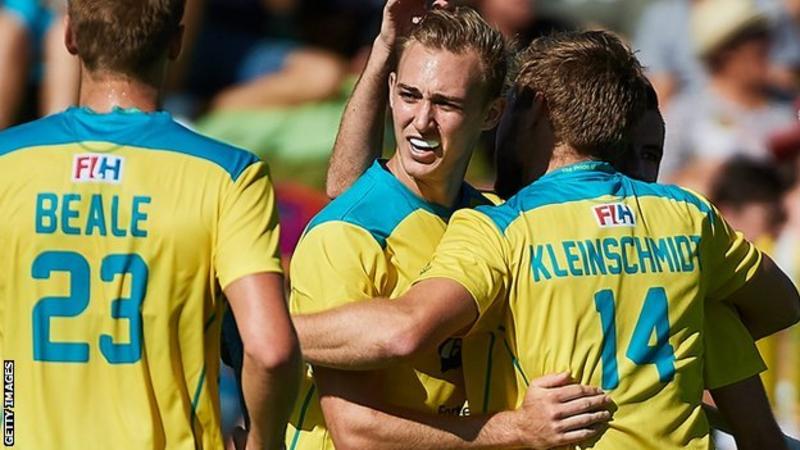 Jacob Anderson made his debut for the Kookaburras in 2018

Jacob Anderson scored a quick-fire hat-trick as Australia overwhelmed Great Britain 6-1 in the semi-final of the FIH Pro League finals in Amsterdam.

Midfielder Ashley Jackson gave Britain the lead in the fifth minute when he flicked in from a penalty.

Anderson, 22, then took centre stage, crashing home two angled drives before adding another with a similar strike in the second quarter.

Goals from Jeremy Hayward, Blake Govers and Tim Brand completed the rout.

The Commonwealth champions will play either Belgium or the Netherlands in Sunday's final.

Having surprised many by reaching the last four, Britain threatened to produce another shock when Old Georgians player Jackson scored with a rocket of a shot in the opening quarter.

However, the Kookaburras turned the contest on its head in the space of two minutes thanks to Queensland Blades' Anderson, who found the right side of keeper George Pinner's goal with two great strikes. Anderson then ripped home another in the second quarter to complete a 16-minute hat-trick.

Britain came close to reducing the deficit before the interval when East Grinstead's Chris Griffiths was denied by the quick reactions of Tyler Lovell.

The contest was all but over a few minutes into the third quarter when first Hayward flashed home from a penalty corner before Govers flicked in. Brand added a sixth eight minutes from full-time.

Final standings

Sunday, 30 June - Finals

Great Britain v Netherlands - Wagener Stadium, Amsterdam
Australia v Belgium - Wagener Stadium, Amsterdam

BBC Sport


---

2019 FIH Pro League (Women) - Finals
Wagener Stadium, Amsterdam

29 Jun 2019 14:30 (GMT +2)    GER v ARG (3rd/4th Place)
29 Jun 2019 17:00 (GMT +2)     NED v AUS (Final)

Live streaming and full game replay on https://fih.live (May be Geo blocked if there is TV coverage)

FIH Match Centre


---

Preview: Netherlands and Australia set to fight for women's FIH Pro League crown




On Saturday 29 June, the winners of the inaugural women's FIH Pro League competition will be decided. World champions the Netherlands, who battled back from a goal down to defeat Germany 2-1 in their semi-final on Thursday (27 June), take on Australia's Hockeyroos, who reached the final thanks to a shoot-out win over Argentina.

The high-flying Dutch will be strong favourites, but Australia are in form and remain the only team to beat the Netherlands in this season's FIH Pro League. With the Dutch being coached by former Australian international and double Olympic gold medallists Alyson Annan, it is a contest packed with numerous side stories. With a capacity crowd set to fill the Wagener Stadium, it will be fascinating to see who prevails.

The final takes place at 1700 Central European Summer Time (CEST - UTC/GMT+2), shortly after the completion of the battled for third place that will see Germany and Argentina going head to head at 1430. Information and quotes from the teams competing in both matches can be found below, with a complete list of fixtures for the competition available here.

3-4 Play-Off: Germany vs Argentina - 1430 CEST (UTC/GMT+2)

Previous FIH Pro League meetings
22 February 2019: Argentina 2-2 Germany (4-3 after shoot-out) - Cenard, Buenos Aires (ARG)
22 May 2019: Germany 1-2 Argentina - Crefelder HC, Krefeld (GER)

Germany

FIH World Ranking: 5
Position in regular FIH Pro League season: 4th
FIH Pro League results summary (regular season): Pl: 16 Wins: 9 Draws: 2  SO-Bonus: 0 Losses: 5 GF: 34 GA: 24 GD: 10 Pts: 29

Notable honours: Olympic gold medallists (2004), 2x Olympic silver medallists (1984, 1992), Olympic bronze medallists (2016), 2x World Champions (1976, 1981), 2x European champions (2007, 2013), Champions Trophy gold medallists (2006).

Player Perspective - Janne Müller-Wieland (GER): "We've had two close games against Argentina, one a shoot-out and one where we lost in the very last minute, so we have to do something better than last time I think. We are looking forward to playing them, they are a very tough team to play, very skilful but very different to Holland, so we are going to recover, prepare for Argentina and then hopefully get the bronze."

FIH Pro League Team Page: https://www.fihproleague.com/women/teams/germany__4873
Website: www.hockey.de 
Twitter: @diedanas 
Facebook: diedanas 
Instagram: diedanas

Argentina

FIH World Ranking: 4
Position in regular FIH Pro League season: 2nd
FIH Pro League results summary (regular season): Pl: 16 Wins: 10 Draws: 4 SO-Bonus: 4 Losses: 2 GF: 31 GA: 15 GD: 16 Pts: 38

Notable honours: 2x World Cup winners (2002, 2010), 2x Olympic silver medallists (2000, 2012), 2x Olympic bronze medallists (2004, 2008), Hockey World League champions (2015), 7x Champions Trophy winners (2001, 2008, 2009, 2010, 2012, 2014, 2016), 6x Pan-American Games gold medallists (1987, 1991, 1995, 1999, 2003, 2007), 5x Pan-American Cup winners (2001, 2004, 2009, 2013, 2017).

Player Perspective - Agustina Albertarrio (ARG): "I think [the semi-final against Germany] was a hard game and we deserved to win, but now we have to look forward to the [bronze medal] game. We really want to win this for our fans back home."

FIH Pro League Team Page: https://www.fihproleague.com/women/teams/argentina__4865
Website: www.cahockey.org.ar
Twitter: @ArgFieldHockey
Facebook: ArgFieldHockey
Instagram: arg_fieldhockey

Final: Netherlands vs Australia - 1700 CEST (UTC/GMT+2)

Previous FIH Pro League meetings
22 February 2019: Australia 1-0 Netherlands - State Netball & Hockey Centre, Melbourne (AUS)
23 June 2019: Netherlands 3-1 Australia - Wagener Hockey Stadium, Amsterdam (NED)

Netherlands

FIH World Ranking: 1
Position in regular FIH Pro League season: 1st
FIH Pro League results summary (regular season): Pl: 16 Wins: 15 Draws: 0  SO-Bonus: 0 Losses: 1 GF: 41 GA: 10 GD: 31 Pts: 45

Notable honours: 3x Olympic gold medallists (1984, 2008, 2012), 2x Olympic silver medallists (2004, 2016), 3x Olympic bronze medallists (1988, 1996, 2000), 8x World Cup winners (1974, 1978, 1983, 1986, 1990, 2006, 2014, 2018), 2x Hockey World League champions (2012-14, 2016-17), 7x Champions Trophy winners (1987, 2000, 2004, 2005, 2007, 2011, 2018), 9x European champions (1984, 1987, 1995, 1999, 2003, 2005, 2009, 2011, 2017).

Player Perspective - Eva de Goede (NED): "We are really looking forward to it, especially in this stadium in front of our home crowd, so I cannot wait until Saturday and play a good game against Australia."

FIH Pro League Team Page: https://www.fihproleague.com/women/teams/netherlands__4868
Website: www.knhb.nl
Twitter: OranjeHockey
Facebook: OranjeHockey
Instagram: OranjeHockey

Australia

FIH World Ranking: 3
Position in regular FIH Pro League season: 3rd
FIH Pro League results summary (regular season): Pl: 16  Wins: 9 Draws: 2  SO-Bonus: 1 Losses: 5 GF: 35 GA: 23 GD: 12 Pts: 30

Notable honours: 3x Olympic gold medallists (1988, 1996, 2000), 2x FIH World Cup winners (1994, 1998), 3x World Cup silver medallists (1990, 2006, 2014), Hockey World League silver medallists (2012-13 Edition), 6x FIH Champions Trophy gold medallists (1991, 1993, 1995, 1997, 1999, 2003), 4x Oceania champions (1999, 2001, 2005, 2013, 2015), 4x Commonwealth Games gold medallists (1998, 2006, 2010, 2014), 4x Commonwealth Games gold medallists (1998, 2006, 2010, 2014).

Player Perspective - Brooke Peris (AUS): "Whoever we play, Germany or the Dutch, it's going to be a great weekend. It's been a long six months and I'm sure that the teams will be ready for this game. We are excited for it. We have such a great group, we've been training so hard for the past six months and every game we've got better and better and we keep fighting. At the weekend we are going to fight for the win, and if we win it, all the girls can take credit for it, the whole squad."

FIH Pro League Team Page: https://www.fihproleague.com/women/teams/australia__4869
Website: www.hockey.org.au
Twitter: @hockeyroos
Facebook: thehockeyroos
Instagram: @hockeyaustraliaofficial

#FIHProLeague

Official FIH Pro League Site


---

48.5cm, 7kg and gold-plated brass: the FIH Pro League trophy is born!




Lausanne, Switzerland: The International Hockey Federation (FIH) today unveiled a new icon in the history of the sport: the Winners' Trophy of the very first FIH Pro League! The Trophy will be handed over for the first time at the FIH Pro League Grand Final, which involvesthe top four teams – Men's and Women's- of the inaugural edition of the global home and away league for national teams in Amsterdam (27-30 June).

FIH decided to give students the opportunity to design the prestigious trophy. To this end, it commissioned Swiss Design school ECAL/University of Art and Design Lausanne, who enjoys international renown and features regularly among the world's top ten universities of art and design.

The trophy is made of gold-plated brass, matte finish with polished logo. According to ECAL, the nine blades staged on a hockey ball size sphere represent the nine founding teams of the FIH Pro League united around a common purpose. The simple and graceful curved shape embodies the spirit of the international hockey community and express the dynamism of the sport. The largest center blade evokes the one team that will strive and succeed in being the best of the FIH Pro League.

"As a designer, I'm curious by nature and always seeking new challenges. When I heard about the FIH Pro League design competition, I was very excited by the idea of designing a trophy for top athletes. I chose to work with casted brass because of the noble and yet tough qualities inherent to this attractive metal. The strength of brass will also ensure the legacy of the FIH Pro League cup", explained ECAL's Swiss student Olivia Dall'Omo, who designed the trophy.

"I'm delighted that the FIH Pro League Trophy was designed by a student. Young people are the future of sport. They are key for the growth of hockey. Their creativity, innovative ideas and energy are refreshing. Our sincerest thanks to ECAL, in particular to Olivia Dall'Omo, and to all involved in the production of this remarkable trophy", FIH President Dr. Narinder Dhruv Batra commented.

In line with its #EquallyAmazing strategy, the designs of both trophies for the Men's and Women's Leagues are equal. There is only one tiny difference: a blue (for the Men's trophy) and a red (for the Women's trophy) marker under the base, only visible if the cup is turned upside down.

The FIH Pro League Trophy in a nutshell:

·Date of manufacture: 2019
·Weight (kg): 7
·Height (cm): 48.5
·Base (cm): 10
·Widest point (cm): 18
·Material: Gold plated brass, matte finish with polished logo
·Design: ECAL/Olivia Dall'Omo, Switzerland

#FIHProLeague

Official FIH Pro League Site


---

UK Fire Service Hockey water the pitch at The Stoop and help make history




Back in 2018 England and GB hockey were looking into ways that the history making FIH Pro League final UK fixture at Twickenham Stoop would happen. It was going to be a day of firsts, the first time an artificial hockey pitch would be laid in a rugby stadium and not damage the grass underneath, the first time we didn't have built in, on site water canons and the first time the FIH Pro League would hit the UK and not just at GB home venue, Lee Valley Hockey and Tennis Centre. 

Several challenges arose whilst taking on the momentous task. One was the water. How would we get water to the pitch? The Stoop has sprinklers but only to water grass not prepare a hockey pitch. Traditionally a water based hockey pitch will have water cannons built into the facilities that spray water over the pitch, some facilities also have built in hoses that are used to water specific areas such as the D.

England Hockeys Stephen Barlow approached several companies to propose ideas on how we would undertake the challenge. The UK Fire Service Hockey Section came back with a great idea.

Lee Slipanczewski, team captain and the man in charge of the operation spoke to England Hockeys Stephen Barlow about their proposed application. The UK Fire Service were invited down to Bisham Abbey to trail run their idea. The proposal was to use water tanks are fire hoses to evenly distribute water over the surface of the pitch, and what an idea it was. England Hockey chose the UK Fire Service Hockey because this solution produced less waste, used less water, it was more direct and hit every area (without soaking the crowd).



Twickenham Stoop 2019

For those who aren't familiar with the UK Fire Service Hockey, they are part of FireSport UK (formally FSSAA) who encourage all forms of sport and athletics, both indoor and outdoor, for the benefit of serving and retired members of the Fire & Rescue Service of the United Kingdom, the Channel Islands and the Isle of Man. They promote, organise, and do all things necessary to provide, establish and support competitions, championships and events of a like nature.

 The UK Fire Service Hockey Section was set up in September 2017, since then the section has gone from strength to strength and now has over 50 members. But, there is more to it than you might think. For a Fire Service section to ensure players are available means taking leave for games, going straight from a night shift to playing a game as well as getting cover from colleagues who are on days off. So its hats off to the inspiration overall commitment shown from The UK Service Hockey Section. In 2019 they finished 3rd in the England hockey Mixed Tier 2 Championship Finals this year, fight fires and now hose pitches.



UK Fire Service Hockey team 2019

We spoke to some of the team, Louis Scarrott and Lee Slipanczewski, after the FIH Pro League match on Sunday here is what they had to say:

'Today was a good learning curve we are more used to putting out fires than watering pitches, GB and England hockey have been a great help' said Louis.

'It helps that you guys (EH) have your heads screwed on, you guys know what you're doing. It's a well-oiled machine and it's a great atmosphere. Now we have done it once there are a few things we would change but we would definitely do it again.' Explained Lee.

The UK fire service played a huge part in helping us make history at the stoop. 'We didn't realise it was quite so significant, but it's been great, it helps raise money for our charity and our section which is a massive help.  We are low on funds and pay for a lot ourselves, we use our holiday to play in the EH Champs, we do get sports leave and have great support from the services. But it has been a fantastic day, great fun to watch and a great atmosphere.'



GB Hockey Coach Russel Garcia watering the pitch with the UK Fire Service Hockey

Great Britain Hockey media release