All the news for Tuesday 25 June 2019

FIH Women's Series Finals Valencia 2019 - Day 7
Valencia (ESP)

Results and fixtures

24 Jun 2019    ITA v BLR (Cross-over)        4 - 1
24 Jun 2019    ESP v WAL (Cross-over)     1 - 0

25 Jun 2019 16:45     NAM v THA (7 / 8)
25 Jun 2019 19:00     WAL v BLR (5 / 6)

Live streaming and full game replay on https://fih.live (May be Geo blocked if there is TV coverage)

FIH Match Centre

---

Olympic qualifier target achieved but Irish reflect on low-key end to FIH Series campaign



The Ireland team that qualified for the Olympic qualifiers. Pic: Fédération Française de Hockey

When the dust settles, the Irish men can reflect on a decent week's work in Le Touquet and their demeanour will probably prove far more upbeat than their dejected exit from the Eric Choteau field after a chastening 3-1 loss to France in the FIH Series final.

Saturday's 4-2 win over Korea – their first ever over the Asian side in a ranking event – assured a top-two finish and ticket to the Olympic qualifiers later this yeat.

But coach Alexander Cox lamented a below-par performance 24 hours later as the French, bolstered by a boisterous Sunday evening crowd enjoying the 28 degree heat, showed another level.

It was a first defeat in 12 meeting between the sides but the French are enjoying their strongest team in well over a decade.

They have recently gone full-time as part of their "Ambition 2024" programme and they feature an array of their players won either the Belgian or Euro Hockey League this season, aiding their run to the World Cup quarter-finals.

Ireland, for their part, are more transitional and they could not find the connections in the second half to close the gap once Victor Charlet's pair of penalty corners put them well clear.

"Of course it will look better in a week's time because we have qualifed but the last game that you play is always the one you remember," Cox said as Ireland missed out on a bump in world ranking points that could bring a more favourable Tokyo playoff in October.

"The last game here doesn't make us happy. We made so many mistakes on the ball; we tried to work off the ball but if you make so many mistakes, then you can't win a game.

"Yesterday [against Korea] we were able to play a good game. Today we didn't. We should have raised our level and we didn't. We started the game not good enough and couldn't raise our level during it the game. We will have to look at why it happened but I am not a happy camper."

Goalkeeper and captain David Harte concurred, adding: "Credit to France, they were the better team today – that was clear and obvious from the first whistle.

"Where it went wrong for us, I can't quite put the finger on it just yet but it just looked like France were hungrier than us. It has been a pretty good week for us but to finish on a low note, very disappointed."

Early on, Viktor Lockwood was causing plenty of issues down the left flank and his groundwork created the chance for Blaise Rogeau to thrash home a 10th minute lead goal.

Ireland replied well with Sean Murray finding plenty of shooting space, one which goalkeeper Arthur Thieffry head-butted away with nonchalance, another spectacular one hitting the post.

And Murray was the man to tie things up on the quarter-time whistle when Ben Walker – a strong shout for young player of the tournament – weaved some space on the left baseline to set up a tap-in at the right post.



EHF President Marijke Fleuren with joint top goalscorer Shane O'Donoghue. Pic:  Fédération Française de Hockey

During this phase, Michael Robson was driving on with plenty of force but it was the French who looked the more forceful with Charles Masson irrepressible.

They went back in front from their third penalty corner via Charlet with seven minutes to go to the big break.

The towering defender was at it again five minutes into the second half and Ireland never really had an answer as they ran out of steam in the second half.

But for Paul Gleghorne's typically last-ditch save off the line and Rogeau's outrageous open goal miss in the dying seconds, it might have been more.

In the wider context, a win could have given Ireland's chances of a more favourable Olympic qualifier or an outside shot at a home draw.

The last chance to boost that rating will be at August's European Championships in Antwerp where a semi-final spot would do wonders. It will be tough, though, as Ireland will meet to get out of a group featuring the Netherlands and Germany as well as Scotland.

For now, the squad goes into a two-week break with the primary target achieved before returning for training camps and a pre-Euros tournament in Spain when preparations ramp up again.

Men's FIH Series final
Ireland 1 (S Murray) France 3 (V Charlet 2, B Rogeau)

Ireland: D Harte, J Jackson, J Bell, E Magee, S O'Donoghue, S Murray, B Walker, D Walsh, C Harte, L Cole, S Cole
Subs: M Bell, L Madeley, M Nelson, N Glassey, M Robson, P Gleghorne, J Carr

France: A Thieffry, P van Straaten, T Genestet, H Genestet, V Lockwood, C Masson, G Baumgarten, F Goyet, V Charlet
Subs: B Rogeau, N Dumont, J-B Forgues, E Tynevez, T Ponthieu, M Branicki, C Saunier

The Hook


---

Rani Rampal credits scientific training methods, improved fitness for team's success in Japan

Shubham Pandey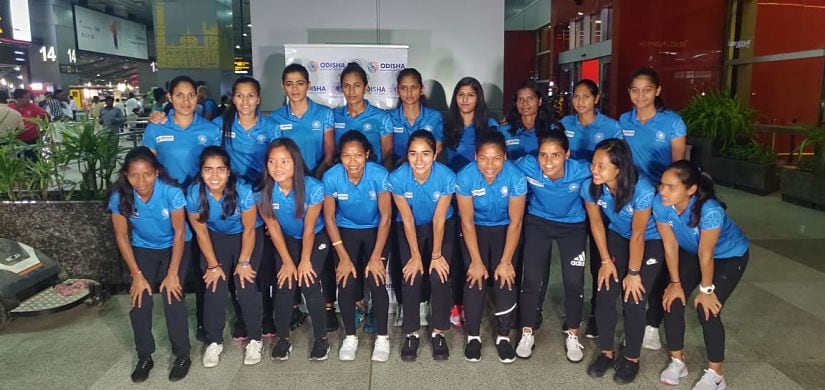 The members of the Indian team pose for pictures after landing in India on Monday night. Shubham Pandey

The Indian women's hockey team returned to Delhi on Monday night after winning the FIH Series Finals hockey tournament in Hiroshima. The Rani Rampal-led team beat Japan 3-1 in the final to earn the honours.

India netted a total of 27 goals in the tournament while conceding just 4 goals, which explains how stoically the team played in Hiroshima.

A big plus for the team was the aggressive hockey they played in the tournament. India beat most teams by big margins, in which the biggest victory in terms of goals came against Fiji, whom India beat 11-0. Of late, the team has registered many inspiring wins. They drew 1-1 with Spain earlier this year in the four-match series. Not to forget, in the third match of the same series, they handed the World No 5 Spain a 5-2 loss.

Rampal said that playing aggressive hockey has been the key but it has come to fore only because of the higher fitness levels of the players, something on which the support staff and team has worked very hard over the last two years and the results are now showing up.

She credited coach Sjoerd Marijne for employing the aggressive approach but had a word of thanks for the Scientific Advisor of the team, Wayne Lombard, who has helped improve the fitness levels.

She said, "Hockey has definitely changed and we have changed accordingly. The present day's hockey has a lot to do with your fitness levels. The teams which are giving due importance to fitness are doing better. In the last two years, India women's hockey team has worked very hard on fitness. The credit for the same goes to our scientific trainer Wayne Lombard."

Lombard has been with the team for past two years now and has advised the team on diet, recovery methods and has brought about a systematic approach in training.

Rampal said, "He has been with us for two years and has worked on our strength and conditioning. He has advised us on diet, what diet one should take for recovery. He organised a systematic way of training. That for how many days should we train in a week, when to train. These things has helped the team a lot in the long run. Coach has always emphasised on playing aggressive hockey and fitness has helped us achieve that."

India was guaranteed its place in the final round of the Olympic qualifiers after defeating Chile 4-2 in the semi-finals. Rampal is hoping that they get to play the final round in India. She said,  "We hope the venue is India and we can play in front of our people. But first, we will get back to the camp and will be improving on the remaining short comings. We need to put more hard yards to do that."

Reliving the moments after winning the FIH Series Final, Rampal said, "It was a lovely moment. The win is special because we beat Japan in the finals against whom we had lost in the Asian Games. As a team, we played brilliantly."
FIH Womens Series Finals: Rani Rampal credits scientific training methods, improved fitness for teams success in Japan

The star for India, apart from player of the tournament Rampal, was Gurjit Kaur, who struck 11 times in the competition. Rampal said that she has shaped up well as a drag-flicker and will be beneficial for India in the future. She said, "We knew Gurjit will come good for us as she has really improved upon the drag-flicking. She is shaping up well and we will be benfitted by her game in future."

Proud of Lalremsiami

The Indian captain also had a word of praise for the 19-year-old Lalremsiami who stayed back with the team and played in the semi-finals clash against Chile despite losing her father a day before. She had the option to go back but she decided to stay till the end of the tournament to eventually return victorious.

Rampal said that to see such a young girl do such things for the team and country makes her proud. "She is a strong girl and we all are very proud of her. To choose team and country first after such a tragic loss is a big thing and as a team, we are very proud of her," said Rampal.

"We knew we had to support her a lot and we wanted to win the tournament for her and her late father," she concluded.

Firstpost


---

Excitement builds ahead of showpiece FIH Pro League Grand Final event in Amsterdam

The climax to a wonderful, action-packed first edition of the FIH Pro League – the ground-breaking home and away league involving many of the world's leading hockey nations – will take place in the Netherlands later this week, with Amsterdam's iconic Wagener Stadium providing the stage for the FIH Pro League Grand Final.

The event features the top four finishers from both the women's and men's leagues, with the teams taking to the field between 27-30 June in a bid to make history by becoming the first ever champions of this pioneering competition.

The women's semi-finals are scheduled to take place on Thursday 27 June, with two-time world champions Argentina (FIH World Ranking: 4) facing triple Olympic champions Australia (WR:3) at 1715 CEST (UTC/GMT+2) before reigning world champions and FIH Pro League table toppers the Netherlands (WR:1) play Germany (WR:5), bronze medallists from the Rio 2016 Olympic Games, at 2000. The winners of the women's semi-finals will meet in the title match on Saturday 29 June, with the losing teams playing in the 3-4 play-off.

The men's semi-finals – which were finally settled in a thrilling day of action on Sunday 23 June - take place on Friday 28 June, with table-toppers Australia (WR:2) facing fourth place finishers Great Britain (WR:7) at 1715 ahead of a meeting between world champions Belgium (WR:1) and European champions the Netherlands (WR:3), who finished second and third in the standings respectively. The winners of the men's semi-finals will meet in the title match on Sunday 30 June, with the losing teams playing in the 3-4 play-off.

The eight competing teams have all demonstrated their qualities by consistently getting the required results over nearly six months of competition that have seen over 120 matches take place in Pan America, Oceania, Asia and Europe. As well as securing qualification for this event, their consistency also saw all eight teams take a significant step towards the Olympic Games Tokyo 2020 thanks to the tickets to the FIH Olympic Qualifiers – which take place later this year – that came with a top four finish.

A look at each of the teams taking part in the semi-final matches can be found below. 






27 June 2019: Women's semi-finals

SF2: Argentina (2nd FIH Pro League) vs Australia (3rd FIH Pro League)
 
 Following a disappointing 2018, the return of two iconic figures at the start of 2019 has triggered a renaissance for Argentina. Charismatic tactician Carlos Retegui – who guided Argentina's men to Olympic gold at Rio 2016 and also Las Leonas to World Cup glory in 2010 – has restored self-belief, while Carla Rebecchi's comeback after two-and-a-half years has also played a big role in revival. Rebecchi, Rosario Luchetti and goalkeeper Belen Succi have masses of world level experience, while Maria Granatto, Florencia Habif and Lucina von der Heyde – named Best Young Player at the World Cup in London – have all been outstanding performers this year. Even without injured star striker Delfina Merino, Argentina will feel that they have every chance of achieving glory at the Wagener Stadium.

Australia are the only team to have beaten reigning world champions the Netherlands in this competition, with combative midfielder Jane Claxton scoring the only goal of the game when the two sides met in Melbourne in February. Whilst the team coached by former Kookaburra Paul Gaudoin have been good at home, their away form has been exceptional, claiming victories in New Zealand, USA, China, Great Britain and Germany. Savannah Fitzpatrick has top-scored for her team in the FIH Pro League, while the form of shot-stopper Rachael Lynch is likely to put her amongst the frontrunners for the Best Goalkeeper award. The team are certainly not short of confidence and will believe that anything is possible when they take to the field in Amsterdam.

SF1: Netherlands (1st FIH Pro League) vs Germany (4th FIH Pro League)
 
Reigning world and European champions the Netherlands – coached by former Australia international Alyson Annan, a double Olympic gold medallist and twice FIH Player of the Year – have been consistently brilliant, recovering from an early loss against Australia in Melbourne by recording a succession of victories to qualify for the Grand Final with consummate ease. Lidewij Welten, captain Eva de Goede and Xan de Waard – all shortlisted for the FIH Player of the Year Award 2018, with De Goede taking the prize – have been exceptional, while Frederque Matla and penalty corner ace Caia van Maasakker have been prolific in front of goal. The Oranje are unquestionably the team to beat in Amsterdam, and it will take something truly extraordinary to stop them winning the inaugural FIH Pro League title.

Germany have produced some terrific performances on the way to sealing a top four finish in the FIH Pro League, with impressive away wins against New Zealand, Great Britain, Belgium and USA adding valuable points to the five victories they secured on home soil. Captain Janne Müller-Wieland, Lena Micheel, Elisa Gräve, Nike Lorenz and goalkeeper Julia Sonntag have all been excellent performers for Die Danas this year. Star attacker Charlotte Stapenhorst has been arguably Germany's most influential player in the competition, but a serious knee injury sustained in her side's recent home defeat against Australia has ruled her out of the Grand Final. The team are coached by Xavier Reckinger, who as a player made over 300 international appearances for Belgium. 




28 June 2019: Men's semi-final

SF1: Australia (1st FIH Pro League) vs Great Britain (4th FIH Pro League)
 
 Australia – coached by former Kookaburra Colin Batch, a gold medallist at the 1986 FIH Men's World Cup in Willesden, England – secured a first-place finish by winning ten of their 14 matches, recording notable away wins over world champions Belgium, Olympic champions Argentina and European champions the Netherlands. The Kookaburras squad is packed full of quality and experience. The 350 capped Eddie Ockenden co-captains the team alongside influential defender / midfielder Aran Zalewski, while Matthew Swann, Jake Whetton and goalkeeping duo Tyler Lovell and Andrew Charter have performed excellently this year. Blake Govers, Jeremy Hayward, Tim Brand, Daniel Beale, Jacob Anderson, Tom Wickham and Tom Craig have all made significant goal-scoring contributions over the course of the FIH Pro League. Make no mistake about it, the Kookaburras are serious contenders for the title. 

 Great Britain's qualification for the FIH Pro League Grand Final was achieved in dramatic fashion on the final day of the regular league season. A 4-1 defeat for Olympic champions Argentina against world champions Belgium in Antwerp denied the Pan American giants the point they needed to guarantee qualification, with Great Britain's 2-0 victory over New Zealand in front of 12,000 fans on a magnificent occasion at the Twickenham Stoop -where pioneering technology has been used to lay a temporary hockey pitch in a rugby stadium - being enough to put GB into the final four by virtue of a superior goal difference. The team coached by Danny Kerry have achieved some eye-catching results this year, claiming away wins in Argentina, Netherlands, Germany, Spain and New Zealand. Phil Roper (8 goals), Sam Ward (8) and Alan Forsyth (5) have been in devastating goal-scoring form, bagging 21 of Great Britain's 35 goals in the FIH Pro League. The recent return of all-time top scorer Ashley Jackson has further increased their attacking potency, making GB a side more than capable of causing an upset in Amsterdam.

SF2: Belgium (2nd FIH Pro League) vs Netherlands (3rd FIH Pro League)

Reigning world champions Belgium finished second in the standings with eight wins from 14 matches, recording excellent away victories against Olympic champions Argentina, Australia and Great Britain. The team coached by New Zealander Shane McLeod suffered a double set-back in home and away defeats against the Netherlands but responded magnificently with an 8-0 away demolition of Germany before thrashing New Zealand 4-0. While a recent 2-0 home loss against Australia indicates they are not infallible, the Red Lions remain the team to beat. Blessed with world class players such as Cedric Charlier, Arthur Van Doren and goalkeeper Vincent Vanasch and still basking in the afterglow of last year's amazing world cup triumph, Belgium will feel that the inaugural FIH Pro League title is theirs for the taking.

Led by globally respected tactician Max Caldas, the former Argentina international who guided the Dutch women to the World Cup title in 2014, European champions the Netherlands are phenomenally gifted and capable of beating anyone on their day. Defeated by Belgium in the final of last year's FIH World Cup, the Oranje have certainly got the better of their near neighbours in the FIH Pro League. A Bjorn Kellerman double earned a 4-0 away win over the Red Lions in Antwerp on 8 June, with the Dutch winning 4-3 in the reverse fixture in s-Hertogenbosch just one day later. Those results give a good indication of their undisputed quality, and if they rediscover that form at the FIH Pro League Grand Final they could take some stopping.

FIH Pro League statistics
After 128 matches (72 women / 56 men)

Women's competition

Total goals: 255
Field goals: 151
Penalty corners: 94
Penalty strokes: 6

Top scorer: Olivia Merry (NZL) – 15 goals

Total number of cards: 168
Total number of green cards: 143
Total number of yellow cards: 25
Total number of red cards: 0


Highest scoring team: Netherlands – 41 goals
Most team circle entries: Netherlands - 452

Most team saves: USA - 84

Men's competition


Total goals: 284
Field goals: 197
Penalty corners: 78
Penalty strokes: 9

Top scorer: Blake Govers (AUS) & Pau Quemada (ESP) – Both 10 goals.
 
Total number of cards: 126
Total number of green cards: 102
Total number of yellow cards: 24
Total number of red cards: 0

Highest scoring team: Belgium – 52 goals
Most team circle entries: Belgium - 367
Most team saves: Netherlands - 67

 #FIHProLeague

Official FIH Pro League Site


---

Pinner: The crowd was superb




History was made on Sunday 23 June as over 11,500 spectators amassed at Harlequins' Twickenham Stoop Stadium to witness the final home FIH Pro League matches of 2019, making it the biggest hockey attendance in the UK since the 2012 London Olympics.

In the first match of the day's double header, GB's men triumphed 2-0 over New Zealand to secure a top four finish and place at the Grand Final which will see them take on Australia in Amsterdam on Friday 28 June.




Speaking after the game, 'keeper Pinner reflected on the magnitude of the historic day:

"I'm absolutely buzzing. I watched the Argentina game midweek and knew that we had a chance of finishing in the top four.

"I'm just pleased that today has got the perfect ending for us. The sport has done a fantastic job putting this on, the crowds have come and supported us brilliantly and we've managed to put in another good performance to get the result that was required. To make the top four in the inaugural season is just brilliant.

"I tend to prepare myself with a low bar because then you're only ever pleased, but even if I'd aimed high today would have surpassed those expectations." Said Pinner when discussing the incredible attendance and atmosphere at The Stoop "It was absolutely brilliant, the noise for the anthem was great and the noise from the crowd was superb."




Great Britain captain Adam Dixon also expressed his delight at the result to book a place at the Grand Final:

"I'm over the moon! It's a bit of a relief to be honest, it's been a long league covering six months, there's been a lot of trips, lots of travelling and time away from home, so to make it all worthwhile with a trip to the Grand Final makes it all the sweeter. We're excited to be there and go to express ourselves in what is a nothing to lose, everything to gain weekend in Amsterdam.

"We've put in some great performances over the past six months, today was a bit of a nitty gritty performance where we weren't necessarily so good on the ball, but we certainly defended well and made life very difficult for the Kiwis. If we can take some of that with some room for improvement in attack, then I'm backing us next weekend."

Great Britain Hockey media release


---

2019 Test matches JPN v CAN (Men)
Echizen Town (JPN)

24 Jun 2019 14:30     JPN v CAN     3 - 3
26 Jun 2019 14:30     JPN v CAN
27 Jun 2019 16:00     JPN v CAN
1 Jul 2019 16:00         JPN v CAN

FIH Match Centre


---

Aussie coach McCann to get M'sia's strike force on song

By Jugjet Singh



Micheal McCann

WORLD renowned hockey striker Michael McCann will arrive on Sunday to help sharpen the Malaysian attack.

This was confirmed by national coach Roelant Oltmans yesterday.

Australian McCann, who is coaching in Germany at the moment, will be tasked to improve the blunt Malaysian strikers ahead of the Olympic Qualifier in November.

In the recent FIH Series Finals, hosts Malaysia's biggest winning margin was 6-0 against Brazil, and even then, they missed too many sitters in the one-sided match.

The other games were also a tale of missed sitters, especially in the 4-2 defeat to Italy in the group stage, and the 3-2 setback to Canada in the final.

Malaysia even missed two penalty strokes in the final.

"McCann will arrive on Sunday, and as you know he is one of the top coaches for the strikers' department.

"Right now he is coaching in Germany," said Oltmans.

McCann will be in Malaysia for only six days, but Oltmans expects his presence to be of great help.

"McCann is coaching strikers in the German team right now, and his expertise will be needed to turn opportunities into goals when we travel to Europe and Korea for matches, as well as the Olympic Qualifier in November," said Oltmans.

McCann, who helped Australia win the Olympic gold in 2004 in Athens, retired in 2007 with 165 caps and 72 goals to his name.

Malaysia have qualified for the final round of the Olympic Qualifier, where they will play home-and-away with a yet to be named team, in their hope to qualify for the Olympics after a 20-year lapse.

Oltmans will take 20 players for the tour of Germany, Spain, the Netherlands, Belgium and South Korea next month, while those left behind will get a chance to prove themselves in a Four-Nation meet in Tokyo from Aug 19-23.

Japan, New Zealand and Australia will be the last test for Oltmans' charges before they play in a two-match do or die mission to qualify for the Olympics.

New Straits Times


---

Oltmans calls up sabahan to solve Malaysia's goalkeeping woes

By Aftar Singh



In the fray: Goalkeeper Adrian Andy Albert has been called up to beef up the Malaysian hockey team's shortage of custodian due to a spate of injuries to the regulars.

KUALA LUMPUR: Adrian Andy Albert has been called up to beef up the goalkeeping department in the national hockey team.

The 22-year-old Sabahan, who played for Universiti Kuala Lumpur (UniKL) in the Malaysia Hockey League (MHL), replaces World Cupper M uhd Hairi Abdul Rahman, who underwent knee surgery two weeks ago.

National coach Roelant Oltmans said Adrian has come to the rescue to address the goalkeeper's injury woes.

Besides Hairi, seasoned campaigners S. Kumar and Muhd Hafizuddin Othman are also injured.

Kumar has not fully recovered from a muscle tear in his right thigh which he suffered in February.

Experienced goalkeeper Hafi­zuddin has returned from his injury but he is down with viral infection and has been told to rest.

The other goalkeeper in the training squad is Muhd Zaimi Mat Deris.

While acknowledging it was sad to lose Hairi for almost three months, Oltmans said they had taken measures to add depth to the goalkeeping department.

"Adrian has the potential and he will replace Hairi for now," said the Dutch at the National Hockey Stadium in Bukit Jalil yesterday.

Oltmans said Kumar has recovered almost up to 85% but has been limited to light training.

"I believe Kumar will be able to start full-time training by next week. Kumar should be back at his best before we leave for our tour to Europe on July 21," said Oltmans.

The playing tour is part of the national team's preparation for the playoff matches in October that offer the ticket to the 2020 Tokyo Olympics.

Yesterday, Oltmans also revealed that three other players – forward Firhan Ashari and midfielders Haziq Samsul and Luqman Nul Hakim Ahmad Shukran are out with injuries.

Firhan is down with a knee injury while Haziq has not recovered from his hamstring injury while Luqman injured his ankle.

Oltmans has recalled experienced Nabil Fiqri Mohd Noor, who played in the World Cup in Bhubaneswar, India last December, to strengthen the midfield.

"I need a player with calibre like Nabil, who has the speed and ability to marshal the half line," said Oltmans.

The 33-year-old Nabil, who is a police inspector, thanked the coach for giving him another chance to play for national team.

"I'm happy to be back in training. I want to help Malaysia qualify for the Olympics as we have not featured in the Games since the 2000 edition in Sydney," said Nabil, who has represented Malaysia 258 times.

There are 29 players in the training squad and Oltmans will name 20 for the playing tour to Europe.

The Star of Malaysia


---

Nikki Alexander-Lloyd retires from international hockey




Nikki Alexander-Lloyd has officially announced her retirement from international hockey. Alexander-Lloyd won 130 caps for her country and has been an inspirational figure for the sport.

Alexander-Lloyd said, "I feel really sad retiring but I want to go out on a high and at the top of my game. I'm so proud of my time playing for Scotland; I've been selected for every major tournament and to be able to do that consistently over the years is a thing of pride for me. So to retire while I can still be on a par with players half my age is how I'd like to finish. It's time to let the next generation come through."

It all started in a match against a South Africa side featuring current Scotland Head Coach Jen Wilson; and it was a goal scoring debut for Alexander-Lloyd, bagging Scotland's equaliser in the dying seconds for a 1-1 draw. She recalled the moment, "I remember running back to the half way line after the goal, and Cat Ralph had her arm around my shoulder, and thinking – this is cool!"



Nikki Alexander-Lloyd's first goal for Scotland

It was a memorable goal for Alexander-Lloyd, but there is one goal that stands out more than others as she looks back over her career in a Scotland shirt. The goal came in the Gold Coast; a tremendous solo run and finish against Ghana in a 5-0 win. "Scoring at Gold Coast was like an out of body experience. I'll never forget it. I remember Kaz Cuthbert just running at me screaming. It was amazing to score a goal like that at a Commonwealth Games and have my parents there to see it."

The next challenge for Alexander-Lloyd will see her move into coaching with Blackheath & Elthamians men's team. It's a challenge Alexander-Lloyd is really looking forward to.

She added, "I'd like to thank everyone at Scottish Hockey; the Institute of Sport; coaching staff; all the players I played with, especially Kaz for being an amazing captain and friend; all the sponsors; and my family and husband for the endless support even when I was never there."

Scotland women's Head Coach Jen Wilson said, "Nikki Alexander-Lloyd Has shown great progress and superb impact moments over the last year and this adds to her many significant years of play for Scotland. She has achieved significant milestones that any international player would be really proud of. She has helped stretch younger players, and challenged them to blossom, and has certainly inspired many to follow in her footsteps. I wish her all the best in her next adventure."

Scottish Hockey Union media release


---

Ali Howie retires from international hockey




Ali Howie has announced her retirement from international hockey after winning 93 caps for Scotland. Howie has been a fantastic player for her country and a great ambassador for the sport.

Ali Howie said, "I've been thinking about it for a while so it's not a spur of the moment decision. I've been out injured for over a year, and when you know, you know.

"I feel genuinely honoured and proud to have represented my country. I will remember, with a smile, every single time that I pulled on the shirt and sang the national anthem."

Howie's debut came against South Africa, which featured current Scotland women's Head Coach Jen Wilson, at Clydesdale in a 1-1 draw. For Howie it was a sentimental occasion as the match was held on the pitch of her club side Clydesdale. She said, "It was great, though I was really nervous. I remember there was a piper playing the anthem. It was really good because the game was at Clydesdale, which is where I'd played with my club for years. So many players get their first cap playing far away from home so to get my first cap there, with all my family and friends watching, was really good."



Scotland v Ireland, November Tests, Clydesdale Cricket Club, 6th November 2016

Howie's first goal for Scotland also came against South Africa when they later met in Edinburgh, but it was a goal on the big stage that stands out in her memories. "My goal against New Zealand at the Gold Coast Commonwealth Games was my favourite despite the result. To score a goal on an occasion like that in front of a massive crowd is a bit special for me."

It would turn out that playing in the Gold Coast in a 4-2 win against Malaysia was Howie's last appearance in a Scotland shirt; she suffered a broken kneecap in a match for Clydesdale three days after returning from the Commonwealth Games and has been on the long road to recovery since then.

She plans to stay in hockey and start back playing with her club in September. Howie added, "I'd like to thank to my employers for supporting me with time off over the years and to my friends and family for all their support. I want to say a big thank you to all the players, coaches and all the support staff for making my time with the squad so special."

Scotland women's Head Coach Jen Wilson said, "Ali Howie has been a great servant to the game. Although I have not had the opportunity to work with her as Head Coach she has shown incredible dedication to return after a very tough, long-term injury. She has had an exceptional playing career and I have no doubt she will stay connected to the game and Scottish Hockey to continue inspiring many.

Scottish Hockey Union media release


---

New Zealand Ladies only hockey club turns 100

Katy Jones



Diana Clark, centre, with her twin daughters Joanne Clark, left, and Jacinda Beyer-Rieger of Rewa Hockey Club, which has just celebrated its 100th birthday at the Saxton Hockey Pavilion. Virginia Woolf/Stuff

Diana Clark fondly recalls biking home from matches at Nelson's Botanical Gardens "wet through, or splattered in mud".

"Hockey was best when we played in the mud, and rain," she told a crowd gathered at the 100th anniversary celebration of the club that became part of her life, more than 60 years ago.

Clark joined the Rewa Junior Hockey Team, the only all-female hockey club in Nelson, in 1954, aged 14, as a left fullback.

"Oh how I loved hitting that ball back to the halves, the wings, and the forwards," she recounted, remembering the clashing of the hockey sticks "the faster the better", by the two centre forwards at the start of each game.

On Fridays, she would "wait with bated breath" to see if any of her team were mentioned in the weekly publication, the Nelson Hockey News.

The love for the sport remained strong among players in the club's two teams members, Clark noted.

But many other things had changed.



A photo from 1935 of Nelson's Rewa Ladies Hockey Club, which celebrated its centenary this weekend.

Games that used to be played on the different clubs' home grounds, like "the Botanics" and Pioneer Park, now took place at the Saxton Field sports complex in Stoke.

The grass fields Clark played on as a young woman were a far cry from Saxton Field's astro-turf, with the chance these days for a post-match drink at the hockey pavilion, where the 100th birthday party took place on Saturday.

Practice "was few and far between" when she started out, with the sessions that did take place consisting of a board, with little moveable wooden people, she said.

"We listened intently, and watched of every move of these little people."

Uniforms had come a long way too. In the 1950s, her skirt, permitted to be 4 inches about the knee, drew gasps from the older generation.



Kelly Walker, left, Caroline Griffith, Cheryl Remnant, Raewyn Evans, and Jacinda Beyer-Rieger of Rewa Hockey Club, which celebrated a century in operation this weekend. Virginia Woolf/Stuff

The umpires would inspect the team for clean boots (they had to be "shiny with black nugget), and a clean and ironed shirt and pleated skirt.

Photos taken not long after the club formed in 1919 showed how much the uniform had changed, even by then, club treasurer Kelly Walker said.

"They just sort of looked like they were wearing a blouse and a skirt, or a dress with a belt round it. Definitely not as user-friendly as today's uniforms."

Games were a lot faster these days because of the astro-turf, and the rules had changed over the years improve flow, and to make it more interesting for spectators.



Nelson's Rewa Hockey Club uniform has seen many changes since the club was formed in 1919.

With just over 40 members, Rewa was a family-oriented club, and it was not unusual to have two generations playing in the same year, Walker said.

The 100 year milestone "was quite an achievement", with ex-players from Canterbury, the West Coast and Murchison joining Saturday's celebration, she said.

"It was 2nd May 1914 we had our first meeting ... the women used to be part of Nelson Hockey Club, which had women and men's teams.

"I think the women felt that the men's hockey was taking up a large portion of the club's time and resources, and they felt that maybe branching out on their own would allow them to focus on women's hockey."

As for the club's name, Clark said early members picked Rewa, meaning to "get under way, "be elevated" or "depart" in Māori, because the club was formed just after World War I, and as a deadly flu pandemic was hitting the country.

The 79-year-old paid tribute to the dedication of the club's former manager, the late Milly Owen, and coach the late Hui Mant, who was the first life member of the Nelson Women's Hockey Association, and represented Nelson from 1930 to 1950.

Stuff