All the news for Thursday 23 May 2019

2019 FIH Pro League (Men)

22 May 2019    GER v ARG (RR)     3 - 3 (6 - 5 SO)     Crefelder Hockey und Tennis Club, Krefeld

Unofficial Pool Standings
| Rank | Team | Played | Wins | Win Draws | Loss Draws | Losses | Goals For | Goals Against | Goal Difference | Points | Percent |
| --- | --- | --- | --- | --- | --- | --- | --- | --- | --- | --- | --- |
| 1 | Australia | 9 | 7 | 0 | 1 | 1 | 28 | 19 | 9 | 22 | 81.5 |
| 2 | Argentina* | 11 | 5 | 0 | 1 | 4 | 25 | 28 | -3 | 17 | 51.5 |
| 3 | Belgium | 6 | 4 | 1 | 1 | 0 | 25 | 12 | 13 | 15 | 83.3 |
| 4 | Great Britain | 8 | 4 | 0 | 1 | 3 | 21 | 18 | 3 | 13 | 54.2 |
| 5 | Netherlands | 7 | 3 | 1 | 1 | 2 | 23 | 18 | 5 | 12 | 57.1 |
| 6 | Germany* | 8 | 2 | 1 | 1 | 3 | 15 | 17 | -2 | 10 | 41.7 |
| 7 | Spain | 10 | 0 | 5 | 0 | 5 | 24 | 35 | -11 | 10 | 33.3 |
| 8 | New Zealand | 9 | 0 | 0 | 2 | 7 | 21 | 35 | -14 | 2 | 7.4 |
* A cancelled match contributes 1 point to each team's results that is not shown in the tables as a cancelled match
The FIH inexplicably and confusingly use a system not used in any other sports League in the World, of making the Percentage more important than Points until the end of the League when they will revert to Points only. Fieldhockey.com prefers to use the conventional Points and so the Unofficial Pool Standings on this site are reflected in this manner.

FIH Match Centre


---

2019 FIH Pro League (Women)

22 May 2019     GER v ARG (RR)     1 - 2     Crefelder Hockey und Tennis Club, Krefeld

Unofficial Pool Standings
| Rank | Team | Played | Wins | Win Draws | Loss Draws | Losses | Goals For | Goals Against | Goal Difference | Points | Percent |
| --- | --- | --- | --- | --- | --- | --- | --- | --- | --- | --- | --- |
| 1 | Argentina | 14 | 9 | 4 | 0 | 1 | 28 | 12 | 16 | 35 | 83.3 |
| 2 | Netherlands | 8 | 7 | 0 | 0 | 1 | 24 | 4 | 20 | 21 | 87.5 |
| 3 | Australia | 11 | 6 | 1 | 1 | 3 | 24 | 14 | 10 | 21 | 63.6 |
| 4 | Germany | 9 | 4 | 0 | 2 | 3 | 17 | 12 | 5 | 14 | 51.9 |
| 5 | Belgium | 7 | 4 | 0 | 1 | 2 | 10 | 8 | 2 | 13 | 61.9 |
| 6 | New Zealand | 11 | 4 | 0 | 0 | 7 | 19 | 24 | -5 | 12 | 36.4 |
| 7 | Great Britain | 10 | 2 | 2 | 1 | 5 | 13 | 21 | -8 | 11 | 36.7 |
| 8 | China | 13 | 3 | 0 | 1 | 9 | 18 | 34 | -16 | 10 | 25.6 |
| 9 | United States | 13 | 1 | 1 | 2 | 9 | 13 | 37 | -24 | 7 | 17.9 |
The FIH inexplicably and confusingly use a system not used in any other sports League in the World, of making the Percentage more important than Points until the end of the League when they will revert to Points only. Fieldhockey.com prefers to use the conventional Points and so the Unofficial Pool Standings on this site are reflected in this manner.

FIH Match Centre


---

Argentina women and Germany men edge thrilling contests in Krefeld




Germany welcomed the national teams of Argentina to Crefelder Hockey und Tennis Club on Wednesday 22 May 2019, with the hosts experiencing mixed fortunes in two explosive FIH Pro League contests. 


Argentina's women scored twice in the final five minutes to fight back from a goal down to beat Germany 2-1, with Valentina Costa and Silvina d'Elia on target as Las Leonas edged closer to  confirming a top four finish that brings with it berths in both the FIH Pro League Grand Final and the FIH Olympic qualifiers. The Pan American giants sit second in the standings with just two matches left to play, while Germany remain just outside the top four in fifth position.

A thrilling meeting between the men of Germany and Argentina went the way of the host nation, who claimed a bonus point in the shoot-out after regular time finished with the scores locked at 3-3. Argentina fought back from 2-0 down to take a 3-2 lead thanks to goals from Leandro Tolini, Ignacio Ortiz and Agustin Mazzilli before Constantin Staib forced a shoot-out with a brilliant late deflection. Argentina currently sit fifth in the FIH Pro League Standings, with Germany in sixth.


Argentina (FIH World Ranking: 4) came into the women's match knowing that a win against Germany (WR:5) would put them within touching distance of guaranteeing a top four finish in the FIH Pro League, something that comes with the double prize of tickets to the FIH Pro League Grand Final and also the FIH Olympic qualifiers. However, Las Leonas faced a team determined to boost their own points tally in the quest for that crucial top four finish, with Die Danas looking to gain a measure of revenge for their shoot-out loss at the hands of Argentina on a rain-hit occasion in Buenos Aires earlier this year.

The opening quarter was fiercely contested, with Germany's Charlotte Stapenhorst creating the first chance of note before Eugenia Trinchinetti missed an open goal after a perfect pass from Carla Rebecchi, who took advantage of a defensive mix-up. Rebecchi's match was cut short due to a head injury just before the end of the quarter.*

Germany had a second quarter goal ruled out for dangerous play, but the home favourites were not to denied in the third period thanks to a moment of brilliance from Stapenhorst. Collecting an overhead pass on the edge of the Argentina circle, Stapenhorst deliberately held her shot until the perfect moment, eliminating both her marker and the Leonas goalkeeper Maria Mutio with a terrific strike into the bottom left corner to give Germany a 1-0 lead.

Argentina almost levelled the scores late in the third quarter when Silvina d'Elia's penalty corner strike was tipped around the post by Germany shot-stopper Julia Sonntag, with the home favourites taking their advantage into a final quarter in which everything would change. Las Leonas pulled themselves level with five minutes remaining thanks to Valentina Costa, who sent a penalty corner drag-flick into the Germany net despite the best efforts of line-player Stapenhorst to clear the attempt. Just as it seemed the match was heading to a shoot-out, d'Elia stepped up to fire home a penalty corner winner with just 30 seconds of the match remaining, giving Argentina a superb win away from home.

"It was a very difficult match", said Player of the Match Eugenia Trinchinetti. "We are always training and trying to be better, so the three points are very important. We've changed our coach and everything is new, but we have to adapt and continue training a lot to be the best."

Reflecting on the contest, Charlotte Stapenhorst said: "There was very little in it. The last seven or eight minutes we were not defending properly. This is annoying, playing in front of a home crowd, being one-nil up, it's just not the result we wanted."




The men's match was a clash between the two most recent winners of the Olympic gold medal, with Beijing 2008 and London 2012 Olympic champions Germany (WR:6) facing Argentina (WR:4), the reigning champions from Rio 2016. Both nations entered the contest knowing that they needed more points to strengthen their hopes of securing a top-four finish, with Argentina sitting fifth in the standings and Germany occupying sixth position.

There were opportunities at both ends of the field in the opening quarter, but it was Germany who made the first impression on the score-board thanks to an emphatic penalty stroke from Timm Herzbruch, who flicked high into the roof of the Argentina goal in the fifth minute.

Agustin Mazzilli rattled the pads of Germany goalkeeper Tobias Walter towards the end of the first period, with Walter twice being called into action in a second quarter largely dominated by the team from South America. A penalty corner effort from Maico Casella came closest to levelling the scores for Los Leones, being denied only by the superb reactions of defender Mathias Müller, who instinctively tipped the ball around the right post.

Germany extended their advantage early in the third quarter through team captain Martin Häner, who arrowed an unstoppable penalty corner drag-flick into the goal via the bottom of the left post. The goal seemed to kick-start Argentina into action, who rattled in two goals before the end of the quarter to restore parity at 2-2 thanks to a penalty corner Leandro Tolini and the coolest of finishes from the tightest angles from Ignacio Ortiz.

Things got even better for Argentina in the final quarter the Ortiz turned provider for Agustin Mazzilli, only for Germany to snatch an equaliser late in the game thanks to a superb diving deflection from Constantin Staib, sending the match into a shoot-out for the bonus point.

The shoot-out was of the highest quality, with both teams converting all of their opportunities to leave the score at 5-5 and force 'sudden death'. Matias Rey's miss proved decisive, with Niklas Wellen stepping up to convert and seal what could be a crucial bonus point for Germany.

"It was a close game, it's always tough when we score two goals and they come back and score three", said Player of the Match Constantin Staib. "They had a lot of pressure in the third and fourth quarters, but we tried to keep our focus to get another goal to square things up."

The FIH Pro League continues when China women welcome Belgium to Changzhou on Saturday 25 May.

* Statement from Argentina Hockey Confederation (CAH) regarding Carla Rebecchi: 'During the match with the German National Team in the framework of the FIH Pro League, the player Carla Rebecchi suffered a hit encounter with the player Janne Müller-Wieland that caused a loss of consciousness. Carla regained consciousness, she is well and with the recommendation of the Medical Body of the Argentina Hockey Confederation, control studies are being carried out. We appreciate all inquiries and interest in the health status of Carla Rebecchi.'
 
FIH Pro League
22 May - Krefeld, Germany

Result: Women's Match 48
Germany 1, Argentina 2
Player of the Match: Eugenia Trinchinetti (ARG)
Umpires: Annelize Rostron (RSA), Alison Keogh (IRL) and Rawi Anbananthan (MAS - video)

Result: Men's Match 34

Germany 3, Argentina 3 (6-5 after shoot-out)
Player of the Match: Constantin Staib (GER)
Umpires: Martin Madden (SCO), Rawi Anbananthan (MAS) and Annelize Rostron (RSA - video)


#FIHProLeague

Official FIH Pro League Site


---

Rani Rampa and Navjot Kaur hand India crucial victory against South Korea

Indian skipper Rani Rampal (37th minute) and Navjot Kaur (50th) scored for India after Lee Seungju gave South Korea the lead in the 19th minute through a field strike.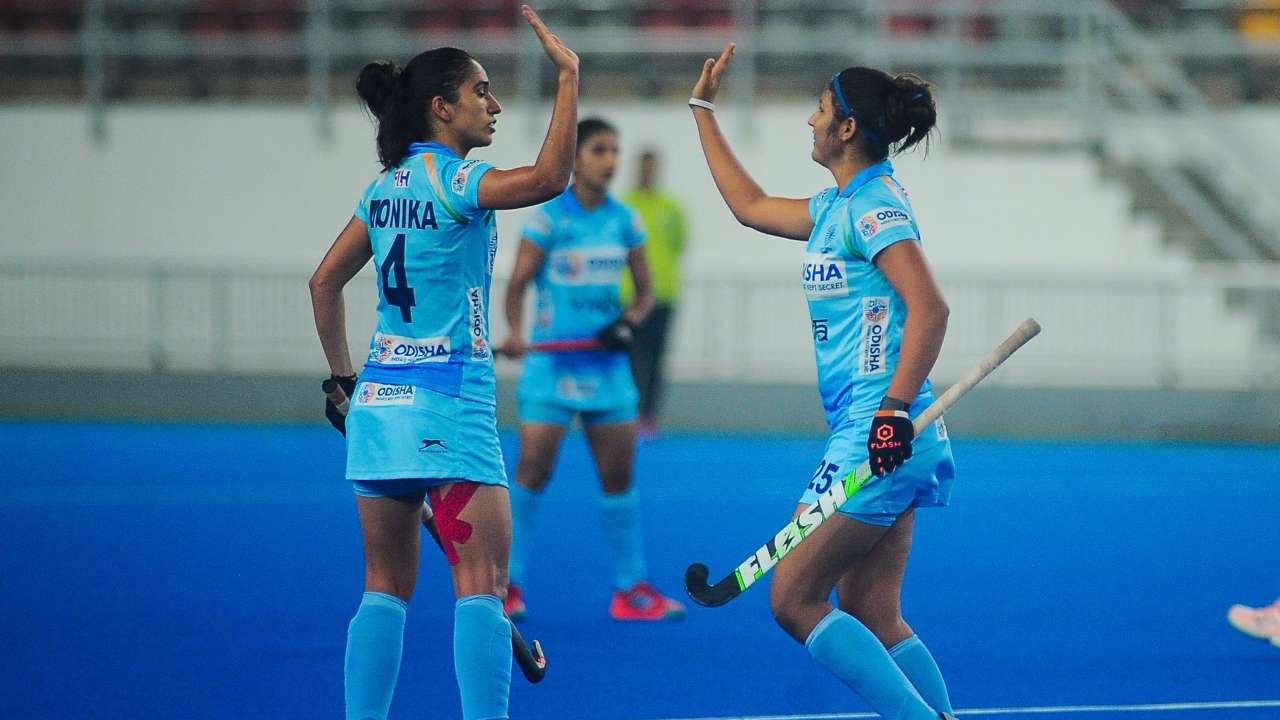 India 2 Republic of Korea 1 Hockey India on Twitter.

The Indian women's hockey team came from a goal down to eke out a close 2-1 win over South Korea in the second game and take an unassailable 2-0 lead in the three-march series, here Wednesday. The Indians had earlier defeated Korea by identical margin in the opening game of the series. India will take on Korea in the inconsequential last match of the series on Friday.

On Wednesday, skipper Rani Rampal (37th minute) and Navjot Kaur (50th) scored for India after Lee Seungju gave South Korea the lead in the 19th minute through a field strike. The match started on a fast-paced note with both India and Korea trading penalty corners in the first quarter but goalkeepers of both the teams made some fine saves to keep a clean slate.

Four minutes into the second quarter, Korea took the lead through Seungju's field goal. Stunned by the Koreans, the Indians made a strong comeback after the change of ends and pulled a goal back seven minutes into the third quarter through captain Rani's brilliant field effort.

India kept up the pressure on the Korean defence and surged ahead in the 50th minute through Navjot's strike.

"Our performance was much better than the first match. Our skill control in today's game was much better and the quality was good and consistent. I believe we could have scored more goals but the intensity and effort was good from the team," India's chief coach Sjoerd Marijne said after the game.

Marijne said good results here would boost the team's confidence ahead of the important FIH Women's Series Finals in Hiroshima later this year. "I am happy with the adjustments the team made. We played our first match just 24 hours after we arrived in Jincheon. It is nice we have won two matches in this three-match series. This will surely boost the team's spirit ahead of the FIH Women's Series Finals Hiroshima 2019," he added.

Daily News & Analysis


---

Grassick ready to go after overcoming rare career-threatening injury



Chris Grassick

"There was never a guarantee that I would be able to play again."

It's been a tough few years for Great Britain and Scotland's Chris Grassick.

Two days before he spoke to us the midfielder played his first game – an inter-squad training match at Bisham Abbey – in more than a year and admitted he was feeling the effects of it.

But he was also mightily relieved to have taken part having suffered a rare injury that could have halted his career in his tracks.

A little more than 13 months previously Grassick captained his Scotland side to their best ever Commonwealth Games placing of sixth at Gold Coast 2018.

That included a fine victory over South Africa as well as impressive performances against Canada and Malaysia, both of whom are significantly higher in the world rankings.

As the tournament progressed though he noticed that he was finding it hard to sprint, a problem that refused to go away once he returned back.

It turned out that two of the tendons in his hamstring had stuck together, a consequence of the surgery he'd had on a significant ACL tear suffered in 2016 that kept him out of the game for 11 months and ruined his chances of appearing at the Olympic Games in Rio.

According to his surgeon, this condition was so rare that it only occurs once in every 1,000 cases and due to its lack of prevalence there was no certainty of Grassick would make a full recovery.

"I was trying to accept the fact that I may never play again which was pretty stressful and pretty upsetting at times," the 28-year-old recalled.

"But I also knew that if I gave up on trying to come back I would have regretted it forever – that was never really an option.

"You have two choices - you either feel sorry for yourself or accept your situation and do your best to deal with it.

"I'm definitely proud of myself because I didn't think I'd be able to do that kind of long rehab again but giving up was never an option so I was always trying to go for it."

Having made his return to training, Grassick is now determined to get back on the pitch and play a competitive match situation as soon as possible.

Despite having suffered many delays and setbacks during his rehab, the Surbiton player is hoping to walk out in front of #ThePride in at least one of the four remaining home games in this year's FIH Pro League.

He is also confident of being ready to feature for Scotland at the EuroHockey Championships this August, having played a pivotal role in helping them get promoted from the second tier two years ago.

"My aim is to play in the FIH Pro League this year," he stated.

"I've set targets the whole way along and often they've been knocked down so I'm itching to play.

"But I also understand I need a small bit of time to get a bit of sharpness back - being out for such a long time and then trying to come back into a team that's performing so well is exciting but also challenging.



Chris Grassick #ThePride

"I'm also really excited for the Euros. We've got more players in our group who are genuinely world class and we're very competitive with some of the other nations, we just need to get up to the right intensity for the start tournament which will be a challenge.

"Staying up is our goal and it's certainly achievable. The main thing is that we go there, give a good account of ourselves and enjoy it.

"A lot of people – Derek Forsyth, the squad and the staff – have worked so hard for a long time to get there so we want to make sure we give it our best shot but also enjoy it at the same time."

Success in either or both of those events will certainly be a positive conclusion to what has been a very testing period for Grassick.

And while he is looking to put these injuries firmly behind him, the popular member of the squad is also very grateful for the support he has received from a number of people, ranging from the medical staff to his team-mates, family and numerous fans.

"It's always nice to get support from people," he said.

"It can be quite a lonely place when you're rehabbing, especially long term, because you are quite disconnected from the group no matter how hard you try to integrate.

"But I've had great support all the way along from so many people and just to know that people take an interest and want to spur you along is really nice.

"I would like to say thanks to every member of the GB hockey staff for supporting me and playing a huge part in getting me back to this stage and to the Intensive Rehab Unit (IRU) for all their support."

Great Britain Hockey media release


---

Varsity Hockey star pursuing national honours



Onthatile Zulu

FNB Varsity Hockey Player of the Tournament Tuks striker Onthatile Zulu wants to use the accolade to propel herself to the highest echelons of South African hockey.

It wasn't Tuks' finest Varsity Hockey series with the ladies from the Jacaranda City crashing out the competition in semifinals losing 7-5 to Maties. But coach Inky Zondi will take solace in that the player of the tournament was his striker Zulu.

The BCom business management student was a vital part of her team's run to the semifinals. She was ecstatic to receive the coveted award.

"To be honest I'm really shocked to win the FNB player of the tournament. I really didn't expect it, me out of all people. I've been working really hard to try improving little things and I guess this is a sense of reassurance to me, that's what I'm doing is working and I should keep going. It's keeps me motivated and I'm so delighted and grateful for this award. I can only get better from now."

After excelling in Varsity Hockey, Zulu believes it would be an honour to represent South Africa but is also very serious about her academics.

"I am looking at pursuing a professional career in hockey and playing for my country would be an honour. On the other hand, it's also important for me to finish my degree and find a job in order for me to be financially independent."

On her team's performance, the striker believes the team performed well despite some hiccups.

"The team started off quite badly and we all had no idea why, we followed a process that we were all aware of but it just wasn't working out. The second weekend we did a lot better and we were able to finish the week off with four wins which just put us in the semifinals, and I can't express how excited I was. We obviously would have wanted to make it through to the final, but it wasn't our day. It was my first Varsity Hockey and I can wholeheartedly say that I enjoyed playing alongside my sisters in the stripe."

Zulu heaped praise on the competitiveness of Varsity Hockey.

"This is my first year at Varsity Hockey, and I can say that this tournament has been one of the most challenging and most competitive tournaments I've ever been to in my life. A lot of tournaments I participated in, were not on the same calibre as Varsity Hockey.

"The rules that make the games even more spicy and exciting. Now I know how it feels like and what it takes to compete with the best of the best."

SuperSport


---

Wollongong To Host Two Major Indoor Hockey Events

Ben Somerford




Hockey Australia today announces that Wollongong will host the 2019 Masters Indoor Challenge and 2020 Australian Indoor Hockey Festival at the Illawarra Hockey Stadium.

HA have partnered with Destination Wollongong for hosting rights for the events which are a key part of the annual domestic Hockey calendar.

The Masters Indoor Challenge will be played from Friday 29 November to Sunday 1 December in the women's and Friday 6 December to Sunday 8 December in the men's.

The Australian Indoor Hockey Festival, which includes Under-13s, Under-15s, Under-18s, Under-21s and Open divisions, will be played from Saturday 4 January to Sunday 26 January.

Hockey Australia CEO Matt Favier said: "We are delighted to partner with Destination Wollongong and the Illawarra Hockey Stadium to confirm Wollongong as the host venue for these two exciting Indoor Hockey events.

"Wollongong and the greater Illawarra region is a true Hockey heartland with numerous past and present national players hailing from the area, so it's a fitting location for these events.

"Australia achieved our best-ever results at the 2018 Indoor Hockey World Cup and the Australian Indoor Hockey Festival will be a key pathway towards the 2022 Indoor Hockey World Cup.

"The Indoor Masters Challenge was held for the first time late last year, aiding preparation before our Australian teams which participated for the first time at the Masters Indoor World Cup in Hong Kong in February with great results and we're excited for another edition."

Destination Wollongong Major Events Manager Jeremy Wilshire said: "We are excited to have secured both the Masters Indoor Challenge and Australian Indoor Hockey Festival for the region in 2020.

"Wollongong hosted the Australian Indoor Hockey Festival in 2016 and 2017 with the event injecting almost $2 million into the local economy and with the event continuing to go from strength to strength we expect this will be much higher next year.

"We are also looking forward to welcoming the Masters Indoor Challenge to the region for the first time, with a resurfacing project recently completed at the Illawarra Hockey Stadium we are sure there will be fierce competition across consecutive weekends."

Hockey Australia Masters National Coordinator Co-Chairs Norman Same and Sue Briggs said: "The feedback from last year's Masters Indoor Challenge was very positive and we've taken on board some of the recommendations we've received.

"The social non-representative model where players were not aligned to State's was highly supported so we will continue to run the event like that but we will be running the men's and women's titles on different weekends."

The Australian Indoor Hockey Festival will run as follows: Open (4-7 January), Under-21s (9-12 January), Under-18s (13-16 January), Under-13s (18-21 January) and Under-15s (22-26 January).

Masters Indoor Challenge and Australian Indoor Hockey Festival results and ladders will be available at www.hockeyaustralia.altiusrt.com.

Hockey Australia media release


---

FIH creates Women in Sports Committee




Lausanne, Switzerland: As a further milestone of its #EquallyAmazing strategy promoting gender equality, the International Hockey Federation (FIH) has decided to create a new Committee, namely the Women in Sports Committee.

The overall aim of this Committee will be to assist the FIH Executive Board (EB) to raise awareness about gender equality, inclusion and promote diversity in sports practice and governance.

Four strategic priorities have been defined:

• Developing and implementing an FIH Women in Sport strategy;
• Cooperating with other international sport federations in regular exchange and knowledge;
• Continuing to oversee gender equality in the Executive Board and recommend changes;
• Establishing and maintaining contacts with people responsible for women's hockey in each national association.

The Committee will be chaired by EB member Marijke Fleuren (Netherlands) who is also a member of the IOC Women in Sport Commission. Upon her appointment as Chair of this new Committee, the European Hockey Federation President said: "As the stimulator and now Chair of this Committee, I am motivated to work with other women and men to add extra value to our brand #EquallyAmazing. 'Together' will be our mantra to support equally women and men in achieving their goals as well on as off the field of play. 50/50 in all aspects.  It will mean a lot of dialogues, presentations, live support. But we will achieve it. Together!"

FIH President Dr. Narinder Dhruv Batra stated: "Gender equality is of paramount importance for the hockey family. This shall be true on the pitch, where the competitions are the same for men and women, as well as off the pitch, with an equal involvement of men and women in the committees and panels of the hockey governing bodies. The creation of the Women in Sports Committee is a further milestone of FIH's firm commitment for an #EquallyAmazing sport."

Visiting the FIH in March, IOC President Thomas Bach had said on this occasion: "Sport plays a fundamental role in society and I would like to commend FIH for its gender equality policy, which really is best practice. A role model for many International Federations."

More information on the Women in Sports Committee is available here.

On the occasion of the International Women's Day, we published stories from all continents. You can read them again by clicking here.

Furthermore, the new composition of the FIH Committees and Panels for the period 2019-2021 is available here.

#WomenInSport

FIH site