All the news for Saturday 27 April 2019

FIH Men's Series Finals Kuala Lumpur 2019 - Day 2
Kuala Lumpur (MAS)

Results 26 April

AUT v BLR (Pool A)     5 - 0
CAN v WAL (Pool A)     1 - 3
CHN v ITA (Pool B)      1 - 2
MAS v BRA (Pool B)     6 - 0

Upcoming Fixtures (GMT +8)

27 Apr 2019 18:05     AUT v CAN (Pool A)
27 Apr 2019 20:05     WAL v BLR (Pool A)

28 Apr 2019 18:05     BRA v ITA (Pool B)
28 Apr 2019 20:05     CHN v MAS (Pool B)

Live streaming and full game replay on https://fih.live (Geo blocked if there is TV coverage)

Pool Standings
Pool A
| Rank | Team | Played | Wins | Draws | Losses | Goals For | Goals Against | Goal Difference | Points |
| --- | --- | --- | --- | --- | --- | --- | --- | --- | --- |
| 1 | Austria | 1 | 1 | 0 | 0 | 5 | 0 | 5 | 3 |
| 2 | Wales | 1 | 1 | 0 | 0 | 3 | 1 | 2 | 3 |
| 3 | Canada | 1 | 0 | 0 | 1 | 1 | 3 | -2 | 0 |
| 4 | Belarus | 1 | 0 | 0 | 1 | 0 | 5 | -5 | 0 |
 Pool B
| Rank | Team | Played | Wins | Draws | Losses | Goals For | Goals Against | Goal Difference | Points |
| --- | --- | --- | --- | --- | --- | --- | --- | --- | --- |
| 1 | Malaysia | 1 | 1 | 0 | 0 | 6 | 0 | 6 | 3 |
| 2 | Italy | 1 | 1 | 0 | 0 | 2 | 1 | 1 | 3 |
| 3 | China | 1 | 0 | 0 | 1 | 1 | 2 | -1 | 0 |
| 4 | Brazil | 1 | 0 | 0 | 1 | 0 | 6 | -6 | 0 |
---

Day of the underdogs in Bukit Jalil

By Jugjet Singh



Belarus' Kochkin Uladzislau (left) controls and shields the ball while being pressured by Austria's Stanzl Benjamin during the Group A match of the FIH Series Finals at the National Hockey Stadium in Bukit Jalil earlier today (Friday). (PIC BY BERNAMA)

KUALA LUMPUR: It was a day of upsets as lower ranked Italy and Wales proved to be the wonder-teams at the FIH Series Finals at the National Hockey Stadium in Bukit Jalil earlier today (Friday).

Italy, ranked 32nd in the World, beat 13th ranked China 2-1, while 24th ranked Wales upset World No 10th Canada 3-1.

Nobody gave the Italians and Welsh even an outside chance to claim full points, but somehow they managed to do just that.

For Wales, James Carsen started the rout with a 30th minute penalty corner goal, while Luke Hawker made it 2-0 just minutes later in the 33rd minute.

Canada tried to claw their way back into the game with a goal from Iain Smythe in the 42nd minute, but Joseph Naughalty sealed their fate with a 57th minute penalty corner.

Now, Wales are in the driving seat to top Group A and qualify for the semi-finals, as they only have Austria and Belarus to overcome in coming matches.

Understandably, Canada coach Paul Bundy was visibly upset with the outcome.

"We (Canada) are a hardworking team and today (Friday) was not how we play hockey. Everybody was talking about rankings, but Wales proved in this match that it does not matter," lamented Canada coach Paul Bundy.

Wales coach Zak Jones said they will not take anything for granted in the next two matches.

"Beating Canada is indeed an accomplishment, but that does not mean we can take our next two opponents lightly. We have to work even harder from now onwards," Jones pointed out.

For Italy, their goals were scored by Julian Montone (ninth minute) and Agustin Nunez (49th), while China's solitary goal was scored by Tu Yuan Lin in the 29th minute.

RESULTS:

GROUP A: Austria 5 Belarus 0, Wales 3 Canada 1

GROUP B: Malaysia x Brazil x, China 1 Italy 2

FIXTURES — TOMORROW (SATURDAY):

GROUP A: Austria v Canada (6.05pm, Pitch I), Wales v Belarus (8.05pm, Pitch I)

New Straits Times


---

Malaysia bash Brazil despite slow start



Malaysia's Norsyafiq Sumantri (right) celebrates after scoring a goal against Brazil at the National Stadium in Bukit Jalil. - NSTP/MOHAMAD SHAHRIL BADRI SAALI

KUALA LUMPUR: Malaysia overcame a slow start to trounce Brazil 6-0 in their opening Group B match of the FIH Series Finals at the National Stadium in Bukit Jalil, today.

Malaysia, cheered on by their home crowd, surprisingly failed to settle down and were unable to play slick hockey right up to the half-time hooter.

Brazil fought for every ball, and it was made easier by Malaysian players who seemed to have butterfingers and melted in the attacking semi-circle.

https://assets.nst.com.my/images/articles/irw2_1556291676.jpg
Malaysia's Abu Kamal Azrai (right) hits the ball during the match against Brazil at the National Stadium in Bukit Jalil. - NSTP/MOHAMAD SHAHRIL BADRI SAALI

Two penalty corners won by Malaysia were not put to good use, and even though Brazil parked the bus for long periods, they looked dangerous and swift in counterattacks and had a few chances to lead.

Brazil were probably inspired by Wales and Italy, who beat higher ranked Canada and China respectively in earlier matches, and this could turn out to be dangerous for coach Roelant Oltmans' charges.

However, there was a change of attitude and more composed play when the players returned after the break.

Norsyafiq Sumantri got the lead in the 32nd minute. It was off a classic touch from Tengku Ahmad Tajuddin that found Norsyafiq, who kept his nerves and slotted in from close range.



Malaysia's Razie Rahim (2nd-left) celebrates with teammates during the match against Brazil at the National Stadium in Bukit Jalil. - NSTP/MOHAMAD SHAHRIL BADRI SAALI

That was the signal the forwards needed and through Malaysia's third penalty corner in the 38th minute, Najmi Farizal Jazlan made it 2-0, pushing so hard that he fell to the turf as the ball crashed into the net.

There was no stopping Malaysia from claiming full points after that, as Fitri Saari scored in the 48th minute, Meor Azuan Hassan in the 53rd, Azrai Abu Kamal in the 54th and Razie Rahim in the 56th for Malaysia to finish gloriously.

Malaysia coach Roelant Oltmans said: "This is not an easy tournament as China and Canada were beaten by lower ranked teams and even Brazil gave us a good fight by defending well in the first half.

"And when we found the opening (first goal) and Brazil opened up their match, the goals came and we could have scored even more."

The Dutchman believes patience paid off for Malaysia. "We never panicked and kept pushing and patience won the match," he said.

New Straits Times


---

Malaysia hit Brazil for a six – but it's hockey

By Aftar Singh



Watch out!: Malaysia's Aiman Rozemi (left) dribbling the ball away from Brazil's captain Andre Patrocinio during their Group B match of the FIH Series Finals at the National Hockey Stadium in Bukit Jalil yesterday. — IZZRAFIQ ALIAS / The Star

KUALA LUMPUR: Malaysia came alive in the last two quarters to outplay Brazil 6-0 in the Group B match of the FIH Series Finals at the National Hockey Stadium in Bukit Jalil.

Coach Roelant Oltmans' men went on the offensive from the first whistle by creating many chances but the Brazilians were equally fired up as they defended in numbers.Malaysia had the best chance to take the lead in the 10th minute but Muhd Fitri Saari's shot from inside the semi circle hit the left side of the post.

Malaysia also earned two penalty corners in the second quarter but forward Faizal Saari failed to get it right on both occasions.

World No. 27 Brazil made some counter attacks to put Malaysia's defence under pressure and even earned a penalty corner in the second quarter but they could not convert it.

Malaysia continued their relentless effort to finally break the duck in the 32nd minute.

Tengku Ahmad Tajuddin Tengku Abdul Jalil made a square pass to Norsyafiq Sumantri, who easily pushed the ball past goalkeeper Rodrigo Faustino.

They doubled the score off their third penalty corner in the 38th minute through Muhd Najmi Farizal Jazlan.

Then, there was no stopping Malaysia as they earned another penalty corner in the 48th minute which was converted by Muhd Fitri.

The Malaysian forwards continued to attack and scored three more goals through Meor Mohd Azuan Hasan (53rd), Muhd Azrai Abu Kamal (54th) and Muhd Razie Abdul Rahim (56th).

Malaysia have a one-day rest before they take on China tomorrow.

The Star of Malaysia


---

2019 FIH Pro League (Men) - 27 April

26 Apr 2019     GER v NED (RR)     2 - 4     Hockeypark, Moenchenglabach
28 Apr 2019 14:30 (GMT +2)    GER v GBR (RR)     Hockeypark, Moenchenglabach
Live streaming and full game replay on https://fih.live (Geo blocked if there is TV coverage)

Unofficial Pool Standings
| Rank | Team | Played | Wins | Win Draws | Loss Draws | Losses | Goals For | Goals Against | Goal Difference | Points | Percent |
| --- | --- | --- | --- | --- | --- | --- | --- | --- | --- | --- | --- |
| 1 | Australia | 8 | 6 | 0 | 1 | 1 | 26 | 18 | 8 | 19 | 79.2 |
| 2 | Argentina* | 8 | 4 | 0 | 0 | 3 | 18 | 21 | -3 | 13 | 54.2 |
| 3 | Belgium | 5 | 3 | 1 | 1 | 0 | 21 | 12 | 9 | 12 | 80.0 |
| 4 | Netherlands | 7 | 3 | 1 | 1 | 2 | 23 | 18 | 5 | 12 | 57.1 |
| 5 | Great Britain | 4 | 3 | 0 | 0 | 1 | 17 | 10 | 7 | 9 | 75.0 |
| 6 | Germany* | 6 | 2 | 0 | 1 | 2 | 12 | 13 | -1 | 8 | 44.4 |
| 7 | Spain | 9 | 0 | 4 | 0 | 5 | 23 | 34 | -11 | 8 | 29.6 |
| 8 | New Zealand | 9 | 0 | 0 | 2 | 7 | 21 | 35 | -14 | 2 | 7.4 |
* A cancelled match contributes 1 point to each team's results that is not shown in the tables as a cancelled mach
The FIH inexplicably and confusingly use a system not used in any other sports League in the World, of making the Percentage more important than Points until the end of the League when they will revert to Points only. Fieldhockey.com prefers to use the conventional Points and so the Unofficial Pool Standings on this site are reflected in this manner.

FIH Match Centre

---

2019 FIH Pro League (Women) - 27 April

26 Apr 2019     GER v NED (RR)     0 - 1     Hockeypark, Moenchenglabach
27 Apr 2019 14:00 (GMT +1)     GBR v USA (RR)     Lee Valley Hockey and Tennis Centre, London    
28 Apr 2019 12:00 (GMT +2)    GER v CHN (RR)     Hockeypark, Moenchenglabach
Live streaming and full game replay on https://fih.live (Geo blocked if there is TV coverage)

Unofficial Pool Standings
| Rank | Team | Played | Wins | Win Draws | Loss Draws | Losses | Goals For | Goals Against | Goal Difference | Points | Percent |
| --- | --- | --- | --- | --- | --- | --- | --- | --- | --- | --- | --- |
| 1 | Argentina | 10 | 7 | 2 | 0 | 1 | 20 | 9 | 11 | 25 | 83.3 |
| 2 | Netherlands | 8 | 7 | 0 | 0 | 1 | 24 | 4 | 20 | 21 | 87.5 |
| 3 | Australia | 9 | 5 | 1 | 0 | 3 | 19 | 13 | 6 | 17 | 63.0 |
| 4 | Belgium | 6 | 4 | 0 | 1 | 1 | 10 | 6 | 4 | 13 | 72.2 |
| 5 | New Zealand | 11 | 4 | 0 | 0 | 7 | 19 | 24 | -5 | 12 | 36.4 |
| 6 | Germany | 6 | 2 | 0 | 2 | 2 | 10 | 8 | 2 | 8 | 44.4 |
| 7 | China | 10 | 2 | 0 | 1 | 7 | 14 | 26 | -12 | 7 | 23.3 |
| 8 | Great Britain | 6 | 1 | 1 | 0 | 4 | 8 | 17 | -9 | 5 | 27.8 |
| 9 | United States | 8 | 0 | 1 | 1 | 6 | 8 | 25 | -17 | 3 | 12.5 |
The FIH inexplicably and confusingly use a system not used in any other sports League in the World, of making the Percentage more important than Points until the end of the League when they will revert to Points only. Fieldhockey.com prefers to use the conventional Points and so the Unofficial Pool Standings on this site are reflected in this manner.

FIH Match Centre


---

Double delight for Dutch against Germany teams in Mönchengladbach




The FIH Pro League men's and women's matches between Germany and the Netherlands both went the way of the visitors on Friday (26 April), with the Oranje claiming a superb double success away from home at the Hockeypark in Mönchengladbach.

The Netherlands women extended their advantage at the top of the FIH Pro League standings with a 1-0 victory over Germany, but were made to work hard for their seventh win in eight matches, boosting their points percentage to 87.5. Frederique Matla's early strike proved to be enough as the Netherlands dug deep to secure a gritty triumph against a Germany team that had more possession, circle entries and penalty corner statistics but failed to make an impression on the score-board. It was a second FIH Pro League defeat for Germany, who remain fifth in the table.

The Dutch double of Germany was completed when the Netherlands men snatched a thrilling 4-2 triumph, with Mink van der Weerden producing a Player of the Match performance by contributing two penalty corner goals to the success. The match was all square at 2-2 going into the final quarter, but Van der Weerden's second of goal the match combined with a late breakaway effort from Bjorn Kellerman moves the Dutch into the top four of the FIH Pro League Standings, with Germany in sixth.

The Netherlands women (FIH World Ranking: 1) needed just two minutes to take the lead against hosts Germany (WR:5), who were ruthlessly punished for conceding possession on the edge of the own circle by an interchange of Dutch passes that lead to 22-year-old striker Frederique Matla tapping home her fifth goal in six FIH Pro League matches. Whilst it was the worst possible start, the response from Die Danas was impressive, winning a trio of penalty corners but failing on each occasion to beat Netherlands goalkeeper Josine Koning.

Both teams were uncharacteristically disjointed in error-strewn second and third quarters, with penalty corner opportunities being wasted at either end of the pitch as the Oranje took their slender advantage into the final fifteen minutes.


Defender Kira Horn produced a brilliant, last-gasp tackle to stop Dutch attacker Freeke Moes putting the game out of reach for Germany, who had a glorious chance of their own when Franzisca Hauke found herself directly in front of goal but failed to connect with her attempted shot. Germany coach Xavier Reckinger replaced goalkeeper Nathalie Kubalski with an outfield player for the final three and a half minutes, but the Netherlands defence, expertly marshalled by the outstanding Lauren Stam, held firm for a fourth clean sheet in eight matches.

"It was a tough match, but we are satisfied that we won", said Stam, who was named Player of the Match. "Germany are a very tough team and played very well today. We expected a tough game."

Reflecting on Germany's failure to take their chances, in particular the statistic of zero goals from six penalty corners, Germany captain Janne Müller-Wieland said: "We are very disappointed. It was a close game, and we clearly were not awake in the first two or three minutes. In the second half especially we were all over Holland so it's just annoying that we didn't score any goals or penalty corners. We clearly have to work on our penalty corners. I think if we had got another one we would have had a good solution, but it's too late now."

There were fireworks from the off in the men's fixture between these two great rival nations, with Germany (WR:6) and Netherlands (WR:3) exchanging blows throughout two pulsating opening quarters. A deflected penalty corner drag-flick from Dutch defender Mink van der Weerden sailed into the roof of the German net just five minutes into the contest, before Germany debutant Malte Hellwig levelled the scores from close range after Dutch goalkeeper Pirmin Blaak had saved an initial strike from Niklas Wellen. The hosts moved into a 2-1 lead mid-way through the second period thanks to Lukas Windfeder's low penalty corner, but parity was restored ahead of half time thanks to the quick hands of Dutchman Arjen Lodewijks, eliminating Germany goalkeeper Tobias Walter and firing home in one flowing move.

The Netherlands had the clearest sights of goal in an entertaining but ultimately score-less third period, with Bjorn Kellerman and Mirco Pruijser both going close as the match remained finely balanced leading into the fourth and final quarter.

Germany had a great chance to regain the advantage when Thies Prinz burst through on goal only to see his backhand shot well saved by the onrushing Blaak. It proved to be a decisive moment, with Van der Weerden firing inside the left post a minute later with a powerful drag-flick. Germany's decision to replace goalkeeper Walter with an outfield player for the final four minutes cranked up the pressure on the visitors, but it was not to be their night. Kellerman twice broke clear in the final minute, hitting the outside of the post with his first effort but made no mistake with his second, beating the last defender before rolling the ball into an empty goal to seal an excellent victory on the road for the Netherlands.

"I think we played a pretty good game", said Player of the Match Mink van der Weerden. "The first half wasn't that good, but the second half we played a bit better, moving the ball a bit faster, and we defender well as well."


Germany captain Martin Häner said: "It was a close game. Okay, the fourth goal was at the end with five seconds to go. In the end they scored two goals from [penalty] corners and we only scored one, and I think that was probably the difference between the two teams today."

The FIH Pro League continues on Saturday 26 April with the first match to take place on British soil, as London's Lee Valley Hockey & Tennis Centre hosts the women's match between Great Britain and USA.

FIH Pro League

26 April - Mönchengladbach, Germany

Result: Women's Match 37
Germany 0, Netherlands 1
Player of the Match: Lauren Stam (NED)
Umpires: Kim Jung Hee (KOR), Irene Presenqui (ARG) & Eric Koh (MAS - Video)

Result: Men's Match 28
Germany 2, Netherlands 4
Player of the Match: Mink van der Weerden (NED)
Umpires: German Montes de Oca (ARG), Eric Koh (MAS) & Irene Presenqui (ARG - Video)

#FIHProLeague

Official FIH Pro League Site


---

Revealed: Women's squad for first ever FIH Pro League home game



Erica Sanders, Alex Malzer and Lizzie Neal

Mark Hager has made three changes to his squad for this Saturday's first ever FIH Pro League game at home to USA.

Hager has brought in young trio Erica Sanders, Lizzie Neal and Alex Malzer, with Ellie Rayer, Emily Defroand and Sarah Robertson missing out.

18-year-old Malzer is aiming to become the first player born in the 2000s to represent Great Britain or England at international level, and it would be a fantastic occasion to make her debut in front of more than 4,000 supporters at Lee Valley Hockey and Tennis Centre.

The FIH Pro League has been many years in the planning and it is hugely exciting to now see it come to London as our Olympic champions take on the USA in front of a great crowd.

The game takes place at 2pm on Saturday 27 April and is live on BT Sport. The last remaining tickets will be on sale at the venue until the start of the game.

Britain's women have ten games remaining, eight of them at home, so will be looking to kickstart their campaign with a positive result on the Queen Elizabeth Olympic Park. They have five points from their first six games and lie seventh in the nine-team table.

Full squad:
Giselle Ansley (Surbiton) (ENG)
Grace Balsdon (Canterbury) (ENG)
Amy Costello (University of Birmingham) (SCO)
Sarah Evans (Surbiton) (ENG)
Sabbie Heesh (Surbiton) (ENG) (GK)
Tess Howard (Durham University) (ENG)
Jo Hunter (Surbiton) (ENG)
Sarah Jones (Holcombe) (WAL)
Alex Malzer (University of Nottingham) (ENG)
Hannah Martin (Surbiton) (ENG)
Lizzie Neal (Loughborough Students) (ENG)
Lily Owsley (University of Birmingham) (ENG)
Hollie Pearne-Webb (Surbiton) (ENG) (C)
Suzy Petty (Wimbledon) (ENG)
Erica Sanders (Surbiton) (ENG)
Amy Tennant (Reading) (ENG) (GK)
Anna Toman (Wimbledon) (ENG)
Laura Unsworth (East Grinstead) (ENG)

2019 is the first instalment of the FIH Pro League, with the world's best nations doing battle in a ground-breaking global league. The FIHPL will transform the future of international hockey at the top level and this year's competition is also a key component of qualification for the Tokyo Olympic games.

Competing consistently as Great Britain over the next two years provides an opportunity for our athletes to train, compete and grow as a squad in an unprecedented fashion.

Great Britain Hockey media release


---

FIH Pro League Preview: Great Britain v USA



Great Britain v USA

The FIH Pro League comes to London for the first time on Saturday 27 April when Great Britain's women welcome the USA to Lee Valley Hockey and Tennis Centre at 2pm

Saturday's match is an important one with both teams hungry for points in the new league.

Great Britain comfortably defeated the USA when the sides met for the first time, an inspired Lily Owsley bagging a brace of goals to help secure a 3-1 victory in the reverse fixture, take a look at how both sides have fared so far in the FIH Pro League:

Great Britain hoping for home advantage

Following a tricky string of opening matches on the road, Great Britain have recorded five points from six games so far in the FIH Pro League.

Yielding two points from the opening three games against New Zealand, Australia and China, Mark Hager's side have been steadily improving as the tournament has progressed.

Great Britain showed the talent they possess with a comprehensive victory over the USA at the end of March before putting in another spirited performance against Argentina despite the game finishing in defeat.

The team will go into Saturday's match full of motivation and determined to pick up the three points after failing to find a way past a strong Germany side last time out.




Sarah Robertson, Emily Defroand and Ellie Rayer have been replaced in the squad by EDP graduates Erica Sanders, Lizzie Neal and Alex Malzer with the former yet to make her senior international appearance.

Sanders (21), Neal (20), who already has one FIH Pro League goal to her name, and Malzer (18) have never played a senior international game at Lee Valley Hockey and Tennis Centre with Saturday set to be a landmark day for the young trio.

Saturday's game will also be the first time that Great Britain's women have played at Lee Valley Hockey and Tennis Centre since hosting the Champions Trophy back in June 2016 with the USA match set to be an historic day that's not to be missed.



Suzy Petty v USA

Inexperienced USA aiming to climb the table

It's been a tough start to the FIH Pro League for the USA who remain the only side without a victory.

A team currently in transition, this young American side looked like a solid force in their opening game as they tied 2-2 with Argentina, especially after storming to a 2-0 lead before surrendering it in the final-quarter.

However, it's been a rocky road since that game with three consecutive defeats coming against the Netherlands, New Zealand and, though they did push them close, Australia.

The only other points the USA have picked up came in a 1-1 draw with Belgium where the Americans secured the bonus-point in a thrilling shootout that finished 5-4.




The USA were bitterly unfortunate to not take another point off the Belgians in the away match after conceding with less than a minute remaining on the clock to give the Red Panthers a 2-1 victory.

After suffering the heaviest defeat in the competition so far, a 7-1 thrashing away to the Netherlands in their last match, the USA will be determined to regain some dignity and respond with an improved performance against Great Britain.

Such is the youthfulness of this USA team, only six of the players to have featured in the FIH Pro League are aged 25 or over whilst only four players have got over 100 caps to their name.




Great Britain Hockey media release


---

Recap: What happened the last time GB faced the USA?



Great Britain's women in the FIH Pro League

Great Britain's women earned their first FIH Pro League victory the last time they faced the USA.

A superb 14-minute spell saw Mark Hager's side win 3-1, with Lily Owsley inspirational with a two-goal haul, while Emily Defroand scored her very first international goal.

Making her 50th GB appearance, Lily played a key part in the win

Great Britain Hockey media release


---

GB coach Mark Hager has 'learned' from NZ review

By David McDaid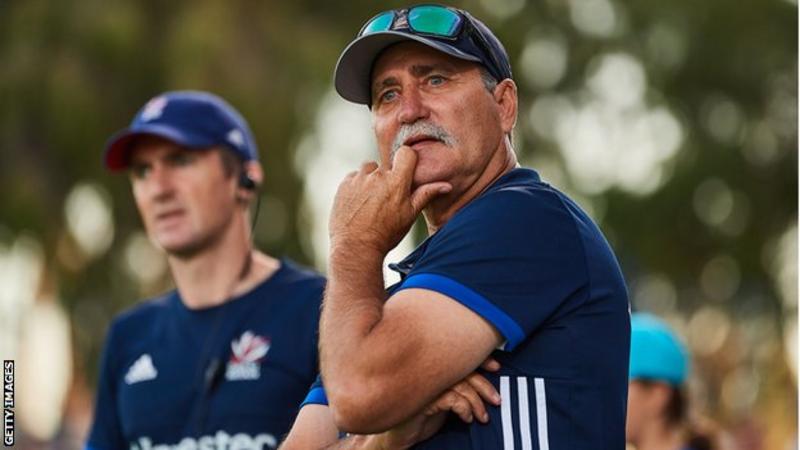 Mark Hager made 231 appearances for Australia in an 11-year playing career

New Great Britain women's hockey coach Mark Hager says he has learned from the independent review carried out into his reign as New Zealand coach.

The Australian was not openly criticised in the review although several players described a "negative environment" within the Black Sticks squad.

"The biggest thing I learned was that young kids change and as a coach I need to adapt to that - and I probably didn't adapt quick enough," Hager told BBC Sport.

"It was an experience I didn't enjoy, nor my family, but I think it has helped me a lot going through it."

Hager's appointment as Danny Kerry's replacement in January caused a stir when details emerged around the review into the team culture during his tenure as New Zealand coach.

The 54-year-old left his position with the Commonwealth champions after 10 years, prior to the conclusion of the six-month long review.

In February, New Zealand Hockey issued an apology to players and staff who had endured "a poor experience".

"Nothing came out of it in the end for me - which was very good for me," said Hager.

"It was a case of same-same after 10 years and the players needed a new challenge - that was the biggest message for me.

"When I started playing and coaching it was a case of 'this is how we do it' but now it's a more collaborative approach and the players giving their feedback and giving their decisions."

GB Hockey said in January that they, in conjunction with UK Sport, had conducted due diligence and were satisfied Hager was the right man for the job.

The Australian has only recently moved permanently to the country and will take charge of his first home game on Saturday at Lee Valley, when the United States visit on Pro League business.

GB have so far won just one of their six matches to date in the competition - all of them on the road.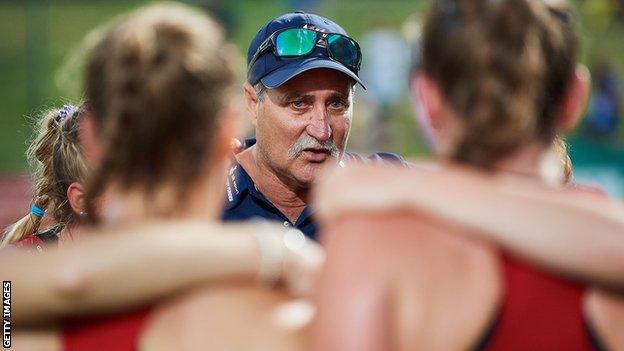 Hager has also coached in the Hockey India League

"We've had some tough opponents and we're at the very start of a rebuilding phase," said Hollie Pearne-Webb, who scored the decisive penalty to win the Olympic gold medal at Rio 2016.

"We've got a new coach so we're really looking forward to developing as a team with him.

"Naturally we looked into [the New Zealand review] but as players we weren't concerned about it because we knew the proper due diligence checks had been done.

"He seems friendly and welcoming but he also knows what he wants and what we need to deliver.

"So I think he's going to be exactly the right fit for what we need for this group."

Saturday's match in London is the first of four home games in succession for GB women.

"It's huge, we are really looking forward to making the most of home advantage," said Pearne-Webb.

"Games on the road have been a massive learning curve but we're feeling really optimistic about these home games and the support from the home crowd always pushes us on."

BBC Sport


---

Martin & Griffiths return for FIH Pro League trip to Germany



GB Beat Argentina 5-1 FIH Pro League

Harry Martin is set to make his first FIH Pro League appearance after being named in an 18-strong squad to face Germany.

The men's team will travel to Moenchengladbach to take on the Rio 2016 bronze medalists at 1:30pm BST on Sunday 28 April in the final game before their first home FIH Pro League match just six days later.

It will be the first international appearance for Martin since featuring for England at the World Cup in December as he looks to add to his current tally of 201 combined appearances.

He is one of two changes to the side that produced a stunning display to beat Olympic champions Argentina 5-1 earlier this month, with Chris Griffiths also returning.

Midfielder David Condon is in line to win his 50th Great Britain cap, while Phil Roper will be hoping to add to his five goals in the tournament. Scotland are represented by Alan Forsyth, who scored twice against Argentina last time out.

Speaking ahead of the game, GB Men's Head Coach Danny Kerry said: "We're looking forward to our upcoming match against Germany. I'm expecting them to be match sharp and at their best.

"We continue to select from the depth of our squad, with Harry Martin and Chris Griffiths returning to the team as we continue to develop a depth of players with top competitive matches.

"We will need to be ready for both the tactical acumen and flexibility of Germany. We have continued to practice with focus and intent and are still pushing the bar high in other facets of our performance so I'm expecting a cracking match against the Olympic bronze medallists.

"After this match we head for our first home match against Spain the following Saturday, that too will be an amazing spectacle and we look forward to starting our home campaign at Lee Valley Hockey and Tennis Centre."

This will be the first time these two sides have met in a competition since 2016, although they did play out a two-test series in Germany last summer in which both games were drawn, including a 5-5 thriller.

Victory against the team currently fifth in the FIH Pro League table could move Great Britain from third to first, level on points percentage with Belgium but above the current world champions courtesy of having won more games.

The game will be live on BT Sport.

Full squad
David Ames (Holcombe) (ENG)
Liam Ansell (East Grinstead) (ENG)
David Condon (East Grinstead) (ENG)
Brendan Creed (Surbiton) (ENG)
Adam Dixon (Beeston) (ENG)
Alan Forsyth (Surbiton) (SCO)
Harry Gibson (Surbiton) (ENG)
Chris Griffiths (East Grinstead) (ENG)
Mikey Hoare (Wimbledon) (ENG)
Harry Martin (Hampstead & Westminster) (ENG)
George Pinner (Holcombe) (ENG)
Phil Roper (Wimbledon) (ENG)
Ian Sloan (Wimbledon) (ENG)
Zach Wallace (Surbiton) (ENG)
Jack Waller (Wimbledon) (ENG)
Sam Ward (Old Georgians) (ENG)
Henry Weir (Wimbledon) (ENG)
Ollie Willars (Beeston) (ENG)

Great Britain Hockey media release


---

Pinner ready for tough test against Germany



GB line up v Spain

Great Britain's men face Germany on Sunday 28 April, pushback 1:30pm, in their last away game before making a home debut in the FIH Pro League on Saturday 4 May against Spain.

Having put Argentina to the sword last time out with a domineering 5-1 victory, GB 'keeper George Pinner previewed his side's next match away to Germany which will be shown live on BT Sport:

"In the away games we've still got Belgium and the Netherlands coming up who are arguably two of the best teams in the world. Next is Germany who since the last Olympics have gone through a bit of change but are starting to find their feet and that's going to be a really tough game as well.

"All the games coming up are going to be tough, but Germany will be a nice test for us going over there and we'll see if we can come back with another good performance."

It's been an impressive start to the FIH Pro League for Great Britain's men who are averaging the most goals per game (4.25) in the competition and would go top of the league with victory over Germany, and Pinner is relishing the experience:

"The Pro League has been really good, I think it's been different and exciting in equal measures.

"It was nice to hear some of the comments from back home after the Argentina win. I think we've got a lot of belief in what we're doing and that we're doing the right things, but to hear people saying they were excited by our hockey and it was great to see us play is really nice to hear.

"We've been training extremely hard and I think that's what has laid the foundations to some really good performances in our away games. We've trained and prepared really well, then when it's come to matchday we've performed well.

"To have come away from the four away games with three wins is really pleasing, we were obviously disappointed not to beat Australia, but it's been really enjoyable so far."



George Pinner v Spain

The men's first home FIH Pro League match on Saturday 4 May is rapidly approaching, and after fighting back from 4-1 down to incredibly win 6-5 in the reverse fixture, Pinner is excited to face Spain in London for what looks set to be another blockbuster match:

"I think everyone is really excited for our first home game. It's been great going out on the road and the crowds that have met us in those games have been really good, but it'll be exciting to step foot in-front of our home crowd.

"It would be great to see Lee Valley packed for that first match and create a real good atmosphere. If it's anything like that first game against Spain in terms of excitement levels then it will be great but hopefully we can be the team scoring all the goals this time!

"Lee Valley is great. For the international sides it gets really busy, I've played in some fantastic games there which have been really well supported.

"I think it's going to be really important over the next six months to improve that further, I think the onus is on us as a team to play some exciting hockey to get people behind us and want to come and watch. It would be great to get people down and have a noisy crowd for these Pro League games and look forward to a possible Olympic qualifier later in the year."

After that thrilling 6-5 victory in Valencia, watch Great Britain's men take on Spain on Saturday 4 May in their first ever home FIH Pro League match




Great Britain Hockey media release


---

2019 Test matches JPN v KOR (Women)
Ibaraki (JPN)

20 Apr 2019    JPN v KOR     2 - 1
25 Apr 2019    JPN v KOR     1 - 2

FIH Match Centre


---

Kookaburras To Play World Number Five India In Perth

Ben Somerford




Hockey Australia (HA) today announces an exciting Test series between the world number two Kookaburras and world number five India will be played in Perth next month.

The Kookaburras will use the two Tests as preparation ahead of the European leg of the FIH Pro League in June where they'll aim to take out the inaugural title.

The Tests will also be invaluable preparation for the Kookaburras against a top international opponent with the clock ticking towards the 2020 Tokyo Olympics, with the side aiming to clinch qualification at September's Oceania Cup in Rockhampton.

The two Tests will take place at Perth Hockey Stadium on Wednesday 15 May and Friday 17 May, with tickets available on the gate from $10 for adults, $5 for child/concession and free for children under 10.

HA CEO Matt Favier said: "We're delighted to be able to host two Tests in Perth, which is home to our international teams and a traditionally strong supporter base for Hockey.

"We saw an unbelievable turn-out in Perth for February's FIH Pro League double-header with more than 4,500 fans in attendance and it's great to be able to reward that community with more elite Hockey."

Kookaburras coach Colin Batch said: "India will provide an excellent challenge for us as we build towards the conclusion of the FIH Pro League and our Olympic qualifiers in September at the Oceania Cup.

"India are currently ranked fifth in the world and made last year's Champions Trophy final, where we won on penalties, so we expect a difficult Test series.

"The next 15 months for us are extremely important as we aim to medal at the 2020 Tokyo Olympics and this Test series is another key part of that preparation."

The two nations last met at the 2018 Champions Trophy in the Netherlands where Australia won their group match 3-2, before claiming a 3-1 shootout win after a 1-1 draw in the final.

Australian Graham Reid, whom previously led the Kookaburras at the 2016 Rio Olympics, took over as India's men's coach earlier this month.

Singapore's national men's and women's teams will also play WA's Under-21 men's and women's teams in further entertainment on Friday 17 May.

Wednesday 15 May 2019 – Perth Hockey Stadium
Kookaburras v India – 5pm AWST (Gates open 4pm AWST)

Friday 17 May 2019 – Perth Hockey Stadium
Kookaburras v India – 6:30pm AWST (Gates open 4pm AWST)

Hockey Australia media release


---

Australia Chasing Seventh Straight Trans-Tasman Masters Crown

Ben Somerford




Australia will be aiming to be crowned Country Champion for the seventh consecutive time when the 2019 Trans-Tasman Masters Challenge gets underway on Tuesday at the Gold Coast Hockey Centre.

The Trans-Tasman Masters Challenge is fought out between 14 Australian teams (seven male and seven female) and 14 New Zealand teams (seven male and seven female) competing in seven age divisions: Over 35, Over 40, Over 45, Over 50, Over 55, Over 60 and Over 65 across both genders.

The nation which wins the majority of the 14 divisions, in the event which runs from Tuesday 30 April to Saturday 4 May, is crowned the Country Champion.

The Trans-Tasman Masters Challenge was first played in 2000, with the 2019 edition representing the 10th overall.

Australia are seven-time Country Champions, while New Zealand have triumphed twice, although their last victory was back in 2004.

Participants are due to begin arriving on the Gold Coast over the weekend ahead of Tuesday's opening ceremony and first matches. All divisions consist of three matches, with deciders to be played on Friday and Saturday.

Hockey Australia CEO Matt Favier said: "The 2019 Trans-Tasman Masters Challenge will be fiercely contested against our friendly foes New Zealand.

"Given there will be 14 divisions, from Over-35 to Over-65 for both males and females, 28 teams will converge on the Gold Coast for the Trans-Tasman Masters Challenge, bringing obvious benefits for the local community.

"As we witnessed first hand at last year's Commonwealth Games and the 2018 Australian Hockey League Finals, the Gold Coast is a wonderful location to not only play Hockey, but visit with plenty of local attractions and entertainment offerings. We hope that participants enjoy what the region has to offer during their stay and for fantastic competition between all sides."

This year's Trans-Tasman Masters Challenge has expanded to 28 teams, having included 26 teams in both Whangarei in 2017 and Melbourne in 2015.

Hockey Australia agreed to a significant partnership with the Queensland Government, through Tourism and Events Queensland (TEQ), and the City of Gold Coast to host the Trans-Tasman Masters Hockey Challenge on the Gold Coast and thanks them for their support.

The biennial international Masters Hockey tournament is another legacy event from last year's Commonwealth Games utilising the facilities where the Kookaburras and the Hockeyroos claimed goal and silver medals respectively just over 12 months ago.

Hockey Australia media release


---

Uzbekistan hockey team arrives tomorrow, confirms Shahbaz

Only Sindh CM Murad Ali shah is helping the PHF in the best possible fashion and if Brig Khokhar was not taking so much pain to arrange funds, the hockey would have been dead and buried in Pakistan long ago.

Mohsin Ali

ISLAMABAD    -    Pakistan Hockey Federation President Brig (R) Khalid Sajjad Khohkar had recommended 30-member Pakistan Development squad under the coaching of Navy coach Javaid and former international hockey player from Toba Tek Singh Imran to play two matches against the visiting Uzbekistan National Hockey team from 29th of this month at National Hockey Stadium, Lahore.

While talking exclusively to The Nation, Pakistan Hockey Federation Secretary Olympian Shahbaz Senior confirmed that the Uzbek team will arrive tomorrow (Saturday) at 12:00pm at Lahore. "They will play first match against Pakistan development squad on 29th and then on 30th of this month. They will also play matches against Gojra, Punjab, Okara Cantt and other Pakistani teams as well. We will arrange two floodlight matches while the last match will be held on May 9 before the visiting team will depart."

"I am highly confident that our youngsters will do very well against the touring team. It would be a great learning experience for our juniors and they will get more chances to not only play against top sides in Pakistan but also we will ensure international tours for the development squads. I think it is best answer to all those critics, who had no agenda, no planning and no policy to follow. They don't want hockey to flourish in Pakistan and just want negativity. Their aim is just personal ego and personal ambitions. If they are such brains, why they were failures in different roles assigned to them. I can challenge, if today, Brig Khokhar offer them some kind of role in the federation, they will give us clean chit and we would be neat and clean persons again."

He said the Federation under the dynamic leadership of highly respectable Brig Khokhar is striving day and night to provide matches, jobs and ensure our youth remain involve in fast dying national game hockey.

Shahbaz said prior to their takeover of the federation, there were not even handful of players available and they have enlarged the pool of players and introduced development squad besides youth, junior and senior hockey.

The PHF secretary said despite highly limited resources as government and the PSB had not given any financial grant for last year or so to the PHF, they were striving hard for the survival of the game.

"Only Sindh CM Murad Ali shah is helping the PHF in the best possible fashion and if Brig Khokhar was not taking so much pain to arrange funds, the hockey would have been dead and buried in Pakistan long ago."

"People are free to criticise if we are sleeping and making no efforts. But credit must be given where it belongs. It is by no means an easy task to revive the fortunes of hockey and the critics have failed to prove a single wrong-doing against the elected federation. It is an ample proof, that we are taking things very seriously and we know the direction and above all vision, which is required at this level."

"People must not take Uzbekistan team lightly. They are fast growing in hockey world and they had a very competitive squad, while we want to provide our youngsters chances as they are the future of Pakistan hockey. We will revive hockey at grassroots level and ensure that schools, colleges and universities must have their hockey teams. We will revive inter-school hockey and introduce cricket-like model at very young age. Let me assure all that we are proven stuff. I had played hockey my entire life. Brig Khokhar had vast experience of travelling with the national hockey team in different capacities. I request Prime Minister Imran Khan to spare some time form his busy schedule and visit hockey team and invite federation for a much anticipated meeting. It will not only help hockey but also give clear picture to the PM about what are our future plans and on what lines we are working."

He said until and unless all join hands and shun personal egos, hockey won't rise and requested to genuine and real hockey lovers, promoters and former players, who are sincere with national game to come forward, bring suggestions, recommendations. "It is my promise we will fully implement them. But let me make it very clear. We are not going to be blackmailed. We are here with mandate to work for hockey and we will deliver. If we fail to fulfil our promises, we won't waste a single second and resign," Shahbaz concluded.

The Nation


---

ABN AMRO show their passion for EHL with three-year extension of presenting partnership



©: Frank Uijlenbroek / World Sport Pics

ABN AMRO have shown their passion for the Euro Hockey League by extending their role as presenting partner of the EHL for another three seasons.

It continues ABN AMRO's long-standing sponsorship of the event, becoming synonymous with the event known for elite hockey and party atmosphere.

ABN AMRO have been with EHL since the very beginning in 2007 and will continue that exciting adventure into 2022. The confirmation of the new agreement came on Saturday morning in the middle of another thrilling KO16/FINAL4 event with thousands of fans witnessing Waterloo Ducks becoming the first ever Belgian club to lift the Alain Danet Trophy.

ABN AMRO's contribution gives an extra boost to EHL Women which will be played for the first time at Easter 2020, raising the game for club hockey in Europe.

ABN AMRO's Marco Moers - pictured above with EHL chairman Hans-Erik Tuijt - said of the decision to renew the partnership: "We love that we are continuing our partnership with the EHL for three more years because this is the premier tournament in Europe for club teams.

"We have something special. The EHL brings to life that passion for all the fans, kids, players and teams and we are delighted to have our ABN AMRO name central to it. We love this game and this tournament and we love this sponsorship."

EHL chairman Hans-Erik Tuijt added: "We are delighted to welcome a new phase in the growth of the EHL in partnership with ABN AMRO who continue to show their passion for top club hockey.

"Our drive towards EHL Women has always been on the agenda so that we could present our equally amazing women's players with the same razzmatazz as EHL Men.

"This new chapter has been made possible by our women athletes consistently delivering hockey that is worthy of a bigger platform and ABN AMRO who understand that their support is vital to taking this fantastic step for hockey in Europe."

For next season, eight women's teams will battle it out at FINAL8 alongside the EHL Men's FINAL8 team to become EHL Champions and lift the coveted EHL Alain Danet Trophy.

The competition will be fully produced for television, have a full video referral system in place and equal prize money with EHL Men.

An EHL U14 Girls competition will also be run in tandem with an EHL U14 Boys tournament. All four tournaments will form part of one big EHL weekend at one venue every Easter.

EHL Men, meanwhile, will move to a new format for the 2019/20 season. The KO16 will now take place in October with the clubs ranked 5 to 20 – via the EHL Ranking Table – playing a straight knock-out competition.

This will replace ROUND1 and will see 16 clubs play fully produced for television fixtures over three days with four sides going forward to the FINAL8.

For the 2019/20 season, it means a change in the qualification process with 11 countries set to be represented based on the EHL ranking table.

Euro Hockey League media release


---

Top five nations confirmed on EHL Men's Ranking Table for 2019/20 season



©: Frank Uijlenbroek / World Sport Pics

Following the EHL KO16/FINAL4 event in Eindhoven over the Easter weekend, the breakdown of the top five spots on the EHL Men's ranking table have been confirmed.

The top five nations comprise Germany, Belgium, the Netherlands, Spain and England who can now no longer be overhauled from their new positions in the ranking table.

The remainder of the ranking table is subject to change and will be confirmed after the EuroHockey Club Trophy which takes place in Wettingen, Switzerland from June 7-10.

It means the allocation of 13 places in next year's reformatted EHL Men are already known: three places will go to clubs from Germany, Belgium and the Netherlands while two will go to Spain and England.

By virtue of strong performances from Rot-Weiss Koln, Mannheimer HC and Uhlenhorst Mulheim, all reaching the KO8 and beyond, Germany has moved to the top of the ranking table. Waterloo Ducks' victory was a first by a Belgian club and sees the country rise to second in the ranking table.

For the Netherlands, they drop to their lowest position in the ranking table of third after SV Kampong and HC Oranje-Rood bowed out at the KO16 stage and AH&BC Amsterdam were eliminated in the KO8 round.

Spain stay in fourth place while England move up to fifth ahead of France, partially thanks to Surbiton's ranking match win over Three Rock Rovers which puts them out of range of Ireland.

What the above means is that the national champion from Germany, Belgium, the Netherlands and Spain will pre-qualify for the EHL FINAL8 at Easter 2020. The number 2 and 3 ranked teams of Germany, Belgium and Netherlands (six teams) will qualify for the KO16 in October.

The number 2 ranked team of Spain is qualified for EHL KO16 in October. The number 1 and 2 ranked teams of England (2 teams) are qualified for EHL KO16 in October. To that end, Hampstead & Westminster as national champions and Surbiton as regular season winners will be offered the chance to represent England.

Allocation of EHL Men's places for 2019/20 season
1. Germany - 3 places (1 for FINAL8, 2 for KO16)
2. Belgium - 3 places (1 for FINAL8, 2 for KO16)
3. Netherlands - 3 places (1 for FINAL8, 2 for KO16)
4. Spain - 2 places (1 for FINAL8, 1 for KO16)
5. England - 2 places (2 for KO16)
6. TBC - 2 places (2 for KO16)
7. TBC - 1 place (1 for KO16)
8. TBC - 1 place (1 for KO16)
9. TBC - 1 place (1 for KO16)
10. TBC - 1 place (1 for KO16)
11. TBC - 1 place (1 for KO16)

Euro Hockey League media release


---

Three in the relegation mix for monumental final tussle in men's EYHL



YMCA will hope to keep their slender advantage in tact. Pic: Sinead Hingston

Cork C of I, Cookstown and YMCA's monumental relegation tussle will take the major focus on the final day of the men's EY Hockey League with just one point separating the sides.

It is a fascinating denouement where both C of I and Cookstown are in the position that they could win and still be relegated or lose and stay up, such are the permutations.

YM are in the best position, one point better off and facing a Pembroke side already eyeing the summer break, conceding 16 times in their last three wildly contrasting outings, losing 8-1 and 6-1 either side of a 5-2 win over Banbridge.

For the Y, Gabriel de Grandis is currently in Malaysia with the Brazilian national team and so will not be around. Pembroke have seen the likes of Paddy Conlon and Patrick Good come back into the side as they cope with a large number of unavailable players in recent times.

For C of I, they have a chance of completing a remarkable escape from the jaws of relegation when they host Three Rock Rovers. Three games ago, they were six points adrift but their first league win in 503 days has suddenly built momentum and two wins out of three has them off the bottom.

They face a Rovers side who they have a wretched record against but there may never be a better time to play them at Garryduff. The tie is a ripe one to rest players following a campaign featuring three European trips and runs to three outdoor and two indoor cup finals.

Daragh Walsh (exam) and David Kane (suspended) both out while Luke Madeley could well be rested to avoid a possible yellow card that could have him suspended too.

Theirs is an interesting equation with neither a win, loss or draw guaranteeing them of safety nor ruling them out of relegation. For instance, even if C of I win, Cookstown can still overtake them if they beat playoff-bound Banbridge by three more goals than the Cork side.

Lose and C of I could stay in ninth place – and a relegation playoff – should it be by three goals less than Cookstown lose by.

For Cookstown, they play Banbridge for the second time in a week with Bann winning in the Anderson Cup semi-final 4-2. Like Rovers, Bann could protect their players ahead of the Champions Trophy.

"We've a tough match, there's no doubting that, but I think we've put in enough good performances of late against the big sides to go into it with belief that we can win it," said Cookstown captain Greg Allen.

"We didn't show it against Three Rock last week but we know that it's do-or-die now. We're a young team, but we're a team with a lot of experience under our belts. It won't be for want of effort that we come out on the wrong side of this, I promise you that.

"We need to show our composure, stick to the game plan and, with a little bit of luck, we'll come out with the win."

Annadale's date with Lisnagarvey and Glenanne's game with Monkstown do not look like having too much on the line.

At Whitechurch Park, the EYHL Division 2 season comes to a conclusion with Leinster's top three in action against Ulster Premier League winners Instonians.



Cork C of I will hope to complete the great escape. Pic: Adrian Boehm

Trevor Dagg's reds have been in immaculate form since Christmas but this is where it all really counts for their season with Saturday's semi-final against Railway Union crucial.

It will be the sixth meeting between the sides this season with the reds winning three and Railway one – back in September – with the most recent tie in February a 1-1 draw.

Corinthian will miss Conor Motyer at the base of their team but have the lethal attacking talents of Ian Stewart and David Howard's corners who have combined for 40 goals this term.

The second semi-final pits UCD against Inst. The students were unbeaten until March in the league but have since lost four out of six and so will need to find some form.

Inst withdrew from their midweek Anderson Cup semi-final in favour of staying fresh for these playoffs. They have a doubt over the fitness of Stephen Kelso.

The semi-final winners go into a Sunday final at 2pm in Whitechurch Park. The overall winner goes straight up while the runners-up face the promotion-relegation tie.

Men's weekend fixtures
EY Hockey League: Annadale v Lisnagarvey, Strathearn School, 2.30pm; Cookstown v Banbridge, Cookstown H.S., 2.30pm; Cork Church of Ireland v Three Rock Rovers, Garryduff, 2.30pm; Glenanne v Monkstown, St Andrews College, 2.30pm; YMCA v Pembroke Wanderers, Wesley College, 2.30pm

EYHL 2 Semi-Finals (Saturday): Corinthian v Railway Union, Whitechurch Park, 10.30am; UCD v Instonians, Whitechurch Park, 12.30pm
Sunday: Final: Whitechurch Park, 2pm

The Hook


---

Champions Trophy and relegation battle intertwine on final day of Irish women's EYHL

By John Flack



Cork Harlequins and Muckross's hopes are intertwined. Pic: Adrian Boehm

Two issues remain to be resolved on the final day of the women's EY Hockey League with the last Champions Trophy spot and the relegation resolution on the line.

The two issues intersect at Farmers' Cross where playoff-chasing Cork Harlequins come up against basement side Ards who will be relegated if they do not get the three points.

Ards will be without experienced defender Naomi Grundie. She has just gone on maternity leave while Ards will also be missing midfielder Ali Carson who is injured.

Janice Heasley (formerly Vaughan), who came out of retirement to ease more player availability issues recently, will instead be concentrating solely on her main role as coach with Phil Mills away this weekend.

Even that might not be enough as nearest rivals Muckross, who are two points ahead, can relegate Ards if they were to defeat UCD in their final game on Saturday.

A 2-1 win for Muckross over the students a couple of weeks ago piled the pressure and with UCD having played four games in as many days in Europe over the Easter holiday weekend, they may not be the freshest.

Harlequins need a win to have a chance of pipping Pembroke to the fourth and final spot and so there is no chance they will take their foot off the gas but they will be without Cliodhna Sargent.

Heasley said: "That's obviously a big blow for them and it won't do our chances any harm but you wouldn't wish that on anyone and we wish Cliodhna a full recovery.

"We realise we are still really up against it and losing 2-1 at home to Muckross a few weeks ago was a crucial defeat when, had we won, we would have almost certainly have been safe from automatic relegation.

"That game really epitomised our entire season in that we let them in for two goals caused by our mistakes and couldn't take our chances at the other end.

"All we can do now is go to Cork and give it our best effort because we can only control what we do but nobody expected us to beat Pembroke in Dublin a few weeks ago, so you never know."

For Pembroke, they can nail down fourth place with a win over Old Alex whom they drew with 3-3 against last month. With all the games taking place at the same time, there is little scope for relying on the results of others.

Elsewhere, there is little on the line at Deramore Park between Belfast Harlequins and Pegasus and at Park Avenue where Railway Union face Loreto.

EYHL2 also reaches its denouement with Queen's facing Monkstown with Catholic Institute taking on Trinity in the other tie in Dublin on Saturday.

The overall winners on Sunday will go up and the losing finalists will face either Muckross or Ards in a play-off in Banbridge on May 5 to determine the other promotion place.



Pembroke need a win to avoid relying on other results to earn a Champions Trophy spot. Pic: Adrian Boehm

The latter tie pits the Munster and Leinster champions against each other with Insta having gone unbeaten in their EYHL2 group and only lost once – on the final day of the campaign to UCC – in Munster.

Trinity, meanwhile, went unbeaten in their domestic league, only conceding eight goals throughout their 18 game season. It suggests a potential blockbuster between two sides who have had superb seasons.

For the earlier semi-finals, Queen's coach Simon Bell says his side has come into form at just the right time: "We have been playing two games a week for the last month and the girls have been terrific, generating momentum, showing real character on occasions and putting together a run of six straight wins.

"Our priority since August has been IHL 2 and we were really pleased with how we played in that competition, topping the group and setting up the play-off game.

"The girls are now really looking forward to the Monkstown game and the chance to test themselves against a former EYHL side."

Women's weekend fixtures
Saturday
EY Hockey League: Belfast Harlequins v Pegasus, Deramore Park, 2.30pm; Cork Harlequins v Ards, Farmers' Cross. 2.30pm; Muckross v UCD, Muckross Park, 2.30pm; Old Alexandra v Pembroke Wanderers, Milltown, 2.30pm; Railway Union v Loreto, Park Avenue, 2.30pm

EYHL2 – Semi-Finals: Catholic Institute v Trinity, Whitechurch Park, 5pm; Queens University v Monkstown, Whitechurch Park, 3pm

Sunday
EYHL2 – Final: Whitechurch Park, 4.30pm

The Hook