All the news for Saturday 26 January 2019

2019 FIH Pro League (Men) - 26 January
Various

Result 25 January

ESP v GBR (RR)     5 - 6     Estadio Betero, Valencia

Weekend fixtures
   
26 Jan 2019 18:15 (GMT -3)     ARG v BEL (RR)    Estadio Hockey, Cordoba
27 Jan 2019 14:30 (GMt+13)    NZL v NED (RR)    North Harbour, Auckland

Live Streaming on https://fih.live (Geo blocked if your country has TV coverage)

Pool standings
| Rank | Team | Played | Wins | Win Draws | Loss Draws | Losses | Goals For | Goals Against | Goal Difference | Points | Percent |
| --- | --- | --- | --- | --- | --- | --- | --- | --- | --- | --- | --- |
| 1 | Great Britain | 1 | 1 | 0 | 0 | 0 | 6 | 5 | 1 | 3 | 100.0 |
| 2 | Spain | 2 | 0 | 1 | 0 | 1 | 7 | 8 | -1 | 2 | 33.3 |
| 3 | Belgium | 1 | 0 | 0 | 1 | 0 | 2 | 2 | 0 | 1 | 33.3 |
| 4 | Netherlands | 0 | 0 | 0 | 0 | 0 | 0 | 0 | 0 | 0 | 0.0 |
| 4 | Argentina | 0 | 0 | 0 | 0 | 0 | 0 | 0 | 0 | 0 | 0.0 |
| 4 | New Zealand | 0 | 0 | 0 | 0 | 0 | 0 | 0 | 0 | 0 | 0.0 |
| 4 | Australia | 0 | 0 | 0 | 0 | 0 | 0 | 0 | 0 | 0 | 0.0 |
| 4 | Germany | 0 | 0 | 0 | 0 | 0 | 0 | 0 | 0 | 0 | 0.0 |
---

2019 FIH Pro League (Women) - 26 January
Various

Weekend fixtures
26 Jan 2019 15:30 (GMT -3)    ARG v BEL (RR), Estadio Hockey, Cordoba
27 Jan 2019 16:30 (GMT + 13)    NZL v NED (RR) North Harbour, Auckland

FIH Match Centre


---

Great Britain men produce stunning fightback to defeat Spain in FIH Pro League




Match Day 2 of the FIH Pro League saw Great Britain's men overturn a 4-1 deficit to claim a stunning 6-5 victory over hosts Spain in front of an enthralled crowd at the Estadio Betero in Valencia.

Spain's Red Sticks were clearly full of confidence following their impressive shoot-out success over world champions Belgium in last Saturday's FIH Pro League opener, and produced a sensational first quarter against a Great Britain team who were second best throughout the period.

Xavi Lleonart needed just two minutes to open the scoring when he fired into an unguarded goal after fine build-up play from Enrique Gonzalez before Adam Dixon pulled Great Britain level a minute later with a fine backhand effort. However, a three-goal blitz in just four first quarter minutes put the match firmly in control of the Spaniards, with Marc Bolto, Diego Arana and Albert Beltran's brilliant, angled deflection into the roof of the GB goal giving the hosts a fully deserved 4-1 advantage at the end of the first period.

To their credit, Great Britain started the second period with a clear determination to show that this match was far from over and pulled a goal back thanks to a low finish from Zach Wallace, who capitalised on Dutch umpire Coen van Bunge's decision to allow play to continue following a Spanish infringement to find the bottom corner.

Incredibly, the team coached by Danny Kerry netted twice in the third quarter to drag themselves level at 4-4, with Mark Gleghorne slamming home a penalty corner before Man of the Match Adam Dixon netted his second of the match, showing lightning quick reactions to find the target after Sam Ward's penalty corner drag-flick was saved by Spain goalkeeper Mario Garin.

A wonderful solo goal from team captain Phil Roper put Great Britain into the lead two minutes into the fourth and final quarter, before David Condon's close-range volley made it 6-4 with three minutes remaining. However, just as it seemed that the result was settled, Spain threw caution to the wind by replacing their goalkeeper with an outfield player. It was a tactic that reaped huge rewards in last weekend's 2-2 draw with Belgium and had an instant impact against Great Britain, with Spain immediately winning a penalty corner that was dispatched into the roof of the GB net at the second attempt by Alvaro Iglesias to set up a frenetic finish to the contest. 

A trio of penalty corners in the dying stages gave the Red Sticks the opportunity to claim a draw and force another shoot-out. However, a brilliant stick save on the line from Sam Ward followed by a crucial block from George Pinner denied the hosts a leveller, with Great Britain claiming a 6-5 victory in dramatic circumstances.

Speaking after his team's incredible victory, Man of the Match Adam Dixon said: "To go 4-1 down it would have been very easy at that point to capitulate, but it is testament to our character and the work we have done over the last few months to make sure we can come back from those situations, to keep going right to the very end in what was a very close game against a very good Spanish team."

Spain's Albert Beltran said: "I think we played really good, and our first quarter was really amazing. However, I don't think we controlled the game at the end so they punished us. I think that we are improving, and we have been improving since we lost in the World Cup [in 2018]. We have to keep our confidence levels going up and keep going forwards."

The FIH Pro League action continues this weekend with double headers taking place at opposite ends of the planet. On Saturday, the focus switches from Europe to South America as Argentina host Belgium's men and women at Estadio Municipal de Hockey in Cordoba. On Sunday, two FIH Pro League matches will take place in New Zealand, as the Black Sticks men and women welcome the Netherlands national teams to Auckland's North Harbour Hockey Stadium.

Result: FIH Pro League (Men)
25 January 2019 - Match 2

Spain 5, Great Britain 6
Man of the Match: Adam Dixon (GBR)

#FIHProLeague

Official Men's FIH Pro League site


---

Great Britain rally to beat Spain in FIH Pro League opener



GB v Spain FIH Pro League

When world governing body the FIH first sat down and discussed introducing the new global FIH Pro League, they could only have imagined the first fixtures would produce such excitement and drama.

In what was a great advert for the new competition, Great Britain came from 4-1 down to record a stunning victory after successfully defending three penalty corners in the final few seconds as both teams saw the importance of victory and left everything on the pitch in search of the win.

Just a few days earlier, Spain scored twice in the last minute before winning their opening match in a shootout, so the new global league has started superbly.

Every game matters in the FIH Pro League, and that much was evident as either side fought valiantly throughout the match. Adam Dixon recorded a brace with Zach Wallace, Mark Gleghorne, Phil Roper and David Condon also getting on the scoresheet.

Head Coach Danny Kerry was left understandably very upbeat with the result. "I'm delighted for the lads, as well as the staff.

"We were rusty in the first half, but after that we played with both brains and skill. I'm sure it made for excellent viewing in our very first Pro League game. Now we go onwards!"

Spain got off to the perfect start, scoring within the opening two minutes after a dangerous cross from the right baseline was met by Xavi Lleonart.

Great Britain responded quickly through Dixon with a clean strike sailing past Mario Garin in goal.

The hosts continued to press forward, coming close to scoring through a penalty corner only to be denied by a fine save from Harry Gibson.

Spain couldn't be halted in a free-scoring first quarter as Marc Bolto put the hosts 2-1 up with less than ten minutes played.

There were to be two further goals from Spain as Diego Arana and Albert Beltran both got onto the scoresheet for the rampant Redsticks with little more than ten minutes on the clock.

Wallace did make the breakthrough for Great Britain for the final goal of the half as intricate play inside the inner circle was well finished by the Surbiton man.

That momentum continued into the second-half for Great Britain with Sam Ward and Chris Griffiths firing wide before Gleghorne successfully found the target from a penalty corner.

Another penalty corner swiftly followed, this time Dixon bagging his brace with a well improvised finish from close-range.

Within a minute of the final quarter commencing Great Britain were back in front thanks to a superb strike from Phil Roper from the edge of the circle, putting the score at 5-4.

As the clock ran down Great Britain looked to have put the game out of sight as Sam Ward's shot was blocked by a man on the line, however it fell directly to David Condon who finished well on the volley.

With less than three minutes remaining Spain pulled one back through Alvaro Iglesias from a corner routine to ensure a frantic final few minutes.

It was to be a nervy finish as Great Britain had to defend three penalty corners within the final few seconds of the match with excellent defensive work seeing the game out.

Next up for Great Britain in the FIH Pro League is an away fixture against New Zealand, which will be played live on BT Sport at 4am on Friday 8 February.

Spain 5 (4)
Lleonart (FG, 2) Bolto (FG, 7) Arana (FG, 9) Beltran (FG, 11) Iglesias (FG, 58)

Great Britain 6 (2)
Dixon (FG, 3; PC, 41) Wallace (FG, 22) Gleghorne (PC, 40) Roper (FG, 47) Condon (FG, 57)

Starting XI: Gibson, Ames, Forsyth, Ward, Gleghorne, Roper (c), Dixon, Creed, Condon, Sanford, Wallace

Subs: C Griffiths, Taylor, Waller, Smith, Gall, Weir, Pinner

Great Britain Hockey media release


---

Great Britain record thrilling 6-5 win over Spain

By The Hockey Paper




If the opening two FIH Pro League matches are anything to go by, then hockey fans are in for an exciting six-month journey in the sport's new era.

On Friday morning in Valencia, fiesta hockey played out in the Spanish sun and in front of thousands of local children as Great Britain men came back from 4-1 down to win 6-5 and go top of the early Pro League standings in a madcap game which saw 22 shots and 52 circle entries.

GB found themselves 3-1 down in the first 10 minutes as Xavi Lleonart, Marc Bolto and Diego Arana all scored, in between an Adam Dixon leveller.

Spain's high press then saw Albert Beltran deflect past a beleaguered Harry Gibson to hand the hosts an incredible first quarter lead.

Zach Wallace then squeezed home in the second quarter for his first goal in GB colours in a decidedly less frenzied second 15 minutes.

Danny Kerry's team talk at the break clearly worked as GB continued to claw back the deficit.

Mark Gleghorne rifled home from a penalty corner, Dixon's rebound from a PC secured the leveller at 4-4 and Phil Roper ended a brilliant solo run from half-way with a low strike to see GB take the lead.

David Condon's goal with three minutes remaining then looked to have given GB the points.

But Spain, who scored late against world champions Belgium last weekend, ended the match with three PC chances on the hooter, the last of which saw George Pinner scramble away.

"To go four goals down, it would have been easy to capitulate but it was testament to the work we have done over the last few months," said man-of-the-match Dixon.

GB's team manager, Andy Halliday, went one better on social media, writing: "Sloppy, solid, stunning, strong, surreal! The four quarters and the game succinctly in five words."

GB will now return to the UK after this breathless one-off encounter before flying to Australia and New Zealand in their next Pro League installment. Brace yourselves!

The Hockey Paper


---

Dixon hails GB's character as they fight back to win 6-5 in Spain



©: Arnau Martinez Benavent / World Sport Pics

Great Britain fought back from 4-1 down against Spain just 10 minutes in to beat their Valencia hosts 6-5 in the FIH Pro League on Friday morning.

Speaking after his team's incredible victory, GB's Adam Dixon said: "To go 4-1 down it would have been very easy at that point to capitulate, but it is testament to our character and the work we have done over the last few months to make sure we can come back from those situations, to keep going right to the very end in what was a very close game against a very good Spanish team."

Spain's Albert Beltran added: "I think we played really good, and our first quarter was really amazing. However, I don't think we controlled the game at the end so they punished us.

"I think that we are improving, and we have been improving since we lost at the World Cup [in 2018]. We have to keep our confidence levels going up and keep going forwards."

Xavi Lleonart needed just two minutes to open the scoring when he fired into an unguarded goal after fine build-up play from Enrique Gonzalez before Adam Dixon pulled Great Britain level a minute later with a fine backhand effort.

However, a three-goal blitz in just four first quarter minutes put the match firmly in control of the Spaniards, with Marc Bolto, Diego Arana and Beltran's brilliant, angled deflection into the roof of the GB goal giving the hosts a fully deserved 4-1 advantage at the end of the first period.

To their credit, Great Britain started the second period with a clear determination to show that this match was far from over and pulled a goal back thanks to a low finish from Zach Wallace, who capitalised on Dutch umpire Coen van Bunge's decision to allow play to continue following a Spanish infringement to find the bottom corner.

England got level in the third quarter at 4-4 with Mark Gleghorne slamming home a penalty corner before Dixon netted his second of the match, showing lightning quick reactions to find the target after Sam Ward's penalty corner drag-flick was saved by Spain goalkeeper Mario Garin.

A wonderful solo goal from team captain Phil Roper put Great Britain into the lead two minutes into the fourth and final quarter. David Condon's close-range volley made it 6-4 with three minutes remaining. However, just as it seemed that the result was settled, Spain threatened to repeat their comeback from game one – when they trailed 2-0 against Belgium to draw and win a shoot-out - when Alvaro Iglesias's effort set up a frenetic finish to the contest.

A trio of penalty corners in the dying stages gave the Red Sticks the opportunity to claim a draw and force another shoot-out. However, a brilliant stick save on the line from Sam Ward followed by a crucial block from George Pinner denied the hosts a leveller, with Great Britain claiming a 6-5 victory in dramatic circumstances.

The FIH Pro League action continues this weekend with double headers taking place at opposite ends of the planet.

On Saturday, the focus switches from Europe to South America as Argentina host Belgium's men and women at Estadio Municipal de Hockey in Cordoba.

On Sunday, two FIH Pro League matches will take place in New Zealand, as the Black Sticks men and women welcome the Netherlands national teams to Auckland's North Harbour Hockey Stadium.

Euro Hockey League media release


---

Great Britain come back to beat Spain 6-5 in first FIH Pro League match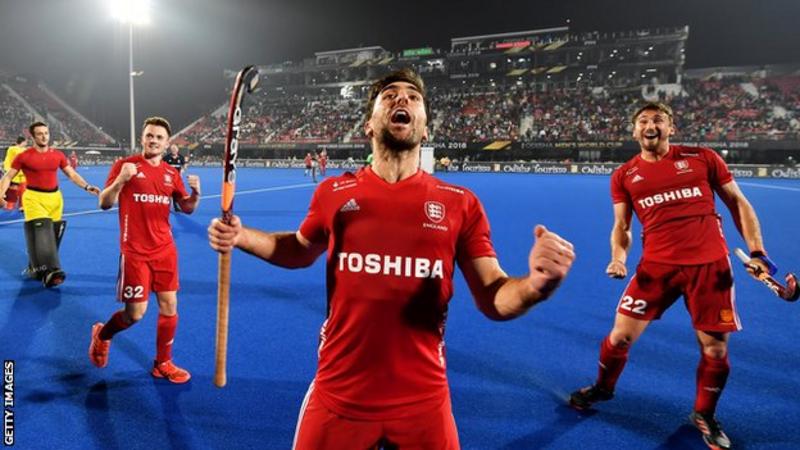 Adam Dixon scored twice in Great Britain's victory over Spain

Great Britain pulled off a stunning comeback to beat Spain 6-5 in their FIH Pro League opener in Valencia.

Spain raced into a 3-1 lead inside nine minutes with GB's goal coming through Adam Dixon, and despite Zach Wallace's strike, the hosts led 4-2 at half-time.

GB scored three in seven second-half minutes through Mark Gleghorne, Dixon and Phil Roper before David Condon added a sixth.

Spain scored a minute later but Danny Kerry's GB side held on for the win.

"To go four goals down, it would have been very easy for Spain to put the game to bed," Dixon told BT Sport.

"It's testament to our character to make sure we can come back from those situations.

"We stuck to our system of play, we knew we weren't good enough in the first quarter. We knew we needed to grind the result out."

The FIH Pro League replaces the Hockey World League and serves as qualification for the World Cup and Olympics.

The Pro League sees eight of the world's top teams face each other home and away, with the top four advancing to the finals in the Netherlands in June.

Great Britain's next game is against New Zealand in Christchurch on Friday, 8 February.

BBC Sport


---

What we learned from our first FIH Pro League game



Phil Roper and Adam Dixon at the FIH Pro League

The brand new FIH Pro League got off to an amazing start for Great Britain's men as they came from 4-1 down to beat Spain 6-5 in their first game in this new global competition. Here's a few of the things we learned from our very first game:

Pro League delivers on its promise
This new competition was brought in to ensure that every single game means something, and boy has it delivered in its first week! In some previous tournaments, teams have qualified for knockout stages even when finishing bottom of their pools, but those days are no more. Spain scored twice in the last three minutes of their opening game, and with eleven goals in this match, there is absolutely no quarter given. Quite simply, this is why the FIHPL was brought into existence.

Britain's spirit and resilience
At 4-1 down with only 11 minutes gone - and with many of the team having played for England when they missed bronze at the World Cup in their last game - you could arguably forgive the men's team for feeling slightly downbeat at that point! But there was none of that on show from Danny Kerry's side, scoring five unanswered goals to completely turn the game on its head. And to then hold onto a one-goal lead for the final three minutes, the team showed real character.

#ThePride in the men's team
Great Britain's men have been on an upward curve in recent times, winning European and Commonwealth medals since the last Olympics, and finishing fourth at the World Cup. Across social media there is undoubtedly a growing following for the men's team, and their compatriots in the women's side were also on board!

Hockey back in the spotlight
It is great to see hockey back in the spotlight, live on BT Sport in front of a very good young crowd in Spain. With a number of GB's home games sold out, there is great excitement as this competition runs right through until June.

New youngsters stepping up to the plate
Zach Wallace produced one of the crucial moments in the game, scoring to make it 4-2 when another goal for Spain would surely have taken the game out of sight. But it was not just Zach; recent additions Rhys Smith and Jack Waller also very much played their part. With Josh Pavis, Will Calnan and Scotland's Lee Morton in the squad for the next games in New Zealand and Australia, there is room to be optimistic about the next wave of talent.

Corner count
Great Britain's penalty corners were absolutely perfect, scoring two from two, and keeping out Spain's five attempts. With a total of 52 circle entries in the match, it was one to behold!

Bearded wonders!
And lastly, who else noticed the new beards on Chris Griffiths and George Pinner!

Great Britain Hockey media release


---

Canadian player Margaret Pham receives her first Cap during fifth game of series against China.



Photo: Tristan Urry

Hongge Sports Center, Panzhihua, China - Canada welcomed Margaret Pham to the WNT for her first cap during their second to last match against China on Friday evening.

"I was very nervous to play my first capped match, but as soon as I stepped on the field, I felt energized and ready to play. I am very grateful for the opportunity and proud to be playing out there with all of my inspiring teammates! Playing with both the juniors and seniors has been a great experience, especially since both the U23 and senior Chinese teams are very skilled. I have never been to Asia, but experiencing the culture of Panzhihua and meeting all of the nice people has been an incredible experience" said Pham.

The competition has been tough here in Panzhihua between the two teams and China took back the current leading position of the series by defeating Canada 5 - 3.

"The opportunity to play such a well organized and structured team has been a good one. It has given us some perspective on what we as a team, need to work on and has empowered us and shown us that we can compete with high level international teams" said Canadas number 11 Striker, Rachel Donohoe.

"Both teams are very skilled and fast, which makes them tough to defend. China is a very disciplined and structured team which has also been a challenge, but I think the senior team has been able to adapt their structure to put them under more pressure. It has been great to see improvement in both junior and senior teams throughout this series, which just goes to show that Canadian hockey teams can compete at the same level with the top teams in the world" added Pham.

The two teams will play their final match of the series at 3pm local time in Panzhihua. Tensions are high here as Canada currently sits at two wins, while China sits at three.

"At this point we have nothing to lose. I cannot tell you how tomorrow's match will go, but I can assure you it will be a battle. Since we hope to equalize the series and they will hope to solidify a series win.... We are going throw every ounce of Canadian grit at them that we have during this final match of the series" concluded Donohoe.

Field Hockey Canada team media release


---

FIH aiming at uniting North and South Korea through hockey




Lausanne, Switzerland: Following the positive steps undertaken by the International Olympic Committee and in particular its President Dr. Thomas Bach ahead of last year's Winter Olympic Games in PyeongChang to unite North and South Korea through sport, the International Hockey Federation (FIH) has put together an action plan with the objective to get to the participation of a unified Korean hockey team for future FIH events, potentially for the Tokyo 2020 Olympic Games and its qualification process.




As part of this peace-making engagement, a build-up meeting involving FIH President Dr. Narinder Dhruv Batra, FIH Executive Board member Tayyab Ikram, FIH CEO Thierry Weil and the delegates from the Hockey Associations of Korea DPR and the Republic of Korea was held on the occasion of the FIH Congress in New Delhi in November last year. At that time, a number of concrete proposals such as joint training camps or exchange programmes were made, with both Hockey National Associations stating their intention to consult their respective National Olympic Committees and governments on this vision.

Last week in Lausanne, a fruitful meeting was held between Tayyab Ikram, who also chairs the FIH International and Olympic Relations panel, and the relevant stakeholders, where future steps to reach the goal of playing together as one team were discussed.

FIH firmly believes in the power of sport to act as a catalyst for peace and will therefore decisively continue to play an active role for this cause.

FIH site


---

USMNT Begins 2019 Competition Schedule With 3 Nations Invitational Next Week




BENALMADENA, Spain – Following a pair of training camps, the U.S. Men's National Team is set to open their 2019 schedule with the 3 Nations Invitational in Benalmadena, Spain from January 28 to February 3. Marking the third time in as many years the team has begun their international competition in Spain, USA, currently No. 25 in the FIH Hero World Rankings, will play two matches each against No. 24 Wales and No. 27 Brazil.

USA and Wales most recently met in 2017 as part of the USMNT's 10-day training camp in Barcelona, Spain, leading up to the 2017 FIH Hockey World League Round 2. Brazil meanwhile has not played USA since 2015 when they defeated the red, white and blue in a shootout in the quarterfinals of the Pan American Games in Toronto, Canada. Being close in rankings will play a true test for the USMNT before shifting their focus to the Hockey Series Finals taking place in Bhubaneswar, India from June 6-16 and 2019 Pan American Games in Lima, Peru from July 26 to August 11.

"The training camps provide a valuable opportunity to evaluate our players," said Rutger Wiese, USMNT Head Coach. "We continue to add to the technical and tactical aspect for every season and reinforce our principles.  Everything usually goes well in practice and according to plan but it is always good to play matches against ranked opponents.  We are looking forward to seeing Brazil and Wales and continuing our development in the early part of this year."

3 Nations Invitational Schedule:
Tuesday, January 29        USA vs. Wales        10:30 a.m. ET
Thursday, January 31        USA vs. Brazil            10:30 a.m. ET
Friday, February 1            USA vs. Wales        10:30 a.m. ET
Sunday, February 3            USA vs. Brazil            4:30 a.m. ET

3 Nations Invitational Roster:
Michael Barminski (Ventura, Calif.), Tom Barratt (Greensboro, N.C.), Sean Cicchi (Thousand Oaks, Calif.), Christian DeAngelis (Doylestown, Pa.), Ajai Dhadwal (Agoura Hills, Calif.), Mohan Gandhi (Ventura, Calif.), Alex Grassi (Brookeville, Md.), Patrick Harris (Moorpark, Calif.), Liam Hawley (Ventura, Calif.), Will Holt (Camarillo, Calif.), Aki Kaepeller (Stuttgart, Germany), Kei Kaeppeler (Stuttgart, Germany), Jonathan Klages (Berlin, Germany), David Kristoff (Darien, Conn.), Johnny Orozco (Ventura, Calif.), Paul Singh (Simi Valley, Calif.), Daan Wisselink (Amsterdam, The Netherlands)

For more information regarding the 3 Nations International Tournament, including full schedule, check out the official event page by clicking here.

USFHA media release


---

IPC Secretary assures PHF of all-out support

Mohsin Ali

ISLAMABAD - Inter Provincial Coordination (IPC) Ministry finally woke up from deep slump as newly-appointed IPC Secretary Akbar Durrani invited Pakistan Hockey Federation (PHF) President Brig (R) Khalid Sajjad Khokhar and Secretary Olympian Shahbaz Ahmed Senior for a meeting at his office on Friday.

Had former secretary Jameel Ahmed not kept on sitting on the PHF files and a series of written requests submitted to the IPC secretary office regarding the grave situation, the federation has been facing, Pakistan team could have taken part in FIH Pro League. But due to Jameel's sheer negligence, the FIH suspended Pakistan for taking part in the league.

Khokhar informed the secretary about the problems being faced by the federation, while the IPC secretary was full of praise for Shahbaz and admired his contributions for Pakistan hockey both as player and as secretary. He lauded Shahbaz for taking back his resignation as secretary and said: "Pakistan hockey badly needs a tall figure like you, who enjoy so much respect and following in the world of hockey."

Akbar promised to take every possible step to help the federation and hockey. He promised that the government will help hockey in the best possible manner regarding funds and other problems being faced by the PHF.

Khokhar thanked Akbar for his time and support and hoped that with practical steps taken by federation with the help of government, Pakistan hockey will soon be back where it belongs.

Akbar also directed concerned department to immediately start lying down of astroturf at Naseer Bunda Hockey Stadium, as Islamabad is the capital of the country and international events can easily be held at Naseer Bunda Stadium. The IPC secretary also asked Shahbaz the reason for his resignation.

Meanwhile, Shahbaz confirmed The Nation that the IPC secretary has asked him the reason. "I informed him that the government's attitude and lack of support resulted in my resignation. I have taken over the secretaryship to contribute towards Pakistan hockey, not to get just post. I have not taken back the resignation yet, but I have come to meet IPC secretary.

" I have a lot of respect for Brig Khokhar, who has put in tremendous efforts for Pakistan hockey. He has flatly refused to accept my resignation but it doesn't make any sense of keeping hold to the post, when I can't deliver. The previous IPC secretary has inflicted huge damages to national cause and particularly to hockey. We have requested Jameel Ahmed to arrange meeting with IPC Minister to get the funds issue resolved, but he remained unmoved. I hope the PM will take stern action against Jameel and all those, who are responsible for inviting FIH wrath," he added.

Shahbaz said even though he hasn't taken back his resignation, as unless the PM and IPC Minister give him assurance that their hard work and sincere efforts wouldn't go waste, he can't work. "Why should I hang on to secretary post, when I can't help Pakistan hockey. Brig Khokhar is the best person to take Pakistan hockey forward. Just provide him funds and all-out support, he will do wonders for Pakistan hockey.

"If government doesn't want us to carry on the good work, they should inform us, we will step aside. But they should give us respect, we have earned. I am always ready to help Pakistan hockey and will take back my resignation, if the government promises to address root-causes," Shahbaz concluded.

The Nation


---

Tenaga coach Nor Saiful surprised by big win over Maybank

By Aftar Singh

KUALA LUMPUR: Tenaga Nasional coach Nor Saiful Zaini was jumping in joy after his team pulled off a big-margin victory over Maybank in the Malaysia Hockey League (MHL) at the National Hockey Stadium in Bukit Jalil.

Yesterday, Tenaga Nasional showed they were back in contention for the Premier Division title with a superb 7-1 win over the toothless Maybank.

Nor Saiful is surprised with the team's unexpected goal spree.

"Maybank were hardly a threat to us in the match. They are a young team and I believe, it the team for the future," said Nor Saiful.

"The important match for us is against Terengganu on Sunday. We need a win to stay on track for the league title."

Tenaga have topped the standings with 12 points from four wins and a defeat. Their only defeat was to Universiti Kuala Lumpur (3-1).

In the match yesterday, Tenaga powered by 10 national stars went on the offensive from the start but had to wait until the 10th minute to take the lead.

Defender Shazril Irwan Nazli scored off a reverse stick attempt which sailed past Maybank goalkeeper Mohd Hanafi Hassan.

Tenaga continued to pile on the pressure and they were duly rewarded with another two goals in the second quarter. Muhd Arif Syafie Ishak sounded the board off a penalty corner in the 19th minute and Muhd Firhan Ashari netted the third goal from close range 10 minutes later.

Tenaga scored four more goals after the break through Muhd Azrai Aizad Abu Kamal (38th), Arif (41st), Muhd Nik Aiman Nik Rozemi (45th) and Shello Silverius (58th).

Season campaigner Mohd Hafi­fihafiz Hanafi replied for Maybank in the 48th minute.

It was obvious that the absence of two key players – national midfielder Muhd Haziq Samsul and forward Amirrullah Zainol affected their performance.

Meanwhile, Last year's overall champions Universiti Kuala Lumpur (UniKL) came back from a goal down to beat Nur Insafi 3-1 at the Tengku Abdullah Hockey Stadium in Bangi.

Nur Rahul Hrsikesa Thaitchana Muruthi gave Nur Insafi the lead in the eighth minute before UniKL scored three goals through Robert Kemperman of Holland (18th), Muhd Marhan Mohd Jalil (49th) and Faridzul Afiq (49th).

The Star of Malaysia


---

Sam Quek hopes Bowdon Hightown can win again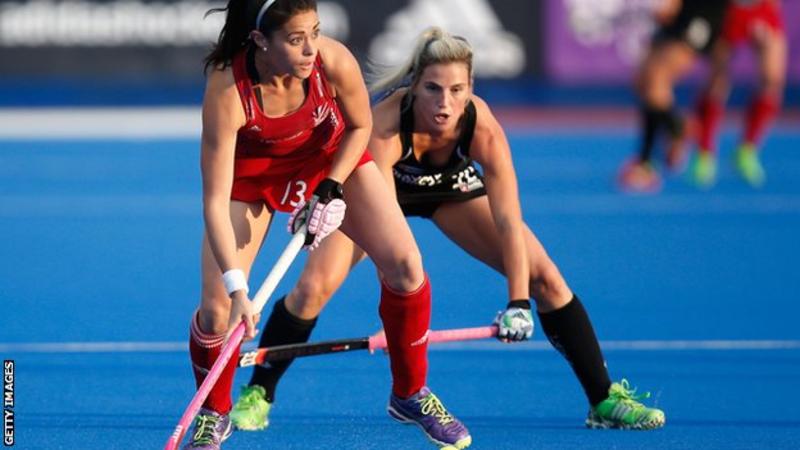 Sam Quek was made an MBE in 2017 after winning Rio Olympic gold with GB

British Olympic gold medallist Sam Quek hopes her Bowdon Hightown team will retain the Super6 title at London's Copper Box on Sunday - but says you can "never tell" in a one-off cup game.

Quek's side will play Buckingham in the semi-finals, with the winners of that tie facing East Grinstead or Slough.

The 30-year-old expects the holders to be too strong should it be East Grinstead they face.

"We beat them comfortably in our last game before qualifying," she said.

Speaking to BBC Sport she added: "Hightown would be favourites if I were a neutral person but you can never tell with a sold-out arena, the atmosphere and the surface.

"At the end of the day it's a one-off game like any other cup final or cup semi."

Sunday's schedule
10.30: Women's semi-finals: Bowdon Hightown v Buckingham; East Grinstead v Slough
13:00: Men's semi-finals: Hampstead & Westminster v East Grinstead; Surbiton v Sevenoaks
15:30: Women's final
16:45: Men's final

Quek, who won Olympic gold in Rio three years ago, says she enjoys the faster pace of the indoor game.

"It's a completely different game - it takes time to adjust to it," she said.

"Although it's a smaller court, they have side boards so the ball stays in play a lot longer and the space that you have to cover, together with the pace of the ball, makes it very demanding.

"It's so fast paced that typically you get a lot of goals. You're talking about seven to eight goals a game."

Quek is developing a career in television but still enjoys playing hockey.

"It's nice to come back into a hockey team where you're just 'Sam'," she said. "Have a laugh with the girls, then sweat it out on the pitch."

Quek also offered a prediction for the men's tournament, which East Grinstead have won in nine of the past 10 years.

"You'd normally back them," said Quek. "But I'm going to go with Hampstead and Westminster. They've got quite a strong team coming through."

BBC Sport


---

Leinster leaders the sides to beat indoors; Glens and Corinthian's Mills rematch



Three Rock Rovers with the Tony Byrne Cup. Pic: Tristan Seaton-Stedham

Leinster's top two will likely be the sides to beat in the men's National Indoor Trophy as the Antrim Forum gears up for its grand finale.

Reigning champions Three Rock produced a fine second half performance a week ago to beat Railway Union 6-4 with doubles from Jody Hosking and Ross Canning both scoring twice.

Both went through to the semis as a result, Rovers facing Munster's first champions for over 30 years, Limerick, while Railway face the Ulster winners, Cookstown.

The Co Tyrone side won the Ulster Indoor Championship title for the second time in two years with a winner-takes-all victory over Banbridge at Queen's University PEC on Sunday.

They won that tie 4-2 with goals from Jack Haycock, Mark Crooks, Stu Smyth and Michael Kerr having earlier drawn with Queen's 3-3 and beaten North Down 6-1.

Whether those three games, played on one day, will be enough to prepare them for a well-heeled Railway – led by recently appointed Irish indoor coach Kenny Carroll – remains to be seen.

Three Rock, meanwhile, have enjoyed big numbers at their base in St Columba's in the past few weeks as they compete for places on the plane to Oslo for the Europeans.

Liam Canning can call upon Irish outdoor internationals Ben Walker, Jamie Carr and Luke Madeley while Scottish man Jack McAllister looks adept on the boards.

Outdoors, on Sunday, Glenanne take on Corinthian in a rematch of last year's Mills Cup semi-final with the reds hoping to repeat their surprise 4-2 success of a year ago.

The Glens made it to this stage having eliminated YMCA last week 7-2 with something to spare.

That tie saw Stephen Brownlow score on the double alongside a couple of Shannon Boucher drag-flicks. There was also a debut goal for former Belgian Under-21 international Jerome Saeys – formerly of KHC Dragons and Club de Campo in Madrid – in his first game for the first team, nailing a drag-flick.



Corinthian's Johnny Roberts in action against Glenanne. Pic: Adrian Boehm

He will be eligible to play in national level competitions having fulfilled Hockey Ireland's stipulation for new players transferring to Irish clubs.

They require a new player to play at least one club game before December 31. Saeys played for the Glens' third team in Division 5 against Dublin University in December.

The reds got their second half of the season up and running with a 4-1 win over Clontarf a week ago and will hope Ian Stewart can carry on his breathtaing form.

On Saturday, two back matches in Leinster Division One are on the agenda. UCD will hope that a sprinkler issue during the week will not carry through to game day and cause the cancelation of their game with Kilkenny.

The cats got their first point since September last weekend and could draw some confidence from the travails UCD had against Portrane a week ago before winning out late on.

Rathgar and Dublin University probably need a perfect set of results to earn a place in the top three this season. The former are seven points away while Trinity have 12 points to make up but two games in hand.

Men's fixtures
Saturday
Leinster Division 1: Rathgar v Dublin University, 12.30pm, High School; UCD v Kilkenny, 1pm, Belfield

Munster Division 1: Catholic Institute v Bandon, 12pm, Rosbrien; Cork C of I B v Cork Harlequins, 3pm, Garryduff; UCC v Waterford, 12pm, Mardyke

Sunday
Mills Cup semi-final: Glenanne v Corinthian, 3pm, Booterstown

National Indoor Trophy (all at Antrim Forum)
Semi-finals: Limerick v Three Rock Rovers, 11.30am; Cookstown v Railway Union, 12.30pm
Final: 4.45pm

The Hook


---

Senior Cup opportunity on the mind as international stars not available for next phase



UCD's Niamh Carey and Railway's Holly Jenkinson in action before Christmas. Pic: Adrian Boehm

It is a manic weekend of women's action with big games abounding in numerous different competitions with lots of intrigue on the line, particularly with the knowledge that some of the top stars may not be available for the final four of the cup.

Railway Union and Ards' paths potentially intertwine on two fronts over the weekend as they face off in the Irish Senior Cup and, possibly, in the National Indoor Trophy final on Sunday.

It is a highlight of a manic weekend of women's action with big games abounding in numerous different competitions with lots of intrigue on the line, particularly with the knowledge that some of the top stars may not be available for the final four of the cup.

It potentially opens up the draw for the sides who get to the last four. For Railway, Sarah Hawkshaw and Amy Elliott have been making strides with the national side but Ards have no such concerns for the semis and beyond. The pair drew in the last league game before Christmas, showing there is precious little between the sides.

"With the high-performance players not available from the semi-finals on, if we can pass this hurdle we strongly believe we can have a successful run and do well in this competition," Ards' Naomi McKnight told the Belfast Telegraph.

"Beating Belfast Harlequins in the previous round showcased the progress we have made."

UCD take on Loreto in a mouthwatering tie with the hosts boss Miles Warren saying he has his first fully fit squad of the campaign.

"The first half of the season was quite disruptive with Ellen Curran and Hannah Mcloughlin both having surgery, Lena Tice away for everything bar one game and Abbie Russell being injured four games into the season. "

Ava Beatty is going away on Erasmus for the second half of the campaign having been an ever-present. Warren, though, is upbeat for the challenge ahead.

"We hope to get on a roll in training to get a good competitive and fun buzz going so that we can keep challenging to secure a place in the end of season playoffs."

Muckross welcome Cork Harlequins to Donnybrook following their very close-run 1-0 defeat in Munster earlier this season.

For Sarah Scott, she says her side are on the rise following a strong 3-0 win over Old Alex in the Irish Senior Cup and a good run in the indoor.

"We are excited about the second half of season and know we have improved and learned from first half of the season. We know it's going to be tough but looking forward to the challenge."

They also put it up to UCD in the Jacqui Potter Cup quarter-final with Caroline Mathews excelling in midfield. Their Irish Under-18 central defence pairing of Sarah McAuley and Lisa Mulcahy have been superb while the speed of Sophie Barnwell and Yasmin Pratt mean they have a constant threat on the counter.

They do have to contend without Anna Scott who is in New Zealand while Emma Mathews has a hamstring issue.

From Quins' perspective, Cliodhna Sargent says her side need to find a greater level of consistency in the second half of the season if they are to make an assault on the major silverware.

The Farmers' Cross club finished 2018 in good form, rising to the top half of the EY Hockey League with three wins out of four outings, including that close run win over Muckross.



Caroline Mathews has had a super season to date with Muckross. Pic: Adrian Boehm

"We need to have our counter cover sorted at all times and be aware that they are fast in attack," Sargent said, looking forward to the tie. "In our previous game, their goalkeeper [Ellie McLoughlin] played very well, so I would expect her to save any direct shots, which means deflections and back post will be key.

"I think we were very inconsistent in the first half of the season. We have definitely developed as a team as the games have progressed but we need to be able to consistently reproduce good performances."

Pembroke host Pegasus at Serpentine Avenue following their productive first half of the season, one that saw them end in the playoff places.

Pegasus, meanwhile, will start slight favourites against a Pembroke side that includes Ireland World Cup silver medallists Emily Beatty and Gillian Pinder. However, captain Michelle Harvey says her team won't be taking anything for granted, despite beating the Leinster side in a league match earlier in the season.

"We are looking forward to our second encounter of the season against Pembroke but the Irish Senior Cup always has a different vibe to the league with the added challenge of being knock out," she said.

"It will be a very different match to our previous meeting. They had a few players missing and have gained a lot of momentum in their last few matches of the league. We didn't perform in the final last year when we lost 4-0 to UCD and would love to have the chance to prove that was a one-off but we have a long way to go before we can even consider looking at the final."

In Leinster Division One, Trinity took their midweek opportunity to move further clear at the top of the table with an 8-3 win over Our Lady's.

It lifts them four points clear at the top of the table despite the students' goals against jumping from one to four, a slight glitch for their impeccable defensive record.

Our Lady's are still waiting for their first win in the league but have had much better form in the cups and they go to Portadown for the quarter-final of the Irish Hockey Trophy. They are one of two Leinster sides left in that competition with Three Rock hosting 2014 and 2015 champions Cork C of I.

Elsewhere in Leinster, Corinthian and Monkstown will aim to close the gap when they take on Genesis and Avoca, respectively.

The former duo have ten points to spare over the rest of the field in the EYHL2 places with Glenanne next best placed; they host Naas. Fifth plays sixth at The Maws where North Kildare take on Rathgar.

Women
Irish Senior Cup – Quarter Finals: Pembroke v Pegasus, 2.30pm, Serpentine Avenue; Railway Union v Ards, 2pm, Park Avenue; UCD v Loreto, 2.50pm, Belfield; Muckross v Cork Harlequins, 1.30pm, Muckross Park

Irish Hockey Trophy – Quarter Finals: Omagh v Greenfields, 1pm, Campsie; Portadown v Our Lady's, 2.30pm, Edenvilla SC; Raphoe v NUIG, 1pm, Royal & Prior; Three Rock Rovers v Cork C of I, 3pm, Grange Road

Leinster Division 1:
Wednesday: Trinity 8 (Erica Markey 3, Clodagh Fullston 2, Susie Osborne, Rachel Burns, Issy Delamer) Our Lady's 3 (E Kilbride, A Kelly, S Kelly)
Saturday: Genesis v Corinthian, 2.30pm, St Raphaela's; Glenanne v Naas, 1.30pm, Glenanne Park; Monkstown v Avoca, 2pm, ALD Merrion Fleet Arena; North Kildare v Rathgar, 1.30pm, The Maws

Munster Division 1: Ashton v Catholic Institute, 1.45pm, Ashton School; Limerick v UCC, 1.30pm, Villiers; Waterford v Bandon, 2.30pm, Newtown

The Hook