All the news for Wednesday 28 November 2018

Late Goal by USWNT Evens Series with Belgium



Winning goal scorer Kat Sharkey in action. Image Taken by Mark Palczewski

LANCASTER, Pa. - November 27, 2018 - After losing the first game, the No. 12 U.S. Women's National Team looked to tie the series against No. 13 Belgium with a win in the second match. The rain from last night was no longer an issue, but the 33-degree weather proved to be a different challenge for both teams at Spooky Nook Sports in Lancaster, Pa. The match was postponed from an hour due to ice developing on the pitch, and the ultimate decision moved the game indoor. This didn't hinder the USA as they fought until the end, found a late goal and was able to even the series with a 3-2 win.

USA got on the scoreboard early when Lauren Moyer (York, Pa.) sent a ball into Danielle Grega (Kingston, Pa.) who slipped it past Belgium goalkeeper Elodie Picard just 32 seconds into the match for her first career goal. Belgium called for a video referral claiming a foot on the play, but after review, the call stood, and Belgium lost their video referral. The Red Panthers sought to answer with a goal of their own, but USA goalkeeper Kelsey Bing (Houston, Texas) cleared a shot by Joanne Peeters. In the 9th minute, Belgium earned a penalty corner but could not convert after the ball was tipped out by Julia Young (Yorktown, Va.). Belgium would find the back of the goal after a backhanded cross by Peeters was tipped in by Ambre Ballenghien to make the score 1-1 with 50 seconds remaining in the quarter.

The second quarter resumed in the dome after a brief intermission. It was Grega again who put USA ahead in the 18th minute of play by pulling Belgium goalkeeper Picard out of the goal, pull the ball right and slip it into the right corner. USA continued to bring the pressure on Belgium's defense, earning a penalty corner in the 20th minute. The shot by Jill Funk (Lancaster, Pa.) went just wide of the goal mouth. USA goalkeeper Bing turned away two more shots by the Red Panthers, keeping the score at 2-1 in advantage of USA at the end of the half.

USA came out of the break in search of another goal. A penalty corner was awarded to Belgium in the 38th minute following a foot inside the circle. Caitlin Van Sickle (Wilmington, De.) made the stop as she rushed the shot, tipping the ball over the goal. Two minutes later, USA earned a penalty corner of their own. Ashley Hoffman's (Mohnton, Pa.) drag attempt went through traffic to Belgium's goalkeeper Picard who cleared it over the end line. Despite the strong effort of the USA defense, Belgium would even the score in the 39th minute as they converted off a penalty corner on a drag by Louise Versavel into the right corner of the goal. Both teams saw several more opportunities to score in the quarter, but none would convert. The third quarter score remained tie at 2-2.

The final quarter of play opened with a penalty corner for the Red Panthers. Pauline Leclef mis-trapped the insert, giving USA a breakaway toward their attacking circle. Belgium pressed hard to keep USA stuck in their defending 25 for much of the quarter. In the 56th minute of play, Belgium was awarded a penalty corner. USA's defense held strong rushed to Leclef at the top, causing her shot to be too high to count. USA would continue to work around the Belgium press. In the 58th minute, Kathleen Sharkey (Moosic, Pa.) got the go-ahead goal after she caught a rebound off Belgium goalkeeper Picard's and ripped a shot that through her pads. The Red Panthers did not back down, rushing to create two scoring chances before time ran out. However, the score stood at 3-2 to USA as the final buzzer rang.

After the conclusion of the match, the two teams took part in a friendly round of shootouts that went into extra rounds to crown a winner.

Another USWNT athlete,Kelsey Bing (Houston, Texas), played in her first international match tonight, earning her first cap for USA.



L to R: Danielle Grega, Kelsey Bing, Casey Umstead

The U.S. Women's National Team vs. Belgium series continues on Thursday, November 29 at 6:30 p.m. ET with the final game. To purchase tickets or for the full schedule, results, rosters and more, check out the official USWNT vs. Belgium Event Page. #UN1TED

USFHA media release


---

Odisha Hockey Men's World Cup Bhubaneswar 2018
Bhubaneswar (IND)

Fixtures 28 November (GMT +5:30)

17:00     BEL v CAN (Pool C)
19:00     IND v RSA (Pool C)

First round of Pool fixtures (GMT + 5:30)

29 Nov 2018 17:00     ARG v ESP (Pool A)
29 Nov 2018 19:00     NZL v FRA (Pool A)

30 Nov 2018 17:00     AUS v IRL (Pool B
30 Nov 2018 19:00     ENG v CHN (Pool B)

1 Dec 2018 17:00     NED v MAS (Pool D)
1 Dec 2018 19:00     GER v PAK (Pool D)

FIH Match Centre


---

Stage set for World Cup in spectacular style in Bhubaneswar




The World Cup landed in earnest in Bhubaneswar with a spectacular opening ceremony on Tuesday, setting the scene for the long-awaited event which will take place at the 15,000 capacity Kalinga Stadium for the next few weeks.

The competition format in Bhubaneswar is the same as that which was employed at the Vitality Hockey Women's World Cup earlier this year, with the 16 competing nations split into four pools of four.

A guaranteed birth in the competition quarter-finals is on offer to the team that finishes top of each group, with the second and third placed finishers needing to play an extra cross-over play-off match for their place in the last eight. For the teams that finish bottom of each pool, elimination beckons.

The pool phase of the event in Bhubaneswar sees each day of competition 'group focused' throughout, with two Pool C matches getting the tournament off to a flying start on Wednesday evening. Olympic silver medallists Belgium begin their quest for a first ever World Cup title when they face Canada at 5pm (Indian standard time – five and a half hours after UTC).

Belgium's gifted squad is blessed with numerous world class players including Arthur van Doren and Vincent Vanasch, the respective FIH Player and FIH Goalkeeper of the Year for 2017.

Canada have plenty of quality of their own, especially in the shape of inspirational defender and penalty corner expert Scott Tupper, who will be looking to guide his team to what would be a famous victory.

While there is plenty of intrigue surrounding the opening fixture, for the vast majority of the sell-out 15,000 crowd, it is a warm-up for the main event as host nation India go head-to-head with African champions South Africa at 7pm (IST).

India Head Coach Harendra Singh and a significant portion of his squad were part of the glorious Junior World Cup success on home soil Lucknow two years ago, and a strong start here in Bhubaneswar could be the catalyst for something very special on an even bigger stage. However, Harendra will not allow his team to get carried away with the occasion – with the experience of Austin Smith, Rhett Halkett and team captain Tim Drummond, South Africa are a side capable of punishing any level of complacency from the home favourites.

On competition days two, three and four, the focus will switch from Pools A to B to C, with matches taking place at 5pm and 7pm each day. The Pool A fixtures on Thursday 29 November will see Rio 2016 Olympic gold medallists Argentina face a Spain team packed with flair in what promised to be a thrilling encounter before the Black Sticks of New Zealand go head-to-head with France, a team returning to World Cup action for the first time in 28 years.

Friday 30 November is all about Pool B, with reigning world champions Australia beginning their title defence against an Ireland team keen to show just how much progress they have made in recent years at what is their first FIH Men's World Cup since 1990. England take on China in the evening match, with Danny Kerry's team looking to get their competition off to a winning start.

The first round of pool matches will be completed on competition day four as the Pool D teams take to the stage. The Netherlands take on Malaysia in a fascinating encounter that will see legendary Dutchman and current Malaysia Head Coach Roelant Oltmans aiming to defeat a team that he guided to World Cup glory at the 1998 event in Utrecht.

That match is followed by a meeting between two nations that have claimed between two nations that have won six world titles between them, as two-time champions Germany take on four-time winners Pakistan.

Euro Hockey League media release


---

A glittering opening ceremony

A.R. Rahman, Sivamani, Shahrukh Khan and Madhuri Dixit perform



Bollywood actress Madhuri Dixit performing at the Kalinga Stadium during the opening ceremony of the the Men's Hockey World Cup 2018 in Bhubaneswar, November 27, 2018. Photo Credit: Biswaranjan Rout

A glittering ceremony, including live performances of Oscar winning music director A.R. Rahman, famous percussionist Sivamani and Bollywood stars Shahrukh Khan and Madhuri Dixit, on Tuesday marked the formal opening of the 14th Hockey World Cup at the Kalinga Stadium.

In a ceremony that lasted for more than two hours, HI felicitated the heroes of the India's 1975 World Cup winning team.

The appearance of the captains of all 16 participating teams was another attraction.

A grand show of drones and performances by modern, classical and folk dancers kept thousands of spectators glued to the extravaganza. A pep talk by Shahrukh and dance performance by Madhuri provided variety to the package.

Odisha Chief Minister Naveen Patnaik welcomed the participating teams and hoped for the successful conduct of the event.

International Hockey Federation president Narinder Batra thanked the State government for its whole-hearted support and said the Kalinga Stadium was one of the best three in the world.

The show concluded with spectacular fireworks.

The Hindu


---

Bollywood superstars Shahrukh, Madhuri and Rahman enthral crowd at opening ceremony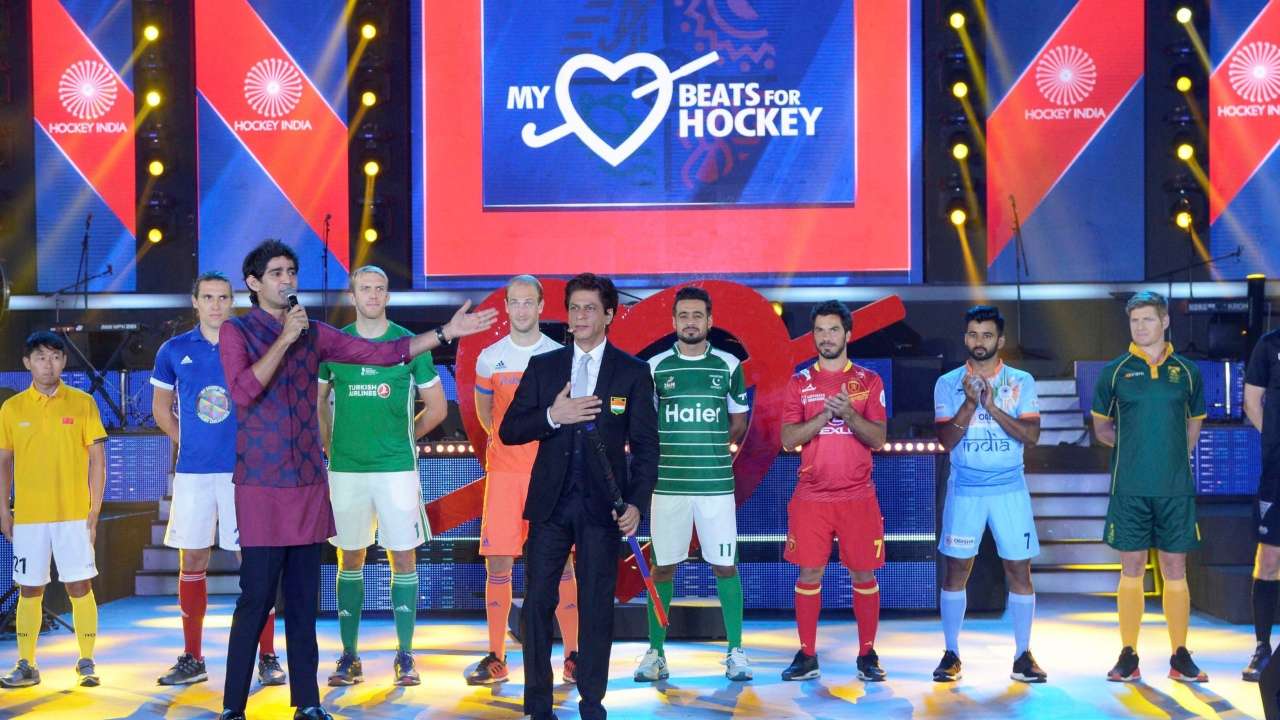 Men's Hockey World Cup 2018 , PTI

Conveying a powerful message of "oneness of humanity" was the highlight of the glittering opening ceremony of the 2018 men's hockey World Cup here as Bollywood heart-throb Shah Rukh Khan, Madhuri Dixit and renowned music composer A R Rahman dished out enthralling performances, Tuesday.

The ceremony showcased first-of-its-kind theatrical production - The Earth Song, which beautifully depicted the theme of the ceremony.

Written and directed by Nupur Mahajan, it featured Madhuri as the central character, Mother Earth.

The World was declared open by Odisha Chief Minister Naveen Patnaik during the ceremony, attended by all 16 captains.

The spectacular fusion dance performances were choreographed by Shiamak Davar. He was joined by 1100 artists who danced to the tunes created by Ranjit Barot. It was one the highlights of the evening which left the audience spellbound. The show opened by the earth cracking and Madhuri emerging as Mother Earth, addressing the world at large as her children.

The bilingual script in English and Hindi with snatches of the Bhagvad Gita and philosophy of the Upanishads has been written by Nupur Mahajan.

Rahman brought to life his and Gulzar Saheb's composition Jai Hind Jai India' with a live performance, which is the official song and tune of the World Cup.

Bollywood star, Shahrukh presented over 2.35 crore collected heartbeats to the captains of the hockey teams participating at flagship FIH event.

Speaking on her role in the theatrical production, Madhuri said, "I was absolutely elated in playing the central role in The Earth Song as I particularly identified with the theme of oneness and its universal appeal. Mother Earth is a powerful character and to rise as her at a world stage by way of a live performance was a challenge and a unique opportunity."

Daily News & Analysis


---

PM Modi wishes luck to all 16 teams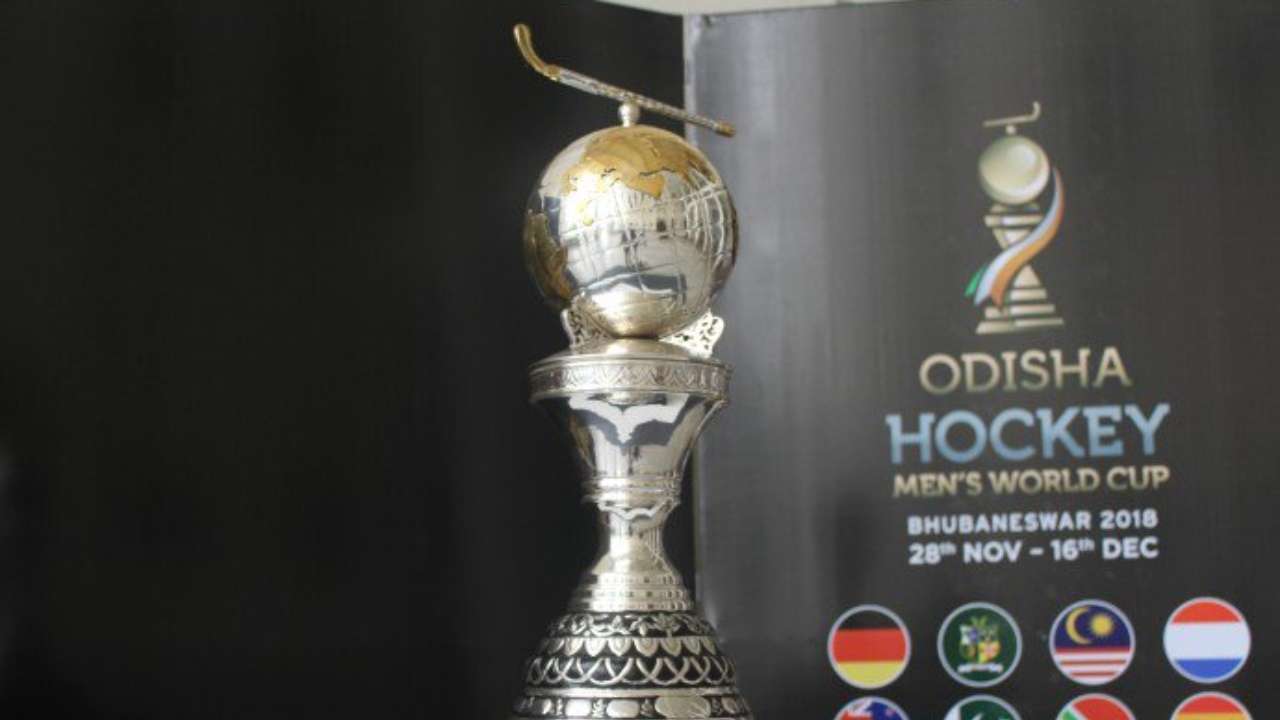 Men's Hockey World Cup 2018 , Twitter

Prime Minister Narendra Modi extended his wishes Tuesday to the 16 teams participating in the men's Hockey World Cup, beginning Wednesday in Odisha.

"Welcome and best wishes to all teams participating in the Hockey Men's World Cup 2018, being held in Odisha. I am sure this tournament will be a treat for sports lovers and will also be an opportunity to discover India's and especially Odisha's culture," he tweeted.

The 16 teams will play in four pools between November 28 and December 16 in the tournament.

Daily News & Analysis


---

Belgium will hope to better past showing

Opens against lower-ranked Canada

Belgium, the Olympic silver medallist and world No. 3, is eager to showcase its exciting brand of hockey — a combination of high scoring game and solid defence — when it meets Canada in the Hockey World Cup opener on Wednesday.

Lodged in Pool C, the Red Lions are backed by a top-class domestic system and resources to achieve their target of securing their best-ever finish. The highest ranked team in the pool, Belgium's previous best was fifth place in 2014.

Consisting of some experienced players and five members from the 2016 junior World Cup silver medal winning squad, Belgium knows its game and can handle pressure.

"When you play a World Cup, it is like a celebration of all the work that you put in beforehand. The pressure is actually in making sure everything is in place before the World Cup," said Belgium coach Shane McLeod.

The meeting with Canada should be an ideal start for Belgium, which will be keen to get into a good momentum. Its flair for trapping the ball in midfield and launching counter-attacks will boost the European outfit.

Canada, which last played in a World Cup eight years ago in Delhi, is full of determination to better its best showing, eighth in 1998.

The North American side has the capability to upset top sides. Canada will push hard with its 'nothing-to-lose' attitude. Points earned against a superior rival may help the lower-ranked team manage a decent place in the pool, comprising India and South Africa, and stay alive for the cross-over contests.

The Hindu


---

Anticipation hangs heavy as hosts India begin quest for elusive trophy against South Africa

Shantanu Srivastava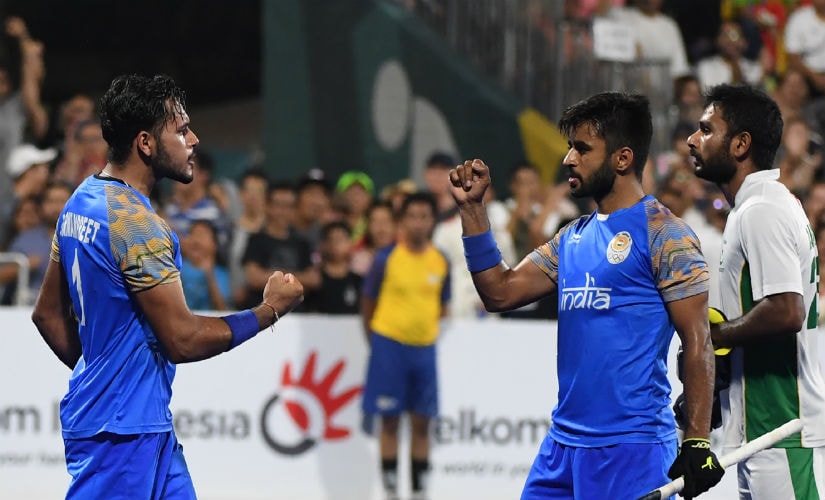 Harmanpreet Singh (left) and Manpreet Singh will play a key role in India's campaign as hosts play South Africa on Wednesday. AFP

As the pulsating match-eve gives way to a dawn of delicious possibilities, it is tempting to think what must have gone through Harendra Singh's head as he tossed and turned in the privacy of his hotel room, long after lights went out at the Kalinga Stadium. The coach of the national team rests on quicksand these days, and with a home World Cup to deal with, sleep might well be his unlikeliest companion.

After weeks of practice and months of hype, the showtime has arrived on the wings of pressure and expectation. All those hours clocked in the gym, all the tough selection calls, all the knowledge stacked in the muscle memory have come to define this singular moment, and to think that Harendra's brain would have courted calm amid the milieu is to anoint him to superhuman levels.

He walked in the press room jovial and jaunty. Jokes were exchanged with familiar faces and greetings were extended with earthy warmth. Manpreet Singh, on whose shoulders lie the task of controlling the team – and the game – stood in cheerful seclusion. The contrast in coach and captain's demeanours though ends right there. Both would know that team's recent form is far from top-notch, and lack of experience might prove costly. Nevertheless, both did rather well to present a brave face.

"They are not young. The Constitution allows you to marry once you are 18," Harendra said of his wards. "They are the future of Indian hockey. They are not boys, they are men. Once you enter the national camp and are chosen to wear India shirt, you have enough experience to play." Booming bluster meets feral passion. He could well be addressing a bunch of Spartan warriors.

Harendra has a point though. Seven players in the current squad played the 2016 Junior World Cup in Lucknow, and another seven played the 2014 World Cup. The players have a decent experience of playing in high-pressure matches in that sense.

Former India player Sandeep Singh concurs. "See, India will surely miss the experience of those who are not in the team, but you gain experience only by playing. The modern game is fitness oriented, and considering the fatigue that a player faces over the course of 60 minutes, it is important to blood in youngsters who don't tire easily," he told Firstpost.

"In the 2010 World Cup, runners-up Germany were the youngest side in the tournament. So that explains a lot," he says. Interestingly, Harendra cited the example of the same German team to end the experience-versus-youth debate. He went back to Punjab Gold Cup of 2009 where the visitors were blanked by the local team.

"Everyone thought that we had just beaten Germany so when the (2010) Hockey World Cup was held at home, we would do great. But everyone knows what happened. (India finished eighth and Germany were runners-up). The average age of that German side was 22.7 years. The average age of this Indian side is 23.4 years."

On Wednesday, there is little doubt that India will start favourites against South Africa – a team ranked ten places below them. Complacency though would be the last thing on India's mind, especially after the chastening reversal against Malaysia in the Asian Games semi-final.

"That is history," the coach said. "The team has learned from that experience and moved on. It was a collective failure and not the fault of one or two individuals. The only time we discussed it was in the meeting we had just after that match, and we decided then that we won't let it haunt us. That is a hard fact. It's perhaps time you should move on too."

Head to head, India hold a clear advantage over their rivals. In the 42 matches that the teams have played against each other, the hosts have won 25 times, while South Africa have tasted success eight times. The two teams have also played nine draws.

In World Cups, India are yet to lose to South Africa, though in four World Cup matches, only once have India managed to beat them; the rest three ended in draws. Their last five matches throw a much closer stat – both teams have beaten each other twice, and one game was drawn. Rankings, hence, will matter little when Manpreet Singh's team takes the field on Wednesday.

"I feel South Africa will play physical and attack us on the counter. However, under no circumstances are we going to compromise with our attacking brand of hockey," Harendra declared.

"Everyone is a pundit here but did anyone of us predict that Ireland would reach the Women's World Cup final and Croatia would make it to FIFA World Cup final? I don't know what the future holds, but we are not going to alter our style of hockey."

However, experts such as Viren Resquinha prefer to take a more realistic look at the team's chances. Resquinha, part of the 2006 World Cup team and currently an expert with Sony Pictures, says the team must learn to handle pressure.

"Our recent form has not been very good, and over the last couple of decades, we have not been able to perform under pressure. I have not seen anything this year to see that change. So, it's going to be tough for the Asian teams to win a medal, or for that matter, reach the semis. If any Asian team can come close, it's going to be India," he said.

"I won't put India among the top five favourites. Undoubtedly, we have a chance to make it to the semis, but I don't think we are one of the favourites to win the World Cup or even get a medal. There are other teams that are better placed than us, both in terms of calibre and current form. But you never know. If Argentina can win the Olympics, anything can happen."

Indian hockey teams, over the years, have struggled to ace penalty corner conversions, besides being guilty of conceding late goals.

At World Cups since 1990, India have won 187 penalty corners, but managed to convert only 32 times. In percentage terms, it's just 17 per cent. However, things could be different this time with India boasting of three drag-flickers in Harmanpreet Singh, Varun Kumar, Amit Rohidas.

"India's drag-flicking trio is pretty good, despite the absence of the seasoned Rupinder Pal Singh," said Sandeep, an ace short-corner expert of his time.

"I think teams might know a fair bit about Harmanpreet Singh and Varun Kumar, but Amit Rohidas can be a surprise weapon. Not many teams would have seen him, and he can be a good option. Our flickers need to try different variations, and of what I have seen, I think they are pretty capable," the former India captain explained.

Harendra's target in terms of penalty conversion is "24-38 per cent". On match-eve, Harmanpreet and Varun were seen practising certain variations with their flicks, with Lalit Upadhyay regularly deflecting angled short-corner hits into the net. It would be interesting to see if India uses any of those variations against South Africa.

On the issue of allowing goals in dying minutes or final quarter, the coach said, "We always discuss that India concede in the last minute to lose, but I don't think it has happened in the last 4-5 years, except Asian Games 2018. This virus affects not just the Indian team, it's with every team. I can give you history where other teams also have lost the same way.

"Of course, one way to tackle is better ball possession. But I won't stop my boys from initiating a move if they sense an opportunity even in last moments of the game, provided they have enough strength in their legs to foil a counterattack. I think we can attack even in last quarter or last minute."

Come Wednesday evening, all the pre-tournament talk will hold little value. Starting well is vital, and the coach said getting off the blocks early will reduce the pressure by 40-50 percent.

A sell-out crowd of 15,000 in the refurbished Kalinga Stadium will be India's unabashed 12th man. Harendra said his boys will enjoy the moment and the stage; his South African counterpart Mark Hopkins thinks the pressure will be on India to go for the kill.

In a region steeped in history – where the unexpected valour of local soldiers shook the conscience of a certain King Ashoka and sent him on the path of peace and self-discovery – India will hope to write their own legend. Game time.

All stats courtesy: BG Joshi

Firstpost


---

South African hockey keeps chin up

Errol D'Cruz

One gets the feeling that taking on hosts India in their World Cup hockey opener before a vociferous partisan crowd isn't quite the most daunting tasks South Africa are faced with. What the warriors of the Rainbow Nation are battling against is the issue of inadequate funding that stifles their hockey and prospects at the international level.

Coach Mark Hopkins, for one, actually relishes the challenge of playing India in front of a sellout Kalinga Stadium where the decibels from impassioned Indian fans works out to be the hosts' 12th player. "We, however, see it as an opportunity to showcase our skills," said the coach. "Sure, the crowd's support could be an advantage but it could also put pressure on India themselves," Hopkins added. South Africa have the personnel to deliver. In Austin Smith they have a defender with 161 caps and valuable experience with Reading in the English league.

Co-defender Rhett Halkett, a veteran of 152 internationals, assisted Mannheimer to the German league crown in 2017.

Tim Drummond is the midfield hub with 131 caps and Jethro Eustice, one short of 100 caps, threatens at penalty corners.

Julian Hykes (126), a striker, and Taine Patton (103), a midfielder, are the other "centurions" in the ranks with young attacking talent Nqobile Ntuli and defender Mea Mohamed eager to prove their worth in the World Cup.

South Africa, by the coach's revelations, could gain further from the conditions and challenges in Bhubaneswar.

The format, for one, pleases the African champions whose best finish in the World Cup is 10th at Sydney 1994 and New Delhi 2010.

"Not only does it give us an opportunity to qualify for the quarterfinals should we finish third in our group (which also includes Belgium and Canada), we will gain a lot from playing as many international matches as we can," Hopkins said.

"South African hockey falls short of funding. It makes it difficult to play as many test matches as we would like to. Moreover there's the danger of players having to pay to attend camps for international tournaments," the coach explained.

South Africa, sporting several players with European league experience, still endured a difficult route to Bhubaneswar.

After failing to seal a spot via the Hockey World League Semifinals at home where they finished a disappointing 9th, they were forced to qualify from the Africa Championship in Ismailia, Egypt. Egypt, who had beaten South Africa in the HWL Semifinals, drew the pool match and led 1-0 in the final when the two teams met again.

South Africa, though, overturned the deficit to win 2-1 and steal a World Cup spot, leaving their great African rivals runners-up for the umpteenth time in the continental summit clash. It demonstrated yet again the resilience and doughtiness of South African hockey which has had much to accept and move on.

Twice were they denied by their own government sports wing of Olympic participation despite qualifying. The South African Sports Confederation and Olympic Committee (SASCOC) deemed that both the men's and women's teams would be denied entry to the 2016 Rio Olympics should they not qualify via the World League. The competition in Africa, SASCOC contended was below par and the team needed to prove its worth via a world event. There were notions, though, that there were racial undertones to the decision as hockey is considered a "white person's sport" in the country. In 2000, (National Olympic Committee of South Africa) NOCSA held similar views to prevent its men's team travelling to Sydney.

New Zealand stepped in for South Africa in 2016. Argentina did likewise in 2000.

Stick2Hockey.com


---

India begin campaign for World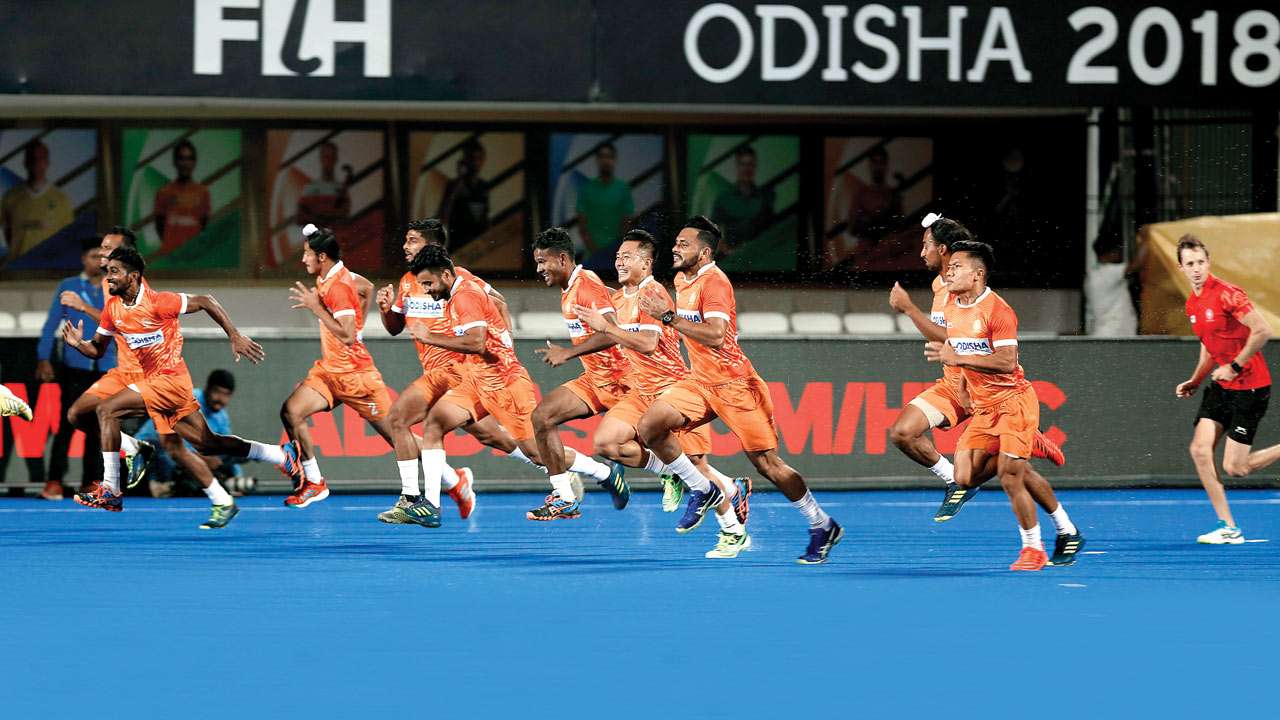 Indian hockey players Indian hockey players at a training session ahead of the Men's Hockey World Cup in Bhubaneswar

Having back-to-back key tournaments in a crucial year for Indian hockey can be both a boon and a bane.

Boon, for a good show at the 2018 Hockey Men's World Cup can wipe away the disappointment of the Indian team's failures at the Commonwealth Games (CWG) as well as the Asian Games earlier this year. Bane, for as a result of those twin failures, the pressure of performing well in the World Cup gets manifold.

And as India kickstarts their World Cup campaign against South Africa in Bhubaneswar on Wednesday, how the boys perform in the great Indian hockey carnival over the next two-and-a-half weeks will determine which of the two directions the tide flows in.

The question is: what would classify as a good show?

Ranked No. 5 in the world, India have rarely played like a top-five team throughout the year, disappointing fourth and third place finishes at the CWG and Asian Games, respectively, earlier this year providing ample proof.

Sure, there have been flashes of hope, like the run to the Champions Trophy final in June-July, but all they have remained are flashes.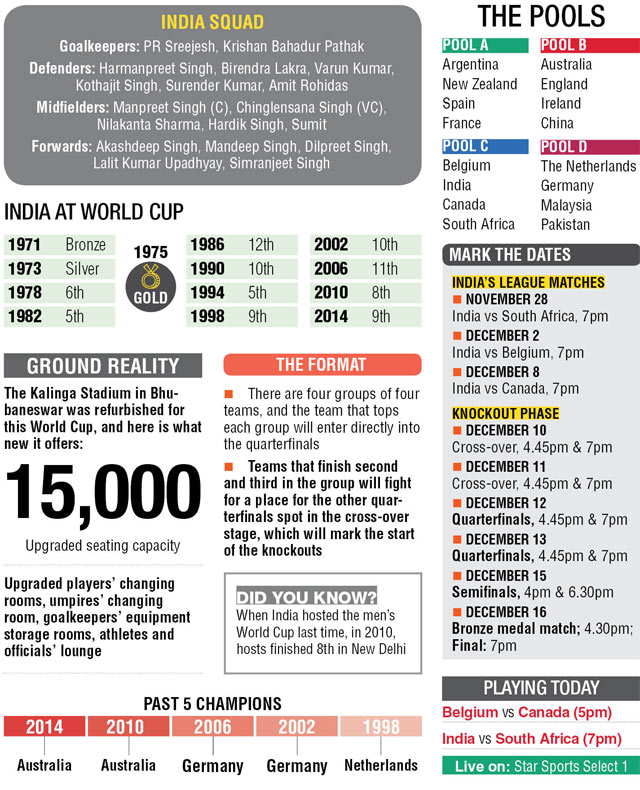 After the 2016 Rio Olympics debacle, much of the focus turned towards building a team for this World Cup.

However, as is usually the norm in Indian hockey, the closer the event gets, the more the things go haywire.

Two Dutchmen – Roelant Oltmans and Sjoerd Marijne – have been shown the door over the last two years, with Harendra Singh taking over the coaching reins only in May this year.

And, if you thought instability was a buzzword reserved only for coaches, India hockey gave you a chance to think again.

Unhappy with the treatment meted out to him under Marijne's era, India's most experienced and decorated modern-day player, Sardar Singh, decided to hang up his boots following the Jakarta Asiad flop show just months before this World Cup.

And then in a selection that left many scratching their heads, the think-tank chose to leave out dragflicker Rupinder Pal Singh and forward Ramandeep Singh, two players who have been an integral part of the Indian team over the last few years.

Banking On Youth

Those retirement and selection calls, along with the absence of the injured SV Sunil, has meant that the experience drawer is pretty bare for a big event like the World Cup, leaving captain Manpreet Singh and goalkeeper PR Sreejesh with the bulk of the responsibility of carrying this team along.

It's clear Harendra is taking a gamble by betting on youngsters to deliver, with as many as six players of India's victorious Junior World Cup-winning campaign in 2016 at home – of which Harendra was the coach, incidentally – being part of the 18-member squad for the senior world event as well.

With 15th-ranked South Africa, 11th-ranked Canada and world No. 3 Belgium in their group, India ought to make it to the knockouts, with the top team from each group qualifying directly for the quarterfinals and the second and third teams from all groups fighting for the remaining last-eight place in the cross-over stage.

It makes the India-Belgium encounter on Sunday crucial, for a victory for the hosts would go a long way in ensuring a direct ticket to the quarterfinals without the extra workload of the cross-over match, besides a much-needed shot of confidence.

From thereon, though, the level will go a couple of notches higher, and that's where this young-looking Indian team's mettle will be really tested in front of their rousing home fans.

Up until now in the recent past, Indian teams have more often than not melted when put under such intense heat in big tournaments, and that is why perhaps it is best for even the ardent hockey lovers in the country to not expect big things this time around too.

However, if these boys do manage to fight fire with fire, then the sporting world can sure accommodate another underdog success story. More so if it comes with the hope of opening another glorious chapter in Indian hockey's glittering book.

Daily News & Analysis


---

CHAK DE INDIA !

A few surprising Selection calls apart, India look good heading into the opener against South Africa

Indervir Grewal in Bhubaneswar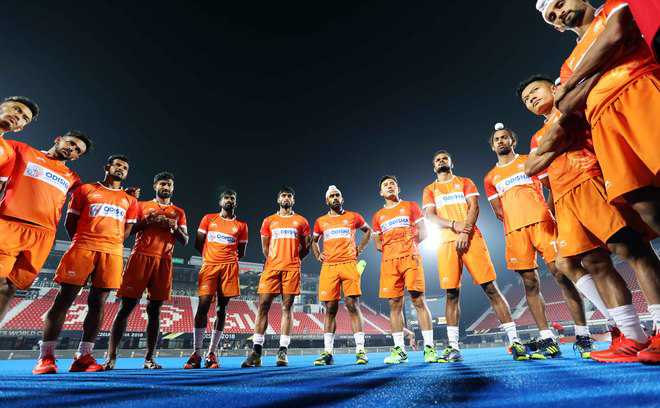 India have gone into the World Cup with a fairly young and inexperienced team. Of the 18 members, 13 are 25 or below. Hockey India

Current form, a phrase often used in cricket, has been the current team management's go-to answer to the questions raised about the team selection for the World Cup. A  few big names were left out of the World Cup squad, mostly because of injury concerns, as the team management revealed later. But there have been a few surprising inclusions, as well, which defy the pattern of selections over the last year-and-a-half.

While SV Sunil, Ramandeep Singh and Rupinder Pal Singh were left out due to "injury problems", Sardar Singh's exclusion even from the core group was surprising. The exclusion was not a surprise in itself — it was expected any day after the Rio Olympics. What defied logic was why, after he was not considered for selection for two major tournaments over the last year-and-a-half, was Sardar recalled for the Champions Trophy in June? If he was being given another chance, his selection in the Asian Games squad was proof that he had passed the test. But he was again excluded, following which he retired. Maybe, the team management and the selection panel felt that Sardar had lost his form — the form that he had suddenly regained before the Champions Trophy and astonishingly lost so close to the World Cup.

Young squad

Moving on from the retired former captain, India have decided to take a fairly young and inexperienced team into the World Cup. Of the 18 members, 13 are 25 or below, including the 19-year-old Dilpreet Singh. Only PR Sreejesh is in the 30s. However, age doesn't tell how experienced a player is. Except Hardik Singh, all other players are at least into double figures in their senior international careers. Six players have not reached 50 international caps, though that doesn't show the whole picture either. The perplexing aspect is the pattern of selections in 2018.
In the current team, Hardik, Dilpreet Singh, Simranjeet Singh and goalkeeper Krishan Pathak made their international debuts in 2018. Nilakanta Sharma first played for the senior team in August last year on a tour of Europe but didn't make another appearance till January this year in a four-nation tournament in New Zealand. Sharma and Simranjeet played another tournament after the four-nation event but were left out of the Commonwealth Games squad. Simranjeet and Dilpreet have been regulars in the team since, but Sharma played only 12 matches since March, six of those friendlies. Another Junior World Cup winning team member, Sumit, has 49 international appearances but only 12 since the CWG in April — six of those were friendlies. Hardik, Sharma and Sumit are part of the Indian midfield, which has been unsettled for long, proving to be a big concern for the team.

So, the question arises: what form is the team management talking about? The recent form — the Asian Champions Trophy and friendly matches? The form in big tournaments, which Hardik and Sharma haven't played, while Sumit last played in one eight months ago? Or is it the players' form in practice, and is it the right yardstick? "(Form from) every day," said India's analytical coach Chris Ciriello.

Best available

But if these players have not been consistent enough to hold their spots for six months, what form would they show at the World Cup? "Some of these players have come from the junior team, winning the World Cup at home. Some have played major tournaments. You have to select from the players you have, and the quality is what you have to select from," added Ciriello, who has been with the team since January.

Why were these players not given more exposure at the top level? "What we need to look at is the balance of what they have actually done. We have to take into consideration the fitness level," he said.

What about Hardik? Despite being in the national camp since early this year, he made his debut only in June in friendlies against Bangladesh and was seriously considered for tournaments only after the Asian Games, when Sardar was not considered anymore. "Hardik did train with us, he played against Bangladesh and South Korea," he added.

The former Australian drag-flicker praised Hardik, saying the 20-year-old was "probably one of the best midfielders we had at the Asian Champions Trophy". But he added that "playing hockey should be about your individual ability and how well you fit in the team".

Youngsters need  to step up

Ciriello insisted that it was time for the young players to step up. "When do you become a senior from a junior, and when do you play big tournaments? At some point, you have to step up," Ciriello said.

He took confidence from the way Hardik played at the Asian Champions Trophy. "First game against Pakistan — there is no game bigger in terms of pressure — Hardik was the best player on the ground. He has to step up, and so do the other players. We can't just rely on two-three senior players, because when they are off the field, then the other team will score," Ciriello said. "You need a good balance in the team… guys who can play in different positions and how they connect together. It's not about building a team around one or two players," he added.

However, some of the senior players have had consistency issues themselves. Kothajit Singh was not selected for the Champions Trophy and Asian Games and returned to the team in the Asian Champions Trophy. Goalkeeper PR Sreejesh has not been in top form after returning from a long knee-injury layoff. Meanwhile, Birendra Lakra has had recurring injury problems since making a comeback from a right-knee surgery.

However, India's training session on Tuesday suggested the players were feeling fresh in body and mind. They seem to have shaken off the Asian Games disappointment and are ready to step up.

Captain takes a call

Manpreet Singh is one of the most serious competitors on the pitch. Off the field, though, he likes to have a bit of fun. On Tuesday, during India's pre-match press conference, the captain was sitting idle, waiting for a question to come his way. But all the journalists were more interested in picking coach Harendra Singh's mind. At one point, while the coach was busy answering a serious question, a journalist's phone, placed in front of Manpreet to record the interaction, started ringing. Manpreet, a little amused, coolly disconnected the call. When the phone rang again, he decided to answer it. With a wry smile on his face, Manpreet asked the person to call later. "I don't know whose phone it was. I thought it could be an important call, so I took it," said Manpreet with a shy smile.

First match not easy

First matches are always tough at the World Cup. It is difficult to know what each team's intensity level would be at the start. India play the lowest-ranked team in their pool, South Africa, in their opening match. It could benefit India as a good start would help them shed the pre-tournament jitters. But playing a lower-ranked team in the first match is not always as easy as it looks. Top teams take their time to get into rhythm so as to peak at the right time; so, they are the most vulnerable at the beginning of a tournament. The minnows are eager to prove themselves; so, they come out all guns blazing, hoping to catch their opponent off-guard. But as the tournament progresses their intensity usually falls and their tactics no longer remain hidden. Also, the minnows have very little pressure on them, while the favourite team is cautious. South Africa are an attacking side, though they have fallen down the rungs. But they will come out hard at India. It will give the hosts counter-attacking opportunities. If India take their opportunities and then control the game, it should be a comfortable win. But if they don't score for a long period or concede first, India's composure will be tested; and an anxious Indian team makes silly, frustrating errors that end up costing them the match.

Today's matches

Belgium VS Canada, 5pm
India VS South Africa, 7pm

Live on Star Sports

Schedule pool phase and final phase




Final phase

Dec 10-11
Crossover Matches

Dec 12-13
Quarterfinals

Dec 15
Semifinals

Dec 16
Final

The Tribune


---

Coach Harendra defends selection of junior players in World Cup squad



India's chief coach Harendra Singh. File photo

India's chief coach Harendra Singh on Tuesday defended presence of several junior players in the squad for the FIH World Cup, saying they are good enough to create history.

The current Indian team has seven out of 18 players from the junior World Cup squad, which under Harenedra clinched the world title two years ago in Lucknow.
Junior players such as Harmanpreet Singh, Varun Kumar, Sumit, Mandeep Singh and goalkeeper Krishan Bahadur Pathak were selected in India's squad.

"Constitution gives us the right to marry after 18. So this is not a young team. It's a team that can create history," Harendra said on the eve of India's opening match against South Africa on Wednesday.

"You have to have patient. Selectors have considered the young players to be good enough to wear India colours, so we need to be proud of them. Every player in the team understands it. My advice to the players would be to stick to the basics and strategy and consider crowd as 12th man and use their energy," he added.

Citing the example of Ireland, who went on to win the women's World Cup earlier this year despite being rated as underdogs, Harendra said India first aim would be to top Pool C and qualify directly for the quarterfinals.

"Did anyone think Ireland will reach women's hockey World Cup final and Croatia will make it to FIFA World Cup final. Every team works on their strategy. It's about that particular day. We want to top the pool and avoid crossovers because then we will get an extra day and know who we will play in the quarters," the chief coach said.

Eight-time Olympic champion India's only glory at the World Cup came way back in 1975 at Kuala Lumpur when Ajit Pal Singh and his men created history for the past masters of the game.

Since then India has failed to match the standards of the Europeans — Netherlands, Germany — and Australia, who have been ruling the game for over four decades now.

The inability to defend the Asian Games title earlier this year will remain Harendra's biggest failure but the coach said that episode is a thing of the past now.

"The hard fact is that all of us have forgotten the Asian Games defeat and you should also forget. We learn from history, gain experience but there is no point recalling it. We took collective responsibility. We don't talk about it now in our meetings," he said.

Ranked 10 places above world no. 15 South Africa, India will go into their tournament-opener as overwhelming favourites.

"We understand that the first match is important in every tournament. It releases 40 to 50 per cent of pressure. We want full points from the first match. But for points, we can't forget and sacrifice the basics of hockey, the strategy," he said.

"We won't compromise on playing attacking hockey against any team. We want to think ahead of the opponents."      

With two matches scheduled for each day, there are significant gaps between matches in the 16-team World Cup and Harendra supported the format, saying it will help all the teams to come out with fresh legs in every game.

"I support this format as a coach. Hockey is a fast-paced, result oriented, highly demanding game. It (the gaps) will help us to come out with fresh mind and legs in every match," he said.

Conceding last minute goals has been India's perennial problem in the last few years but Harendra said it' is with all hockey playing nations.

"We always discuss India concede last-minute goal to lose. It has happened in the last 4-5 years, including the Asian Games. But that doesn't only happen with the Indian team. I can give you history where other teams also have lost the same way," he said.

The Tribune


---

Harendra: I enjoy pressure

s2h Team

Indian National hockey team's Chief Coach Harendra Singh is in upbeat mood. As India opens its World Cup campaign for retrieving it prestige -- which it lost when it failed to defend the title at Jakarta Asian Games -- the coach is all smiles, and says that he enjoys such a build up and the inherent pressure that a home tournament brings.

Bhubneswar is all set to host the big event, the event is getting wide media coverage. However, coach says that he has asked his players to stay away from it.

Speaking on the opener against South Africa, he said that he understands how important the first match in any tournament. "It releases 40 to 50% of pressure".

"We want full points in first match tomorrow. But for points but not at the cost of basics of hockey or the strategy".

"I expect the South African strikers will try to break us. But we have strategies in place", Harendera oozed confidence.

He also has some advises for the team. "Very few sportspersons get this chance to play the World Cup at home. It's a moment to enjoy. Put your best foot forward. It brings you new energy".

'It's a team that can create history. You have to have patience. Selectors have considered you good enough to wear India colours, be proud of it. Every player in the team understands it. Advise to stick to basics and strategy. Consider crowd as 12th man and use their energy".

Harendera's aim is to qualify for the quarterfinal with all win record in the pool. "We want to top the pool and play in crossovers. You get an extra day then and know who you will play.

While stating clearly that he is not under any pressure, he terms the coming there weeks are important for him. "These coming three weeks are going to be the best moments of my career".

India's in Pool C with teams from different continents: American (CAN), African (SA), European (BEL) and Asian continent (IND). Says Harendera: "In every match therefor, we have to play different kind of hockey. We have done our homework".

Stick2Hockey.com


---

'Good start releases pressure', says India coach Harendra

Harendra says team will follow different plans in pool stage

Y.B. Sarangi



Ready for the challenge: Captain Manpreet Singh and coach Harendra Singh, right address the media . 

Well begun is half done, believes India chief coach Harendra Singh as the host is ready to cross swords with South Africa in its opening Pool-C match of the Hockey World Cup on the sparkling new turf of the Kalinga Stadium here on Wednesday.

Harendra expressed confidence that his young side would play positively.

"The first match is important. It releases 40 to 50% of pressure (if you win). We want full points tomorrow, but can't forget the basics and the strategy," said Harendra, addressing the media here on Tuesday.

"I expect their (South Africa) strikers to try and break us, but we have strategies in place.

"We will not compromise on playing attacking hockey and will think ahead of the opponents."

According to Harendra, India will follow different plans in the pool stage.

"It's a unique pool. All four teams — Canada, South Africa, Belgium and India — are different. We have done our homework."

Supports the breaks

Supporting the big gaps between matches, Harendra said India would use the breaks to return to the turf with fresh body and mind.

Harendra, who guided the Indian team to the Junior World Cup win in 2016, said his young side had put behind the disappointing third-place finish in the Asian Games and would focus on ball possession.

India captain Manpreet Singh pointed out that the team had become better.

"We have won bronze in the Hockey World League and then silver in the Champions Trophy. We have to show we have improved," said Manpreet.

South Africa coach Mark Hopkins said that India would be under pressure.

"Being the host nation, there is pressure on India's shoulders. We have the squad, skill and tactics to play good hockey," said Hopkins.

The Hindu


---

Harendra Singh's head is on the chopping block; Indian coaches have always been disposable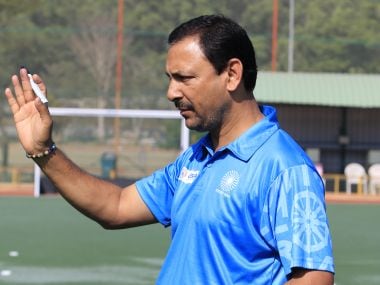 File image of Harendra Singh. Image Courtesy: Hockey India

India coach Harendra Singh is well aware that his head is on the chopping block as the country gets ready to stage the 14th edition of the World Cup and what has not helped is the prevailing angst among the hockey bosses at the team's failure to win the Asian Games gold medal.

Nearly a decade after India put their faith in foreign coaches, and gave them leeway even after disastrous World Cup outings in 2010 and 2014, nothing seems to have changed for the coaches carrying Indian passports. If the Indian team is not able to punch well above its weight in this World Cup, and thereby bring a smile to the faces of the big bosses of Indian hockey, the axe may come out of the velvet-lined box.

In the eyes of Indian hockey bosses, coaches have always been a disposable commodity. With hundreds of ex-Olympians to choose from, irrespective of them having any coaching credentials, the national coach used to be a post-retirement benefit for former stars.

Long after the world had surged ahead, Indian hockey decided to put on the garb of professionalism. Long-term vision was not something the chiefs of Indian hockey boasted of. Sacking of coaches is the favourite pastime of the men who professed to guide the destiny of Indian hockey. This was the fate of Indian coaches, although long-term outlook of foreign coaches were acceptable.

Notwithstanding that the service terms of hockey coaches in India always had a dismissal clause written in bold letters, a poor show in the World Cup was not considered reason to send Jose Brasa (2010) and Terry Walsh (2014) packing. Both of them got directed to the exit gate within a year of those debacles, but the reasons were different. Brasa's term ended with India's failure to win the Guangzhou Asian Games gold medal — a sin that the team under Harendra has already committed.

Walsh guided India to the Asian Game gold medal at Incheon in 2014, but paid the cost of considering himself indispensable thereafter. Walsh wanted to call the shots and rewrite his own contract, and that led to hara-kiri. To Hockey India's credit, foreign coaches now deserve a treatment no different from their Indian counterparts. We are not talking about the salary here.

Failing to retain the Asian Games gold medal and thereby secure passage to the 2020 Tokyo Olympics, Harendra's squad has already muddied the waters. A World Cup at home prevented large-scale changes, but some seasoned players were shown the door. It is the worst-kept secret of Indian hockey that the national coach is living on borrowed time and even the squad given to him may have come through other channels of approval.

Harendra may have brought in effective communication with the players — after all he speaks in a language understood by most players — but the squad selection seems to have strange connotations. With the over-indulgent inputs from Hockey India's High Performance Director placing speed over the ability to get into the right positions, the selection qualification for the national squad has been confined to two words: young legs.

For a man facing the possibility of execution, Harendra is quite relaxed and composed, even nonchalant. He claims that he "relishes pressure" and always "lives in the present."

The Indian squad is aware that a good show in front of indulgent home fans and a quarter-final appearance that is within reach of this squad could make it a fruitful World Cup. But then, Harendra is used to the mood swings of hockey administrators in this country. He has been there before a couple of times and tasted the bitter medicine. If his wards can use the momentum of the crowd support and prove their mettle, it could be the biggest moment for the coach who saw opportunity slip out of his hands in the 2000 Olympic Games and the 2010 Asian Games, where he was an assistant coach.

Forget the boasts of India being among the top six nations in world hockey today, there is considerable worry within the Indian federation that India faces up uphill task to qualify for the Olympic Games after squandering the chance to earn the one spot on offer at the Asian Games. When Japan, the 2020 Olympic hosts, won both the men and women's Asian Games titles, that one spot for the Asian champions went to the general world pool. Olympic qualification from here onwards can be an uphill task.

Firstpost


---

With synergy between forwards, midfield and defence, India can get over dark day at Jakarta

Sundeep Misra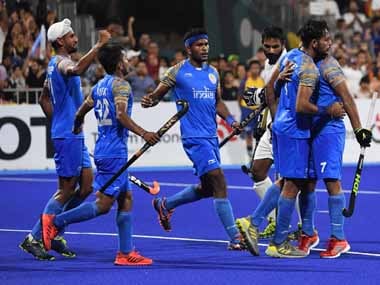 India players celebrate a goal against Pakistan during the bronze medal match at the 2018 Asian Games. AFP

On a sun-filled afternoon, 28 June, in Breda, Netherlands, Harendra Singh leaned against the fence of Pitch No 2 generally chatting about the Indian team and the upcoming World Cup. The conversation revolved around player strengths and how playing at home affects a team.

At that moment, Argentina had just equalised against Pakistan. By the time our conversation ended, Pakistan had beaten Argentina 4-1; by any standards a big victory and a stunning upset. Except that Harendra refused to call it an upset.

"It was coming," he said. "Teams are by and large dependent on players utilising unused channels in key games. I have seen Pakistan and when they are in the mood, or for that matter any team in the top six or eight, they can create a stunning upset. You need the players, their intelligence to be able to figure out that moment in the match that can turn things around.

"Otherwise, we all rotate and look for openings. Beyond that coach talk and drawing board, players need to feel and seize the moment. In a big tournament, that's what a team needs and should do," he added.

Mubashir Ali, Ajaz Ahmed and Muhammad Aleem Khan did that exactly, cutting and dissecting the Olympic champions' defence to create a memorable win.

In Bhubaneswar in their first practice game against Argentina, India played at half pace, once in a while pushing themselves against an opponent more jet-lagged than match-ready. But in moments in each of the quarters, you could see movements that brought a new meaning to fluidity and the swift filling in off space between the forwards and midfield and that crucial area between midfield and defence.

Space is utilised by both teams, but the one to create makes it pivotal and decisive in a tournament like the World Cup. One cannot look at the 5-0 scoreline against Argentina in a training game seriously but it gives you a glimpse of what can be achieved.

"In essence, I have a team that can do that," explained Harendra in Bhubaneswar. "There are times when they can switch effortlessly from a seemingly defensive position to complete attacking mode. The mix is crucial and we believe we have that mix of experience and youth."

Maybe, it's time to move on from that one dark day in Jakarta and look at what can be achieved here at The Kalinga. There are detractors. But then there are the hopeful sprinkled in with the optimists that India can ride on the energy and strength of buzzing and roaring 15,000 rabid fans. The answers lie in the coming together of the three components of a team — forwards, midfield and defence.

Akashdeep Singh, who will play his 175th international against South Africa, leads this bunch of skillful forwards and it is his own position that will be most critical. There has been a change in attitude and sense of positioning since the failure at the Commonwealth Games. Akashdeep darts into empty spaces to give the opportunity to others to create their own before flicking the ball back into scoring positions.

More and more, he is being used as the link between the midfield and the poachers. Running wide, or cutting in, Akashdeep has the ball skills to hold and release at pace. In short, when he has the ball, situations and opportunities are created. Slightly in the same mode is Lalit Upadhyay, a mix of a midfielder and a forward, but with an eye for goals. Lalit, with 89 matches under his belt and the experience of the last World Cup, understands the mix in the striking circle and usually when alone slips through to the head of the pack and right in front of goal.

Mandeep Singh and Dilpreet Singh are the pure strikers and a lot is expected of Mandeep, who has already played 125 matches and was a member of the 2014 World Cup side, much before winning the gold in the 2016 Junior World Cup. Of late, the team has worked on his positioning in the striking circle and he has come a long way.

Mandeep would be looking to more moments like the hat-trick against Japan in the 2017 Azlan Shah where he brought back the Indian side from the brink of defeat to a memorable victory. Dilpreet feeds off through passes; unless, there is a strike from the top of the circle. Along with Simranjeet, he is the youngest in terms of match experience (24 games), he has a lovely understanding and that was brought to the fore in the Champions Trophy against Pakistan when Simranjeet, with the ball in the middle of the pitch, did a turn and slipped the ball onto the left flank as Dilpreet beat a defender on pace, picked the ball and slid it past the Pakistan goalkeeper.

As Harendra pointed out in his conversation, it was a turning point, a moment was seized. In all, the forwards have played 448 matches and scored a combined 156 goals, good enough for a potent combination to emerge.

At the core of the team as Harendra and a host of other coaches call the engine room, India's hopes are collectively held by captain Manpreet Singh, Neelakanta Sharma, Hardik Singh, Sumit and Chinglensana Singh. It's also the mix of youth and experience where you have Manpreet with 238 matches and Hardik with just six and playing in his first World Cup.

The touches at the Asian Champions Trophy showed maturity beyond his 19 years and hopefully feeding off the fans at The Kalinga, Hardik could emerge as the next big thing in Indian hockey. For many a big stage is all they need and what can be bigger than a World Cup in your own backyard?

Neelakanta, as Harendra explained, came into the team for his attacking prowess but more so for his defensive abilities. Neelakanta has played 25 matches with a style similar to that of Chinglensana where attack and fall back have the same pace. Sumit, who will play his 50th international on the opening day of the World Cup, will also be key on the right flank, overlapping and cutting off the opponents attack in India's half. With his pace, counters could be potent; though there is a tendency of Sumit going flat in certain portions of the match.

It's the captain Manpreet who will hold this midfield together. Inspirational and aggressive by nature, Manpreet does at times give one the feeling of playing defensively and falling far too back but he has the vision of creating channels through the middle of the pitch, dragging the ball and scoring on his own or at least creating those penalty corners. However, a lot also depends on his ball holding skills so pivotal in matches against top opponents.

"Defensive duties are a must," said Harendra, while explaining the difference between being ultra-defensive and manning your area when under the threat of a counter-attack. "Of course, there are times when you have to soak pressure. You need that moment for a counter of your own and you bring in the opponent to create that moment for a strike or a PC. Except for keeping a forward upfront, all the players can fall back in seconds. But we have a tight unit at the back and I am confident that with players like Lakra, Kothajit and Surender, errors will be less."

It's in the defence where experience is rich — a total of 675 matches between Harmanpreet Singh, Varun Kumar, Surender Kumar, Amit Rohidas, Kothajit Singh and Birendra Lakra. But it's when Lakra cleared the fitness test Harendra would have heaved a sigh of relief when. Amongst them all, like in the Breda Champions Trophy, he was immaculate, focused and flawless in his tackles. There are times when Lakra gives you the feeling of threading a needle on the run when he picks the ball of a forwards stick.

In the same mould is Surender Kumar who also does get adventurous when advancing on the right flank and suddenly you would find him on the touch line of the opponents striking circle. Harmanpreet's natural skills make him a delight to watch when prancing out of the striking circle and sending in those long hits. Kothajit, with 186 caps, is the one who looks out for stray balls inside the Indian striking circle. But his experience will help steady the ship when under pressure. Varun and Amit do get jittery in moments but yet again it's the rolling substitution that also plays a pivotal role.

Penalty corners form the bulwark of any team which is still a work in progress. In the 218 matches combined that Harmanpreet, Varun and Amit have played they have scored a total of 71 goals; there but not quite there.

Yet it is Harmanpreet who would lead this brigade. His play is full of unexpected angles and at times he seems to be playing three to four different roles — defender, attacker, the high-ball visionary and the flicker. Right behind him, roaring away, would be the talismanic goalkeeper PR Sreejesh. At 204 caps, the second most experienced player in the team, his role is usually taken for granted; that's how good he can be in moments of stress. Check the figures and the tight ones that India win, Sreejesh usually pulls off eight saves out of a possible 10 shots on goal. Consistency may have come down a notch or two but he remains 'the last man standing' for India in encounters where defending in numbers seems to be the only trick in the book. India love substituting their goalkeeper at the break. But a wise man once said, 'Your best is always your best.'

The word brittle is used a lot for India. But for a team that has the combined experience of 1,865 matches between them, solidarity between the three key components, looking out for, as Harendra stressed, 'key moments', it will be good to change the narrative for those 15,000 fans that troop in. Maybe, we will hear them say 'I saw them win' from the usual 'I was there.'

Firstpost


---

Ireland men's team must take inspiration from women's side's success in Bhubaneswar



Ireland's hockey team pose for a photograph before leaving for Bhubaneswar for the 2018 Hockey World Cup. Twitter/@irishhockey

Ireland men's hockey team aims to call upon the spirit of the women side's heroic summer when they embark on their own tournament odyssey in Bhubaneswar.

The Irish women won silver in the World Cup final a few months ago and now it's time for the men's team to show their mettle on the field.

Ireland begin their campaign against defending champions Australia on Friday, with Pool games against China and England deciding progression to the knock out stages. The team's preparations have included two wins over England, before suffering a heavy 1-7 loss to the Netherlands.

South African Craig Fulton ended his decade-long association with Irish hockey ahead of the mega event to take up the position of assistant coach with the Belgium national team. Dutchman Alexander Cox, who helped steer the Dutch women's national team to gold at the 2012 Olympics in London, has been handed the responsibility of leading the Irish men into the World Cup in India.

In a recent interview with the FIH, Cox expressed satisfaction with the squad. "The camps we had in Ireland and overseas were very good and allowed me to see the potential of all the players in our training panel. The 20 players selected give me the most options in defence, midfield and attack," said Cox.

While Cox admits emulating the feat of the women's national team by reaching the World Cup final is 'almost impossible', he says they can certainly take huge confidence from the way Graham Shaw's history-makers defied the odds and achieved their dreams in London.

"Maybe when the tournament starts, people will compare it (the Women's World Cup), but I think we need to be reasonable and you can't compare the two tournaments with each other," said the 40-year-old.

Having finished 12th in each of their last two World Cup appearances, in 1978 and 1990, Ireland know they have a massive challenge against some of the top guns.

"It also difficult to compare men's and women's hockey. In this competition in India, maybe seven or eight teams can become world champion. Therefore, the competition is massive. What we can learn from the women is that you can dream big and that's what we are also trying to do. We're going to dream big and see what happens," the coach concluded.

Squad: David Harte, David Fitzgerald, Jonathan Bell, Paul Gleghorne, Luke Madeley, Conor Harte, Stuart Loughrey, Matthew Bell, Lee Cole, Shane O'Donoghue, Michael Robson, Kirk Shimmins, Sean Murray, Chris Cargo, Daragh Walsh, Matthew Nelson, Mitch Darling, Eugene Magee, Alan Sothern and Jeremy Duncan.

Firstpost


---

Ireland look to add to incredible story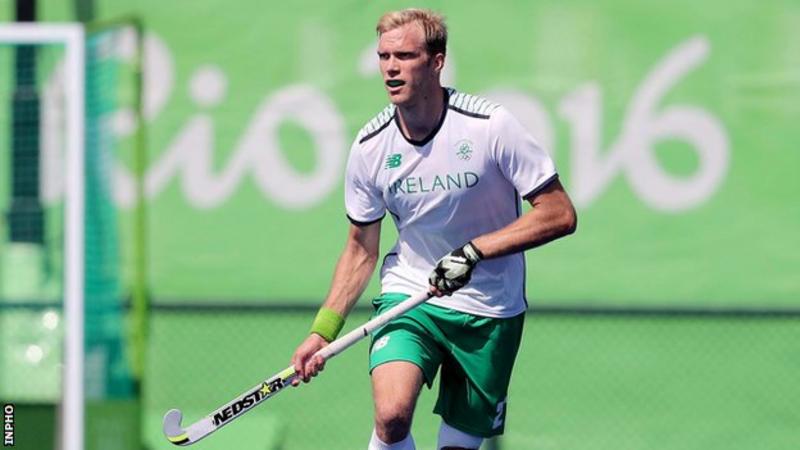 Conor Harte in action at Rio 2016. Ireland qualified for the Olympic Games for the first time in 2016

Ireland defender Jonny Bell hopes the team can add to the 'incredible story' of Irish hockey at the 2018 World Cup.

Ireland face Pool B opponents Australia, England and China at this year's tournament in India.

The Irish women's team had a fairytale run to the World Cup final in summer and Bell wants to add to their success.

"The girls have just added to the incredible story of Irish hockey over the last five or six years," said the men's skipper.

"With both teams now in the top 10 in the world, playing at Olympic games and the girls doing so well in the World Cup it's a great time to be involved in Irish hockey."

The opening match against defending champions and world number one side Australia will be Ireland's toughest fixture of the pool stages in Bhubaneswar.

Ireland, who are 10th in the world, will also face seventh-ranked England and minnows China, who are 17th in the rankings going into the tournament.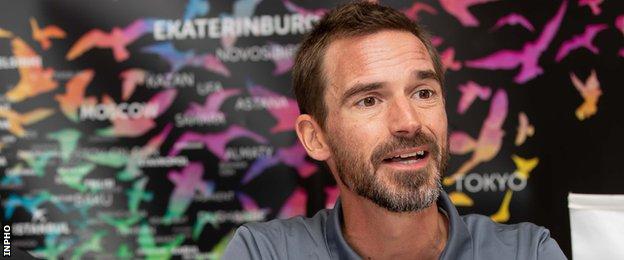 Alexander Cox was appointed as the new Ireland men's head coach in July

The start of a new chapter

The departure of coach Craig Fulton in May and the arrival of his successor Alexander Cox was hardly ideal preparation for the side but Bell has been encouraged by how the squad has responded to the new management team.

"I suppose everybody has upped their game. I think with the new coach coming in people are out to impress and it is a very competitive environment," added Bell.

"He's fitted in seamlessly to the group. He's really encouraged us to bring out our strengths and he's trying to build on the platform and the basis that we already have as a team.

"Craig's chapter as coach is a very special chapter in the history of Irish hockey but I'm absolutely convinced that this could be even more special over the next phase."

Ireland's Hockey World Cup pool fixtures
Australia    Friday, 30 November    11:30 GMT
China    Tuesday, 4 December    13:30 GMT
England    Friday, 7 December    13:30 GMT

In preparation for the World Cup, former Netherlands assistant coach Cox took charge of the team in a Four Nations invitational tournament in Spain, with Ireland finishing third following a penalty shootout victory against England.

"The main thing for me is that I want to have a good defensive structure first of all. I like to work on keeping a clean sheet and from there go on to work on the attack," said Cox.

"So I like the counter attack game, of course you need to work on things on the ball as well but when you see my teams play you tend to see good defending teams with a good counter attack.

"That's my first aim on the field and then second of all I need leadership within the team. The players need to take ownership of their game and of the team itself."

Quarter-final target

Ireland have finished 12th in both of their previous World Cup appearances but this is the first time they have qualified for the tournament since 1990 and the team has been set an ambitious target by their new coach.

The four pool winners will automatically qualify for the quarter-finals with the second and third-placed teams advancing to the crossover round that provides a further four last-eight spots.

"That is our aim - to at least reach the crossover matches and then reach the quarter-finals. I think we have a fair chance to do so," stated Cox.

"Of course, Australia is a big clash against the number one team in the world, England is going to be a tight game and China, if you look at the world rankings, that should be a win but in men's hockey you can't say that it's going to be that straightforward."

A quarter-final finish would represent another significant step forward for the Irish team and would also boost their chances of qualification for the 2020 Olympics in Tokyo.

The performance of the women's team in London has raised the bar for the men's side but Bell is confident they can step up to the challenge: "I think teams know when they play Ireland that they're going to get a dogged, tough opponent and we don't fear anybody.

"If we go out there and play to our strengths and bring our strengths I think we can be a match for anybody in the world."

Ireland's opening Pool B match at the 2018 Hockey World Cup against Australia takes place on Friday, 30 November at 11:30 GMT.

BBC Sport


---

England prepare for opener against China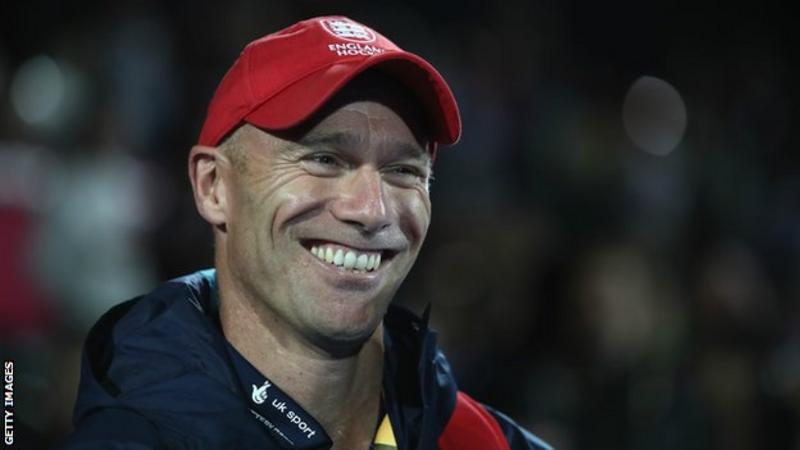 Making it through the World Cup group stages is the first goal for new England coach Danny Kerry

England's men start their Hockey World Cup campaign on Friday with new coach Danny Kerry aiming to better their fourth-place finish four years ago.

They face defending world champions Australia as well as Ireland and China in a tough pool in Bhubaneswar, India.

Belgium and Canada kick off the tournament on Wednesday, with hosts India in action as well.

England have never won either the men's or women's World Cup, which is the biggest event outside of the Olympics.

And Kerry knows it will be no easy task to progress to the knockout stages.

"We have to play exceptionally well to get out of the group and beyond that we'll see where we are," he told BBC Sport.

"It's about doing the job to get out of the group and then we'll reset our goals. It's not my style to say we'll win it!"

One year - two World Cups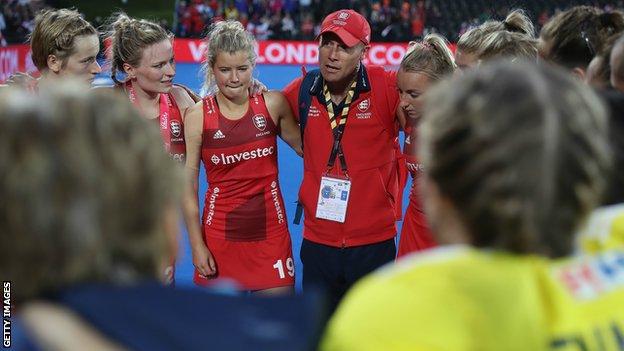 Danny Kerry speaks to his England players at the women's Hockey World Cup in London in July

It is Kerry's second World Cup of the calendar year. He took England's women to the quarter-finals of their tournament in July in London before switching to become the men's head coach midway through August.

"It's quite exciting. Personally it's my second World Cup in a short space of time and that's a huge workload," he said.

"However, the fellas have been fantastic in terms of their openness and their willingness to try and that's made it a really enjoyable experience over the last eight weeks. We're looking forward to it."

Kerry enjoyed incredible success at the helm of the Great Britain women's programme - winning the 2015 European Championships with England and then the 2016 Olympics with Great Britain.

After men's head coach Bobby Crutchley stepped down in May, Kerry jumped at the chance to take up the task of moving England's men up the world rankings from their current standing of seventh.

A fresh approach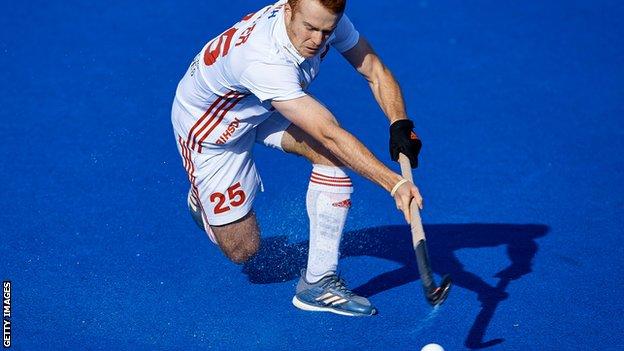 Jack Waller, 21, is one of a handful of new young faces in England's World Cup squad

The World Cup is Kerry's first major squad announcement in the role and he has not shirked the big decisions.

There are nine Rio Olympians in the squad but Henry Weir, a veteran of more than 150 international caps, is one of the most notable omissions from the squad in favour of some up-and-coming talents, such as 21-year-old Jack Waller and 19-year-old Zach Wallace.

"We've basically picked what we think is currently our best 18 rather than looking to the future," said Kerry.

"The inclusions of the likes of Zach Wallace and Jack Waller are because they've been the best players."

At the other end of the scale, Barry Middleton has been picked to compete in his fourth World Cup and will be looking to add to his record 425 international caps as he closes in on the all-time record of 453, held by the Netherlands' Teun de Nooijer.

Ones to watch

Inevitably, much of the talk will be about reigning champions and world number one side Australia. The Kookaburras won the 2014 final, defeating the Netherlands 6-1 in front of a stunned home crowd. Despite a turnover of players and some tweaks to their playing style they are still expected to pose a significant threat.

Another pre-tournament favourite comes in the form of the European champions, the Netherlands.

The Dutch have been drawn in a potentially tricky pool with Germany, Malaysia and the unpredictable Pakistan.

But with a side boasting the penalty corner threat of Mink van der Weerden, the goalscoring prowess of Mirco Pruijser, the guile of rising star Jorrit Croon and the recalled Jeroen Hertzberger - a man with more than 100 international goals - the Oranje have the firepower to be a threat to anyone.

England's group fixtures

(all times GMT)

30 Nov: England v China, 13:30
4 Dec: England v Australia, 11:30
7 Dec: Ireland v England, 13:30

Ireland's group fixtures

30 Nov: Australia v Ireland, 11:30
4 Dec: Ireland v China, 13:30
7 Dec: Ireland v England, 13:30

BBC Sport


---

World No 12 Malaysia will be looking to impress despite being drawn in tough group

As the World No 12 team, Malaysia are the best-ranked Asian outfit after India at the 2018 Hockey World Cup. What will also bolster their confidence coming into the showpiece event is the fact that the team won silver at the recent Asian Games in Jakarta-Palembang, finishing even above traditional continental heavyweights like India and Pakistan.

The team will also come into the tournament with a lot of technical know-how given that it is coached by Roelant Oltmans, who has in the past been at the helm in both India and Pakistan.

The Dutchman was hired by the Malaysian Hockey Confederation after the Asian Games, where the team caused ripples by upsetting India in a penalty shootout in the semi-final before agonisingly losing to Japan in the final.

While the Asian Games silver will come as an indicator that things are going well for the Malaysian hockey team, their performance at the Asian Champions Trophy was also heartening. They held a rampaging India, who had been scoring goals at will against other teams, to a goalless draw in the group stage and only lost to Pakistan in the semis in a shootout. They then took revenge on Japan for the Asian Games final defeat by beating them in a shootout in the 3rd-4thplace playoff.

In an interview with Firstpost last month before the ACT, Oltmans had said that the MHC had set him a target of qualifying for the 2020 Olympics, which will be held in Tokyo.

"We now also have to start keeping an eye on the Olympics as well. Malaysia already have a good structure, besides as their players showed at the Asian Games, they are a good quality team. But we're working on the team's ability to change strategy mid-way through games, should things not be going our way

A good indicator of how good they really are will come at the World Cup, where they are in probably the toughest pool — Group D, where Pakistan, Netherlands and Germany also lurk.

Malaysia squad: Norsyafiq Sumantri, Muhamad Ramadan Rosli, Muhammad Marhan Jalil, Mohd Fitri Saari, Joel Samuel van Huizen, Faizal Saari, Syed Muhd Syafiq Syed Cholan, Sukri Mutalib, Muhammad Firhan Ashari, Muhammad Amirol Aideed Mohd. Arshad, Nabil Fiqri Mohd Noor, Kumar Subramiam, Muhammad Razie Abd Rahim, Faiz Helmi Jali, Muhammad Azri Hassan, Meor Muhamad Azuan Hasan, Muhammad Hafizuddin Othman, Tengku Ahmad Tajuddin, Nik Muhammad Aiman Nik Rozemi, Mohammad Hairi Abd Rahman

Firstpost


---

Oltmans owns his title without airs and feels at home in Malaysia

By Aftar Singh

KUALA LUMPUR: Malaysia hockey coach Roelant Oltmans has only been in the country for almost two months – but he can't help but feel that he's the boss.

That's because everywhere he goes, people call him "boss".

The 64-year-old Dutchman said that he's surprised by how often he is addressed that way by the courteous people here.

"I didn't know that Malaysian people like using the word boss. The Malaysian culture is unique as regardless of one's position, occupation or relationship, they have their own special way of calling each other using the word boss," said Oltmans.

"It feels nice when people call me boss.

"It also feels nice that people in Malaysia know who I am.

"I feel like I'm a boss in Malaysia," said Oltmans.

"I like Malaysia very much as the people here are very friendly and I love the multicultural society in Malaysia.

"It's easy to communicate with the people here and I feel like I'm in my own country.

"It's also easy to drive down to Kuala Lumpur on Sunday as there's not much traffic compared to when I was coaching in India," said Oltmans.

"It can take hours to go from one place to another in India. But in Malaysia, it's so easy to move around.

"I also enjoy the variety of food in Malaysia.

"It's delicious and you have many choices of Malay, Chinese and Indian food," said Oltmans.




"I went to Pertama Complex last weekend and people from all over Asia were shopping in the mall.

"I also went to Mid Valley Megamall and the atmosphere there was totally different than in Pertama Complex as Mid Valley is for people of higher society compared to Pertama Complex.

"But I like both these malls," added Oltmans.

He has 29 years coaching experience and his first major victory was guiding the Holland women's team – which he coached from 1989 to 1993 – to World Cup success in Sydney in 1990.

In 1993, he took charge of the Dutch men's team and guided them to the gold medal at the 1996 Atlanta Olympics after defeating Spain 3-1 in the final.

In 1998 he led the Holland men's team to a World Cup triumph in Utrecht, Holland.

Oltmans then ventured into football, becoming the technical director of NAC Breda until 2002. He was appointed Pakistan coach for the 1994 Athens Olympics and he held the position until the end of 2004.

In 2005, he returned as coach of the Holland men's team until the 2008 Beijing Olympics.

In 2013, he joined India as the High Performance manager and two years later he was appointed India's national coach until the end of 2017.

Oltmans returned to Pakistan as the chief coach in March this year but he quit after they failed to finish on the podium at the Asian Games in Jakarta in September.

He was appointed chief coach of the Malaysian team on Oct 1 and his task is to help Malaysia qualify for the 2020 Tokyo Olympics.

Oltmans has a two-year contract and his main task now is to help Malaysia finish in the top 10 in the World Cup starting today at the Kalinga Stadium in Bhubaneswar, India.

The Star of Malaysia


---

Roelant can help Malaysia roll with the punches in group of death



Safe hands: S. Kumar.

KUALA LUMPUR: New coach, new inspiration.

But can vastly experienced Roelant Oltmans, hired as Malaysia coach on Oct 1, guide the Tigers to a top-10 finish in the 16-nation hockey World Cup starting today at the Kalinga Stadium in Bhubaneswar, India?

Malaysia must redeem their battered pride after finishing last among 12 teams at the last World Cup in The Hague, Holland, in 2014. It was Malaysia's worst-ever outing in World Cup history as they lost all six matches.

The Malaysian Hockey Confederation (MHC) hired Oltmans as they have faith in the 64-year-old Dutchman, who is one of the world's most respected coaches having plied his trade in Europe and Asia.

His first challenge will be to help Malaysia finish in the top three in Group D to qualify for the second round.

Malaysia are in the group of death as they face three former world champions in their quest to finish in the top 10.

Malaysia, ranked 12th, open their campaign against three-time champions and World No. 4 Holland on Dec 1, followed by four-time world champions and world No. 13 Pakistan (Dec 5) and two-time champions and world No. 6 Germany (Dec 9).

Oltmans said that as the World Cup is the year's last competition, he expects his charges to shine.

"We understand that we're in a very difficult group, so our first aim is to get into the next round. We'll try by performing at the very top of our game."

"Once we achieve this aim, we will reset our goals for the next stage," said Oltmans.

He added that the Malaysia players must realise from the start that they need a different approach as they'll be facing the world's best teams.

"I only had a short period of time with the Malaysian team and we've tried to improve our attacking and defensive structure. We build the team's structure around the players' qualities.

"We prepare ourselves in the best possible way, which means we have to play smartly, energetically and with confidence.

"We'll play an attacking game, combining team effort and good individual play to get the desired results," said Oltmans, who guided the Holland women's team to World Cup success in 1990 and repeated the feat with the men's team in 1998."

The Malaysian team are not short on experience as they have 11 players who are featuring in their second World Cup with eight of them having represented Malaysia more than 200 times.

Those playing in their second World Cup are goalkeeper S. Kumar, defenders Muhd Sukri Abdul Mutalib, Muhd Razie Abdul Rahim and Faiz Helmi Jali, midfielders Mohd Fitri Saari, Mohd Marhan Jalil, Nabil Fiqri Mohd Noor and forwards Tengku Ahmad Tajuddin Tengku Jalil, Faizal Saari, Muhd Firhan Ashari and Mohd Ramadan Rosli.

Malaysia are banking on penalty corner specialist Razie and nippy forward Faizal to deliver the goals.

Malaysia also need to finish in the top 10 to improve their world rankings as they have been ranked 12th for a few years.

Improving their rankings is also important for Malaysia to get a favourable draw for the World Series next year, a qualifying tournament for the 2020 Tokyo Olympics.

Malaysia's best-ever outing in the World Cup was finishing fourth in Kuala Lumpur in 1975.

Asked which country is the favourite to win the World Cup, Oltmans said it will be one of the top six teams.

World No. 1 and reigning world champions Australia are drawn in Group B with China, England and Ireland while world No. 2 and 2016 Olympic gold medallists Argentina are in Group A with France, New Zealand and Spain.

World No. 3 Belgium are in Group C with world No. 5 India, Canada and South Africa.

Belgium face Canada in the first match today and followed India vs South Africa.

The stage is all set for the Malaysian Tigers to roar in the World Cup and make the country proud.

The Star of Malaysia


---

Hockey World Cup Memories: Former captain Ajitpal Singh recounts leading India to title glory in 1975

Ajitpal Singh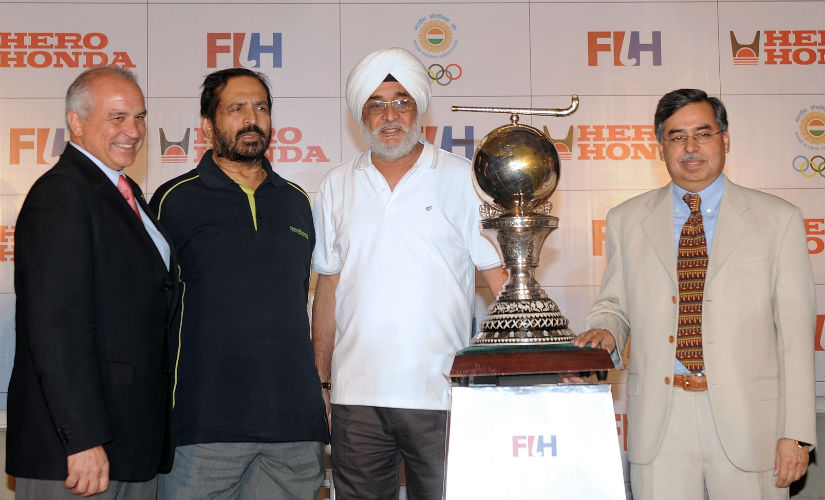 Ajitpal Singh (third from left) is India's only World Cup-winning captain. File/ AFP

Ajitpal Singh represented India in three World Cups (1971, 1973, 1975), and is country's only World Cup-winning captain. A three-time World Cup medallist (Bronze in '71, Silver in '73, Gold in '75), three-time Olympian (1968, 1972, 1976), and a two-time Olympic bronze medallist ('68, '72), Ajitpal Singh is also a recipient of Padma Shri. He spoke to Shantanu Srivastava.

I consider myself very fortunate and honoured to have led the team that won the World Cup. Our performance in that tournament speaks for itself. We were clearly the best team in the world then. Between 1975 to now, there were times when our hockey team was ranked as low as ninth or tenth in the world. I see a lot of improvement in the team; the boys are fitter and sharper, but we can't really compare them to the team we had in 1975. Back then, we were always among the top three teams in the world.

Our standards began to fall particularly after the advent of artificial turf. Though international hockey began to be played on astroturf in 1976, the trials started in 1971-72. That's when the FIH had asked all hockey-playing nations to get turfs, but India didn't report a single turf field before 1981 for the Asian Games. So, for a long time, we didn't have players who were fully equipped to play on turf. Turf hockey is faster, and it entails different skill sets. Our team today is very well-equipped to handle these changes, thanks to the efforts put in by a number of coaches in the recent past.

My World Cup journey started in 1971 with the inaugural World Cup in Barcelona. I was the captain of the side and we finished third. We had a very good team but all the players were very young. Still, we were doing well in that tournament until we did a stupid mistake in the semi-final against Pakistan and lost. So, we could only manage to come home with a bronze.

The 1973 World Cup was my second. It was held in Amstelveen in Holland. This was one of the strongest team India has ever sent abroad; very fit team, very balanced squad. We had every ingredient to be world champions, except, we couldn't do it.

We were capable of beating everyone, and we very nearly did, but sometimes in major tournaments, luck also plays its part. In the final against hosts Netherlands, we were leading 2-0 at one stage, when one of our goals was disallowed. Then, they came back in the second half and equalised. In sudden death, we got a penalty stroke which we missed with only two minutes to go. In the end, we lost on penalties. We had everything going for us until the final, but sometimes despite your best efforts, winning is not possible.

In 1975, the base of the team was ready since most players who played in the 1973 World Cup, played two years later in Kuala Lumpur. This time, we did what we couldn't do in 1973. The boys were talented, hungry, and they knew how to win a match. The boys had all matured and hit their peak in 1973, and same was the case in 1975.

We had a training camp in Chandigarh that was sponsored by the Punjab government. Balbir Singh Senior was our manager and Gurcharan Singh Bodhi was our coach. The training camp was excellent, and we knew we were the best team in the world. It was grass hockey, which was our strength, and we never looked back.

The semi-final against Malaysia was a tense affair. We were losing 1-2 against the run of play in the second half. Surjit Singh was having a bad day. We got a few penalty corners but Surjit couldn't convert. He used to hit to the left corner of the net, and their goalkeeper knew it, so he was able to defend. With ten minutes to go, Michael Kindo was dropped out and Aslam Sher Khan was introduced. It was an inspired move.

Aslam used to hit to the right of the goalkeeper, but the Malaysian custodian didn't know anything about him. He got us the equaliser and the match went to extra time where Harcharan Singh got the winner. It was a very, very tense game. There was a lot of crowd at the stadium, all rooting for the hosts, obviously. There was a huge India diaspora in Malaysia too, but we barely had any support from the crowd, probably because a minister had apparently claimed that anyone found supporting India in the semi-final will be penalised.

The final against Pakistan, as expected, was a high-pressure game. India-Pakistan matches always have that extra edge, and it was no different in my time. They were a very strong side; in fact, back then we had only four good teams – India, Pakistan, Holland, and Germany. Other European teams and Australia came in much later.

We were the traditional rivals and both of us had very good players. They feared us, and we feared them – both teams were that good. They had a very strong and balanced team; their attack and midfield were excellent. We won that game 2-1 in regulation time. We realised our potential.

The celebrations back home were unbelievable. We travelled across the country and were given grand receptions and dinners everywhere. It was a special win.

I wish the Indian team all the very best in their pursuit for the World Cup. I think we should be rational in our assessment of India's chances. We are certainly very good in Asia, but World Cup is a different ballgame. I will be very happy if they reach last-four.

It's great that Bhubaneshwar is getting to host a World Cup because Odisha and Jharkhand have been a hockey centre for so long. As far back as 1928, Jaipal Singh, our then hockey captain, came from these parts of the country. Over the years, this region of the country has given us a number of noteworthy men and women hockey players.

Knowledge of winning big matches is very important, which I think this team lacks a bit. A lot of times we see them concede winning positions by allowing last-minute goals. You concede a goal in dying minutes of a big match, you lose the match, simple. It's important to have the right mind in those last 5-10 minutes.

Going into the World Cup, I think it's the biggest area that our team needs to work on. We have a mindset to slack off. We think time ho gaya hai, but the game has to be played till the last second. It's not over till the clock says so. And these foreign teams know it pretty well. They know it's the time to attack us, and they step up their game in last minutes.

I am sure our coaches have worked on it, and we really can't afford these slip-ups in dying stages. It doesn't take much, really. They should know how to win the match. Sometimes, they start feeling they have won the game when they are leading 2-1 or 3-2. A one-goal advantage is no advantage in modern hockey, it always keeps the opposition hopeful. It can easily be equalised in the last minute, or even in last five seconds. Even in my playing days, we knew one-goal lead can be neutralised any moment. Coaches used to tell us to consolidate the lead. A two-goal advantage puts the opposition on backfoot.

Also, when they create chances, they should score. Goal karoge too jeetoge. You can't win a hockey match by not scoring, be it field goals or PCs, just go ahead and score. India need to have an aggressive mindset and always play to score.

Firstpost


---

Five matches decided in Pakistan's National Women Hockey Championship

LAHORE - Apart from the last match between Punjab Colours and Sindh Colours, the second day of the 30th National Women Hockey Championship saw stronger sides crushing minnows here on Tuesday at the National Hockey Stadium.

Punjab Colours managed a 3-0 win over the Sindh team in a well-contested game as Wapda, Higher Commission Education (HEC), Railways and Army notched up high scoring victories against their respective opponents.

Punjab Colours, somehow, faced strong opposition from Sindh and a handful crowd on a warm afternoon witnessed some moves of quality hockey on part of either sides. Wapda posted the biggest margin win of the event hammering lowly rated Balochistan 26-0. Wapda swept Balochistan with persistent attacking game and overpowered their opponents with the addition of series of goals in a one sided match.

As provincial teams continued to suffer the wrath of departmental teams, HEC bulldozed Islamabad with a rousing 25-0 win. HEC enjoyed all time supremacy in a lifeless encounter and piled up over two dozen goals. In another dull tie, Railways thrashed KPK 22-0. The match portrayed a complete state of helplessness of KPK. From the so far matches played in the women premier women hockey activity and the results produced , it has been proved that provincial teams are no match to the strong departmental teams.

Army prevailed over Sindh Whites 14-0 as the match widely exposed the shortcomings of the provincial teams which lacked basics of the game and required fitness and form on plastic surface.

The Nation


---

Australians Ready For Under-21 Trans-Tasman Series

Ben Somerford




Australia's Under-21 Women's Development team are all set for the 2018 Trans-Tasman Series in Hawke's Bay against New Zealand which runs from Thursday 29 November to Sunday 2 December.

The team will play three games on Thursday 29 November from 2pm (AEDT), Saturday 1 December 12pm (AEDT) and Sunday 2 December (AEDT) against hosts New Zealand.

Former Hockeyroo Katrina Powell will coach the side, supported by Victorian Institute of Sport's Phil Burrows.

The tour is an opportunity to help develop the talent pathway in Australia and comes following a similar Development Tour for Australia's Under-23s in China in early November.

The 18-member team for the tour was named in October, following the Under-21 Australian Championships in Sydney in July.

The team flew out for New Zealand earlier this week ahead of Thursday's opening game, with all matches to be played at Park Island in Hawke's Bay.

Under-21 Australian team for Trans-Tasman Series:
Sienna Archer (WA)
Alice Arnott (NSW)
Hannah Astbury (QLD)
Morgan Blamey (NSW)
Olivia Colasurdo (VIC)
Talei Forrest (ACT)
Morgan Gallagher (QLD)
Andrea Gillard (NSW)
Carly James (VIC)
Amy Lawton (VIC)
Morgan Mathison (QLD)
Pippa Morgan (WA)
Courtney Schonell (NSW)
Jolie Sertorio (WA)
Hattie Shand (SA)
Maddi Smith (NSW)
Michaela Spano (SA)
Abigail Wilson (NSW)

Under-21 Trans-Tasman Series Fixtures:
Thursday 29 November 2pm AEDT
Saturday 1 December 12pm AEDT
Sunday 2 December 12pm AEDT

Hockey Australia media release