All the news for Thursday 30 August 2018

2018 Asian Games - Day 11
Jakarta (INA)

Women's results 29 August

7/8 place TPE - INA     0 - 2
5/6 place MAS - THA     2 - 0
SF 1 JPN - KOR     2 - 0
SF 2 IND - CHN     1 - 0

Final Placings
1/2 India/Japan
3/4 Korea/China
5. Malaysia
6. Thailand
7. Indonesia
8. Chinese Taipei
9/10. Hong Kong China/Kazakhstan

Asian Hockey Federation


---

Indian women's hockey team reaches first Asian Games final in 20 years

India will now face Japan, who upset five-time champions South Korea 2-0 in the other semifinal

Uthra Ganesan



Indian women's hockey team celebrates after defeating China in the semifinal match at the 18th Asian Games 2018 in Jakarta, Indonesia on Wednesday, Aug 29, 2018. Photo Credit: PTI

For 40 minutes on Wednesday, the Indian women's hockey team played nothing like it had through the tournament here so far, or to the potential it had shown in the league stages.

It missed chances, messed passes and misfired shots at goal. By the end of it all, it managed to enter the final of the Asian Games for only the third time ever, and the first in 20 years, with a hard-fought 1-0 win over China in the semifinals.

It was a disjointed, unsettled India in the first two quarters. It left large swathes of field vacant, refrained from using aerial balls and conceded turnovers by the dozen. And still the team dominated in every department.

That China could not take advantage of it was more because of its own inability than anything else. Instead, it tried building up a slow and steady rhythm but with its own forwards being off-target, the Indians' clumsiness went unpunished.

Coach Sjoerd Marijne, meanwhile, was equally uncharacteristic through it all. He smiled, held his girls' faces, explained calmly what he wanted them to do, encouraged and controlled his screaming.

The only time he got animated was when the umpire refused to play advantage as the ball went in and awarded India a penalty corner instead. That led to the only goal of the match, Gurjit Kaur's pinpointed flick landing in the top corner of the net in the 39th minute.

The second half was a different game, the girls finally began stretching the Chinese defence and found the gaps.

"I only told them that they were playing like they did against Ireland in the World Cup, being too reactive and not proactive. I explained that this was their moment, the World Cup was over and this was a different competition. I was nervous in the first half because they were not playing the way we had planned. Second half, I was fine, they were doing the right things and I knew a goal would come," he smiled.

Rani Rampal, playing through shoulder and ankle injuries and surviving on painkillers since landing here, admitted there was over-dribbling early on.

"It sometimes happens under pressure. But we learnt from our mistakes and now we are into the final, we will take the lessons from this match ahead," she said.

Up next would be Japan, which upset defending champion Korea 2-0 with an attacking game that saw tested and rattled the Korean defence repeatedly in the other semifinal.

A win would hand India the ticket to Tokyo 2020, and Marijne and his girls are focussed on it.

The Hindu


---

Indian women's hockey team reaches first final in 20 years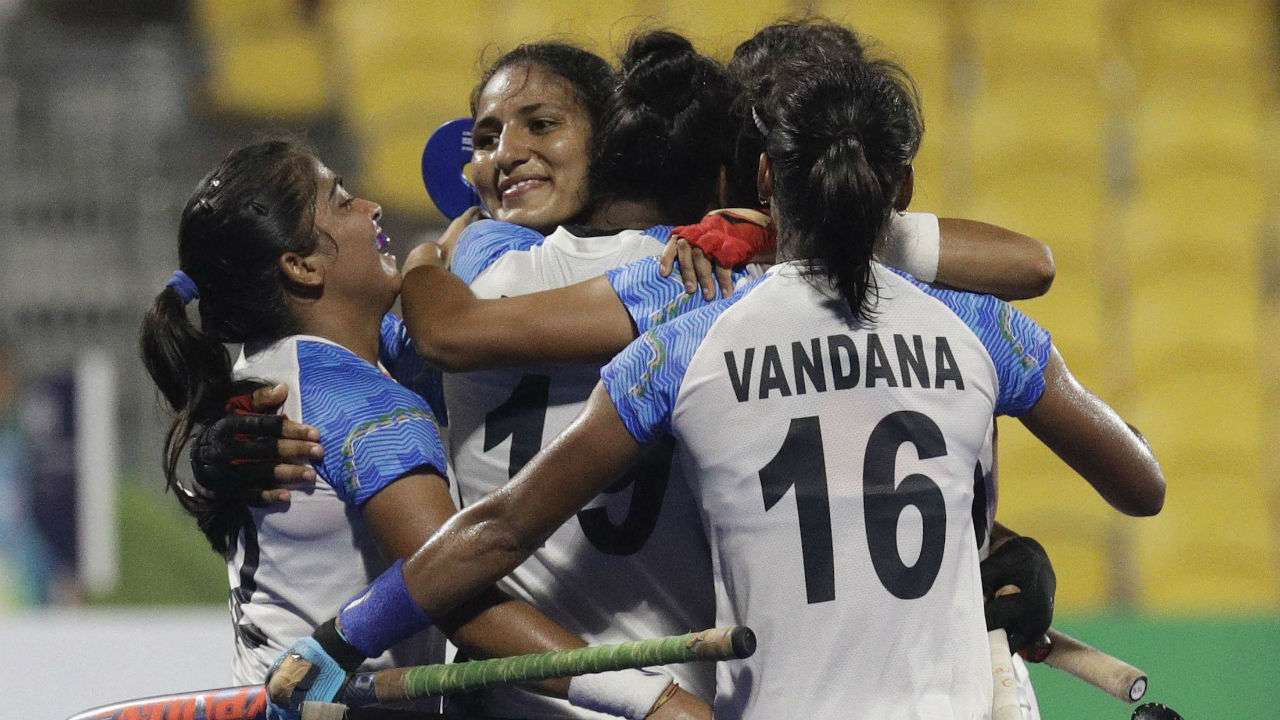 Asian Games 2018 India's women''s hockey team celebrate after a goal against China. , PTI

The Indian women's hockey team made its first Asian Games final in 20 years, outlasting three-time champions China 1-0 in a fiercely-contested battle on Wednesday.

Gurjit Kaur's strike from a penalty corner in the 52nd minute was the difference between the two sides, in a match that lacked the quality of a high-profile semifinal.

Nonetheless, the erratic show was good enough for India's first appearance in the final since the 1998 Bangkok Games.

India's only title at the Asiad came way back in 1982 when women's hockey made its debut.

India will now face Japan, who upset five-time champions South Korea 2-0 in the other semifinal.

It was not the most fluent of matches with both India and China failing to create opportunities in the field.

"The team surely did not play to its potential in the first half. They stepped up in the second half and I am really happy for these girls. I know how much work they put in to be here. They trained really hard for this event. Japan will be a tough challenge but the team is up for it," said India coach Sjoerd Marijne.

India earned their first penalty corner in the eighth minute but Gurjit Kaur's shot was saved by the goalkeeper.

India created four scoring opportunities in the first quarter but failed to finish. The closest they came to scoring was in the 13th minute but Navjot, standing at the goal mouth, failed to put it past the custodian.

Against the run of play, China secured a penalty corner at the start of the second quarter in the 18th minute, but Zixia Ou did not get the deflection she was aiming for.

Both teams were not fluent in their play though China showed more intent. India's only big opportunity came in the 29th minute but Monika, following a pass from Gurjit, was unable to intercept.

Neha Goyal was shown a green card during a dull quarter in which Hong Li was also shown a yellow card.

India got a penalty corner right at the start of the third quarter but drag-flicker Gurjit did not get the desired result.

The umpires thought her shot hit the leg of a Chinese defender and gave India a stroke. The Chinese went for the review and it was successful, much to India's disappointment.

A third penalty corner was awarded to India in the 39th minute but Gurjit could not do much again, flicking it wide.

Two minutes later, another opportunity was squandered as Gurjit' shot to the right did not have the power to fly past the Chinese goalkeeper.

Reena Khokar went for a reverse hit at the stroke of third quarter but the rasping shot missed the target.

Otherwise, it was another drab 15 minute session with both teams lacking the fluidity in their game.

In the do-or-die fourth quarter, India earned as many as three corners in a jiffy. On the third attempt, Gurjit finally got it right as her shot flew past the goalkeeper and found the top of the net.

With eight minutes left on the clock, China tried hard to equalize and a shoddy Indian defence was lucky to scrape through.

Daily News & Analysis


---

India quells Chinese challenge, in the Asia final

s2h Team




Today was India's National Sports Day. Indian girls celebrated the way it should be: giving nation a joy on the turf in Jakarta. Rani Rampal's wonder girls overcame gritty China in a keenly fought semi-final today to post their fifth straight victory, to ensure a place in the coveted final. India enters Asian Games hockey final after 1998.

Indian girls were not having an easy outing today. China seems to have got their plan, and tied them down for most parts. Our girls however showed glimpses of excellence at the rear that kept them ready for waiting for their chance. the mental toughness that gave the girls reasons to smile, while in bits and parts they may not be happy.

India started well in the first quarter, got the only penalty corner of the spell, but later allowed Chinese to dominate the entire second quarter. China too got a penalty corner but Sunita Lakra saved a fierce shot.

India was a transformed side after lemon time. It forced a penalty stroke, but the neutral umpire cancelled it. India got three penalty corners in the third spell, but Gurjit Kaur's magic did not work.

However, being on their toes, and keeping Chinese attack in check, Indian girls kept on attacking, and the goal was anytime to come if the course of the proceedings were anything to go by.

The goal came when 8 minutes and one second left in the scoreboard, off the team's seventh penalty corner. India spent agonizing moments when the Chinese girls challenged the award of goal on the grounds that the pushed ball was stopped outside the circle line.

Chinese coach Moulders played with out goalie for the last four minutes, but the Indian girls withstood the pressure to go on endless celebrations.

India won the inaugural Asian Games in 1982. Won Silver in 1998 when their men's counterpart won Gold. Women's twenty year wait is over now. That they are assured of at least Silver means its third time such a high honour on the Asian Games.

Stick2Hockey.com


---

Not a great game, but a great result

K. Arumugam




It took long time for the Indian girls to return to the dug out. First, the eleven players celebrated as if the title is won. Then they moved to where the goalie was waiting for them. Hugging, embracing, laughter, holding the other, even lifting......were all there. Then the players from the bench burst out and reached out to them, along with the coaching staff as well. Then girls in a spurt of moment walked across the turf to reach out to the stands. Here were about a hundred Indian supporters with tricolour, who were lending full throat during the entire match. Selfie sessions over. One can understand the joy of the girls on the turf. As coach Marinje Sjoerd rightly said that the win is an emotional issue even for him.

Indian girls have beaten China, a hockey powere that not long ago ranked at least ten rungs above India. India will be playing the finals on Saturday. Indian girls have won five matches in trot, like Singapore Asian Champions Trophy, lat Asia Cup. But the stage in Jakarta bears much more significance than any of the tournaments the women team played in the recent years.

The victors deserve every applause that came their way.

But the fact of the matter is that they did not play their normal game today. Mis-passes, unfored errors are a galore. The same team that tore the structured Korean team 4-1, even striking three goals in less than one and half minutes, found wanting in everything they did today. Not a great game though they could get a great result.

What went wrong? Why were so they disorganized? The same hands that wove patterns to lord over the rivals were seen indugling in individual play.




Yes, individual brilliance led to many penalty corners, but a clean direct game, which they showcased against teams like South Korea would have got them better result.

India played a pathetic second quarter after an even first session.

"Yes I told the girls. Its your time. Not easy to get another chance likes this during the lemon time.

India put the Chinese machine under check, as if to listen to the coach, and controlled the entire second half. But when goals were not coming? Individual play and uncharacteristic disorganization.

"Indian game today was very much predictable. Their defence was not clean today". It was anybody's game, it went their way", Meulders, the Chinese coach said post - match.

It actually doesn't need a endorsement from the rival coach. It was obvious for everybody.

The honest opinion of today's India is that they had a bad day but won a crucial match.

The result will count, process will be at discount. India need to play a bit more patient game; improve penalty corner skills. The forwards were unselfish, but wayward. India need not show any panicky simply because they are the best team here.

To maintain that image, that perception, that kind of adulation, the girls need to be more disciplined on the field.

Stick2Hockey.com


---

Goal scoring record smashed as India, Pakistan, Malaysia and Japan reach semi-finals in Jakarta



India have broken the record for the most goals scored in a tournament Photo: Asia Hockey Federation

A possible India versus Pakistan men's hockey final and a world record in tournament goal scoring is making the hockey event at the 18th Asian Games compelling viewing for spectators at the multi-sports event and those watching from around the world.

Reigning champions India (FIH Hero World Ranking: 5) and 2014 runners-up Pakistan (WR:13) have both finished their respective Pool A and B matches with maximum points after some impressive performances at the Asian Games, currently taking place in Jakarta, Indonesia.

For India, 76 goals in five matches is a world record for any international hockey competition, and sets the highest bar for the next stages of this intriguing competition.

Pakistan have scored 44 goals but have only conceded one goal, compared to three goals conceded by India. Among India's high scoring games was a 26-0 result against Hong Kong (WR:45) and a 20-0 victory over Sri Lanka (WR:38).

However, with a maximum two matches remaining, it is not just the Indian strikers who are dominating the goal scorers' table: the position of top goal scorer at the moment is shared between Rupinder Singh of India and Jang Jonghyun of Korea (WR:14)) who are both currently on 13 goals, the majority coming from penalty corners.

It was Korea who set the high scoring trend in the opening match of this competition, with a 11-0 victory over Hong Kong. That result, plus victories over Sri Lanka (WR: 38) and Indonesia (unranked), means Korea finished third in Pool A and will be facing Bangladesh (WR:31) in the fifth/sixth place play-off.

Second place in Pool A has been taken by Japan (WR:16), who have enjoyed a steady event so far. Japan have recorded wins over Sri Lanka, Indonesia, Hong Kong and a narrow 3-2 win over Korea. As runners-up in Pool A, Japan will face Pakistan in the second semi-final of the competition.

Pool A winners India will face Malaysia (WR:12) in the first semi-final of the Asian Games. The top-ranked team has enjoyed a faultless event so far and will be hoping to continue their winning ways.

In Malaysia, however, India face a determined opponent. Malaysia have yet to hit top form yet, as shown by their 4-1 defeat at the hands of Pakistan, but they have conceded just six goals in the competition and should never be underestimated.

Pakistan are definitely the in-form team in Pool B and, while their goal scoring credentials might not match those of India, their defensive performance has been first class. Muhammed Atiq is Pakistan's top scorer but against Japan, Head Coach Roel Oltmans will be looking to his experienced goalkeeper Imran Butt, to help produce another clean sheet.

The men's semi-finals of the Asian Games take place on Thursday 30 August, with India taking on Malaysia at 17:30 local time (Western Indonesian Time) and Pakistan facing Japan at 20:00. The semi-final winners will then meet in the final on Saturday 1 September at 20:00 - a place in the Tokyo 2020 Olympic Games awaiting the Asian Games champions*.

Indonesia play Thailand (WR:47) for 9th/10th place at 12:30 on the same day and Sri Lanka take on Oman (WR:33) in the 7th/8th play-off at 15:00.

To follow all the hockey action at the 2018 Asian Games, Jakarta, click here. You can also follow the action on Twitter: @asia_hockey Facebook: Asian Hockey Federation.

*If Japan win, as hosts they have already qualified for the Tokyo 2020 Olympic Games. As a result, another Olympic Games Qualification Event match will take place at the end of 2019 as descibed in the Hockey Series Q&A here.

Note: According to statistics provided by BG Joshi, the world record for goals scored in a men's international hockey tournament was previously held by Argentina, who scored 68 goals in the 2004 Pan Am Cup held in Ontario, Canada.

FIH site


---

India-Malaysia semi-final stat and sensitivity

s2h Team

Statistics support Indian supremacy, but sensitivity is not. India and Malaysia hockey affairs in men's category is heavily overloaded in favour of India. This is history. India have lost just a solitary match in their eleven encounters since 1958 Asian Games. Even otherwise, one takes the last ten matches, its again India that dominates the numbers.

The fact of course is their matches have often been steamy, the Asian nation proving to be a thorn in the flesh of India. An unlikely India that aspires, aspires to be top of the hockey world. And in each match inching towards that mount top.

Malaysia for long is known to be a home winner. Its because Malaysia posted most of their victories over India on their soils, especially in the theatre of Sultan Azlan Shah Cup.

Malaysia punctured India in the 1998 Commonwealth Games semi-final. After a long lull, last year Malaysia defeated India at the quarterfinals of the Hockey World League Semifinals in London. That's why nowadays Roelant Oltmans is on the other side of the border.

Even in the recent Asia Cup at Dhaka, despite India posting an impressive 6-1 win in the league, had to struggle for a 2-1 victory in the final.

That defeat would have kept India out of the World Cup had it not hosting it, is a different matter. This is what Malaysia is capable of. They can stop you. They can stop you at most crucial juncture. Who can forget Suhril's extra time goal in the 2010 semi-final.

India may have scored tens of goals of here, appreciable, but what counts today is what it will do against Malaysians who too aim at Tokyo spot.

MEN: INDIA Vs MALAYSIA in Asian Games

Matches played: 11
India won: 10
Drawn: 0
Goals For India: 36
Goals for MAL: 9

MEN: INDIA - MALAYSIA MEN in the last TEN matches

1 07.3.2018 Azlan Shah 5-1
2 10.4.2018 CWG 2-1
3 22.10.2017 Asia Cup 2-1
4 19.10.2017 Asia Cup 6-2
5 22.06.2017 HWL, London 2-3
6 05.05.2017 Azlan Shah 0-1
7 26.10.2016 Asian CT 2-1
8 15.04.2016 Azlan Shah 6-1
9 01.07.2015 HWL, Antwerp 3-2
10 08.04.2015 Azlan Shah 2-3

Stick2Hockey.com


---

India wins 4 and Malaysia 3 in semi finals rivalry of two Asian giants

By B.G.Joshi (Sehore-Bhopal, India)



Aslam Sher Khan's equalizer goal in SF of KL World Cup (1975) is a mile stone in Indian Hockey.  Harcharan Singh scored (3-2) the winning goal in extra time. India won the World Cup.

Since then in Hiroshima Asia Cup (1993), Afro Asian Games (2003) and in Ipoh Asia Cup India beat Malaysia in SF.

However in KL CWG (1998), 2007 Azlan Shah Cup and in Guangzhou Asian Games (2010) Malaysia defeated India. Amin Rahim's golden goal in 75th minute knocked out India in 2010.

Here are stats of India-Malaysia:
India- Malaysia:  Head to head

By B.G.Joshi

Particulars

MP

W

D

L

GF

GA

Total

118

83

18

17

340

158

In Asian Games

11

10

0

1#

36

9

In Knock out Matches

18

14

0

4*

53

30

In Semi Finals

7

4

0

3**

13

12

In Last 10  Matches

10

8

0

2***

33

14

Last played in Gold Coast C'wealth Games, Apr 2018, won 2-1.

*C'wealth Games 1998(0-1), Azlan Shah 2007(1-2), #Asian Games 2010(3-4 golden goal), London HWL 2017(2-3).

** C'wealth Games 1998(0-1), Azlan Shah 2007(1-2), Asian Games 2010(3-4 golden goal).

***London HWL 2017, quarter final (2-3), Ipoh Azlan Shah 2017, must win to play final (0-1).
 Fieldhockey.com


---

Record-setter India to face tricky Malaysia in men's hockey semis

India displayed great attacking hockey in the pool stages and pumped in as many as 76 goals in five matches



India celebrate during their match against South Korea 

Brimming with confidence after scoring a record number of goals, title holders India will be eyeing another dominant outing as they take on tricky Malaysia in the semifinal of the men's hockey competition at the Asian Games here on Thursday.

India displayed great attacking hockey in the pool stages and pumped in as many as 76 goals in five matches here to create the world record of maximum goals ever scored in a tournament.

In the 110 years of international hockey, the 76 goals is the highest-ever scored by any team in a tournament, bettering Argentina's record of 68 goals scored in Pan-Am Cup in London (Ontario-Canada) in 2004.

The defending champions were simply unstoppable as they scored thumping wins over Indonesia (17-0), Hong Kong (26-0), Japan (8-0), Korea (5-3) and Sri Lanka (20-0) to top Pool A.

And going by form and class, India will be the favourites to prevail over Malaysia, who finished second in Pool B behind Pakistan.

Barring the 1-4 loss to Pakistan, Malaysia too had a good run in the pool stages with comfortable wins over Kazakhstan (16-2), Thailand (10-0), Bangladesh (7-0) and Oman (7-0).

They might be ranked 12th in the world, but Malaysia is a team which has been a thorn in the flesh for world number five 5 India off late.

The Indians didn't have a good record against Malaysia last year, having lost to them twice, first a 2-3 defeat in the 2017 Hockey World League Semifinal in London and then the 0-1 loss in the Azlan Shah Cup.

But thereafter, the Indians enjoyed a good run against the Malaysians. It all started with the 2017 Asia Cup in Dhaka, where India defeated Malaysia 6-2 in the Super 4s and then followed it up with a narrow 2-1 win in the final to lift the Asia Cup title.

Then the Indians thrashed Malaysia 5-1 in the Azlan Shah Cup before eking out a close 2-1 win at the Gold Coast Commonwealth Games.

The recent results, notwithstanding, chief coach Harendra Singh would be fully aware of the danger Malaysia can pose to his side, having been on the receiving end in 2010 Guangzhou Asian Games.

The Indians had played Malaysia no less than 10 times before the 2010 Asian Games but as luck would have it they recorded their first loss to the continental rival at Guangzhou.

That time too Harendra was the coach of the side and soon after the defeat he tendered his resignation, accepting moral responsibility for failing to make it to the final.

Eight years later, Harendra has got a chance to avenge that painful loss and his players would be desperate to present their coach with a fitting gift.

The Indians looked a class apart in the pool stages, the only blemish being the three goals they conceded against Korea.

"Ideally we would have liked to keep a clean slate. That was the plan of our defence but we made silly defensive errors against Korea. We have watched the videos of that match again to analyse where we must correct ourselves before we take on Malaysia, who play very cautious hockey," India captain PR Sreejesh said.

"We must play with high speed and control the match from the first quarter itself to put pressure on them."

In Razie Rahim, Malaysia has got a potent penalty corner specialist and Sreejesh is aware that short corners are one of their strong points.

"We must continue with the same tempo we have shown in our attack, but we must be cautious while defending and ensure we don't give away penalty corners," Sreejesh said.

The Hindu


---

Malaysia bank on flickers to stop India in semi-finals

MALAYSIA will be banking on their penalty corner prowess to upset defending champions India in the semi-finals at the Gelora Bung Karno Hockey Stadium.

It was Malaysia's penalty corner variation and conversion that led to a stunning 3-2 victory against India in the semi-final of the 2010 Guangzhou Asiad.

And penalty corner specialist Razie Rahim is hoping for a similar feat today.

Razie, who was a member of the 2010 Asiad team, said flickers in the team – Shahril Saabah, Faisal Saari and Syed Mohd Syafiq Syed Cholan – would have to be sharp.

"Penalty corners can make a difference in an equally contested and tough matches. Penalty corners are our strength," said Razie, who is currently the team's leading scorer with nine goals, all from penalty corners.

"There is pressure whenever we take a penalty corner shot but we are used to it. We need to take our chances well and add variation to it by going for direct flicks and set pieces.

"We've faced goalkeeper P.R. Sreejesh many times before and know his style. We're prepared."

Malaysia last met world No. 5 India in the final of the 2017 Asia Cup in Bangladesh where they suffered a 2-1 loss.

"On paper, India are strong but we've no pressure as they are the favourites. We came close to beating them in the Asia Cup. Most of the same team members are here," said the 30-year-old.

"Their penalty corners are solid too and in this Games they have been outstanding in their counter-attacks.

"We have no reason to fear them. We've beaten them in the 2010 Asiad semi-final and I don't see why we can't do it again."

Meanwhile, the women's team finished fifth in the Asian Games after defeating Thailand 2-0 in the playoff at the Gelora Bung Karno Hockey Stadium yesterday.

The Star of Malaysia


---

Malaysia aim for blast from the past against India

By Azidan Nahar and Azlan Muhammad Zain



The memory of sending India packing in 2010 is enough to fire up the Malaysian hockey team when the two sides clash in the Asian Games semi-finals tomorrow. Pic by NSTP/FATHIL ASRI

JAKARTA: The memory of sending India packing in 2010 is enough to fire up the Malaysian hockey team when the two sides clash in the Asian Games semi-finals tomorrow.

At the last Asian Games four years ago, Malaysia defeated India 4-3 through a penalty corner by Muhammad Amin Rahim in added time in the semi-finals in Incheon.

National penalty corner specialist Mohd Razie Rahim, who also played in the 2010 Asian Games, hopes Malaysia will repeat the heroics again.

He feels that the Malaysian Tigers (ranked World No 13) can cause a huge upset against World No. 5 India.

"We need to be very focused against India. We have faced them numerous times, so we know their strengths and weaknesses," said Razie.

"The ranking doesn't determine they (India) will win. We can cause an upset, Inida are strong when it comes to penalty corners and offensive play. But I see that Malaysia have an even chance against them."

At the ongoing Asian Games in Jakarta, Razie has scored nine goals via penalty corners.

India have won all their five Group A matches aside from scoring 76 goals and conceding only three.

New Straits Times


---
Pakistan plays Japan in the hockey semifinal of the 2018 Asian Games.

Ijaz Chaudhry

Japan is one of only four countries (Pakistan, India and Malaysia are the others) who have figured in all the 15 competitions of men's hockey at the Asian Games.

Japan twice reached the victory stand, bronze in 1966 and 1970. They might be considered unlucky as on no less than seven times, Japan finished fourth.  They attained fifth spot twice and ended sixth on four occasions.

Pakistan is of course the most successful nation with eight gold, three silver and three bronze medals.

Pakistan and Japan have played each other 15 times at the Asiad. Thrice, they didn't come across and thrice they played each other twice at the same Asian Games, in pool as well as the bronze medal play off.                                                                

The record is overwhelmingly in favour of Pakistan: 12 wins and three draws.

Pakistan's biggest victory came in the 1982 semifinal in New Delhi. They defeated Japan 12-1 followed by that memorable 7-1 win over India in the final.

Surprisingly, in the recent international events, Japan has a superior record against Pakistan.

At the 2017 Asia Cup, it was a 2-2 draw. They twice met at the International Festival of Hockey in Australia in November 2017. Japan defeated Pakistan in both the league match as well as in the 3rd position play off.  This year, at the Tri Nation Tournament in Oman, they again met twice.  In the league game Pakistan beat Japan 2-1 but in the final Japan were 3-2 winners. 

So in the last five matches against Pakistan, Japan have won three, drew one and lost one.  

However, after the Tri Nation in Oman, the famed Dutch coach Roelant Oltmans took over the Pakistan team and there has been a turn around.      

At the 2018 Commonwealth Games, Pakistan (world ranked 13) ended seventh but the Green-Shirts remained undefeated throughout, achieving creditable draws against teams rated much higher, India (No 6) and England (No 7). Mostly, they came from behind to draw level. After quite some time, the Pakistan team displayed some real game plan. Notably, it was after six consecutive defeats that Pakistan were able to hold India.  

At the Champions Trophy's final edition this summer,Pakistan were given a wild card entry. The other five sides were all ranked among world's top six. Though Pakistan ended last but they gave some amazing performances. Pakistan defeated the Olympic Champions Argentina 4-1, went down to the World Champions Australia by a solitary goal and only lost the 5th/6th playoff against World No 3 Belgium in the shootout.                        

More importantly, here at the Asian Games, Pakistan are exhibiting scintillating form. They won all the pool matches with big margins including a 4-1 win against the higher ranked Malaysia. Pakistan has scored 45 goals and conceded just one

Japan though suffered a big 0-8 defeat against India but won all the other four matches.   In the last pool game, Japan needed to defeat Korea, who at 14 are ranked two places higher than them. In an exciting encounter Japan managed to win 3-2. Now, they face 13th ranked Pakistan.

Japan might have enjoyed success against Pakistan in recent times but on the current form the Green Shirts are the favourites in the semifinal.    

Ijaz Chaudhry writes on hockey & other sports. For more about him and his work, visit: www.sportscorrespondent.info  

Fieldhockey.com


---

'United' Pakistan ready for Japan test

By Nabil Tahir



PHOTO: AFP

KARACHI: Pakistan hockey team, after winning all their pool B matches in the ongoing Asian Games, are eyeing a semi-final victory against pool A second-placed team Japan when they face each other on Thursday.

The silver medallists of the last editions, Pakistan, who showed an appetite for attacking hockey during the Asiad have scored 45 goals in their pool matches and conceded only one, and are hoping to carry the same approach in the semis.

A victory in the semis will mean that they will get a chance to fight for gold and most importantly first qualification for the 2020 Tokyo Summer Olympics.

The striker and the former captain of the team Muhammad Irfan, while talking to The Express Tribune from Jakarta, said: "We have just conceded a single goal in the five pool matches and that shows we have improved. Each and every player is owning up to his responsibility and they can be seen playing as a single unit. You must have seen the defenders, mid-fielders and strikers all fulfilling their responsibility. This is why we won all pool matches and we will be going for a victory in the semi-final."

Irfan was of the opinion that Pakistan's flurry of goals came after they improved their penalty corner and field goals conversion rates.

"The rhythm we are in right now, we'll be playing in the semi-final with the same momentum," he said.

In the other semi-final, India will be facing Malaysia and the Pakistan goalkeeper Imran Butt says the team is going to stick to their offensive mindset in the semis, and if they win, in the final too. However, he insisted that their primary focus was set on winning the final.

"Semi-final is a stage where the teams put in their maximum effort as it is a do-or-die situation. Every team wants to qualify for Olympics and for that they will give their best, so we cannot take any team lightly," Butt told The Express Tribune.

Butt revealed Pakistan's plan of how they will down the Japan team.

"At this level, if you score first and take the lead, it puts pressure on your opponents and that helps you in scoring more goals. So we will be looking for early goals in order to take the lead," he said.

Pakistan goalie said team's winning formula is embedded in the idea of unity.

"Till we are all playing as a team, we will succeed, but once we start focusing on personal performances, then the team will lose, so we all are playing as a unit and will play the same till the end," he said.

The Express Tribune


---

Pakistan take on Japan in Asian Games hockey semifinal today

JAKARTA: Pakistan hockey team, after winning all their pool B matches in the ongoing Asian Games, are eyeing a semi-final victory against pool A second-placed team Japan when they face each other on Thursday (today). The silver medallists of the last editions, Pakistan, who showed an appetite for attacking hockey during the Asiad have scored 45 goals in their pool matches and conceded only one, and are hoping to carry the same approach in the semis. A victory in the semis will mean that they will get a chance to fight for gold and most importantly first qualification for the 2020 Tokyo Summer Olympics.

The striker and the former captain of the team Muhammad Irfan, while talking to media here in Jakarta, said: "We have just conceded a single goal in the five pool matches and that shows we have improved. Each and every player is owning up to his responsibility and they can be seen playing as a single unit. You must have seen the defenders, mid-fielders and strikers
all fulfilling their responsibility. This is why we won all pool matches and we will be going for a victory in the semi-final." Irfan was of the opinion that Pakistan's flurry of goals came after they improved their penalty corner and field goals conversion rates. "The rhythm we are in right now, we'll be playing in the semi-final with the same momentum," he said.

In the other semi-final, India will be facing Malaysia and the Pakistan goalkeeper Imran Butt says the team is going to stick to their offensive mindset in the semis, and if they win, in the final too. However, he insisted that their primary focus was set on winning the final. "Semi-final is a stage where the teams put in their maximum effort as it is a do-or-die situation. Every team wants to qualify for Olympics and for that they will give their best, so we cannot take any team lightly," Butt said. Butt revealed Pakistan's plan of how they will down the Japan team. "At this level, if you score first and take the lead, it puts pressure on your opponents and that helps you in scoring more goals. So we will be looking for early goals in order to take the lead," he said. Pakistan goalie said team's winning formula is embedded in the idea of unity. "Till we are all playing as a team, we will succeed, but once we start focusing on personal performances, then the team will lose, so we all are playing as a unit and will play the same till the end," he said.

The Daily Times


---

Hockey Series Open - Gniezno 2018 (Men) - Day 2
Gniezno (POL)

Results 29 August

UKR v ITA (RR)     1 - 1
CYP v CZE (RR)     0 - 10
LTU v POL (RR)     0 - 11

Pool Standings
| Rank | Team | Played | Wins | Draws | Losses | Goals For | Goals Against | Goal Difference | Points |
| --- | --- | --- | --- | --- | --- | --- | --- | --- | --- |
| 1 | Poland | 2 | 2 | 0 | 0 | 28 | 0 | 28 | 6 |
| 2 | Ukraine | 2 | 1 | 1 | 0 | 12 | 2 | 10 | 4 |
| 3 | Italy | 2 | 1 | 1 | 0 | 5 | 4 | 1 | 4 |
| 4 | Czech Republic | 2 | 1 | 0 | 1 | 13 | 4 | 9 | 3 |
| 5 | Lithuania | 2 | 0 | 0 | 2 | 1 | 22 | -21 | 0 |
| 6 | Cyprus | 2 | 0 | 0 | 2 | 0 | 27 | -27 | 0 |
---

Hosts Poland continue their winning streak at FIH Hockey Series

By Florence Almond



The FIH Hockey Series Open gives lower ranked hockey nations a chance to compete and progress ©FIH/Twitter

Three more games were played in the International Hockey Federation (FIH) Hockey Series in Gniezno, Poland today with both Poland and Czech Republic winning and keeping a clean sheet.

Dominik Kotulski scored four goals as Poland hammered Lithuania 11-0.

Pawel Bratkowski and Maciej Janiszewski both scored twice to build the hosts' score.

Ranked 21 in the world, Poland are now two from two and face the Czech Republic in their next game.

The Czechs were also dominant in their second game, beating Cyprus 10-0.

A hat-trick from Tomas Vohnicky and two from Martin Seeman secured the victory.

The Czech Republic are ranked 28tth in the world so an easy win over 60th placed Cyprus was no surprise.

Cyprus play Ukraine in the next game.

The closest game was between Italy and Ukraine which was at a stalemate until Mattia Amorosini opened the scoring in the 30th minute for the former.

Ukraine hit back within five minutes through Maksym Onofriiuk to level the scores.

World-ranked 37 Italy have yet again raised their game against higher ranked opposition.

Ukraine are ranked 25th in the world but were held to a 1-1 draw by the Italian team.

Similarly, in the last round Italy stunned the Czech Republic by beating them 4-3.

The Czechs are nine places higher than Italy in the world rankings.

Italy will take on Lithuania in the next round and will hope to keep their unbeaten record.

The FIH Hockey Series Open will run until September 2 and gives lower ranked hockey nations the chance to compete and possibly qualify for the Tokyo Olympic Games.

Inside the Games


---

Headache for coach Saiful as seven players will miss Sultan of Johor Cup



No go: Mohd Akhimullah Anuar Esook (left) is among the seven players not taking part in the Sultan of Johor Cup.

KUALA LUMPUR: Malaysian junior coach Nor Saiful Zaini is in a dilemma as he will not have the services of seven key players for the six-nation Sultan of Johor Cup hockey tournament at the Taman Daya Hockey Stadium in Johor Baru from Oct 6-13.

Players Muhd Hamiz Mohd Ahir, Muhd Arif Syafie Ishak, Mohd Akhimullah Anuar Esook, Muhd Amirul Hamizan Azhar, Muhd Muhibuddin Moharam, Syarman Mat Tee and Muhd Noor Firdaus Rosdi will feature in the Youth Olympics in Buenos Aires, Argentina, from Oct 6-18.

Nor Saiful said it was unfortunate that the dates of the Sultan of Johor Cup and the Youth Olympics clashed.

"The priority is to play in the Youth Olympics as this is the first time Malaysia have qualified for the Games," said Nor Saiful.

"It is going to be difficult for my team to put up a strong challenge in the Sultan of Johor Cup in the absence of these key players."

World junior champions India, defending champions Australia, Britain, Japan and New Zealand will feature in the tournament.

"The other teams will be here with their best players while I'm struggling to assemble a team of 18 good players for the tournament," said the former international.

"I may call up a few more players to beef up our team but it'll not be easy as some of them have never played international tournaments before."

Last year, Australia beat Britain 2-0 in the final while India outplayed Malaysia 4-0 to finish third.

The Star of Malaysia


---

Longtime Defender Stefanie Fee Hangs Up Stick from USWNT




COLORADO SPRINGS, Colo. - Another member of the U.S. Women's National Team will be transitioning to other side of the game of field hockey. Defender Stefanie Fee (Virginia Beach, Va.) has confirmed her retirement from the senior squad. Fee joined the USWNT in 2012, and finishes her career with 114 international caps after six years of helping defend some of the top international teams. The Virginia Beach, Va. native began her field hockey career in middle school, thanks in part to her physical education coach and best friend, who urged her to try the sport for months on end.

"I played soccer and basketball at that point and was a true lover of any sport so I ended up diving right in to field hockey," said Fee. "It was my goal to try to become my childhood hero, the 'Mia Hamm' of field hockey."

From there, Fee never looked back as she played for the Beach Premier Field Hockey Club before transitioning to Duke University. With recruitment offers for all three of her sports on the table, Fee ultimately determined field hockey was at the core of her sports passion. She made an immediate impact for the Blue Devils on the backline, starting in every single game from 2008-11. In her senior season, Fee was named to the Longstreth/NFHCA All-South Region first team and she earned second team All-America Honors.

Her intimidating presence on defense paved the way from Duke blue to Team USA blue in 2012, when she joined the squad following the London 2012 Olympic Games. Fee helped defend USA to several medal performances since then, including the 2015 Pan American Games, where the red, white and blue shocked the world by defeating Argentina in the final. She also helped USA to gold medals at the 2013 FIH World League Round 2 in Rio de Janeiro and 2014 Champions Challenge in Glasgow, Scotland. She was also a member of the USWNT squad that claimed silver at the 2012 Champions Challenge in Dublin, Ireland.

"When I first joined the team, Fee was always a player who stood out, not because of her fancy skill [although she could trap aerials like no other] or speed but because of her positive attitude and work ethic," said Janneke Schopman, USWNT Head Coach. "She was always working hard without losing her positive mindset, trying to be better every day in every aspect of the game and encouraging her teammates in the process."




Through all her appearances on the pitch, Fee was living her dream each and every time. From the Pan American Games to the Rio 2016 Olympic Games, standing arm-to-arm with her teammates as the National Anthem played were among her favourite moments.

"Rio was quite an experience as the media has already hyped and informed everyone about," continued Fee. "But to me, it was like crossing a finish line to the dream I had set when I was 9 years old. I got to live, play and love my dream during the Olympic Games.

"I was able to live my dream job every day. Work was play. Of course, 'play' came along with grueling trainings and 9 p.m. bedtimes due to tiredness, but the ability to represent my country in the sport I love alongside powerful and charismatic teammates everyday was a true blessing."

Following USA's appearance at the Vitality Hockey Women's World Cup in London, Fee plans to move to Wayne, Pa. where she recently co-founded the PowerHouse Field Hockey Club with former USWNT athlete Lauren Pfeiffer. She will also be completing her real estate exam in pursuit of an occupation in either Commercial or Residential Real Estate.

Fee would like to thank every single teammate she has played next to throughout her sports career.

"It is because of each of you that my heart and my head are so full of loving and lasting memories that I will always cherish," said Fee. "Thank you to my loved ones for supporting me and being my rocks through every experience from start to finish. It's time to hang up my turfs and time to start another adventure. Thank you to everyone who made my USA Field Hockey dream a reality."

USA Field Hockey would like to wish Fee the best of luck in her future endeavours!

USFHA media release